In this article, I picked the best figure 8 lifting straps. Read the description of the most popular double loop lifting straps and find out the winner.
Have you ever seen those brutal athletes, lifting heavy weights and not worrying about a slipping bar? Perhaps, they have already chosen their best figure 8 lifting straps. If you can't imagine yourself even moving those huge kilograms off the platform, this accessory can make your dream much closer.
I have bought the most popular double loop lifting straps on the market and tried them out in the heavy deadlift. Now, I can't wait to share my experience and conclusion with you. Read this article to find out my personal fav and choose the best product for your training.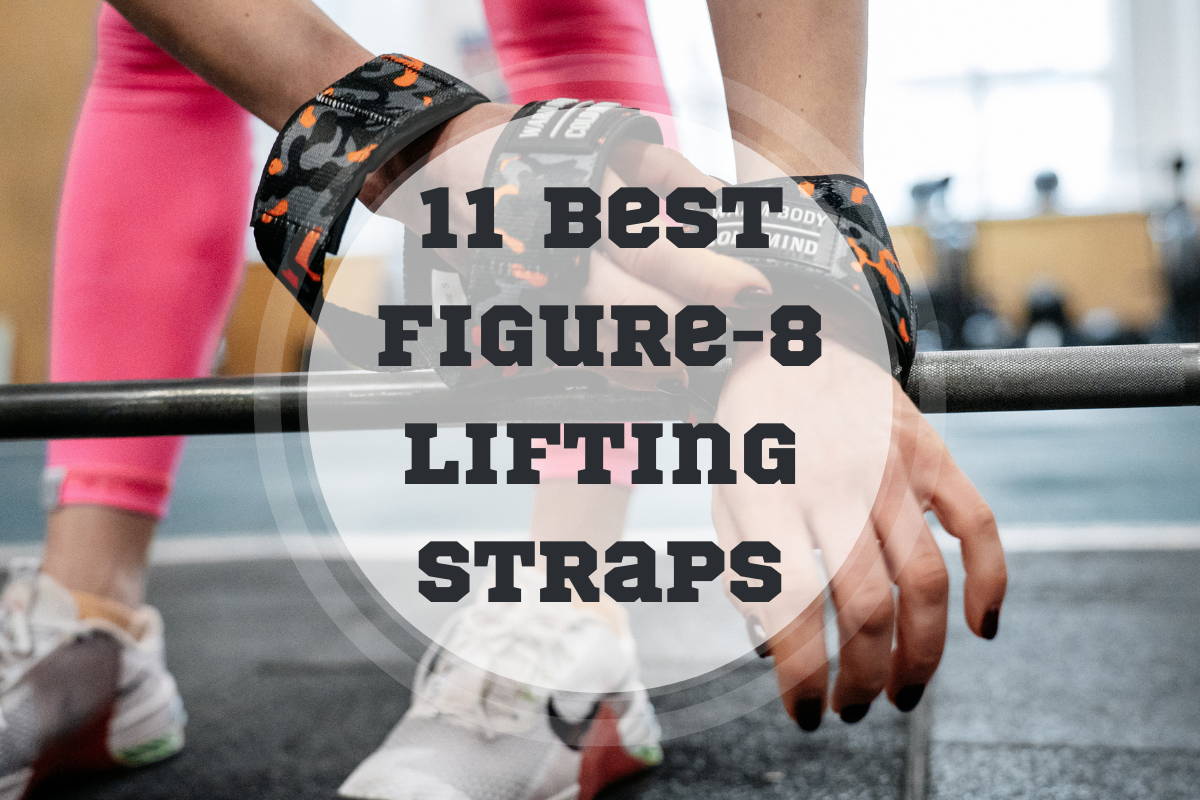 Top 11 Best Figure-8 Lifting Straps Reviewed
In order to choose the winner, I used a whole evaluation system. I compared all figure 8 wraps by the main characteristics such as package, design, comfort, reliability, stitching quality, and price-quality ratio. After adding everything up, I got the winner. Find a brief summary in the table below.
Now, let's go through more details.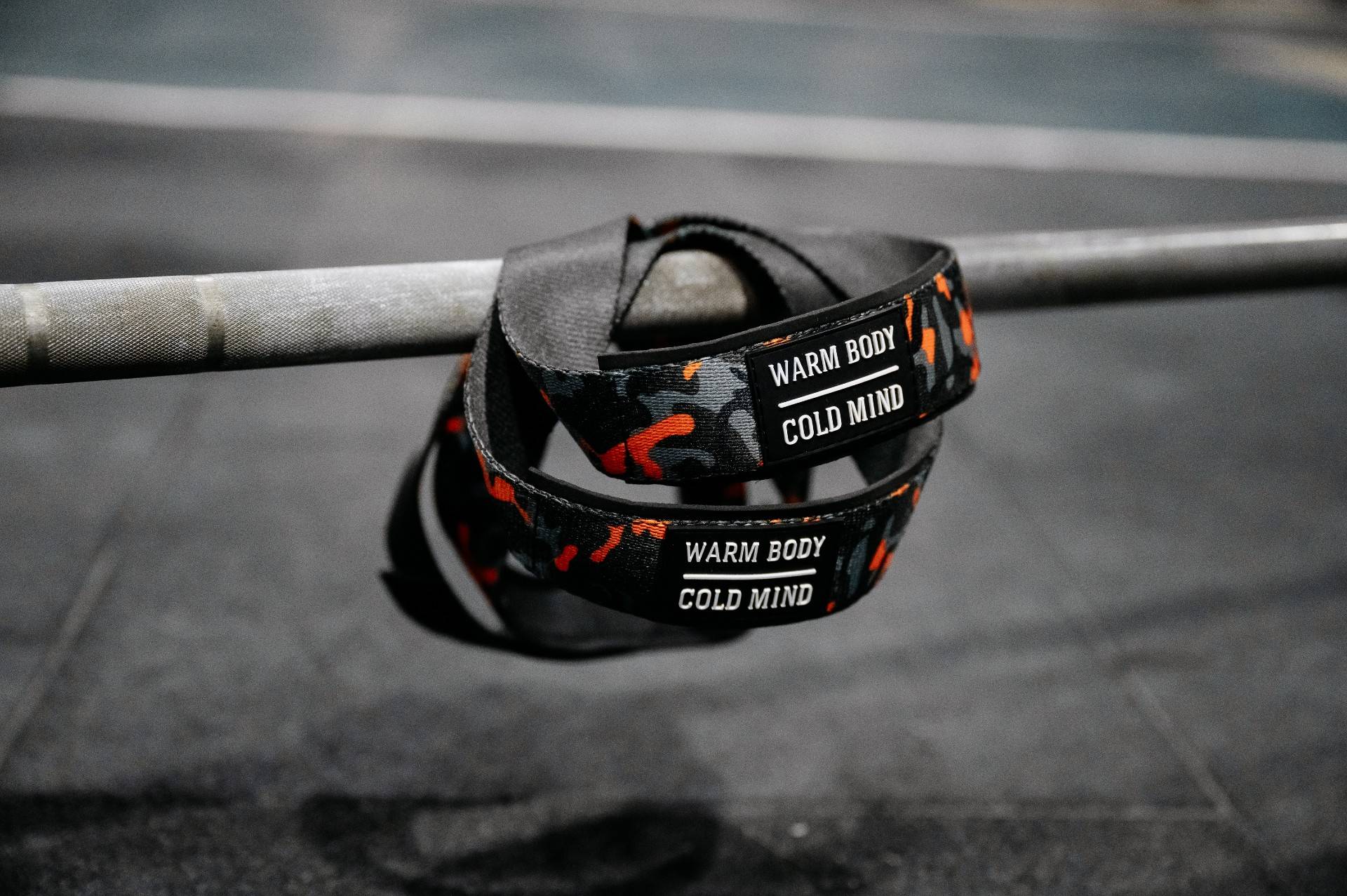 Size: S, M, L
Material: cotton, elastane
Color: black, crimson, yellow, white, camo, chess
WBCM Figure 8 Lifting Straps turned out to be the most outstanding option among other models. Let us tell you the distinctive features that make these straps our top pick gear. First, they're designed by a professional sportsman and a winner of the World and European Championships in weightlifting Oleksiy Torokhtiy. So, we support that it is already a weighty argument that proves the exceptional quality of these straps.
Second, the manufacturers took care of the customers' preferences and created two types of heavy-duty straps: cotton straps and elastane straps with thick neoprene cushioning around the wrist.
It wraps around and fits perfectly, with enough room to move a hand, at the same time it's tight enough to keep weights securely on hand. The strap design is simple, yet the garment is compact and durable which makes it easier to hit personal records without distracting on some inconveniences.
What's about the quality, WBCM straps are wide enough, so they don't cut into your hands. They're reinforced with extra stitching for greater strength and safety during lifting exercises, i.e., deadlifts, shrugs, rows, pull-ups, or dumbbell squats.
They are truly heavy-duty, padded where they touch your wrists, with precise stitching, and are of thick and sturdy fabric. These figure 8 wrist straps will become irreplaceable gear for gym workouts that serve perfectly and can prevent occasional weight drops.
Thus, this is a prime-quality figure 8 lifting straps that are perfect for fitness, weightlifting, and powerlifting training.
These figure 8 wrist straps will become irreplaceable gear for gym workouts that serve perfectly and can prevent occasional weight drops.
(Show More)
Come with cotton and elastane design

Provide the best grip support

are wide enough, so they don't cut the hands
Runs large a little big, recommend sizing down
Size:

Small/Medium/Large

Material:

Cotton

Color:

black
Gymreapers figure 8 wrist straps are our Runner-up model that is the second-best beneficial gear for weight training devotees.
These straps are thick and reliable so can easily endure hundreds of heavy deadlifts. The stitching quality is also great with no sticking threads or fraying – everything looks safe and neat.
The design is rather simple, nothing special, minimalists would love it.
However, as these figure 8 wrist straps are more suitable for professional athletes, amateurs may find them slightly harsh on the skin. But it is all for the sake of the strongest grip.
All in all, if you are fond of heavy lifts, Gymreapers might be the best figure 8 straps for your workouts. Still, if you are an intermediate athlete and just need some additional grip support for your working sets, find some lighter options below.
These straps more suitable for professional athletes.
(Show More)
Might be harsh on the skin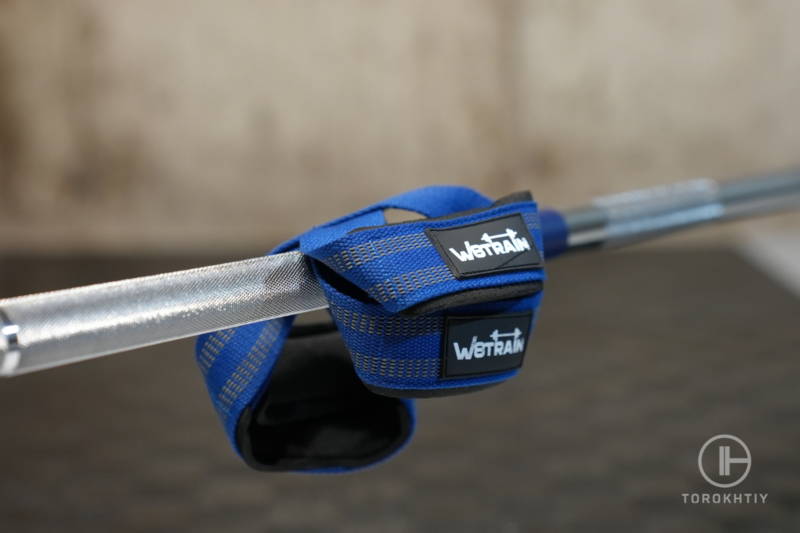 Size: Small/Medium/Large
Material: Cotton, Neoprene
Color: blue, red
These straps are the best option for amateurs who value comfort and high quality. The neoprene padding (thicker than other brands offer) makes them the most comfortable on the skin. Of course, professionals aren't likely to seek this feature in their lifting straps, but I would definitely use them for regular heavy workouts.
Moreover, if you seek straps that will comfort your wrist after some injury and let you lift weights without any pain, the padding will come in handy.
The material slightly differs from other products. It is not that thick but at the same time really dense and firm. I think it will last fairly long, staying good-looking and neat for those who always want everything to be in order.
As to the drawbacks, the package is really plain and doesn't correspond to what you will find inside.
The best choice for regular heavy workouts.
(Show More)
Not the best option for pro-athletes
Size: Medium/Intermediate
Material: Cotton, Neoprene
Color: black
IRON APE figure-8 straps are very similar to W8TRAIN product. They also have neoprene padding (though a thinner one) to comfort your wrist during hard lifts. This option will be a great choice for newbies in heavy training who are only getting used to all the harshness.
The only thing that puts these straps lower than the previous ones is the reliability of the stitching. They are sewn together all in one place in the middle – it makes them less safe for extremely heavy lifts. Therefore, if you are a professional athlete, skip this product and go to the winner or lower on the list (for example, to the same brand but a heavy-duty option – number 6).
Also, if you are lucky to have large wrists and palms, you might not find the proper size of these straps so have a look at others.
These straps are a great choice for newbies in heavy training.
(Show More)
Size: 10"/12"/14"
Material: Cotton
Color: black-and-red
Iron Bull offers heavy-duty lifting straps for professionals who aim to deadlift the most extreme weights. They are really highly reliable and tough to make you confident and safe while hitting records.
However, such a product may be slightly harsh on your skin if you are not hardened enough. So amateurs better choose a lighter option among other products on my list. If you are a passionate brutal lifter, these figure 8 deadlift straps would be a pleasure to work with.
Another drawback that I have noticed is stitching quality. There are some threads sticking out at the seams and the label isn't that neat as well. If you can't stand any aesthetic faults, move further up or down.
Number one for passionate brutal lifters.
(Show More)
Suitable for professionals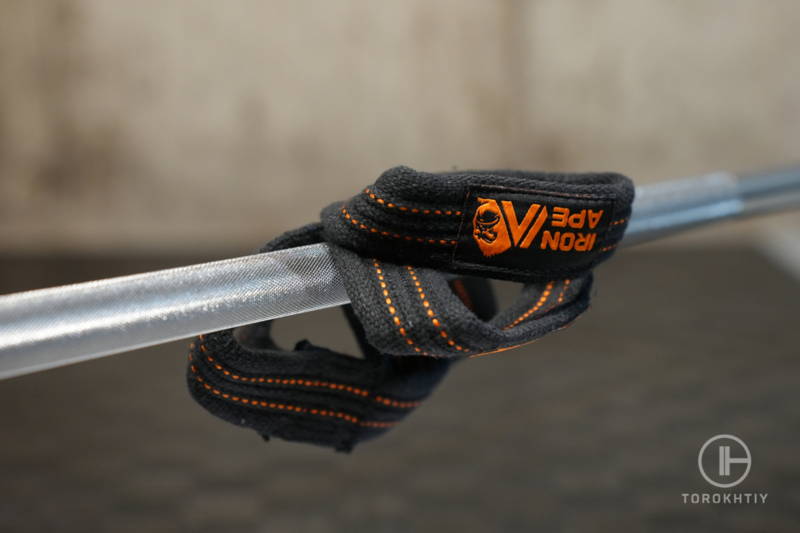 Size: Medium/Intermediate/Large/Extra Large
Material: Cotton
Color: black-and-orange
These IRON APE are created for professional athletes, compared with their entry-level straps. They don't have any neoprene padding and are significantly thicker and tougher to endure the most extreme weights.
They are also more expensive but still reasonable to pay for, taking into account high reliability and resistance.
Just like the other pro options, these figure-8 straps may be harsh if you are not used to such accessories. Moreover, I have noticed a scorch mark at the seam that might scratch your wrist and distract you in the middle of a heavy set. I'm not sure whether it is the case with all their straps, though.
Reasonable choice for professional athletes.
(Show More)
Might scratch at the stitching
How Have I Chosen the Best Figure-8 Lifting Straps?
In order to choose the best figure-8 lifting straps, I compared different characteristics and put my scores based on the results. Find the explanation of all the features below.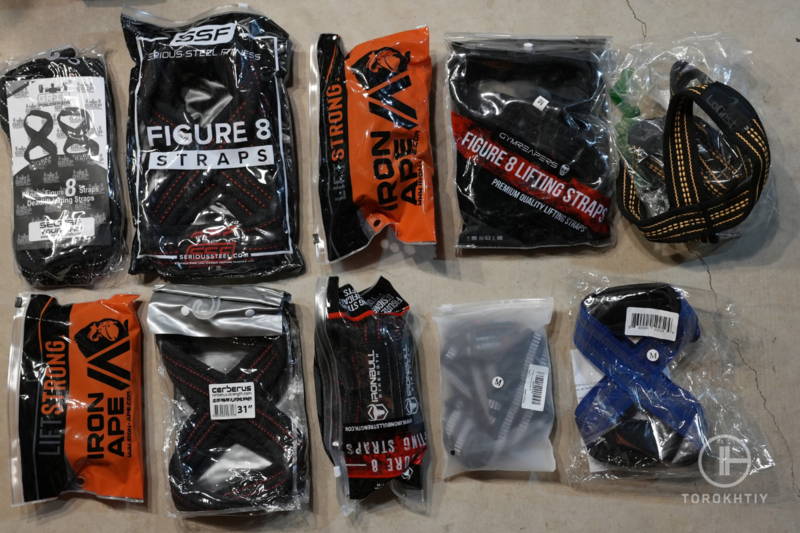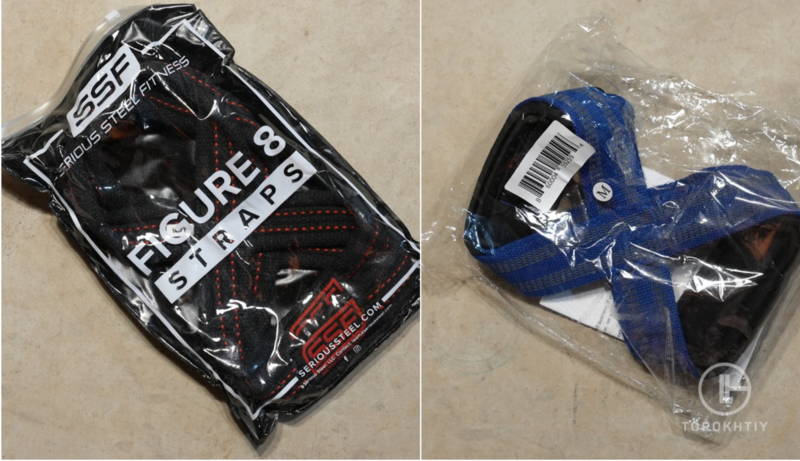 The wrap is an aesthetic issue, though it is always pleasant to look at a pretty package. If you are looking for a present or just value details, choose Gymreapers or SSF. Their packages are really elaborate and catchy among others. Although, you'll get the best packaging from the WBCM company: it shows off greatly among others at the first glance.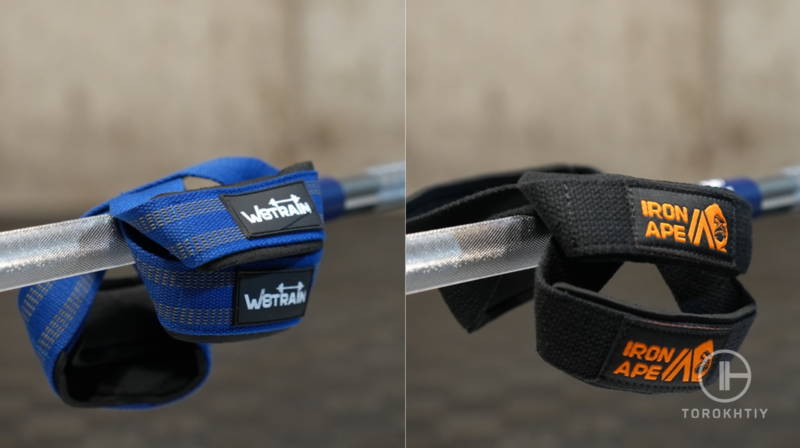 Design rather depends on individual preferences. As for me, WBCM and W8TRAIN have the best design – both fancy and up-to-date. They look modern and are comfortable. As to the worst option in these terms, I guess, it is LoGest.
Comfort is an essential feature, especially if you are an amateur athlete. If figure-8 straps bother you all the time, believe me, they will spoil the whole training for you. Therefore, choose medium or light options, and have a look at products with neoprene padding (for example, W8TRAIN or IRON APE entry level). If you are not going to lift 300 kilos, there is no need to pick the hardest option.
Still, if you are a professional powerlifter or strongman, stick to more advanced products. They will be less comfortable but will bring you a more secure and effective grip.
LoGest turned out to be the least comfortable straps due to their material, so they get only 9 points. They rubbed my wrists every time I tried to lift a heavy weight. It might be quite bothering.
Reliability is the most critical feature for professionals who lift huge weight every training session. It depends on the quality of material and stitching. For example, WBCM, Gymreapers, CERBERUS, IRON APE, and other advanced options are made of really thick and tough material that is, of course, more resistant, durable, and safe. They also have double stitching and a big overlap to provide the highest security.
On the other hand, MOOCY, IRON APE entry-level, and LoGest are not so suitable for extreme weights. They have everything sewn in the middle which is quite risky in terms of ripping.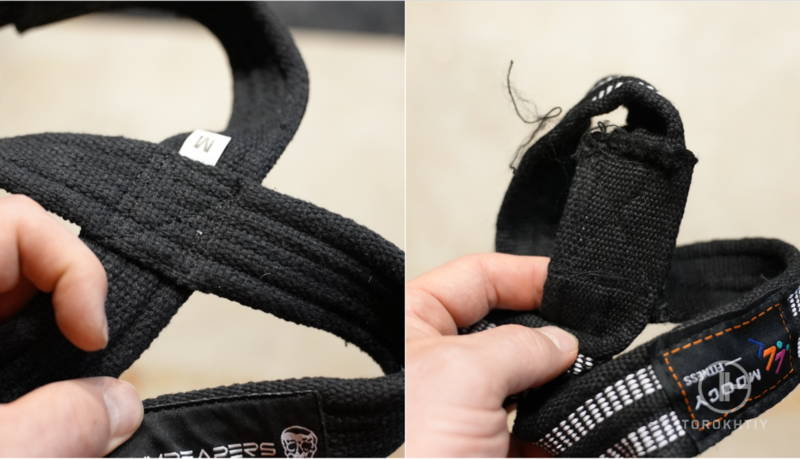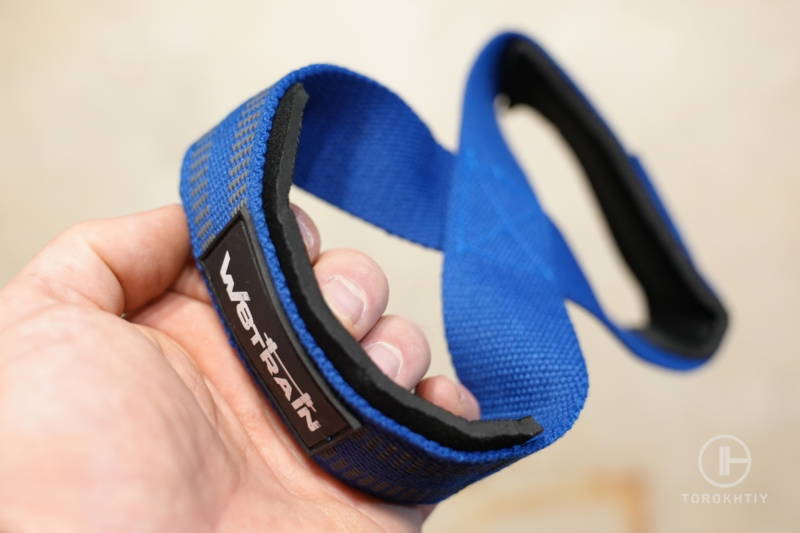 Stitching is both about security and tidiness. The best options in these terms are WBCM, Gymreapers and M8TRAIN with high-quality reliable seams. Still, MOOCY lifting straps are not neat at all and even disappointing.
As for me, Gymreapers, W9TRAIN, and IRON APE entry-level offer the best value for money. As well as WBCM straps are at a reasonable price that slightly varies depending on the color. They are all affordable and effective. CERBERUS straps have the highest price but nothing special in terms of features, and MOOCY's quality is low on my list.
What Are the Benefits of Using Figure-8 Straps?
You can often spot brutal lifters fastening their wrists with figure-8 straps to the bar and then working with unbelievable weights. Why do they need those pieces of material?
Figure-8 lifting straps are a great way to boost your grip strength and reliability. Of course, our forearms are weaker than leg or back muscles, so they can't really handle those huge weights. Still, if you fasten your wrists to the bar with any kind of lifting straps, you will feel much more confidence and courage to hit new records.
Having a bar slipping out of your palms while lifting your 1RM can be painful both psychologically and physically. If you are fond of heavy deadlifts or other pulling exercises, always mind safety precautions.
Figure-8 lifting straps give you a more secure grip since they have no loose ends and literally lock your wrists to the bar. Even if you let the bar out, these straps will still hold it fastened to your hands. Always remember this.
If you have recently had any wrist or forearm injuries but are eager to go back to deadlifts, try using figure-8 straps. They took the tension away from your hands so there is little chance that you will feel pain or discomfort.
In this case, don't choose tough professional figure-8 straps. Have a look at medium or light options, a neoprene padding might comfort your weak spots even more.
If you often feel stiffness in your forearms instead of target muscles, figure-8 lifting straps might help you out. They allow to concentrate fully on the exercise and shift the tension to desirable areas more specifically. They come in handy while doing almost any pulling or holding exercises with the bar or dumbbells, such as deadlifts, pull-downs, farmer's walks, etc.
How to Pick Figure 8 Straps?
There are many figure-8 straps on the market today. They all have different benefits and are more suitable for various goals. Read about the main points to keep in mind while searching for the best option for you.
Generally, there are 3 basic sizes: S, M, and L. They usually correspond to the wrist size: 10", 12", and 14".
If you are a girl, consider the smallest size available. If you are a lucky owner of huge wrists and palms, search for a bigger one. Some brands even offer an extra large option.
Also, analyze the equipment that you use. If you are a strongman athlete and work with thick bars, don't fail to choose the right size.
Figure-8 straps are usually made of cotton that is quite comfortable on the skin. However, some brands also add neoprene padding.
In this case, lifting straps become softer and more beneficial for beginners or intermediate athletes. Still, you are not likely to meet a professional athlete deadlifting with padded figure-8 lifting straps.
I would say that there are strong, medium, and light figure-8 straps. If you are an advanced athlete who often lifts extreme weights, stick to the first type. They will be more resistant, safe, and durable. If you are an intermediate or novice athlete, consider something in the middle or start with a light option.
In case, you just need additional support and security due to an injury, also choose medium or light straps, especially with neoprene padding.
How to Use Figure 8 Straps?
Figure-8 straps are rather easy to use, compared with normal straps. To fasten your wrist to the bar, just put your hand in one loop and wrap the other one underneath the bar.
Then, put your hand in the second loop over the bar either. Grab the bar inside the straps, don't cover them with your fingers. You can do that for two hands in turns or at the same time. Now, you are ready to hit the weight.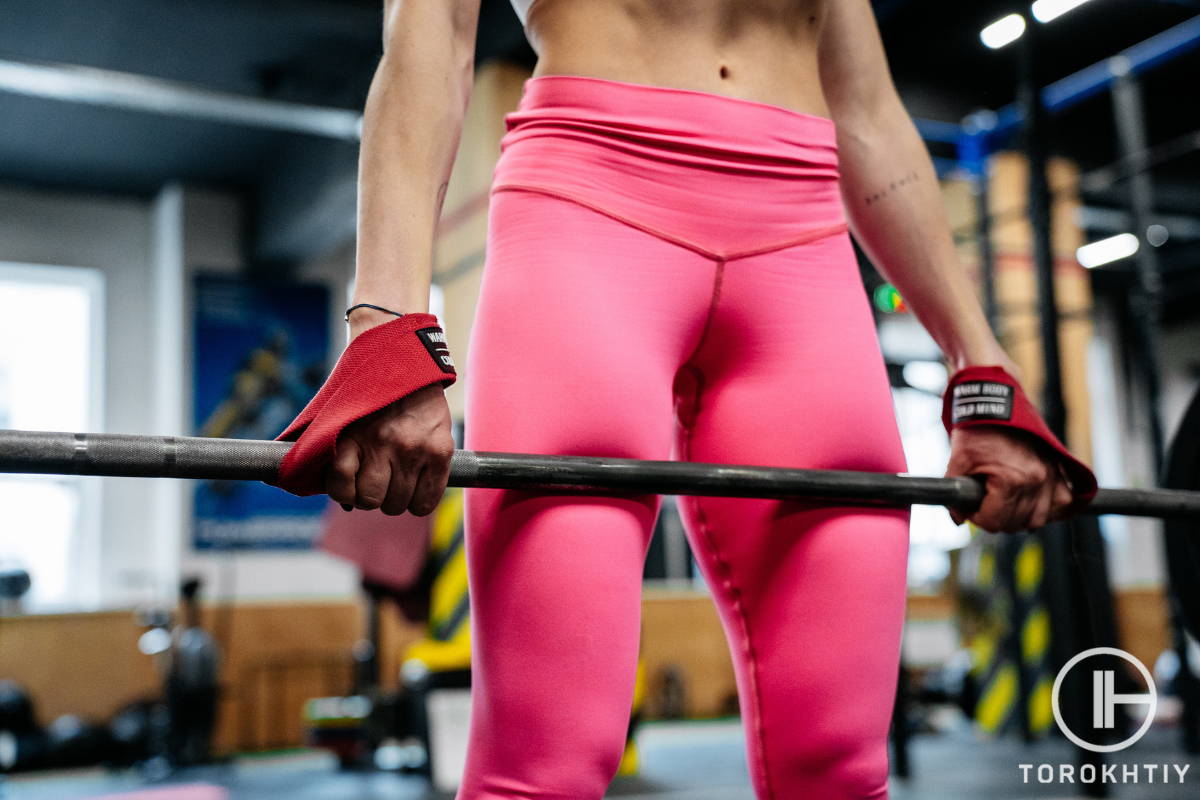 Figure 8 Straps vs Normal Straps
Figure-8 straps are more suitable for professional athletes, especially powerlifters and strongmen. If you are a passionate lover of heavy deadlifts, this accessory will also be beneficial for you.
Such straps give more grip security than normal straps since they have no loose ends. While using them, you have literally no chance of a slipping bar. They work similarly to a lock.
Secondly, figure-8 straps allow you to feel the bar better. You fasten it to your wrists but there is no layer of material between your palms and the bar. It also means more grip mobility – you can move your hand over the bar easily to regulate the grip width or whatever.
At last, figure-8 straps are quicker and easier to use. All you need to do is wrap them around the bar and put your hands in two loops. In this case, you don't have to sweat over the bar learning how to wrap them properly as you do with normal straps.
Can you use figure-8 straps for pull-ups?
You can use figure-8 straps for pull-ups to handle more reps and focus more on your back muscles. They are quick and easy to fasten to the bar.
Are figure-8 straps good for the deadlift?
Figure-8 lifting straps are especially good for heavy deadlifts. They give you a safe and firm grip to lift the maximum weight.
Can figure-8 straps be too big?
Yes, figure-8 straps can be too big. Always pay attention to your wrist girth in order to choose the proper size.
How can I make my figure-8 straps tighter?
Always choose the proper size to fit your wrist tightly. If you still need a more firm grip, try twisting one part of the strap to make a loop smaller. It should be the first loop that you put your hand into.
All in all, Warm Body Cold Mind turned out to offer the best figure-8 lifting straps on market. They are really high-quality work to take your grip to another level. On top of that, the package is really impressive.
Gymreapers became the runner-up and the best option for professionals who seek maximum comfort and strong grip quality.
Have you ever tried lifting with figure-8 straps? I'm waiting for your impression in the comment section!
8 Benefits of Deadlifts You Probably Never Knew About // Healthline:
https://www.healthline.com/health/fitness/deadlift-benefits
Weights & Forearm Pain // Livestrong:
https://www.livestrong.com/article/365275-weights-forearm-pain/
My name is Ihor and I have been a professional weightlifter since 1996. With over 20 years of competition experience, my resume includes European Champion in 2009 and the silver medalist at 2011's Senior World Championships – 105kg division.
I competed at the 2008, 2012 and 2016 Summer Olympics.
After hanging up my own competitive lifting shoes, I decided to share my huge background as a coach. I am currently coaching multiple athletes who are competing at national and international competitions.