Purchasing a treadmill is close to a one-size-fits-all fitness solution. You may commit to regular seven-mile sprints, marathon sessions, or trail runs to improve speed and stamina from the comfort of your home.
In a hurry and can't keep reading? How about you check out the NordicTrack EXP 7i.
The NordicTrack EXP 7i is a feature-packed treadmill with a commercial-grade build, steep incline, and smart capabilities, making it an excellent choice for runners.
Here it gets tricky, as not every model hides enough capacity under its hood to charge racing escapades.
To spare your brain sprain, we have picked the best treadmills for running. After analyzing the deck span, motor power, ramp settings, and built-in program abilities – this tried-and-tested selection will ensure you feel cherished and challenged on your way to busting PRs.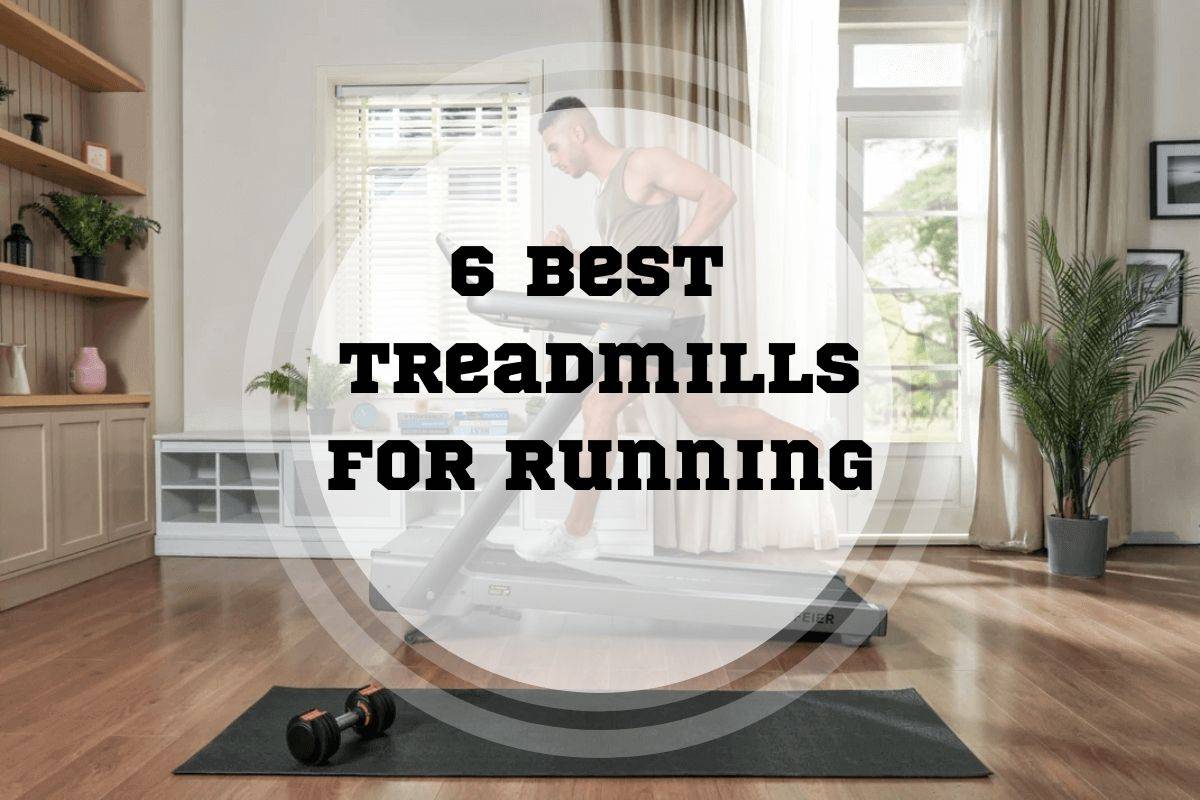 Top 6 Best Treadmills for Running Reviewed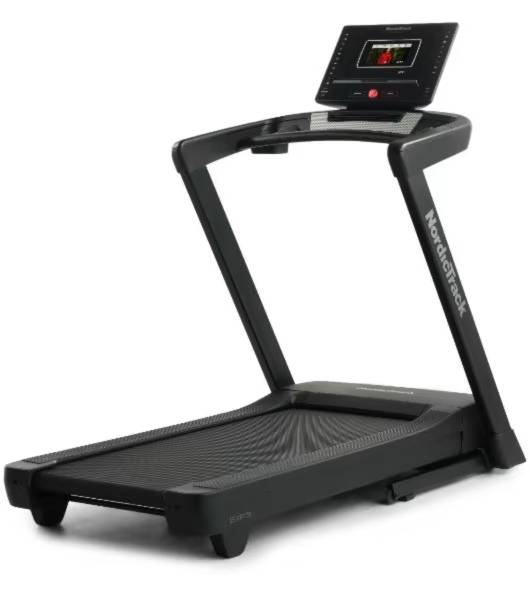 NordicTrack EXP replaces the now discontinued T Series with a more affordable price, sleeker design, and interactive features. There are three sizes: 7i, 10i, and 14i – numbers representing the screen size.
Speed range: 0-10 mph
Max incline: 12%
Foldable: Yes
Weight Limit: 300 lbs
Item weight: 228 lbs
Product Dimensions: 70.8 L x 34.9 W x 59.7 H inches
Display: 7-inch Tilt HD Touchscreen
Running surface: 20 W x 55 L inches
Warranty: 10-year frame, 2-year parts, 1-year labor
Workout programs: iFit
Additional features: Goal Track Capabilities, Runner's Flex Cushioning, Wireless Connectivity, Soft Drop System
EXP 7i is carved from commercial-grade materials and boasts a 12% steep climb, a 55" long tread belt, 8" floor-to-deck height, and a 10-year limited warranty. NordicTrack funds a generous motor capacity, capped at 2.6 hp and thus a 10mph speed. It's hands down the best treadmill for runners, especially if you're a fan of smart ones!
A responsive touch-enabled, Bluetooth-compatible display competes with the likes of Peloton. The 7" screen tilts and pivots to help you strike a suitable angle. Google Maps and iFit can whisk you away to far-flung hiking trails and elite studio classes. However, the free pass ends within thirty days, costing $15 for individuals and $39 for a family monthly membership plan afterward. There are no built-in programs without iFit. You can manually toggle between intensity settings with the help of OneTouch controls.
Another area where EXP beats all competitors is supreme cushioning. Runner's Flex is designed to reduce shock born out of fast and furious impacts. The speed of the cooling fan also auto-adjusts in accordance. Furthermore, the space-saver folding system is spruced up with one-push EasyLift Assist.
The NordicTrack EXP 7i treadmill offers a responsive touch-enabled display, Google Maps and iFit compatibility, superior cushioning, and a space-saving folding system.
(Show More)
A rotatable touchscreen with infinite smart features

Free limited access to world-class workouts via iFit

A patented shock-absorbing cushioning

Hassle-free folding and unfolding mechanism
Excessive reliance on iFit, which auto-renews after trial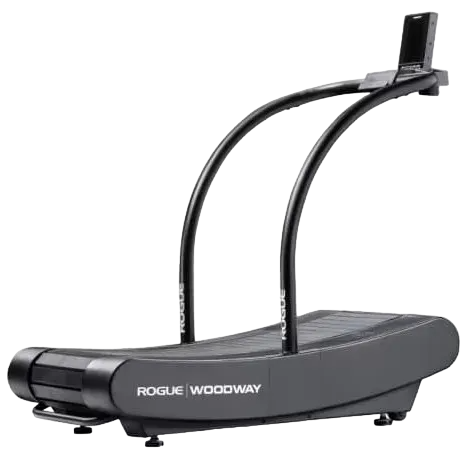 Woodway treadmills are the definition of luxury and durability. They simply pass down for generations as an heirloom. Rogue Fitness recently shook hands for an exclusive wooden LTG model.
Speed range: Unlimited
Max incline: 3% approx. curvature
Foldable: No
Weight Limit: 350 lb
Item weight: 297 lb
Product Dimensions: 67" L x 34" W x 70" H
Display: High Contrast LCD
Running surface: 17" x 62"
Warranty: 5 years on frame, 3 years on belt and parts, 1 year on labor
Workout programs: N/A
Additional features: Goal Track Capabilities, Wireless Connectivity, Autonomous Power Generator, Patented Slat Belt
The attention-grabbing curve track is controlled by the user's own stride and cadence instead of a conveyor-belt motor. This results in unlimited speed and unparalleled calorie burn. Put on your trainers, get a refreshing drink, and go all out on this premium treadmill for long distance running.
The non-motorized nature means you can't hop on different intensities and programs. You'd notice a wide running surface spanning 62" in length. Tall people won't have to disturb their natural gait. Although the width is slightly cramped, anti-slip grab bars ensure a comfortable hold. These oversized side covers were an ideal place for pulse sensors. Nonetheless, you can pair your telemetry gadgets thanks to Bluetooth and ANT+ support.
Woodway USA uses its technological upkeep for user safety. And the eternal slat-belt, wreathed in TPE popping, lives up to the reputation. The monitor rivals top-notch electronic models. It records up to four user profiles, manages circuit training, and shows basic performance metrics. The calorie counter corresponds to the rating based on active, watt, and metabolic equivalents.
The Woodway LTG treadmill by Rogue Fitness offers a luxurious and durable non-motorized running experience with a curve track and advanced safety features.
(Show More)
User-controlled and no maximum speed

Slat-belt is gentle on joints, tendons, and muscles

Goes with Bluetooth and ANT+ devices and apps

Long non-slip sidebars enhance security
Expensive and heavy for a home-use treadmill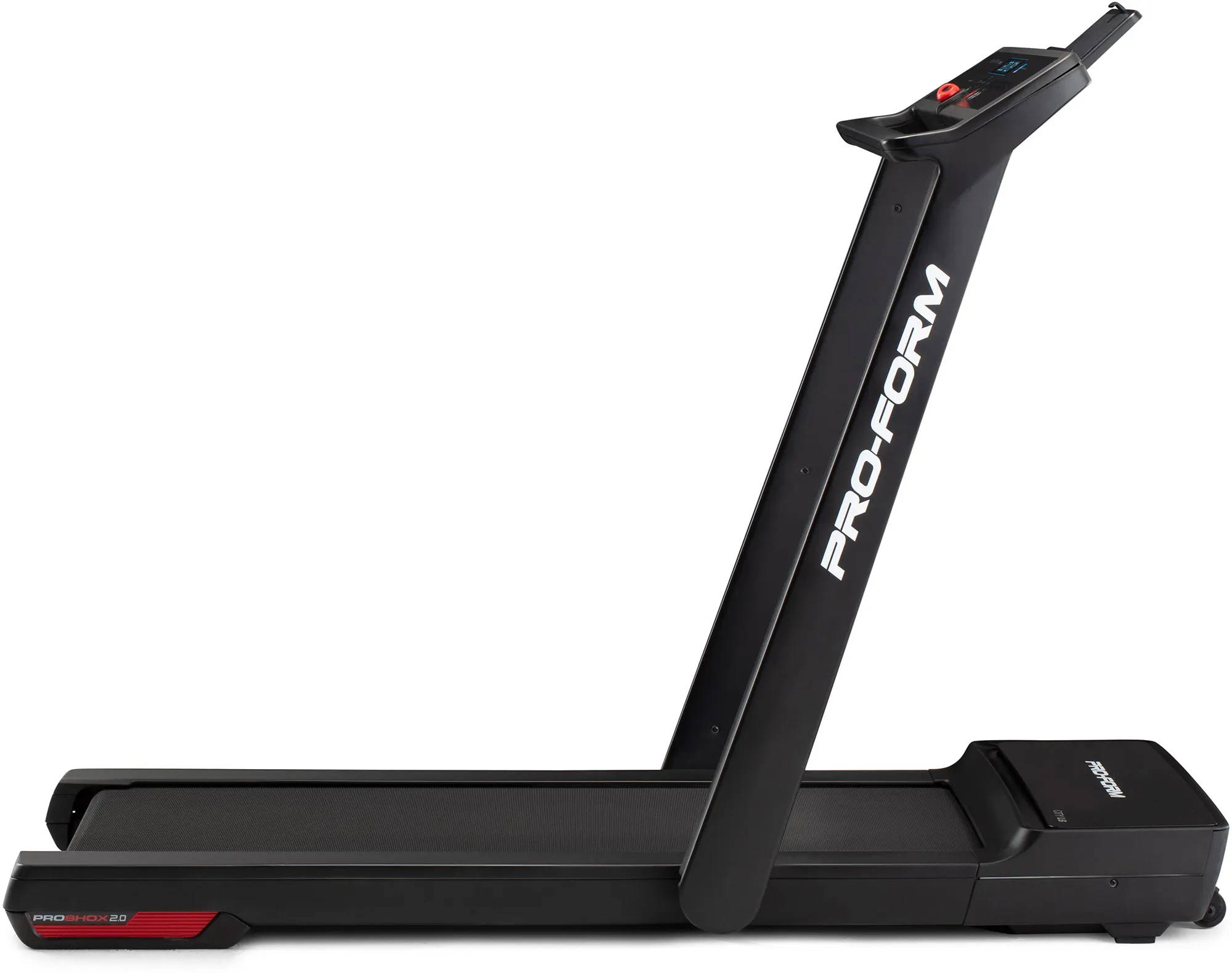 Proform is touted as the budget-forward sibling of NordicTrack. The all-new City L6 is a pleasant addition to this family. It also offers the immersive and interactive benefits of iFit.
Speed range: 0-8 mph
Max incline: 0%
Foldable: Yes
Weight Limit: 250 lbs
Item weight: 125 lbs
Product Dimensions: 70.25" L x 29" W x 44.5" H
Display: High Contrast LCD
Running surface: 17.5" x 45"
Warranty: 10 years on frame, 1 year on parts and labor
Workout programs: iFit
Additional features: Wireless Connectivity, ProShox Deck Cushioning, Under-desk Storage
City L6 packs stellar features in its small-form size. Measuring only 45" above the ground, its streamlined display panel lays flat along with crossbars for easy storage. Front-mounted casters let you push and roll it with your fingertips. Big enough to work up your sweat, yet portable enough to sneak under a desk or into a closet!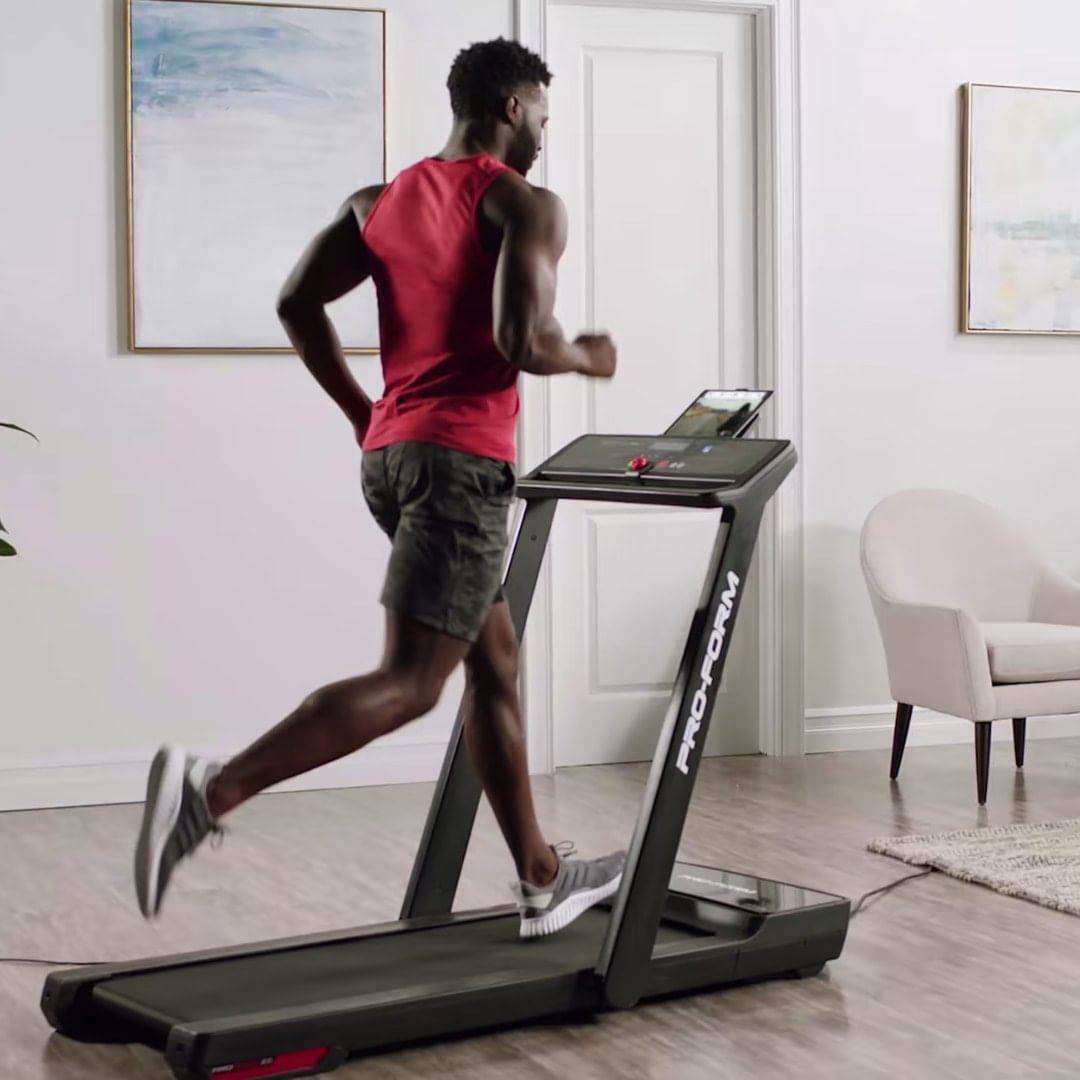 With a 1.6 hp Mach Z motor revving up to 8 miles an hour, Proform has released a jogging treadmill. It's an affordable buy for casual cardio workouts at home instead of competition-level training. Thus, you don't have the option of uphill running either. Its limited tread surface grinds atop 1.6"-diameter, precision-balanced, and whisper-quiet rollers. ProShox cushioning further adds to the seamless movement.

The iFit programming, as it appears in more expensive models, is an x-factor here. Trainers can virtually adjust the speed. A memory section records your progress. You can stream global terrains, video lessons, and live on-demand sessions. In order to do so, you'll need a tablet since there is no built-in HD screen. Also, the subscription tax on your credit card after a 30-day trial.
The Proform City L6 treadmill offers a compact and budget-friendly option with iFit compatibility, making it suitable for casual cardio workouts at home.
(Show More)
A solid interactive treadmill at a low price point

Automatic speed control by iFit trainers

Lightweight and collapsible frame; easy to maneuver
Limited utility due to no incline and low speed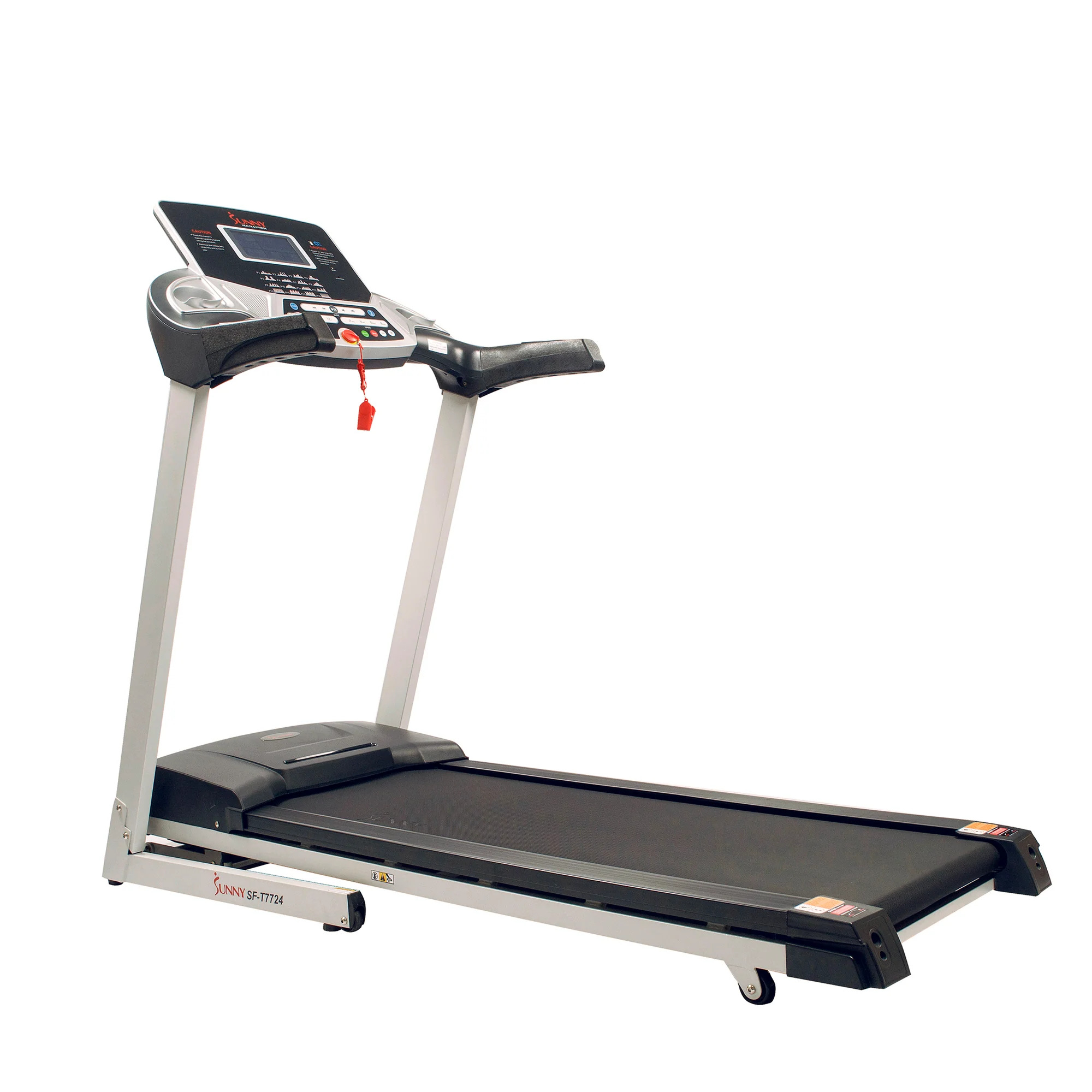 Sunny is a renowned, reasonably-priced home gym equipment seller. The website is brimming with diverse cardio machines. T7724 is a top-of-the-line treadmill in its arsenal.
Speed range: 0.6-10 mph
Max incline: 15%
Foldable: Yes
Weight Limit: 240 lb
Item weight: 125.7 lb
Product Dimensions: 69" L x 30" W x 54.5" H
Display: High Contrast LCD
Running surface: 18" x 51.5"
Warranty: 3 years on frame, 180 days on parts
Workout programs: 16
Additional features: Emergency Stop Clip, Wireless Connectivity, Soft Drop System, Pulse Sensor Grips
Automatic inclination, color performance monitor, Bluetooth connectivity, and heart rate sensors are some of the best running treadmill specs. The 2.5 peak hp motor still maxes out at 10mph. However, the 15% incline is an incredible cameo in T7724. You can press direct-access buttons for rise and run. Despite veering off notorious cost-cutting measures, it still clocks in well under a grand.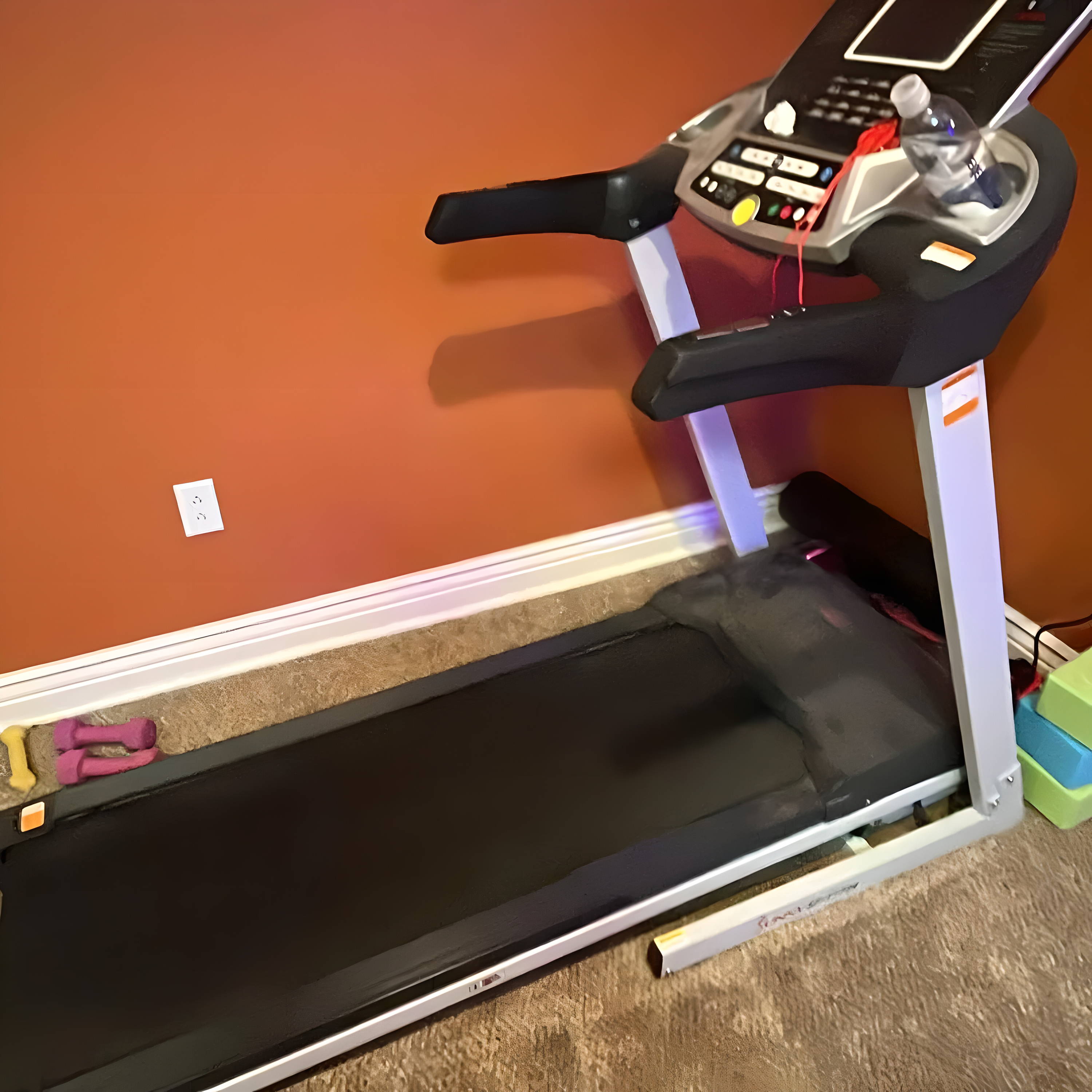 You can use the machine's speakers, play your fav music, receive phone calls, and switch workout intensity using on-console knobs. USB media charging is also available. Shake up your routine with 16 preset, 2 custom, and 3 countdown programs. A BMI calculator and media ledge accent this large panel. An emergency key is required to power the machine, which then clips your shirt and halts the belt in case of a fall. Bottle holders on each side allow you to stock beverages that improve sports performance and minimize fatigue.

The in-demand hydraulic Soft Drop System safely lowers the deck to the floor. Ironically, Sunny Fitness hasn't upgraded its skinny belts. Thus, shock absorption remains mediocre. Weight capacity at 240 lbs is evidently subpar. In addition, a three-year warranty does little justice to the price tag.
The Sunny T7724 treadmill offers a range of features including automatic inclination, a color performance monitor, Bluetooth connectivity, and heart rate sensors, making it a great option for affordable home cardio workouts.
(Show More)
Industry-leading 15% incline is commendable

An emergency safety key and brake

The BMI calculator helps with goal setting and tracking

Speakers, AUX ports, and accessory holders increase the value
Below-average warranty and weight capacity

Inadequate cushioning for a running track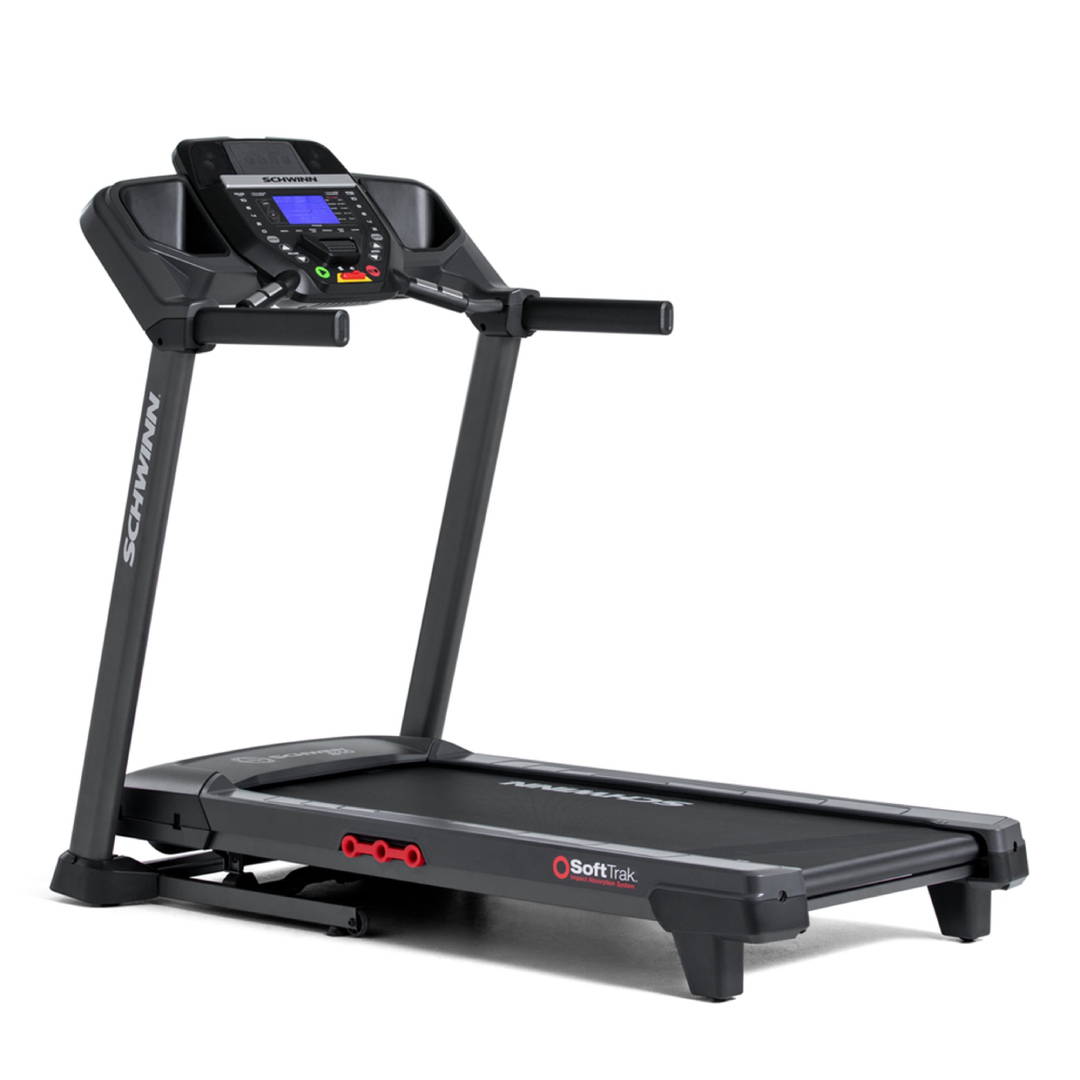 Schwinn has long dominated cardio spheres with its highly rated bikes, ellipticals, and treadmills. The 810 is an entry-level machine meticulously stocked to fulfill your need for speed.
Speed range: 0-10 mph
Max incline: 10%
Foldable: Yes
Weight Limit: 275 lb
Item weight: 150 lb
Product Dimensions: 69.1" L x 35.6" W x 56.7" H
Display: Single Backlit LCD
Running surface: 20" x 55"
Warranty: 1 year parts, 1 year labor, 10 years frame and motor
Workout programs: 16
Additional features: Goal Track Capabilities, SoftTrak Cushioning, Soft Drop System, Pulse Sensor Grips
Schwinn 810 is perfect for light morning jogs, intense interval sprints, or anything in between. Its motorized incline, 10mph top speed, and substantial motor delivering 1.9 continuous horsepower can support your running workouts.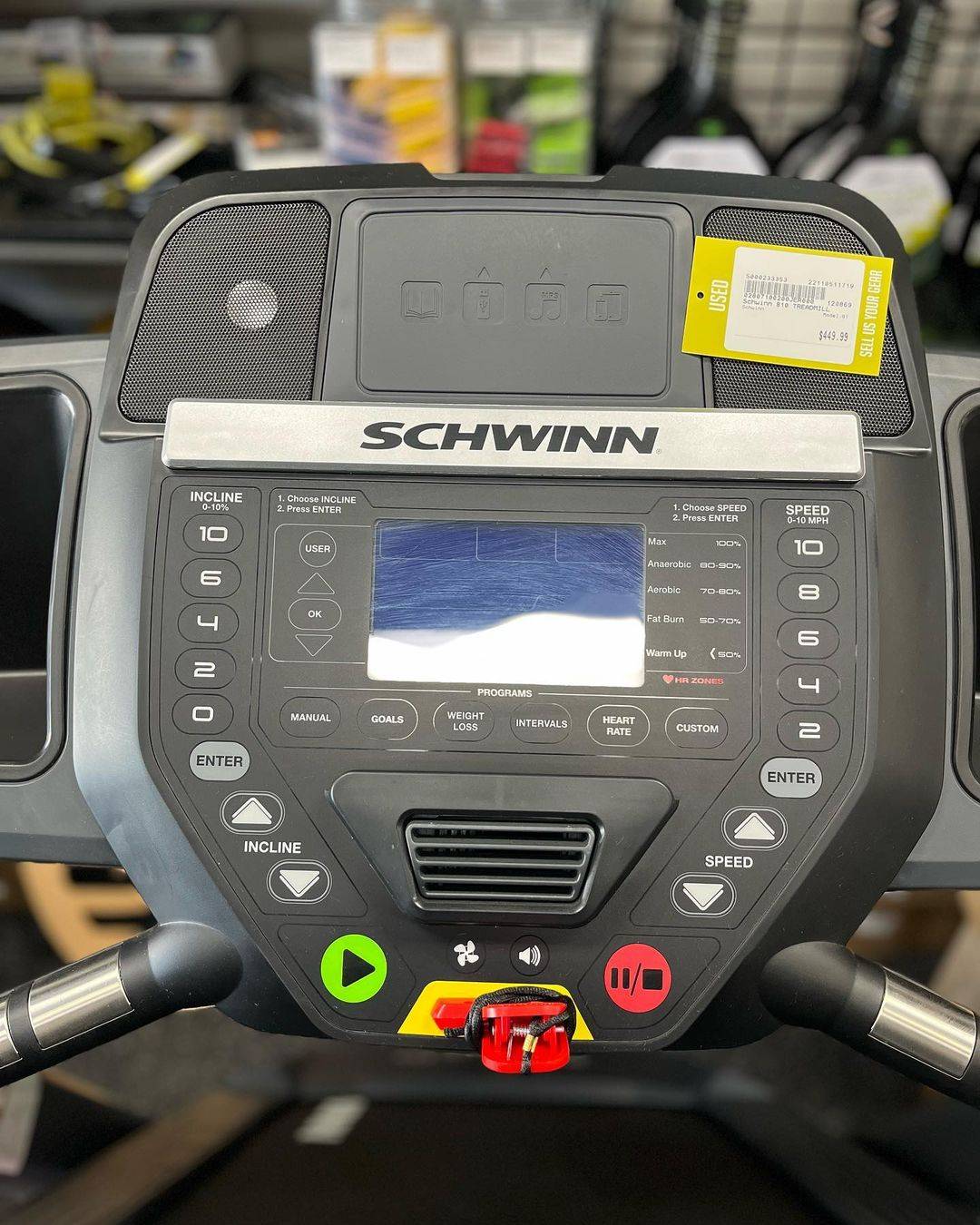 The monitor issues a dozen data fields, illuminated with blue light for easy visibility. They include time, calories, distance, and the long-term progress of the logged-in user. You can keep tabs on your heart rate by holding integrated sensors or connecting a wireless transmitter. There are 16 preset and custom programs grouped into categories like heart health, weight loss, etc. You'll still get direct-access buttons for these settings, lining the edges of the console.

Other amenities include a media ledge, a well-cushioned folding deck, sturdy rollers, twin bottle holders, USB charging ports, and audio jacks. It's the best running treadmill to bring home at a value. One downside is the non-availability of third-party apps and Bluetooth connections.
The Schwinn 810 treadmill is a reliable entry-level machine that offers motorized incline, a top speed of 10mph, and a variety of features to support your running workouts, making it an excellent choice for cardio enthusiasts.
(Show More)
10mph speed and 10% incline are suitable for running

Good selection of get-started workout programs

Devices can be used and charged at the same time

2.5" crown rollers last long under heavy use
Underpowered for its build quality

No access to Bluetooth or mixed-reality apps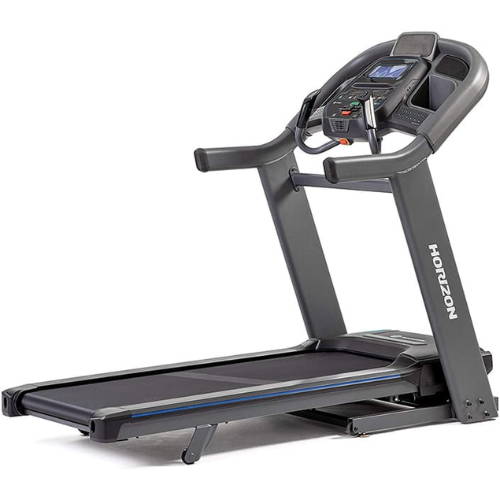 Horizon has emerged as a main player in the treadmill market, partnering with Dick's Sporting Goods, Johnson, and Amazon. The 7.4 and 7.8 AT last updated the critically-acclaimed Studio Series.
Speed range: 0.5-12 mph
Max incline: 15%
Foldable: Yes
Weight Limit: 350 lb
Item weight: 318 lb
Product Dimensions: 76" L x 37" W x 63" H
Display: 16 Segment LCD
Running surface: 22" x 60"
Warranty: Lifetime on frame and motor, 5 years on parts, 2 years on labor
Workout programs: 10
Additional features: Differential Cushioning, Rapid Sync Technology, Soft Drop System, Pulse Sensor Grips
Horizon Fitness manufactures gym-quality treadmills for marathon training. And 7.4 AT is no exception! It has the longest running path, covered in a durable three-ply belt and advanced variable response cushioning. Multisized elastomers provide a soft landing at the front and propelled kick off the back, working like a running shoe. You'll get intuitive handle-mounted speed and incline controls besides direct-access buttons on the 8.25" display screen. An ECG chest strap and grip sensors are embedded for those who like to monitor their heart rate zone.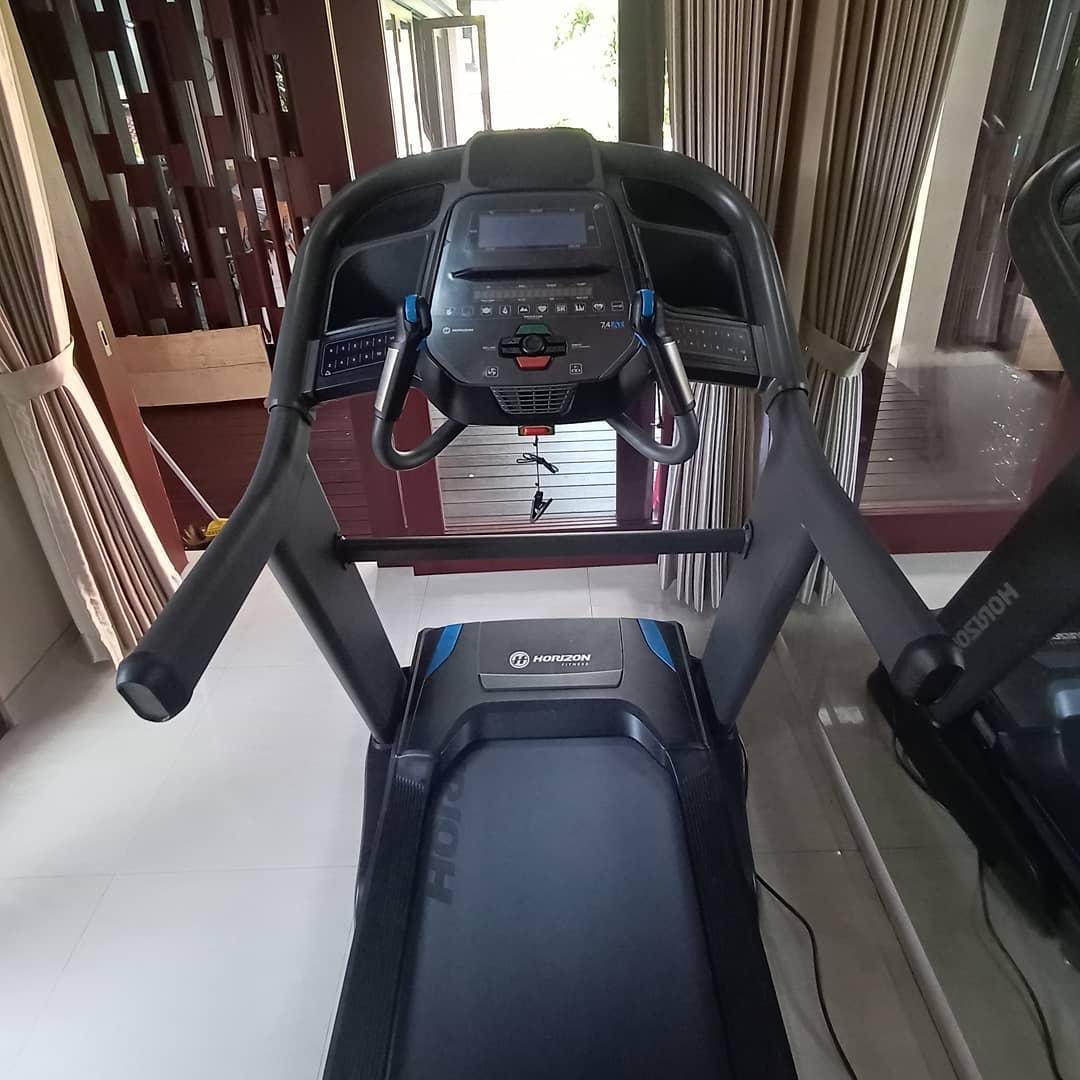 Its 15% ramp incline is a leading characteristic, as are the 3.5 hp motor and 350 lb load capacity. Various workout programs, ranging from weight management to cardiovascular endurance, use the versatility of this machine to the fullest. Infinite applications await FTMS Bluetooth connection. To name a few, Zwift, Peloton, Apple Fitness +, and Nike Run Club. You can indeed find more tech-savvy bells and whistles on similar-priced models like Sole F80 and NordicTrack 1750.

An avenue where 7.4 AT refuses to bow down is a lifetime frame and motor warranty. The company also offers white glove delivery. You must consider the service because putting this treadmill together is time-consuming and nerve-racking.
The Horizon 7.4 AT treadmill is a top-notch option for marathon training, offering a durable belt, advanced cushioning, intuitive controls, and versatile workout programs.
(Show More)
XL belt and 350 lb weight capacity suit all training modules

Wireless chest strap included for heart rate monitoring

15-minute auto-off mode saves energy

Several companion apps elevate user experience
Touchscreens are a norm at this price

Complicated assembly and costly in-house setup; devil and the deep sea
What Are Treadmill Running Benefits?
A potent cardio machine, a treadmill is unsurpassable when it comes to energy expenditure. Aerobic exercises result in a healthy heart, weight loss, quality sleep, and improved fitness in general.
In this section, we'll discuss exclusive benefits professional and recreational runners can reap by throwing treadmill training at regular intervals.
Cadence is an essential running criterion, indicated in SPM (steps per minute). Elite runners prefer about 182 SPM. A higher frequency means shorter and smoother strides, lowering the impact force on knees, hips, and back. The controlled environment of a treadmill is perfect for shoring up your cadence.
Running on a treadmill is safer than hitting outdoor tracks in many ways. First, it's gentle on your joints. This 2014 study found that runners follow a shorter stride on treadmills. Second and more importantly, weather and road conditions can't hinder or complicate your exercise.
3. Take Control of Your Workouts
Imagine the struggle of doing speed works in a hilly area or, alternatively, looking for inclined slopes in flat surroundings. Treadmills can switch the pace and incline with one screen tap, allowing you to squeeze in enough miles and interval runs. Hill workouts spike your heart rate and break the monotony.
4. Heighten Brain Functions
Only ten minutes of running can do wonders for your mental health. The research found sizable improvement in the brain's core functions, such as memory, planning, and attention. Achieving specific goals on a treadmill helps you efficiently replicate them in a racing scenario.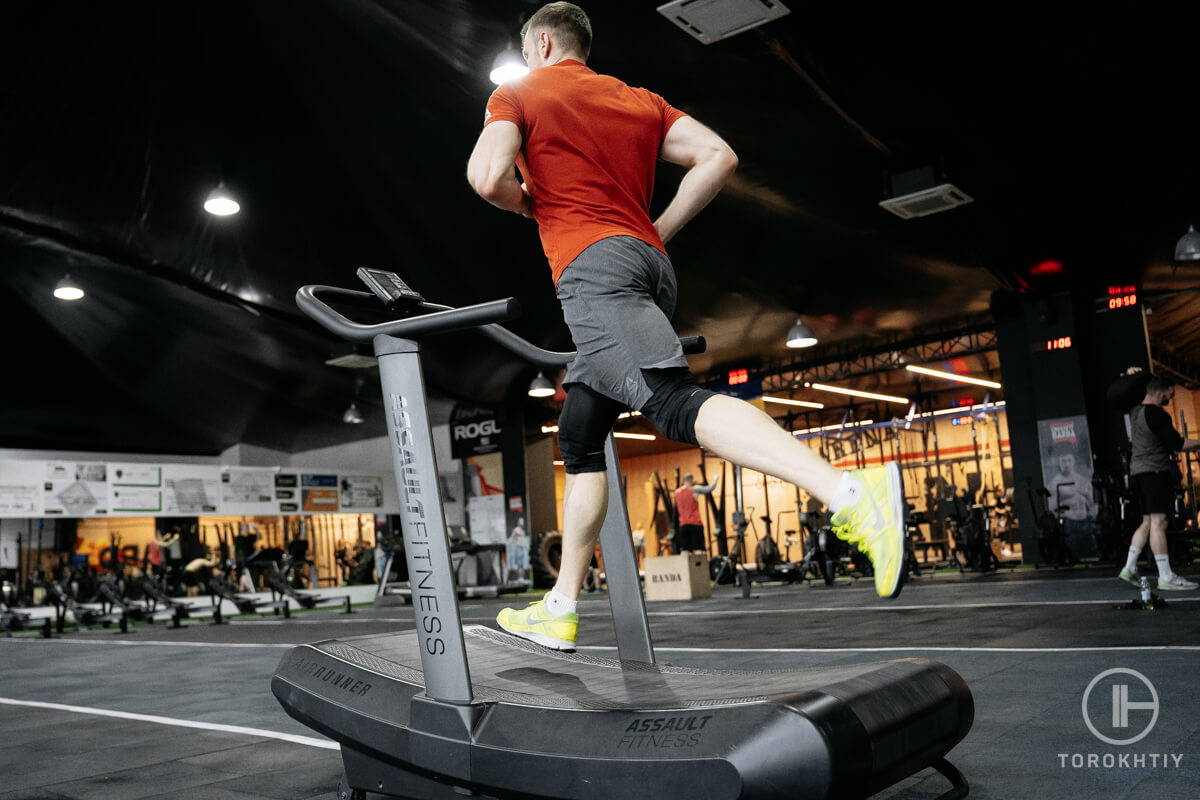 What to Look For in the Best Treadmills for Running?
Several considerations come into play when browsing for treadmill options: your height and body weight, available floor area, programming requirements, and so on. Let's have a look at key quality indicators.
A motor is a lifeline of the treadmill's mechanics. It's expressed in either HP or CHP – the latter is a favorable choice for runners because it puts out the stated power continuously instead of just at the peak. Most non-commercial treadmills range between 2.0 and 3.5 horsepower. Track speed varies accordingly.
Incline options bring a twist to your training. They mimic real-world uphill terrains. Also, you get enhanced calorie burn and muscle definition. Look for a motorized incline so you don't have to manually fiddle with the base and disrupt your interval rotations. Up to 12% is a fine grade in a home treadmill for running. The decline is a much rarer find.
Tread belts are one-ply unless stated otherwise. They demand frequent lubrication and run a high risk of heating up. Multi-ply belts have additional mono-filament, cotton, or polyester coatings. They're thicker, sturdier, and quieter. In addition to the belt quality, ask about the usable surface on the deck. 20" x 55" is a sweet spot. But above-6ft folks should give more thought.
Cushioning is the difference between treadmill training and overground running. It absorbs shock and minimizes the injury risk. Latest treadmills, such as Horizon 7.4 AT, feature differential cushioning that stands firm as you push off the track but falls soft during the landing. Patented technologies entail the special efforts the company has put in for your comfort.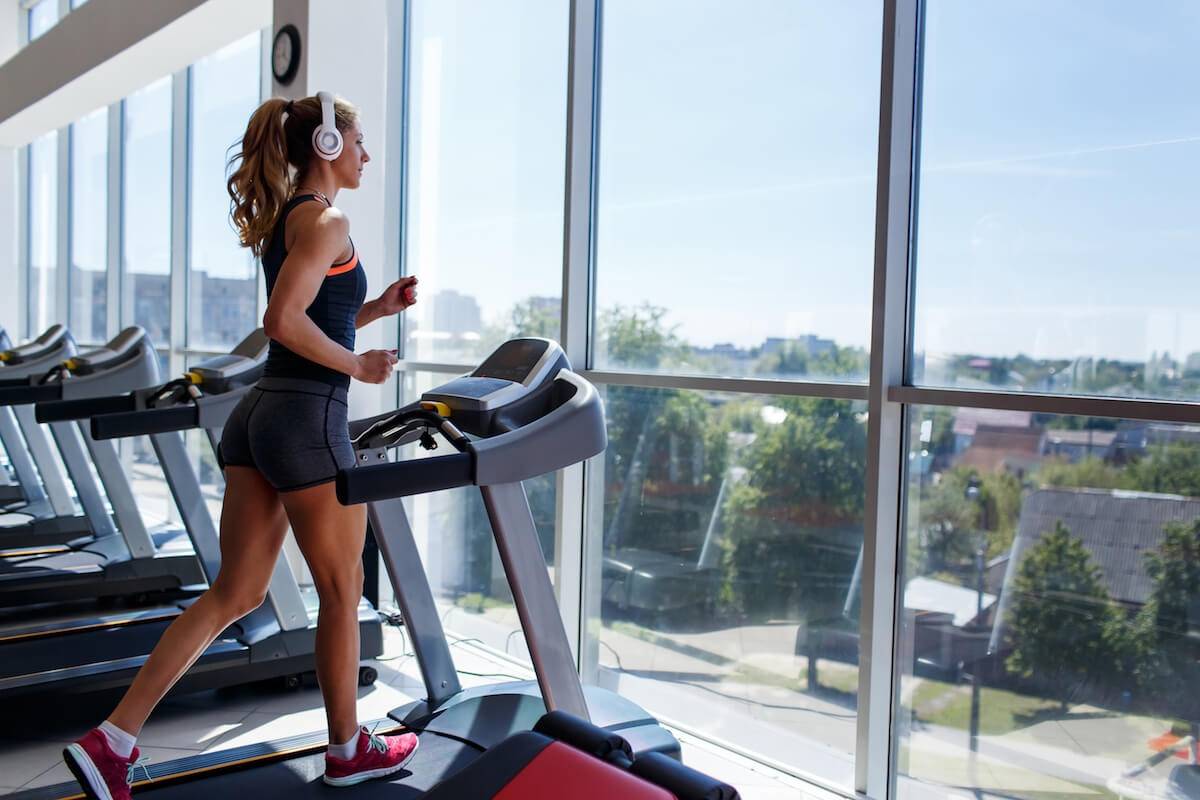 You don't have in-store testing opportunities when shopping online. See that the frame is constructed of steel, insured for at least five years, and bears over 250 lb load. The inclusion of hearty uprights and crossbars also strengthens the frame. Rolling bars are as crucial as vulnerable. A large diameter better withstands abuse and maintains belt tension.
The foremost duty of a console is to show performance stats, including time, distance, speed, calories, and heart rate. The interface should contain intuitive and quick-access adjustment controls. A streamlined and backlit specimen makes readouts visible in the dark. Lastly, goal-track capabilities help permanent users compare and trace their journeys.
Tech trains are full of à la carte features: wireless connections, touchscreens, and speakers. Perhaps, the biggest lodestone is the support of external applications. You'll get access to training centers, scenic views, and advanced trackers. However, most of these incur an ongoing expense. Rest your primary focus on the longevity of mechanical parts.
Our ten-point scale of running treadmill reviews recount portability as a significant parameter. Every ideal home-use device is compact, lightweight, and maneuverable. The majority of treadmills can fold with vertical storage and transport wheels. Soft Drop ensures the deck doesn't slam on the ground as you pull out the locking pin.
The budget ultimately shapes your decision. How much you'll spend, what dimensions you'd prefer, and what sort of tech gizmos you fancy are some prerequisites you should identify beforehand to narrow the search. After all, seek maximum value (price upon quality) instead of the lowest cost.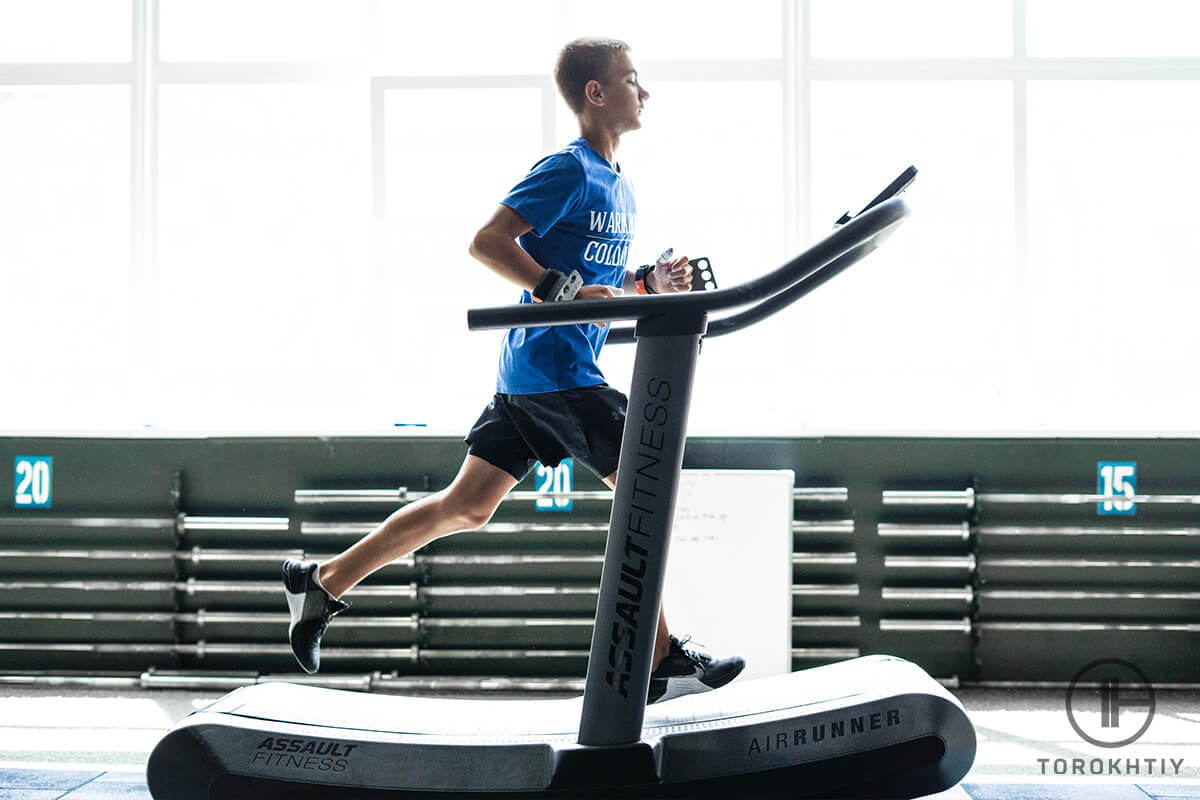 How to Use the Treadmill for Running Right?
Consult a doctor before modifying your training regimen, especially if you carry joint problems or some cardiovascular disorders. Also, inquire about a suitable speed range. Have your trainers and crew socks ready. And drink about two glasses of water (16 ounces) one to two hours prior.
Accustom yourself to manual settings before jumping on preset programs. Attach the safety lanyard if given. Warm-up and cool down for five minutes at low speeds. One common mistake beginners make is they continue holding handrails. Swing your arms back and forth to get into proper posture.
Most people lean onto the monitor, restrict their arm drive, look down on their feet, or disturb the stride by excessively stomping and pounding the deck. Think of yourself as running outdoors. And keep the motion as natural as possible. Getting lost at VR mountains and beaches do help!
Do Professional Runners Use Treadmills?
The idea that treadmills are a beginner's domain exploded long ago. The ability to switch pace and intensity in progression gives it a decided upper hand over junk miles outdoors, especially during the winter. That's why many elites embrace treadmills for short tempos and marathon streaks. However, they stress on taking your workout in nature as well.
Is It Ok to Jog on a Treadmill?
Who Should Not Run on a Treadmill?
Marathoner or triathlete, threshold or long-distance hurdler – a treadmill is integral to runners' training regimens. It lets you control and transcend difficulty levels. We found NordicTrack EXP 7i the best treadmill for running, fashioned head-to-toe to satiate your need for speed.
Which treadmill modality do you prefer: 1) long and slow endurance runs or 2) short and fast cardio-busting sprints? Let us know in the comment section.
Metabolic Equivalents for Weight Loss: What Are They & How to Calculate Them // NASM: https://blog.nasm.org/ metabolic-equivalents-for-weight-loss

Role of Functional Beverages on Sport Performance and Recovery // NIH:

https://www.ncbi.nlm.nih.gov /pmc/articles/ PMC6213308/
Exercise Heart Rate Zones Explained // Clevelandclinic: https://health. clevelandclinic.org /exercise-heart-rate-zones-explained/
Energy expenditure with indoor exercise machines // NIH: https://pubmed.ncbi.nlm.nih.gov /8618368/
Step frequency patterns of elite ultramarathon runners during a 100-km road race // Physiology journals: https://journals. physiology.org/ doi/full/10.1152 /japplphysiol .00374.2018
Effect of Increasing Running Cadence on Peak Impact Force in an Outdoor Environment // NIH: https://www.ncbi.nlm.nih.gov /pmc/articles/ PMC8329321/
Influence of Stride Frequency and Length on Running Mechanics // NIH: https://www.ncbi.nlm.nih.gov /pmc/articles/ PMC4000471/
A Paradigm of Uphill Running // NIH: https://www.ncbi.nlm.nih.gov /pmc/articles/ PMC3707880/
Benefit of human moderate running boosting mood and executive function coinciding with bilateral prefrontal activation // Nature: https://www.nature.com/ articles/s41598-021-01654-z
Are overground or treadmill runners more likely to sustain tibial stress fracture? // BMJ: https://bjsm.bmj.com/ content/37/2/160
How to Know If You're Staying Hydrated While Running // HSS: https://www.hss.edu/ article_staying-hydrated-while-running.asp
Warm Up, Cool Down // Heart: https://www.heart.org/ en/healthy-living/fitness/fitness-basics/warm-up-cool-down
Treadmill stress tests should not be part of "routine health check package" // Sciencedirect: https://www.sciencedirect.com /science/article/ pii/S0019483218304255
Aerobic treadmill training effectively enhances cardiovascular fitness and gait function for older persons with chronic stroke // NIH: https://pubmed.ncbi.nlm.nih.gov /23177232/
Effectiveness of Treadmill Training on Balance Control in Elderly People: A Randomized Controlled Clinical Trial // NIH: https://www.ncbi.nlm.nih.gov/ pmc/articles/ PMC4242992/
Physiological and Psychological Effects of Treadmill Overtraining Implementation // NIH: https://www.ncbi.nlm.nih.gov /pmc/articles/ PMC8230380/
My name is Ihor and I have been a professional weightlifter since 1996. With over 20 years of competition experience, my resume includes European Champion in 2009 and the silver medalist at 2011's Senior World Championships – 105kg division.
I competed at the 2008, 2012 and 2016 Summer Olympics.
After hanging up my own competitive lifting shoes, I decided to share my huge background as a coach. I am currently coaching multiple athletes who are competing at national and international competitions.