Choosing the best dumbbells is a big step when it comes to how effective your fitness routine is, because it has a direct impact on effectiveness and safety of your workouts. Whether you're into strength training, functional fitness, or just want to tone up, dumbbells offer versatility that's difficult to match.
A lot of people think there's not much to dumbbells because they're so simple and widely used, so it can seem like they're all pretty much the same. However, that's not the case at all: there's a sea of available options. From adjustable to fixed-weight, from rubber-coated to cast iron — the number of choices can be overwhelming. Moreover, the wrong set can compromise your form and even lead to accidents!

Don't worry, there's no need to spend hours scouring the internet – we've done the heavy lifting for you. You'll find a variety of dumbbells here, and each has been reviewed thoroughly.
In a hurry and can't keep reading? How about you check out the Rogue Dumbbells.
Rogue Dumbbells stand out as the top choice, offering exceptional quality and durability with a standard hex shape, various weight increments, robust steel construction, chrome-plated handles, and rubber-encased heads, ensuring a quiet and floor-friendly workout experience.
Our team of certified nutritionists and professional athletes has tested 45 dumbbells for this article, and 12 of the best ones made it to this list. We've spent 495 hours testing most of them, and we based our evaluations on 7 main criteria. We have also analyzed hundreds of online reviews. We're updating our list regularly, so you're welcome to share your experiences in the comments section!
Grab your workout clothes, and let's hit the gym!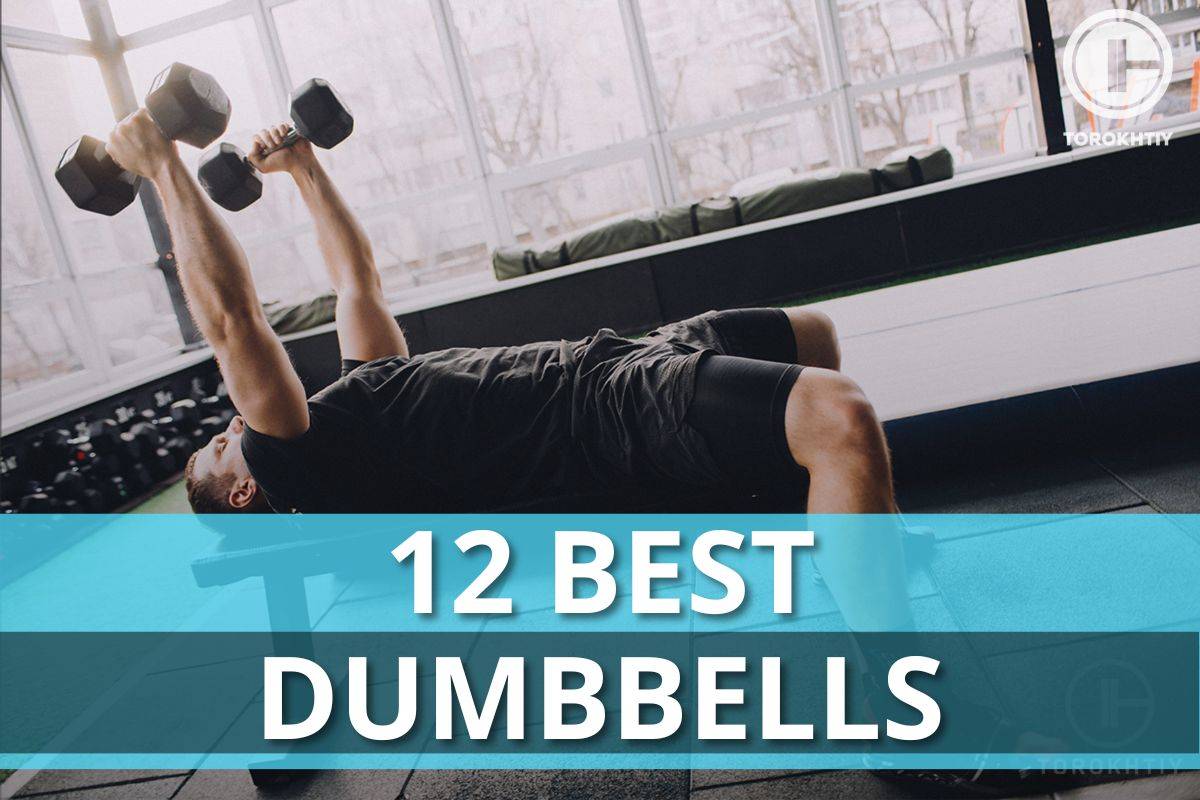 Top 12 Best Dumbbells Reviewed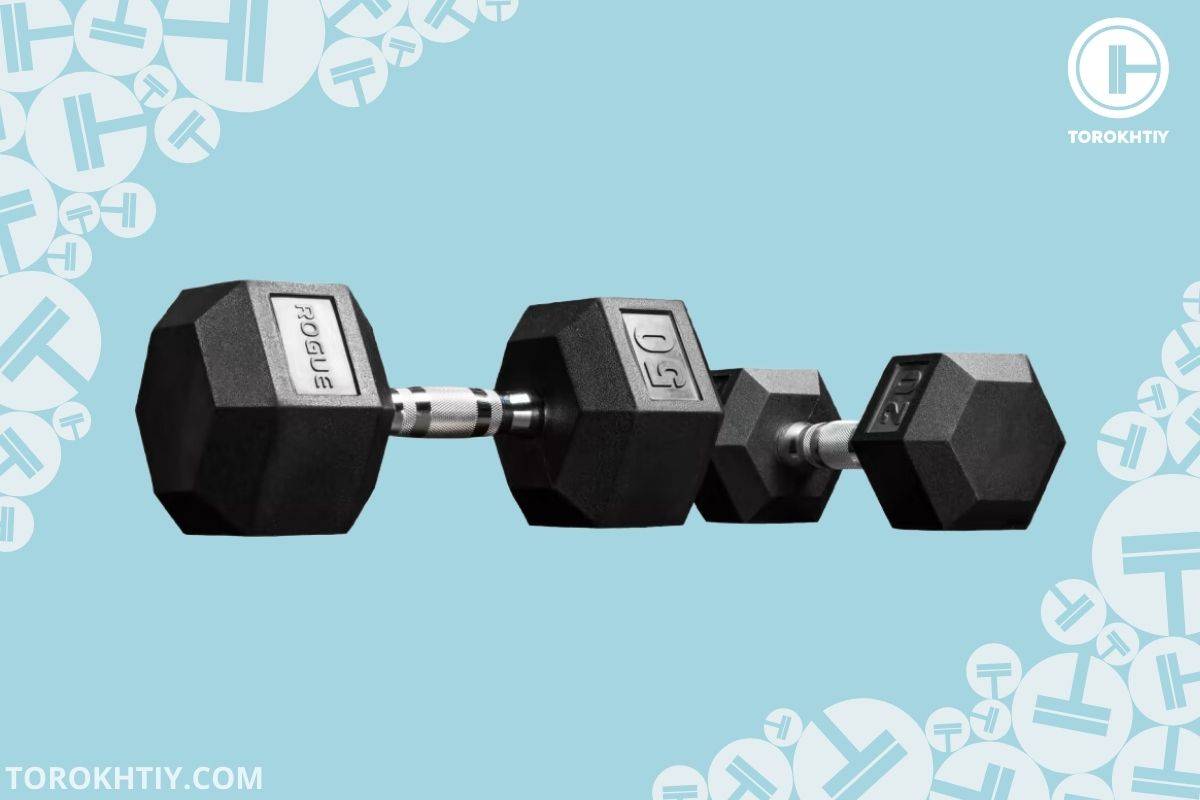 The top pick comes from Rogue: their hex dumbbells are the best ones you'll find. They come in many weight increments, so everyone can find a pair of dumbbells for themselves.
Dumbbell type: Rubber hex dumbbells
Shape: Hexagonal
Handle material: Chrome-plated steel
Head material: Rubber encased steel
Handle diameter: 0,98'' for weights up to 10 lbs, 1.37'' for weights 12.5 lbs and above
Weight range: 2.5 lbs to 125 lbs
Increments: 2.5 lbs and 5 lbs increments
Knurling (yes/no): Yes
Price per pound: Approximately $3.13
Can be dropped: Yes
These dumbbells have a standard hex shape and are sold in pairs, so you get a good bang for your buck. Their construction is good quality and robust (as if we expected anything less from Rogue) – they're made of steel, the handle is chrome-plated, and the head is rubber-encased, which means that they're not only durable but also not too noisy and your floors won't get damaged. This is a very important factor for those who work out at home.
The steel handles are chrome-plated and ergonomic, so your grip is secure and comfortable. They're slightly textured, which is a great feature because you don't have to worry about them slipping, even if your hands are sweaty.
They start at 2.5 pounds and go all the way up to 125 pounds – a substantial weight range that provides a lot of versatility. There are also a lot of weight increments that allow you to gradually increase the weight as you progress. This is good for everyone, but it's particularly beneficial for people who are just starting out and need lighter weights to build their strength.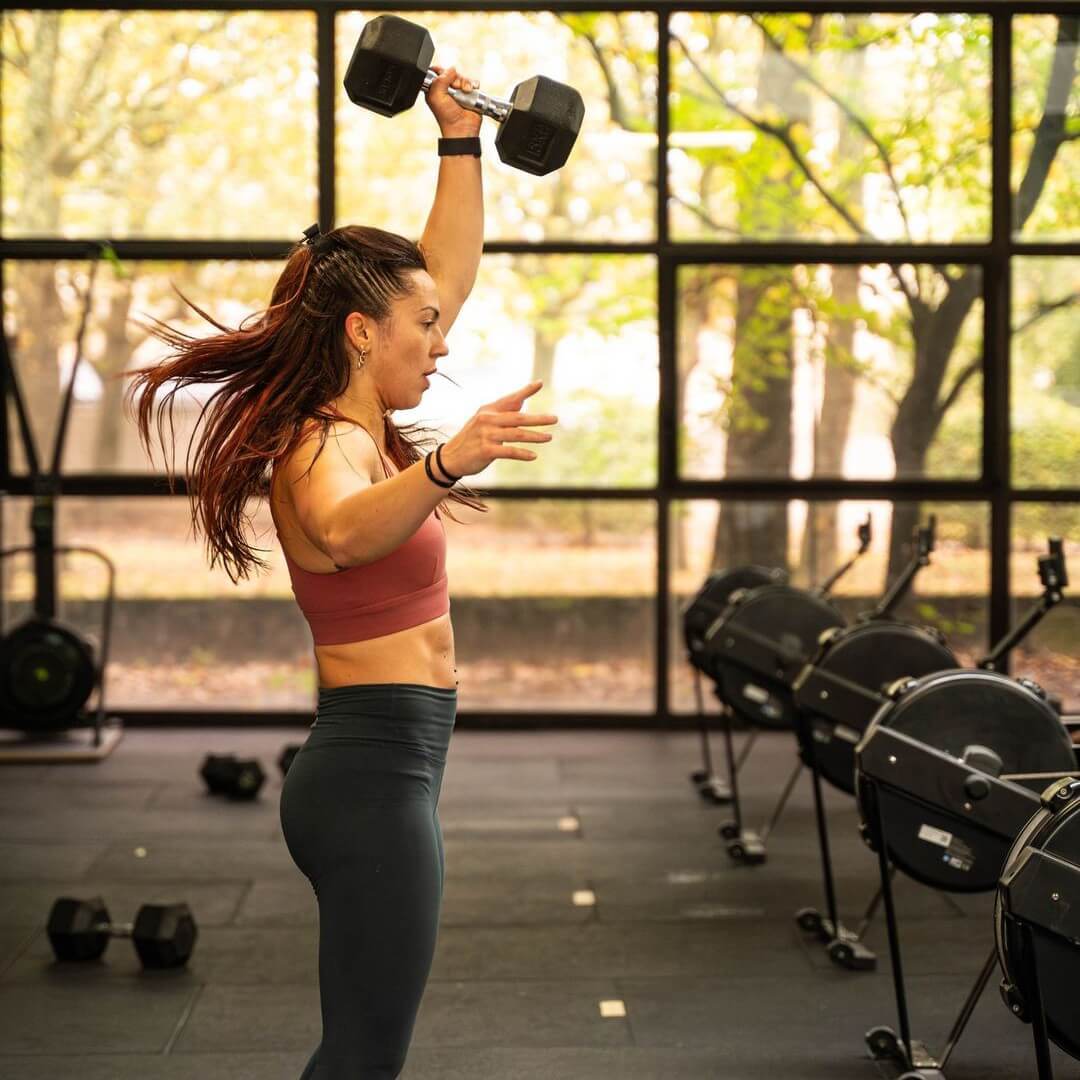 The proprietary head-to-handle construction ensures that the head is safely attached to the handle and there's absolutely no fear of the head coming loose during your workout.

These dumbbells have dimensions based on weight, with length, width, and height all adjusted to accommodate the different sizes. The handle diameter is also tailored to the weight of the dumbbell: those up to 10 pounds have a 0.98'' handle, and those of 12.5 pounds and heavier have a 1.37'' handle.
These are the best free weights for a home gym, and they have everything you want: they're durable, have plenty of weight increments, and provide a ton of versatility for your workouts.
Rogue Dumbbells are the perfect addition to your home gym, providing a secure and comfortable grip with chrome-plated ergonomic steel handles, a versatile weight range, and a durable design with a proprietary head-to-handle construction.
(Show More)
Wide range of weight increments

Securely connected heads and handles

Rubber-encased to minimize the noise and protect the floor
Ergonomic handle is not as comfortable as expected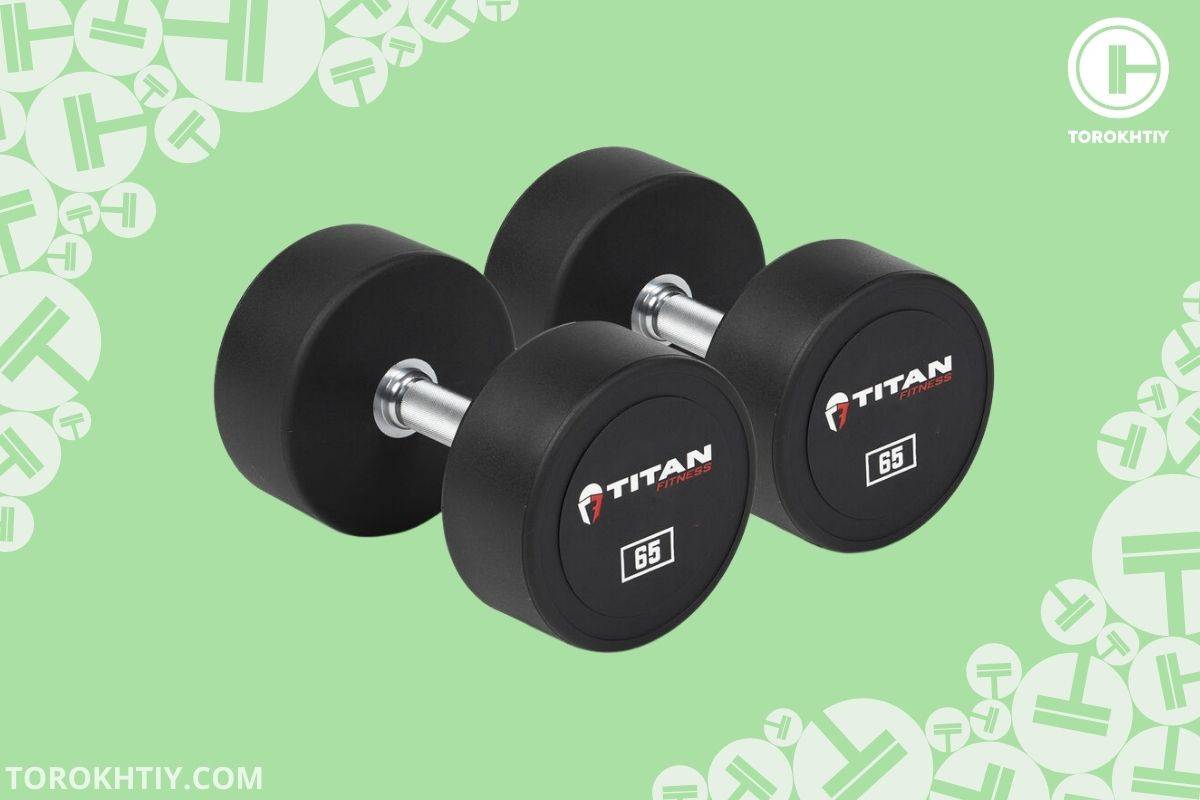 Titan's Urethane dumbbells are a pricier alternative to rubber dumbbells and, although you'll be spending a bit more money on these, they're top-notch and you won't regret investing in them.
Dumbbell type: Round urethane dumbbells
Shape: Round
Handle material: Solid steel with chrome finish
Head material: High-quality urethane
Handle diameter: 1.25''
Weight range: 5 lbs to 120 lbs
Increments: 5 lbs
Knurling (yes/no): Yes
Price per pound: Approximately $4.16
Can be dropped: Yes
These at home dumbbells are made very precisely – they have high-quality urethane molded around solid steel handles and medium depth knurling. The knurling provides a secure and comfortable grip, so the only thing you need to focus on is your workout because you don't have to worry about these slipping out of your hands.
Another great thing about urethane dumbbells is that they have no odor. If you've ever used rubber dumbbells, you know they have a distinct smell, especially when they're brand new, which is not the case with urethane ones.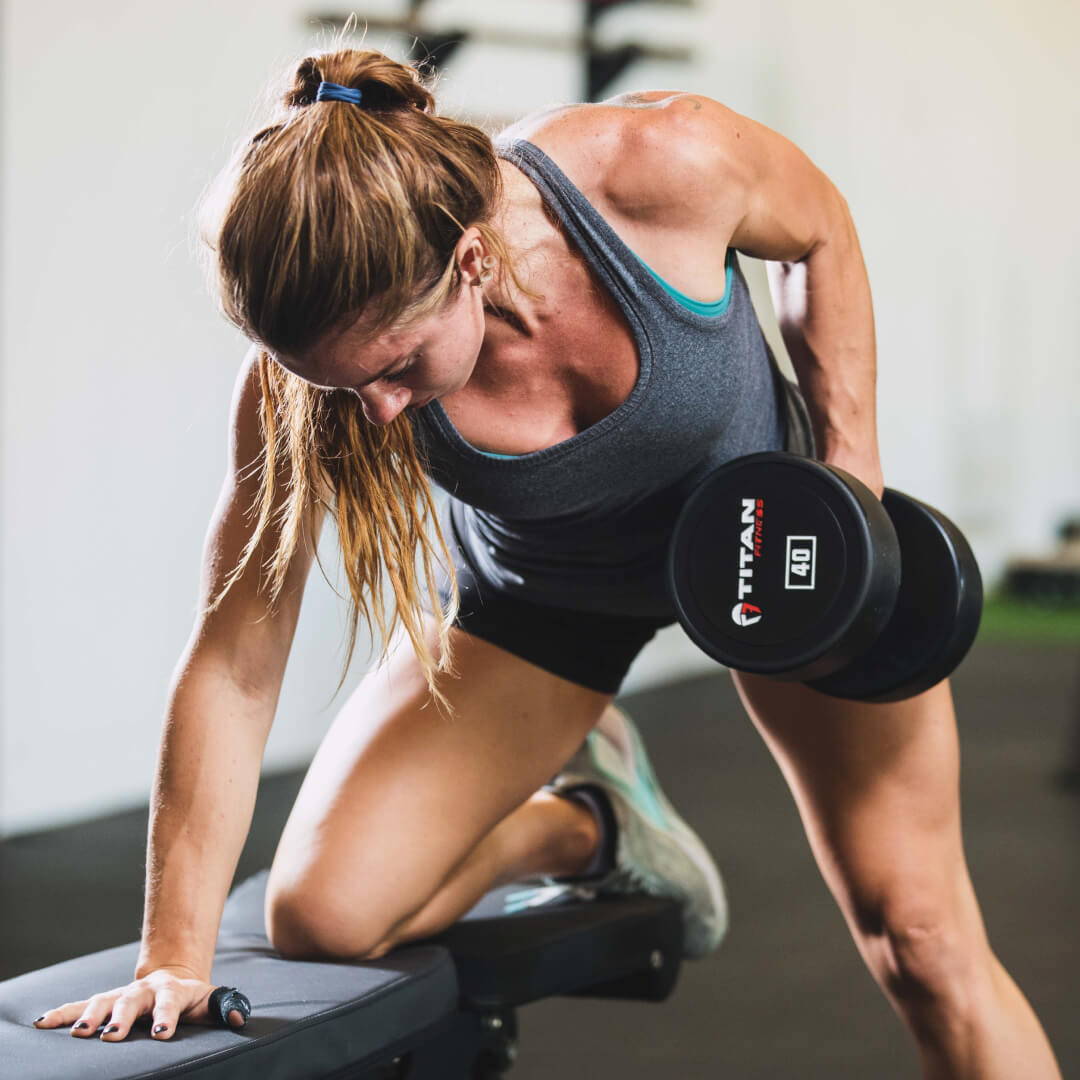 Regardless of your fitness goals, these dumbbells are versatile enough for anyone's fitness routine and you can use them for a lot of different workouts. There are several weight increments increasing in 5 lbs intervals from 5 lbs up to 120 lbs, and it's easy to tell them apart because there are white print numbers on each dumbbell.

Since urethane is so durable, these dumbbells will keep their shape and appearance for a long time and will continuously perform without issues.
Titan Fitness Urethane Dumbbells offer a premium alternative to rubber counterparts, with high-quality urethane molding for a secure and comfortable grip, ensuring versatility for various workouts, making them a top-notch choice.
(Show More)
Ideal for workouts involving dropping the dumbbells

White print numbers for easy identification
More expensive than the top pick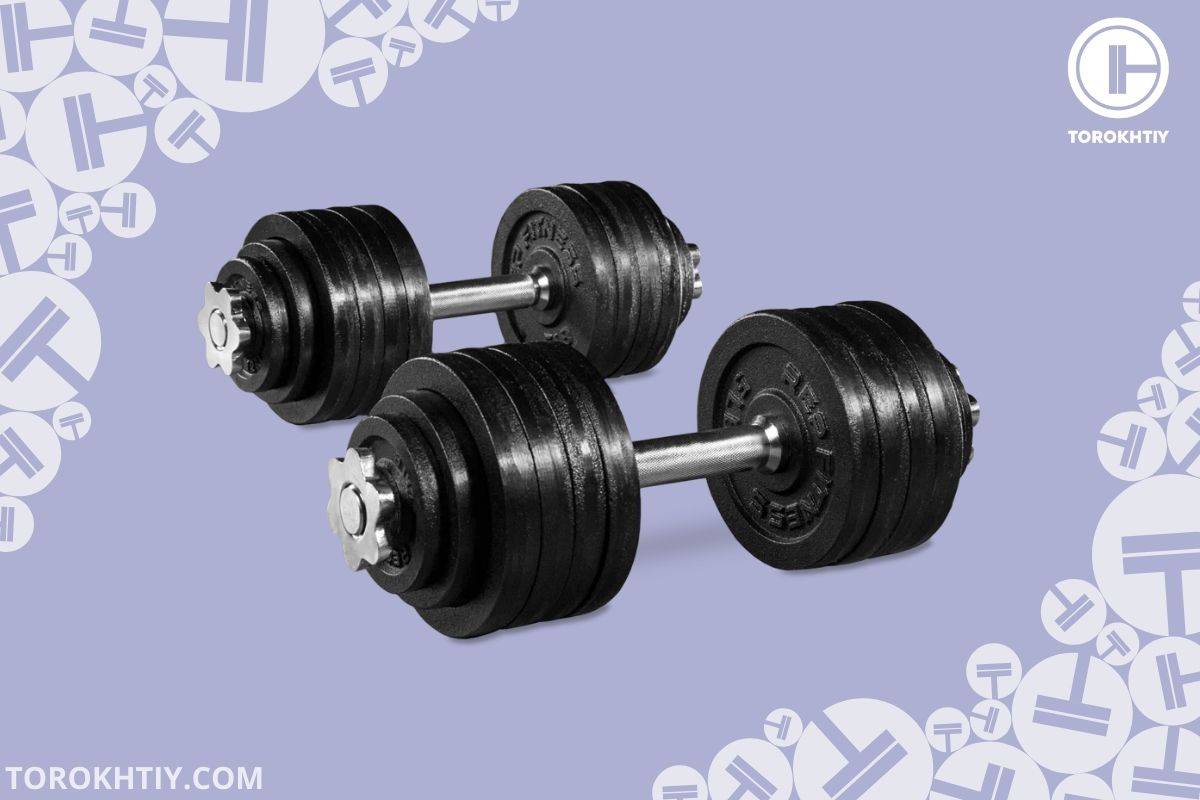 Rep's Adjustable Dumbbells are a very convenient option for anyone who's strapped for space or just doesn't want to have a bunch of dumbbells but requires all the variety they provide.
Dumbbell type: Adjustable
Shape: Straight handle with solid cast iron plates
Handle material: Iron
Head material: Iron
Handle diameter: 1''
Weight range: 20 lbs, 52.5 lbs (up to 85)
Increments: 5 lbs and 2.5 lbs
Knurling (yes/no): Yes
Price per pound: Approximately $3.46
Can be dropped: Can withstand moderate drops
This home gym dumbbell set comes in two weight options: 20 lbs and 52.5 lbs. Each option offers a weight range that allows for multiple options with a single dumbbell. They're very adaptable and can be used by people with varying fitness levels and workout routines. The max load per dumbbell is 85 lbs (4 lb handle + two ½ pound collars, and eight 10 lb plates – four per side).
You know how much sweaty hands can distract you from your workout? That feeling like the equipment will just slide right out of your hands is incredibly annoying, but you'll be happy to know you don't have to worry about that with these! The dumbbells' fully knurled straight handles are a great feature, because the knurling makes the grip nice and secure, and the solid cast iron plates make them more durable. They are not as durable as fixed-weight dumbbells, but there's no way around that.
The easy-to-use spinlock star collars make adjusting the weights quick, and secure and the transitions between weight settings are seamless. This feature makes your workout hassle-free.
Overall, these dumbbells are as durable as adjustable dumbbells can be. They're a great choice for people who look for versatility but do not want to have a bunch of dumbbells cluttering their space. The price is great, and so is the construction. As far as loadable dumbbells go, these are your best option.
Rep Fitness Adjustable Dumbbells offer a versatile and compact solution for home gyms, featuring secure knurled handles, easy-to-use spinlock star collars, and durable construction for hassle-free and space-efficient workouts.
(Show More)
User-friendly spinlock collars for easy adjustments
Not as durable as fixed-weight dumbbells

You need to be careful if you're dropping them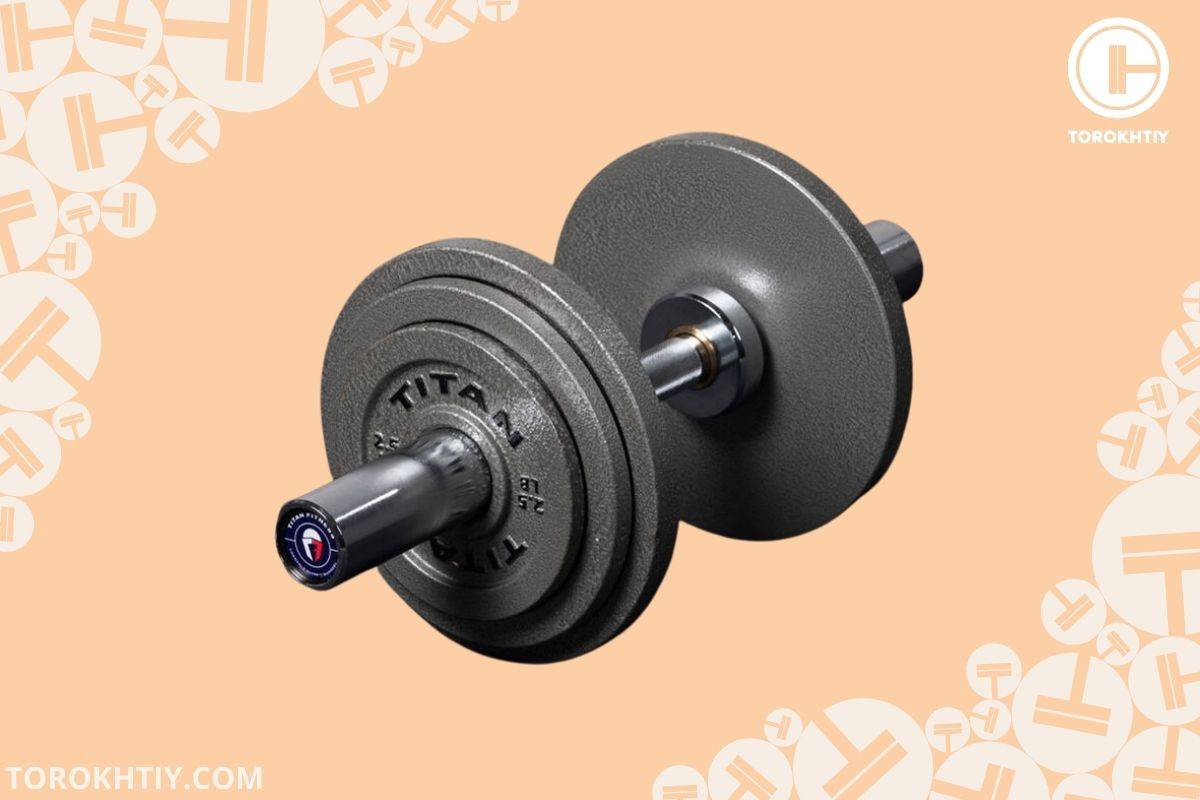 The Loadable 20'' Olympic Dumbbell Handles are a universal tool that can give you a full-body workout. They're inspired by Olympic barbells and offer a very unique approach to strength training.
Dumbbell type: Loadable dumbbell handle
Shape: Straight handle with loadable sleeves
Handle material: Steel
Head material: Steel
Handle diameter: 1.1'' (28mm)
Weight range: Each handle has 400 lbs weight capacity
Increments: Custom weight adjustments using Olympic-sized weight plates
Knurling (yes/no): Yes
Price per pound: Varies based on the weight plates you use
Can be dropped: Suitable for exercises involving controlled drops
The handles are made from high-quality steel and have medium knurling and bronze bushings to help your grip. Their most important feature is the 6.5'' loadable sleeve, which allows for custom weight adjustments. This sleeve length will suit most people, but it won't be enough for heavy lifters, so keep that in mind.
Choosing these handles means that you'll be saving a decent amount of space in your home gym because you don't need to have a lot of different dumbbells to have more weight options at your disposal and your workout area won't be cluttered.
Each handle has a 400 lbs weight limit, which gives enough resistance for a variety of exercises. Whether you're looking to target your quads, glutes, or obliques with lunges, squats, side bends, or twists, these handles will be able to support whatever you throw at them.
The overall design is focused on balance and durability, and considering they're made of steel, that's something you definitely shouldn't doubt.
The annoying thing is that the collars are not included with the handles, so you need to buy them separately. Truth be told, collars are standard equipment in most home gyms and a lot of people already have them, but if you're just setting up your space, do not forget to buy the collars.
Titan Fitness Olympic Dumbbell Handles offer a unique approach to strength training with high-quality steel construction, a loadable sleeve for custom weight adjustments, and versatile full-body workout options, saving space.
(Show More)
Knurling provides a very secure grip

Bronze bushings for smooth lifting

400 lbs weight capacity per handle
Sleeve length is not sufficient for heavy lifters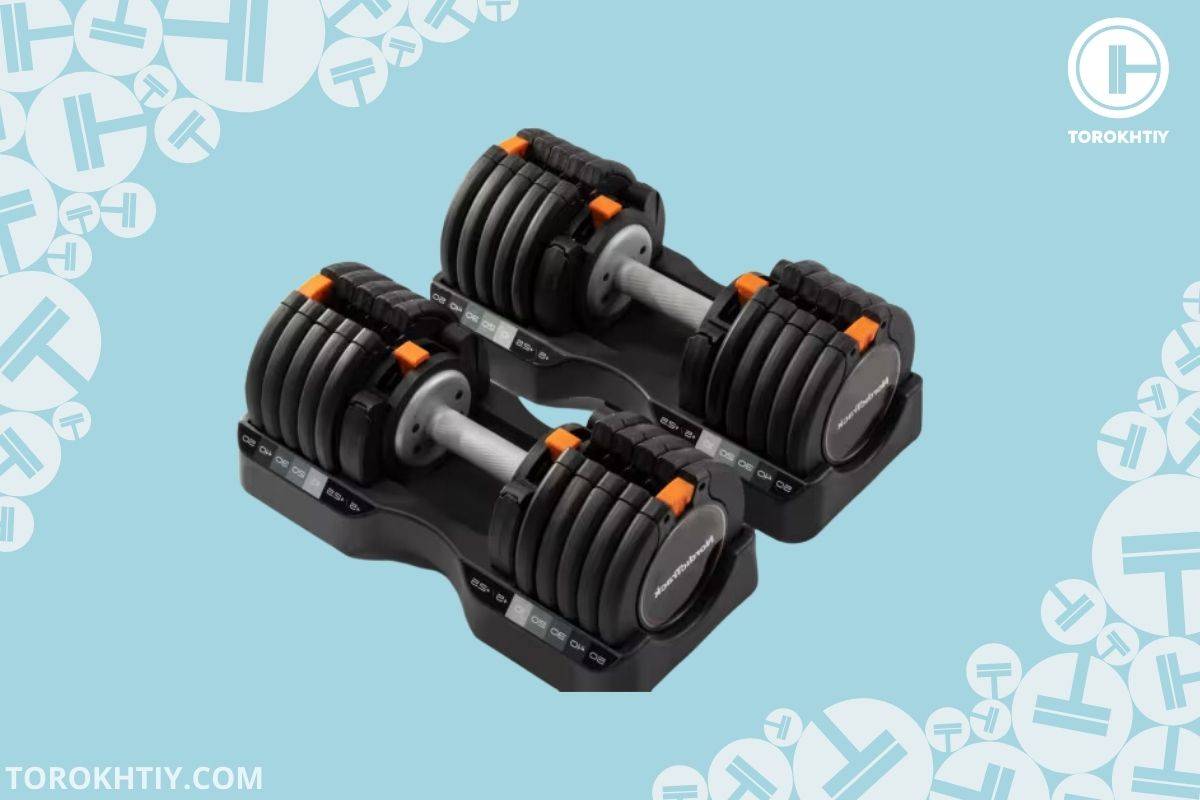 The Select-A-Weight dumbbells are the best adjustable dumbbells you'll be able to find – they're easy to adjust, sold in sets, and come with fitted storage trays.
Dumbbell type: Adjustable dumbbells
Shape: Traditional dumbbell shape
Handle material: Plastic and steel
Head material: Steel
Handle diameter: 1.25''
Weight range: 10 to 55 lbs
Increments: 2.5, 5 and 10 lbs
Knurling (yes/no): Yes
Price per pound: Approximately $3.63 per dumbbell
Can be dropped: No
These dumbbells allow you to choose the ideal resistance for your workouts and have weight increments of 2.5, 5, and 10 pounds. Each dumbbell has a 10-pound handlebar which can be used individually to target various muscle groups. This means you can strengthen and tone your entire body with a single set of dumbbells.
One of the best things about these dumbbells is their ability to replace 30 individual dumbbells – each dumbbell has 15 weight increments, and they take up a fraction of the space 30 individual dumbbells would take.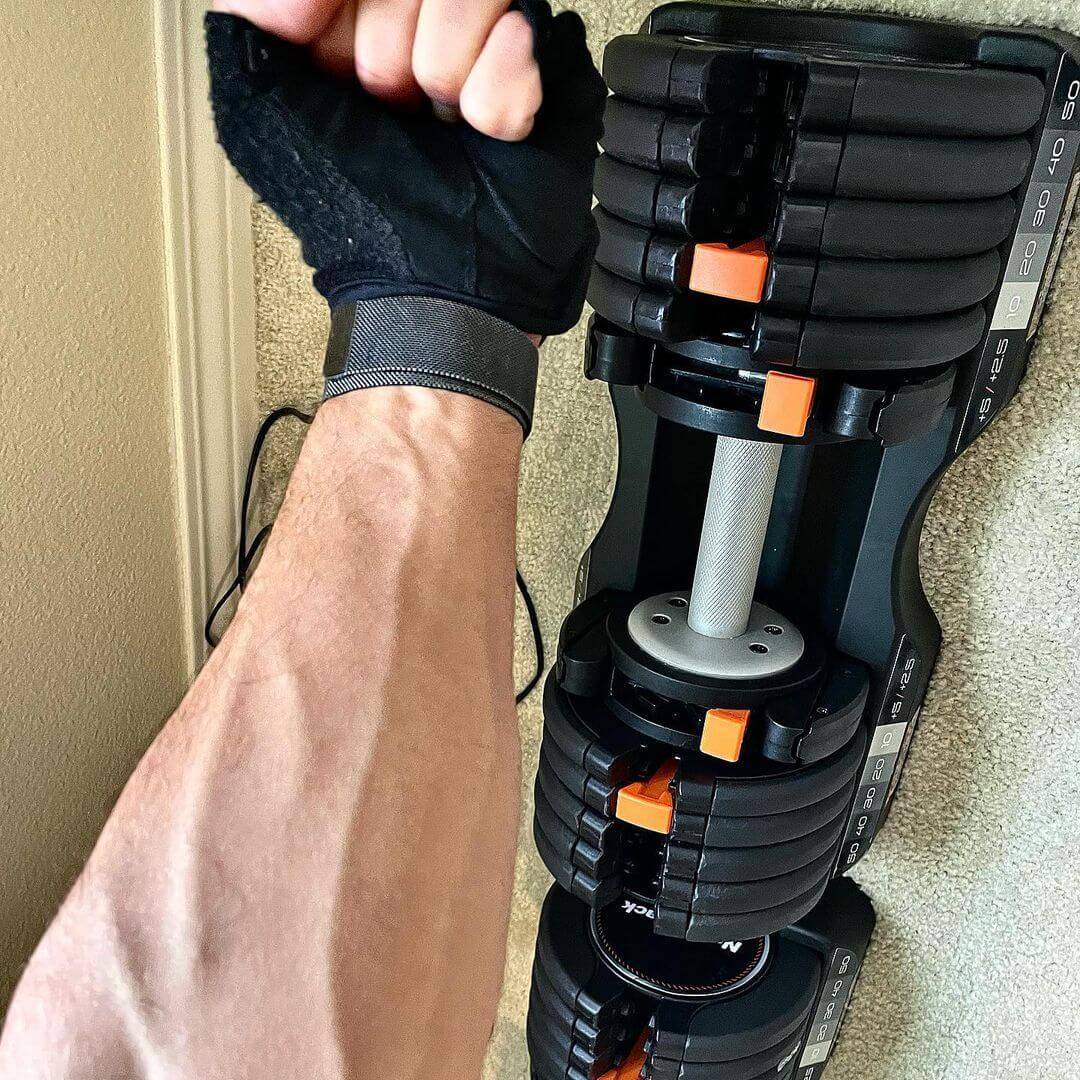 They're made of a combination of steel and plastic, and you also get a 30-day free iFit trial. If you don't know what iFit is, it's an app that lets you access a huge library of strength and conditioning workouts led by professional trainers.

These dumbbells are packed with some amazing features, but it's only fair to admit that they're not perfect and come with some drawbacks. The first thing you'll probably notice is that the plates wiggle slightly, which can be a little irritating. Secondly, they only have a 90-day warranty, which seems a little unfair, since issues usually come with prolonged use. How much can really go wrong in less than 3 months?
NordicTrack Select-A-Weight Dumbbells offer a space-efficient solution with easy adjustment and storage trays, featuring a combination of steel and plastic construction, a 30-day free iFit trial for professional-led workouts.
(Show More)
These dumbbells replace 30 individual dumbbells

Fitted storage trays included
The plates wiggle a little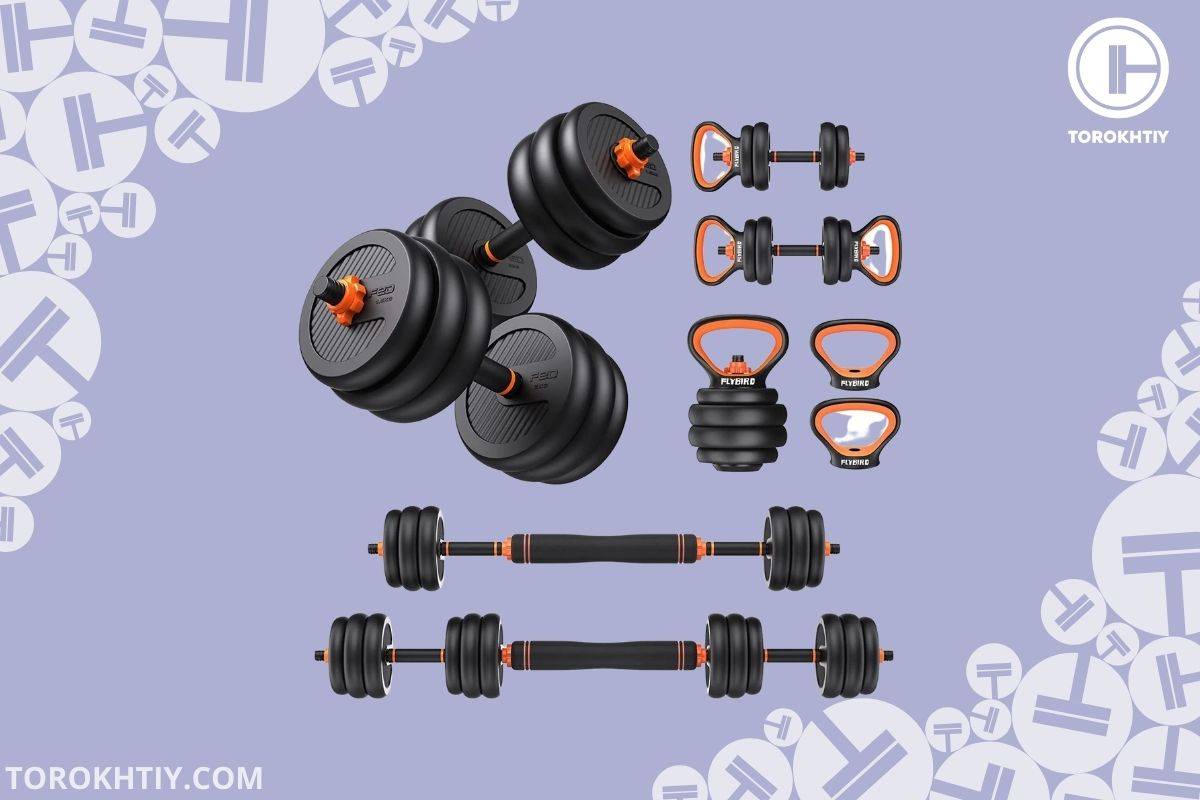 These dumbbells are practical, eco-friendly, and save space. Since more and more people are becoming environmentally conscious and are working on minimizing their carbon footprint, there's no doubt that these adjustable dumbbells will find their way into a lot of home gyms.
Dumbbell type: Adjustable dumbbell
Shape: Standard dumbbell shape
Handle material: Alloy steel
Head material: Iron, mud, sand
Handle diameter: 1''
Weight range: 50 lbs, 70 lbs, 90 lbs
Increments: Adjustable in combinations
Price per pound: Approximately $3.38
Can be dropped: No
These dumbbells use ABS (Acrylonitrile Butadiene Styrene) for coating the gripping bars, which is a durable, stable material known for its resistance to corrosion, impact, chemicals, and wear. But the best thing about this coating is that it's non-toxic and fully recyclable.
This set includes a collection of workout equipment: aside from dumbbells, you get kettlebells, barbells, and push-up stands. If you're just starting your home gym, this is a great way to do that, because you don't have to choose between different pieces of equipment: you can get more of them in a single package.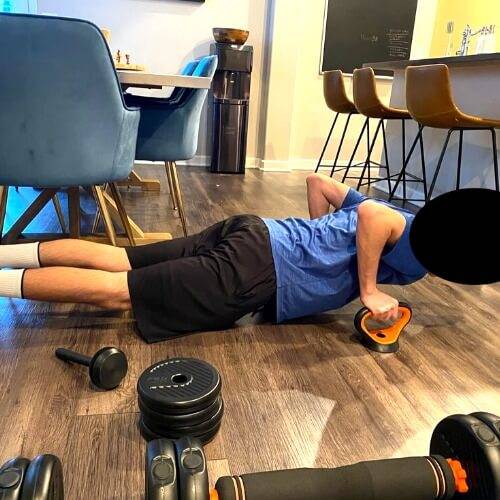 There's a decent amount of weight options for the dumbbells. The handle diameter is 1'', and the barbell length is approximately 22.7 inches. The handles are made of alloy steel and the exterior of the dumbbells is made from PE materials, while iron, mud, and sand are used on the inside. The handles are a tad slippery, but other than that, there's not much to complain about.

Flybird Adjustable Dumbbell Set offers an eco-friendly and practical solution for home gyms, featuring non-toxic and recyclable ABS coating, versatile workout equipment, and a range of weight options.
(Show More)
Different pieces of equipment included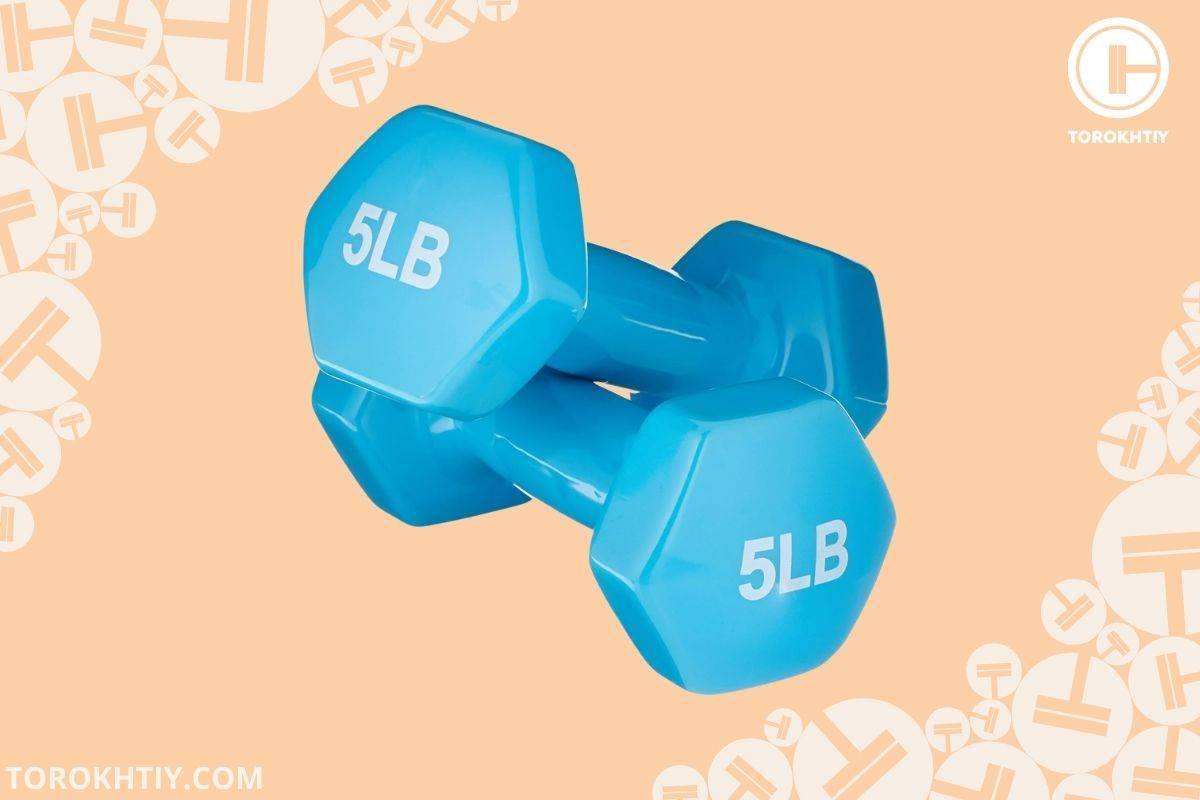 These brightly colored dumbbells look great and give good performance. You get a pair of durable 5-pound dumbbells at a good price.
Dumbbell type: Fixed weight dumbbell
Shape: Hexagonal
Handle material: Alloy steel
Head material: Steel with a vinyl exterior
Handle diameter: 3''
Weight range: 2-20 lbs
Increments: 1, 2 and 3 lbs increments
Knurling (yes/no): No
Price per pound: Approximately $3.80
In theory, some of the main features of these dumbbells is a non-slip grip and a contoured handle – but it doesn't really translate in practice. To be completely frank, the material they're coated with makes your hands sweat, and once they get wet, the dumbbells become very slippery. Besides, the handle is too big for someone with small or average-sized hands, so they're not very comfortable to hold.
With that out of the way, let's get into some good stuff. These dumbbells are very straightforward and perform well. It's not a heavy dumbbell set, but if you happen to like these, you'll be able to expand your collection and add some more of these dumbbells to it because they come in weights ranging from 2 to 20 pounds. They're basic, easy to use, and good for beginners because they're so simple. They also have printed weight numbers on each end cap and are color-coded for quick identification. If you were to collect all of these, you would have a really fun-colored collection of dumbbells.
Amazon Basics Vinyl Hexagon Dumbbells offer a visually appealing and budget-friendly option for beginners, with a straightforward design, color-coded weights, and a minor consideration for handle comfort and grip.
(Show More)
Color-coded for easy identification

Simple and straightforward
Handles are too big for small hands

The coating makes your hands sweat
Experts Who Contributed To This Article
M.Sc.Eng. Biotechnology, Sports Nutritionist
Olympian with 21 years of Oly Lifting experience
20 years of Oly Lifting & Training experience

3 Main Types of Dumbbells
If you even glanced at dumbbell reviews, you've noticed that they come in many shapes and sizes, which is why they're so versatile and suitable for people of all fitness levels.
They're proof that you don't have to spend a lot of money to stay healthy, and you can even combine dumbbells with other equipment, like resistance bands, and you'll get some great results.
Rubber hex dumbbells are very popular for both home and commercial gyms. They have a solid metal core with hexagon-shaped rubber-coated ends. They're very comfortable to hold and, because of their shape, won't roll around when they're not being used. The rubber coating will also protect your floor from any potential damage.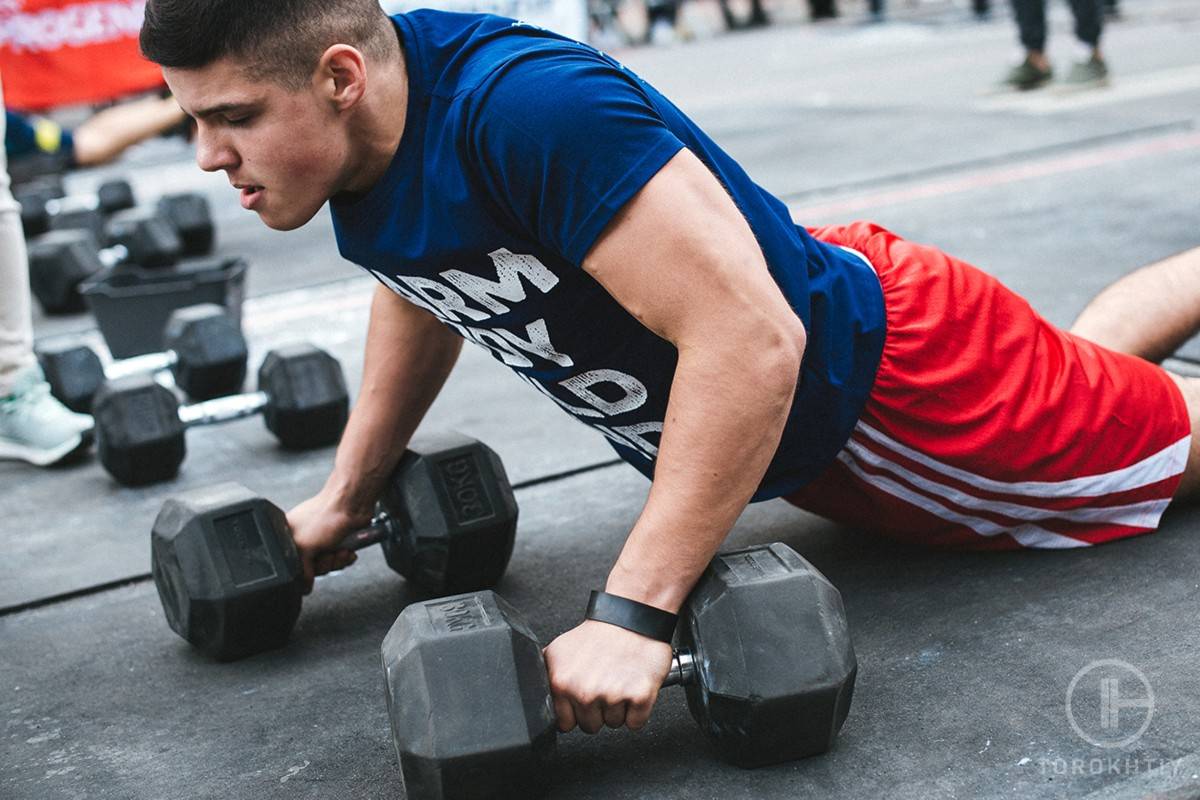 2. Urethane Round Dumbbells
Known for their sleek and modern looks, urethane round dumbbells have a solid metal core that's coated in urethane – a high-quality, durable material that (typically) has no odor. Urethane dumbbells are very easy to clean and maintain, so if you plan on sharing your equipment with someone else, these are a good choice.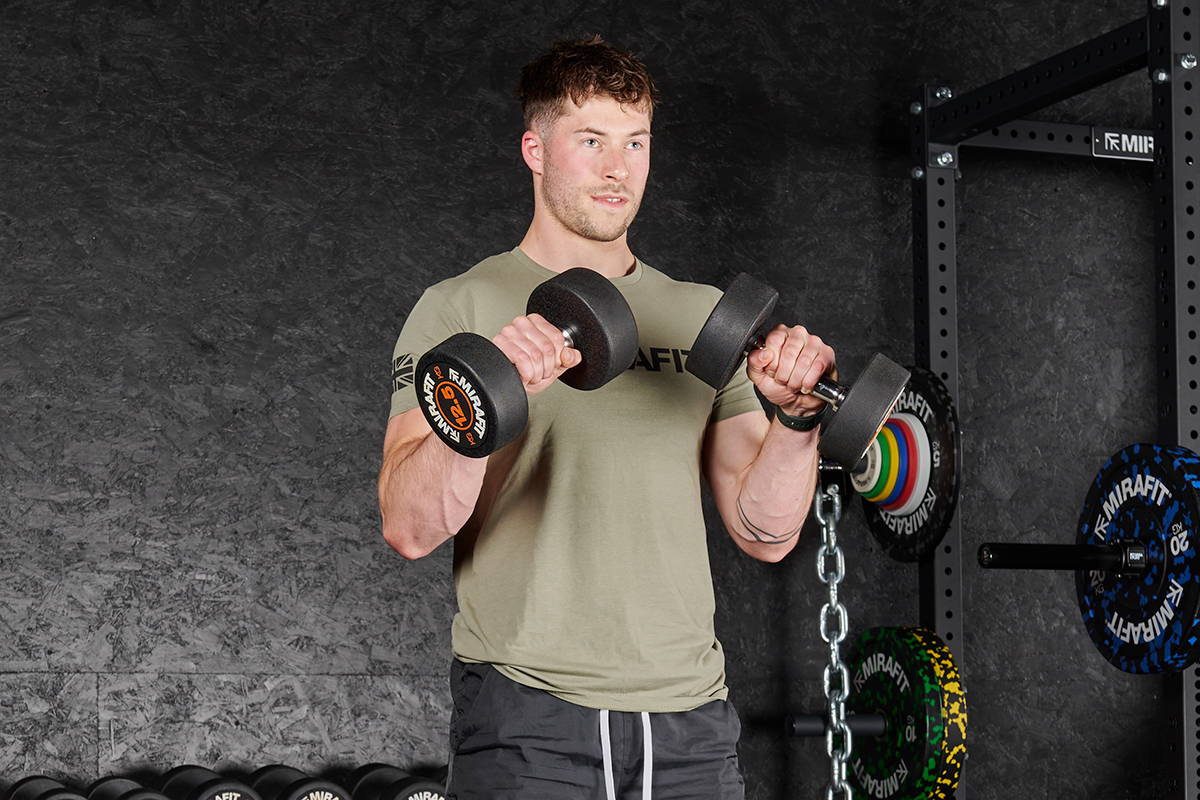 A very convenient solution for anyone looking to switch between different weights, adjustable dumbbells will allow you to have a full set of traditional dumbbells without the clutter they would bring.
Here a few examples of adjustable dumbbells that you can find/use.
Loadable dumbbells are very versatile. They consist of a handle, collars, and weight plates that you can remove or add to adjust the amount of weight you want to work with.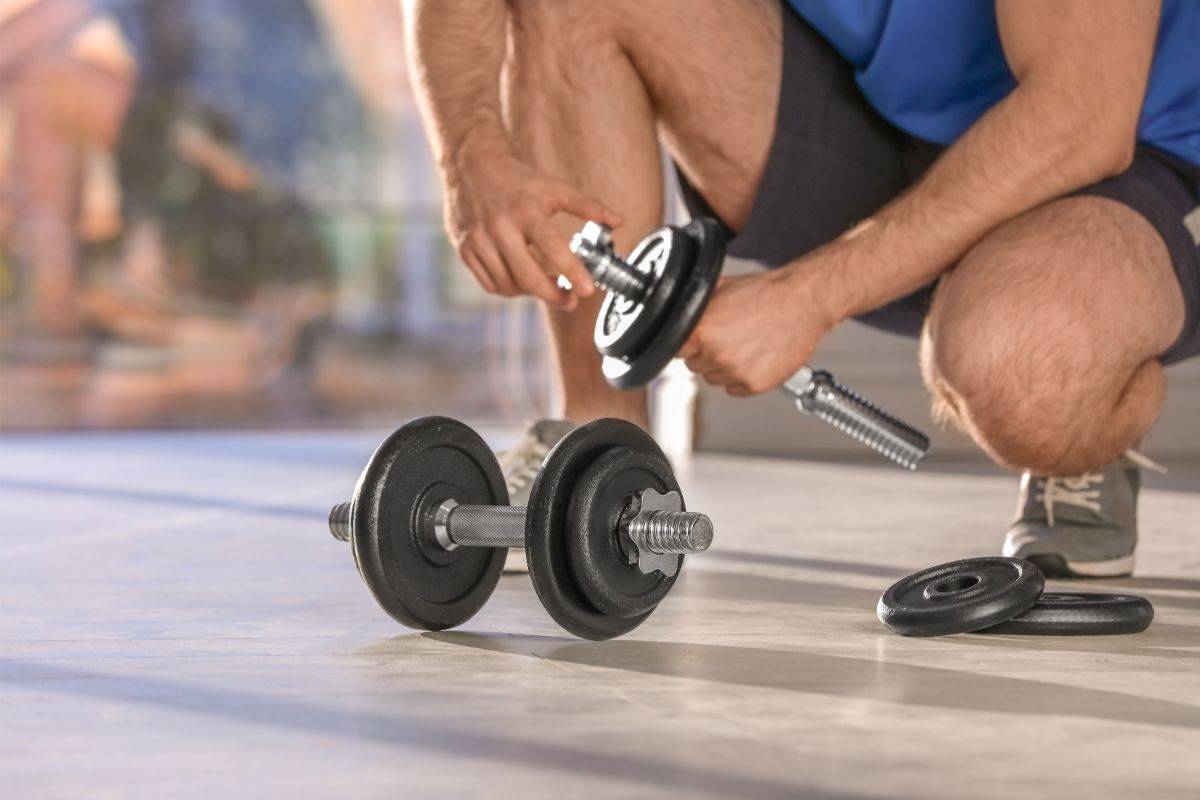 Dial Adjustable Dumbbells
Dial adjustable dumbbells have a dial mechanism that allows you to adjust the weight quickly and precisely. The mechanism is user-friendly, you just turn the dial to your desired weight and you're good to go.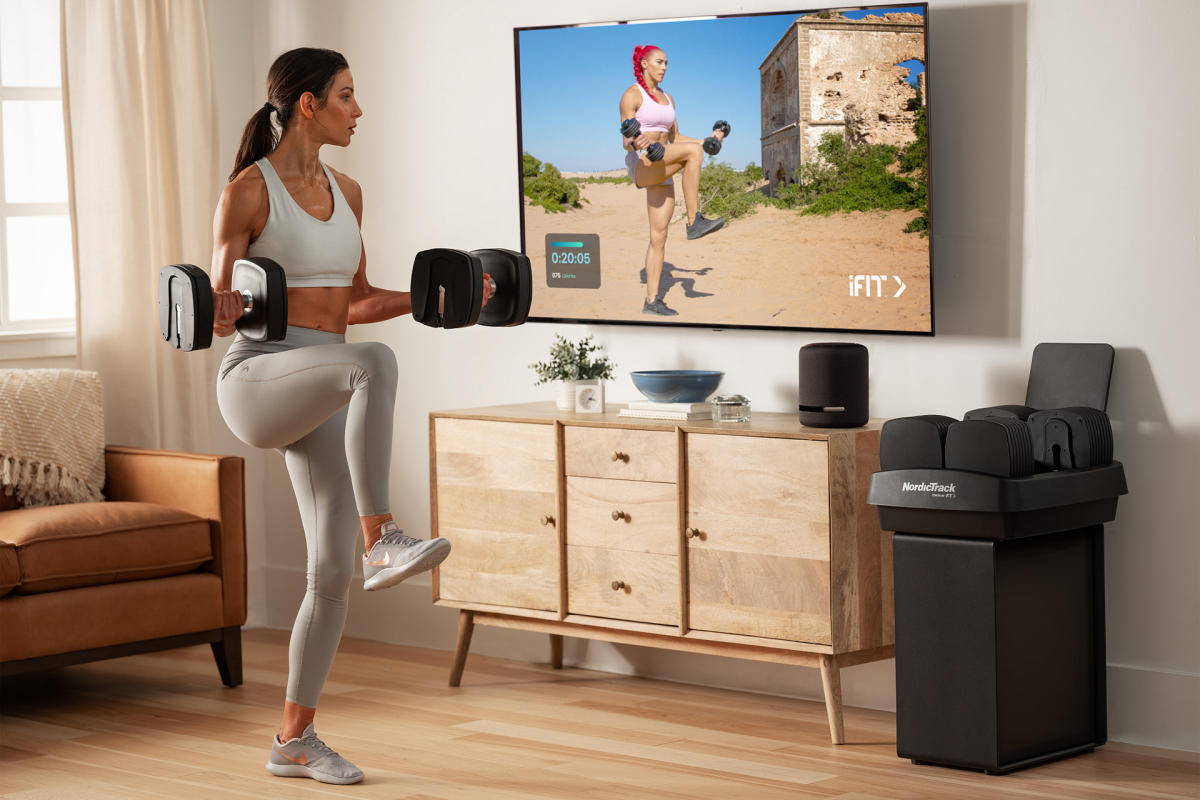 If you want something easy to use, then you're going to like the handle-twist dumbbells. You change the weight by twisting the handle to the weight you want, which makes the transitions seamless. These are simple yet efficient.

Our performance architect and S&C movement specialist, Jacek Szymanowski, shared this:

"Hex Dumbbells are my favorite. Rubber finish won't damage flooring, they won't roll on the floor, which is helpful in many situations.
Knowing the importance of Unilateral and Full Range of Motion work will help you to understand that Dumbbells play a big role in every professional athlete's regime."
7 Benefits of Using Dumbbells
With so much gym equipment to choose from, why would you go for dumbbells? The answer is very simple: they have a lot of benefits. They're simple, easy to use, versatile and usually a lot more affordable than most other equipment, and if you use them on a regular basis, they'll give results just like expensive, bulky machines would. And let's not forget they can also help you maintain and lose weight!
As far as versatile fitness tools go, dumbbells are one of the best choices you can make. You can use them to target a lot of different muscle groups, so whether you want to build strength, define your muscles, or improve your overall fitness level, there's a pair of dumbbells that can help you with that.
✅ Balance and Stabilization
When using dumbbells you are usually engaged in unilateral exercises (you're working with one side of your body at a time), as opposed to a barbell which is always bilateral (working with both sides of the body). Unilateral exercises (as opposed to bilateral) often engage stabilizer muscles, which are important for maintaining balance and control. This means that dumbbells can help you improve your core strength and stability, which can improve your posture. Because of their unilateral nature, dumbbells can also help you with identifying and correcting muscle imbalances.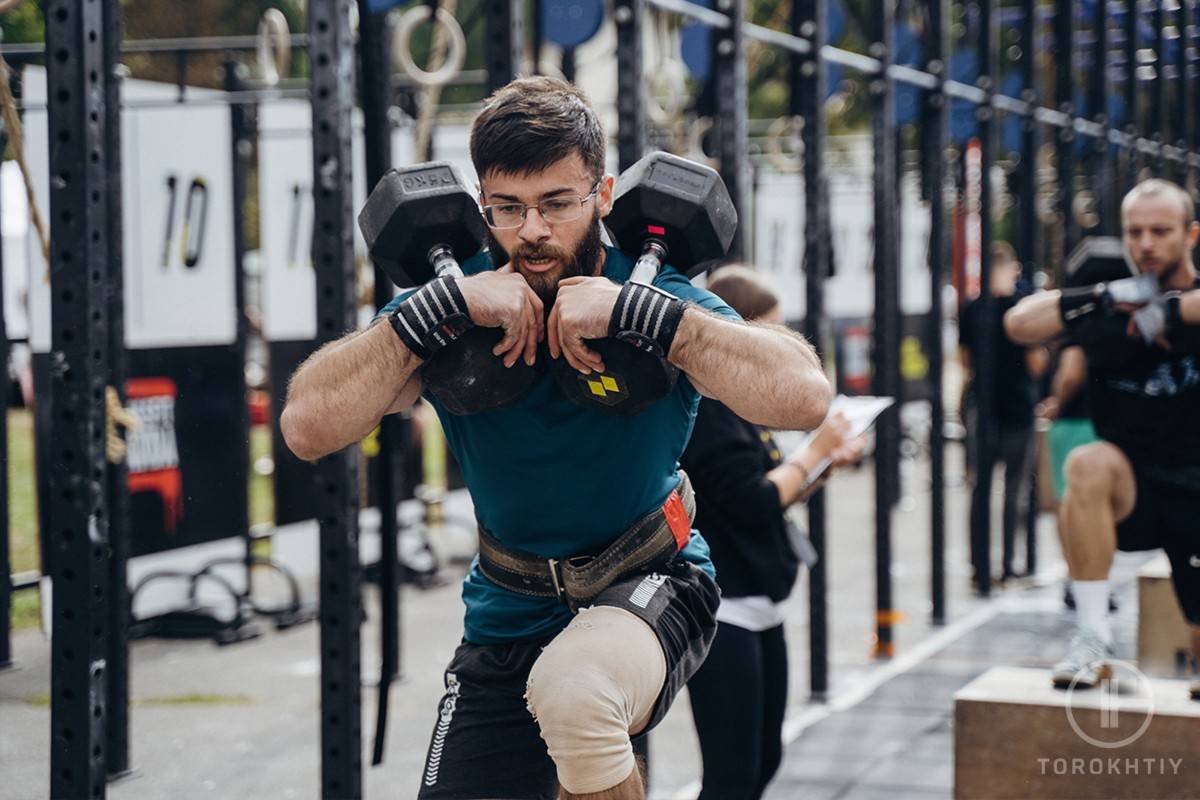 Can you imagine working with the same amount of weight all the time? That would be terrible, right? You don't have to worry about that with dumbbells because they come in a wide range of weight options, so you can progress at your own pace and adjust the weight to your liking.
Dumbbells are compact and need minimal storage space, which makes them ideal for small spaces and home gyms. You can do a complete strength training routine with a pair of dumbbells without the clutter bulky equipment would bring.
Compared to some bigger fitness tools, dumbbells are affordable. They provide effective, challenging workouts without breaking the bank.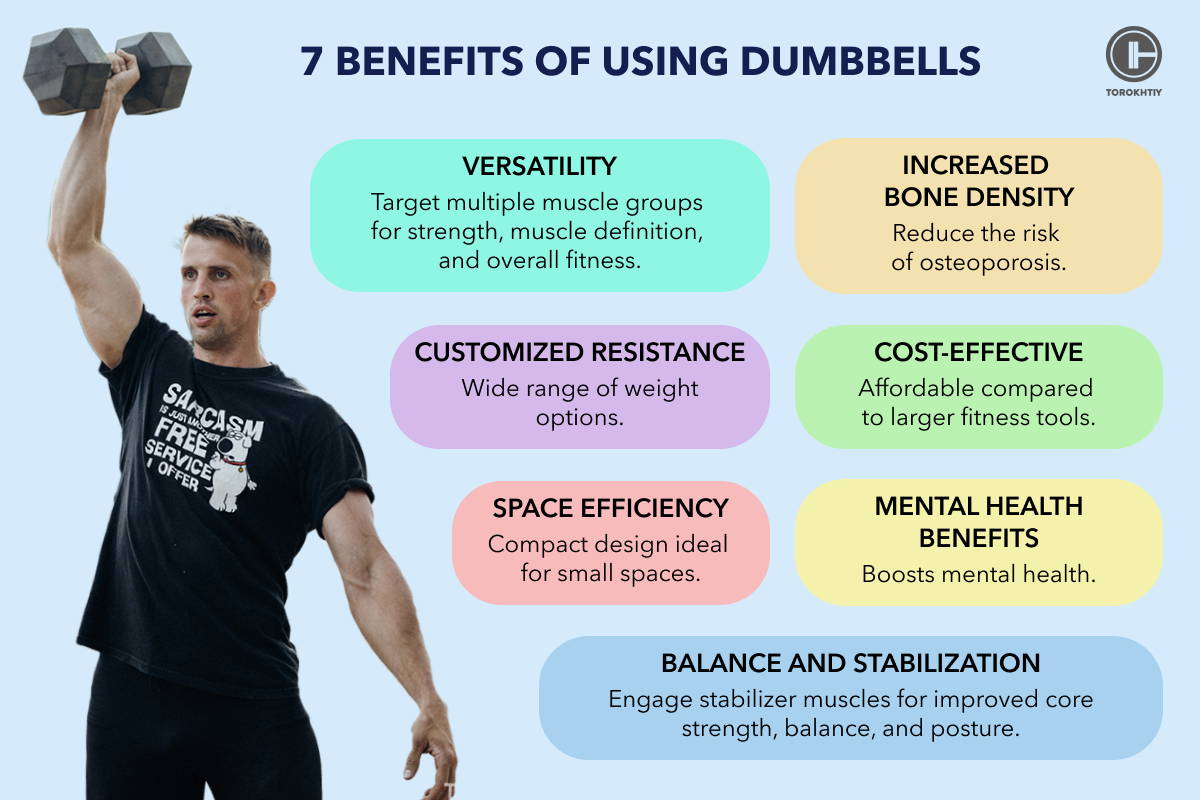 How to Choose the Best Dumbbell?
With them being so popular and so widely used, there's an incredible amount of different dumbbells on the market. Making the choice can seem difficult, but if you pay attention to a few key characteristics, you'll see it's a piece of cake.
You want something that will last a long time and that you'll be able to use however you want, without being extremely careful. Look for dumbbells made of high-quality materials, like steel, iron, and rubber coating.
Comfort is very important, because if the dumbbell isn't comfortable, it will be distracting and you won't be able to get the most out of your workout. Your best option is always a dumbbell that has an ergonomically designed handle, since it's comfortable and reduces some of the strain placed on your hand and wrist.

When selecting dumbbells, prioritize durability with materials like steel, iron, and rubber coating to ensure long-lasting use. Opt for dumbbells with ergonomically designed handles for comfort, reducing strain on your hands and wrists. Additionally, consider the shape of the dumbbells, whether hexagon, round, or square, as it influences stability, storage, and rolling, aligning your choice with your workout space and preferences.
Hexagon, round, square… There are all kinds of shapes the dumbbells come in. The shape is an important feature, because it will impact stability, storage, and rolling, so think about what is most important to you and what suits your workout space the best.
You want a secure and comfortable hold on the dumbbell, so the grip quality of the handle is one of the most important things to think about when it comes to choosing your new dumbbells. Your best bet is a knurled or textured handle that has a non-slip grip.
High-quality materials, such as cast iron or steel, contribute to longevity and durability because they won't degrade over time. Don't cheap out and get dumbbells that are made of low-quality materials because they'll fall apart soon.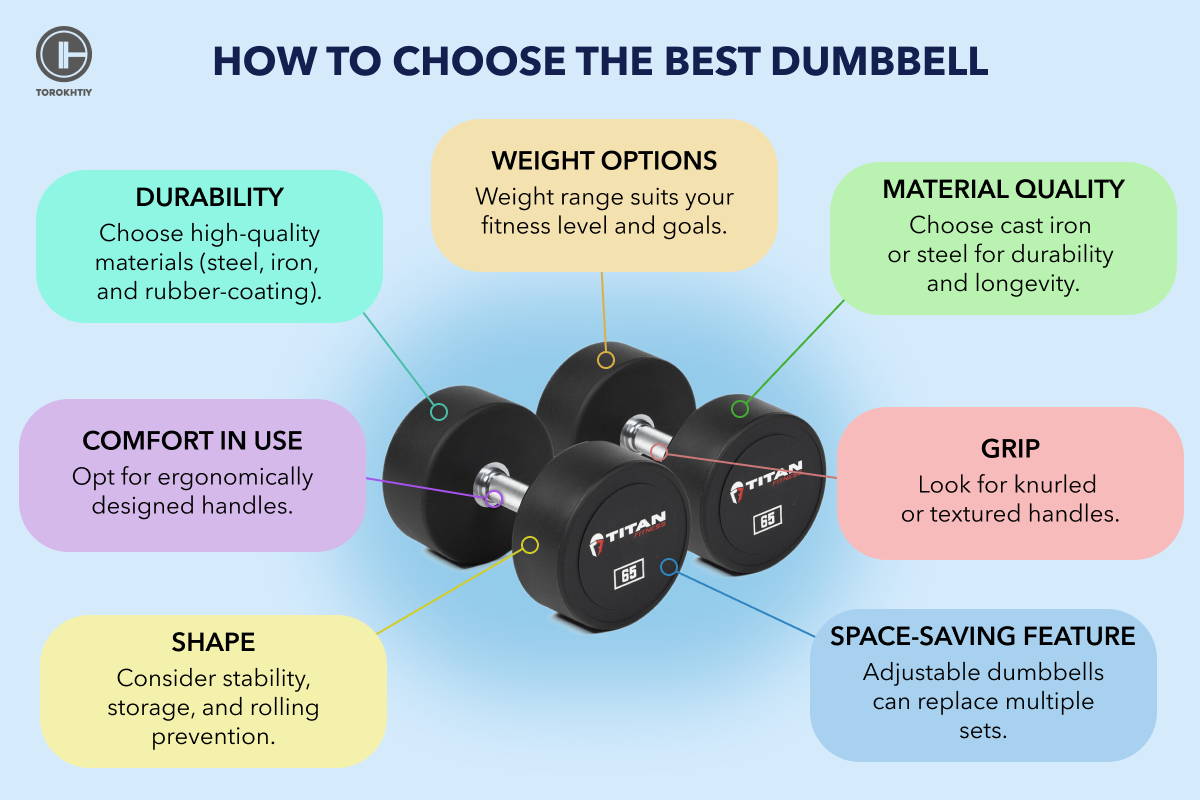 If your workout space isn't huge (and when it comes to home gyms, it usually isn't), think about options that will save you space, like adjustable dumbbells or sets with a rack. They can replace multiple sets of traditional dumbbells and they're ideal for home gyms with limited space.
Check the weight range before deciding on what to buy. You want dumbbells with weight increments that not only suit your current fitness level but also allow you to progress. It's always best to have dumbbell sets for a home gym because they'll allow you to progress.
The Olympic champion, Oleksiy Torokhtiy, noted:

"I like adjustable dumbbells, they take up less space and are great to have even at home."
Dumbbell vs Barbell vs Kettlebell: Key Differences
All of these are popular, and you may be tempted to use them all. You can, of course – there's no sense in limiting yourself and focusing on just a few pieces of equipment and never changing your routine. However, it's good to know what you're getting yourself into, because each of these weights has its own pros and cons.
Take dumbbells – they're compact, versatile, and allow you to do a wide range of exercises and target different muscle groups. They're also excellent for isolation exercises because of their precision and are ideal for beginners. Dumbbells are usually a staple in any home gym, and you'll have a hard time finding one that doesn't have at least one pair of dumbbells.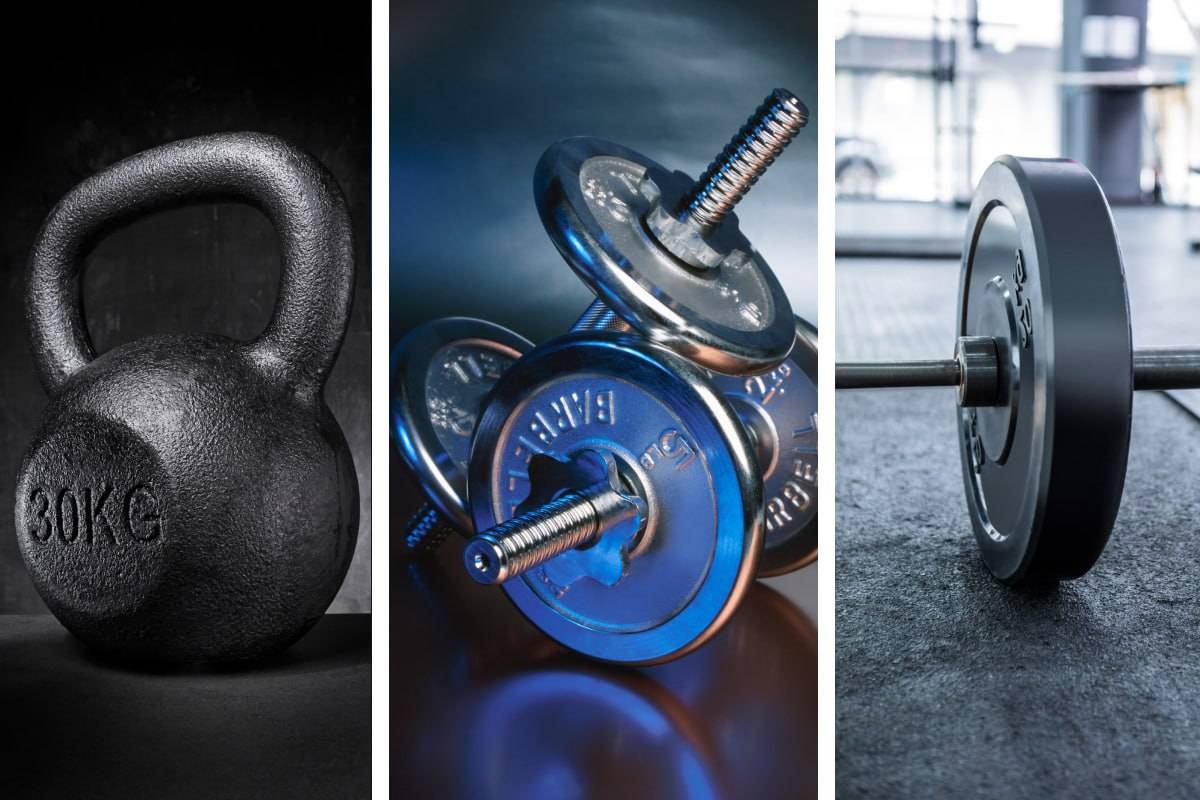 Barbells are longer and heavier than dumbbells and excel in compound movements, like squats, deadlifts, and bench presses. They promote overall strength and muscle development, so it's no wonder they're so popular with powerlifters and serious bodybuilders. When you're using a barbell, you're using both hands, and that engages more muscle groups, which results in greater gains in less time. The thing about barbells is, they require proper fork and technique to prevent injuries, but in general, barbells will allow you to lift greater weights than dumbbells will.
Our expert, Sergiy Putsov, confidently stated:

"In my experience, dumbbells excel in exercises that require a greater range of motion and individual arm work, such as unilateral movements, incline bench presses, flyes, lateral raises or single-leg exercises, where they provide improved stabilization, muscle symmetry, and targeted muscle engagement."
The most unique when it comes to design are kettlebells. A kettlebell is basically a handle with a weighted ball and it's perfect for dynamic movements that improve strength and cardiovascular fitness at the same time. Kettlebell swings, Turkish get-ups, and snatches engage multiple muscle groups and can do wonders for your endurance, mobility and balance. Kettlebells are known for their functional training benefits, and, if you want a whole-body workout, you can't go wrong with them.

Which Brand of Dumbbells Is the Best?
Everyone has a different opinion on what the best dumbbell brands are because it depends on people's preferences. Some brands that are known for their high-quality dumbbells are NordicTrack, Rogue Fitness, Titan Fitness and REP Fitness.
Are Home Dumbbells Worth It?
Yes, home gym dumbbells are great because they're convenient, versatile, and cost-effective, especially compared to gym memberships. You can work out whenever you want, and, if you use them consistently, dumbbells can help you achieve your fitness goals.
Should I Buy a Dumbbell, Barbell, or Kettlebell for My Home Gym?
That really depends on you, what your fitness goals are, and what exercises you want to do. Dumbbells are good for a lot of different workouts, barbells are excellent for compound movements and strength training, and kettlebells are great for "dynamic" movements and are good choice for strength and conditioning training. It all comes down to your priorities.
If you decide to include high-quality dumbbells into your workout routine, you can expect to break through plateaus, and improve your strength. You'll also see benefits in muscle development and your overall well-being (all these things are desirable and good if you care about improving your fitness).
It doesn't matter what type of dumbbells you choose; if you use them consistently, you'll see results and they'll allow you to progress. And think of the best part – the versatility and convenience. They can be easily used for a variety of exercises, and can be conveniently stored in your home without taking too much space. Also, keep in mind that by using dumbbells (if used correctly), you can get the same results as you would by using huge/heavy machines, racks, or similar – the convenience dumbbells provide truly is impressive and on point.
If you want the best dumbbells for a home gym, then go for our top pick: Rogue Dumbbells.
Do you use dumbbells in your fitness routine? What results have you seen? Which exercises do you use them for the most?
We'd love to hear your thoughts on this. Be sure to share your experience with dumbbells, which ones you'd recommend and why, and ask any questions that might dwell in your mind regarding dumbbells. I'd be more than happy to answer them! :D
Dummbell out!
1. Dirk Aerenhouts, Eva D'Hondt, "Using Machines or Free Weights for Resistance Training in Novice Males? A Randomized Parallel Trial," International Journal of Environmental Research and Public Health 17, no. 21 (2020): 7848, https://www.ncbi.nlm.nih.gov/pmc /articles/PMC7662789/ (accessed Oct. 31, 2023).
2. Mayo Clinic Staff, "Exercising with Osteoporosis: Stay Active the Safe Way," Mayo Clinic, https://www.mayoclinic.org /diseases-conditions/osteoporosis/in-depth/osteoporosis/art-20044989 (accessed Oct. 31, 2023).
3. Michael E. Rogers, Helen S. Sherwood, Nicole L. Rogers, Ruth M. Bohlken, "Effects of Dumbbell and Elastic Band Training on Physical Function in Older Inner-City African-American Women," Women Health 36, no. 4 (2002): 33-41, https://pubmed.ncbi.nlm.nih.gov/ 12555800/ (accessed Oct. 31, 2023).

4. Najib M. Yaacob, Nor A. Yaacob, Ab A. Ismail, Noor A. A. Che Soh, Mohamed S. Ismail, Hamid J. J. Mohamed, Suhaily M. Hairon, "Dumbbells and Ankle-Wrist Weight Training Leads to Changes in Body Composition and Anthropometric Parameters with Potential Cardiovascular Disease Risk Reduction," Journal of Taibah University Medical Sciences 11, no. 5 (2016): 439-447, https://www.sciencedirect.com /science/article/pii/ S1658361216300580 (accessed Oct. 31, 2023).
5. "Prevention Osteoporosis," NHS, https://www.nhs.uk/conditions /osteoporosis/prevention/ (accessed Oct. 31, 2023).
6. "Slowing Bone Loss with Weight-Bearing Exercise," Harvard Health Publishing, https://www.health.harvard.edu/staying-healthy/slowing-bone-loss-with-weight-bearing-exercise (accessed Oct. 31, 2023).
7. Tom Erik Solstad, Vidar Andersen, Matthew Shaw, Erlend Mogstad Hoel, Andreas Vonheim, Atle Hole Saeterbakken, "A Comparison of Muscle Activation between Barbell Bench Press and Dumbbell Flyes in Resistance-Trained Males," Journal of Sports Science and Medicine 19, no. 4 (2020): 645-651, https://pubmed.ncbi.nlm.nih.gov /33239937/ (accessed Oct. 31, 2023).
8. Kyle A Heidel, Zachary J Novak, Scott J Dankel, "Machines and free weight exercises: a systematic review and meta-analysis comparing changes in muscle size, strength, and power," Journal of Sports Medicine and Physical Fitness 62, no. 8 (2022): 1061-1070, https://pubmed.ncbi.nlm.nih.gov /34609100/ (accessed Nov. 14, 2023).
9. Taewhan Kim, Sekee Kil, Jinwook Chung, Jeheon Moon, Eunyoung Oh, "Effects of specific muscle imbalance improvement training on the balance ability in elite fencers," Journal of Physical Therapy Science 27, no. 5 (2015): 1589–1592, https://www.ncbi.nlm.nih.gov/pmc /articles/PMC4483447/ (accessed Nov. 14, 2023).
10. Kirk I Erickson, Charles H Hillman, Arthur F Kramer, "Effects of specific muscle imbalance improvement training on the balance ability in elite fencers," Current Opinion in Behavioral Sciences vol. 4 (2015): 27-32, https://www.sciencedirect.com /science/article/abs/pii/ S2352154615000157 (accessed Nov. 14, 2023).
With over 20 years in Olympic Weightlifting, our team does its best to provide the audience with ultimate support and meet the needs and requirements of advanced athletes and professional lifters, as well as people who strive to open new opportunities and develop their physical capabilities with us.
All products we select are primarily approved and tested by the Olympic Weightlifting Champion Oleksii Torokhtiy. Under his guidance, we provide honest and reasonable assessments of the products we review by checking their characteristics, packaging, design, comfort and durability features, and general product rating. We select products from only high-quality and trusted sports brands, thus vouching for their quality.
The product testing process is described in more detail here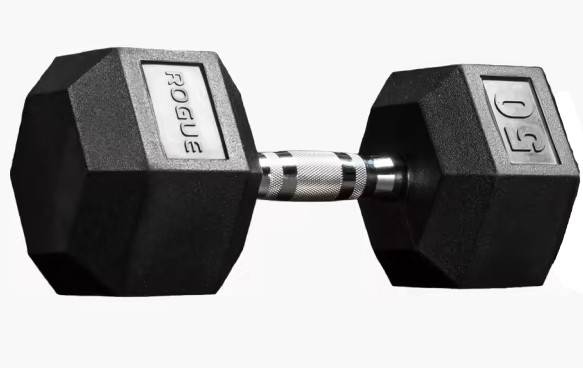 Coach, PRO Olympic Weightlifter
Experience: 26 years
Best Results: Snatch - 208 kg,
C&J - 240 kg
My name is Ihor and I have been a professional weightlifter since 1996. With over 20 years of competition experience, my resume includes European Champion in 2009 and the silver medalist at 2011's Senior World Championships – 105kg division.
I competed at the 2008, 2012 and 2016 Summer Olympics.
After hanging up my own competitive lifting shoes, I decided to share my huge background as a coach. I am currently coaching multiple athletes who are competing at national and international competitions.
If you have any questions/suggestions/any other inquiry, you can reach out to us via email - reviews@torokhtiy.com
Experience: 21 years
Best Results: Snatch – 200 kg,
C&J - 240 kg
My name is Oleksiy Torokhtiy. I am a professional athlete with 20 years of experience in Olympic weightlifting. I have won multiple European, and World titles and have taken part in two Olympic Games (Beijing 2008, London 2012).
After finishing my career, I have committed myself to coach, and as of 2022, I've hosted 200+ weightlifting seminars all over the globe. I'm the founder of an international sportswear and accessories brand, Warm Body Cold Mind (my motto), author, and creator of a series of training programs and eBooks.
If you have any questions/suggestions/any other inquiry, you can reach out to us via email - reviews@torokhtiy.com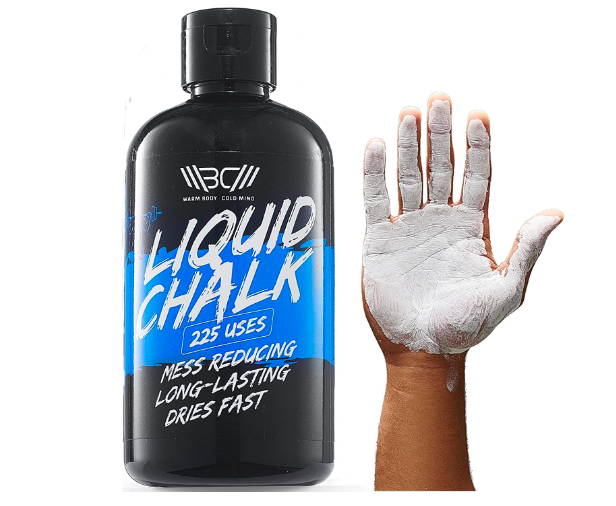 This article was written by our qualified author and proofread by an expert with proven experience. When writing the article we've used our expertise and data from authoritative, scientific, and evidence-based sources. The list of references is provided at the end of the article.
Our team of authors and experts includes professional athletes (Olympians, winners of European and World titles), PhDs in Sports Science, certified coaches, sports nutritionists, CSCSs, physiotherapists, and others. Read more about the team here, and more about how we test here.