When it comes to adjustable dumbbells, Bowflex vs NordicTrack Dumbbells are the top contenders. Each dumbbell set has its own sets of pros and cons. In this article, we cover the key differences between the two to help you pick out the best one for you.
Which adjustable dumbbell is best between NordicTrack vs Bowflex Dumbbells? While Bowflex 552 is a beast in its own right, the NordicTrack is superior in durability, feel, and performance despite its cheaper price tag. Hence, my vote goes for the NordicTrack dumbbells.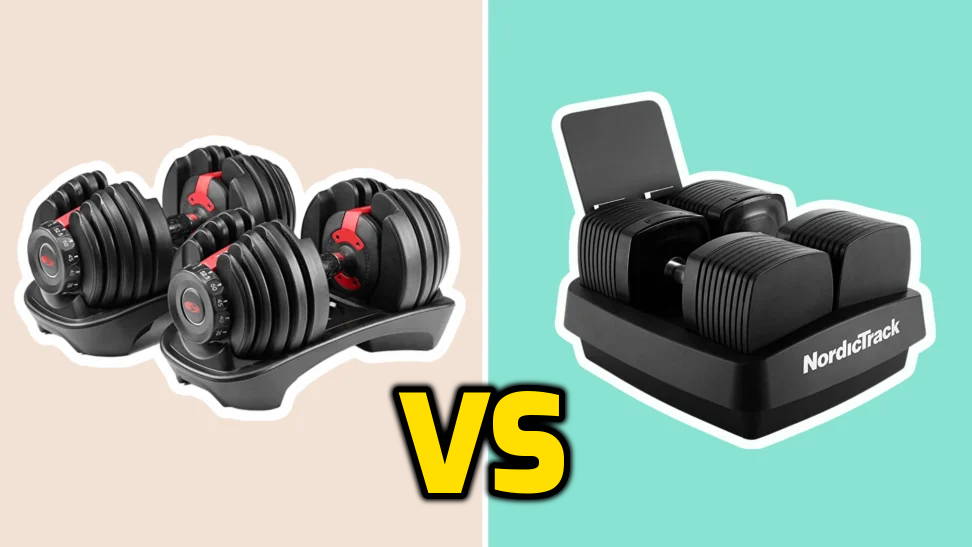 If you're looking for a way to replace your dumbbells, adjustable is the way to go. The NordicTrack Select-A-Weight Adjustable Dumbbell is a set of adjustable dumbbells that was released in 2021, so it's fairly new.
The dumbbells are adjustable from 10 to 55 pounds each. Each dumbbell can replace 30 dumbbells with 15 weight options available for you to choose from. It's easy and quick to adjust using the sliding pins in 2.5- and 5-pound increments which can help you progress accordingly.
The handle is padded for comfort and is adjustable in length—the more weight added, the longer it becomes. This extended length helps you get into proper form when performing chest presses or shoulder presses at various angles without having to change your grip on the handle every time you add or remove weight.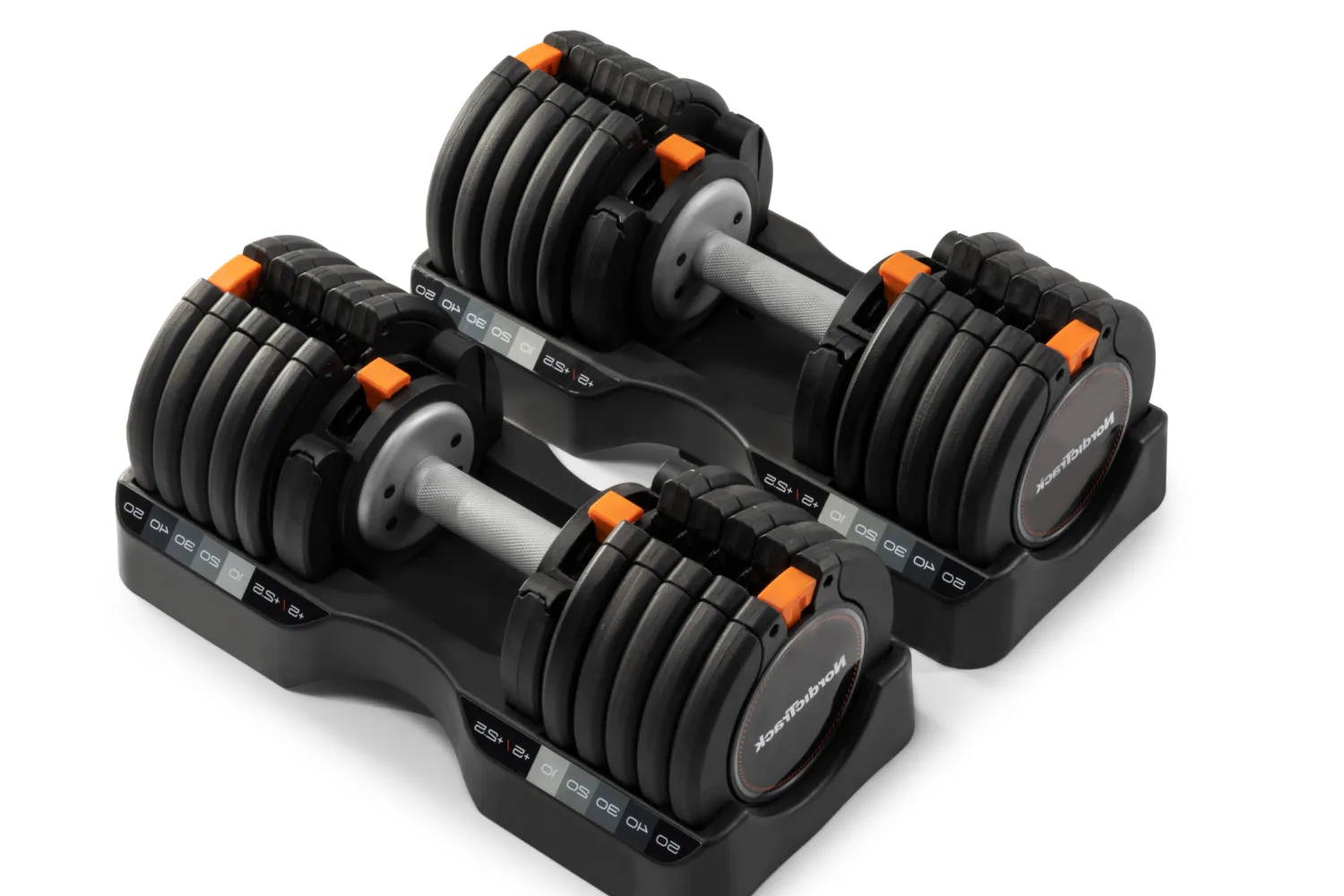 The Bowflex SelectTech 552 Adjustable Dumbbell System lets you adjust your weight from 5 pounds all the way up to 52 1/2 pounds per dumbbell. You can do so in 2.5-pound increments until 25 pounds and then it goes up in 5-pound increments until 52.5 pounds. This feature allows this set to replace 15 sets of fixed dumbbells.
The load is adjusted by racking each dumbbell and twisting the knobs on each side until it aligns with your preferred weight (one knob turns clockwise, one counterclockwise).
The handle does not extend out even if more plates are added, so there's no need for more space than just one rack will provide! The handle is coated with rubber for a comfortable and easy grip as well as protection against rusting over time due to sweat buildup.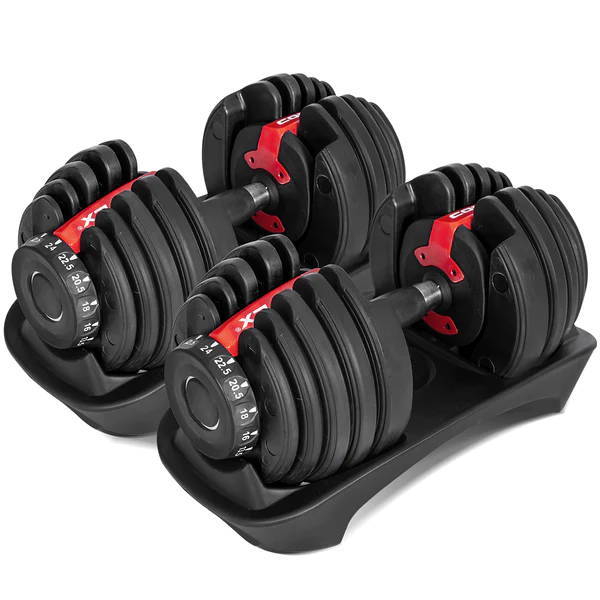 NordicTrack Select A Weight vs Bowflex 552
Both brands offer a wide range of weights with both brands replacing 15 sets of fixed dumbbells. NordicTrack Select-A-Weight dumbbells have a weight range of 10 to 55 pounds each, while the Bowflex 552 dumbbells have a weight range of 5 to 52.5 pounds each.
As you can see, both dumbbells offer almost the same range of weight options, with the NordicTrack offering a greater max weight and the Bowflex offering a lighter minimum weight.
The biggest difference between the NordicTrack vs Bowflex Adjustable Dumbbells is how much weight you can add to your dumbbells. If you're looking for dumbbells that go up to 55 pounds each, NordicTrack Select-A-Weight is the way to go. However, if you're looking for a smaller set of dumbbells that go up to 52.5 pounds each, then Bowflex 552 might be better suited for your needs.
One of the most important considerations when buying dumbbells is how they adjust in weight. A weight increment is a vital part of this equation since it can affect both form, safety, and progress as you exercise.
The smaller the increments are between weights, the better. More specifically, you want to look for dumbbells that offer 2.5-pound increments up until roughly 5 pounds to ensure safety and efficiency. Anything more than that is going to make for an awkward workout experience because it'll force you into awkwardly large jumps in weight that could potentially sacrifice form and lead to injury over time. While many people will argue otherwise, I'd recommend sticking with 2.5- to 5-pound increments.
The Bowflex dumbbells adjust in 2-5-pound increments from 10 to 25 pounds and in 5-pound increments thereafter. The NordicTrack dumbbells also adjust in a mix of 2.5- to 5-pound weight increments but in random order.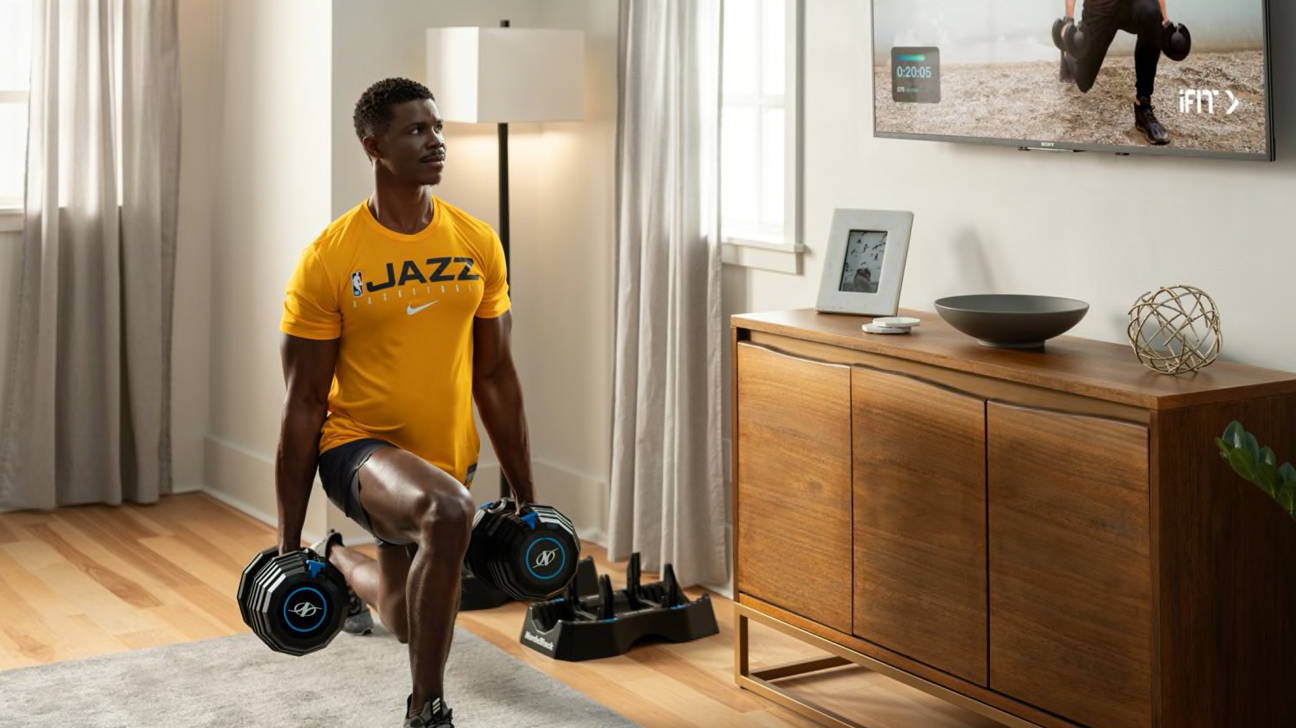 When it comes to adjusting the weight of your dumbbells, both the NordicTrack Select-A-Weight vs Bowflex 552 offer a fast, simple method. Both can be adjusted in about 5 seconds or less. However, their systems are not necessarily the same.
The Bowflex 552s are adjusted through the weight selection dial on both ends. The dial is simply turned to the preferred weight. This system works more smoothly than sliding across selectors as you pick your desired weight, which is how NordicTrack dumbbells work.
NordicTrack's selector-based design isn't quite as efficient as that of Bowflex's, but it's still very easy to use nonetheless.
When it comes to handles, fixed-length dumbbells can be cumbersome to use. A fixed-length handle does not expand regardless of the weight. It basically stays the same in length all throughout. This means that if you're lifting just 5 pounds of weight, you are left with an awkwardly long handle that feels unnatural.
The NordicTrack has a handle that adjusts as weight is added. The greater the weight, the longer the handles become. Ultimately, this provides a more natural feel to your lift and it mimics the experience a traditional fixed dumbbell provides.
A weight expansion pack is a collection of additional weights that can be added to an adjustable dumbbell set once the maximum weight has been reached. This allows you to increase your training intensity as your strength increases.
Both brands we're reviewing do not have this option available for their products, so if you want more versatility in your workout routine and need more than 50 pounds per hand, then it will be necessary for you to upgrade to a heavier set.
Take note though that it will take an incredible amount of training and time for most people to overcome a 50-pound dumbbell, but this is not entirely impossible.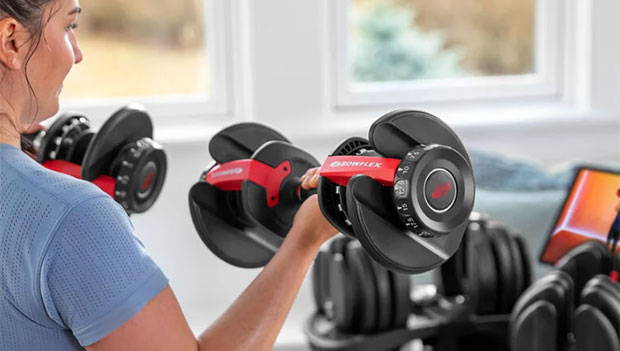 When it comes to materials, both NordicTrack and Bowflex have sturdy builds. NordicTrack dumbbells are made of heavy-duty steel with rubber grips on each end, while Bowflex dumbbells have cast iron casings with rubberized handles.
Both brands are well known for their quality build and durability—however, the biggest consideration is the amount of plastic in the design. Having a significant amount of plastic in the design means you're not allowed to drop your dumbbells on the floor unless you want them breaking. This means it would be difficult to train to failure since you have to ensure that you can carry the weights until the very last rep.
Between these two options—Bowflex has more plastic casings compared to NordicTrack but even so, it's best not to drop both as they may not survive the impact if they fall from a height greater than six inches.
If you are looking for a high-quality set of dumbbells that will last and perform well over time, then NordicTrack is the better buy. They are less expensive than Bowflex dumbbells, they have a better design, and they are more durable as there is less plastic involved in their construction.
So if you're on a stiffer budget and want to get into weight lifting without breaking the bank (or if you just want something that's easy to use), then NordicTrack dumbbells may be right up your alley.
It's worth noting though that Bowflex 552 comes with a 2-year parts warranty while NordicTrack Select-A-Weight only offers a 90-day manufacturer warranty.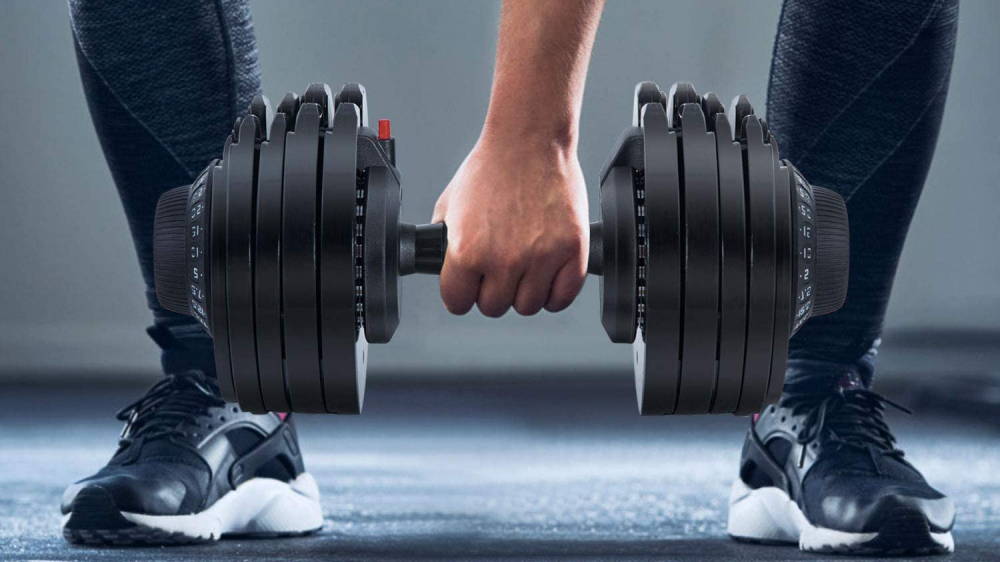 NordicTrack vs Bowflex Dumbbells - Summary
Both brands offer a solid adjustable dumbbell that can help you get the most out of your workout at the comfort of your own home. They're easy to use, easy to adjust, and they save a humongous amount of space.
While both dumbbells take around just 5 seconds to adjust, Bowflex 552's adjustment system is far more smoother and more efficient than its counterpart. But when it comes to the build, handle, and value for money, NordicTrack reigns supreme. It has a handle that adjusts in length accordingly as weight is added which gives it a more natural feel. Its build also contains far less plastic, making it sturdier. Last but not least, the NordicTrack is also the cheaper option compared to the Bowflex 552.
Are Bowflex 552 heavy enough?
The Bowflex 552 has a max weight of 52.5 pounds. For most people, this is more than enough. A good number of fit people may never be able to lift 50-pound dumbbells in just one hand. Hence, the Bowflex 552 is heavy enough for the majority of the population.
What is the difference between Bowflex 552 and 1090?
The Bowflex 1090 is the larger and more expensive model, with a weight range of up to 90 pounds. It also has more features than the 552, including its ability to replace 17 dumbbell sets. This makes it better for people who want to do full-body workouts as it offers a wider range of options.
However, if you're just looking for an affordable piece of exercise equipment that won't take up too much space in your home gym then we recommend sticking with the Bowflex 552.
Between the adjustable dumbbells from Bowflex and NordicTrack, the latter offers a greater value for your money by winning the durability and user comfort department. However, it only comes with a 90-day warranty so that's worth considering as well. Utilize the discussion above to help you choose the right one for you.
Any questions? Suggestions? Let us know in the comment section below!
Bowflex SelectTech 552 Adjustable Dumbbells Hands-On Review // Healthline: https://www.healthline.com/health/fitness/bowflex-dumbbells
NordicTrack Select-A-Weight Adjustable Dumbbell Review // Healthline: https://www.healthline.com/health/fitness/nordictrack-adjustable-dumbbells
My name is Ihor and I have been a professional weightlifter since 1996. With over 20 years of competition experience, my resume includes European Champion in 2009 and the silver medalist at 2011's Senior World Championships – 105kg division.
I competed at the 2008, 2012 and 2016 Summer Olympics.
After hanging up my own competitive lifting shoes, I decided to share my huge background as a coach. I am currently coaching multiple athletes who are competing at national and international competitions.