Choosing between adjustable dumbbells vs fixed ones can be confusing. There is no single best dumbbell type. Rather, the right one for you is the one that caters to your specific needs best. We cover the key differences between the two to help you pick the best one for you.
Are adjustable dumbbells worth it? Adjustable dumbbells are more cost-effective options compared to fixed dumbbells since you would just technically need a pair with interchangeable weights. It also saves space compared to getting multiple fixed dumbbells of varying loads.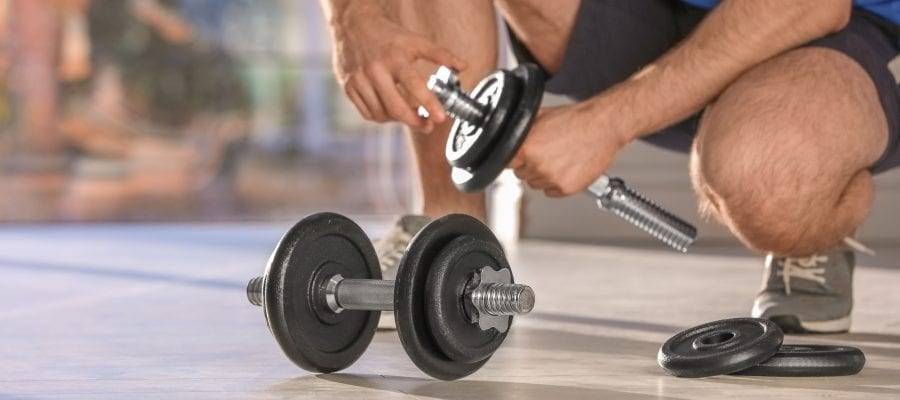 What are adjustable dumbbells?
Adjustable dumbbells are a single pair of dumbbells that come with multiple interchangeable weight plates. This is especially great if the dumbbells are intended to be used by one person at a time, which is the usual situation for a home gym.
Depending on the brand and model, the maximum weight, minimum eight, and increments differ. Moreover, there are two primary mechanism categories by which these dumbbells adjust: plate-loaded and selectorized. Plate-loaded adjustable dumbbells are the more traditional type wherein weight plates are manually removed, added, and locked, the same way you adjust a barbell. On the other hand, selectorized dumbbells are adjusted rapidly by selecting a weight simply by turning a dial or by togging a pin up or down.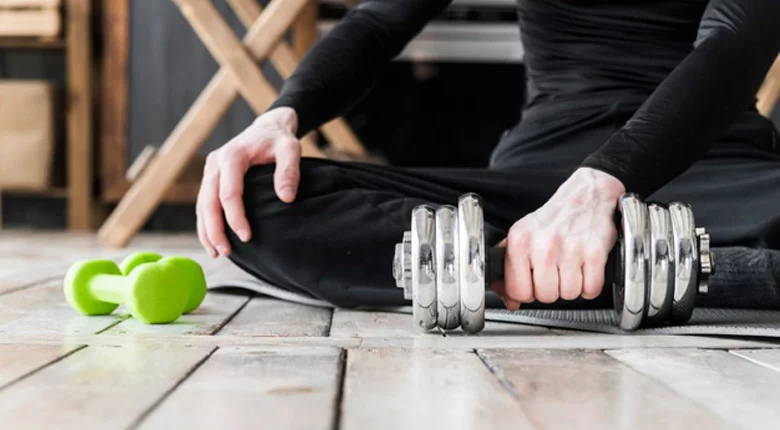 Who will get the most out of adjustable dumbbells?
The answer to the question 'are adjustable dumbbells good?' depends on multiple factors. First and foremost, adjustable dumbbells are mainly for people who don't plan to do the same workout with anyone because an adjustable set only comes with a single pair of dumbbells. Additionally, let's say you're a fitness trainer who has to bring your equipment to clients' homes, adjustable dumbbells are undoubtedly the more portable option compared to fixed dumbbells.
Take the amount of space you have as well. If you're just trying to build your own home gym, or maybe you just want a pair of dumbbells you can reach out to whenever you have some free time, then adjustable dumbbells are the excellent choice. This allows you to save a huge deal of space, especially if you opt for selectorized dumbbells. Additionally, selectorized dumbbells will work great for people who do not want to go through the hassle of changing weight plates manually every time while still enjoying most of the benefits of an adjustable dumbbell.
Are adjustable weights worth it?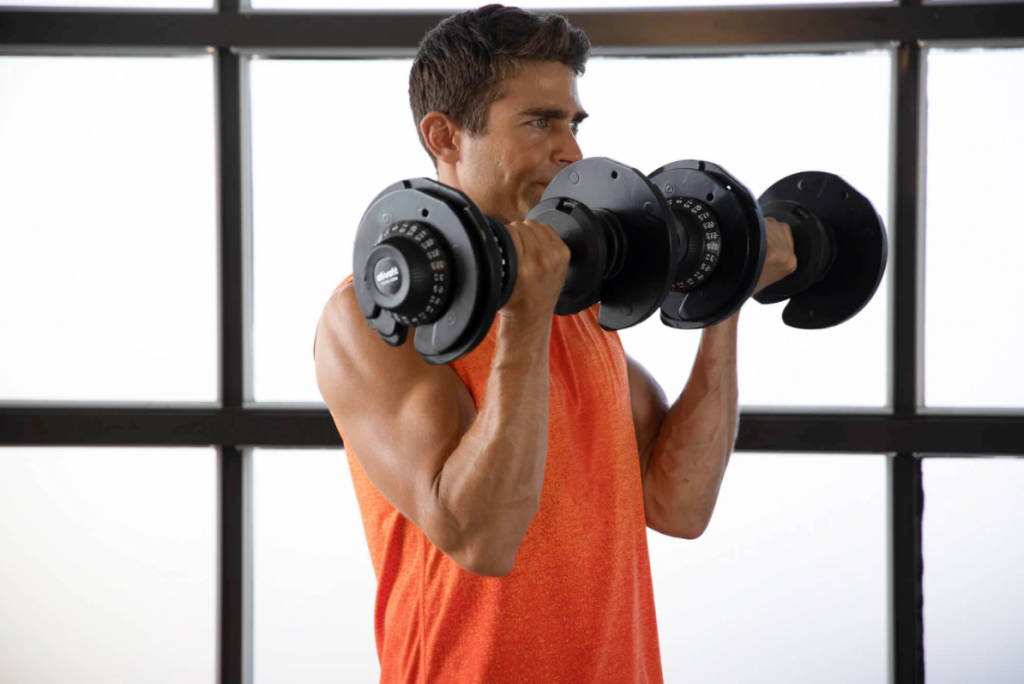 Adjustable dumbbells offer more versatility in terms of weight options. For instance, the amount of weight you can curl will most likely differ from the amount of weight you can bench press or row. For this reason, an adjustable dumbbell's capability to switch weights can be beneficial for you to train every part of your body accordingly.
Furthermore, consistent training makes our muscles stronger. If you opt to choose to purchase just a few fixed dumbbells, the time will come you will need to buy heavier dumbbells once you become stronger. Therefore, an adjustable dumbbell serves as a piece of versatile equipment that only requires you to make a one-time investment without sacrificing your progress.
Yes, an adjustable dumbbell set technically costs more than a pair of fixed dumbbells. But if you really look into it, you'll find that adjustable dumbbells are more cost-efficient. The average cost of a pair of adjustable dumbbells is around $400, while a whole set of fixed dumbbells will cost you about $1200.
Yes, you can save yourself some cash by buying a single fixed dumbbell or two. However, you will need heavier ones as you build more strength. In the long run, buying multiple fixed dumbbells will make you spend a hefty amount of money compared to if you get an adjustable dumbbell set that generally offers a weight range of around 5 lbs to 50 lbs.
Dumbbells are relatively small, but if we are talking about fixed dumbbell pairs in 10 different weights, the whole story changes. The footprint of these 20 separate dumbbells will consume more space than you think, and if your space is already pretty small to begin with, this can be a major issue.
The great thing about adjustable dumbbells is you're basically getting all these weight options with just a single pair. Thus, making them compact and easy to store while allowing you to save more space for yourself and your training. And even if you have a sufficient amount of space to house a full rack of fixed dumbbells, an adjustable set will give your home gym a more de-cluttered feel.
While adjustable dumbbells may seem intimidating for some, they are actually incredibly easy to use. If you enjoy changing up your weights manually, as you would with a barbell, you should go ahead and get a plate-loaded variant. But if you want to save yourself the hassle of manually replacing and locking weight plates over and over again, you will definitely enjoy the selectorized dumbbells which take just a few seconds to adjust.
Adjustable dumbbell drawbacks
Although we've previously discussed that adjustable dumbbells hold greater value for money, the fact that a single one of these is pricier than a single fixed dumbbell remains. Those who may not have immediate cash to spend may be better off buying a few fixed weights that are within their budget than none at all.
While different brands offer different weight increments, fixed dumbbells still offer smaller weight differences from one set to the next. Adjustable dumbbells usually come at 2.5 to 5 lb increments, much greater than what fixed dumbbells can provide. Therefore, for people who are extremely particular with the amount of weight they want to train with, this may be a bit of a problem.
May not provide the same "feel"
You'll also need to consider whether you enjoy the way these weights feel. The majority of adjustable weights have a design that will feel different and strange against your skin in a manner that rounder or hex weights won't. They also tend to clank a bit which some may find a bit cumbersome to use.
Now, since adjustable dumbbells come in multiple components, they tend to be less durable compared to fixed dumbbells. As how you see in most gyms, most lifters feel comfortable dropping their fixed weights. The same is not true with adjustable dumbbells which may be easier to damage when dropped.
When it comes to durability and longevity, the traditional fixed dumbbells reign superior. But with enough caution and care, this shouldn't be that huge of an issue.
Adjustable dumbbells we recommend
The Bowflex SelectTech 552 Adjustable Dumbbell is undoubtedly my adjustable dumbbell of choice. It's a selectorized dumbbell that's incredibly easy to use and adjust. Just turn the knobs on each side, and you now have your specific weight of choice. I also find this easier and more comfortable to grip compared to others that I've tried. And most importantly, this pair of dumbbells replaces a whopping 30 pieces of fixed dumbbells! Overall, the experience and the versatility the Bowflex 552 gives me are unbeatable.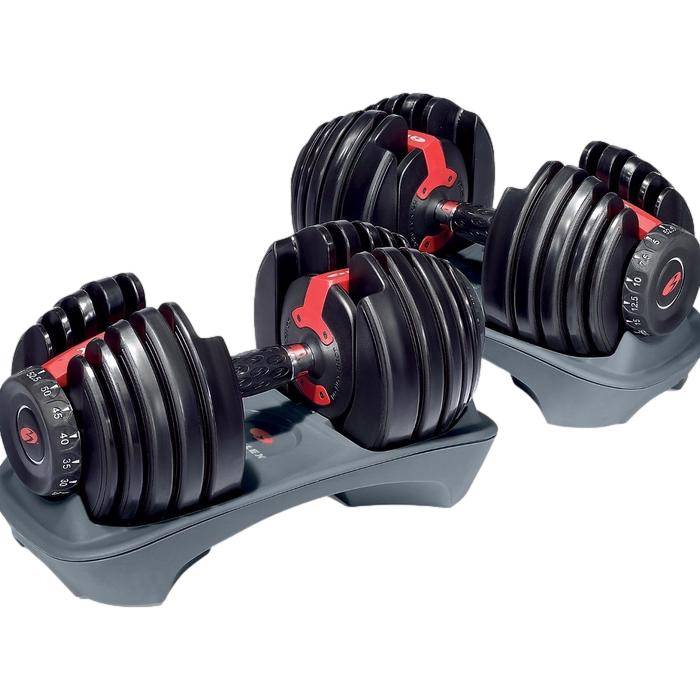 Are adjustable dumbbells better than regular dumbbells?
Adjustable dumbbells are more cost-effective and take much less space compared to regular dumbbells. Therefore, for people who want to save space and money in the long run, this is definitely the better option.
Can I get big with adjustable dumbbells?
Are adjustable dumbbells good for beginners?
Yes, beginners can definitely use adjustable dumbbells. Most adjustable dumbbells offer a minimum weight of 5 lbs which is a great place to start for most people.
Adjustable dumbbells offer a cost-effective, space-saving, and versatile alternative to a whole rack of fixed dumbbells without sacrificing the progress of your training. The pros and cons of adjustable dumbbells discussed above should help you in deciding whether this equipment is right for you or not.
Strength outcomes in fixed versus free-form resistance equipment // PubMed:
https://pubmed.ncbi.nlm.nih.gov/18296958/
Key Facts Related To Adjustable dumbbells // IRONMASTER DUMBBELLSBY KIHE: https://scalar.usc.edu/works/ironmaster-dumbbells/index
My name is Ihor and I have been a professional weightlifter since 1996. With over 20 years of competition experience, my resume includes European Champion in 2009 and the silver medalist at 2011's Senior World Championships – 105kg division.
I competed at the 2008, 2012 and 2016 Summer Olympics.
After hanging up my own competitive lifting shoes, I decided to share my huge background as a coach. I am currently coaching multiple athletes who are competing at national and international competitions.