The market nowadays offers a wide variety of dumbbells to choose from if you want to get some for your home training sessions. However, choosing the right ones for your workout style and personal needs can be difficult, especially if you're new to the world of fitness.
That's why in this article, we will be exploring three popular types of dumbbells and discussing them in detail. That way, you will be able to choose and won't have to solve the PVC vs rubber dumbbells vs urethane dumbbells debate alone.
Let's get started.
All these three types of dumbbells are great for a home gym. However, PVC ones are best suited for beginners, rubber ones for intermediate ones, and urethane options are the closest to professional gym equipment you can get at a reasonable price. Which ones you choose depends on your budget and personal preferences.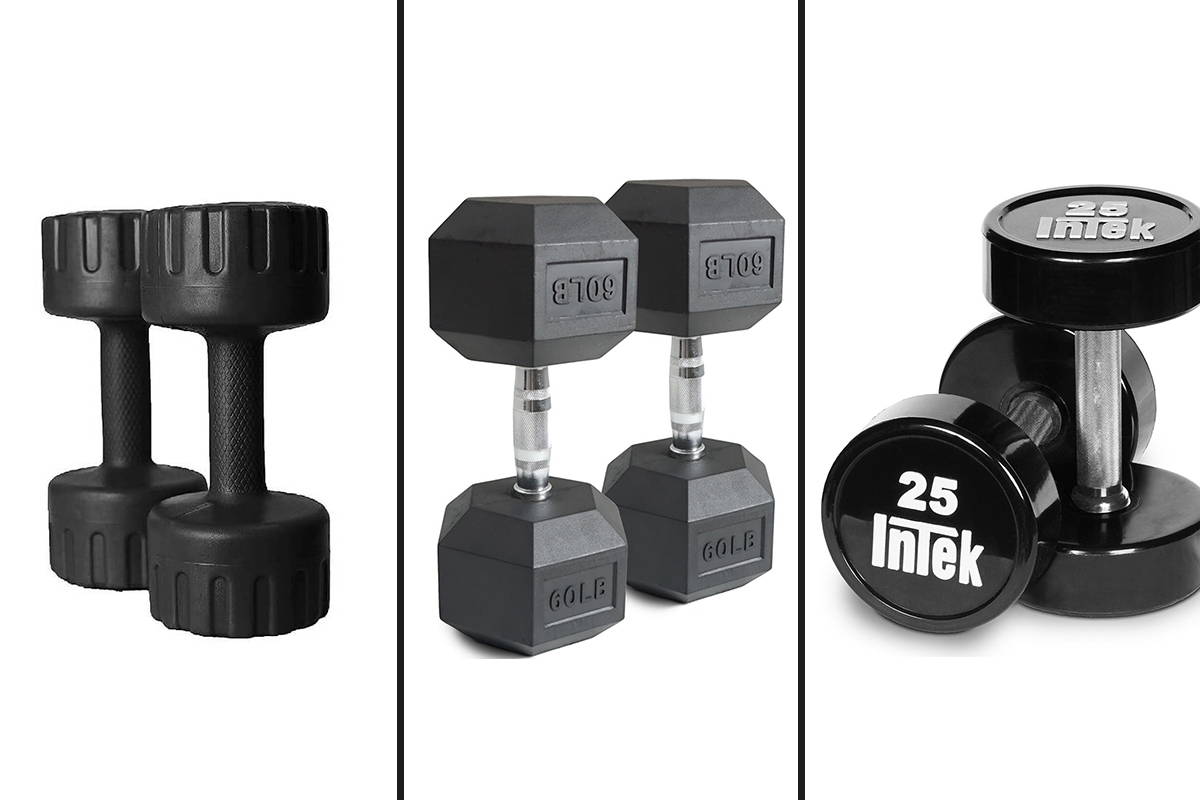 PVC dumbbells, also often called vinyl dumbbells, are usually made of either sand or concrete that's coated in polyvinyl chloride (a type of synthetic plastic), or they're entirely made out of PVC.
Vinyl dumbbells are great for beginners, as they're cheaper than other types you can purchase. Along with that, they look fun and exciting with their bright colors. With that said, if you plan on using them for a few years, you should keep in mind that PVC dumbbells get more easily damaged than other types, especially if they're frequently used. Additionally, if you do loads of sweaty workouts, they can become slippery, which poses a particular risk.
Pros & Cons of PVC Dumbbells
As with any fitness equipment, PVC dumbbells are excellent for some users and unsuitable for others. Let's now check out what their pros and cons are.
Cheap equipment, great for people that are just starting to workout

It offers various weights suitable for beginners

Less likely to damage flooring compared to other popular types of dumbbells
Not very durable; there's a chance of them breaking or cracking with frequent use.

It can become slippery if you sweat a lot

Not available in heavier weights
Our Recommended PVC Dumbbells
We've already given you an idea of what PVC dumbbells are and who they're best suited for. Now, let us recommend one particular model that we deem is excellent and readily available on the market.
The Cap Barbell PVC Dumbbell is a perfect dumbbell for beginners with its hex shape, which prevents it from rolling, and the solid materials that it's made out of. Along with that, you have the opportunity to buy these dumbbells in a few different sizes according to your fitness level and your workout needs. They're relatively cheap, easy to store, and great to use for various workouts, along with HIIT ones.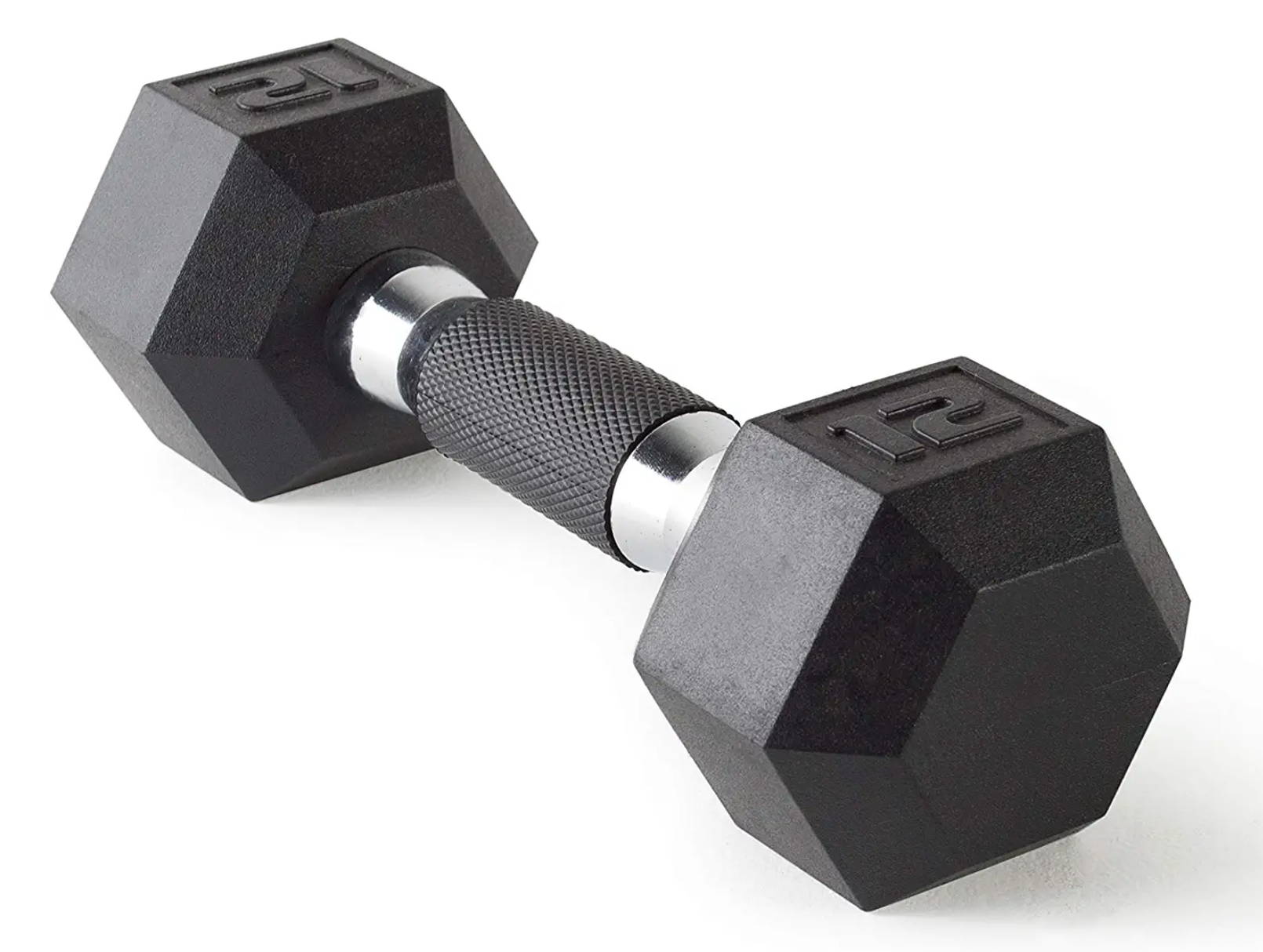 What are Rubber Dumbbells?
When it comes to quality, rubber dumbbells come right after PVC ones. When you compare PVC vs rubber dumbbells, the latter is superior in terms of durability, ergonomics, and versatility. They're an excellent choice for home or personal training gyms, as they come in various weights and can come with HEX-style options, which makes it easier to store them safely.
Having said that, what brand of rubber dumbbells you choose can be vital for your experience. Companies that use recycled rubber often make dumbbells that lack the needed quality, have durability issues, and even have unpleasant smells. That's why, you should look for virgin rubber dumbbells, meaning ones made directly from rubber extracted from trees.
Pros & Cons of Rubber Dumbbells
Even though rubber dumbbells are solid and make an excellent choice for any home gym, there are some pros and cons associated with them that you have to know about before making a purchase.
Robust and durable, suitable for long-term use

HEX-heads give more versatility

Offer great value for money
Quality depends on the brand

It can have a distinctive smell
Our Recommended Rubber Dumbbells
We already mentioned that what brand of rubber dumbbells you buy is the key to having a good experience. That's why we will share with you our favorites from what's currently offered on the market.
These dumbbells from Sporzon are a terrific choice for anyone that wants to start building a home gym. They are made from high-quality materials, come at a decent price, and offer a ton of choice when it comes to the kind of weight you want to get. Along with that, the HEX shape of their head makes them less likely to damage the floor and easier for storage.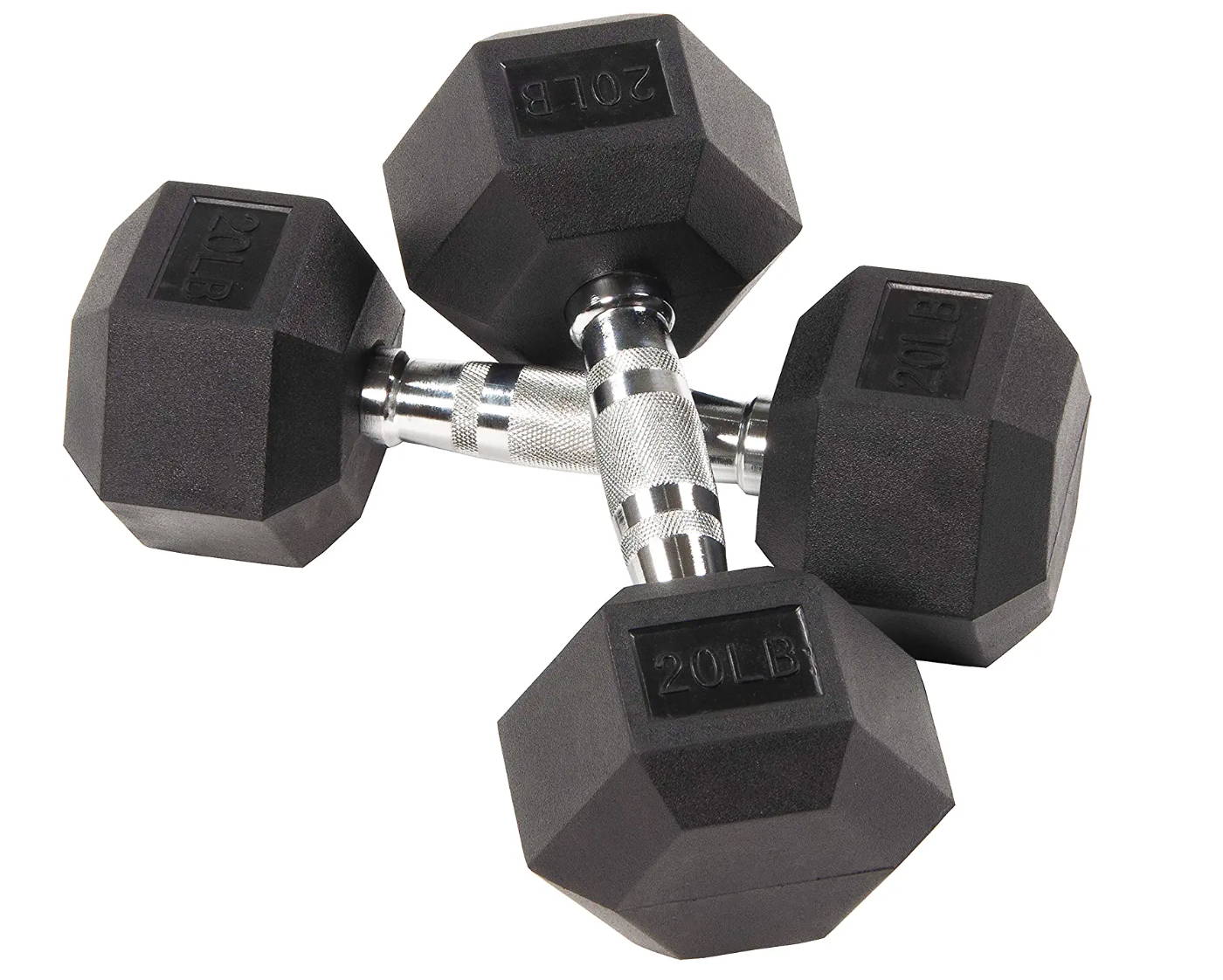 What Are Urethane Dumbbells?
If you have to choose one type of non-metal dumbbell, urethane ones are your best pick. With that said, their price typically perfectly reflects their quality, and for this reason, they might seem a tad expensive for a home gym. The main difference when comparing rubber vs. urethane dumbbells is that the latter is a man-made material, while rubber is extracted from trees. This is what makes their quality better than the other ones we've reviewed so far - they're highly durable, great for working out outdoors, and look professional.
Pros & Cons of Urethane Dumbbells
Even though we said that urethane dumbbells tend to be of the highest quality, they're still not all good. That's why we will be taking a short look through their most prolific pros & cons.
Extremely durable, great for even outdoor workouts in the bright sun or in heavy rain

Look polished and professional

Resistant to all kinds of scraping and scratching
More expensive than other types
Our Recommended Urethane Dumbbells
As we mentioned, urethane dumbbells are more expensive. However, that doesn't mean that all brands are created equal. That's why we want to give you our recommendation on what dumbbells to purchase, in case you decide that urethane ones are the best for you.
These dumbbells from Yes4All click all the boxes. They're made from rust-resistant urethane material, have an odorless finish, and have a stable structure that can withstand any kind of training style and weather conditions. Along with that, they come with a comfortable, ergonomic grip and various weights, depending on your needs.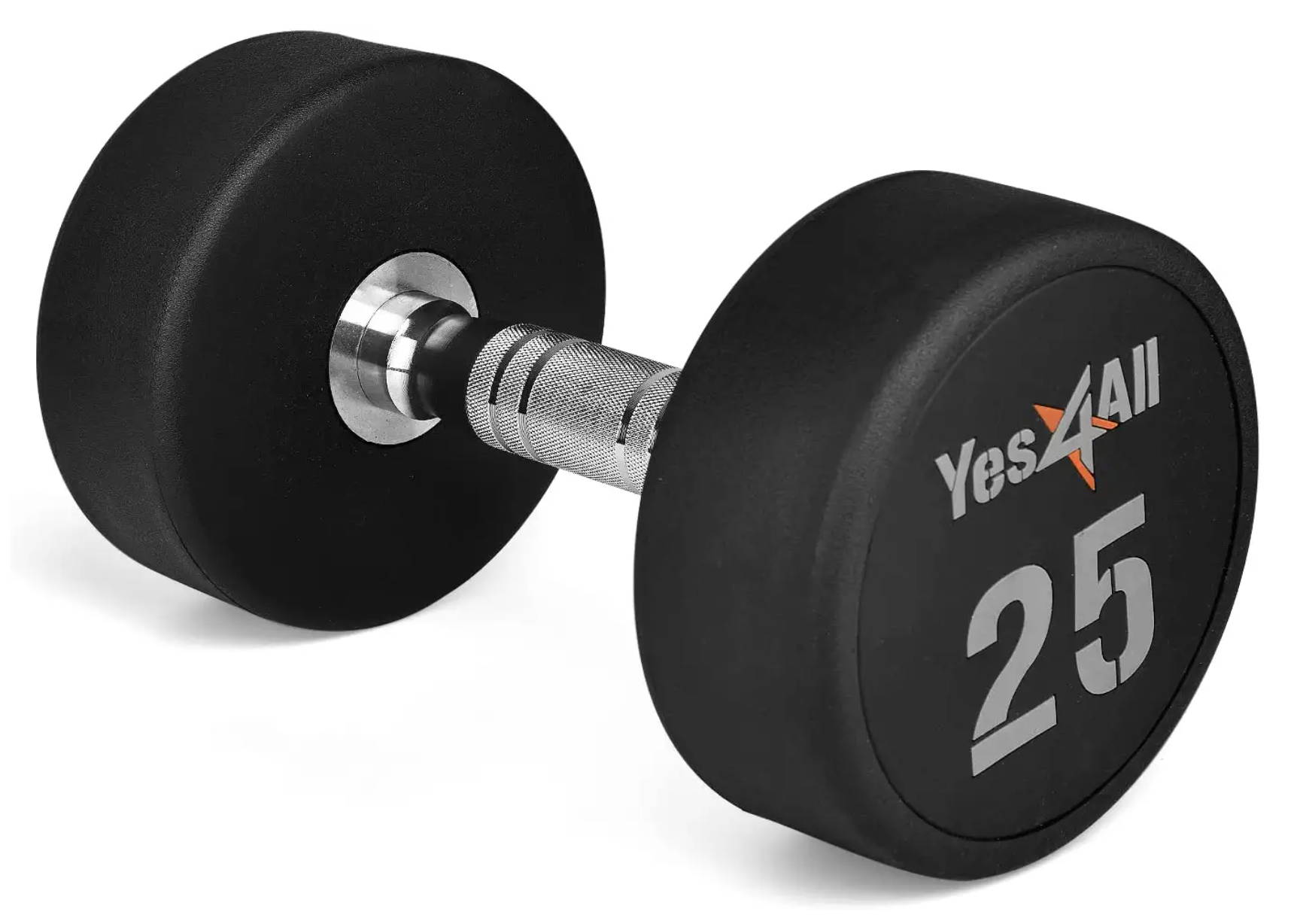 PVC vs. Rubber vs. Urethane Dumbbells Comparison
Now that we've reviewed all three types of dumbbells, let's quickly compare them so that the right choice for you becomes even more clear.
When it comes to durability, it's clear that urethane dumbbells are the best of all. The material they're made of can withstand all kinds of workouts and in all kinds of weather conditions, including bright sun and heavy rain. In the second place, we can safely put rubber dumbbells, which tend to be sort of in the middle when it comes to durability. However, if you buy ones made from second-hand rubber, they may even be less durable than PVC ones, which are usually targeted towards beginners and are more easily damaged.
Which ones you find most comfortable typically depends on personal preference. However, when you compare PVC hex vs rubber hex dumbbells, then they're pretty similar in terms of comfort. Both dumbbells are prone to getting slippery and can more easily damage your floors. On the other hand, urethane dumbbells rarely come in HEX shapes, which might make them more damaging to your gym floor and a bit more challenging to store if you buy multiple pairs.
PVC dumbbells tend to be the most inexpensive ones you can get on the market. And so, if you're looking to get a pair just so that you have something to work out with at home, then they might be the best option out there. However, when you compare poly vs rubber dumbbells, you may notice that, in some instances, the price difference isn't that big. But don't be fooled; cheap rubber dumbbells are a definite no-go, as they're likely made from cheap materials and will break down easily or cause other issues. In terms of price, urethane dumbbells will also be the most expensive, as the material they're made from is the most high-quality one.
Which dumbbells are better, PVC or rubber?
Depends on your needs. Rubber dumbbells can be of higher quality and are typically more durable. However, a PVC pair might be the best option for you if you're just starting out.
Which type of dumbbell is best for beginners?
PVC dumbbells are the best option for beginners. Not only are they the cheapest, but they also typically only come in lighter weights and with color coding, which is excellent for people that are just starting out.
Are urethane dumbbells toxic?
No. Even though they're made from man-made materials, they're entirely safe to use and not toxic.
Choosing between PVC, rubber, and urethane dumbbells entirely depends on your budget, fitness level, and personal needs. With that said, hopefully, this article highlighted their differences so that you know which ones to get. Which ones would you consider the best, and which ones would you get for your own gym? Let us know down below.
T7 Benefits of High Intensity Interval Training // HealthLine:
https://www.healthline.com/nutrition/benefits-of-hiit
My name is Ihor and I have been a professional weightlifter since 1996. With over 20 years of competition experience, my resume includes European Champion in 2009 and the silver medalist at 2011's Senior World Championships – 105kg division.
I competed at the 2008, 2012 and 2016 Summer Olympics.
After hanging up my own competitive lifting shoes, I decided to share my huge background as a coach. I am currently coaching multiple athletes who are competing at national and international competitions.