Home gyms have become more and more popular these last few years, and that has led many to search for great equipment. And so, adjustable dumbbells have established themselves as one of the most sought-after items, which is why in this article, we will talk about how do adjustable dumbbells work, what the benefits of using them are and how you can use them for your training sessions.
How do adjustable dumbbells work? Well, it depends on the model, but all of them allow you to change the weight that's placed upon them using a different mechanism. This is what differentiates them from traditional dumbbells, which have a set weight that cannot be changed.
What are Adjustable Dumbbells?
Every person who's ever been to a gym knows what a traditional dumbbell is - it's basically a short bar with a certain amount of weight. On the other hand, adjustable dumbbells are a newer type of gym equipment that allows you to change their weight using different mechanisms such as a dial, lever, or pin. This means that you're able to change the plates at the end of the bar and thus alter the weight of the dumbbell depending on your training needs.
Many people prefer getting adjustable dumbbells for their home gyms because they save both money and space. For example, if you opt to get traditional dumbbells, you will have to purchase multiple sets to have various weights. And for you to do that, you will first need more space so that you can store all these weights, and second, you will have to make quite the investment in your gym equipment.
On the other hand, by purchasing one set of adjustable dumbbells (which typically come with a few different plates or blocks), you will both save space and money, as they're usually cheaper, and you only need one pair instead of multiple.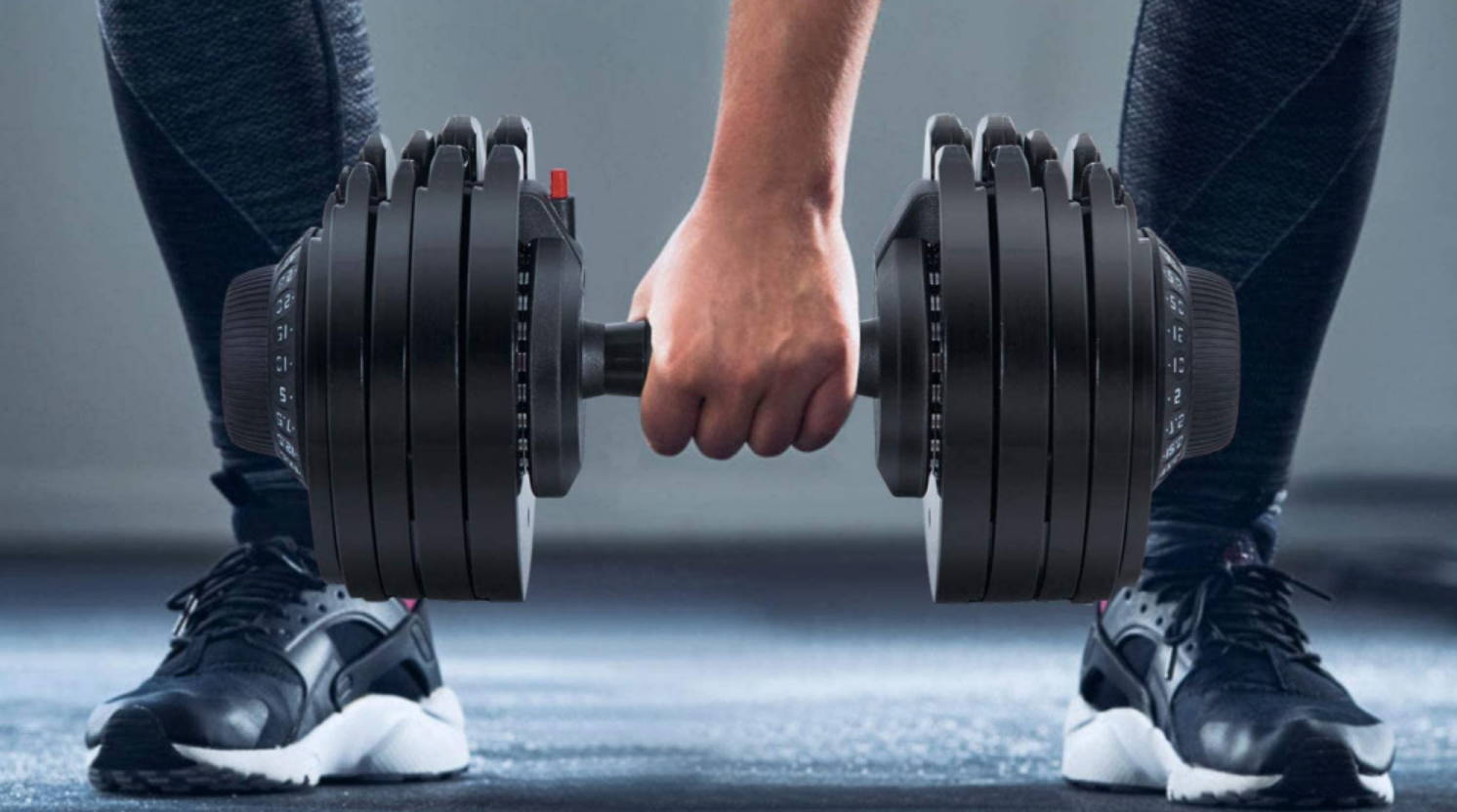 How Do Adjustable Dumbbells Work?
A few years ago, the answer to this question would have been similar to the one that I would give to the question "how do adjustable weights work" however, nowadays, adjustable dumbbells have gotten a ton of new models, and ways of working. In this part of the article, we will talk about the different types of adjustable dumbbells and how they work so that you can choose the ones that best fit your training needs and the layout of your home gym.
Adjustable Plate Loaded Dumbbells
This is the most traditional kind of adjustable dumbbell, and it's the one you will see most often in stores and online. The way it works is pretty simple - you have two empty bars that you can load with weighted plates and then secure with a pin, lever, or a dial depending on the model. Many people who have home gyms prefer this model not only because it's cheaper but because it also fits better with their overall home gym structure.
For example, many people buy weight plates and use them with other bars - such as a squat bar, a chest press bar, etc. For them, it makes sense to get this kind of adjustable dumbbells because they can use the plates that they already have to load weight. The only downside to this model is the fact that loading and re-loading the dumbbells can be kind of an annoyance, as it takes time and sort of stops your training session, which can be a problem for people who do interval training or fitness-style workouts.
You've probably seen videos of celebrities using these kinds of adjustable dumbbells in their home gyms during the pandemic, and that's for a good reason. This new variation makes it very easy to change the weight you're lifting while also saving up space and being incredibly convenient for those who train in a small space.
The way these adjustable dumbbells work is simple - they come with a dock on which they're placed. While they're on the dock, you can twist the handle around and change the weight to your desired one - then, you simply lift them off the dock and start training. If you want to change the weight, you return them to the dock and repeat the same steps. The one major downside to this model is that the amount of weight you can add is limited, and they can also be quite pricey.
Weight Selection Dial Dumbbells
This is yet another type of adjustable dumbbell that has gone viral in the last few years. Its mechanism is easy to use and pretty straightforward - you simply turn the dial and select the weight you want to lift. That makes these dumbbells convenient and an excellent fit for your home gym.
Along with that, many brands now make this model of dumbbells, so you can get them for a better price than a few years ago when this model was brand new. All in all, the only downside to these adjustable dumbbells is, again, the fact that the weight you can put on them is limited and that you will need to spend quite a bit of money to get a pair.
Pull-Slide Selector Dumbbells
This is the third type of adjustable dumbbell, where the mechanism is sort of similar to the two we just discussed. Again, here you have the dumbbells on a dock, and you can pull and slide to adjust the weight you want to lift. With that said, this mechanism is a bit more complicated compared to the two we just discussed, and so they would be the option we'd least suggest. However, here you still get the same convenience as with the other two models, and these dumbbells are also a great addition to any home gym.
Smart Adjustable Dumbbells
It probably won't be shocking for you to learn that companies are now making smart adjustable dumbbells, ones where the question "how to use adjustable dumbbells" truly applies as there is a learning curve. As you've probably already guessed, smart adjustable dumbbells rely on a Bluetooth connection and an app in order for the weight to get adjusted.
Some of the models on the market even enable you to change the weight by talking with Alexa and telling her what kind of weight to set. These are the most futuristic model we will discuss today. They're a terrific fit for people who love HIIT-style workouts and for whom the opportunity to change their weight with a voice command would be a significant benefit. Along with that, we would recommend these dumbbells to all those of you who like to experiment with new technology and would like to do app-connected workouts, as these adjustable dumbbells typically offer that option.
When it comes to the downsides, the biggest one is that sometimes the technology used for changing the weight doesn't work on the first try, and you might need to go back to the go ol' "manual change." Additionally, as with every piece of equipment that uses apps, there is a potential for bugs and for you not to be able to use all of their features.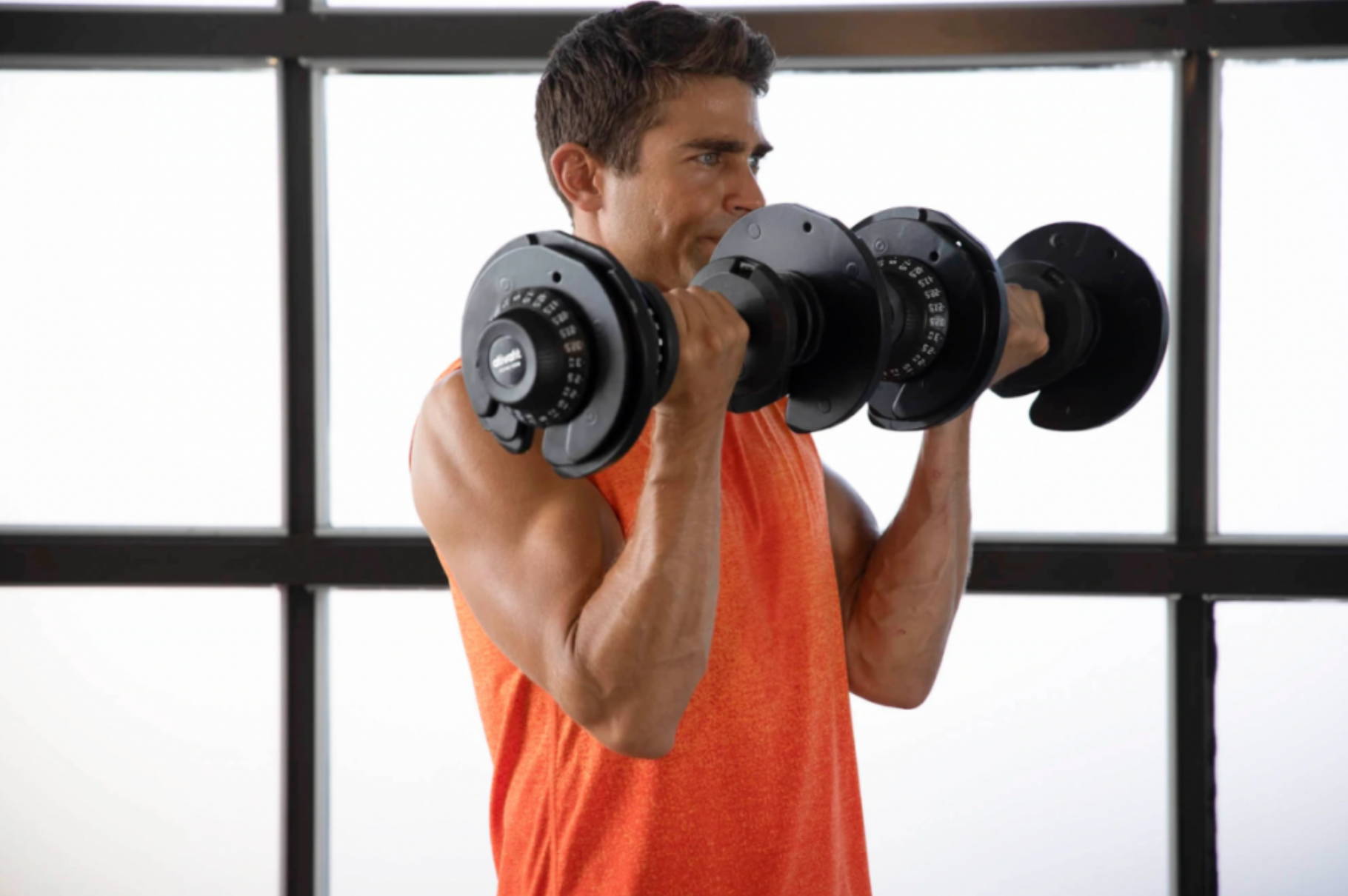 Do adjustable dumbbells break?
If you get adjustable dumbbells that use the "old school" method, where you simply change the plates, then it's highly unlikely for you to be able to break them at home. However, the newer models with more complex mechanisms are prone to get broken, as more elements must come together for them to work correctly.
Can I get big with adjustable dumbbells?
You can get big as long as you train with progressive overload and you stay consistent. What kind of dumbbells you use doesn't matter as much as training frequently and always trying to improve on your past results.
How much weight can adjustable dumbbells hold?
Of course, this largely depends on the model, but typically adjustable dumbbells can hold between 100 - 200 pounds each. You can also get commercial-grade ones that hold more than 225lbs. With that said, if you plan on using them for a home gym, it's highly unlikely that you will need them to be commercial-grade ones.
With the rise of home gyms, adjustable dumbbells have become an incredibly desired piece of equipment. However, choosing the perfect ones for your own training sessions can be difficult, but with the help of this article, you hopefully learned all you needed to know about the newest models on the market, and now you will be able to get the best ones for you. And if any of you have a pair of adjustable dumbbells, please share with us in the comments what you like about them and which ones you would recommend.
What Is Progressive Overload Training? // Health Line: https://www.healthline.com/health/progressive-overload

Build Your Home Gym // Kings Box: https://kingsbox.com/blog/en/home-gym/build-home-gym/
My name is Ihor and I have been a professional weightlifter since 1996. With over 20 years of competition experience, my resume includes European Champion in 2009 and the silver medalist at 2011's Senior World Championships – 105kg division.
I competed at the 2008, 2012 and 2016 Summer Olympics.
After hanging up my own competitive lifting shoes, I decided to share my huge background as a coach. I am currently coaching multiple athletes who are competing at national and international competitions.