Why would you ever care which ones are the best gym bags? Can't you just stick your equipment/items in a random bag and simply carry it around with you? Well… Technically, you could do that, sure. But a gym bag is more than a random bag to throw your stuff into – it's a very important piece of your fitness gear.
Each of us has different preferences and priorities. Some like tote bags, some think drawstring bags are the most practical, some will even carry backpacks. Regardless of what you like, your gym bag should be good quality, it should fit your stuff nicely and protect it from damage. And if you're someone that values aesthetics – then it should look nice, too.

As far as gym bags go, you'll find everything you want in this article – what the best one is, which is the most affordable, which can be used for more than just carrying your fitness equipment … We'll leave no stone unturned.
In a hurry and can't keep reading? How about you check out the Rogue Gym Bag.
The Rogue Gym Bag, a testament to Rogue's renowned quality and American craftsmanship, excels as the ultimate gym duffel for all your fitness needs, though its compact size may not be ideal for extensive travel.
Our team of certified nutritionists and professional athletes has tested 48 gym bags and narrowed it down to 17 best ones. We've dedicated a total of 485 hours to testing most of these bags and examining hundreds of online reviews, and our evaluations were based on 6 main factors. We're updating our list regularly, so feel free to share your experiences in the comments section.
So, let's get right into it and see what the best workout bags are!

Let's pack those bags and find the perfect one for YOU!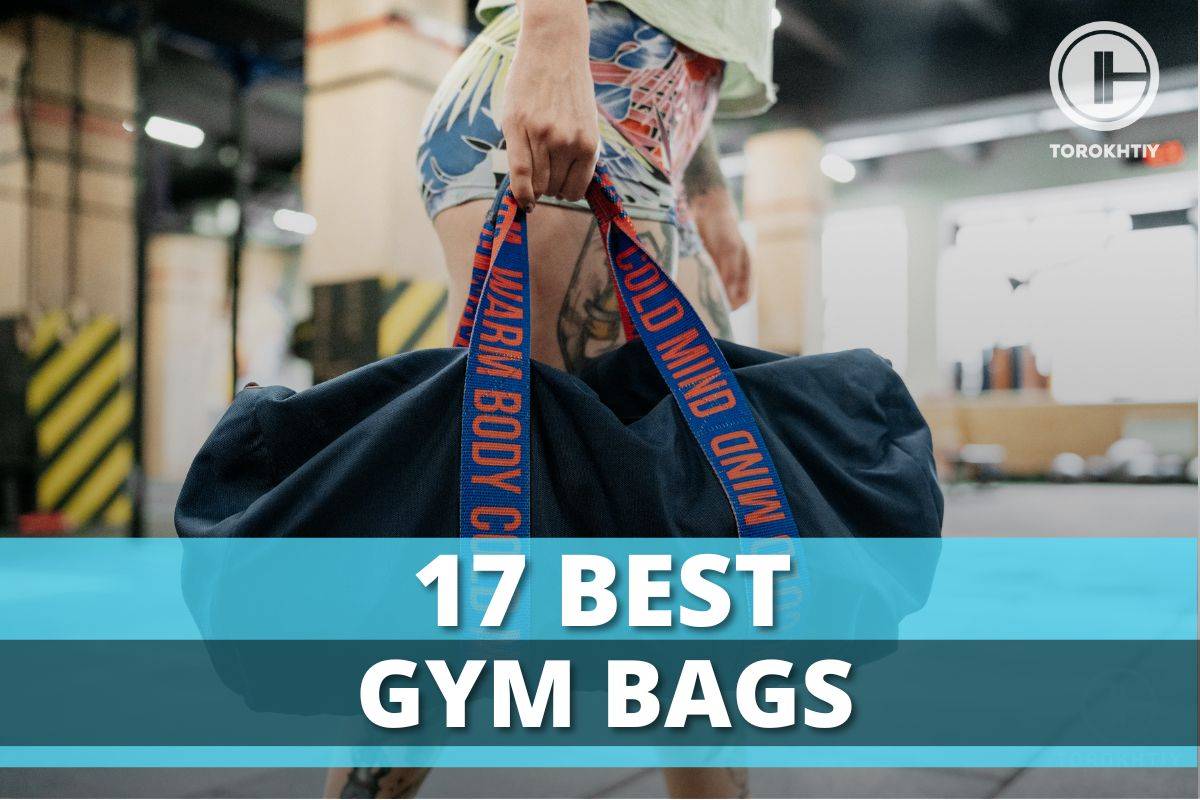 Top 17 Best Gym Bags Reviewed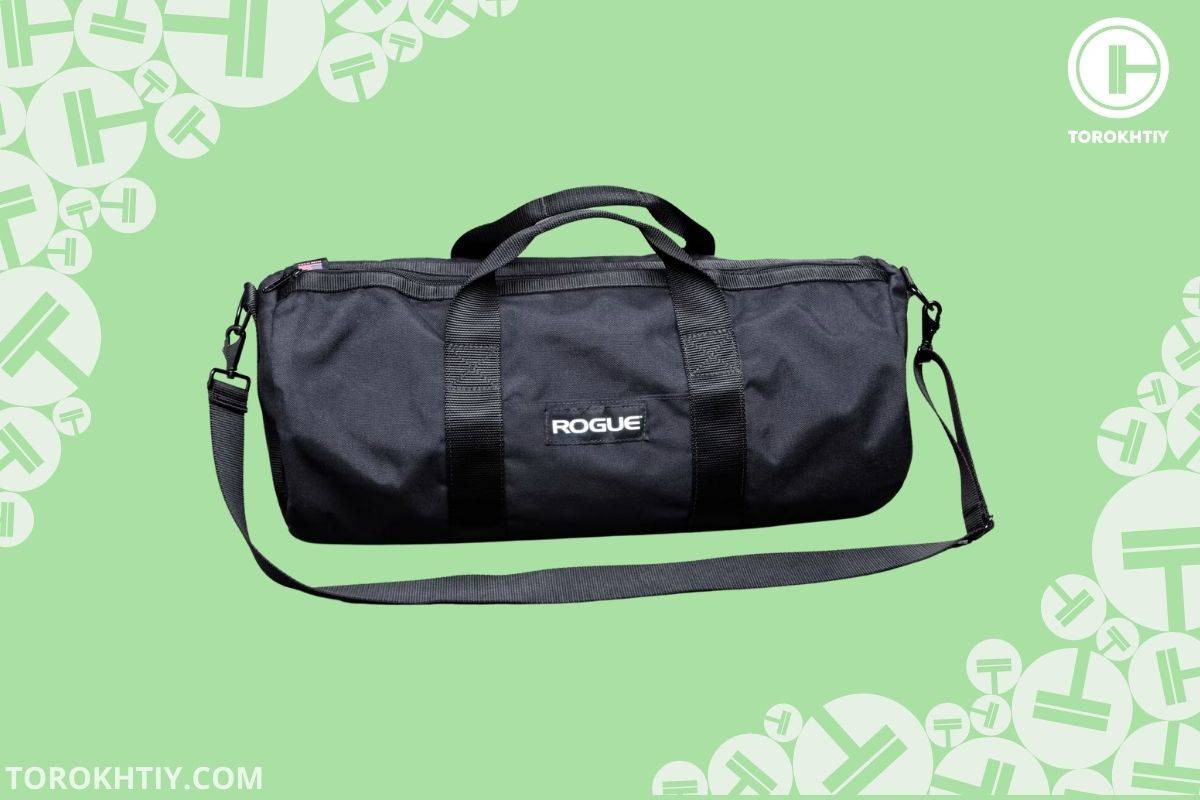 Rogue is a well-known, reputable brand so you have no worries when it comes to quality. Their gym equipment is top-notch, and this gym bag is no exception – it's the best you can currently find.
Type of a bag:

Duffel



Dimensions: 24" x 10" x 10"
Weight: 1.5 lb
Material: 1000D Cordura nylon
Color: Black
Best for (men/women/unisex): Unisex
Best uses for: Carrying gym equipment
Additional features:

Adjustable/Removable shoulder strap



Package: Bag
This is the best gym duffel bag and it's made in the USA which, for most people, is a huge plus. Not only are you supporting jobs in the USA by buying this bag, but the quality is usually better than with something made overseas.
Basically, this is a modern twist on the timeless, all-purpose carryall. It's compact so it's perfect to take with you to a gym and it will do everything comfortably. Its compactness, however, is both a good thing and a bad thing. Yes, it's easy to just grab it and go – it's lightweight and won't take up too much space. But if you plan on traveling with this (like Rogue suggests you could), you may want to think twice, it will work well as a hand luggage. The bag looks much bigger in photos than it actually is., at least as far as travel bags go, so this one is best to use as a gym bag only.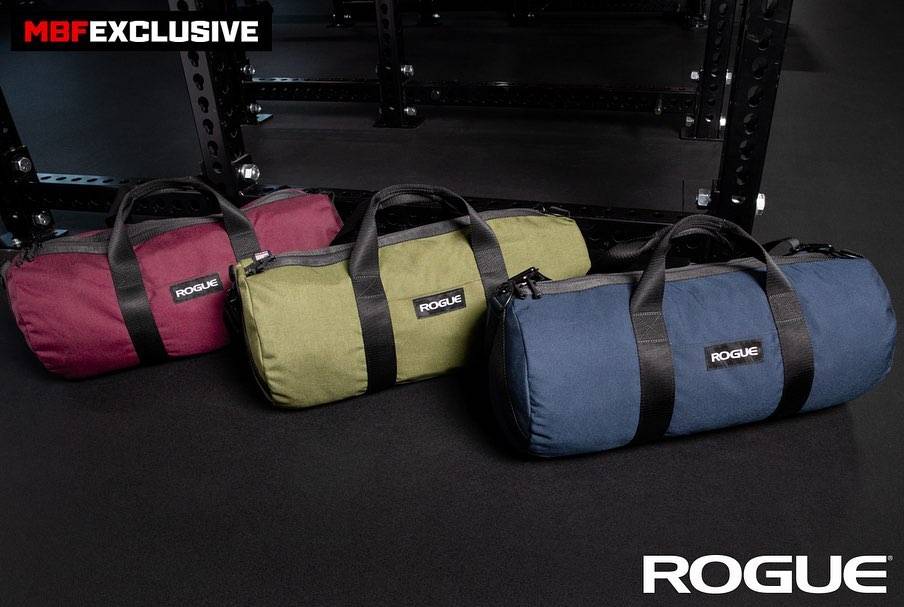 It's made from 1000D Cordura nylon, which is known for its durability and resistance to abrasions, fading and mildew. It can take whatever you throw its way so there's no need to obsess over being too gentle with it or refraining from carrying heavier equipment.

It has a single spacious main compartment, external pockets for quick access, and an internal zippered pocket (this one is perfect for your phone or wallet). The bag also has 2 grippy nylon handles and a removable shoulder strap.
You'll also find metal D rings on the bag and all the straps and handles are reinforced, so the bag will last you a long time. If, however, you want something even more durable, this bag also comes in a Ripstop version that has Cordura fabric on the interior as well.
The Rogue Gym Bag is a versatile and durable 1000D Cordura nylon duffel that's perfect for the gym, featuring a compact yet spacious design with reinforced handles and plenty of pockets for all your gear.
(Show More)
Too small to be used as anything other than a gym bag
This bag, made by Under Armour, is both a backpack and a duffle – if you want a bag that you can carry to the gym but that you can also take with you when you travel or use as an overnight bag, this is perfect for it. And since this one also comes from a trusted, reputable brand, you know it's good quality.
Capacity: 53L
Type of a bag: Duffel
Dimensions: 13"W x 9.4"H x 20.9"L
Material:

100% Nylon



Color: Black, dark maroon
Best for (men/women/unisex): Unisex
Best uses for: Gym, travel
Shoe compartment: No
Additional features: Reflective webbing, internal divider system
Package: Bag
This bag looks sleek, modern and, above all simple, but it's packed with some really amazing features. First off – the water-repellent finish that keeps your stuff safe from the elements. You can get caught in a downpour, and the UA Storm technology will keep anything that's in the bag safe and dry. There's also the LEVELED™ strap system that makes sure the straps are evenly adjusted and the weight distribution is balanced.
You won't find a separate shoe compartment in this bag. Instead, there's an internal divider system that's perfect for separating clean from dirty clothes and it makes the bag more organized.
This is another bag that's made of durable Cordura fabric, and it's paired with PU-coated zippers and a reinforced front for some extra protection. There's even a soft-lined laptop sleeve that can fit a 15'' laptop.
The main compartment is expandable and ventilated. This is a really good feature because breathability is always an issue with nylon bags. Just think of sweaty clothes stewing in a piece of nylon – you won't be happy with what you smell when you open the bag. The ventilation prevents anything moist from getting smelly. You'll also find a bunch of pockets on the inside, which add even more to how organized your things are in there.
You won't find any dedicated external pockets. There is one very narrow sleeve which is designed to fit narrow items such as your mobile phone. This can be a pain if you want something to be easily accessible. You'd have to open the bag and dig through it a bit to find it, rather than just quickly grabbing it from a pocket (unless it's a phone). But all things considered, this bag is a 10.
The UA Triumph Cordura Duffle Backpack combines the functionality of a gym bag and a travel duffle, boasting water-repellent technology, and durable Cordura fabric, making it an exceptional choice for active individuals on the go.
(Show More)
Internal divider for organization

Ventilated main compartment
Only one (narrow) external pocket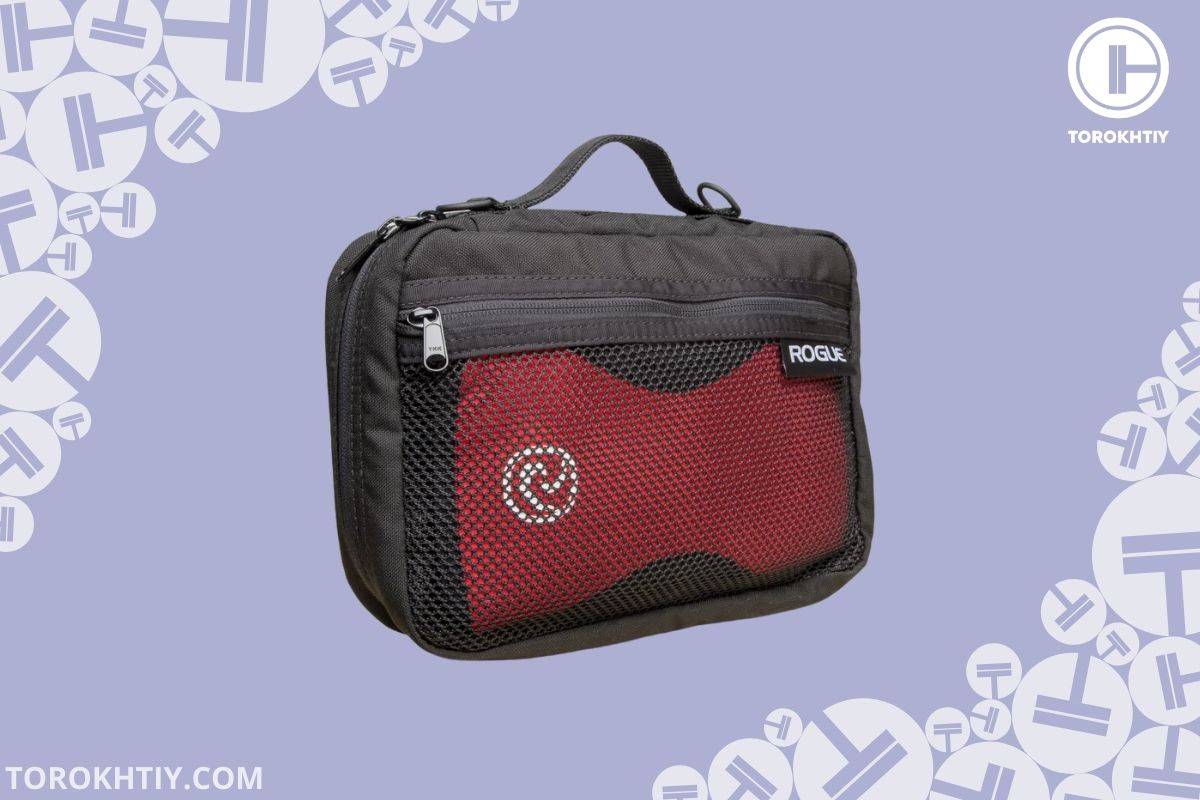 This is a super compact, very functional bag that's going to be great for people who want the best small gym bag and don't carry too much stuff with them. It doesn't expand too much so you can't fit anything bulky in it, but if you carry something like a change of clothes, a towel, wrist straps, etc., this will be perfect.
Type of a bag:

All-purpose



Dimensions: 12'' x 10'' x 3''
Weight: 1 lb
Material: Cordura and mesh
Color: Black
Best for (men/women/unisex): Unisex
Best uses for: All-purpose bag
Shoe compartment: No
Additional features: Velcro loop for attaching wrist wraps, gymnastic grips, etc., Exterior mesh pockets for drying out two knee sleeves separately
This bag was developed in collaboration with Matt Chan to meet the everyday needs of high-performance athletes. This, of course, doesn't mean that its use is restricted to athletes.
It's made of durable fabric and has a flexible polypropylene interior panel. There are two exterior zipper pockets that are ventilated. They're ideal for storing and airing out knee sleeves or other workout equipment after an intense session. The main compartment opens on either end and has a mesh zipper pocket and a closed Cordura pocket. On top of the Cordura pocket is the 2'' wide strip of loop Velcro that gives a nice attachment point for wrist straps.
The handle is made of 2-ply nylon webbing and has black powder-coated D-rings. Each Kit bag is extensively tested by the Rogue Sewing Department, to make sure they're all top quality and safe to use. Its price is a bit high for a mini gym bag, but its quality is inarguable.
The Rogue Kit Bag is an exceptionally compact and functional gym bag offers durability, specialized storage, and versatile features to meet the needs of fitness enthusiasts and athletes seeking a top-quality small gym bag.
(Show More)
External mesh pockets for drying out equipment

Two types of internal pockets

Velcro loop for accessories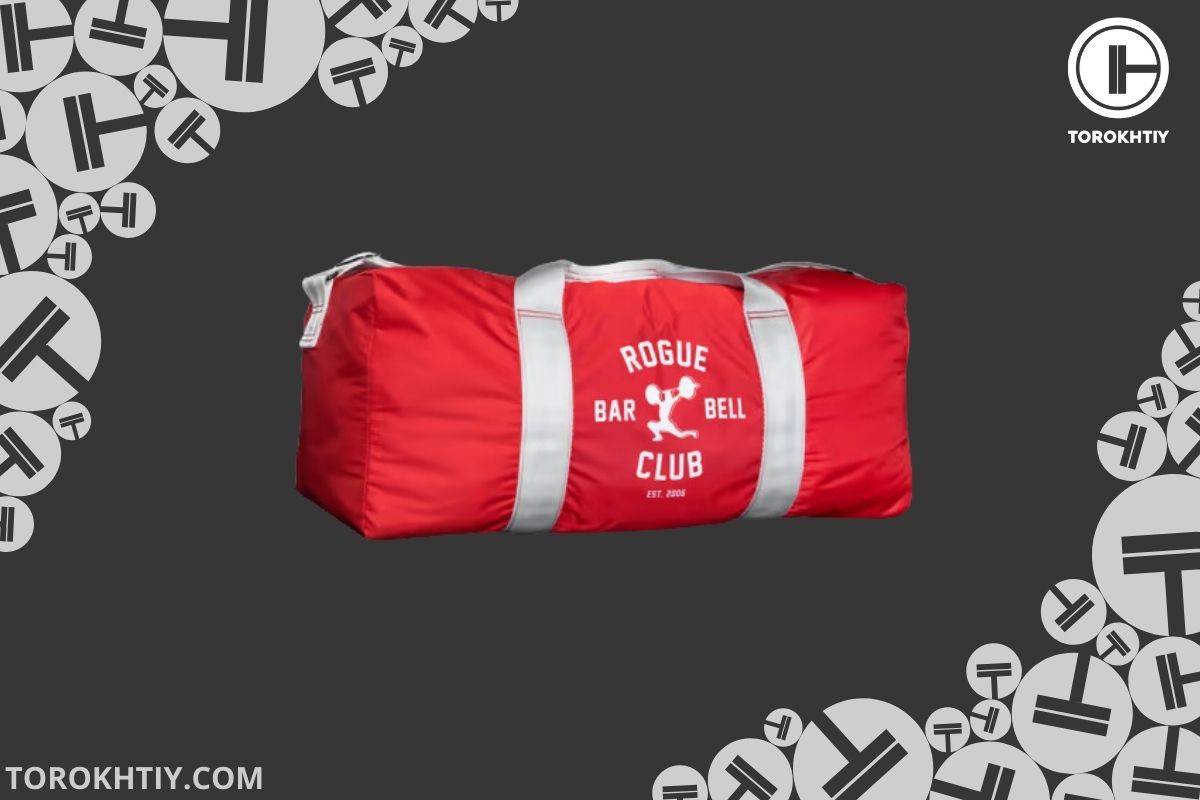 This retro style is sure to warm some hearts. Modern bags are great, but this large gym bag is classic for a reason and Rogue did an incredible job with it.
Type of a bag:

Duffel



Dimensions: 24'' x 9'' x 10''
Weight: 1.5 lb
Material: Nylon
Color: Black, blue, red
Best for (men/women/unisex): Unisex
Best uses for: Gym, travel
Shoe compartment: Yes
Additional features: Adjustable shoulder strap
Package: Bag
This bag is a blend of vintage looks and modern functionality. Its rectangular design is very functional, and the bag is made of premium 70D Nylon Ripstop on the outside and 420D Packcloth nylon on the inside. There are 3 colors to choose from – black, blue or red.
Although it's primarily meant to be used as a gym bag, this bag can also be used for travel or as an overnight bag. It's spacious enough to fit pretty much anything you would need, and it expands quite a bit. The interior is simple, but very practical. There's a large zipper mesh pocket along the entire length of one interior panel and there's also a separate shoe compartment made of 70D ripstop material. The shoe compartment can be neatly tucked in the bottom corner of the bag when you don't use it, so you have even more space.
The stitches on the bag are very neat and symmetrical, which means a lot of attention to detail went into making it. The bag's interior uses contrasting colors (red and blue), which makes it easier to organize and locate your things. This is especially useful if you have a lot of dark clothes, because those can be annoying to tell apart from the bag if the bag's interior is black.
The Rogue Old School Bag combines timeless retro style with modern functionality, offering a spacious and versatile gym, travel, or overnight bag meticulously crafted with premium materials and thoughtful details.
(Show More)
Suitable for uses other than as a gym bag
The shoulder strap is not removable

The white letters start to peel off soon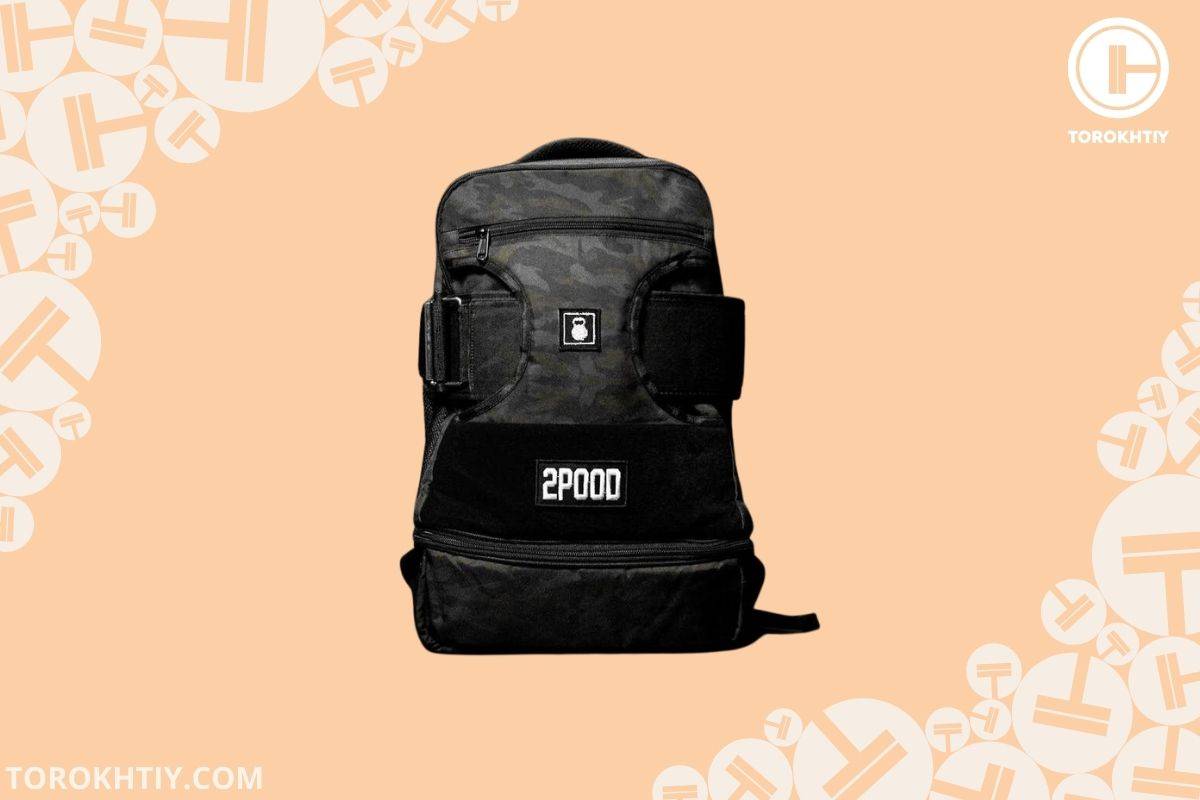 This backpack is both stylish and functional. It fits the dimensions airlines have for carry-on luggage, so its use goes way beyond the gym.
Capacity: 24L
Type of a bag: Backpack
Dimensions: 19''H x 14''W x 7''D
Color:

Black, operator camo, midnight blue, grey, army green, sunflower



Best for (men/women/unisex): Unisex
Best uses for: Gym, travel
Shoe compartment: Yes
Additional features: Laptop sleeve
Package: Bag
The large loop stands out immediately. It's made to fit your belt comfortably and makes sure your equipment is always within reach. The bag can also be personalized with your favorite patches – just stick them onto the external velcro section and your bag becomes unique in a snap.
There's a padded pocket in the front so all your valuables are safe and it's perfect for things like your keys, phone, or wallet. You'll also find a laptop sleeve in it so, if you're traveling with it, you can take your laptop with you anywhere you go.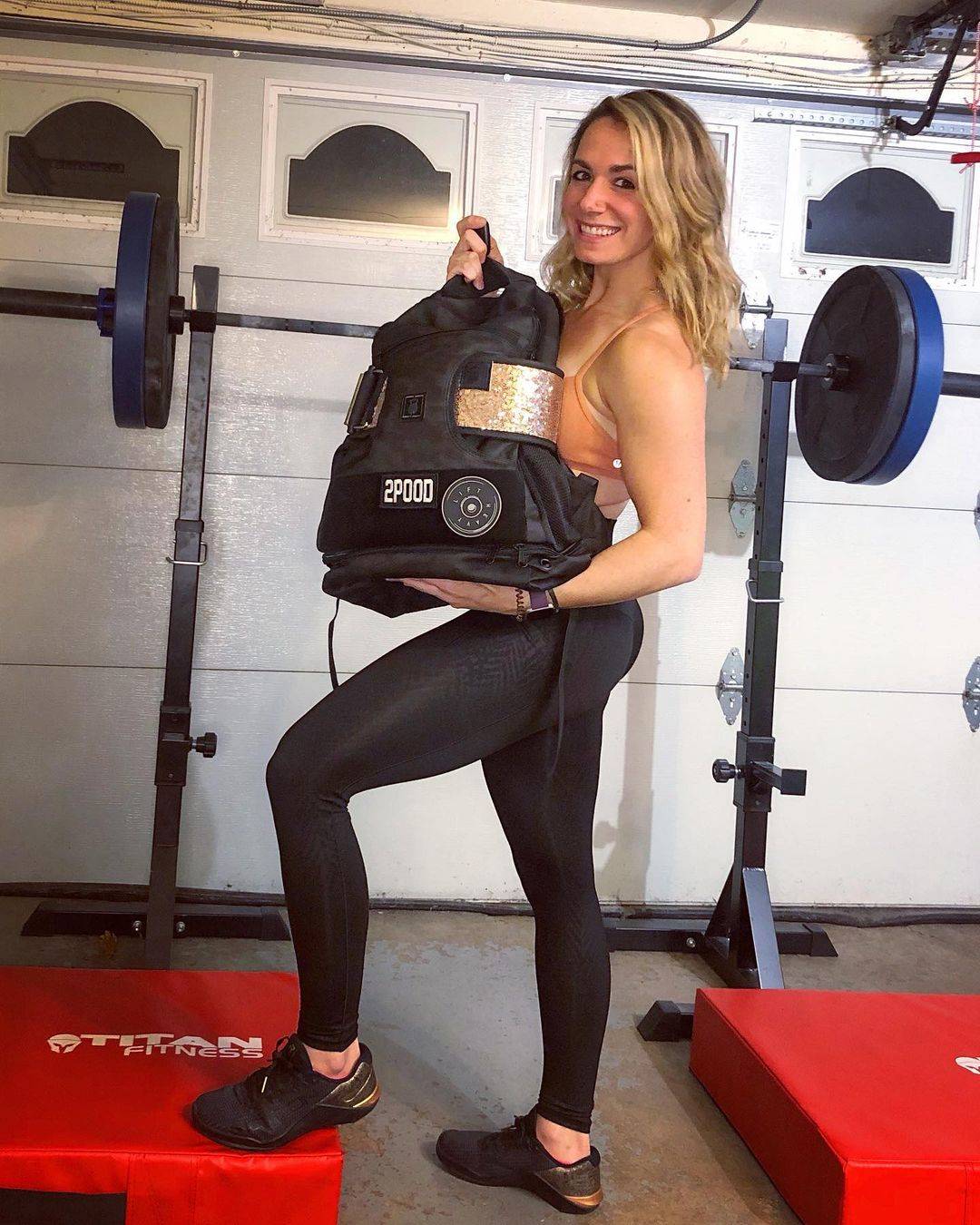 This backpack also has a very spacious shoe compartment that's also vented. Shoe compartments are always a huge plus because they separate your shoes from other things and prevent any kind of smell or dirt from spreading. And when the shoe compartment is ventilated, you also don't have to worry about your shoes smelling.

The YKK zippers add to the bag's durability which, in all honesty, isn't as impressive as you would expect. The material feels a bit flimsy and like it could fall apart easily so take some extra care of the bag and don't be too rough with it.
The 2POOD Performance Backpack 2.0 is a stylish, versatile, airline-friendly bag with unique features, including a belt loop, personalized patch options, secure pockets for valuables and laptops, and a spacious, ventilated shoe compartment.
(Show More)
External velcro section for personalization

Ventilated shoe compartment
Not as durable as expected

The belt loop size is too wide to fit powerlifting belts comfortably
This bag is great for the gym, but swimming and water-based sports is where it really shines. This is an updated version with 20% more storage, it's ventilated and you can fit any beach essentials you may need and still have some spare room.
Capacity: 40L
Type of a bag: Sack
Dimensions: 25.25'' x 19''
Weight: 6.6 ounces
Material: Polyester
Color: 11 colors available
Best for (men/women/unisex): Unisex
Best uses for: Gym, travel, swimming
Shoe compartment: No
Additional features: Side zipper pocket for additional organization
Package: Bag
This is a very lightweight gym bag, and it doesn't get heavy even if you heavily pack it. The main compartment is very spacious and there's also a smaller zippered compartment so you can easily organize and reach smaller items.
The mesh venting system has two purposes. It promotes faster drying times and also ensures optimal drainage. Think about how soggy and wet your gear is after your swim, and then think about stuffing all of that into a bag that doesn't breathe. It's a recipe for odor, not to mention mold and mildew if you forget to take your thing out on time. This is why you want to make sure to get a bag that's ventilated.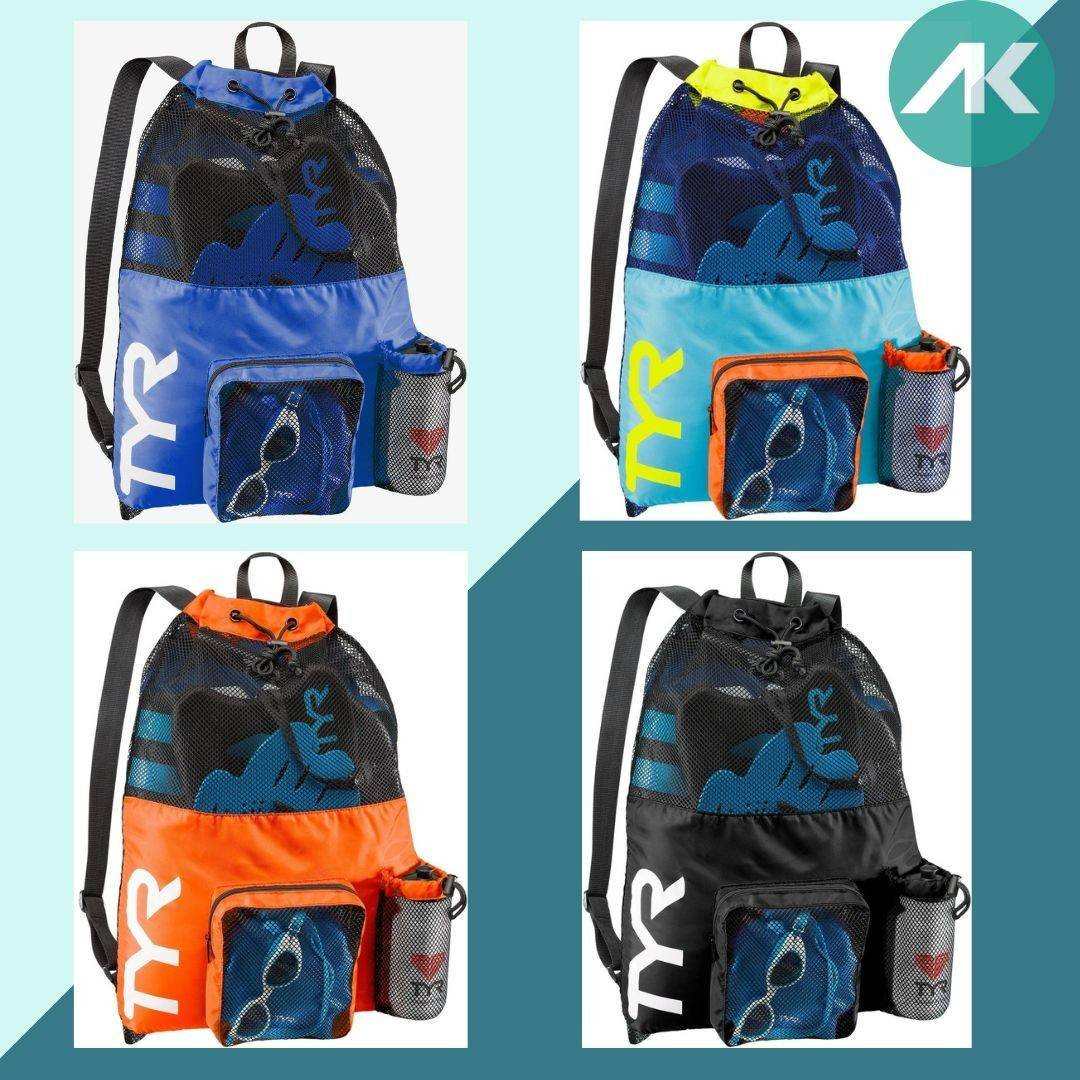 The bag also comes with over-the-shoulder straps that are comfortable and, of course, adjustable. And if you're one of those people that likes to have super quick access to their things, you'll be happy to know that this bag has a secure, intuitive barrel-lock closure.

There's a side zipper pocket, which is highly functional, and a water bottle pocket. The water bottle pocket is unfortunately not the best and you'll often find your water bottle falling out of it, but it's a minor issue because you can always keep your bottle inside.
The TYR Big Mesh Mummy Backpack is a lightweight and ventilated bag, perfect for the gym and water-based sports, with a spacious main compartment and functional side zipper pocket, though the water bottle pocket may not be the most secure.
(Show More)
20% more storage than the previous version of the backpack

Barrel-lock closure for quick access to your things
Water bottle pocket is not functional
This durable bag is waterproof and tear-resistant and can take quite a beating while being simple, stylish, and easy to use.
Type of a bag

: Duffel



Dimensions: 23'' x 11'' x 11''
Weight: 1.6 lb
Material: Cordura/Matt Nylon
Color: Black, red, grey camo, red camo
Best for (men/women/unisex): Unisex
Best uses for: Gym, travel
Shoe compartment: Yes
Additional features: Separate wet pocket
Package: Bag
The handles are padded and comfortable, but sturdy at the same time. This is a bag that's made to last, and it shows in both the material and the handles.
There are 5 strategically placed mesh pockets that keep your things fresh and odorless. This also prevents the bag from absorbing any smells, so you don't have to worry about your stuff smelling like something you carried in the bag a few days ago.
You'll also find a shoe compartment, which is always a huge bonus, because who wants their shoes mixing with everything else in the bag? This compartment is waterproof so you don't have to worry about your shoes making the rest of the bag wet. You can choose between four interesting colors and patterns and the premium-quality zippers only add to the bag's durability.
It doesn't have too much structure so, if you want it to look how it's supposed to and have it stand by itself, you'll need to pack it heavily. Other than that, this bag is great!
The Beastpowergear Gym Duffle Bag is a stylish, durable, and waterproof option for the gym and travel, featuring comfortable padded handles, strategic mesh pockets, a waterproof shoe compartment, and multiple color choices.
(Show More)
Waterproof shoe compartment
Has no structure when empty
Experts Who Contributed To This Article
20 years of Oly Lifting & Training experience
6 years of Oly Lifting & Training experience
Performance architect, S&C movement specialist

A lot of times, people don't think about the type of gym bag that would suit them. They will just pick up what looks functional and that's that. With so many styles available, that can be a big mistake because a gym bag is an important part of your fitness equipment. Let's see what the most common types are.
These are super versatile and have the weight distributed evenly. They usually come with a lot of compartments and have ergonomic designs.
Obviously, the main difference between a backpack and a traditional gym bag is that you wear the gym bag on your shoulder via a strap, while the backpack is designed to sit securely and comfortably on your back, leaving your hands free. This is especially important if you plan on traveling to the gym via bike or motorcycle.
It's easy to travel with them, and they're comfortable to wear even if it's for prolonged periods. Still, they may not be the best for people with back issues, and they rarely come with specialized compartments.
Duffle bags for gym have a recognizable cylindrical shape and a very spacious main compartment. The handles are robust, and the bag will usually come with detachable shoulder straps. It's perfect for gym and travel because of its generous storage space, but it becomes pretty bulky if you pack it fully.
Some duffle bags have designs that enable them to be worn like backpacks. If that is the case, then the same advantage applies to them as with backpacks — if you're going to the gym by using a motorcycle or a bike, they are a must in order to ensure the safety of travel.
A tote is one of the most stylish bags due to its minimal design and it's great for transitioning from the gym to running errands and regular daily activities.
It's a lightweight, versatile bag, but has limited storage space compared to the duffel, so it's not ideal for travel.
If you want a very compact bag – this is it. It's worn diagonally across your body and it's very easy and comfortable to carry. It's good for short workouts, but since it's so compact, it won't be able to carry any bulky or heavy equipment.
This is a super straightforward type of bag that has a drawstring closure for easy use. It's lightweight and good for outdoor activities. This one is also one that won't hold anything bulky because that's not its purpose.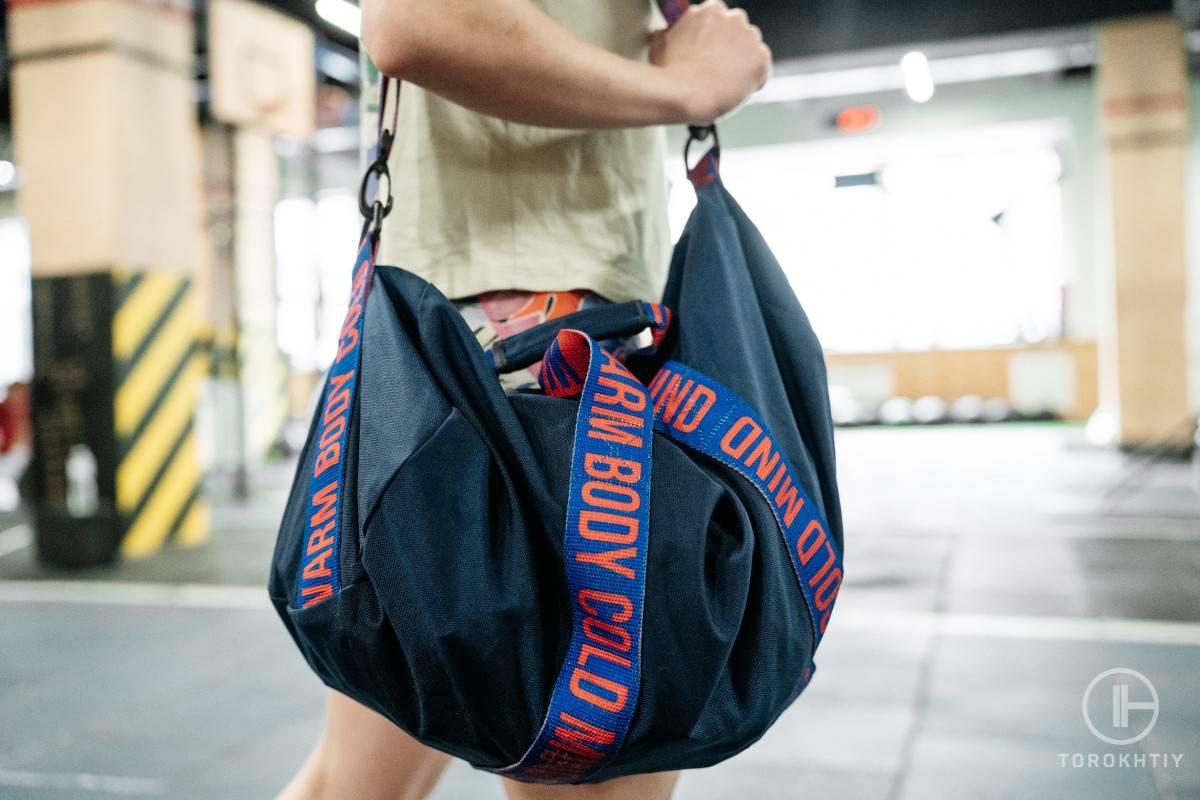 The epitome of durability – a tactical bag. It's rugged, sturdy, and often made from military-grade materials. Its primary use is for outdoor and adventure sports and the bag is usually waterproof. It's not the most stylish bag, however, and it's quite bulky.
A luxury bag is never a necessity, but if you want to be fashionable, you may want to consider splurging on one of these. It's made of high-end materials, looks fantastic and it's designer. It's a statement piece for sure, but like many luxury bags in general, it may not be the most functional and durable.
How to Choose a Proper Gym Bag Type?
You may not think training bags can have any influence on your fitness journey, but they can. A bag that suits you needs to be able to comfortably carry all of your essentials and it should suit your lifestyle.
Say you're into weightlifting or have bulky equipment – a tote or a backpack wouldn't be as useful to you as a duffel would. You would need something spacious that can handle everything you want to throw in it.
On the other hand, a gym backpack is perfect for someone who travels a lot because it can be both a carry-on and a gym bag.
A tote is a great choice if you want to hit the gym in the morning and then go grocery shopping immediately after because it transitions easily from one thing to the other.
The right gym bag needs to align with your lifestyle, the sports you do, and if aesthetics are important to you, it should also look stylish. And don't forget that gym bag reviews are also a great source of information.
Pros and Cons of Various Gym Bag Types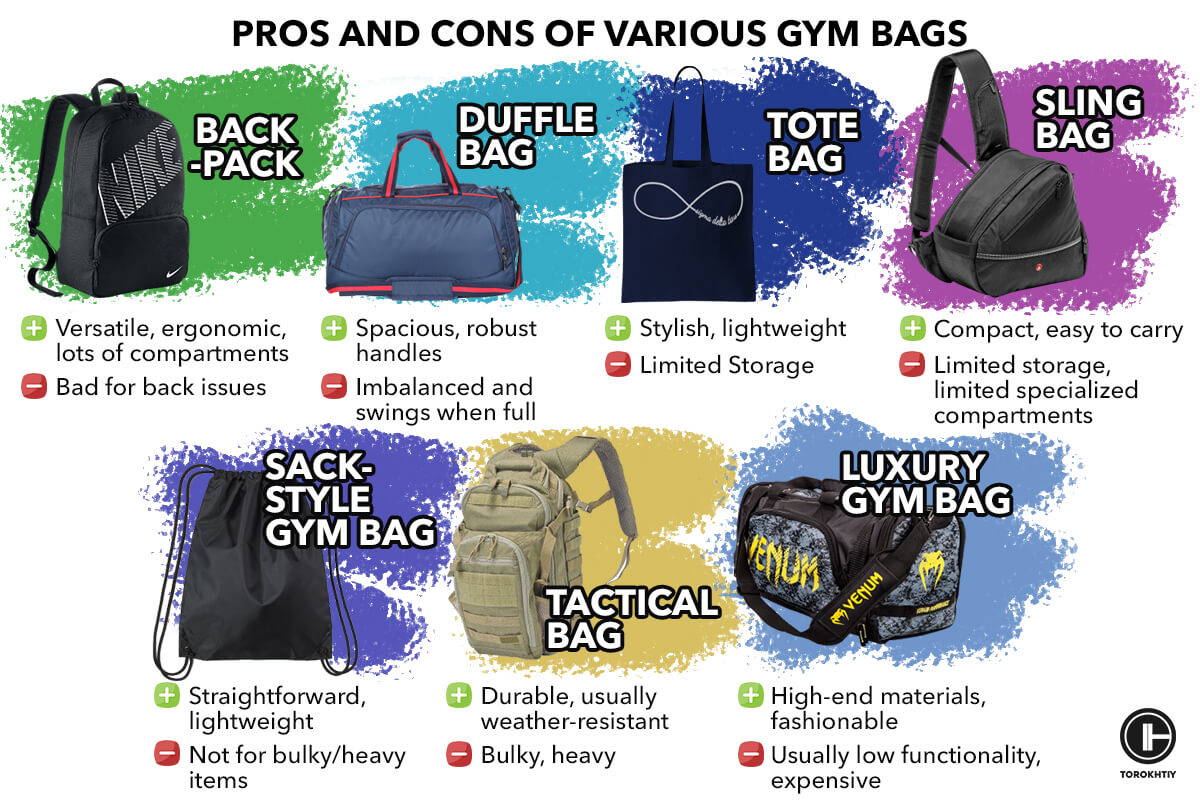 What to Look for When Choosing the Best Gym Bag?
Before you choose your next gym bag, keep in mind that it's far more than just a stylish accessory. There are things you need to pay attention to to make sure you're not wasting your money on a bag that doesn't have the right features, isn't good quality, or ends up being uncomfortable.
Think about how much equipment you want to carry and how much space you need the bag to have. A compact bag is good for essentials, but if you want to carry clothes, shoes, and equipment, you'll need one with more space.
Our expert Tanya Shaiko went straight to the point:

"When it comes to gym bags – size does matter!" — she paused to laugh😀 — "Well, it does, what can I say? But seriously, I always go for larger gym bag variants. These are made with the goal to perfectly accommodate the multitude of various accessories and gear that I'll bring to my workouts. Because, you see, sometimes you just won't have the time to go home and pack your bag just for the gym. Life is life and there will be days when you have to plan your whole day ahead. This means that your gym bag will carry much more than gym-related items. You're carrying your whole day in that thing. This is why you NEED the extra space. Also, a pro tip, multiple compartments are a life saver when trying to look for that one specific thing in a hurry! It's all about ensuring you have everything you need, without compromise."
3. Compartment Availability
The more compartments you have, the better you can organize your bag. Look for a bag that has a separate shoe compartment, a compartment for wet clothes, electronics, and a water bottle. A gym bag with a shoe compartment will make your life a lot easier because you don't want to put your phone and shoes in the same place, so think about how many compartments you need.
If you get caught in the rain, you want your things to be protected. This is why your bag should be waterproof, so it can protect everything you want to carry with you.
Our performance architect Jacek Szymanowski said this:

"Look, if you don't want a messy bag, then make waterproofing and easy-to-clean materials your priority. Not that other things aren't important. But this one tops the charts for me. Avoiding an unnecessary headache is underrated. My choice is the Cordura-crafted Rogue Gym Bag — it's quite spacious to pack all the essentials that are important. If you plan on carrying bigger equipment, then first – make sure it'll fit. The Rogue bag is also very durable. It can really take a punch to the chin without flinching. With minimal effort, that bag will last you years. Easy!"
Look for a bag that has lockable zippers or hidden pockets, so your wallet, keys, and phone are safe while you work out.
Think about the way you want to use the bag. Will you use it only for the gym or do you want to travel with it, go grocery shopping, go camping, etc.?
Make sure to choose the bag that's designed for what you plan to use it for.
You want adjustable padded shoulder straps and handles and back panels, so the bag feels comfortable when you carry it. Also, make sure the bag's weight distribution is even.
Our sport scientist Sergiy Putsov strongly recommends:

"If you want a optimal gym experience, then look for a gym bag with individual compartments dedicated to gear, shoes, a water bottle, and a protein shaker. You might think that this might be a bit of an overkill, but trust me. You'll thank me later. Also, keep in mind the bag's durability! From my personal experience, I'd recommend the Runner-Up Under Armour Duffle Bag."
Some gym bags come with really neat features, like USB charging ports, headphone ports, or reflective strips.
6 Tips for Packing a Gym Bag
The best bag in the world won't be as usable as it could be if you don't pack it right – we all want an organized gym bag. There's no crazy science behind the organization, just a few things to keep in mind.
First, you need to start with choosing the correct bag. Go over things like size, compartments, features, etc., and choose one that's right for you.
2. Get Your Workout Essentials
Once you start packing the bag, begin with essentials – workout clothes, socks, shoes, and gym towel. Don't forget things like headphones, a heart rate monitor or a fitness tracker.
3. Toiletries & Post-Workout Needs
Your toiletries should be in a separate pouch (waterproof would be ideal) so that, if anything leaks, it doesn't get on your clothes. Also, make sure to pack things you'll need after your workout, like a change of clothes, a spare pair of socks, deodorant, and a towel.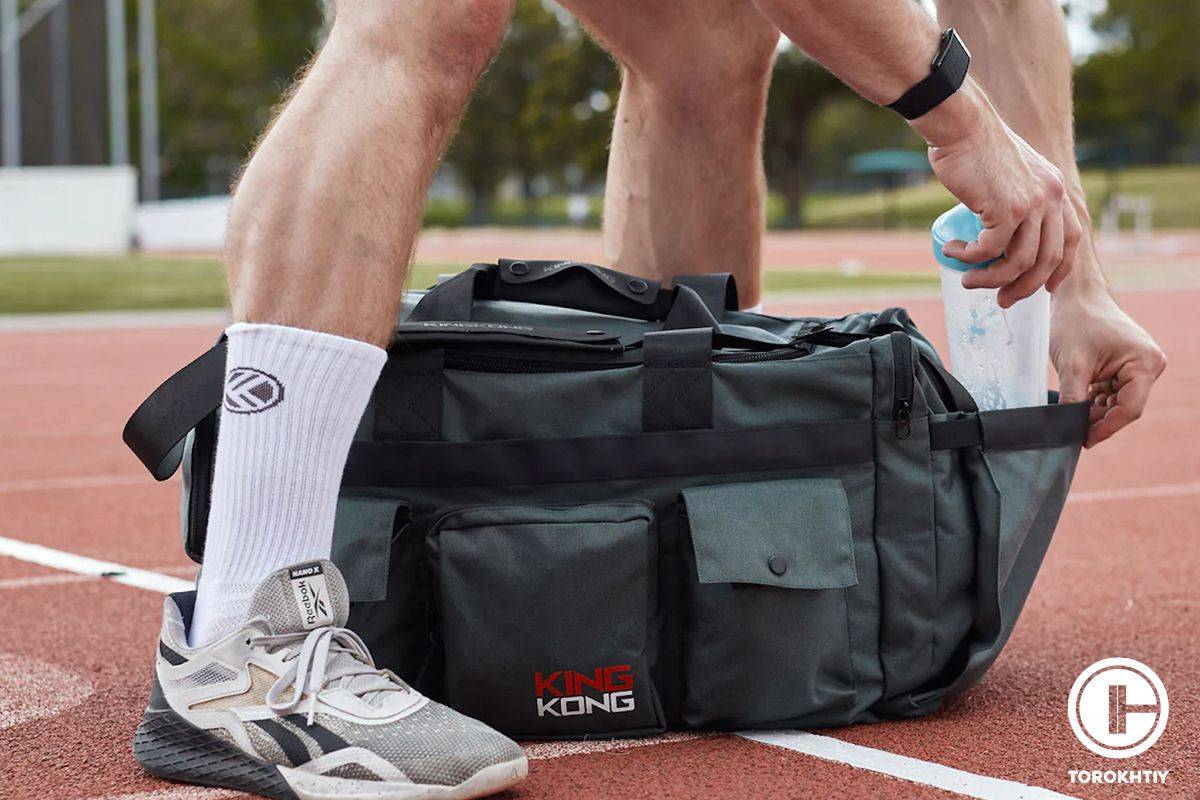 4. Sweaty/Damp/Wet Clothes or Towels
Since we're mentioning 'after the workout', also consider where and how you'll store sweaty clothes.
And speaking of odor – if you're worried about how you're going to keep your bag smelling fresh, you can get some odor-absorbing pouches and/or, even more importantly, get a bag that has vented compartments so anything damp can air out.
If you're carrying a wallet or a phone with you, put those in a separate, more secure compartment (it would be ideal if it's lockable) so you know they're safe.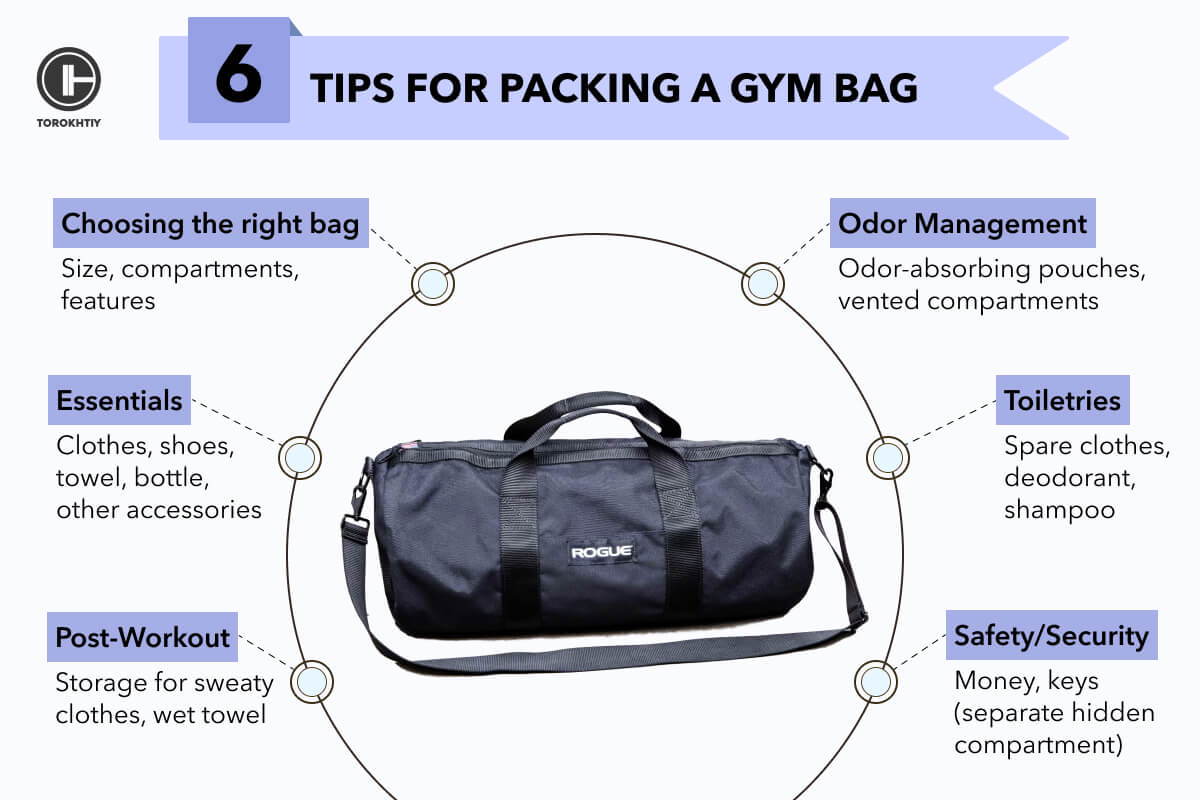 How to Clean a Gym Bag in 9 Steps?
There are two types of bags when it comes to cleaning – those that can be machine-washed and those that can't. Of course, those that can be just thrown in a washer are much more convenient. For those, look for instructions on the label to check the temperature you can wash the bag on.
The ones that can't be machine-washed are more frequent, but the good news is, there are ways of keeping them fresh and clean.
First, empty the bag completely. Check all the pockets and compartments and take everything out.
You can now spot clean the bag with a damp cloth and a mild detergent.
3. Deep Cleaning With Natural Solutions

Leaving wet/sweaty gym clothes/towels in the bag overnight might seem like it isn't a big deal, but keep in mind that this way you're creating an optimal breeding ground for bacteria and mold. This will inevitably help produce bad odors. What it can also do is degrade the material of your bag and gym gear. This time-saving 'technique' of not dealing with your wet clothes straight away will only create a scenario where you'll need to exert more time to deal with the issue.
If your bag is fabric, it can probably be machine-washed (check the label to be sure) on a gentle cycle.
No matter what type of cleaning you go for, make sure to rinse the bag thoroughly once you finish with it. If you're struggling with stubborn odors that refuse to go away, you can sprinkle baking soda inside the bag and let it sit overnight.
6. Consider Sensitive Materials
Be careful if the bag is leather-trimmed or full leather because they may need specialized cleaning products. Again, checking the label is your best bet.
7. Zippers; Don't Forget the Zippers!
Don't forget about the zippers and hardware – they need cleaning, too! Use a small brush or a toothbrush to gently clean any dust or buildup. If you have a sturdy bag with a hard bottom, vacuuming can also help in the cleaning process.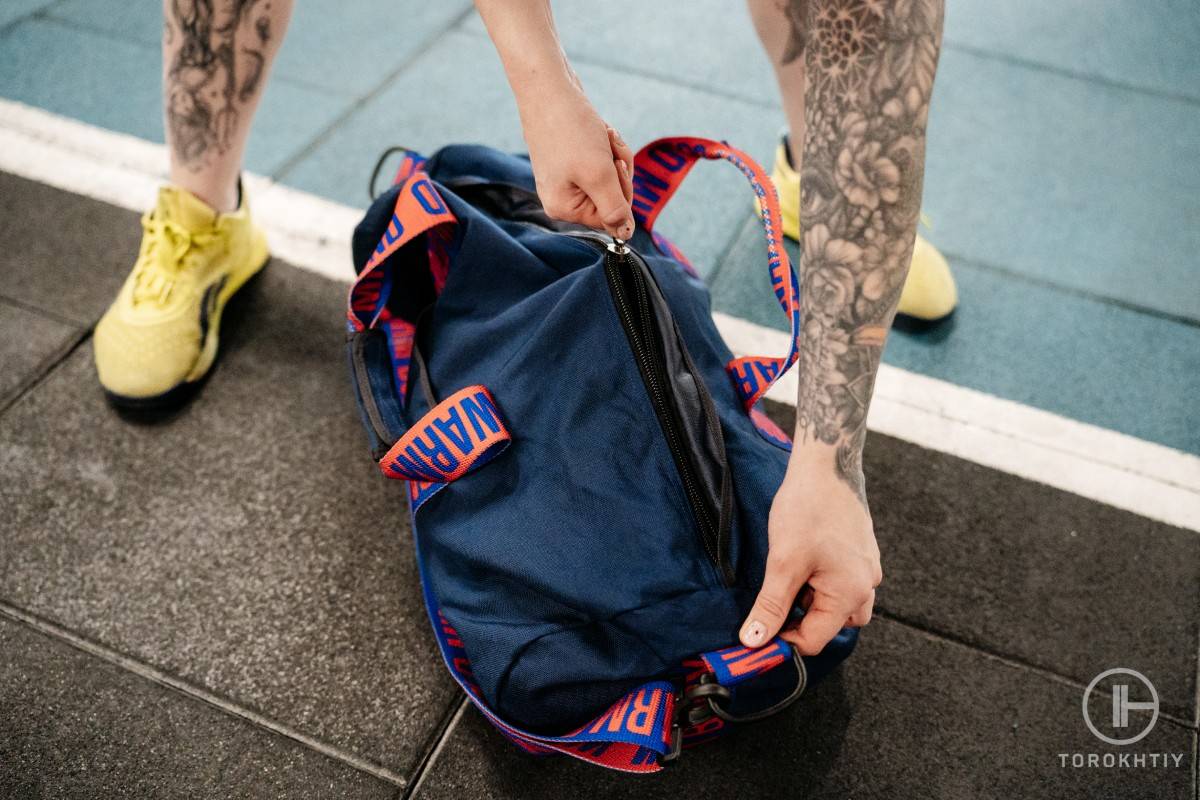 Your best bet is to let the bag air-dry. But during colder months, leaving it close to a heat source such as a radiator is also fine (don't leave it too close if the temperature is too high). Leaving the bag in the sun is also okay, but keep in mind that while the Sun's UV rays work as a disinfectant (to some extent), they also degrade the bag's color pigment via photodegradation. If you have a waterproof bag, make sure to leave all the compartments opened and facing upwards – so that there is no humidity buildup.
Once your bag is dry and clean, put some dryer sheets or odor-absorbing pouches to keep it smelling fresh.
Can You Put Shoes in a Gym Bag?
Yes, you can. A lot of gym bags have separate shoe compartments, and some also come with additional shoe covers. If your bag doesn't have a shoe compartment, you can still put your shoes in it, but make sure to use a bag or a shoe bag over them to keep them from getting in contact with the rest of your things.
What Makes a Good Gym Bag?
A good gym bag is made of quality, durable materials, has enough space, pockets, and compartments, and it's also ventilated to keep any odors at bay. It should also have lockable zippers and, if you plan on being outdoors, a waterproof gym bag is the most convenient way to go.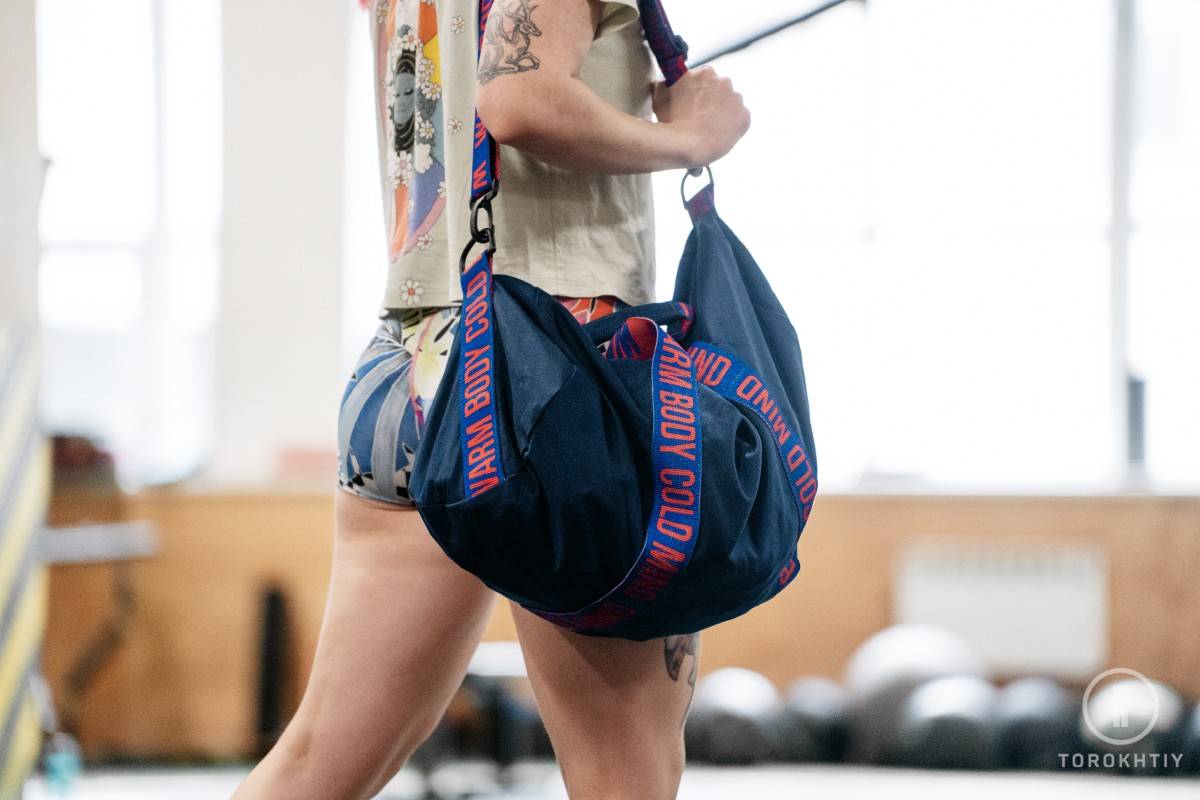 Can I Use a Backpack as a Gym Bag?
Of course you can! A lot of backpacks have more than enough space and pockets, which makes them suitable for a lot of different things, gym included. Just make sure it's somewhat breathable and made of durable materials.
And that would be it as far as top rated gym bags go! Now you're armed with more than enough information to be able to successfully choose a new gym bag that's going to fit all your needs!
The Rogue Gym Bag is one that you can't go wrong with and it's currently the best gym bag you can buy. But if that's not quite what you want, no worries – there are sixteen more bags to choose from.
What do you have to say? Do you have a favorite gym bag? Which type suits your needs best? Have you tried any of the bags from our list? Do you use your gym bag for something else, other than for workouts?
Share your thoughts and comments with us, we'd love to hear them.
Bagging out!
1. Neethu N, Amisha Kumari, "Polyesters - A Review" ResearchGate, https://www.researchgate.net/publication/332093406_Polyesters_-_A_Review (accessed 3rd October 2023)
2. Sibongile, Maja " High performance Cordura® fabrics - Resistance to abrasion"
ResearchGate, https://www.researchgate.net/publication/285569942_High_performance_CorduraR_fabrics_-_Resistance_to_abrasion (accessed 3rd October 2023)
3. Abhishek Kumar, Manpreet Manshahia " Evolution of Waterproof and Water Resistant Fabrics for Garments ", Researchgate, https://shorturl.at/aiHNW (accessed 3rd October 2023)
4. "Mold ", National Institute of Environmental Health Sciences, https://www.niehs.nih.gov/health/topics/agents/mold/index.cfm (accessed 3rd October 2023)
5. "Mold and Mildew", Oregon State University, https://ehsc.oregonstate.edu/mold-and-mildew (accessed 3rd October 2023)
6. Marc-Kevin Zinn, Dirk Bockmühlcorresponding, "Did granny know best? Evaluating the antibacterial, antifungal and antiviral efficacy of acetic acid for home care procedures", PubMed, https://www.ncbi.nlm.nih.gov/pmc/articles/PMC7447605/ (accessed 3rd October 2023)
7. Stacy Kish, "Why are vinegar and baking soda so good for cleaning?", LiveScience, https://www.livescience.com/why-baking-soda-vinegar-clean.html (accessed 3rd October 2023)
8. "Reliable and Scientific Tips for Cleaning With Vinegar", NSF, https://shorturl.at/hpu78 (accessed 3rd October 2023)
9. N Qamaruz-Zaman, Y Kun, R-N Rosli, "Preliminary observation on the effect of baking soda volume on controlling odour from discarded organic waste", National Library of Medicine, https://pubmed.ncbi.nlm.nih.gov/25445259/ (accessed 3rd October 2023)
10. Boaz Amichai, Marcelo H Grunwald, Batya Davidovici, Avner Shemer, ""Sunlight is said to be the best of disinfectants"*: the efficacy of sun exposure for reducing fungal contamination in used clothes", National Library of Medicine, https://pubmed.ncbi.nlm.nih.gov/25167689/ (accessed 9th October 2023)
11. Emad Yousif, Raghad Haddad, "Photodegradation and photostabilization of polymers, especially polystyrene: Review", Research Gate, https://shorturl.at/wzAE5 (accessed 3rd October 2023)
With over 20 years in Olympic Weightlifting, our team does its best to provide the audience with ultimate support and meet the needs and requirements of advanced athletes and professional lifters, as well as people who strive to open new opportunities and develop their physical capabilities with us.
All products we select are primarily approved and tested by the Olympic Weightlifting Champion Oleksii Torokhtiy. Under his guidance, we provide honest and reasonable assessments of the products we review by checking their characteristics, packaging, design, comfort and durability features, and general product rating. We select products from only high-quality and trusted sports brands, thus vouching for their quality.
The product testing process is described in more detail here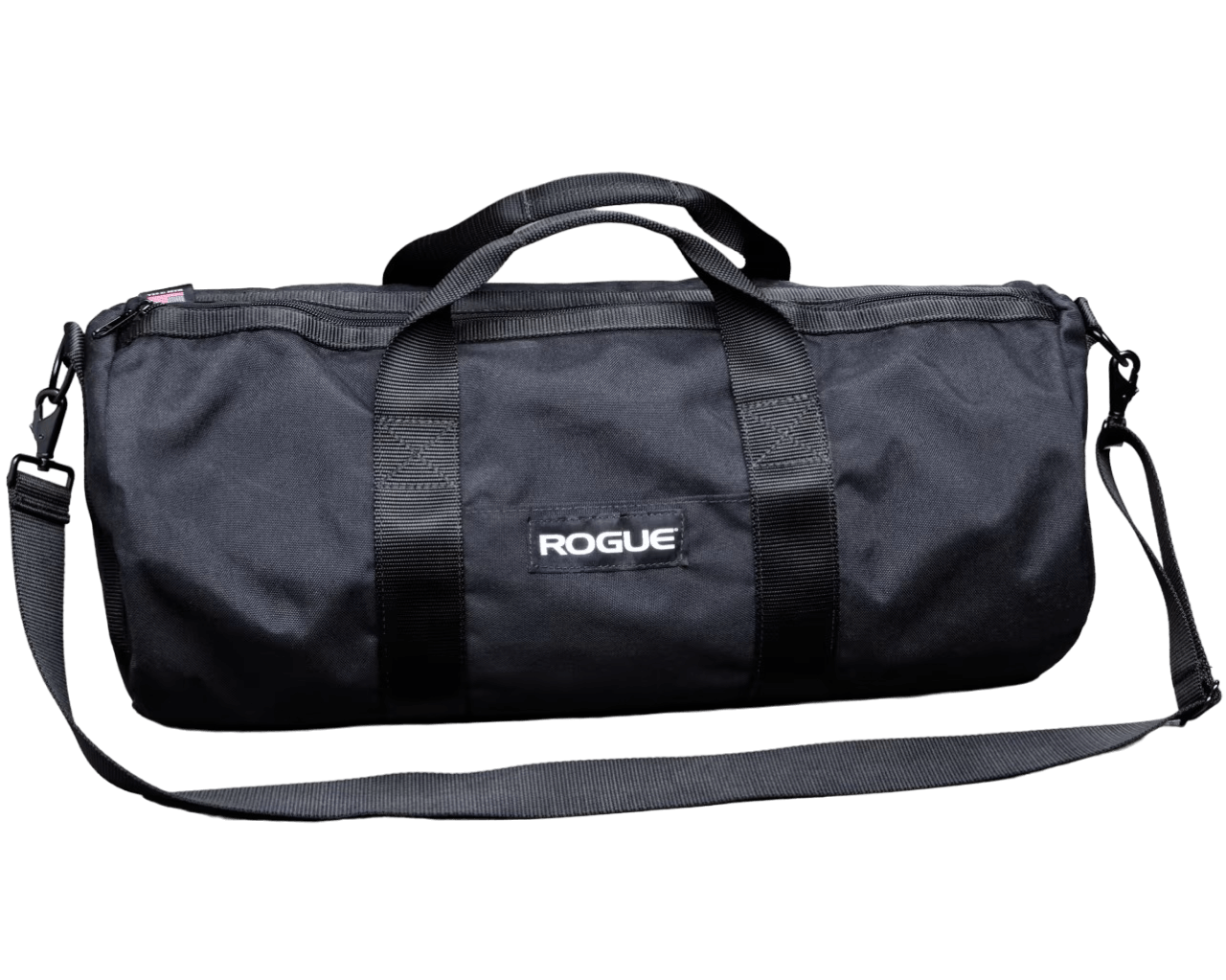 Coach, PRO Olympic Weightlifter
Experience: 26 years
Best Results: Snatch - 208 kg,
C&J - 240 kg
My name is Ihor and I have been a professional weightlifter since 1996. With over 20 years of competition experience, my resume includes European Champion in 2009 and the silver medalist at 2011's Senior World Championships – 105kg division.
I competed at the 2008, 2012 and 2016 Summer Olympics.
After hanging up my own competitive lifting shoes, I decided to share my huge background as a coach. I am currently coaching multiple athletes who are competing at national and international competitions.
If you have any questions/suggestions/any other inquiry, you can reach out to us via email - reviews@torokhtiy.com
Experience: 21 years
Best Results: Snatch – 200 kg,
C&J - 240 kg
My name is Oleksiy Torokhtiy. I am a professional athlete with 20 years of experience in Olympic weightlifting. I have won multiple European, and World titles and have taken part in two Olympic Games (Beijing 2008, London 2012).
After finishing my career, I have committed myself to coach, and as of 2022, I've hosted 200+ weightlifting seminars all over the globe. I'm the founder of an international sportswear and accessories brand, Warm Body Cold Mind (my motto), author, and creator of a series of training programs and eBooks.
If you have any questions/suggestions/any other inquiry, you can reach out to us via email - reviews@torokhtiy.com