The upright exercise bike is, out of all the exercise bike types, is probably the most classic and common one. If you're looking for the best upright exercise bike, you're in luck – in this article, you'll be able to check out a top list of the best upright exercise bikes that you can currently buy and learn more about them.
I'm sure you know what an upright bike (sometimes also called an upright spin bike) is, even if you've never set foot in the gym. Along with the treadmill, it's one of the core pieces of equipment every gym has. If you have a home gym, there's a good chance you have an upright bike in it.
And why shouldn't you? It's classic for a reason – it's simple to use, suitable for just about everyone and, most importantly, it just works. You can always be sure you'll get a good workout. Well… Unless you get a really bad bike, and it falls apart on you.
To make sure that doesn't happen, let's see what the best bikes currently are.
Tie your shoes, hop on, and let's go!
In a hurry and can't keep reading? How about you check out the Pro-Form PRO C10U Upright Bike.
The Pro-Form PRO C10U Upright Exercise Bike boasts impressive quality, a quiet SMR silent magnetic resistance system, compact design, Bluetooth speakers, comfortable seat, adjustable features, cooling fan, and bottle holder, making it a top-notch choice for home workouts.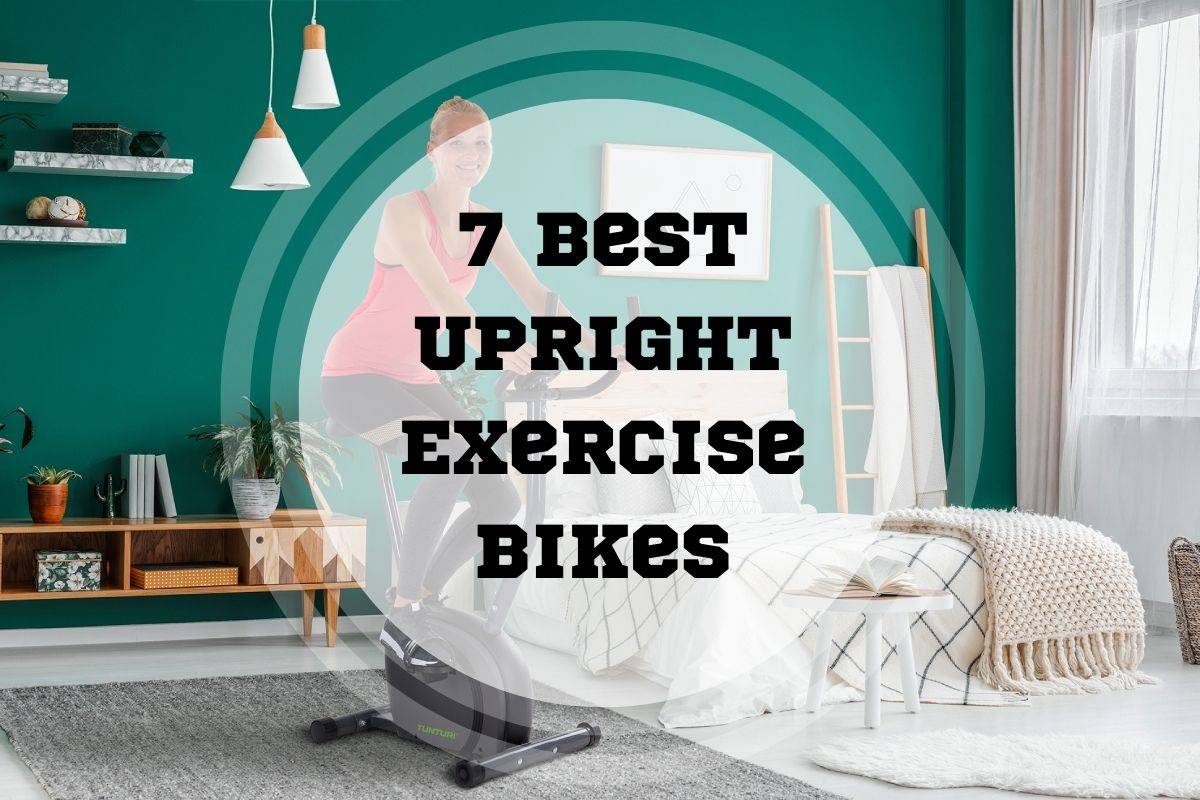 Top 7 Upright Exercise Bikes in 2023 Reviewed
We'll be starting off with the top pick. Pro-Form really has something to be proud of when it comes to their PRO C10U bike, it's as close to perfection as it can be. It's excellent quality and packed with premium features.
Dimensions: 34.5" L x 21.2" W x 58" H
Adjustable Height (Min/Max): Vertical and horizontal adjustment
Display: 10" HD touch screen
Resistance Mechanism: Silent Magnetic resistance
Product Weight: 77 lbs.
Assembly: Required
Maximum Weight Capacity: 275 lbs.
Special features: 25 levels of resistance, Dual 2" speakers, Bluetooth headphone compatible, cooling fan, 30-day iFit trial, bottle older, oversized cushioned seat
Warranty: 10-year frame, 2-year parts, 1-year labor
The Pro-Form PRO C10U Upright Exercise Bike would fit perfectly into any home mostly because of how silent it is. This is due to the SMR silent magnetic resistance being done so well, it's even quieter than what you'd expect.
It also has transport wheels so you can easily roll it around your home. The bike is medium-sized (34.5" L x 21.2" W x 58" H), but the footprint still has it easily fit in any smaller gym or living room-type environment.
As mentioned above – the exercise bike is packed with all kinds of handy features: dual 2-inch speakers, which are Bluetooth compatible, it packs an oversized cushioned seat that is extremely comfortable. This comes in clutch during long workout sessions. The seat also has plenty of adjustability (vertical and horizontal). With all that, it has a built-in cooling fan and a within-reach bottle holder.
The HD 10'' touch screen will enable you easy navigation alongside seeing the iFit-powered on-bike and off-bike workout programs. And yes – you get a 30-day iFit subscription (trial). You will need a credit card to start the trial, and a stable Wifi connection to use the app, but considering what you get with iFit, it's totally worth the extra hassle.
With all the above-mentioned features, you'll also enjoy ergonomic pedals with adjustable straps that will help you pedal the inertia-enhanced flywheel at one of the 25 resistance levels offered.
This powerhouse is a complete winner and well deserves its "Top-pick" status. A worthy choice! And in case you're on the edge, consider that you'll, as part of the package, also get a 10-year long warranty on the frame, 2 years on parts, and a 1-year long warranty for labor!
Pro-Form PRO C10U Upright Bike combines intuitive touch screen navigation through iFit, ergonomic pedals, versatile resistance options, and a comprehensive warranty for an exceptional workout experience.
(Show More)
30-day iFit trial included
Limited pre-programmed workouts (unless using iFit)

The touch screen can be slow in response time

Connecting via Bluetooth can sometimes be tricky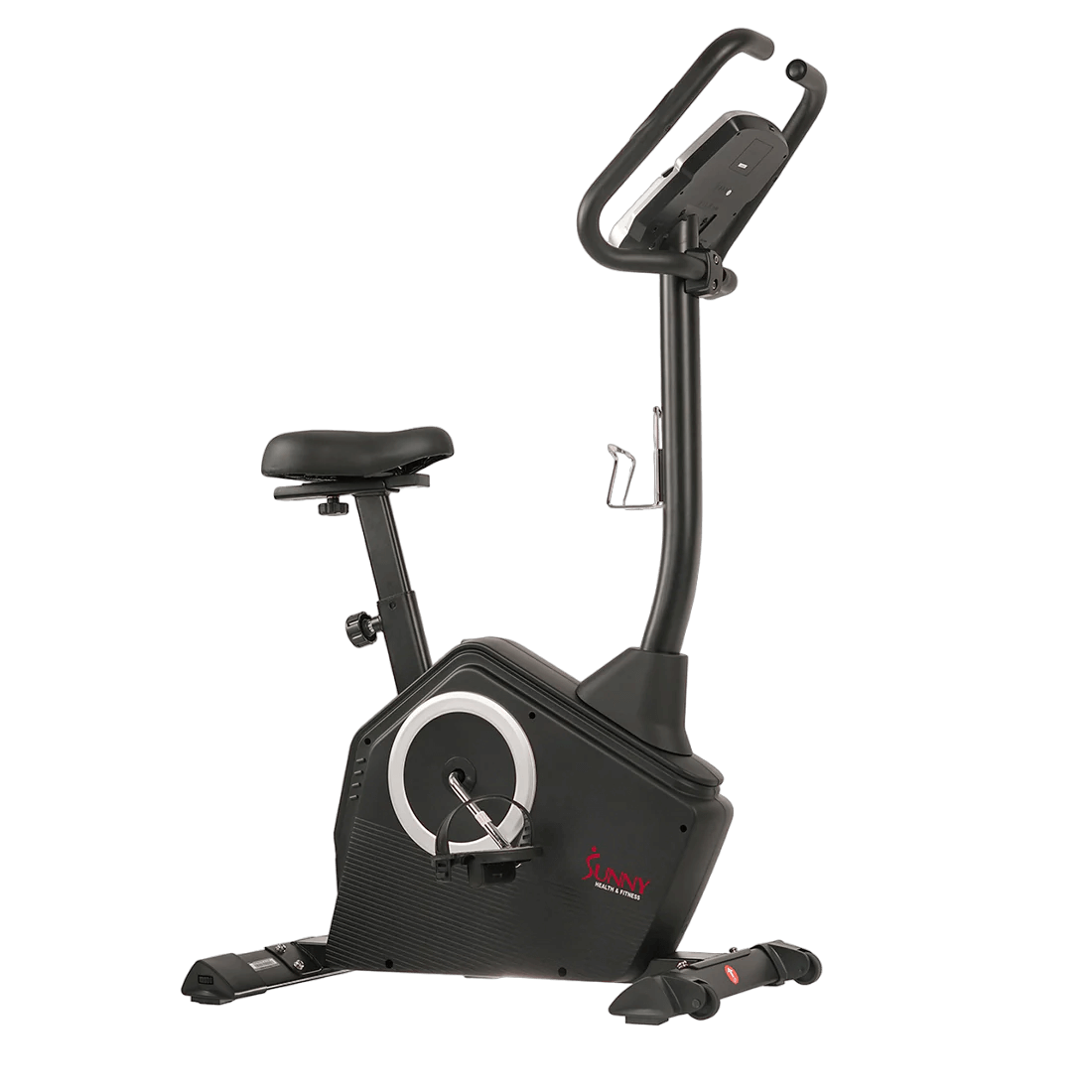 The runner-up comes at a great price and offers great quality. While not as feature packed as my top pick, you can't argue with the fact that this is an excellent addition to any gym.
Dimensions: 42.5" L x 25.5" W x 47.5" H

Dimensions: 34L X 22.5W X 55.5H inches
Adjustable Height (Min/Max): Min 26'' /Max 35''
Display:

Digital

Resistance Mechanism:

Electro-Magnetic

Product Weight:

60.9 lbs.

Maximum Weight Capacity:

240 lbs.

Special features:

Bottle holder, device holder

Warranty:

3 Year Structural Frame, 180 Days Other Parts and Components
The first thing you'll notice with this one is how smooth the entire workout experience is. Everything from the cycling motion to the performance monitor and even the bottle holder… Everything seems smooth, seamless, and easily accessible.
There are 24 pre-installed workout programs and the pulse sensors that monitor and store data on your heart rate, which can later be used to customize your workout plan, thus providing you with a more personalized workout experience. Apart from your heart rate, you can also track the speed, time, distance, calories burned and more.
Floor stabilizers make sure your bike will stay stable no matter the surface and the convenient bottle holder is there to help you stay hydrated. There are 16 levels of resistance, and you can easily adjust them through the console.

One thing to note that might be a bit of a bother is the wiggly seat. It's by no means a manufacturing error, the seat was actually designed this way. It won't feel flimsy or anything, but it might take away a bit from the overall experience. Nevertheless, while it may be a slight annoyance for some users, it can also be amazing for others. It's up to your personal preference.
Sunny Magnetic Upright Bike offers a streamlined workout experience with 24 built-in workout programs, heart rate monitoring, adjustable resistance levels, floor stabilizers, and a distinctive seat design to suit varying user preferences.
(Show More)
Smooth workout experience
The seat wiggles and makes a noise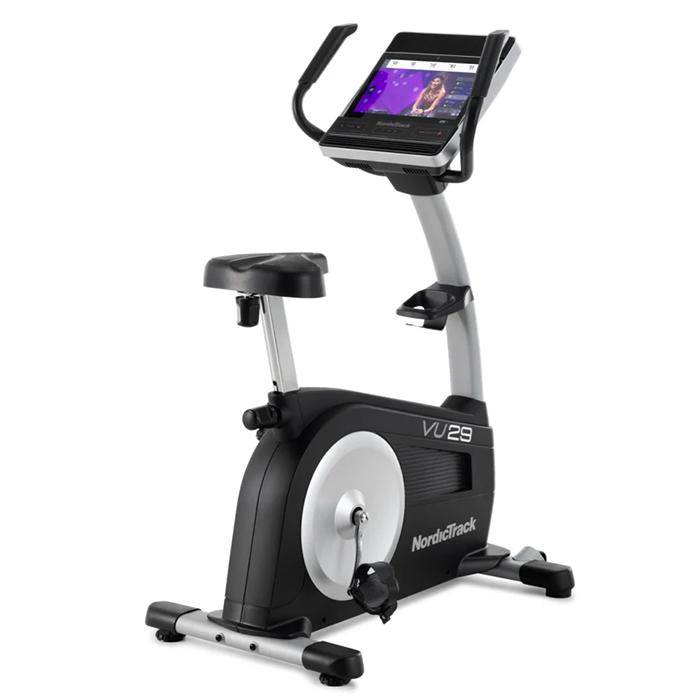 If you want to treat yourself and add a bit of luxury to your home gym, this upright indoor bike is what you need. NordicTrack made an exceptional bike and there's not a downside to it other than the price. But for the quality you get, it's actually priced reasonably.
Dimensions: 55.29 H x 24.86 W x 41.49 inches
Display: 14" HD Smart Touchscreen
Resistance Mechanism:

Magnetic

Product Weight:

115 lbs. in box

Maximum Weight Capacity:

325 lbs.

Special features:

AutoBreeze™ Workout Fan,

Oversized Ergonomic Pedals with Adjustable Straps,

Oversized Cushion Seat, a 14''-large HD touch screen

Warranty:

10-Year Frame Warranty, 2-Year Parts Warranty, 1-Year Labor Warranty
The 14'' HD touch screen is the absolute best screen I've ever seen on an exercise bike. You could comfortably watch Netflix on this, which is always a neat option to have.
The screen is powered by iFit and the package includes a 30-day family membership. The iFit is very interactive and if you're ever worried your workouts may become boring – that's never going to happen with iFit. Because iFit is much more than meets the eye.
While iFit requires a credit card for activation and needs WiFi to work properly, iFit with its interactive nature enables trainers to remotely adjust the resistance of your bike. Not only that, but it also enables you to eliminate workout monotony by providing you with training sessions, cycling through cities (that's a handy way to travel and see the world), and trials. You can participate in studio classes, get nutritional advice, have your stats auto-recorded, and much more. It truly is a bundle of value, and worst case scenario – if you don't like it – simply cancel.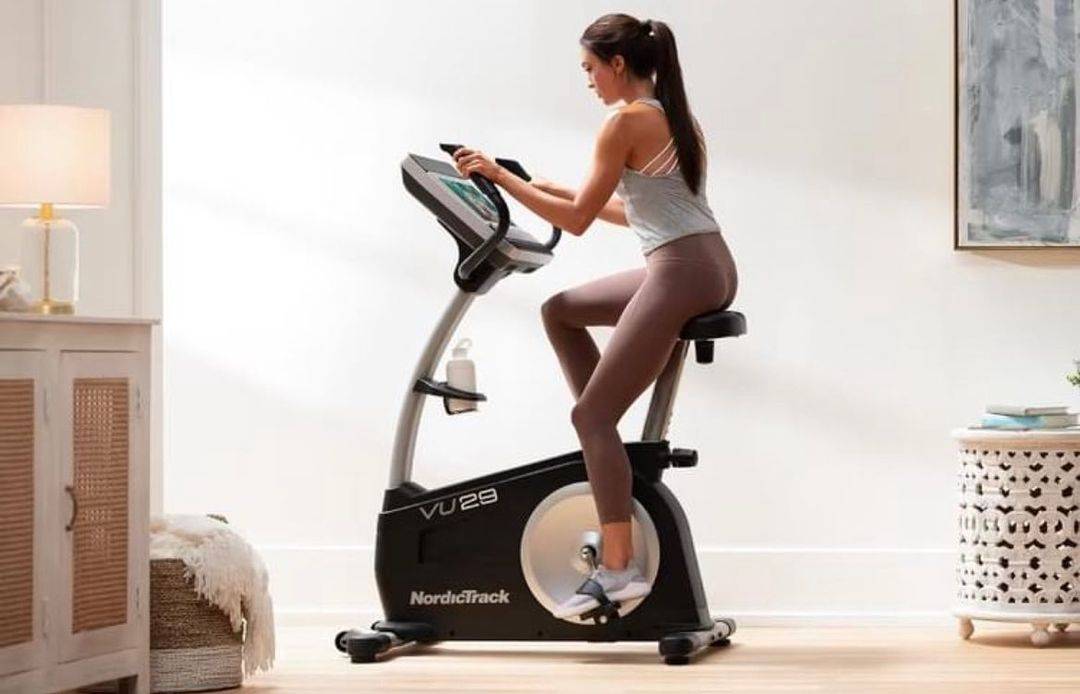 If you thought 20 levels of resistance is a lot, this one has even more! It has an impressive 24 levels of resistance so regardless of your fitness level, this bike can kick your butt if you let it. But don't worry, the low-impact recumbent frame can also give you a gentle workout that's going to make your joints really happy.

The wide pedals and the oversized seat only add to the already amazing workout experience. The construction is next level – this is a durable, high-quality machine that's sure to last you a really long time. It's an investment for sure, but it's definitely worth it.
The NordicTrack Commercial VU 29 exercise bike redefines your fitness journey, featuring a vibrant 14'' HD touch screen, interactive iFit integration, adjustable resistance, and a durable design for an enhanced workout experience.
(Show More)
Space is almost always an issue with home gyms, is it not? A lot of the time, you feel like you're sacrificing space and comfort to fit in gym equipment and that leads to your gym being overwhelmed with machines. If you find yourself with this issue, I have good news. Sunny thought of you and made a 2-in-1 machine!
Dimensions: 45L X 22.5W X 59H inches
Adjustable Height (Min/Max):

Min 27.5'' /Max 33''

Display:

Digital

Resistance Mechanism:

Magnetic

Product Weight:

64.5 lbs.

Assembly:

Required

Maximum Weight Capacity:

240 lbs.

Special features:

Device holder, non-slip pedals

Warranty:

3 Year Structural Frame, 180 Days Other Parts And Components
This standing exercise bike has everything you would expect from it, and then some.
You'll get great cardio that's low impact and your whole body gets a great workout. Its low-impact nature is great for beginners, but also for people recovering from injuries or that have joint issues.
8 levels of resistance may not sound like that much, but you get everything you need here – from light workouts to intense sessions. The resistance is super easy to adjust thanks to the knob.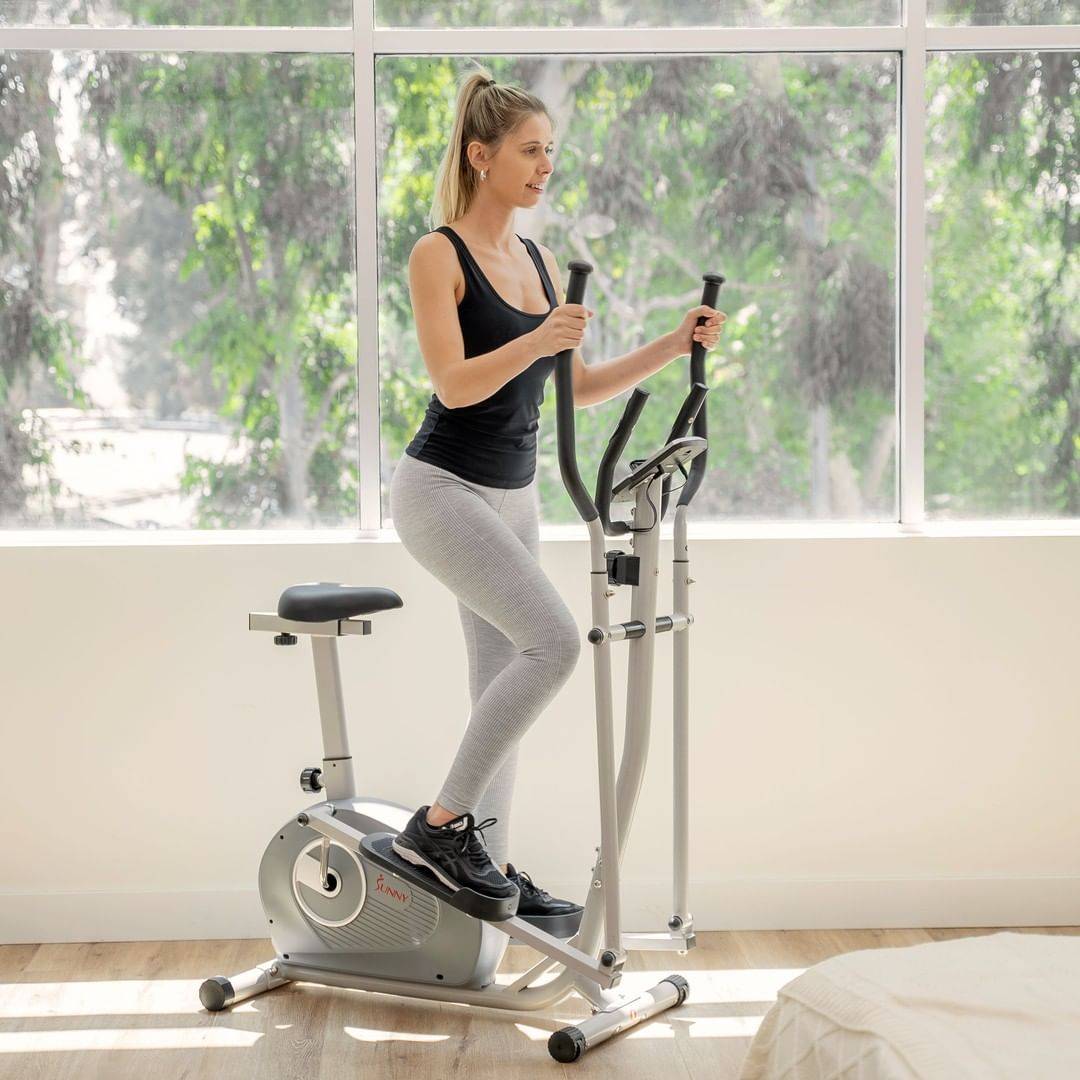 There are 4 different ways to adjust the seat and the foot pedals are non-slip. This probably doesn't sound too important if you're a beginner, but if you want to push yourself and have a really intense workout, the non-slip pedals are a lifesaver.

The only noteworthy thing that could be better is the assembly, because it's a bit challenging and time-consuming. But once you get that out of the way, you're left with one of the best upright exercise bikes there is.
The Sunny Magnetic Elliptical Bike offers a versatile fitness solution as a 2-in-1 elliptical and upright bike, equipped with 8 resistance levels, an adjustable seat, non-slip pedals, and a compact design to enhance your home workout routine.
(Show More)
Elliptical and bike in one machine

Good for people of all fitness levels

Suitable for people with joint issues or recovering from injury
At spot number five we have the Pro-Form X-Bike, our choice for the "Best Upright" bike! The PFEX78918 is an elite exercise bike that features more than meets the eye. Let's deep dive to see what it has to offer.
Dimensions: 37" L x 17" W x 42" H
Adjustable Height (Min/Max): Vertical-only seat adjustment
Display: LCD
Resistance Mechanism: Magnetic
Product Weight: 60 lbs.
Assembly: Required
Maximum Weight Capacity: 250 lbs.
Special features: 10 levels of digital resistance, pedal straps, transport wheels, foldable, 2x 2-pound dumbbells included, grip pulse sensor, iFit compatible
Warranty: 1-Year Frame Warranty and a 90-Day Parts Warranty
What makes the X-Bike special is its scissors-shaped design. It was engineered with the "space-saver" motto in mind. Once you're done with the workout, it is very easily folded to occupy the least amount of space possible.
The bike feels solid and reasonably stable but can wobble a bit during the most intense exercises. And even though it has a maximum weight of 250 lbs, the heavier the user, the more prominent the shaking can be, so consider that and cross-reference that with your workout habits on an exercise bike.
The smooth and silent inertia-enhanced flywheel offers 10 digital resistance levels. This allows you to adjust your workout intensity but may be lacking compared to other bikes with up to 25 intensity levels (both in resistance level and incrementation).
The seat can be adjusted only vertically. And it is not the most comfortable seat that you can find, but it is functional.
Behind the seat, you'll find storage holders for the two included 2-pound dumbbells. These allow you to do a full-body workout – the pedaling covers the lower body, while the hand-held weights will cover the upper body by doing muscle endurance training in the arms and shoulders. Besides cardio fitness and muscle endurance, you can use dumbbells to lift weights while pedaling. This way you are doing muscle endurance training in your lower body and are focusing on muscle growth in your upper body. However, keep in mind that you can do this type of training with any upright bike provided you have your own set of dumbbells.
This is not a unique feature that the X-Bike has to offer by no means, but it is a welcome sight to see how this bike introduces you to more ways to use an upright bike or how to up your training to the next level.
You also have grip pulse sensors which keep track of your heart rate. And all that data can be monitored on a "large" LCD screen. The screen is promoted as large, but you might find it on the smaller side. It's big enough to clearly show all the essentials: mileage, speed, calorie burn, time, and the already mentioned heart rate.
The bike is iFit compatible, which is a huge plus compared to bikes that don't offer the same.
The Pro-Form X-Bike is a cost-effective, light, functional, and very compact option for an exercise bike. If you buy it, you won't regret it.
The Pro-Form X-Bike Elite Exercise Bike offers a unique foldable design, 10-level resistance, integrated dumbbell storage, vertical seat adjustment, grip pulse sensors, and iFit compatibility for efficient home workouts.
(Show More)
Extremely easy to assemble
May be unstable when workout intensity is high

No horizontal seat adjustment

250 lbs max weight capacity might be too low
I'm sure that the premium bike from NordicTrack I mentioned earlier made an impression. If you don't really want to spend that much money, but want something similar to it, this is what you want. The VU 19 is like VU 29's little brother.
Dimensions: 43.6 L x 24.9 W x 59.4 H inches
Display: 7" Smart HD Color Touchscreen
Resistance Mechanism: Magnetic
Product Weight: 115 lbs. in box
Maximum Weight Capacity: 325 lbs.
Special features: Oversized Cushion Seat, Vertical & Horizontal Seat Adjustment, Extra-wide, Ergonomic Foot Pedals with Adjustable Strap, AutoBreeze™ Workout Fan
Warranty:

10-Year Frame Warranty,

2-Year Parts Warranty,

1-Year Labor Warranty
This one has the same impressive number of resistance levels as VU 29, which is 24. The low-impact upright frame is still here, as well as the comfortable, supportive seat. I think you'll notice that there's not that much difference in features or quality, but there's a pretty hefty difference in price and the VU 19 is significantly cheaper.
The AutoBreeze fan will automatically adjust its speed to your cycling intensity and keep you cool and comfortable while you work out. This addition is such a smart feature and, in terms of comfort, makes a lot of difference.
The same quiet mechanism that is found in VU 29 is in VU 19 as well and your workouts won't disturb anyone. This is incredibly silent and the cycling motion is exceptionally smooth.
This is a bit heavier than expected, but with alloy steel construction, I guess you have to expect it.
The NordicTrack Commercial VU 19 presents 24 resistance levels, featuring a low-impact frame, comfortable seat, AutoBreeze fan for cooling, quiet mechanism, and durable alloy steel construction, all at a more affordable price.
(Show More)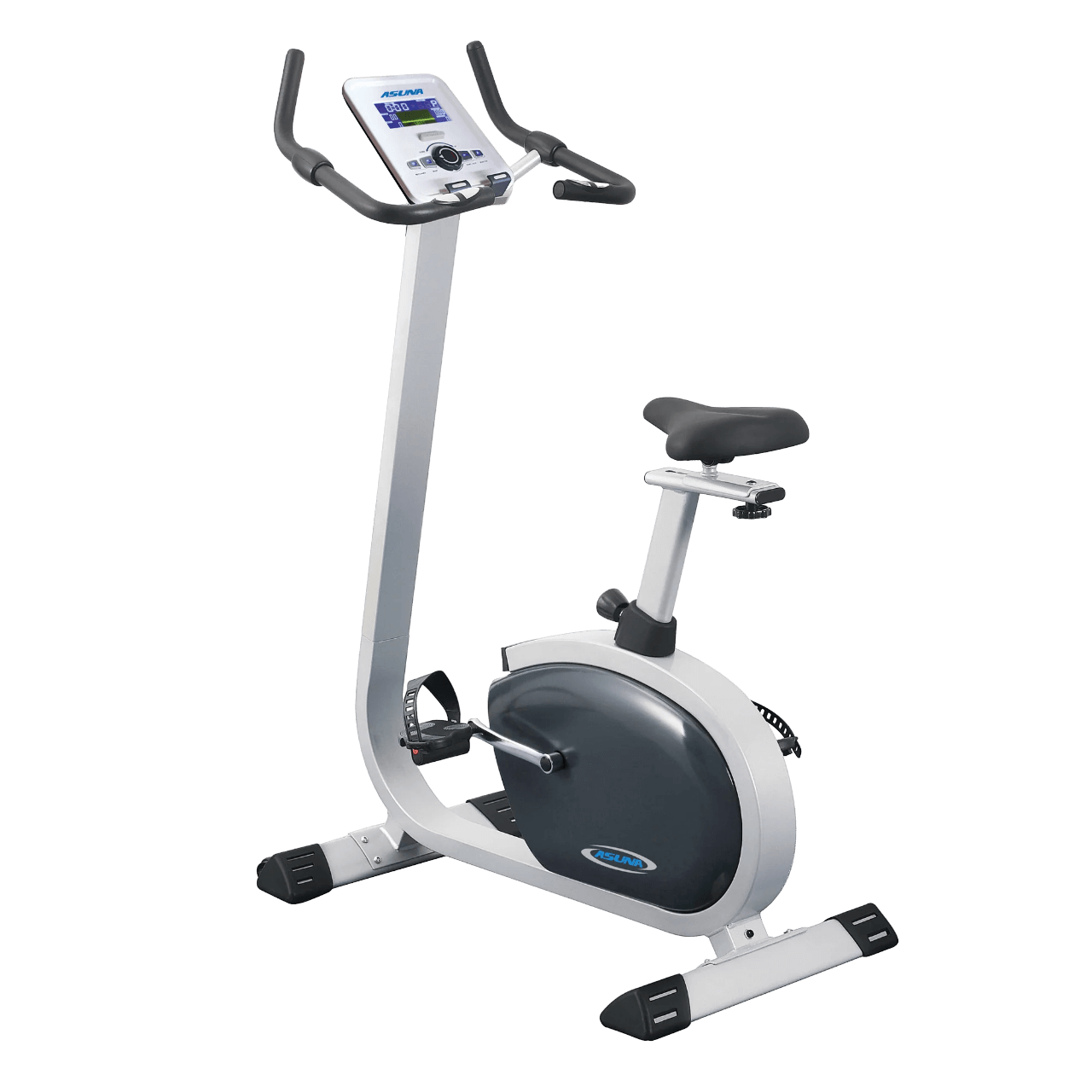 This list would not be complete without Sunny's Asuna. It's a perfect combination of premium, commercial quality and affordable price. It's suited for any home and can be easily moved with the built-in wheels. It's the best of both worlds!
Dimensions: 41L X 21.5W X 56.75H inches
Adjustable Height (Min/Max): Min 28 /Max 40 inches
Display

:

LCD
Resistance Mechanism: Electric
Product Weight: 99 lbs.
Assembly: Required
Maximum Weight Capacity: 265 lbs.
Special features: Bottle holder, non-slip handlebars
Warranty

:

5 Year Structural Frame, 180 Days Other Parts And Components
This bike is made of commercial grade steel and it's perfectly suitable for any gym or fitness studio, but it's also going to fit in nicely in anyone's home. It's nice and compact, easy to move and not too heavy.
The LCD monitor displays all the information you would want – time, speed, distance, calories burned, watts, and pulse.
You can also entertain yourself with your favorite shows or movies thanks to its handy device holder. Is there anything worse than just staring at a wall while you work out? Time seems to go by so insanely slowly. That's why device holders are usually greatly appreciated.
The seat is adjustable and padded more than a lot of the other bikes I've tried. This is important because, in males, prolonged cycling has been shown to affect penile blood flow in a negative way. Narrow and hard seats are much more harmful than wider and softer seats. More uncomfortable bicycle seats could more easily lead to perineal trauma, potentially leading to erectile dysfunction.
This is a bit noisier than the other machines on the list, so it's probably not the best to use it early in the morning or late at night. But apart from that, this bike is exceptional!
The Sunny Asuna Premium Upright Bike boasts commercial-grade steel build, LCD monitor, device holder, adjustable padded seat, and while slightly noisier, delivers an exceptional workout experience for both gyms and homes.
(Show More)
Extra padding on the seat

Made of commercial grade steel
The weight limit of 265 lbs might not be enough for some users
5 Upright Exercise Bike Benefits
Workouts on an upright bike are low-impact, which means they're great for your joints because they don't put so much stress on them. This is great overall, but especially for the elderly or people suffering from joint issues and recovering from injuries.
Upright bikes give you a lower body workout (leg muscles, lower back and the core). But you can upgrade this to a full-body workout (or at least a semi-full-body workout) by including your upper body. By holding a weight (such as lightweight dumbbells) with your hands spread on the sides, in front of you, or above the head, you can build upper-body endurance while pedaling. This way you are upping the standard lower-body engagement into a full-body muscle engagement.
If you're consistent, an upright bike will help you strengthen and tone the major muscles in your legs. Exercise bikes do not promote muscle growth as much unless you cycle intensely (or against resistance) and put your muscles under enough strain to cause muscle tear (which is not always the case). Cycling instead, excels in muscle endurance. If you want to build muscle mass, there are better options.
✅ Weight Loss and Management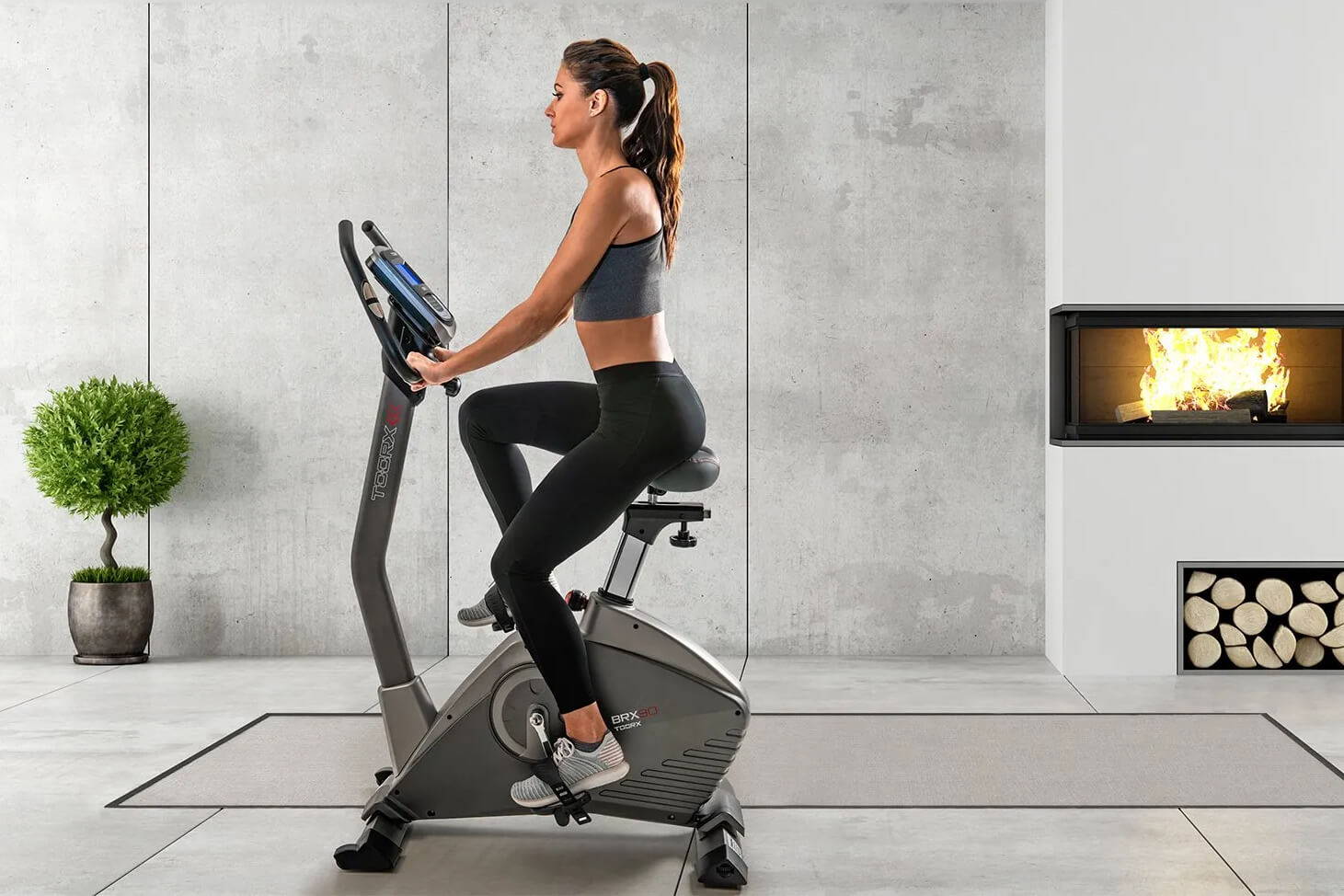 Upright Bike vs Recumbent Bike vs Regular Bike: 6 Differences
With so many different types of bikes available, you're probably wondering what the main differences are – especially if you have a hard time choosing between them.
Below you'll find the main differences in table form. Also, there will be a few thi
ngs written in a bit more detail on each of the differences, so that you have a clear understanding of them all.
This is something you'll notice right away – the way you sit when you use the bike. An upright bike will keep you, as the name would suggest, in an upright position, and so will the regular bike. The recumbent, on the other hand, will have you reclining a bit and it will support your back a lot more.
Upright and regular bikes have similar types of seats – small, firm, and slightly padded sometimes. Not the most comfortable choice, for sure, but it's very functional.
The difference is that regular bikes usually come with narrow seats, while upright exercise bikes are more built with comfort in mind. The seats, when compared to regular bikes, are usually larger and more padded.
A recumbent bike is a different story. It offers full back support thanks to its large, generously padded seat and backrest.
Another thing that you'll notice right away – the handlebars. With the upright bike, the handlebars are high and stationary, which means you cannot move them.
Recumbent and regular bikes both have movable handlebars, but on the regular bike, they're placed a lot higher. Also, recumbent bikes, unlike regular bikes, tend to have handles by the side of the seat to support the seated position.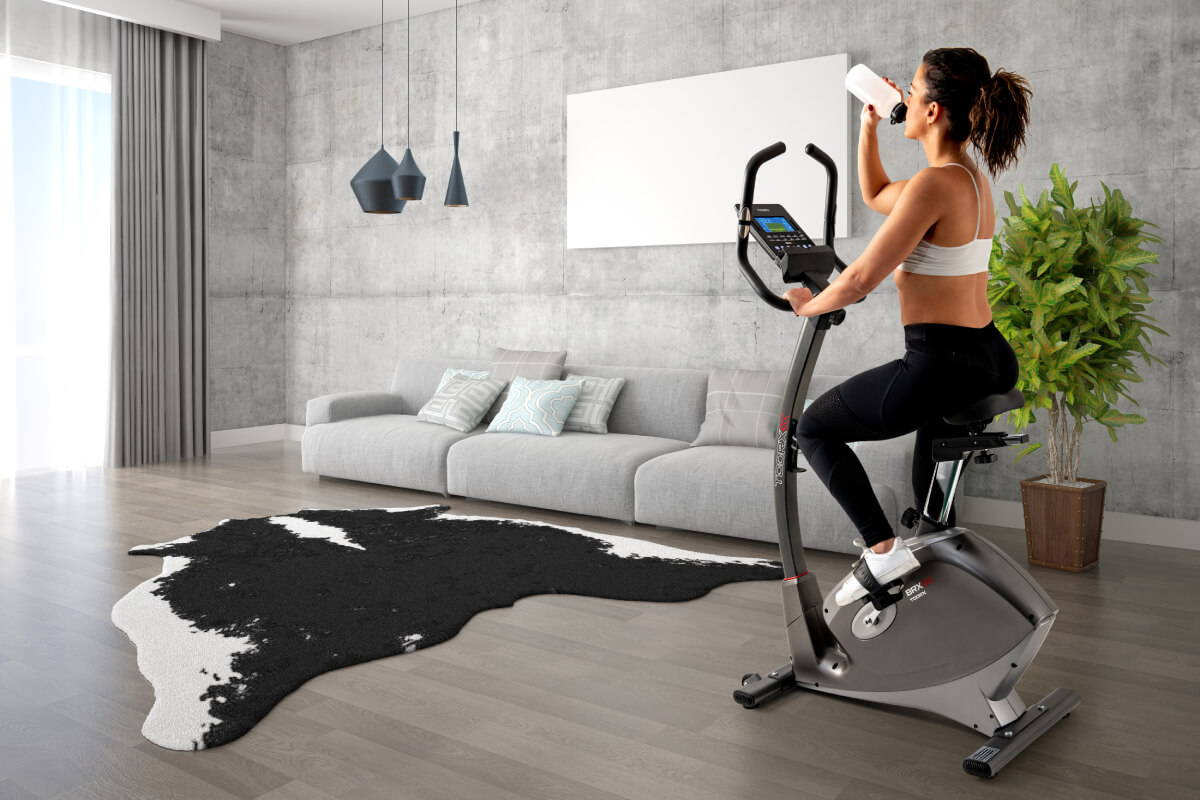 You'll need to start working out to see this difference, but it's pretty big and the regular bike will engage your upper body the most. Recumbent and upright will give you an upper body workout if you consciously include your arms, grip the handlebars, etc.
If you only glance at the three of them, you'll have no doubt about which one is the most comfortable. The clear winner in this category is the recumbent bike, thanks to its reclined position and big, padded seat.
The other two (regular bike and upright exercise bike) are mostly mediocre when it comes to comfort, with the regular bike being slightly more uncomfortable.
If good cardio is your priority, then a recumbent bike will leave you underwhelmed to the upright or the regular bike. The latter two will give you excellent cardio.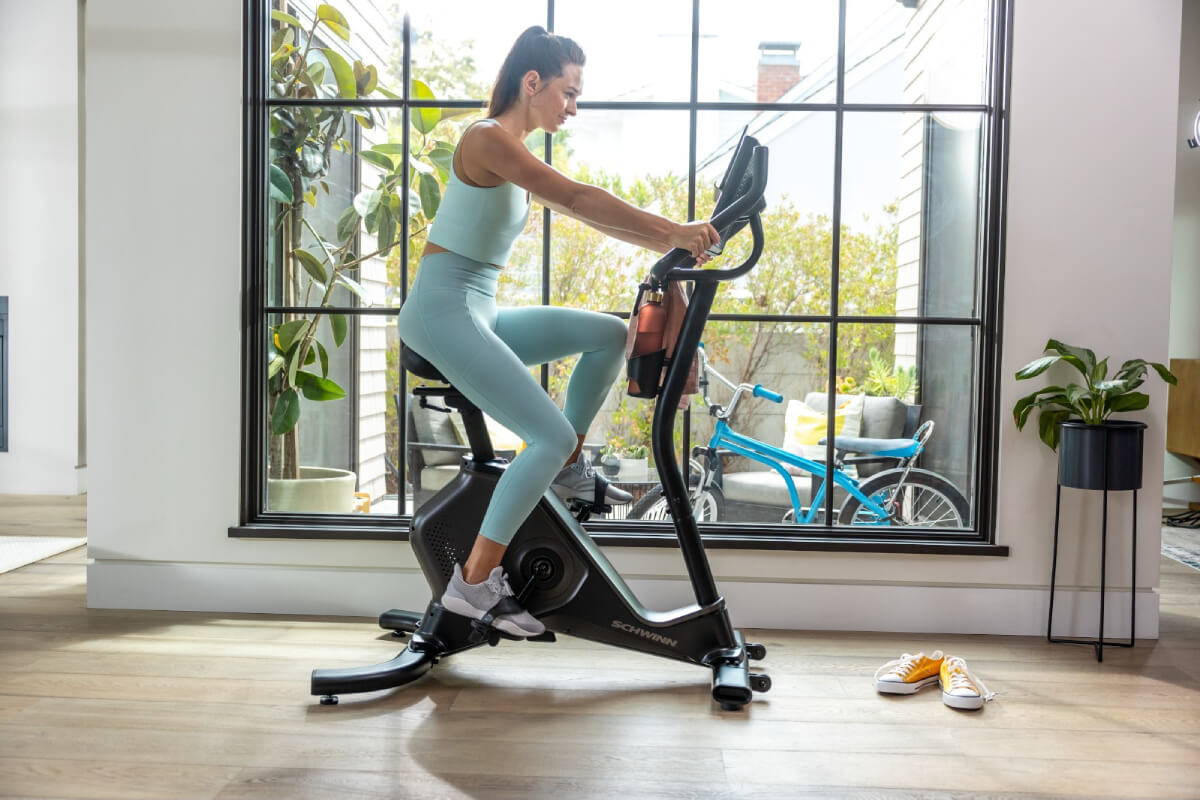 What to Look For in the Best Upright Exercise Bike?
If none of the above listed upright exercise bikes are to your liking and you wish to jump into your own endeavor of searching for the perfect one for you, here are some guidelines that I suggest adhering to in order to find the best fit for you.
You want something that lets you adjust the seat position. Upright bikes usually have the ability to move the seat up and down, as well as (but not as common) forwards and backwards. If you get something that's not adjustable (or not adjustable enough), your workout will be neither comfortable nor effective.
A sturdy bike can be an investment, but a flimsy one will annoy you to no end because it will fall apart before you even get used to it. And until it completely falls apart, it will wiggle and squeak. You can't have a good workout on a flimsy bike so save yourself the time and energy and get one that's built from quality materials.
Nobody expects to take a nap on an upright bike, but you also don't want to be uncomfortable or in pain. Get a bike with a nicely padded, ergonomic seat and oversized pedals.
The drive system dictates how quiet your bike is going to be and how much your neighbors will hate you for working out. If you get a bike with a belt-drive mechanism, it will be quiet, and smooth plus you won't disturb anyone when you work out. Chain-drive systems are not bad, but they're noisy and not nearly as smooth.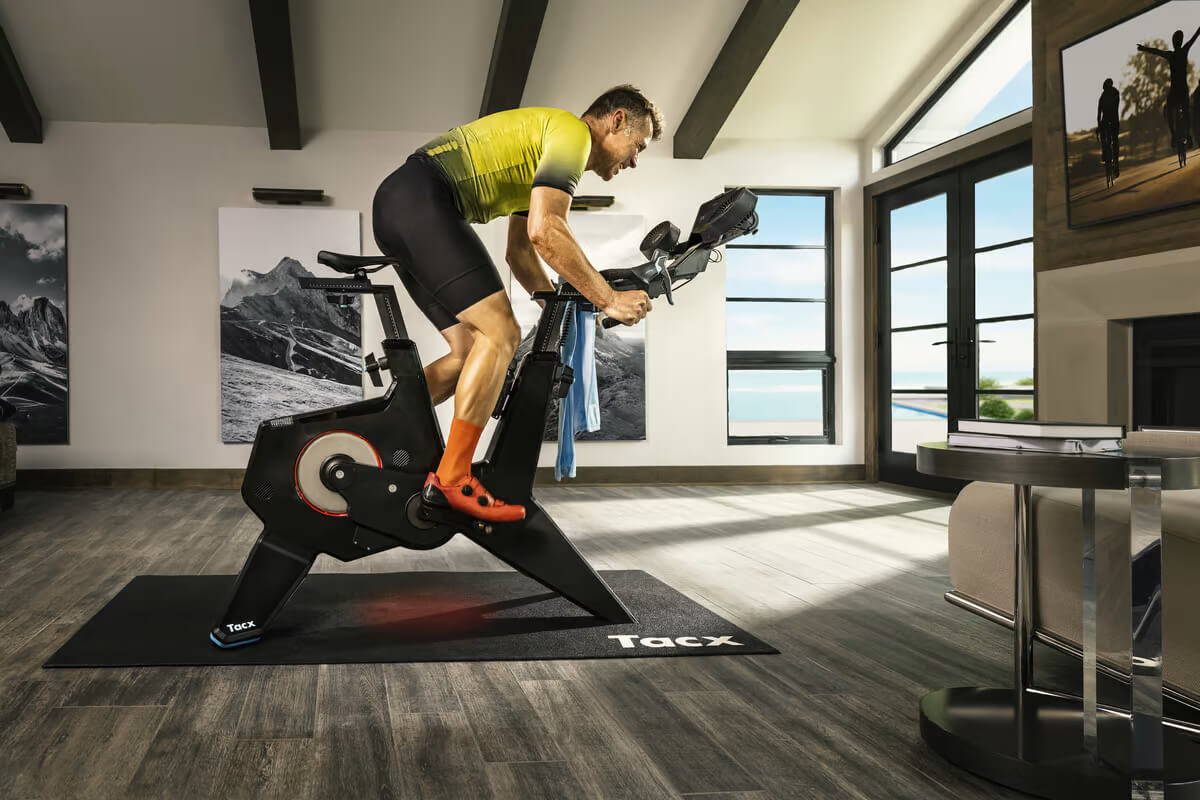 Unless you want to pay extra to have a professional assemble your bike for you, get something that's easy to put together. You want clear, detailed instructions and if it says it's out-of-the-box assembly, that's a bonus.
All you want as far as portability goes are the built-in wheels. Even if the bike is heavy, having wheels ensures you'll be able to easily move it around your house.
Price is always a factor and the following saying is always good to consider – strike a balance between the quality and the price. Stay within your budget, don't go into debt to buy a bike, but don't go crazy over saving every cent possible and get something you won't enjoy or that won't be good quality. You can also wait for sales or discount codes, they're very common, especially with online stores. Signing up for the site's newsletter usually gets you a discount code as a thank you.
An intuitive, user-friendly interface is what we all want. A clear, easy-to-read LCD screen that shows important metrics is something you want on your bike.

When selecting a bike, opt for one that offers versatile seat adjustments, including both vertical and horizontal movement; additionally, seek out models with well-cushioned, ergonomic seats and generously sized pedals to ensure your workout is not only effective but also comfortable, preventing any discomfort or pain during your exercise session.
Olympic Weightlifting Champion
How to Use an Upright Exercise Bike: 8 Steps
First, you need to adjust it to fit you properly. Adjust the height of the seat so you're comfortable. You want a seating position where your knee is just slightly bent at the pedal's lowest point. This way you'll be able to extend your leg fully without straining your knee or your hip.
A warm-up is important regardless of the type of your workout, so make sure you warm up your muscles before you start your session. You can do 5-10 minutes of cycling on a low level of resistance to get your heart rate lifted.
Keep your back straight, relax the shoulders and engage your core.
Keep your feet nice and secure by using pedal straps. They prevent any slipping or accidents slipping may cause. Pedal straps also ensure you're getting the maximum force from every rotation.
Increase the level of resistance according to what you're ready for. Don't push yourself too far too soon.
Rapid, jerky movements are not welcome here! Keep your pace steady.
Keep a water bottle nearby and take sips whenever you can to prevent dehydration.
It's important to cool down, so 5-10 minutes of cycling at a low level of resistance is something you shouldn't skip. This will promote a resting state in your body, but will also alleviate muscle soreness the next day by reducing lactic acid build-up in the muscles – a very common cause of muscle discomfort post-exercise.
Are Upright Exercise Bikes Good?
Which Is Better – Spin Bike or Upright Bike?
It depends on your goals and preferences. Spin bikes are great for intense workouts, and upright bikes are more versatile and comfortable.
Can You Stand on an Upright Bike?
Most of them are not designed for it because they lack the stability and handlebar position to support standing positions. Refrain from trying to stand because it may lead to accidents.
We've gone over everything upright bike-related for now! The Pro-Form PRO C10U Upright Bike is the best upright stationary bike you can get right now, and I highly recommend it.
But I don't want to be the only one saying something, let's hear from you as well! Which do you prefer – an upright, recumbent, or regular bike? What's the best upright bike, according to your experience? How many upright bikes have you tried? Have you tried any from my list?
I'm off to hop on my bike and get some cardio in, but leave all of your thoughts and opinions in the comment section!
Wrooom!
S-J Jeong, "Bicycle saddle shape affects penile blood flow" Int J Impot Res. 2002 Dec;14(6):513-7
Manuel Chavarrias "Health Benefits of Indoor Cycling: A Systematic Review" Medicina (Kaunas). 2019 Aug 8;55(8):452
Solveig Nordengen "Cycling is associated with a lower incidence of cardiovascular diseases and death: Part 1 - systematic review of cohort studies with meta-analysis" Br J Sports Med. 2019 Jul;53(14):870-878
Lijiang Luan "Stationary cycling exercise for knee osteoarthritis: A systematic review and meta-analysis" Clin Rehabil. 2021 Apr;35(4):522-533
Amy M Knab "A 45-minute vigorous exercise bout increases metabolic rate for 14 hours" Med Sci Sports Exerc. 2011 Sep;43(9):1643-8
Lucinda Bouillon "COMPARISON OF TRUNK AND LOWER EXTREMITY MUSCLE ACTIVITY AMONG FOUR STATIONARY EQUIPMENT DEVICES: UPRIGHT BIKE, RECUMBENT BIKE, TREADMILL, AND ELLIPTIGO®" Int J Sports Phys Ther. 2016 Apr;11(2):190-200
With over 20 years in Olympic Weightlifting, our team does its best to provide the audience with ultimate support and meet the needs and requirements of advanced athletes and professional lifters, as well as people who strive to open new opportunities and develop their physical capabilities with us.
All products we select are primarily approved and tested by the Olympic Weightlifting Champion Oleksii Torokhtiy. Under his guidance, we provide honest and reasonable assessments of the products we review by checking their characteristics, packaging, design, comfort and durability features, and general product rating. We select products from only high-quality and trusted sports brands, thus vouching for their quality.
The product testing process is described in more detail here
Coach, PRO Olympic Weightlifter
Experience: 26 years
Best Results: Snatch - 208 kg,
My name is Ihor and I have been a professional weightlifter since 1996. With over 20 years of competition experience, my resume includes European Champion in 2009 and the silver medalist at 2011's Senior World Championships – 105kg division.
I competed at the 2008, 2012 and 2016 Summer Olympics.
After hanging up my own competitive lifting shoes, I decided to share my huge background as a coach. I am currently coaching multiple athletes who are competing at national and international competitions.
Olympic Weightlifting Champion
Experience: 21 years
Best Results: Snatch – 200 kg,
My name is Oleksiy Torokhtiy. I am a professional athlete with 20 years of experience in Olympic weightlifting. I have won multiple European, and World titles and have taken part in two Olympic Games (Beijing 2008, London 2012).
After finishing my career, I have committed myself to coach, and as of 2022, I've hosted 200+ weightlifting seminars all over the globe. I'm the founder of an international sportswear and accessories brand, Warm Body Cold Mind (my motto), author, and creator of a series of training programs and eBooks.
If you have any questions/suggestions/any other inquiry, you can reach out to us via email - reviews@torokhtiy.com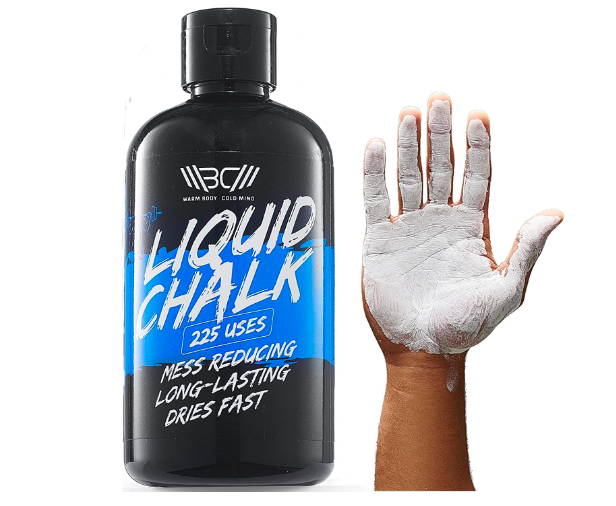 This article was written by our qualified author and proofread by expert with proven experience. When writing the article we use our expertise and data from open sources with strong reputation, scientific or medical based. The list of references is provided at the end of the article.
Our team of authors and experts includes professional athletes (Olympians, winners of European and World titles) PhD in Sport Science, certified coaches, sports nutritionists, CSCP, physiotherapists and other. Read more about the team here, and more about how we test here.