One question we get a lot from people who want to buy a stationary bike is, "Is a stationary bike good cardio?"
We encourage you to read on if you'd like to know our take on this question. Our article will also cover some types of exercise bikes used for cardio training, their benefits, drawbacks, and how these bikes compare to other forms of cardio and equipment.
Yes, a stationary bike is good for cardio, especially if you want to lose weight and improve the health of your heart. Maintaining medium to high-intensity levels during workout sessions ensures that your heart rate remains high and you get the same benefits that other cardio workouts and equipment offer.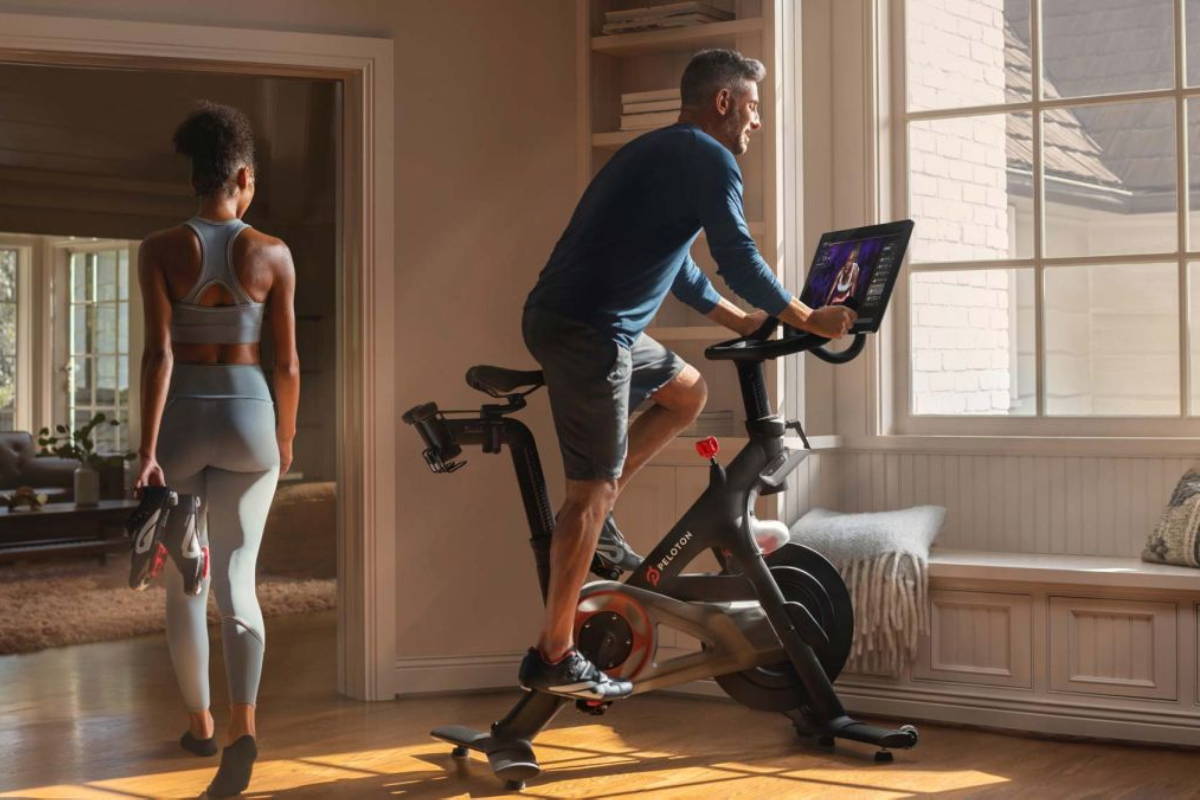 Is an Exercise Bike Good Cardio?
Anyone who wants to achieve cardiovascular fitness can use an exercise bike. You can search for different workout plans online or enrol in a stationary bike workout program that fits your specific workout goals and needs.
Some of the benefits of using this cardio workout are:
1. It's a Low Impact Workout
A common drawback with most cardio exercises is that you can injure yourself during the workout since they require you to move at a high speed and intensity.
A stationary bike for cardio is a low-impact cardio workout that anyone can do. It's safe for people recovering from injuries and seniors. It can also be a good exercise for people with chronic conditions such as:
Arthritis
Chronic low back pains
Obesity
Diabetes
Cancer
2. It Boosts Cardiovascular Health
Keeping a proper diet and regularly doing cardio workouts are the most effective ways to maintain your heart's functionality and health.
Which makes the stationary bike a good option for this purpose. Your heart rate is usually high during these workouts, and the benefits you get include the following:
Heart muscles get strengthened
It lowers the risk of stroke and heart attack
Regulates blood pressure and blood sugar
Reduces unhealthy cholesterol levels in blood vessels
3. It Helps to Burn Calories
A recent study by Harvard Medical School showed that a person weighing 125 pounds could burn up to 315 calories while doing a vigorous 30-minute cardio workout on a stationary bike. Additionally, the same individual can burn up to 210 calories when doing a moderately intense workout within the same time limit on the same bike.
Hence, this shows you can rely on a stationary bike to burn extra calories that lead to weight lose if you can keep a proper diet. Ensure, though, that the intense levels are moderate to high during training to facilitate this process.
4. Builds Muscle Strength
Exercise bike cardio workouts help build stamina and muscle strength while putting less stress on your joints. Numerous muscles around your lower body and core benefit from these movements as you ride. Some of the targeted muscles are:
Hamstrings
Quadriceps
Glutes
Calf muscles
Abdominal muscles
Lower back muscles
Some muscles on your arm, such as the biceps and triceps, also benefit when using specific exercise bikes. However, the impact may be smaller; hence, you still need to do designated arm exercises to strengthen them.
5. They Are Convenient & Safe
Regular bicycles are excellent cardio workout options. However, rain or freezing weather conditions can deter riders from going for a ride around your neighbourhood or town. Instead of postponing a workout session, you can still train using a stationary bike and achieve similar results.
Stationary Bike Drawbacks
Here are some drawbacks you should expect when using an exercise bike for cardio.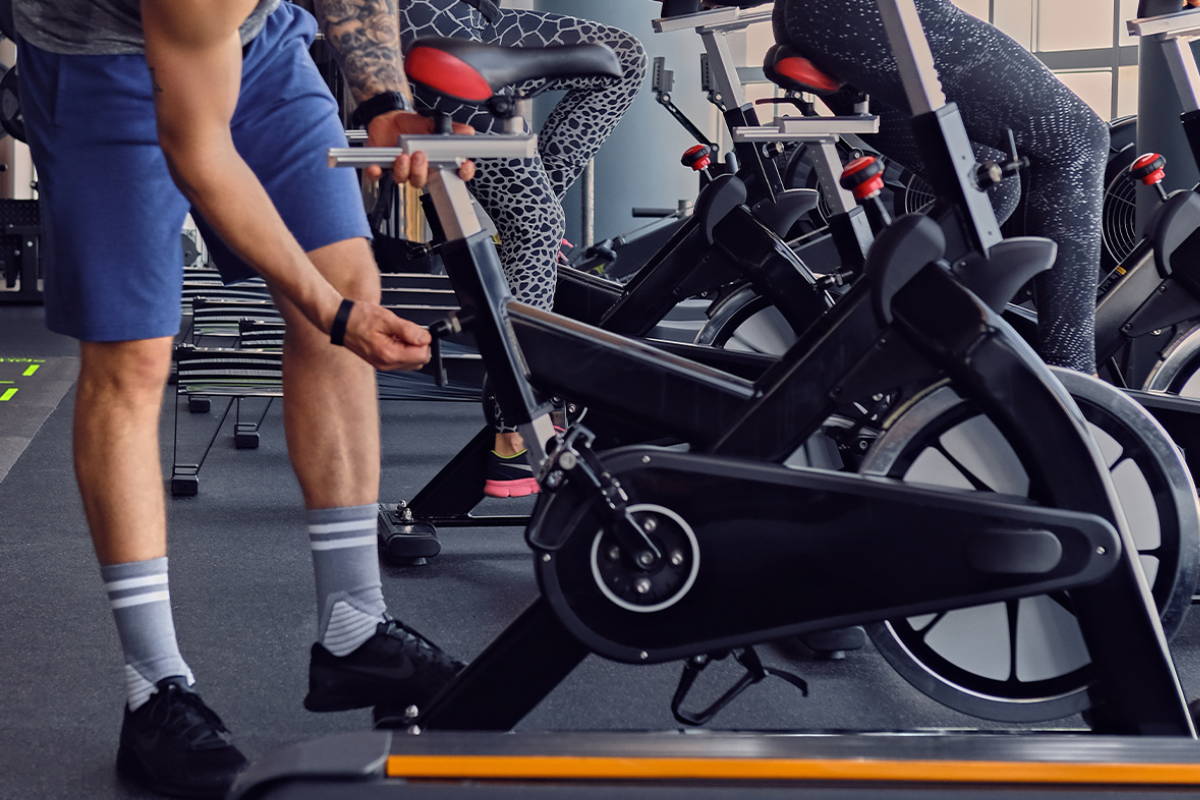 1. It Doesn't Offer a Full-Body Workout
Cardio workouts on some types of exercise bikes for cardio training may do more for lower body muscles than upper body muscles such as the arms. You may need to incorporate other equipment, such as dumbbells, to work out these body parts.
2. Exercise Bikes Can Be Boring to Use
Most people complain that working out on these bikes can be tedious because:
You don't change the landscape or scenery
You are not in motion like when moving with a regular bicycle
You keep repeating the same exercises even though you can change the resistance and cadence
Hence, you have to find a way to entertain yourself during training or enrol in a workout program that provides the needed motivation to keep using the bike.
3. It Consumes a Lot of Space
Stationary bikes can consume ample space within your living room or garage space. This is a drawback for most people since they'd have to find a suitable storage after finishing the cardio.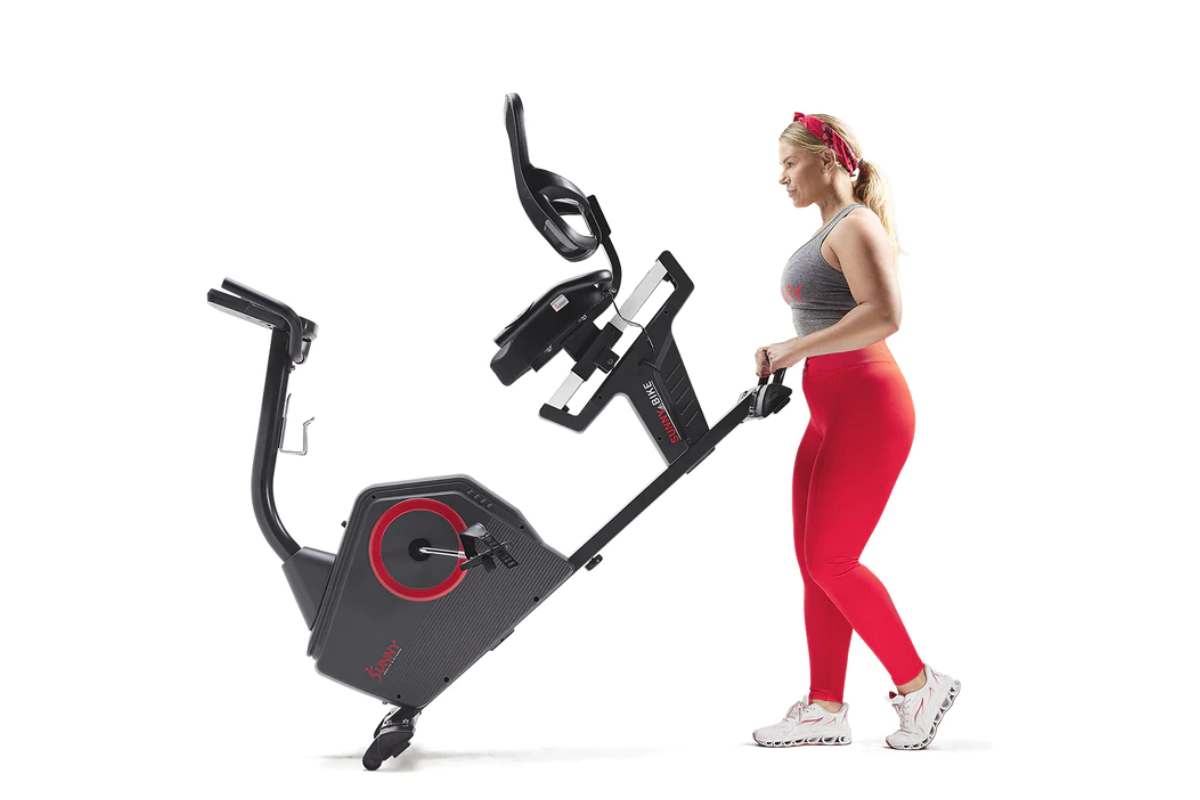 Types of Exercise Bikes for Cardio Training
There are several types of exercise bikes you can use for cardio training. We are going to discuss 3 main types in this section.
Upright bikes are the most popular stationary bikes in most homes and gyms. The rider can pedal while seated or standing in an upright position. Other features that these bikes have included:
The pedal sits below your body
The seat is narrow
You work on your upper and lower body muscles
They don't have a backrest
This stationary bike features a wide seat and a backrest that supports people with certain physical conditions or injuries. It also has side handlebars and front pedals.
They are exercise bikes that come with movable handlebars, a front wheel - which increases resistance as you pedal, and pedals below your feet. The movable handlebars are suitable for working your upper body.
Air bikes are noisy. Hence, it can't be ideal for people who want to work out in a quiet environment.
Folding exercise bikes are superb options for people who'd like something that doesn't consume much space and stores easily. They are similar to upright bikes since you ride them while upright. The only difference is that you can fold them once you finish your workouts.
Additionally, folding bikes:
Are affordable
Most have a display screen to keep track of your workout
Have a smaller weight limit than upright bikes
Provide the user with different resistance levels
How Exercise Bikes Compare to Other Forms of Cardio and Equipment
Cardio workouts on exercise bikes are more effective and safer than most cardio workouts and equipment. For instance, exercise bikes and treadmill cardio workouts will provide the same results. However, the treadmill is unsuitable for people with balance issues or some physical injuries such as:
Knee injuries
Back pains
Foot pains
Shoulder pain
Saddle sores
Additionally, you are more prone to injuring yourself when running than using a stationary bike.
Best Bike Cardio Workouts
The best cardio workout will depend on what you'd like to achieve at the end of the workout session. Here are some workouts you should try.
The 10-20 minute workout is best for people new to bike riding. Here's how you do the workout.
Warm up: 5 minutes at a low resistance level.
Main workout: Increase the resistance level and cycle briskly for about 1 minute, then return to a comfortable pace for 3 minutes. Repeat this 3-5 times.
Finish the workout: Return to a low resistance level to cool down for 5-10 minutes.
2. Burning Many Calories Workout
Intermediate riders aiming at burning calories can do the following 20-minute interval workout.
Warm up at a brisk pace for 5 minutes.
Main workout: Increase resistance to a level that you can sprint comfortably. Start with a high intense sprint for 30 seconds, then ride at a medium pace for another 30 seconds, then lower the pace and pedal pace for 60 seconds.
Repeat the interval cycle 3 times.
Finish the workout: Ride at a low resistance level for 5 minutes.
3. High-Intensity Interval Training (Hiit)
HIIT bike cardio workouts are best for improving metabolism and blood pressure. The workout involves:
Warm up: Ride for 5 minutes at a low resistance level.
Main workout:
Level 1: Pedal briskly but with low resistance for about 30 seconds. Follow up with an easy resistance for another 30 seconds. Repeat this 5 times.
Level 2: Increase intensity to medium and cycle for 5 minutes.
Level 3: Increase resistance again and pedal at a low cadence for about 30 seconds, followed by easy pedalling for 30 seconds.
Repeat the process (level 1, 2, and 3) 5 times.
Finish the workout: A 5-minute cool down would do.
4. Tabata Strength Workout
Here's how you can do the workout:
Warm up: 5-minute ride at low resistance.
Main workout: Increase resistance level to hardest and cycle at a high pace for 20 seconds then rest for 10 seconds. Repeat this cycle at least 8 times, and then recover for 1 minute at low resistance. Repeat the whole process 3-4 times.
Finish the workout: A 5-minute cool down at moderate intensity.
Our Recommended Exercise Bike for Cardio
The SF-RB4850 Programmable Recumbent Bike is a good exercise bike that you can use for cardio workouts. It has a padded seat with a mesh backrest, easy seat adjustment, pedals with adjustment straps, and non-slip handlebars.
You can use this recumbent exercise bike for different cardio workouts since it offers 16 magnetic resistance levels and up to 24 built-in workouts. It also has a performance monitor that will update you on the distance you've covered, time, your heart rate, and revolutions per minute.
We recommend this recumbent exercise bike to anyone looking for an affordable stationary bike that's stable, durable, and comfortable to use.
How Long Should You Ride a Stationary Bike for Cardio?
Riding a stationary bike at high intensity for 30-60 minutes a day, 3-5 times a week will provide the needed results quickly. Beginners can start with at least 10 -20 minutes of cardio workouts and add on minutes as they become familiar with the workout.
Is the Bicycle Machine Good for Cardio?
The exercise bike is a low-impact cardio for burning calories, improving cardiovascular fitness, and keeping fit. You can achieve the same goals as other cardio workouts and equipment without worrying about injuring yourself.
How to Select Exercise Bikes for Cardio Training?
Choosing the best exercise bike for cardio training will depend on your workout goals. You'll also need to factor in the following:
The price of the machine;
The type of exercise bike that's best for you;
Comfort;
Resistance levels;
Noise levels;
The maximum weight it can handle;
And the number of built-in workouts it provides.
A stationary bike is a piece of good equipment for cardio, as you can see in this article. Therefore, invest in one. Spending about half an hour a day on it will ensure that you are healthy and fit. Have you used a stationary bike before? Is the bicycle machine good cardio? Let's hear your thoughts in the comment section.
What Does Cardiovascular Fitness Mean? // Livestrong: https://www.livestrong.com/article/286610-what-does-cardiovascular-fitness-mean/
Exercising With Chronic Conditions // Nia: https://www.nia.nih.gov/health/exercising-chronic-conditions
Cookies on the NHS website // Nhs: https://www.nhs.uk/live-well/eat-well/how-to-eat-a-balanced-diet/eating-a-balanced-diet/
Cholesterol Numbers and What They Mean // Clevelandclinic: https://my.clevelandclinic.org/health/articles/11920-cholesterol-numbers-what-do-they-mean
Calories burned in 30 minutes for people of three different weights // Health: https://www.health.harvard.edu/diet-and-weight-loss/calories-burned-in-30-minutes-for-people-of-three-different-weights
Common Indoor Cycling Injuries and How to Avoid Them // Aaptiv: https://aaptiv.com/magazine/common-indoor-cycling-injuries-fix/
I'm Tanya, and I love lifting weights. 6 years ago, I picked up Olympic weightlifting and training. Weightlifting is a unique sport because it's just you against the bar. There are no teammates to help you out; it's all on you.
I'm also passionate about helping other women achieve their fitness goals. That's why I started my blog and write some products reviews. I want to show other women that they can do anything they set their mind to!