Whilst there are numerous different methods of getting in shape and losing weight, the exercise bike and walking are two of the best low-impact exercises you can perform. Both of these activities will help you stay active and manage your weight, but when it comes to an exercise bike vs walking, which one is better and which one yields the best overall results?
Whether you prefer walking or your exercise bike in the comfort of your home, you must know some of the ins and outs. This article aims to help you determine whether using an exercise bike or walking would be the best option for you to achieve your goals.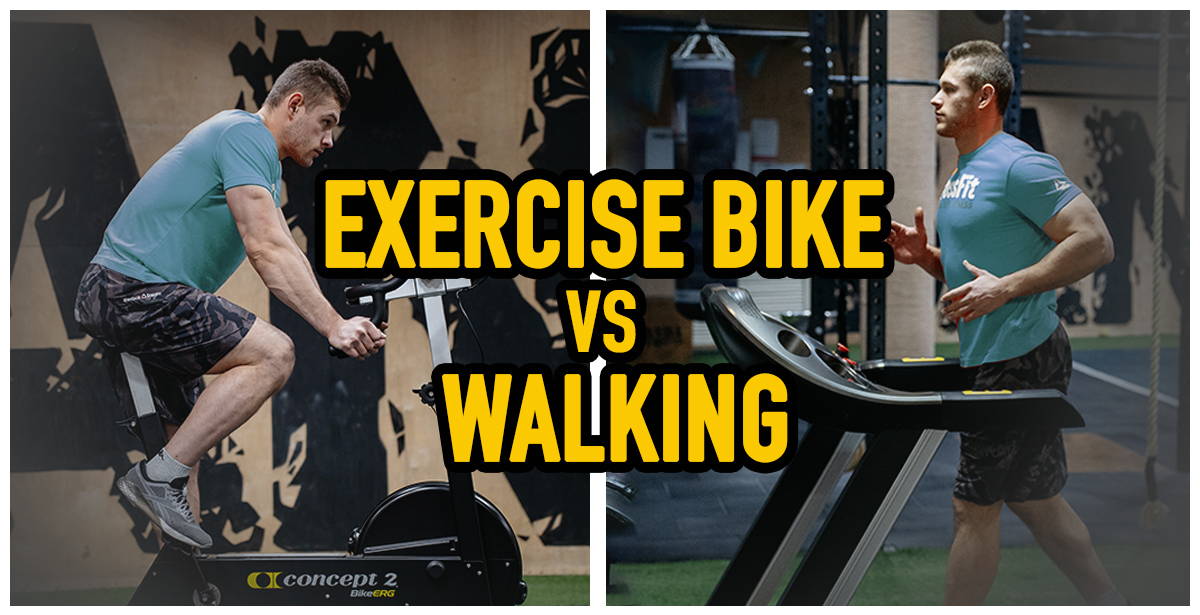 What Is an Exercise Bike?
The exercise bike or stationary bike is an indoor bike that is generally set up in the comfort of the home. The device includes a saddle, pedals, and handlebars that will simulate riding a real bike. However, the only difference is that you only don't have wheels and instead, a stand that keeps the bike fully locked in place when riding.
The exercise bike is one of the most useful tools for working out and serves so much more of a purpose than simply working out. You will notice that many sporting events like football or soccer, will often have exercise bikes in the cloaks. The idea is to use them as a means of staying warm or for the players to warm up.
I believe we all understand the purpose of walking and what it is, but there is a massive difference between walking around your garden or town and doing it for fitness purposes. The art of walking is a basic means of transportation amongst legged animals, which include human beings, and involves going from point A to point B using your legs and feet.
However, walking is one of the healthiest ways to remain in shape and it is naturally low-impact. Those using walking as a means of exercise will often have a set distance that they aim for and try to reach the destination in the least possible time. It will help them effectively burn calories and improve overall things like cardiovascular health.
Walking vs Exercise Bike – Full Comparison
To begin to understand whether walking or using an exercise bike is better for you, we need to draw a comparison between the two. For me, the best way to understand which one is better is to look at how they both impact you when you are doing them. From a few tests of doing both, here are the main differences between them:
The first thing to note is the impact on the body. Fortunately, both of these exercise methods are low-impact. Both can be managed, which allows the individual to move at their own pace. If you have possible joint-related issues, you can effectively slow down and you will still be performing the action you need to perform.
Winner: Draw – Both Offer a Great Way to Do Low-Impact Exercises
Weight Loss (Calories Burned)
The only reason for someone to put themselves through the trials and tribulations of working out is to achieve a goal or to become healthier. Becoming healthier might involve losing weight and burning some excess calories in the body.
Moderate cycling on the stationary bike can burn anywhere from 500 to 700 calories per hour depending on your weight. On the other hand, walkers will only burn about 300 to 500 calories per hour depending on their weight and speed of walking. This gives a clear edge to using an exercise bike for burning calories.
Winner: The exercise bike tends to burn more calories for the same amount of effort and time.
The most common effect on health that you see initially is losing weight. Whilst losing weight is important, it is the long-term health benefits that we are after. Harvard Men's Health Watch reported that whether you are cycling or using a stationary bike, it would reduce the risk of heart disease in a patient by 26% over 11 years.
In essence, both walking and riding your exercise bike are some of the best ways to ensure you stay in good health. The main idea is that you remain active, as people living a sedentary lifestyle are often more inclined to contract a disease, and this also puts them more severely at risk of heart disease.
Winner: Draw – Both the exercise bike and walking is great for staying in shape and losing excess weight.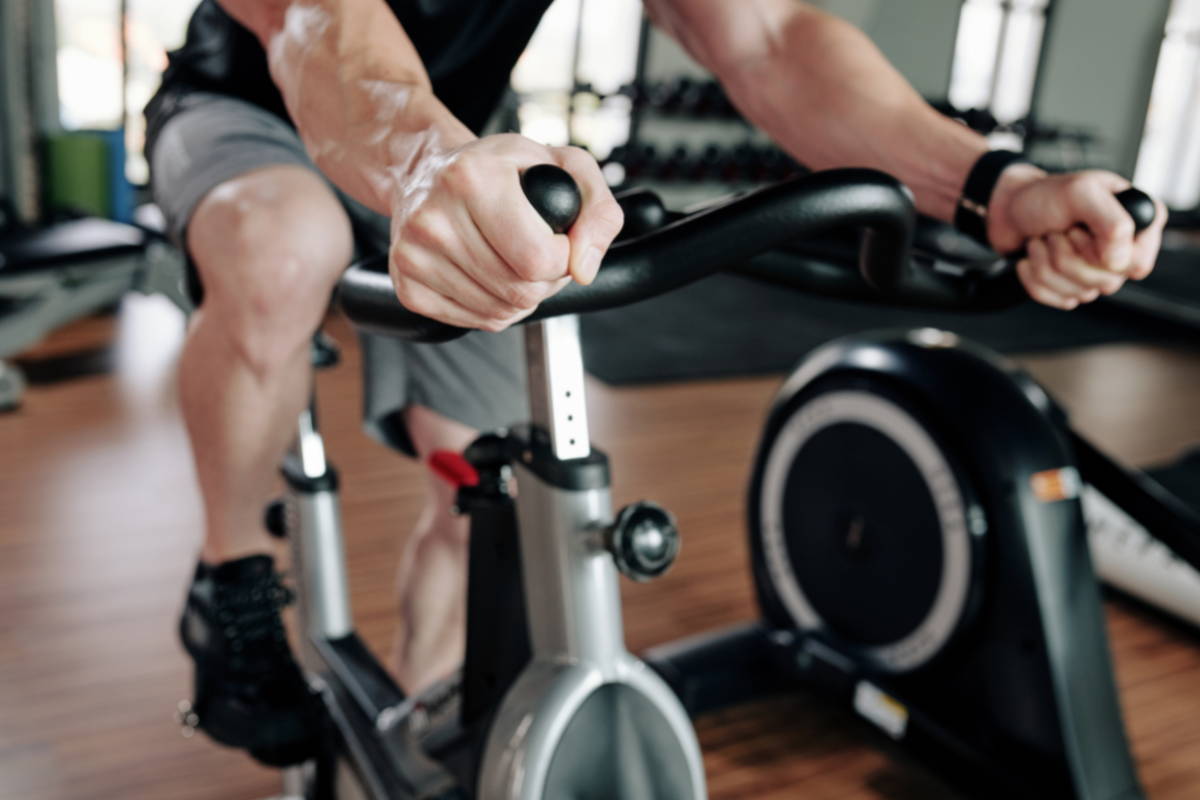 By looking at all the aspects, we cannot neglect the risk of injury. Whilst both of them are low impact and do not put as much strain on the body, the risk for injury is higher on the exercise bike. However, this is mainly because walking is a natural movement. Keep in mind that when performing power walking, it is unnatural and would put you at risk of certain injuries.
Whilst the exercise bike might lead to certain injuries for individuals, it is not something to be worried about and the likelihood of this happening is fairly low compared to other more vigorous activities.
Winner: Walking is the safer option, but the exercise bike has a very low risk of actual injury.
Finally, we also have to look at how it would affect your pocket financially. The financial costs associated with cycling can often be expensive. However, the stationary bike is far cheaper than a Cannondale bike.
Unfortunately, it still does not come close to walking. For walking, you will just need a solid pair of shoes and this should allow you to get started.
Winner: Walking is by far the cheaper option and you don't need to buy any real equipment. However, a weight belt could help improve calories burnt.
Which Is Better Walking or Stationary Bike - Summary
From the above-mentioned information, it is hard to determine a clear winner. When it comes to losing weight rapidly and burning calories, the stationary bike has the edge. It allows you to be more vigorous and adjust resistance levels to optimize the calories you are burning. This can also happen in the fastest possible time.
On the other side, we have walking, and walking is the best option for those on a budget. You will still lose significant amounts of weight over time, it might just take longer. The only real expense would be the shoes you choose to walk with. Here are the pros and cons of bike vs walking exercise activities:
Pros/Cons of Exercise Bike
Burns plenty of calories each hour

Allows you to workout in the comfort of your home

Includes numerous built-in programs to get you started




No risk of being a victim of crime



You will need to have enough space in your home
Aside from your shoes, walking is free

It serves as a means of transportation

You can do it in larger groups to enable mutual support and encouragement

You can perform walking virtually anywhere
It takes longer to burn calories
Walking vs Cycling: When to Choose Each
The big decision would eventually arise when you will need to choose whether you want to use walking or cycling for your exercise purposes. Both of them are relatively effective means of losing weight and improving health. However, there are a few situations in which one will have a slight edge over the other.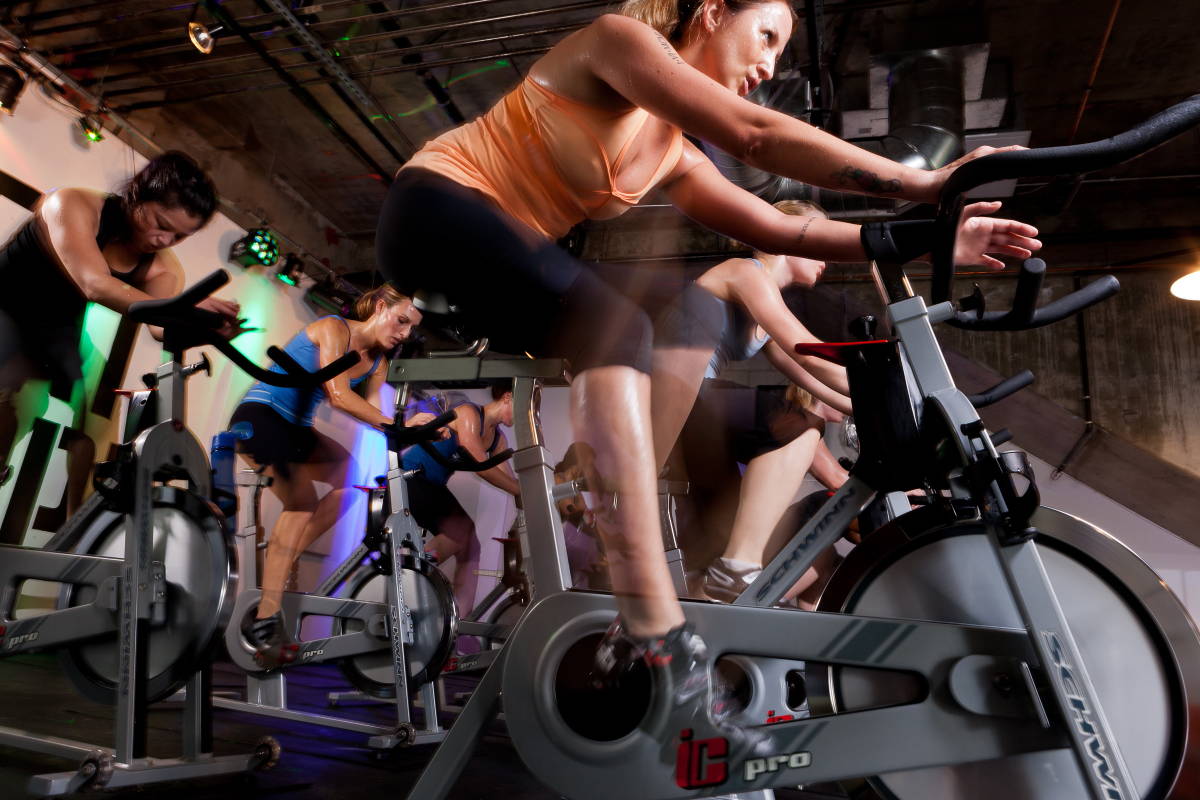 For rapid weight loss or weight loss over the short term, cycling would be the better option. Cycling burns far more calories per hour than walking does. You can also burn the same number of calories when cycling for a shorter period than you would burn when walking.
If you live in a dangerous neighborhood, where walking on the street is not recommended, the stationary bike is the best option. You can use the stationary bike effectively inside the safety and comfort of your home.
As a means of transportation, walking is the best option. The stationary bike is a fixed piece of equipment that would take you nowhere. You can use walking as part of hiking in nature and even when going to a convenience store nearby.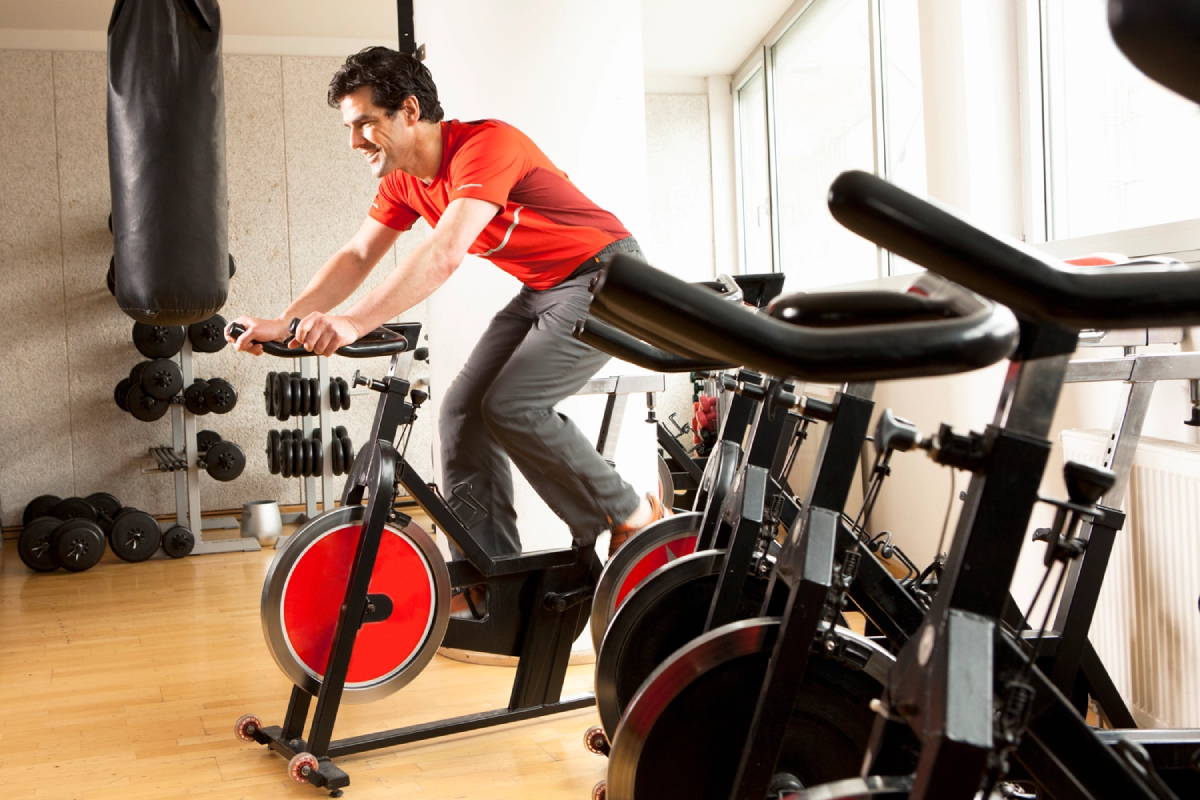 Which Is Better Exercise Walking or Stationary Bike?
When you choose bike riding or walking for exercise, you will look at what your goals are. If your goals stretch over the longer term and you have the self-discipline, walking would be great and you will gradually burn calories or lose weight.
However, those seeking rapid weight loss over the shorter term might want to consider the exercise bike. You only need to set aside a few minutes each day and you could burn the same calories as walking. This is the better option for those with busy and active lifestyles who are pressed for time.
The Best Stationary Bike We Recommend – Synergy Exercise Bike for Stationary Indoor Cycling
If you choose indoor cycling, your next important task is finding the right bike for your needs. Fortunately, we have done the work for you. Our selection of the Synergy Exercise Bike For Stationary Indoor Cycling is to give you an effective bike that is not as expensive and easy to use.
This magnetic indoor cycling bike is produced by Sunny Health & Fitness and features an exclusive patented flywheel design, which reduces sound to give you a quiet riding experience. The high-quality design comes with a free cadence sensor and solid performance monitor to check your speed, calories, distance, RPM, and pulse with just a glance at the monitor.
It features a 30-pound flywheel, which has a micro-adjustable knob to help the rider determine the perfect speed and effort they require. The bike can hold someone up to 275 pounds and takes only minutes to set up. Thanks to the foot stabilizers, it does not rock around like many competitors.

For the price of this stationary bike, it is one of the best options for those that require value for their money and we highly recommend it.
What Burns More Calories Walking or Stationary Bike?
If you are aiming for rapid weight loss and want to burn as many calories as possible in the shortest time, you should stick to the exercise bike. You can adapt your cadence and effort, which allows you to burn far more calories in the shortest period. Power walking might be an alternative for walkers but puts strain on the joints.
In essence, when it comes to stationary bike vs walking, the bike is better for rapid weight loss.
Can the Stationary Bike Replace Walking?
The stationary bike would not replace walking per se. You will still need to walk around the house or sometimes take a stroll to the store, but it is a great exercise tool. It can help you burn calories much faster without the need for going outside the house. We would rather say that the stationary bike is a great tool to add to your workout kit.
Is Riding A Stationary Bike 3 Miles The Same As Walking 3 Miles?
There is a massive difference between riding your stationary bike for 3 miles, compared to walking for 3 miles. Riding your stationary bike for 3 miles would be much easier and you will achieve the distance in a much faster time. However, walking could take you a long time to do 3 miles. You could see yourself walking far longer than an hour depending on your speed and resilience.
If you cannot choose between a bike vs walking exercise, you can often experiment with both to see what you enjoy the most. The walking vs cycling debate has been ongoing, but in essence, both are effective and healthy ways of staying in shape. Let us know in the comment section if you choose bike riding or walking for exercise.
Osteoporosis // Medlineplus: https://medlineplus.gov/osteoporosis.html
Biking Vs Walking Workout: Which One Is Better? // Hoodmwr: https://www.hoodmwr.com/biking-vs-walking/
Physical Activity Guidelines for Americans // Health: https://health.gov/sites/default/files/2019-09/Physical_Activity_Guidelines_2nd_edition.pdf
Walking and bicycling your way to health // Hsph: https://www.hsph.harvard.edu/nutritionsource/2013/11/19/walking-and-bicycling-your-way-to-health/
Cycling vs. Walking: Which Is the Better Workout for You? // Healthline: https://www.healthline.com/health/fitness/cycling-vs-walking
Group exercise more effective than individual workouts, study says // Upi: https://www.upi.com/Health_News/2017/10/30/Group-exercise-more-effective-than-individual-workouts-study-says/7031509372101
My name is Ihor and I have been a professional weightlifter since 1996. With over 20 years of competition experience, my resume includes European Champion in 2009 and the silver medalist at 2011's Senior World Championships – 105kg division.
I competed at the 2008, 2012 and 2016 Summer Olympics.
After hanging up my own competitive lifting shoes, I decided to share my huge background as a coach. I am currently coaching multiple athletes who are competing at national and international competitions.