If you're looking for a super versatile addition to your gym accessories, a way to level up your workouts, or something to add to your physical therapy, consider resistance bands.
Resistance bands are a great way to up your flexibility and increase strength. And the best thing about them – they're good for everyone. A lot of fitness equipment can seem intimidating, especially to a beginner. But there's no way bands will seem anything other than interesting.
Isn't it strange how a few simple workout bands can do so much? Today, we'll look over the best resistance bands currently on the market. You will be surprised to learn that there's a whole science behind them - resistance levels, different materials, even attachments!
So, don't go anywhere; we're diving right into the resistance bands reviews!
In a hurry and can't keep reading? How about you check out the REP Pull-up Bands.
Rep Pull-up Bands are versatile resistance bands suitable for various fitness goals, offering a range of resistance levels to accommodate users of different strengths and abilities, although some users might find them a bit short for certain exercises.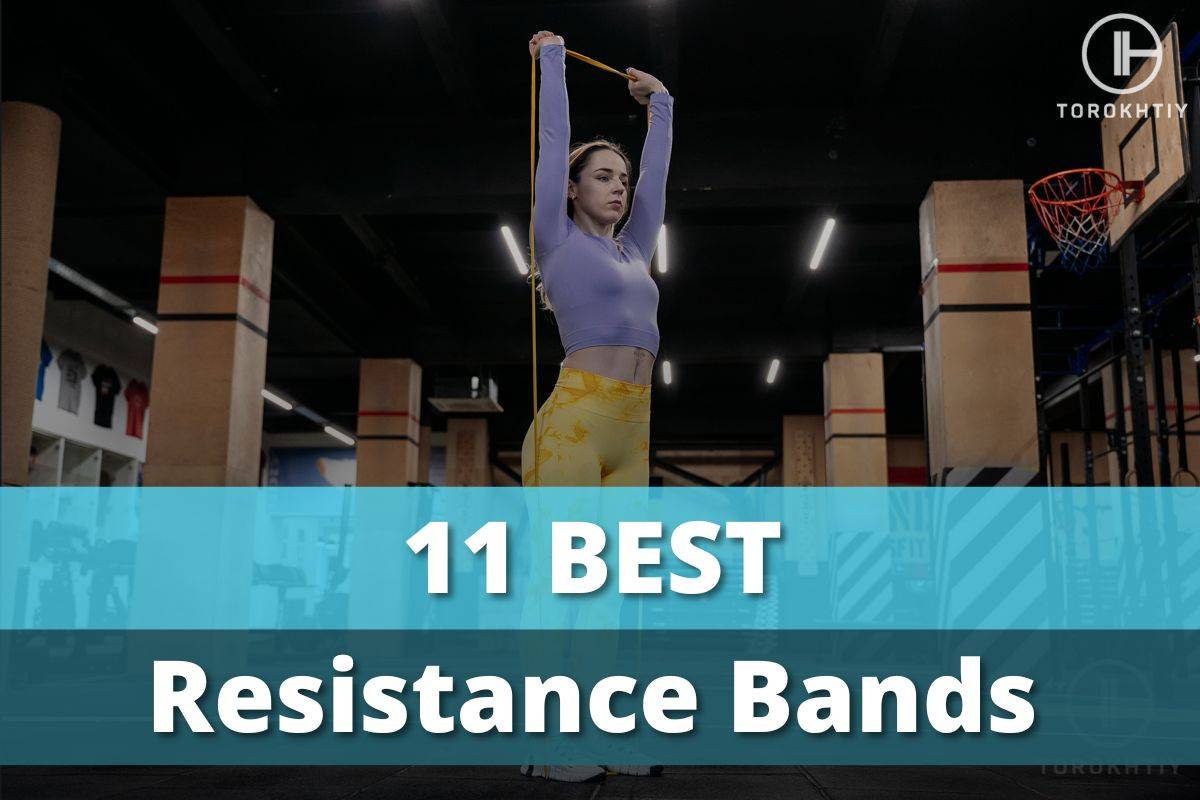 Top 11 Resistance Bands in 2023 Reviewed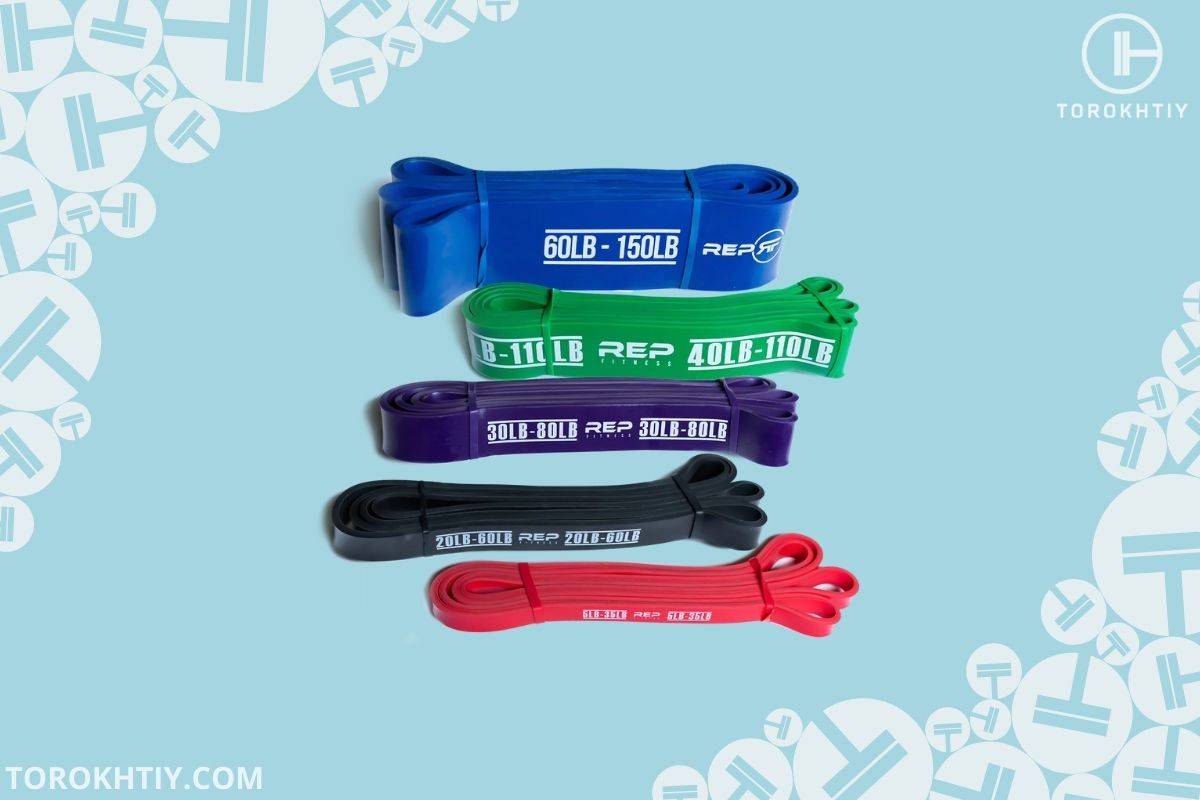 Rep Fitness currently makes the best exercise bands you can buy, and their price is right there in the middle – not dirt cheap, but not crazy expensive either. For the quality you get, it's actually very reasonable.
Best For: Stretching, strength training, mobility
Resistance Levels: 7 levels, 5-15 to 70-175 lbs
Length: 38''
Width: 0.25''-3.25''
Material: Rubber
Color Palette: Yellow, red, black, purple, green, blue, orange
Attachments: N/A
Whether you want to build strength, and mobility or just spice up your stretching routine, you'll find a pair of bands perfectly suited for you. They're the best resistance bands for men and women. They come in a lot of resistance levels (7, to be precise). The colors let you know what the resistance level is.
The resistance varies from 5-15 pounds to 70-175 pounds. This is one of the reasons these are the overall best; anyone can find a pair of bands that would work for them, regardless of whether they're beginners, experienced, weaker, or stronger – there's something for everyone.
The only thing that could make them is if they were slightly longer. 38'' may not seem like an issue, but if you're a tall person and you try doing a resistance band deadlift, you might find yourself struggling to pull the band enough so that your back is straight.
The construction is where the quality really shows. These are made from layered elastic, which means the tension will be smooth and consistent throughout your entire workout. The type of construction also means they're durable and eliminates any sticking points or snags.

Versatility is a big deal with resistance bands because it allows for a more gradual and controlled progression in training. If a resistance band isn't versatile, the range of exercises you can perform and the adaptability to different fitness levels will be limited – making it crucial to find another pair that meets these needs.
The REP resistance bands will up the level of your barbell workouts, GHD sit-ups, and GHRs.
If you're still skeptical, that's okay. Rep has a 30-day trial period so if you get them, but they end up not working for you, you can just return them and get a refund. All things considered, though, it's highly unlikely that you'll dislike these bands.
REP Pull-up Bands offer great versatility for your workouts, allowing for controlled progression and complementing various exercises, although some users, particularly tall individuals, might find them a bit short for certain movements.
Layered elastic construction

Solid maximum 175lb resistance for the thickest band

These bands start off with a minimum resistance of 5 lbs
Gymreapers is known for delivering superb value for money, and this resistance band set is a perfect example of that. The company is represented by world record-holding powerlifters, IFBB pros, and world-class trainers. And this is not just good marketing – their products really are good enough to be used by the best of the best.
Best For: Strength training
Resistance Levels: 5 levels, 20 to 150 lbs
Length: 41''
Width: 0.5''-2.5''
Material: Latex
Color Palette: Desert Tan, OD Green, Dark Earth, Ranger Green, Coyote Brown
Attachments: Carrying bag;

Handles with door anchor (sold separately)
They're called pull-up bands, but their uses go far beyond just pull-ups; you can do banded squats, bench presses, and more.
They're super lightweight and made of latex. With them being as lightweight as they are, you may worry about durability because they can seem flimsy. But they're anything but flimsy and in reality, they're exceptionally durable.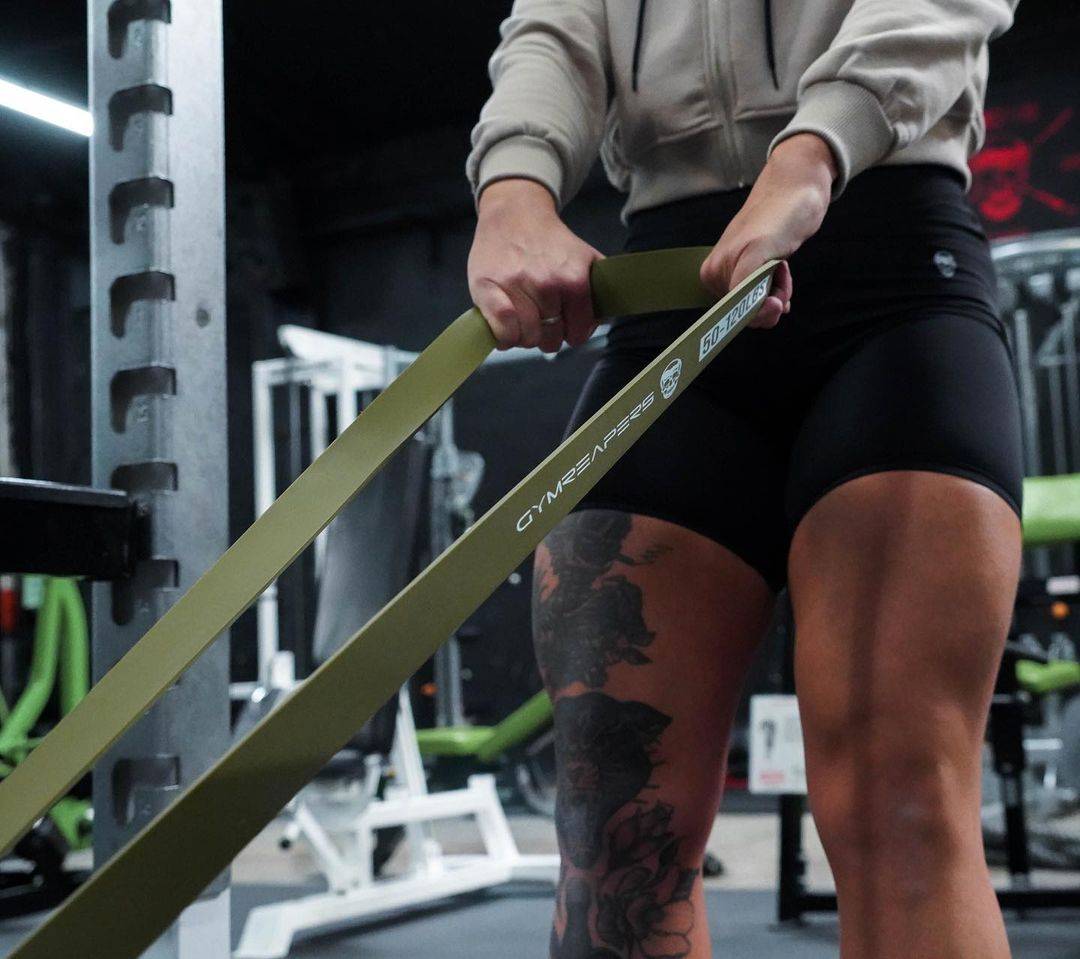 If you decide to get them, you'll get a pack of 5 stretching bands and a carrying bag, which is a nice addition. The length is great and at 41'', there are no concerns that they'll be too short for anything you want to do. If you want to travel with them, they come at only 10'' when you roll them up, so they won't take up a lot of space in your suitcase.

When you get them, they smell weird. This is not that uncommon for rubber and latex equipment, but the smell on these really is something else. But it airs out within a few uses and then it's like it was never there. If the initial smell (which some had said resembles cooked spinach) doesn't bother you, these might be a good addition to your gym bag!
Gymreapers resistance bands are not only lightweight and versatile but also come with a convenient carrying bag, making them suitable for home workouts and travel alike, and their durability ensures they can withstand intense training sessions.
Weird smell that takes a few days to air out
If you're in the market for some tube bands, Rogue has you covered. Their resistance bands with handles are exceptional and can be a lot more comfortable than your regular resistance bands.
Best For: Strength training, mobility training
Resistance Levels: 6 levels, 10-60 lbs
Length: 48'' (approximately 65'' end-to-end)
Material: Latex-based elastic
Color Palette: Orange, red, blue, green, black, purple
Attachments: N/A
They're made of latex and the grip handles are textured, which is always desirable for tube bands. If you stumble upon smooth handles, do yourself a favor and walk away, they're a hassle compared to grippy ones.
The base length is 48'', but the end-to-end is 65'', so these will fit just about anyone looking for effective strength and mobility training. If you want to add a dynamic resistance element to rows, presses, bicep curls, or shoulder raises, you'll be happy with how these work.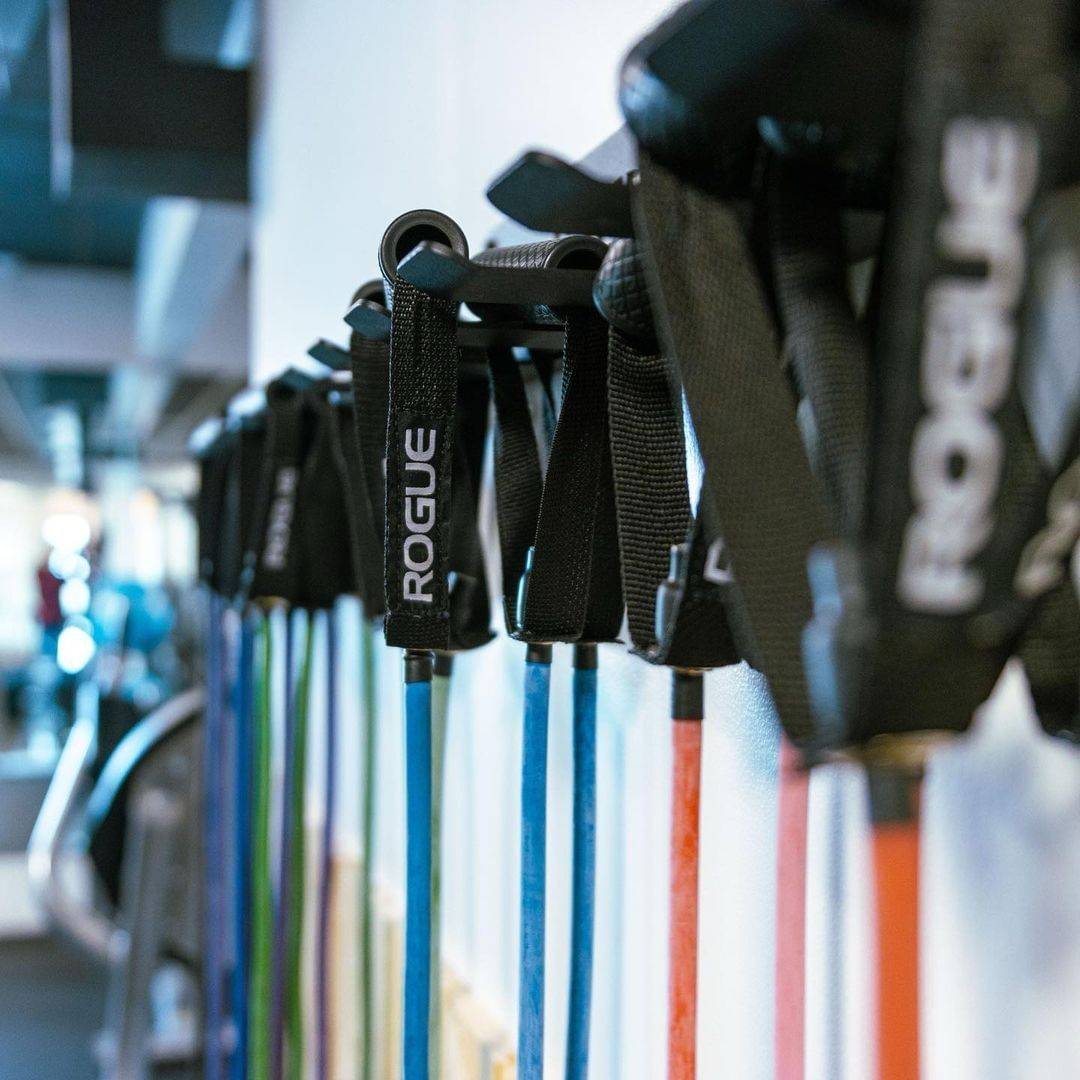 For a pair of tube bands, these are durable, although not as much as a pair of regular bands would be. Still, you can be sure you'll have these for a long time, and as soon as you grab them, you'll feel what good quality they are.

You can start with 10 lbs. of resistance if you're a beginner or go up all the way to 60 lbs. with the Super Heavy option. No matter your fitness level, Rogue has something to offer. Like the previous two, they're color-coded, so it's easy to figure out the resistance level by just glancing at them.
All in all, they provide excellent targeted resistance, and although they're not completely perfect, this is still one of the best options you'll find.
Rogue's tube bands provide durable construction and are available in a range of resistance levels, ensuring effective and comfortable strength and mobility training for users of all fitness levels.
Because of the handles, the tube bands can mimic gym machines

Can be used for more exercises compared to regular bands because of handles
Not as durable as regular resistance bands

Maximum resistance is only 60 lbs.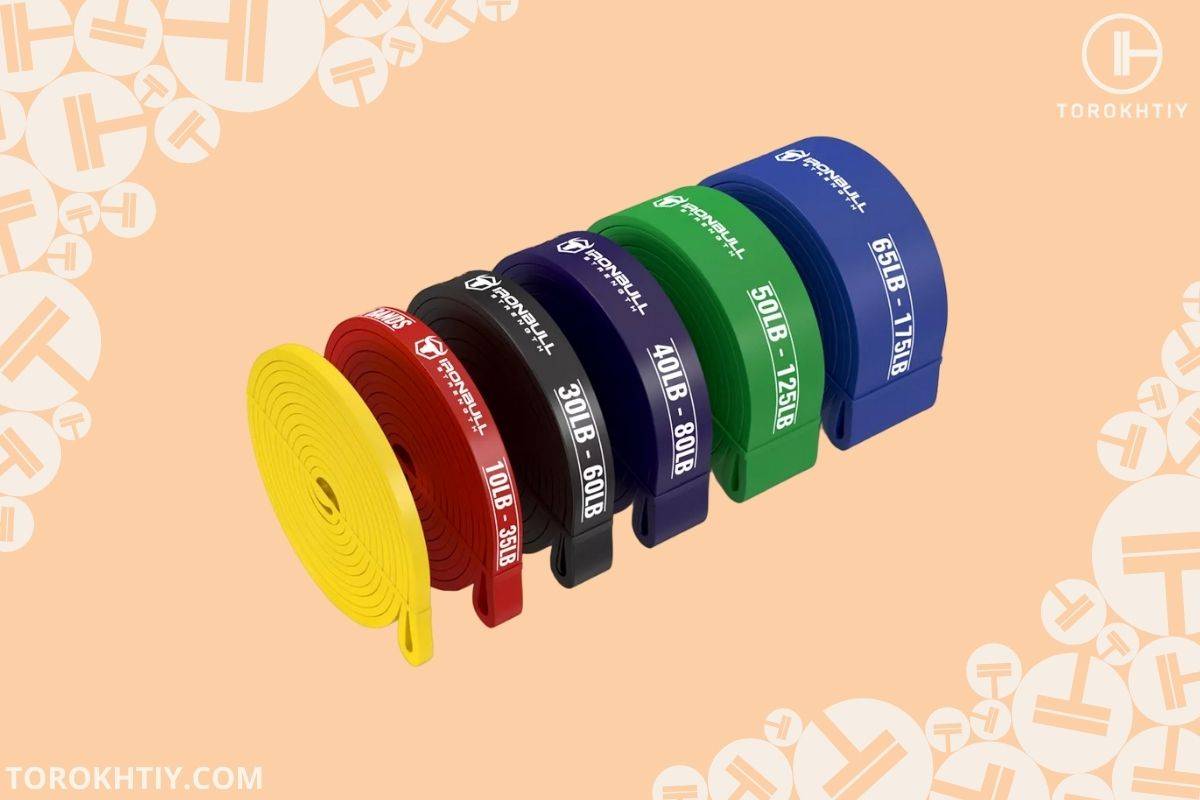 The Iron Bull Strength Monster Bands are some of the most versatile bands you'll find, offering resistance starting from as little as 5 lbs., all the way to 175 lbs. Because these bands start off with 5 lbs they're the best workout bands for women on this list.
Starting off with a resistance strength of 5 lbs, instead of the 10 lbs that the other bands start off with is accommodating the fact that men (on average) tend to have 61% more total muscle mass than women. However, that might not always be the case. Depending on the muscle group that you wish to engage, the 5 lbs might not be relevant when it comes to female athletes (apart from some specific cases).
Best For: Strength training, physical therapy, warm-ups
Resistance Levels: 6 levels, 5-175 lbs
Length: 41''
Width: 0.25''-2.5''
Material: Natural Latex
Color Palette: Yellow, red, black, purple, green, blue
Attachments: N/A
If you've tried a decent amount of resistance bands, you may have come to the conclusion that they all seem to be manufactured in the same factory, with the same material, and the only difference is the logo that's slapped on them. But Monster Bands are a completely different story.
The natural latex they're made of is far better quality than most other resistance band materials out there. They won't last forever because, let's face it, latex isn't that durable, but if you use them frequently, they feel like they'll be functional for a year or two (as opposed to 6-10 months, which is usually the case).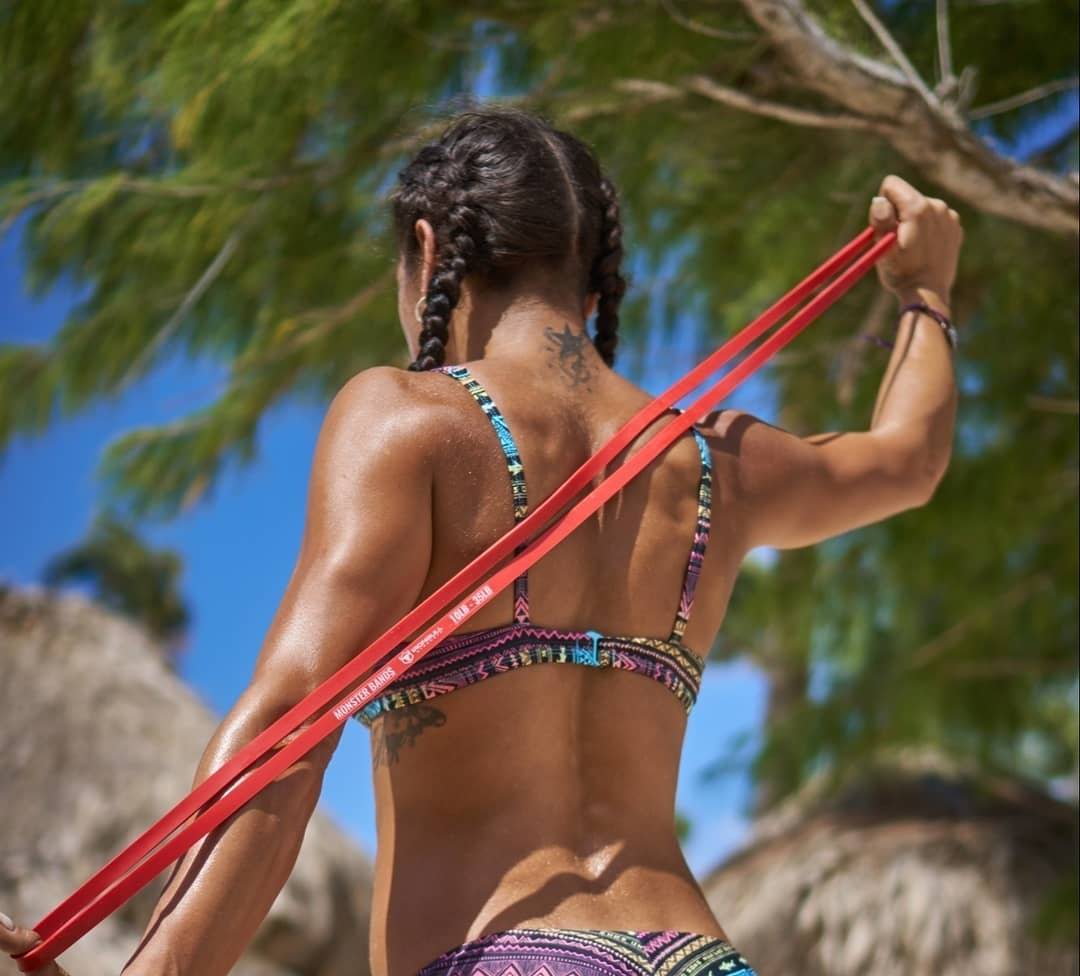 At 41'', you'll be able to use them for just about anything. You can get one single band if that's what you want, and if you happen not to like the bands, you can return them and get a refund. Oh, and another thing worth mentioning is the warranty – they come with a 90-day warranty. Plus, they have a 30-day refund policy.

The Iron Bull Strength Monster Bands provide versatile resistance levels suitable for various workouts, crafted from high-quality natural latex for durability and backed by a 90-day warranty, making them a valuable addition to your fitness routine.
Made of superior material

These bands have a max resistance level of 175 lbs.

The bands start off with a minimum resistance of 5 lbs.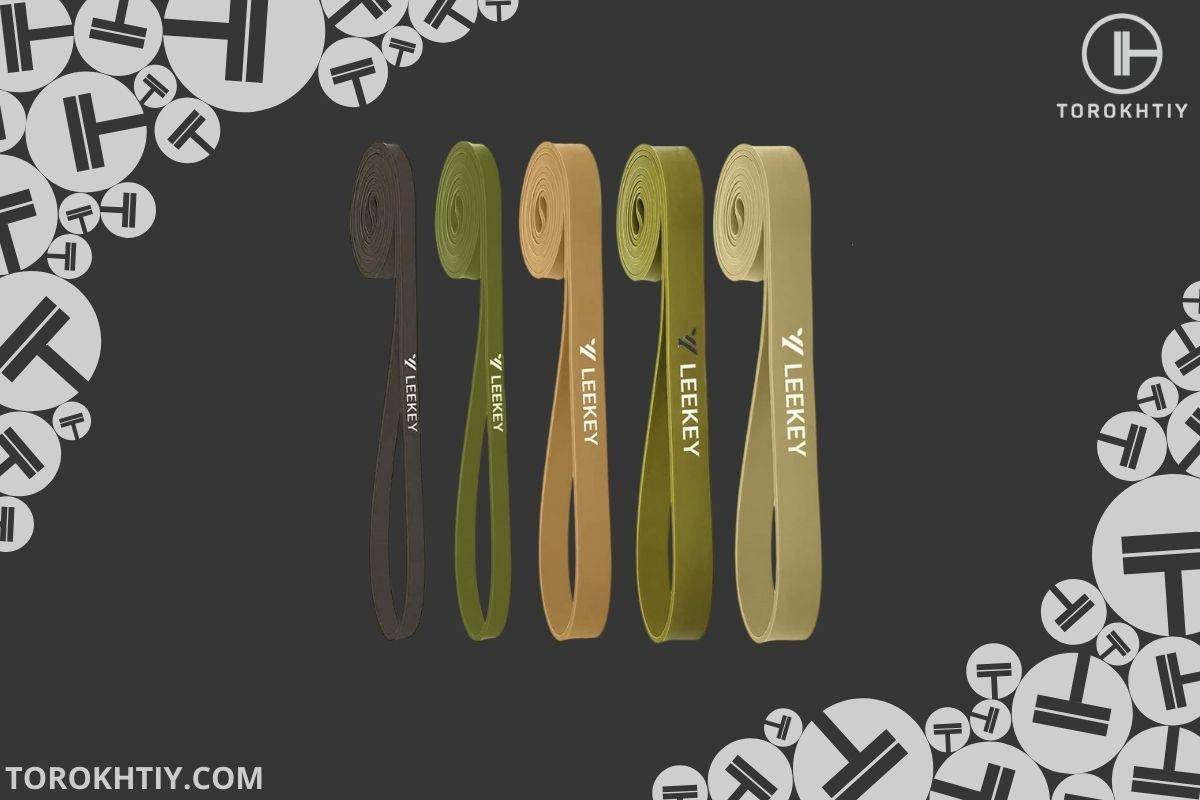 If the previous set of bands made your jaw drop a bit when you saw the price, keep reading. The budget pick has a lot to offer and, as the name would suggest, comes at a much lower price.
Best For: Resistance training, physical therapy
Resistance Levels: 5 levels, 8-125 lbs
Length: 81.9''
Width: 0.4–1.7''
Material: Natural latex
Color Palette: Grey, Green, Light brown, Olive, Sand
Attachments: N/A
If you're on the hunt for a set of thick bands, then look no further. Leekey made a set of really unique bands when it comes to thickness. At first, you may think a thick band can be annoying, and it could be if it's too stiff. But these bands don't lose strength, even after constant stretching.
They come with a small carrying bag, so they're easy to take with you, and since they come in a set, you can combine them to make your workouts even more effective.
The lighter ones seem to wear out pretty quickly, but you can get a good four months of use out of them. This, however, is a common complaint for almost every type of resistance band – the lighter ones are simply not made to be as durable, and that's that.
But even with that, this budget pick offers a lot of bang for your buck.
LEEKY's resistance band set, known for its unique thickness and durability, offers a budget-friendly solution for versatile workouts, making it an excellent choice for those seeking reliable bands without breaking the bank.
Longest band on this list
Lighter bands wear out quickly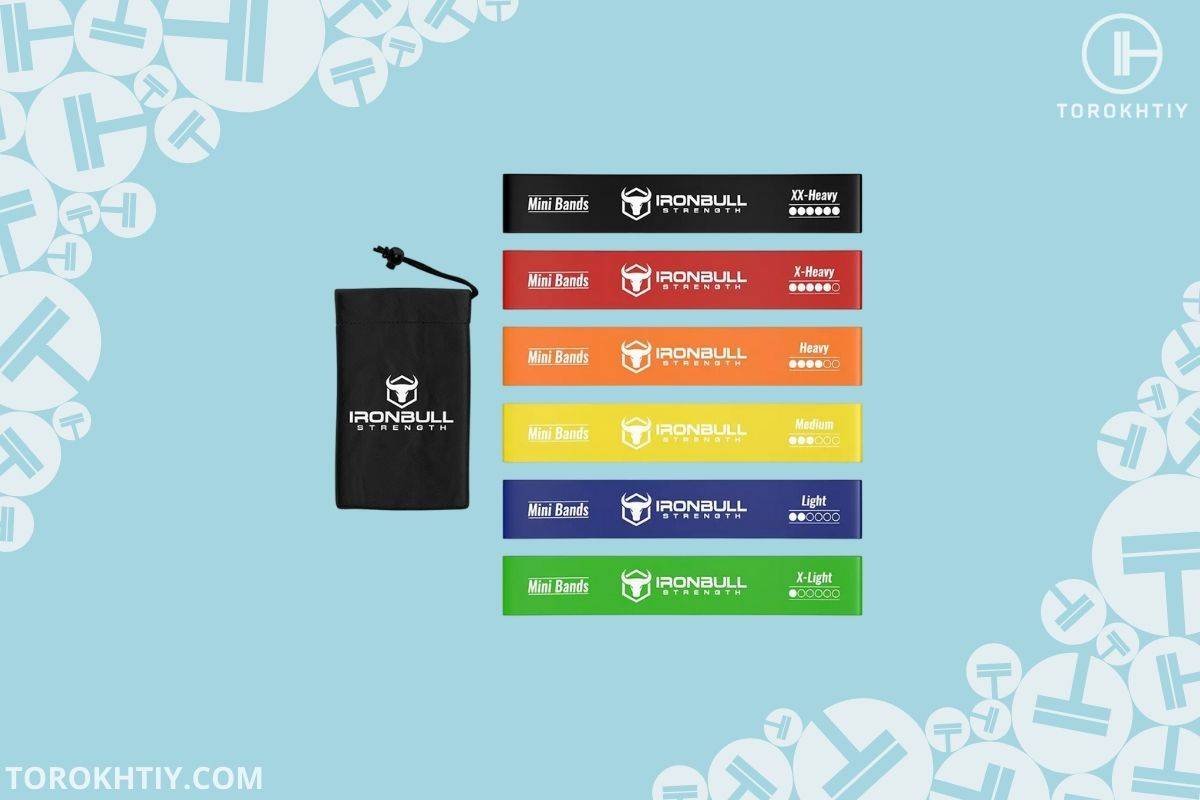 Iron Bull is not done yet! They have another set of bands that made it to the top eleven resistance bands list, and these tiny little bands pack a punch.
Best For: Strength training, physical therapy, warm-ups, rehabbing injuries
Resistance Levels: 6 levels, approximately 5-40 lbs
Length: 12''
Width: 2''
Material: Natural latex
Color Palette: Green, blue, yellow, orange, red, black
Attachments: Carrying bag
These are good for a range of workouts, including yoga and Pilates. Mini bands are perfect for lower-body workouts. Many people decide to skip them because of their short length and if you're one of them – you're missing out. There's a difference between traditional bands being too short (which is certainly a flaw) and mini bands being, well… Mini. They're short for a reason, and believe it or not, you don't want these to be any longer than they are.
The latex is of premium quality, and they're 12'' long and 2'' wide. Of course, they come in different colors to make choosing the resistance level easier.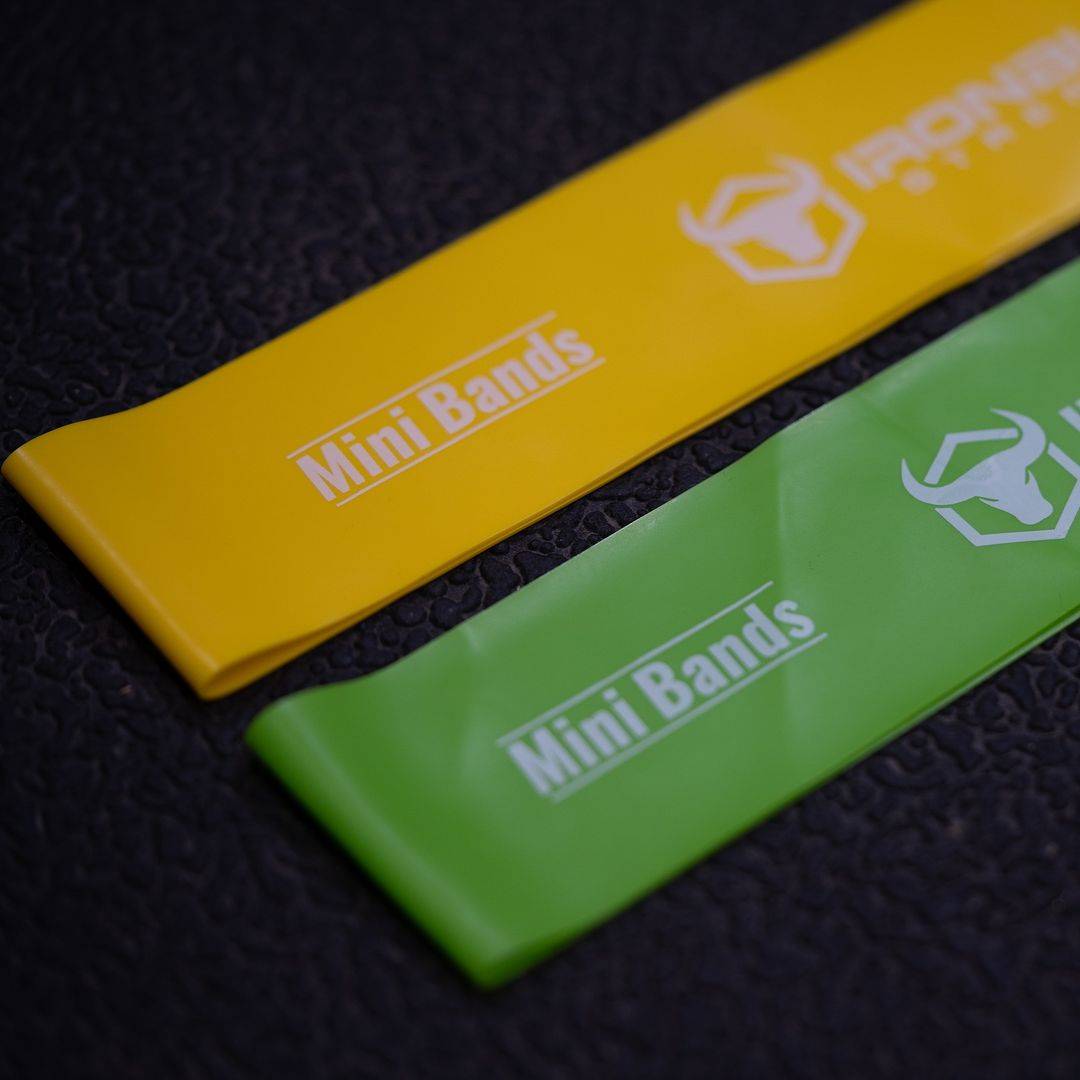 They are ideal for rehabilitation and physical therapists love them. If you're suffering from knee, leg, or back injury, mini bands are most likely a part of your physical therapy.

Iron Bull claims they're snap and tear-resistant; there's no doubt that they have extensively tested them, but don't get hung up on these claims. It's latex, after all, and they're bound to snap after about 10 months to a year (if you use them frequently).
Iron Bull Strength Mini Bands, designed for lower-body workouts and rehabilitation, offer premium latex quality and the perfect length, making them a reliable choice for various fitness routines.
More comfortable for lower body workouts and rehabilitation

Good range of resistance levels

6 bands included in the set



Carrying bag is too small, and it's hard to put the bands back in after you take them out

Limited range of exercises compared to regular long bands




Lacks specific numbered weight indications, offering only vague 'light to heavy' labels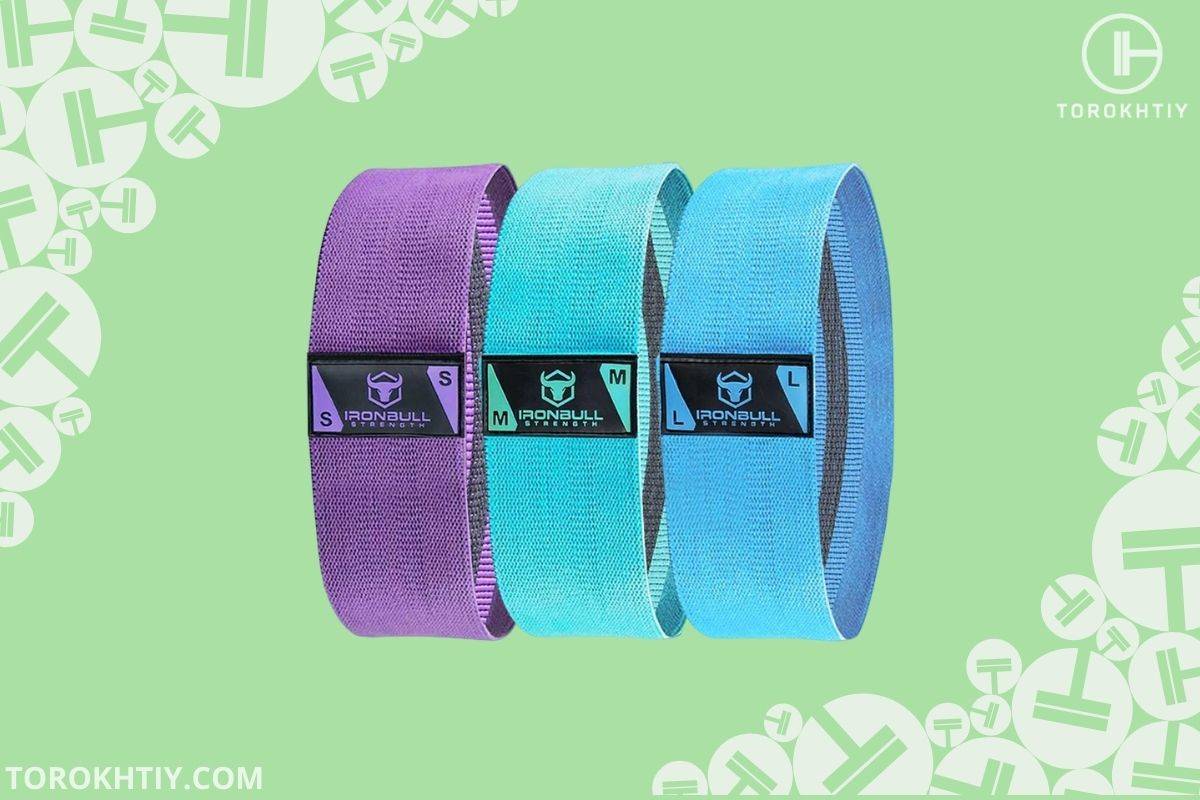 Iron Bull set out to create superb resistance bands suitable for anyone that doesn't like latex or rubber ones, and they absolutely succeeded. We'll take a short break from what most people picture when they hear the term "resistance bands" to focus on the fabric ones.
Best For: Strength training, flexibility
Resistance Levels: 3 levels, approximately 20-40 lbs
Length: 12'', 14'', 16''
Width: 3''
Material: Cotton/elastic blend
Color Palette: Purple, turquoise, Olympic blue
Attachments: N/A
Rubber bands rock, but they can be annoying. No matter how good they are, the rubber (or latex) can sometimes slide, shift or even pinch. They can make you focus more on the bands than on the workout, and nobody wants that.
Fabric bands take care of this issue because they stay in place. These have a slip-resistant inner layer that makes them stable and the only thing you need to concentrate on is your form. Forget about the band moving – it won't happen with any of these.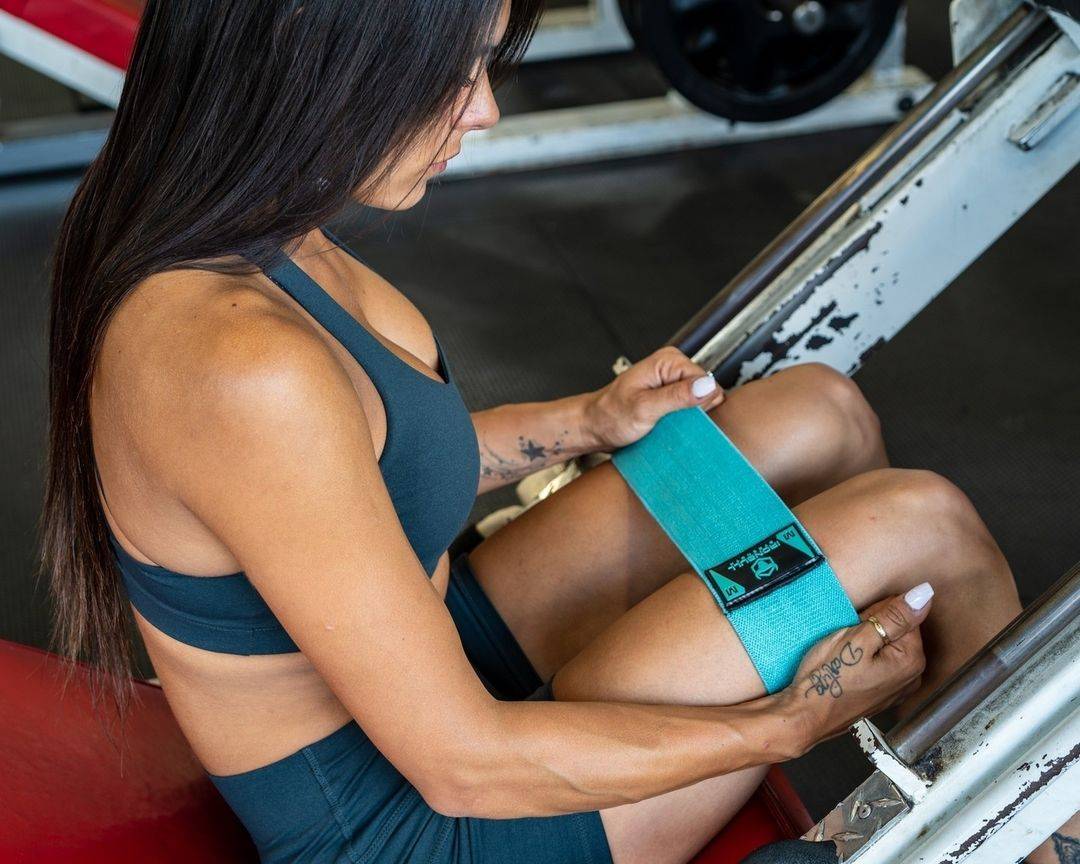 They're very smooth, and although they may look a bit rigid in the picture, the generous amount of elastane makes them very stretchy.

They come in 3 levels of resistance: Light (approx. 20 lbs), Medium (approx. 30 lbs), Heavy(approx. 40 lbs). You can buy them individually or in a pack of three bands. 3 levels of resistance might not offer enough versatility for everyone. Because of the lack of versatility, it may be a deal breaker for some. But if 3 levels are enough for you and you have your heart set on some fabric bands, you won't find any better than these.
Iron Bull Strength has successfully created premium fabric resistance bands that eliminate the common annoyances of latex or rubber bands, offering a slip-resistant inner layer for stability and smoothness.
Pricey for a set of only 3 bands
What Are Resistance Bands?
In short – elastic exercise bands are made to add resistance to your workouts. They are popular because they are extremely versatile and can be used by people of all fitness levels, for a lot of different kinds of exercises.
They're usually made from latex or rubber, but there are also fabric resistance bands on the market. Resistance bands come in a lot of colors, lengths, widths, and resistance levels, which makes them very effective; almost anyone can find a pair of resistance bands to suit them perfectly.
While they became popular as workout equipment, their uses go beyond that, and they're frequently used as part of physical therapy and rehabilitation.
Unlike weights, a resistance band creates resistance as you stretch it. This type of resistance will challenge your muscles all throughout the movement and engage all phases (both concentric and eccentric).
Since they mimic real-life movements, they're perfect for functional training. This is because they engage in stabilizing muscles/joints that traditional weightlifting may not activate. You can also include them in bodyweight workouts and target specific muscle groups.
Our expert Zinaida Bondarenko emphatically advised:
"Use a resistance band of light elasticity to stabilize the joints. During the exercises, fix the bands in three positions:
1. Opposite the joint
2. Above the joint
3. Below the joint.
This will help to engage as many muscles as possible and gradually increase the range of motion of the joint."
One of the best things about them is their size and weight – they can fit just about anywhere and they're very lightweight. Unlike a lot of other bulky gym equipment, resistance bands are easily portable, and once you're done with them, you can just tuck them in a drawer or a bag pocket and forget they're there because they won't take up a lot of space.
With them being so versatile, it makes sense to have many different types of resistance bands; each with their own advantages.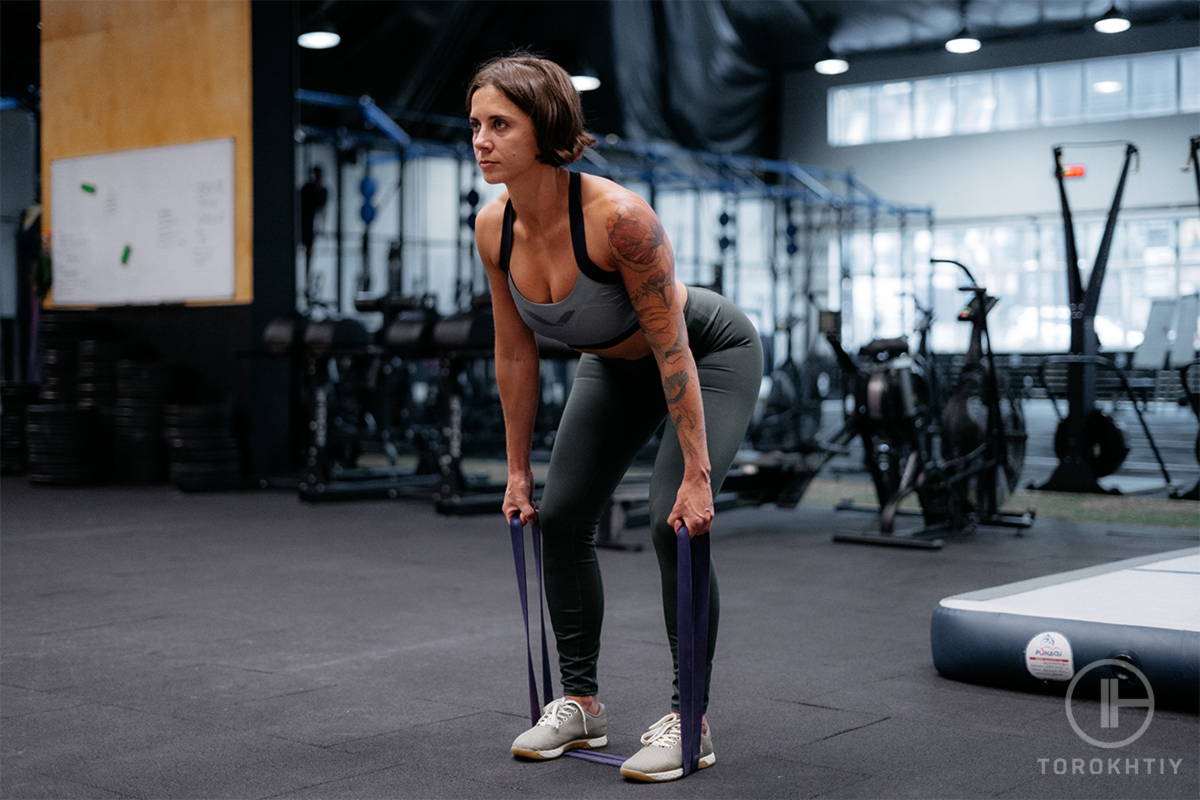 5 Types of Resistance Bands
Resistance bands come in all kinds of sizes, colors, shapes, and forms. But apart from diversity, there is actually a different and specific purpose to these bands, depending on what you might be looking for.
Here are the five most common types of resistance bands.
These are also known as circular bands, and they're mostly used for lower-body workouts. They're compact, versatile, and formed in a looped shape. Mostly, they're used for lunges, squats, and leg lifts. If you want to activate your glutes, hips, or thighs, these would be perfect for that.
Even though they are primarily used for lower-body workouts, these can also be used for shoulder raises and bicep curls.
2. Mini Bands (Rubber and Fabric)
Mini bands are compact resistance bands. They share the same loop design as regular loop bands. They differ from loop bands in their size (generally around 9-12 inches when laid flat), and applications. Unlike loop bands, mini bands are more commonly used for lower body exercises (e.g., glutes, thighs, hips). They can be used for upper body exercises as well.
Mini bands are very popular for rehabilitation and mobility exercises, as well. Mini bands come in two main types in terms of materials used: rubber (latex) and fabric. Rubber mini bands are more elastic/stretchy, while fabric (sometimes called cloth, or fabric) mini bands are more comfortable on the skin and provide more stability during workouts. Fabric mini bands also tend to be more durable.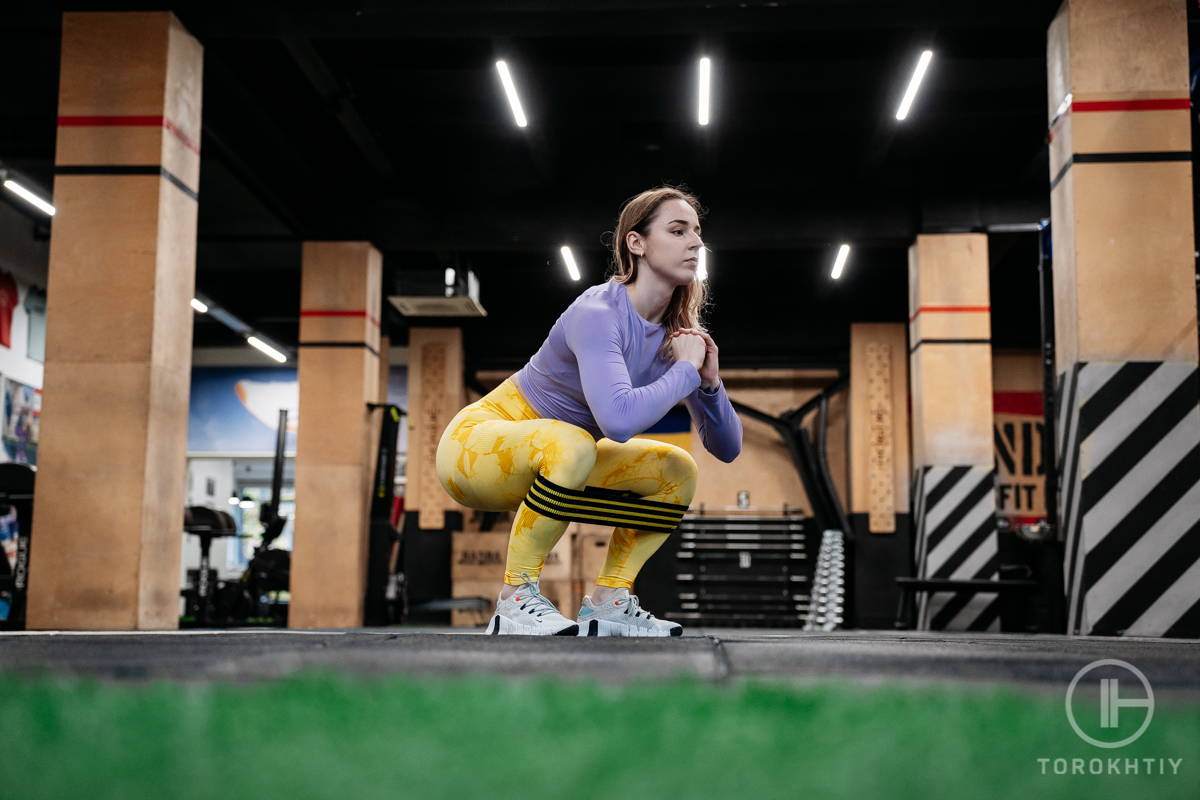 3. Tube Bands With Handles
They consist of a flexible tube with handles attached to the ends. Comfort-wise, the handles are a great addition because they make the bands grippy and comfortable to hold. But they also add a lot of versatility to your workouts because they'll enable you to perform movements similar to those you would do with dumbbells and cables.
There are a lot of resistance levels available with tube bands and they can be used for full-body workouts (chest presses, rows, tricep extensions, etc.).
Flat bands are long and have no handles or loops. Like the other types, they can be used for a lot of different workouts, but where they really shine are mobility training, stretching, and physical therapy. They're also good as part of a dynamic warm-up routine.
Resistance bands can be used to target muscles from various angles, and if you want resistance from multiple directions, then figure eights would be a good fit for you. They can also help with improving stability and are mostly used for lateral leg movements, arm, and core workouts.
There are a few more types of resistance bands that we will mention. These aren't yet as popular, common, or widespread in use as the ones listed above: fit loop bands, lateral resistance bands, and ring resistance bands (O-ring). The reason they aren't that often used is because of their specialized design and niche purpose, where most of the above-mentioned resistance bands you can use in the same way.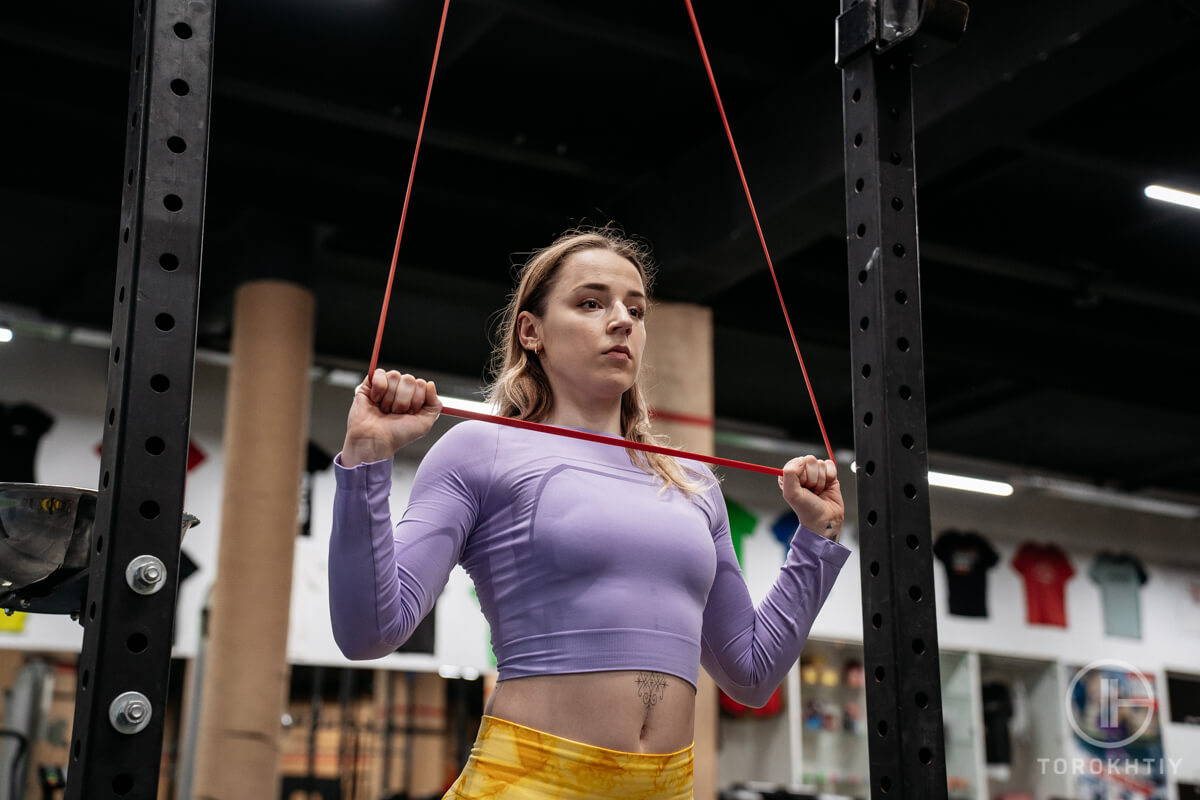 6 Benefits of Using Resistance Bands
It would take a really long time to list and explain all of their benefits, so we'll go over the most important ones.
Essentially, resistance bands are good for pretty much anyone and everything and there's little to no chance that including them in your workout routine will do anything other than benefit you. Of course, there's no such thing as perfection and they may not work for everyone, but issues usually arise from people not being used to them or not knowing how to use them correctly. A lot of bands will come with an instruction manual or even E-guides so if you see it offered, take advantage of it before you give up on them.
Our expert Ernesto Mendez explained:
"Think of resistance bands as the unsung heroes of the fitness world! They might look like simple tools, but they're anything but. If you include them into your own training program, you're doing yourself a great favor! Make them part of your warm-ups, the main workouts, hell even those nifty accessory exercises. It'll do wonders for your muscle activation and strength." — Ernesto further added — "But hey, not everyone is thinking about muscles. And that's fine. In that case, use bands to shield yourself from future injuries!" — When asked about how important bands are for his workout routine, he said — "What do you mean? They're irreplaceable! It doesn't matter if I travel, or do unscheduled training sessions. The bands are always there and ready to go. Plus, bands are perfect if you're trying to sneak a spotlight toward those smaller muscles that dumbbells often neglect. Incredibly versatile."
If you push through the possibly awkward beginning, you'll see that resistance bands will take your workouts (and results) to the next level.
Isn't it amazing how one tiny piece of equipment can contribute so much to your workouts? Anyone can use them, regardless of their fitness level, and for a lot of different exercises – strength training, flexibility, mobility, and even rehabilitation.
They can help you create a well-rounded workout routine because you can target specific muscle groups with them. And you can even set up a resistance band home gym so you can enjoy your workouts without leaving the house.
You could use traditional weights, sure. But resistance bands will give you continuous tension throughout the entire range of motion, which means your muscles will be engaged more effectively. This will help you improve your muscles' strength and endurance.
Another category where resistance bands outshine the weights. As far as muscle development goes – resistance bands can build muscle just like weights can, but unlike weights, resistance bands create less impact on the joints. makes them suitable even for people who are dealing with joint issues.
✅ Engages Stabilizer Muscles
Stabilizer muscles are essential for maintaining balance and control during workouts, and resistance bands do a fantastic job of engaging them. This helps improve coordination.
The resistance increases as the bands are stretched, which makes it variable. This means that your muscles are challenged at different points throughout the movement, and it makes their development better.
Compared to the majority of other gym equipment, resistance bands are very affordable. They're a cost-effective way to add resistance to your workouts, without having your wallet take a hit.
Levels of Resistance Bands
We've already established that there are a lot of different types of power bands, which contributes to how versatile they are. But the main thing that makes them so fantastic for so many people and exercises is their resistance - there are quite a few levels of it.
Resistance is the thing that can completely transform your workouts and help you break through those nasty plateaus.
One thing you should keep in mind is that you need to start with resistance that corresponds to your fitness level. If you rush and choose a band with too much resistance, you can possibly cause injuries, but the best-case scenario is that you'll end up wasting your time on an ineffective workout.
1. Extra Light to Light (Approximately 5-20 Lbs)
Not surprisingly, but these are ideal for beginners or people recovering from injuries. The resistance they offer is minimal and they are mostly used as rehab bands, for mobility training, stretching, and warming up.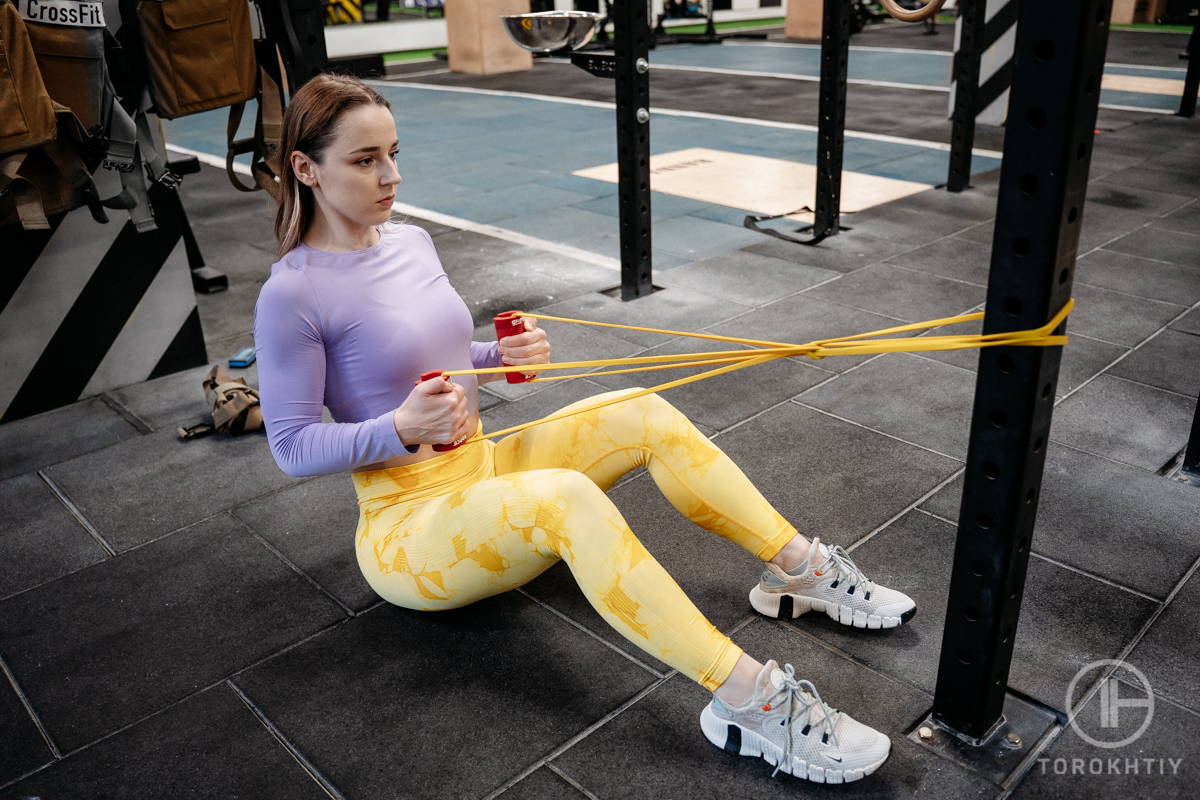 2. Light to Medium (Approximately 20-40 Lbs)
These offer a bit more resistance than the previous ones and they're good as an introduction to strength training. They're good for just about any type of workout – lower body, upper body, and core.
3. Medium to Heavy (Approximately 40-80 Lbs)
Now we're starting to get into some serious stuff. Medium to heavy resistance bands offer a substantial amount of resistance. They won't be useful for beginners, but if your level is around intermediate, they'd be good. They're excellent for building muscle strength and can be used for a wide range of workouts, including squats, rows, presses, and lunges.
4. Heavy (Approximately 80-120 Lbs)
Athletes are the ones usually using this type of resistance. Heavy duty resistance bands are good for building muscle mass and increasing overall strength. As far as workouts go, they're a perfect addition to deadlifts, weighted squats, and assisted pull-ups.
5. Super Heavy (Approximately 120+ Lbs)
Super heavy resistance bands are mostly used by experienced weightlifters who want to push themselves even further. These are definitely not for everyone, but if you want some advanced strength training, include some of these bands in it because they'll provide next-level muscle activation.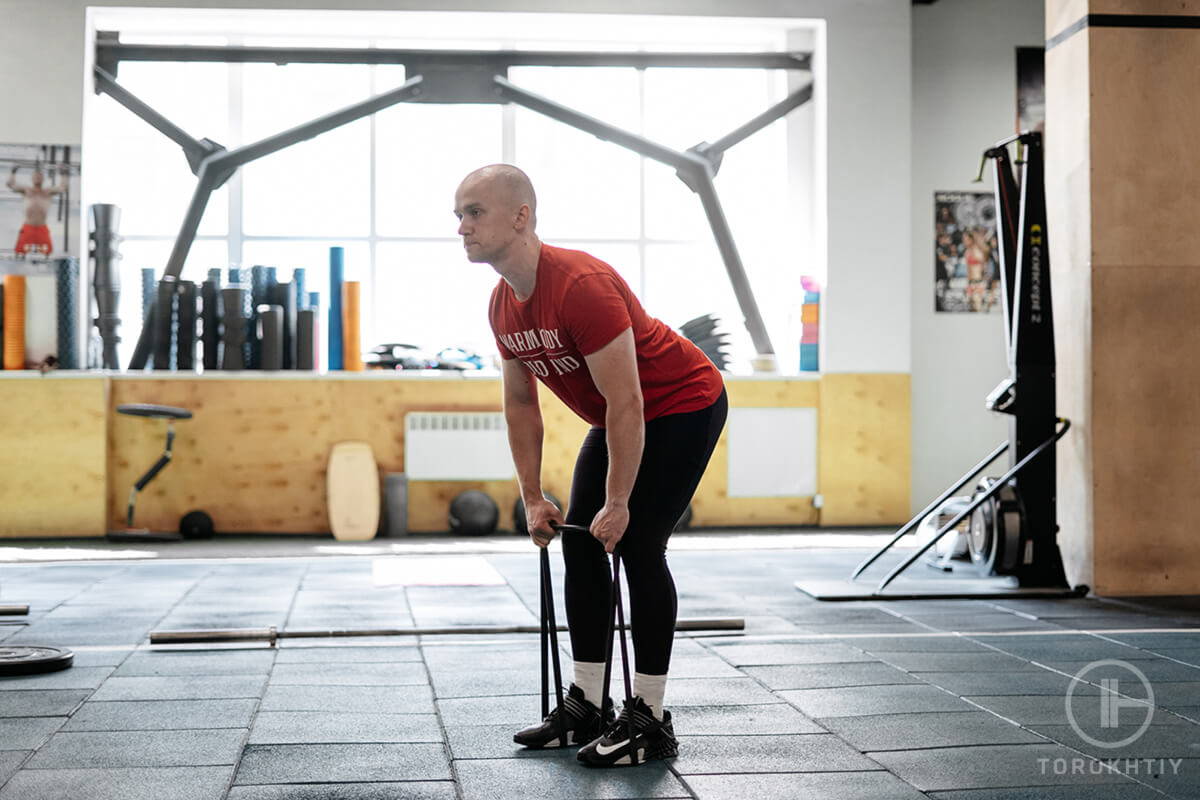 What to Look For in the Best Resistance Bands? 5 Things You Should Take Into Account?
If you're shopping for resistance bands and you aren't sure where to start then you'll find below a set of criteria ranked by importance, which you should pay attention to.
A no-brainer. This is what the resistance band is all about – resistance. A light level of resistance is the ideal place to start, but if you're not a beginner, choose a band according to your fitness level.
There's usually a choice of either natural latex or fabric. If you want to keep your bands in good shape and have them be functional for a long time, you need something durable. Natural latex and fabric will prevent any snapping or tearing during workouts, so pay attention to the material before you choose what to buy.

When using resistance bands, remember that they are all about providing resistance. If you're new to them, begin with a light level of resistance, but if you have more experience, choose bands that match your fitness level.
Additionally, consider getting versatile bands that can be used for both upper and lower body exercises, whether they're static or dynamic. While there are bands tailored for specific body parts, starting with versatile bands allows you to perform a wide range of workouts. As you progress, you can explore specialized bands for targeted exercises.
Olympic Weightlifting Champion
You should be able to use your bands for both your upper and lower body, static and dynamic exercises. There are bands designed to target a specific part of your body and, as you get more into this, you may even want to explore those. But for a start, get some versatile bands so you can use them for every type of workout you want to do.
As with any other piece of gym equipment, it's all about balance. Higher quality bands may cost quite a bit, but that doesn't mean you can't find some exceptional bands in a lower price range. A good way to determine what kind of value for money you're getting is to look for user reviews. Don't follow them blindly but take what other people are saying into account.
Our expert Ernesto Mendez passionately declared:
"When it comes to resistance bands, I'll never compromise on two things: low resistance, and top-notch quality. Resistance bands are a critical part of my workout, and I rely on them almost daily, to kickstart my workouts. You need to get that blood pumping somehow, without spending too much energy, right?" — he continued when asked about quality — "Quality? For me, that's a matter of safety. Just imagine a band snapping and recoiling at you mid-stretch, smacking you in your face! Not pleasant. I won't gamble with that. Why compromise, when there are so many options on the market? When I'm looking for resistance bands, I'll filter by quality(safety) and low resistance!"
You want bands that are either fabric or non-slip. Slipping is annoying and can ruin your workout. And it doesn't have to stop at just slipping – if your band moves or shifts, it can pinch you. Fabric bands are amazing at staying in place, but so are the latex ones with non-slip surfaces.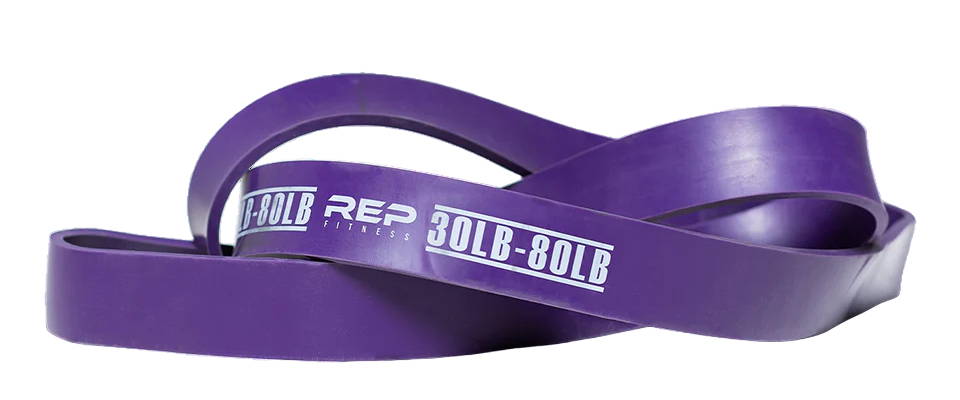 8 Tips How to Use Resistance Bands
By now, you know what to do with the bands... In theory. In practice, probably not so much. The good thing is, it's not rocket science and using bands is one of the simplest things you can do as far as fitness goes.
There are, of course, a few handy tips to help you start more confidently.
Warming up is important, regardless of what kind of equipment you choose to use. Light cardio and dynamic stretches are a good way to start any workout.
Before you actually start with your workout, you'll need to anchor your band. Make sure it's secured to a stable surface or object that can take the tension. Door anchors, sturdy furniture, resistance band hooks… All of this is a good choice and a good starting point for a safe workout.
This cannot be overstated. You want resistance to be appropriate for your workout and you want it to align with your fitness level. The correct level will provide resistance without compromising form.
You'll need to maintain proper form throughout the whole workout session. Engage your core and keep your back straight. Also, make sure to avoid momentum and focus on keeping your movements controlled.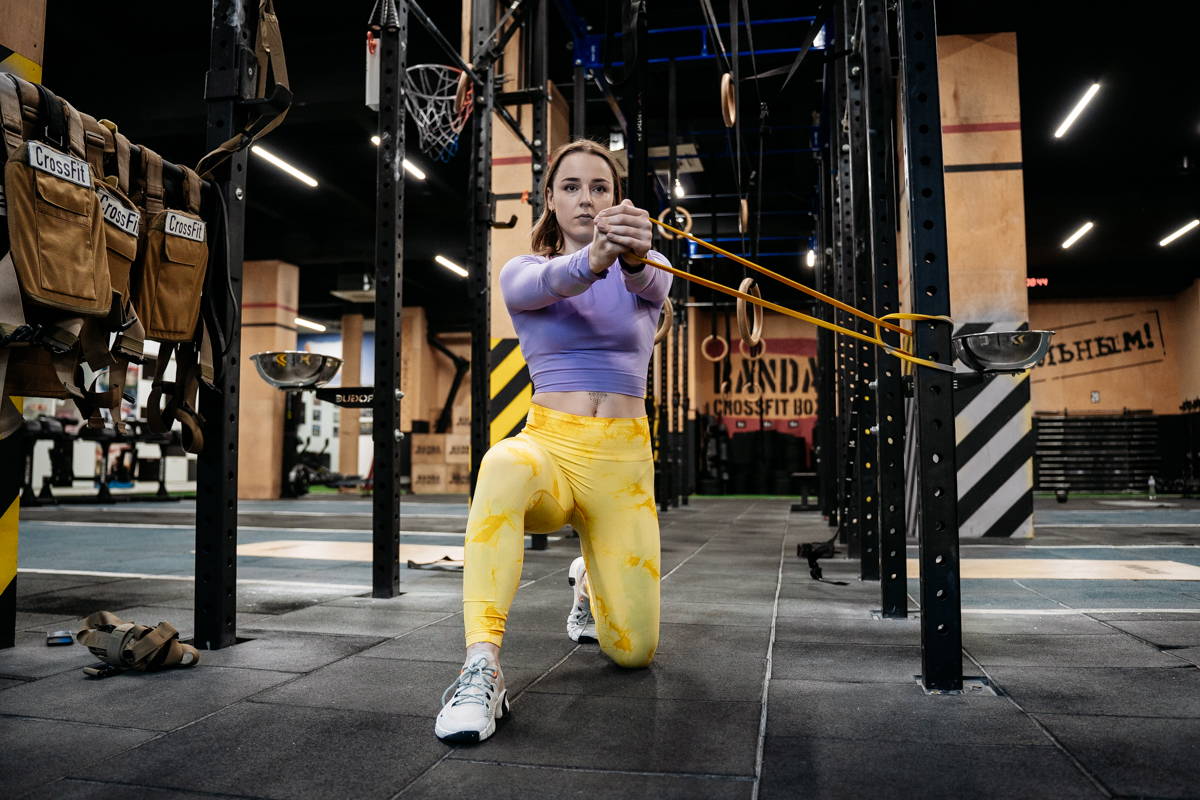 The workouts you do should be performed through a full range of motion. This is important because you want to fully engage the muscles.
Exhale during the exertion phase and inhale during the relaxation phase. Breathing is an important part of any workout, so keep it natural.
The tension needs to be on the band at all times. Don't let go of the band and don't slack – you want the resistance to be continuous. This, however, doesn't apply if you feel some major discomfort or pain. In that case, take a break and reposition the band.
A lot of people are anxious to progress and they'll decide to use a resistance band that's way above their comfort zone and level of fitness. But this is not something you want to do. Proceed as you would with traditional weight training – apply the principle of progressive overload and increase the resistance over time.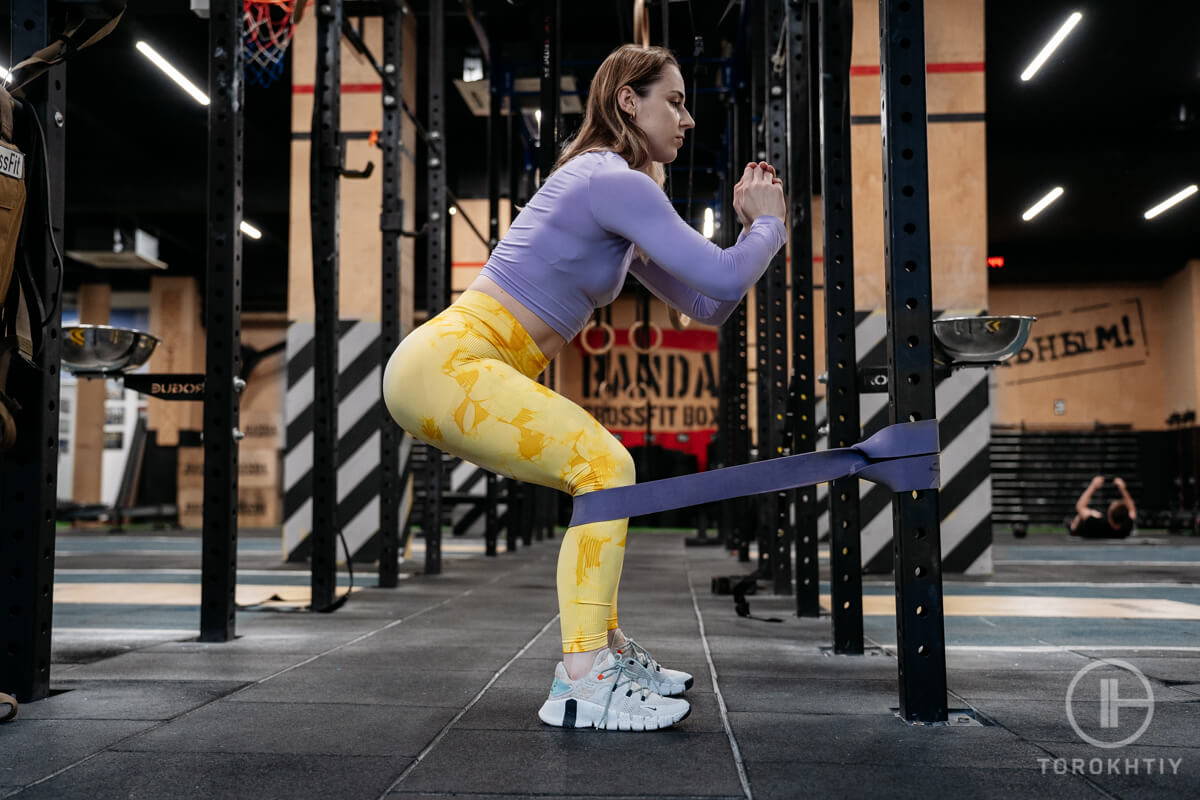 When Do You Need Resistance Bands: 5 Examples
Although it may be tempting, there's no point in using the bands with every single workout.
The most common type of workout to use resistance bands with is: strength training. Resistance bands will make the workout more challenging, and they will engage more muscle fibers. You can do squats, lunges, chest presses, bicep curls, or rows and add a band to up the intensity. It will create constant tension that will help you build strength and endurance.
Other than being used for strength training, resistance bands can also be used to assist with various exercises (e.g., chin-ups, pull-ups, dips, pistol squats). For instance, in a pull-up/chin-up, loop the band over the bar and place your knee or foot in the loop. This is going to be fantastic for beginners because it will help build upper-body strength.
3. Mobility/Stretching/Flexibility
Of course, we can't forget about mobility and stretching, but they can also improve your yoga or Pilates routines.
The core is another part of your body that can greatly benefit from resistance bands. Attach the band to a stable anchor and do some standing core twists or resisted leg raises. This way, you'll target your core from a lot of different angles.
Last but certainly not the least important is physical therapy. Physical therapists know all about the benefits resistance bands have and love to include them in rehabilitation. They can help with muscle imbalances, like stabilizing the knee joint or strengthening the rotator cuff.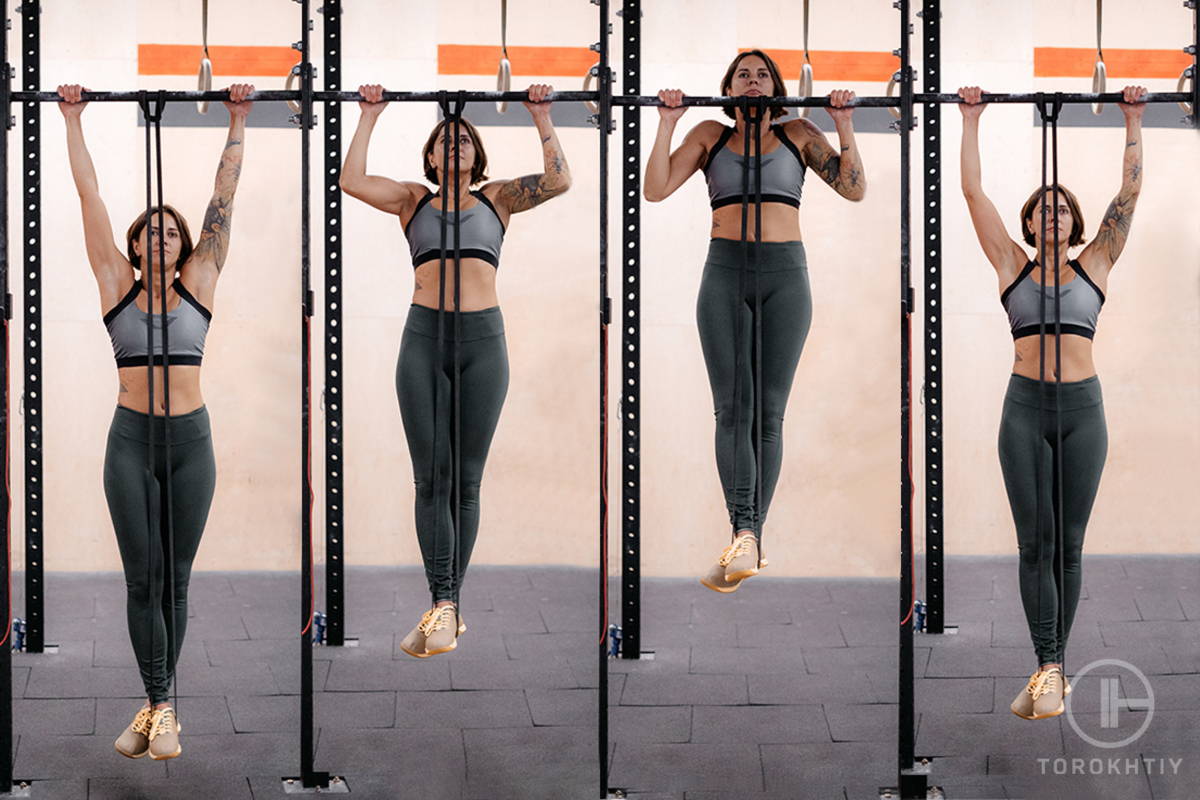 What Resistance Level Bands to Buy?
If you're a beginner, the resistance level you want is light to medium. However, even more advanced athletes might need light bands for certain exercises (rotator cuff, lateral leg raises), stretches, or mobility work. The resistance levels that you want to buy depend on the exercise and workouts that you want to use them for.
Do Fitness Resistance Bands Really Work?
Are Rubber Resistance Bands Better?
The choice is going to depend on your preferences. Rubber resistance bands give continuous tension, they're smooth and durable. But that doesn't mean that rubber exercise bands are better than the fabric resistance bands. Ultimately, it's up to you to decide what's better.
Is It Ok to Use Resistance Bands Everyday?
It can be okay to use them every day, especially for rehabilitation exercises or warm-ups. If you're using resistance bands for intense strength training, the most important thing is to listen to your body. Rest days are important, and it's vital you let your body recover from the workouts, or you can end up injured.
Do Cheap Resistance Bands Work?
If you want to get your bands at a really low price, prepare to use them mostly for light workouts because they're usually not very durable. If you want bands for advanced workouts, that will provide consistent resistance, consider investing in something more high-quality.
If you're still here, you're an absolute champ for going through this entire resistance bands review. And not only that, but you're now educated on everything related to resistance bands! If you're still deciding on what to get – the REP Pull-up bands are the way to go. Their durability and quality are unmatched, and they'll work for both beginners and professionals.
But what do you have to say? Do you use resistance bands? What results have you seen from them? What workouts are your favorites to use resistance bands with?
Leave your tips and opinions in the comments!
Experts Who Contributed To This Article

1) William D. Lassek, Steven J.C. Gaulin, "Costs and benefits of fat-free muscle mass in men: relationship to mating success, dietary requirements, and native immunity"; Science Direct, https://www.sciencedirect.com/science/article/abs/pii/S1090513809000397 (accessed 24 August, 2023).
2) Amrinder Singh, "Resistance Band Training: Effect on Physical Parameters"; Research Gate, https://www.researchgate.net/publication/ 350959326_Resistance_ Band_Training_Effect_on_ Physical_Parameters (accessed 18 August, 2023).
3) Dan Cooper, "Do resistance bands build muscle?"; Live Science, https://www.livescience.com/do-resistance-bands-build-muscle (accessed 18 August, 2023).
4) Steph Coelho, "What is dynamic stretching and how to do it"; Medical News Today, https://www.medicalnewstoday.com/articles/dynamic-stretching (accessed 18 August, 2023).
5) Sangeeta Sangwan, Rodney A Green, Nicholas F Taylor, "Characteristics of stabilizer muscles: a systematic review"; National Library of Medicine, https://pubmed.ncbi.nlm.nih.gov/25922556/ (accessed 18 August, 2023).
6) Rpilacho, "BMEG442: Engineering Exercise and Sports"; University of Delaware, https://sites.udel.edu/coe-engex/2017/04/09/breathe-in-breathe-out-breathing-during-exercise/ (accessed 18 August, 2023).
7) Venkat S.R., "What Are Muscle Imbalances?"; JumpStart by WebMD, https://www.webmd.com/fitness-exercise/what-are-muscle-imbalances (accessed 18 August, 2023).
8) Rachel C. Seguin, Alan C. Cudlip, Michael W. R. Holmes , "The Efficacy of Upper-Extremity Elastic Resistance Training on Shoulder Strength and Performance: A Systematic Review"; MDPI, https://www.mdpi.com/2075-4663/10/2/24 (accessed 18 August, 2023).
9) Young Ran Yeun, "Effectiveness of resistance exercise using elastic bands on flexibility and balance among the elderly people living in the community: A systematic review and meta-analysis"; Research Gate, https://www.researchgate.net/publication/ 319868771_Effectiveness_of_ resistance_exercise_using_elastic _bands_on_flexibility_and_balance_ among_the_elderly_people_living_ in_the_community_A_systematic_ review_and_meta-analysis (accessed 18 August, 2023).
With over 20 years in Olympic Weightlifting, our team does its best to provide the audience with ultimate support and meet the needs and requirements of advanced athletes and professional lifters, as well as people who strive to open new opportunities and develop their physical capabilities with us.
All products we select are primarily approved and tested by the Olympic Weightlifting Champion Oleksii Torokhtiy. Under his guidance, we provide honest and reasonable assessments of the products we review by checking their characteristics, packaging, design, comfort and durability features, and general product rating. We select products from only high-quality and trusted sports brands, thus vouching for their quality.
The product testing process is described in more detail here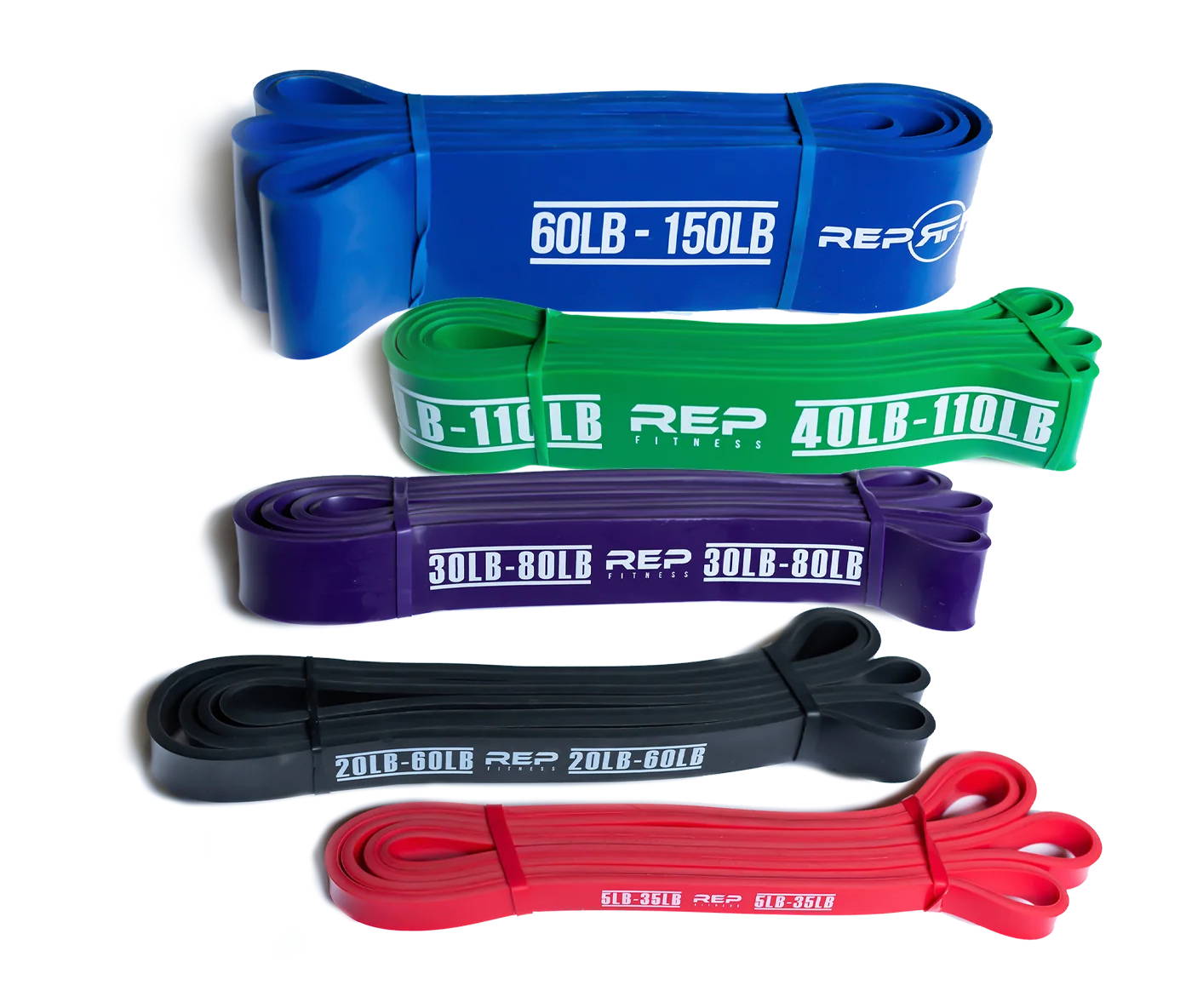 Coach, PRO Olympic Weightlifter
Experience: 26 years
Best Results: Snatch - 208 kg,
My name is Ihor and I have been a professional weightlifter since 1996. With over 20 years of competition experience, my resume includes European Champion in 2009 and the silver medalist at 2011's Senior World Championships – 105kg division.
I competed at the 2008, 2012 and 2016 Summer Olympics.
After hanging up my own competitive lifting shoes, I decided to share my huge background as a coach. I am currently coaching multiple athletes who are competing at national and international competitions.
Performance architect,
M.Sc.Eng. Biotechnology,
S&C movement specialist
With my 30 years fighting experience, specialization in nutrition coaching for athletes, expertise in metabolic health and dietary strategies, I bring a comprehensive approach to optimizing your performance and well-being. Backed by a master's of science degree in biotechnology, I stay at the forefront of scientific advancements, ensuring that my coaching is always evidence-based and up-to-date.
If you have any questions/suggestions/any other inquiry, you can reach out to us via email - reviews@torokhtiy.com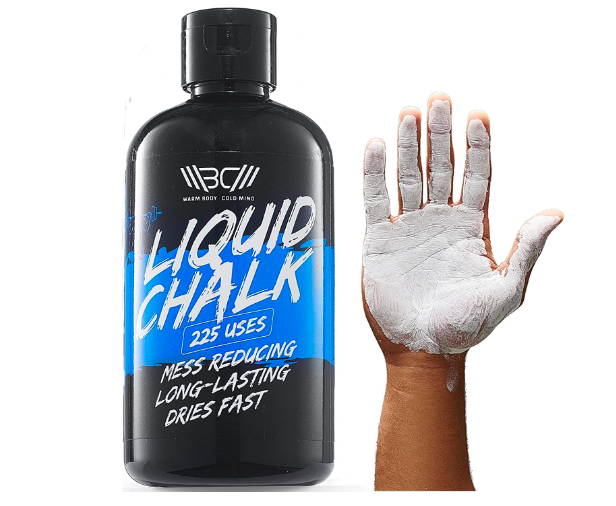 This article was written by our qualified author and proofread by an expert with proven experience. When writing the article we've used our expertise and data from authoritative, scientific, and evidence-based sources. The list of references is provided at the end of the article.
Our team of authors and experts includes professional athletes (Olympians, winners of European and World titles), PhDs in Sports Science, certified coaches, sports nutritionists, CSCSs, physiotherapists, and others. Read more about the team here, and more about how we test here.