Knee braces provide stability and support to the knee joint and surrounding structures, with new functional designs being developed. Whether you're looking for help with rehabilitation, better pain management, or performance improvements, knee braces can prove a vital aid.
We've picked the best knee braces that can be used for a range of functions and compared them below according to the factors we think are most important. We've provided detailed knee brace reviews and finished with a comprehensive buyer's guide to help you choose the right brace for your needs.
In a hurry and can't keep reading? How about you check out the EzyFit Knee Brace.
The EzyFit knee brace is our top choice for comfort and support, with dual velcro closures, non-slip silicone gel lines, reinforced stitching, an open patella design, and three size options.
Our team of certified nutritionists and professional athletes has reviewed 36 knee braces and narrowed it down to 9 best ones. Our evaluations were based on 8 key factors, and we've spent a total of 390 hours testing most of the products out and examining hundreds of online user reviews. Our list is updated regularly, so you're welcome to share your experiences in the comments section.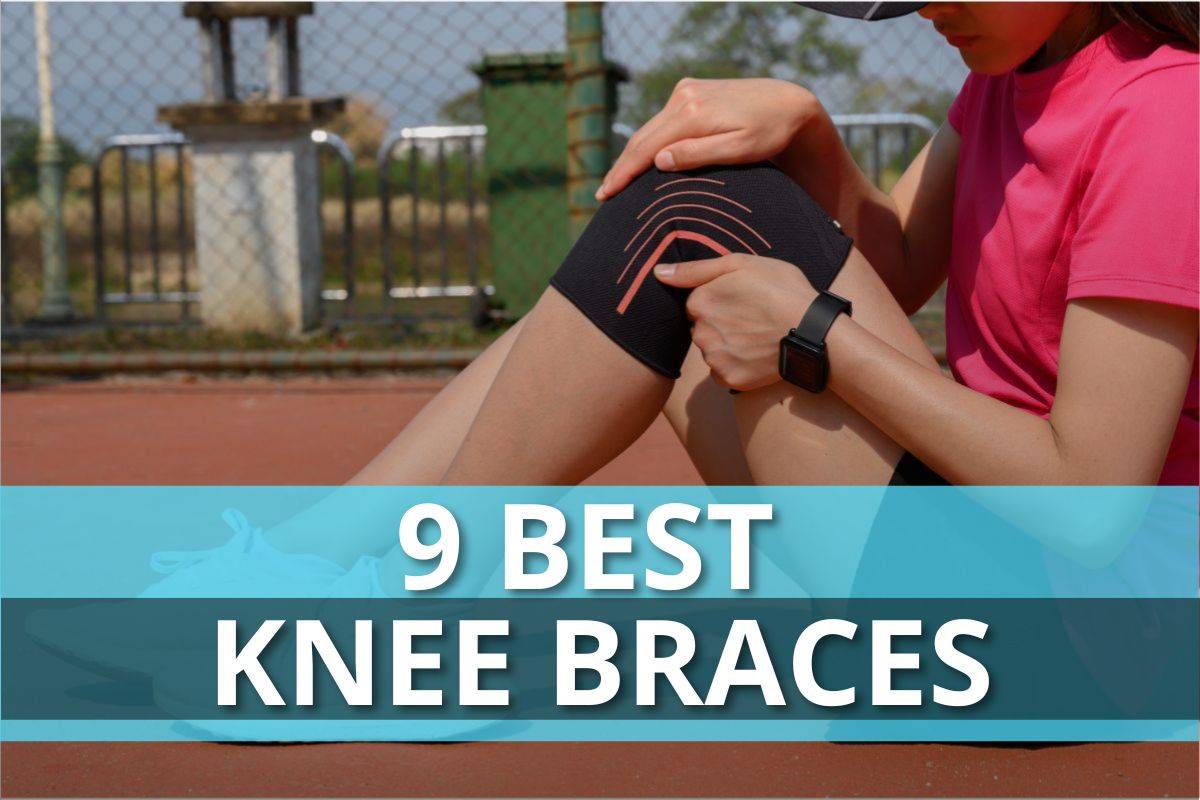 Top 9 Best Knee Braces Reviewed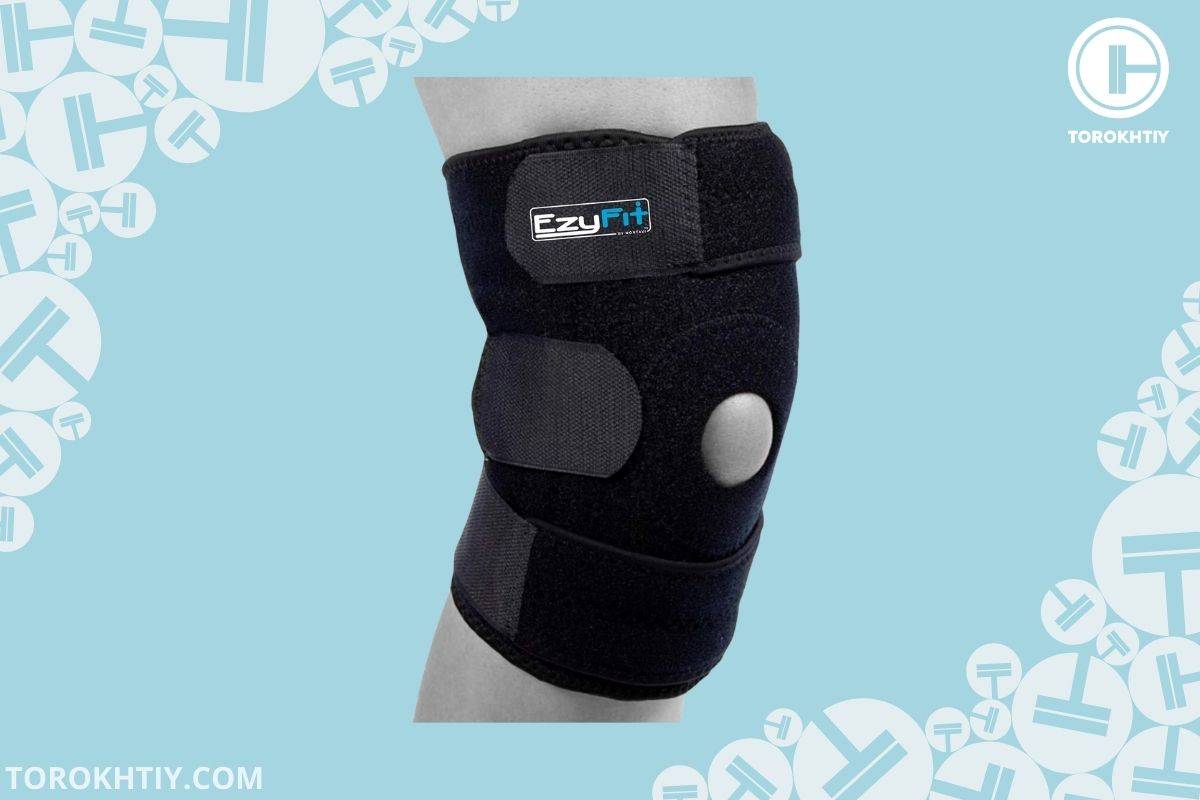 EzyFit provides a wide range of support aids, including knee braces and waist trainers. Their brand motto is "Be active the Ezy way" by using their quality sports support aids.
Item Dimensions: 9" L x 6.5" W (Product)

Item Weight: 5.6 lbs (Product)
Item Thickness: 3.5 mm
Sizing: Medium (10"-14"), Large (14"-17"), Extra Large (16"-24")
Material: Neoprene
Closure Type: Velcro strap
Best used for: ACL and MCL injuries, Meniscus tears, Arthritis, Pain relief, Tendonitis
Gel Cushioning: No
Additional Features: Open patella area, Anti-slip bidirectional strap system
The EzyFit knee brace provides three things: comfort, support, and versatility. It's our best knee brace pick for a few main reasons. Made from 3.5mm neoprene with a blend of polyester and nylon, it's super comfortable to wear with great flexibility and breathability. This makes it well-suited to sports and movements that require extra support without too much movement restriction.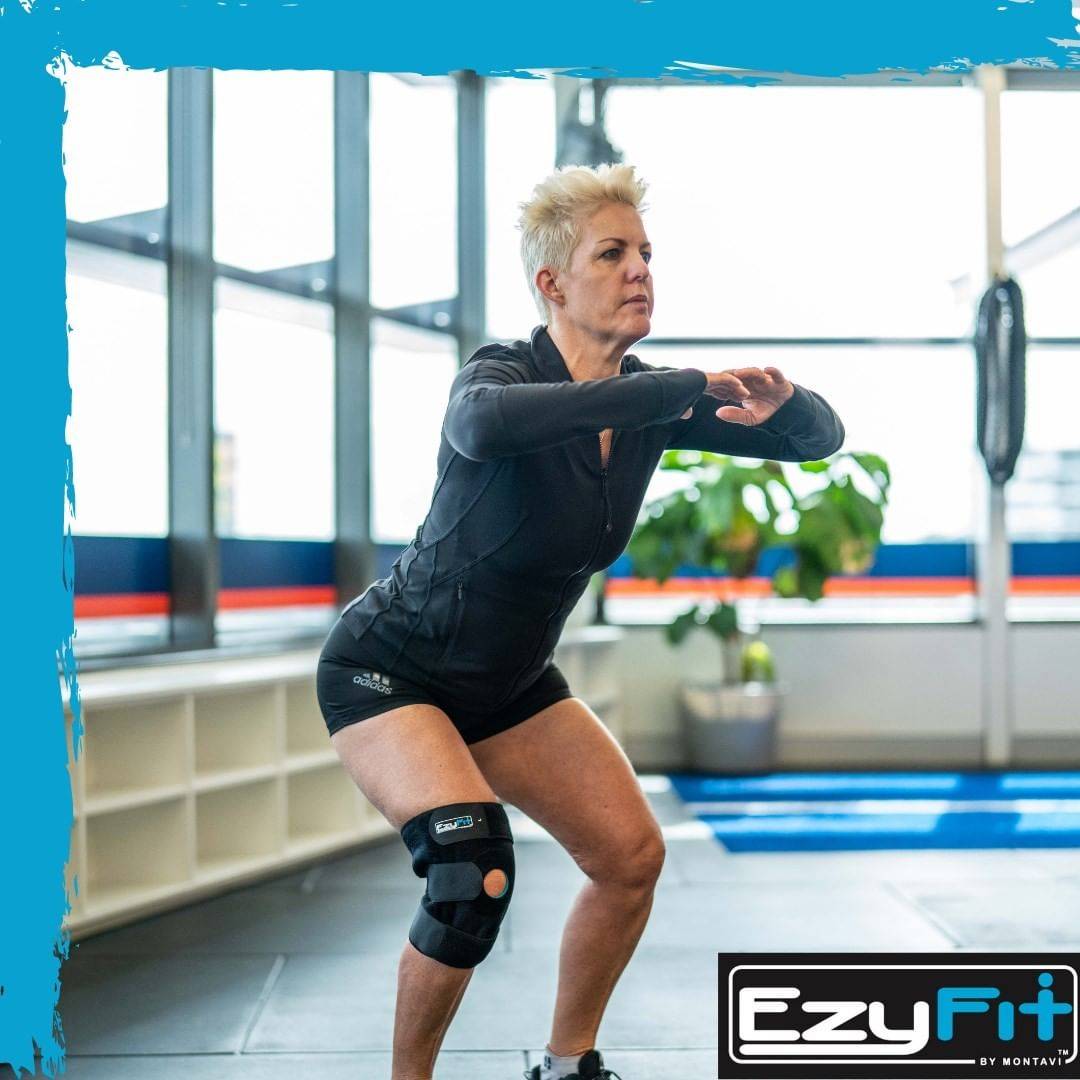 It combines two velcro closures with non-slip silicone gel lines that keep the brace from shifting up and down as you move. The reinforced double stitching adds durability with the double-stitched curved brace edges. A great thing about the EzyFit brace is the open patella design which provides full movement of the knee joint without taking away any support. Combined with the side stabilizers, the EzyFit brace provides good lateral and medial support when moving.

EzyFit offers three knee brace sizes from medium (10") to X-large (24"). While this should be enough for most user leg sizes, it's a smaller size range than most of our other knee braces offer, which is something to bear in mind when choosing the right size.
The EzyFit knee brace is a great wrap-and-go option to assist with recovery, work around common knee injuries, and provide general support without restricting movement. It's our best knee brace for sports and rehabilitation.
(Show More)
Neoprene material blend is comfortable to wear

Double velcro closures and silicone gel lines

Side stabilizers for lateral support
Smaller size range to choose from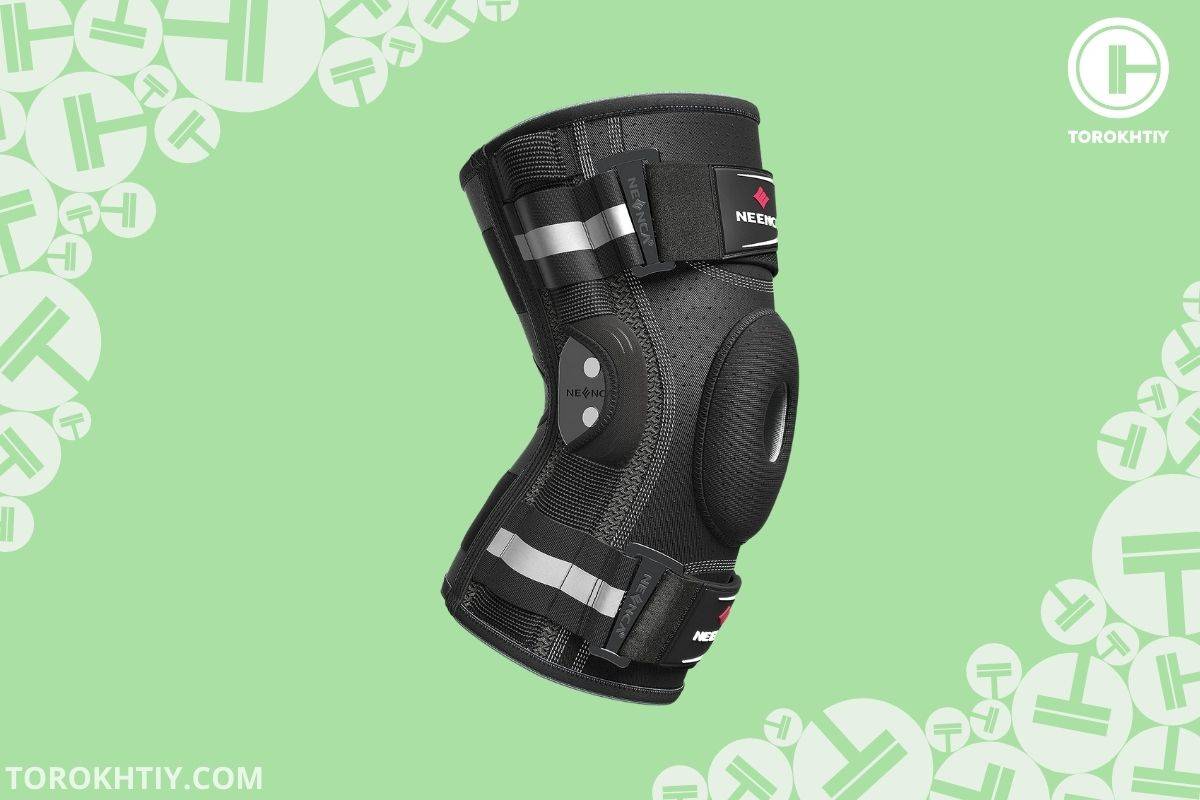 NEENCA provides high-quality, valuable support products that help with knee pain. Their product range has been designed and tested in America.
Item Dimensions: 12.3" L x 5.9" W (Package), Item Weight: 1.1 lbs (Package)
Sizing: Small (17.1"-18.5"), Medium (18.5"-19.7"), Large (19.7"-20.5"), X-large (20.5"-22.1"), XX-large (22.1"-22.8"), XXX-large (22.8"-24"), XXXX-large (24"-25.6")
Material: Polyester, Nylon
Closure Type: Adjustable velcro straps
Best used for: Knee pain, Surgery recovery, Sports injuries, ACL, MCL, PCL tears
Gel Cushioning: Yes
Additional Features: Open patella front and back design, Dual side hinged copper stabilizers, Ventilation holes, Memory foam lining
The NEENCA Professional Knee Brace is our runner-up knee brace, offering excellent support and adjustability with removable copper side stabilizers and adjustable velcro closure straps at the top and bottom.
In terms of knee support, the NEENCA brace features an anatomically contoured patella gel pad that surrounds and supports the knee cap. The copper side stabilizers provide lateral knee support by reducing pressure on the knee joint and can be removed if you're looking for more movement freedom. This makes the knee brace a great option to use throughout the rehabilitation process as your knee joint becomes stronger and requires less support.
The open patella front and back design helps to relieve pressure without taking support away from the joint itself. The knee brace features breathable holes throughout the fabric, allowing moisture to escape, with the inner memory foam lining responding to the shape and structure of your knee joint for a snug fit. To keep the brace secure, adjustable velcro straps sit at the top and bottom of the brace. NEENCA offers size options from small (17.1") to XXXX-large (25.6"), which should be suitable for all user leg sizes.
The NEENCA Professional Knee Brace is a fully adjustable knee brace with customizable knee support. It's our runner-up knee brace option coming a close second behind the more comfortable EzyFit knee brace.
(Show More)
Removable copper side stabilizers

Anatomically contoured supportive patella gel pad

Large adjustable velcro closure straps

Open patella front and back design

Excellent size range options from small to XXXX-large
The memory foam lining may be more prone to moisture build-up

No silicone rings to keep the brace from moving around
DR. BRACE ELITE provides lightweight, supportive knee products that offer stability and excellent customer satisfaction.
Type of a bag:

All-purpose



Item Dimensions: 8.7" L x 3.2" W (Package)
Item Weight: 0.55 lbs (Package)
Sizing: Small (10.2"-13.4"), Medium (13.4"-18.5"), Large (18.5"-21.5"), X-large (21.5"-23"), XX-large (23"-25")
Material: High-elastic fabric blend (Neoprene, Nylon, Polyester, Spandex, Silicone)
Closure Type: Velcro straps
Best used for: Patella injuries, Meniscus tears, Hypertension, Arthritis, Minor ligament damage
Gel Cushioning: Yes
Additional Features: Double side stabilizers, Anti-slip system, Breathable fabric
Dr. BRACE ELITE manufactures lightweight supportive knee braces, with the one we've reviewed below weighing just 0.55 pounds. This makes it a great option for activities such as walking where you need added knee support without feeling like the brace is weighing you down slightly as you move. It's our best knee brace for women or men who enjoy walking.
What we particularly like about this knee brace is the balance between comfort and support. It's made from a lightweight fabric blend consisting of neoprene, nylon, and polyester for comfort and breathability with spandex for some flexibility as you walk around. In terms of support, the patella gel pad around the open knee design and side stabilizers provide lateral and medial stability without taking away from movement.
To keep the brace secure as you move, DR. BRACE ELITE has designed it with non-slip silicone strips and large adjustable velcro straps at the top and bottom. Sizes range from small (10.2") to xx-large (25"), which should give you enough suitable options to choose from. A nice added touch is the seven color options, allowing you to pick your favorite or customize with your sporting outfit if you wish.
The DR. BRACE ELITE is comfortable, lightweight, and provides lateral and medial knee support. It sits firmly around the knee joint and comes in seven color options.
(Show More)
Lightweight design at 0.55 pounds

Neoprene fabric blend offers comfort and flexibility

Non-slip silicone strips and double velcro straps

Sever color options to choose from
The side stabilizers are fixed into the brace
Item Dimensions: 14.29" L x 7.76" W (Package)

Item Weight: 6.3 lbs (Package)
Sizing: X-small (10.2"-13.1"), Small (13.3"-15.7"), Medium (15.7"-17.7"), Large (17.7"-19.3"), X-large (19.3"-21.3"), XX-large (21.3"-22.8"), XXX-large (22.8"-25.6")
Material: Silicone, Neoprene
Closure Type: Pull on
Best used for: Muscle strains, ACL, MCL, PCL injuries, Ligament injuries, Meniscus tears, Swelling and inflammation
Gel Cushioning: Yes
Additional Features: Metal spring stabilizers, Horizontal knit technology, Medical anti-slip silicone strips
The NEENCA Compression sleeve works by applying targeted compression to your knee joint to improve circulation and reduce pain. It's made from air-knit neoprene fabric that uses horizontal knit technology to keep heat in whilst allowing your skin to breathe.
It uses a pull-on design with medical anti-slip strips built-in to the inner lining. On both sides of the sleeve, the metal spring stabilizers are stitched in to provide lateral support and move alongside the sleeve fabric. At the front, the sleeve features a closed knee cap design, with an anatomically contoured patella gel pad to provide medial support.
NEENCA offers the sleeves in sizes from small (10.2") to XXX-large (25.6"). They also give you 11 color options and offer free features if you're not 100% satisfied with your purchase.
The NEENCA compression sleeve offers functional support and performance improvements with cleverly stitched medial and lateral support. It sits nicely against the skin without shifting during activity.
(Show More)
Non-slip medical strips incorporated into the lining

The side stabilizer springs are stitched into the fabric to respond to movement

The horizontal knit fabric provides compression whilst letting sweat escape

11 color choices to pick from

Excellent range of sleeve sizes
The addition of adjustable straps may be useful for overall fit and comfort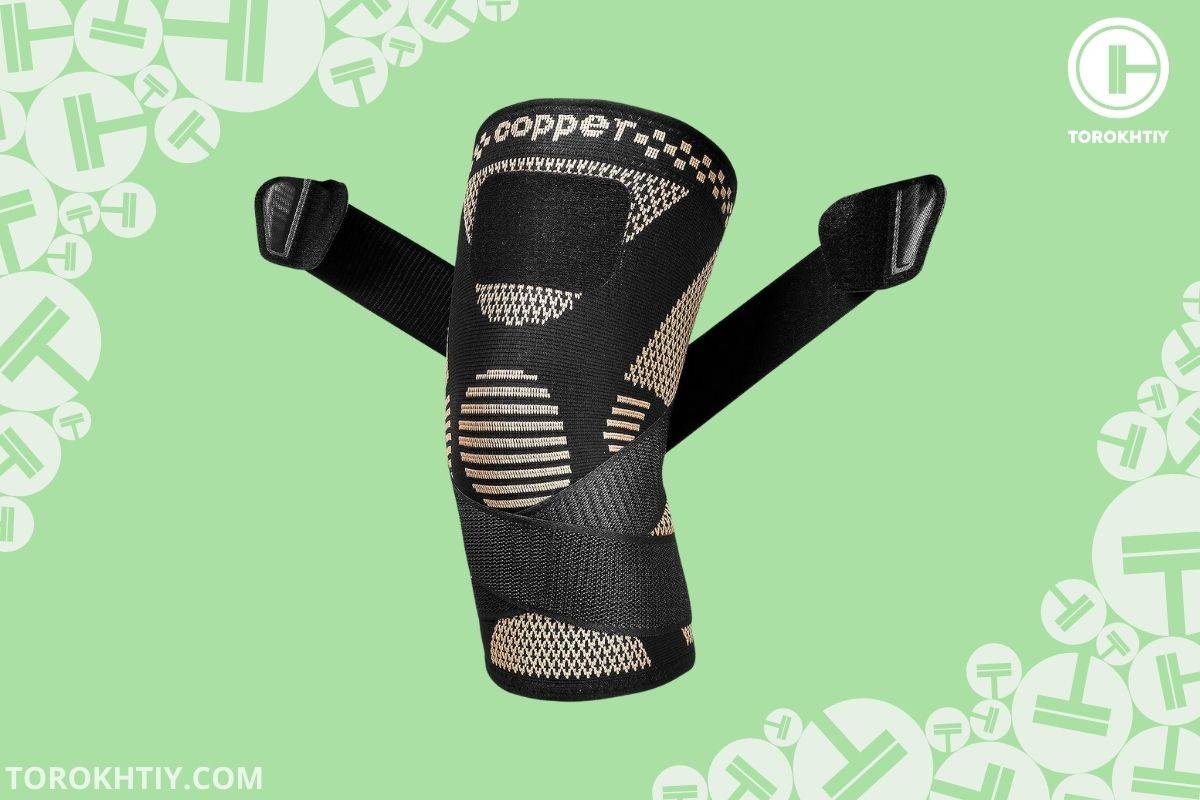 Jiufentian offers a decent range of copper-infused knee braces that provide support and compression for different activities.
Item Dimensions: 13.82" L x 9.76" W (Package)

Item Weight: 5.3 lbs (Package)
Sizing: Small (13"-14.1"), Medium (14.1"-15.5"), Large (15.5"-17"), X-large (17"-18.3"), XX-large (18.3"-20"), XXX-large (20"-22.5"), XXXX-large (22.5"-24"), XXXXX-large (24"-27.5")
Material: Copper infused nylon
Closure Type: Pullover + adjustable Velcro strap
Best used for: Compression support, Arthritis, Ligament support, Muscle swelling and inflammation
Gel Cushioning: No
Additional Features: Copper infused material, Non-slip silicone grip, 3D weaving technology
The JIUFENTIAN offers an alternative sleeve choice for working out, using a unique copper-infused nylon blend to provide support and compression. Unlike the NEENCA sleeve, this one comes with an adjustable Velcro strap allowing you to customize the fit slightly more and improve the likelihood of the sleeve staying in place.
One thing that could be improved is the lack of patella gel padding to provide medical support around the knee joint. This isn't necessarily always needed depending on the support you're looking for but it's something to bear in mind when choosing.
Both ends of the sleeves feature non-slip silicone grip material that helps to limit sleeve movement when used alongside the adjustable strap. The armpit fabric used is both breathable and comfortable, allowing moisture to escape when exercising.
JUIFENTIAN offers a huge size range from small (13") to 5XL (27,5"), which would seem to be very large if you don't read the size guide. The stated sizes are quite small, meaning you may need one size up compared to other knee sleeve brands.
Overall, the JUIFENTIAN knee sleeve is another great option for working out, providing compression and comfort by using a copper-infused nylon blend with an adjustable strap support.
(Show More)
Copper-infused nylon for comfort and compression

Silicone grip helps the sleeve stay in place

Adjustable velcro strap provides added support

Breathable armpit fabric allows moisture to escape
No patella gel pad for medial support

No color options to choose from
Do Knee Braces Really Work?
Yes, definitely! Knee braces work by providing support, stability, and compression to the knee joint and surrounding areas. However, it's important to choose the right knee brace for your injury to get the intended effect.
Is a Knee Strap or Knee Brace Better?
A knee strap is designed to help with patellofemoral pain and mild aches under the knee whilst braces deal with more severe pain where more support is needed. In terms of which one is better, both work well but should be used for different injuries. The better option depends on the injury as discussed above.
Is It Okay to Wear a Knee Brace Everyday?
The correct amount of usage depends on the severity of the injury and daily lifestyle habits. Some knee braces may need to be worn all the time and tapered down as the injury improves, while others may be used for certain situations such as sporting events and high-impact exercise as a workout knee brace.
Note that it's important to consult with your doctor to develop a suitable treatment plan.
Knee braces provide support and stability to the knee joint as a rehabilitation aid, pain management tool, and performance enhancer. Different types feature varying levels of support and movement freedom which informs their most suitable uses.
The EzyFit Knee Brace is our top pick option, providing multifunctional knee support for a range of knee injuries and sporting events. It's comfortable to wear, easy to use, and provides decent lateral support when needed.
Before using a suitable knee brace, consult a healthcare professional and physiotherapist to make the best decision. Bear in mind that the use of a knee brace shouldn't replace a proper rehabilitation plan and should be used alongside as an aid.
Have you worn a knee brace before? What type have you used and why? Share your experiences below!
1. Bernard P. Kemker 3rd, Roma Kankaria, Nirav Patel, Gregory Golladay, "Hip And Knee Bracing: Categorization, Treatment Algorithm, And Systematic Review," JJAAOS Global Research & Reviews 5, no. 6 (2021):e20.00181-12, doi:10.5435/JAAOSGlobal-D-20-00181
2. Bhaveen H. Kapadia, Jeffrey J. Cherian, Roland Starr, Morad Chughtai, Michael A. Mont, Stephen F. Harwin, Anil Bhave, "Gait Using Pneumatic Brace For End-Stage Knee Osteoarthritis," The Journal of Knee Surgery 29, no.3 (2016): 218-223, doi:10.1055/s-0036-1579790
3. Blake M. Bodendorfer, Nicolas R. Arnold, Henry T. Shu, Emily V. Leary, James L. Cook, Aaron D. Gray, Trent M. Guess, Seth L Sherman, "Do Neoprene Sleeves And Prophylactic Knee Braces Affect Neuromuscular Control And Cutting Agility?" Physical Therapy in Sport 39, (2019): 23-31. doi:10.1016/j.ptsp.2019.05.007
4. Chetan Gohal, Ajaykumar Shanmugaraj, Patrick Tate, Nolan S. Horner, Asheesh Bedi, Anthony Adili, Moin Kahn, "Effectiveness of Valgus Offloading Knee Braces in the Treatment of Medial Compartment Knee Osteoarthritis: A Systematic Review," Sports Health 10, no. 6 (2010): 500-514, doi:10.1177/1941738118763913
5. Christopher M. Powers, Samuel R. Ward, Li D. Chan, Yu J. Chen, Michael R. Terk, "The Effect of Bracing on Patella Alignment and Patellofemoral Joint Contact Area," Medicine and Science in Sports and Exercise 36, no. 7 (2004): 1226-1232, doi:10.1249/01.mss.0000132376.50984.27
6. D. Giotis, N. K. Paschos, F. Zampeli, E. Pappas, G. Mitsionis, A. D. Georgoulis, "Bracing Can Partially Limit Tibial Rotation During Stressful Activities After Anterior Crucial Ligament Reconstruction with a Hamstring Graft," Orthopedics and Traumatology: Surgery and Research 102, no. 5 (2016): 601-606, doi:10.1016/j.otsr.2016.04.005
7. Eun H. Choi, Keon K. Kim, Ah Y. Jun, Eun H. Choi, Sung W. Choi, Ka Y. Shin, "Effects of the Off-Loading Brace on the Activation of Femoral Muscles – A Preliminary Study," Annals of Rehabilitation Medicine 35, no.6 (2011): 887-896, doi:10.5535/arm.2011.35.6.887
8. Francesco M. Uboldi, Paola Ferrua, Daniele Tradati, Pietro Zedde, Jim Richards, Andrea Manunta, Massimo Berutto, "Use of an Elastomeric Knee Brace in Patellofemoral Pain Syndrome: Short-Term Results," Joints 6, no.2 (2018): 85-89, doi:10.1055/s-0038-1661339
9. Jacobo Zamporri, Arnel Aguinaldo, "The Effects Of A Compression Garment On Lower Body Kinematics And Kinetics During A Drop Vertical Jump In Female Collegiate Athletes," Orthopedic Journal of Sports Medicine 6, no.8 (2018), doi:10.1177/2325967118789955
10. Jim Hewlett, John Kenney, "Innovations in Functional and Rehabilitative Knee Bracing," Annals of Translational Medicine 7, suppl 7 (2013): S248, doi:10.21037/atm.2019.03.34
11. Hjortur F. Hjartarson, Soren Toksvig-Larsen, "The Clinical Effect of an Unloader Brace on Patients with Osteoarthritis of the Knee, a Randomized Placebo Controlled Trial with One Year Follow Up," BMC Musculoskeletal Disorders 19, no. 1 (2018), doi:10.1186/s12891-018-2256-7
12. Huda Alfatafta, David Onchonga, Mahmoud Alfatafta, Lu Zhang, Imre Boncz, Szimonetta Lohner, Balint Molics, "Effect of Using Knee Valgus Brace on Pain and Activity Level Over Different Time Intervals among Patients with Medial Knee OA: Systematic Review," BMC Musculoskeletal Disorders 22, no.1 (2021): 687, doi:10.1186/s12891-021-04513-0
13. Laura C. Dickerson, Alexander T. Peebles, Joseph T. Moskal, Thomas K. Miller, Robin M. Queen, "Physical Performance Improves With Time and a Functional Knee Brace in Athletes After ACL Reconstruction," Orthopedic Journal of Sports Medicine 8, no.8 (2020), doi:10.1177/2325967120944255
14. Lucie Brosseau, K A. Yonge, Vivian Welsh, S Marchand, Maria Judd, George A. Wells, Peter Tugwell, "Thermotherapy For Treatment Of Osteoarthritis," Cochrane Database System Review 2003, no.4 (2003). doi:10.1002/14651858.CD004522
15. Nadatul A. Sharif, Siew-li Goh, Juliana Usman, Wan Kamarul Wan Safwani, "Biomechanical and functional efficacy of knee sleeves: A literature review," Physical Therapy in Sport 28 (2017): 44-52, doi:10.1016/j.ptsp.2017.05.001
16. Patrick W. Cawley, Paul E. France, Lonnie E. Paulos, "Comparison of Rehabilitative Knee Braces. A Biomechanical Investigation," American Journal of Sports Medicine 17, no. 2 (1989): 141-146, doi:10.1177/036354658901700201
17. Richard Ma, Chirag Sheth, Blake Fenkell, Abdul F. Buyuk, "The Role of Bracing in ACL Injuries: The Current Evidentiary State of Play," Journal of Knee Surgery 35, no. 3 (2022): 255-265, doi:10.1055/s-0042-1742304
18. Scott A. Paluska, Douglas B. McKeag, "Knee Braces: Current Evidence and Clinical Recommendations for Their Use," American Family Physician 61, no. 2 (2000): 411-424, PMID: 10670507
19. Scott W. Cheatham, Russel T. Baker, Thomas E. Abdenour, "Kinesiology Tape: A Descriptive Survey of Healthcare Professionals in the United States," International Journal of Sports and Physical Therapy 16, no.3 (2021): 778-796. doi:10.26603/001c.22136
20. Stephan P. Hacker, Florian Schall, Frank Niemeyer, Nicolas Wol , Anita Ignatius, Lutz Dürselen, "Do Prophylactic Knee Braces Protect the Knee Against Impacts or Tibial Moments? An In Vitro Multisensory Study," Orthopedic Journal of Sports Medicine 6, no.11 (2018), doi:10.1177/2325967118805399
21. Soheil Najibi, John P. Albright, "The Use of Knee Braces, Part 1: Prophylactic Knee Braces in Contact Sports," American Journal of Sports Medicine 33, no.4 (2005): 602-611, doi:10.1177/0363546505275128
22. Tariq A. Kwaees, Jim Richards, Gill Rawlinson, Charalambos P. Charalambous, Ambreen Chohan, "Can the Use of Proprioceptive Knee Braces Have Implications in the Management of Osteoarthritic Knees: An Exploratory Study," Prosthetics and Orthotics International 43, no. 2 (2019): 140-147, doi:10.1177/0309364618796852
23. Thierry P. C. Franke, Frank J. G Backx, Bionka M. A. Huisstede, "Lower Extremity Compression Garments Use By Athletes: Why, How Often, And Perceived Benefit," BMC Sports Science, Medicine and Rehabilitation 13, no.1 (2021), doi:10.1186/s13102-020-00230-8
24. Tyler Welch, Thomas Keller, Ruben Maldonado, Melodie Metzger, Karen Mohr, Ronald Kvitne, "The Effect of a Dynamic PCL Brace on Patellofemoral Compartment Pressures in Pcl-And Pcl/Plc-Deficient Knees," Journal of Experimental Orthopedics 4, no.1 (2017), doi:10.1186/s40634-017-0085-5
With over 20 years in Olympic Weightlifting, our team does its best to provide the audience with ultimate support and meet the needs and requirements of advanced athletes and professional lifters, as well as people who strive to open new opportunities and develop their physical capabilities with us.
All products we select are primarily approved and tested by the Olympic Weightlifting Champion Oleksii Torokhtiy. Under his guidance, we provide honest and reasonable assessments of the products we review by checking their characteristics, packaging, design, comfort and durability features, and general product rating. We select products from only high-quality and trusted sports brands, thus vouching for their quality.
The product testing process is described in more detail here
Coach, PRO Olympic Weightlifter
Experience: 26 years
Best Results: Snatch - 208 kg,
C&J - 240 kg
My name is Ihor and I have been a professional weightlifter since 1996. With over 20 years of competition experience, my resume includes European Champion in 2009 and the silver medalist at 2011's Senior World Championships – 105kg division.
I competed at the 2008, 2012 and 2016 Summer Olympics.
After hanging up my own competitive lifting shoes, I decided to share my huge background as a coach. I am currently coaching multiple athletes who are competing at national and international competitions.
If you have any questions/suggestions/any other inquiry, you can reach out to us via email - reviews@torokhtiy.com
Olympic Weightlifting Champion
Experience: 21 years
Best Results: Snatch – 200 kg,
C&J - 240 kg
My name is Oleksiy Torokhtiy. I am a professional athlete with 20 years of experience in Olympic weightlifting. I have won multiple European, and World titles and have taken part in two Olympic Games (Beijing 2008, London 2012).
After finishing my career, I have committed myself to coach, and as of 2022, I've hosted 200+ weightlifting seminars all over the globe. I'm the founder of an international sportswear and accessories brand, Warm Body Cold Mind (my motto), author, and creator of a series of training programs and eBooks.
If you have any questions/suggestions/any other inquiry, you can reach out to us via email - reviews@torokhtiy.com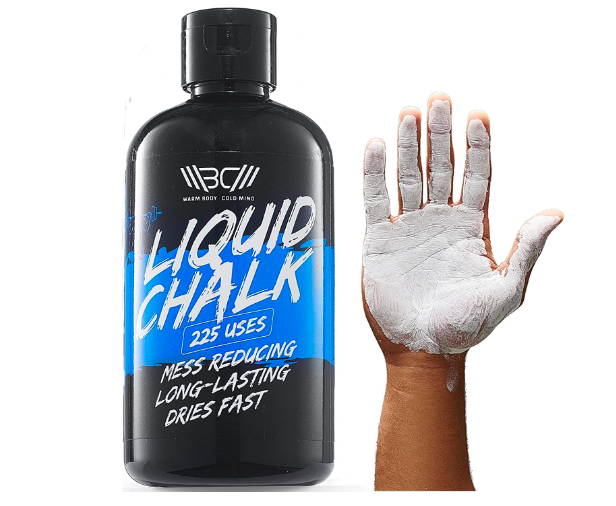 This article was written by our qualified author and proofread by an expert with proven experience. When writing the article we've used our expertise and data from authoritative, scientific, and evidence-based sources. The list of references is provided at the end of the article.
Our team of authors and experts includes professional athletes (Olympians, winners of European and World titles), PhDs in Sports Science, certified coaches, sports nutritionists, CSCSs, physiotherapists, and others. Read more about the team here, and more about how we test here.