Do you want to arrange your home gym with an exercise bike, but have limited space for exercising? Today, that isn't a problem due to compact and lightweight training tools that will save quite a lot of space in your room. Get the best folding exercise bike by observing the list of the most decent pieces of equipment that we could find. Choose a perfect model and get low-impact cardio training that will improve your general performance and tone up your body.
In a hurry and can't keep reading? How about you check out the ProForm X-bike Elite Exercise Bike.
The ProForm X-bike Elite Exercise Bike offers Bluetooth compatibility with the iFit app, providing access to trainer-led classes, while its LCD monitor and pulse sensors on the handles enable tracking of various workout performance metrics.
Top 10 Folding Exercise Bikes Reviewed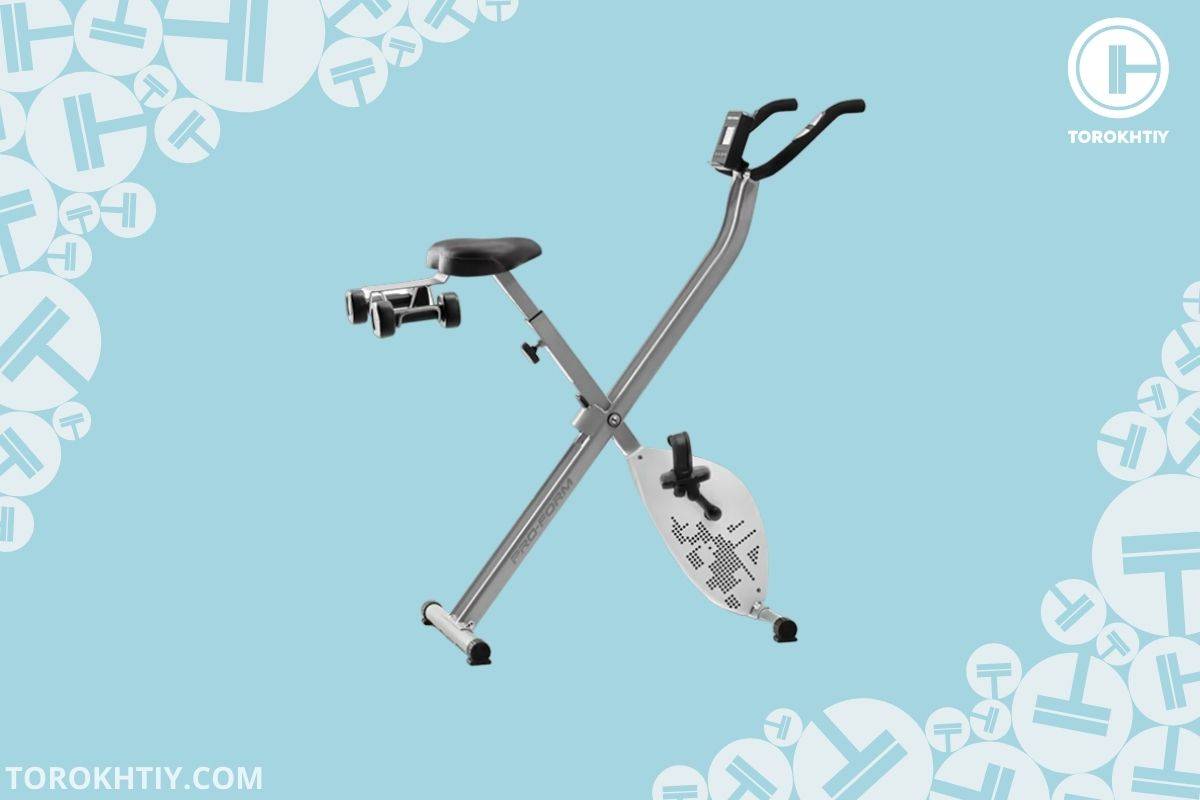 Dimensions: 37" L x 17" W x 42" H

Adjustable height: Min / Max: no information
Display: LCD display
Resistance mechanism: magnetic
Product weight: 43 lb
Assembly: required
Maximum weight capacity: 250 lb
Special feature: 2 lb dumbbells included, SpaceSaver design
Warranty: 1 year for the frame, 90 days for parts
Let's review our best foldable exercise bike, the ProForm X-Bike Elite.
It's compatible with Bluetooth and the iFit application which has a 30-day free trial period. You'll enjoy one-of-a-kind training classes led by certified trainers. With the help of an LCD monitor, you'll be able to track your performance stats like distance, time, pulse, speed, and calories. Additionally, there are pulse sensors on the handles to know your heart rate during the workout.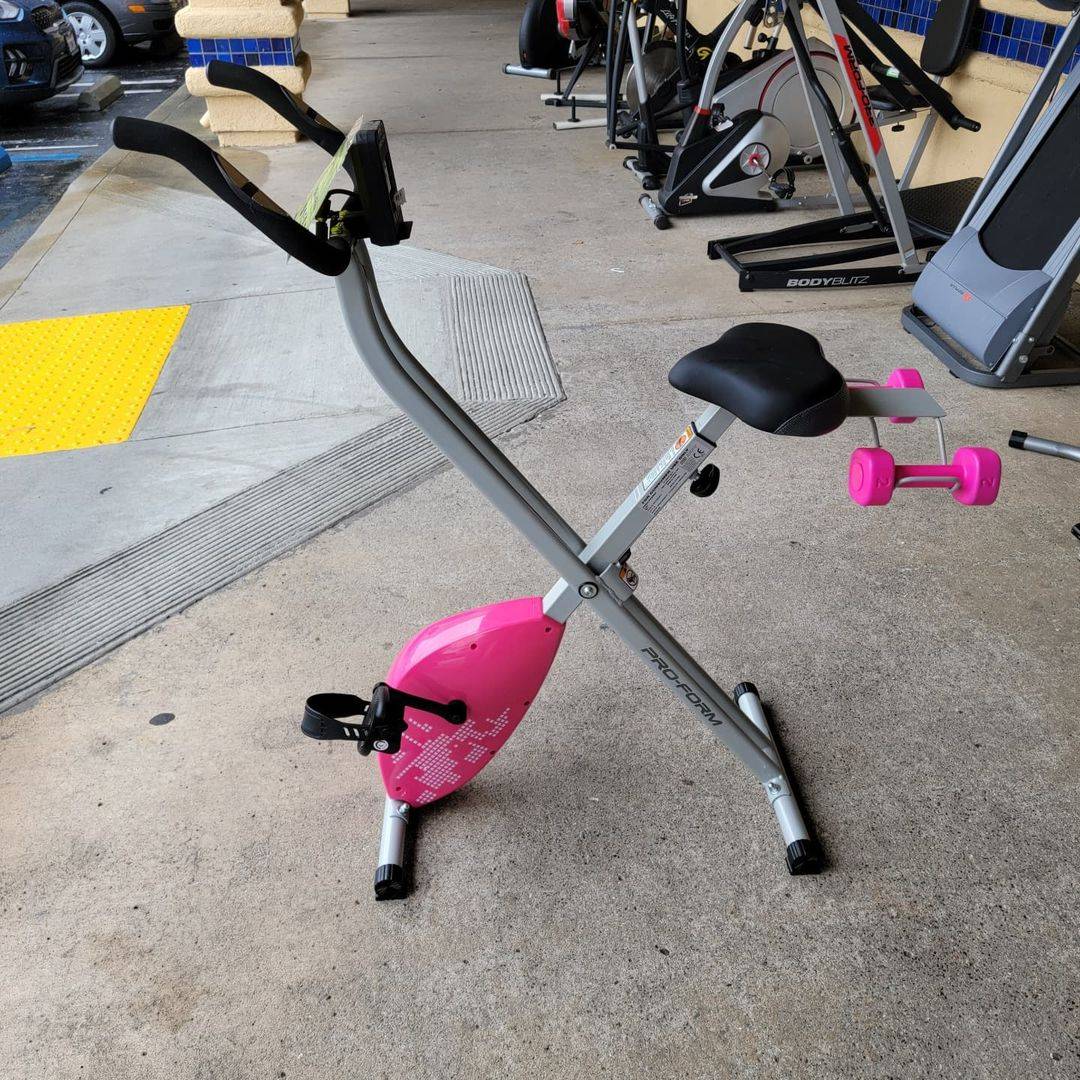 The bike vouches for smooth and steady pedal stroke due to the inertia-enhanced flywheel. It comes with 10 levels of magnetic resistance you can adjust throughout the ride to challenge yourself.

It's possible to change the seat position up and down to fit users of different heights. The pedals with straps fix your feet securely during fast rides.
The ProForm X-bike Elite Exercise Bike features Bluetooth connectivity with the iFit app, an LCD monitor for performance tracking, 10 levels of magnetic resistance, and adjustable seat and secure pedal straps.
(Show More)
Two 2lb dumbbells included in the package

Is a good option for less experienced athletes
Limited adjustment settings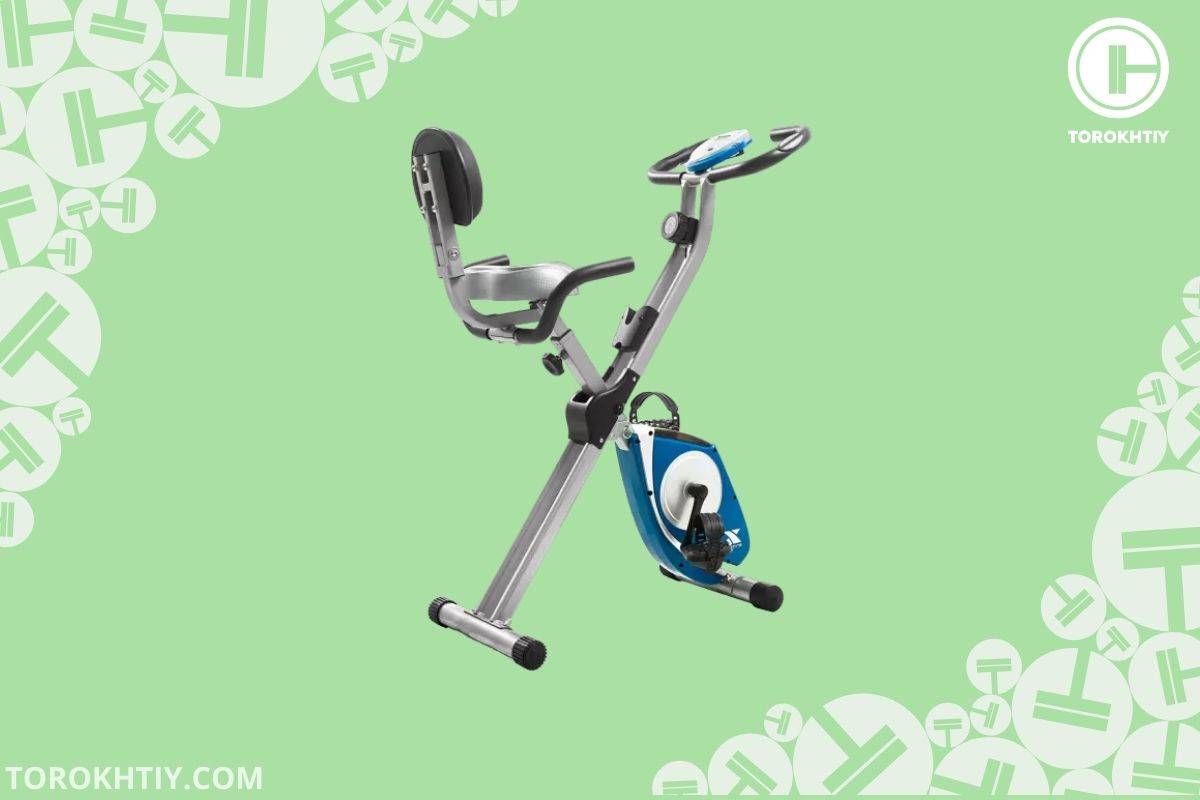 Dimensions: 21" L x 40.5" W x 48" H (folded: 20.5" L x 20" W x 50.5" H)

Adjustable height: Min 4'10" / Max: 5'10
Display: 2" x 1" LCD display
Resistance mechanism: magnetic
Product weight: 42.3 lb
Assembly: required
Maximum weight capacity: 225 lb
Special feature: pulse sensors on the handles
Warranty: 1 year for the frame, 90 days for brakes, 90 days for parts
XTERRA exercise bike comes with solid X-frame construction with thick durable steel tubes. It comes with an 8-level magnetic resistance you can regulate with the help of the dial located under the display. It's designed with a 3.3 lb flywheel with a noise-free belt drive system.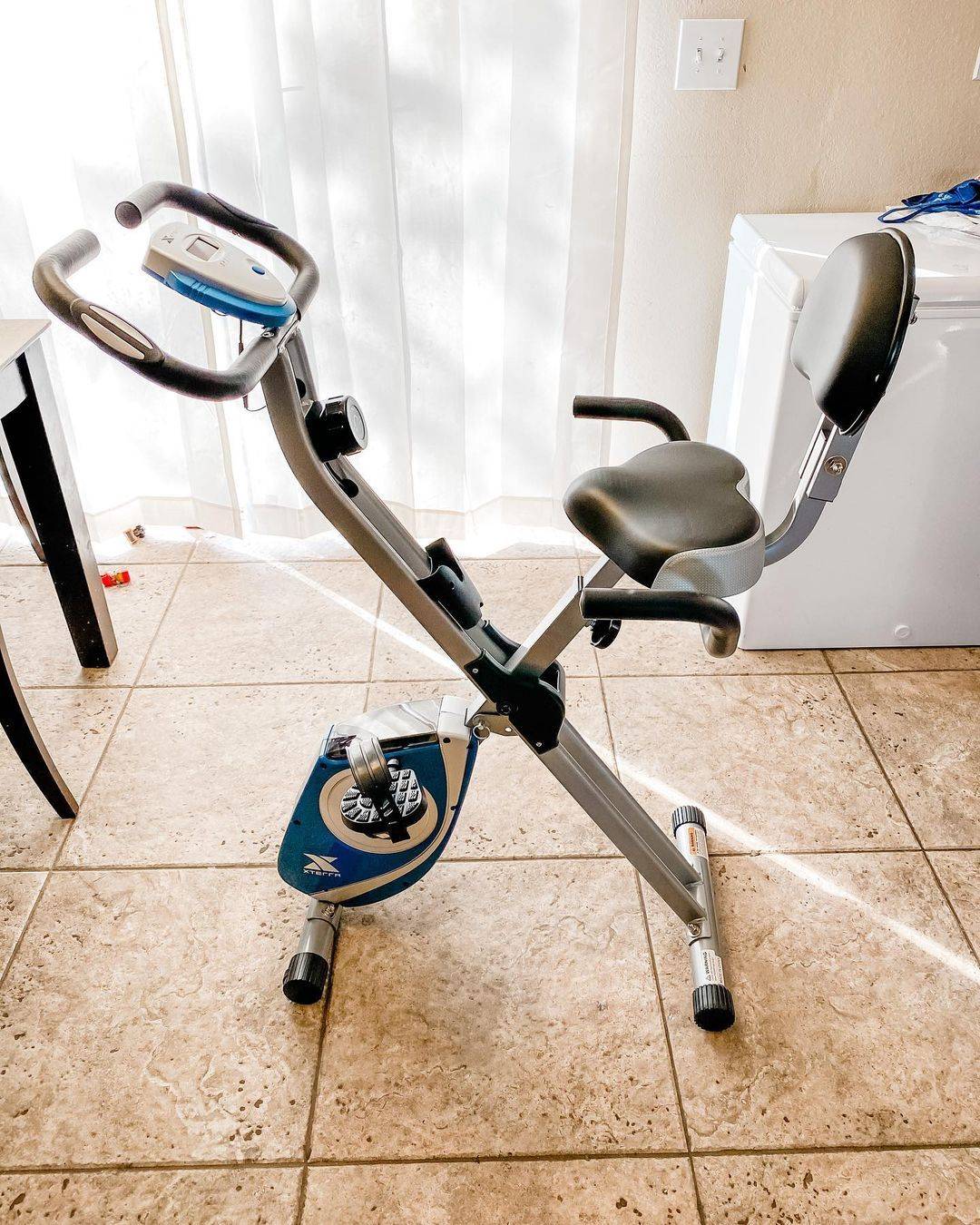 This fold up exercise bike has an LCD monitor displaying all important performance metrics like speed, time, distance, calories, and heart rate monitor. By the way, you can track your pulse with the help of hand pulse sensors on the handlebars.

The training machine can be easily folded, transported with the help of transport wheels, and stored when not in use. You can change your hand grip position: place your hands in the upright or recumbent position. Also, you can adjust the seat position to fit your height.
The XTERRA Folding Exercise Bike boasts a durable X-frame, 8-level magnetic resistance, a quiet belt drive system, an LCD monitor, hand pulse sensors, and adjustable seat and grip positions for convenient storage and customization.
(Show More)
Incredibly silent operation

Sturdy construction even without placing a carpet under the bike

Compact, doesn't require much space
Not a perfect fit for tall users

The heart rate monitor is not very accurate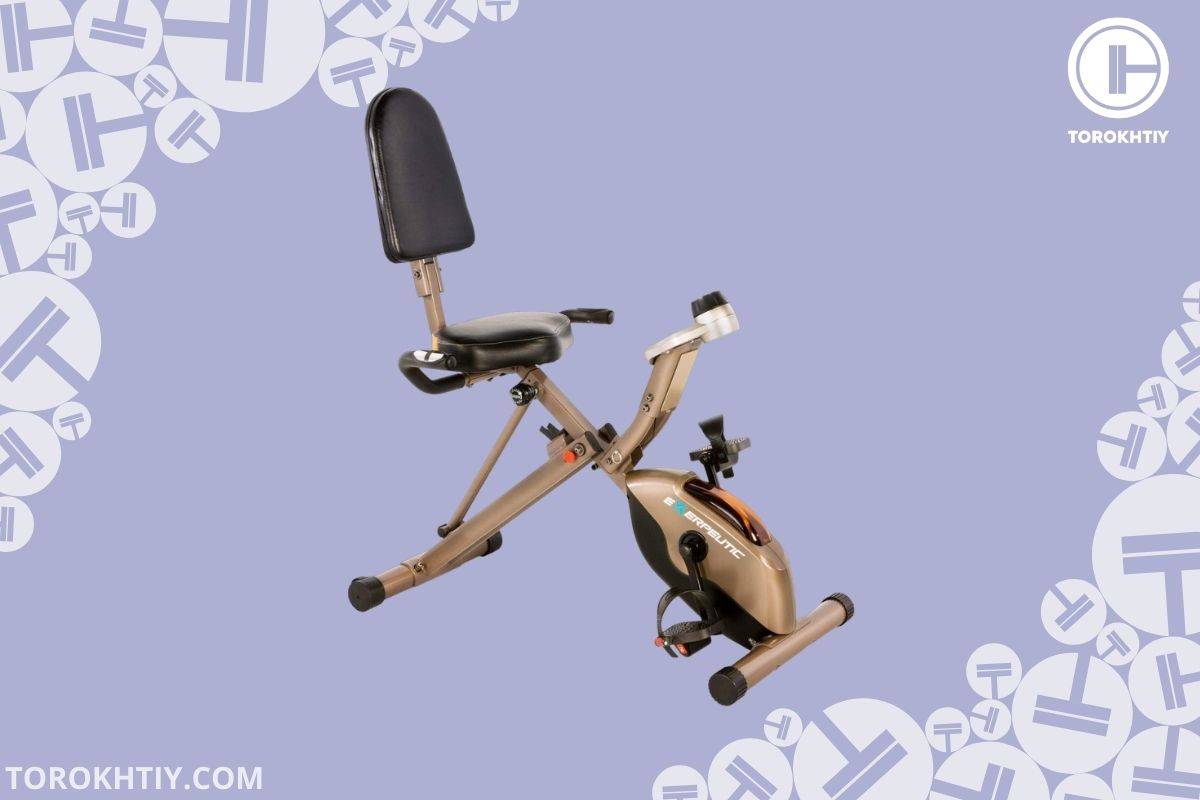 Dimensions: 48.5" L x 24" W x 46" H (folded: 27" L x 18" W x 48" H)

Adjustable height: Min 5'2"/ Max 6'5"
Display: LCD monitor
Resistance mechanism: magnetic
Product weight: 54.7 lb
Assembly: required
Maximum weight capacity: 400 lb
Special features: Bluetooth, MyCloudFitness app compatibility, cadence sensor optionally
Warranty: 1-year limited warranty
Exerpeutic 525XLR foldable recumbent bike will benefit you with every training session thanks to its operating capabilities and extra specs. Speaking about its interactivity features, the bike can be connected to the MyCloudFitness application via Bluetooth to get reports after every training session and track your progress. Also, you'll be able to get a personalized training schedule led by expert coaches and will be able to choose other workouts, i.e., HIIT, or stretching.
This bike has a semi-recumbent design and is made from heavy-duty steel with 8 magnetic resistance tension levels. It's equipped with a cushioned backrest and seat you can adjust according to your height. So, overall, the bike can fit users of 5'2" to 6'5" height. Besides the monitor itself that displays key performance metrics, there are hand pulse sensors on the handlebars to keep track of your HR throughout the ride.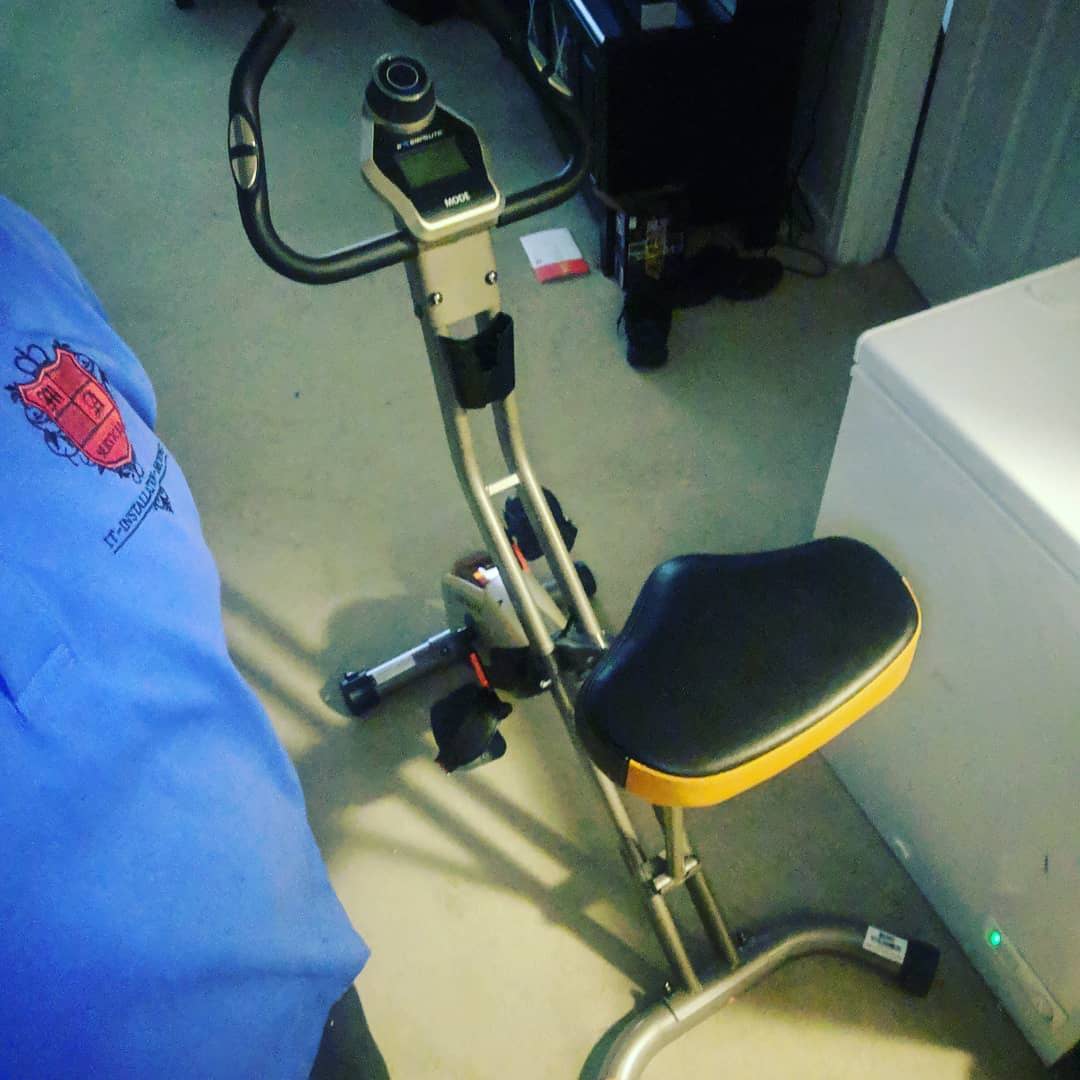 It operates well and brings smooth pedaling due to a balanced dual transmission flywheel and V-belt drive system. Also, it comes with large pedals with safety straps to keep you from slippage during the training.

The bike can be folded to ½ its size to store easily: you need to fold it upright, lower the backrest, and move it away with the help of transport wheels.
The Exerpeutic 525XLR Exercise Bike offers interactive features, adjustable design for various user heights, 8 magnetic resistance levels, hand pulse sensors, and easy storage capabilities in a durable and smooth-operating package.
(Show More)
Has an extended weight capacity of 400 lb

A sturdy bike that doesn't wobble while riding

Accommodates short and tall users

Can be synced with a cadence sensor
Has quite a high bike frame with no 'step through' area between the seat and handlebars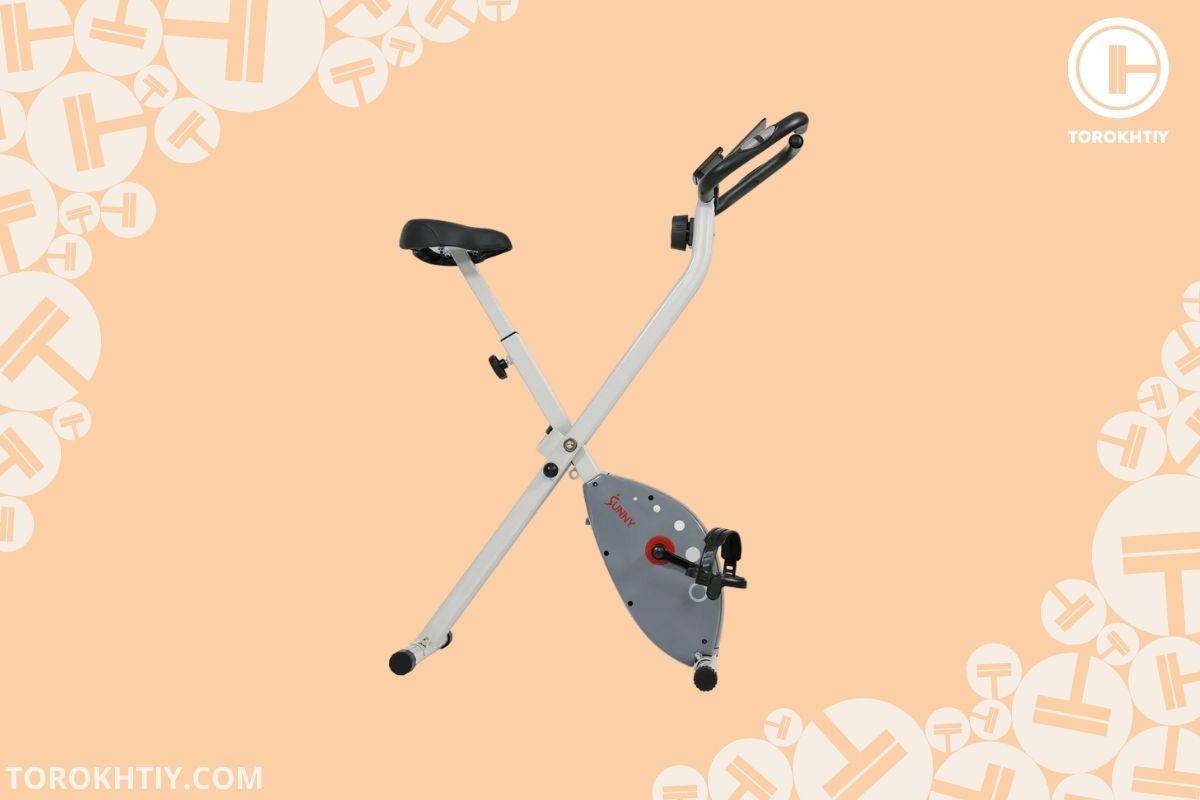 Dimensions: 33.3" L x 16.9" W x 45.3" H (folded: 16.5" L x 16.5" W x 52.8 H

Adjustable height: Inseam - Min 29" / Max: 35.5"
Display: digital monitor
Resistance mechanism: magnetic
Product weight: 30.9 lb
Assembly: required
Maximum weight capacity: 220 lb
Special feature: SunnyFit app compatibility, cadence sensor
Warranty: 3 years for the frame, 180 days for the parts and components
Pick up this X-framed space-saving exercise bike to train your body at home at any time. Control your progress and workout intensity via a digital monitor that displays time, speed, distance, calories, odometer, and heart rate.
You'll get a 16-level adjustable resistance system you can change with the help of a big resistance dial under the console. Additionally, you have pulse sensors on the handles so that you can monitor your heart zones in real time. With a 2-way adjustable saddle, the exercise bike can easily fit the majority of users.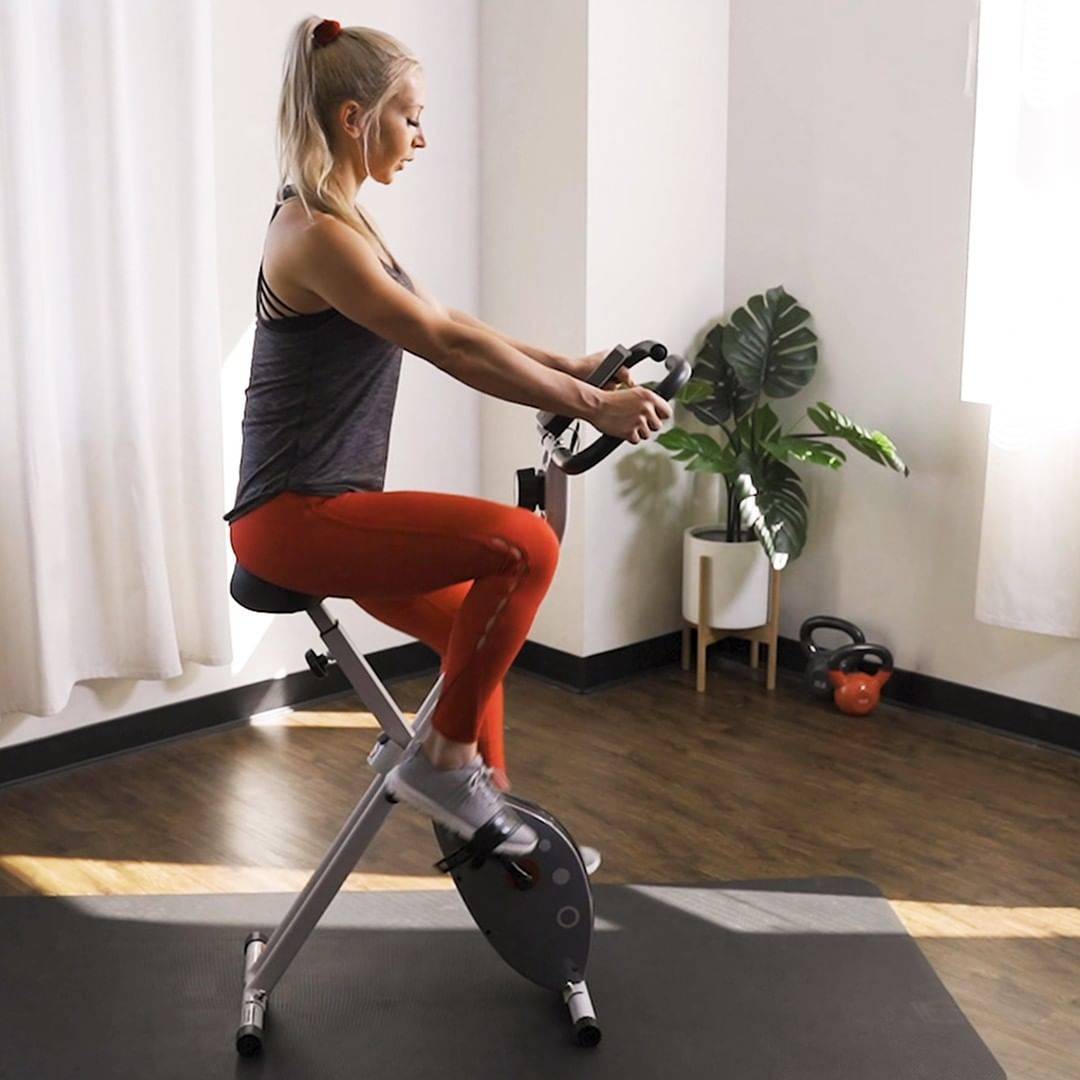 Also, you can diversify your workout by installing the SunnyFit app, to get access to different exercise videos and free online classes and regimes by certified SHF fitness coaches. You can place your gadget on the device holder to connect to online training classes.

The small footprint of this lightweight exercise bike makes it easy to store and you can fold it in a second.
The Sunny Health & Fitness Space-Saving Exercise Bike offers a convenient and versatile home workout solution with adjustable resistance, heart rate monitoring, and compatibility with the SunnyFit app for diverse training options.
(Show More)
A perfect bike for light exercises

bike performance and pedaling itself are very quiet
The seat cannot be raised high enough to accommodate taller users

Mediocre quality of the frame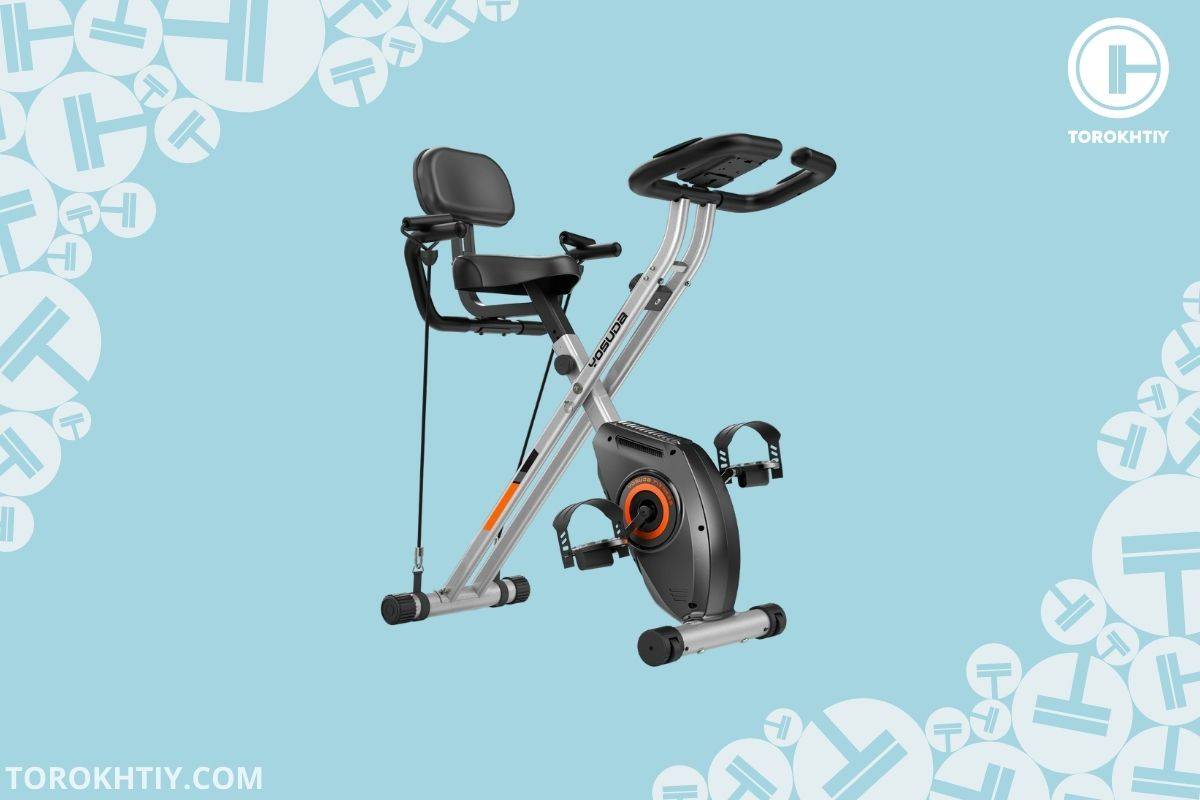 Dimensions: 27.9" L x 15.3" W x 40.9" H (folded: 13.3" x 50")

Adjustable height: Min 4'9" / Max 6'1"
Display: LCD monitor
Resistance mechanism: magnetic
Product weight: 41.8 lb
Assembly: required
Maximum weight capacity: 270 lb
Special feature: arm and leg resistance bands
Warranty: the manufacturer provides life-long service
The distinctive features of this 3 in 1 folding exercise bike from Yosuda is that you can use it as a semi-recumbent and upright bike, as well as use it as a training tool for arm and leg resistance workouts. It comes with built-in resistance bands with 12 lb tension, so it's for both cardio and strength training.
This training equipment comes with 8 levels of magnetic resistance, built-in heart rate sensors on the handlebars, and an LCD display showing time, distance, speed, calories, and pulse. You can adjust the seat to the maximum to fit your height due to the available 8 adjusting positions.

The bike saves up to 50% of your living space by covering only 0.13 square meters. You can fold it upright and move around the apartment with transport wheels.
The Yosuda Folding 3-in-1 Exercise Bike offers versatility for both cardio and strength training, with adjustable resistance levels, built-in heart rate sensors, and a compact, space-saving design.
(Show More)
Is a 3 in 1 exercise bike: can be used as an upright, recumbent, and for arm and leg stretching thanks to resistance bands

Silent performance: no noise and squeaks while pedaling

Can be used by people with knee injuries
for tall users, higher 6', the knee may be close to hitting the handlebars
Benefits of Folding Exercise Bikes
If you don't want to spend your whole wage on a stationary exercise bike, then a folding one is a decent option that will meet your fitness goals. These simple yet effective training machines will shake up your cardio workout. Thanks to the compact design, simplicity, and convenience in usage, foldable exercise bikes will bring you the following perks:
Foldable exercise bikes save space as they can be folded upright easily when not in use. That makes them a perfect option for small apartments compared to collapsible stationary bikes. It's even possible to take it with you and load it into the car trunk wherever you go.
2. Are Perfect for Home Training
Due to the simple design, lightweight frame, and sufficient resistance options, folding bikes can be worthy training machines for in-house low-impact cardio workouts. You can choose between a recumbent and upright, or prefer a combo design.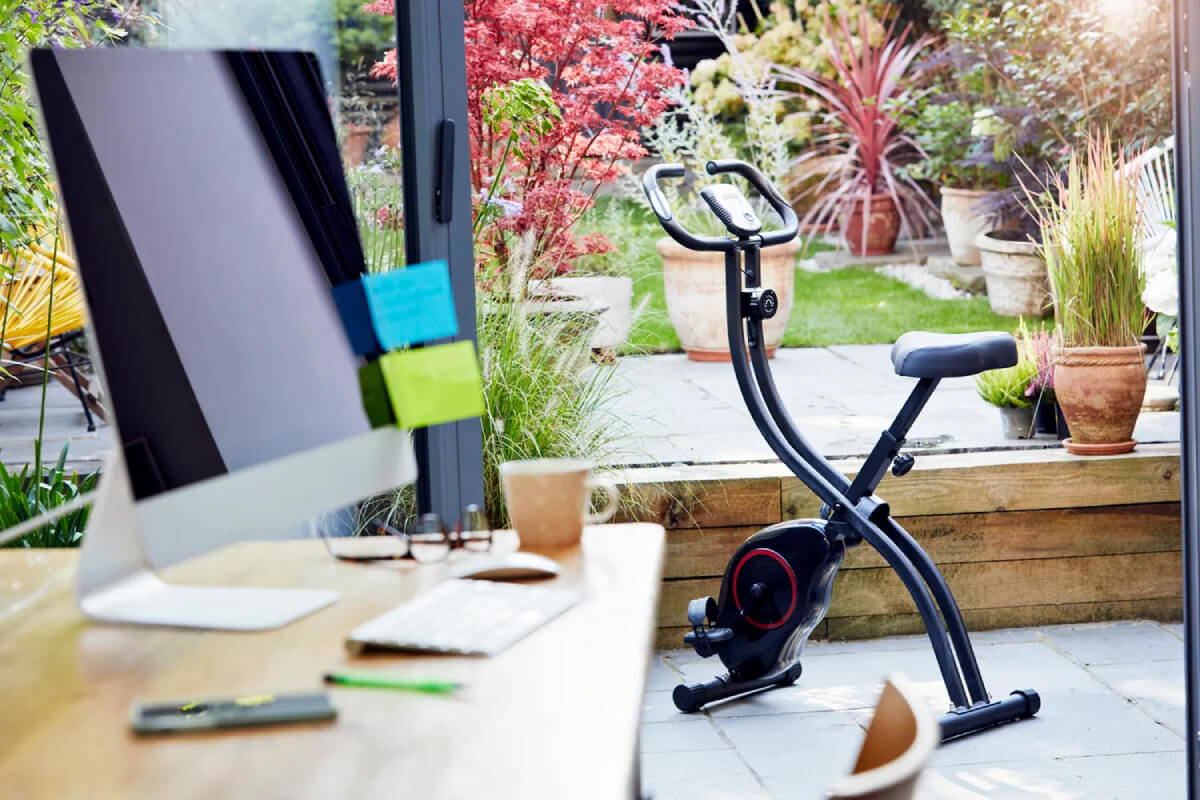 3. Portability and Easy Assembly
Thanks to its lightweight, you can move an exercise bike from one place to another without hassle. Also, they're easy to assemble: it won't take several hours to assemble like with standard foldable stationary bikes for home and gym use. Usually, such bikes come with a limited number of components to put together.
Foldable exercise bikes are more budget-friendly than standalone commercial stationary ones. As they have simpler construction and design, more lightweight folding frames, and no advanced features, they tend to be cheaper.
5. Accommodate Seniors and Beginners
Not all exercise bikes can suit casual users and elderly people because they tend to bring higher impact workouts and are more complex to use. With a limited number of resistance levels, folding exercise bikes are much easier for seniors and people with injuries who want to stay fit and maintain their body condition.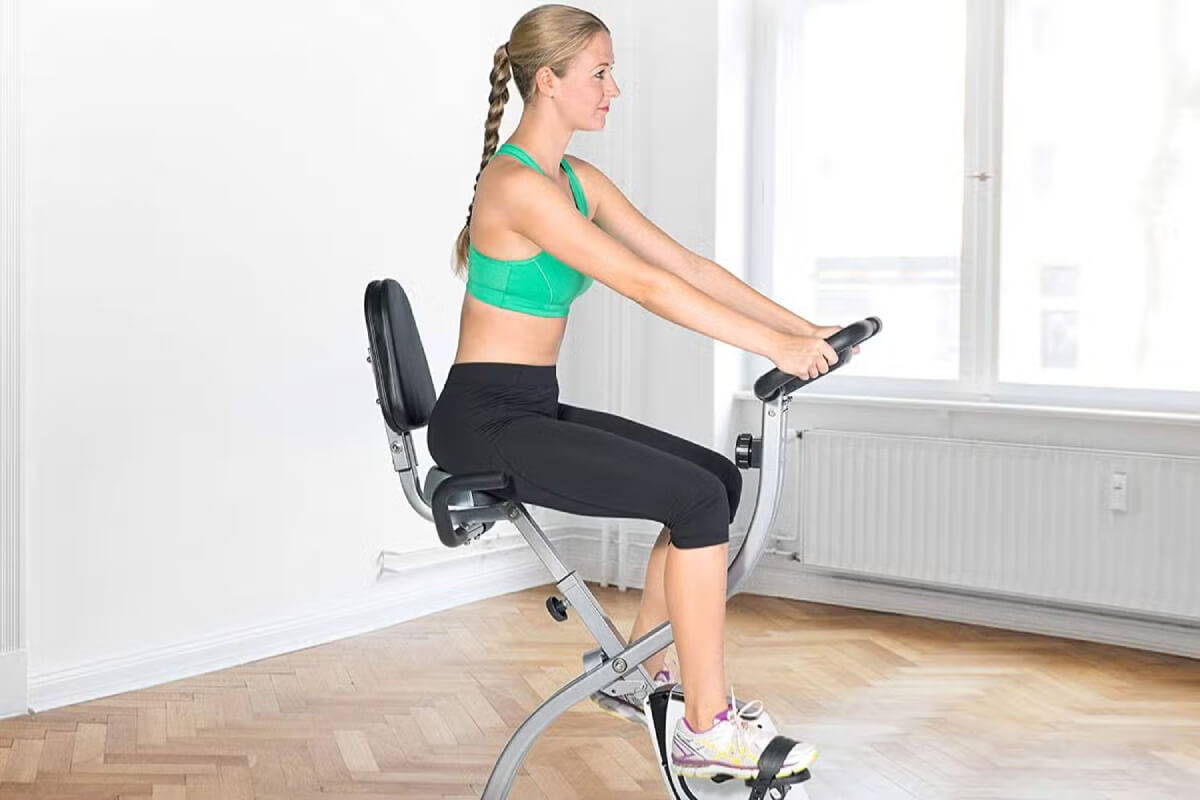 What to Look For in a Folding Exercise Bike?
The main point a person considers when buying a compact foldable exercise bike is its small footprint and the simplicity of folding it easily. A great privilege of such bikes is their compactness compared to commercial stationary bikes that are dominantly bulky and heavy-duties machines that take up too much space.
Besides dimensions, you also should focus on other characteristics such as functionality, adjustability, interactivity, and comfort in usage generally. Follow these aspects to choose the best portable exercise bike to get a good pedaling session.
To get maximum comfort during training, check whether it's possible to adjust the seat height, inseam length, and backrest position. Look for an exercise bike that could accommodate your preferences, namely body position and your height while riding. Also, it'd be a great option for the whole family to engage in indoor cycling activity and use a compact folding bike that can be adjusted for everyone.
A good bike model should have a wide range of resistance levels to be able to switch between working out in different intensity zones. For instance, the majority of exercise bikes we observe have two grip options: standard handlebars for the upright position, and handles located near the seat to imitate the recumbent bike ride.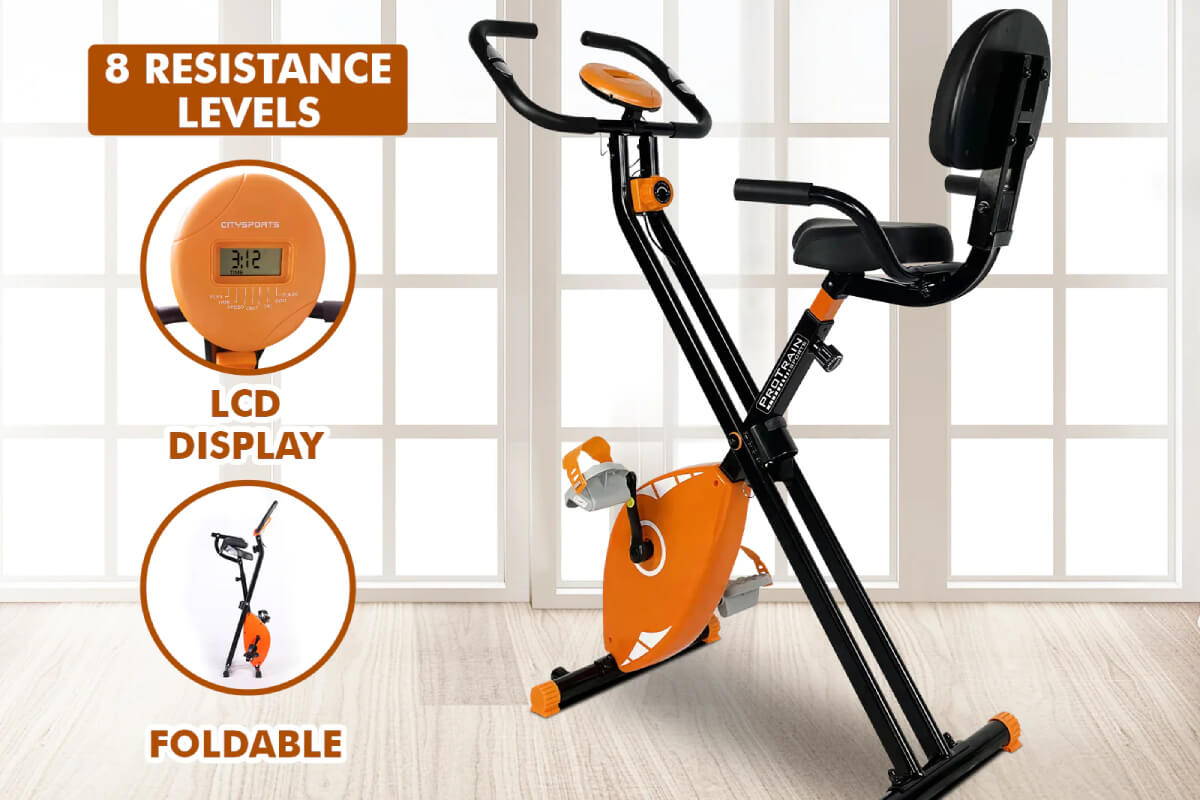 Since the vast majority of foldable bikes are compact and lightweight these features may influence the durability of the construction. They can be less stable and durable than conventional exercise bikes. That's the reason why you can't use such a training bike for a vigorous workout, unlike with fold-away stationary bikes.
So, mind this point when choosing a foldable bike, especially if you prefer more intensive training at higher speeds and tensions. Despite this fact, try to find the most stable compact exercise bike among available models made of relatively sturdy material.
Check the overall design of the exercise bike: look at its saddle, handles, pedals, etc. If you want to get a more comfortable ride session, consider models with cushioned large seats and soft handlebars. Again, the comfort of this tool relates to its adjustability: the more options you have to adjust the bike to your height and preferences, the more comfort you'll get. Another important aspect is the ability to fold and unfold the bike to store it when not used. Thus, check these points before the purchase.

Durability is essential when selecting a foldable exercise bike. These bikes, due to their compact and lightweight nature, can be less stable and robust than stationary counterparts, making them unsuitable for intense workouts. To ensure durability, opt for models made from sturdy materials. Additionally, prioritize comfort by choosing bikes with cushioned seats, soft handlebars, and adjustability for a more pleasant riding experience.
Generally, folding exercise bikes come with a belt drive system with a flywheel and magnetic resistance you can manage on the console, or twist the resistance knob located on the frame.
Considering the manufacturer's instructions and user manuals, you can assemble the exercise bike on your own, or a maximum of two people are required. What's more, on average, this process should take no more than two hours. All the needed components and accessories are included in the package along with the user's guide.
Folding exercise bikes are lightweight and consequently more easily portable than fold-up stationary bikes. Usually, they have transport wheels and can be folded upright which saves your living space. You can store such a training machine in the wardrobe, or under the bed, so it won't bother you moving throughout the house.
To start with, foldable exercise bikes are cheaper than standard cycling bikes you see at gyms. If you want to buy such a training tool for your home gym, a compact foldable bike is a worthy investment that won't take the whole fortune. The next point is that considering its budget-friendliness, a folding exercise bike may be made of lower-quality materials, is less interactive, and has fewer functional perks.
Considering the folding exercise bike reviews, the majority of them are equipped with small LCD displays featuring standard performance metrics, i.e., time, distance, calories, and heart rate. Most of them have no application or Bluetooth connectivity. Although, more advanced models can be compatible with some fitness applications, so you can make your ride more interactive and personalized.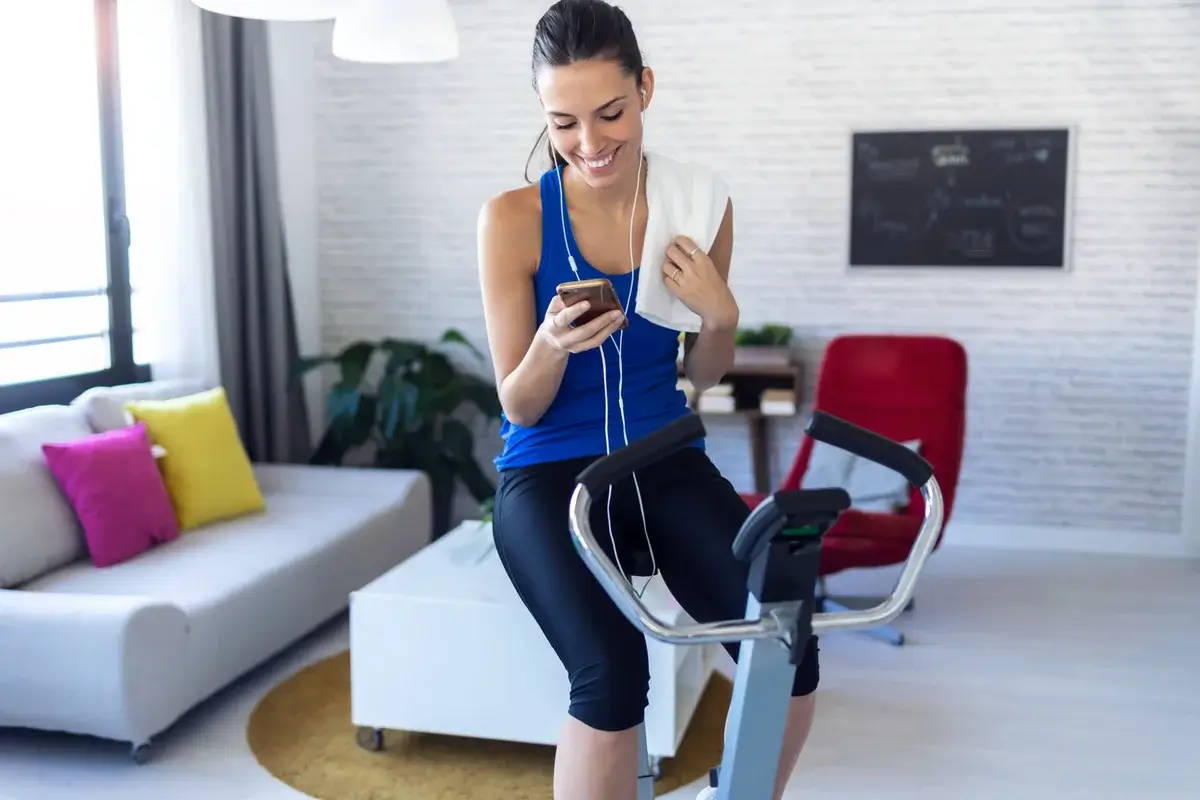 How to Use a Folding Exercise Bike?
Before hopping on a bike and starting your training, you should read the user's manual about how to use this tool, especially if you're a newbie in this kind of workout. Let's enumerate the key points not to forget to tune in your bike after the purchase.
Since folding bikes are compact and lightweight pieces of equipment, they don't require much time to be assembled. Moreover, they have fewer construction elements you need to fix together. All the hardware is included in the package, all you need is to follow the instructions to assemble the bike correctly. It's said that overall it takes around one hour to assemble an exercise bike.
2. Adjusting Your Bike Fit
When you assemble the bike, it's time to adjust it to the height and body position you prefer. It's possible to change the seat height, and adjust it back and forth. It's a minimal set of options you can tune to make your training as comfortable as possible.
3. Folding Away After a Workout
If you're limited in space, you can easily fold the bike away to the upright position and store it in the corner or place it under the table or bed. Folding bikes are space-saving machines that have small footprints.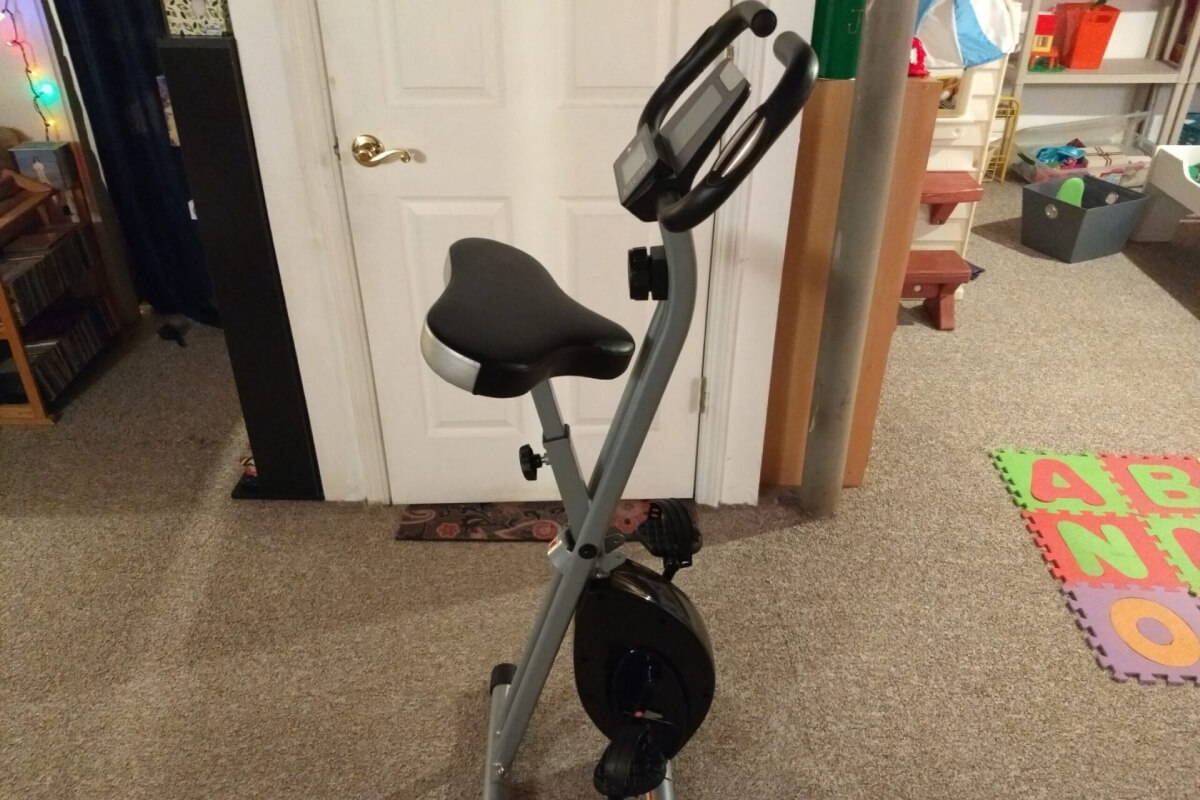 Are Foldable Exercise Bikes Good for Weight Loss?
Yes, a folding exercise bike can be used for weight loss. Cycling training at low and moderate intensity is useful for toning the body and burning some calories.
Can You Ride Long Distances on a Folding Bike?
In theory, you can ride for a long time on a folding exercise bike, but practically, such a tool isn't designed for long-distance rides. It's recommended to use folding bikes for short to average-length distances and moderate-intensity workouts.
Can I Lose Weight Using a Folding Exercise Bike?
Yes, it's possible to lose weight and tone up your body while riding a foldable exercise bike. Moderate-intensity cycling can help you to burn enough calories, especially if you train regularly.
To sum up, space-saving folding exercise bikes are an excellent option for low-impact cardio exercise. Having made a detailed review of the best folding exercise bikes, we want to distinguish ProForm X-Bike Elite Exercise Bike, which brings sufficient interactivity options due to its compatibility with Bluetooth and the iFit application. Via an LCD display, you'll be able to track your key metrics and know your heart rate while touching pulse sensors on the handlebars. Also, you'll be able to adjust the intensity of your ride due to 10 levels of the magnetic resistance.
Have questions about this very model, or want to get other second-best alternatives of compact folding bikes? Leave your comment below to let us know about issues that matter to you. We'll write you back and provide you with the full answer.
1. Stephen Gillinov, Muhammad Etiwy, Robert Wang, Gordon Blackburn, Dermot Phelan, A Marc Gillinov, Penny Houghtaling, Hoda Javadikasgari, Milind Y Desai. "Variable Accuracy of Wearable Heart Rate Monitors during Aerobic Exercise". Medicine & Science in Sports & Exercise, no. 49(8) (2017): p 1697-1703.
2. Ryan E Rhodes, Mark R Beauchamp, Chris M Blanchard, Shannon S D Bredin, Darren E R Warburton, Ralph Maddison. "Use of in-home stationary cycling equipment among parents in a family-based randomized trial intervention". Journal of Science Medicine and Sport 21, no.10 (2018): 1050-1056.
3. T. Torbeyns, B. de Geus, S. Bailey, L. Decroix, R. Meeusen. "The potential of bike desks to reduce sedentary time in the office: a mixed-method study". Public Health, no.144 (2017): 16-22.
4. A Kerr, D Rafferty, F Moffat, G Morlan. "Specificity of recumbent cycling as a training modality for the functional movements; sit-to-stand and step-up". Clin Biomech, no. 22(10) (2007): 1104-11.
5. Peveler WW. Effects of saddle height on economy in cycling. Journal of Strength and Conditioning Research, no. 22 (4) (2008): 1355–1359.
With over 20 years in Olympic Weightlifting, our team does its best to provide the audience with ultimate support and meet the needs and requirements of advanced athletes and professional lifters, as well as people who strive to open new opportunities and develop their physical capabilities with us.
All products we select are primarily approved and tested by the Olympic Weightlifting Champion Oleksii Torokhtiy. Under his guidance, we provide honest and reasonable assessments of the products we review by checking their characteristics, packaging, design, comfort and durability features, and general product rating. We select products from only high-quality and trusted sports brands, thus vouching for their quality.
The product testing process is described in more detail here
Coach, PRO Olympic Weightlifter
Experience: 26 years
Best Results: Snatch - 208 kg,
C&J - 240 kg
My name is Ihor and I have been a professional weightlifter since 1996. With over 20 years of competition experience, my resume includes European Champion in 2009 and the silver medalist at 2011's Senior World Championships – 105kg division.
I competed at the 2008, 2012 and 2016 Summer Olympics.
After hanging up my own competitive lifting shoes, I decided to share my huge background as a coach. I am currently coaching multiple athletes who are competing at national and international competitions.
If you have any questions/suggestions/any other inquiry, you can reach out to us via email - reviews@torokhtiy.com
Experience: 21 years
Best Results: Snatch – 200 kg,
C&J - 240 kg
My name is Oleksiy Torokhtiy. I am a professional athlete with 20 years of experience in Olympic weightlifting. I have won multiple European, and World titles and have taken part in two Olympic Games (Beijing 2008, London 2012).
After finishing my career, I have committed myself to coach, and as of 2022, I've hosted 200+ weightlifting seminars all over the globe. I'm the founder of an international sportswear and accessories brand, Warm Body Cold Mind (my motto), author, and creator of a series of training programs and eBooks.
If you have any questions/suggestions/any other inquiry, you can reach out to us via email - reviews@torokhtiy.com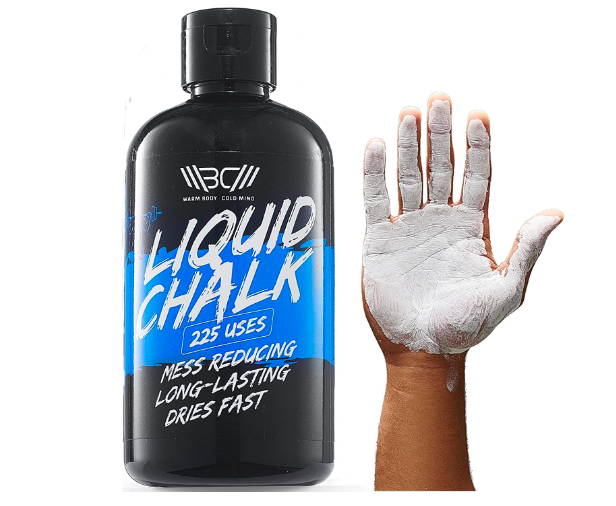 This article was written by our qualified author and proofread by an expert with proven experience. When writing the article we've used our expertise and data from authoritative, scientific, and evidence-based sources. The list of references is provided at the end of the article.
Our team of authors and experts includes professional athletes (Olympians, winners of European and World titles), PhDs in Sports Science, certified coaches, sports nutritionists, CSCSs, physiotherapists, and others. Read more about the team here, and more about how we test here.