Stationary bikes don't engage your upper body. These classic cardio machines had this one chink in their armor – but not anymore! The fitness industry has evolved at a lightning speed. You can now have the best exercise bike with moving arms. These dual-action handlebars are attached to the flywheel along with pedals, creating resistance for killer full-body workouts.
If you're buying an indoor bike, whether recumbent or upright, choosing one with movable arms is wise. You'll have the utmost freedom to work with your legs, hands, or both. Our team has carried out extensive research for the following ten picks.
In a hurry and can't keep reading? How about you check out the Assault AirBike.
Assault Fitness has revolutionized fan bikes into robust cross-training tools with the Assault AirBike, offering a compact and sturdy design, dynamic air resistance, and a challenging full-body workout experience for all fitness enthusiasts.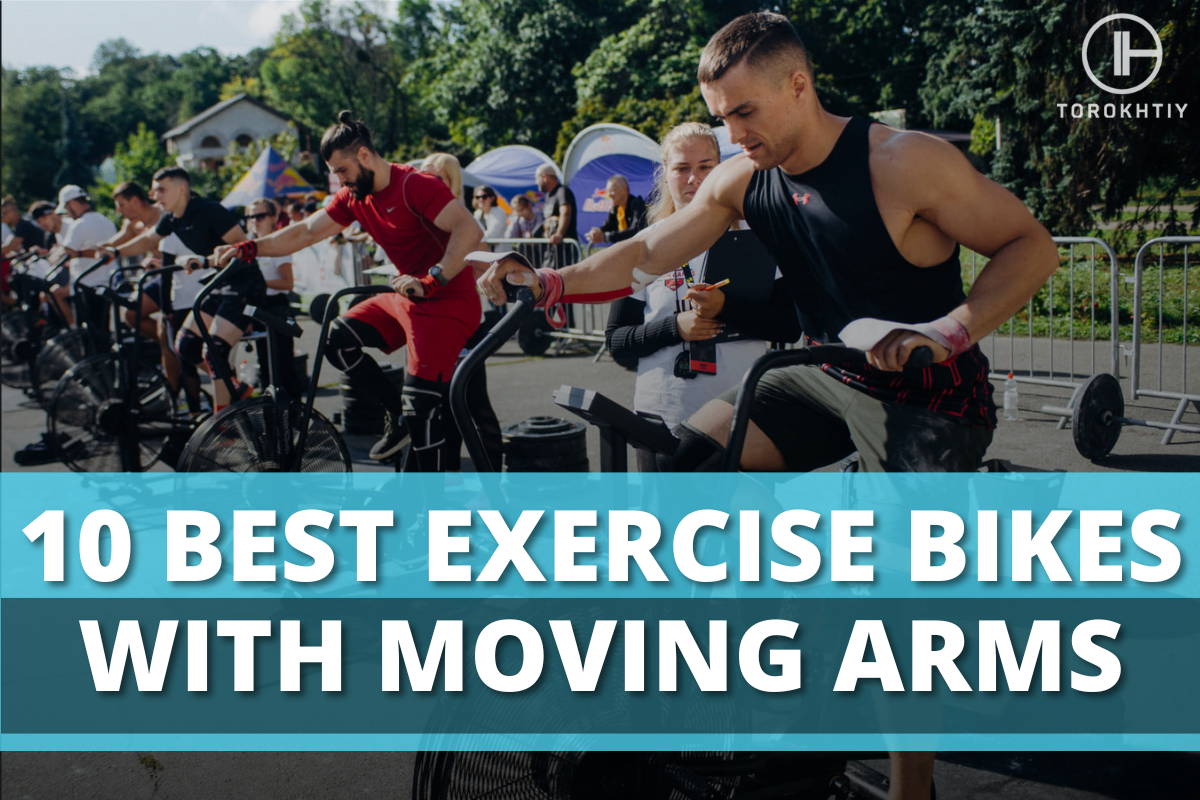 Top 10 Best Exercise Bikes With Moving Arms Reviewed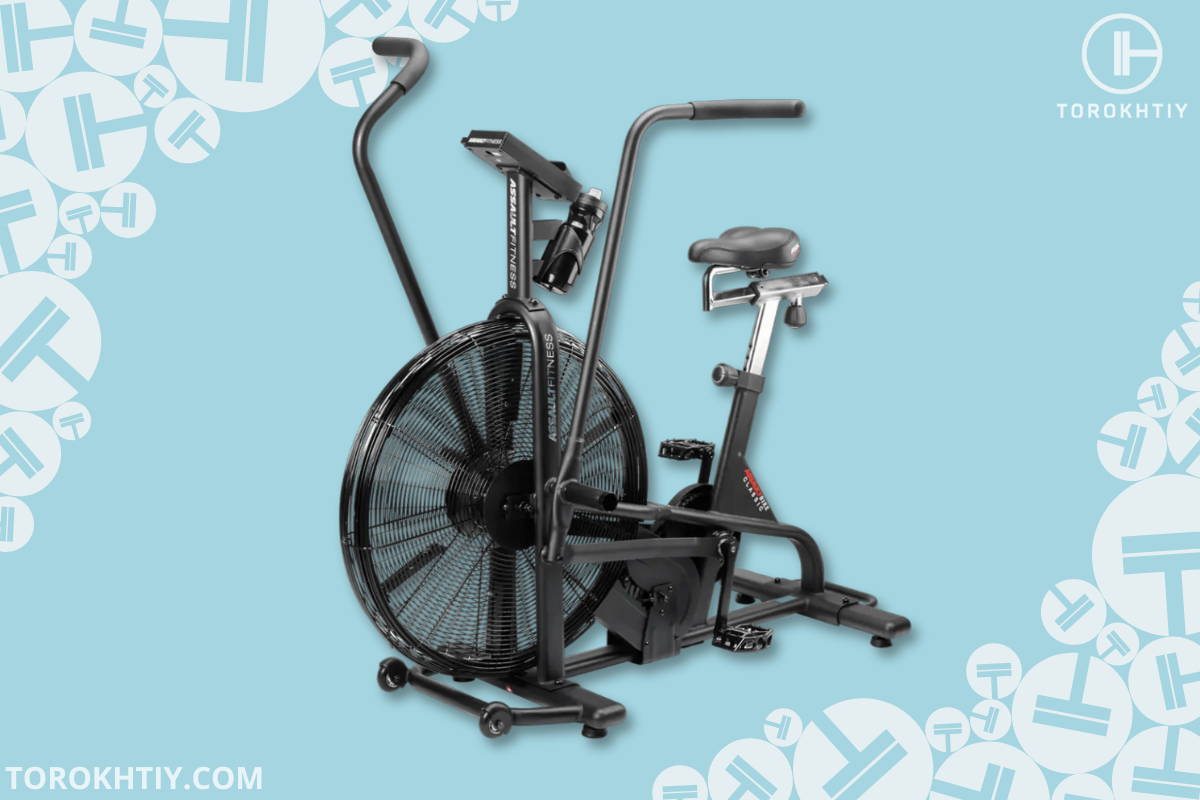 Assault Fitness reinvented traditional fan bikes into robust cross-training beasts. Despite the formidable competition of late, it remains a staple sight in worldwide games, gyms, and garages.
Dimensions: 50.9" L x 23.3" W x 48.4" H

Resistance Mechanism: Air
Display: Time, Distance, Calories, Watts, Speed, RPM, Pulse
Product Weight: 98.1 Lb.
Max Weight Capacity: 300 Lb.
Assembly: Required (Guided)
Best Uses For: Cardio, Warm-up, HIIT, Recovery
Special Features: Four-way Adjustable Seat, Industrial Powder Coating, Reinforced Pedals and Cranks
Warranty: 5 years on frame, 2 years on parts
The Assault AirBike is a remarkable piece of fitness equipment, promising an intense full-body workout experience. The first thing to strike is its sturdy and small-form build. The steel frame is sealed with cartridge bearings at over 20 pivot points.
The highlight of air bikes is obviously their resistance which adapts to your effort – the harder you go, the more resistance you face. This feature provides a daring and dynamic workout. Whether you're a weekend warrior or an advanced athlete, the best exercise bike with moving arms will keep pushing your limits.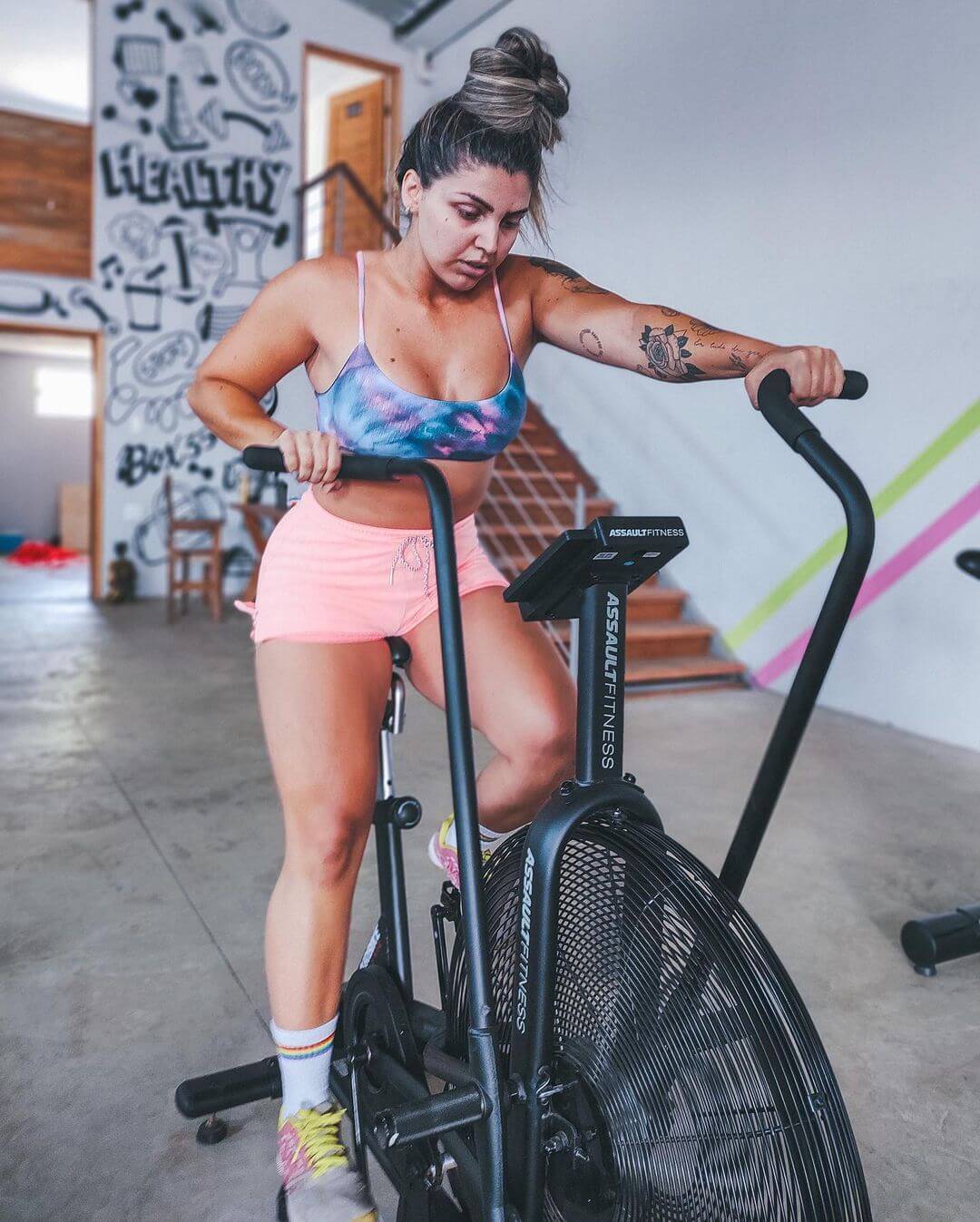 The console is straightforward, delivering real-time performance feedback. Its simplicity lets you focus without distractions, making it ideal for high-intensity sessions. You can check out Elite and Pro variants for upgraded tech features.

Overall, the base version of the Assault AirBike is a top-notch option that delivers on its promises. Its exceptional build quality, adjustability, and versatility make it a standout choice for anyone seeking an efficient and challenging workout.
The Assault AirBike provides an intense full-body workout with dynamic resistance and a straightforward console, making it an exceptional choice for versatile and efficient exercise.
(Show More)
A durable and portable construction

Accurate power (watts) monitoring with a dedicated 20hp motor

Suitable for athletes, ranging between 5'0" to 6'4" in height
No Bluetooth functionality
Sunny is among a handful of brands making waves at residential and commercial levels alike. The rampant popularity is owed to a price-performance balance.
Dimensions: 42.5" L x 25.5" W x 47.5" H

Resistance Mechanism: Air
Display: Time, Distance, Calories, Speed, Scan
Product Weight: 46.9 Lb.
Max Weight Capacity: 220 Lb.
Assembly: Required (Guided)
Best Uses For: Cardio, Warm-up, HIIT, Recovery
Special Features: Four-way Adjustable Seat, Self Leveling Pedal, Micro-Adjustable Resistance
Warranty: 3 years on frame, 180 days on parts
The Hybrid Bike boasts a combination of belt and chain drives, where the former regulates the fan's intensity while pedals are left connected to the chain. You'll see a micro-adjustment knob for setting belt tension. It's a fantastic glow-up for any garage gym. The bike's design and stability are impressive. Its sleek frame innocuously fits into small spaces.
The padded seat moves up/down and fore/aft, customizing for 26"-35" inseams. You can easily find the proper setup for your body size, minimizing strain during marathon sessions.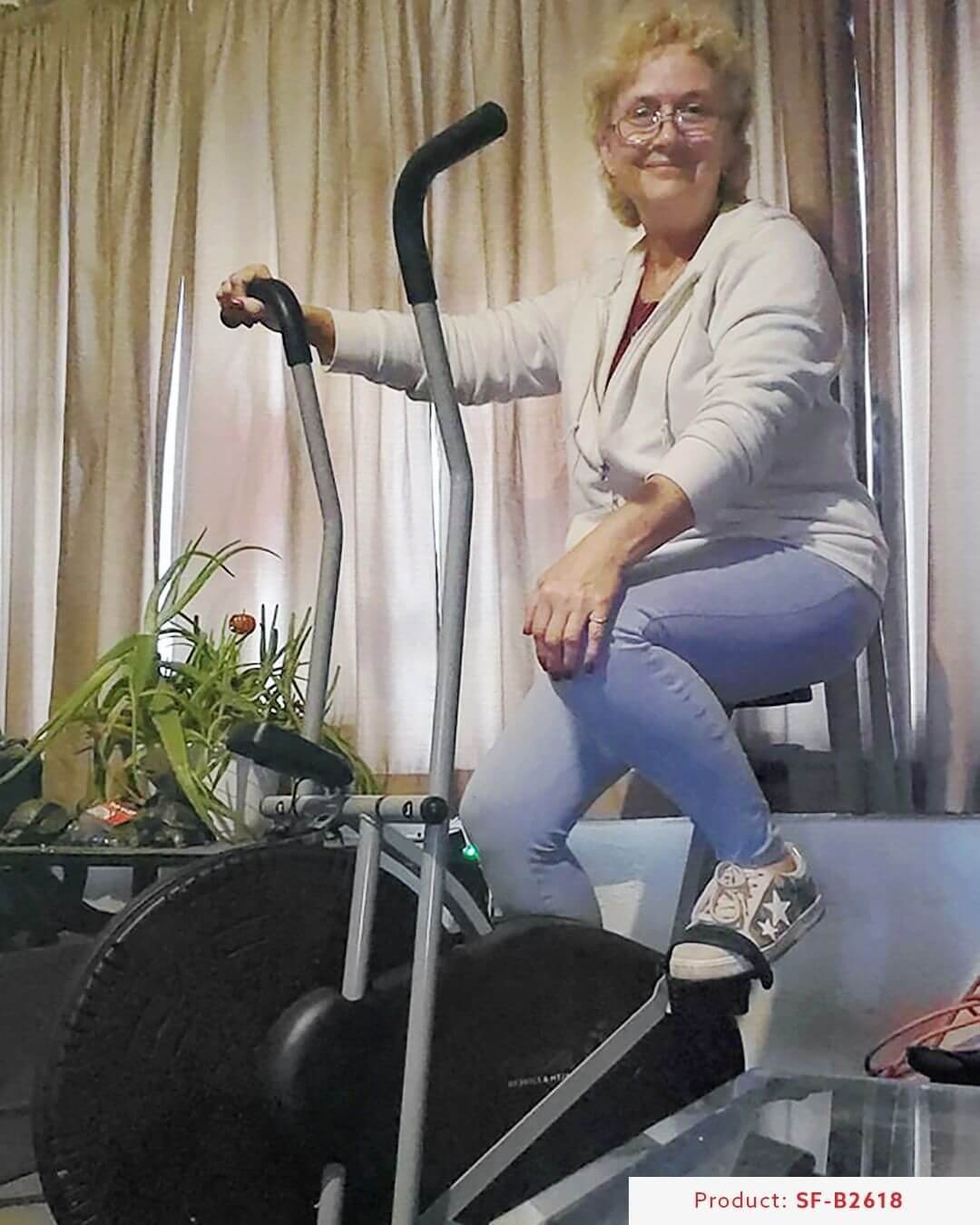 The LCD monitor provides limited workout data. While it may not have all the advanced specs, it serves its purpose well, effectively keeping track of your progress.

In conclusion, the Sunny Upright Hybrid Bike offers an excellent cardiovascular dose. Its strong build and space-saving design make it a valuable addition to any home gym. If you're looking for an affordable and effective way to boost strength, this hybrid bike is worth considering.
The Sunny Health & Fitness Upright Hybrid Bike combines belt and chain drives for adjustable resistance, featuring a customizable design and compact frame for efficient and effective home workouts.
(Show More)
A 2-in-1 drive system with dynamic chains and reliable belts

Adjustable Velcro tabs keep your feet locked into the pedals

A lightweight frame with transportation wheels is easy to move around
The hybrid drive may be noisy at max tension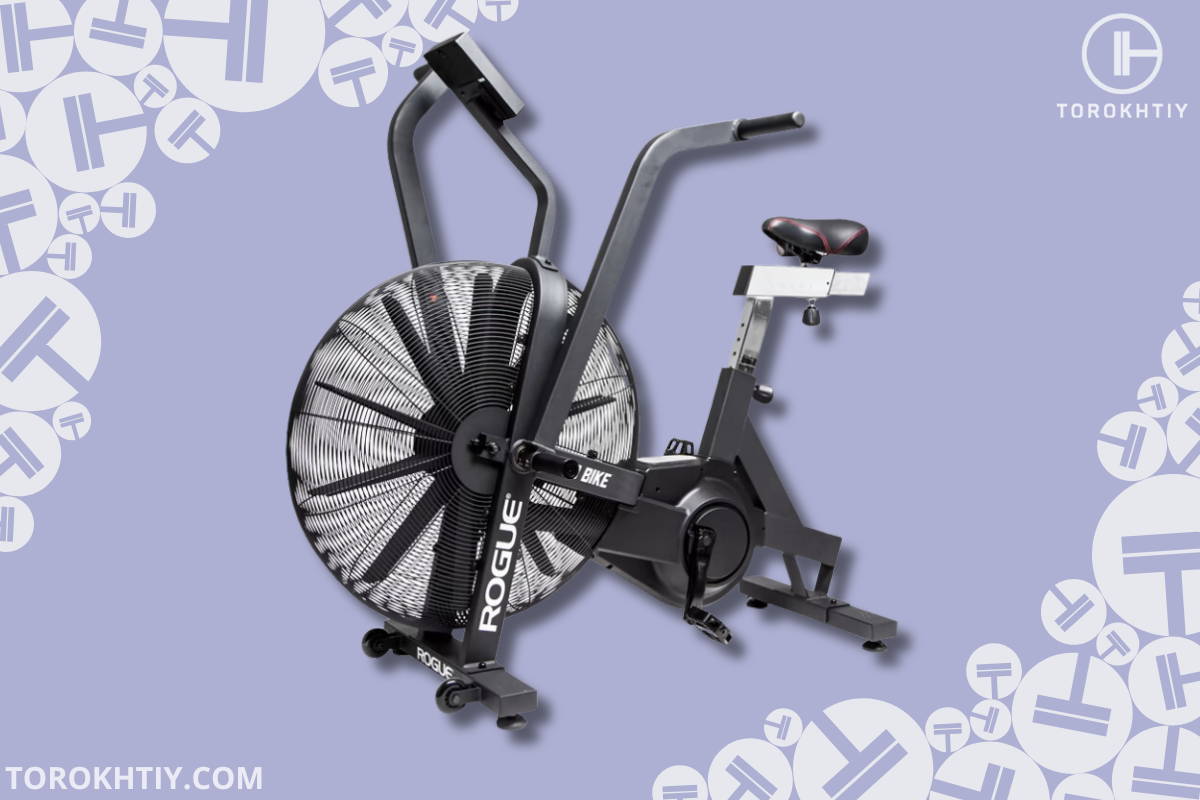 The Ohio-headquartered brand was already well-versed in manufacturing beefy strength training equipment when it released the Echo bike in 2017. And the bar was never set higher.
Dimensions: 55" L x 29.5" W x 52.25" H

Resistance Mechanism: Air
Display: Time, Distance, Calories, Watts, RPM, Speed, Pulse, Intervals
Product Weight: 123 Lb.
Max Weight Capacity: 330 Lb.
Assembly: Required (Guided)
Best Uses For: Cardio, Warm-up, HIIT, Recovery
Special Features: Four-way Adjustable Seat, Industrial Powder Coating, Belt Driven Steel Fan
Warranty: 2 years on frame and parts
The latest iteration of Rogue Echo is a hearty stationary bike with moving arms. It revolutionized the market by abandoning needy chain drives and flimsy plastic fans. Instead, it hosts ten stealthy metal blades inside a 27" secure cage. Available attachments include a wind guard, phone holder, bottle cage, and turf tires. One could argue that these components should be complementary.
The heavy-duty, matte-black construction bulks up the item weight and footprint. Rubber feet reduce bumps and wobbles to zero. Furthermore, knurled foot pegs are given to give your lower-body some time off.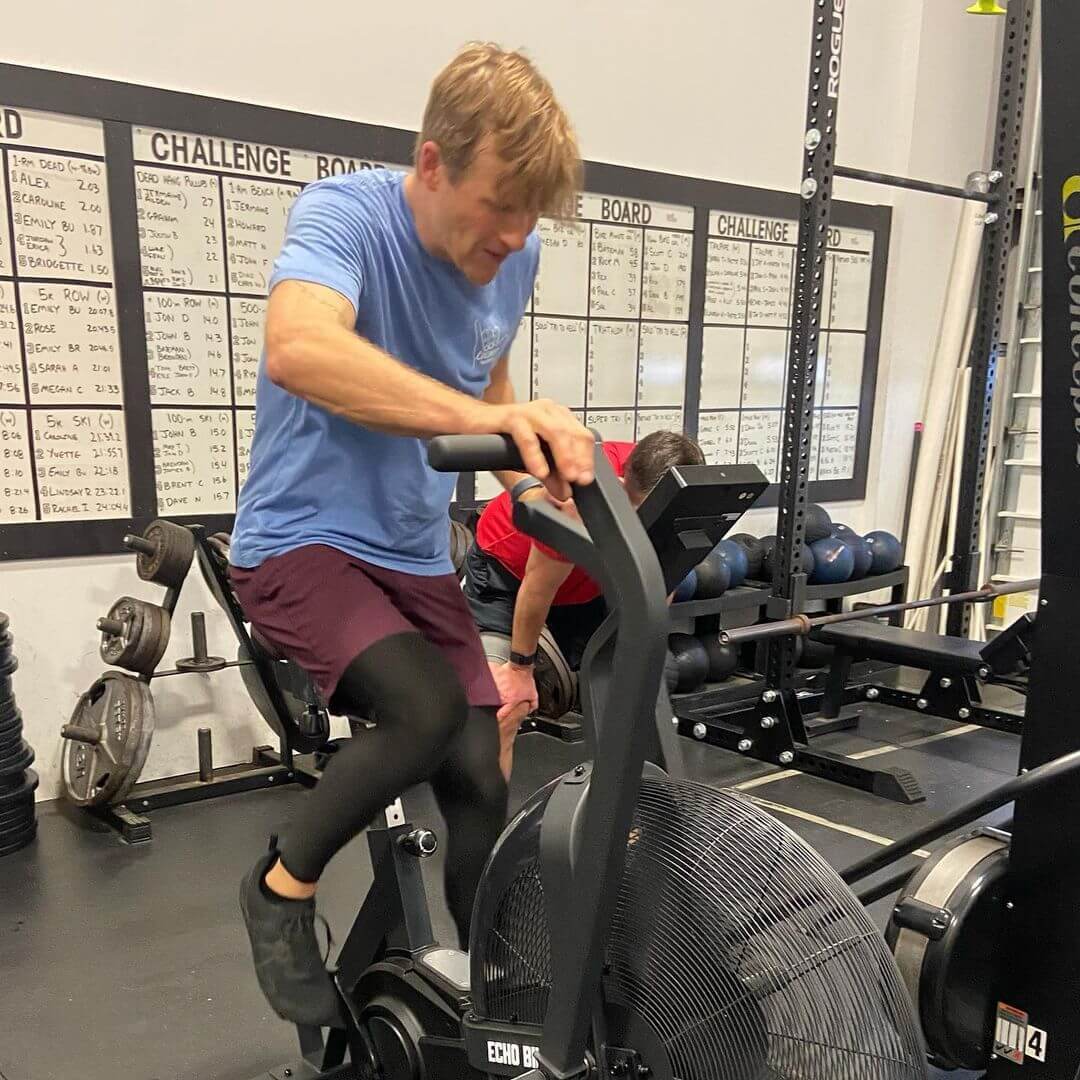 The oversized console reads out comprehensive sets of data. There are one-push intervals, custom targets, and tabata programs to stay motivated. Furthermore, the Bluetooth and ANT+ support opens up unending connections.

Comfort is a priority for the Rogue Echo Bike. Handles are molded with 1.5" diameter rubber grips. The saddle is wrapped in textured vinyl to wick away moisture and feed into traction. In short, every fitness enthusiast leans toward the Echo's premium features before judging its value for money.
The Rogue Echo Bike V3.0 is a robust stationary bike with moving arms that features a durable metal fan, comprehensive console, and comfortable design, offering a premium workout experience for fitness enthusiasts.
(Show More)
Reinforced industrial-grade steel construction

The new 5"x8" LCD connects with Bluetooth and ANT+ devices

A super-quiet, maintenance-free belt drive is integrated
No security straps with pedals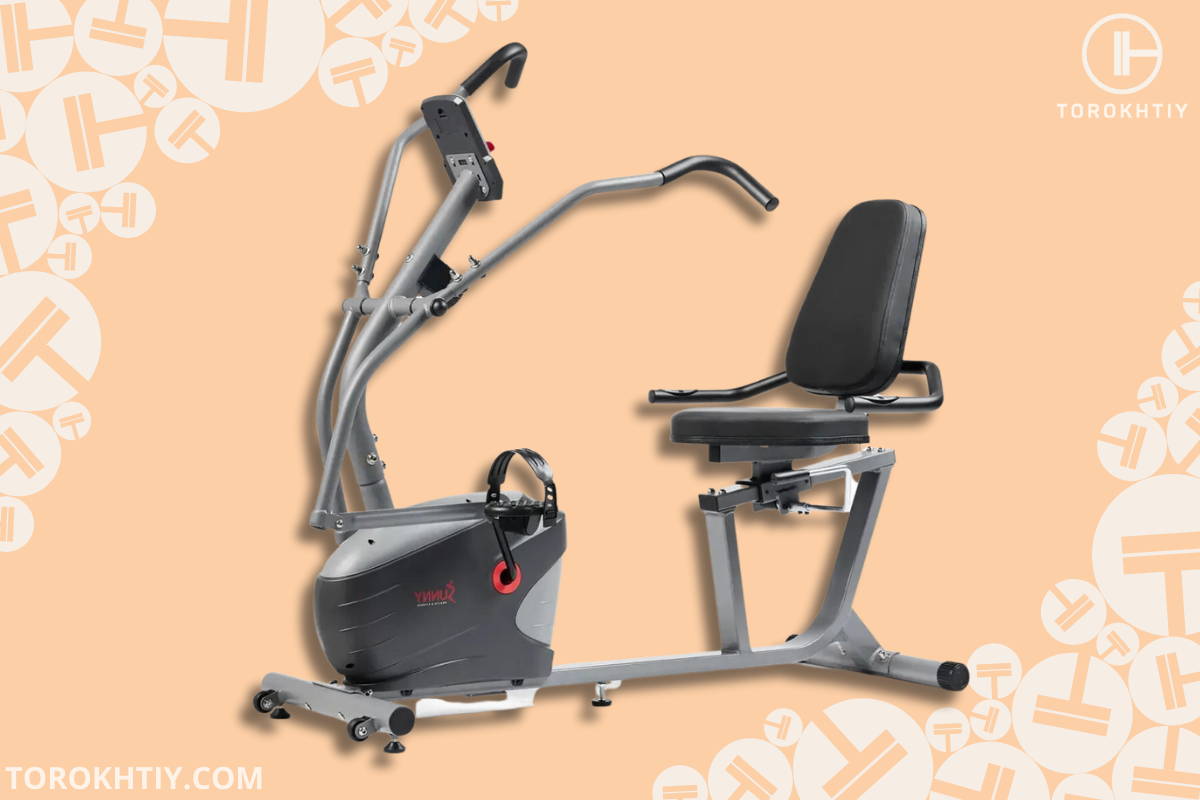 Affordability is one of many positive points of Sunny Fitness. The diversity of its catalog is awe-inspiring. You'll see various categories and subcategories of cardio machines, such as this recumbent cross-trainer.
Dimensions: 63.8" L x 26.4" W x 49.6" H

Resistance Mechanism: Magnetic
Display: Time, Distance, Calories, Speed, Pulse, Scan
Product Weight: 77.4 Lb.
Max Weight Capacity: 265 Lb.
Assembly: Required (Guided)
Best Uses For: Cardio, Warm-up, Recovery, Rehab
Special Features: Two-way Adjustable Seat, Non-Slip Pedal with Textured Grip, SunnyFit App
Warranty: 3 years on frame, 180 days on parts
This recumbent bike with moving arms add-on is an excellent low-impact choice. A slanted bar locks the seat into multiple riding positions. Fixed handles equipped with heart rate sensors are tucked underneath the seat. The added backrest takes out stress from the lower back and knees without abetting the performance rate. The hip and trunk activity is similar between upright and reclining modes.
The Performance Series display is full of interactive modes. You can access preset workouts, including heart rate-controlled options. A device holder edges above. Log into the SunnyFit App to partake in online classes and competitions.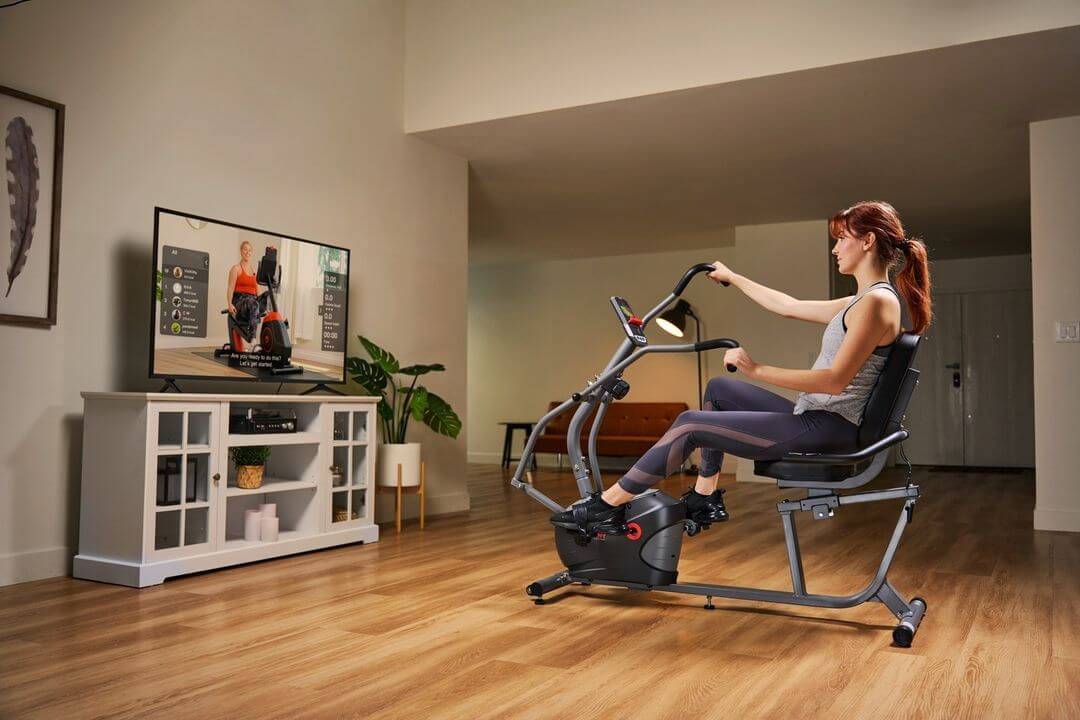 The bike's smooth magnetic resistance is another premium attribute. Users can customize the intensity with eight stages to suit their fitness level and preference. Unlike air bikes, it operates at a finite and bounded tension. Additionally, you get to rule out the gusts and sound of blowing wind.

Transportation wheels integrated into the bike's front base make it easy to roll and stow away. You can activate different muscle groups in your legs, core, arms, chest, and shoulders. It's the best recumbent bike with arm exercisers accessible from every position.
The Sunny Health & Fitness Recumbent Bike offers a versatile and comfortable low-impact workout experience with adjustable seating, heart rate sensors, and smooth magnetic resistance, making it an ideal choice for engaging full-body exercise.
(Show More)
The recumbent bike is beneficial for individuals with back and joint pain

Exclusive access to SunnyFit App at no extra cost

Magnetic flywheels pose fewer maintenance and repair issues
No footrests to exercise arms without pedaling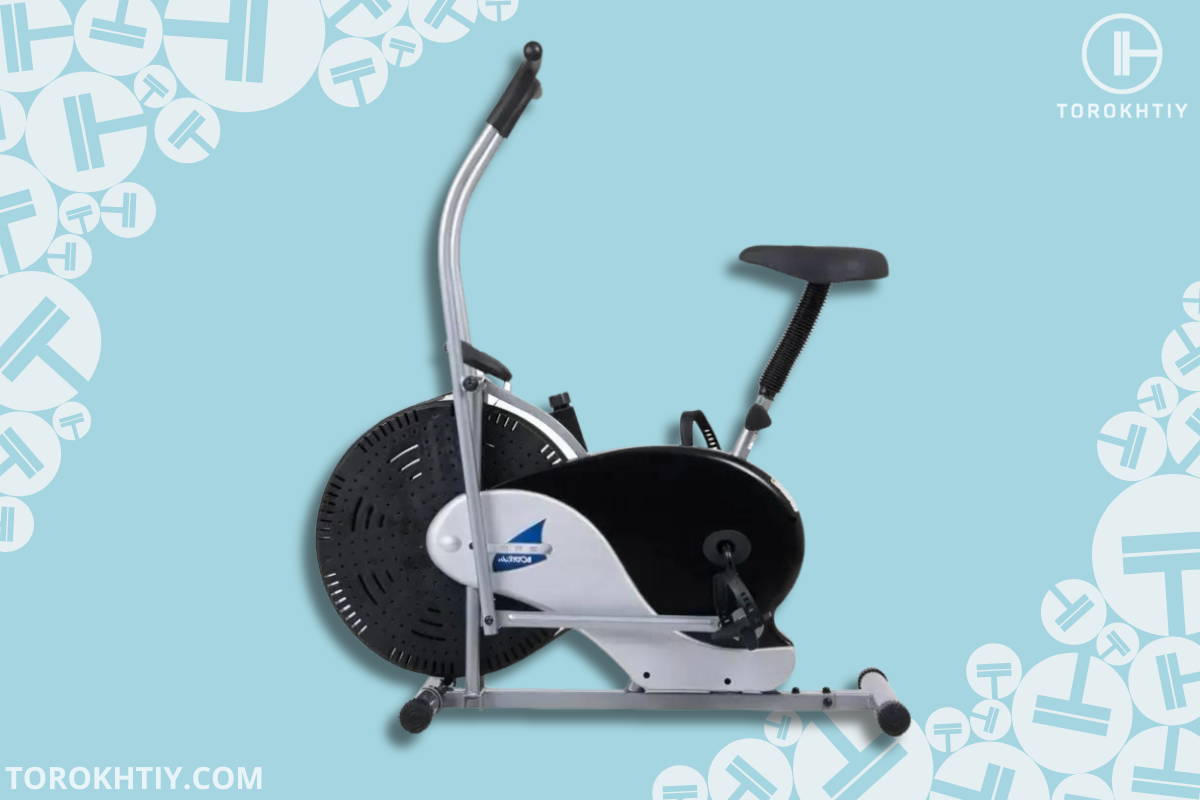 Body Rider shares the parent company with Body Max and Body Power. All of them are geared toward different customer segments, with Body Rider having a budget-friendly outlook.
Dimensions: 22" L x 41.75" W x 46.5" H

Resistance Mechanism: Air
Display: Time, Distance, Calories, Speed
Product Weight: 47.3 Lb.
Max Weight Capacity: 250 Lb.
Assembly: Required (Professional Assembly Available)
Best Uses For: Cardio, Warm-up, HIIT, Recovery
Special Features: H-shaped Steel Frame, Self Leveling Pedal, Micro-Adjustable Resistance
Warranty: 1 year on frame, 90 days on parts
The BRF700 is an affordable and versatile bike. While it may not match expensive models, it still lets you break a sweat without breaking the bank. Its hybrid mechanics constitute the major highlight, similar to the Sunny Upright Bike.
As you pedal, fan blades churn the air, making it difficult to maintain the speed. On top of that, a nylon belt clenches the wheel with a controlling knob.
It comes with a bare basic console that records a generic estimate of the calorie burn. The precision calculation is impossible without factoring in your body weight, age, and other things. We'd recommend tying the computer cord to the frame so the revolving fan doesn't wear it down. The only spare part you'll need is the belt. You'll receive replacement supplies under the warranty period. But you have to attach them yourself.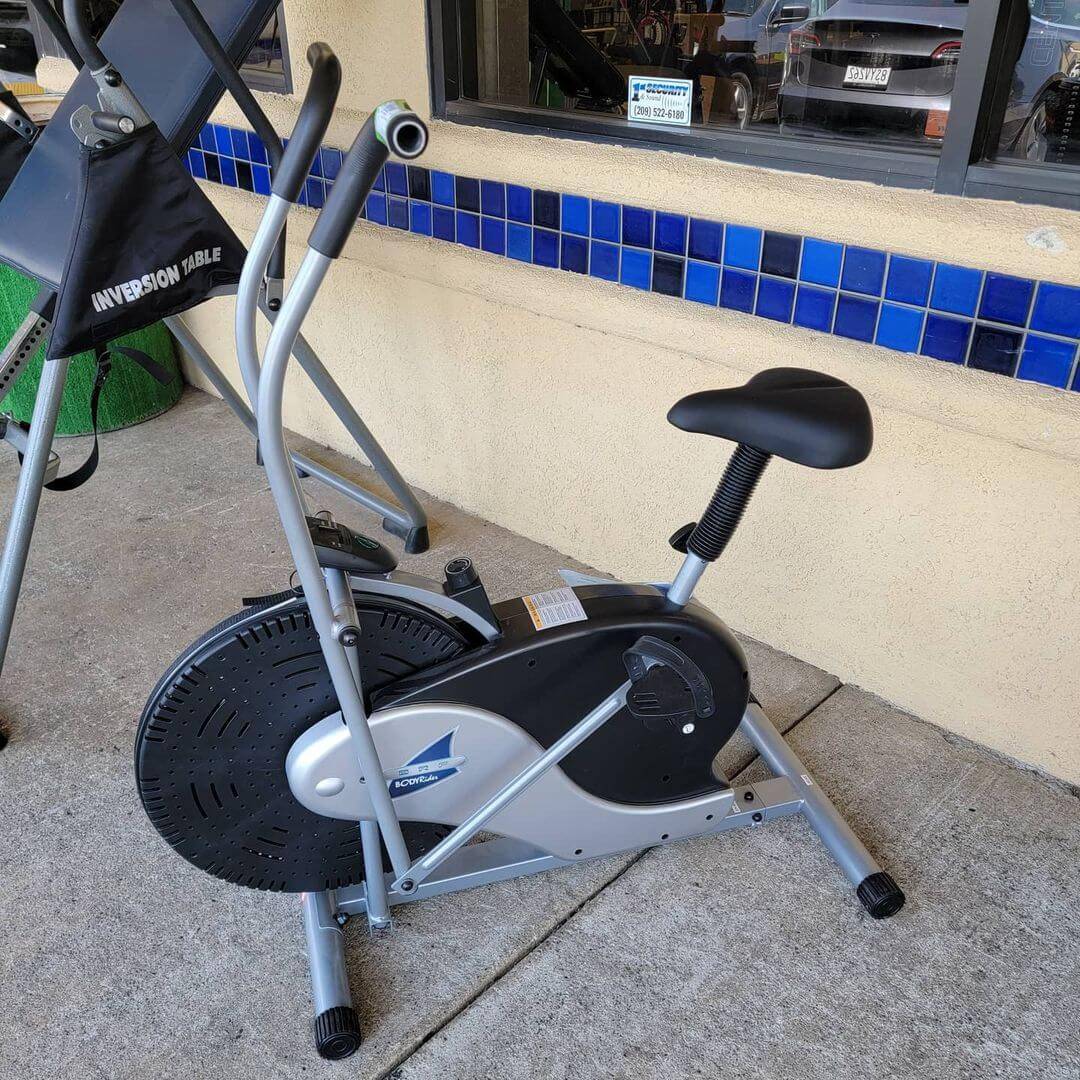 These minor inconveniences don't hurt the functionality of this stationary bike with arm workout bars. Speaking of the Assault and Echo, their coveted state-of-the-art features contribute to high prices. If you're cash-strapped or just testing the waters, Body Rider offers a viable solution to slash daily calorie pileups.

The Body Rider BRF700 offers an affordable and versatile stationary bike with arm workout bars, utilizing a hybrid mechanics system and air resistance to provide a cost-effective way to achieve a satisfying cardio workout and calorie burn.
(Show More)
Low-priced, high-performing exercise bike

Provides good enough resistance to stay fit without committing too much

The H-shaped steel frame is lightweight and stable on the ground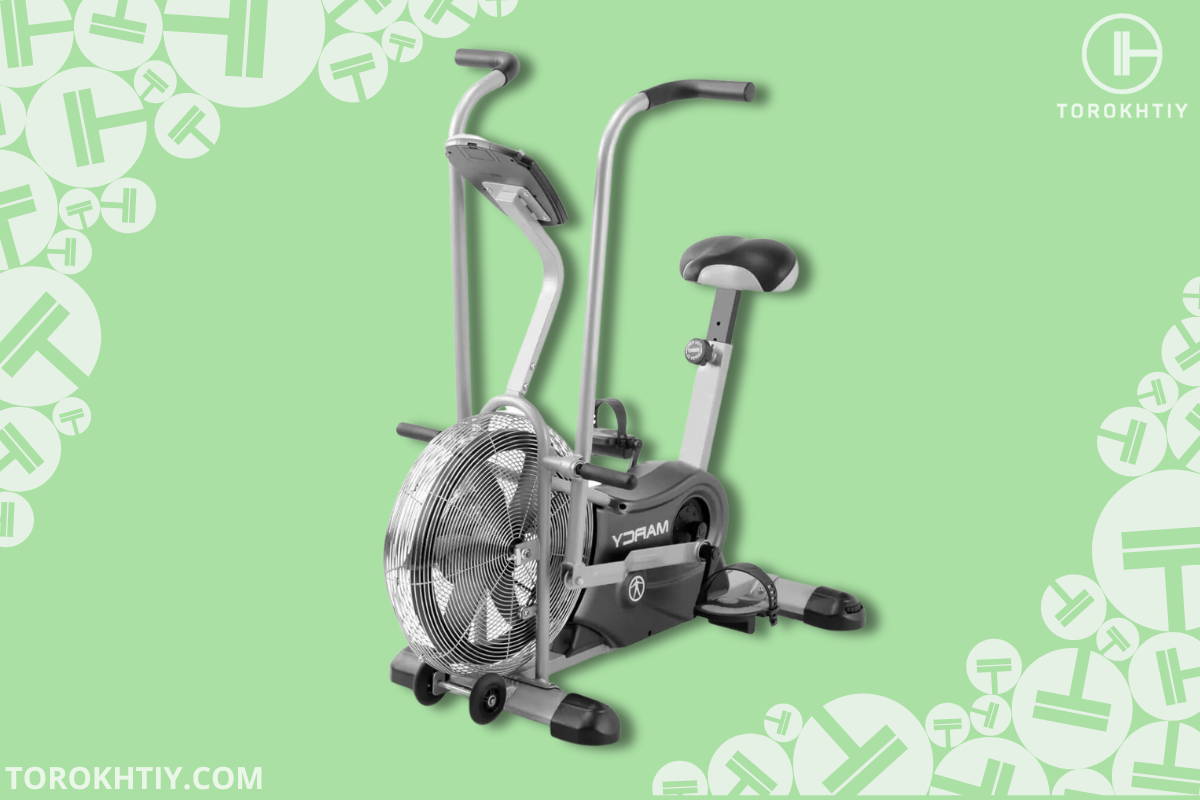 Marcy Pro belongs to the IMPEX group. Many of its licensed brands have been well-known in the sporting goods industry since 1982. Steelbody, Bionic Body, and PureTec are a few to name.
Dimensions: 46" L x 24" W x 48.5" H

Resistance Mechanism: Air
Display: Time, Distance, Calories, Speed, RPM
Product Weight: 79 Lb.
Max Weight Capacity: 300 Lb.
Assembly: Required (Professional Assembly Available)
Best Uses For: Cardio, Warm-up, HIIT, Recovery
Special Features: Adjustable High-density Foam Seat, Silicone Wheels, Floor Levelers
Warranty: 2 years on frame and parts
Air-1 is a medium-range exercise bike with moving handles, a hybrid drive system, and white glove delivery. Although its 18" fan features typical ABS plastic blades, the ringed design endows long-lasting durability. Moreover, it prevents one-sided fanning while keeping the system cool.
Marcy takes a visible lead in material selection. Made with 1.25" thickened, 14-gauge steel tubes – it withstands gym abuse. Also, the silverback color scheme sets it apart from black finishes. You may have to oil and tighten different parts for hassle-free rides. Plus, the densely-padded saddle and handles ensure you don't climb down before exhausting your cardiorespiratory endurance.
The attention to detail is commendable. It includes counterbalanced pedals with adjustable straps and 3-piece cranks. Twisting levelers on the rear base adjust the frame for uneven surfaces. Honestly, the Deluxe isn't the most stable bike. It may shake side-to-side once you go all out.

The seat can get up and down for 21"-33" inseams. It's equivalent to the XXS-L size range of a road bike. So, it makes Marcy a treasure chest for vertically-challenged people.
The Marcy Air-1 Deluxe Fan Bike provides a durable design with a hybrid drive system, adjustable features, and sturdy steel construction, offering effective cardio workouts for users of different heights.
(Show More)
Adjustable floor levelers on the rear stabilizer

A clear-cut manual, video guide, and professional support for assembly

1" silicone wheels for easy mobility
Rocks under heavy and intense use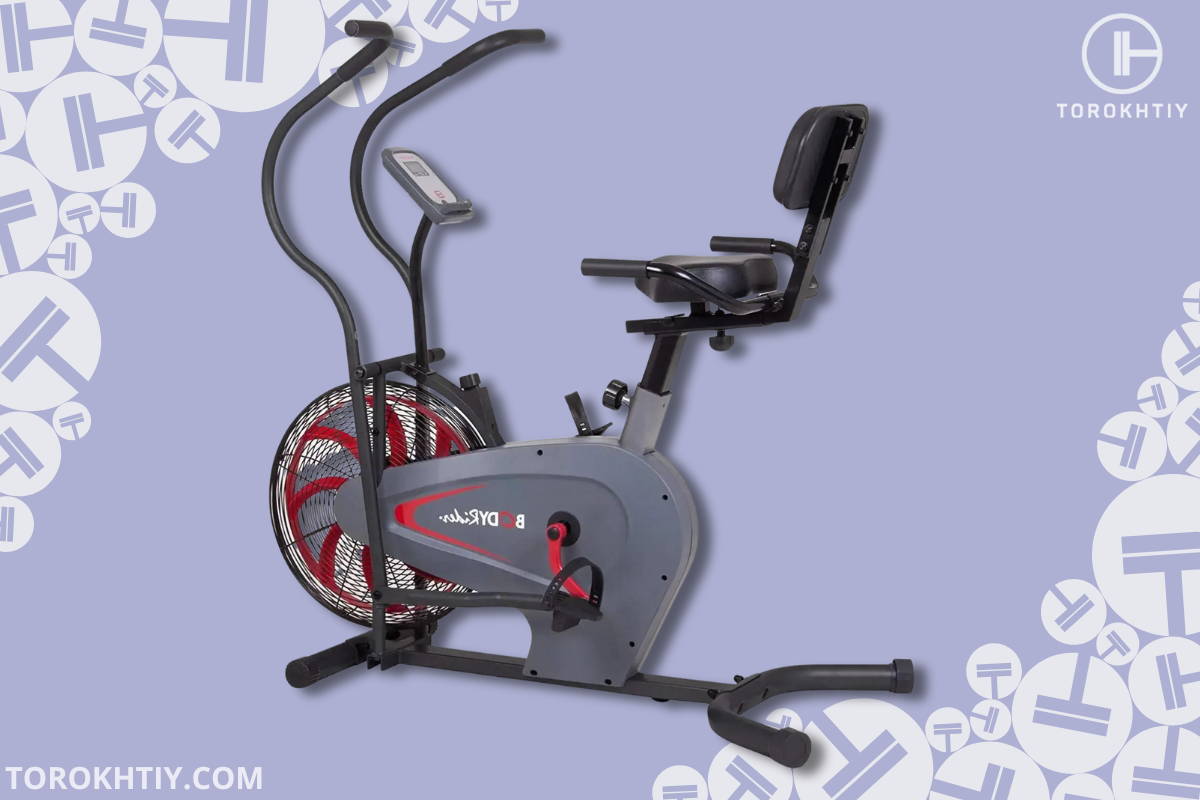 Body Rider manages several recumbent bikes with upper body workouts. BRF980 marks a high manufacturing cost for the company due to a considerable investment in research & development.
Dimensions: 52" L x 25" W x 63" H

Resistance Mechanism: Air
Display: Time, Distance, Calories, Speed, Scan
Product Weight: 62.1 Lb.
Max Weight Capacity: 250 Lb.
Assembly: Required (Professional Assembly Available)
Best Uses For: Cardio, Warm-up, Recovery, Rehab
Special Features: Curve Crank Technology, Two-way Adjustable Seat, Micro-Adjustable Resistance
Warranty: 1 year on frame, 90 days on parts
The manufacturer has introduced a patented biomechanical design – dubbed curve-crank. It disperses the spinning force in opposite directions and creates an oval trajectory. Although closer to elliptical motion, it's gentler on the knees.
Foot plates are Velcro-strapped and open-back. The airflow is stable thanks to a weighted and ringed fan wheel. A manual tension control sets the intensity. For example, you can simulate uphill cycling while training your arms as well. The recumbent seat is perched on top of a sliding rail. Arm exercisers are bulged out, failing to accommodate a reclining position. You must stop leaning on the cushion to work your arms.
Monitoring your progress has never been easier, allowing you to track your fitness journey and stay motivated to achieve targets. There is ample space below the interface unit. You can slot your phones, tablets, or magazines.
You won't get any presets or coaching lessons. Nonetheless, a 10-minute 3D animation of the assembly process exists on the official YouTube channel.
The Body Rider BRF980 recumbent bike offers a patented curve-crank design for a gentle and effective workout that combines upper body and lower body exercises, while also providing user-friendly progress tracking and convenient storage space.
(Show More)
Curve-Crank Tech eliminates dead zones and joint impacts

Stationary handles under the seat to pedal only

Bottle holder and media shelf are embedded free of charge
Backrest-to-handle distance may be a lot for some people

Low contrast makes the display hard to read under direct light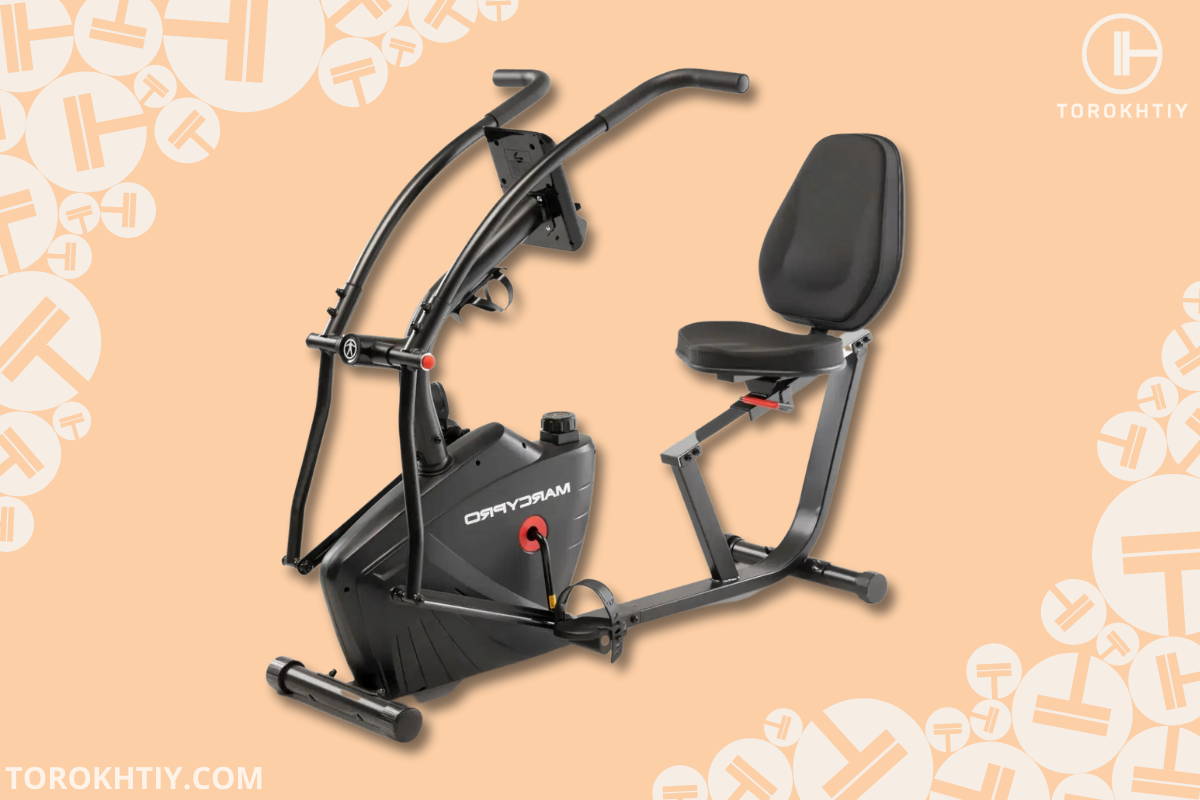 Marcy Pro makes sure your upper body gets the attention it deserves. This recumbent exercise bike with arm workout is a solid piece of fitness equipment with a few design shortcomings.
Dimensions: 27" L x 60" W x 45.5" H

Resistance Mechanism: Magnetic
Display: Time, Distance, Calories, Speed, Scan
Product Weight: 80 Lb.
Max Weight Capacity: 300 Lb.
Assembly: Required (Guided)
Best Uses For: Cardio, Warm-up, Recovery, Rehab
Special Features: Floor Levelers, Two-way Adjustable Seat, Self Leveling Pedals
Warranty: 2 years on frame and parts
Utilizing signature materials, Marcy provides yet another no-frill bike for no-holds-barred training. It features a large 15" seat pad and step-through design. The seat adjusts for all users on a sliding track.
Clips for your water bottle and mobile devices come in handy. However, using the device blocks the display, and there are no compatible web solutions. Meanwhile, you either keep an eye on your performance or tune in to your favorite shows.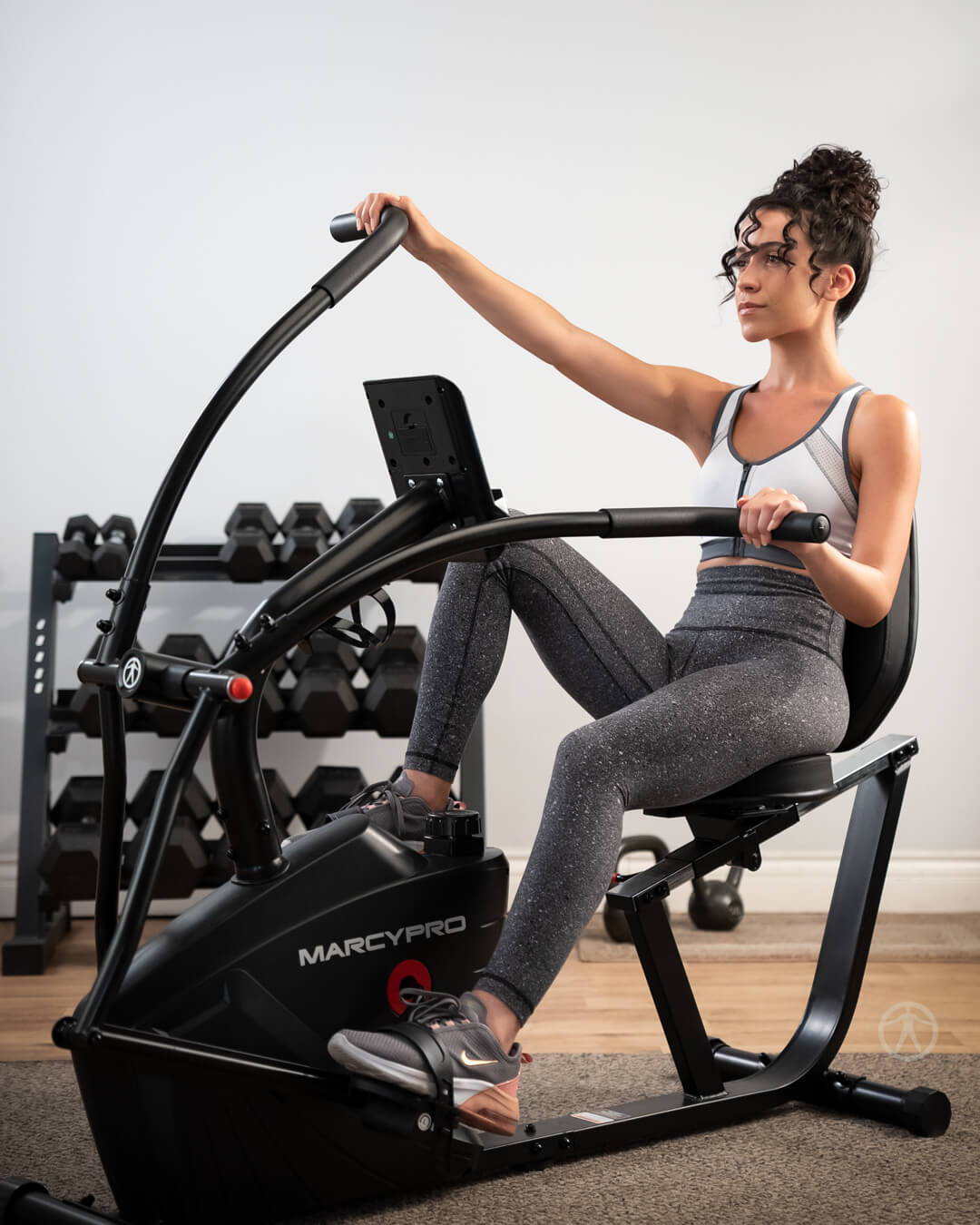 Another callout with the console is its placement. The distance doesn't affect visibility. But you can't press onboard buttons from a relaxed stance. You'll face the same challenge while cranking up the tension. Eight consistent levels of magnetic resistance range from light-to-moderate intensity. You won't be scrolling up and down as quickly as in a HIIT session anyways.

There are wheels under the front base. A twisting leveler stabilizes the central column on most surfaces. You'll get a limited two-year warranty and sparsely-labeled assembly instructions. Prior experience in handling likewise machines will streamline the task.

The Marcy Dual Action Recumbent Exercise Bike offers effective upper body workouts alongside its solid construction and adjustable features, while some design aspects could benefit from improvement.
(Show More)
The extended backrest supports the lower back and thoracic spine

Supple and textured contact points: handlebars, seat, and pedals

Adjustable floor stabilizers maintain the stability
No stationary handles for leg work only

Display panel and handlebars should be made adjustable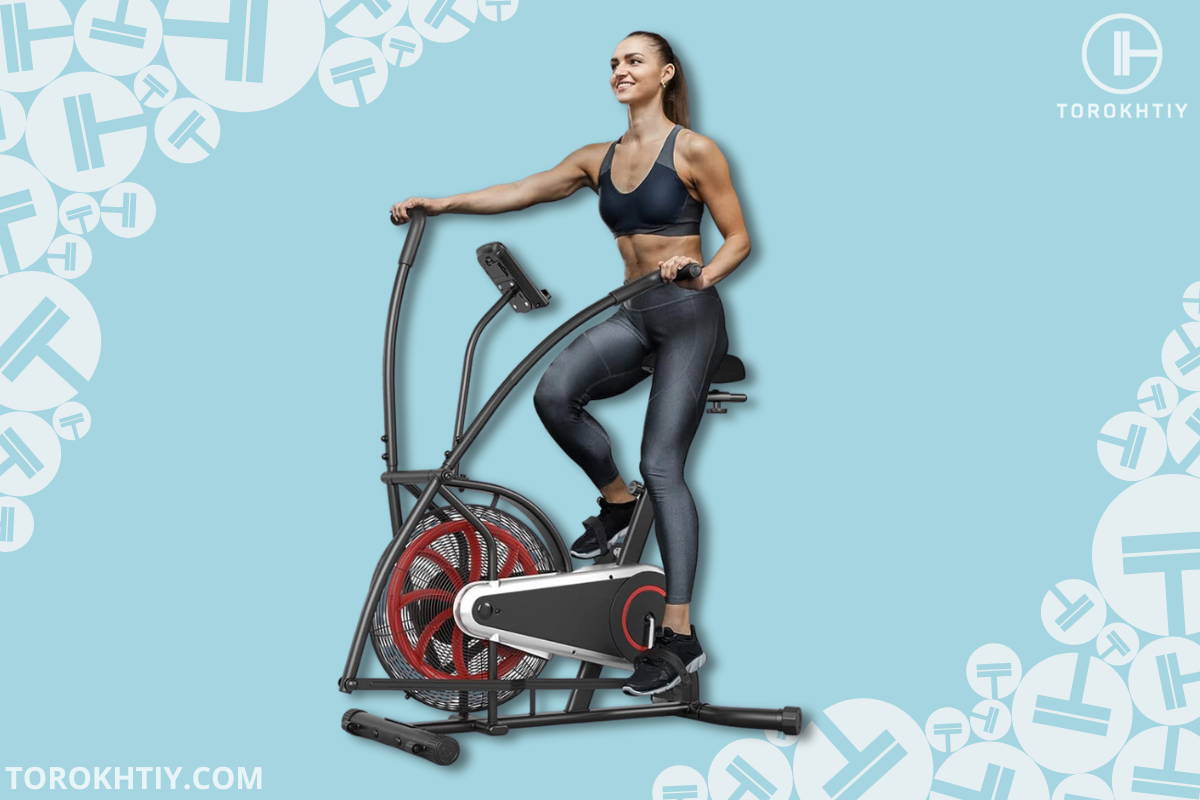 GoPlus is an underdog in the industry, started off in 2013 and nurtured by third-party retailers. Amazon-managed shipping and returns are still more reliable than the brand's services.
Dimensions: 41" L x 23" W x 50" H

Resistance Mechanism: Air
Display: Time, Distance, Calories, Speed
Product Weight: 58 Lb.
Max Weight Capacity: 242.5 Lb.
Assembly: Required (Guided)
Best Uses For: Cardio, Warm-up, HIIT, Recovery
Special Features: Four-way Adjustable Seat, PVC leather coating, Anti-slip Handles and Pedals
Warranty: 30-day return and replacement
GoPlus jumped into the rush of creating a functional and economical hybrid bike. The purpose is to facilitate stay-at-home folks, regardless of fitness level and goals. All in all, the company did great under a decent budget. The only improvement required to match name-brand models is in the customer support department.
The ergonomics to pop off its polyurethane-coated saddle and sweat-absorbent handles are rare in exercise bikes with moving arms. You can lock the seat at ten points. The depth is also customizable to compensate for the arm's reach. Otherwise, the bike's improper fit can result in hip and knee problems.
You can calculate the distance in miles or kilometers by pressing the mode key for five seconds. Distinctive highlights include a non-slip handle grip, grooved footplates with toe cages, and a waterproof seat covering.
The styling is borrowed from established brands. Its dual-stage belt/chain drive, eight-blade ringed fan, and spooked housing are reminiscent of Marcy and Body Rider.
The GoPlus Fan Exercise Bike, an up-and-coming contender established in 2013, offers a functional and budget-friendly hybrid design with notable ergonomic features, yet potential improvements in customer support.
(Show More)
Highly adjustable seat: 33"-42" vertical, 17"-22" horizontal

Sweat-resistant, soft to the touch grips don't tire out hands

Odometer records distance in both mph and kph
Lack of assuring long-term warranty from the manufacturer

No power rating (watts, RPM, bpm) or connectivity options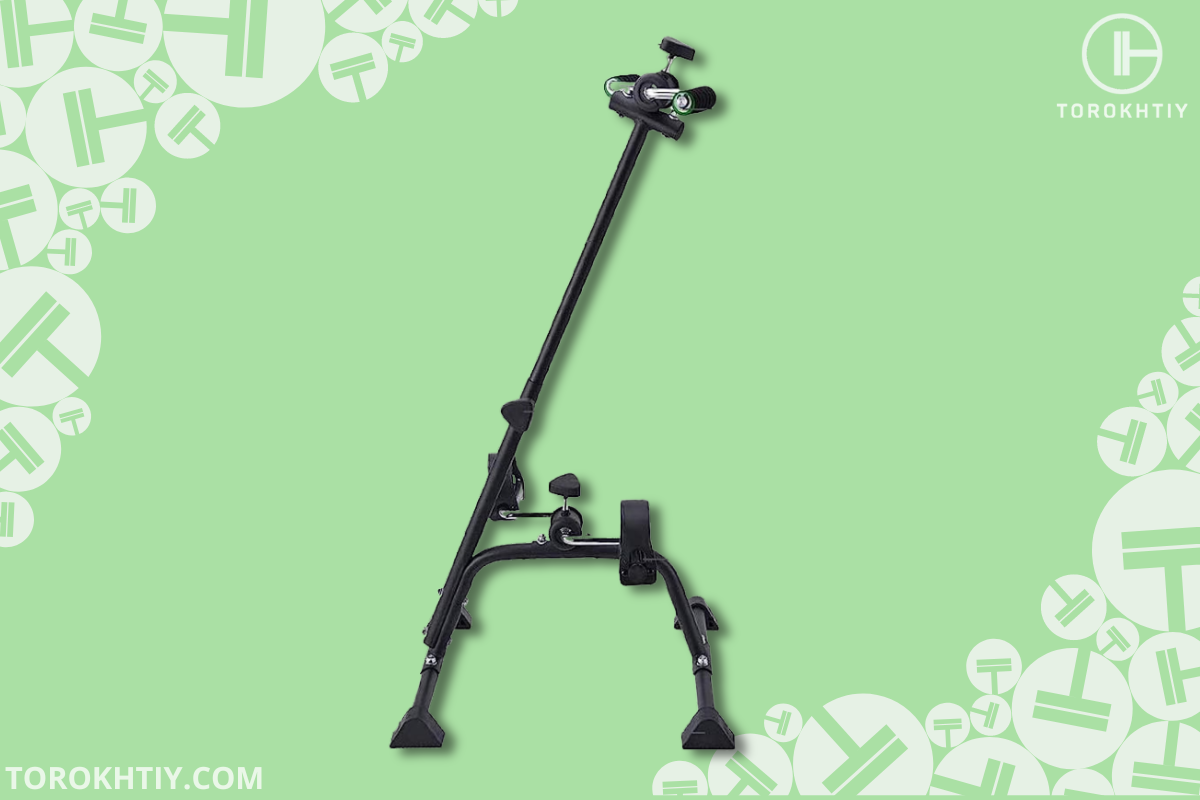 Dimensions: 5.12" L x 8.27" W x 18.9" H

Resistance Mechanism: Friction
Display (Optional): Time, Distance, Calories, Reps, Scan
Product Weight: 9.58 Lb.
Max Weight Capacity: 200 Lb.
Assembly: Required (Guided)
Best Uses For: Cardio, Warm-up, Rehab, Physical Therapy
Special Features: Adjustable Resistance and Height, Stainless Steel Bracket, Triangular Frame
Warranty: 30-day return and replacement
The Exercise Peddler is well-suited for individuals with limited mobility. This compact and portable stand offers a low-impact workout that provides numerous health benefits without putting undue stress on joints or muscles.
It is designed to be used while sitting in a chair or on a couch, providing additional support. You can adjust the tension of handles and pedals separately. However, the felt resistance isn't geared to challenge active adults.
The bracket can be easily moved and stored. This convenience ensures seniors can engage in regular physical activity without needing specialized equipment or hitting a gym. There are two drawbacks. It gets super hot after 10-20 minutes of workout. Secondly, bolts of the base loosen over time.
Nisdokr surfaced on Amazon back in 2017. It doesn't have any official website or communication channels yet. Once the 30-day window ends, you'll barely find any assistance should you run into a complication. However, it's cheap and simple.
The NISDOKR Pedal Exerciser provides a convenient and affordable option for seniors and individuals with limited mobility to engage in low-impact, seated exercise, despite potential issues with overheating and durability.
(Show More)
A great gift for seniors, user-friendly and super-effective

It comes with a mat and strap for stability

Requires little space and strength for moving around
Holding the red-hot shaft can leave a burn

After-sales service is non-existent
What Are the Benefits of Exercise Bikes With Moving Arms?
For spinning enthusiasts, every day is leg day. You work your calves, quads, hamstrings, and glutes with every pedal stroke. The upper body shouldn't be neglected. Some bring dumbbells; others mix push-ups. However, using a stationary bike with moving arms is the finest way.
A synchronized push-pull rhythm engages your biceps, triceps, lats, deltoids, pecs, and back extensors. It's a total-body, aerobic, and muscle-strengthening exercise – all in one. Your core is the powerhouse of stability. Compared to standard cycling, it's more active during dynamic movements where your hands and torso keep it guessing.
✅ High Calorie Expenditure
You can carry out multiple endurance tests on a bike. Some instances would be a 5km time trial, 40m cycle sprint, or 100-calorie challenge. A 8-week experimental study found that HIIT on a total-body bike improves aerobic and anaerobic capacity. Furthermore, it results in strength gains, as tested with squats and bench presses.
Whatever advantages an exercise bike with moving handles brings for your health, it doesn't elevate the impact and stress on your joints. You're still sitting on a cozy seat. Your limbs aren't pounding on the floor. It retains and improves the rehabilitative qualities of indoor bikes. You can solely work the upper body if a particular injury needs rehab or stops you from pedaling.
What to Look For in an Exercise Bike With Moving Arms?
After making an outlay for budget and space, look for the following characteristics in shortlisted models.
As discussed earlier, a four-way adjustable seat is key to avoiding injuries and maintaining proper form. The vertical adjustment controls the inseam range and distance between the saddle and pedals. Horizontal or forward/back movement optimizes your arm's extension toward dual-action handlebars.
The durability of your exercise bike boils down to two things. The quality of utilized materials, as well as the engineering, should be top-of-the-line. Wider steel bases, floor levelers, rubber feet, and stabilizers prop up machines under dynamic load. Take weight capacity as an indicator.
Your back and butt shouldn't be the first to ask for mercy. Padded seats, foam-covered handlebars, and textured pedals look after your comfort. To boost ergonomics, you can look for a recumbent bike. Despite a uniform range of motion in the lower body, knee load may significantly decrease.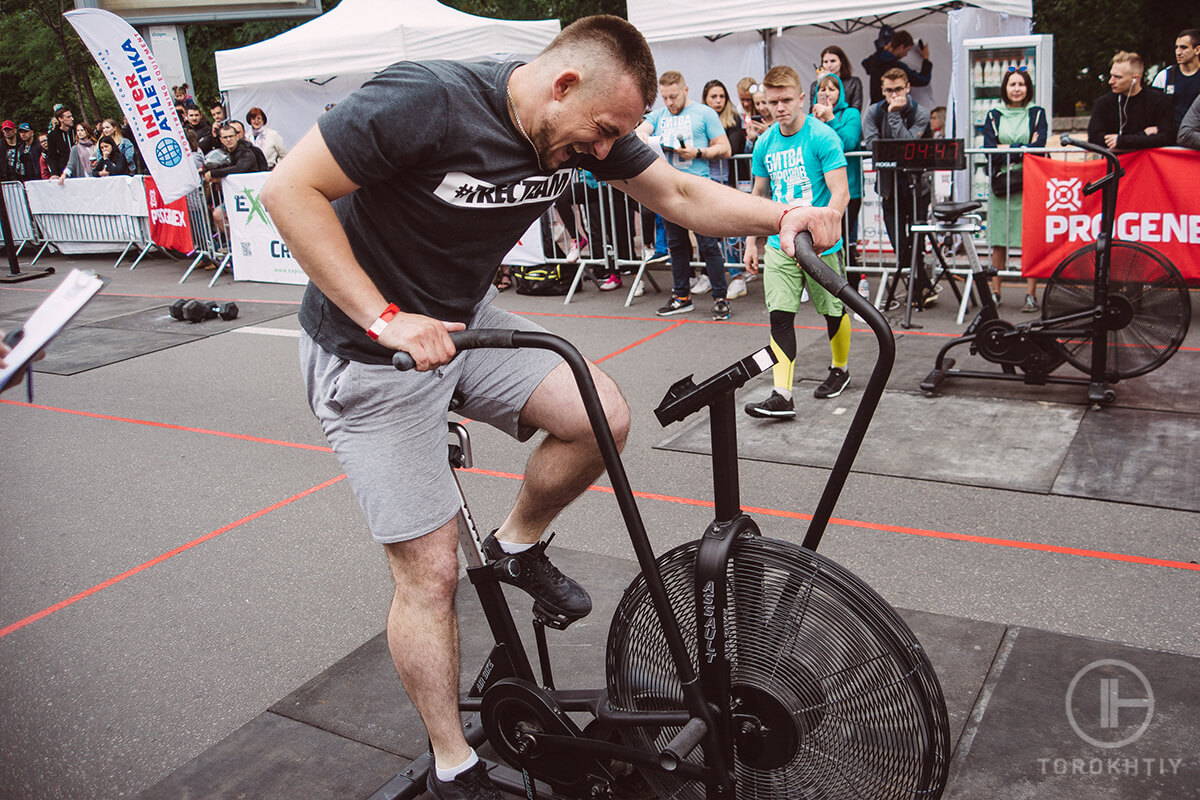 Bikes have a magnet-surrounded or wind-powered flywheel to stir resistance in the system. The way torque from feet is transferred to that housing is called a drivetrain. Chains are tried and tested. But they tend to slip off. Long-lasting, low-upkeep belts are found in modern engines.
A stationary bike with moving handles is a gigantic frame. It never comes pre-assembled. The manufacturer must simplify the process with clear instructions, labeled components, and a quick turnaround for replacement parts. Ask for expert assembly and installation services if you can't handle heavy equipment on your own.
The conundrum for home gyms is that we want our machines to last a long and rough time while simultaneously sneaking into small spaces. See requirements for floor space and ceiling clearance. For example, Rogue Echo is a wonderful, merciless bike but an oversized one.
Once you approach four-digit cost, mechanical features are mostly indistinguishable. Companies play on tech. We'd recommend going for a straightforward model with a big console. It counts stroke, time, distance, and speed. Some might allow wireless connectivity and workout presets.
Going for all the latest specs or the dirt-cheap cost is an equally bad idea. You should evaluate a product based on its price/quality ratio. An expensive and durable bike will be more economical per hour of use. Check out the warranty if it covers parts and labor expenses.
How to Use an Exercise Bike With Moving Arms?
Before kicking off your workout, remember adjusting the saddle. You shouldn't be overextending or excessively slouching to achieve full ROM.
If your bike supports adjustable resistance, select a level that's neither too easy nor impossible.
Try different routines, intensities, and muscle groups every time to avoid boredom and squeeze the most out of a session.
Are Exercise Bikes With Moving Arms Good?
An exercise bike with arm workout doubles up on muscle engagement and energy expenditure without putting excessive strain on your joints. It's one of the safest methods to work your entire body.
What Are Stationary Bikes With Moving Arms Called?
The earliest and most common exercise bikes with moving arms were wind-powered variants known as air bikes. However, Sunny, Marcy, and other fitness companies have rebranded their flagship magnetic bikes with dual-action handlebars. So, they can be called a lot of things.
For cyclists, maintaining upper-body strength is akin to leg day. A necessary but grueling detour! Full-body bikes fuse much-needed appeal and action. The best exercise bike with moving arms, such as AssaultBike or Rogue Echo, recruits all important muscle groups head to toe. They save time and increase gains.
Do you think using an exercise bike with moving handles is the best way out there? We'll watch for your opinions in the comment section. You'll succeed to nail your technique and be able to lift heavy weights without sacrificing your balance and coordination capabilities. Adidas Powerlift 5 trainers are a worthy pair of training deadlift boots that won't limit your movements during the toughest drills.

Have questions about what makes deadlift shoes stand out from standard cross-training shoes? Leave a comment below and our weightlifting experts will answer them in the shortest time.
Lucinda Bouillon, "COMPARISON OF TRUNK AND LOWER EXTREMITY MUSCLE ACTIVITY AMONG FOUR STATIONARY EQUIPMENT DEVICES: UPRIGHT BIKE, RECUMBENT BIKE, TREADMILL, AND ELLIPTIGO®" Int J Sports Phys Ther. 2016 Apr; 11(2): 190–200.
BikeRadar "Road bike sizing: what size bike do I need? "

https://www.bikeradar.com /advice/sizing-and-fit/road-bike-sizing/ (accessed August 10, 2023)

Morris B. Mellion, "Common Cycling Injuries" Sports Medicine 09 October 2012; 52–70
Manuel Chavarrias, Jorge Carlos-Vivas "Health Benefits of Indoor Cycling: A Systematic Review" Medicina (Kaunas). 2019 Aug; 55(8): 452
Sung-jin Kim "Effects of stationary cycling exercise on the balance and gait abilities of chronic stroke patients" Medicina (Kaunas J Phys Ther Sci. 2015 Nov; 27(11): 3529–3531.
JOHNSON, MICHAEL A. "Effects of Prior Upper Body Exercise on the 3-min All-Out Cycling Test in Men" Medicine & Science in Sports & Exercise 52(11):p 2402-2411, November 2020
"Calories burned in 30 minutes for people of three different weights" https://www.health.harvard.edu /diet-and-weight-loss/calories-burned-in-30-minutes-for-people-of-three-different-weights (accessed August 10, 2023)
"What Exactly Are METs, and What Should You Know About Them?" https://www.healthline.com /health/what-are-mets (accessed August 10, 2023)
ProCon.org "MET Values for 800+ Activities" https://golf.procon.org/met-values-for-800-activities/ (accessed August 10, 2023)
Petr Schlegel "Physical fitness improvement after 8 weeks of high-intensity interval training with air bike" April 2022
Dagmara Gloc "Indoor cycling training in rehabilitation of patients after myocardial infarction" BMC Sports Sci Med Rehabil. 2021; 13: 151.
Raoul F Reiser 2nd "Knee loads in the standard and recumbent cycling positions"
Geoffrey Millour "Comparison of static and dynamic methods based on knee kinematics to determine optimal saddle height in cycling"
With over 20 years in Olympic Weightlifting, our team does its best to provide the audience with ultimate support and meet the needs and requirements of advanced athletes and professional lifters, as well as people who strive to open new opportunities and develop their physical capabilities with us.
All products we select are primarily approved and tested by the Olympic Weightlifting Champion Oleksii Torokhtiy. Under his guidance, we provide honest and reasonable assessments of the products we review by checking their characteristics, packaging, design, comfort and durability features, and general product rating. We select products from only high-quality and trusted sports brands, thus vouching for their quality.
The product testing process is described in more detail here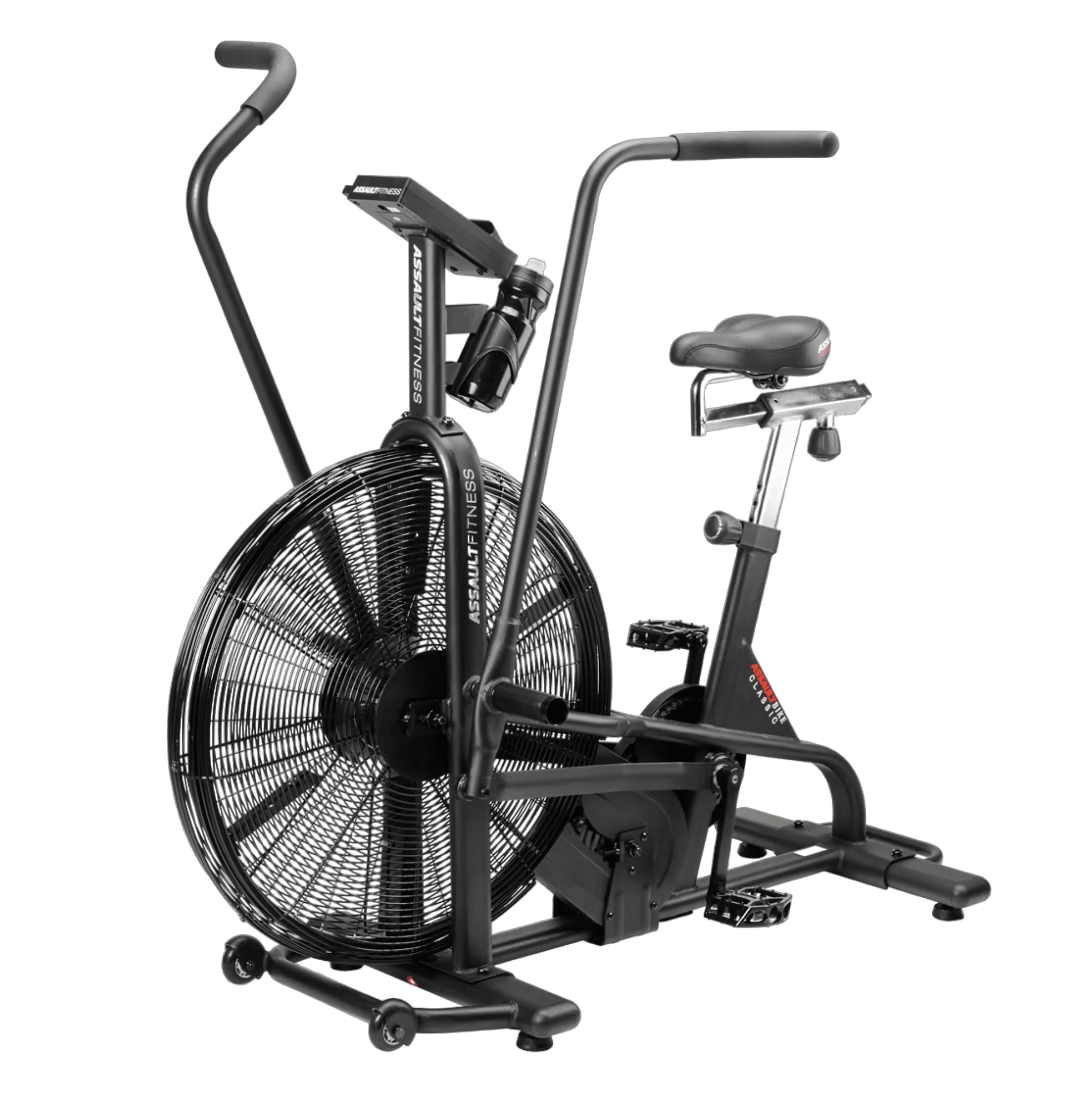 Coach, PRO Olympic Weightlifter
Experience: 26 years
Best Results: Snatch - 208 kg,
My name is Ihor and I have been a professional weightlifter since 1996. With over 20 years of competition experience, my resume includes European Champion in 2009 and the silver medalist at 2011's Senior World Championships – 105kg division.
I competed at the 2008, 2012 and 2016 Summer Olympics.
After hanging up my own competitive lifting shoes, I decided to share my huge background as a coach. I am currently coaching multiple athletes who are competing at national and international competitions.
Olympic Weightlifting Champion
Experience: 21 years
Best Results: Snatch – 200 kg,
My name is Oleksiy Torokhtiy. I am a professional athlete with 20 years of experience in Olympic weightlifting. I have won multiple European, and World titles and have taken part in two Olympic Games (Beijing 2008, London 2012).
After finishing my career, I have committed myself to coach, and as of 2022, I've hosted 200+ weightlifting seminars all over the globe. I'm the founder of an international sportswear and accessories brand, Warm Body Cold Mind (my motto), author, and creator of a series of training programs and eBooks.
If you have any questions/suggestions/any other inquiry, you can reach out to us via email - reviews@torokhtiy.com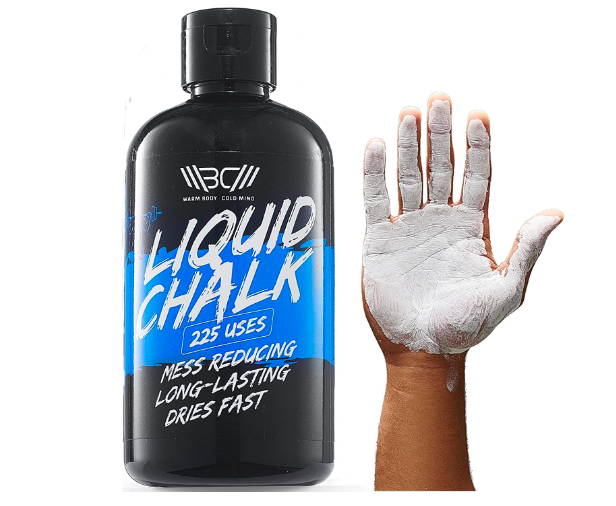 This article was written by our qualified author and proofread by expert with proven experience. When writing the article we use our expertise and data from open sources with strong reputation, scientific or medical based. The list of references is provided at the end of the article.
Our team of authors and experts includes professional athletes (Olympians, winners of European and World titles) PhD in Sport Science, certified coaches, sports nutritionists, CSCP, physiotherapists and other. Read more about the team here, and more about how we test here.