Whether you want to pack on lean muscles or shed extra pounds, exercise is the way forward. Stationary bikes are pretty impressive at fighting obesity. A study in Medicina recounted weight loss, cholesterol management, and aerobic fitness as the many benefits of indoor biking.
From the list below, you can choose the best exercise bike for heavy persons, ready to take calorie-crushing workouts like a champ.
In a hurry and can't keep reading? How about you check out the Rogue Echo Bike V3.0.
Rogue Echo Bike V3.0, the result of a decade of strength equipment expertise, excels as the ultimate stationary bike for heavier users, offering exceptional stability due to its substantial weight and sturdy frame, complemented by robust rubber leveling feet.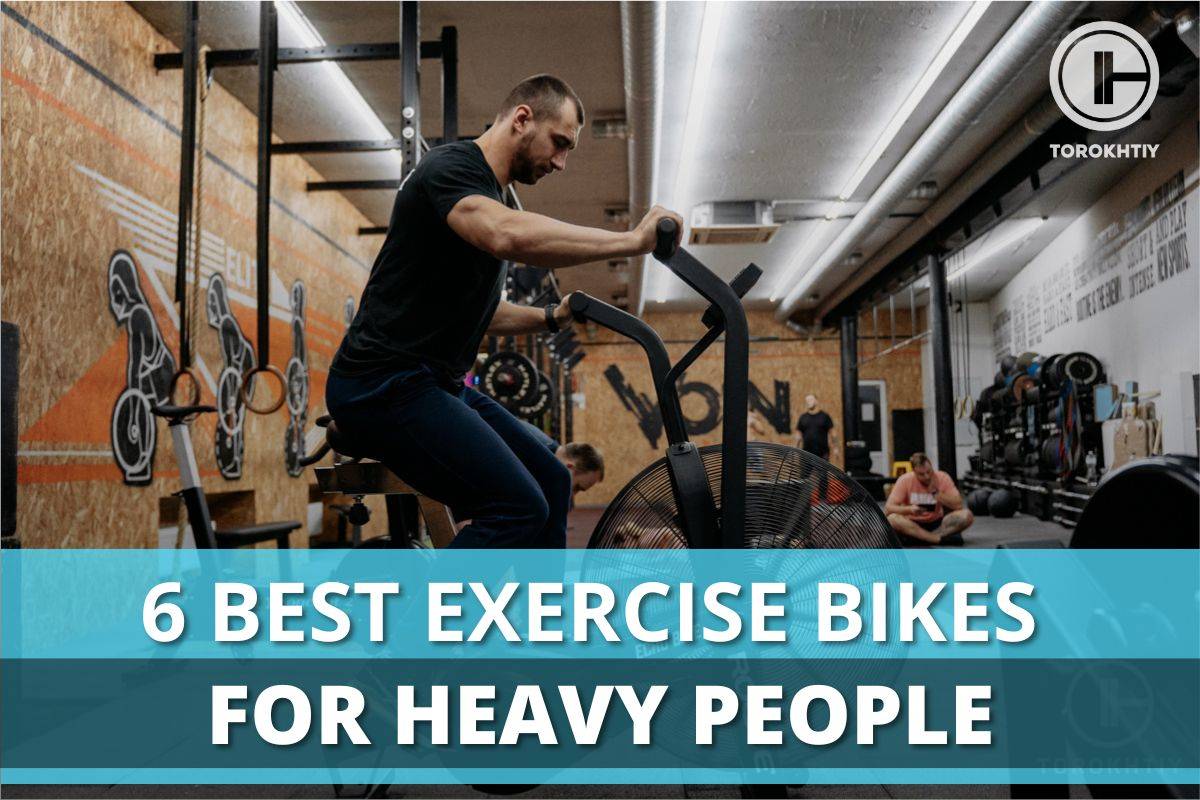 Top 6 Exercise Bikes for Heavy People Reviewed
After a decade of manufacturing beefy strength training equipment, the Ohio-headquartered brand was sure to deliver a conditioning masterpiece. And Echo bike lived up to the expectation.
Dimensions: 55" L x 29.5" W x 52.25" H

Resistance Mechanism: Air
Display: Time, Distance, Calories, Speed, Pulse, Watt, RPM
Product Weight: 123 Lb.
Maximum Weight Capacity: 330 Lb.
Assembly: Required (Guided)
Warranty: 2 years
Best Uses For: Cardio, HIIT
Special Features: 4D Adjustable Seat, Dual-Action Handlebars, Belt Drive, Industrial Coating
Rogue Echo is the best stationary bike for heavy persons. It clocks in at over 120 lbs. No matter how explosive your cycling workouts get, the frame will resist wobbling and shaking due to its sheer weight. Then, we have thick rubber leveling feet for stability.
It's an air bike, meaning a fan creates unlimited resistance. Echo does away with traditional chain drives and plastic fans. Ten stealthy metal blades churn the air inside its 27" giant cage. It features rubber-grip moving arms for full-body activation. Browse through the Compendium of Physical Activities' MET values, which underpin the amount of calories you burn. Besides a bike's metabolic cost of 7, arm ergometers throw another 4.3 at moderate speed.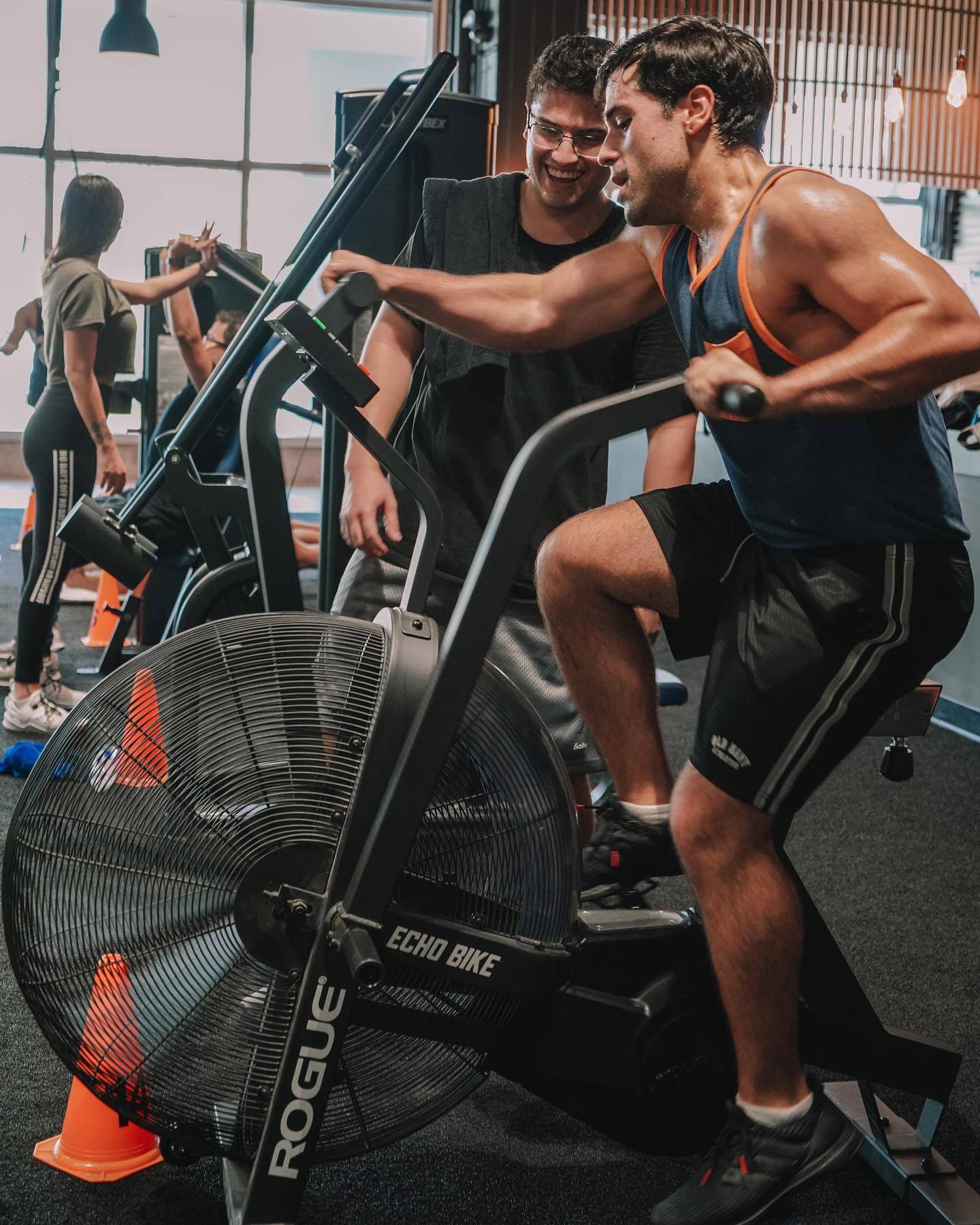 Multiple highlights include a four-way adjustable saddle, 4.5" knurled stationary pegs, and a new 5"x8" LCD monitor. You'll see one-touch interval programs built right in. The wireless compatibility opens up a lot of real-time connections. Rogue should consider providing security straps for pedals in upcoming iterations. Existing add-ons include a wind guard, device holder, bottle cage, and turf tires.

Rogue Echo Bike V3.0 boasts an air resistance system with metal blades, rubber-grip moving arms, adjustable features, a built-in LCD monitor, and optional accessories, while considering potential improvements like pedal security straps.
(Show More)
Industrial-grade steel construction and powder coating

The new LCD console connects with Bluetooth and ANT+ devices

A maintenance-free and quieter belt drive

Integrated footrests for focusing on upper-body workouts only
No pedal straps or toe cages for securing feet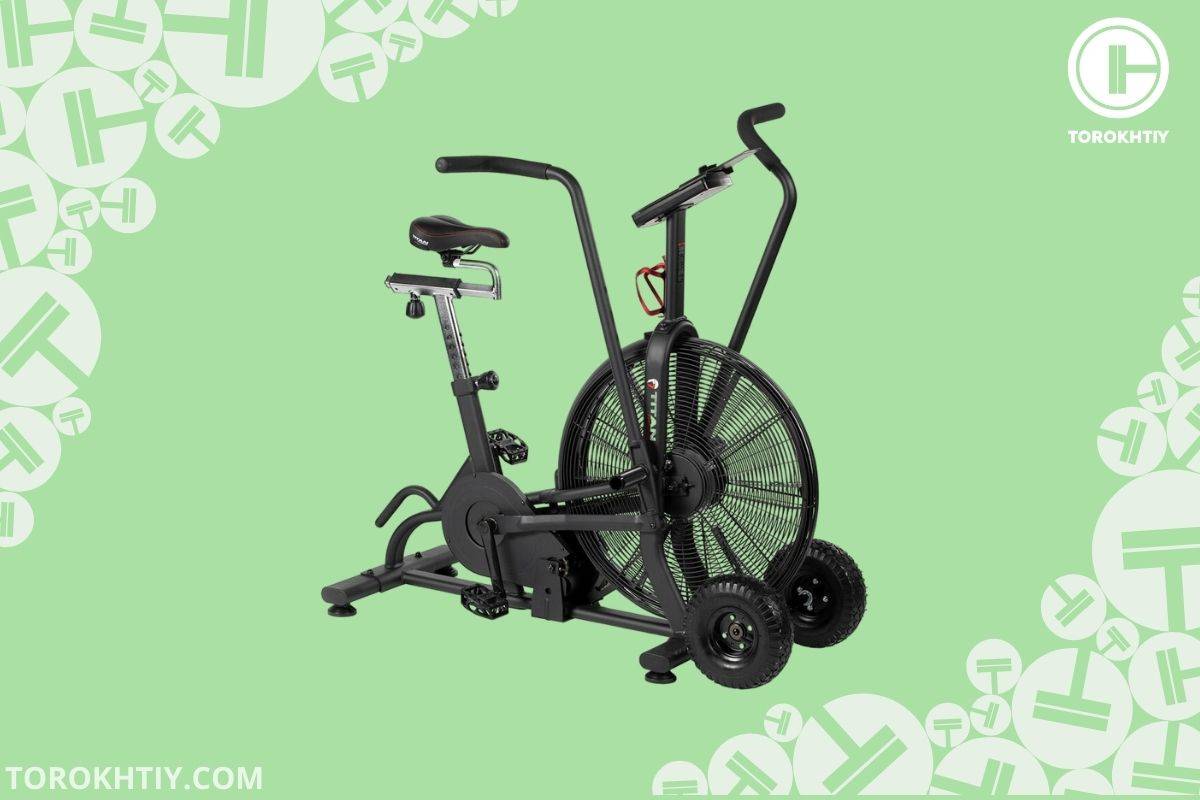 Titan Fitness is known for delivering budget-friendly and feature-filled offerings to doorsteps. The company's vast portfolio enables you to outfit an entire garage gym with its products only.
Dimensions: 50.25" L x 20.37" W x 50" H

Resistance Mechanism: Air
Display: Time, Distance, Calories, Speed, Pulse, Watt, RPM
Product Weight: 111 Lb.
Maximum Weight Capacity: 330 Lb.
Assembly: Required (Guided)
Warranty: 1 year limited
Best Uses For: Cardio, HIIT
Special Features: 4D Adjustable Seat, Dual-Action Handlebars, Accessory Holders, Industrial Coating
As the name implies, we're discussing another air bike. You'll have the same total-body and calorie-crushing workouts. The resistance is uncapped and adapts to your effort level. The harder you go, the higher tension you face. Reinforced pedals and footpegs are given to toggle between legs, arms, or a mix of both.
Enough with the recap! What sets Titan Fan Bike apart? It's value for money. Compared to the base version of Rogue Echo, it's a lot cheaper yet loaded with extras. For example, it comes fitted with an aluminum water bottle holder, a removable shield to repel wind blowbacks, and a media shelf to keep your device propped up (although it blocks the display). Furthermore, a pair of extra-large turf tires accent the front base. With an easy-grip handle at the back, you can maneuver it effortlessly across any terrain.

Rogue Echo is overbuilt, reliable, stable, and thus the first choice. Like Assault bikes, Titan relies on chains, notoriously known for being loud and loose. We can understand why one would prefer Titan when looking for an exercise bike for big people on a budget.
The Titan Fitness Fan Bike provides an affordable yet feature-packed option for total-body workouts with adjustable resistance, reinforced pedals, and added conveniences like a water bottle holder, wind shield and media shelf.
(Show More)
The heavy-duty steel frame is mostly pre-assembled

10" PU tires and a back handle allow seamless transportation

Built-in attachments: bottle cage, wind guard, etc.
Chain drives have more noise and maintenance issues than belts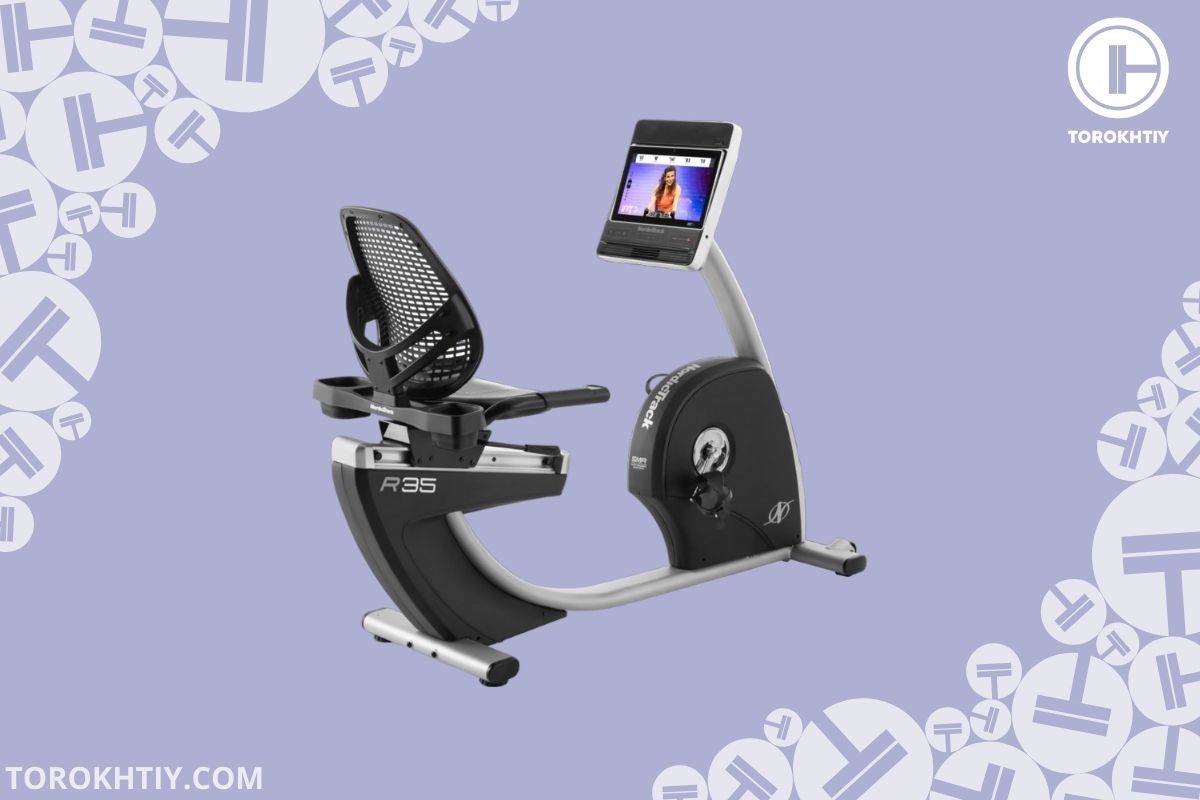 NordicTrack is a top-of-the-line name for cardio machines, including treadmills, ellipticals, and bikes. It doesn't skimp on tech features to charge less money, unlike its younger sibling, ProForm.
Dimensions: 68.22" L x 23.69" W x 53.42" H

Resistance Mechanism: Magnetic
Display: Time, Distance, Calories, Speed, Pulse, RPM
Product Weight: 192 Lb.
Maximum Weight Capacity: 350 Lb.
Assembly: Required (Professional Assembly Available)
Warranty: 10 years on frame, 2 years on parts, 1 year on labor
Best Uses For: Cardio, Warm-up, Recovery
Special Features: Horizontal Seat Adjustment, Lumbar Support, Touchscreen Display with iFit, Accessory Holders
R35 is a recumbent bike. It offers a backrest for a comfortable riding posture. It's good for your joints. You'll get oversized, ergonomic pedals with adjustable foot straps. Contrary to common knowledge, the hip and trunk activity is almost similar on upright and recumbent bikes.
The reputation of NordicTrack as a tech-savvy brand reflects on this exercise bike for heavy people, boasting a remarkable 350 lb weight limit. Its silent magnetic resistance has 26 levels, suitable for everyone regardless of health status. A 14" touchscreen display delivers a cinematic experience. The top bar showcases your workout metrics. A 30-day iFit trial lets you explore infinite videos, studio classes, and freeways. Your trainer can virtually regulate the tension while twin speakers impart clear instructions.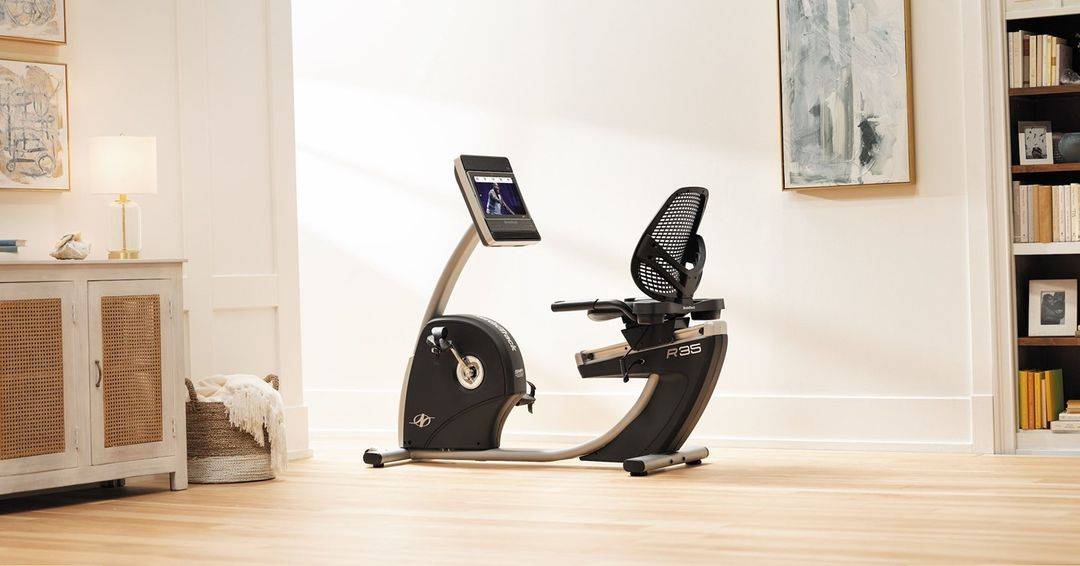 One missed opportunity is the exclusion of pulse sensors on handles tucked beside the seat and flanked by cup holders. Thanks to Bluetooth support, you can pair a heart rate monitor for accurate reading (or your earbuds for some music.) R35 is high on performance and price.

The NordicTrack Commercial R35 offers a comfortable and joint-friendly experience with a generous weight limit, multiple resistance levels, and Bluetooth capabilities, albeit at a premium cost.
(Show More)
Technology-laden bike with touchscreen, iFit support, and 30W speakers

Comprehensive warranty coverage on the frame, parts, and labor

Up to 26 levels of adjustable resistance provide greater control
Pulse grip sensors should be built onto handles at this price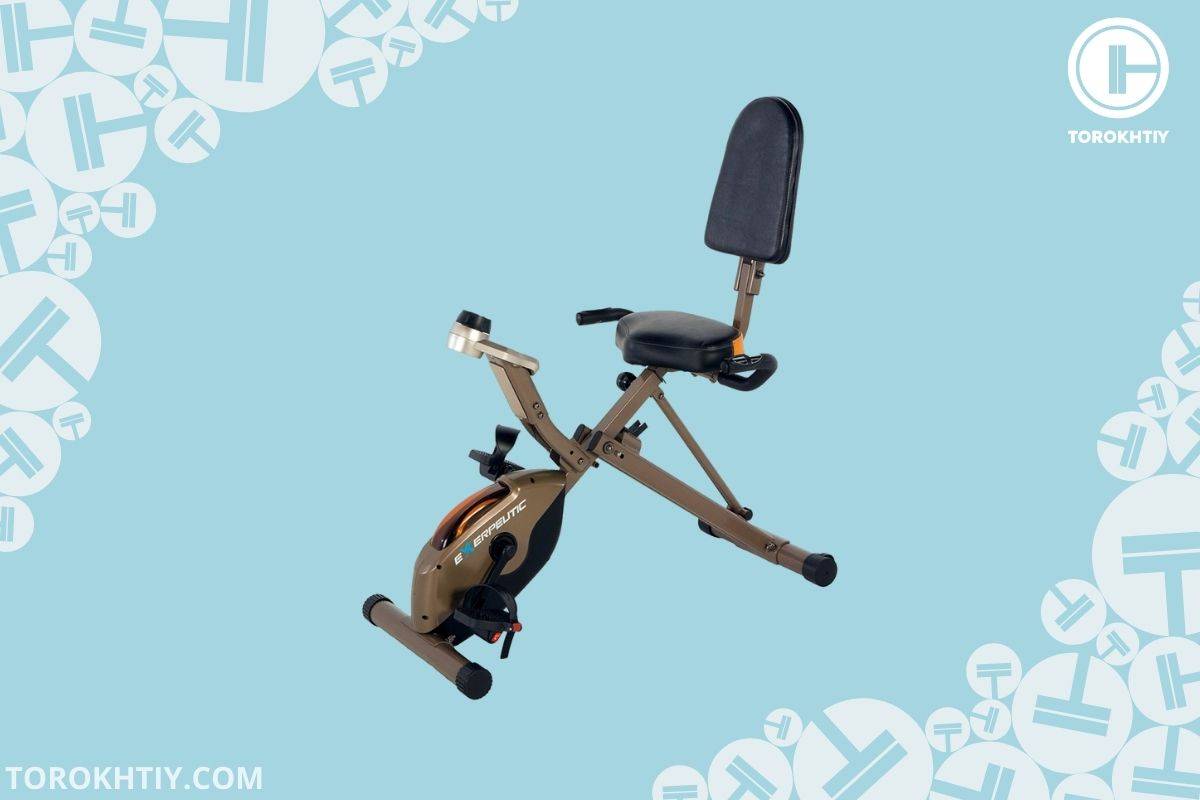 Exerpeutic is an established budget-forward brand on Amazon with a line of amazing products. Its popular 900XL and 400XL bikes are followed by a newer Gold 525XLR, bringing the extraordinary weight limit.
Dimensions: 24" L x 48.5" W x 46" H

Resistance Mechanism: Magnetic
Display: Time, Distance, Calories, Speed, Pulse
Product Weight: 54.7 Lb.
Maximum Weight Capacity: 400 Lb.
Assembly: Required (Guided)
Warranty: 1 year limited
Best Uses For: Cardio, Warm-up, Recovery
Special Features: Horizontal Seat Adjustment, Lumbar Support, Pulse Sensors, Belt Drive
The 525XLR has a compact X-shaped frame. It takes up less than half of Rogue Echo's space. Still, you can fold and stash it away after your spinning workouts. With a collapsible frame and transportation wheels, repositioning this lightweight bike is a one-person job.
There are certain updates worth highlighting. It's made with 27% more steel, hinting toward fewer plastic components. It translates into incredible durability and weight capacity. In addition, the adjustable back pad makes it a semi-recumbent bike. And mind you – it incorporates hand grip pulse sensors. Anyone from 5'2" to 6'5"can use it. The gold color and quirky design may not be fancy, but functional. It's the best folding exercise bike for heavy persons. Besides 400 lb max support, the extended stabilizers avoid shaking and tipping. We usually don't recommend smaller flywheels as they lose momentum, but its belt-driven and dual-mass transmission gets a pass!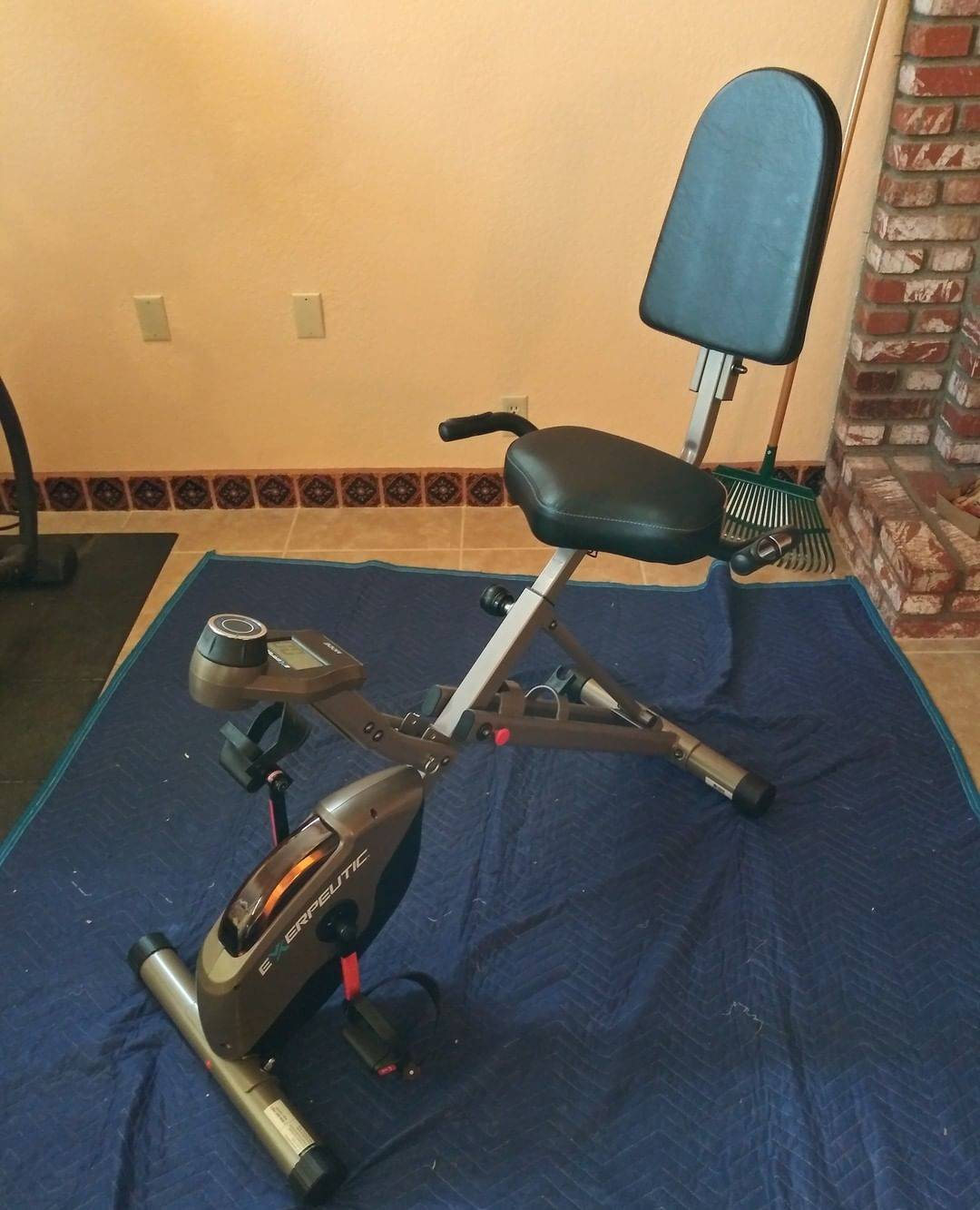 It still needs assembly, which could've been sidelined given its small form. There are only eight resistance levels controlled by a large knob perched above the console. Purchase a cadence sensor of MyCloudFitness if you're looking for an exercise bike with high weight limit and interactive programming.

The Exerpeutic 525XLR Folding Bike offers a compact and foldable design, impressive weight capacity, durable construction, adjustable features, and user-friendly design, making it a practical choice for heavier users.
(Show More)
Built-in pulse grip sensors on the handles

Suits a wide range of people: up to 400 lb user weight and 6'5" height

Folds into a 27" x 18" footprint for hassle-free storage
Limited resistance barely poses any challenge for serious cyclists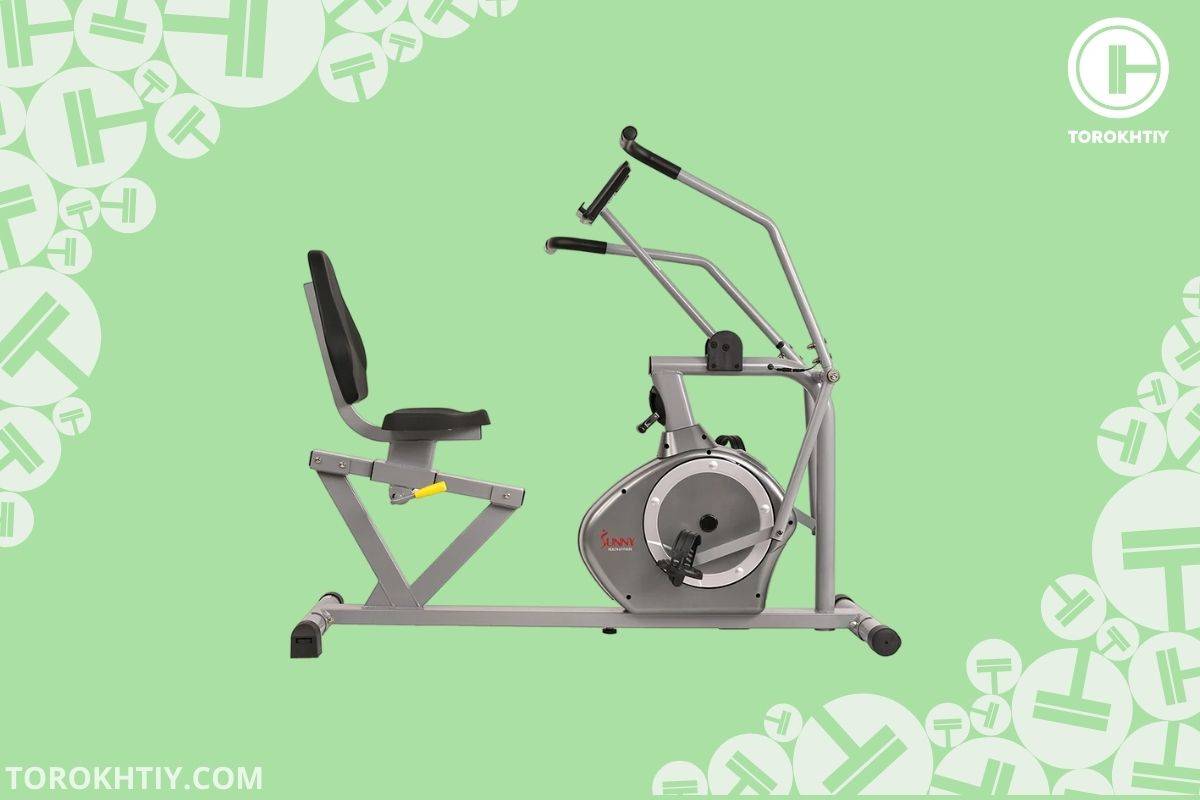 If you're truly cash-strapped and searching for an exercise bike for big guys, Sunny Fitness welcomes you. This cross-trainer brings superior creativity, convenience, and comfort.
Dimensions: 60" L x 25.5" W x 52" H

Resistance Mechanism: Magnetic
Display: Time, Distance, Calories, Speed, Pulse, Scan
Product Weight: 95.8 Lb.
Maximum Weight Capacity: 350 Lb.
Assembly: Required (Guided)
Warranty: 3 years on frame, 180 days on parts
Best Uses For: Cardio, Warm-up, HIIT
Special Features: Easy Seat Adjustment, Dual-Action Handlebars, Lumbar Support, Pulse Sensors
Sunny Health's heavy duty exercise bike is an outstanding fusion of multiple tastes. It has the versatility of air bikes thanks to attached arm exercisers. The magnet-based tension remains fixed and quiet. You'll see an eight-level gear lever to downshift or switch up the flywheel's resistance. Lastly, the seat is accented with a densely-padded and ergonomically-contoured back pad.
The patented height adjustment enables you to optimize the distance without getting off. You only have to crank the handle for traveling closer or farther on the slanted bar, customizing for 26"-34" inseams. You might miss bottle holders and stationary handles on each side. Fortunately, heart rate sensors are integrated into moving arms. You'll get essential data feedback on the LCD. Put it on the scan function to repeat all metrics. The lack of interval or target programs comes as no surprise. In fact, seeing such at this price would startle more people. Nonetheless, SunnyFit App hides some useful lessons for you.
What matters is that Sunny Fitness has constructed a mechanically fit exercise bike with high weight capacity. You can use it to condition your total body, spiking calorie burn and accelerating progress. Plus, the recumbent support reduces joint pain and stiffness while strengthening muscles.

The Sunny Health & Fitness Cross Trainer is a budget-friendly exercise bike featuring attached arm exercisers, magnet-based tension, adjustable features, and a comfortable seat, providing a practical option for total-body conditioning.
(Show More)
A budget-friendly, heavy-duty recumbent bike option

Innovated seat adjustment smoothly operates while you remain seated

The padded seat and backrest are suitable for long marathon sessions
No stationary handles to grip while reclining

Having bottles and beverages nearby are crucial to stay hydrated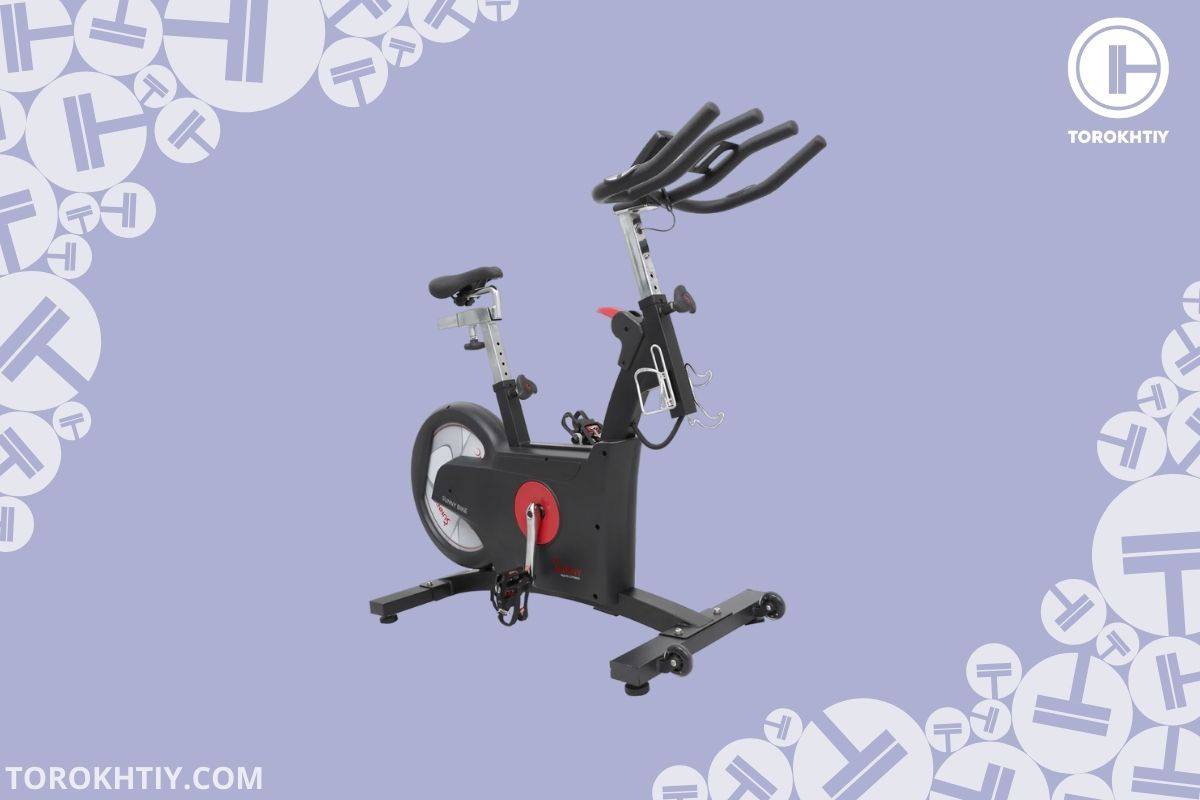 With the rear-mounted flywheels popping off, Sunny Fitness has also jumped the gun. Lucky for us – we can have a trustworthy exercise bike for overweight persons with all the latest tech and a digestible price tag.
Dimensions: 56.3" L x 21.9" W x 50" H

Resistance Mechanism: Magnetic
Display: Time, Distance, Calories, Speed, Pulse, RPM
Product Weight: 127.6 Lb.
Maximum Weight Capacity: 350 Lb.
Assembly: Required (Guided)
Warranty: 3 years on frame, 180 days on parts
Best Uses For: Cardio, Warm-up, HIIT
Special Features: 4D Adjustable Seat and Handlebars, Accessory Holders, Belt Drive, Pulse Sensors
A rear-drive system closely mimics actual road bikes. Also, it remains safe from sweat and moisture, thus less susceptible to corrosion. It can put quite a big dent in your pocket. Even this model is counted (and fairly so) among elite Sunny bikes, fluctuating prices from a couple hundred dollars to over a grand. Grab a discount deal at first sight.
You should know two potential drawbacks to the otherwise best exercise bike for heavy persons. First, there are only seven resistance levels. Secondly, getting up and down the saddle is trickier than normal step-through designs. If you don't have any mobility issues, continue reading!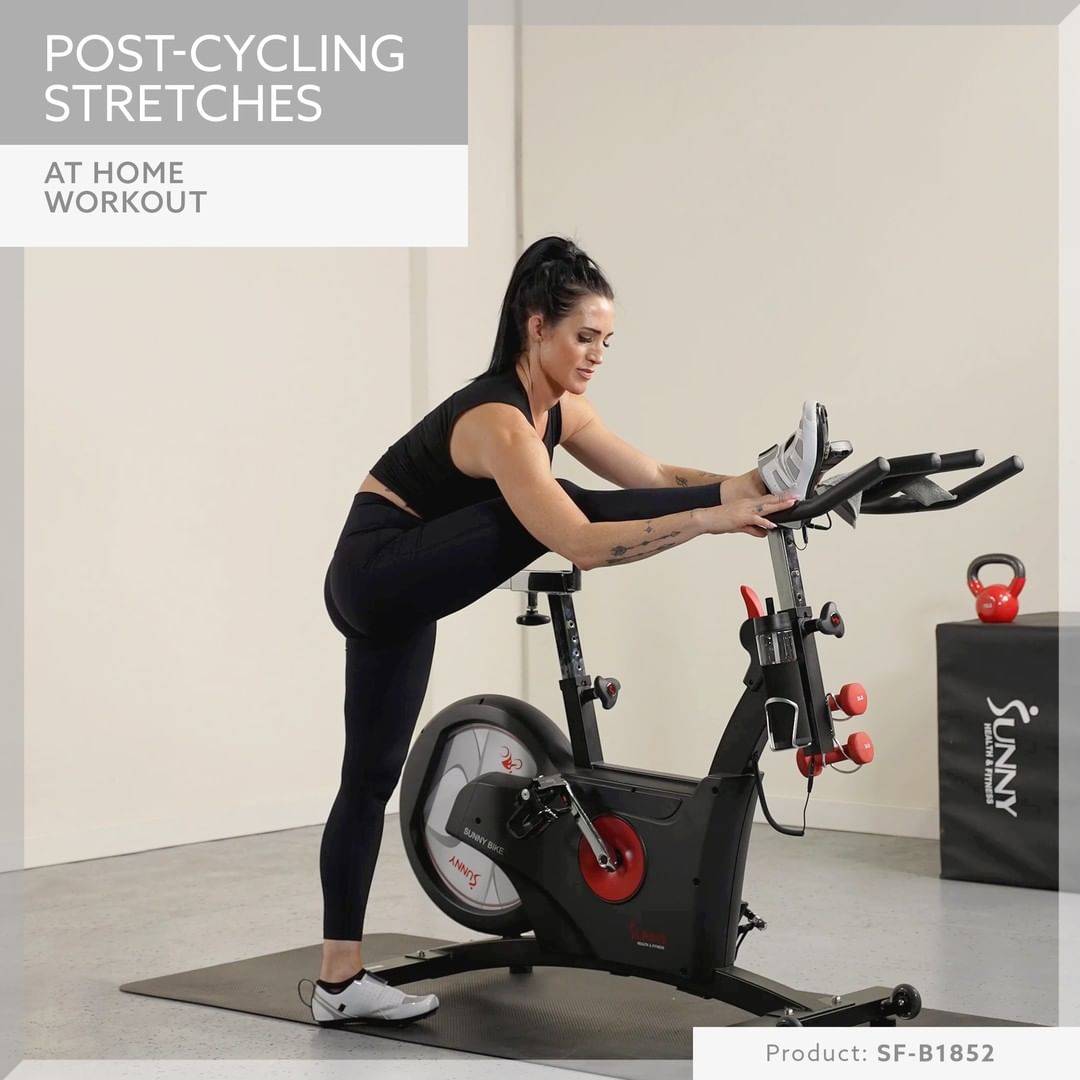 The Kinetic Rear Drive Bike allows maximum adjustability. You can move the seat and handlebars through all four directions: fore/aft and up/down. The distance from the seat to pedals and handles is 28"-41" and 18-23", respectively. Another superlative sneaks into its high-inertia, 40-pound flywheel. A heavy setup effectively conserves momentum, demanding greater energy to start and stop spinning. An emergency brake is installed. Dedicated clips for a bottle, pair of dumbbells, and tablet are also provided. The self-leveling pedals accommodate both clip-in and caged styles of footwear.

The Sunny Health & Fitness Kinetic Rear Drive Bike is a reliable exercise bike with a rear-drive system, adjustable features, a heavy flywheel, and added conveniences, making it a budget-friendly choice.
(Show More)
The seat and handles can be adjusted vertically and horizontally

Pedals have a plain side and toe cages on the other

Holds 32 lb dumbbells for your mid-session upper-body boost
The resistance range should be expanded for experienced cyclists

Easy to unbalance while hopping in and out of the bike
What to Look For in the Best Exercise Bike for a Heavy Person?
There are a few special considerations to take when shortlisting exercise bikes for obese folks. Every product designed to hold weight has a certain limit. Bikes only have to support user weight, unlike benches and racks. Hence, most of them max out at 250-300 lbs. You should target a higher rating.
Then, the item's weight matters. Having around a 100 lb bike is a promising indicator. Cheap flimsy bikes with low load capacity can shake and break mid-workout. Once you've removed longevity, stability, and safety concerns – evaluate all heavy duty exercise bikes based on the following metrics.
Adjust the seat from the get-go if your knees don't hit pedals at a 25-35-degree angle. You shouldn't slouch or overextend your arms. It's more important with moving handles. Apt ergonomics ward off injury risks and improper form. That's why the seat should be four-way, or at least horizontally, adjustable.
An exercise bike for heavy people must last a long time. It boils down to two factors: the quality and engineering of utilized materials. Both should be held to high standards. Wide stabilizers, rubber-tipped feet, and floor levelers further enhance the durability and stability of bikes under dynamic load.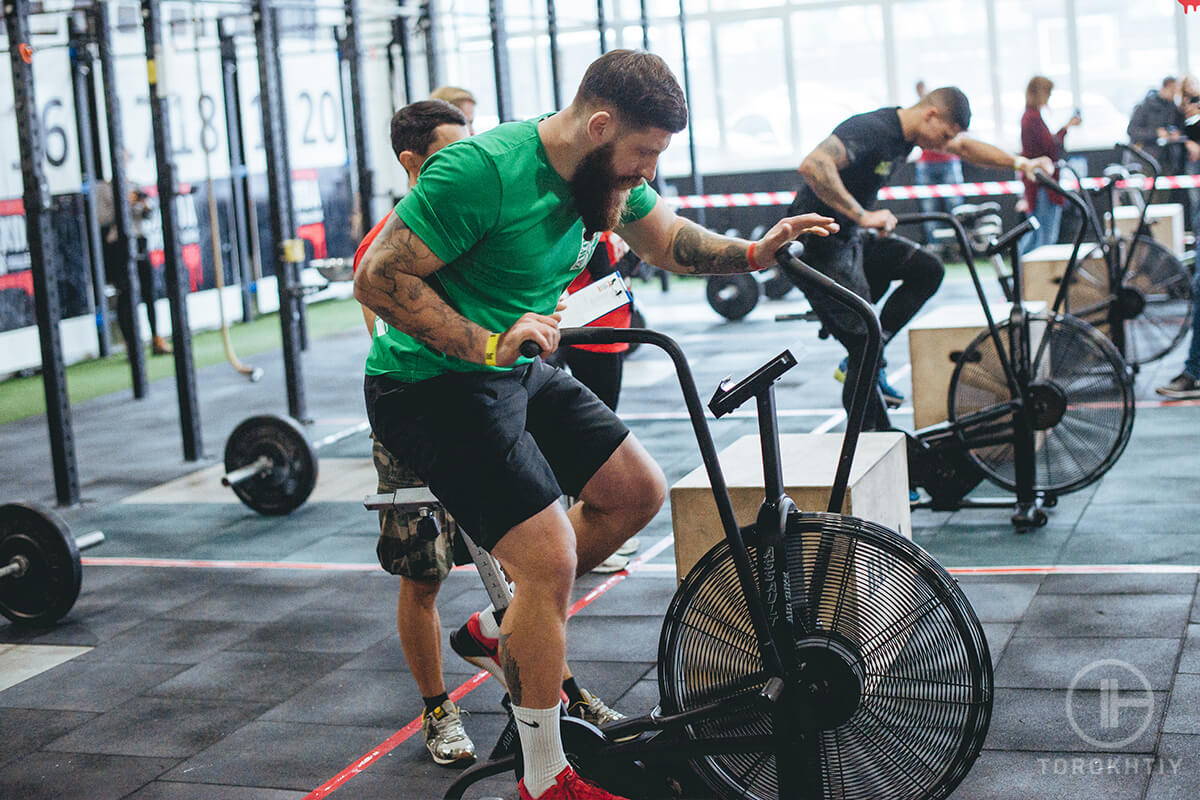 Stationary bikes come in many forms: magnets vs. fans, belts vs. chains, front vs. rear, etc. The underlying purpose of a drivetrain is to transfer pedaling torque to the flywheel. The intervening resistance will let you control workout intensity. Air bikes pose no upper limit while you may top out the magnetic system.
Even in no-hold-barred cycling sessions, your back and butt shouldn't cry mercy too soon. Look for wide seats with anatomical contours and gel padding. Handles must be covered in foam or rubber. You can boost the comfort with recumbent bikes. The added lumbar support decreases the load on your knees.
Bikes have a gigantic frame with an array of parts. They always require assembly. Manufacturers must simplify the process with clear manuals, labels, and guides. Ask for an in-home expert setup if you want to avoid the headache. You might get professional delivery and assembly to your preferred location.
Home gym machines are smaller and more mobile than their commercial counterparts. Determine the available floor area and ceiling clearance. If you can't seem to figure out the dedicated space, consider the best folding exercise bike for heavy persons, like the Exerpeutic Gold 525XLR.

Consider the type of resistance system when choosing a stationary bike (magnetic or fan) for workout intensity. Opt for comfortable features like wide seats with gel padding and handles covered in foam or rubber. If you prefer ease of assembly, look for bikes with clear instructions or consider professional delivery and assembly services.
Olympic Weightlifting Champion
Numbers keep you motivated and informed. Duration, speed, distance, calories, and cadence are essential performance metrics. Most consoles aren't high-definition. But you can grab wireless connectivity, telemetry, and preset workouts to sync with third-party apps and gadgets.
Exercise bikes can be a huge investment. Thus, you should chase value, neither maximum features nor minimum cost. Ensure you bring a high-quality, long-lasting bike home at a fair price. Check out the attached warranty, accessories, and customer service to determine the total value.
How to Use an Exercise Bike if You're Overweight?
With a half-hour of bicycling, a 185-pound person can expect to burn about 300 calories at a moderate and over 400 calories at a vigorous pace. Therefore, it's the finest low-impact solution to your obesity.
The first task is finding a compatible bike to support your weight comfortably. Then, build your tolerance step-by-step. Get used to low intensity, where you can hold a conversation and still feel your heart pumped up. Lengthen the session by 5-10 minutes every week. Avoid biking at a continuous pace to kill boredom. Shake it up with high-intensity interval training. HIIT is as effective for weight loss as drawn-out, moderate-paced training.
Remember, the workout is one side of the coin. Diet management is another. To knock your body back into a healthy BMI, follow a consistent calorie deficit. Meanwhile, take fewer calories than you burn in a day.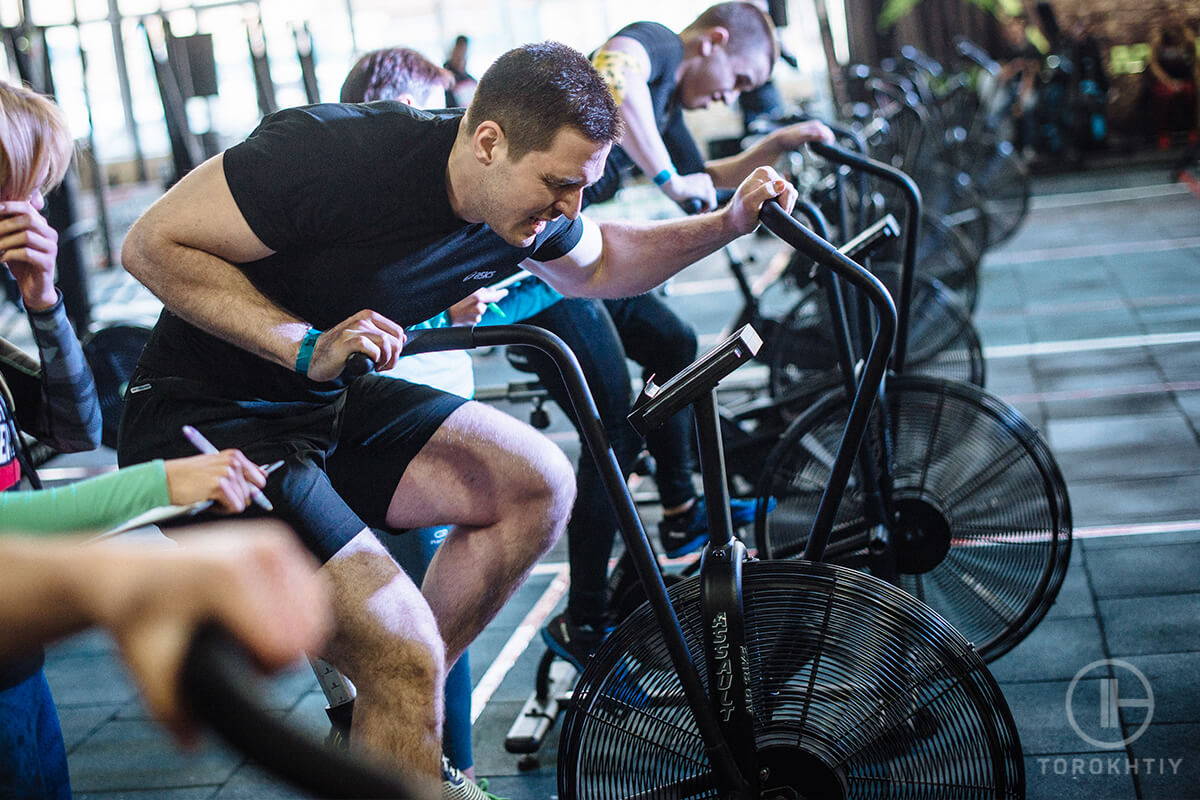 Are Exercise Bikes Good for Overweight People?
Exercise bikes present one of the safest and most effective workout modalities for overweight individuals. They inherently carry low impact and injury risks with an explosive calorie burn.
Is a Recumbent Bike Good for Obese People?
Recumbent bikes are easier to get on and off, assisting people with balance and mobility issues. The added back support and a reclining position reduce knee load and joint impact to zero.
Can a 500-Pound Person Ride a Bike?
Plus-size people want to work out as much as anyone. But they face a lot of barriers to entry, especially due to standard-size equipment in fitness spaces. Biking is a safe and surefire recipe to ramp up cardiovascular health and calorie expenditure. Thus, we embarked on finding the best exercise bike for heavy persons. And Rogue Echo impressed us the most. You can consider other options from the list for portability, weight capacity, or other purposes.
What are your favorite activities to lose weight? Let's drop your answers in the comment section. Any queries and suggestions are also welcomed.
1. Manuel Chavarrias et al., "Health Benefits of Indoor Cycling: A Systematic Review," Medicina (Kaunas). 2019 Aug; 55(8): 452
2. ProCon.org, "MET Values for 800+ Activities," ProCon.org. last modified August 3, 2022. https://golf.procon.org/met-values-for-800-activities/
3. Lucinda Bouillon et al., "COMPARISON OF TRUNK AND LOWER EXTREMITY MUSCLE ACTIVITY AMONG FOUR STATIONARY EQUIPMENT DEVICES: UPRIGHT BIKE, RECUMBENT BIKE, TREADMILL, AND ELLIPTIGO®," Int J Sports Phys Ther. 2016 Apr; 11(2): 190–200
4. Mohammed Alkatan et al., "Improved Function and Reduced Pain after Swimming and Cycling Training in Patients with Osteoarthritis," The Journal of Rheumatology March 2016, 43 (3) 666-672
5. Geoffrey Millour et al., "Comparison of static and dynamic methods based on knee kinematics to determine optimal saddle height in cycling," Acta Bioeng Biomech. 2019;21(4):93-99
6. Raoul F Reiser 2nd et al., "Knee loads in the standard and recumbent cycling positions," Biomed Sci Instrum. 2004;40:36-42
7. Andrea D'Amuri et al., "Effectiveness of high-intensity interval training for weight loss in adults with obesity: a randomized controlled non-inferiority trial," BMJ Open Sport Exerc Med. 2021; 7(3): e001021
8. Zachary F. Lerner et al., "Effects of Obesity on Lower Extremity Muscle Function During Walking at Two Speeds," Gait Posture. 2014 Mar; 39(3): 978–984
With over 20 years in Olympic Weightlifting, our team does its best to provide the audience with ultimate support and meet the needs and requirements of advanced athletes and professional lifters, as well as people who strive to open new opportunities and develop their physical capabilities with us.
All products we select are primarily approved and tested by the Olympic Weightlifting Champion Oleksii Torokhtiy. Under his guidance, we provide honest and reasonable assessments of the products we review by checking their characteristics, packaging, design, comfort and durability features, and general product rating. We select products from only high-quality and trusted sports brands, thus vouching for their quality.
The product testing process is described in more detail here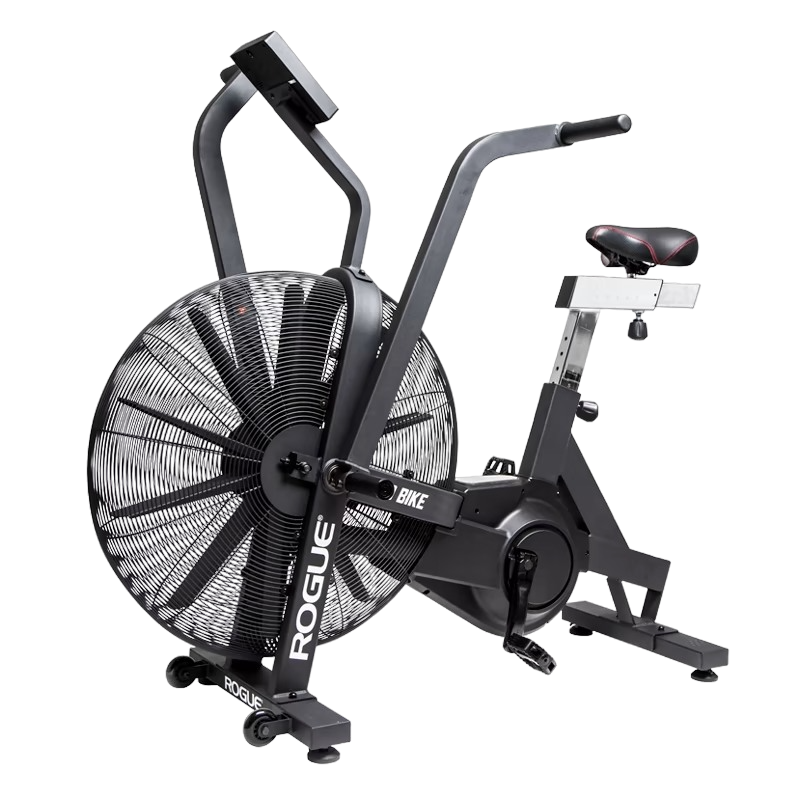 Coach, PRO Olympic Weightlifter
Experience: 26 years
Best Results: Snatch - 208 kg,
My name is Ihor and I have been a professional weightlifter since 1996. With over 20 years of competition experience, my resume includes European Champion in 2009 and the silver medalist at 2011's Senior World Championships – 105kg division.
I competed at the 2008, 2012 and 2016 Summer Olympics.
After hanging up my own competitive lifting shoes, I decided to share my huge background as a coach. I am currently coaching multiple athletes who are competing at national and international competitions.
Olympic Weightlifting Champion
Experience: 21 years
Best Results: Snatch – 200 kg,
My name is Oleksiy Torokhtiy. I am a professional athlete with 20 years of experience in Olympic weightlifting. I have won multiple European, and World titles and have taken part in two Olympic Games (Beijing 2008, London 2012).
After finishing my career, I have committed myself to coach, and as of 2022, I've hosted 200+ weightlifting seminars all over the globe. I'm the founder of an international sportswear and accessories brand, Warm Body Cold Mind (my motto), author, and creator of a series of training programs and eBooks.
If you have any questions/suggestions/any other inquiry, you can reach out to us via email - reviews@torokhtiy.com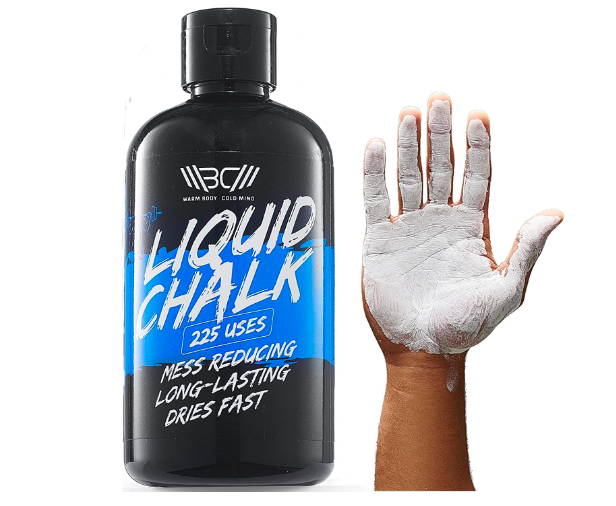 This article was written by our qualified author and proofread by an expert with proven experience. When writing the article we've used our expertise and data from authoritative, scientific, and evidence-based sources. The list of references is provided at the end of the article.
Our team of authors and experts includes professional athletes (Olympians, winners of European and World titles), PhDs in Sports Science, certified coaches, sports nutritionists, CSCSs, physiotherapists, and others. Read more about the team here, and more about how we test here.