Author: Tanya Shaiko (6 years of Oly Lifting & training experience)
Reviewed by: Oleksiy Torokhtiy (Olympian with 21 years of Oly Lifting experience)
More and more women make their way in heavy lifting, proving they are no worse than men in power sports. Obviously, they also need some gear to make them safe and comfortable while hitting 'not female' weights. Perhaps, the best weight lifting belt for women is of the greatest value among other accessories.
I have picked the most popular products, tried them out, read hundreds of female weightlifting belt reviews, and want to share everything with you. Read this article, choose the best lifting belt for women, and make a decent competition for all your male fellows in the gym!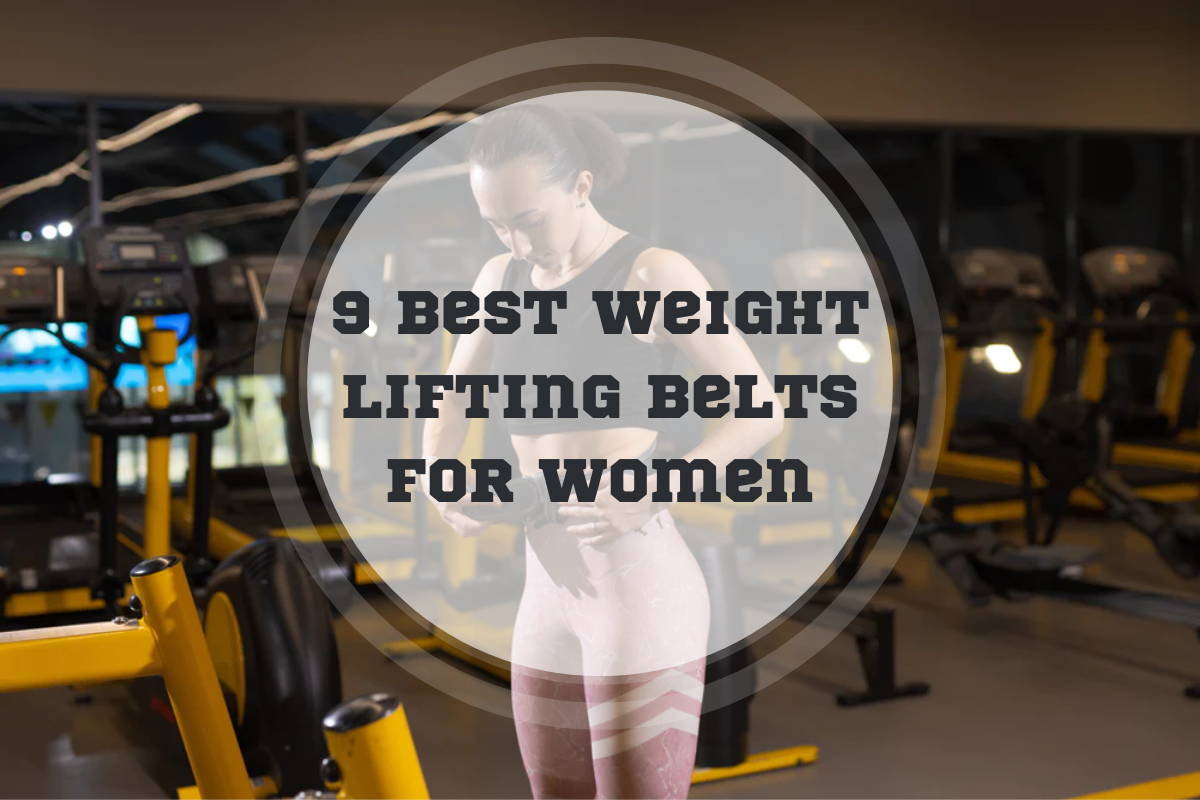 Top 9 Weight Lifting Belts for Women Reviewed
In order to decide on the winner among female belts, I evaluated all products and gave them scores for different characteristics: package, design, material and stitching quality, comfort, closure system reliability, support, and price-quality ratio. You can find a brief summary in the table below.
Now, let's go into more details!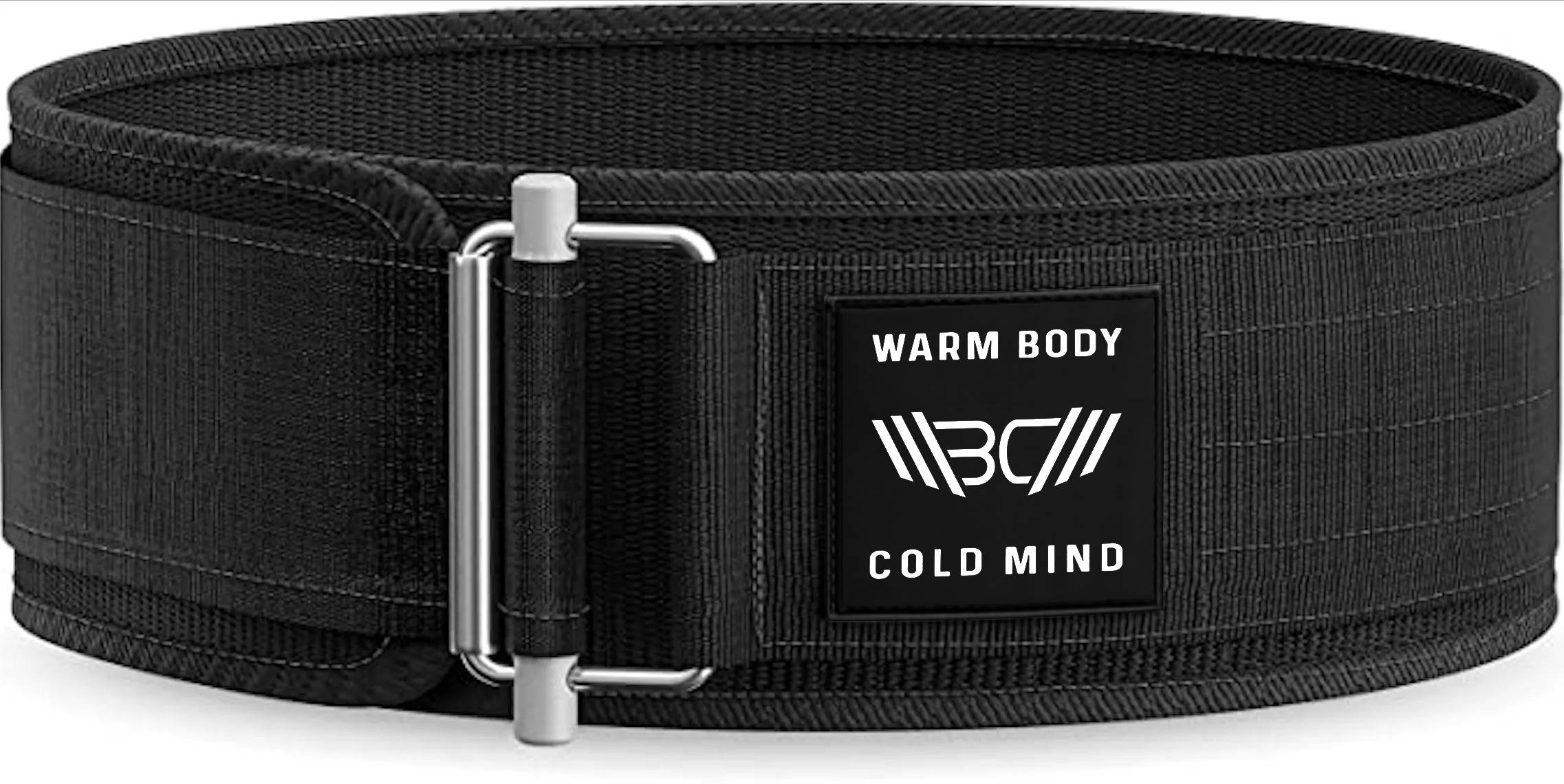 Closure type: velcro
Available sizes: S, M, L, Xl, XXL
Waist size range: 23"-50"
Width: 4"
Thickness: 0.1"
Material: Nylon
Warm Body Cold Mind women's nylon weightlifting belt becomes a total winner for me. It brings plenty of benefits to your training while having a pretty reasonable price for such a value.
The material and stitching are fairly good, so despite being made of nylon, the belt is likely to serve you for years. Still, it might not be the best option in case you expect really advanced support. But if you are an amateur athlete, Warm Body Cold Mind will be definitely enough for your training.
Obviously, most women strive to stay stylish even in the gym. This belt might be a good accessory to stand out. Beware – the color range might make you think for a long time.
Another bonus is a pretty package. If you are choosing a present for your female friend who notices fancy elements everywhere, have a look at Warm Body Cold Mind.
All in all, Warm Body Cold Mind is a good option for amateur female athletes who need some support for their intermediate workouts.
It might not be the best option in case you expect really advanced support. But if you are an amateur athlete, WBCM will be definitely enough for your training.
(Show More)
Plenty of colors available
Doesn't give strong support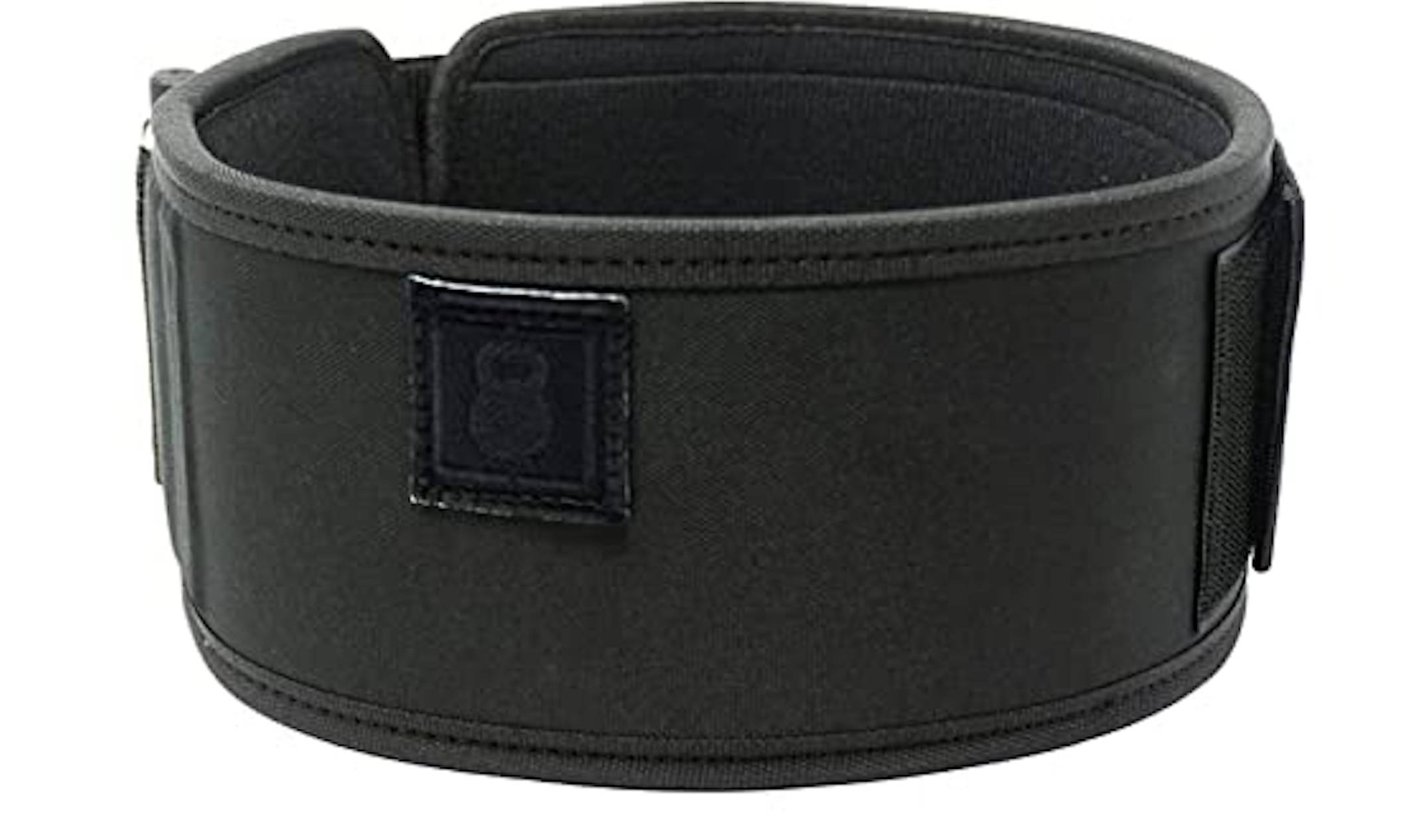 Closure type: velcro
Available sizes: XXS, XS, S M, L, Xl
Waist size range: 27.5"-46.5"
Width: 4"
Thickness: 0.1"
Material: Nylon
2POOD is another great nylon belt which might work best for cross training. Yet, it is rather a costly product used by many pro athletes.
The best thing about this belt is its flexibility that makes versatile workouts as comfortable as possible. At the same time, it gives enough support even for advanced heavy training.
Nevertheless, I'm a bit disappointed with only one detail that puts the belt in third place – a plastic buckle. For me, it is not reliable enough and may break at the most unexpected moment. So you better be really careful not to cut the life of your belt short. On top of that, the price makes it rather a big investment.
On the other hand, the material and stitching quality makes the belt a first-class product. Combined with a reliable velcro, it could serve you for years if the buckle doesn't fail.
Another cool benefit is the range of patterns and colors. Check their website to choose your special design that will put you in a good mood before a heavy set.
All in all, 2POOD lifting belt is a workable pro option with only one downside – the buckle.
The material and stitching quality makes the belt a first-class product with only one downside – the buckle.
(Show More)
Good material and stitching
Closure type: buckle
Available sizes: S, M, L, Xl, 2XL, 3XL
Waist size range: 28"-52"
Width: 4"
Thickness: 0.2"
Material: Leather
WARM BODY COLD MIND women's leather weightlifting belt is another popular product on the market. To my mind, it is a decent option, yet, the price is not that reasonable.
The first feature that I want to mention is material. It is made of high-quality leather which makes it extremely durable and resistant. Be sure, it will endure through the hardest workouts easily and show no sign of wearing out.
Another benefit is that the WBCM gym belt is a really versatile option. I guess it is exactly the middle ground that will work for any kind of training. The thickness of the leather is just perfect – neither thin nor thick.
It gives enough support for the heaviest powerlifting sets but at the same time doesn't restrict your body too much so is suitable even for fitness athletes. If you like to try out new sports and need a multi-purpose product, you can surely rely on this one.
Additionally, I really like the design. It looks neat and stylish. If you fancy minimalistic and tasteful accessories, you may fall in love with it right away.
As to the drawbacks, this gym belt for women may not be suitable for tiny female athletes. The sizing starts at 28", so lucky owners of the thinnest waist along with the strongest muscles might not find any option for them.
All in all, WBCM can be a great investment if you are searching for a reliable, durable, and versatile belt to accompany you during the heaviest lifts.
The best option to make a reasonable investment and get a decent product.
(Show More)
IPF, USAPL, and IWF approve

Good quality. 100% leather

Suitable for versatile training
No extra-small size available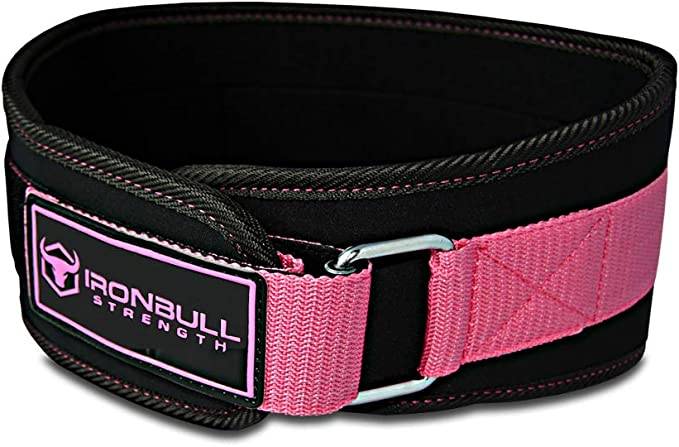 Closure type: velcro
Available sizes: XS, S, M, L
Waist size range: 23"-46"
Width: 5"
Thickness: 0.1"
Material: Nylon
Iron Bull women's weightlifting belt becomes the runner-up with a really decent quality offered for a very reasonable price. It is definitely a first-class product among other nylon belts on the market.
The design and stitching leave no questions – everything is reliable, elaborate, and sits really comfortably on your back. If you value comfort most of all, go for Iron Bull. Their belt can make you feel so well that you don't want to take it off!
At the same time, the belt gives enough support to use it for heavy lifting. It might be a great option for dynamic exercises that need you to be really flexible and mobile, as it is really lightweight and doesn't limit your moves. Thus, it can be the best women's weight lifting belt for fitness or Olympic lifts.
Moreover, the size range will be a sight for sore eyes if your waist is below average. This belt is designed specifically for female athletes, so the sizing starts at 23".
As to the drawbacks, remember that Olympic weightlifting doesn't allow you to use a 5" belt for competitions. On top of that, you may want stronger support if your workouts include plenty of extreme weights. Still, it might be a good option for those who train for fun and don't take part in competitions.
Another disadvantage is the package, which is rather plain. Of course, you will forget about it once you unpack the belt, but it might be a flaw if you are looking for a present with everything ready to impress at the first sight.
All in all, Iron Bull is a reliable gym belt if you want to get a decent product for a really good price.
It can be the best women's weight lifting belt for fitness or Olympic lifts.
(Show More)
Not suitable for weightlifting competitions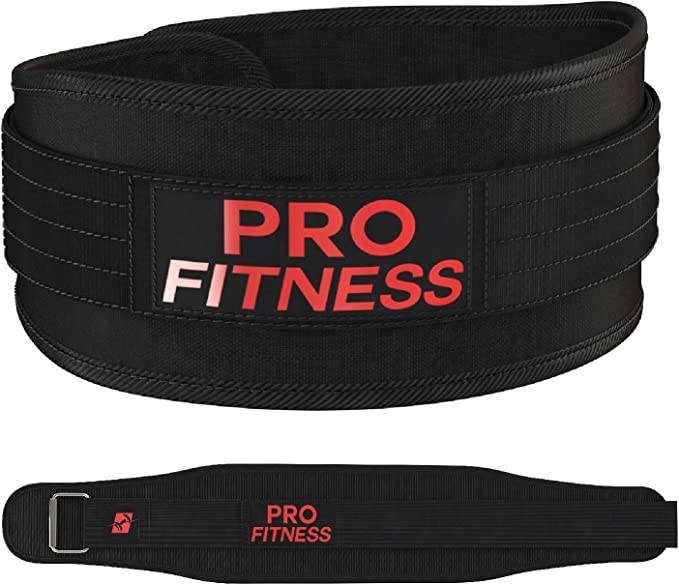 Closure type: velcro
Available sizes: S, M, L, XL
Waist size range: 26"-43"
Width: 4"
Thickness: 0.1"
Material: Neoprene
ProFitness lifting belt might be a great option for amateur female athletes who need some additional back support. It will work well for moderate workouts, yet, it might not be the best option for advanced heavy training.
One of the benefits is that you can choose among a few colors: black, pink, or red. If you like interesting but not too bright and striking gear, have a look at this belt.
As it is made of neoprene, it fits your back comfortably without being too thick or harsh. Still, it won't give you as extreme support as any leather belt on my list, and it won't last for ages. Keep that in mind if your first aim is to get maximum rigidity and durability. Nevertheless, it doesn't make ProFitness less effective for moderate workouts.
If you have thought it through and decided that you want to buy this belt right away, I recommend being careful with sizing. If your waist is somewhere closer to the end of a size, you better choose a bigger one, as it can be a little bit smaller than most athletes might expect.
All in all, the ProFitness weight lifting belt is a good option for female athletes who want to comfort their back while working out.
It might be a great option for amateur female athletes who need some additional back support.
(Show More)
Easy to put on and regulate the compression
How Have I Chosen The Best Weight Lifting Belt for Women?
Now, I want to explain to you all the characteristics that I evaluated and why they are so important.
Design is not only about a fancy look. I took into account how all the elements are arranged for the most convenient use.
Some brands tend to use different innovations and interesting features instead of the standard belt scheme to make their products stand out on the market. It may be an unusual buckle (for example, levers) or a differently-shaped velcro, etc.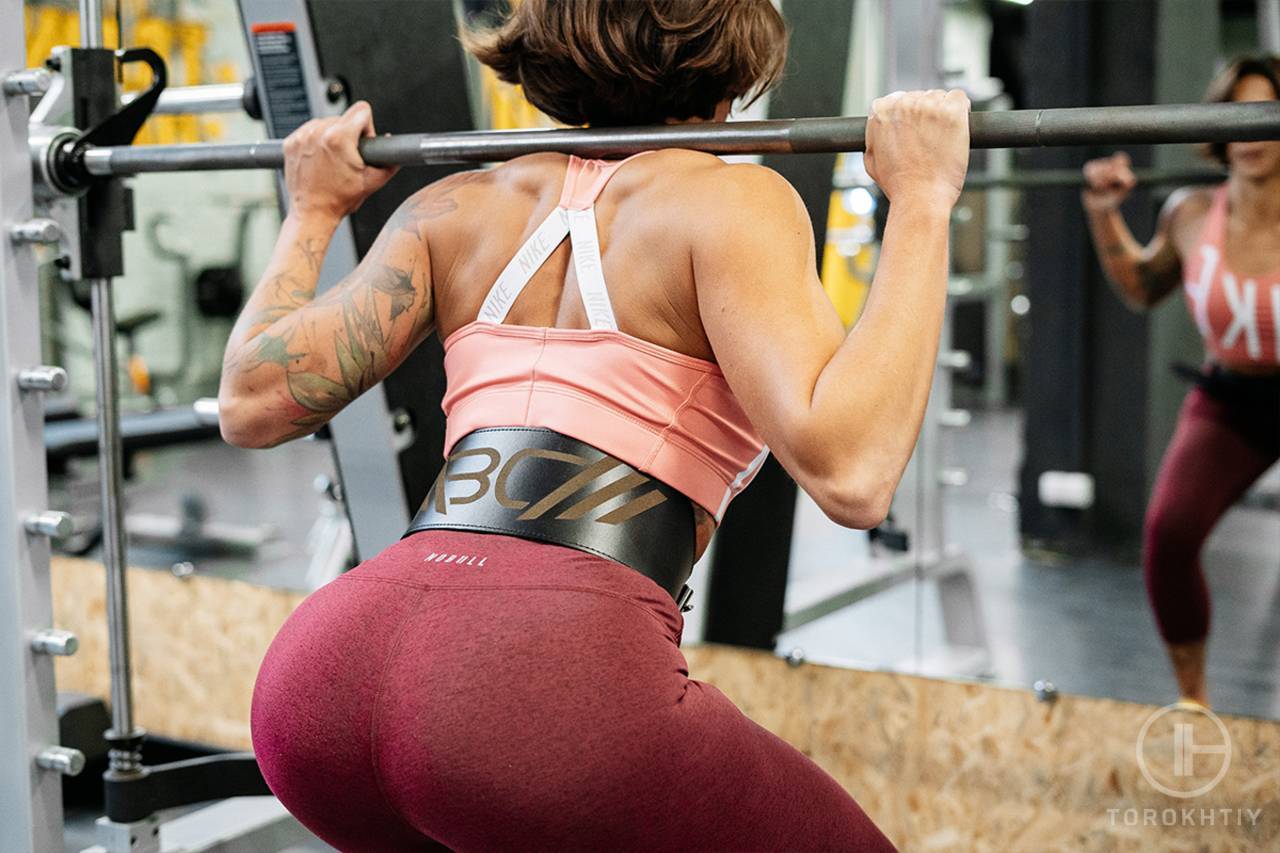 This quality is especially important for most women, especially amateur athletes. An uncomfortable belt can spoil dozens of workouts if your main goal is to make your back feel good.
On my list, I have options for both amateur athletes and professionals. If you are all into extreme weights, you may want to get the highest support from your future belt. In this case, stick to leather gym belts, though they are thick and usually not that comfortable.
However, if you are just a regular athlete, there is no need to buy hard sturdy gear. You better choose a softer and more comfortable option – a nylon or neoprene belt. And if you want something in the middle, go for WBCM.
High-quality material and stitching is a critical feature if you want to make long use of your belt. It is especially important if you spend a significant part of your savings on this accessory.
I gave lower points for nylon belts, as they are obviously not as resistant as leather ones. It all boils down to material, its rigidity and durability. Yet, the price of nylon belts is usually more affordable while you should spend quite a sum for a first-class leather product.
By this feature, I mean the quality of the closure system. Obviously, the buckles used for leather belts are made more reliable to handle and secure the heaviest lifts. On the other hand, a velcro closure system is appropriate for moderate training but it's not that safe anyway.
I also read plenty of reviews in order to figure out how all the belts behave after a few months. I found some complaints about the FlexzFitness lever. Athletes say that it may fall apart after some time, so you should be really mindful with it.
2POOD has also some issues with the buckle – it is made of plastic. In my opinion, it is not the most reliable material for such a detail so be careful with it.
I included different types of belts in my rating. If you want the highest possible support, have a look at sturdy powerlifting belts. I gave 10 points in terms of support for all of them.
If you need moderate support along with flexibility, go for nylon belts. They are more versatile and work well for different training. And if you can't decide and want something multi-purpose, you can try out the WBCM weight lifting belt, which is made of leather but is not that thick and rigid.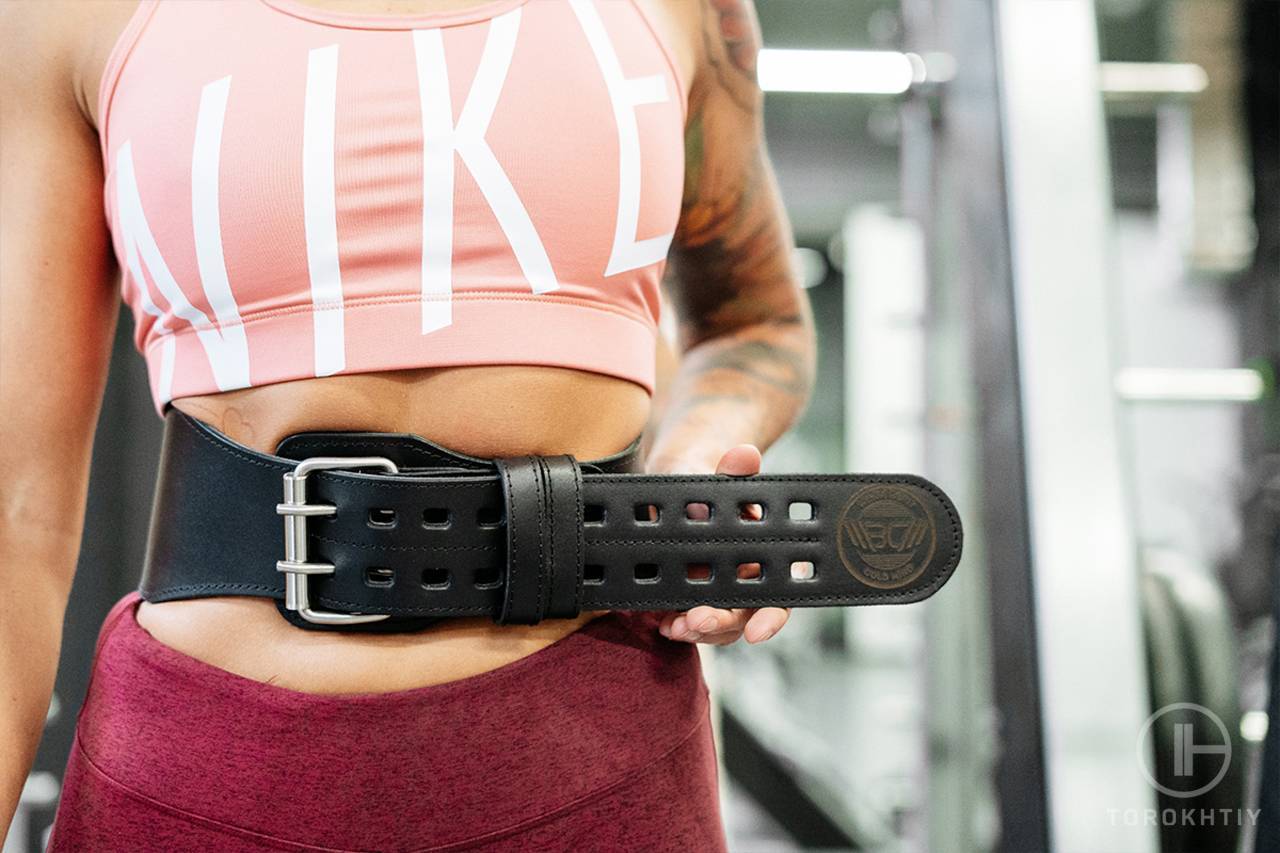 Perhaps, it is the most important point – whether a belt is worth the price. For me, the WBCM belt has the best value for money. It offers a durable effective product for a pretty reasonable sum.
If you need a lighter option, have a look at the 2POOD women's belt (a runner-up) and you will get a reliable product for a very pleasant price.
Why Women Should Wear a Lifting Belt?
There is no specific need for women to wear weight lifting belts. Generally, the benefits are the same for all athletes, despite the sex.
Still, I want to remind you of several main benefits that a gym belt can bring to your training, whether you are a male or female athlete. Read them below and decide if you want to have a lifting belt in your gym bag for the next heavy workout.
Intra-abdominal pressure develops in your belly when you brace for a heavy set and has several positive effects on your training. In practice, it feels like a significant empowering tension in the core.
As it increases, your body can handle a heavier weight more comfortably and confidently. On top of that, it braces and protects your spine, reducing the risk of injury right away.
In fact, intra-abdominal pressure is the main reason why most athletes reach out for a gym belt. It comes in especially handy if you aim to lift the most extreme weights with minimal harm for your back.
Any belt itself can't make your muscles stronger anyway. However, it really appears to be a good contribution to your result in practice. You can add about 10% of 1RM by just putting on a good gym belt.
Despite this uplifting fact, don't rely on this accessory as if it can compensate for your weak muscles. It may lead to many serious injuries in case of approaching a weight you are not ready for.
All in all, you better develop your raw strength and muscles to get really confident in lifting heavy without any gear. Then, you can try out various accessories to boost your training.
For me, it is important to feel comfortable and secure while going heavy. A good women's gym belt can definitely help with this goal.
A supportive layer at your back adds stability to your spine, bracing it and keeping everything in place. Moreover, it can be quite a relief in case you have experienced any back injuries in the past. If your doctor allows you to lift weights again and use a belt, this tool helps you to get back on track more smoothly and comfortably.
In some sense, it is more about a psychological effect. Yet, feeling good and safe makes you far more confident and courageous while hitting a new weight.
By adding stability and rigidity to your back, a belt might also improve biomechanics. It allows you to feel and control your back position more precisely.
This benefit is especially helpful for heavy sets. Obviously, you can't usually stick to the perfect technique with a PR on your shoulders. Here, a good belt comes into play.
By keeping the right biomechanics, you can distribute efforts more effectively to handle a heavier weight. On top of that, proper technique is essential for preventing injuries.
Differences Between Men's and Women's Weightlifting Belts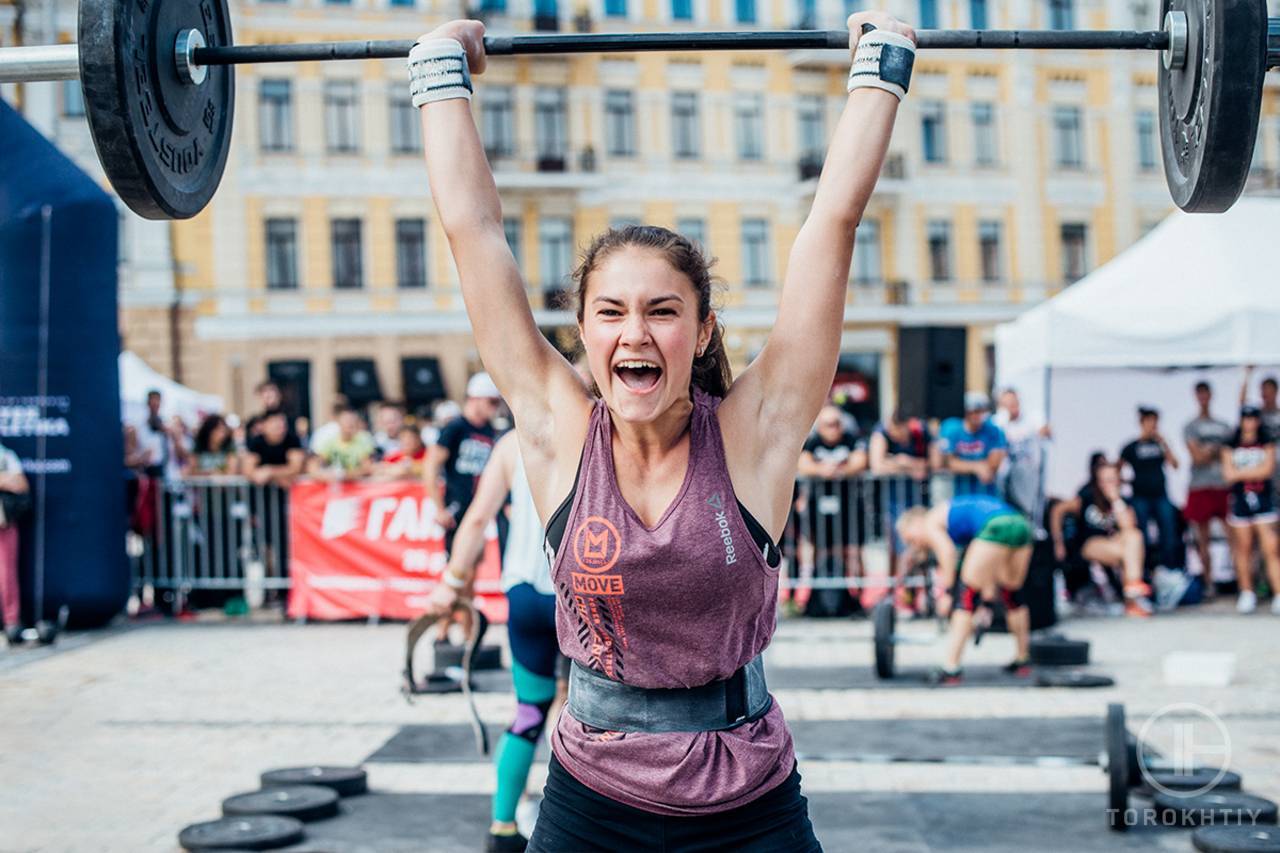 Generally, there is no specific difference between a women's and a men's belt. Any athlete can easily use any belt for their training.
Still, some brands make their products more suitable for females. It is all about several features that are slightly different.
The first point that you notice right away is the color. Women's belts tend to be brighter and more striking. You can find plenty of colors and patterns available on the market. It is made to attract more girls who want to stay stylish and look interesting even in the gym.
Another difference is the material and its rigidity. Most belts that are stated to be female options are made of nylon or neoprene to be more flexible and soft. Yet, there are some heavy-duty leather belts for women as well.
Furthermore, if you are a rather small woman, you may feel uncomfortable while wearing some belts because of their form. They can be too wide or too thick to fit your back. Such belts may rub your skin and stop you from approaching desirable weights. Therefore, female options may be thinner and narrower to fit any back more naturally.
The last and the most practical difference is sizing. A lot of unisex belts don't have appropriate options for the tiniest athletes. However, even thin-waisted girls like lifting heavy, and some brands finally take care of them. If you need a really small size, have a look at female belts.
What to Look for When Buying a Women's Weightlifting Belt?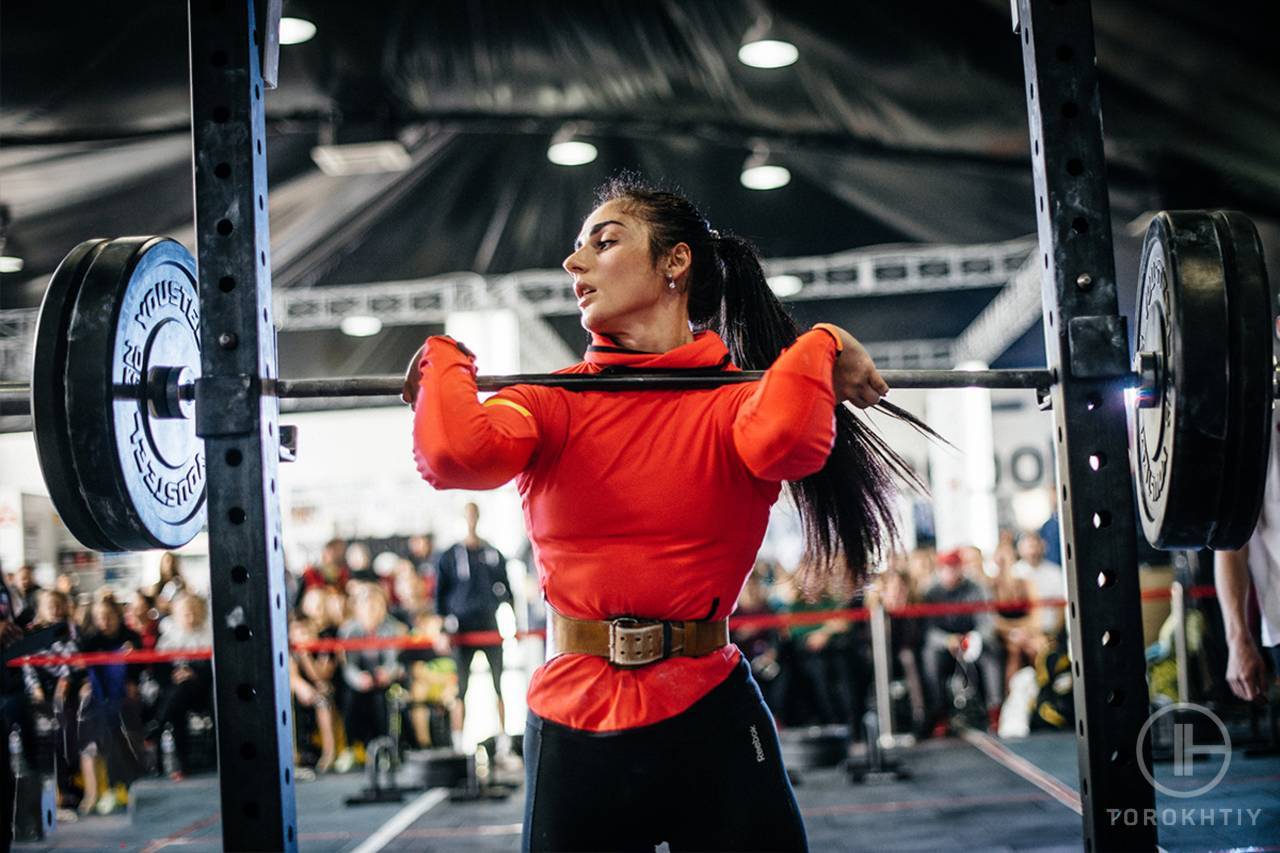 When choosing the best belt for women, you should consider your training goals and personal preferences. Generally, the scheme is the same as for a men's belt but may have some intricacies.
If you are a tiny athlete, the biggest problem for you might be finding the right belt size. Not all brands offer options for the thinnest waist, so you should be really mindful at this stage.
Don't get easily deceived by size names. XS on your pants doesn't mean the same as XS on your future belt. You should definitely measure your waist by following the instructions provided by the manufacturer.
Moreover, all brands have their own size charts and girth distribution. Thus, always check a table to figure out the proper size.
Gym belts are usually made of leather or nylon. As for female products, brands are most likely to use nylon or neoprene for them. The reason is that they are lighter, softer, and fit your back more comfortably.
Nevertheless, you should take into account your training goals. If you are a serious female powerlifter who competes regularly, you may rather need a heavy-duty option – a good sturdy leather belt. It will give you the highest support and stability in the spine area as well as a good strength boost.
On the other hand, if you are just a regular gym goer, don't waste your money on such a specific belt. You need a more versatile and light option. Many females like nylon belts that add some support to your back but are still comfortable and easy to use. They are definitely enough for moderate workouts.
Most athletes find a 4-inch belt the most comfortable and effective. Additionally, it is allowed at competitions in all power sports. Thus, it is the most reasonable option for both competitive and amateur athletes.
However, some brands offer wider belts as well, for example, 5-inch options. They are stated to give more support at the back while being really comfortable due to the narrower front. If you don't take part in any competitions, you can try out such products as well.
Still, pay attention to your height and trunk length. If you are rather short and tiny, a 5-ich belt may be too wide for you. In this case, stick to a 4-inch or even narrower weight lifting belt to fit your back comfortably.
This characteristic depends on the material. Obviously, leather belts are more thick and rigid that nylon options. In order to choose the best product, think about your goals.
For example, many brands use 2-inch leather that is just a middle ground. Such a belt is more effective for heavy lifting but is not too rigid and hard to put on and take off. You may also find some really advanced options on the market – 0.4-inch or even thicker belts. These can be used only by professional female athletes. Don't choose such a belt if you don't compete in powerlifting or you will simply waste a lot of money.
If you are an amateur athlete, start with a light nylon belt. Its thickness is around 0.1", so it is flexible and versatile for all kinds of training. Such products are also more affordable so you can test the waters and buy a more serious belt in the future if you need one.

When choosing a weightlifting belt for women, you should pay attention to a few key things. First, look for a belt made from high-quality materials (leather, nylon), that provide decent support and comfort during lifts. Also, it's important to consider the width of the belt as well, because a wider belt can distribute pressure more evenly and bring more support in the back area. Prefer a belt with a self-locking mechanism, which can be useful for easy adjustment and secure attachment.
Olympic Weightlifting Champion
How to Use the Lifting Belt Correctly?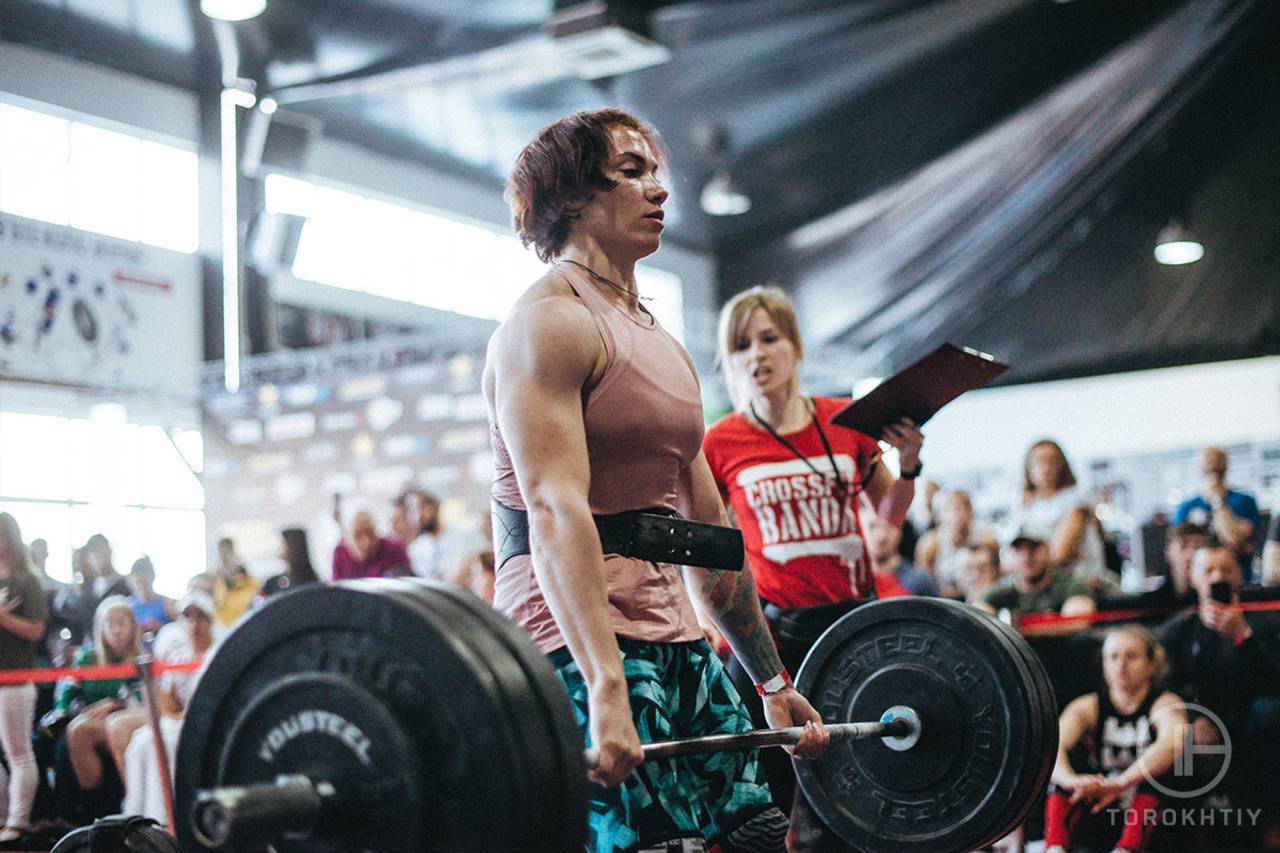 You can use a lifting belt for any power sports: powerlifting, weightlifting, fitness, bodybuilding, or strongwoman. But remember that you should put it on only for the heaviest sets. There is no need to use it for warm-up or moderate weights, or you might even harm your muscles.
Now, I'm going to share a detailed guide on how to put a belt on.
First, place a belt at your back so that it fits right between your lower rib and hip bone. Wrap it around your waist.
Belts can have different closure systems that determine how you fasten them. The main thing that you should keep in mind is the tightness of a belt. You must feel your back fixed in place and compressed. Nevertheless, there should be enough room for a finger between a belt and your belly so that you can take a deep breath. Still, it shouldn't be too loose, otherwise, it will not provide any support.
Before starting a set, take a deep breath and brace so that you feel that desirable intra-abdominal pressure in the core. Now you are ready to hit any weight.
After finishing a lift, take off the belt immediately. You can just loosen it up and leave it on. But don't walk around with your waist tightened up. Also, remember to put it on right before a set rather than a few minutes earlier, especially if you use a sturdy powerlifting belt.
When should women wear a weight lifting belt?
Use a weight lifting belt only for the heaviest weights. Don't put it on for all sets, otherwise, you will only weaken your muscles. You can reach out for it at 70% of your 1RM if you work for a lot of reps or go heavy. Still, if you feel really confident and comfortable, stay away from a belt for a few more sets.
What type of weightlifting belt is best for women?
There is no one ideal weightlifting belt for women. You should consider your training goals and personal preferences. If you need a moderate option for occasional hard squat or deadlift sets, start with a nylon belt. If you are all into heavy lifting, choose a more advanced leather belt.
Is it better to do squats with or without a belt?
It depends on the weight and intensity of your sets. If you use moderate loads and reps, there is no need to use a belt. Moreover, it can even weaken your muscles. On the other hand, if you go heavy or do plenty of hard reps, put on a belt to add stability and confidence.
Is a leather or nylon lifting belt better for women?
Most brands use nylon for their women's gym belts. It is really enough for most average workouts. Still, if you adore extreme weights, you may need higher support. In this case, choose a good leather belt.
All in all, if you are a strong woman who is searching for reliable accessories, have a look at our winner – the WARM BODY COLD MIND Nylon lifting belt. Whether you are a weightlifter, powerlifter, fitness athlete, or bodybuilder, this belt will be a helpful tool in your training and won't take all cash from your wallet.
If you are looking for a little bit more stability for your back, check out the runner-up – 2POOD women's belt. It is a lighter, more amateur-friendly option for intermediate workouts.
How often do you use a weight lifting belt? Share your experience in the comment section!
Effects of a belt on intra-abdominal pressure during weight lifting // Pubmed:
https://pubmed.ncbi.nlm.nih.gov/2709981/
Weight lifting belts // 2POOD
https://2pood.com/collections/weightlifting-belts?page=2
The effectiveness of weight-belts during the squat exercise // PubMed: https://pubmed.ncbi.nlm.nih.gov/2304406/
The effect of wearing a back belt on spine kinematics during asymmetric lifting of large and small boxes // PubMed: https://pubmed.ncbi.nlm.nih.gov/11493853/
Leather vs. Nylon Weightlifting Belts: Which is Better? // Noob Gains: https://www.noobgains.com/weight-lifting-belt-leather-or-nylon/
The Weight Belt Controversy // UNM: http://www.unm.edu/~lkravitz/Article%20folder/weightbelt.html
Effects of a Lifting Belt on Spine Moments and Muscle Recruitments After Unexpected Sudden Loading // Journals: https://journals.lww.com/spinejournal/Abstract/2000/06150/Effects_of_a_Lifting_Belt_on_Spine_Moments_and.18.aspx
With over 20 years in Olympic Weightlifting, our team does its best to provide the audience with ultimate support and meet the needs and requirements of advanced athletes and professional lifters, as well as people who strive to open new opportunities and develop their physical capabilities with us.
All products we select are primarily approved and tested by the Olympic Weightlifting Champion Oleksii Torokhtiy. Under his guidance, we provide honest and reasonable assessments of the products we review by checking their characteristics, packaging, design, comfort and durability features, and general product rating. We select products from only high-quality and trusted sports brands, thus vouching for their quality.
The product testing process is described in more detail here
Girl Power, Blog Contributor
Experience: 6 years
Best Results: Snatch - 61 kg
I'm Tanya, and I love lifting weights. 6 years ago, I picked up Olympic weightlifting and training. Weightlifting is a unique sport because it's just you against the bar. There are no teammates to help you out; it's all on you.
I'm also passionate about helping other women achieve their fitness goals. That's why I started my blog and write some products reviews. I want to show other women that they can do anything they set their mind to!
Olympic Weightlifting Champion
Experience: 21 years
Best Results: Snatch – 200 kg
My name is Oleksiy Torokhtiy. I am a professional athlete with 20 years of experience in Olympic weightlifting. I have won multiple European, and World titles and have taken part in two Olympic Games (Beijing 2008, London 2012).
After finishing my career, I have committed myself to coach, and as of 2022, I've hosted 200+ weightlifting seminars all over the globe. I'm the founder of an international sportswear and accessories brand, Warm Body Cold Mind (my motto), author, and creator of a series of training programs and eBooks.
If you have any questions/suggestions/any other inquiry, you can reach out to us via email - reviews@torokhtiy.com
This article was written by our qualified author and proofread by expert with proven experience. When writing the article we use our expertise and data from open sources with strong reputation, scientific or medical based. The list of references is provided at the end of the article.
Our team of authors and experts includes professional athletes (Olympians, winners of European and World titles) PhD in Sport Science, certified coaches, sports nutritionists, CSCP, physiotherapists and other. Read more about the team here, and more about how we test here.