We're reviewing the best weight lifting belts for big guys so you can get the right fit and features, lift the most weight, and stay safe.
No more disappointing visits when you find out they don't offer XXL weightlifting belts!

Top 5 Best Weight Lifting Belts For Big Guys Reviewed
The best weight lifting belt for big guys is the Warm Body Cold Mind leather weightlifting belt – but there are other great options, too, and some bad ones!
We're covering 5 of the most interesting options on the market so you can see what's good, what to avoid, and how to get the best product for your training.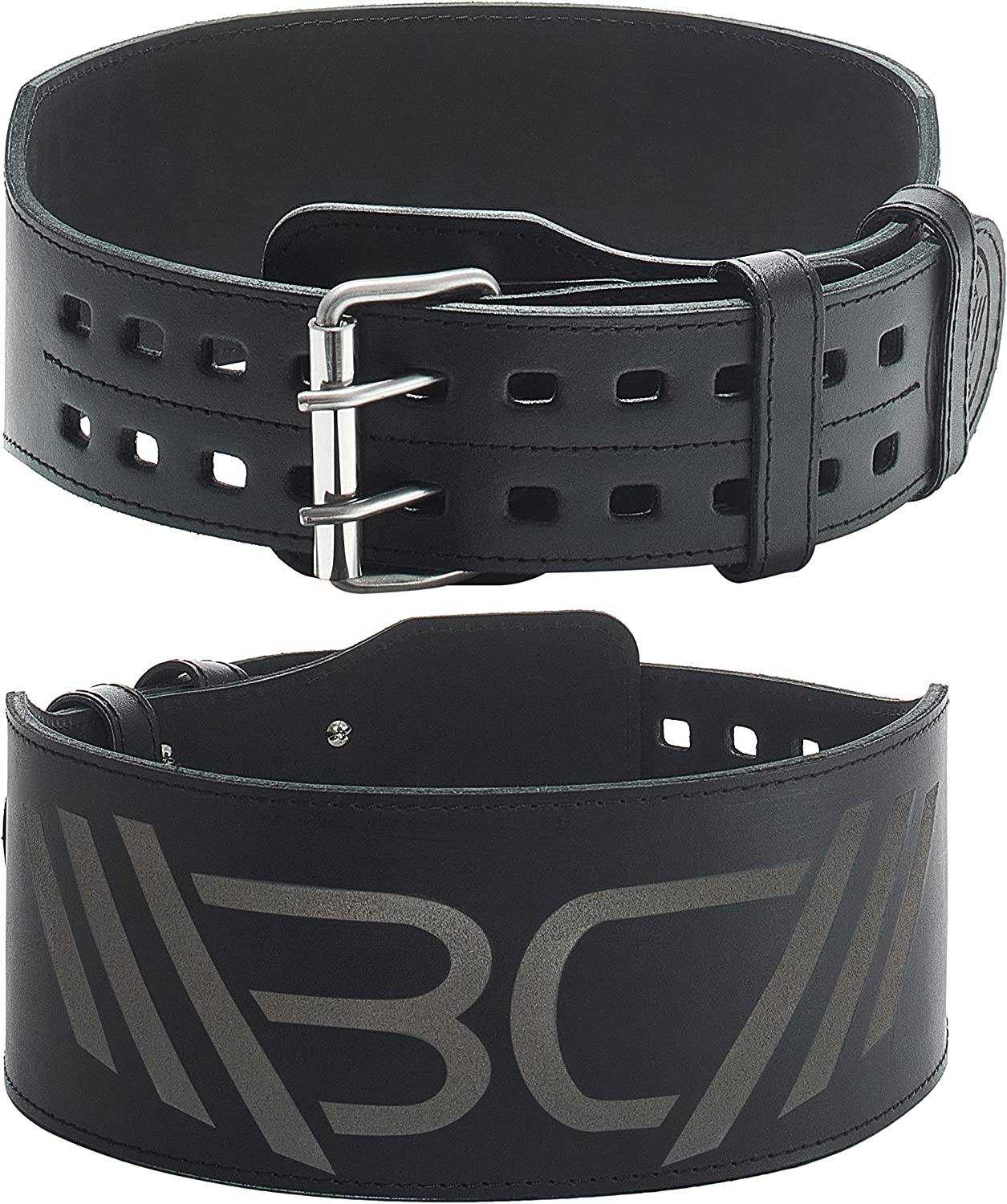 Fastening type: 2-prong (stainless steel)
Available sizes: XS to XXXL
Waist size range: 28" to 52"
Width: 4" (with tapered front)
Thickness: 6mm
Material: layered, softened leather
Certifications: IPF and USAPL compliant
The Warm Body Cold Mind leather weightlifting belt is perfect for big guys. It's a heavy-duty belt with 5mm leather and a double-pronged buckle for maximum security. It is soft on the inside but provides the strong support you need to lift big weights.
The WBCM belt is available up to size XXXL – with a 'true fit' for 105-131cm (41-52 inches). A 52 inch weight lifting belt is great for big guys and offers a strong design, good materials, and outstanding durability.
It has excellent craftsmanship and the full leather design with a tapered back and double belt-loops feel perfect. They ensure your belt is comfortable and stays close to the body while you lift, preventing contact with the barbell.
This is a perfect belt for weightlifting and powerlifting – it is specifically IPF-approved and USAPL-approved, so you can train in this belt and compete in it.
Great design for Weightlifting, Powerlifting, and fitness

Two prongs for better support and security

Softened leather for a combination of support and flexibility

Great size options up to 52 inch weightlifting belt

Tapered design for maximum support and comfort
Not the best if you want a lever belt!
This is the best weight lifting belt for fat guys and massive lifters, out-performing the others on this list.
The available sizes are great – up to 52 inch weight lifting belts – and the security, stitching, and material make it a perfect choice for all kinds of strength training.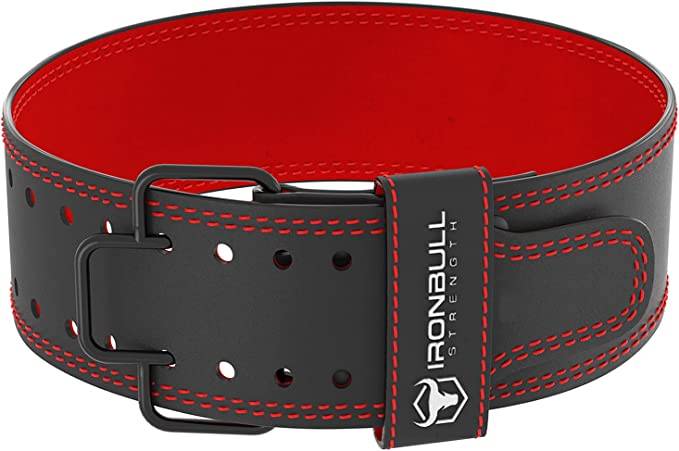 Fastening type: Hybrid prong-lever
Available sizes: S to XXXL
Waist size range: 25" to 55"
Width: 4" (no taper)
Thickness: 7mm
Material: Leather with a suede lining
Certifications: IPF compliant
Iron Bull Strength use a prong and lever hybrid belt, with 2-prong design in a single, pivoting piece of metal. This provides a really nice mid-point between the two: more security than a single prong, but less cost than a full lever!
It's a 7mm thick belt, which is a good amount, and the leather is stiff but well-made. The overall design is very pleasant and the price is somewhere between the previous two products. Iron Bull strength uses suede for their belt, which has an excellent stiffness and flexibility profile for powerlifting belts.
It's a 4" belt with no taper, which makes it too stiff and large for most gym training, but good for heavy deadlifts in particular. This product goes up to 55" waist size, which is the best on today's list, too.
Excellent sizing – up to 55 inch weight lifting belt waist size

7mm - Good thickness for general strength training

Lever-prong hybrid is perfect for general use

A good price for strong features
Thinner than some powerlifting belts, but not appropriate for Weightlifting

More expensive than other prong-fastened belts
This is a good choice if you want some lever belt functions without the cost. It's a great choice on the pure fundamentals alone, and we like it a lot. Iron Bull make great equipment and this is one of the best hybrid weight lifting belts for big guys for all-purpose strength training.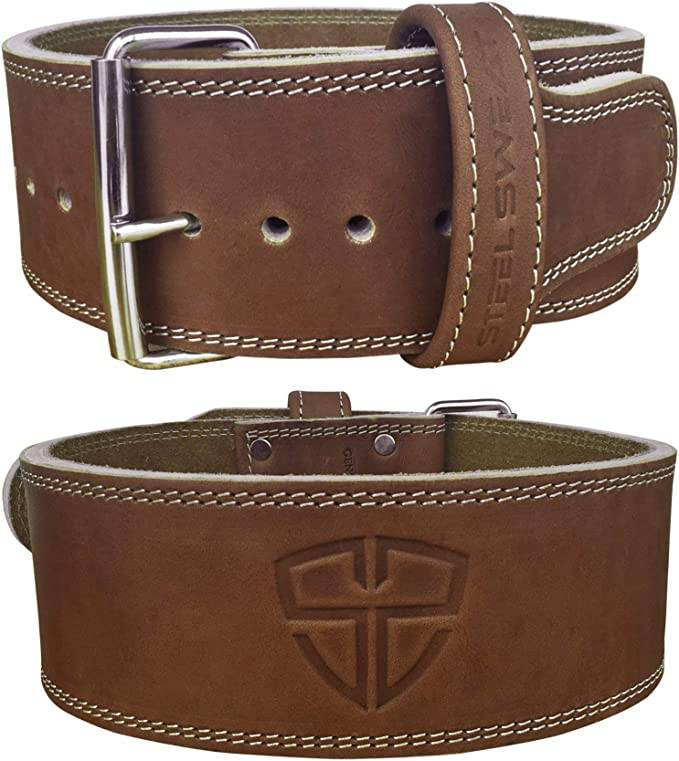 Fastening type: single prong
Available sizes: S to XXL
Waist size range: 25" to 50"
Width: 4" (no taper)
Thickness: 10mm
Material: Tanned cowhide leather with a suede lining
Certifications: IPF compliant (not certified)
Steel Sweat Weight lifting belt is a perfect choice for huge width and stiff leather. It's not as flexible as the Warm Body Cold Mind belt, but is much wider and thicker. It's far more restrictive, but more supportive at the absolute top end for powerlifters.
The single prong is good, but not as good as the WBCM 2-prong design, and the stitching leaves a little bit to be desired. However, the overall quality is good and the leather itself is tough and durable.
These belts are also smaller than our top pick, going up to 50" for the XXL weight lifting belts. This is good for big guys, but the XXL is rarely available.
Good tanned leather with a suede lining for comfort

Excellent powerlifting belt with good thickness and width

Stiff design for more core support – though does limit movement
Single prong design is a little underwhelming

Limiting stiffness for some types of training
This is our runner up because it does the things that the Warm Body Cold Mind weight lifting belt doesn't. It's wider and stiffer, which makes it more specialised for powerlifting, but doesn't offer the benefits for general strength training, weightlifting, or fitness.
It's good at what it does, but that's quite specific to your needs and training style.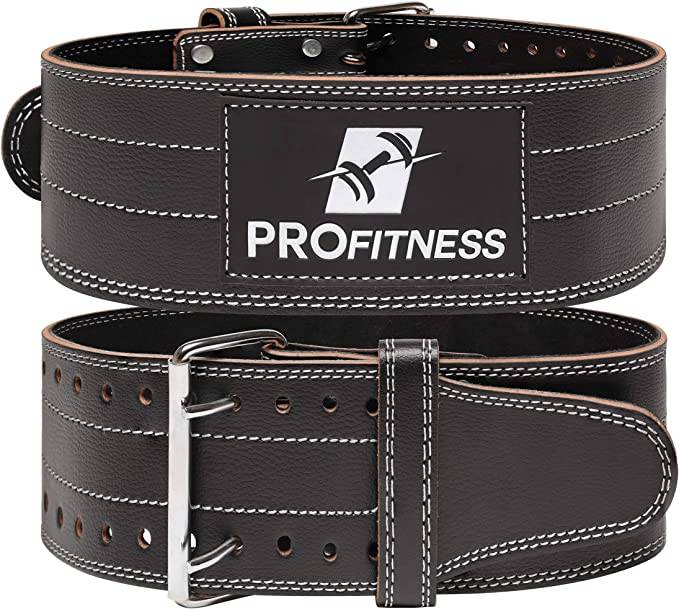 Fastening type: double prong
Available sizes: S to XL
Waist size range: 24" to 49"
Width: 4" (no taper)
Thickness: 5mm
Material: Laminated leather
Certifications: IPF compliant (not certified)
The ProFitness leather weight lifting belt is – like the Steel Sweat – a little thick and wide for most uses. It's not very flexible, being a stiff laminated leather design. It has multiple seams of stitching, and is even stiffer than the previous belt.
It's a 4" belt all the way around, with no tapering. This makes it a powerlifting-focused choice, but too restrictive for weightlifting and fitness. You can squat and deadlift, but not to full depth, and not with dynamic exercises. The 5mm thickness is a little lighter than other 4" belts, too.
This is also a particularly sweaty belt due to the laminated finish. The double prong is very high quality, but is positioned very wide, which can cause some problems when contacting the ribs or hips with very stiff leather that refuses to bend at all.
Good stiffness for powerlifting-specific training

Very stiff, even compared to Steel Sweat weight lifting belt
Only goes up to 49" waist – smaller than others on this list

Prong placement is a little uncomfortable for most
This is definitely not as good as the Steel Sweat belt, but does something similar. It's a cheaper product and this does reflect in the design. It's good for some general strength training and powerlifting, but isn't well developed compared to the previous 2 belts on our list.
It's not as good as Steel Sweat for powerlifting, and the WBCM leather belt is better for all other types of training.
Fastening type: Lever
Available sizes: S to XXL
Waist size range: 24" to 46"
Width: 4" (no taper)
Thickness: 10mm
Material: Leather
Certifications: USAPL and IPF compliant
The Flexz Fitness belt is a little smaller. We expect weight lifting belts for big guys to have larger waist sizes, and 46" is quite small for an XXL weightlifting belt. The lever design is great for quick release and excellent performance, especially on a belt that is clearly designed with powerlifting exercises in mind.
This belt is on the thicker side and not suitable for Olympic weightlifting or fitness. It lacks the flexibility or taper for these sports. It also doesn't have the suede lining that some others do, which makes it feel a little less comfortable than some other options.
The design is strong and the lever provides tighter support since you can tighten the belt further. This is the main selling point of the Flexz Fitness powerlifting belt, and the price is great, too. This makes it a specialist choice but perfect if you want an affordable lever belt for powerlifting.
Lever belt – tighter and more reliable fastening mechanism

Lifetime warranty on the lever itself, which is huge!

Cheap for the design and belt style/functions
Not as high-quality in other areas as some options on our list

Lacks the suede inner that makes other options so comfortable
This is a great cheap lever belt for big guys, but the size limit on the XXL may just be too small for some users. It doesn't have the suede inner, and it lacks some of the better features, but is perfect for powerlifters who want an affordable, supportive, lever-fitted belt.
Weight Lifting Belt Benefits: Why You Should Wear a Lifting Belt?
You should wear a weight lifting belt for your heaviest sets for 4 reasons: to lift more weight, build core strength, build confidence, and keep your spine safe.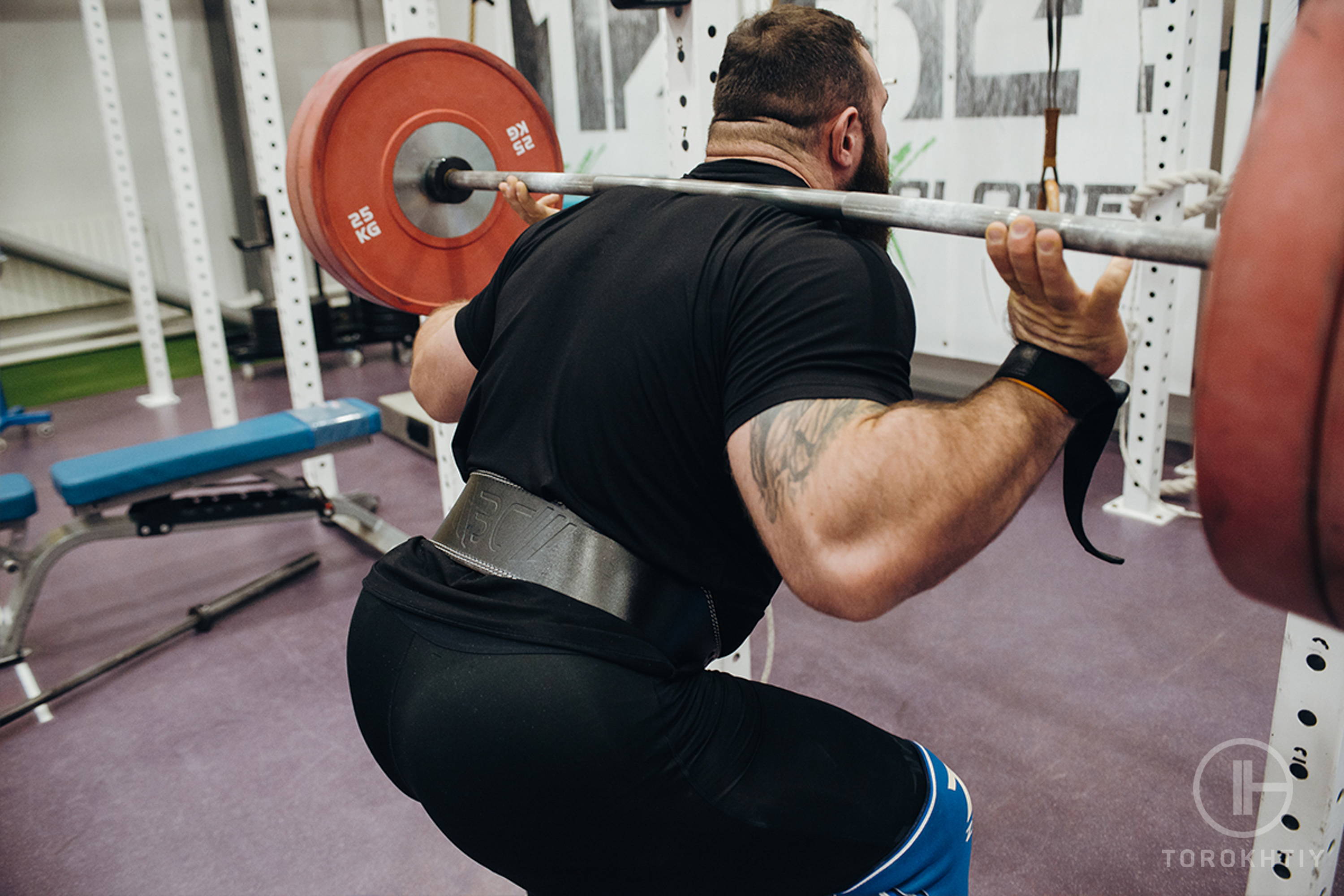 1. Weight Lifting Belts Help You Lift More
Your core will perform better when you're using a weight lifting belt for heavy compound exercises.
The belt lets you contract your core more during exercise to build more trunk stiffness. This is important in the deadlift and squat, in particular, for transferring lower body force into the bar. A stronger core and trunk means bigger lifts.
The belt is great for performance improvements. This is why finding the right size matters: you need it to be tight enough to press your core into.
2. Lifting In A Belt Improves Core Gains
When you use more core in your heavy lifts, you build more core muscles in the long-term. This is important for keeping your core development up with other muscle groups like the legs and hips.
The belt helps you build a stronger core by letting you signal for more growth. It's not just good for lifting weights – it helps you get the most from those weights!
3. Lifting Belts Build Confidence
Studies show us that lifters who use belts have more confidence in their lifts – and this lets them move faster.
The feeling of putting on your belt is perfect for feeling "safe". Your core is supported and you can feel the amount of core activation you're using. This is perfect for the ritual of lifting heavy weights.
Using more core muscle activation helps you keep your spine safe. It provides support from the core muscles on the spine and the discs that are compressed under heavy weights.
This helps to keep your vertebrae and discs safe. These areas are common sites for problems like pars fractures, bulging discs, and more. This is how weight lifting belts improve safety and spine health – but only under very heavy weight.
What Should Bigger Guys Look For When Buying A Weightlifting Belt?
Bigger guys need to look for size, better adjustability, stronger materials, and better overall design construction. When you're a bigger guy, you inevitably put up bigger numbers and put more stress on your belt.
A good weightlifting belt needs to be able to keep up – and this is what you should look for first and foremost. All the other normal factors are still important: design, quality, features you want, the type of buckle fastening, adjustability, flexibility, and how it helps you in training!
Fastening Type: Prong Or Lever?
There are different types of buckle and fastening for weight lifting belts: lever belts for powerlifting and strongman, Velcro belts for weightlifting and fitness, and all-purpose prong buckles.

The right type of belt for your training is important. The lever of a belt can easily disrupt the snatch or other super-mobile movements in weightlifting. The Velcro belt lets fitness trainees move well, but may not be enough support for super-heavy deadlifts in powerlifting.
The key is matching the buckle to your training and goals! If you're not sure what belt you need, then get started with a prong buckle – ideally a 2-prong for normal gym training and weight lifting.
Available Sizes: Waist Size Range
You want a belt that is perfectly sized for your bigger body. The point is to get access to XL, XXL, and 3XL weightlifting belts. These are much bigger, and they ensure that you can lift massive weights.

Here's a basic waist size range for each of these sizes: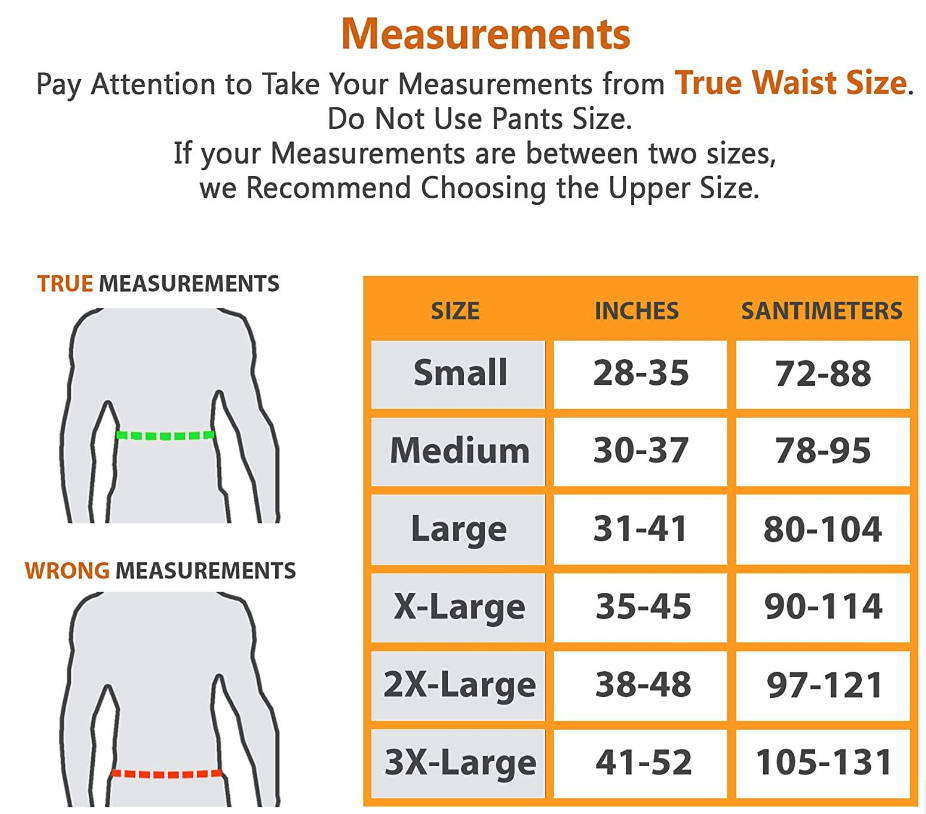 If you're a big guy, you should be big and strong. A good weightlifting belt that is the right size and uses true-fit sizing is key.
The width refers to the "height" of a weightlifting belt. This is key because it offers an idea of how much support it offers and where.

What's even more important is that you're going to need to have a belt that is wide enough for comprehensive core support, but not so wide that it contacts your ribs. The average weight lifting belt is around 3-5 inches wide. The wider a belt, the more restrictive it is likely to be in your deep squat positions or others.
The thickness of a weight lifting belt for big guys is important – it gives you an idea of the support and stiffness you can expect. The usual thickness is around 5mm, which provides good support but is versatile enough to be used for all kinds of purposes.
The thick support can be regulated in competitions – both weightlifting and powerlifting have limitations on how thick a belt can be.
Thickness of 5-8mm is best for weightlifting and general purpose strength training. Powerlifting belts are used up to 13mm, which is very thick and may cause some restrictions to how your spine, hips, and ribcage can move.
The materials are a huge part of the quality and durability of a belt – as well as how supportive it is.
Belts should be made of material that can move, but is strong and stable. Fabric belts are more flexible but less resilient and supportive. Unsoftened and laminated leather is very stiff – the type used for powerlifting belts.
Normal, softened leather belts are somewhere in the middle – and best for most people. The best weight lifting belts for big guys – like the Warm Body Cold Mind belt – are made of leather and provide great support while still being comfortable and pliable to the way the body moves.
If your belt is designed for use with rules by the IPF, USAPL, IWF, or others, then you'll be sure you can use it in competition.

This is perfect if you think you might take up competition, or if you're already training with a competition in mind. Most belts will specify what rules they're compliant with.
It's not just the materials that matter. The best weight lifting belt also has to have strong stitching. These ensure that the moving parts and the construction of the belt are both dependable and offer you the best value for money.
These are the areas that usually break first. Good quality stitching can add years to the lifespan of your weight lifting belt.
Adjustments and Hole-Spacing
The adjustment between different settings need to be specially built for big guys. Weight lifting belts for big guys need to have more options, since there are more sizes to cover and the variety of user sizes is much higher in these big belts.

Bigger belts require the holes and buckle systems to be matched to the extra size. The best weight lifting belt for big guys is the one that takes this seriously.

When picking up a weightlifting belt for big guys, there are several key factors you should mind. Pay attention to the belt's width and thickness: a wider and thicker belt will be a perfect fit for a massive lifter that will provide him with better support and core stability. Choose a belt of 4" width and 10-13 mm thickness level. Next, consider the material and design: leather or nylon belts are better since they're more durable, having reinforced stitching for extra strength. Also, check the belt's closure mechanism: for big lifters, it's better to select a belt with a longer strap and a secure buckle.
Olympic Weightlifting Champion
How To Use Lifting Belt Correctly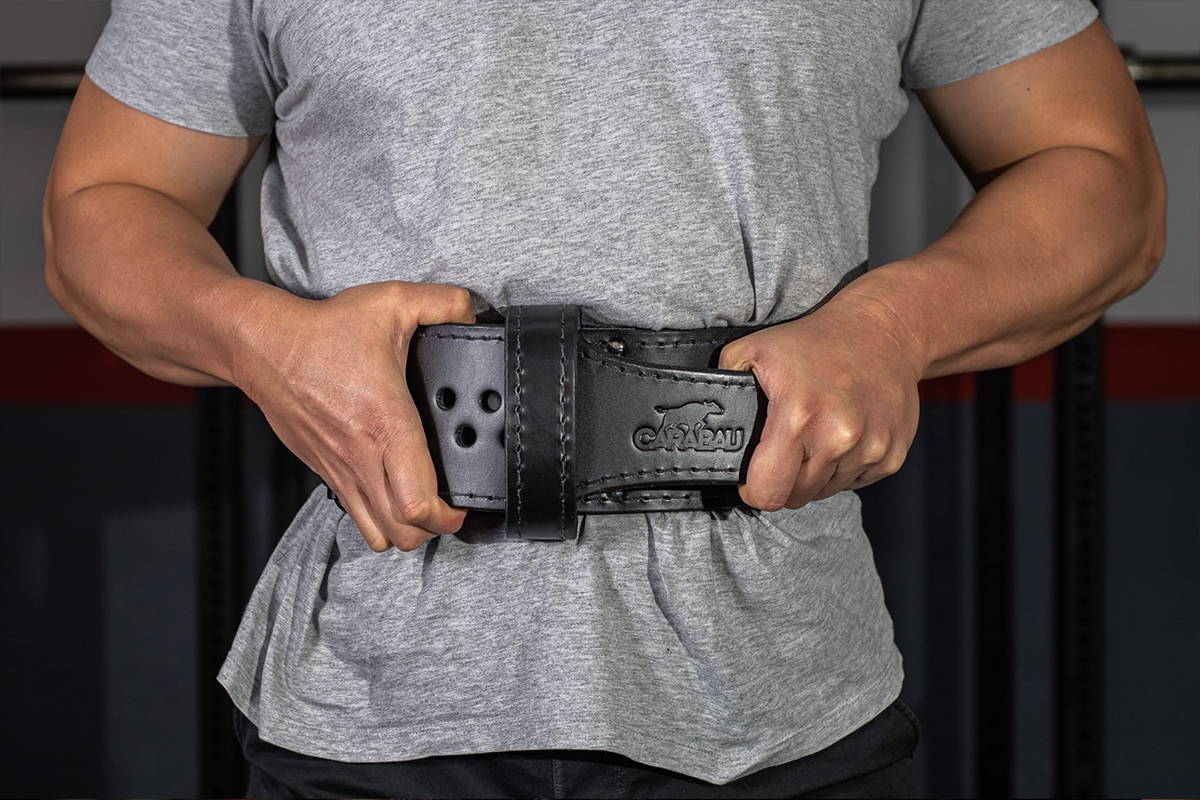 Using a weight lifting belt is very simple – once you have the right product: you need to fit it close to the skin for comfort, and focus on using it properly, and taking care of it. These let you get the most out of your belt for performance, longevity, and value.
Step 1: Get the right material and design for your sport. Our reviews make this easier.
Step 2: Get the right size – ideally somewhere in the middle of the size range – and measure twice.
Step 3: Get the right buckle, focusing on the security you need and the build quality – and make sure the belt suits your most important lifts.
Step 4: Put it in the right place, typically the area between the top of the hips and the bottom of the rib cage. Adjust up or down as is comfortable for you.
Step 5: Tighten the belt until there's mild pressure around the core at rest – and lots of pressure when you tense your core and expand into the belt. This is key for performance.
Step 6: Use it for heavy lifts – typically over 85% - and not just for lighter exercises. Belts are for improving performance, and should be used in these higher ranges only.
Step 7: Take good care of your belt with polish for leather, and take care of moving metal parts. You can lightly lubricate prongs, for example, to keep them clean and functional.
How Big Is A Large Weightlifting Belt?
A "large" weightlifting belt is around 30-40 inches around the waist. An extra large is around 35-45 inches, and an XXL is 38-48 inches.
The XXXL weight lifting belts – or 3XL belts – are around 41-52 inches, and are the largest size that most suppliers sell. This is the big and tall weightlifting belt, and is built to fit big guys who lift big weights!
Can Overweight People Wear Weight Lifting Belts?
Of course overweight people can wear weight lifting belts! They come in many sizes, and belts help all kinds of people lift more weight.
Big people, whether muscular or overweight from fat, wear weight lifting belts. The items we've reviewed today are the best weight lifting belts for an overweight man.
How Wide Should A Weightlifting Belt Be For A Big Guy?
A weightlifting belt for big guys should be anywhere from 35" to 52" – depending on how big you are. The lower end of this range is for XL weightlifting belts, and the upper range represents the 3XL weight lifting belt, which is for superheavyweights in powerlifting or weightlifting.
Conclusion: Our Final Thoughts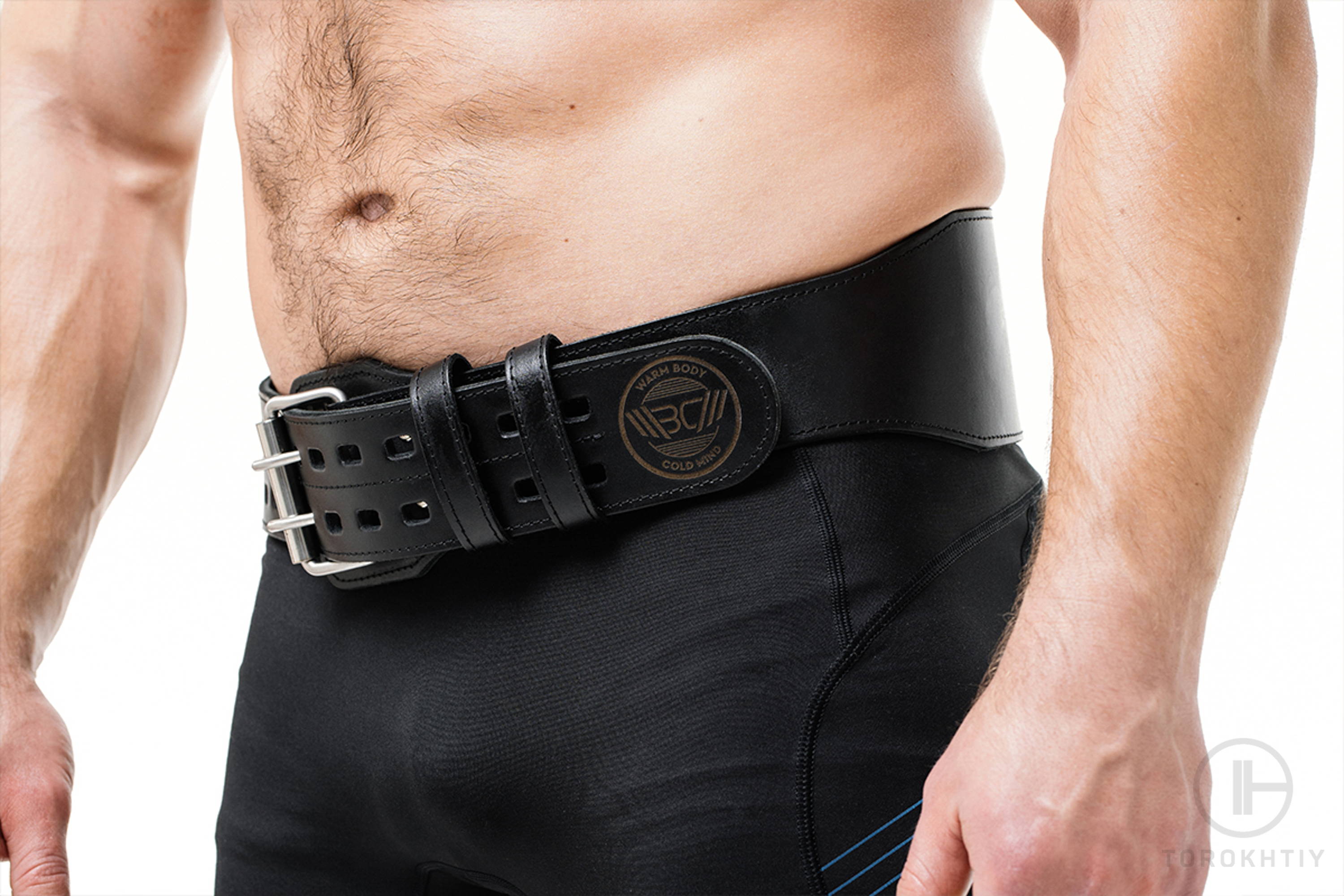 The best weight lifting belt for big guys is Warm Body Cold Mind's 2 prong leather belt. It's a perfect balance for general strength training and has excellent materials and construction, with particularly good stitching strength.
This is perfect, with a 2-prong buckle for better security, soft but supportive leather, and excellent comfort. These make it one of the best weight lifting belts to lift in, and it's a 52 inch weight lifting belt – perfect for big guys lifting big weights!
Lessons In Weight Belts: How And Why To Use Them // Bodybuilding:
https://www.bodybuilding.com/content/lessons-in-weight-belts-how-and-why-to-use-them.html
Lower Back Safety! // Bodybuilding:
https://www.bodybuilding.com/fun/catback.htm
The effectiveness of weight-belts during the squat exercise // PubMed: https://pubmed.ncbi.nlm.nih.gov/2304406/
How to Wear and Adjust a Weightlifting Lever Belt: // GymReapers: https://www.gymreapers.com/blogs/news/how-to-wear-and-adjust-a-weightlifting-lever-belt
Effect of a stiff lifting belt on spine compression during lifting // NCBI: https://pubmed.ncbi.nlm.nih.gov/17047531/
The influence of weightlifting belts and wrist straps on deadlift kinematics // Journals: https://journals.lww.com/md-journal/Fulltext/2022/02180/The_influence_of_weightlifting_belts_and_wrist.57.aspx
With over 20 years in Olympic Weightlifting, our team does its best to provide the audience with ultimate support and meet the needs and requirements of advanced athletes and professional lifters, as well as people who strive to open new opportunities and develop their physical capabilities with us.
All products we select are primarily approved and tested by the Olympic Weightlifting Champion Oleksii Torokhtiy. Under his guidance, we provide honest and reasonable assessments of the products we review by checking their characteristics, packaging, design, comfort and durability features, and general product rating. We select products from only high-quality and trusted sports brands, thus vouching for their quality.
The product testing process is described in more detail here
Coach, PRO Olympic Weightlifter
Experience: 26 years
Best Results: Snatch - 208 kg,
C&J - 240 kg
My name is Ihor and I have been a professional weightlifter since 1996. With over 20 years of competition experience, my resume includes European Champion in 2009 and the silver medalist at 2011's Senior World Championships – 105kg division.
I competed at the 2008, 2012 and 2016 Summer Olympics.
After hanging up my own competitive lifting shoes, I decided to share my huge background as a coach. I am currently coaching multiple athletes who are competing at national and international competitions.
Olympic Weightlifting Champion
Experience: 21 years
Best Results: Snatch – 200 kg,
C&J - 240 kg
My name is Oleksiy Torokhtiy. I am a professional athlete with 20 years of experience in Olympic weightlifting. I have won multiple European, and World titles and have taken part in two Olympic Games (Beijing 2008, London 2012).
After finishing my career, I have committed myself to coach, and as of 2022, I've hosted 200+ weightlifting seminars all over the globe. I'm the founder of an international sportswear and accessories brand, Warm Body Cold Mind (my motto), author, and creator of a series of training programs and eBooks.
If you have any questions/suggestions/any other inquiry, you can reach out to us via email - reviews@torokhtiy.com
This article was written by our qualified author and proofread by expert with proven experience. When writing the article we use our expertise and data from open sources with strong reputation, scientific or medical based. The list of references is provided at the end of the article.
Our team of authors and experts includes professional athletes (Olympians, winners of European and World titles) PhD in Sport Science, certified coaches, sports nutritionists, CSCP, physiotherapists and other. Read more about the team here, and more about how we test here.