You may have noticed people using weightlifting belts in your local gym. You know they lift heavier whenever they wear it, but you don't really know what's going on there. So what does a weightlifting belt do? How should you use it? Do you even need one? We'll find out in this article.

First, here's a short answer.
What does a weightlifting belt do? It reduces the stress on your lower back as you lift and prevents your back from overstretching. Weightlifting belts are particularly helpful when you're lighting your max load or trying to break a new personal best.
Now for the long answer. To fully understand weightlifting belts, their benefits, how to use them, and whether we even need them, let's start at the beginning.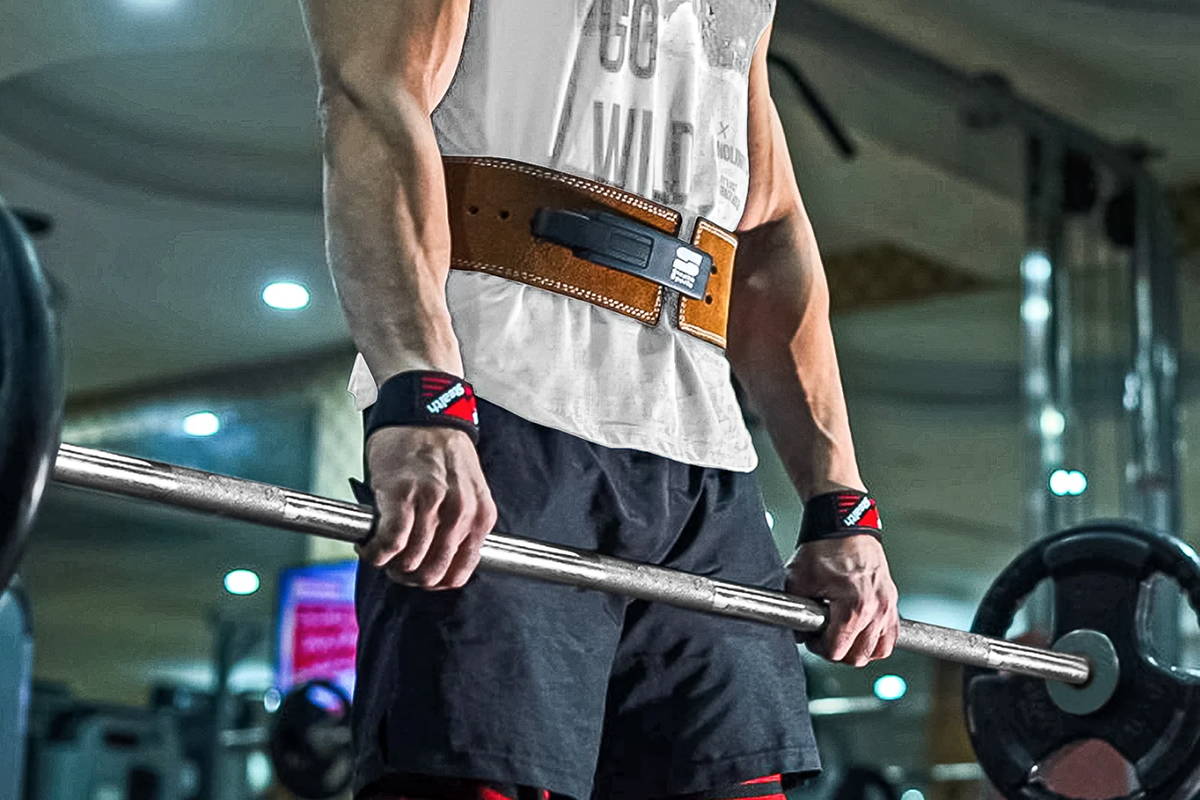 What Are Weightlifting Belts?
Weightlifting belts are back support belt for lifting weights used by powerlifters and weightlifters that help reduce stress and increase balance. Worn around the waist, they act as a wall for your abs to push into. This added force in limited space increases intra-abdominal pressure, which in turn reduces the stress on your spine and the risk of a back injury. Essentially, the belt serves as an extra set of core muscles.
Many people think it's all about wearing the belt as tight as possible, but don't be deceived. So how does a weightlifting belt work instead? A lifting belt essentially helps you breathe in such a way that builds up intra-abdominal pressure. So if your belt is too tight, how are you going to breathe?
Tie the belt such that it allows your sides to expand into it as you breathe. This is what will let you build that pressure inside that will help you withstand the pressure from outside. This may sound confusing, but you'll get the hang of it as soon as you watch it happen.
Types of Weightlifting Belts
There are different types of weightlifting belts that may interest you depending on your level of skill, fitness goals, and personal preference. They're made from different materials, come with different lock systems, and different sizes. Let's look at the types under each category.
There are two main materials used to make lifting belts, nylon and leather. Leather belts are usually thicker and provide more support for you, while nylon belts allow for more flexibility and are more comfortable.
Your decision in nylon vs leather will largely depend on how heavy you're lifting and how much support you need.
There are two major types of buckles for leather belts, prong and lever. Prong buckles are the traditional belt buckles that have holes where you can put the prong in to hold. You can have single pronged, double pronged, and sometimes even triple pronged buckles. They're mostly made of steel so you can be sure they can take whatever you throw at them. Lever buckles are more recent. They consist of a lever that you can pull your belt into and then back across to fasten. Lever buckles are much easier to fit on and take off.
There are also two major types of buckles for nylon belts, velcro and self-locking. Velcro buckles work with a loop system that makes it very easy to put on and take off, or even adjust during your workouts. Self-locking buckles are quite similar to velcro belts but instead of a simple loop, it locks your belt in before you then get to the velcro.
Weightlifting belts come in three different thicknesses depending on how much support you need.
1. 2.5 inch belt
This belt is more flexible than the thicker ones, but doesn't provide as much support and won't last as long as the thicker ones.
This belt is okay for anyone from casual gym goer to experienced weightlifter.
2. 3 inch belt
This one provides much more support than the 6.5mm belt and is more flexible than the 13mm belt. If you're after maximum flexibility or maximum support, however, go for the other two.
This belt is recommended for casual gym goers looking to get more serious with their lifting. It's also great for experienced professionals.
3. 4 inch belt
The thickest of the lot, this belt provides your back with immense support and firmness. It's much less flexible than the other two and might even bruise your torso.
This belt is recommended for advanced lifters only.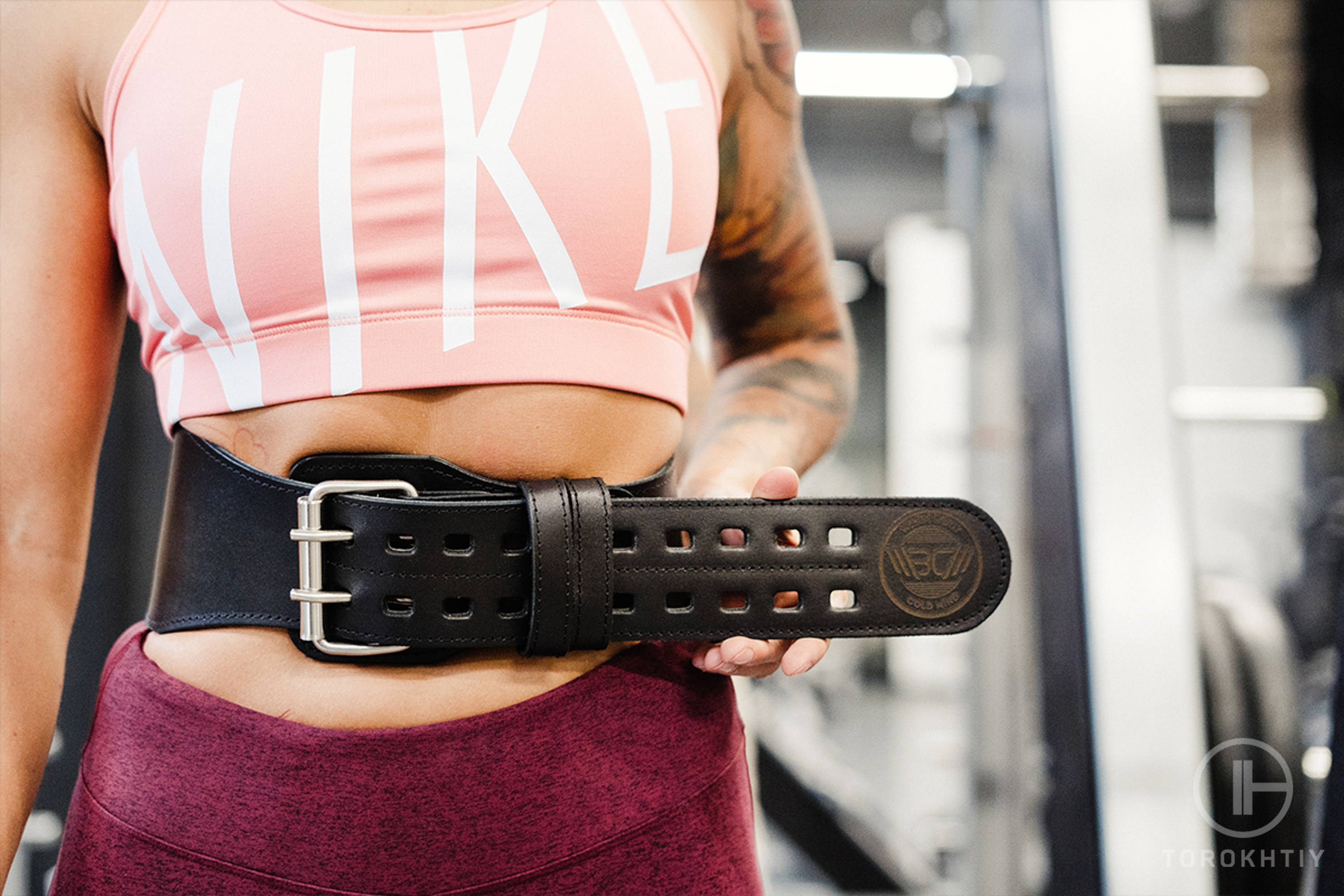 Benefits of Weightlifting Belts
You might still be wondering: why wear a lifting belt? It looks really cool and is considered a must-have by some people, but why should you wear one? What does it really add to your experience? Let's have a look at some benefits of weightlifting belts.
Builds Intra-Abdominal Pressure
The can illustration is one of my favorite ways to explain this. Imagine you have two cans, one full and sealed while the other is open and empty. If you were to stand on each of them one at a time, which one, do you think, is more likely to withstand your weight?
The full and sealed one, of course! A similar principle is at work here. When you build up intra-abdominal pressure (pressure in your core), you can withstand more pressure from outside. This is why you tighten up when expecting a punch to your gut. Weightlifting belts help build up this pressure by tightening up your core.
Weightlifting belts also help increase your self awareness while you work out. All too often, we can get carried away by the intensity of our workouts that we forget to maintain perfect form. With a belt exerting extra pressure inside, it helps keep you alert and reminded to maintain proper posture.
With the extra spinal stability and intra-abdominal pressure provided by weightlifting belts, you probably will lift more weights for longer periods of time. This makes them almost essential for you if you're trying to increase your max load or break past a plateau.
You can use weightlifting belts to push yourself beyond anything you've lifted before. They provide safe support for you until you can handle the weights without help.
That said, weightlifting belts do not guarantee you heavier weights. They're very helpful, but are only one way to help you increase your max weight. You also still need to put in the required effort. It's important that you don't get over reliant on your belt as this will affect your long-term progress.
Another weightlifting belt purpose is to enhance your body biomechanics, which refers to how different parts of your body work together to produce movement. By increasing intra-abdominal pressure and reducing stress on your spine, weightlifting belts make the flow of movement easier for you. Muscles that would otherwise be pushed to the limit by your weights will instead be in peak condition due to the extra support from the belts.
What Exercises Require a Weightlifting Belt?
As amazing as weightlifting belts sound, they're only required for exercises that involve massive weights. You may already have some idea, but let's talk about what exercises you'd have to be doing to warrant the need for a lifting belt.
One of the most effective exercises for building raw power and muscle mass, deadlifts involve punishing weights. When doing a deadlift, you bend your knees to pick up the barbell from its resting position and lift it till you're standing upright. Then you slowly lower it back down to the floor.
This movement requires perfect form or you might get injured, especially in your lower back. Wearing a lifting belt will provide support for your lower back and allow you stretch your limits as far as you're willing to go.
Often referred to as the "king of lifts", squats involve massive weights as well. To do a squat, hold the barbell on your shoulders at the very top of your back as you stand upright. Then squat and rise as you hold the barbell.
This movement exerts plenty of stress on your back. The extra support and intra-abdominal pressure will only lessen the workload on your back and allow you to push even further.
The clean and jerk movements are perhaps the most complex on this list. It starts out like a deadlift with the barbell on the floor. You must then lift it to just about hip length, then explode upwards and catch it on your shoulders just below your neck. In one fluid movement, push your hands upwards till the barbell is high above your head and widen your stance to provide more stability. Then straighten, and drop the barbell to the floor. You can watch the video if you're confused.
All that movement involves plenty of stress on your back and requires tiptop form to ensure safety. Weightlifting belts help you reduce the stress and maintain form as you workout.
Barbell rows are similar to deadlifts, but with one crucial difference. You don't stand upright with the barbell when doing barbell rows. Instead, you maintain your bent over position and lift the barbell from the floor to your stomach, then back to the floor, and keep repeating this movement.
You are required to stay bent throughout the exercise when doing barbell rows. This position can exert stress on your back that might eventually tire you out. Weightlifting belts provide support for your back and let you workout longer or heavier.
To do an overhead press, you must stand upright with a barbell in your hands just under your chin. Then lift the barbell up and down repeatedly. This movement still requires proper form, especially a straight back. The weightlifting belt purpose is to keep your back straight and provide support so that you can focus on your workout.
How to Pick the Right Weightlifting Belt
There are several weightlifting belts for you to pick from. When making your decision, there are some things you need to keep in mind to help guide your decision.
The first thing to consider is your level of skill. If you're a beginner, the standard weightlifting belt with a prong lock system is enough for you. It'll provide enough support because you won't be lifting so heavy at the start.
For an experienced lifter, all your options are still open. To help narrow it down, let's move to the next criterion.
What are your fitness goals? If you're happy with where you are and the weight you're lifting, a standard weightlifting belt is perfect. If you're looking to increase your max weight, however, you might want to move up to the thicker and stronger powerlifting belt.
The final and most important factor is your personal preference. The best belt to get is the one you feel the most comfortable in. Lifting belts are made from different materials with different lock systems. Pick whatever betters your experience.
My recommended lifting belt
Designed by world and European weightlifting champion, Oleksiy Torokhtiy, the WBCM Leather Weightlifting Belt is built to give your back all the support it needs. Made from leather and with a heavy duty steel buckle, this belt can take all the punishment and still hug you snugly. It also comes with an extra padding that lets you lift 10% more than what you usually would. If you're looking for a weightlifting belt, it doesn't get much better than this.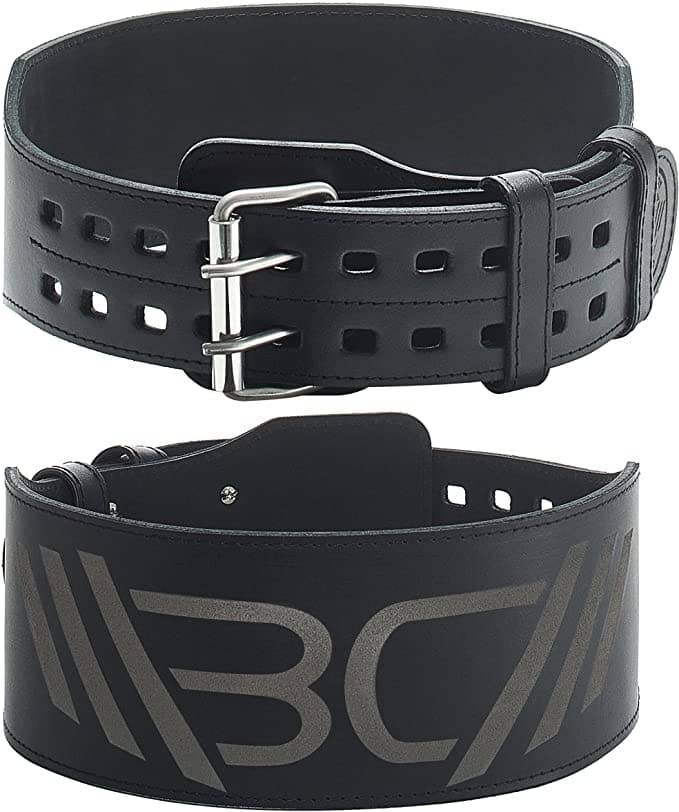 When should I start using a lifting belt?
My advice is to start using a belt if you're brand new to heavy lifting or trying to push beyond your current max. The support it gives serves as a good base and gives you confidence to push further than you usually would. You can read more about when to start using lifting weights if this short answer isn't enough.
Is it better to squat without a belt?
My advice is to avoid becoming dependent on lifting belts because that will eventually slow your progress. You can use a belt for your heaviest reps, let's say about 85% upwards of your max. As soon as you get comfortable lifting a certain weight, I'd advise reducing the use of belts. So use them to push yourself as far as you can.
So why do weightlifters wear belts? What are lifting belts for? They increase intra-abdominal pressure and provide extra support to the back to reduce the risk of injury and allow you to lift heavier weights than you usually would. Make sure to leave some space for expansion as you breathe, and remember to consider your level of skill, fitness goal, and personal preference as you pick a belt for yourself.
Now it's your turn. What's your favorite thing about weightlifting belts? Are you thinking about getting one for yourself? Did I miss anything? Talk to me in the comments!
Leather vs. Nylon Weightlifting Belts: Which is Better? // Noob Gains:
https://www.noobgains.com/weight-lifting-belt-leather-or-nylon/
How to Increase Your 1 Rep Max // Bodybuilding:
https://www.bodybuilding.com/content/how-to-increase-your-1-rep-max.html
My name is Ihor and I have been a professional weightlifter since 1996. With over 20 years of competition experience, my resume includes European Champion in 2009 and the silver medalist at 2011's Senior World Championships – 105kg division.
I competed at the 2008, 2012 and 2016 Summer Olympics.
After hanging up my own competitive lifting shoes, I decided to share my huge background as a coach. I am currently coaching multiple athletes who are competing at national and international competitions.