This article will settle the peloton vs elliptical debate by putting them against each other to see which one comes out on top.
Both machines are common in both fitness centers and home gyms and have strong arguments for their health and exercise benefits.
So, which is better, the peloton or elliptical - the results may surprise you.
Peloton VS Elliptical, Which Is Better? Studies and extended testing of the elliptical vs peloton showed that both machines are excellent cardio exercise choices. Ellipticals have proven to engage more muscle groups and burn slightly more calories on average. The peloton bike has proven to be more user-accessible, and the accompanying connectivity features make it unique.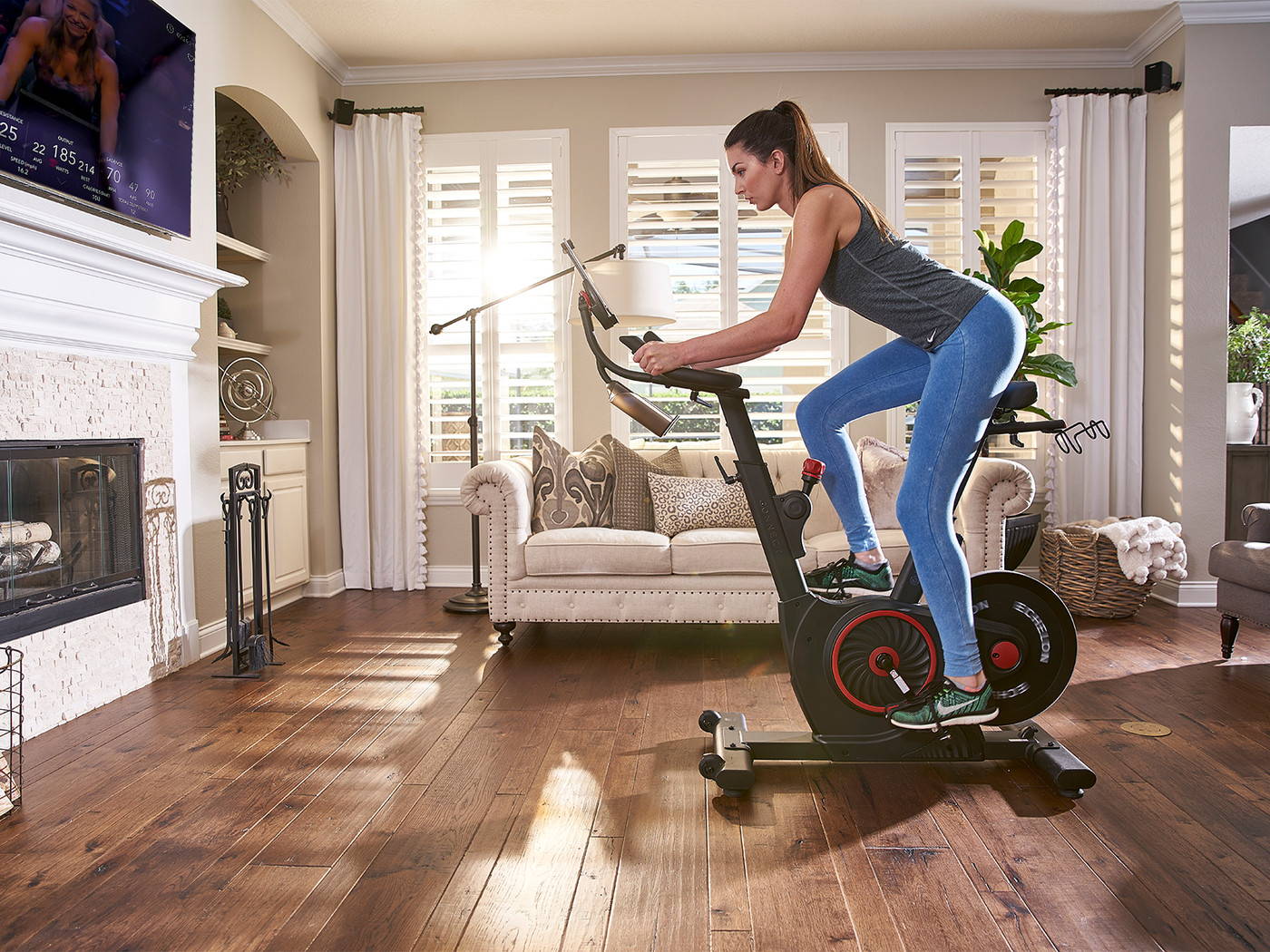 A Peloton is a brand of stationary exercise bike made by the company with the same name. The name comes from the French word originally meaning "platoon", and is a reference to groups of riders that compete in road bicycle races, such as Tour de France.
The main feature of the Peloton bike as opposed to other exercise bikes is the focus on creating a group exercise atmosphere in your house. It achieves this through the large HD touchscreen display that streams live or on-demand fitness classes and connects to other users.
The screen also serves as the main hub for all your fitness information and progress tracking. It features Bluetooth compatibility, so you can connect your smart device or Apple smartwatch as well.
Note that the fitness app requires a monthly subscription, though the bike is not reliant on it and can be used separately as a regular cardio machine.
An elliptical machine, or elliptical for short, is a stationary exercise tool that simulates walking or running. It is a low-impact cardiovascular exercise machine that can be used for a variety of workouts, including endurance training, interval training, and muscle toning, without causing excessive strain on your joints, knees, hips, etc.
An elliptical consists of two long handlebars connected to foot plates that move in an elliptical pattern - hence the name - allowing the user to push and pull while stepping.
Ellipticals are often used as an alternative to running or walking on a treadmill, and studies have shown they have near identical cardiovascular benefits as those exercises.
Some ellipticals have adjustable resistance levels and incline settings, allowing the user to customize their workout even further. The main difference between ellipticals and other cardio machines such as bikes or treadmills is their near full-body engagement.
Comparing Peloton VS Elliptical Machines
Workout difficulty is one of the first things to consider when deciding between the peloton or elliptical.
The bottom line is that biking exercises like the peloton are, on average, easier.
For starters, you're in a seating position, and you only engage your lower body in the workout.
Ellipticals require near full-body usage to push the pedals and pull the handlebars.
Even if set to an easier setting, this requirement may prove difficult for people who have outside factors preventing them from using their upper body in the exercise.
Both the elliptical and the peloton are low-impact cardio machines that are easy on the body.
Ellipticals provide a near full-body workout since they require you to use both your arms and legs and stand while you exercise.
The peloton, just like other fitness bikes, almost exclusively engages your lower body.
However, muscle development tends to be greater as a result compared to ellipticals.
Muscle Engagement and Development
When comparing the peloton vs elliptical machines, there's a clear difference in muscle engagement.
Since the elliptical engages the upper body as well, users can expect to see more versatile muscular progress.
For this reason, many people choose ellipticals as their all-in-one at-home workout machines.
The peloton almost exclusively exercises your core and lower body, but with greater results in the legs - including the quadriceps, hamstrings, and calves.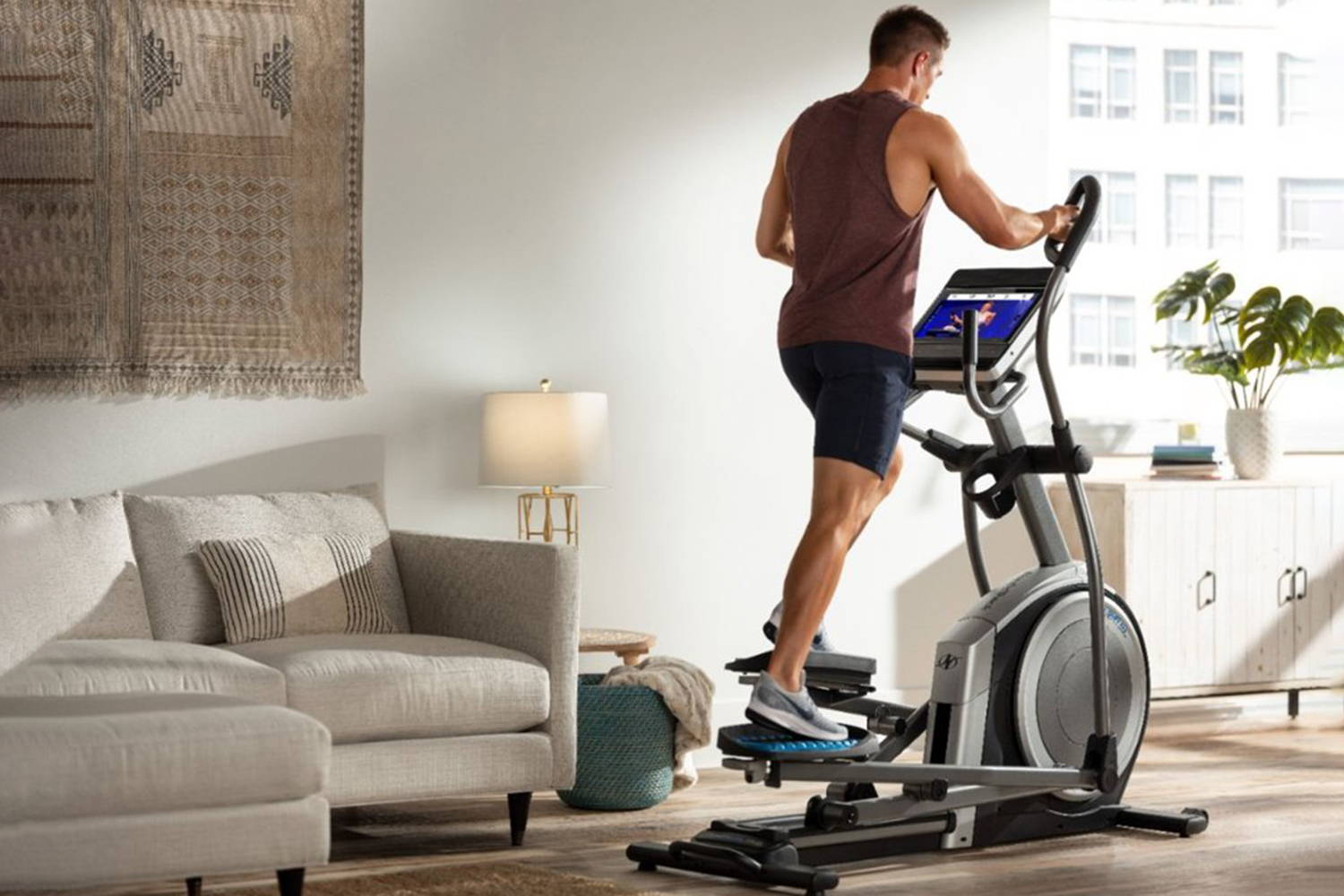 Peloton VS Elliptical - Summary
Both the Peloton and Elliptical offer great cardio exercise from the comfort of your home.
The elliptical is focused on standing exercising and full-body engagement, while the Peloton focuses on creating a comfortable and interactive bike ride from the comfort of your home.
Pros and Cons of Peloton:
The fitness classes found on the app are both convenient and motivating to use, making exercising more exciting




Smart device connectivity via Bluetooth allows for advanced levels of stat tracking and goal setting

The built-in camera and microphone allow you to connect with other users and share your exercise experience

The screen, seat, and handlebars are adjustable
The machine is quite heavy and hard to move and doesn't have compact features, so you'll have to have a designated space for it at all times.

The amazing workout catalog and apps require a subscription service

Smart features aside, the Peloton is just a stationary bike, and the workout possibilities are limited
Pros and Cons of Elliptical:
Low-impact exercise that's easier on your body, particularly your joints, knees, and lower back

Near full-body workouts that engage your arms, legs, core, and other muscle groups

Ellipticals focus on standing exercises, which can fix your posture, straighten your back, and improve your balance, among other things

Some elliptical models have a wide range of workout possibilities with adjustable inclines, pedals, handles, etc.

Ellipticals tend to be among the quieter indoor cardio machines
Because ellipticals require near full-body engagement, they may be inaccessible to people with certain conditions, such as injuries, chronic pain, health issues, or disabilities.

Ellipticals feature a lot of moving parts, making them more challenging to maintain than similar cardio machines
Peloton VS Elliptical - When to Use Each?
The elliptical is better suited for those looking for a more engaging at-home workout, while the peloton is focused on the fun and social aspects of exercising through its connectivity.
In the direct comparison of the elliptical vs peloton, cardio results will be similar.
Studies show minimal variation between using an elliptical, stationary bike, or treadmill.
It will mostly come down to preference, as well as outside factors preventing you from using either or, such as certain injuries, chronic pain, health issues, or disabilities.
Here are my recommended peloton and elliptical choices:
Recommended Peloton - Original Peloton Indoor Stationary Exercise Bike
The original Peloton Indoor exercise bike still reigns supreme, despite many cardio machine manufacturers trying to imitate its design and success.
Everything you need to use your Peloton to its fullest potential is found on the 22-inch sized touchscreen.
It features Bluetooth connectivity, a 5-megapixel front-facing camera, a built-in microphone, a headphone jack, and a USB port. With these tools, you can enjoy high-resolution fitness classes, or share the ride with your workout friends and join growing communities.
At just 4 x 2 footprint, it's smaller compared to other exercise bikes, so it won't take up too much space in your home or garage. Note that the built-in fitness app requires a monthly subscription.
Recommended Elliptical - Sunny Health & Fitness Essential Interactive Series
The Sunny Essential Interactive Series rear-drive elliptical provides a near full-body and low-impact cardio exercise.
The main benefit of this elliptical machine compared to others is the Bluetooth connectivity and accompanying fitness app. It allows you to pair your smart device with your elliptical and use it to better process your gathered data and improve your workouts using the free SunnyFit app.
Place your phone or tablet on the device holder shelf and use it to simulate routes from real-world locations such as city streets or trekking trails, or select one of over 100 workout videos to follow along.
Compared to other elliptical machines, the Sunny elliptical takes up less space and is very quiet, making it a great fit for home or garage gyms. If you don't feel like using a smart device, use the built-in display to track your heart rate, calories, time, distance, speed, and more.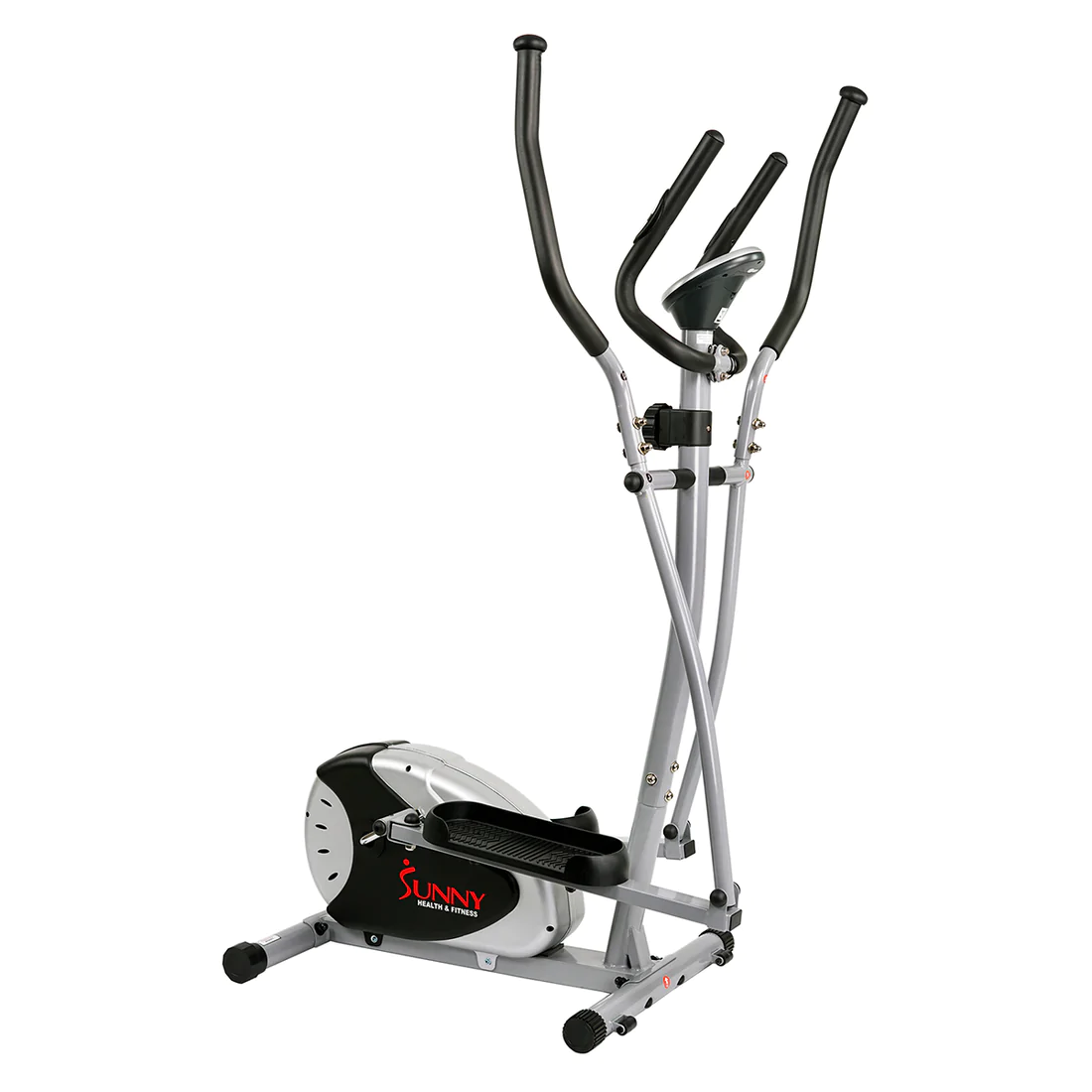 Is a Peloton Better Than an Elliptical?
Both the Peloton and the elliptical are effective exercise tools that will improve your cardiovascular system, burn calories, and improve your stamina.
Which one is better for you, will mostly come down to workout preference and outside factors such as your health condition or professional recommendation, for example.
Which Burns More Calories, Elliptical or Peloton?
Hopefully, this article provided enough information to help you decide between the elliptical or peloton. Both machines are effective for weight loss and improving your cardiovascular health. For the best results, you should choose the one you enjoy using more and be consistent with your workouts.
As a quick reminder, my favorite peloton was the Original Peloton Indoor Stationary Exercise Bike, while the best elliptical proved to be the Sunny Health & Fitness Interactive Series.
Have you used the elliptical machine before? What about the Peloton bike? Which one do you prefer?
Let me know your thoughts in the comments, and make sure to follow me on social media for more fitness tips and guides.
Peloton // Wikipedia: https://en.wikipedia.org/wiki/Peloton
Comparison of energy expenditure on a treadmill vs. an elliptical device at a self-selected exercise intensity // Pubmed: https://pubmed.ncbi.nlm.nih.gov/20453685/
Comparison of elliptical training, stationary cycling, treadmill walking and overground walking // Ncbi: https://www.ncbi.nlm.nih.gov/pmc/articles/PMC3299003/
Calories burned in 30 minutes for people of three different weights // Harvard health publishing: https://www.health.harvard.edu/diet-and-weight-loss/calories-burned-in-30-minutes-for-people-of-three-different-weights
My name is Ihor and I have been a professional weightlifter since 1996. With over 20 years of competition experience, my resume includes European Champion in 2009 and the silver medalist at 2011's Senior World Championships –105kg division.
I competed at the 2008, 2012 and 2016 Summer Olympics.
After hanging up my own competitive lifting shoes, I decided to share my huge background as a coach. I am currently coaching multiple athletes who are competing at national and international competitions.