Deadlifts are one of the best exercises; performing them regularly can help you reach many fitness goals, from building muscle mass to simply getting fitter.
When it comes to deadlifting, most lifters will opt for low to moderate reps using a heavy to medium weight.
High-rep deadlifts are typically performed in sets of 8 reps or more. This type of training has many benefits, including fat loss, improved fitness levels, and grip strength. A few issues include a risk of injury and prolonged fatigue.
Is there any benefit to choosing high-rep deadlifts instead? Is there any place for this in your workout program?
The following article will look at the pros and cons of high-rep deadlifts so that you can decide are high-rep deadlifts good or not.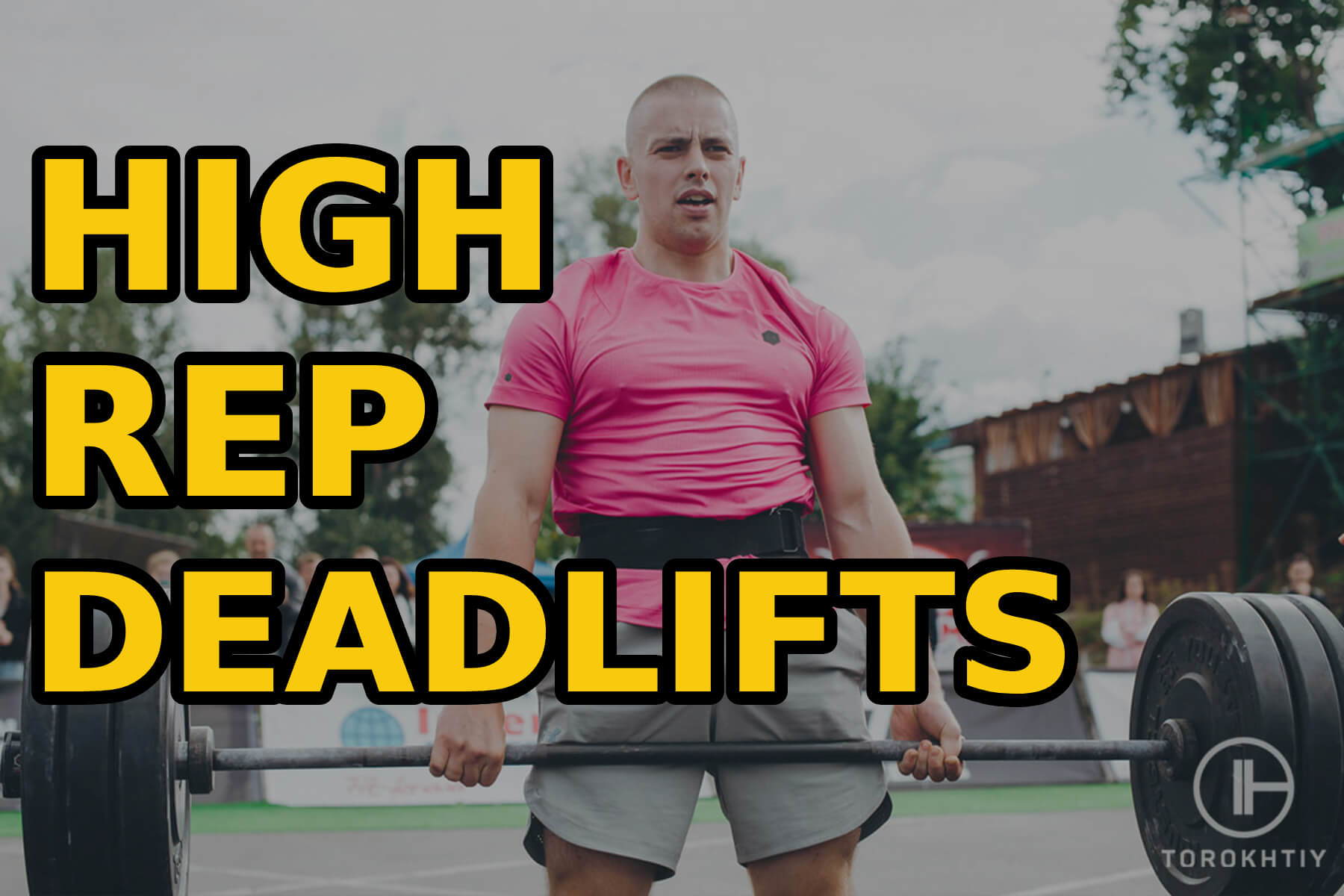 What Is Considered a High Rep Deadlift?
High-rep deadlifts are those that involve sets of 8 repetitions or more. Typically while performing high rep deadlifts, you will choose to lift 50-70% of your one rep max.
Performing deadlifts for reps will stimulate muscle hypertrophy (muscle growth) rather than strength, as you will perform at a higher training volume than a moderate to low rep training range.
This form of training is especially effective for fat loss, not only because of the high intensity, but because deadlifts work multiple muscle groups simultaneously.
Pros of High Rep Deadlifts
Let's look at some of the benefits of performing lightweight high-rep deadlifts.
1. Helps Burn a Lot of Calories
You will use many different muscles when performing a deadlift, including the quads, hamstring, glutes, and back. For this reason, deadlifts have been shown to burn a lot of calories.
To lose weight, you need to burn more calories than you consume. Performing low-weight, high-rep deadlifts can help with your energy expenditure and help you reach your fat loss goals.
Research has shown that 30 minutes of weight lifting can burn between 90-126 calories, depending on your body weight.
As you build muscle while performing this exercise, you will notice an increase in your metabolism. With each pound of muscle gained, you can burn an extra six calories daily without doing anything else. While this is negligible, it will add up to a more significant amount over time.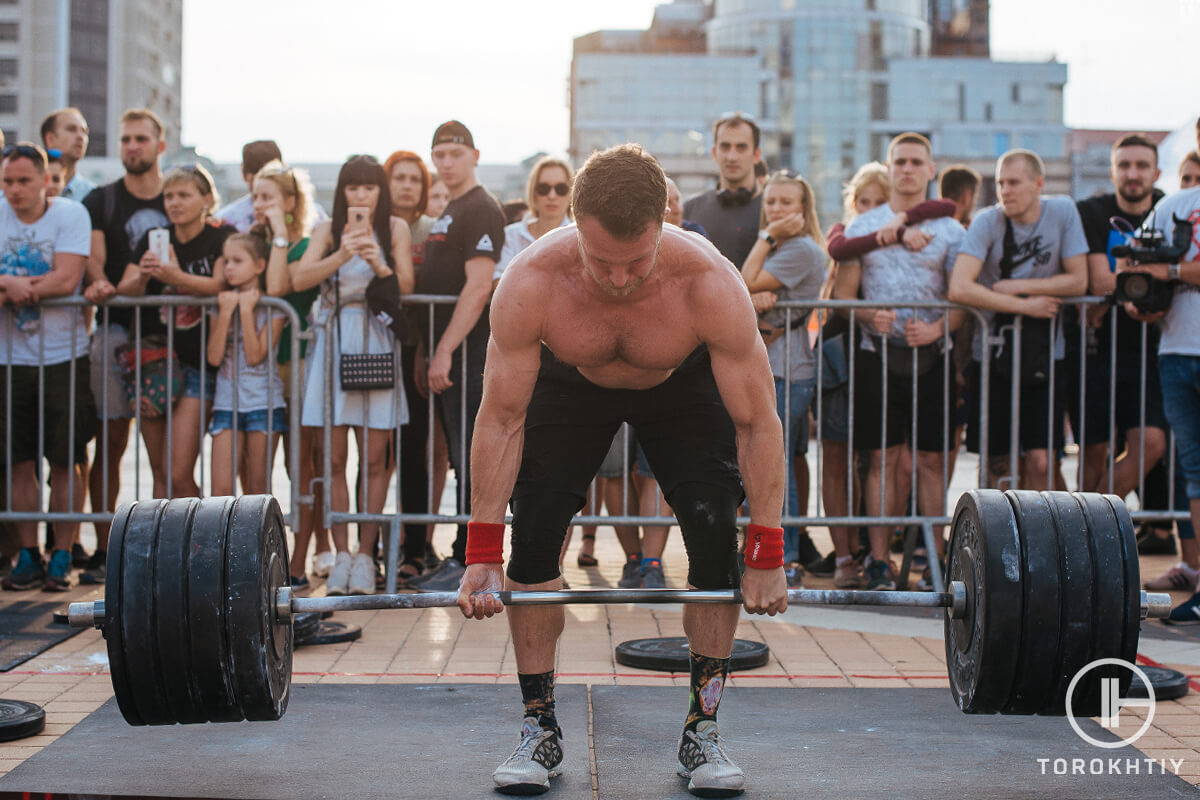 Burning calories is not limited to when you perform the exercise; it will continue long after your workouts too.

After your workout, your body will continue burning calories through a process known as EPOC, which stands for excess post-exercise oxygen consumption. When this occurs, you will experience an increase in metabolism, which means you will burn calories even while resting.
2. Cardiovascular Conditioning
If you have ever performed 20 reps of deadlifts in a row, you will find yourself out of breath with your heart pumping.
Like other cardio exercises, performing high-rep deadlifts can put extra demand on your anaerobic energy systems, causing an increase in both cardiovascular fitness and endurance.
This overall fitness increase can be of benefit to any athlete who takes part in other sporting activities.
Whether you choose low-rep deadlifts or high-rep ones, resistance training will help build muscle.
Deadlifts work your glutes, quads, and hamstrings, amongst other muscles, meaning they are a time-efficient method to help with hypertrophy and muscle growth.
4. Increase Grip Strength
If you currently have a weak grip, you should consider high-rep deadlifts.
The deadlift is one of the most taxing exercises to perform for your grip, so as long as you are avoiding lifting straps, then over time, your grip will become stronger.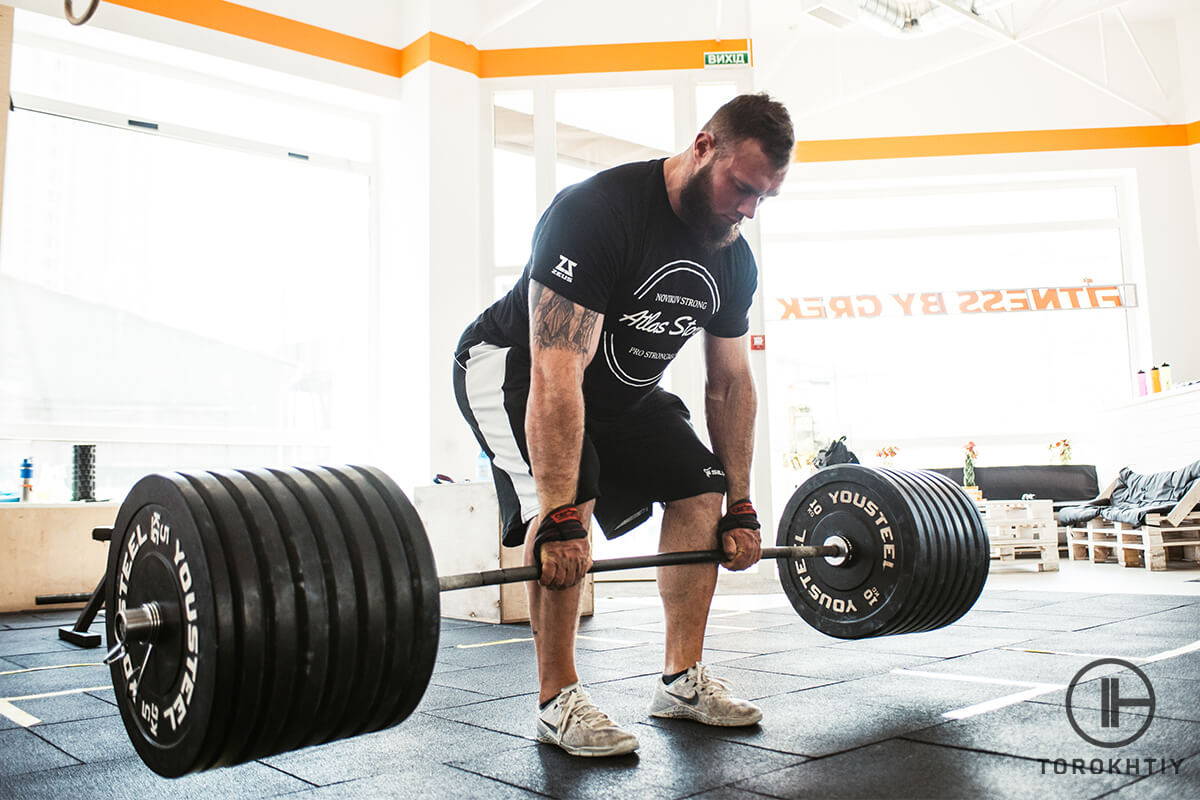 If you have ever performed a high-volume deadlift set, you will know just how physically and mentally taxing this exercise can be.
Halfway through the set, you may consider quitting. However, you know that the only way to reach your training goals is to push past any pain or fatigue experienced.
Knowing you can push through these hurdles will positively affect your life, and you will be able to say that whenever you are faced with adversity, it won't be harder than the high-rep deadlifts.
Cons of High Rep Deadlifts
There are plenty of benefits to be gained by performing high-rep deadlifts. It is worth noting that there are some negatives too.
1. Not The Most Effective Way to Build Muscle Size or Strength
Even though you can deadlift for hypertrophy, high-rep deadlifts are not the most effective rep range for this goal.
Instead, performing a 12 to 20-rep deadlift set will likely move your training into the muscular endurance range.
It is believed that the sweet spot for muscular hypertrophy is 6-12 reps, while strength would see the biggest increase following a 2-6 rep range.
If you want to build muscle effectively, there are better options than high-rep deadlifts, and if you wish to get stronger, you will need to lift a weight heavier, as anything you can lift over 12 times will not help build serious strength.
Performing a one-rep max lift is exhilarating, as most serious lifters will tell you. Not only will you immediately feel pride in your achievement, but you will also be able to brag about your PR to your friends and family.
Performing endless repetitions at a low weight does not replace this exhilaration.
3. May Increase Cortisol Production
Cortisol is a stress hormone that plays various roles, including blood sugar control and metabolism regulation.
Too much cortisol can negatively affect your body and cause depression, digestive issues, headaches, and sleep problems.
Research has found that performing high-intensity workouts such as high-rep deadlifts can cause an increase in cortisol production.
4. Increased Risk of Injury
Performing high-intensity training can lead to overuse injuries that can occur when the training intensity is too high.
While high-rep deadlifts are not inherently dangerous, you need to make sure that you train within your limitations and only push yourself too hard after first building up to that level of intensity.
It would be best if you also considered the effect of fatigue, as tiredness while training can lead to your lifting technique becoming compromised, and with poor form comes an increased risk of injury.
High-rep deadlifts can tax your body, leaving you feeling tired many days after training. This means you may not be able to train as hard during your next session.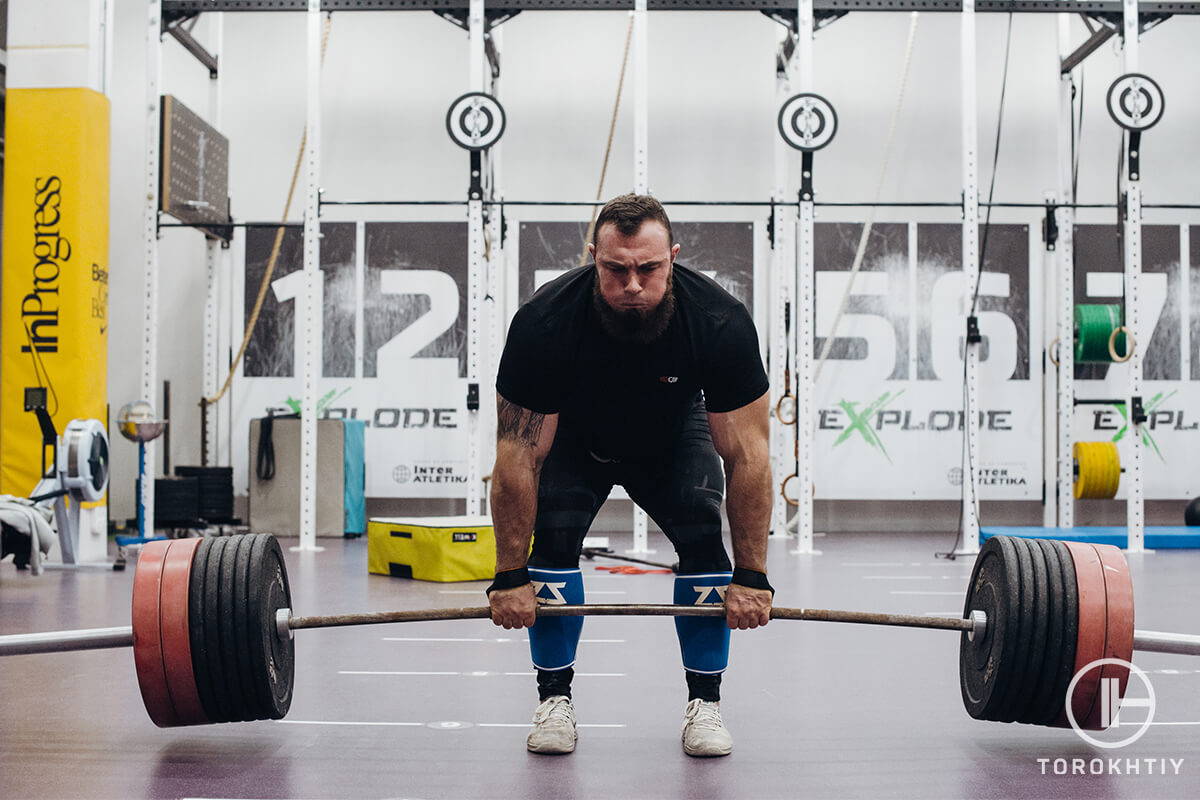 How Many Sets Should I Do for High Rep Deadlifts?
Regardless of the rep range for deadlifts performed in each set, most fitness trainers recommend performing between 2-6 sets. Performing fewer than two sets of an exercise would not challenge you enough, while completing more than six could cause you to overwork your muscles and risk injury.
Consider the following number of sets depending on your fitness and experience levels.
Beginners: 2 sets
Intermediate: 4 sets
Advanced: 6 sets
How Do I Recover From High Rep Deadlifts?
The most important thing you can do to recover from high-rep trap bar deadlifts is to give yourself adequate time to recover between workout sessions. Rest for 3-5 minutes between sets and at least 48 hours between each workout.
To aid in your recovery, there are several other things that you can do. Your diet is essential, and you should aim to consume plenty of protein as this will help give your body the raw materials to repair the muscle fibers damaged when training. Consuming a protein shake post-workout would be a quick and easy way to increase your protein intake.
Research has found that you should consume 1.2-2 grams of protein per kg in body weight daily.
Your carb intake is also crucial as it will be depleted through intense exercise. It has been said that you should look to restore lost glycogen after your workout. You can do this by consuming foods such as white rice and potatoes. It can take up to 48 hours to replace this lost glycogen.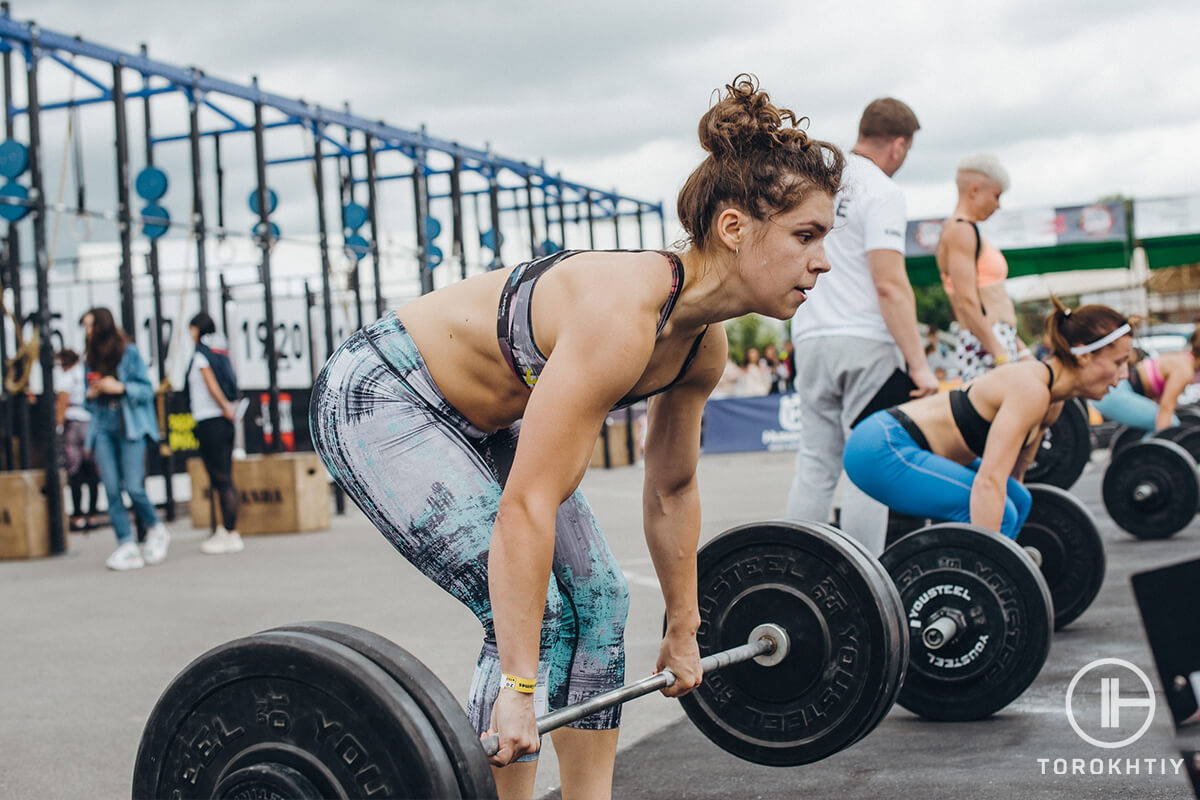 Similarly, when performing high-rep deadlifts, you must replace lost fluids. Dehydration can impair your ability to recover from exercise, so it is recommended that you drink 16-24 ounces (0.47-0.7 liters) of liquid for every pound lost while you exercise.

While rehydrating, consider adding some creatine to your drink. Supplementing with creatine could help aid recovery as it can help replenish your glycogen stores and reduce muscle damage and inflammation.
Finally, consider getting plenty of sleep. It has been found that sleep deprivation can impact your recovery by reducing the production of hormones that aid muscle growth.
High Rep Deadlift Workout
There are many types of deadlifts, including the Trap Bar/Hex Bar Deadlift, The Sumo Deadlift, and the Conventional Deadlift. For this workout, you will choose one variation; the one you choose will depend on your preferences.
Each week you will be performing deadlifts on three separate days, you are allowed to change the days you work out, but you need to allow yourself 48 hours of rest time between each workout.
Monday, Wednesday, Friday
Cardio warmup 5-10 minutes
2-6 sets of deadlifts depending on experience levels
Cool down with gentle stretching
Our Deadlift 2.0 program is a 12-week strength plan designed to boost your Deadlift PR.
The program follows a schedule of THREE 60-90 minutes training sessions per week. The training is scheduled for Monday, Wednesday, and Friday, but you can adjust the days to fit your weekly routine, as long as you follow the pattern of one training day followed by one cooldown day, with two days of rest after every third session.
The training is structured into 3 main blocks, with each block lasting for 4 weeks:
The plan is fit for both male and female athletes and is especially good for Powerlifters and Olympic lifters, but also for fans of deadlifting and strength training. All training requires access to basic equipment.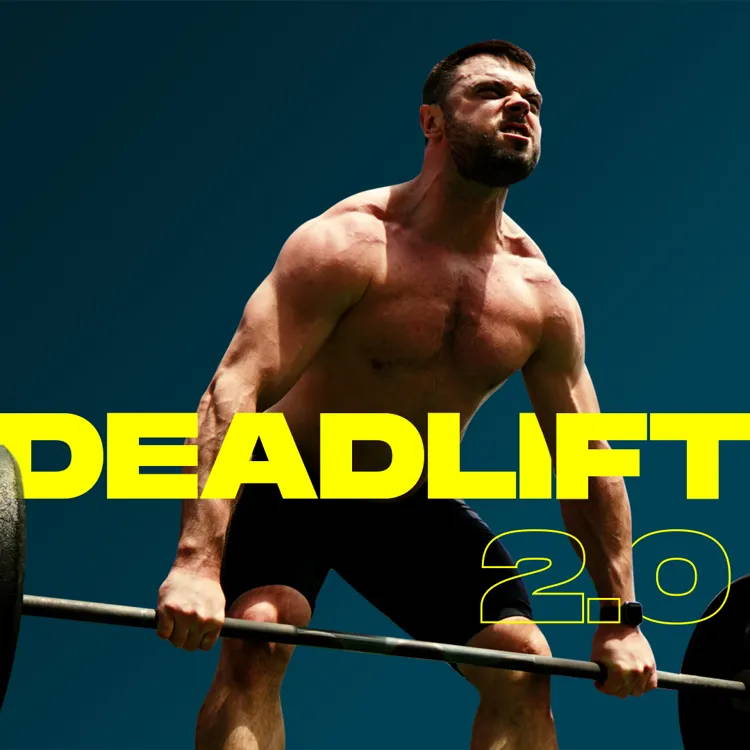 Split into 3 block of 4 weeks (12 weeks total)
40 unique exercises, with video tutorials
Pre and post-workout stretch and special warmups
Mobile friendly PDF version
LIFETIME access
Try the first 3 workouts for FREE!
What Weight Should I Use for High Rep Deadlifts?
When performing high rep deadlifts, you should opt for a weight of 50-70% of your one rep max.
Is the High Rep Deadlift Program for Cutting or Bulking?
While high-rep deadlifts can help build muscle, their primary focus would be fat loss. Making them ideal for the cutting part of your training.
If used appropriately, adding high-rep deadlifts to your training regime can be an effective way to burn fat, along with a host of other benefits, including improved fitness levels, grip strength, and increased mental toughness.
However, misusing this form of training has its risks, too, with a potential risk of injury. I recommend that you be careful with how you use them.
Please leave a comment below if you have any comments or questions about this type of training.
Calories burned in 30 minutes for people of three different weights // Harvard: https://www.health. harvard.edu/diet-and-weight-loss/calories-burned-in-30-minutes-for-people-of-three-different-weights
Resting Energy Expenditure: Systematic Organization and Critique of Prediction Methods // Wiley: https://onlinelibrary. wiley.com/doi/ 10.1038/oby.2001.42
Effects of exercise intensity and duration on the excess post-exercise oxygen consumption // NIH: https://pubmed.ncbi.nlm.nih.gov /17101527/
The Clinical Importance of the Anaerobic Energy System and Its Assessment in Human Performance // Sagejournal: https://journals.sagepub. com/doi/10.1177 /036354659702500623
Maximizing Muscle Hypertrophy: A Systematic Review of Advanced Resistance Training Techniques and Methods // NIH: https://www.ncbi.nlm.nih.gov/ pmc/articles/ PMC6950543/
Forearm electromyographic activity during the deadlift exercise is affected by grip type and sex // Sciencedirect: https://www.sciencedirect.com /science/article/pii/ S1050641120300705
High Reps vs Low Reps For Muscle Growth: What Does Research Say? // Builtwithscience https://builtwithscience.com /fitness-tips/high-reps-vs-low-reps/
Testosterone and Cortisol Responses to Five High-Intensity Functional Training Competition Workouts in Recreationally Active Adults // NIH: https://www.ncbi.nlm.nih.gov/ pmc/articles/ PMC6162535/
High-intensity training: assessing injury risks // LER: https://lermagazine.com/ cover_story/high-intensity-training-assessing-injury-risks
Achieving Optimal Post-Exercise Muscle Protein Remodeling in Physically Active Adults through Whole Food Consumption // NIH: https://www.ncbi.nlm.nih.gov/pmc /articles/ PMC5852800/
MUSCLE GLYCOGEN AND EXERCISE: ALL YOU NEED TO KNOW // Inscyd: https://inscyd.com/ article/muscle-glycogen-and-exercise-all-you-need-to-know/
Exercise and Fluid Replacement // LWW: https://journals.lww.com/acsm-healthfitness/ fulltext/2013/ 07000/exercise _and_fluid_replacement __brought_to_ you_by.3.aspx
International Society of Sports Nutrition position stand: safety and efficacy of creatine supplementation in exercise, sport, and medicine // NIH: https://www.ncbi.nlm.nih.gov /pmc/articles/ PMC5469049/
Effects of Sleep Deprivation on Acute Skeletal Muscle Recovery after Exercise // LWW: https://journals.lww.com/acsm-msse/Fulltext /2020/02000 /Effects_of_Sleep _Deprivation_on_ Acute_Skeletal .28.aspx
Sergii is a professional weightlifter and National team member in the past. Competed in 94 kg w/c, won multiple medals on national competitions.
Nowadays Sergii is responsible for designing training programs, writing blog articles, doing live commentary of international weightlifting competitions, running different sport & fitness educational seminars, including Olympic weightlifting together with Oleksiy Torokhtiy all around the globe.