Deadlifts are a versatile and widely used exercise that targets the posterior chain and various other muscle groups. They're beneficial for all athletic levels, as they enhance functional strength for everyday tasks, sports performance, and overall fitness.
This article will teach you the optimal deadlift sets and reps for different training goals, including raw strength, muscle growth, and functional fitness. But before diving into the details, let's start with a brief overview.
The ideal number of deadlift sets and reps depends on your athletic level and exercise goals. In general, a low deadlift rep range with high weight amounts is best for strength training, while the best deadlift reps for hypertrophy (muscle gain) are between 6-10 using moderate weight.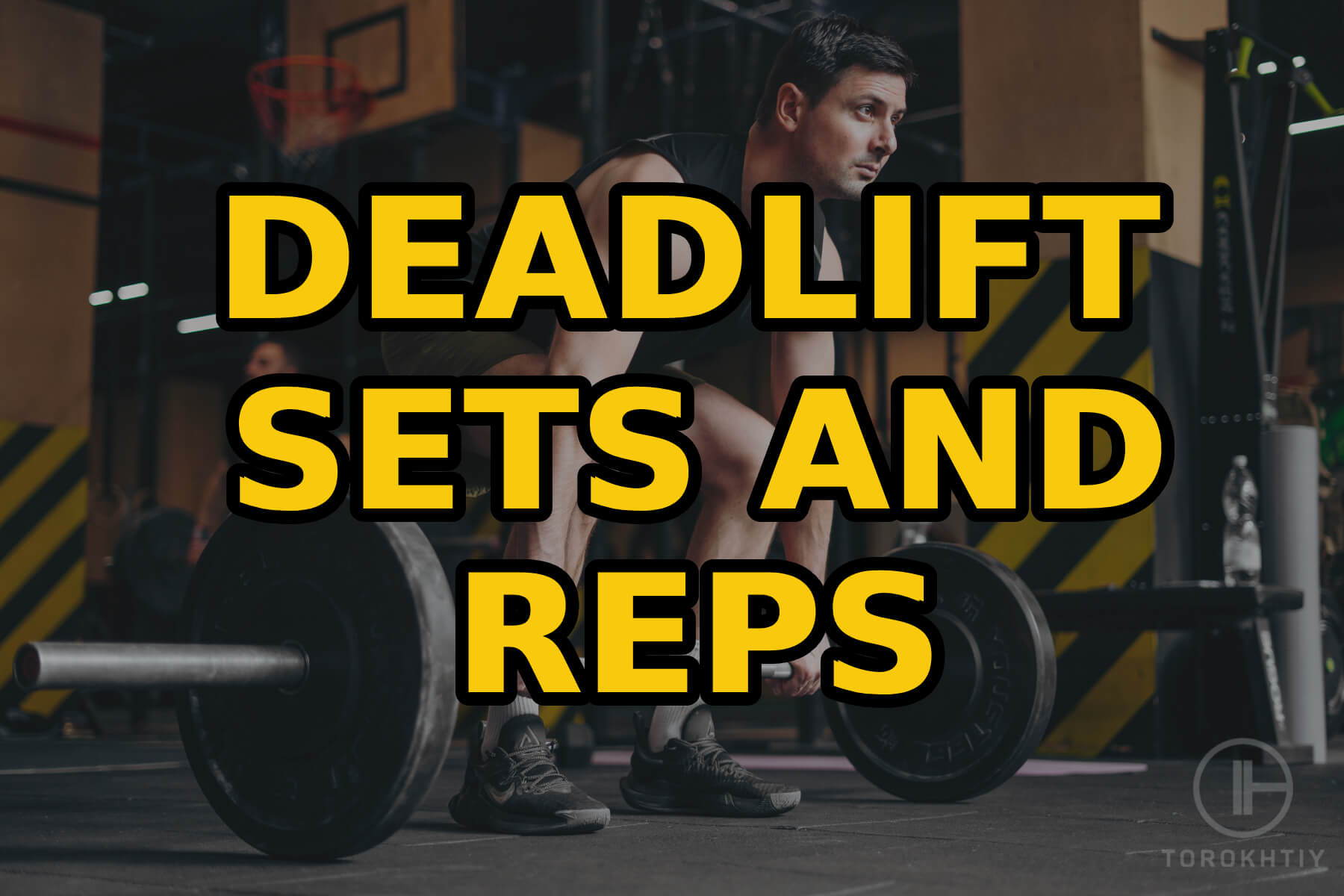 Why Is It Important to Have Good Deadlift Technique?
There are many reasons why knowing proper deadlift technique is important, and it mostly boils down to exercise efficiency and safety. Deadlifts are a compound exercise, meaning they utilize various body movements and activate multiple muscle groups simultaneously. Although this results in numerous benefits such as strength gaining, muscle growth, functional training, and more, it also makes deadlifts highly complex and challenging to master.
The Deadlift primarily targets the Posterior Chain muscle group. This mainly involves your hips, glutes, hamstrings, and lower back, and to a lesser extent your deltoids (shoulders), rhomboids (upper back), and trapezius (upper back and neck). The secondary muscle groups worked by the deadlift include your lats, core, forearms, and palms, among others.
In other words, the posterior chain forms significant connections between your upper and lower body, playing a vital role in everyday activities as well as exercise. These activities range from fundamental actions like maintaining an upright posture, walking, and running, to more dynamic movements like jumping, bending, gripping, and carrying objects. This means that practicing deadlifts not only makes us objectively stronger, but the benefits gained from them are transferable to everyday life.
Using improper deadlift technique at the very least fails to activate the right movements and muscles, which defeats the purpose of the exercise. More importantly, improper technique significantly increases the risk of exercise mistakes that lead to injury. The most common deadlift injuries include serious fractures, ruptures, and tears in the lower back and joints. These can severely impact your daily life, take significant time and effort to heal, and even require surgical intervention.
Deadlift Sets And Reps For Strength
The best rep range for deadlifts for raw strength gain is using a high-weight load with a low number of repetitions. This is the most commonly utilized method in the fitness community and there's plenty of data to back it up. Research findings indicate that the most significant improvements in maximal strength are achieved from the use of heavy loads.
Depending on your athletic level, the ideal deadlift workout sets and reps for strength will be 3-4 sets of 1-3 repetitions of your near maximum load (80-90%). Alternatively, you can utilize the 3-6 set with 70% capacity, which is a slightly safer variant with similar results. With such high-intensity sets, it's paramount to maintain proper exercise technique to avoid injury, even if you need to lower sets, reps, or weight. The sets should be accompanied by longer rest periods of up to 3-5 minutes.
Additionally, studies show that training with progressive overload can increase strength gain compared to the use of static weight amounts. Simply put, progressive overload involves beginning with a lighter weight in the first set and gradually increasing the weight in each subsequent set until reaching the maximum load in the final push.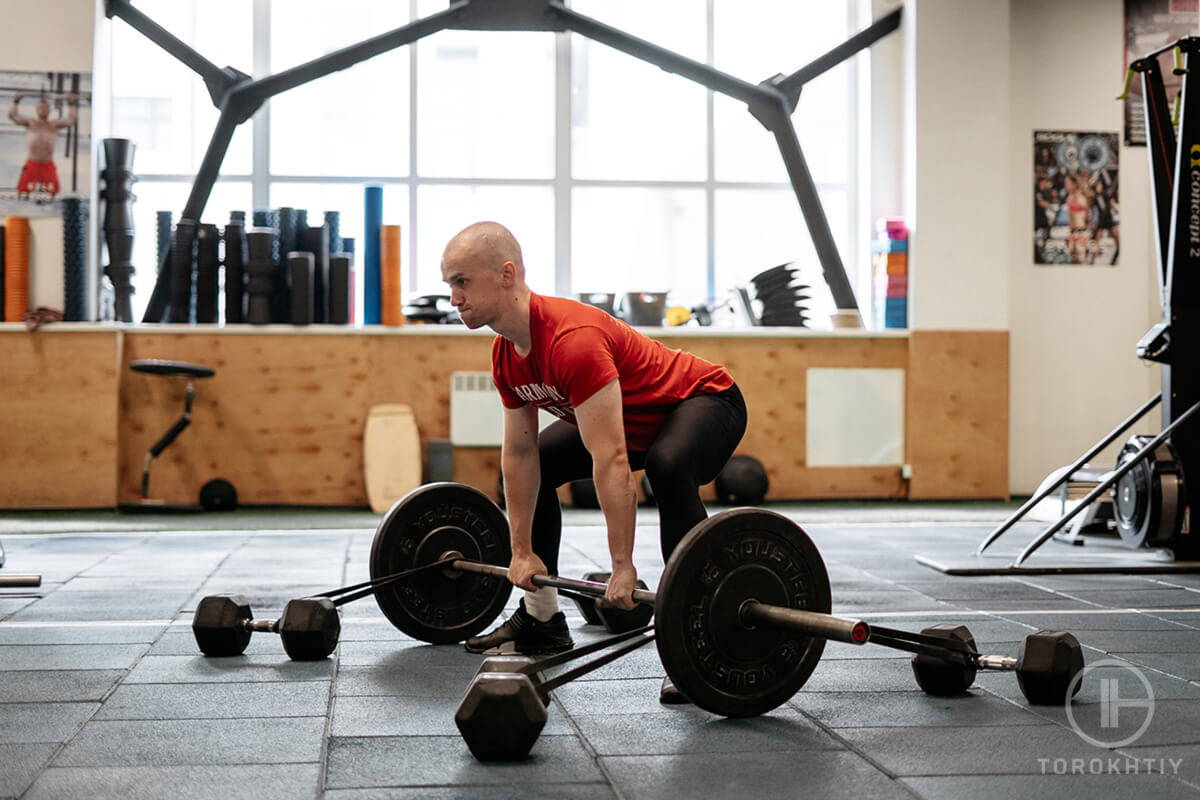 Deadlift Reps For Hypertrophy
Conventional thinking may lead you to think that lifting more weight stimulates higher muscle growth. But contrary to this popular belief, lifting heavier weights does not automatically lead to greater "gains". Studies have shown that there isn't a noticeable difference in muscle hypertrophy increase between athletes who do a low amount of high-weight repetitions and those who do a high amount of low-weight repetitions.
When it comes to the best number of deadlift reps for hypertrophy, moderate workout sessions tend to work best. Depending on your athlete level, aim for 3-4 sets of 6-10 repetitions with a weight that you find challenging, but not to the point of compromising absolute fatigue. In other words, you should be able to complete your workout without too much trouble. For most people, this weight range is anywhere from 40-70% depending on the number of deadlift reps and sets.
Utilizing progressive overload is also an excellent addition to deadlift sets and reps for mass gain. Gradually increasing your weight after each set is a proven method for stimulating muscle growth.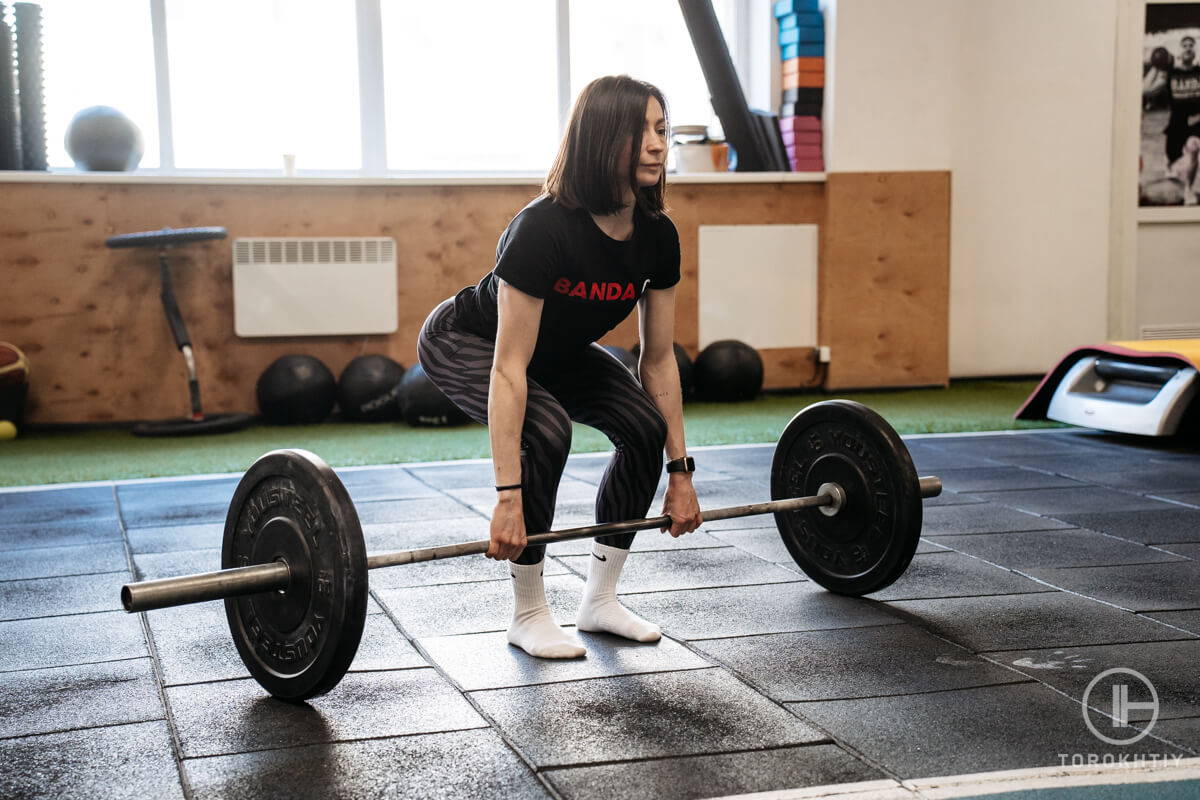 1. Deadlift Sets And Reps For Beginners
If you're just starting out with deadlifts, you may have these common questions:
How many sets of deadlifts should I do?
Is it better to do fewer or more reps?
What weight amount should I start with?
For beginners, it's highly recommended to adopt a conservative approach and focus on exercise technique above all else, until you get a hang of the exercise. This means working with a low number of sets, 2-3, and low amounts of weight. The ideal amount of weight for beginners is that which you can feel the exercise with, but not have any issues lifting (for example, 20-30% of your maximum).
As for the ideal deadlift rep range, this is where you can allow yourself some leeway. As a beginner, it's good to do high numbers of reps - for example 7-10 - to work on your technique and muscle memory. It's also important to practice entering your starting position, bracing your core, and proper breathing rhythm.
2. Deadlift Sets And Reps For Intermediate Lifters
Intermediate lifters, who have mastered the proper deadlift exercise technique and have numerous sets under their belt, should focus on continuous progress by tackling new challenges. Their ideal deadlift workout sets and reps will mostly depend on their exercise goals.
If the focus is on strength development, the best course of action is 3-4 sets per workout of low repetitions with high weight intensity. For example, 3-6 reps at 70% capacity, with 3-5 minutes of rest between sets.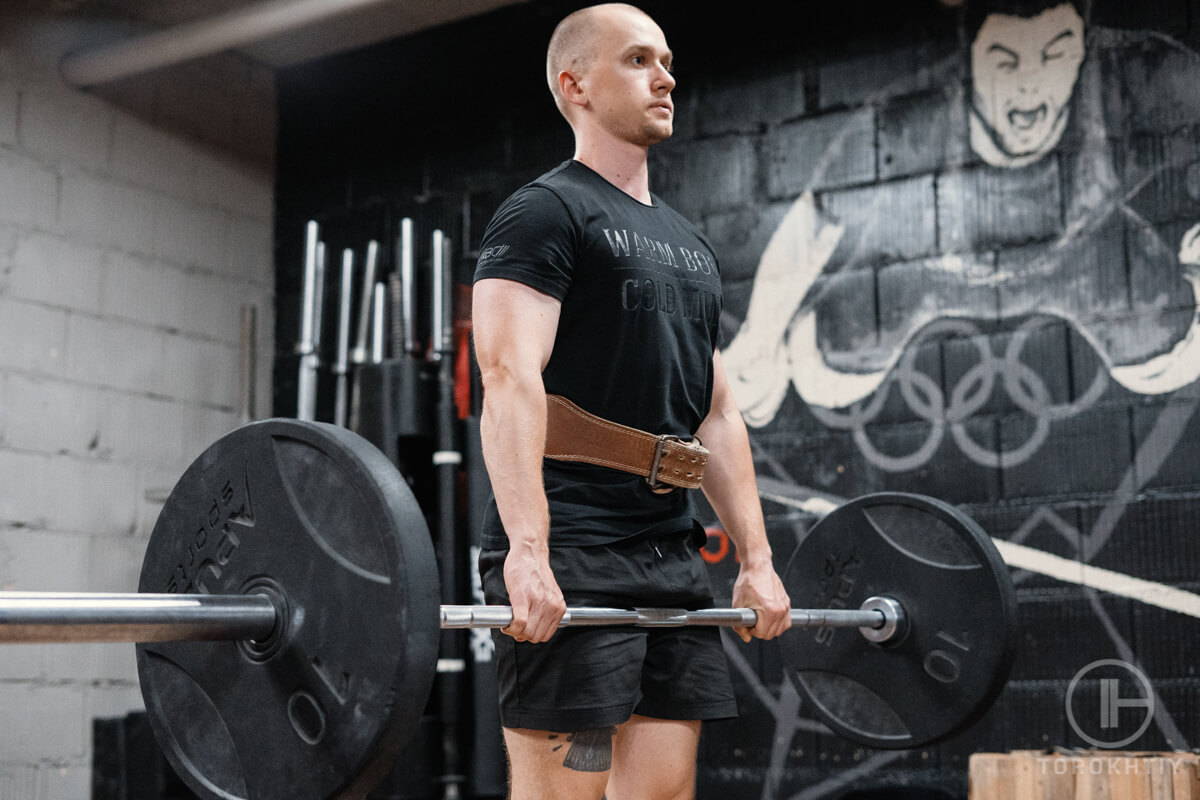 If, however, the main focus is muscle gains (hypertrophy), include 3-4 sets of moderate weight with a medium-high number of repetitions. For example, 6-8 repetitions of 40 to 70% weight capacity.

Finally, if you're utilizing deadlifts for their conditional and functional benefits such as weight loss, coordination, mobility, endurance, etc., 3-4 sets of high rep numbers with low weight capacity are best. For example, 8-10 reps of 20-30% of your maximum capacity.
Remember to utilize progressive overload between sets to increase the challenge and reach new heights.
3. Deadlift Sets And Reps For Advanced Lifters
As an advanced lifter, you are likely well-informed in the concepts discussed above and have a clear objective for your deadlift training. With a solid understanding of proper deadlift technique and a good sense of your capabilities in terms of sets, reps, and weight, you may now be focused on surpassing personal records or even considering entering competitions.
For strength development, your ideal deadlift rep range is 3-5 sets of 1-3 reps at 90% maximum capacity. For muscle growth, 3-5 sets of 8-10 reps using 50%-70% of your maximum capacity. Finally, for conditional and functional training, 3-5 sets of 10-12 reps with roughly 30% weight capacity should suffice.
To surpass your limits and excel in competitive lifting, apart from knowing your deadlift reps and sets, it is crucial to set up goals and follow a structured workout program. This program should span several weeks, gradually increasing in intensity to prepare you for achieving your new personal best in deadlifts. Remember, results come from intentional and progressive training.
How Much Rest Should You Get Between Deadlift Sets?
As with all types of resistance training, the ideal amount of rest between deadlift sets depends on your workout goals. Believe it or not, integrating the appropriate rest intervals is just as important to your workout plan as the number of deadlift reps and sets you do. Research on the topic suggests that different rest intervals yield differing results for strength gaining, muscle growth, and conditional training, among other exercise benefits.
According to the study, when performing low-rep, high-weight loads for strength and power gains, the recommended rest time between sets is 3-5 minutes. This rest period was found to be optimal both physiologically and psychologically, as it allows for sufficient physical recovery while also helping the athlete to mentally reset and regain confidence before their next attempt.
That said, when doing deadlift sets and reps for mass (hypertrophy) with medium repetition and medium load sets, shorter rest periods of approximately 1-2 minutes are optimal. These shorter rests engage the metabolic system, causing greater muscle fatigue. As a result, there is increased breakdown and repair of muscle tissue, leading to more significant muscle growth.
On the other hand, for conditional exercise with high repetition and low maximal load sets, a short rest period of up to 1 minute is preferred. This short rest period helps maintain an elevated heart rate throughout the workout, promoting cardiovascular adaptations. The benefits include improved endurance, enhanced blood flow, and potential weight loss.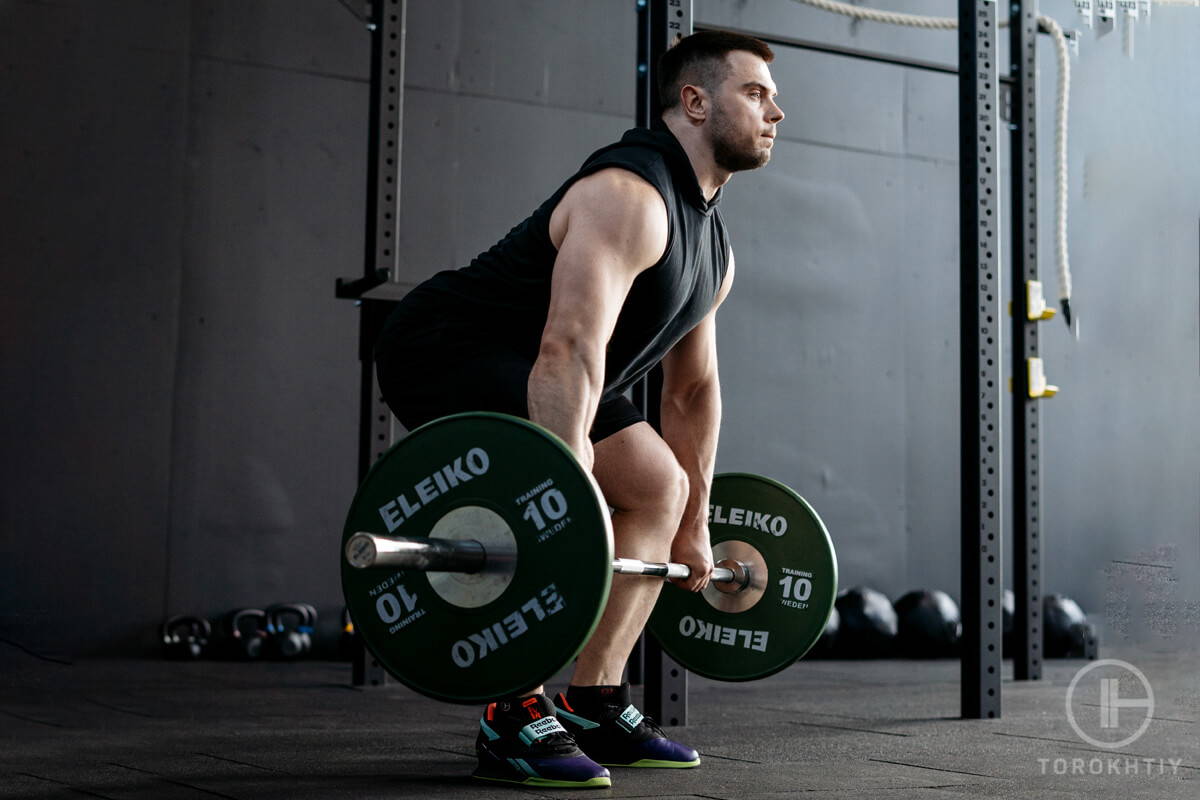 Deadlift Variations (What Type Of Deadlifts Should I Do?)
The conventional deadlift is the most commonly used and beginner-friendly variation of the deadlift exercise. It is commonly explained in three phases for easy understanding: the setup, pull, and lockout. To perform it, start the setup phase by standing with your feet hip-width apart and gripping the barbell with your arms positioned alongside the outside of your legs. From this position, you lift the barbell by flexing your knees, hips, and back, entering the lift phase. The range of motion (ROM) can vary based on the lifter's proportions, but it always starts and ends with the barbell on the floor reaching somewhere around the hip area. Once the athlete has fully stood up, he enters the lockout phase, where the exercise should be felt throughout nearly the entire body.
The conventional deadlift primarily targets the glutes, hamstrings, and lower back, making it an effective exercise for strengthening the posterior chain. Additionally, it promotes overall strength, power, functional movement, core stability, posture, and grip strength. Meanwhile, variations like the Sumo or Romanian deadlifts stem from the conventional deadlift and offer alternative ways to train and target specific muscles.

The Sumo deadlift is a popular variation of the deadlift exercise that offers similar benefits while utilizing a shorter range of motion (ROM). This can make it more accessible and preferable for athletes who have specific body shapes or sizes. In the Sumo deadlift, the athlete starts with a wide stance, standing slightly wider than shoulder-width apart, with their toes pointing outward at approximately a 45-degree angle. They then grip the barbell by reaching over between their legs. This positioning shifts more of the lifting emphasis onto the lower body, including the knees and hips, while reducing strain on the lower back.
The execution of the Sumo deadlift is similar to that of the conventional deadlift. By extending the knees, hips, and back, the athlete lifts the barbell until they reach an upright position. Studies have observed that athletes with shorter limbs and shorter torsos relative to limb length tend to perform better in the Sumo deadlift compared to the conventional deadlift. This factor can be helpful in selecting the most suitable deadlift variation for you.

The Romanian deadlift (or RDL) is a variation of the exercise that emphasizes hip hinging and a slight knee bend. Unlike the conventional deadlift which starts from the floor up, the RDL starts with the weight at thigh level and focuses on lowering the weight instead, while maintaining a strong back position. This shorter range of motion still targets the hamstrings, glutes, and lower back, to a high degree without too much bending, making it beneficial for improving hip mobility, strengthening the posterior chain, and enhancing athletic performance. The RDL is often used as a substitute deadlift exercise for athletes that want to avoid lifting from the floor - for example, due to lack of mobility or outstanding injury.
The deficit deadlift is a variation of the conventional deadlift where the athlete stands on an elevated platform, typically 2-4 inches thick. This increases the exercise range of motion and boosts muscle activation, especially in the legs and back. That said, Deficit deadlifts are a highly-advanced variation that is only recommended for athletes who have mastered the standard deadlift.
Our Deadlift 2.0 program is a 12-week strength plan designed to boost your Deadlift PR.
The program follows a schedule of THREE 60-90 minutes training sessions per week. The training is scheduled for Monday, Wednesday, and Friday, but you can adjust the days to fit your weekly routine, as long as you follow the pattern of one training day followed by one cooldown day, with two days of rest after every third session.
The training is structured into 3 main blocks, with each block lasting for 4 weeks:
The plan is fit for both male and female athletes and is especially good for Powerlifters and Olympic lifters, but also for fans of deadlifting and strength training. All training requires access to basic equipment.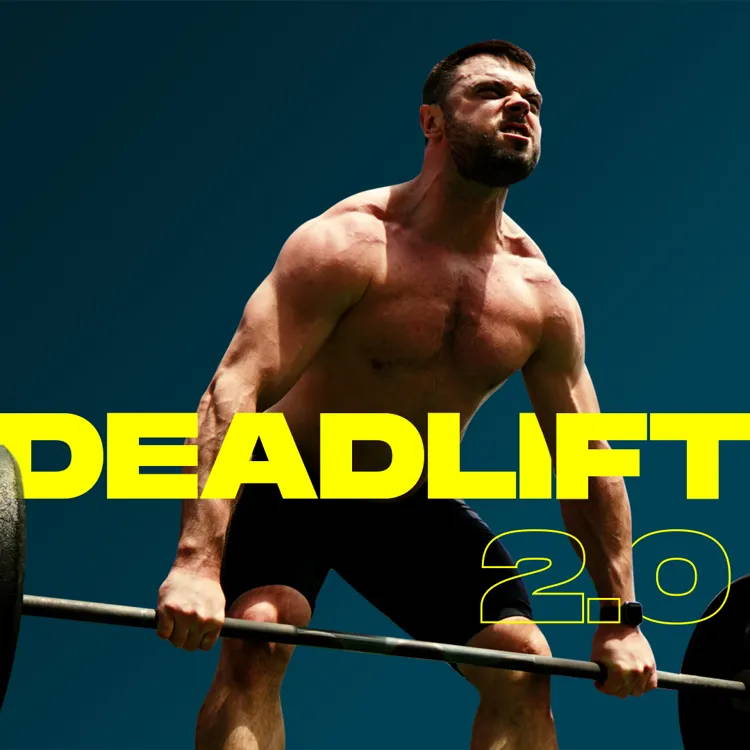 Split into 3 block of 4 weeks (12 weeks total)
40 unique exercises, with video tutorials
Pre and post-workout stretch and special warmups
Mobile friendly PDF version
LIFETIME access
Try the first 3 workouts for FREE!
Can You Deadlift 3 Times a Week?
Yes, you can deadlift three times per week. However, it is important to have one full day of rest between each training session and two days of rest after every third set.
Even our Deadlift 2.0 program designed for competitive lifters seeking maximum results follows the three weekly sessions, one day of rest between each session, and two days of rest between weeks schedule.
Are 12 Reps for Deadlifting Too Much?
In general, 12 reps for deadlifts are considered quite high, and definitely too much for beginners. As we discussed so far, how many reps of deadlift you should do depends on your exercise goals, with strength training showing the most results with low-rep, high-weight sets, and muscle growth most benefiting from a happy medium.
You could adapt 12 deadlift reps for low-weight conditional training. However, research suggests that the probability of exercise failure at 12 repetitions is quite high even at lower weights, especially at later sets.
Is 5 Sets Of Deadlifts Too Much?
Five or more sets of any resistance training, including deadlifts, if often considered too much. Based on current research, it is recommended that most athletes begin with 2-3 sets of resistance training. That said, maximal strength and muscle development are typically observed after 4 sets. However, interestingly, there appears to be no significant difference between the 4th and 6th sets, suggesting that anything beyond 4 sets may be excessive for the average person.
As you've seen, there isn't a one size fits all solution to deadlift sets and reps. Each athlete needs to consider factors such as athletic level, training goals, and personal health among others to decide their best rep range for deadlifts.
In quick summary, remember that you'll gain the most strength by utilizing high-weight, low-repetition deadlifts, while the ideal deadlift reps for hypertrophy involve moderate repetitions and weight.
Do you use or plan to add deadlifts to your regular workout routine? If so, do you have a preferred variation, and what are your goals with them? Let us know by leaving a comment and make sure to follow us on social media for more valuable fitness content.
Exploring the Deadlift // LWW: https://journals.lww.com/nsca-scj/Fulltext /2010/04000 /Exploring_ the_Deadlift.4.aspx
Posterior chain // Wikipedia: https://en.wikipedia.org/ wiki/Posterior_chain
Narrative review of injuries in powerlifting with special reference to their association to the squat, bench press and deadlift // NIH: https://www.ncbi.nlm.nih.gov /pmc/articles/ PMC6059276/
Strength and Hypertrophy Adaptations Between Low- vs. High-Load Resistance Training: A Systematic Review and Meta-analysis // NIH: https://pubmed.ncbi.nlm.nih.gov/ 28834797/
The Effect of Autoregulatory Progressive Resistance Exercise vs. Linear Periodization on Strength Improvement in College Athletes // LWW: https://journals.lww.com/nsca-jscr/Fulltext/ 2010/07000/ The_Effect_of_ Autoregulatory_Progressive .3.aspx
Resistance exercise load does not determine training-mediated hypertrophic gains in young men // NIH: https://pubmed.ncbi.nlm.nih.gov/ 22518835/
Progression of volume load and muscular adaptation during resistance exercise // NIH: https://www.ncbi.nlm.nih.gov/ pmc/articles/ PMC4215195/
Rest interval between sets in strength training // NIH: https://pubmed.ncbi.nlm.nih.gov/ 19691365/
Anthropometrical Determinants of Deadlift Variant Performance // NIH: https://www.ncbi.nlm.nih.gov/ pmc/articles/ PMC6683626/
Accuracy in Predicting Repetitions to Task Failure in Resistance Exercise: A Scoping Review and Exploratory Meta-analysis // Springer: https://link.springer.com/ article/10.1007/s40279-021-01559-x
Single vs. Multiple Sets of Resistance Exercise for Muscle Hypertrophy: A Meta-Analysis // LWW: https://journals.lww.com/nsca-jscr/Fulltext/ 2010/04000/ Single_Versus_ Multiple_Sets_ of_Resistance. 36.aspx
Sergii is a professional weightlifter and National team member in the past. Competed in 94 kg w/c, won multiple medals on national competitions.
Nowadays Sergii is responsible for designing training programs, writing blog articles, doing live commentary of international weightlifting competitions, running different sport & fitness educational seminars, including Olympic weightlifting together with Oleksiy Torokhtiy all around the globe.