Jump rope is a quite popular exercise among athletes from different sports. So why should functional fitness athlets use jump rope? What're the best functional fitness jump rope? We'll answer these and more in this article.
First, the short answer.
Jump rope is so popular because it's such an effective exercise. It boosts muscle coordination, physical ability and cardio health. Basic jump, fast skip, double-unders, and single leg double-unders are all amazing functional fitness jump rope workouts.
Now let's get into the long answer…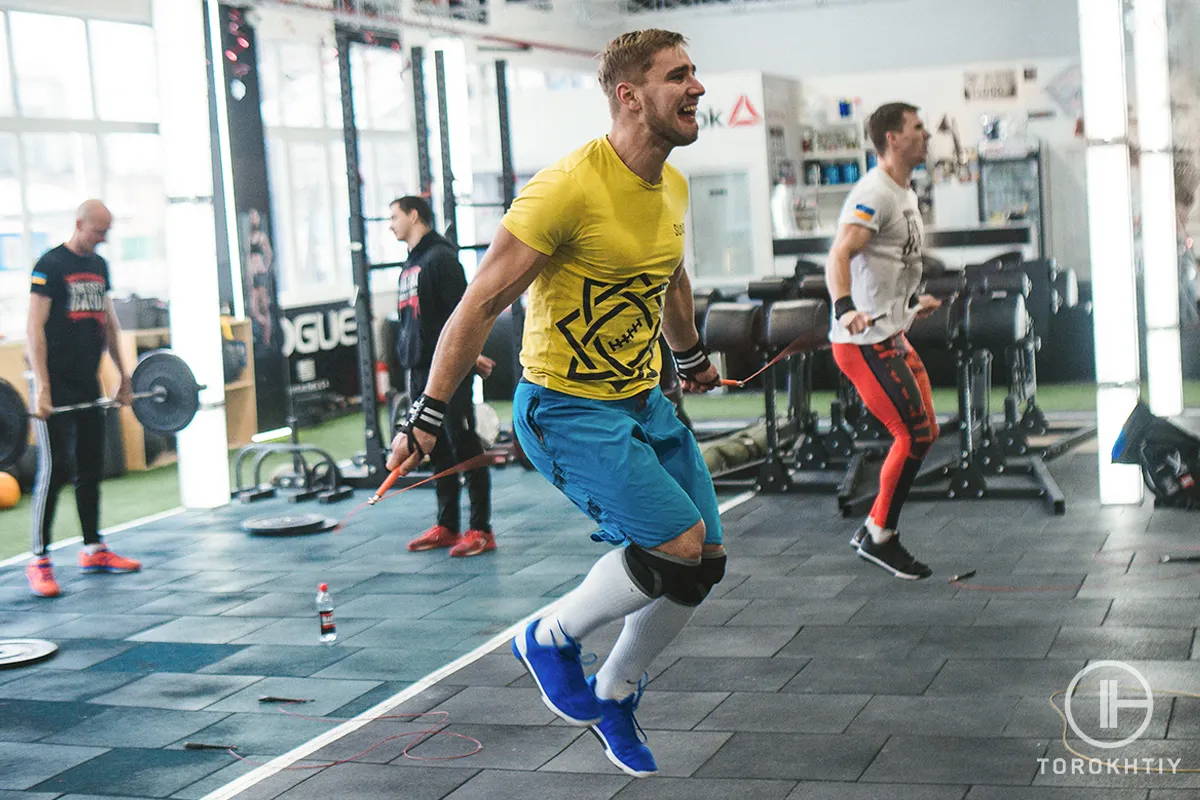 Rope Jumping: What is it and Why is it Good for You?
Rope jumping may look like loads of fun, but it's also a super effective cardio exercise that works your whole body. All you need for it is a jump rope and suitable environment, and the movement is basically simple. Grip the rope by its handles and swing it over your head and jump as it reaches your legs to let it pass beneath. Then bring it round and round again, jumping to let it pass underneath your legs over and over.
There are several types of jump rope you can use depending on what your goals are, but the speed rope is the best for functional fitness athlets. Speed ropes, as the name implies, are all about developing high speed muscle coordination. They consist of a thin wire and light handles equipped with a high speed bearing system that minimizes friction to boost speed.
Jump rope, as I've already implied, is extremely beneficial to functional fitness athlets. In fact, it's estimated that only 10 minutes of rope jumping is about equivalent to 30 minutes of jogging and 270 yards of swimming! Let's have a look at some specific benefits:
High speed muscle coordination
Jump rope helps you develop coordination between different parts of your body, especially your arms and legs. Its movements and high speed train muscles all over your body to work in tandem with each other and develop your reflexes, endurance, and balance.
Jump rope involves basically your entire body. Your arms, legs, and everything in between are heavily engaged by this exercise. Even your brain works hard to maintain coordination between all these muscles. Jump rope is truly a full body workout, a combination of aerobics and muscle coordination.
For all its benefits, jump rope is so easy to learn and master. You don't even need a coach to start jumping. You will hardly find an exercise that is so effective yet so easy to learn and master.
Rope jumping is amazing for your heart. It lowers your resting heart rate and decreases your blood pressure. It also alleviates stress, reverses bad cholesterol, and plummets your chances of any heart illnesses. It's so effective that several health professionals say you can boost your heart health with only 15 minutes of jumping per day!
Improves physical ability
Rope jumping also increases your physical ability. You become more explosive, faster, and generally more agile. It simply activates your muscles. As you get better at jump rope and start learning some variations, your footwork becomes better and with it your movement becomes sharper.
Workouts for Functional Fitness with a Jump Rope
There are several jump rope workouts and variations. Some are strictly for advanced or experienced athletes while others are great for everybody. Let's have a look at some jump rope workouts for functional fitness:
The basic jump simply consists of the fundamental jump rope movement. Take your rope, swing it over your head, and jump as you swing it underneath your legs. And keep going till you build a rhythm. You can increase or reduce your speed as you see fit. Every other jump rope workout on this list will be a variation of this one.
In the basic movement, you jump and land with both your feet. This variation slightly modifies that. Instead of jumping with both legs, you take it one leg at a time, almost as if you were running in one place. Again, the faster you swing, the faster you must run.
In this variation of the jump, the position of your legs is slightly different. You are to jump with both feet but land on only one, leaving the other slightly above the ground. Switch the leg positions as you jump and build up your speed as much as you can.
The double under workout, or WOD, is the monster of speed rope jumping. In the basic jump, you jump every time the rope passes underneath your feet. With the double under WOD, the rope must pass underneath your feet twice each time you jump. This means you must jump higher and swing faster than usual.
As if double-unders weren't tough enough, we have the single leg double-under. This variation features double-unders as you know them, but while standing on one leg instead of two. You must jump on one leg for some time, then switch to the other leg.
There are other jump rope wods like crisscross hands and crisscross double-unders. Each version requires different levels of skill and develops different areas in your body.
Best Jump Rope for Functional Fitness
The best type of jump rope for functional fitness athlets is the speed jump rope. It's usually made with wire and comes with lightweight handles equipped with high speed bearing systems that almost eliminate friction. This makes them super fast and perfect for functional fitness athlets.
Plastic ropes might be better for a complete beginner, but a wire rope should be your target as you get better and faster.
Our Recommended Speed Rope
As far as speed ropes go, the WOD Nation speed jump rope is as good as it gets. Its handles come with a patented swivel bearing system that makes it super fast. It's also easy to adjust to your preferred size and it comes with an extra cable just in case. It also comes in a small nylon carrying bag so you can easily take it with you wherever you go.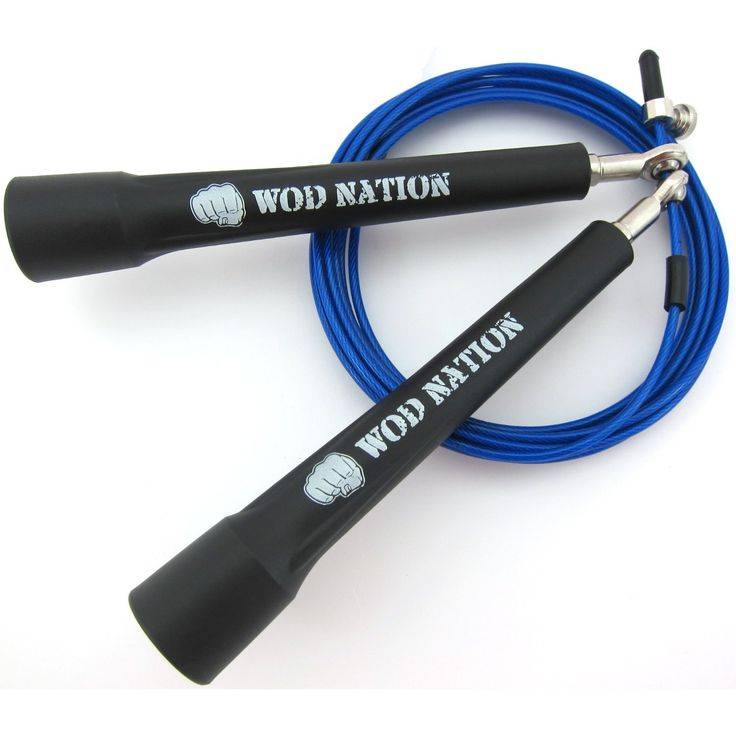 Do you jump rope in Functional Fitness?
Yes! Jump rope might be a sport on its own, but it's still an effective workout for several other sports. The speed, muscle coordination, and agility that come with jump rope are immense for functional fitness athlets.
How many minutes of jump rope is a good Functional Fitness workout?
There's no one correct answer to this, but try to aim for about 15 minutes of jump rope everyday. The more you do, the better, but try not to go below 15 minutes a day.
Functional fitness jump rope workouts are extremely effective for building muscle coordination, physical ability and cardio health. Whether you're a beginner doing basic jumps or a seasoned functional fitness athlet doing single leg double-unders, the physical benefits of jump rope are immense.
Now it's your turn! Which jump rope workout piqued your interest? Which variation sounds the most challenging? Talk to me in the comments!
Types Of Jump Ropes // Likeable: https://likeabletools.com/types-of-jump-ropes/

20 Advanced jump Rope Tricks That Will Challenge You // Elevaterope.: https://www.elevaterope.com/jump-rope-tricks/?v=796834e7a283
My name is Ihor and I have been a professional weightlifter since 1996. With over 20 years of competition experience, my resume includes European Champion in 2009 and the silver medalist at 2011's Senior World Championships – 105kg division.
I competed at the 2008, 2012 and 2016 Summer Olympics.
After hanging up my own competitive lifting shoes, I decided to share my huge background as a coach. I am currently coaching multiple athletes who are competing at national and international competitions.