A skipping rope is one of the best methods of cardio, no wonder it is such a firm favorite with boxers across the globe.
Unfortunately, a traditional skipping rope may not be the most practical option. Cordless skipping ropes could be a better option for you. Let's look at cordless skipping ropes to see if they will aid your fitness goals.
Using a cordless skipping rope is an effective form of cardio that can burn more calories than running. It also has many additional health benefits, including better heart health. It does this by improving your heart rate and blood pressure.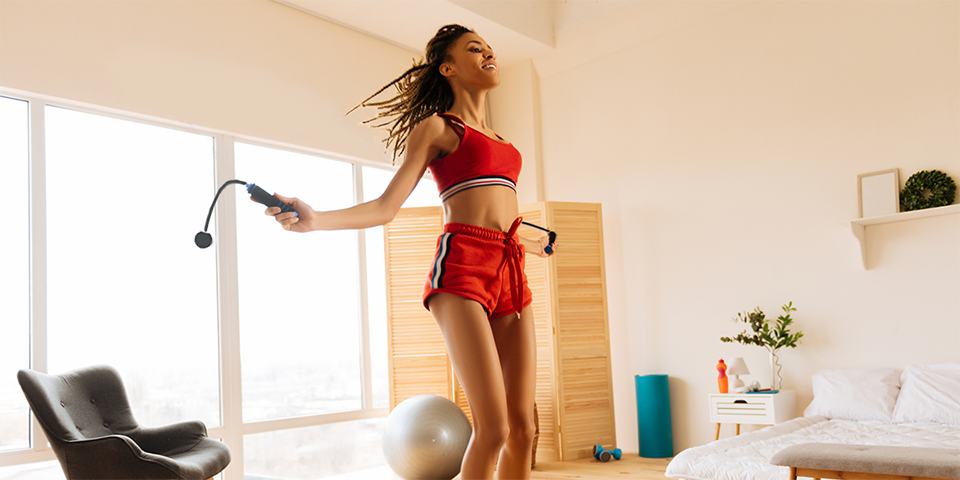 Cordless Skipping Rope: General Description and Benefits
A ropeless jump rope is simply two handles with a short rope and weighted ball attached. When swung, these weighted balls give the same feeling as jumping with an actual rope.
There are plenty of benefits to be attained by using skipping; these include:
1. You will be burning lots of calories
Using this physical activity calorie counter shows that rope skipping for 10 minutes could ensure you burn as much as 136 calories.
Using the same calculator shows that jogging for 10 minutes only burns 79 calories.
If you are looking to lose weight, then creating a calorie deficit is critical. Skipping can help you achieve this goal.
2. It's great for quick workouts
Nowadays, we are all too busy to work out; with a skipping rope, there is no excuse as you can work up a good sweat in just a few short minutes.
3. Helps build explosive power
Skipping ropes are a high-impact plyometric exercise, so they can help boost athleticism by targeting fast-twitch or type II muscle fibers.
4. Helps keep your bones strong and healthy
Jump rope is a high-impact exercise that helps increase and maintain bone density.
5. Good for general endurance and stamina
As with most forms of cardio, using a skipping rope will improve your cardiovascular endurance.
This is why boxers and other athletes use skipping ropes alongside other forms of training.
Cordless Skipping Rope VS Regular Speed Jump Rope
While both a conventional skipping rope and a cordless jump rope work similarly, helping to increase your heart rate quickly and help give you a good workout, they are not without their own benefits and problems.
The main issue with a traditional skipping rope is that a conventional jump rope will need plenty of room. This can be a problem in a crowded gym or at home.
Using a cordless skipping rope will solve this particular issue and avoid the problem of the cord becoming tangled in your gym bag.
Traditional skipping can help with your coordination, as you need to synchronize your arm and foot movements to avoid hitting the rope. A wireless skipping rope may be a better option if you are uncoordinated.
Whether you are a beginner or a more advanced user, a ropeless jump rope can help push your fitness levels to new heights as you can train anywhere without restrictions.
If you want to experience a rope-free workout, we recommend the APLUGTEK Ropeless Skipping Rope. This particular jump rope is noted for its comfort and value for money.
This cordless jump rope can rotate 360 degrees, with each comfort handle made from a material designed to absorb sweat and deodorize.
These handles ensure a comfortable grip while working out and that the skipping rope will not slip out of your hand, potentially damaging any equipment or property or, worse still, injuring someone.
Found within the handles are stainless steel ball bearings to ensure a smooth rotation with zero tangles and no winding or knotting.
Attached to the handles is a solid weighted EVA ball made from strong PVC to ensure a long life with little chance of cracking or breakage. The net weight of this solid ball is 230g.
This particular skipping rope is recommended for all abilities and is suitable for all ages, from children to the elderly.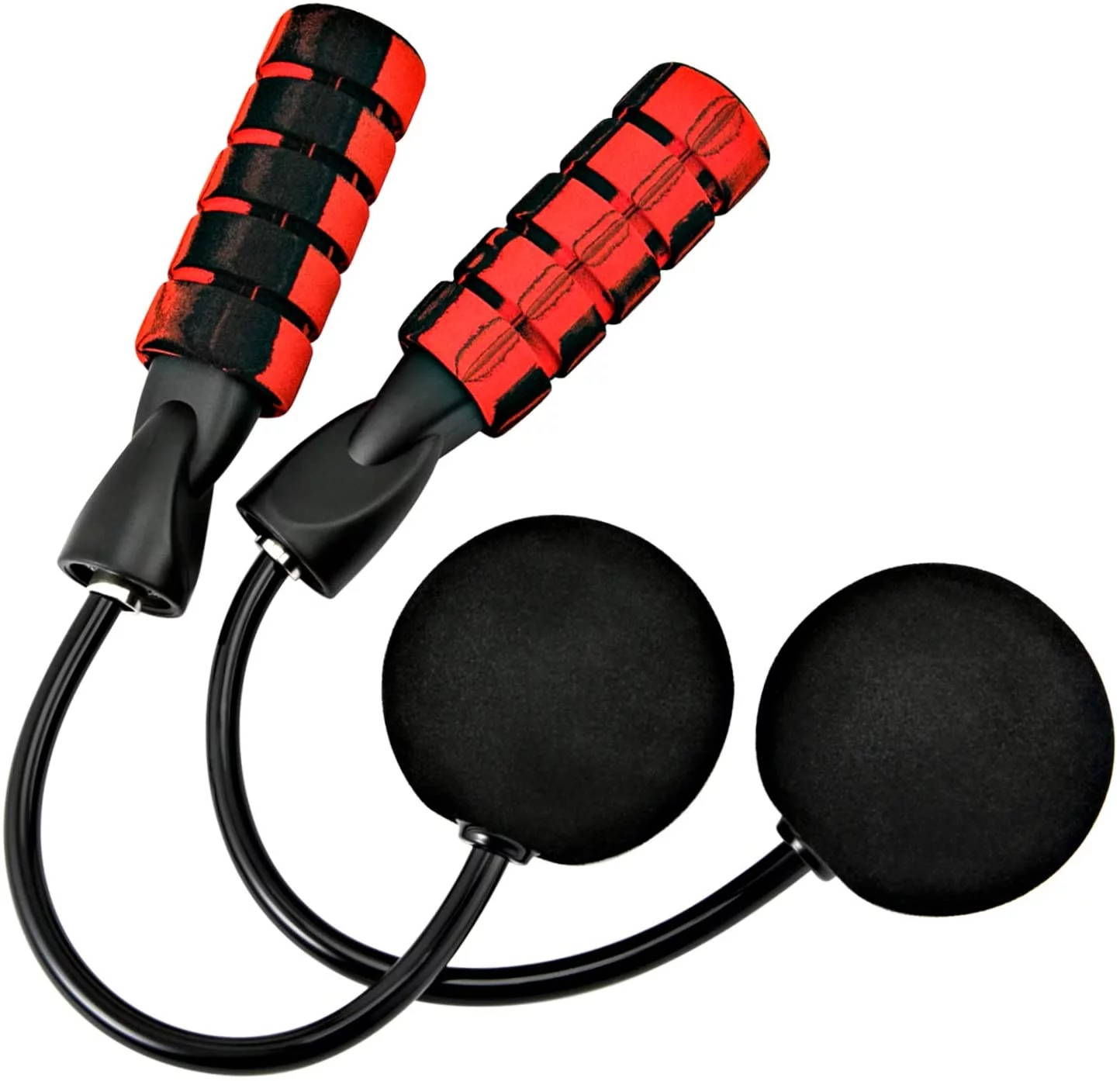 If you are looking for an alternative and have space for a more traditional jump rope, then we recommend the WOD Nation Speed Jump Rope. A jump rope that is known for being both lightweight and easy to hold.
This particular jump rope will help increase your endurance and fitness levels, and as this specific product has a rope, it can also help with your coordination and concentration.
The handles are made from nylon resin with an articulated swivel bearing. They are 6.75" long with a tapered grip to ensure the handles do not slip from your grasp while working out.
There is a four-patented bearing system, with two bearings used in the handle and another two used to hold the coated steel cable in place.
The 10-foot 2.5mm kink-resistant nylon-covered steel cable is easily adjusted with a cable cutter. Should you eventually wear out the original, each package comes with a spare cable.
It also comes with a convenient nylon carry bag for easy storage and to help avoid the jump rope becoming entangled while in your gym bag.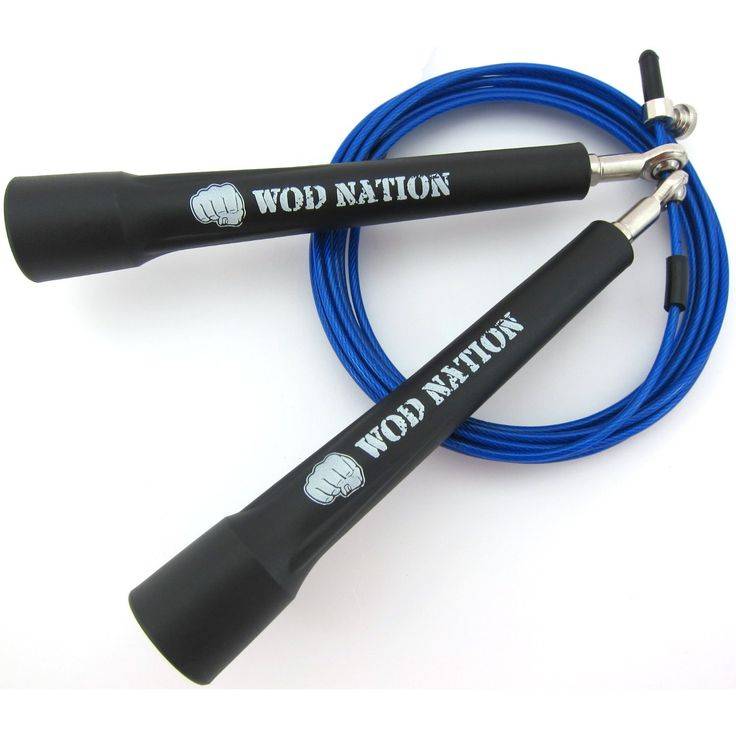 Are cordless skipping ropes any good?
Cordless skipping ropes are an effective form of cardio that can be used anywhere without the risk of a cord hitting you or any objects or people in your vicinity.
How do you use a cordless jump rope?
A cordless jump rope consists of two handles with a short rope and a weighted ball at the end.
They work similarly to a traditional jump rope, so when you swing the handles, the ball will move around, giving you the feel of a jumping rope without coordinating the jump over a rope.
Whether working out with a cordless skipping rope or a traditional skipping rope, you will improve your overall health and fitness.
Both work similarly, but if space is an issue, then a ropeless skipping rope may be the better option for you.
A more traditional jump rope would be recommended for those looking to improve coordination and other fitness benefits.
If you have used a cordless jump rope or intend to use one in the future, please leave a message below to let us know.
The effects of a 12-week jump rope exercise program // PubMed: https://pubmed.ncbi.nlm.nih.gov/30554386/
Tools & Calculators // ACE: https://www.acefitness.org/education-and-resources/lifestyle/tools-calculators/physical-activity-calorie-counter/
My name is Ihor and I have been a professional weightlifter since 1996. With over 20 years of competition experience, my resume includes European Champion in 2009 and the silver medalist at 2011's Senior World Championships – 105kg division.
I competed at the 2008, 2012 and 2016 Summer Olympics.
After hanging up my own competitive lifting shoes, I decided to share my huge background as a coach. I am currently coaching multiple athletes who are competing at national and international competitions.