Jumping rope is more than just a bit of fun. It offers a great way to exercise by increasing endurance, building strength and improving agility, coordination and reaction times. Alongside this, it's a great way to burn extra calories and build up your conditioning.
Jump ropes come in many different styles, with the style determining the function that the rope can perform and what it can help to improve. For this reason, I've broken down the speed rope vs weighted rope so you can decide which one is best for you.
What makes the Speed Ropes vs Weighted Ropes different? Weighted ropes have thicker cables, longer handles and are great for beginners looking to build muscle. Speed ropes have thinner cables, shorter handles and are great for conditioning. Consider your exercise goals and skill level when choosing a speed rope vs weighted rope.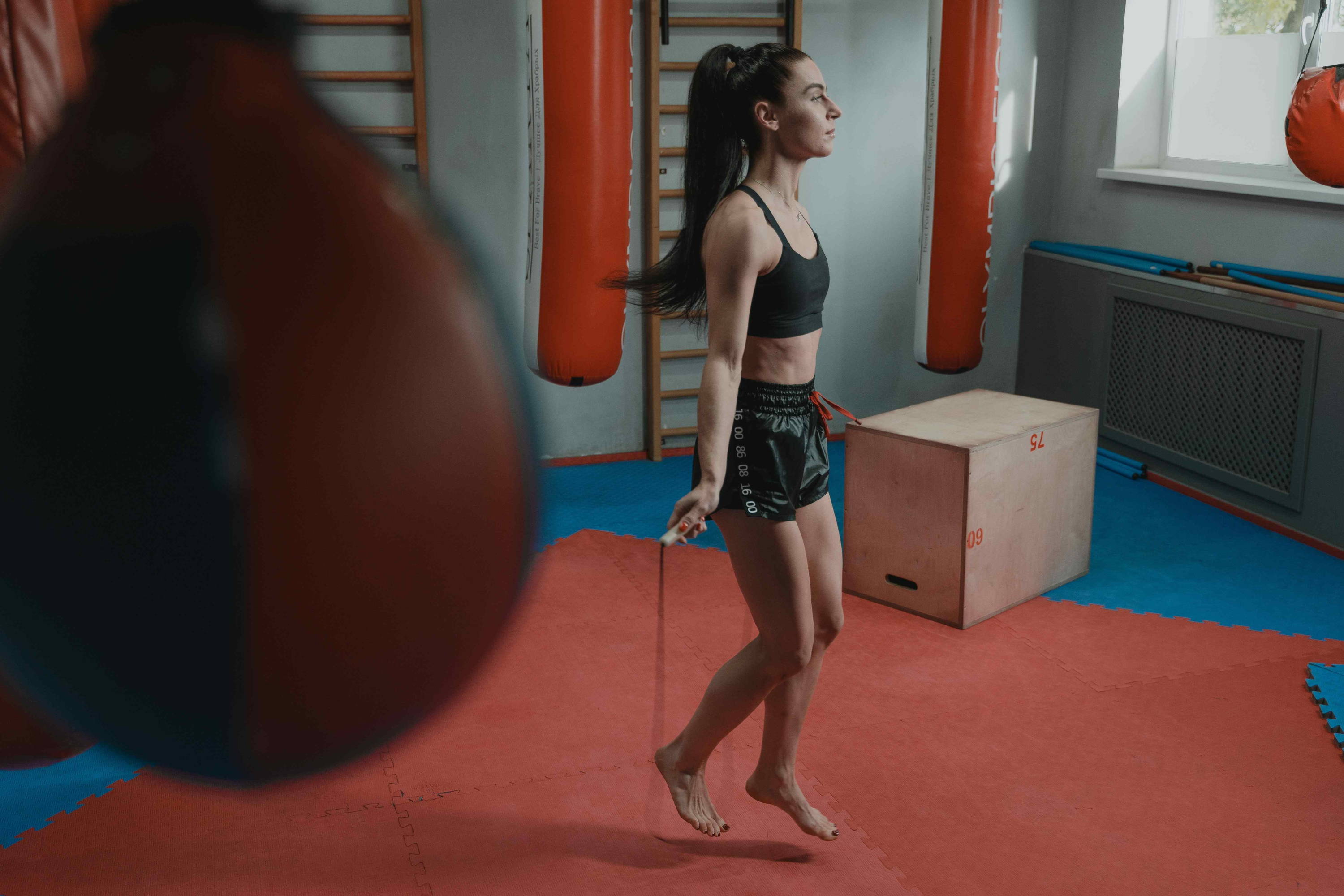 A weighted rope is defined as a jump rope that typically weighs above 150g, with most weighing around 250g. It has similar design features to a normal jump rope, but the handles are weighted to increase the level of difficulty when you skip.
Weighted jump ropes require more upper-body strength, meaning they are mainly used by people looking to build muscular strength, burn more calories, and work on their footwork. They are best suited for beginners and children, with the slower rope speed helping with footwork and mastering the basics before moving onto a faster rope.
Great for beginners (The weight of the rope helps to slow the rope speed, teaching proper form and footwork before moving onto a faster rope)

Burns more calories (As you have to work harder when using a weighted rope, you burn more calories)

Work more muscle groups (If you're looking to build muscular strength, using a weighted rope works a range of upper body groups, including the shoulders, arms, and core)
Less Portable (Due to the extra weight and handle length, weighted jump ropes aren't as easy to carry around compared to other options)

Painful (If you miss-time your jump, the weighted rope can be quite painful when it hits your legs)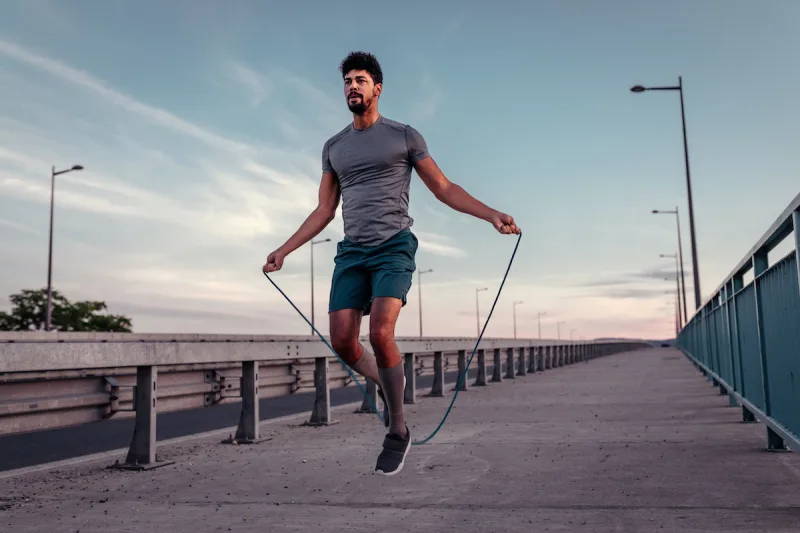 FEECCO ½ lb Weighted Jump Rope Review
If you're looking for a well-manufactured weighted jump rope, the FEECCO ½ lb Weighted Jump Rope is an excellent choice. The fully-adjustable 5.5mm steel jump rope is well-suited for a wide range of sports, including boxing, Fitness and general cardio or weight loss.
The durable metal handles are covered with silicone, giving you a strong grip throughout intense workouts. As a bonus, the rope comes with a convenient carry bag.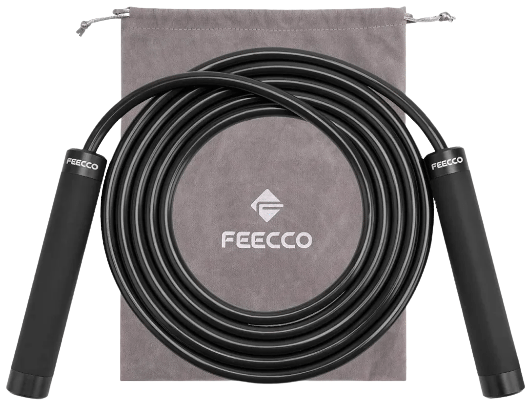 What is a Speed Jump Rope?
A speed rope is a lightweight skipping rope that weighs approximately 50-100 g and is commonly made of rubber or plastic. The handles are lightweight and allow you to skip as fast as your arms can go.
As speed ropes are one of the lightest rope choices available, they are ideal for people looking to develop overall fitness and conditioning through high-intensity cardio. They complement a wide range of exercise programmes such as Fitness and help the user to develop speed, agility and coordination.
Speed ropes are ideal for those wanting to learn jumping skills such as the double under and speed skipping.
Versatile use (Speed ropes are great for speed skipping and performing various tricks such as double unders)

Range of benefits (Using a speed rope helps to increase conditioning, endurance, agility, speed and coordination. Alongside this, speed ropes are ideal in sports such as MMA and boxing to work on footwork)

Easily Portable (Due to their lightweight construction and smaller handle design, speed ropes are easy to carry around)
Burns fewer calories (If you're looking to lose weight, speed ropes might not be the best option. Whilst they have a host of useful benefits, using them takes less effort and therefore burns fewer calories)

Not suitable for beginners (Speed ropes can take much longer to master as you need to use the correct technique for them to function properly)
WOD Nation Speed Jump Rope Review
When you're looking to do some speed skipping, The WOD Nation Speed Jump Rope is your best bet. The 2.5mm steel cable attaches to a pair of urethane handles via 4 high-grade metal ball bearings to give you an ultra-fast, durable speed rope that's perfect for Fitness and general fitness training.
It's available in several bright color options and comes with a handy carry bag.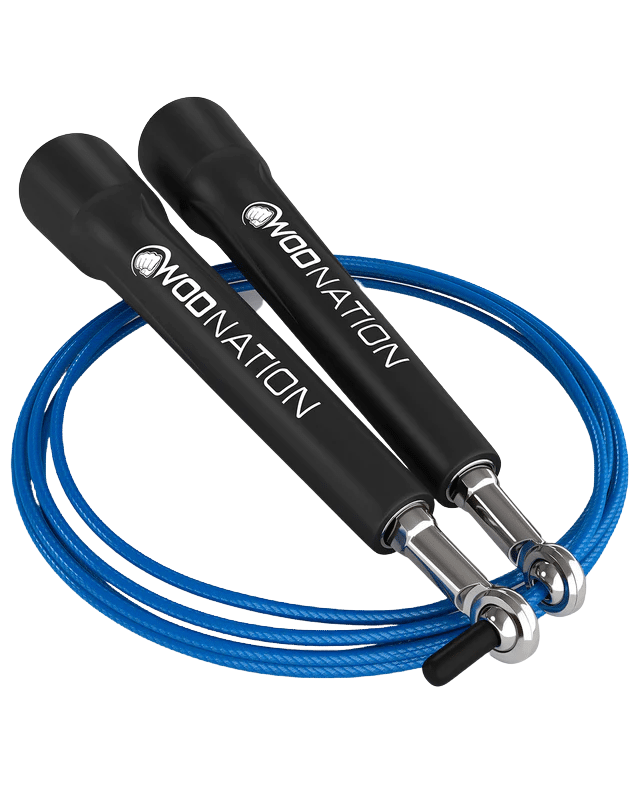 Weighted Rope vs Speed Rope: The Main Differences
So, are weighted jump ropes better than speed ropes? What are the main differences?
Compared to speed ropes, weighted ropes have much thicker, heavier cables that are wrapped in materials such as cotton, nylon and PVC. They are usually around 150-200g heavier overall. The cables on speed ropes are usually coated with thin PVC or bare with no coating.
The handles on weighted ropes are much bigger and longer than speed ropes due to the weight in the handles. Weighted rope handles attach to the cable normally, compared to the right-angle attachment with a speed rope.
Speed rope handles are much thinner and smaller and weigh much less compared with the weighted handles. This allows a stronger grip and gives the user more control over the handles.
Due to the unique features I've discussed above, the ropes differ in the function they perform. Weighted ropes are great for beginners, people looking to build muscular endurance and wanting to burn more calories.
Speed ropes are better for developing conditioning, agility and coordination. They are great for sports such as Fitness, MMA and Boxing to practice footwork and to perform jumping skills such as double unders.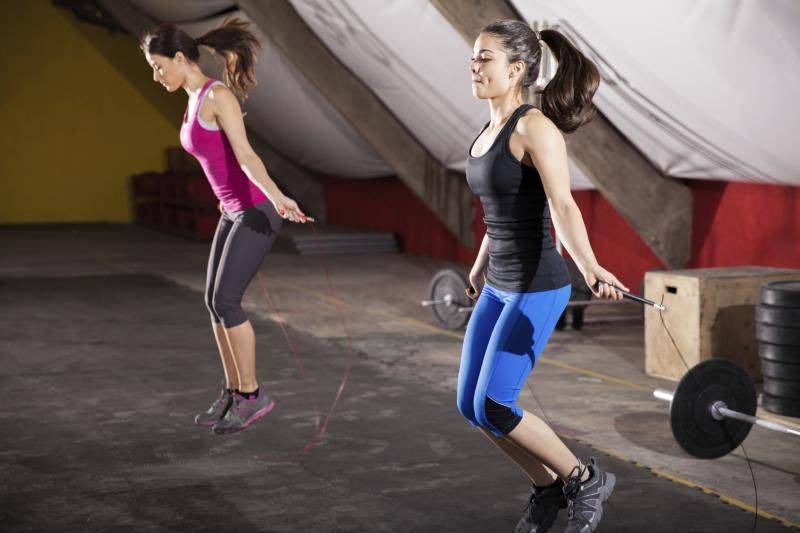 Is a weighted jump rope better than a speed rope?
If you're looking to burn more calories or practice your technique before moving on to something more challenging, a weighted rope is the better choice. However, the speed rope is better suited for other purposes meaning there isn't one rope that's better than the other.
How to pick the right jump rope?
When considering if to pick a weighted jump rope vs normal ones, first decide the function you want to use it for. The main things to check are the rope weight, handle length and rope materials. Once you've looked at the rope characteristics, compare them to the function you need it to perform so you can pick the best choice.
Summary — Weighted Jump Rope vs Speed Rope
Both ropes are more suited for slightly different functions depending on the characteristics I've talked about above.
The lightweight design of a speed rope combined with a smaller handle allows the rope to move faster, making it ideal for faster skipping. The longer weighted handle combined with the thicker cable design makes the weighted rope easier to use but much slower.
Do you enjoy jumping rope? Have you used both the ropes I've talked about above? Let me know in the comments!
What Are the Benefits of Jumping Rope Every Day? // https://www.nike.com/a/benefits-of-jump-rope

Which is better for you – Speed Rope Vs Weighted Rope? //
https://livewithbelieve.com/jump-ropes/
My name is Ihor and I have been a professional weightlifter since 1996. With over 20 years of competition experience, my resume includes European Champion in 2009 and the silver medalist at 2011's Senior World Championships – 105kg division.
I competed at the 2008, 2012 and 2016 Summer Olympics.
After hanging up my own competitive lifting shoes, I decided to share my huge background as a coach. I am currently coaching multiple athletes who are competing at national and international competitions.