Walk into any gym and you'll find a range of fixed path resistance machines, free weights, cardio machines, and cable stations alongside other accessories.
Dumbbells, along with kettlebells and barbells are part of the free weight family. They move freely depending on how you activate your muscles. Dumbbells are extremely versatile making them an excellent addition to any home gym setup.
Dumbbells consist of a central handle commonly made from either steel or iron and may feature a knurled non-slip grip pattern.
At each end of the central handle is a weighted dumbbell head. The heads vary in shape, size, and casing material, which determines the dumbbell weight usually in pounds or kilograms.
Dumbbells can be fixed or adjustable, made from different metals such as cast iron and steel, and may be encased in different types of natural and synthetic rubber. The heads can be round or hexagon shaped or feature flat indents.
With so many different dumbbell types and designs to choose from, it's difficult to know where to start. In this article, I've methodically reviewed the best urethane dumbbells available online and picked the top 5 so you don't have to.
I've researched the weight choices, dumbbell design, materials used, and overall quality. Let's dive into my top 5 urethane dumbbells.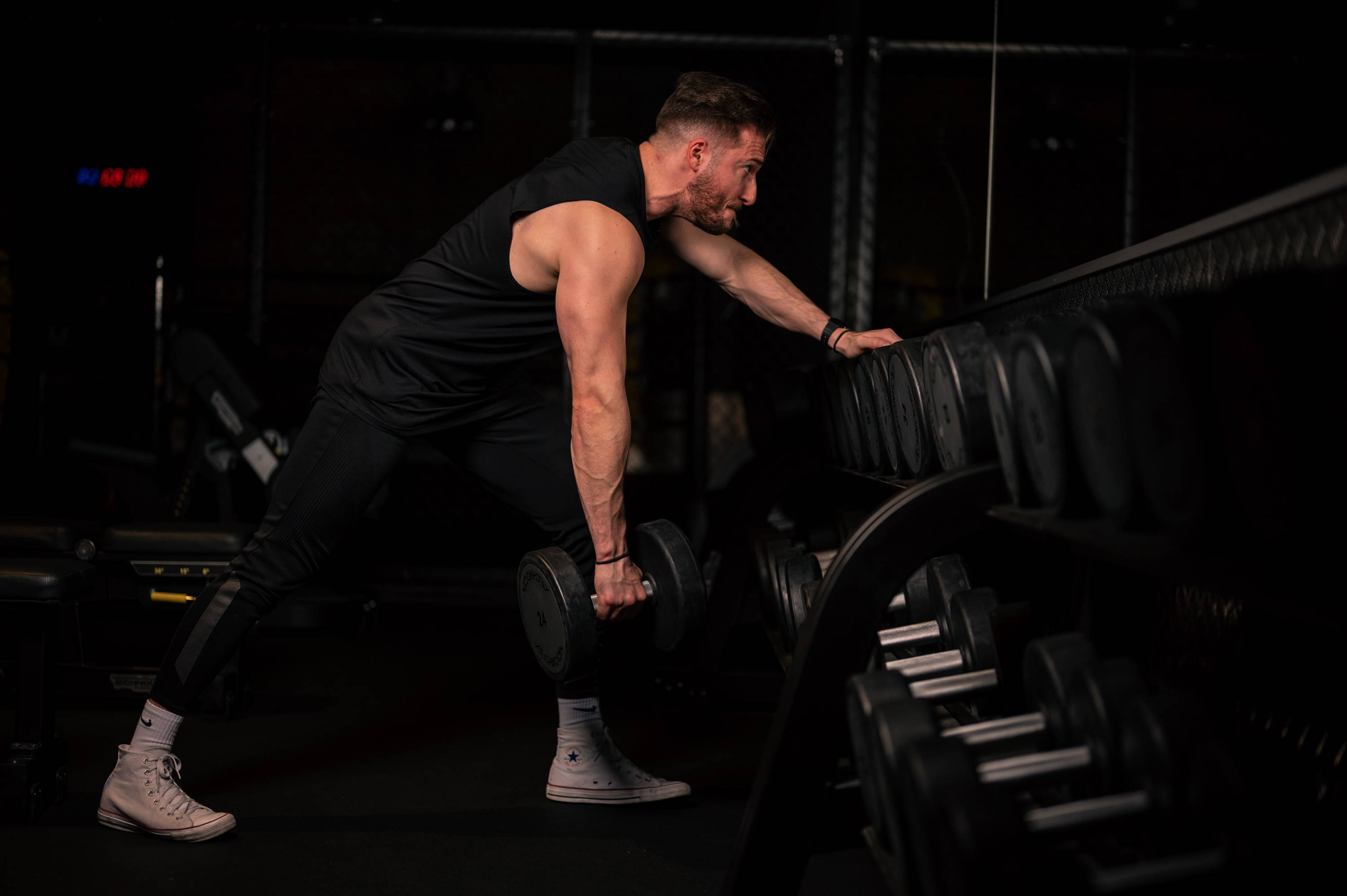 Top 5 Best Urethane Dumbbells Reviewed
Yes4All produces a wide range of high-quality dumbbell types. The brand was founded in 2010 and mainly produces home sporting goods.
Yes4All aims to get people fit by providing everything you need to get fit at home. Yes4All believe health and fitness should be for everyone to enjoy and they are committed to providing great quality products at affordable prices.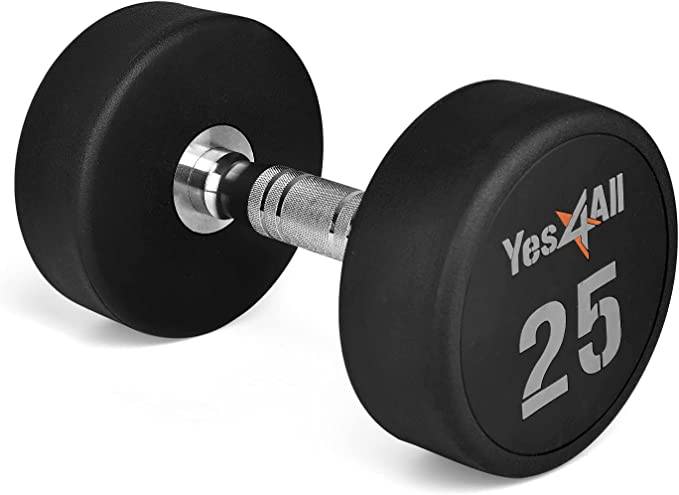 Weight Range: 5-50 lbs for each dumbbell
Weight Increments: 5 lb increments for the full range
Dimensions (LxWxH): 10 lbs: 9.25 x 5.51 x 5.51, 40 lbs: 11.42 x 7.28 x 7.28
Materials: 6 inch straight hardened chrome handle, solid steel dumbbell core, urethane rubber finish
Warranty: 6 years

Yes4All has produced excellent quality, durable sets of urethane dumbbells and are my top pick, scoring the highest overall for weight, design, materials, quality, and price.
The dumbbells are sold in pairs and are available in 5 lb increments from 5-50 lbs, making them suitable for a wide range of exercises, abilities, and goals.
The dumbbells are made from cast iron and encased in durable urethane rubber, fully over-molded to the center. The handle is made from textured steel with a knurled finish to ensure a strong grip during use.
The urethane rubber can withstand temperature changes and exposure to sunlight, making the dumbbells durable to use.
The urethane coating is an odorless, non-toxic material that helps to protect your floor at home and reduce the noise when dumbbells hit the floor.
Each dumbbell head clearly features the brand name and weight amount.
Yes4All Premium Urethane Dumbbells get a 9/10 for its premium features at a great price point and quality, making it one of the best choices for anyone interested in urethane dumbbells.
(Show More)
Aesthetically pleasing design
Round dumbbell heads may roll
In the runner-up position for the 5 top urethane dumbbells available in 2022, is the set made and sold by ZIVA.
ZIVA is a global fitness brand that sells fitness equipment in more than 80 countries across the world. The ZIVA difference stems from a bold dream, a mountain of Taoist philosophy, and a lot of love.
ZIVA's core aim is to create a practical, durable, and flexible workout and gym equipment. They sell high-quality dumbbells, wall balls, kettlebells, and gym stations.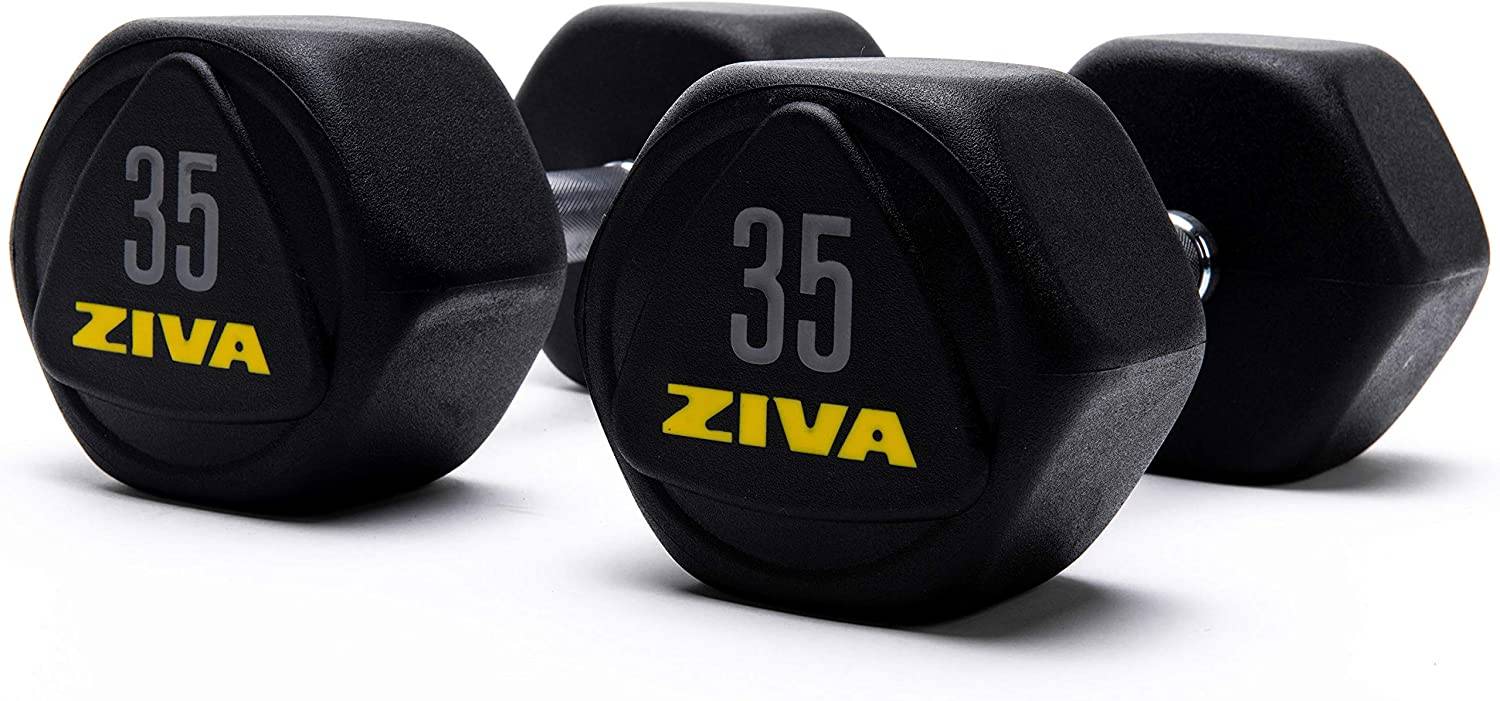 Weight Range: 5-50 lbs per dumbbell
Weight Increments: 5,15,20,25,30,35.40.50 lbs
Dimensions (LxWxH): N/A
Materials: knurled chrome steel dumbbell handle, solid steel core, urethane rubber head coating
Warranty: 30 days
The dumbbells produced by ZIVA are high quality and well designed, coming in the runner-up spot.
The dumbbells come in pairs and range from 5-50 lbs in 5 and 10 lb increments, providing a good range of dumbbells for use in the home gym.
The dumbbells are constructed with a solid steel core designed to last. The corrosion-resistant knurled chrome handle helps to keep a strong grip, regardless of how sweaty your hands may get during use.
The dumbbells feature anti-roll head designs with rounded edges, making them convenient to use and store safely. The dumbbell heads are finished with an odorless urethane rubber, designed to withstand the elements and repeated use.
The dumbbells are coated with black urethane and finished with yellow weight markings.
These are great dumbbells, but require a bigger warranty and weight increments should be more varied. We give ZIVA Hexagon RPU Dumbbells an 8.8/10 for premium performance!
(Show More)
Aesthetically pleasing dumbbell design
Founded in 1986, Power Systems motto is 'count on power systems'. The brand prides itself on providing quality fitness equipment with expert service support and education.
Power Systems state that for over 30 years, top commercial health clubs, non-profit fitness centers, and athletic programs have counted on power systems for high-quality fitness equipment and facility design services.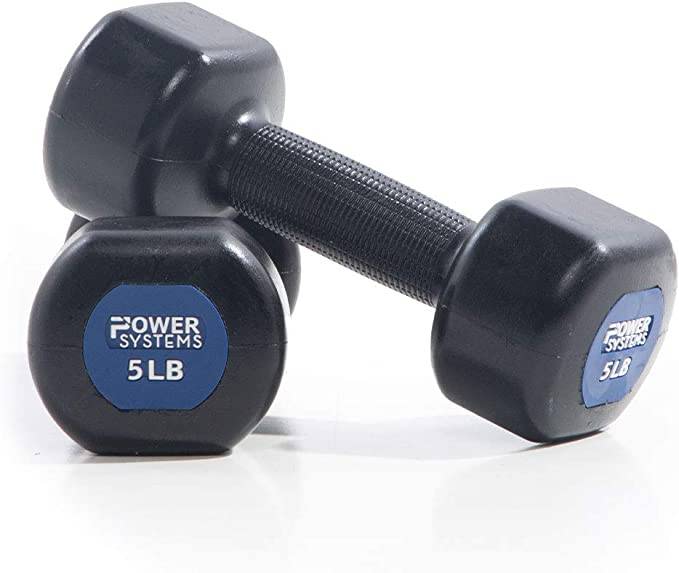 Weight Range: 3-20 lb weight options
Weight Increments: 3,5,8,10,12,15,17.5 and 20 lbs
Dimensions (LxWxH)
Materials: knurled urethane grip handle, cast iron core, cast iron dumbbell heads encased in urethane
Warranty: 1 year
If you're looking for a set of dumbbells fully encased in urethane, the ones made by Power Systems make a great choice.
The dumbbells come in sets of 2 and range from 3-20 lbs. The set options are 3,5,8,10,12,15,17.5 and 20 lbs. This gives a range of options for those who prefer smaller weight increments at the lower weight end.
The dumbbells are constructed from a solid cast iron core fully encased in a thick layer of urethane. The dumbbell handle features a knurled ergonomic grip, designed to help your grip during use and protect your hands from calluses.
The full head and handle are encased in a black urethane coating that's neutral and scuff resistant.
The dumbbells are designed with a dual flat head shape to prevent rolling whilst the urethane coating helps to absorb impact and protect your floor if dropped.
Each dumbbell end features a clear, color-coded print with the dumbbell weight clearly marked.
We give Power Systems Urethane Dumbbells an expert score of 8.6/10 – not as good as Yes4All, but still great dumbbells.
(Show More)
Very aesthetically appealing design

Full dumbbell urethane casing
Only smaller weight options
Vitus Fitness was founded with the idea that everybody should be able to create their home gym with the correct workout equipment.
The company started small, selling only resistance bands and foam rollers before moving on to large workout equipment such as kettlebells, slam balls, and free weights.
The brand's mission is to engineer, design, and develop the highest quality fitness products in the world.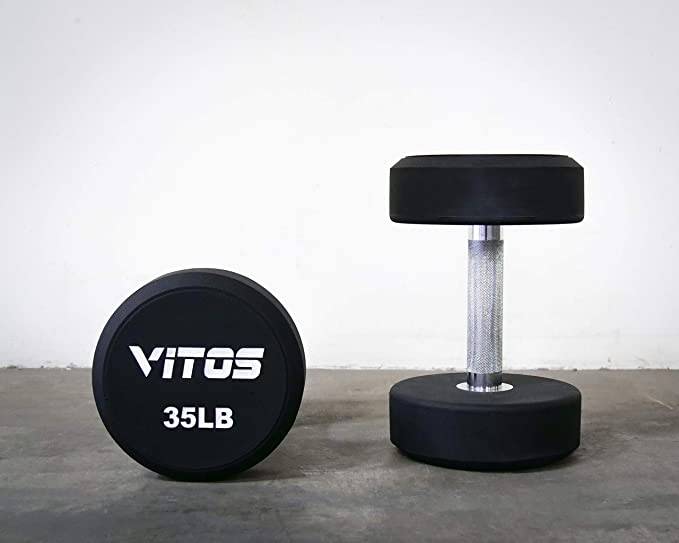 Weight Range: 5-150 lbs
Weight Increments: 5lb increments for the full range
Dimensions (LxW)
Handle diameter: 32mm (5-50 lbs), 34mm (55+ lbs)
Materials: solid steel core, thermoplastic polyurethane dumbbell head coating
Warranty: 5 year structural warranty
Vitus Fitness has produced a high-quality urethane dumbbell set, making my top 5 list.
The dumbbells come in pairs with a big weight range of 5-150 lbs, making the dumbbells suitable for higher-level lifters looking to perform heavy, compound movements.
The dumbbells are available in 5 lb increments for the full range.
The dumbbell heads are made with a solid steel core and welded to a 6-inch hardened chrome handle, creating a solid single-piece dumbbell that moves well and stays strong.
The electroplated pure steel grip rod helps provide an anti-slip grip with the unibody molding making the dumbbells more durable.
The circular dumbbell heads are encased in a high-quality thermoplastic polyurethane material, protecting the dumbbells against corrosion due to temperature changes and the environment.
The dumbbell heads are coated in a black urethane finish with white branding.
Vitus Fitness has produced a high-quality urethane dumbbell set, but without an aesthetic design look. That`s why we give them an 8.1/10!
(Show More)
Clear branding and weight printed

Large weight range available

High quality urethane coating
Design could look more aesthetic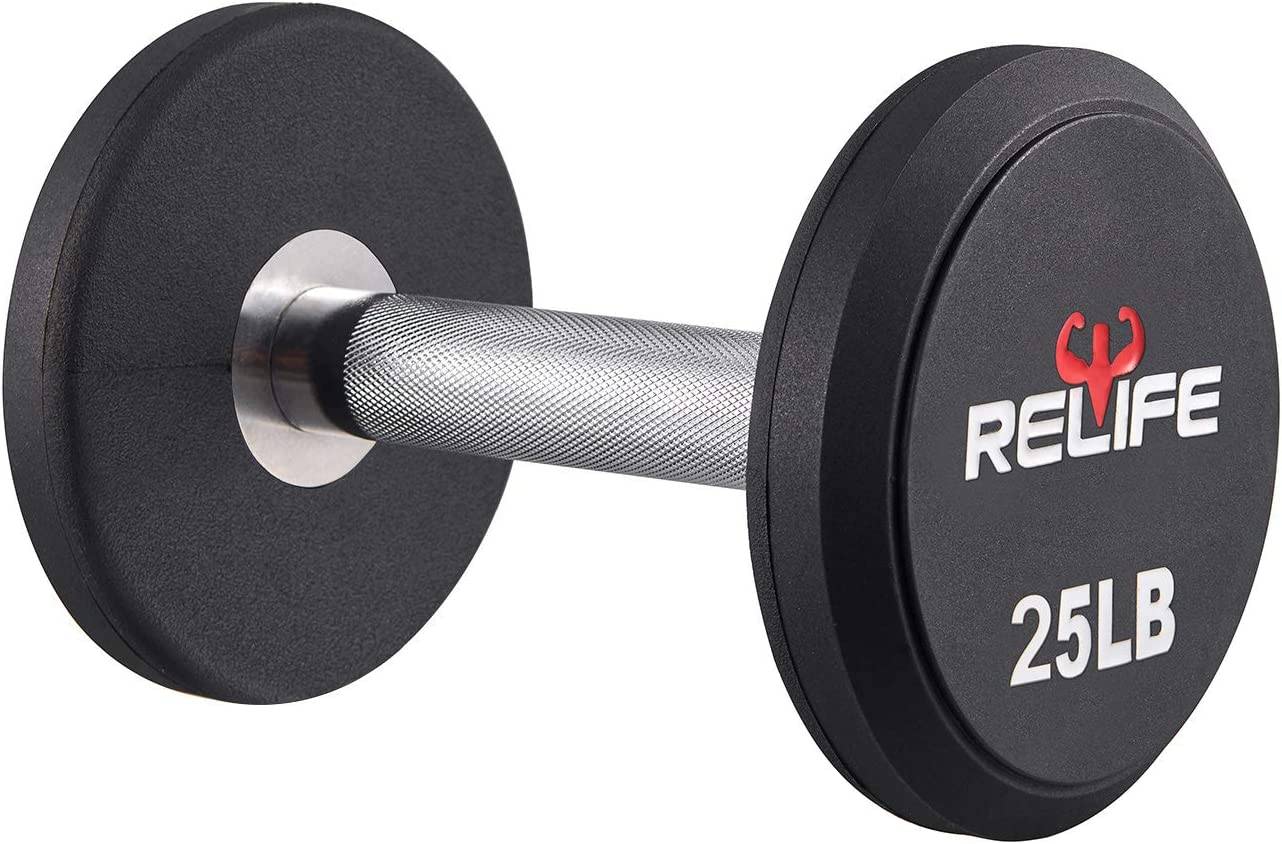 Founded in 2017, Relife Rebuild Your Life is an international company designing and manufacturing sports fitness equipment for over 220 countries and regions around the world.
They make a variety of equipment suitable for home and light commercial fitness use.
The brand's mission is to bring health to all of mankind with the values of health, wisdom, achievement, dedication, and excellence.
Weight Range: 5-50 lbs max weight for 2 dumbbells
Weight Increments: 5 lb increments throughout the full weight range
Dimensions (LxWxH): 15 lbs: 11.81 x 9.25 x 5.91 inches, 30 lbs: 11.14 x 5.91 x 5.91 inches
Materials: electroplated pure steel grip handle, solid steel core, PEV urethane dumbbell head casing
Warranty: N/A
Designed and manufactured in-house, these high-quality dumbbells by Relife Rebuild Your Life are well designed and round out my top 5 picks of urethane dumbbells.
The dumbbells go from 5-50 lbs and go up in 5 lb increments throughout the full range, providing a decent range of weight options to use at home.
The dumbbells are made from a solid steel core, designed to be durable for repeated heavy use. The electroplated pure steel grip handle with a diamond knurling finish makes the dumbbells anti-slip and wear resistant.
The dumbbell is designed using electro-plastic molding to prevent any welding and air corrosion issues.
The round dumbbell heads are encased in high-quality PEV material, protecting the dumbbells from the environment, temperature changes, and repeated use.
Each dumbbell features clear branding with the weight printed clearly in white on both dumbbell heads.
Overall, this is a good choice and the price of the product corresponds to the quality.
(Show More)
High quality PEV material
Round head design may roll

No Warranty information provided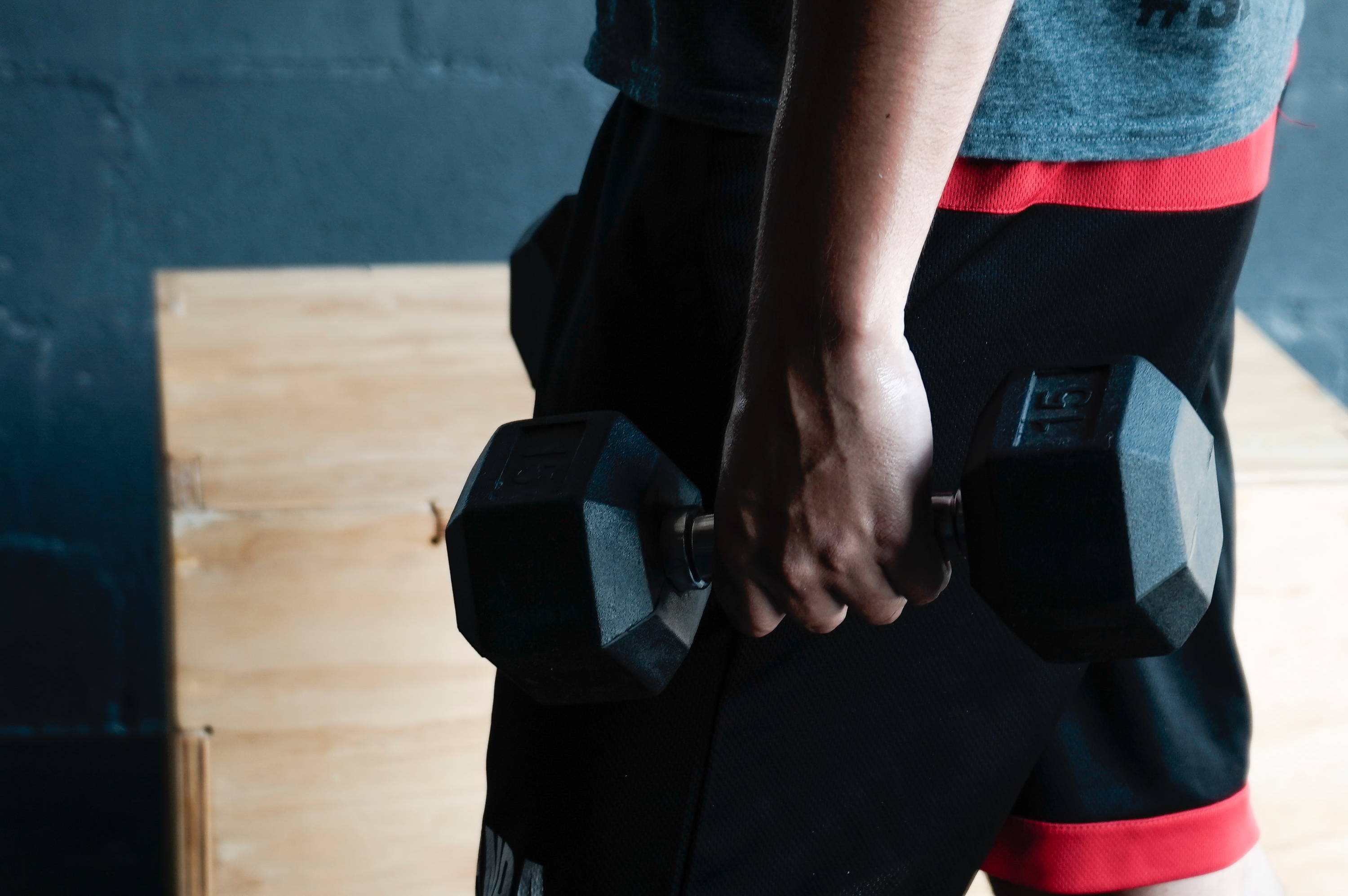 What are Urethane Dumbbells?
Dumbbells are one of the most versatile pieces of gym equipment and are most widely used in the gym and at home. They can help to improve power and strength, work on muscular imbalances and improve sporting performance.
Dumbbells are usually made from cast iron or steel and encased in neoprene, rubber, or urethane.
Urethane dumbbells are made by encasing the cast iron or steel dumbbells in a thick protective type of rubber called urethane. Urethane is similar to rubber but differs in chemical properties making it harder and more resistant to wear and tear.
Once the dumbbell heads and handles are encased in urethane, some handles are finished with a knurled anti-slip grip. The dumbbell heads can have the brand logo and weight amount in different designs and colors.
The urethane casing helps to protect the dumbbells from the environment, reduce the impact on the floor and make them safer for use at home.
Who needs urethane dumbbells?
Due to the versatile nature of dumbbells, they are suitable for a wide range of ability levels, from beginners starting out looking to improve their muscular strength and endurance to elite-level lifters wanting to add weight to their lifts or athletes performing functional sports training.
Whatever your goal, adding unilateral movements to your gym program at home is an excellent idea. Urethane dumbbells are harder than most other dumbbell types, making them ideal for lifters who need to forcefully move the weights around.
The hard material makes urethane dumbbells ideal for customization such as adding brand logos, names, and bright colors.
Urethane Dumbbell Benefits - Why use them?
Durability
Urethane is a durable, thick material that's made to withstand temperature, weather changes, and repeated heavy use. Urethane dumbbells can take a heavy beating and still look good due to the hardened rubber.

Customization
A big benefit to buying urethane dumbbells is the ease of customizing them. If you're adding to your home gym and want to make your dumbbells your own, personalizing them is the best way.
You can easily add a logo or writing of your choice or choose your favorite colors for your urethane dumbbell collection.
Increased stabilization and muscle activation
Urethane dumbbells move freely depending on how you activate your muscles. Compared to fixed path resistance machines, you need to work harder to perform a given movement correctly. This leads to greater recruitment of muscle fibers.
Helps to correct muscular imbalances
If you're using a barbell or fixed path resistance machine, chances are your dominant side is working slightly harder. Dumbbells force you to work unilaterally, meaning you need to use your limbs individually to perform the exercise correctly, working on any muscular imbalances or weaknesses.
Anti-slip dumbbell grip
All the urethane dumbbells reviewed above have an anti-slip knurled handle design. This makes the dumbbells easier and safer to use during intense workouts or around small children and animals.
Urethane vs Rubber Dumbbells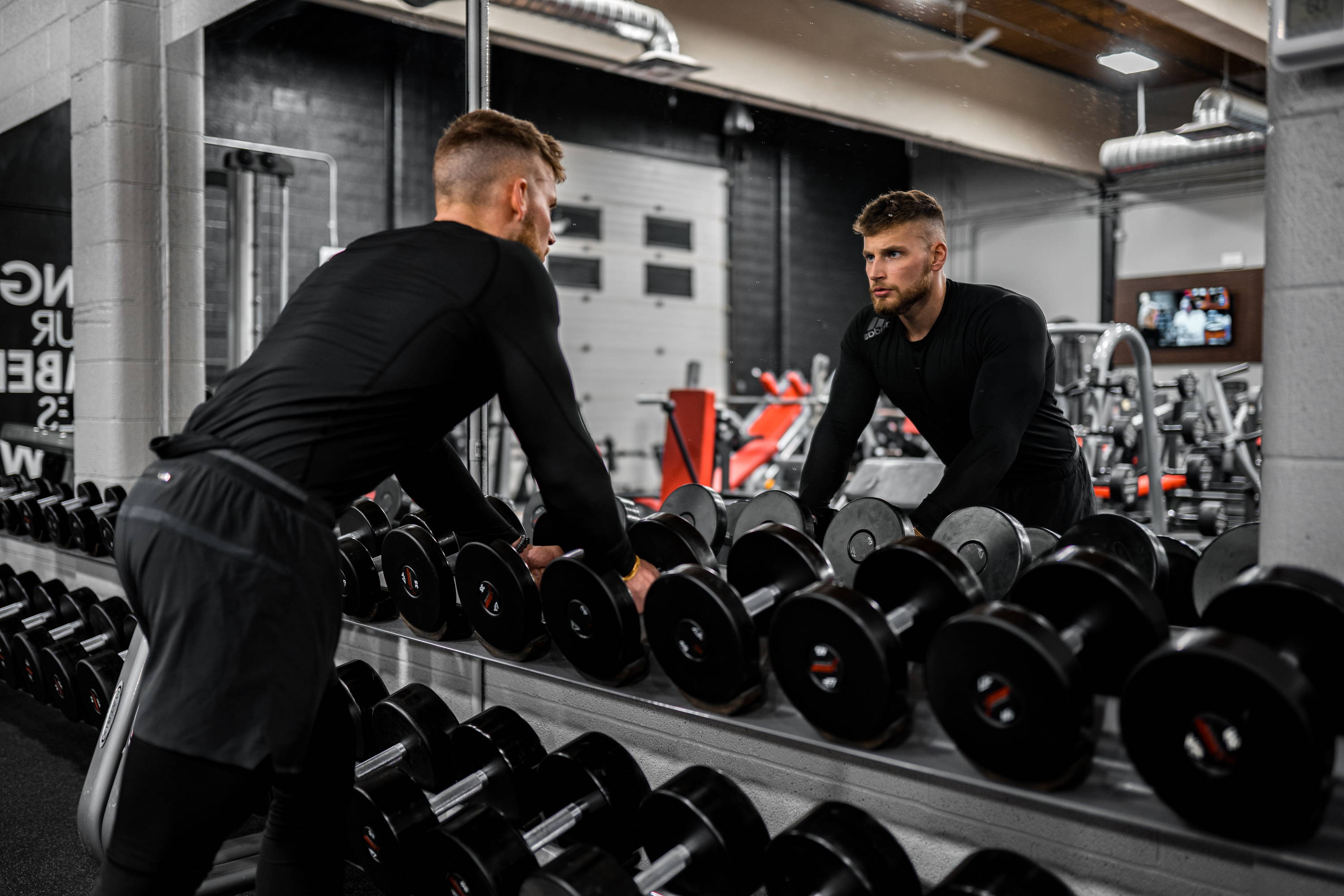 In simple terms, urethane is a form of rubber with different chemical properties. Urethane dumbbells may also be referred to as polyurethane dumbbells, which is a polymer composed of several urethane groups.

Urethane is a man-made substance whereas rubber is natural, coming from trees and plants. This key difference determines which dumbbell material is a good option for your home gym.
Urethane is generally much harder than rubber making it more resistant to degradation from sunlight changes in temperature.
Which to choose?
If you're looking to maximize the life of your gym equipment, both rubber and urethane weights are good options.
As urethane is harder, it's far more resistant to tears that come with repeated use. If you want to customize your dumbbells with logos or different colors, choose urethane.
To summarize, if you're looking to customize your dumbbells and need them to take a hard beating, urethane weights are worth the extra cost.
Factors to consider when choosing dumbbells
When deciding which dumbbells to purchase, think about the amount of weight you think you'll need. If you're a beginner just getting started on your fitness journey, the smaller weight options will be sufficient. If you're an experienced or elite-level lifter who wants to go heavier on the compound movements, you'll want a higher weight range.
Consider what goals you want to achieve before deciding which dumbbells to choose. If you're looking to perform accessory movements to complement barbell or fixed path resistance exercises or perform functional sports training, the smaller weight ranges should suffice. If you're looking for progression on heavier lifts, consider the time frame and choose the weights appropriately.
If you're making a big investment, you want your dumbbells to last. Consider the core and stick to durable metals such as iron and steel. Dumbbells encased in different materials will tend to last longer and be safer for use at home. Non-slip grips will prevent you from dropping the dumbbells during vigorous workouts.
No matter which dumbbells you decide to buy, make sure you can store them efficiently. If you're not using a dumbbell rack, consider the space you have in your gym and storage area and choose accordingly.
Why are urethane dumbbells so expensive?
Cast iron dumbbells with no coating are often cheaper as no other materials are needed to make them. Casing the dumbbells in urethane required more work and cost.
Urethane is a high-quality rubber that's extremely durable and resistant to chips and cracks. Whilst the dumbbells may cost more than other types, the price difference is usually reflected in the durability quality.
Are Urethane dumbbells toxic?
Urethane, also known as polyurethane, is just a name for a type of rubber that's been modified by changing its chemical properties. This is done to give the material more favorable characteristics such as resistance to weather, temperature, and repeated heavy use.
Urethane is man-made, meaning it's not natural and is often seen as toxic compared to other materials. As long as you use the dumbbell correctly, and keep away from children and small animals making sure the urethane isn't ingested, you can use the dumbbells safely over a lifetime.
Do urethane dumbbells smell?
Many rubber dumbbell types like urethane are manufactured and boxed up ready for storage a long time before they are ordered and shipped. Whilst this long period does lead to the build-up of fumes, the smell is non-toxic.
Once newly opened, allow the dumbbells to air out a little before using. If you want you can sanitize the dumbbells after use and give them a good clean each month to maintain freshness.
If the dumbbell smell is quite strong, consider adding baking soda or cat litter to your workout area to absorb the smell.
How long do urethane dumbbells last?
Urethane dumbbells are designed and constructed to last a lifetime. The high-quality steel or iron core surrounded by a thick coat of rubber protects the dumbbells from the elements and repeated heavy use.
Urethane is man-made meaning it's been altered to give it favorable characteristics to ensure durability. Whilst urethane-coated dumbbells may cost more, the price increase is reflected in the longer durability.
Expect your urethane dumbbells to last a lifetime if used correctly.
Which Urethane Dumbbells are the best?
Urethane dumbbells make a great addition to any at-home gym setup. They are durable, versatile and allow easy customization to give them a homely feel
Urethane dumbbells are constructed to last. The steel or iron core with a thick urethane coating makes them more durable than other dumbbell types.
The Premium Urethane dumbbells manufactured and sold by Yes4All are my top pick, receiving the highest score for weight selection, design, materials, and quality.
What do you think of the urethane dumbbells I've reviewed above? Show me your customized dumbbells! Share your thoughts and ask me any questions in the comments below.
3 Different Types Of Dumbbells For Building Muscle // Garage Gym Pro:
https://garagegympro.com/types-of-dumbbells/
What Are Dumbbells Made Of? // Speck Yoga & Fitness:
https://www.yogafitness.group/what-are-dumbbells-made-of/#II_Cast_Iron_Dumbbell
My name is Ihor and I have been a professional weightlifter since 1996. With over 20 years of competition experience, my resume includes European Champion in 2009 and the silver medalist at 2011's Senior World Championships – 105kg division.
I competed at the 2008, 2012 and 2016 Summer Olympics.
After hanging up my own competitive lifting shoes, I decided to share my huge background as a coach. I am currently coaching multiple athletes who are competing at national and international competitions.