Gulping down a refreshing and yummy smoothie can be so satisfying. However, if you add a scoop (or two!) of protein powder, it can become a nutritional powerhouse. But which protein powders go well with smoothies?
Today we give you a list of the best protein powder for smoothies so that every time you blend a smoothie, it tastes delicious!
In a hurry and can't keep reading? How about you check out the Transparent Labs Whey Protein Isolate.
Transparent Labs offers a range of high-quality whey isolate protein powders with unambiguous labels, tested ingredients, and clinical dosages, making it an excellent choice for those seeking a lean and effective product for muscle growth and fat loss.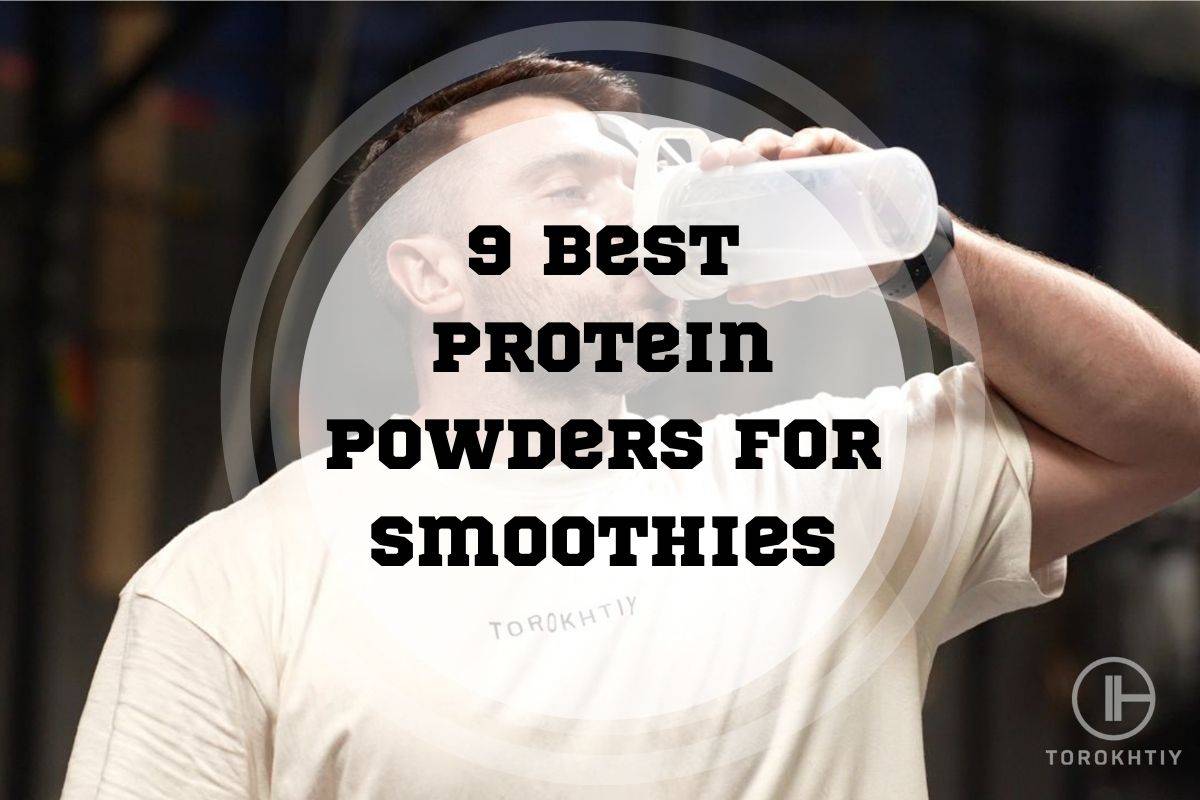 Top 9 Best Protein Powders For Smoothies Reviewed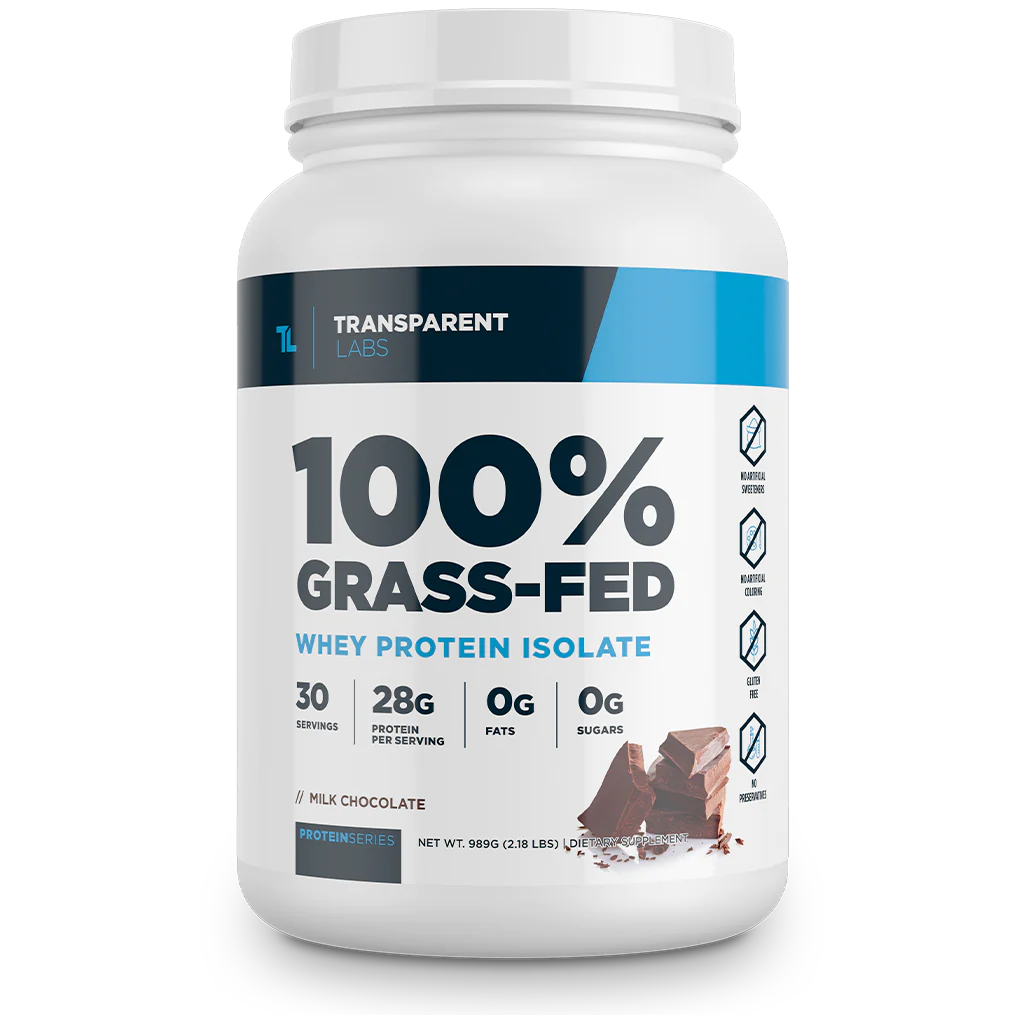 Diet Type (Best For): Build muscle, Recovery, Cutting

Suitable For Vegans: No
Protein Source: Whey Protein Isolate
Serving Size: 32.5 grams
Price Per Serving: ~$2
Protein Percent Of Calories (%): 93%
Proteins: 28 grams
Carbohydrates: 1-3 grams (depends on flavor)
Fat: 0-1 gram (depends on flavor)
Added Sugar: 0 gram
Calories Per Serving: 120
Company Founded: 2015
Recommended By Athletes: Hafþór Júlíus Björnsson, Terron Beckham, Paul Sklar
Transparent Labs, as the name implies, makes nutritional supplements with unambiguous labels, tested ingredients, and clinical dosages. Consumers know exactly what they're getting in each of the brand's products.
Their whey isolate protein powder is sourced from grass-fed cow milk, and is available in 10 different flavors and one as unflavored. As a result, the carbs and fats may vary depending on the flavor. With so many options, this may be the best protein powder for fruit smoothies.
But, in any case, the variations are minor, and you're receiving an extremely lean product with an excellent macro profile for growing muscle and shedding fat.
Transparent Labs clearly takes great care while producing their whey protein isolate. Their goods are made in the United States at a facility that has been certified to meet FDA Good Manufacturing Practices (GMP) criteria for food and nutritional supplements.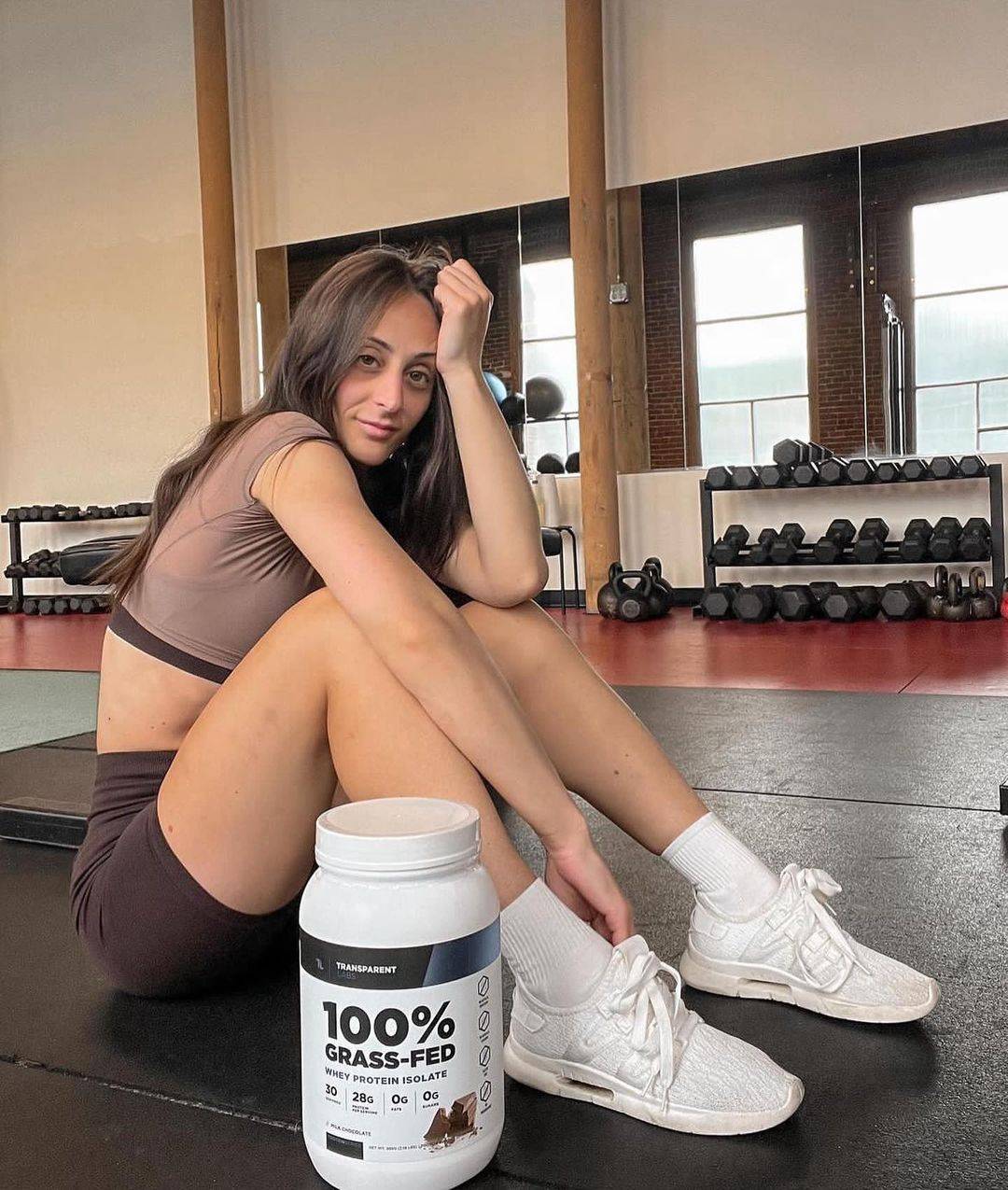 This protein powder tastes fantastic, which makes this an ideal whey protein for smoothies as it's also not overly sweet.

The mixability is also very good. The powder combines well with milk and does not leave any noticeable dregs. It is fat free, low carb, and lactose free.
Transparent Labs' don't skimp on quality, which makes it our Top Pick! However, this product is pricey at almost ~$2 per serving. It's up to you to decide whether it's worth spending on a top-quality 100% grass-fed whey protein isolate or opt for more affordable alternatives.
Transparent Labs offers a fantastic-tasting, high-quality whey protein powder that is ideal for smoothies, with excellent mixability, and free from fat, lactose, and excessive sweetness, making it a top pick despite its premium price.
Nutrition Label Transparency:
9
Fat Content Transparency:
10
(Show More)
Sourced from hormone-free, naturally fed cow's milk

Free of any artificial preservatives and sweeteners, food dyes, and gluten

Excellent mixability for smoothies

Among the highest ratio of 82% for protein-by-weight with 86% calories from protein
One of the costlier grass fed milk whey protein powders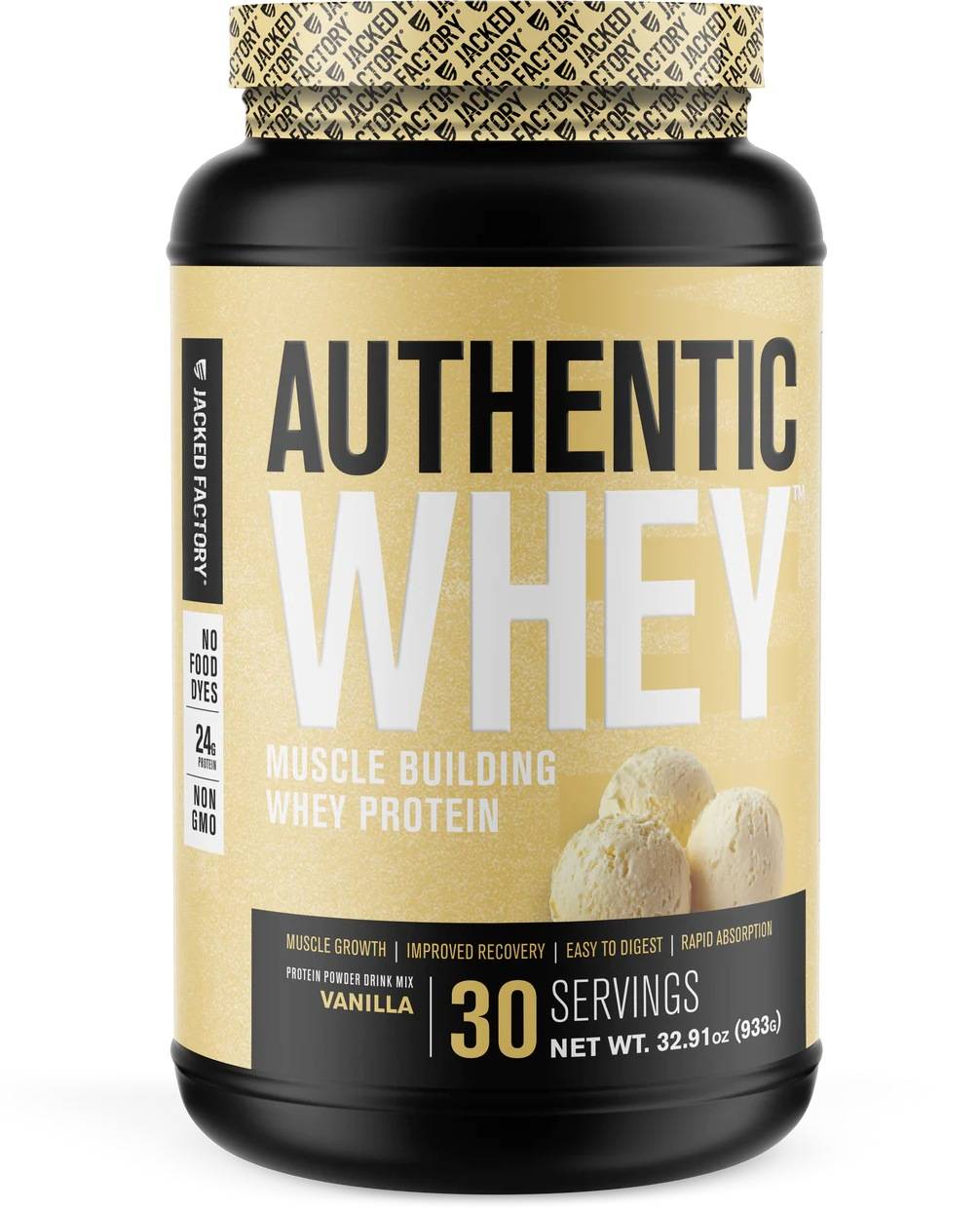 Diet Type (Best For): Build Muscle, Recovery, Cutting

Suitable For Vegans: No
Protein Source: Whey Protein Concentrate & Whey Protein Isolate
Serving Size: 31.1 grams
Price Per Serving: ~$1.33
Protein Percent Of Calories (%): 80%
Proteins: 24 grams
Carbohydrates: 1 grams
Fat: 2 grams
Added Sugar: 0 grams
Calories Per Serving: 120
Company Founded: 2015
Recommended By Athletes: Chloe Blackburn, Emmanuel Ezenwa
Want to get Jacked the authentic way? Then here you have the Authentic Whey Protein Powder from Jacked Factory, a perfect combination of high quality whey concentrate and whey isolate.
Because of this combination, you get moderate levels of fat (2 grams) and minimal carbs (1 gram) but high levels of protein at 24 grams for every 31 grams of serving. This makes the Jacked Factory whey protein powder ideal for athletes looking to increase and maintain lean muscle mass, and equally good for people looking to lose weight but maintain their protein input.
You can choose from 4 different flavors, which is not a lot of options but their chocolate and vanilla flavors are known to blend well for refreshing smoothies. With great mixability, this makes it an ideal choice for a protein powder to add to smoothies.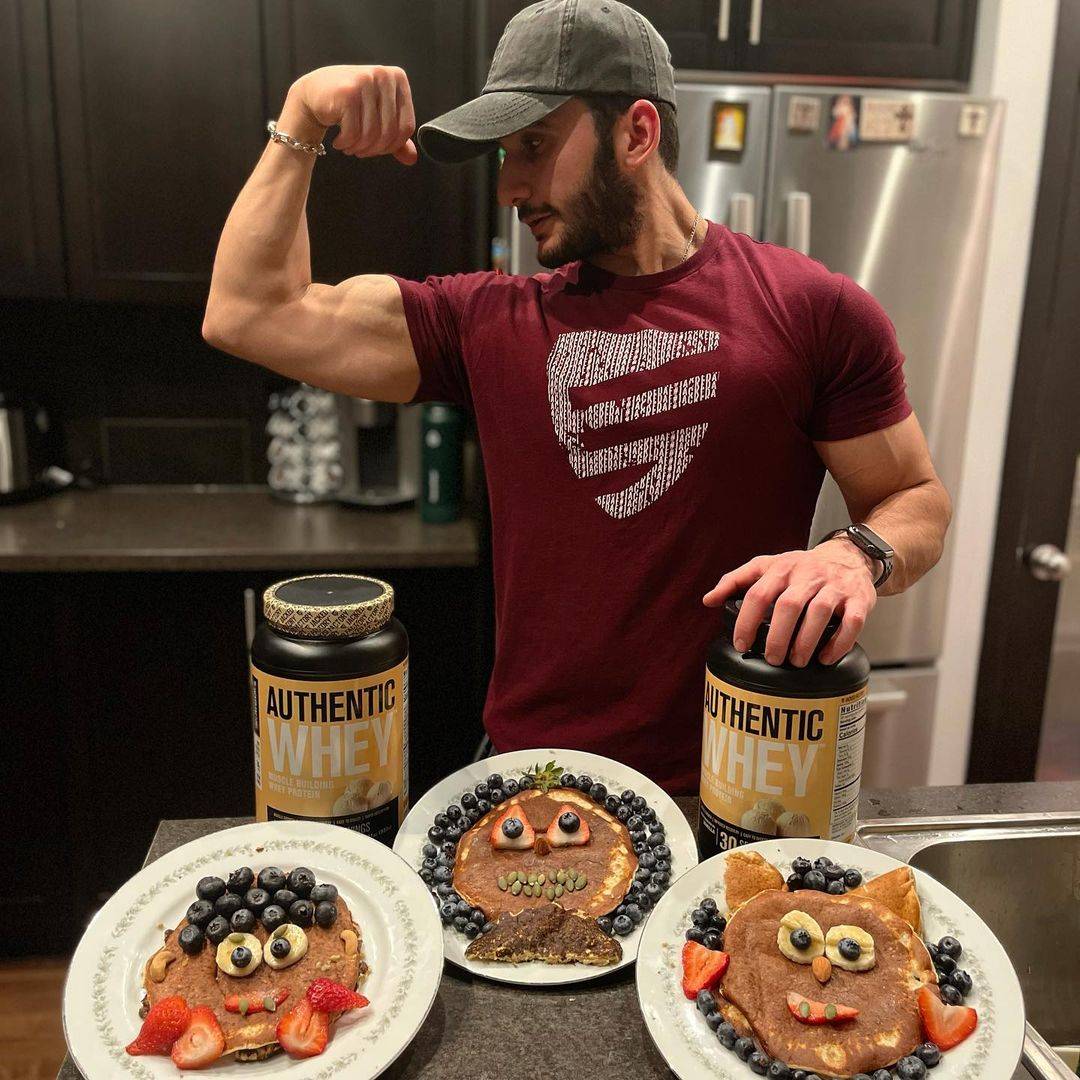 There are a couple of things you should be aware of.

First, in order to make the protein powder taste sweet and awesome, there are artificial and natural flavors included like stevia extract and sucralose. It contains milk, so make sure you don't have any lactose intolerance.
Second, the sodium content per serving is at 190 mg, which is a bit on the higher side.
Other than that, Authentic Whey gives you two of the most natural sources of high quality essential amino acids, whey protein concentrate and isolate. For the price ~$1.33 per serving, it's actually a good deal!
Jacked Factory's Authentic Whey Protein is a blend of whey concentrate and isolate, delivering high protein content and smoothie mixability, ideal for muscle building or weight loss, despite some artificial flavors and higher sodium content.
Nutrition Label Transparency:
10
Fat Content Transparency:
9
(Show More)
4 delicious, unique flavors

FDA-registered facility that manufactures within the USA
Formula includes sucralose (for those who care)

The fat and sodium content could be lower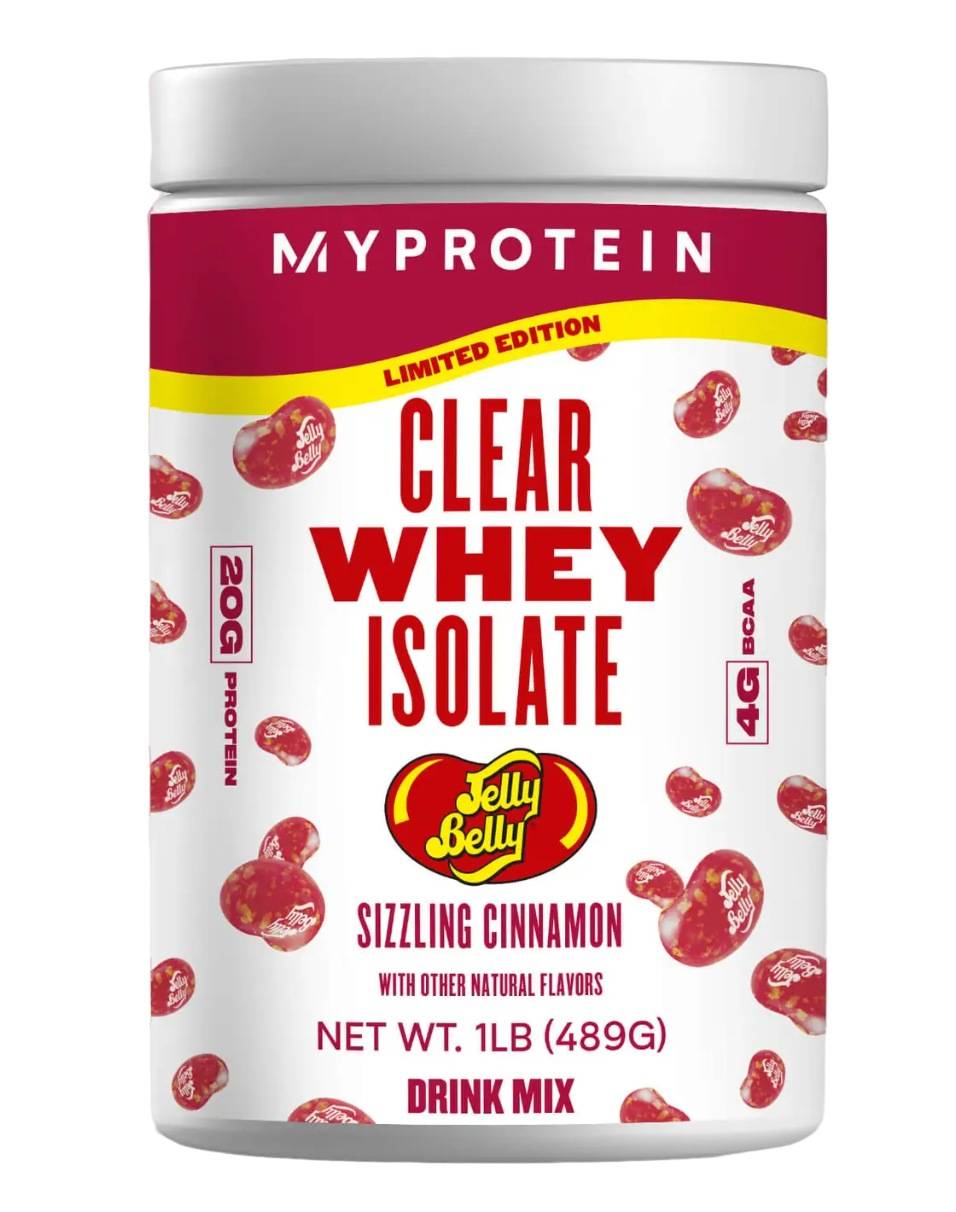 Diet Type (Best For): Build Muscle, Recovery, Cutting

Suitable For Vegans: No
Protein Source: Whey Protein Isolate
Serving Size: 24.5 grams
Price Per Serving: ~$2
Protein Percent Of Calories (%): 88%
Proteins: 20 grams
Carbohydrates: 0 grams
Fat: 0 grams
Added Sugar: 0 grams
Calories Per Serving: 90
Company Founded: 2004
Recommended By Athletes: Julian Cinque London PT, Chantelle Koutsou
If you're a fan of making deliciously candy-like smoothies, you'll love the Myprotein Jelly Belly Edition.
Sourced from the highest quality hydrolyzed whey isolate, each serving packs 20 grams of pure protein for each serving of 24.5 grams. That's a massive 82% ratio of protein for each serving, among the best in our ranking!
You also get naturally occurring 3 grams of glutamine and 4 grams of BCAA, perfect for growing and maintaining muscle mass.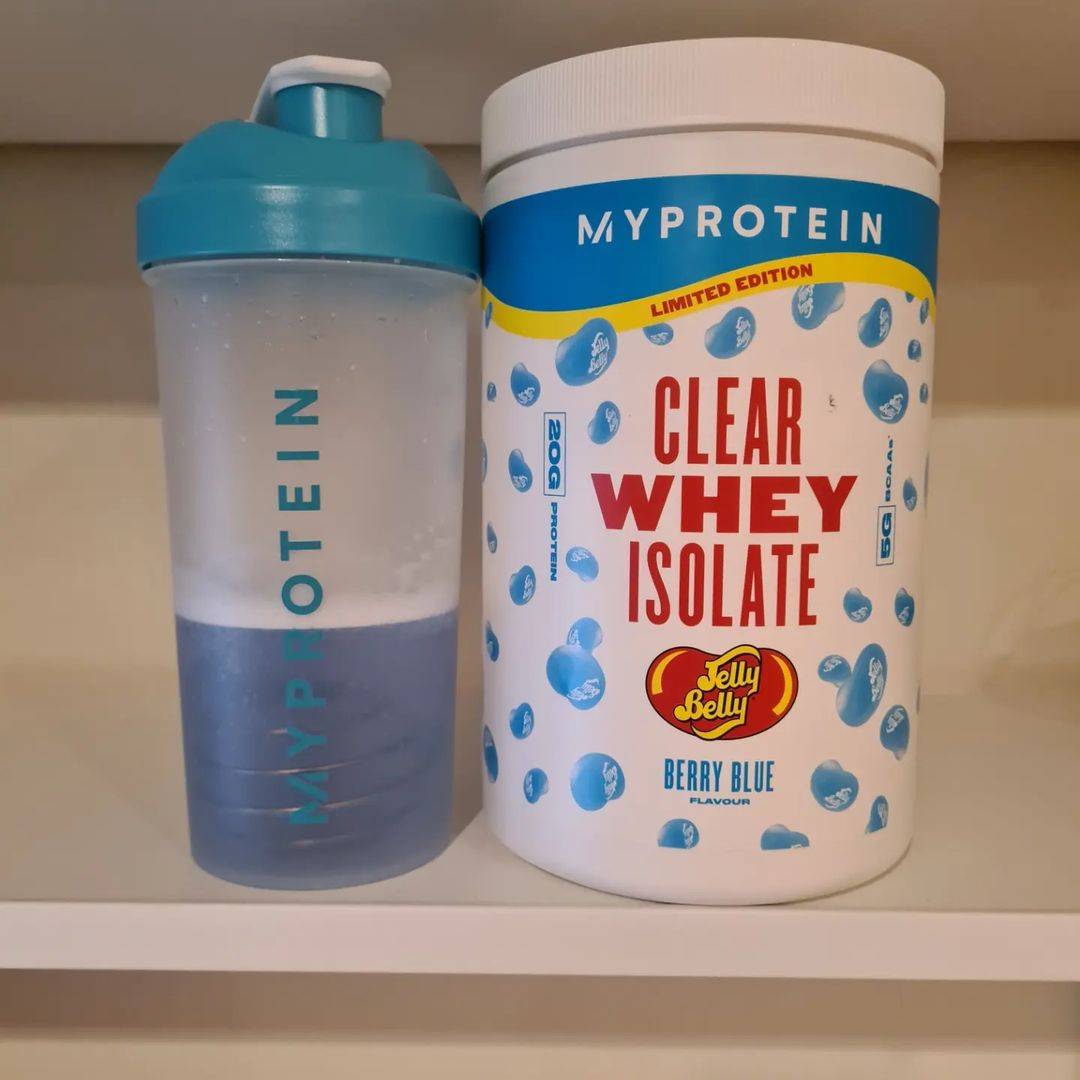 The best part; it has zero carbs and sugar, ideal for keto and carnivore enthusiasts, or anyone being careful about their macros. Because it's hydrolyzed, the whey powder is easy to digest, causing little to no bloating and gas.

As for flavors, you only get 3 unique options, Sizzling Cinnamon, Tutti-Fruitti, and Very Cherry. Not your typical chocolates and vanillas, you can enjoy your smoothies with a variety of explosive, fiery and sweet flavors.
However, Hydrolyzed whey isolate protein powders do cost more, and for this one you do pay $2 for each serving. So it's up to you to decide whether the benefits are worth the price.
Myprotein Jelly Belly Edition offers a candy-like smoothie experience with 20g of hydrolyzed whey isolate protein per serving, high protein ratio, and zero carbs and sugar, perfect for keto enthusiasts, despite the higher cost.
Nutrition Label Transparency:
9.5
Fat Content Transparency:
10
(Show More)
High-quality hydrolyzed whey protein isolate for easy digestion

4g BCAA and 3g glutamine per serving

Nostalgic Jelly Belly edition with 3 unique flavors
Only one tub size available at 1LB, which is too small
What Are the Benefits of Egg Protein?
Protein smoothies offer several benefits, such as:
✅ Muscle Recovery and Growth
✅ Increased Nutrient Intake
Moving on, protein smoothies help incorporate various nutritious ingredients to your diet. By blending protein powder with fruits, vegetables, nuts, seeds, or other wholesome ingredients, you can boost your intake of essential vitamins, minerals, fiber, and antioxidants.
Protein smoothies are quick and easy to prepare, making them a convenient option for busy individuals. They can be prepared in advance, stored in a portable container, and consumed on the go.
Including fiber-rich ingredients such as fruits, vegetables, or seeds in your protein smoothies can contribute to better digestion and over all health. It promotes regular bowel movements and nutrient absorption as well.
Overall, protein smoothies can be customized to suit your taste preferences. With a wide range of protein powder flavors available, along with various ingredients like fruits, nut butters, and spices, you can create delicious and enjoyable smoothies. This makes it easier to stick to a nutritious diet while still satisfying your cravings.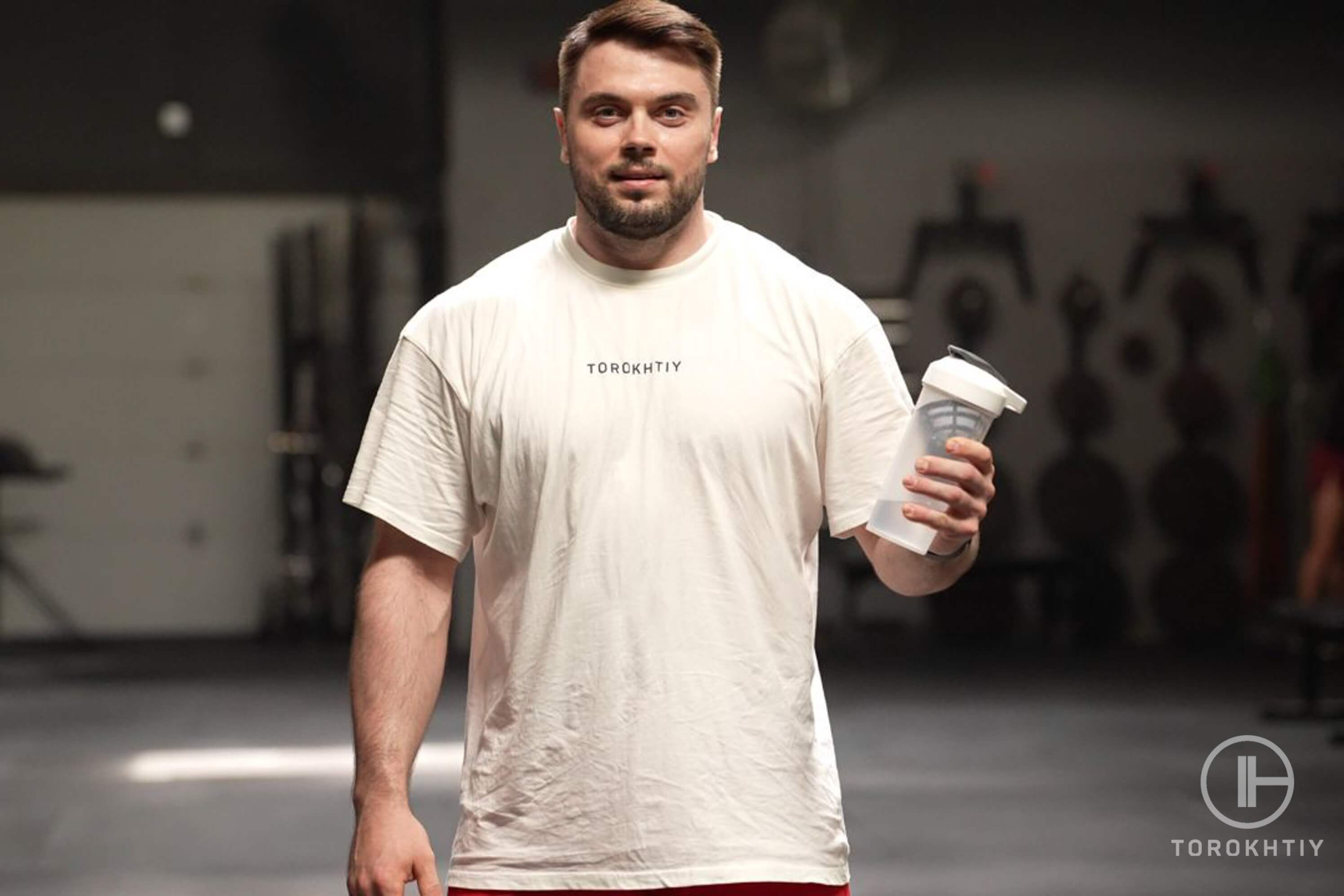 What Should I Blend With Protein Powder?
Here are some options you can blend with protein powder:
1. Milk or Non-dairy Milk
Use regular milk or alternatives like almond milk, soy milk, or coconut milk as the base of your shake for a creamy texture and additional protein.
If you want to make your shake more filling, add a handful of rolled oats or a spoonful of granola. This will provide fiber and complex carbohydrates.
Add fruits like bananas, berries, mangoes, or pineapples to your shake. They not only enhance the flavor, but also provide natural sweetness and essential vitamins.
Sneak in some vegetables like spinach, kale, or cucumber for added nutrition. They can be blended well with other ingredients, and their taste is often masked by the other flavors.
Peanut butter, almond butter, or cashew butter can add richness and a dose of healthy fats to your shake. They also contribute to the overall creaminess.
Greek yogurt or any plain yogurt can increase the protein content and create a thicker consistency. It also adds a tangy flavor to your shake.
7. Flaxseeds or Chia Seeds
These seeds are rich in omega-3 fatty acids, fiber, and antioxidants. They can be added to your shake to boost nutrition and add a slight crunch.
Finally, if you like a chilled and refreshing shake, add a few ice cubes to the blender. It helps to create a frosty texture and can make the shake more enjoyable.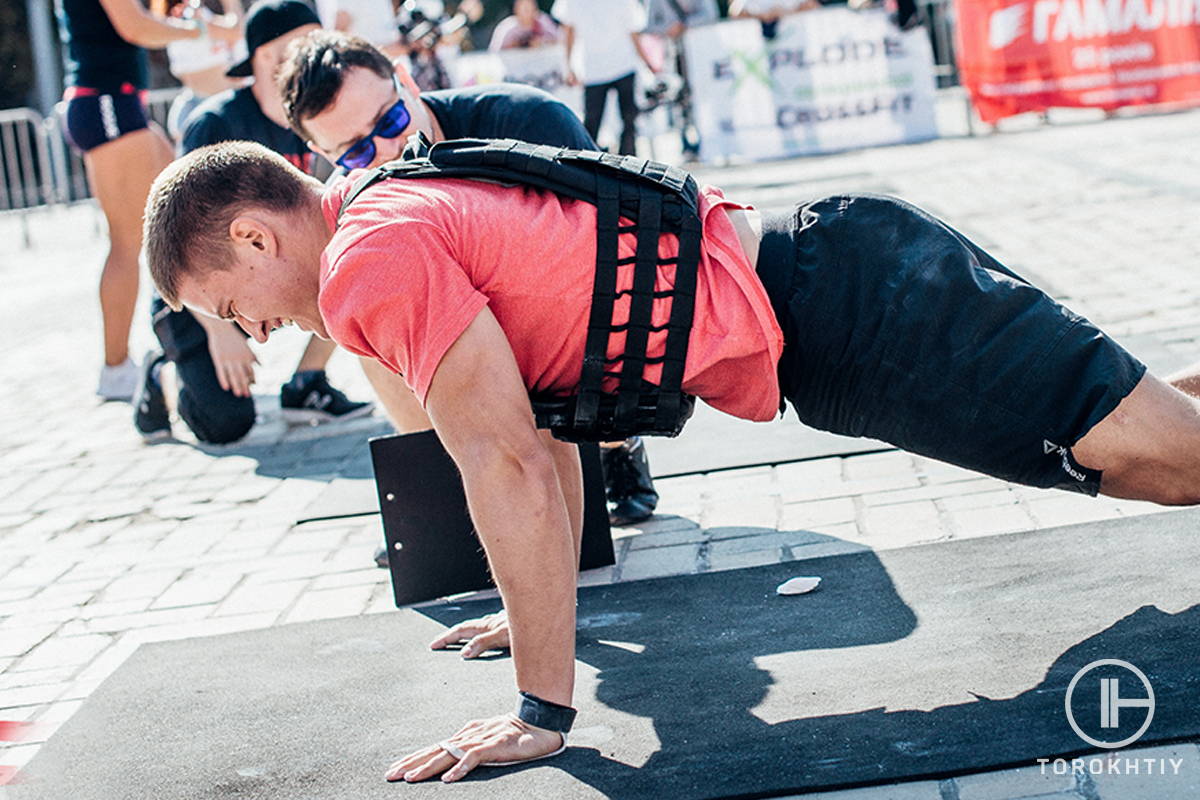 Can you put protein powder in smoothies? Yes! Making a protein fruit smoothie is an easy process, provided you have a decent quality protein powder that has no added sugar, and, of course, tastes nice.
In your blender, combine unsweetened almond milk, fruit, and a scoop of protein powder. The result is a perfectly creamy smoothie that tastes and feels like a meal in a jar.
The most amazing and delicious thing about protein fruit smoothie recipes is they go well with almost any fruit. And using frozen fruit in your smoothies eliminates the need for ice, while making a creamy textured refreshing drink!
Veggies can also add nutritious value to smoothies (consider spinach, avocado, kale, and cucumber).
How to Make a Protein Shake
Begin with 1 cup of ice or 1 cup of frozen fruit as a basis. Frozen bananas are a famous base, and mixed berries are equally popular.
Choose your protein source(s) next. When producing a protein shake, we usually combine several protein sources. A serving of protein powder plus a teaspoon of chia/flax seed + a tablespoon of nut butter, for example.
You may or may not add a sweetener, depending on how sweet your protein powder is or what base fruit you chose! If you must have one, we recommend an all-natural sweetener like maple syrup or honey.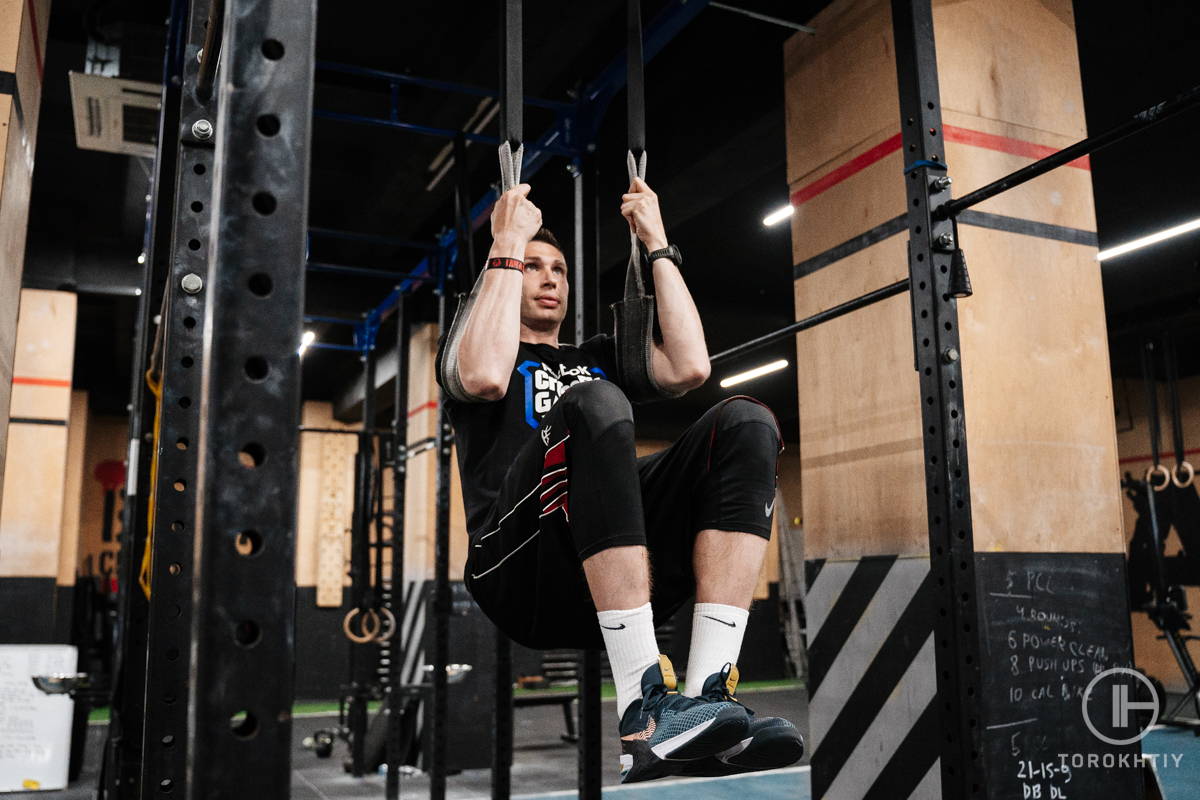 This smoothie uses easy-to-get ingredients and you can prepare it in five minutes. You can add one scoop of Transparent Labs vanilla flavored protein powder to get 28 grams of protein for a serving.
Triple berries (frozen)
Banana (frozen)
1 scoop Transparent Labs vanilla protein powder (28 grams protein)
Almond milk
Chia seeds
Combine all ingredients together in a high-speed blender
Blend until smooth
Chocolate Banana Smoothie
This protein smoothie packs a punch with 25 grams of protein in every serving.
3 bananas (frozen, medium)
1 scoop protein powder (chocolate)
1 scoop protein powder (vanilla)
1 tbsp cocoa powder
Greek yogurt (vanilla)
Almond milk (vanilla, unsweetened)
1 tsp vanilla extract
Place all ingredients in a high-speed blender
Turn to high and process for a minute, or until smooth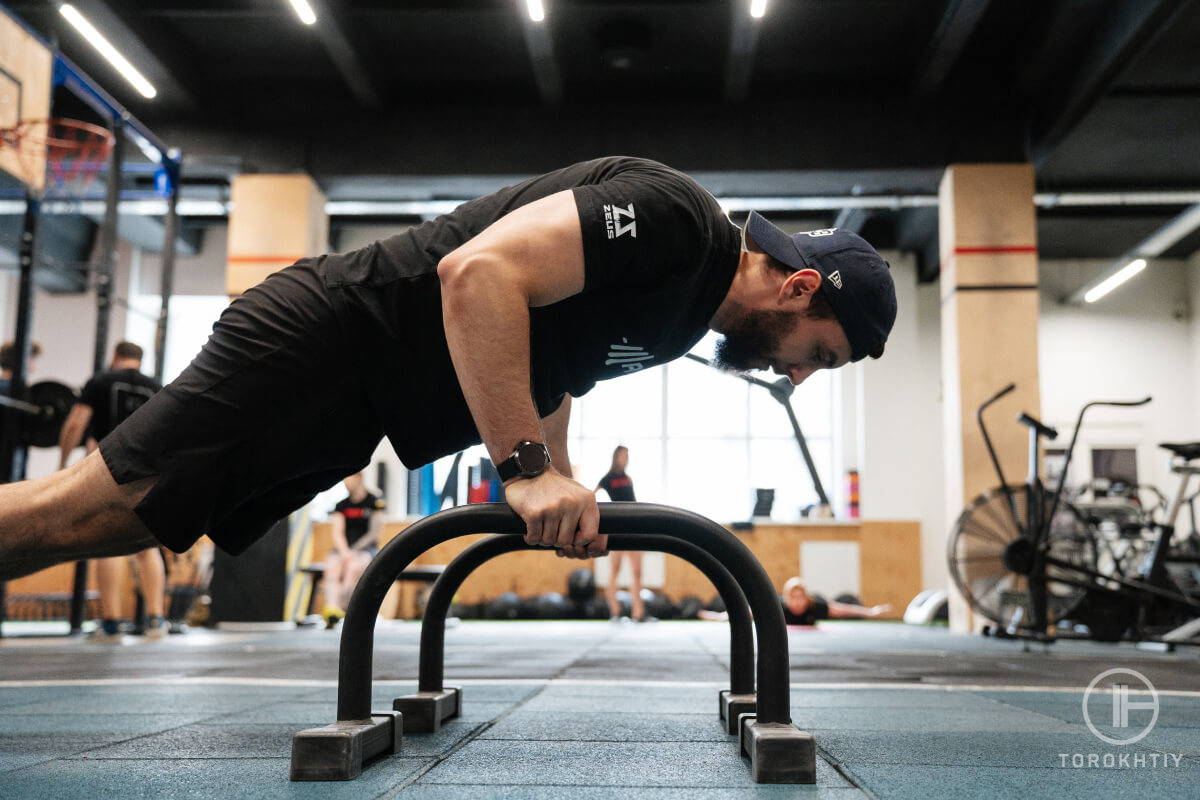 Dark Chocolate Date Protein Smoothie
You can consume this protein smoothie as a post-workout snack or on the go breakfast with 24 grams of protein per serving.
2 frozen bananas
1 scoop Jacked Factory Authentic Whey Chocolate Flavor (24 grams of protein)
3 medjool dates
1 cup kale
3 tbsp dark cocoa powder
1/2 tsp vanilla extract
Combine all ingredients together in a high-speed blender
Blend until smooth
You can even add a nut milk of your choice
Is It Good to Take Protein Powder With a Smoothie?
Yes, as it helps to increase the protein level of your drink. It also brings in vitamins, minerals, and healthy fats. It is good for those seeking an energy boost or to grow muscle mass.
Is a Fruit Smoothie With Protein Powder Healthy?
Yes, as it supports muscle growth. Over time, muscle growth can enhance your metabolism by allowing your body to burn more calories in less time. It is beneficial for weight loss and promoting overall wellness.
Is It Okay to Drink a Smoothie for Breakfast Everyday?
Smoothies make for a nutritious breakfast, provided you take appropriate portions. Super healthy morning smoothies are quick and simple to make, and they are also delicious. Smoothies like protein-fruit-vegetable shakes also promote weight loss as they keep you satiated for a long time.
With so many protein powders to choose from, there have got to be some that stand out from the crowd. From 100% plant based all natural protein powders to 100% grass-fed whey protein, we have listed them all.
However, from our list of the best protein powder for smoothies, Transparent Labs' 100% Grass-Fed Whey Protein Isolate is our Top Pick! It's sourced from 100% grass fed cow milk, blends superbly with smoothies, and tastes refreshingly awesome!
So, what's your favorite protein powder you love adding to your smoothies?
Let us know your thoughts in the comments section below. And if you have any queries regarding the protein powders we have mentioned, please do not hesitate to ask!
Development of high protein, high fiber smoothie as a grab-and-go breakfast option using response surface methodology //NIH: https://www.ncbi.nlm.nih.gov/pmc/ articles/PMC5643802/



Grass-Fed Whey vs. Plant-Based Protein: Which Is More Beneficial? //JACN: https://www.jacn.org/grass-fed-whey-vs-plant-based-protein-which-is-more-beneficial/
Whey Protein Isolate vs Concentrate: What's The Difference? //Healthline: https://www.healthline.com/ nutrition/whey-protein-isolate-vs-concentrate
FDA says it causes cancer. Yet it's in hundreds of candies. // Cspinet: https://www.cspinet.org/ press-release/red-3-fda-petition
International Society of Sports Nutrition Position Stand: protein and exercise //NIH: https://pubmed.ncbi.nlm.nih.gov /28642676/
Postprandial thermogenesis is increased 100% on a high-protein, low-fat diet versus a high-carbohydrate, low-fat diet in healthy, young women //NIH: https://pubmed.ncbi.nlm.nih.gov /11838888/
The effects of high protein diets on thermogenesis, satiety and weight loss: a critical review //NIH: https://pubmed.ncbi.nlm.nih.gov /15466943/
Fruit and Vegetable Intake: Benefits and Progress of Nutrition Education Interventions- Narrative Review Article //NIH: https://www.ncbi.nlm.nih.gov/pmc /articles/PMC4644575/
With over 20 years in Olympic Weightlifting, our team does its best to provide the audience with ultimate support and meet the needs and requirements of advanced athletes and professional lifters, as well as people who strive to open new opportunities and develop their physical capabilities with us.
All products we select are primarily approved and tested by the Olympic Weightlifting Champion Oleksii Torokhtiy. Under his guidance, we provide honest and reasonable assessments of the products we review by checking their characteristics, packaging, design, comfort and durability features, and general product rating. We select products from only high-quality and trusted sports brands, thus vouching for their quality.
The product testing process is described in more detail here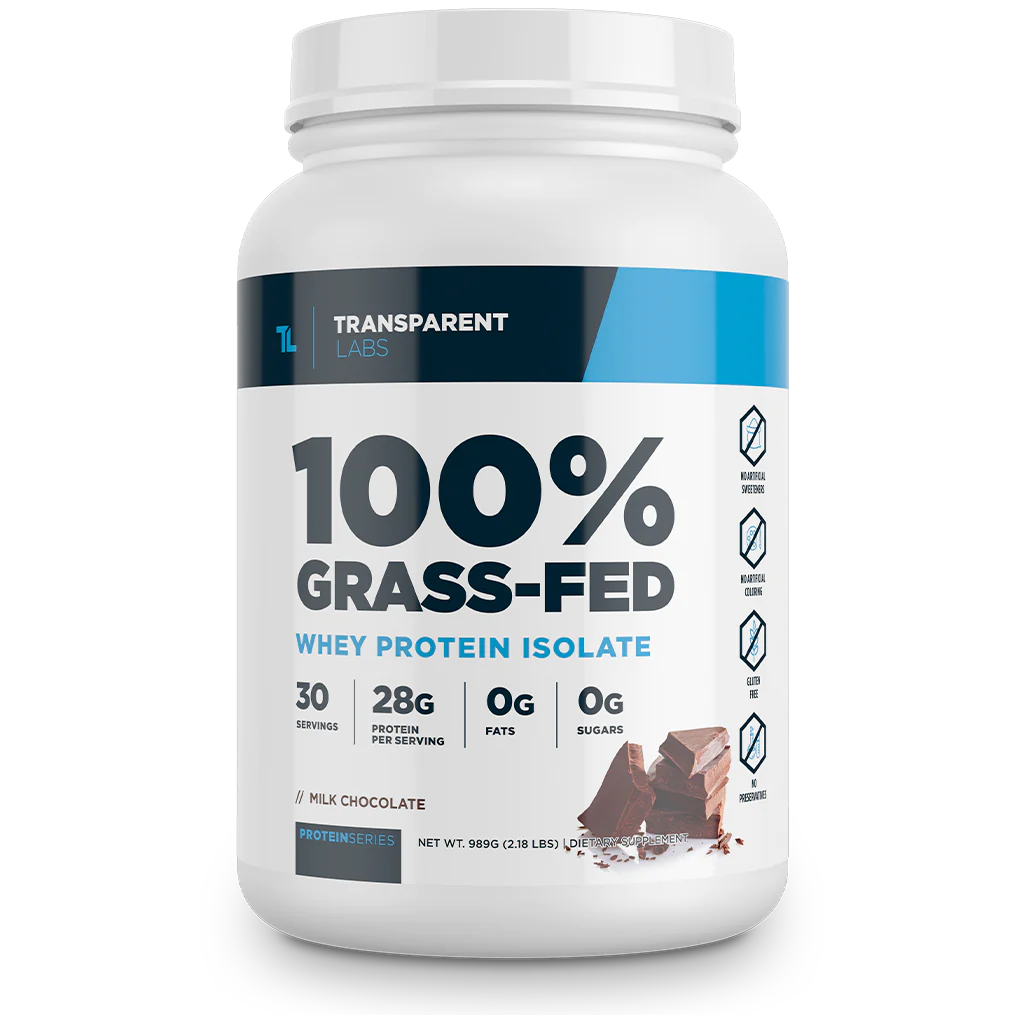 Experience: 7 years
Specializing in: Weight management, Fitness / Sports nutrition
Oleksandr is a professional fitness nutritionist, certified by FPA (Fitness Professional Association). Oleksandr adheres to the principles of evidence-based dietetics and instills in his clients a healthy relationship with food - without strict prohibitions on favorite foods and regular disruptions. His main task – not only get a result for you, but also maintain it for many years, enjoying tasty and delicious food.
If you have any questions/suggestions/any other inquiry, you can reach out to us via email - reviews@torokhtiy.com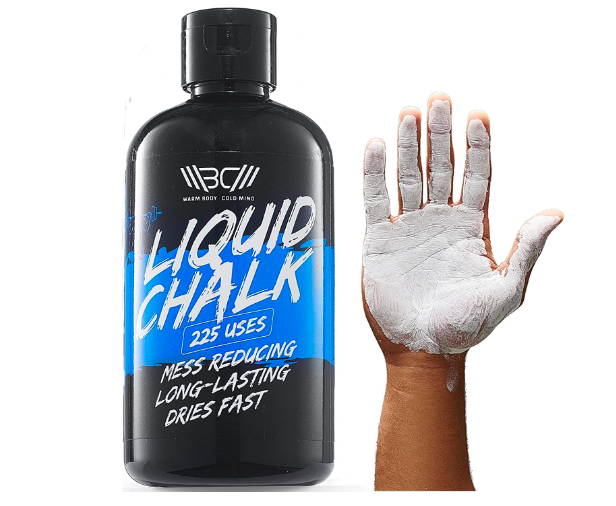 This article was written by our qualified author and proofread by expert with proven experience. When writing the article we use our expertise and data from open sources with strong reputation, scientific or medical based. The list of references is provided at the end of the article.
Our team of authors and experts includes professional athletes (Olympians, winners of European and World titles) PhD in Sport Science, certified coaches, sports nutritionists, CSCP, physiotherapists and other. Read more about the team here, and more about how we test here.