Author: Oleksiy Torokhtiy (Olympian with 21 years of Oly Lifting experience)
Reviewed by: Sergii Putsov (20 years of Oly Lifting & Training experience)
I have picked up the best liquid chalk for lifting in this article. Read about the properties, effects, pros and cons of the most popular liquid gym chalk.
It is not weird if you struggle to choose the best liquid chalk for lifting since there is a wide range of it available today. I want to clarify everything for you to make the decision easier.
I have picked 9 options – the most reliable and effective. Read about the main properties, peculiarities, effects, advantages and disadvantages of the most popular products on market based on my own experience and hundreds of liquid chalk reviews I've read online and got from my colleagues in the gym.
In a hurry and can't keep reading? How about you check out the WARM BODY COLD MIND.
WARM BODY COLD MIND's Liquid Chalk offers athletes a reliable, fast-drying, and long-lasting solution with a pleasant citrus scent, making it an excellent choice for various sports, backed by positive reviews for its durability and convenience.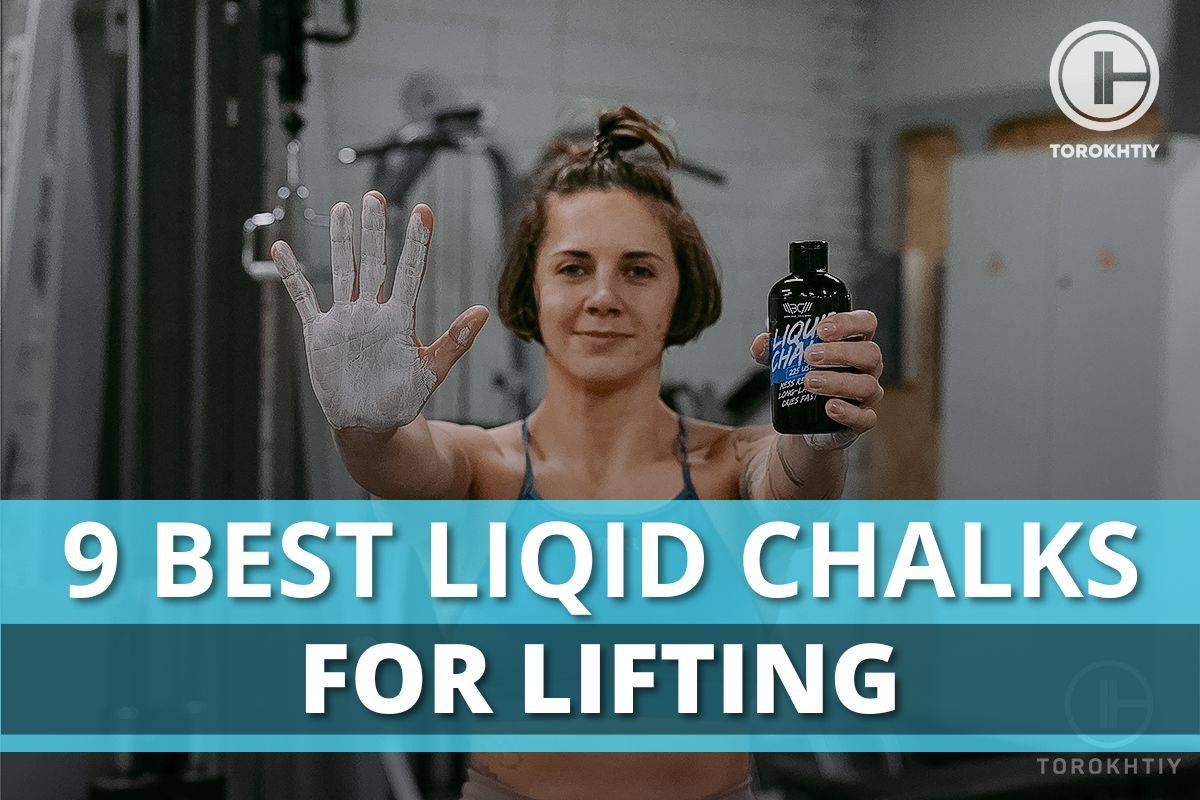 Top 9 Best Liquid Chalks for Lifting Reviewed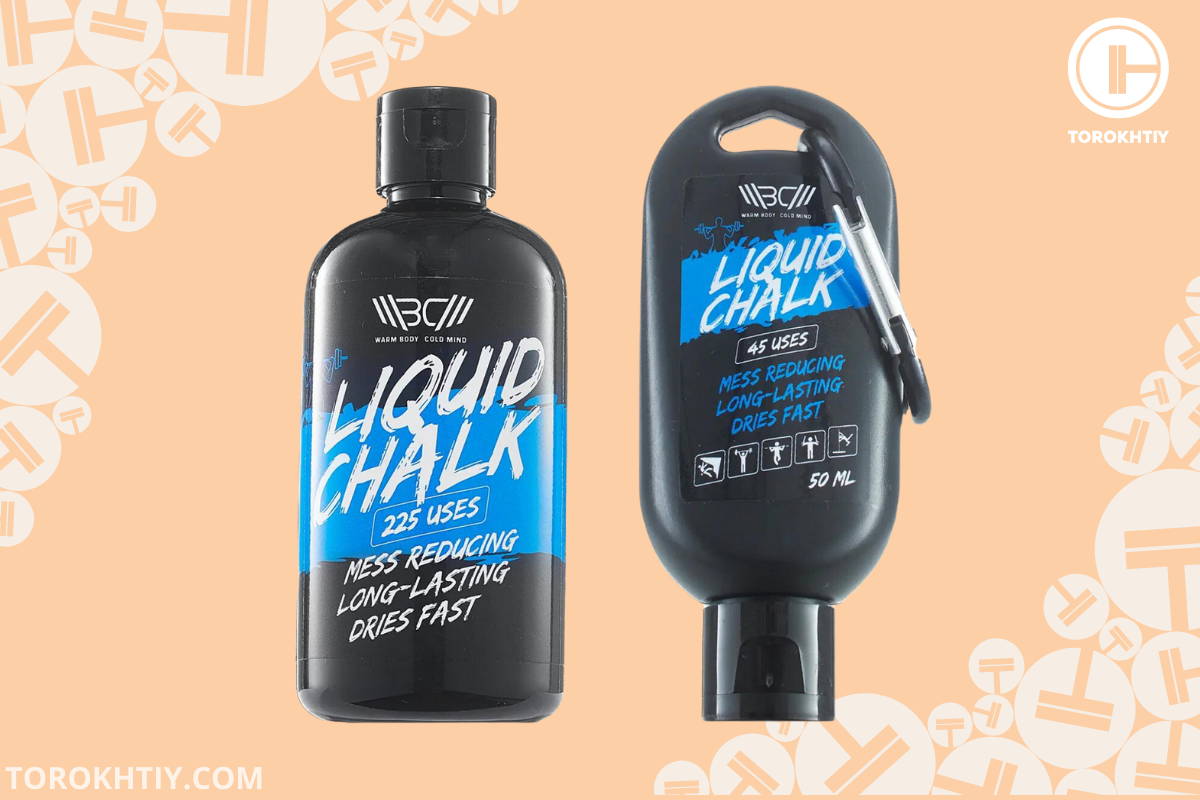 Size:

1.7 / 8.5 oz.

Sport type:

Weightlifting, Powerlifting, Gymnastics, Climbing, Pole Dancing

Color:

white

Drying time:

15 sec

Feature:

designed by Olympian
The brand WARM BODY COLD MIND produces the most essential sport accessories. All products are professionally designed to meet the needs and requirements of athletes.
It aims to create the balance between the body and mind of an athlete by providing high-quality, convenient and accessible sport goods that can be used by both professionals and amateurs.
If you are looking for a reliable and convenient liquid chalk for a reasonable price, this option can be a good choice. It dries pretty fast, is long-lasting and easy-to-use.
The consistency is paste-like and rather thick so a pea-sized amount is enough to cover the palms completely. A pleasant bonus might be the odor of citrus which hides the smell of alcohol.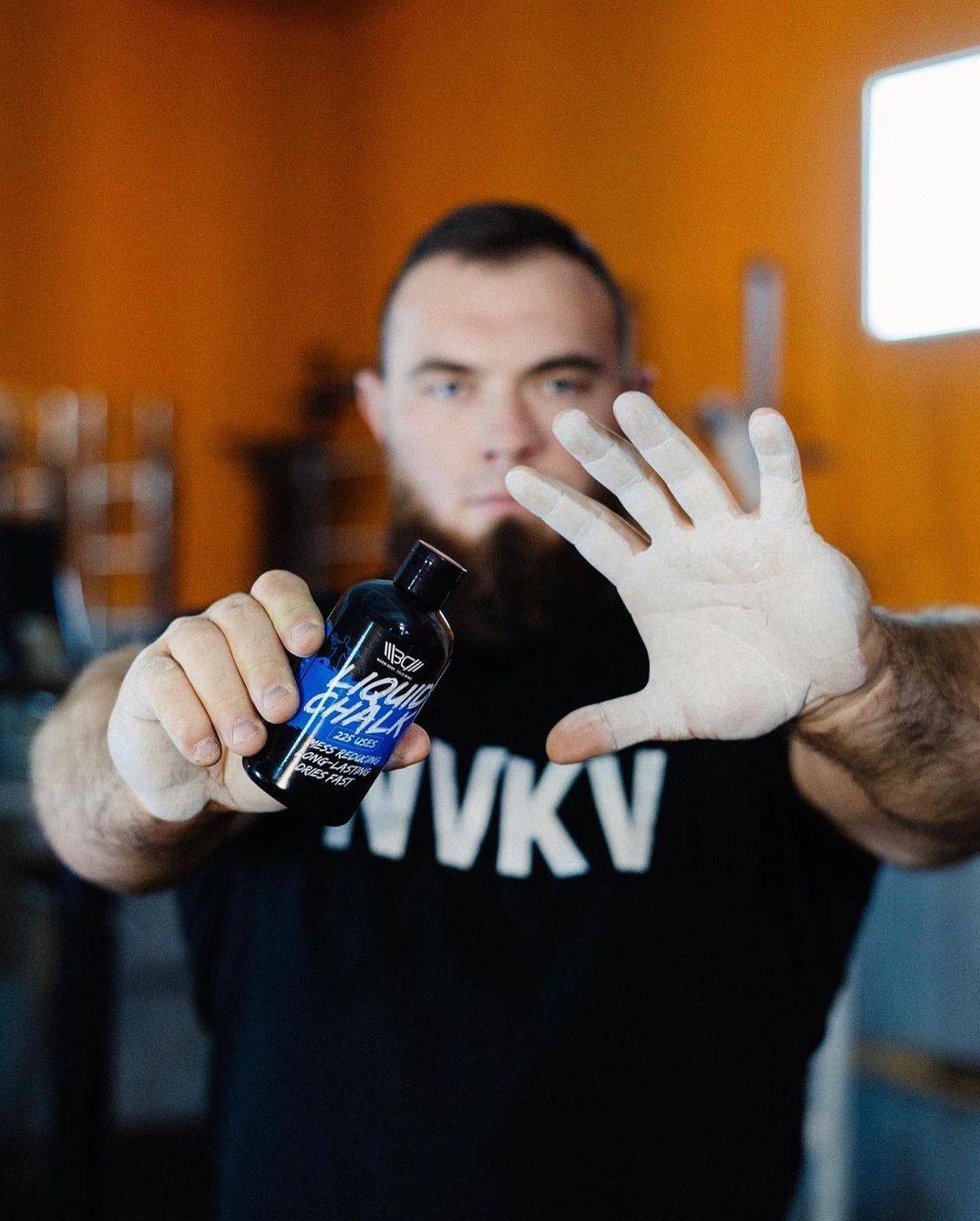 Also, you can start with a small size to try it out and make up your mind. In this case, you might find the 50-ml bottle another advantage. It comes with a carabiner so that you can always reach out for chalk without digging it out of the bag.

It also receives plenty of positive comments about its resistance so many athletes might find it the best liquid chalk for fitness. But no matter what sport you are into, trying it out isn't likely to let you down.
It also receives plenty of positive reviews from all kinds of athletes on Amazon and other websites so, no matter what sport you are into, trying it out isn't likely to let you down.
(Show More)
The small bottle is especially handy
High density, thus, sometimes difficult to pour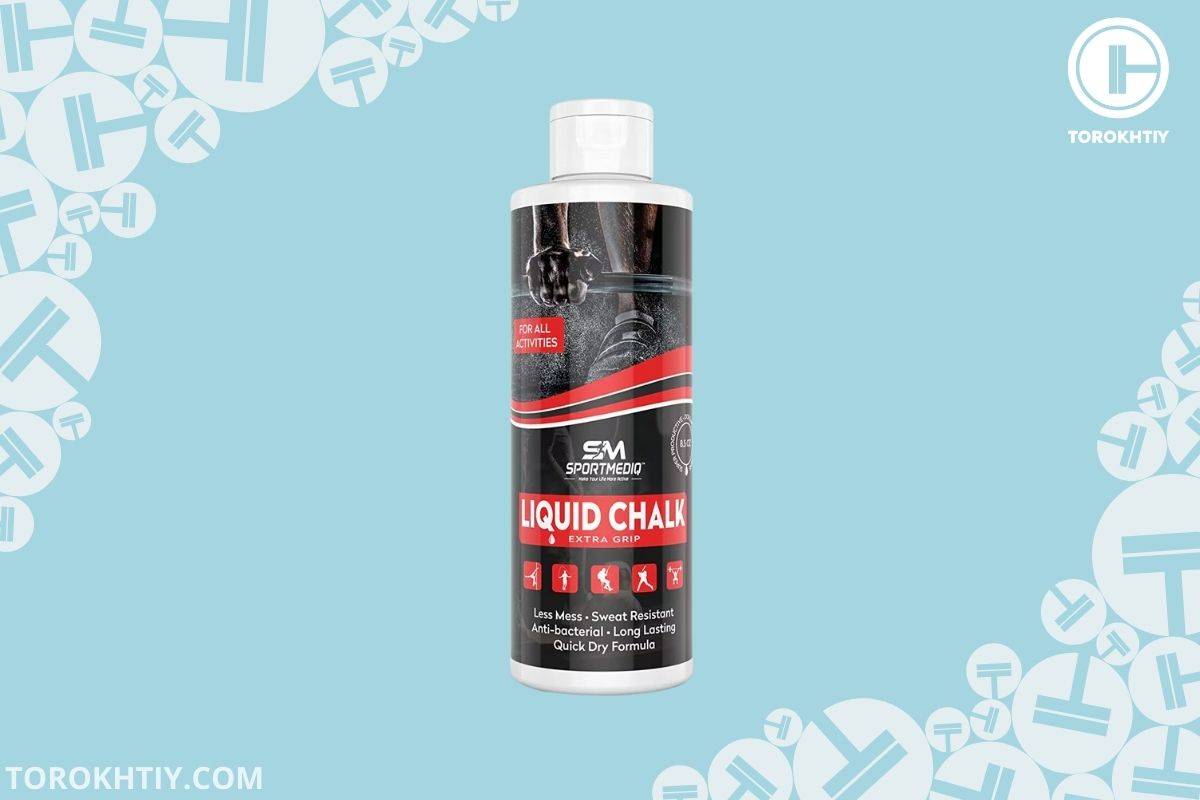 SPORTMEDIQ is also a brand of sport accessories. It aims to make people enjoy physical activity and reach their goals by providing high-quality equipment and products.
Size:

8.5 oz

Sport type:

best for Olympic Weightlifting and Powerlifting

Color:

white

Drying time:

15-25 sec

Feature:

honey in the ingredients
This liquid chalk provides a strong grip, particularly for lifting heavy weights. The brand states it to be a perfect match for Weightlifting and Powerlifting but at the same time effective for other sports.
The consistency is similar to thick lotion so that you can apply it with ease and get even coverage.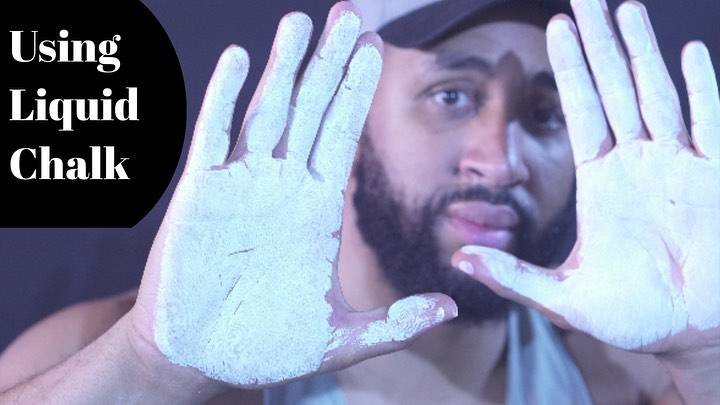 You may have noticed one special additive on the ingredient list – honey. It is responsible for such a strong grip but at the same time takes care of your skin. It is not sticky, though. All these make it a good liquid chalk for powerlifting.

As to the lasting time, it falls behind the previous option a bit. Its powder-like coverage is not that long-term and might leave some residue on clothes and equipment.
It also receives plenty of positive reviews from all kinds of athletes on Amazon and other websites so, no matter what sport you are into, trying it out isn't likely to let you down.
(Show More)
Only a big bottle available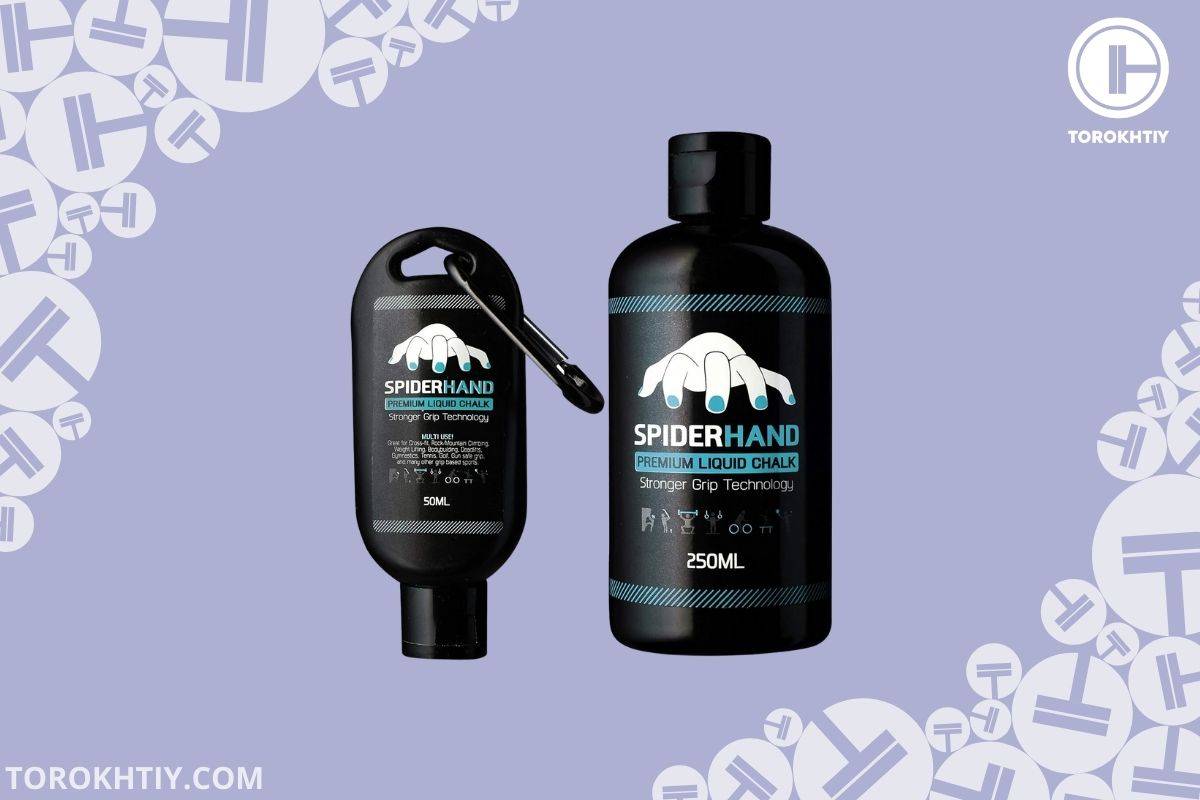 The brand was founded in 2017, is young, innovative, and eager to involve more people in sports.
Size:

8.3 + 1.7 oz. + massage ring

Sport type:

Rock Climbing, Powerlifting, Bodybuilding, Basketball, etc.

Color:

yellow, green, orange, blue, pink

Drying time:

< 25 sec

Feature:

combo kit
This option might be a great choice if you travel a lot and need a small bottle along with a big one. It comes with a carabiner so is convenient for transportation.
Also, you can find rosin among the ingredients. This additive gives a "spider hand grip". If you like various innovations, an after-workout ring for finger relaxation may be also an interesting tool for you.
Moreover, you can pick your favorite color among the five available, though once it dries, every option becomes white. The price is slightly higher but remember about the combo kit: you get 10 oz. all at once.
It also receives plenty of positive reviews from all kinds of athletes on Amazon and other websites so, no matter what sport you are into, trying it out isn't likely to let you down.
(Show More)
Only a kit available for a high price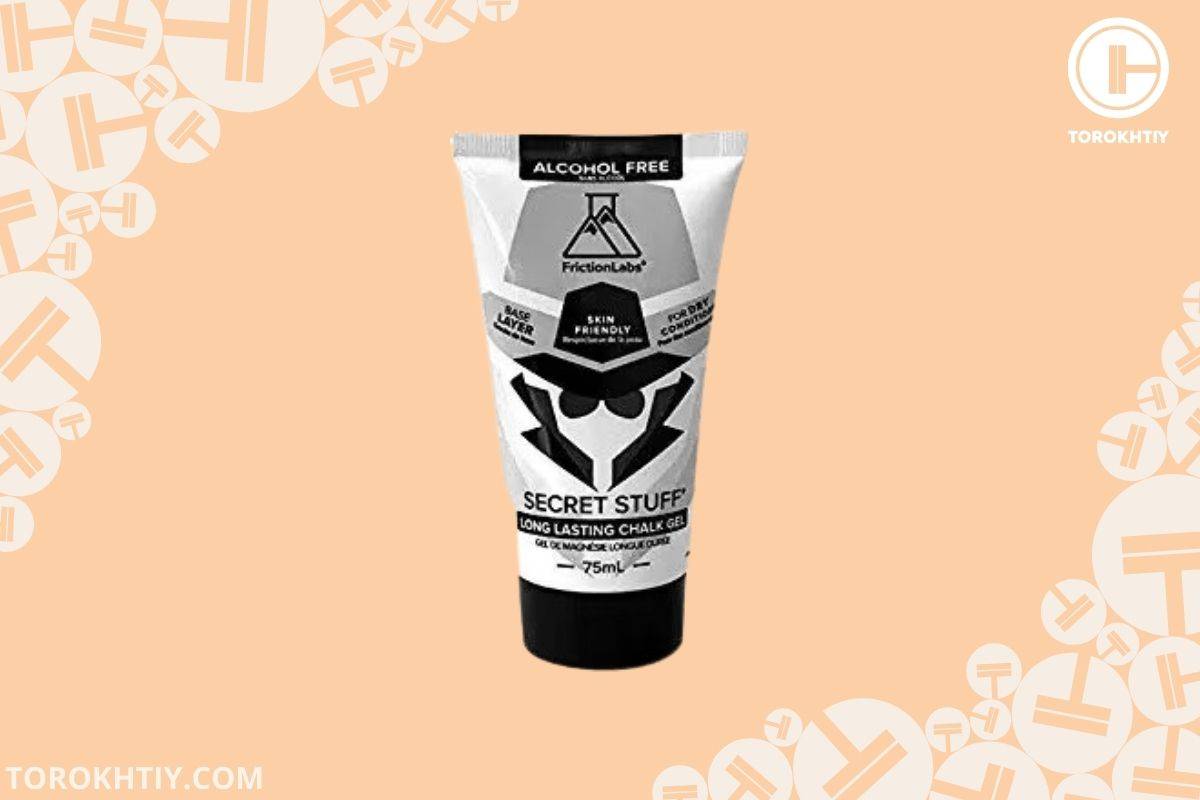 Friction Labs has a lot of experience in producing premium hand chalk. At first, it was designed for climbers but has been upgraded and improved to serve other athletes as well.
Size:

2.5 oz

Sport type:

Weightlifting, Climbing, Dancing, Baseball, Tennis

Color:

white

Drying time:

< 20 sec (for alcohol options), 60-90 sec (for alcohol-free option)

Feature:

Original, Alcohol-Free, Hygienic options
If you have sensitive or allergic skin, struggle with calluses ad tears or just want a more caring liquid chalk, this one may be a real relief for your hands.
The alcohol-free version is designed specifically for athletes with such needs to let them participate in sport activities to the fullest. Apart from that, you can try the original version which aims to give especially strong grip in hot and humid conditions if your skin is okay with alcohol.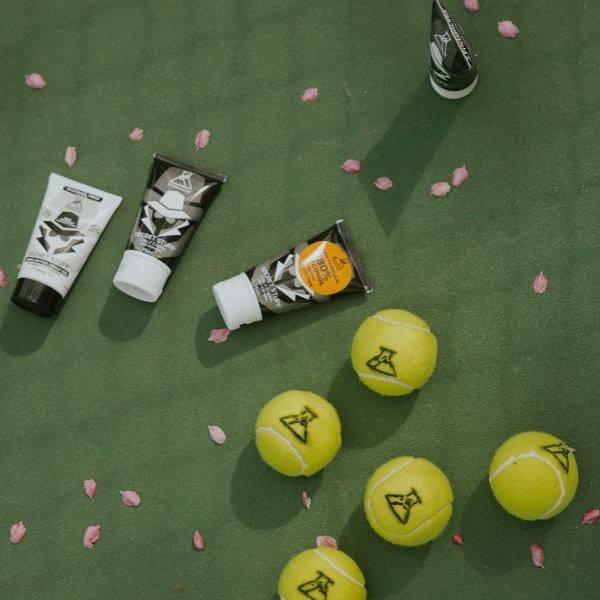 Additionally, there is the hygienic version with 80% of alcohol. If you want to protect yourself from germs and viruses while working with shared equipment, have a look at this liquid chalk. It may be a significant advantage during the pandemic.

However, it is a premium product so the price is fairly high.
It also receives plenty of positive reviews from all kinds of athletes on Amazon and other websites so, no matter what sport you are into, trying it out isn't likely to let you down.
(Show More)
Alcohol-free and hygienic versions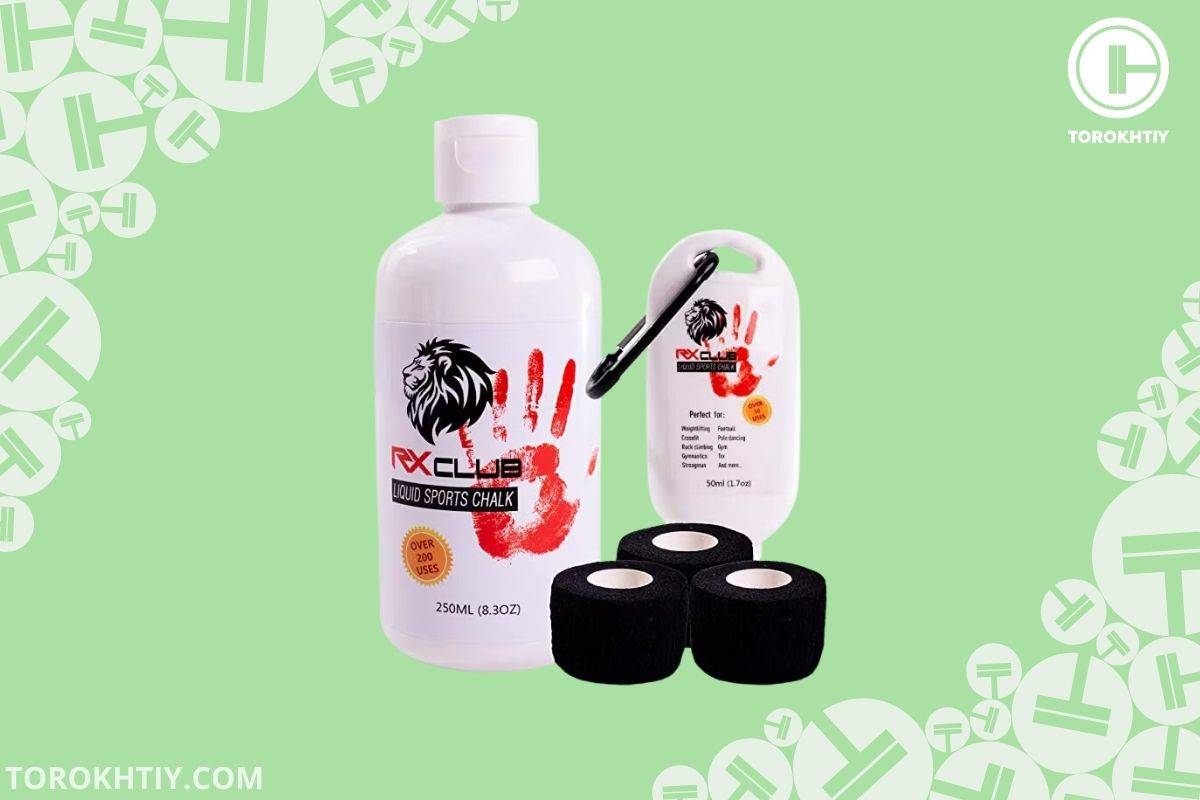 This product was specifically designed as a liquid chalk for weightlifting. So if you are an Olympic lifter, such a full kit might be really beneficial for you.
Size:

1.7 / 8.5 oz. + 3 thumb tapes

Sport type:

Weightlifting, Rock Climbing, Gymnastics, Dancing

Color:

white

Drying time:

< 20 sec

Feature:

thumb tapes in the kit
The kit includes 1 bottle and also 3 rolls of thumb tape. If you struggle with the hook grip or usually use tapes during your sessions, have a look at this option.
Another advantage of this chalk is its high anti-bacterial effect. It takes care of your skin and health so if you share equipment with other athletes and want strong protection, it might be a good upside.
It also receives plenty of positive reviews from all kinds of athletes on Amazon and other websites so, no matter what sport you are into, trying it out isn't likely to let you down.
(Show More)
Full kit for strong weightlifting grip

Strong anti-bacterial effect

Convenient for transportation
Only a kit available for a high price
Other brands produce lotion-like liquid weightlifting chalk in order to make it easy to get out of a bottle and spread over your hands. This option is not so resistant and may need reapplying a few times during a workout, depending on exercises, intensity, and also climate conditions.
Why Do You Need Liquid Chalk for Lifting?
A lot of athletes prefer liquid chalk to the dry one for several reasons. They may depend on your kind of sport, lifestyle, and personal peculiarities.
While staying on your hands, it literally "sticks" a bar to them. This benefit is especially important for weightlifters, powerlifters, and everyone who is fond of lifting heavy weights.
It doesn't create dust in the air, on equipment, and marks on clothes. As a result, it doesn't cause respiratory issues and is more hygienic. On top of that, cleaning the floor and equipment is far less painful without this messy layer of dry chalk.
Some gyms don't allow athletes to use dry chalk, and the liquid one is an exception. The reason is the dust powder chalk creates in the air and on equipment. It causes a mess and is difficult to clean.
You don't have to reapply it before every set as it is more resistant than dry chalk. Some products can last throughout the entire workout depending on your kind of sport, exercises, intensity, etc.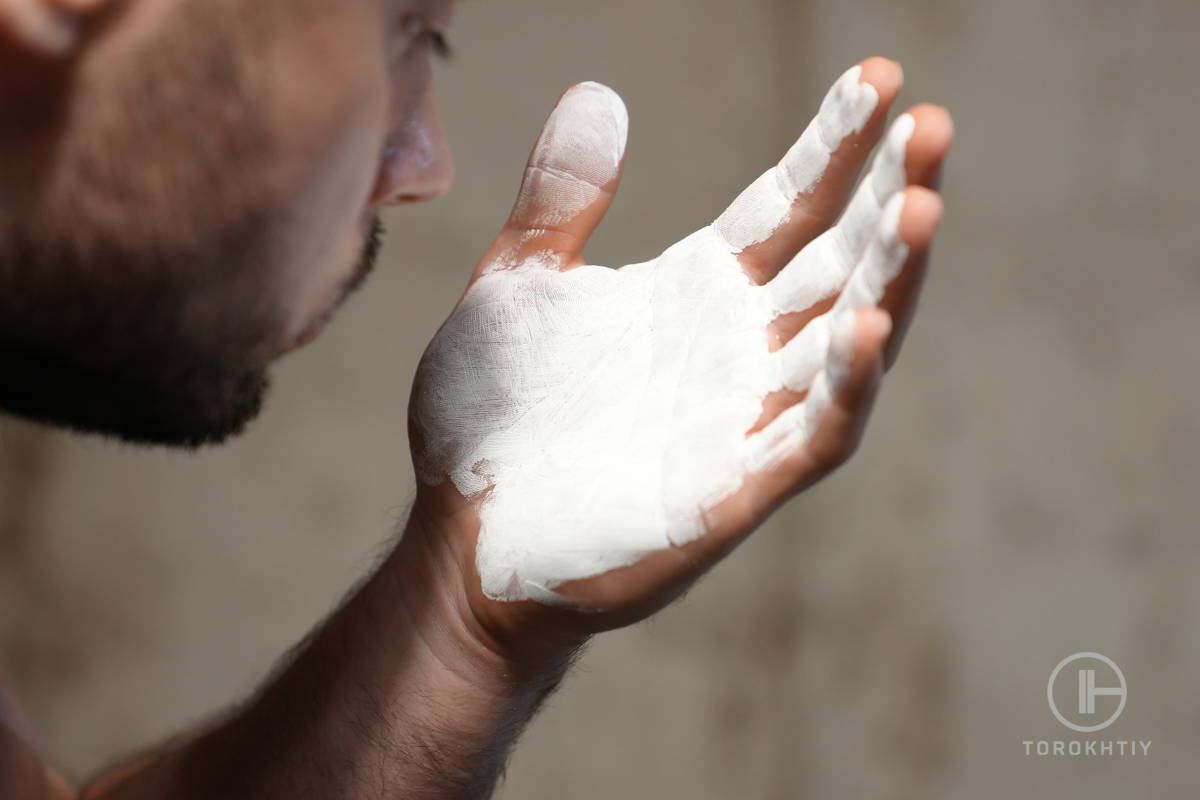 It is easy and safe to take along in your bag. A tightly closed bottle doesn't leave any marks inside a bag and doesn't need any additional protection.
On top of that, most brands have a small size with a carabiner which is great for climbing or training during a vacation.
It can contain odors, rosin, sticking agents, different colors, etc. If you want to give color to your training routine, it might be another benefit for you.
No dust causes no respiratory issues. Moreover, it contains alcohol so kills germs and viruses just the way your sanitizer does.
All in all, according to liquid grip reviews, most athletes become hopeless fans of liquid chalk and don't return to the regular one in their workouts.
What to Look For in Liquid Chalk?
While choosing liquid chalk, define your needs, expectations, and requirements based on your sport and personal peculiarities. There are so many options on market that it is easy to get puzzled.
Analyze the most crucial points for you. Do you need liquid chalk to be super long-lasting? Maybe, you are sensitive to odors or hate alcohol smell. Does your kind of sport demand you to be quick and start the next set as soon as possible? It may push you to seek a really short drying time in your future liquid chalk.
There are main characteristics of liquid chalk that can be evaluated:
It determines how long liquid chalk lasts on your hands. It may be especially important for fitness athletes, who must do their exercises extremely quickly with short breaks so they have no time to reapply it in the middle of a session, or for rock climbers, who don't have the opportunity to renew a layer of chalk while climbing.

When choosing liquid chalk, get one with a
quick-drying formula
that will give you long-lasting effects. You want something that will improve your grip, but that will also be easy to wash off. If your skin is sensitive, check the ingredients and make sure they're skin-friendly.
It often influences the longevity and drying time of particular liquid chalks. Thick consistency gives stronger coverage and lies more evenly because of a higher concentration of chalk. At the same time, it may leave light residue on equipment and clothes. More liquid consistency gives a thinner layer and may need reapplying from time to time.
It goes without saying that most athletes want their liquid chalk to dry out as fast as possible. They are eager to hit heavy weights and don't want to wait. But in some sports, it is a particularly essential feature. For example, every second counts for fitness athletes.
Pay attention to recommended sports because the grip needs may vary for different activities. Some liquid chalks just dry out your hands and provide a confident grip whereas others contain rosin and other similar additives that make the grip more 'sticky'. For example, you may find this feature especially beneficial for deadlifts or baseball.
Always check the ingredient list if you are allergic to something, or if your skin is dry, sensitive or torn. For example, alcohol can be really harsh on your hands but, luckily, there are already alcohol-free options on market.
Moreover, some brands add elements with additional moisturizing properties (such as honey) to their products to make them softer. Also, you may find some odors irritating and too strong so check it out as well.
Above, I have summarized all of them for the most popular and reliable products on market now. If you want even more information, you can read liquid chalk reviews on Amazon and other websites.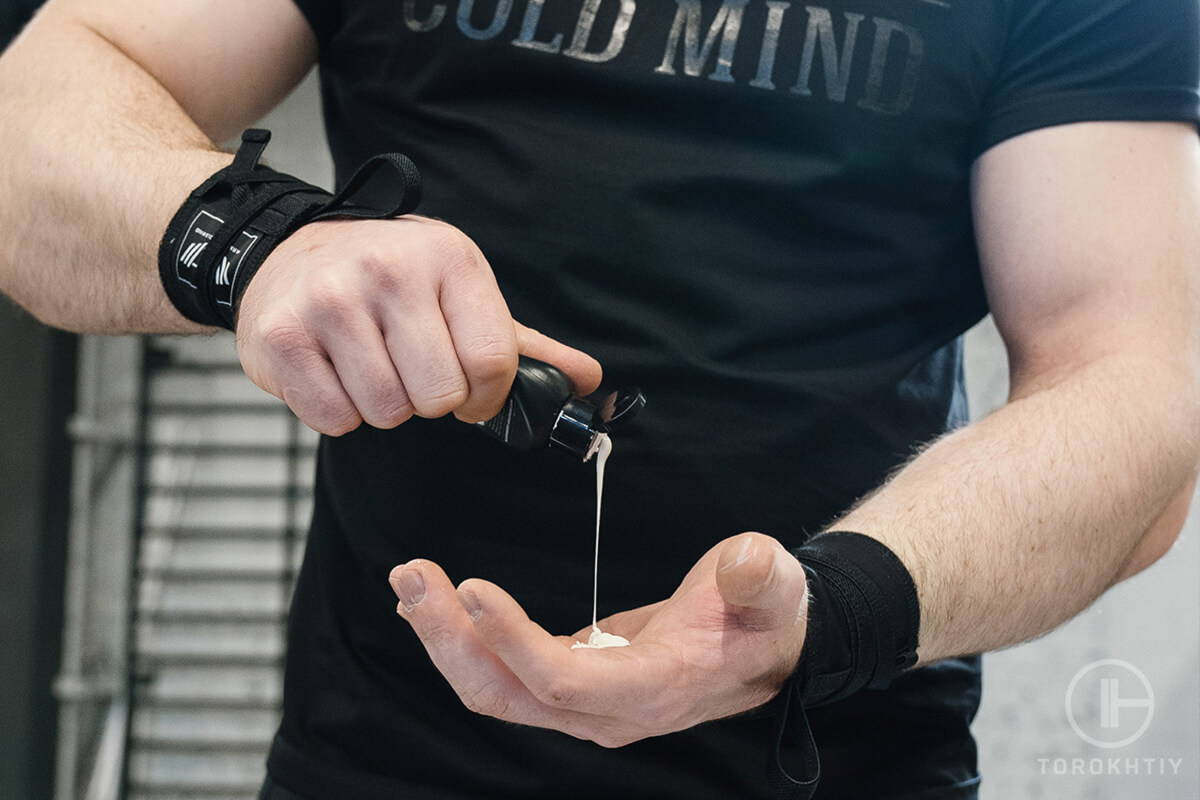 Here is a quick guide on how to use liquid chalk and make it work effectively:
1. Wash Your Hands With Soap
For liquid chalk to stick to your palms firmly, it is better when they are not greasy and perfectly clean.
Make sure your hands are completely dry before applying liquid chalk.
In order to mix dry ingredients with liquid ones and make the consistency even, shake the bottle a few times and only after that open it.
Pour a pea-size drop on your palm and spread it over the skin rubbing two hands together. Pay special attention to fingers and areas between them. If you use the hook grip, don't forget to cover your thumb.
It takes approximately 10-30 seconds, depending on the brand and also climate conditions. You can try waving your hands around to speed up the process.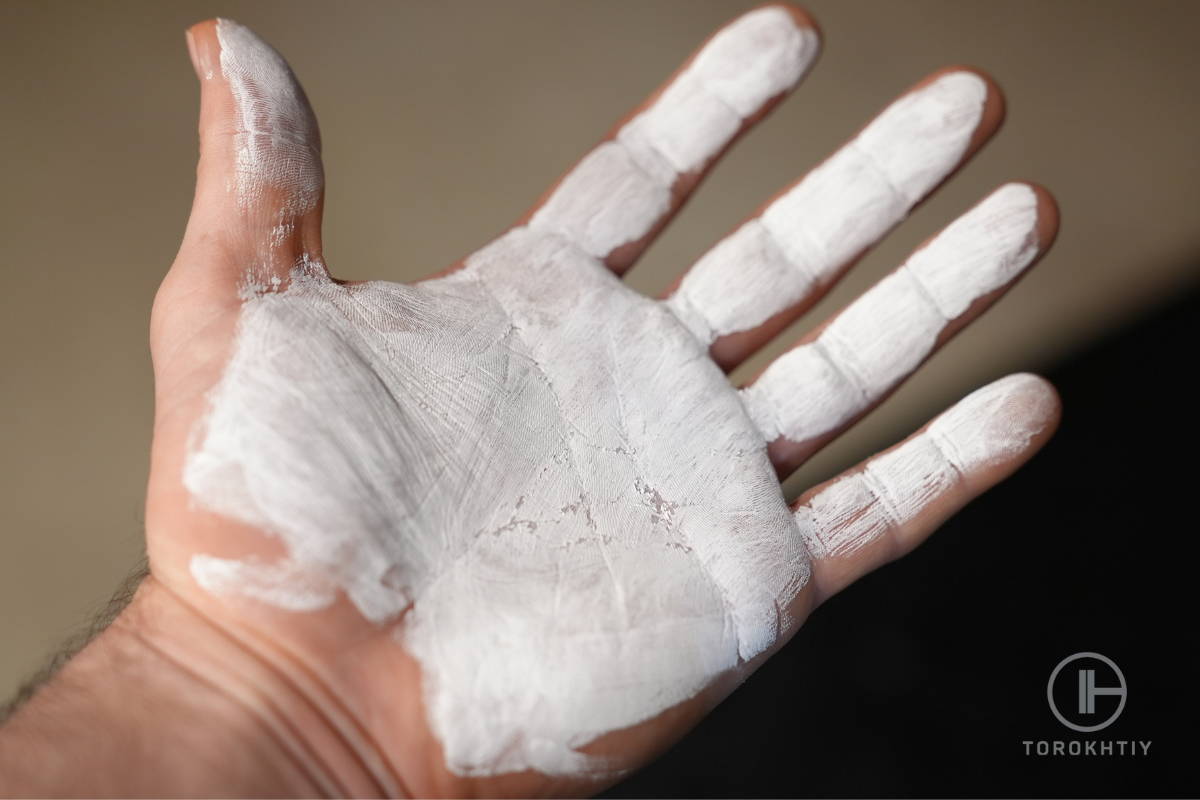 Get down to the training plan. If you notice some blank spaces on your palms or feel that the grip is getting weaker, reapply the chalk. The resistance varies and depends on the brand, exercises, training intensity, surfaces, humidity, etc.
Use warm water and soap to wash off the chalk. Most products come off your skin very easily.
Applying moisturizer after using liquid chalk prevents your hands from drying out, especially if they are sensitive. It may also protect your skin from calluses and tearing as well as make them soft.
Liquid Chalk vs Regular Chalk
I have tried plenty of different chalks during my sport career. From my own and my friends' experience, most athletes prefer using liquid chalk. Once they try it, they never switch back to the regular one. They find it more convenient, quick, effective and easy during their training sessions.
Nevertheless, there are some cases when powder chalk wins the battle. If your skin is extremely sensitive and even allergic to alcohol, the traditional form might be a better choice for you. Of course, some brands offer alcohol-free options but they are less affordable.
Also, money may be a matter. Liquid chalk seems to be more expensive than dry chalk. However, its properties benefit athletes in many terms and are worth spending a little bit more to boost your training to another level.
Moreover, some gyms ban athletes from using dry chalk because it leaves a lot of dust in the air and on equipment. So always check if your gym allows hand chalk and what kinds of it to avoid getting in trouble.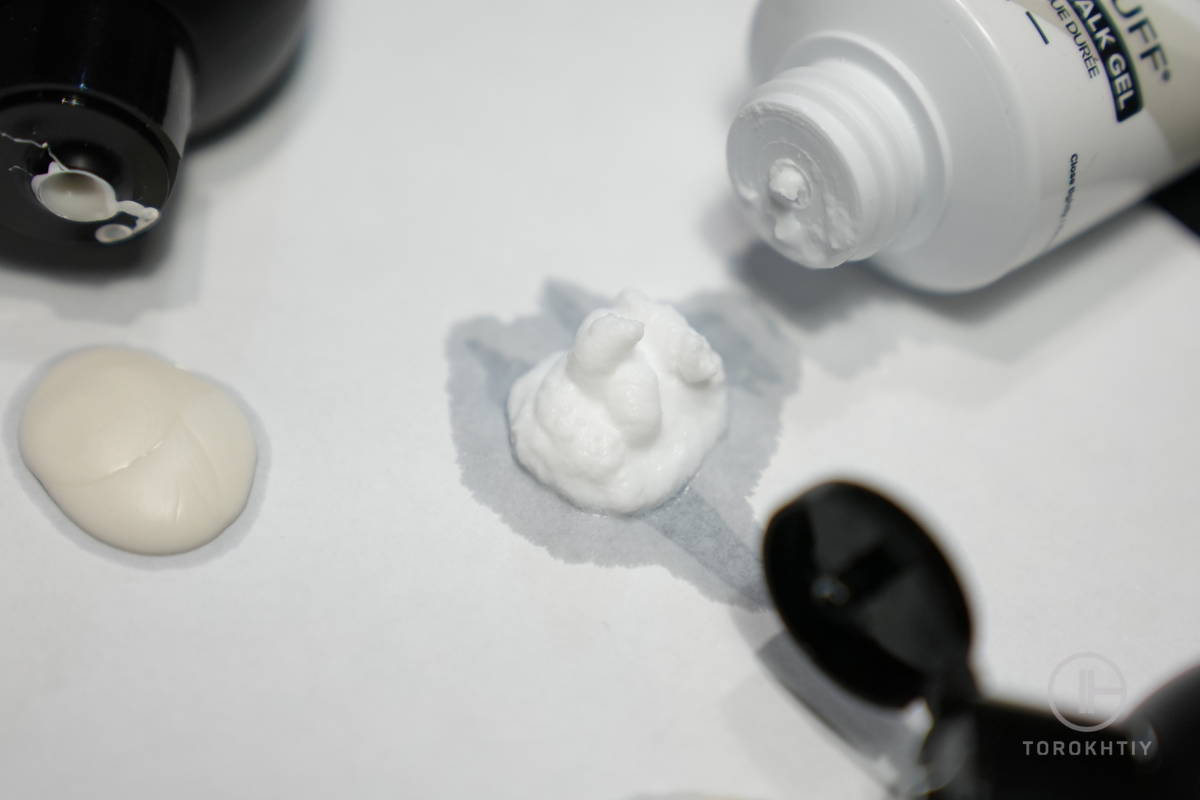 Liquid chalk is also far more convenient for transportation. Whether you travel a lot or just carry chalk with you for every workout, it is easier and safer to carry a small bottle. It won't leave white marks inside and outside your bag and doesn't need additional protection. Many brands even include a carabiner to hook a bottle to your bag, belt, rope or other equipment.
Liquid chalk leaves almost no residue on bars and clothes. You don't have to brush the equipment so often and it won't look messy while exercising.
Still, if you are into "oldies culture" and prefer traditional training methods and tools, you may lack this charm while using liquid chalk. It is only an issue of feelings but not effectiveness, though.
Check our detailed liquid chalk vs regular chalk comparison.
How to Make a DIY Liquid Chalk in 5 Easy-to-follow Steps?
It's easy to run out to the store and grab a bottle of liquid chalk, but as you probably may know already, it's definitely pricier than loose chalk. It may come as a surprise, but it's actually really easy to make homemade liquid chalk, and you only need 2 ingredients!
Once ready, here is what you need to do:

First, do yourself a favor and lay down some paper towels to catch spills. Then, you need to measure the amounts, and this is going to depend on how big of a container you have. Generally, you'll need 2 to 3 tablespoons of chalk powder.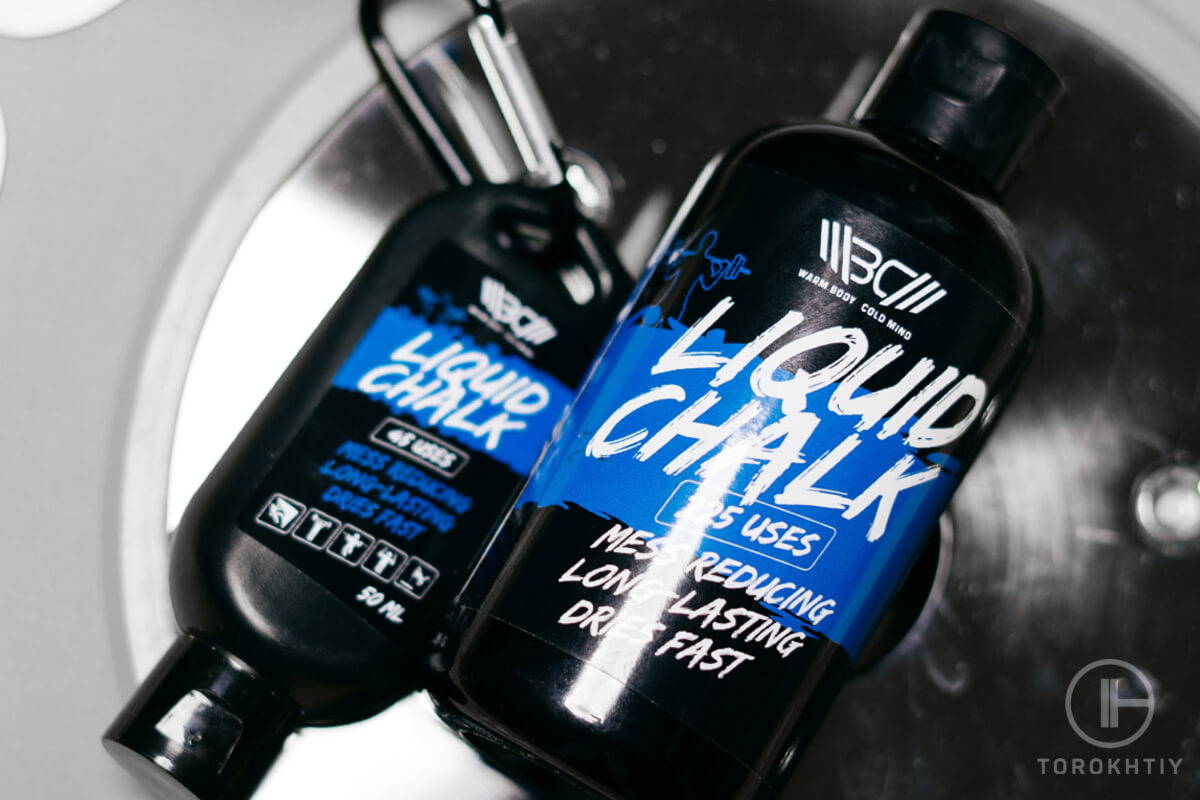 Once you have the amount of chalk that you need, start adding the alcohol. This is what's going to create the liquid by binding the powder and the alcohol together. Add a small amount of alcohol first and if you need to, keep adding until the consistency is what you want it to be. You want the consistency to be that of a heavy cream or a thin paste. You'll achieve this by going for a 2:1 ratio of chalk to alcohol and then working from there. The key is not to add too much alcohol right away or you'll end up with a watery mess.
Keep mixing until the consistency is completely smooth, without any lumps.
5. Transfer to a Container
Then, pour it into the container, and your liquid chalk is ready to be stored or used!
The great thing about DIY liquid chalk is not only its price, but also the fact it's customizable. You can make it as thick or as thin as you would like, which is not the case with store-bought options (unless you modify them after purchase).
Keep in mind, though, it may be a bit of a hassle to get the consistency as uniform as the store-bought chalk would have. Often, it may not even be possible. It can also create a mess while you're making it (so don't skip on laying those paper towels!), and it may not last as long. Store-bought chalks have preservatives that keep their shelf life rather long and that maintain their effectiveness as well.
Still, this is an eco-friendly, money-saving option that can give you great results.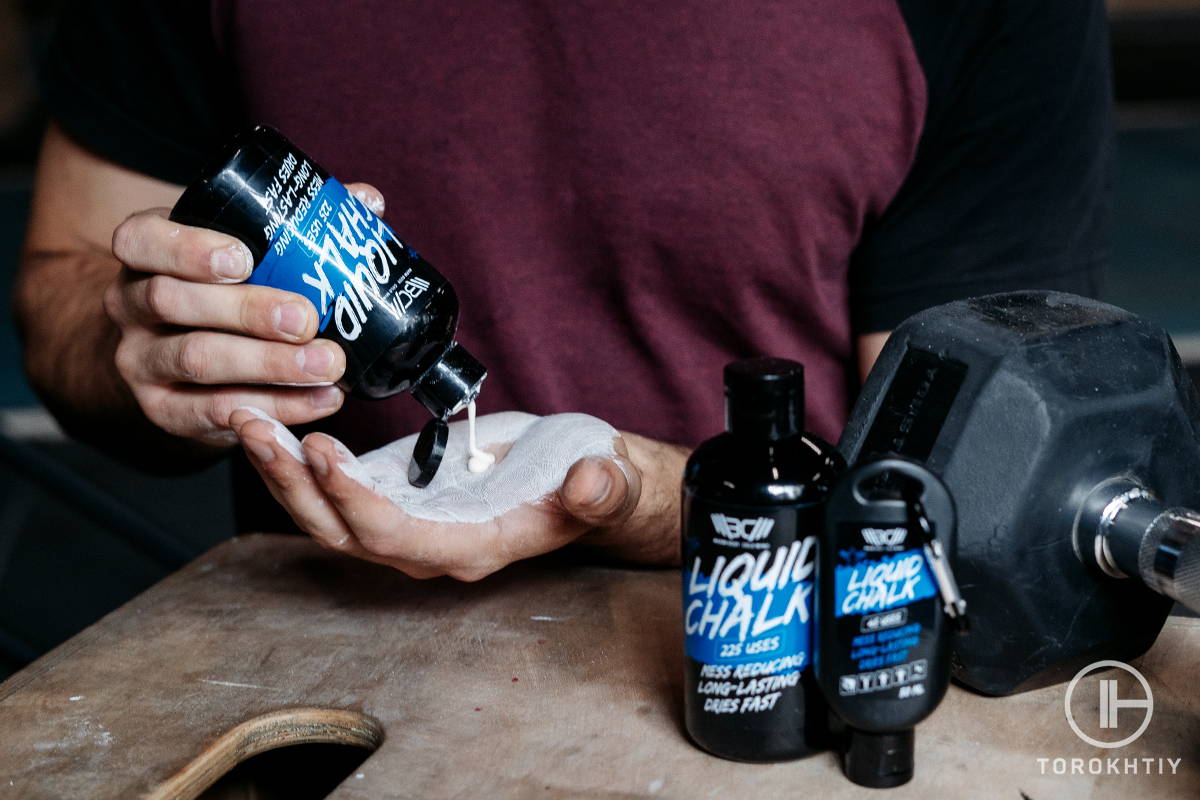 Is Liquid Chalk Good for Deadlifts?
YES, it is perfect for deadlifts. It provides a strong and safe grip so prevents you from slipping bar in the middle of a heavy rep.
How Long Does a 50 ML Liquid Chalk Last?
A 50-ml bottle of liquid chalk lasts approximately up to 45 uses. However, it may vary in different brands. It also depends on the consistency, viscosity, ingredients, climate conditions, exercises you do and intensity you maintain.
Also, athletes tend to use a different amount of liquid hand chalk based on their individual preferences.
Does Liquid Chalk Prevent Calluses?
On the one hand, liquid chalk dries out the skin so if you don't take care of your hands, they can become even more prone to calluses. But if you follow all the steps and use it properly, it improves friction and acts as a protective layer between a bar and the hands.
Does Liquid Chalk Leave Residue on the Bar?
Basically, liquid chalk is not messy at all. It definitely leaves much less residue than dry chalk does. However, some products may leave very light marks behind them. It depends on the brand, consistency and viscosity, etc.
Is Liquid Chalk Allowed in Powerlifting?
Yes, it is allowed at powerlifting competitions and special gyms. However, some clubs don't allow even liquid hand chalk. Always check it in the place you are planning to train in.
Liquid chalk is an essential tool for athletes who keep up with the world and want to make their workouts as effective as possible. I have been involved in Olympic Weightlifting for over 20 years. I do know what athletes need and I'm stacking my name on WBCM products and guarantee the quality.
Share your experience and impression of using our top pick in the comment section.
1. "Rosin" Wikipedia https://en.wikipedia.org/wiki/Rosin
2. "Magnesium carbonate" Wikipedia https://en.wikipedia.org/ wiki/Magnesium_carbonate
3. "Chalk" Wikipedia https://en.wikipedia.org/wiki/Chalk
4. Leroy G. Wade "Isopropyl Alcohol" Encyclopedia Britannica
5. "Evaporation Sensation" ACS Chemistry for life
With over 20 years in Olympic Weightlifting, our team does its best to provide the audience with ultimate support and meet the needs and requirements of advanced athletes and professional lifters, as well as people who strive to open new opportunities and develop their physical capabilities with us.
All products we select are primarily approved and tested by the Olympic Weightlifting Champion Oleksii Torokhtiy. Under his guidance, we provide honest and reasonable assessments of the products we review by checking their characteristics, packaging, design, comfort and durability features, and general product rating. We select products from only high-quality and trusted sports brands, thus vouching for their quality.
The product testing process is described in more detail here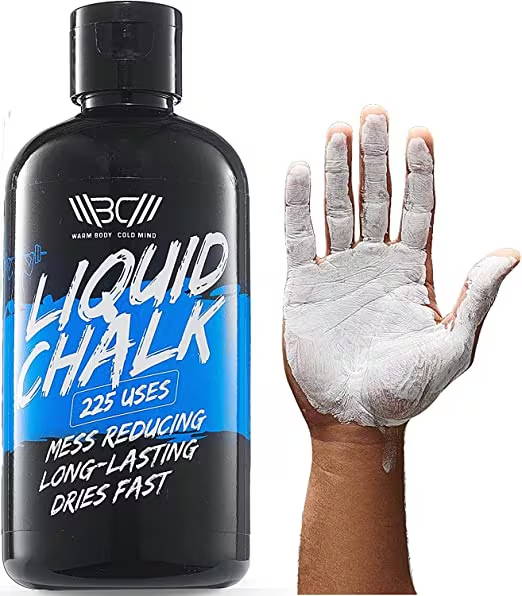 Experience: 21 years
Best Results: Snatch – 200 kg,
C&J - 240 kg
My name is Oleksiy Torokhtiy. I am a professional athlete with 20 years of experience in Olympic weightlifting. I have won multiple European, and World titles and have taken part in two Olympic Games (Beijing 2008, London 2012).
After finishing my career, I have committed myself to coach, and as of 2022, I've hosted 200+ weightlifting seminars all over the globe. I'm the founder of an international sportswear and accessories brand, Warm Body Cold Mind (my motto), author, and creator of a series of training programs and eBooks.
If you have any questions/suggestions/any other inquiry, you can reach out to us via email - reviews@torokhtiy.com
Head of Sport Science, PhD
Experience: 20 years
Best Results: Snatch - 165 kg,
C&J - 200 kg
Sergii is a professional weightlifter and National team member in the past. Competed in 94 kg w/c, won multiple medals on national competitions.
Nowadays Sergii is responsible for designing training programs, writing blog articles, doing live commentary of international weightlifting competitions, running different sport & fitness educational seminars, including Olympic weightlifting together with Oleksiy Torokhtiy all around the globe.
If you have any questions/suggestions/any other inquiry, you can reach out to us via email - reviews@torokhtiy.com
This article was written by our qualified author and proofread by an expert with proven experience. When writing the article we've used our expertise and data from authoritative, scientific, and evidence-based sources. The list of references is provided at the end of the article.
Our team of authors and experts includes professional athletes (Olympians, winners of European and World titles), PhDs in Sports Science, certified coaches, sports nutritionists, CSCSs, physiotherapists, and others. Read more about the team here, and more about how we test here.