Buying the wrong hook grip thumb tape can leave you full of regret: wasted money, bleeding thumbs, and missing heavy lifts!
Today, we're looking at hook grip tape for weightlifting; what you need, what to look for, and which products are best for weightlifters' thumbs.
Let's get into the best brands, then we'll look at what they teach us about buying thumb tape, and answer your burning questions!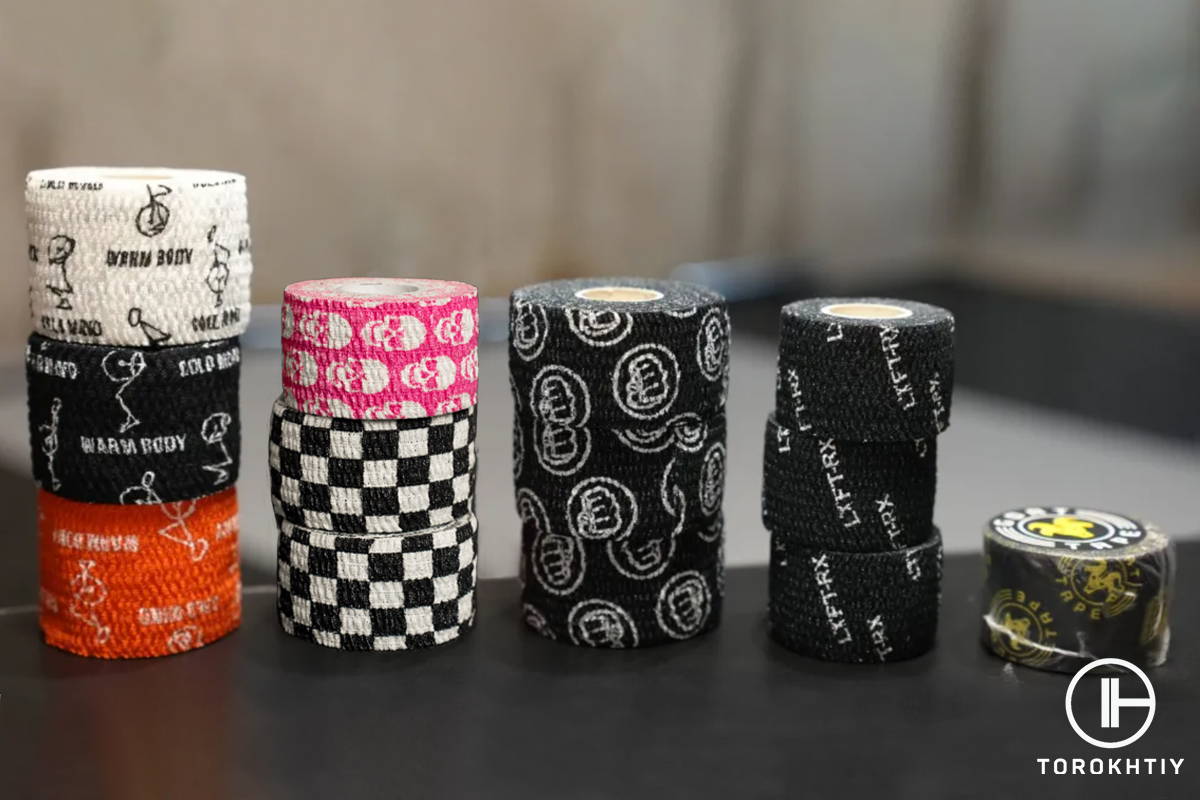 The Best Hook Grip Thumb Tape for Weightlifting
The best hook grip thumb tape for weightlifting is Warm Body Cold Mind thumb tape – and it's a good example that lets us focus on what to look for when buying thumb tape:
Excellent value for money

Good build quality with strong materials

A design that suits weightlifter's needs and experiences

Elastic tape that you can stretch without losing stick

"Sticky" tape that won't slide off during lifts – but doesn't leave sticky glue residue behind

The packaging, quality, and customer service you get with your purchase
Hook grip tape is a type of weightlifting finger tape that is applied to thumbs to keep them safe and improve grip. It's a 'consumable' that you need to buy regularly to keep your thumbs safe, so buying the best hook grip tape saves you time, pain, and effort over time – multiplied by each purchase!
These are the simple and most important things to focus on for buying thumb tape. Let's look at why WBCM hook grip tape is our favorite and how its design provides a "gold standard" for measuring the market…
The Warm Body Cold Mind thumb tape is designed in response to the issues with some other thumb tape. It's the best tape because it's designed by Olympic champion Oleksiy Torokhtiy – a tape by the best weightlifters to provide the best support for weightlifters!
This is a unique design with wider tape, using 50mm width instead of the standard 38mm of most tapes. It gives the best comfort and efficiency, with a textured surface for better grip on the bar. The elasticity and stickiness are perfect without leaving glue on your thumbs.
WBCM thumb tape is also very breathable with small holes to reduce sweat build-up and keep your tape on. Rolls of tape are individually bagged to stay fresh and maintain material quality, and in a box to prevent damage – unlike Lyft Rx, for example, which is wrapped in very poor quality film that will tear during shipping.
The price is great for the quality – cheaper than some worse tapes – and this provides the best value for money on the market. Better tape at a better price – perfect for weightlifting and fitness, where tape is used often.
The best value for money on the market.
(Show More)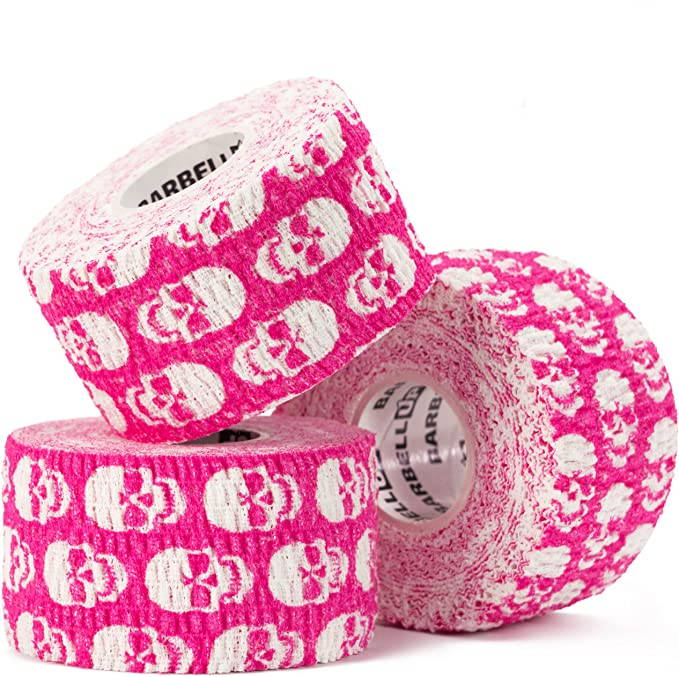 A thumb tape from Barbell UP is our runner-up due to its good quality, wearability, and price rate. It's designed by considering the needs of athletes of any sports, particularly weightlifters and powerlifters. This tape will become an excellent addition to a workout routine thanks to its non-slipping, non-rolling, and non-sliding features that bring ultimate confidence while lifting workouts.
It's made of natural and non-allergenic cotton, with zero latex, so it will absorb all the sweat and chalk remains, and bring better thumb comfort. A non-slip material feels a little thick by providing light padding for a better grip and still keeping it in the proper position on the thumb.
The tape is also quite flexible and stretchy, so you can easily twist it around your thumbs and wrap it in one motion. It won't slide down during the workout and will protect your thumbs from blisters, irritation, and swelling.
The fabric surface is rough by providing good friction, so you can be sure about the secure grip when lifting heavy barbells. However, if it gets wet occasionally, it can fall off the thumb. Thus, keep your hands dry during the training to preserve a good grip.
The main drawback of this thumb tape is that it's too sticky. Some users even recommend putting a protective layer of gauze to take it off easily without getting stuck to it with your skin and hair. So, there's a high possibility that it'll leave sticky residues on the skin and nails when trying to get it off.
All in all, this weightlifting tape from Barbell UP provides great value for money due to its performance and durability. Also, it isn't restrictive and brings comfort for hours of use without discomfort or irritation.
It's made of natural and non-allergenic cotton, with zero latex, so it will absorb all the sweat and chalk remains, and bring better thumb comfort.
(Show More)
3. WOD Nation – Reliable Thumb Tape for Olympic Lifts
WOD Nation tape is good. The packaging is strong, the material will last, and it is sticky enough to stay on your thumb for a whole session. This is the third-best accessory in our list that resembles the prior tape from Barbell UP, however, it falls short a bit in its price rate. But, still, the key specs are almost the same.
This is a very sticky tape with lots of glue, which makes it stick through your training. However, it has so much glue that there will be some left on your skin. The main problem for WOD Nation is that this sticky residue harms the skin, requires scrubbing, and isn't a problem for other tapes!
It is not as elastic as some other tapes, which is not great. As with others, this is still quite a thin roll, and doesn't have the same width and texture that make WBCM tape our favourite. It's a good 'generic' weightlifting tape but you can tell that it's from fitness and wasn't designed by elite weightlifters.
The tape is good but it does not provide the unique design and smart, considerate features that make it stand out. It is quite expensive (the same as Lyft Rx) so we would like to see better design for the premium cost.
Still good, but not outstanding.
(Show More)
4. Lyft RX – Sticky Fitness Tape for Weightlifting Exercises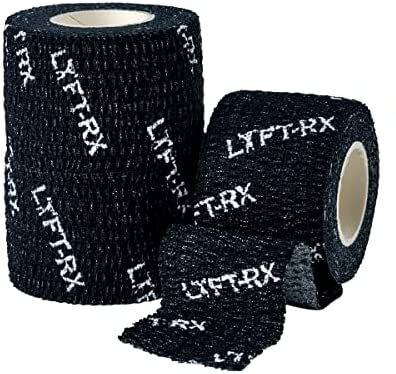 Lyft Rx tape is a good option with decent elasticity, as well as a reliable material. It does all the most important things you need from a tape but without the premium features we've seen with WBCM hook grip tape and even Barbell UP thumb tape.
It is sticky, it's durable, and it's quite cheap. We like these for an item like thumb tape for weightlifting, which you will need to use many times. It's good to have a low-cost option when you're using lots of tape.
The main problem with Lyft RX is the same as Barbell UP and WOD Nation: it leaves too much sticky glue residue on the thumb. This is also a smaller roll that is shorter and narrower than Warm Body Cold Mind tape. These problems can be avoided easily with other tapes.
Sticky, durable, quite cheap.
(Show More)
5. Goat Tape – Affordable Thumb Tape with 'No Frills'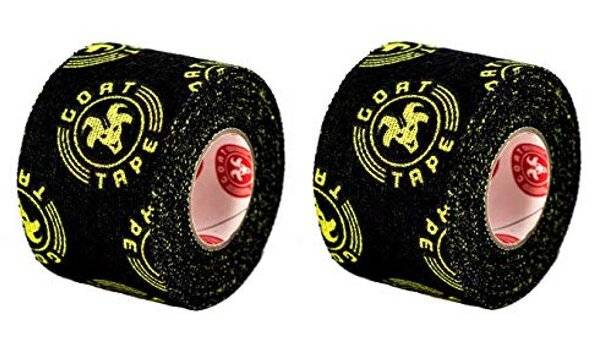 Goat tape is a middle of the road tape option that can be purchased in a single roll, but does not offer the best value on the market with some major flaws.
It comes in good packaging but the design isn't very innovative: it's the same kind of design as many types of cheaper thumb tape. You can get more rolls for less cost per unit with other brands.
Goat tape isn't very flexible at all and lacks elasticity – which is the main problem. It can bunch up inside the thumb joint and cause pressure. This is a problem for hookgrip, and can cut off circulation, even when wrapped correctly.
Goat tape does use good materials, however, and it's a good choice if you want a very basic thumb tape and you only need one roll. This could end up backfiring with the poor elasticity and the narrower design compared to Warm Body Cold Mind thumb tape.
Sticky, durable, quite cheap.
(Show More)
Several products apart from those evaluated are still pretty known in the weightlifting world. We have searched through available information, Amazon reviews, and our fellows' experience to outline them briefly beyond our rating list.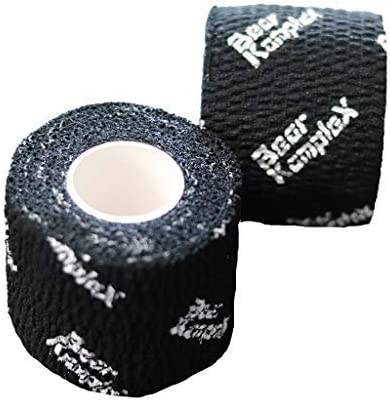 Bear Complex thumb tape is more expensive than most other thumb tapes on the market, but it does come with 4 rolls instead of 3. The surface is textured for a better grip on the bar, and it has decent material that will not tear easily during lifts.
The roll is quite small, however, and you may only get as much use as 3 rolls of a larger tape. It is also quite thin and does not have the full thumb coverage that Warm Body Cold Mind offers. This means that it has more rolls but may not offer as many uses in a single container.
There's very little elasticity to Bear Complex tape, despite the good materials. The adhesion to the thumb is also a little weak and it may slip off during snatches in particular. This is an okay tape overall but not as good as others on this list.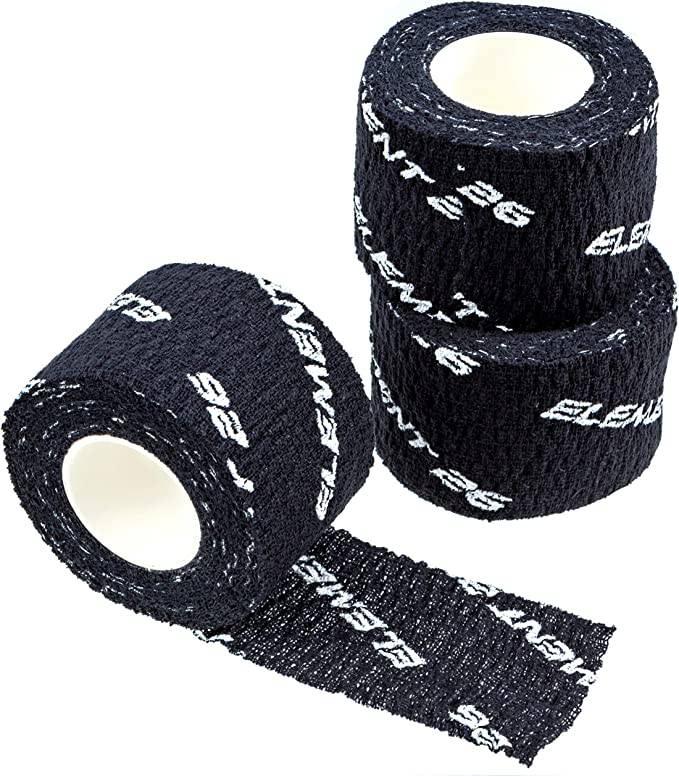 Element 26's tape is good for an affordable entry. It's a simple and cheap tape that is advertised for multiple sports – weightlifting, fitness, boxing, and more.
However, it does lack some of the premium quality that would be most important for weightlifting exercises.
It's not a premium tape but it's also very cheap. Sadly, it's only slightly cheaper per roll than Warm Body Cold Mind tape, which is a much better product – meaning the value for money is not the best. It's a generic tape that works, but doesn't offer anything special or new!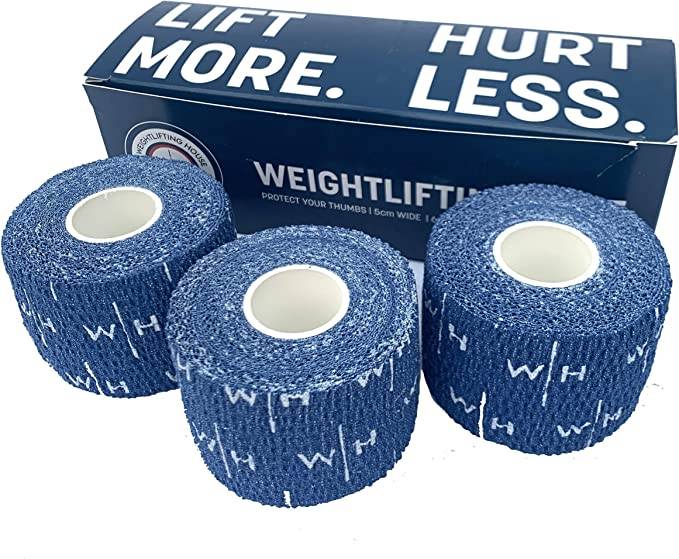 Weightlifting house tape offers high quality at a decent price, with the thickness and material quality required to keep your thumbs safe. The grip is well balanced without residue or slipping, and with a textured upper that is perfect for weightlifting.
The selection of colours and general design are good-looking, and the upper material is strong and will not tear during lifts. It also comes with a relatively wide roll: narrower than WBCM thumb tape but significantly wider than Goat tape or Lyft Rx.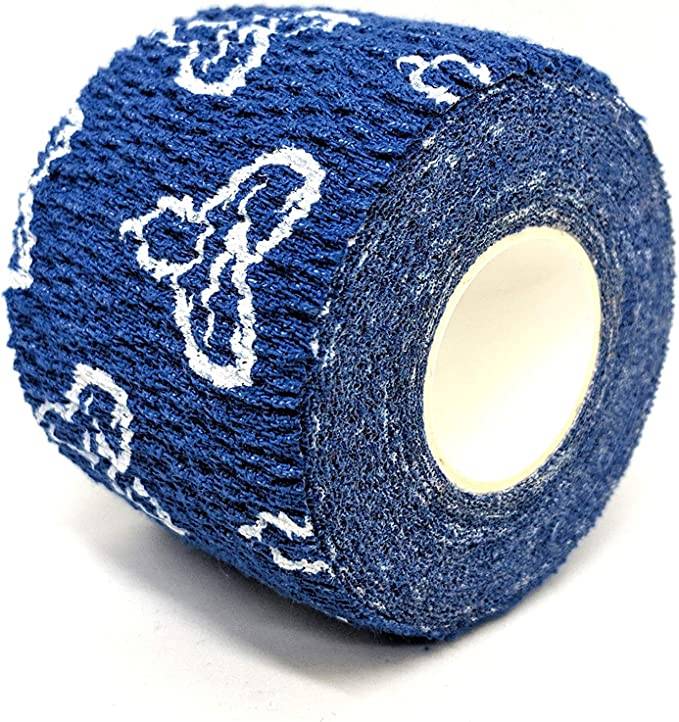 LiftGenie thumb tape has been around a long time and has been associated with some very good athletes. It's a smaller tape but still costs more than WBCM.
The upper material is good and LiftGenie even uses the fine contouring seen on other high-quality thumb tapes to improve the grip on a barbell. This is great because it means a good grip and it will not easily tear during lifts.
LiftGenie tape is often unavailable and seems to be having supply issues. It doesn't do anything specific that other tapes cannot, and the rolls and cost do make it a middle, or even a more expensive, option compared to others. It hasn't got the best value for money, and it doesn't offer any unique design compared to other hook grip tapes.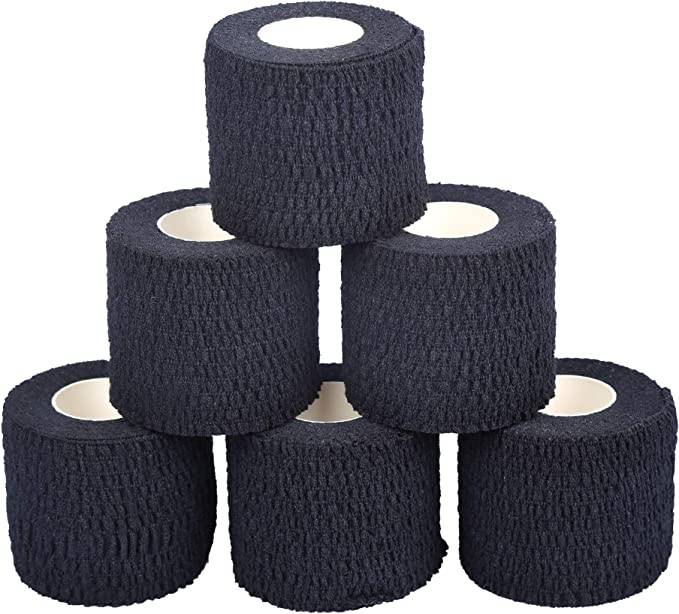 This is a generic thumb tape without a print, offering larger bulk-buy orders of 6 rolls. This is good and bad at the same time. It offers a better value per roll than some alternatives like WOD Nation because it is cheaper to box and ship. It is worse because you have to spend more money at once to get the tape.
The actual design of the tape is okay but nothing special. It is a plain sticky tape with ridges to improve a grip on the bar. The elasticity is also good but not the best. The stickiness is very poor, where the tape will "open" and it can be very frustrating between repetitions.
Oly tape also tears very easily compared to other products.
You can get more rolls for less money than some brands, but it does not save you money because you will have to replace tape during a workout – using twice as much in training!
Weightlifting can be complicated for beginners, so we're answering your most common questions about thumb tape for weightlifting. We will cover what, why, how, and even how we chose the best tape for our product review list!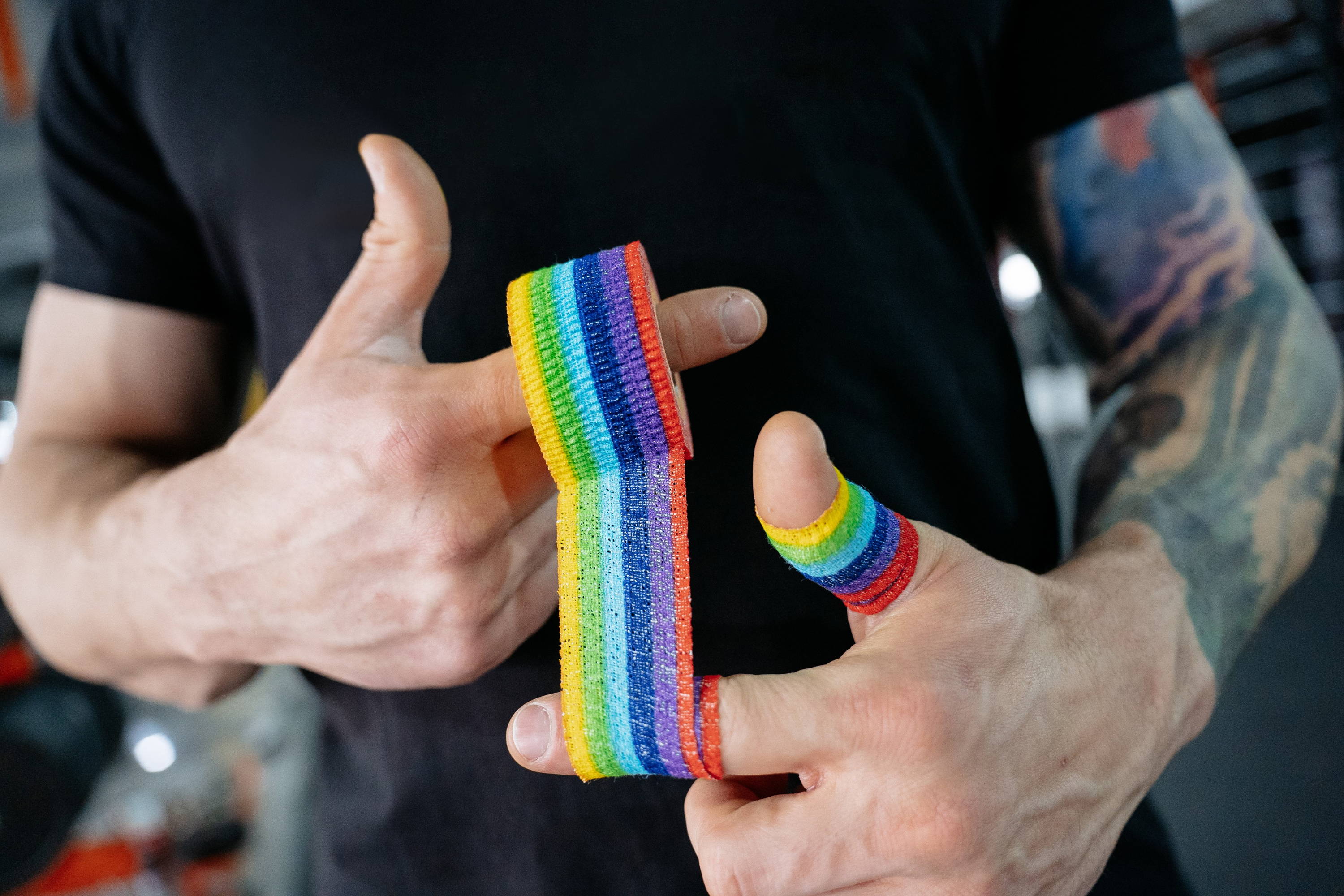 Why do weightlifters tape their thumbs?
Weightlifters wear tape on their thumbs to protect the skin from the knurling – sharp cuts in the bar to improve grip – and to get better grip. Olympic weightlifters use hookgrip, where the thumb is tucked between the barbell and the fingers, and that puts a lot of stress on the skin of the thumb.
With tape, weightlifters can focus on lifting weights instead of hurting their hands. When you train often and you lift big weights, small tears to the skin can be very painful and reduce grip on the bar if they bleed.
Tape just makes weightlifters safer, keeps barbells clean, and prevents needless harm.
How do I protect my thumbs when using hookgrip?
You can protect your thumbs with tape when using hookgrip – especially in training for high reps. This is the best way to keep your thumb skin intact and prevent tears, skin damage, or bleeding during heavy lifts.
This is especially important in snatch, for example, where the hands are in a wide position. Tape helps prevent damage to skin but also gives a better surface for grip. This can be useful with higher reps and in hot gyms, where sweat may make thumbs slippery, otherwise.
Is thumb tape allowed in powerlifting?
Thumb tape is not allowed in powerlifting, because deadlift hookgrip is not as common. It is getting more popular but powerlifting has some very exact 'equipment codes' for athletes – they even include underwear.
Thumb tape is considered unfair in powerlifting where it may help athletes with weaker grip. In weightlifting, it is more common because the exercises are faster and grip is not usually the main problem for athletes. Everyone can use thumb tape in weightlifting, which keeps it fair.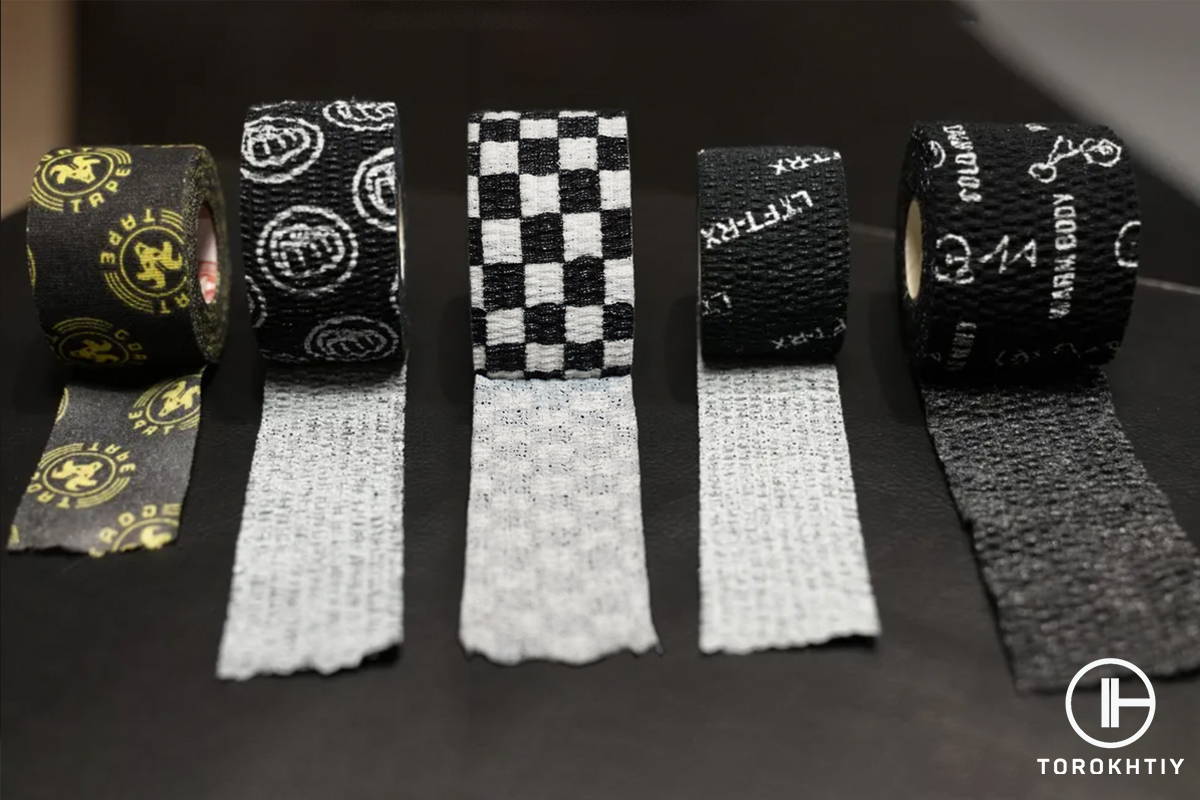 How should you tape your thumbs for weight lifting?
You should tape your thumbs from the top to bottom, with one 'relaxed' layer. Do not pull the tape too tight, as you will cut off circulation in the thumbs. The tape should be a little tight but not restrictive.
Tape the top of the thumb and the nail. Then, bend your thumb while you tape over the joint – this prevents too much stiffness in the thumb joint. You can then tape to the bottom of the thumb as low as you think you need protection.
I like to double-wrap the bottom of the thumb, just to provide more secure grip. This is optional but prevents needing to replace tape during a workout – which is a waste!
What's the best thumb tape for weightlifting?
The best thumb tape for weightlifting is the Warm Body Cold Mind tape, which offers the best surface texture, has the best width for wrapping the thumb, and has the best grip to the thumb – without leaving glue on your skin.
Grip tape for thumb health is important and choosing the best product really pays off in the long term!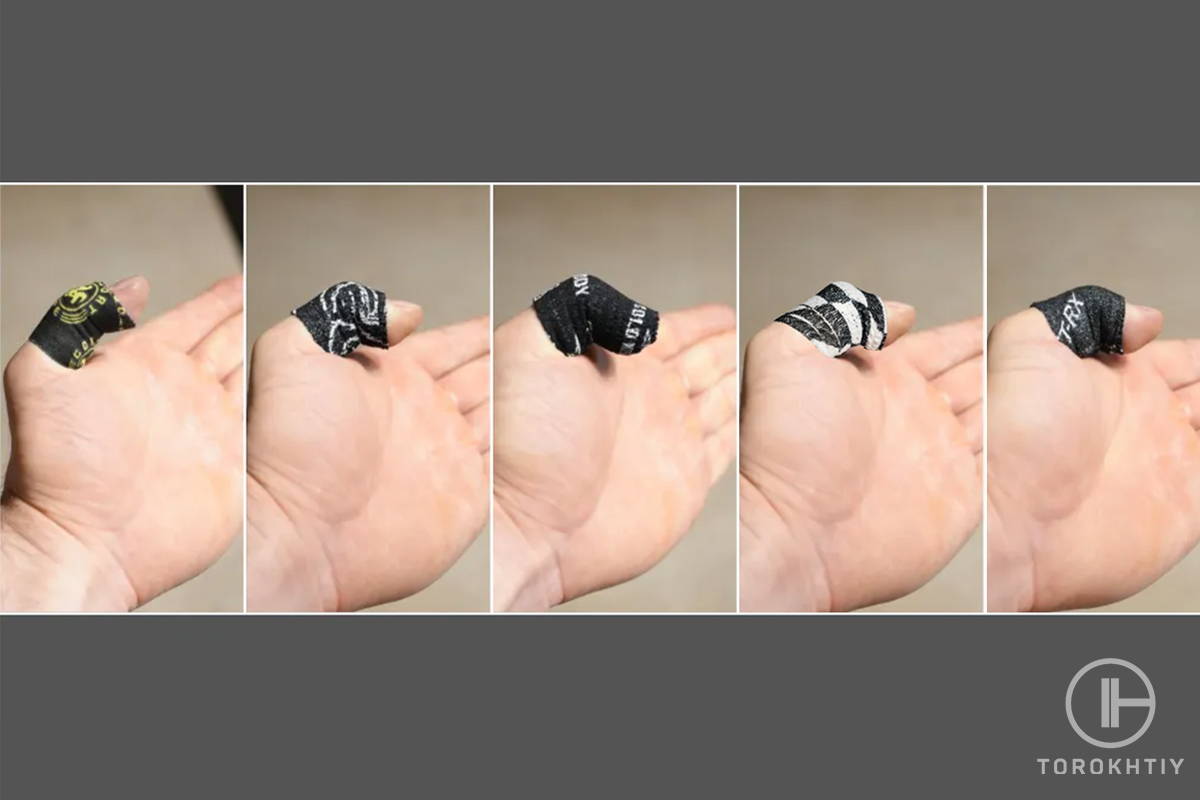 The best hook grip tape for weightlifters is the Warm Body Cold Mind tape because it offers the widest and best value tape with the best texture for lifting. It's a premium tape with a great price tag, offering both the best features and the best value for money.
Some other tapes are good but many lack the value for money you need for an item that sees so much use. Many more expensive thumb tapes are much worse, or lack unique benefits or designs.
WBCM thumb tape is a great way to save money, get the best product, and have the peace of mind that it's good enough for the Olympic champion!
What is Barbell Knurling and Why It Matters // Garage Gym Reviews:
https://www.garagegymreviews.com/what-is-barbell-knurling
How to Maximize Your Deadlift Grip // PowerliftingTechnique:
https://powerliftingtechnique.com/how-to-maximize-your-deadlift-grip/
My name is Oleksiy Torokhtiy. I am a professional athlete with 20 years of experience in Olympic weightlifting. I have won multiple European, and World titles and have taken part in two Olympic Games (Beijing 2008, London 2012).