If you struggle to make your grip firm and safe, you definitely know about gym chalk. But are you in two minds about liquid chalk vs regular chalk? In this article, I have prepared a full guide about the main characteristics, pros and cons of using both types of gym chalk.
The difference between liquid and dry chalk is just stated in their names. The first one has a liquid consistency, it looks and feels more like lotion or paste. The latter one is dry and may be found in small solid blocks or crushed to powder.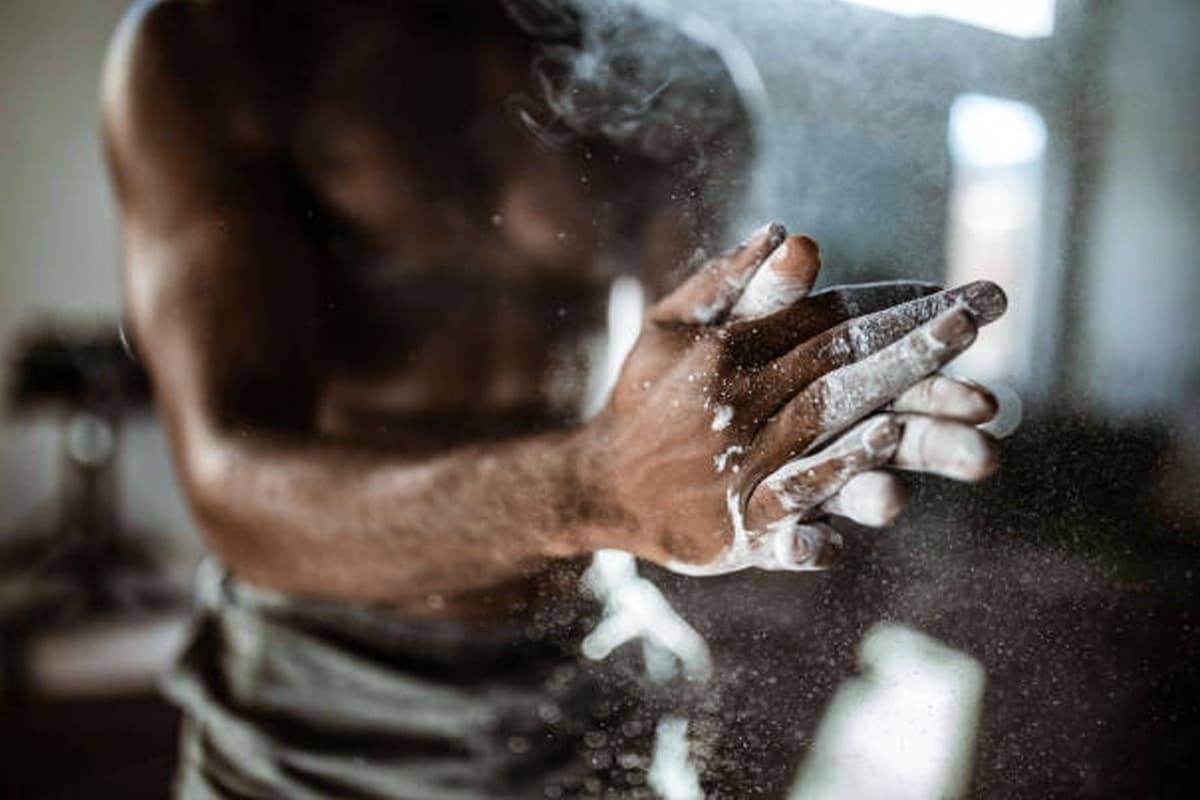 What is the Difference Between Liquid and Dry Chalk?
Most athletes fall in love with liquid grip at once and don't hesitate whether to choose liquid chalk or dry chalk anymore. The first one is less messy, more convenient, and resistant. However, some weightlifters find dry chalk more affordable, pure, and gentle to their skin so they don't betray old traditions.
The main ingredient of both types of gym chalk is magnesium carbonate. However, the liquid one also contains alcohol, which makes it wet, and often some more additives such as rosin, odors, honey, essential oils, etc. In this way, most producers try to bring up new properties and make their chalk stand out on market.
Liquid Chalk vs Dry Chalk Comparison
I have prepared a detailed comparison of liquid and dry chalk by the main characteristics. Read it and make the best choice for you.
Depending on your kind of sport, personal peculiarities and preferences, you may need different properties in your future hand chalk. Some points may be more essential for you and others can be less critical. Analyze your needs and then make up your mind.
Both liquid and dry chalks are quite easy-to-use. However, for some sports, it makes a significant difference.
You can find the former one stored in buckets in your gym if it is allowed there. So just before doing another set of an exercise, you can dip your hands there and cover them with a layer of powder chalk or rub a solid block into them.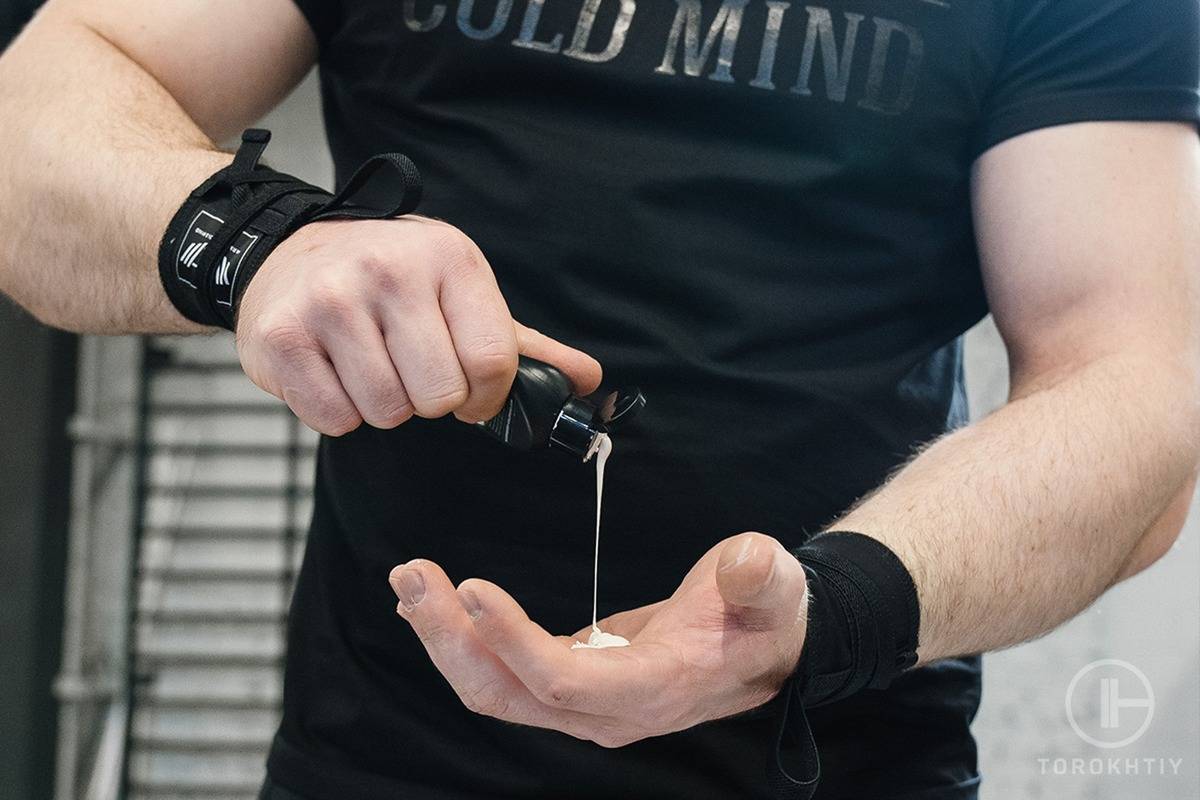 Liquid chalk is carried along in a bottle (usually 1.7 or 8.5 oz.). You should pour a dime-sized amount of it into the palm and spread it throughout the skin. Then, wait for 15-30 seconds and your hands will be coated with a thick layer of chalk.
Most athletes find liquid chalk more easy-to-use because it doesn't need constant reapplying. However, some athletes don't like to wait for it to dry so they prefer dipping their hands in regular chalk and getting down to business immediately.
This characteristic is rather obvious in comparison to the first one. Liquid chalk is far less messy than the dry one.
If you see white spots on the floor or marks on someone's clothes, be sure, those are trails of dry chalk. Any kind of it leaves residue on equipment, surfaces, gears, and everywhere else. It is quite hard to clean it after the training so most gyms ban dry chalk.
Liquid chalk literally sticks to your hands and leaves almost no residue. It also depends on the brand and consistency but, generally, it is not messy at all.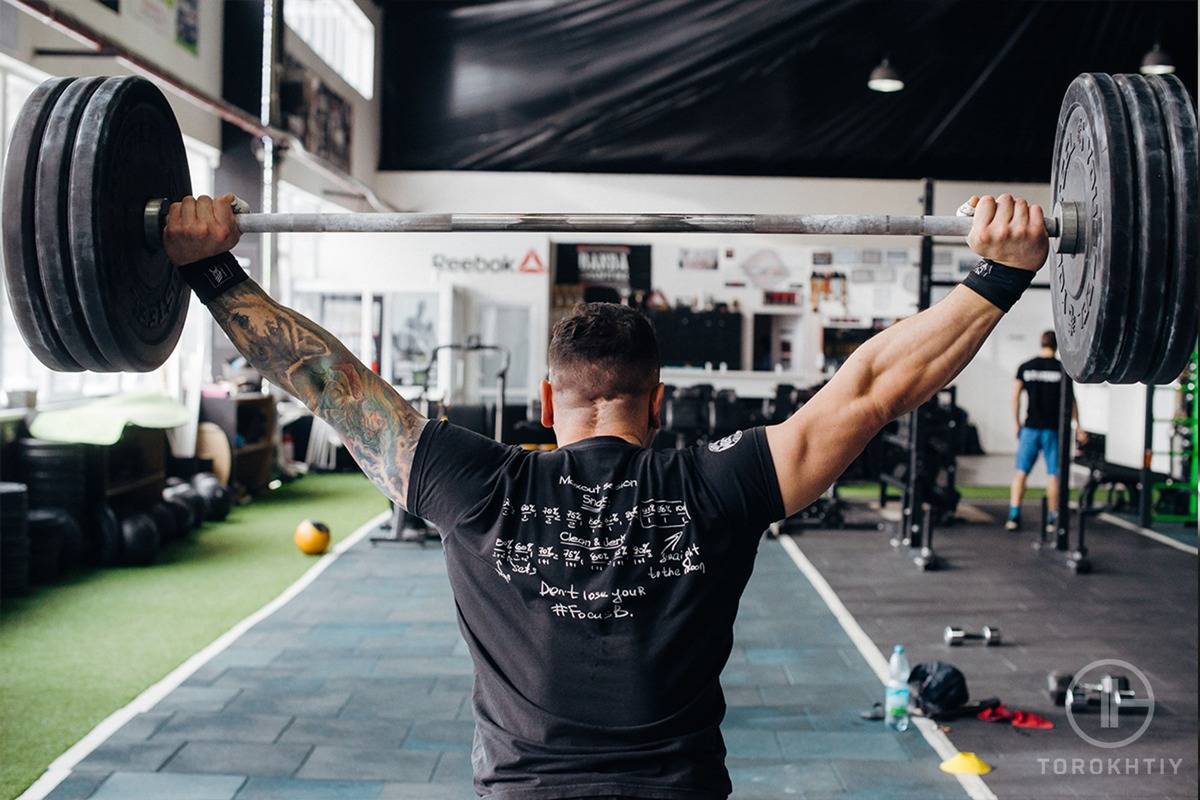 Liquid chalk wins here as well. Every brand strives to make its chalk last longer and most products really meet athletes' expectations.
Some chalks can stay on your skin throughout the entire session and others need to be reapplied several times if a workout is very long and intensive or the humidity is high.
Yet, dry chalk wears off rather quickly and has to be used nearly before every set. This is a significant drawback, for example, for climbers who don't have a chance to reapply hand chalk every several minutes.
This point is a little bit ambiguous. If your skin is very dry, sensitive, allergic or reactive, regular chalk may be a better option for you. It doesn't contain alcohol and other harsh elements so is gentler on your hands.
However, some brands already have non-alcohol versions or use additives to make their liquid chalk softer, too.
On the other hand, if you are prone to any respiratory issues, be careful with dry chalk. It creates dust in the air that can be sometimes harmful.
On top of that, liquid chalk contains alcohol that kills germs and viruses. So if you use shared equipment, it works both as chalk and a sanitizer.
Dry chalk can be found in solid blocks or powder. It is usually stored in buckets in the gym or at competitions. Thus, it is not convenient for transportation, can leave white marks inside and outside a bag, and often needs additional protection.
Some brands pack their powder chalk in special socks or balls to keep it in place and make it less messy. It makes some difference, though it doesn't solve the problem completely.
Liquid chalk is stored in bottles that are easy to carry around. On top of that, some brands even add a carabiner to clip it on a bag or gear to make it handy.
WARM BODY COLD MIND Liquid Chalk is a perfect match if you are looking for a reliable, effective, and long-lasting chalk. It is suitable for many surfaces and sports so any athlete may find it helpful.
This liquid chalk is a basic option that gives you a strong and safe grip to lift heavy weights. It dries out your hands entirely in only 15 seconds and stays there for quite a while without reapplying.
Another advantage is the pleasant fresh citrus odor. It hides the alcohol smell in case you don't like it.
Also, WBCM liquid chalk isn't that harsh on your skin because of the low alcohol percentage. So even if your skin is rather sensitive, you may give it a go as well.
Another bonus is a spare cap that may be especially helpful in case the dry chalk blocks the former one.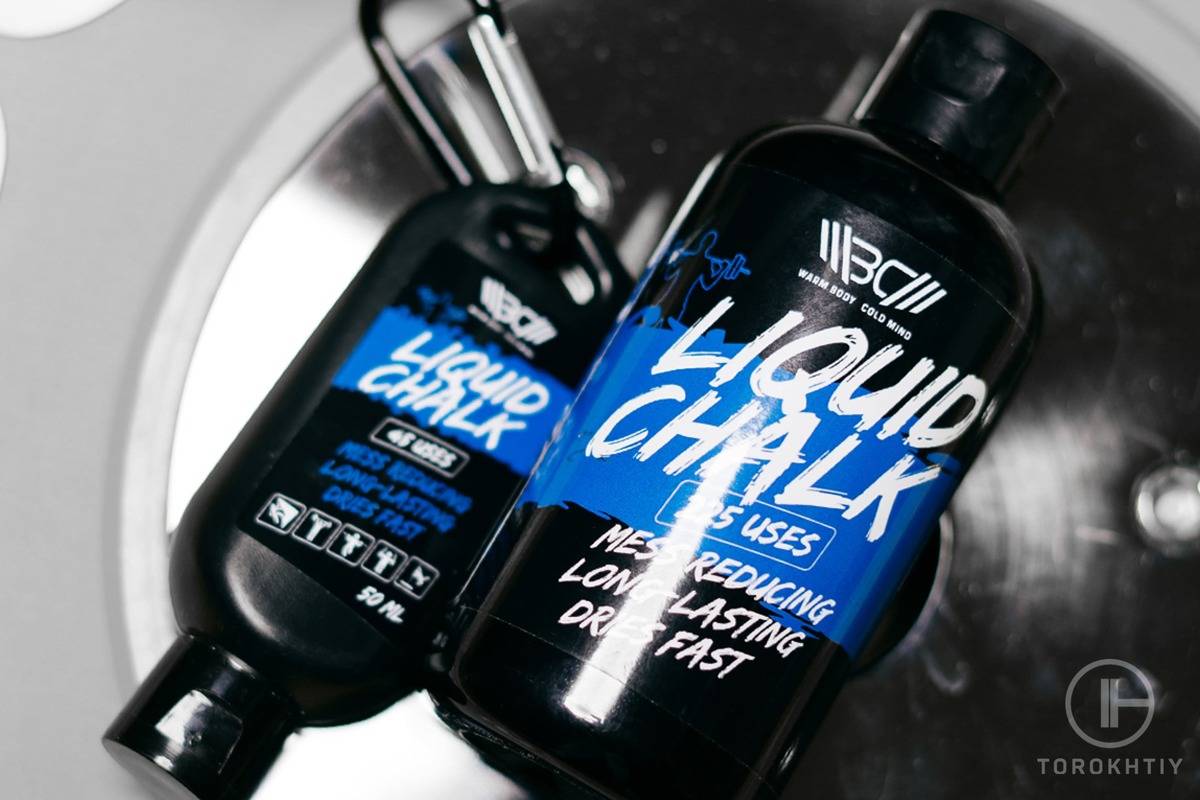 Does liquid chalk make a mess?
No, liquid chalk makes no mess. It neither creates dust in the air nor leaves residue on equipment and clothes.
Is using chalk considered cheating?
No, using any chalk is allowed at all competitions. It doesn't make a miracle but rather helps you use your grip capacity to the fullest by drying out the skin and preventing a bar from slipping.
Does liquid chalk prevent calluses?
Liquid chalk doesn't guarantee that you won't have any calluses at all. But it does protect your skin from harsh knurling and stops it from tearing in this way. To increase this effect, use a moisturizer after training.
Liquid Chalk vs Dry Chalk: So Who Wins the Battle?
From my own and my friends' experience, I can say that liquid chalk is more effective. It wins by all characteristics and brings up more benefits.
What do you choose: liquid chalk or dry chalk? Share your experience in the comment section.
Have a strong grip and never leave liquid chalk open!
Magnesium carbonate // Wikipedia: https://en.wikipedia.org/wiki/Magnesium_carbonate


Rosin // Wikipedia

: https://en.wikipedia.org/wiki/Rosin

Magnesia Alba "Chalk Dust" and Air Quality: A Comparative Study of Two University Rock Walls // A service of the University Libraries: https://digitalcommons.odu.edu/undergradsymposium/2020/postersession/39/

Liquid Chalk Is an Antiseptic against SARS-CoV-2 and Influenza A Respiratory Viruses // mSphere Journal: https://journals.asm.org/doi/10.1128/mSphere.00313-21
My name is Oleksiy Torokhtiy. I am a professional athlete with 20 years of experience in Olympic weightlifting. I have won multiple European, and World titles and have taken part in two Olympic Games (Beijing 2008, London 2012).