This Schiek belt review will compare the belt with some of its competitors while providing an in-depth review of such categories as the price and quality, unique support features, and comfort the belt provides. It will also evaluate the material and stitching of the product and how many sizing and colour options are available.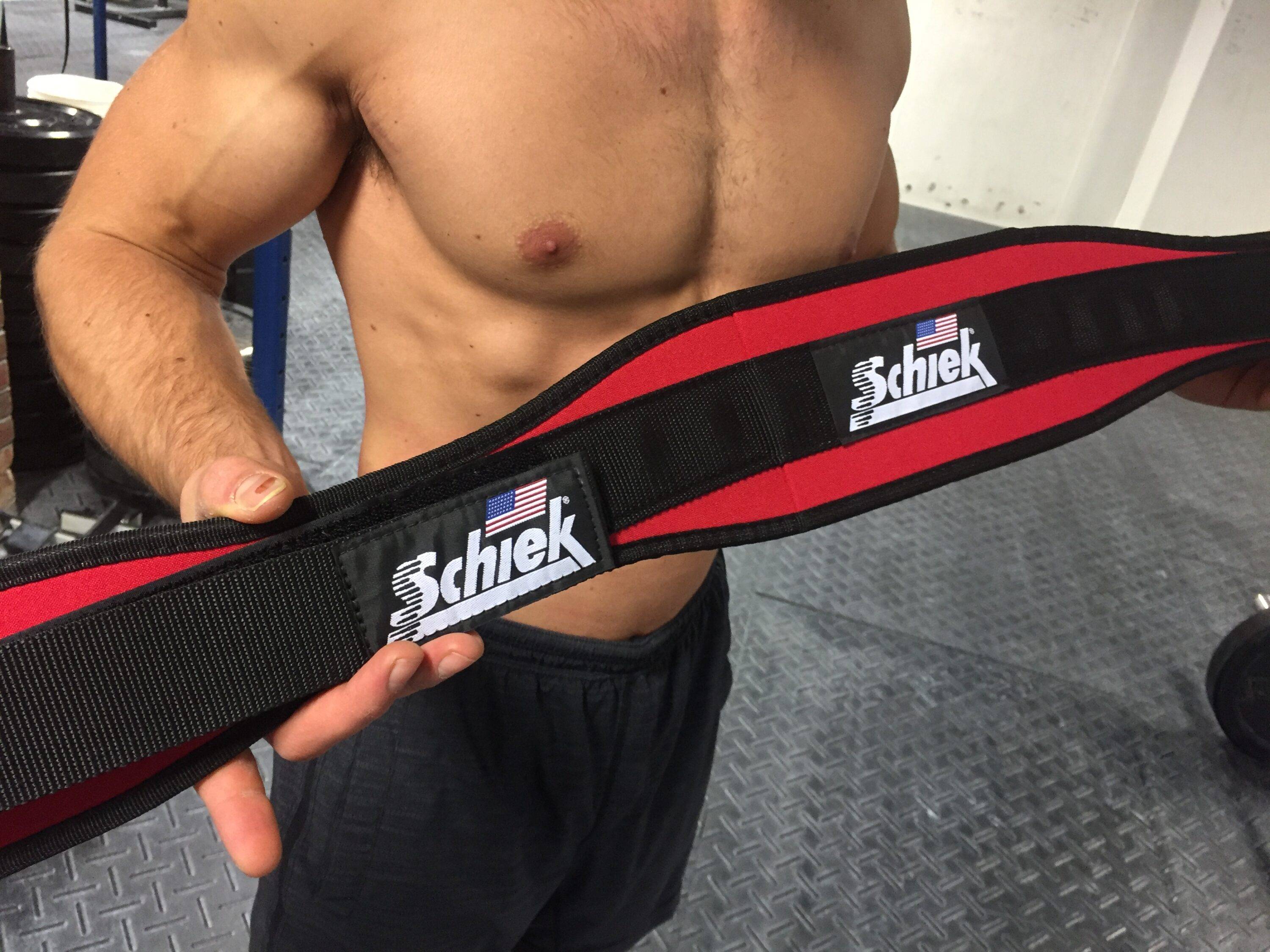 Schiek prides itself on making solid workout gear. Their products are used by athletes all over the globe. Along with Schiek weight belts, they offer straps and gloves, as well.
Closure Type

: Dual closure system

Size

: XS to XXL but custom sizes available as well

Waist size range

: 24 inches to 50 inches

Material

: Nylon

Width

: 4¾"

Colours

: Various
Unique design that helps with abdominal core engagement

Soft padding on top and bottom for increased comfort

Custom sizing options available
Not as flexible because of the padding inside of it
Schiek belt review will compare the belt with some competitors while providing an in-depth review of such categories as the price and quality, support features, and comfort the belt provides.
Schiek Lifting Belt Review
Typically, weightlifting belts are made of leather, which is why they can cost more than expected. But, the Schiek lifting belt is made of nylon, however, the price point is still the same as leather belts. A reason for this is that your usual nylon belts don't have a lot of the unique features and quality that the Schiek belt possesses. So, you're paying mainly for the patented design and the dual support nature of the belt, which is well worth the price.
One thing that sets this belt apart from other belts is the patented design that leads to the belt coming in a cone-shaped rather than the typical cylinder-shaped belt. Normally, a belt is mainly concerned with providing adequate support to your back and this results in a thinner abdominal section. However, the Schiek belt comes with dual support, where the front section of the belt is almost as wide as the back.
This helps support both your abdomen and your lower back.
Once again, the unique design features of the belt come in handy in this category as well. A normal leather belt tends to be very firm and rigid and can even pinch your sides or sit uncomfortably on your hips when performing exercises.
However, the cone shape nature of the Schiek belt is more natural and sit more comfortably on your torso. The back portion of the belt naturally aligns with your lumbar, providing both comfort and support. While the front portion pretty much reduces any hip or rib discomfort that you might feel with other belts.
The Schiek lifting belts are made of high-quality nylon material, and the bottom and top edges of the belt have protective cloth stitched into them, so there is no discomfort during your lifting sessions. However, the belt isn't as flexible as some other nylon belts due to the padding inside of it.
The belt comes in various sizes from extra small to double XL. You can even get a few custom sizes that range all the way up to 5 XL. These custom choices only come in black, but the regular size range comes in several unique colours, so you can easily pick out a belt that catches your eye.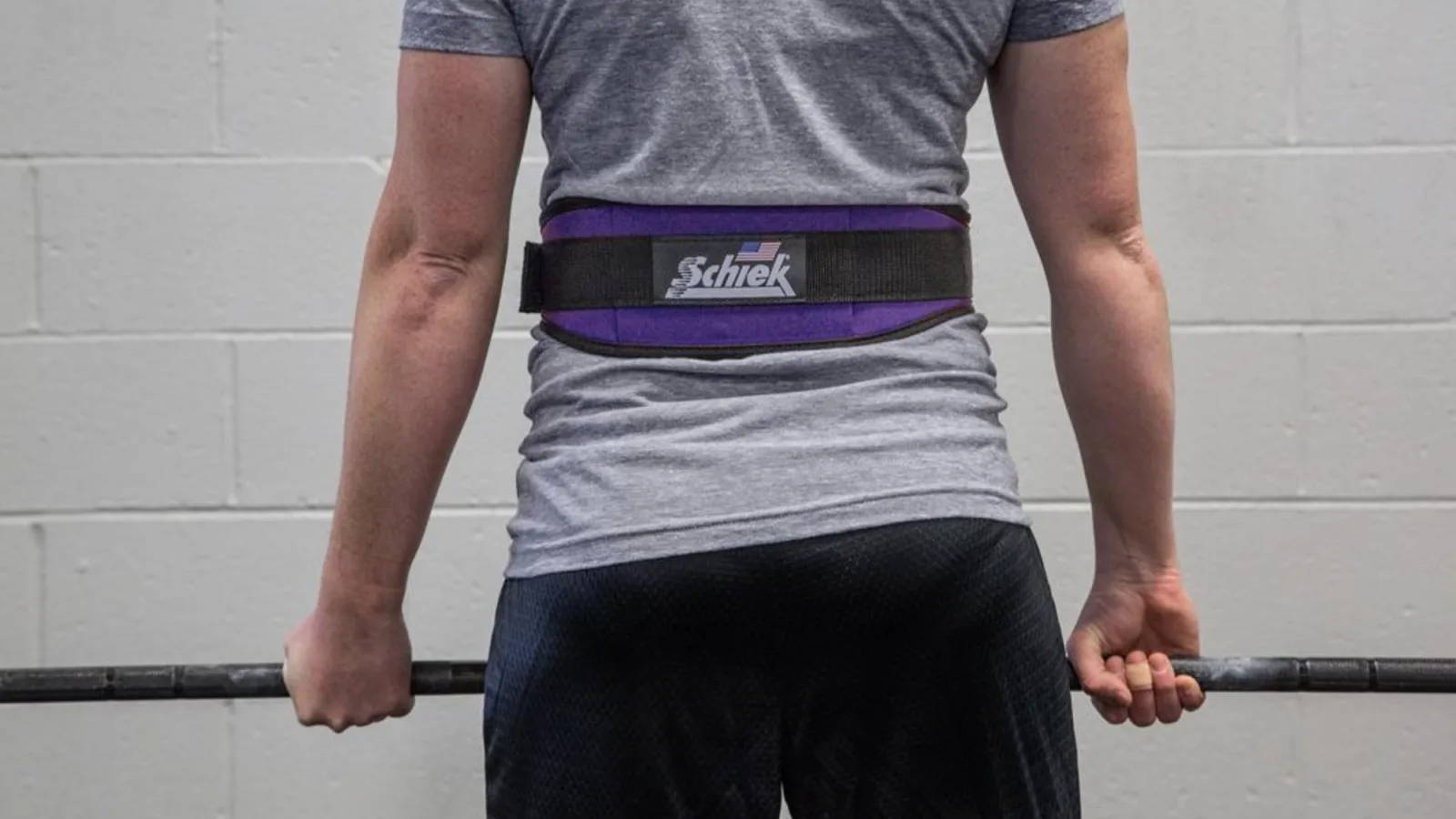 What Is Schiek Lifting Belt For
If you're just starting out and are still learning the proper techniques and movements of different exercises, it can be a good idea to use a weightlifting belt like the Schiek one. This way you can prevent injuries from happening as the belt will help you engage your core.
While on the other side of the spectrum, an experienced lifter can benefit a lot from a belt like this one. The reason is, as you tackle heavier weights, the risk of injury increases, so it's best to safeguard against injuries through the use of belts. The Schiek belt in particular is a great option for experienced lifters because of the comfort and stability it provides when you're moving heavy weights. The last thing you want is your mind distracted mid-movement as a belt pinches your hips or sits uncomfortably against your ribs.
The primary purpose of a weightlifting belt is to help you engage your core during your lifts. This is done when you expand your core into the belt. So, when doing exercises such as squats, deadlifts, barbell rows, clean and jerk, snatch, power cleans, and so on, it's particularly important to have your core stable and engaged so you can avoid injuries and put yourself in a powerful position to complete the lift.
Schiek Leather Lifting Belt Alternatives
The primary difference between the Schiek lifting belt and the WBCM belt is that the WBCM belt is made of leather. Leather is generally considered the toughest and most durable material you can use for a lifting belt. The WBCM belt also comes with a stainless steel buckle, so you can feel more secure when lifting.
But, the Schiek belt has a more unique design that puts stability and comfort first even though the nylon material isn't as durable as leather.
Schiek Nylon Lifting Belt Alternatives
A very unique feature of the Element 26 weightlifting belt is that it comes with a self-locking security system. Sometimes a belt can have a faulty lock system where it springs open during your lifts. You don't have to worry about that with the Element belt as the self-locking buckle will only open when you pull the release roller. The belt also comes with a lifetime warranty, so you can use the belt as often as you like.
But, it is still designed like many other weightlifting belts. What sets the Schiek lifting belt apart is its unique design that helps engage both your core muscles in your abdomen and also in your lower back, so you get a full core engagement during your lifts.
What size Schiek lifting belt should I get?
One of the best features of the Schiek lifting belt is that it comes in several belt sizes. All you really need to do is measure your waist and see where you fall in their spectrum of extra small to double XL belts. But, if you're waist size is even larger than their belt sizes, you can even custom order a belt up to 5 XL.
So, there shouldn't be any sizing issues.
How do Schiek lifting belt work?
The Schiek lifting belt is very easy to use. They made it even simpler by having a one-way hook and loop, so you can fit your belt perfectly. After which, you use the steel slide bar buckle to lock the belt in place and then engage your core by expanding your abdomen into the belt. Due to the wider front design of the belt, you should feel more engagement in your abdomen. While the back of the belt will fit naturally with your own back and engage the lower back muscles prior to the lift.
The Schiek sport model 2004 belt has several unique features, which sets it apart from other nylon belts. The primary one is its patented design that helps with stability as it's easier for you to engage the core. It also makes for a comfortable belt to wear during your lifts as the design naturally fits your back.
Although Schiek is a good option for regular gym goes, if you need a really solid piece of equipment, which is suitable for competition and is long-lasting, it would be worth your time to invest in a WBCM belt.
What are your best tips to engage the core? How tight do you like to wear your lifting belt? Which exercises do you use a belt for?
Let's discuss all of this and any other questions you might have in the comment section below!
The Ultimate Weightlifting Belt Guide // BodyBuilding: https://www.bodybuilding.com/content/the-ultimate-weightlifting-belt-guide.html

My name is Ihor and I have been a professional weightlifter since 1996. With over 20 years of competition experience, my resume includes European Champion in 2009 and the silver medalist at 2011's Senior World Championships – 105kg division.
I competed at the 2008, 2012 and 2016 Summer Olympics.
After hanging up my own competitive lifting shoes, I decided to share my huge background as a coach. I am currently coaching multiple athletes who are competing at national and international competitions.