The Rogue Premium Ohio Lifting Belt is a premium weightlifting belt that offers support for your lower back while performing heavy weightlifting movements such as squats and deadlifts.
Would we recommend this lifting belt, do its benefits outweigh its hefty purchase price?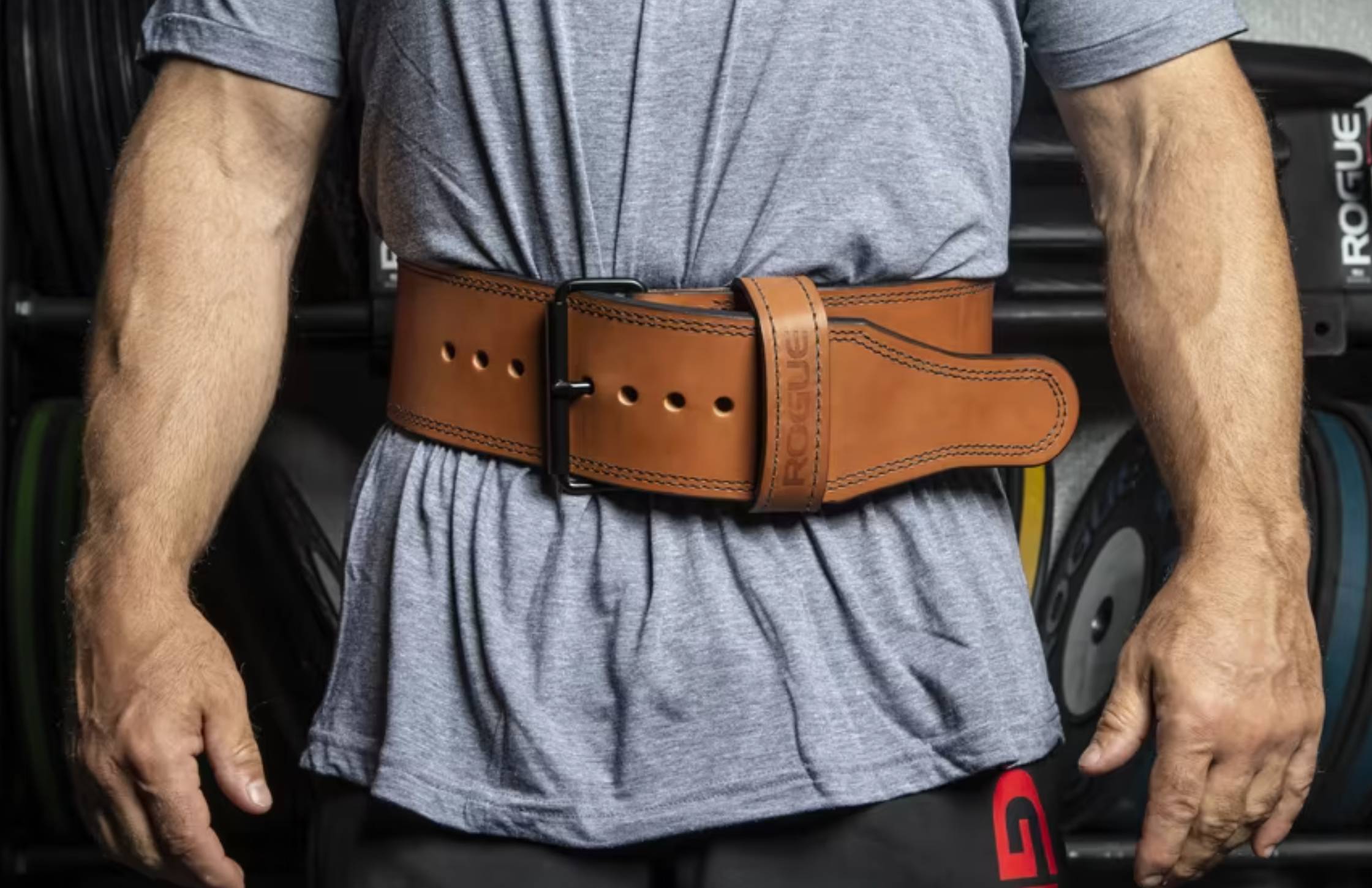 Rogue Lifting Belt Review: Quick Summary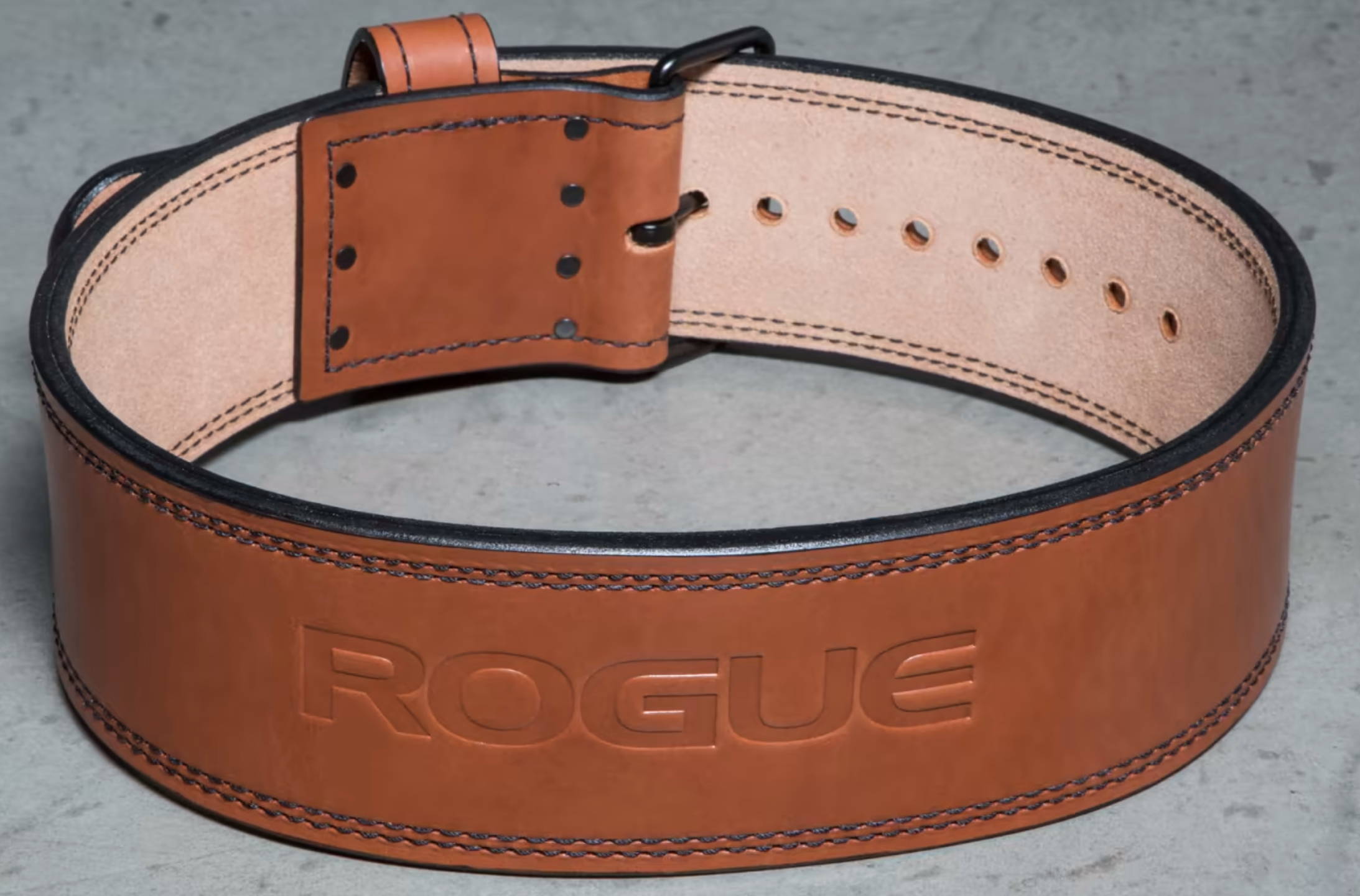 Rogue Fitness is a company that manufactures a range of strength and conditioning equipment that includes products such as barbells, power racks, and other fitness accessories.
It was founded in 2006 but has grown to become a leading sports and fitness industry manufacturer, supplying equipment for competitions such as the fitness games, the Arnold Strongman Classic, and World's Strongest Man competition.
Closure type: Single Prong Buckle with Seamless Roller
Size Options: S, M, L, XL, XXL
Waist size range: 21-45"
Width: 4"
Material: US English Bridle Leather
Thickness: 10MM, Thickness Tolerance: +/- 1MM
Weight: 3lbs
Color: Brown Leather w/ Black Buckle and Rivets
The Rogue Premium Ohio Lifting Belt is an upgraded version of the standard Ohio Lifting Belt offering a range of new features.
The belt is made from high-quality English bridle leather, with a slip-resistant interior and its edges finished with a black Tuff Kote.
The belt is made from high-quality English bridle leather, with a slip-resistant interior and its edges finished with a black Tuff Kote.
Incredible support for your core while lifting

Highly durable and will last for ages, even with regular heavy weightlifting sessions

Slip-resistant interior to help hold the lifting belt stay in place
Less comfortable than nylon alternatives
There is no doubt that this lifting belt is made from quality materials and is also handcrafted, which again signals its quality.
However, the price of the belt is on the high side and is one of the higher-priced belts available.
A recreational lifter who does not take their lifting seriously may find this belt's price too high.
Consider that using a cloth or velcro belt may be a cheaper alternative. They certainly will last less time than this premium leather belt, so they won't need replacing as often.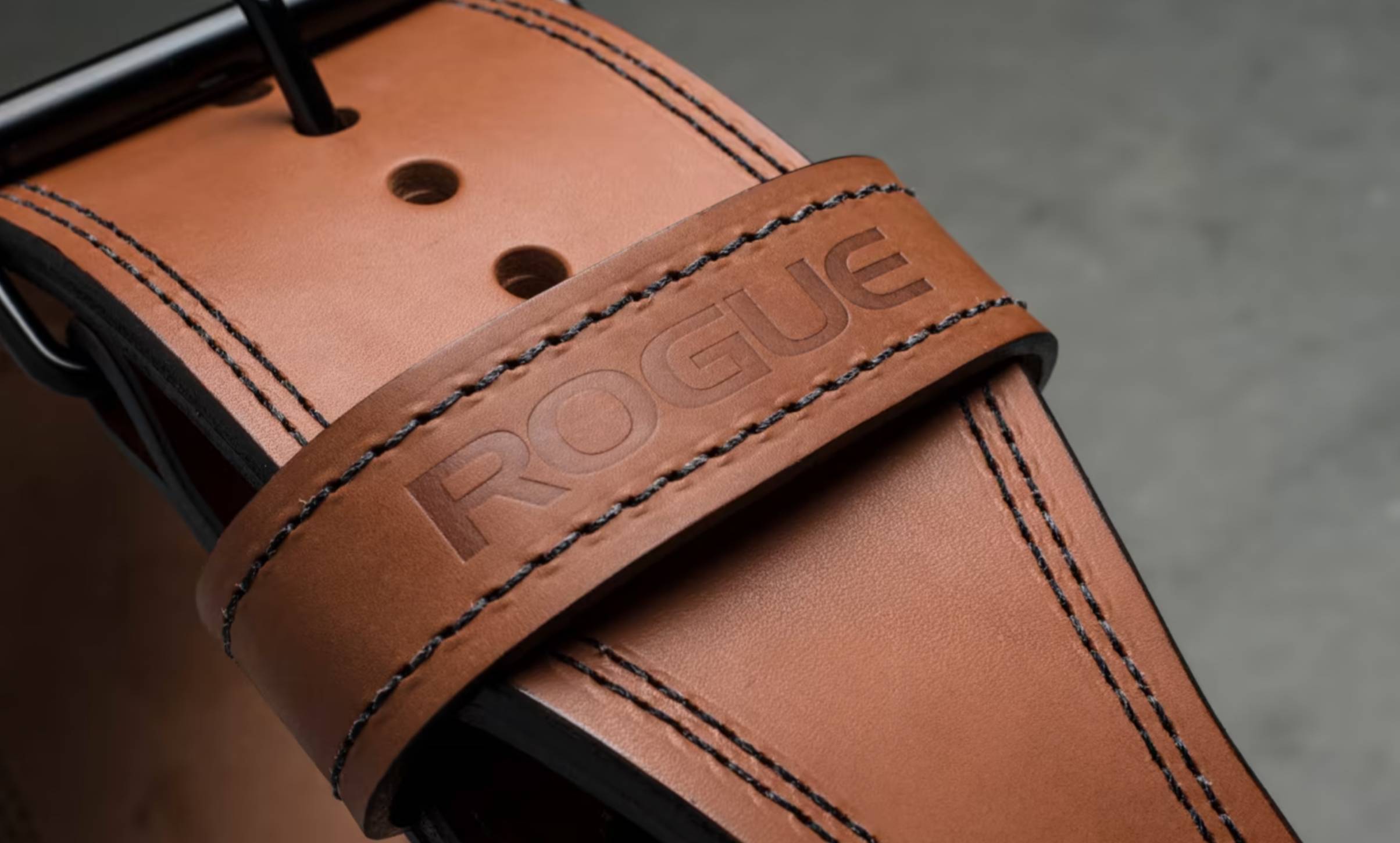 Regarding support, a leather lifting belt like the Rogue Premium Ohio Lifting Belt would offer more support than a nylon alternative.
This particular lifting belt offers incredible support while lifting, with the leather being around 10mm thick, providing a sturdy base for your torso.
If you plan on focusing on heavier weights without dynamic movements, then a quality leather lifting belt would be the better option, as it will provide you with the extra stability needed to lift those weights.
For those looking for a greater range of motion, there may be better options than this particular lifting belt, and you may want to look at a nylon weightlifting belt instead.
One common issue with leather lifting belts is pinching due to belt stiffness.
This lifting belt is made using vegetable-tanned English Bridle Leather, using a process originally used by cowboys to produce leather.
This process involves more oils and tallows, with the benefit being that the leather remains firm, durable, and water-resistant. You will also find that the leather will feel softer than typical hardened leather, and the break-in period will be much faster than usual.
The belt features a smooth operating roller buckle that allows for fast and easy adjustments to the belt when needed by the user. Plus, a roughened interior prevents slippage while lifting while also helping to maintain comfort.
While this belt is softer than most leather belts and has been shown to conform to the shape of the lifter, if you are someone who does not like any pinching at all, then you may find yourself disappointed.
For the casual weight lifter, a lightweight lifting belt may be better than the thick belt offered by Rogue Fitness.
This weightlifting belt is handcrafted and has a debossed Rogue logo rather than the usual stamped logo to give it a unique look.
It is made using quality materials that ensure a durable and long-lasting product that can withstand many heavy lifting sessions at the gym.
As mentioned previously, the leather used is firm, durable, and water-resistant, while its edges are finished in black Tuff Kote. This ensures the edges of the belt do not break down with extended use. As a bonus, this process gives the belt a high-contrast look and even more moisture resistance.
Double rows of stitching are used along the belt's top and bottom, which ensures increased durability with the belt.
If you are after a durable lifting belt that will last you for ages, this may be the belt you are looking for.
It is a quality product made using some of the best leather available. The leather is sturdy and fits well. While the buckle used is made using a thick and heavy metal to ensure there are none of those annoying early breakages you may experience with a cheaper lifting belt.
One issue that may bother those perfectionists who want a perfectly clean lifting belt is that it will likely crease the first time you wear it. You may also experience a slight color change to the leather should you sweat excessively while working out.
It is worth noting that both of these issues are common problems associated with leather belts and won't impact their use or how long the belt lasts.
All items, including the Rogue Lifting Belt, are packaged in a cardboard box to keep the product safe and without damage during shipping.
This particular item is available with free shipping if you were to purchase more than three items marked with a "3 Ships Free" sticker. Plus, there is same-day shipping available, which is always a bonus.
While Rogue Fitness do its best while packaging its products, unfortunately, there have been reports in the past from disgruntled customers who have received damaged items due to the way the items are treated during shipping. If you do encounter any issues, then they will replace your product.
What is the Rogue Lifting Belt for?
Plenty of athletes would see the benefit of using a Rogue Lifting Belt. For example, weightlifters, powerlifters, Olympic weightlifters, fitness athlet, or anyone looking to lift heavy.
You will undoubtedly need a lifting belt if any of the following apply to you:
You regularly lift more than your body weight while performing squats or deadlifts
You want additional lower back support while performing heavy barbell exercises
You are looking to build above-average strength
Once worn, a lifting belt will help:
Reduce stress on your lower back when lifting heavy
Teaches you how to maintain intra-abdominal pressure that helps with core engagement
It improves your form by helping you maintain a neutral spine
When using a lifting belt, you will create better body biomechanics. This means that you will see a reduction in spinal flexion, spinal extension and lateral flexion; essentially, they will help keep your spine in a neutral position allowing you to lift with your legs rather than your back.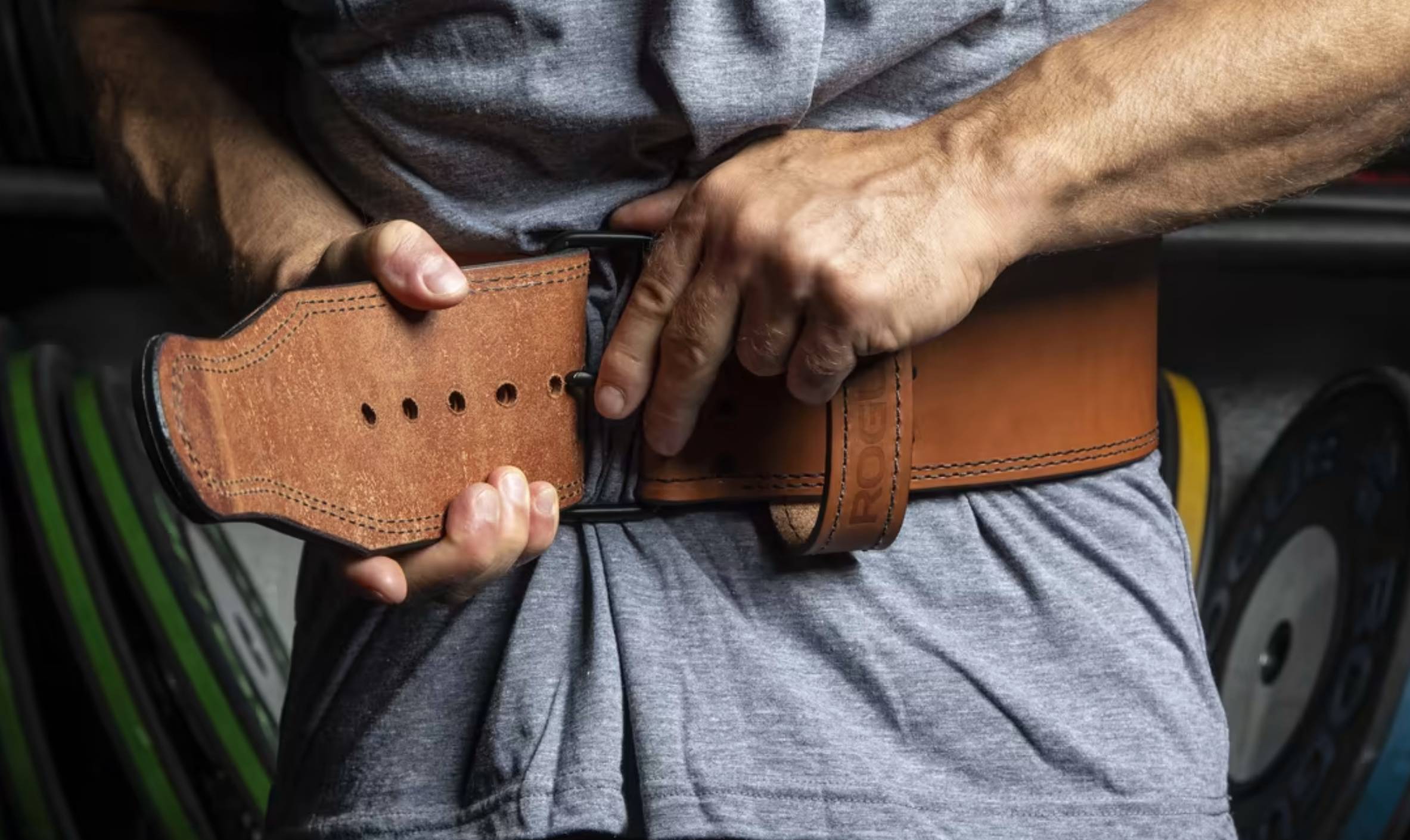 Rogue Lifting Leather Belt Alternatives
Rogue Lifting Belt vs WBCM
This weightlifting belt is a tough and durable belt professionally designed by the World and European Champion Oleksiy Torokhtiy.
Made with genuine A-grade leather 6mm thick and 4" wide, with a heavy-duty stainless steel buckle, this belt allows you to lift heavily with confidence and comfort.
To prove the quality of this belt, it has been approved for use by both IPF and USAPL.
If you have any issues with your purchase, there is a full 12-month guarantee on your investment. Contact their support team for a replacement.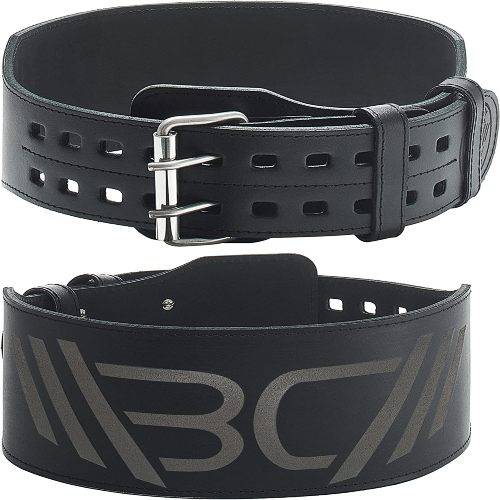 Rogue Lifting Nylon Belt Alternatives
This alternative is made from 100% premium nylon with a full metal self-locking buckle.
Unlike other nylon belts that use cheap straps or buckles, this lifting belt uses a system that is claimed never to break down or cause injury while performing any Olympic lifts.
This system has been shown never to open or slip, regardless of the weight you lift.
The Element 26 lifting belt is approved for use in Olympic lifting and functional fitness competitions, should you encounter any issues with your belt. You will be pleased to hear there is a lifetime guarantee in place.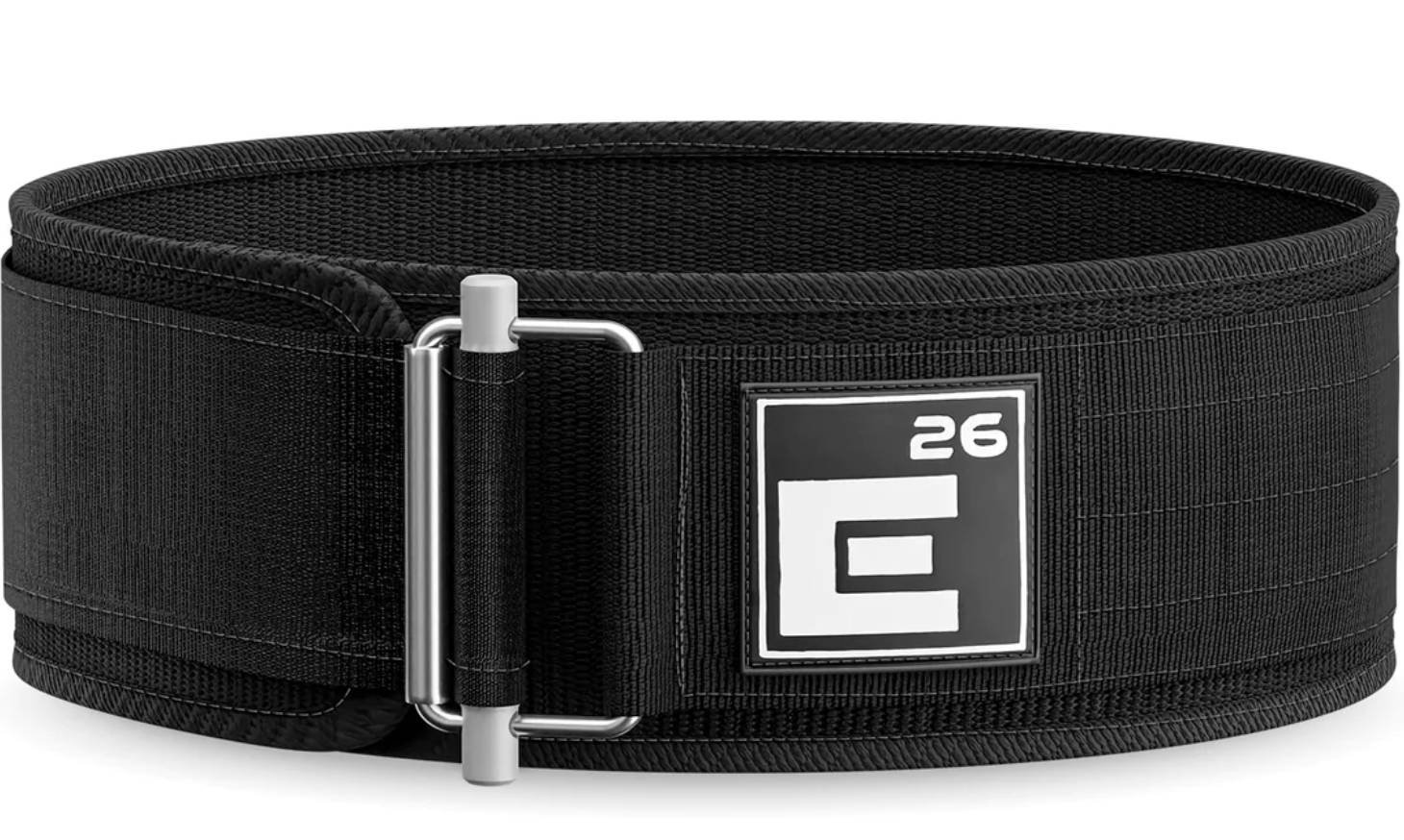 What size Rogue Lifting Belt should I get?
To choose what size Rogue Lifting Belt to get, you must measure your waist in a relaxed state by pulling the measuring tape tight across your waist about 4 inches above your pants.
How does Rogue Lifting Belt work?
The Rogue Lifting Belt enables the muscles around your "core," such as your abdominals, sides, and low back. This helps to stabilize your trunk and spine better.
If you are serious about your lifting, then the Rogue Lifting Belt is one of the better options available.
It is an excellent choice if stability and durability are essential to you.
This lifting belt's heaviness and price point may be a concern for the more casual lifter. In this case, you may be better off looking at one of the alternatives.
If you have tried this lifting belt or have questions, please comment below in our comment section.
Normal Movements of the Low Back During Squats and Deadlifts // Barbell Medicine:
https://www.barbellmedicine.com/blog/normal-movements-of-the-low-back-during-squats-and-deadlifts/
I'm Tanya, and I love lifting weights. 6 years ago, I picked up Olympic weightlifting and training. Weightlifting is a unique sport because it's just you against the bar. There are no teammates to help you out; it's all on you.
I'm also passionate about helping other women achieve their fitness goals. That's why I started my blog and write some products reviews. I want to show other women that they can do anything they set their mind to!