Adjustable dumbbells hold a myriad of benefits – they're space-saving, can save you money, and are convenient. However, with the different models in the market, it may be a challenging feat to decide which selectorized dumbbell is best for you. In this MX Select MX55 Adjustable Dumbbells review, I will give you all the details you need, both the good and the bad, to help you decide whether this selectorized dumbbell set is the perfect one for you or not.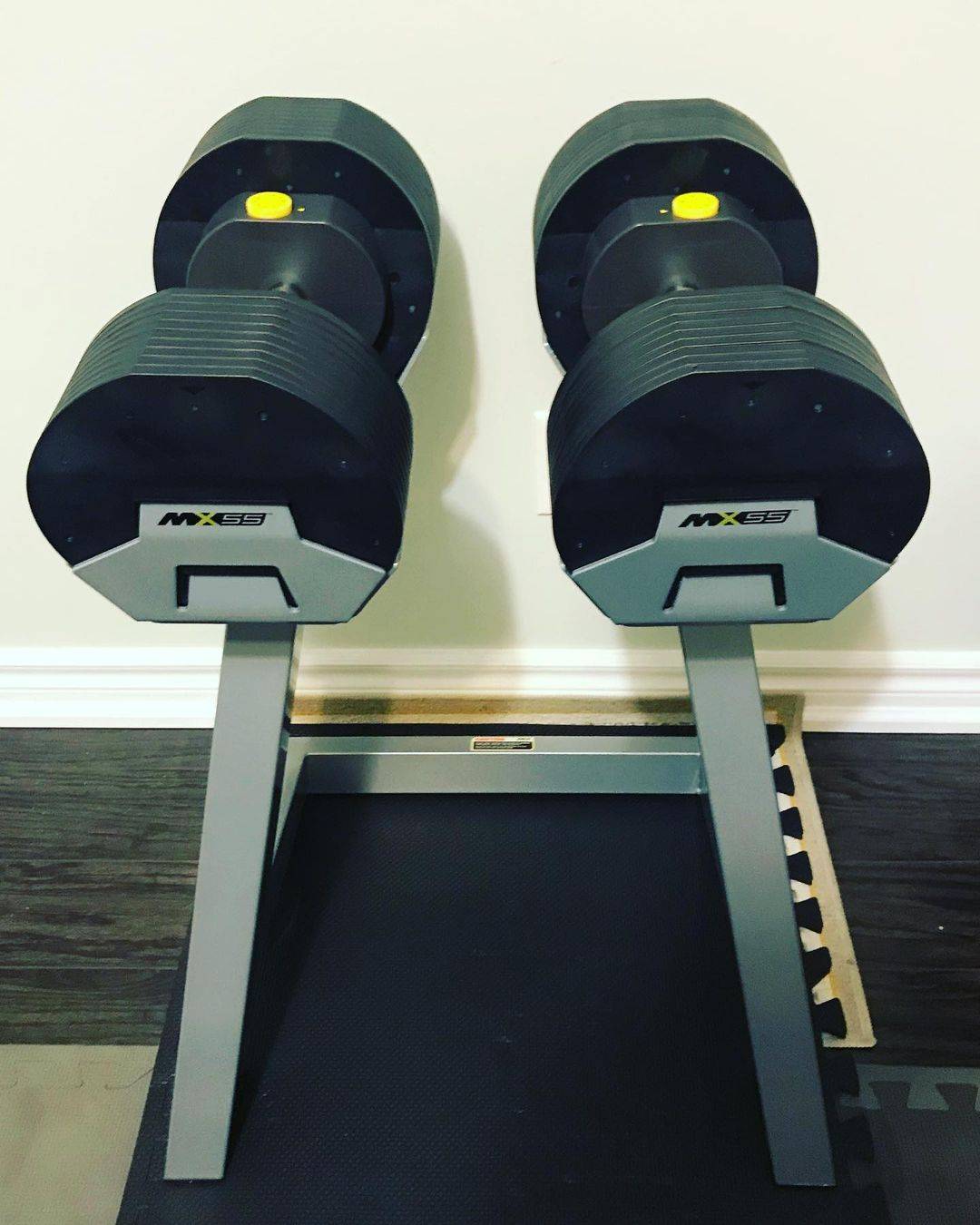 MX Select MX55 Adjustable Dumbbells Review Quick Summary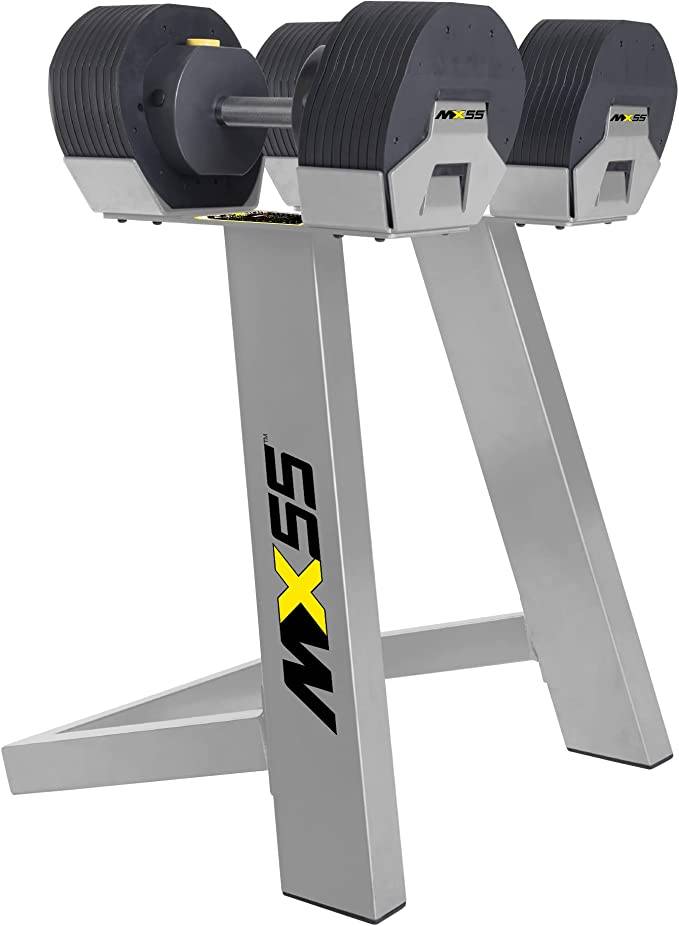 MX Select is a reputable brand that has been creating superiorly crafted weight systems for over a decade. Their dumbbells, particularly the MX55 Dumbbells, are simple to switch out, perfectly balanced, and conveniently compact.
Number of settings:

19 weight settings

Weight range:

10-55 lbs per dumbbell

Weight increments:

2.5-5 lbs

Weight:

9.58" minimum weight/15.94" maximum weight

Dimensions:

16.02"L x 16.29"W x 8.14"H

Adjustment system:

Rack and pinion

Material:

Alloy steel

Additional features:

Weight stand

Warranty:

1 year

Additional specs:

Double locking safety system

Weight:

118 lbs (dumbbells and rack)

Color:

Black/Silver
The MX55 offers a 10-55 lbs weight selection per dumbbell with an easy-to-use and quick-changing rack and pinion adjustment system. It resembles and "feels" like a traditional fixed dumbbell, making it a great piece of equipment to work with. You can also trust the MX55 to last you a long time, thanks to its all-metal build.
These dumbbells are simple to switch out, perfectly balanced, and conveniently compact.
Feels like a traditional fixed dumbbell

Double locking safety system

Comes with a dumbbell stand
Detailed MX Select MX55 Dumbbells Review
The MX55 is adjustable from 10-55 lbs per dumbbell. This can be a great option if you don't think you'll ever need more than 55 lbs. For more serious lifters like myself, I truly wish they had a model that went up to higher weight ranges. I was disappointed to learn that they didn't have it because this dumbbell set does so many other things well and is a convenient way to break a sweat at home.
The MX Select Adjustable Dumbbells have a 5-lb adjustment increment. However, since you can adjust each end separately, you could technically use as little as 2.5 lb increments with the caveat that the dumbbell will be slightly imbalanced between the left and right sides. The good news is that you can easily change your grip position to balance out the weight asymmetry.
MX55 dumbbells utilize a rack and pinion adjustment mechanism. The mechanical term "rack and pinion" describes a gear (pinion) that engages gear teeth on a straight bar or rod (rack). The rod is propelled forward when the gear rotates in one direction and is retracted when it rotates in the opposite direction.
On top of the enclosure on each of the handle ends of the MX55 dumbbells is a small yellow dial. This dial controls the pinion gear, which is contained inside the enclosure and is connected to it. You must rotate the dial to extend or retract the weight selection rod while adding or removing weight. However, you must first unlock the selector rod in order to do it. Simply press the little, black, circular button on the enclosure's side at the handle end to accomplish this.
Moreover, the yellow dial pops above the enclosure surface when you push the unlock button. Once it does, the dial can now be turned to your preferred weight setting. Simply lock the selector rod in place after choosing the desired weight to prevent the plates from falling off. To do so, just press the yellow dial until it snaps into position just above the surface of the enclosure.
Repeat the procedure on the second dumbbell then you're good to go! Overall, each dumbbell adjustment takes no more than five seconds. That's incredibly quick.
This is likely the closest thing you'll find to a traditional fixed dumbbell in terms of appearance and feel. It has flat ends and circular plates like a standard fixed dumbbell. When preparing for a bench press or sitting shoulder press, you can balance the dumbbells vertically on your thighs without experiencing any discomfort, which is a major benefit in terms of practical usage.
The weighted component of the dumbbells is uniformly shaped from the first plate to the last since all of the plates have the same diameter. Each end resembles a large cylinder attached to the handle when there is more weight on it. Compared to other adjustable dumbbell systems, which are more cone-shaped, the MX55 is rounder. The plates get smaller as you get further from the handle, with larger diameter plates nearest to the handle.
Each dumbbell's ends seem like one continuous block of weight, much like any conventional fixed dumbbell, due to the close proximity of the plates and the fact that their edges are flat. Other systems frequently include plates with apparent gaps between them and rounded edges that accentuate those gaps' size which makes them look ridged and discontinuous.
MX55 comes with a dumbbell stand that allows the dumbbells to sit off the floor, making them simpler to remove or replace. The complete setup, including the stand, has a sleek, contemporary style that would look great in any space you have at home.
To take the dumbbells from the stand, all you need to do is simply grab the handles and pull the dumbbells out. Each weight plate has two lips that fit into the ones next to them to prevent them from sliding off. An internal rod that can be adjusted also serves as additional security. This clever fix maintains the plates in place without adding undue complexity.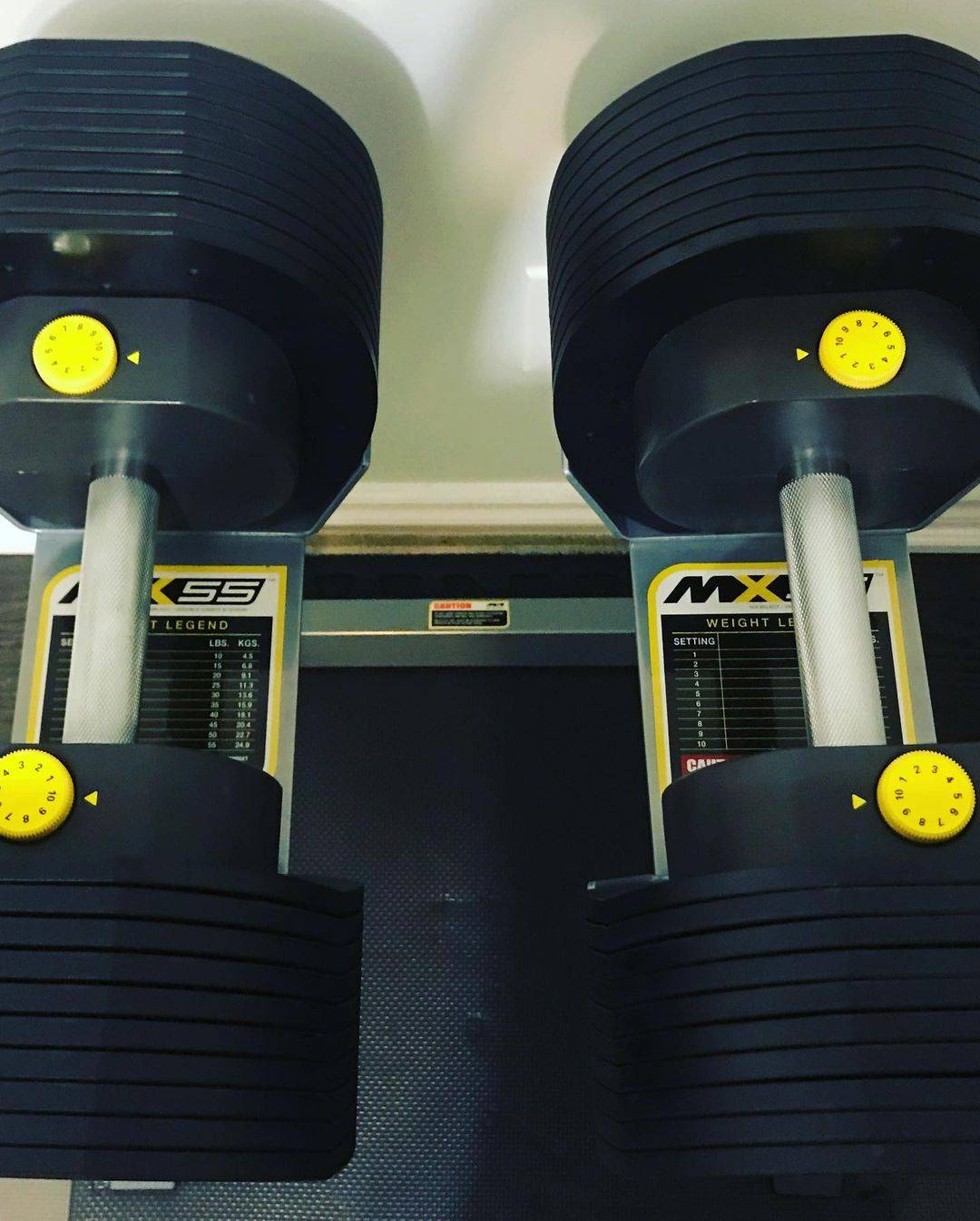 The major components of the MX Select MX55 Adjustable Dumbbell Set are all made of metal or alloy steel, including the plates, handle, and rack and pinion gear adjustment system.
In comparison to having moving plastic parts, the full metal/steel build significantly increases the longevity of the dumbbells. There are several other adjustable dumbbells on the market that are made primarily of plastic and, as one might expect, are far more likely to break down even with regular use.
These dumbbells cannot be handled roughly despite their build. The fact is that, despite their sturdy design steel build, moving gears are susceptible to damage from impacts. Additionally, I feel that the MX55 feels a bit sloppier compared to other selectorized dumbbells of the same caliber.
One of the essential elements that give the MX55 Selectorized Dumbbells the feel of a traditional dumbbell is its outstanding balance. For all the 5-lb increments, the weight is divided equally between the left and right sides. Some lower-quality adjustable dumbbells advertise 5-lb increments, however, doing so actually adds 5 lbs to only one side of the dumbbell, leaving it out of balance.
Now, as I previously mentioned, you can obtain even smaller increments of just 2.5 lbs with the MX55 by adding an extra 2.5-lb plate to just one side. In that case, they would be slightly imbalanced, but since it's such a light weight, you might not even notice it. However, if necessary, you may simply move your hand slightly to correct any asymmetry.
Also, the dumbbell bar of MX55 is shorter with light weights and gets longer as weight is added unlike other selectorized dumbbells in the market that keep the same bar length regardless of the number of weights put in. For this reason, the MX55 feels more balanced and stable for easier and more comfortable use.
The MX Select MX55 adjustable dumbbells are, unfortunately, more on the expensive end of the market. In fact, it comes at the same price point as other premium dumbbells, even those that offer higher max weights.
This MX55 adjustable dumbbell system is quite expensive but you will receive a set of adjustable dumbbells that is of the highest quality, is easy to adjust, and feels natural to use. The company offers a 1-year manufacturing defect warranty but you have to keep in mind that the warranty becomes void for dumbbells that were dropped so make sure to take extra care when using your MX55 dumbbells.
The MX Select website has a contact page you can use to reach out to them for any issues you might encounter. Although this is a decent feature, having an option to have a live chat with an agent would've been more time-efficient. Plus, some customers also complain about not getting any response for months. If you need a set with reliable customer support, you may be better off looking into other brands.
This MX Select Dumbbell Set will only offer you great value for money if it's exactly what you need. If what you need is one that offers rapid adjustment, is easy to use, feels like a conventional fixed dumbbell, and with a max weight of 55 lbs, then I can say this is a great run for your money. Otherwise, you might have to keep on searching for the perfect dumbbell set for you.
Who are MX Select MX55 Adjustable Dumbbells for?
This dumbbell set will work efficiently for pretty much anyone who does resistance training, whether professional athletes or recreational lifters. This is especially true if you want a no-fuss, easy-to-operate dumbbell system. However, this set may not be for people who are or are aiming to perform exercises requiring more than just 55 lbs per dumbbell.
MX Select Dumbbells Alternatives
MX Select vs Bowflex Dumbbells
Unlike MX Select MX55 Adjustable Dumbbells, the Bowflex SelectTech 552 Adjustable Dumbbell does not resemble a traditional fixed dumbbell. Additionally, the dumbbell's length does not adjust with added weight, making it awkwardly long with fewer plates. Bowflex 55's max weight is 52.5 lbs per dumbbell, a few pounds shy of MX55's 55 lbs. Despite its shortcomings when compared to the MX Select's dumbbells, the Bowflex 552 is a lot easier on the bank account at about just half the price of MX55.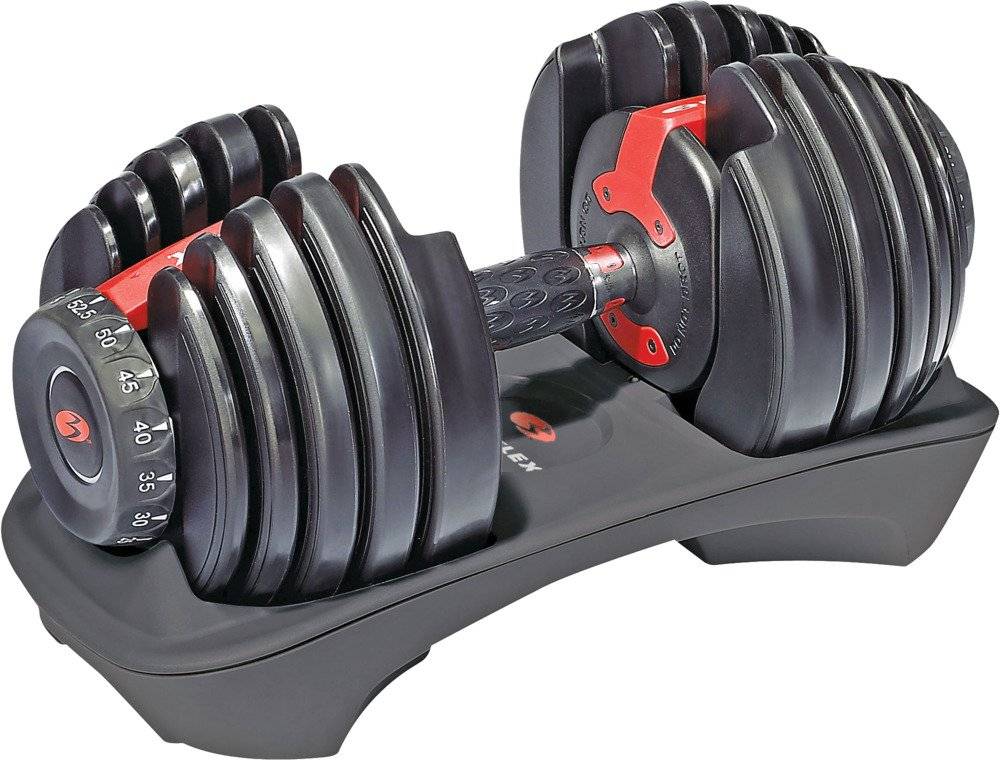 MX Select vs NordicTrack Adjustable Dumbbells
The NordicTrack Select-A-Weight Dumbbell is a customizable dumbbell that has a max weight of 55 lbs each and is fairly easy to adjust, just like the MX55. Each NordicTrack dumbbell is adjustable in 2.5, 5, and 10-pound increments. One great thing about purchasing NordicTrack dumbbells is that it comes with a 1-year subscription to iFit classes where you get unlimited access to numerous classes from renowned personal trainers, despite it coming at just half the price of MX55.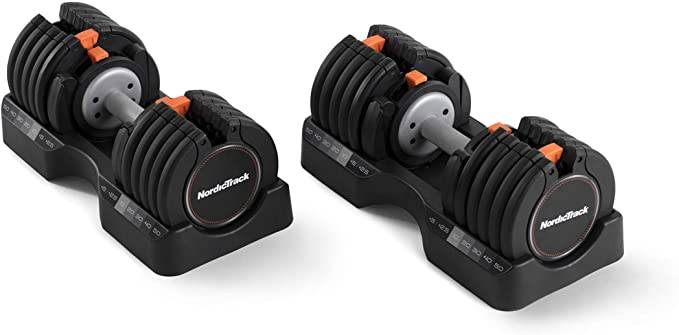 What Happens If I Drop MX Select Adjustable Dumbbells?
Since adjustable dumbbells have internal moving components, it's crucial to make sure to not drop them as doing so may break them. Also, the warranty is considered void if you happen the drop any MX Select adjustable dumbbells.
Are MX Select Adjustable Dumbbells Safe to Use?
Yes, these dumbbells are safe to use, thanks to their innovative weight cradle, weight rack, and pinion design which securely lock the weight plates into a secured and stable position. It also has a double locking safety system that prevents the weight plates from coming loose from the handle, ensuring that the plates won't drop from the handset. But as with any exercise, it is vital to observe a proper form to avoid any injuries.
Are MX Select Adjustable Dumbbells Good for Beginners?
The MX55 Dumbbell comes at a weight range of 10-55 lbs per dumbbell with a minimum adjustment increment of 2.5 lbs, making it a great weight equipment to use even for beginners.
Although it comes at a premium price, the MX Select MX55 Adjustable Dumbbells offer a great way to build strength without needing several pairs of dumbbells. Overall, it's a durable set with safety mechanisms to keep you safe during your workout.
Feel free to share your thoughts or leave some questions in the comment section below.
6 Benefits of Adjustable Dumbbells // Verywell Fit:
https://www.verywellfit.com/6-benefits-of-adjustable-dumbbells-5189687
Weightlifting Safety for Injury Prevention // Verywell Fit:
https://www.verywellfit.com/how-to-lift-weights-safely-and-prevent-injury-3498575
My name is Ihor and I have been a professional weightlifter since 1996. With over 20 years of competition experience, my resume includes European Champion in 2009 and the silver medalist at 2011's Senior World Championships – 105kg division.
I competed at the 2008, 2012 and 2016 Summer Olympics.
After hanging up my own competitive lifting shoes, I decided to share my huge background as a coach. I am currently coaching multiple athletes who are competing at national and international competitions.