Inzer prides itself as the "world leader in powerlifting apparel", and they are right up there among the biggest. If you're looking to get yourself a weightlifting belt, Inzer is probably high up your list. It's normal if you're confused on which belt to get due to the sheer number of options you have, but I'm here to help out. Here's an Inzer lever belt review to help you figure out whether it's the right one for you.
We'll discuss the Inzer with particular focus on several factors including size, material, and durability.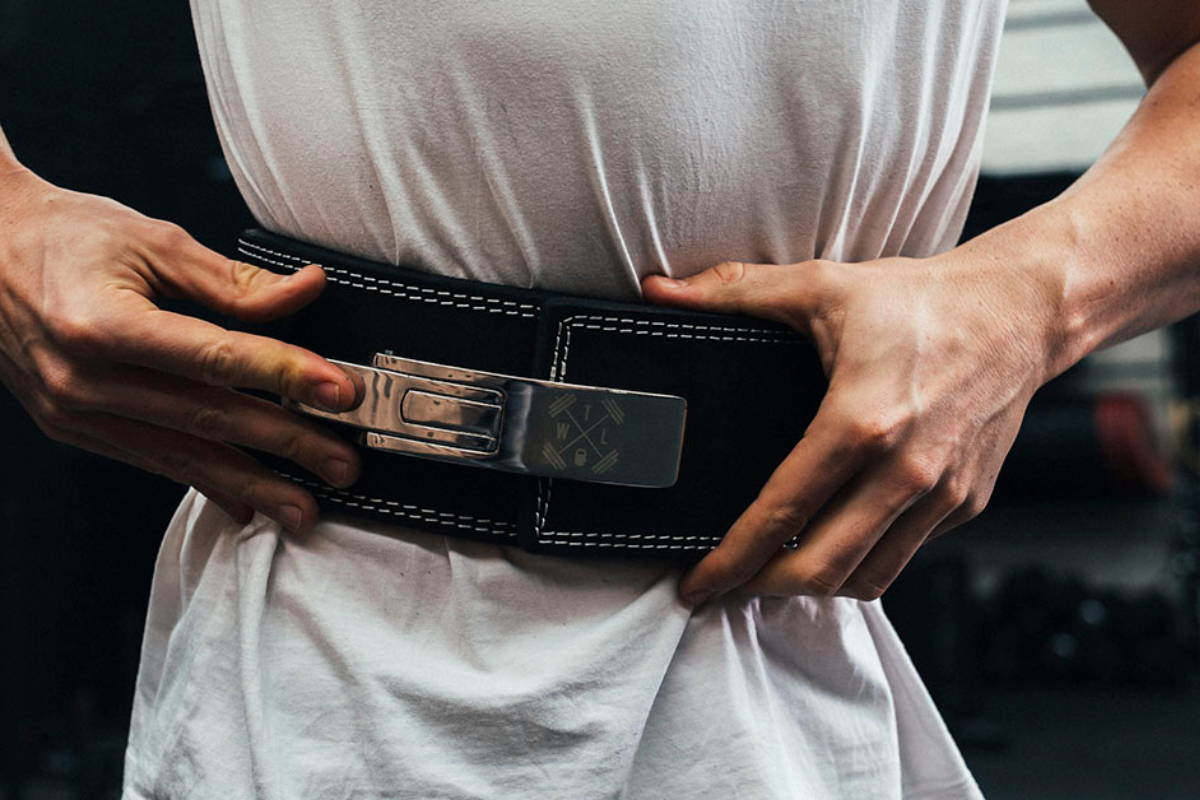 Inzer Lever Belt Review: A Quick Summary
Closure type: Lever
Waist size range: (XS: 22"-25") (S: 26"-29") (M: 30"-33") (L: 34"-38") (XL:39"-42") (XXL: 43"-46") (3XL: 47"-50") (4XL: 51"-54") (5XL: 55"-58")
Width: 4" and 5"
Thickness: 0.4"
Material: Leather
Certification: IPF approved
Weight: 3lb.
Color: Black
Provides good support to lower back
Not so comfortable for HIIT and fitness WOD's
Inzer Lever Belt Review: A Deep Dive
Lever belts don't get much better than the Inzer Lever Belt. Made of 4 inches of original leather with a suede finish to provide a non-slip surface, the Inzer is built for the heaviest of weights. It's easy to put on or take off with its lever buckle, and grows to fit you snugly as you use it. It might take a while to break in, but that's only because of how thick and durable it is. It is so durable that it's guaranteed FOREVER on Amazon. What an impressive belt.
Let's take a deep dive into this Inzer weightlifting belt. We'll focus on some specific features and score it out of 10 in each category.
The Inzer is more expensive than most other weightlifting belts, but you will never have to buy a lifting belt to replace it. It's superb quality, built to take as much punishment as you can throw at it. It also comes with a guarantee of forever so you don't have to worry about false promises.
It is one of the most expensive belts on the market, but it still provides amazing value. With its leather body, suede finishing, nylon stitching, and metal lever buckle, you will hardly find a belt of better quality. So if you believe in "buy once, cry once", you should definitely consider it.
The Inzer is 4 or 5 inches wide, 0.4 inches thick, and made from top quality leather. This makes it an amazing support as you work out. It also comes with a lever buckle that allows it to hug you up to 3 inches tighter than a regular buckle belt. In one Inzer belt review, a satisfied lifter said he did as many reps as he could with almost zero stress to his lower back, stating that he felt "awesome".

The Inzer will keep your back in perfect form as you perform all those compound movements that would otherwise put your back in severe pains.
The Inzer will also conform to your body after its break-in period so that it fits you snugly and comfortably. Its suede finishing provides a non-slip surface that keeps you comfortable regardless of sweat without causing too much friction with your skin.
It's rigidness is perfect for powerlifting but can be choking for fitness movements as they require more flexibility.
The Inzer powerlifting belt is made from a single block of the finest leather as opposed to having various layers of different material. There's a thin layer of quality suede that makes it easier on your skin and resists any slipping.
It's topped off with top notch stitching. There are 4 threads of non-corrosive, high density nylon lock-stitched to the belt body. This makes it extremely durable but also very lightweight to make it suitable for lifters of different experience levels.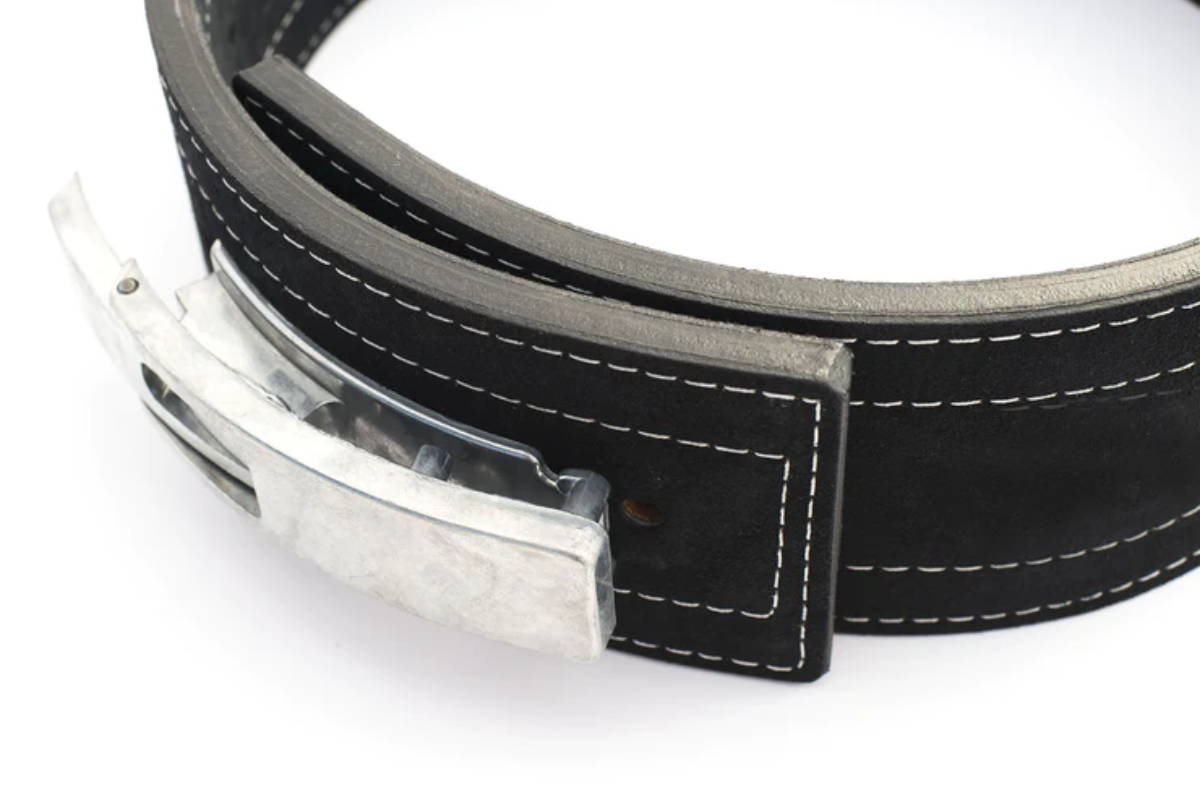 The Inzer comes in different waist sizes and colors so there's definitely a fit for you. It also ships relatively fast and comes with a lifetime warranty just in case you run into trouble. Orders can arrive as fast as 2 days from receipt of your order and can take as long as 2 weeks if your belt is to be custom made.
What Is the Inzer Lever Belt For?
The Inzer lever belt is a support that helps strengthen your core and protect your back. It can be incredibly beneficial regardless of your level of skill or which lifting exercise you're into. Let's have a look at how it can be useful to you no matter what your case is, starting with your level of skill.
For Different Levels of Skill
Weightlifting belts reduce the stress on your lower back as you lift by building up intra-abdominal pressure. They're particularly helpful when you're lifting your max load or trying to break a new personal best. No matter your level of skill, a weightlifting belt can be an extremely valuable addition to your gym set up.
The Inzer Forever weightlifting belt provides a good support base for beginners as they learn how to do the movements. Form and technique can be tricky to master and the weightlifting belt helps you maintain proper form as you try to learn the right technique so that the risk of making a mistake and getting injured is greatly reduced.
If you're an experienced athlete, though, you definitely don't have the problem of learning form and technique. That said, you lift much heavier weights than a beginner, and this poses its own problem. These massive weights exert much more stress on your core and lower back, which is where the Inzer is most useful.
The Inzer will help you build up intra-abdominal pressure to strengthen your core and provide extra support for your lower back to alleviate the stress. I would advise using it if you're lifting close to your max or trying to increase your max.
The Inzer belt is also versatile and can be used for different movements. It can be used by weightlifters, powerlifters, and fitness athletes that do various types of lifting that involve multiple movements such as deadlifts, clean and jerk, and presses. Let's look at some of these workouts in greater detail.
Deadlifts are one of the most effective exercises for building raw strength and muscle mass. To do a deadlift, you need to squat while maintaining a straight back, pick up the barbell, and lift it until you are standing upright. Then lower the barbell slowly back to the floor, maintaining full control throughout.
This movement requires perfect form or you might get injured. Wearing the Inzer powerlifting belt will provide support for your lower back to keep it straight and allow you stretch your limits as far as you're willing to go.
Squats are another exercise that involve heavy, punishing weights. A squat starts with you holding the barbell on your shoulders at the top of your back. Maintaining a straight back and perfect form, you must then squat as low as you can then stand back up. This completes one round of the squat.
The Inzer keeps your back locked in perfect form and prevents it from extending too far. It also gives you extra support and helps you lift heavier or for longer.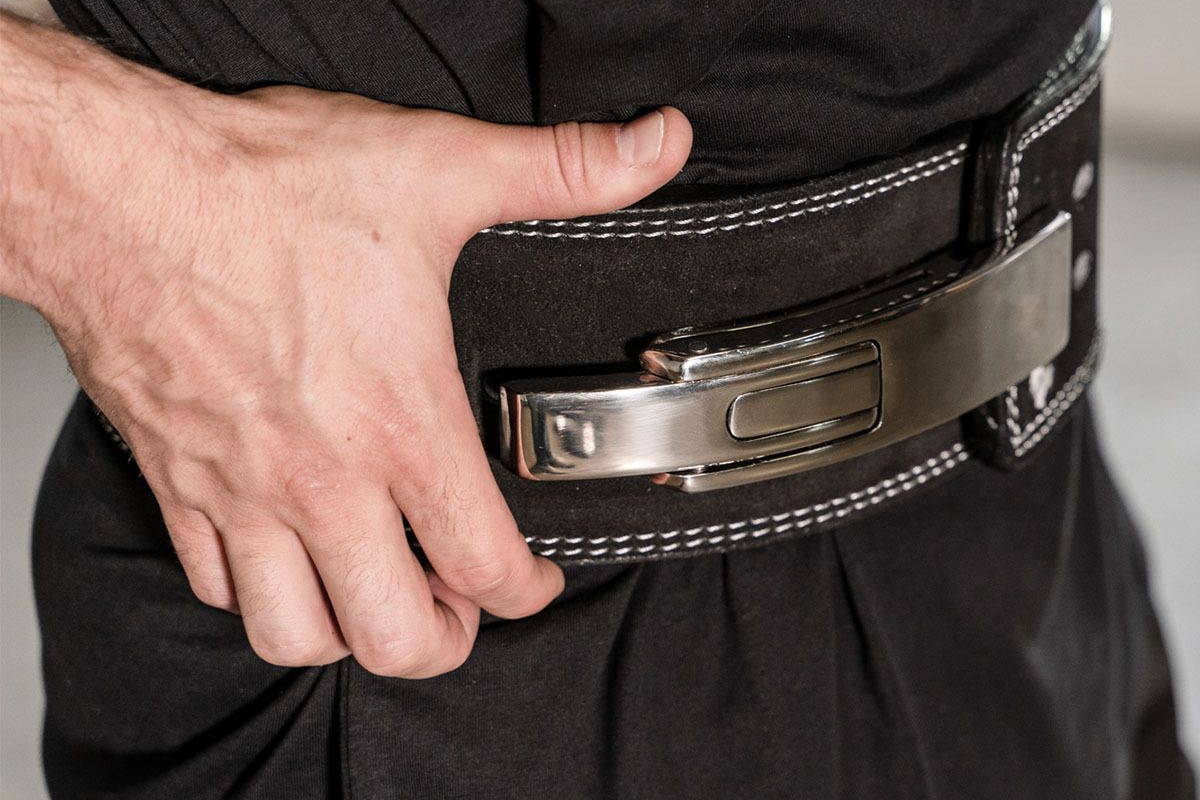 The clean and jerk involves the most complex set of movements on this list. It consists of 4 main phases called the starting position, explosion, catch position, and finally the jerk. The starting position is quite similar to a deadlift. You squat and lift the barbell, but as it reaches just about hip length, you explode upwards with the barbell. This is the second phase. After the explosion, you must then catch the barbell on your shoulders just beneath your chin. Once in the catch position, stabilize yourself and push the barbell upwards as high as you can to complete the jerk. You can watch the video if you're confused.
This is a quite complex set of movements that could easily lead to a back injury if form is not strictly adhered to. The Inzer helps you maintain that form and builds intra-abdominal pressure to keep your core tight and strong as you lift.
Bench press is the most unlikely entry on this list because its movement involves your back being flat on the bench and you lift up and down with your arms. It can be quite tricky to keep your back in perfect form, though.
It's common to see your back arch as you lift, and you may not even notice it. The Inzer eliminates that and helps remind you to stay in form.
Stand upright and hold the barbell just in front of your face, then lift up and down.
One of the requirements for an overhead press is that you remain upright throughout. Your back must remain straight. The Inzer helps you do that by locking your back into form.
Inzer Lever Belt Alternatives
Most Inzer Forever belt reviews agree that it's an impressive piece of work, but how does it compare to other belts? Here are some alternatives to the Inzer and how they measure up.
The WBCM leather weightlifting belt is built for the heavy lifters and provides immense support to your back. It's 4 inches of genuine leather and comes with steel buckles that make it solid and durable.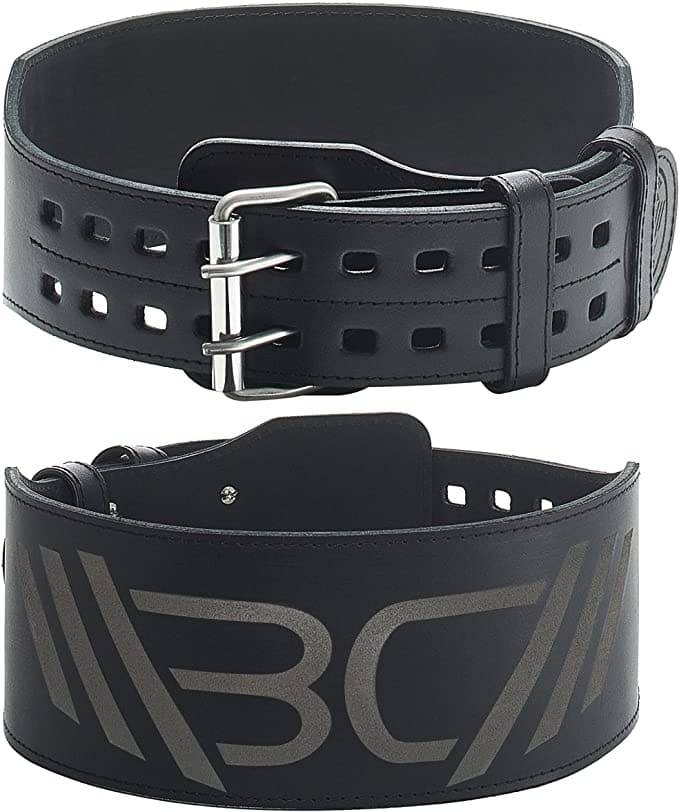 The WBCM belt differs from the Inzer in some areas. First of all, it comes with a prong buckle as opposed to the lever buckle of the Inzer. Both belts are made from leather but the Inzer is tougher and better for powerlifters, while the WBCM belt is more flexible and better for fitness movements.
The WBCM belt offers a one year warranty which is dwarved by the Inzer's lifetime offer, but note that the Inzer is more than double the price of the WBCM belt.
So if you're looking for a belt that's more affordable or allows more flexibility, the WBCM belt is the one.
Inzer Lever Belt vs Element 26
Unlike the Inzer, the Element 26 self-locking belt is a nylon belt. This difference between nylon and leather belts is that although nylon is not as effective as the leather belt with very heavy weights, it's great for flexibility and comfort. Its self-locking buckle is also neat and durable, and you can use it at the gym or in competitions too. Like the Inzer, it comes with a lifetime warranty despite being almost 4 times cheaper so that tells you how good it is.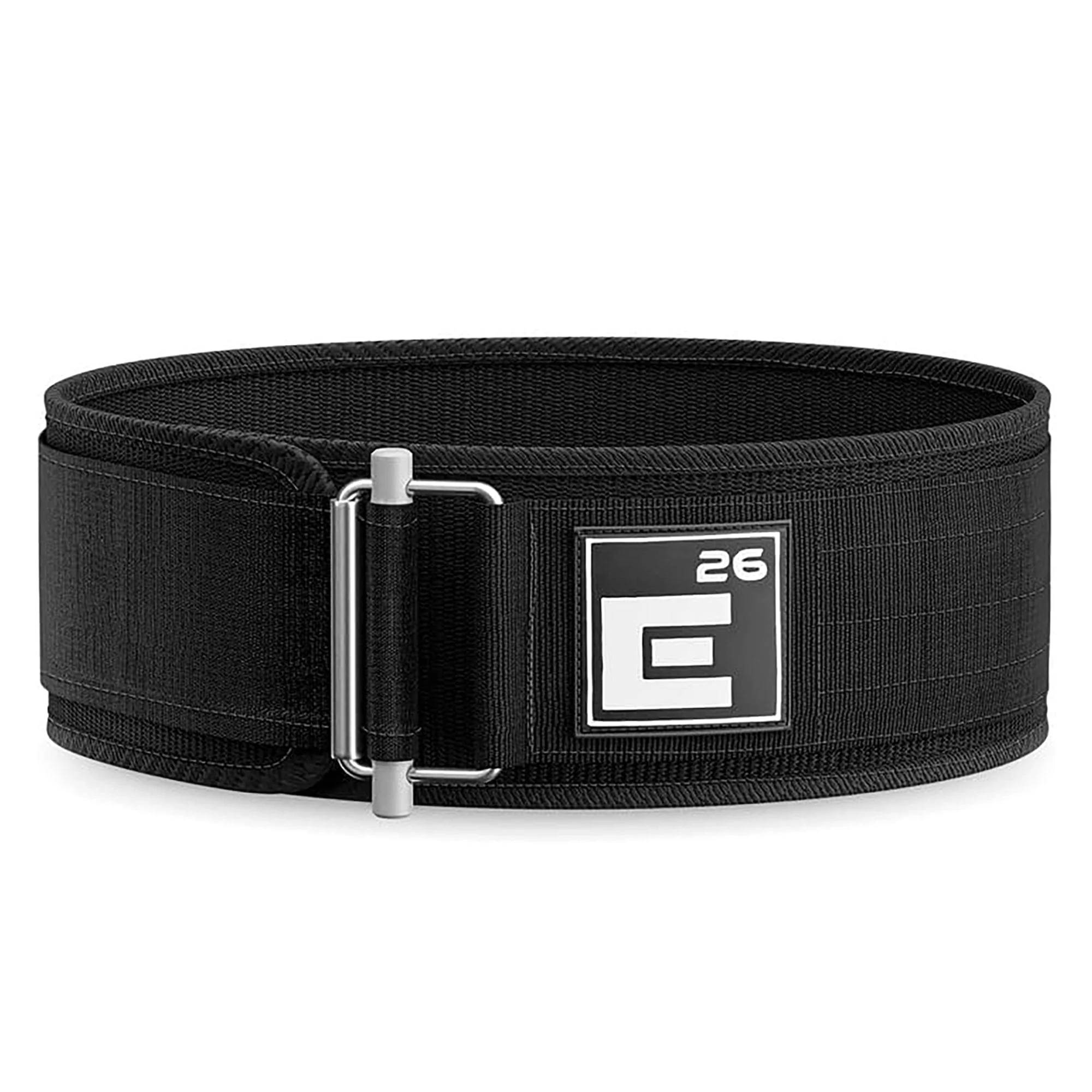 Keep in mind that nylon belts give you more flexibility while leather belts provide more support. So while the Inzer will give you more support, you might want to consider the self-locking belt if you'd rather have more freedom.
What Size of Inzer Lever Belt Should I Get?
Refer to the size chart in the quick summary section. Make sure to measure around your abdomen where the belt will be instead of your waist.
How do Inzer lever belts work?
All you have to do is wrap your belt around your abdomen as tight as you want it, fix the prong into the holes, then pull the lever back so that it's completely locked in. Make sure it's tight enough to hold in place but not so tight that your abdomen can't expand a little as you breathe. You can watch it happen if you're still confused.
So that's it for my Inzer lever belt review. You've seen how amazing it is, especially its durability and support. It's quite expensive but if you can afford it, you'll never have to replace it and even if you do, there's a lifetime warranty on it.
Now it's your turn. What's the most impressive feature of the Inzer? Did any of the alternatives catch your eye instead? Is there anything I forgot to mention? Tell me what you think in the comments.
Realize The Strength And Power-Building Benefits Of The Clean And Jerk // BarBend:
hhttps://barbend.com/clean-and-jerk/
Leather Vs. Nylon Lifting Belts: What Are The Differences? // BarBend:
https://barbend.com/leather-vs-nylon-lifting-belts/
My name is Ihor and I have been a professional weightlifter since 1996. With over 20 years of competition experience, my resume includes European Champion in 2009 and the silver medalist at 2011's Senior World Championships – 105kg division.
I competed at the 2008, 2012 and 2016 Summer Olympics.
After hanging up my own competitive lifting shoes, I decided to share my huge background as a coach. I am currently coaching multiple athletes who are competing at national and international competitions.