Weightlifting belts are regarded as a vital accessory in any lifter's gym bag. From powerlifters to functional fitness athletes, they help to increase intra-abdominal pressure around the torso and increase lifting performance.
If you follow Olympic lifting, you're familiar with Eleiko, with their plates and barbells heavily used throughout Olympic competitions. In this article, I'm going to provide an in-depth Eleiko weightlifting belt review, looking at the construction, versatility and overall use.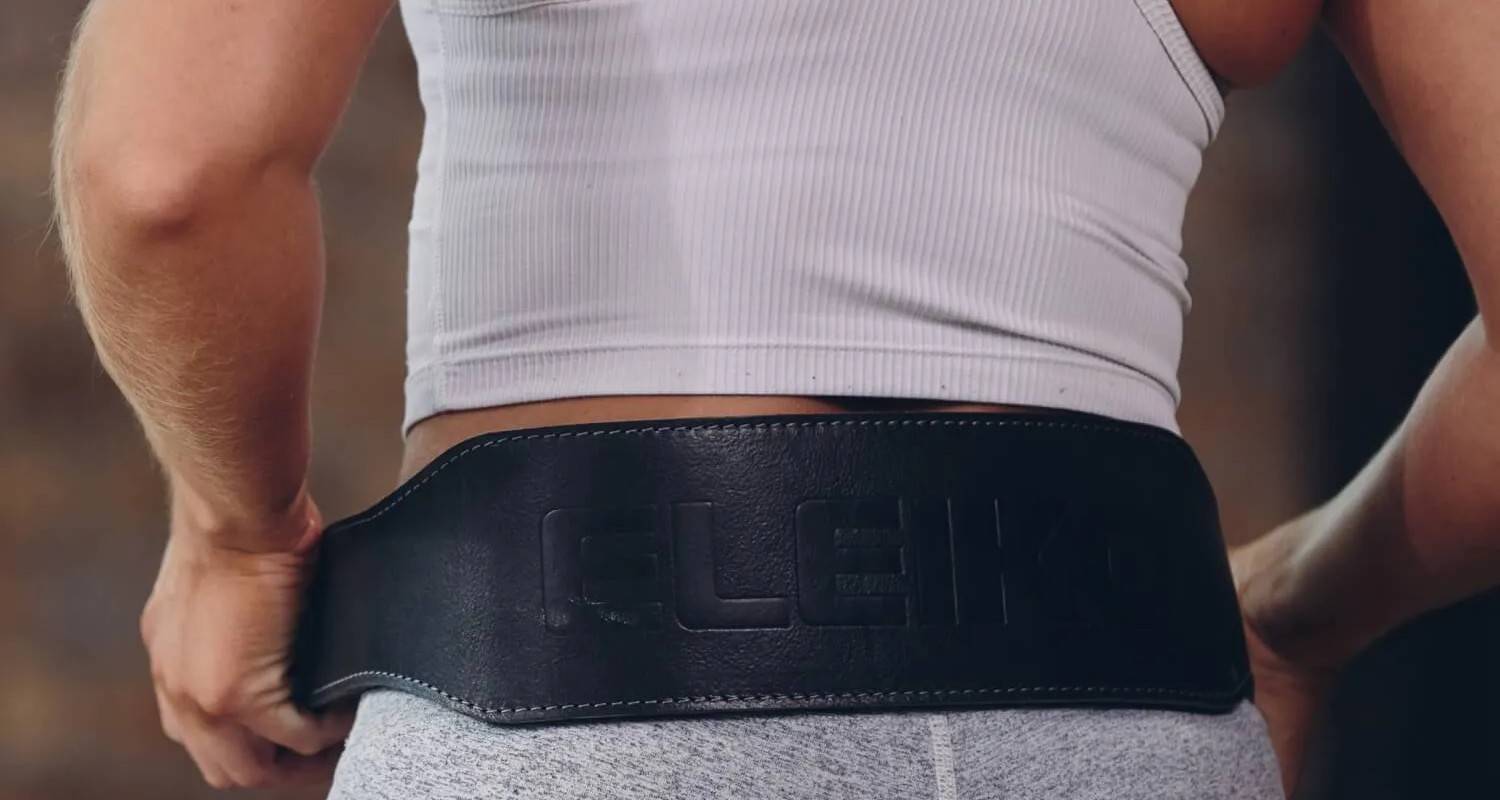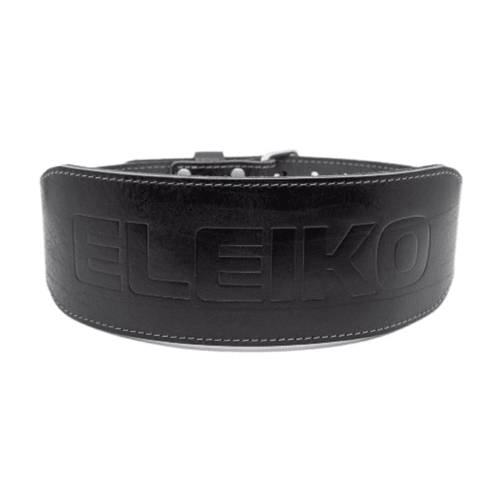 Based in Sweden, Eleiko is a premium weightlifting brand that's mainly known for its barbells and weight plates used for Olympic weightlifting.
Alongside this, they manufacture accessories such as lifting straps, knee sleeves, and wraps.

Closure Type:

Double Metal Prong

Size:

25-52"

Waist Size Range:
S (25-33")
M (31-36")
L (35-40")
XL (39-45")
XXL (43-48")
XXXL (46-52")
Width: 4"
Material: Vegetable Tanned Leather
Thickness: 13 mm
Certification: IPF Certified
Color: Black
Eleiko is a hugely popular brand that produces a wide range of high-quality, durable weightlifting gear that's been tested at the highest level. The 4" premium weightlifting belt is handcrafted from vegetable-tanned leather and secured using a metal double-prong clasp.
The 13 mm thick powerlifting belt is IPF certified, with suede material on the inside and constructed using top-notch double stitching.
The belt is available in black and comes with a 1-year warranty. With this, let's look at the Eleiko belt review in more detail.
Eleiko is a hugely popular brand that produces a wide range of high-quality, durable weightlifting gear that's been tested at the highest level.
(Show More)
The vegetable-tanned leather provides strong, comfortable lumbar support

The double stitching on the sides stops the belt from fraying with use

The double prong buckle sits over the leather material to stop skin pinching
The price point is quite high
Eleiko Weightlifting Belt Review
In terms of quality, the Eleiko premium leather weightlifting belt is a step above the competition. With a premium leather material on the outside and a suede finish on the inside, you can feel the quality as soon as you wrap it around your torso.
The price of the belt starts around $49,00, which is a higher price point compared to similar options. With a premium price comes a premium product though.
If you're looking for a belt to provide excellent lunar support, Eleiko has you covered. Featuring a sleek, tapered design, the 13 mm belt is 2" at the front and 4" at the back. The thick, double-pronged metal buckle keeps the belt securely fastened and won't break under heavy loads.
Whilst the belt is 13 mm vs more comfortable 10 mm options, the tapered design helps it to sit comfortably against the skin without restricting movement too much and taking the focus away from lifting.
With the leather strap going under the double-pronged metal buckle, there is no pinching or metal feeling against the skin.
Being a premium weightlifting belt, it's made from the highest quality vegetable-tanned leather. Whilst it's a little stiffer than other belt materials, it's fairly soft once it's broken in.
The belt features high-quality double stitching around the top and bottom length meaning it's able to handle repeated high-impact lifting use without fraying on the outsides.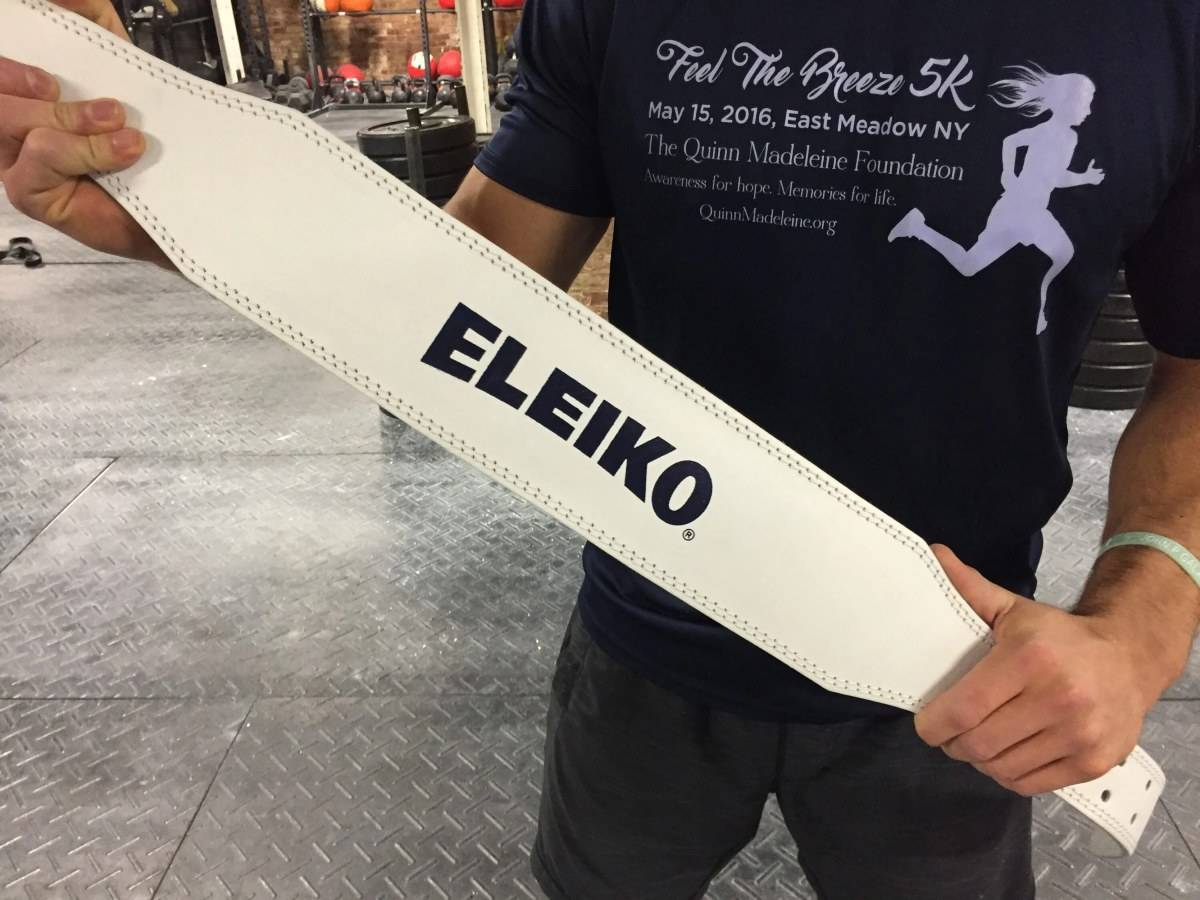 What is the Eleiko Weightlifting Belt For?
With Eleiko plates and barbells heavily featured in Olympic lifting events, their products are known to be durable and well-tested. This makes Eleiko products a popular choice among powerlifters and weightlifters.
With a 13 mm thickness, the Eleiko belt provides extra lumbar support but offers slightly less movement compared with 10 mm thick belts. This makes it a great option for heavy-duty, compound movements such as deadlifts, squats, and presses.
As it's certified for IPF competitions, it's ideal for athletes looking for a long-term, durable belt option that can be broken in with training and used throughout competitions.
Eleiko Leather Weightlifting Belt Alternatives
These are two popular weightlifting belt alternatives and how they compare to the Eleiko weightlifting belt:
Eleiko Leather Weightlifting Belt vs WBCM
The Warm Body Cold Mind Premium Leather Weightlifting Belt offers a premium leather belt option that's the same premium quality as other similar belts but at a much lower price point. The WBCM belt is 4" wide and secured with a thick, double-pronged metal buckle. Like the Eleiko belt, it's also approved for IPF competitions and has size options ranging from S-XXL.
At first glance, the WBCM leather belt is nicely designed, featuring a huge logo that spreads across the back support area. It's thinner than the Eleiko belt at 6 mm which makes it ideal for powerlifters and weightlifters looking for more mobility and Olympic lifters performing full-body, dynamic lifts.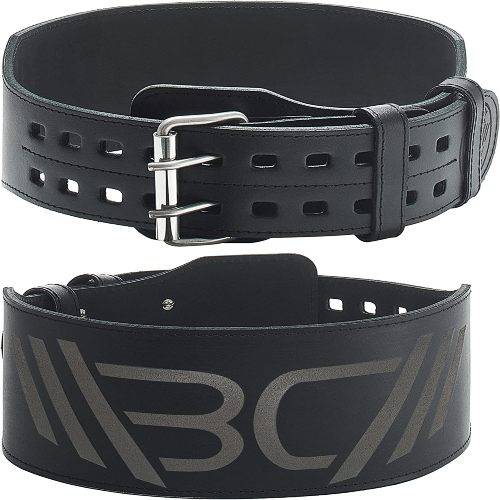 Eleiko Weightlifting Belt vs Element 26
If you prefer a different material to leather, the Element 26 Self-locking Weightlifting Belt offers the same 4" width but is made from 100% premium nylon.
Compared to the double-pronged closure on the Eleiko belt, the Element 26 belt is secured with a full metal self-locking buckle that comes open with a press of the release roller.
Featuring a uniform design, the Element 26 belt is the same width throughout and is much lighter compared to the Eleiko belt.
Whilst it offers less lumbar support, it allows a much wider range of movement, with the nylon material much easier to break in compared to leather. This makes the Element 26 belt a perfect fit for functional fitness athletes and gym goers looking for extra support without much movement restriction.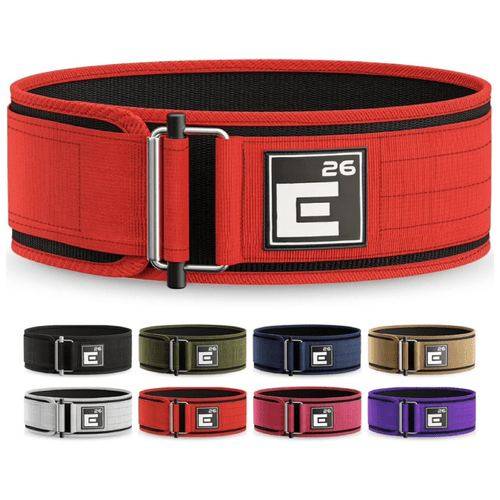 What size Eleiko weightlifting belt should I get?
To size your belt correctly, measure approximately 4" above where your bottoms sit. Pull the measuring tape tight around your body whilst in a relaxed state. Once you have the measurement, use the belt sizing guide provided.
How do Eleiko weightlifting belts work?
An Eleiko weightlifting belt works by increasing the intra-abdominal pressure around your torso, providing extra back support during big compound lifting movements.
Summary - Eleiko Leather Weightlifting Belt
The Eleiko 4" leather weightlifting belt is a premium, well-designed belt choice that gives you excellent lumbar support whilst sitting comfortably around your torso.
Compared to the WBCM and Element 26 options, the Eleiko powerlifting belt is a perfect choice to increase performance in heavier compound movements.
Do you wear a weightlifting belt? What do you think of the Eleiko belt I've reviewed above?
Eleiko Weightlifting Belt Review - All You Need to Know // GunSmithFitness:
https://gunsmithfitness.com/blogs/news/why-weightlifting-belts-are-absolutely-necessary-when-to-use-them
Eleiko Weightlifting Belt Review - All You Need to Know // Pubmed: https://pubmed.ncbi.nlm.nih.gov/2709981/
My name is Ihor and I have been a professional weightlifter since 1996. With over 20 years of competition experience, my resume includes European Champion in 2009 and the silver medalist at 2011's Senior World Championships – 105kg division.
I competed at the 2008, 2012 and 2016 Summer Olympics.
After hanging up my own competitive lifting shoes, I decided to share my huge background as a coach. I am currently coaching multiple athletes who are competing at national and international competitions.