Rowing is a superb low-impact full-body workout that everyone can reap its benefits despite their fitness level and goals. By engaging the upper and lower body, you'll manage to involve all muscle groups with the help of a real-water rowing experience. Being known also as ergometer, or erg, this machine is becoming popular for cardio training nowadays due to its little risk of injuries.
In a hurry and can't keep reading? How about you check out the Sunny Water Rowing Machine.
The Sunny water rower provides a low-impact, full-body workout that engages 85% of your muscles and offers instant resistance that increases with your rowing tempo, resulting in more calories burned in a shorter amount of time.
Here we present the list of the best water rowing machines that will bring a unique rowing experience. You'll feel like a seasoned rowing athlete who pushes their limits to pull the oar with maximum efficiency. Take a look at the outstanding water rowing machines reviews to choose the proper rowing gear for your home gym.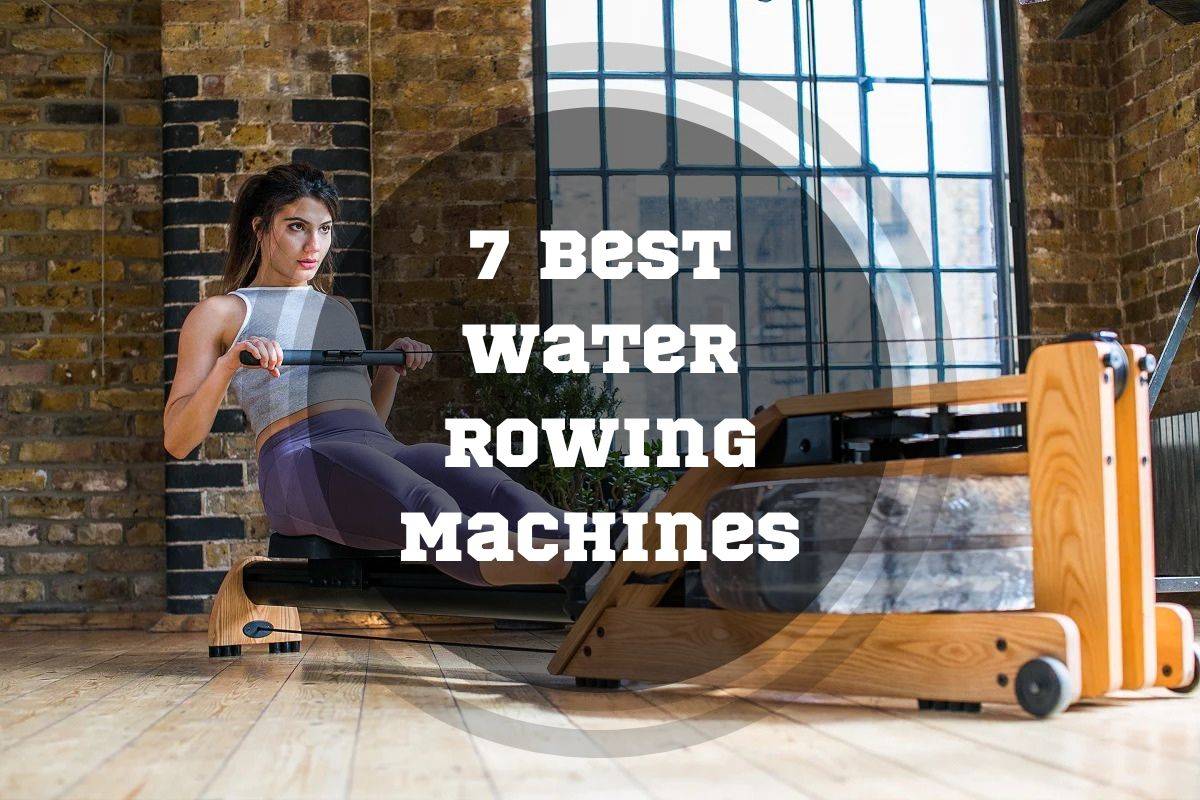 Top 7 Best Water Rowing Machines Reviewed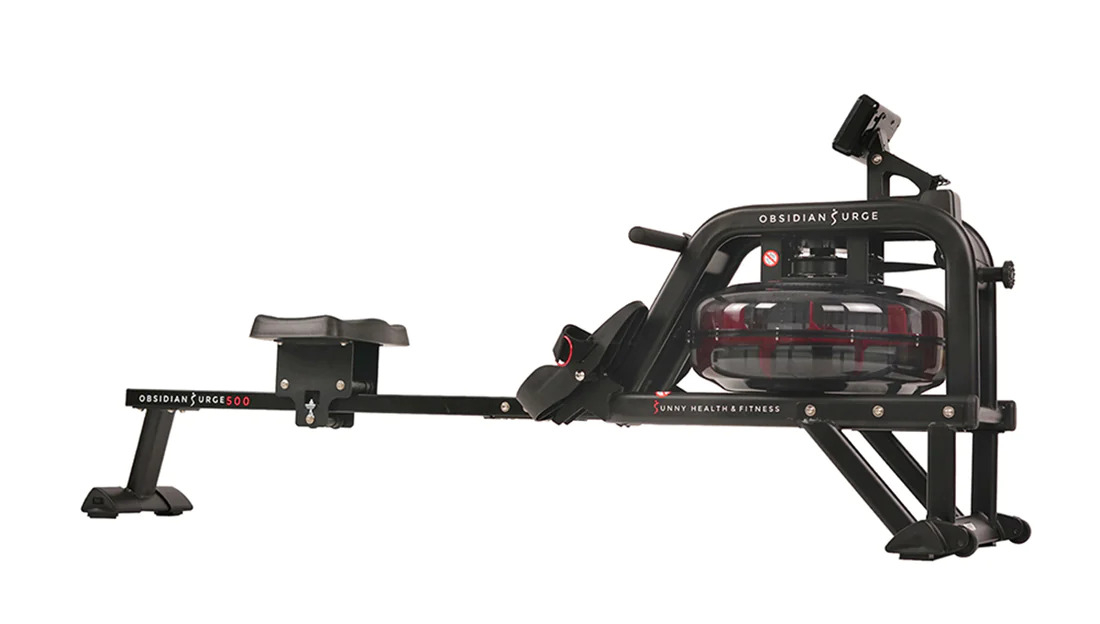 Item dimensions: 80" L x 22" W x 34" H (folded: 34" L X 22" W X 80" H)
Item weight: 91.9 lb
Display

: LCD display



Slide rail length: 42"
Weight capacity: 300 lb
Foldability: upright foldable
Compatibility: 5.3 KHz ANT+ HR strap compatible
Warranty: 3 years for the frame, 180 days for parts and components
With Sunny water rower, you'll work out up to 85% of your body's muscles without high impact on your joints. You'll burn more calories in a shorter period of time with the instant resistance that caters to your tempo: the faster and more intensive you row, the faster the fan blades will spin and the higher tension you'll feel.
The machine is equipped with high-density 16 hydro blades that create resistance during rowing while rotating the paddles and pushing against the water. Made of lightweight sturdy steel, the rower is solid and durable.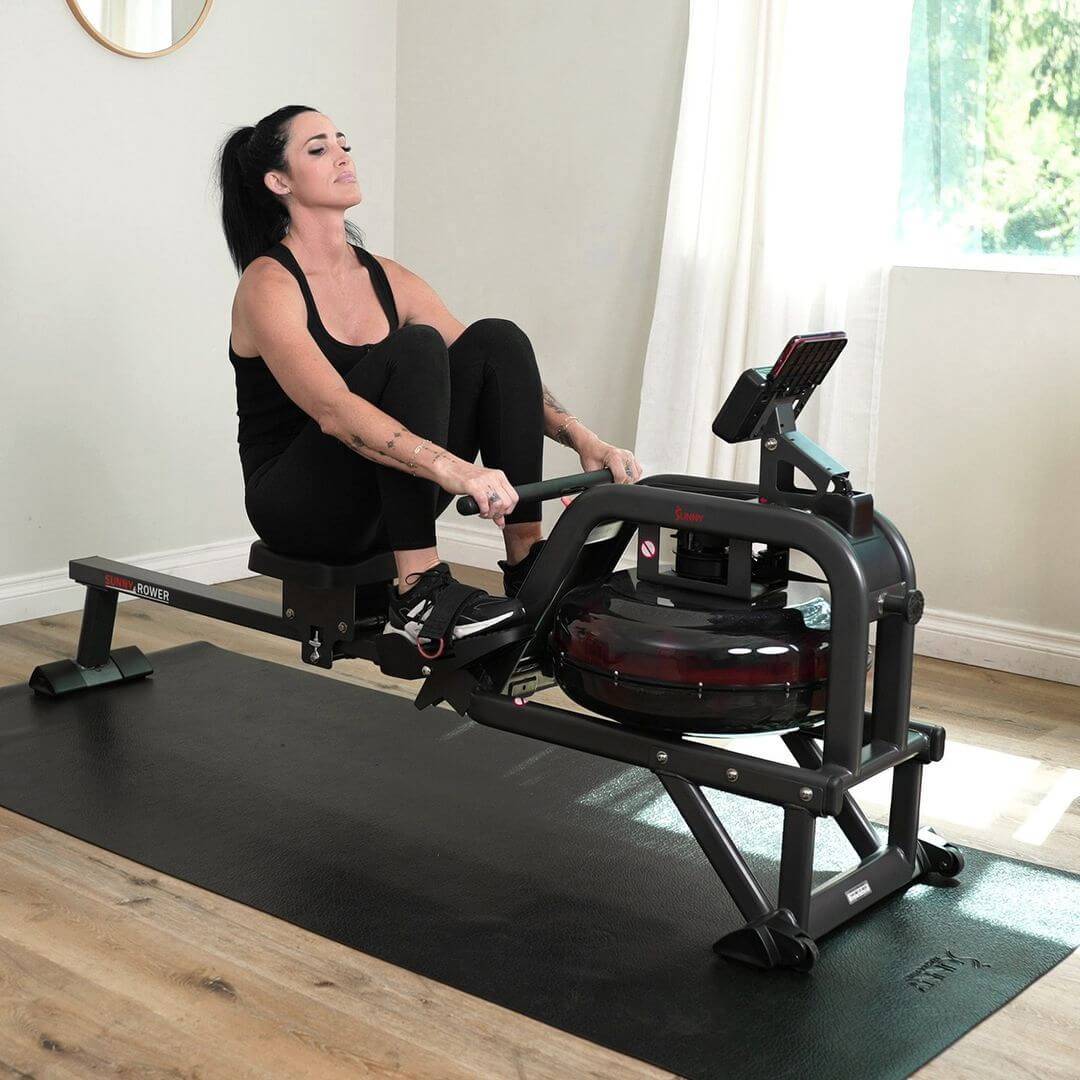 Being designed with an LCD display, you can track your total time, 500M split time, SPM, total strokes, calories, HR, and temperature. Also, you can adjust a personalized workout via R2 Fitness Meter, or train with the pre-set programs.
This best water rowing machine is also space-saving: you can transport it easily and store it in an upright position against the wall.
The Sunny water rower features 16 hydro blades for low-impact resistance, an LCD display to track metrics and customizable workouts, and is lightweight and easy to store.
(Show More)
Fits well people over 6' in height

Can be easily stowed with a water tank
Pivoting footrests should be fixed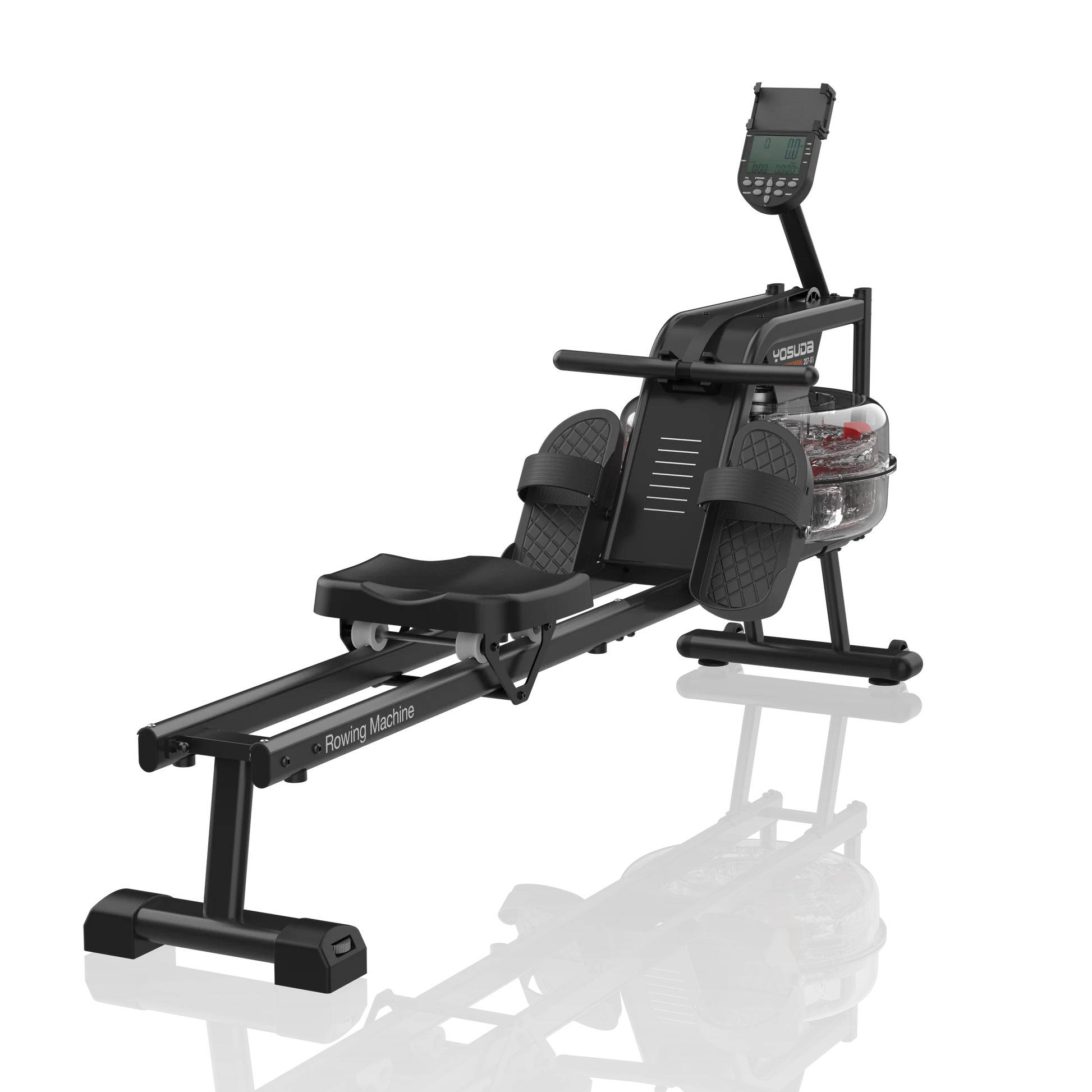 Item dimensions: 35.4" L x 18.1" W x 17.7" H (folded: 34.3" L x 17.9" W x 71.57" H)
Item weight: 60 lb
Display

: LCD display



Slide rail length: no information
Weight capacity: 350 lb
Foldability: upright foldability
Compatibility: Bluetooth, Kinomap, FS
Warranty: 3 years for the frame, 180 days for parts, 12 months for labor
Our runner-up choice is the Yosuda water rower which will bring you an all-inclusive body workout and will help you to become fitter, burn calories, and have moderate rehabilitation therapy as well.
The water resistance system comes with an Aviation-standard polycarbonate tank, with stainless bearings and screws, and an EPDM rubber sealing ring which guarantees that you won't leak the water while rowing. Aluminum dual slide rail provides more smooth, silent, and stable rowing, by mimicking the water's real sounds.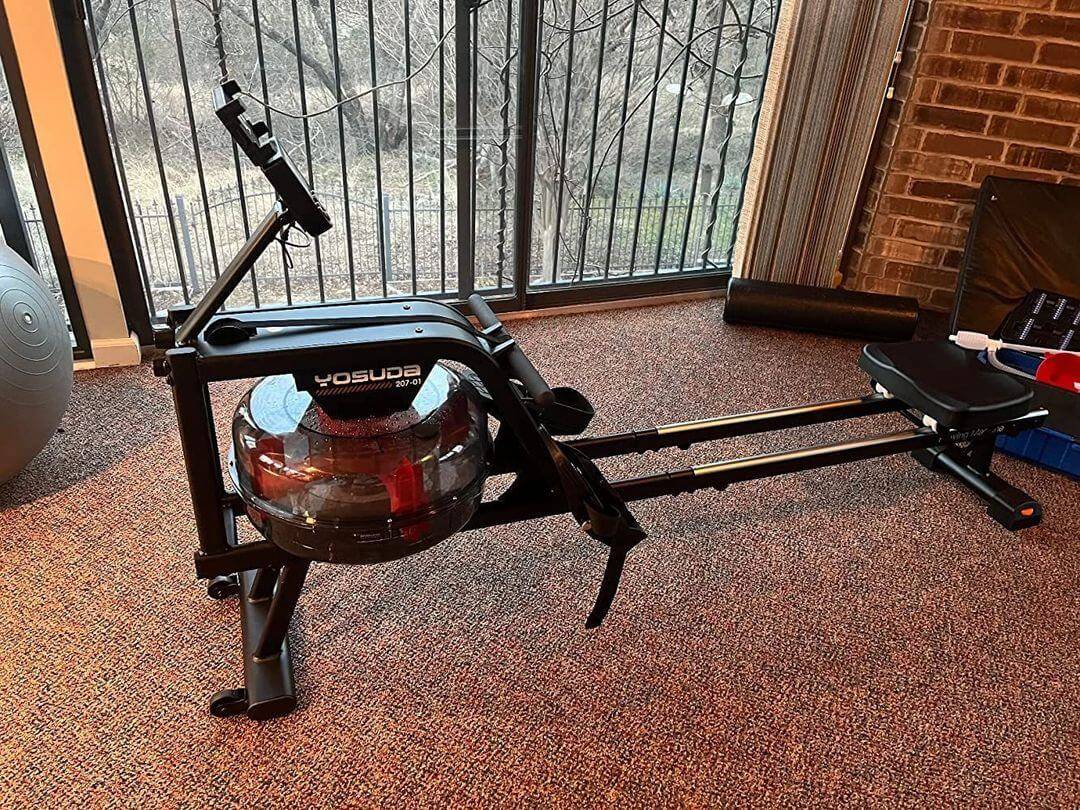 The monitor shows the following stats as calories, speed, time, SPM, distance, and strokes. It's also possible to sync the rower with your smartphone by downloading the Kinomap app where you can join virtual classes coached by trainers.
The Yosuda water rower provides a full-body workout with water resistance, a durable polycarbonate tank and aluminum slide rail, a monitor displaying key metrics, and the ability to connect with virtual classes via smartphone app.
(Show More)
Can be paired with applications

Equipped with a dual slide rail that brings extra sturdiness
The basic monitor could be bigger

Less impact training because of rotating footrests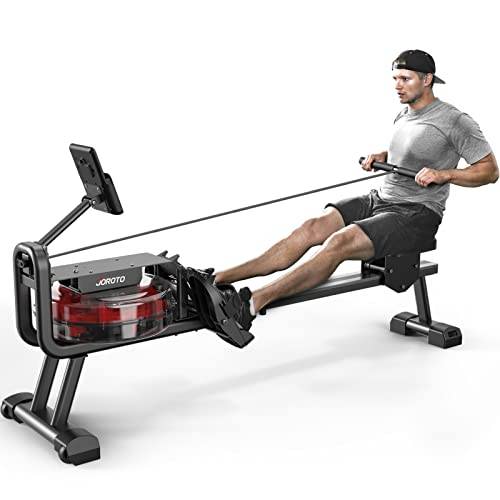 Item dimensions: 73" L x 17.5" W x 33.5" H (folded: 23.5" L x 17.5" W x 73" H)
Item weight: 55 lb
Display

: LCD display



Slide rail length: no information
Weight capacity: 300 lb
Foldability: upright foldability
Compatibility: Bluetooth, Kinomap
Warranty: 1 year for parts
This rowing machine is equipped with 12 blades that bring real-life water rowing: the faster you row, the more resistance you'll train with. So, you can adjust the intensity of your rowing on your own and make it more or less challenging.
You get a big LCD monitor that depicts your time, distance, calories, count, and total count. It's also adjustable to various angles that can fit people of different heights.
The rower is Bluetooth-compatible and you can link it to the fitness app Kinomap. Thus, you can track your progress much easier: you can record your workout performance, build your personal training plan, and even compete with other app users online.
JOROTO MR23 boasts adjustable water resistance, a large LCD monitor, Bluetooth compatibility with the Kinomap app, and adjustable angles for users of varying heights.
(Show More)
Smooth operation, no lubricant is needed

Easy to move around the apartment
Foot rest can seem too big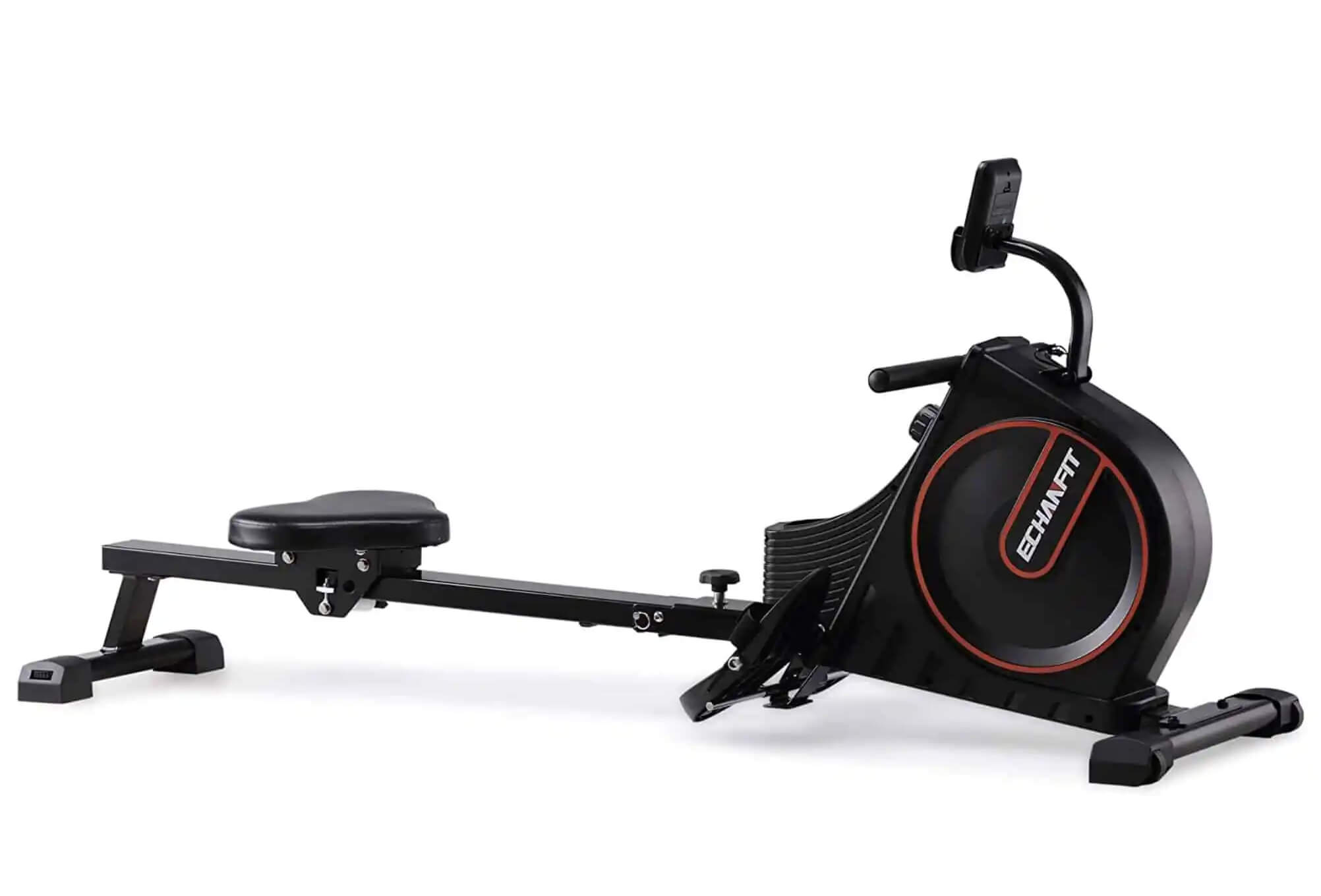 Item dimensions: 72.24" L x 17.32" W x 35.24" H
Item weight: 60 lb
Display

: LCD monitor



Slide rail length: 42" inseam length
Weight capacity: 400 lb
Foldability: upright foldability
Compatibility: Bluetooth, Fitlog
Warranty: 12 months for parts
ECHANFIT rowing machine is designed with multiple staggered hydro fan blades that simulate real water rowing. Its unique feature is a dual resistance system: it has both 6 levels of water and 32 levels of mechanical resistance to gain even more visible progress.
You can track your progress by following your stats in speed, time, distance, calories, stroke, 500 M pace, and stroke rate in rea-time. Additionally, you can synchronize this water-resistant rowing machine with the Fitlog application to have more opportunities for excelling in your rowing technique, gaining strength, and improving performance with the coaching classes. Also, you can arrange a customized workout plan concerning your fitness goals and fitness level.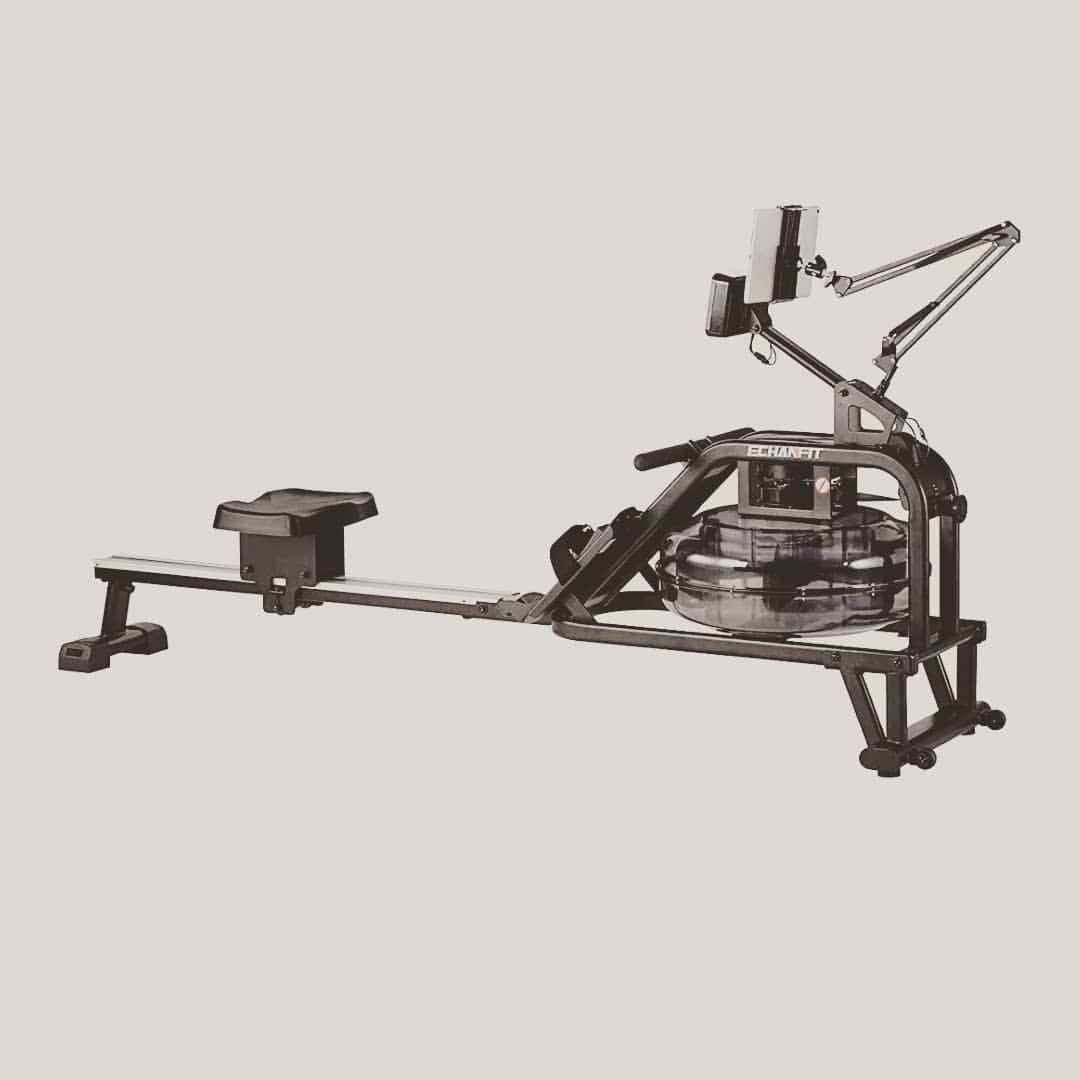 The rower's solid performance and the sturdiness of the slide rail vouch for long-lasting operation. Due to the 42" inseam length, this rowing machine can be suitable for heights under 6'6".
The Echanfit rowing machine features staggered hydro fan blades, a dual resistance system, and real-time progress tracking, along with the ability to sync with the Fitlog app for personalized coaching and workout plans.
(Show More)
Has water and mechanical resistance

It's possible to adjust the position of the device holder

Silent slide rail motions
Basic monitor with no pre-set programs
Item dimensions: 21" L x 84" W x 22" H
Item weight: 24 lb
Display

: LCD display



Slide rail length: no information
Weight capacity: 1000 lb
Foldability: upright foldability
Compatibility: ANT+ HR chest strap
Warranty: 5 years for the frame, 3 years for the components
Due to exceptional construction, you'll take your rowing experience to the next level with this wooden rowing machine. With the powerful blades, water tank, and flywheel, you'll be able to adjust the resistance level according to your capabilities, making it self-regulated. That means when you row faster, the drag mechanism creates more resistance.
The LCD monitor has six QuickSelection and three navigation buttons, so you can change the intensity of your rowing session in a moment. Also, you can get information about heart rate, activity zone, rowing duration, and distance. You can synchronize the machine with a heart rate chest strap and receiver, which improve your training session and gain your training goals.
The great difference from other rowing machines is that it's made from solid ash and stained honey oak. The wood was chosen due to its engineering properties and the ability to absorb vibration, which promotes quiet and smooth performance.
The rower is equipped with dual rails that increase seat stability. The frame itself can be flipped upright for easy storage.
Ironcompany Water Rowing Machine provides exceptional construction, with adjustable resistance levels based on your capabilities, a LCD monitor with heart rate tracking, and solid ash and honey oak materials for a smooth and quiet performance.
(Show More)
Fancy wooden construction

Takes 32" square of your room

Smoothly operating water resistance and pulling mechanism
No connection to Bluetooth and apps

You can hardly read the monitor because of the glare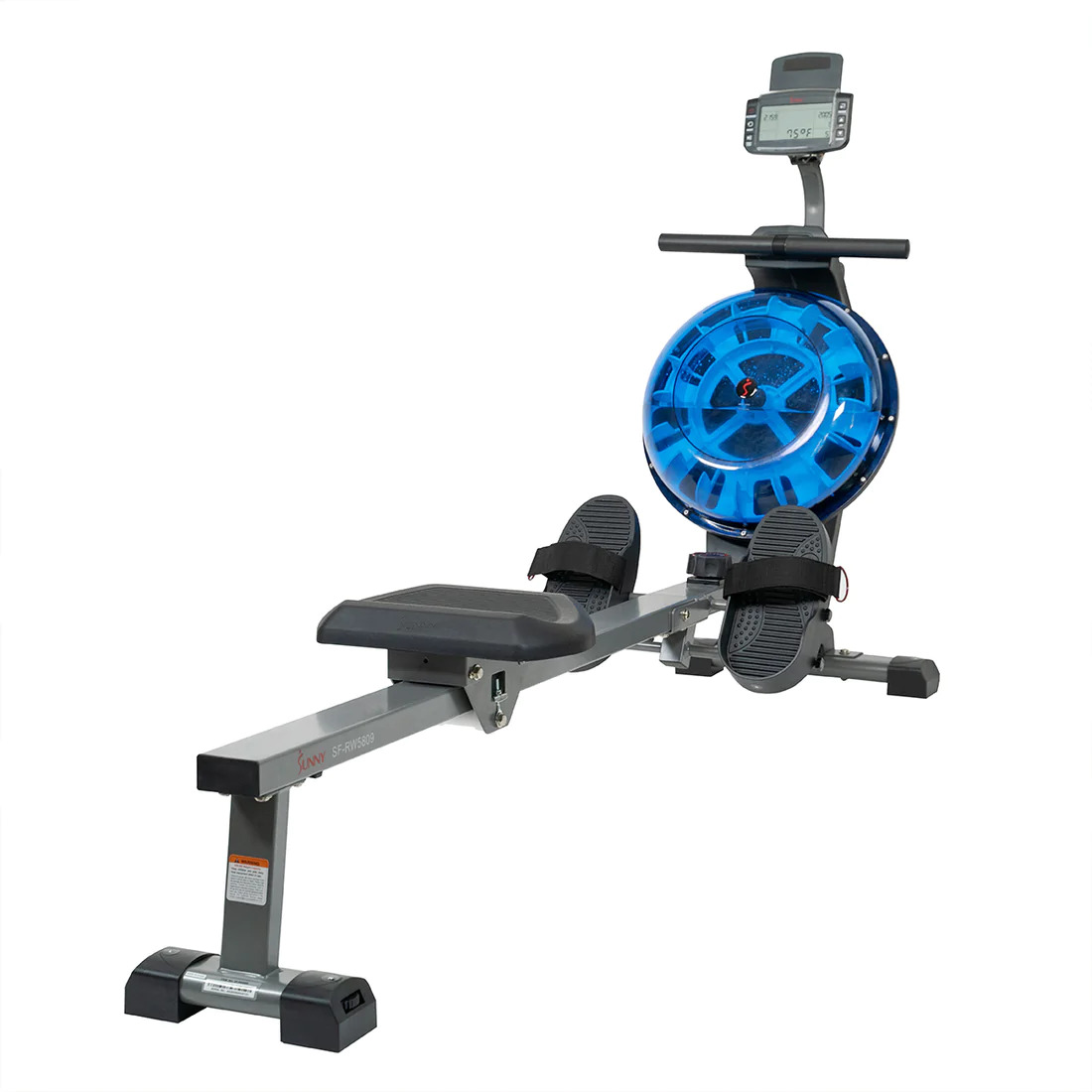 Item dimensions: 77.2" L x 18.9" W x 44.1" H (folded: 44.1" L x 18.9" W x 77.2" H)
Item weight: 73.6 lb
Display

: LCD monitor



Slide rail length: 46.9"
Weight capacity: 275 lb
Foldability: upright foldability
Compatibility: Sunny Health & Fitness app, ANT+ HR chest strap
Warranty: 3 years for the frame, 180 days for parts and components
This authentic rowing machine is designed with a water-resistant mechanism of 16 hydro blades that adapts to your pulling forces, and also magnetic resistance with 16 levels of tension will bring you an extra challenging feeling while rowing.
The water tank is located at 60 degrees and boosts the feel of resistance up to 45% more than with the flat tank design (when placed horizontally).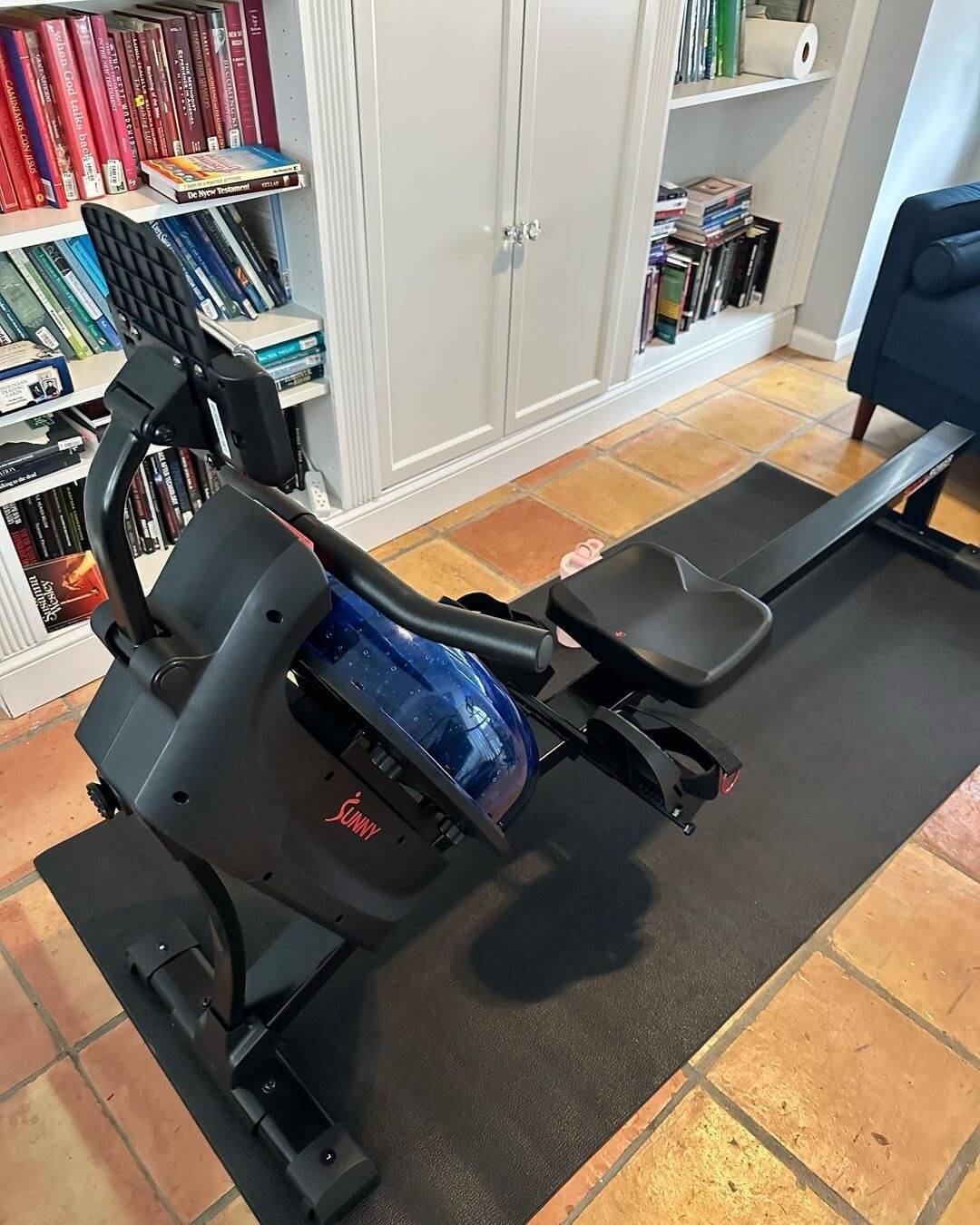 A 2-way swivel performance display indicates the following data: general time, time per 500M, distance, SPM, strokes, calories, heart rate, as well as having a race function.
Sunny Hydro+ Magnetic Rower offers 16 hydro blades and 16 levels of magnetic resistance, a 60-degree water tank design for greater resistance, and a 2-way swivel performance display that tracks various workout stats.
(Show More)
Footrests are too big, made of molded plastic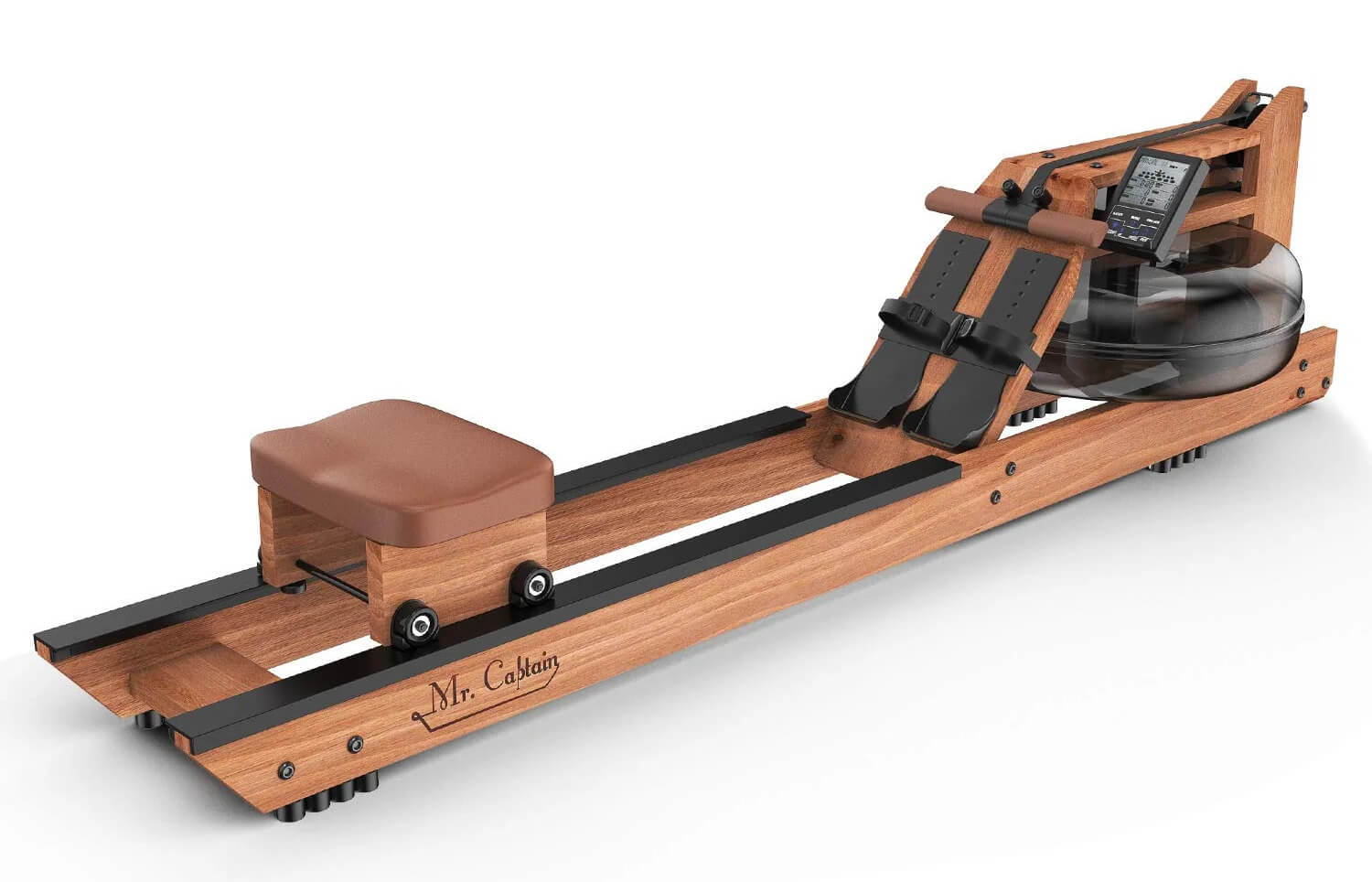 Item dimensions: (folded: 22" L x 20" W x 84" H)
Item weight: 58.5 lb
Display

: LCD monitor



Slide rail length: no information
Weight capacity: 320 lb
Foldability: upright foldability
Compatibility: Bluetooth, FitShow app
Warranty: 1 year for the frame, 180 days for parts and components
This wooden water rowing machine is made of a real red walnut wood material that imitates the real-life rower while bringing exceptional durability.
There's an opportunity to set up 3 modes: manual, interval customized training, and target. It'll assist you manage your time and intensity of the workout by accomplishing your goals.
The monitor can be connected to the training FitShow application, so you can improve your performance and switch between different training modes. All your metrics will be stored in the app and you can easily track and analyze it at any time.
With the transport wheels, you can easily move the machine and fold it vertically to store it against the wall or closet. The protective cover that is included in the package can protect the machine from dust, UV, and scratching.
The indoor rowing machine is designed with dual rails that enhance the seat's smooth glide. Also, it operates silently, with no odd sounds. It also has a thickened water tank that has graduated lines, so you can add the needed amount of water based on how much resistance you want to train with.
Mr. Captain Rowing Machine features 3 modes for customized training, compatibility with the FitShow app for tracking metrics, transport wheels for easy storage, and a protective cover, with a silent operation and dual rails for smooth gliding.
(Show More)
Comes with an ANTI-UV cover

Reasonably priced for its quality and functionality

Good operation: pleasant water swooshing sounds while rowing
Isn't made of solid wood, it's just an MDF material
What Are the Benefits of Using Rowing Machines With Water?
You'll open up numerous advantages for your health with rowing machines: this low-impact, high-intensity training will develop ultimate power in every muscle, promote cardiovascular health, boost stamina, and facilitate gaining a lean body.
Getting a Full-Body Training
Rowing workout incorporates both the upper and lower body, although with a ratio of up to 35% is for the shoulders, arms, and core, while the rest 65% comes to the legs work. You'll manage to strengthen dominantly quadriceps, glutes, and calves, and also tone up your pecs, arms, obliques, and core muscles.
A Low-Impact Workout That Doesn't Hurt Your Joints
One of the main reasons why this type of training is becoming popular both among starters and advanced athletes is rowing provides low impact on your knees and joints. So, the feature makes it preferable to running or plyometrics. You won't feel discomfort, pressure, or pain during the rowing session. What's more, this workout can be a good option for rehabilitation therapy or for people with arthritis.
Studies have demonstrated that rowing can improve joint rotations in the lumbar, shoulder, knee, and elbow, by activating motor coordination. Hence, it's a great opportunity to promote muscle reaction, agility, and flexibility.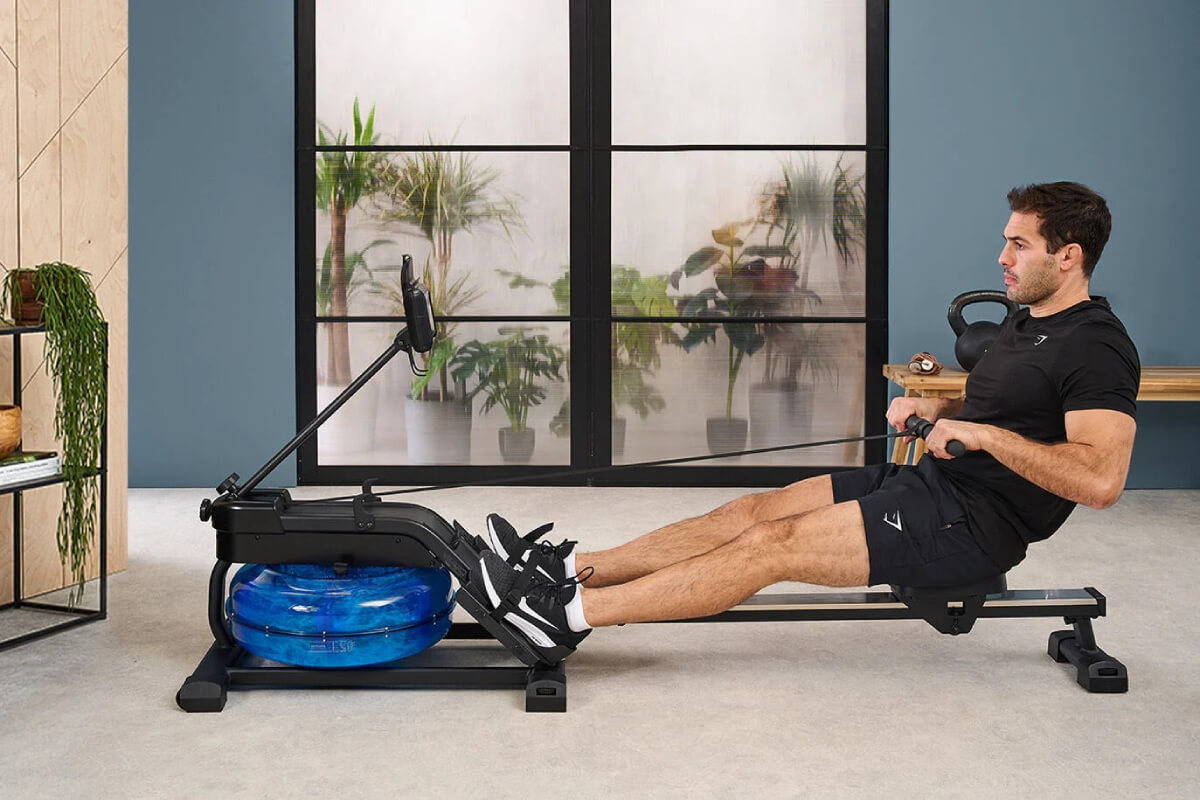 A Decent Substitution for Other Conventional Cardio Workouts
Unfortunately, rowing workout is quite underestimated and the majority would rather choose to buy a treadmill or elliptical for their home gym. Rowing machines with water can bring more advantages for the whole body, not just for the legs or arms.
This is a great option for everyone, no matter what their fitness level is because it's possible to control the intensity of the training on your own. The resistance depends on how effectively you row, so you can adjust your tempo easily. Additionally, you can save some money by buying equipment that separately targets the upper and lower body. Here, you get a 2-in-1 tool.
Improving Your Overall Health Condition
First, rowing targets the whole major muscles: you can strengthen your abdominals and back muscles, and improve your posture. Second, as for cardio training, this is a worthy option to burn calories and tone your whole body. Third, you can promote those muscles' flexibility and put them in a fit shape.
Besides, rowing boosts your cardiovascular health, improving your heart, lungs, and vessels' health. Consequently, it lowers the risk of heart disease. Being an aerobic training equipment, you can increase your endurance, strength, and mental health, and even improve the quality of your sleep.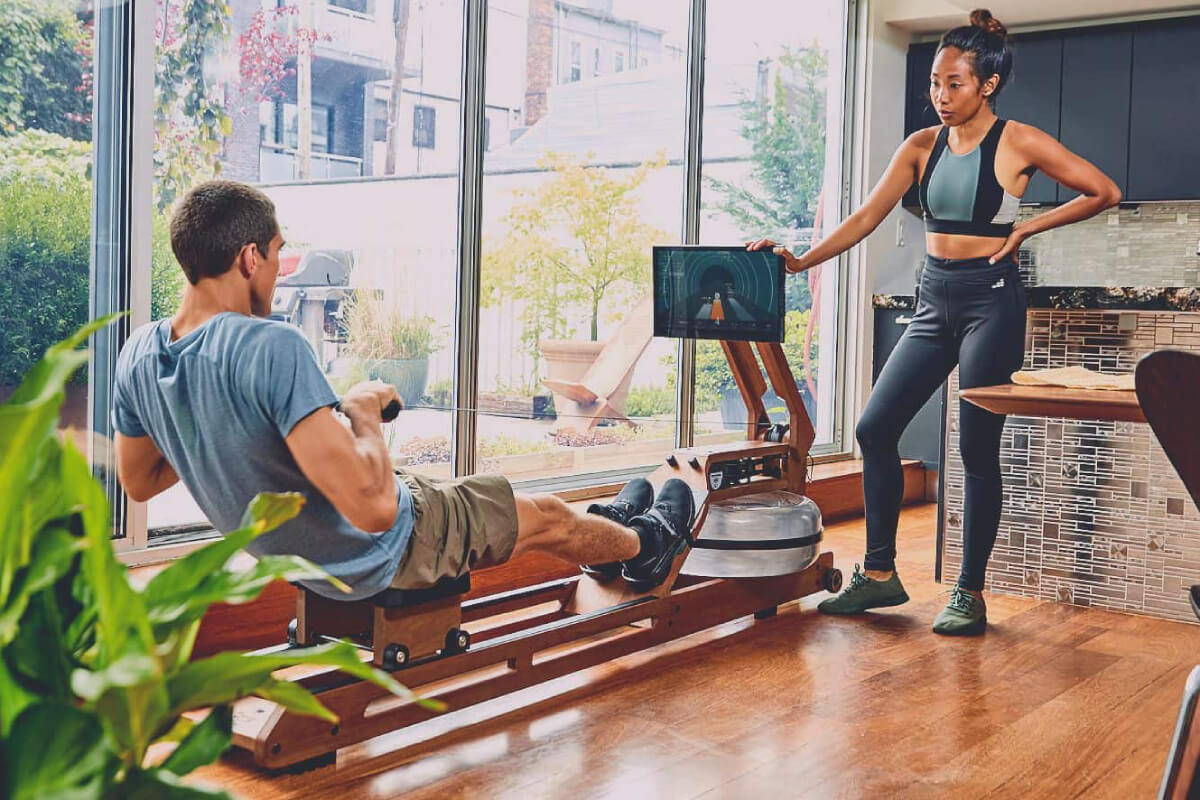 It Doesn't Require Much Time to See the First Results
This type of workout is quite time-efficient, so if you're out of time and want to see some results just in a short time, rowing will meet your preferences. Why is it so effective? Since you can work out the whole body's muscles at the same time, you burn more calories. So, you can feel pleasant fatigue in your muscles just after several minutes of persistent rowing. With such a feature, the rowing session can last up to 30 minutes and it'll be enough for an intermediate athlete at least. But for a beginner, it'll be enough to row for 15-20 minutes since an individual should keep a stable rowing pace to make the exercise more effective. By gaining power and stamina, you'll be able to improve your performance progressively and will do longer distances with higher intensity.
A Worthy Cross-Training Training
Generally, a rowing session will benefit an athlete of any sports discipline by developing their overall fitness. It's also a useful workout for rehab, overcoming physical or psychological fatigue, and overtraining. It's highly versatile: you can boost your speed and mobility if you're a runner who focuses on sprints, or you can develop endurance skills and cardio capabilities to further improve your performance in HIIT or fitness. Rowing can be used also by those who train with weights since it can improve the control of your grip; it'll benefit cyclists too - they'll succeed to enhance their aerobic and anaerobic capabilities to develop their overall stamina for long-distance rides.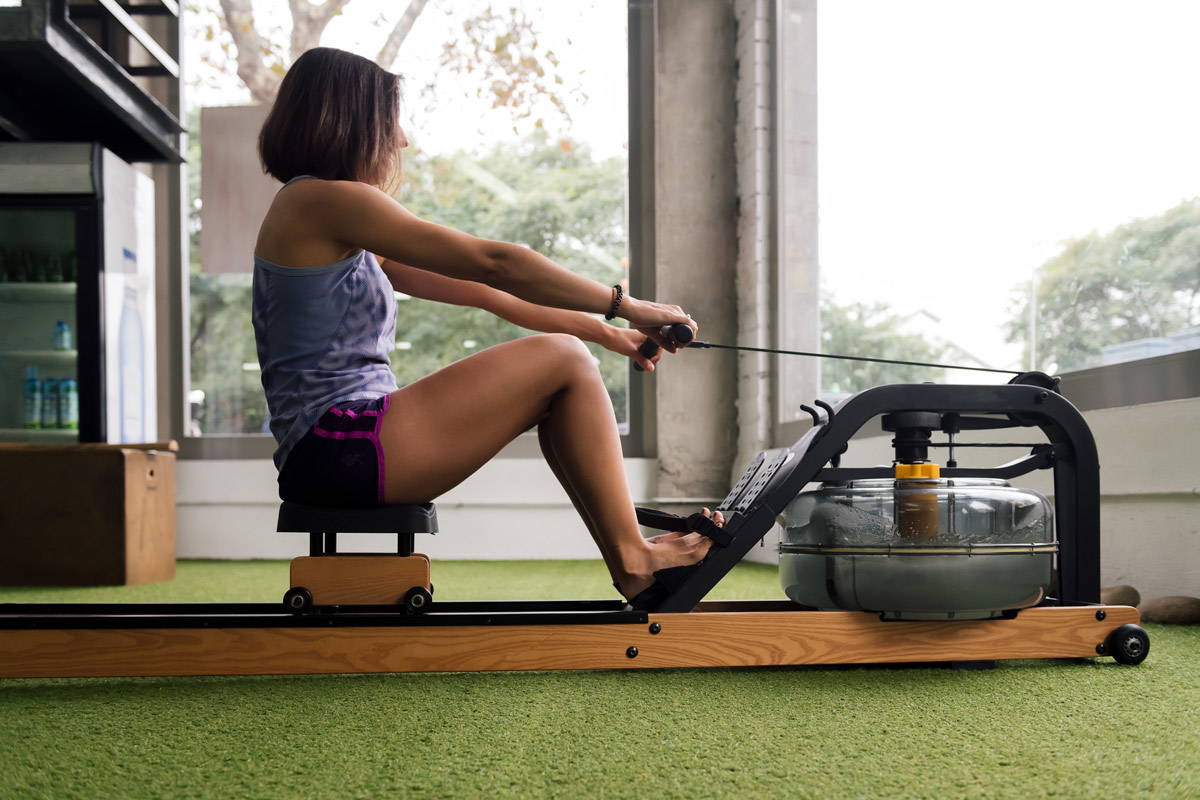 Factors to Consider When Choosing a Water Rowing Machine
When picking up a water rowing machine, you should check numerous features to get assured that it fits you well and your workout will be comfortable at the max to meet your goals.
Dimensions and Foldability
If you want to arrange a home gym, apparently, you have little space to place some equipment there. So, you need to consider compact rowers that can be folded and transported easily throughout your apartments. The best option for the water rowing machine is the model that can be stored in the standing position against the wall in the corner.
If you want to get more than just simply pulling the handle back and forth with minimum stats shown on the monitor, you need to search for a rowing machine that has a wide range of functionality. Besides a basic monitor that displays such data as time, distance, SPM, split time, calories, etc., would be more interesting and engaging to synchronize the rower with your smartphone and have more opportunities to track your performance. Hence, choose a model that is Bluetooth and fitness application compatible.
Despite the fact that we're talking about water rowing machines, it's absolutely possible to find a rowing machine with a water tank you can fill in manually and that also has magnetic tension. Sure, there are not so many models with double resistance systems, although this feature will enhance your training greatly. You'll be able to challenge yourself by adding more resistance. What's more, what can be easier: you can change the amount of water in the tank to adjust the needed resistance level.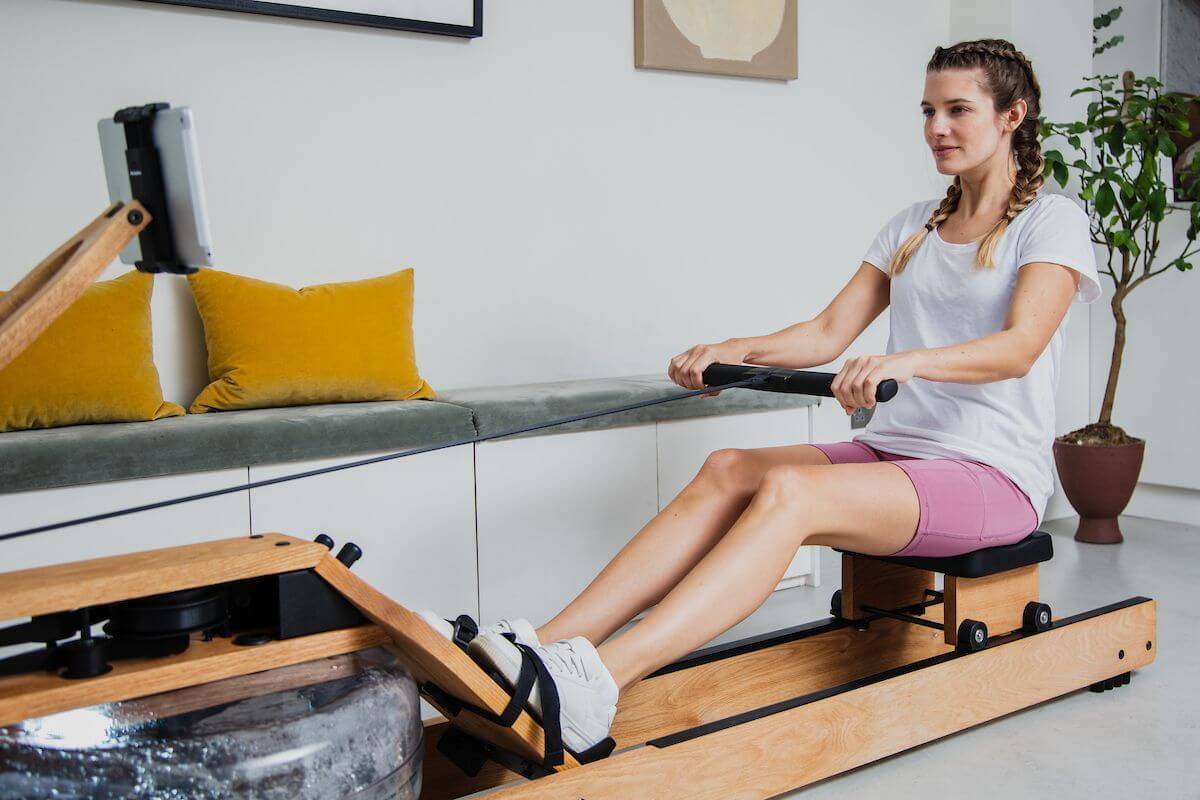 Tips for Most Effective Water Rowing Machine Usage
Effective rowing machine usage refers to understanding the proper motion set and body position. It's also vital to keep in mind that rowing is first about power and control dominantly, but not about speed.
There's no need to grip the handles too hard. You should be relaxed and have no pressure on your arms and legs. The more tension you put on the handle, the more achy feelings you'll have in your forearms, shoulders, and even neck. Remember to keep your core tight and in proper posture.
Your legs are the driving force while rowing because this type of training is about legs predominantly. Your quadriceps and glutes should do the majority of the movements to perform each stroke. Remember the rule "legs, hips, back, arms - arms, back, hips, legs" which is a sequence of the rowing motions. Your legs should push you back with power. Don't make your arms work earlier than your legs because your upper body will get tired quickly. It's important not to straighten your legs fully when pushing the foot pedals.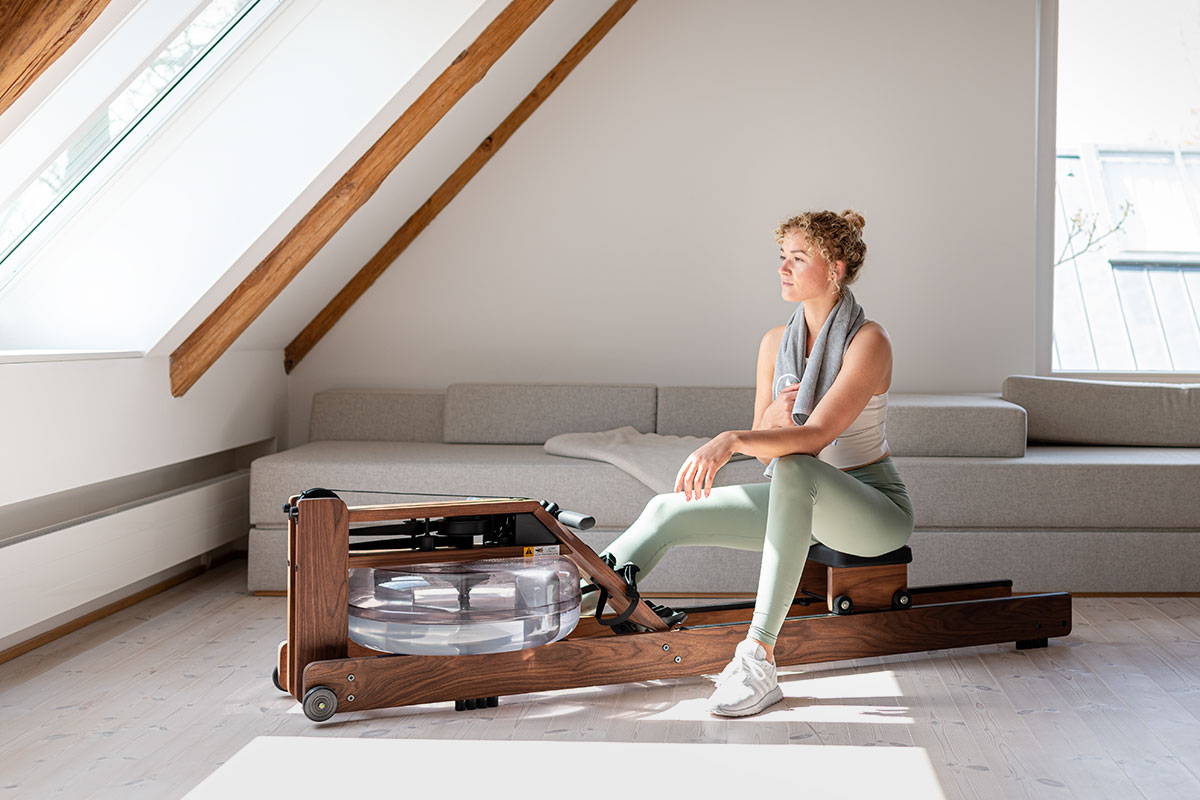 Keep Your Shoulders and Knees in Place
Stop shrugging with your shoulders when you drive back with each stroke. You should keep them straight in line, in parallel with the slide rail. Speaking about your knees, don't bend them earlier. They should be straight till the handle is above the middle of your shin. Keep in mind that you need to bend them just after the handle passes your knees.
Start With the Initial Position
Start your rowing workout with the proper body positioning on the machine. Sit properly, put your feet on the foot holders, and fix them with the strap. When sitting upright, bend your knees, and lean forward. You should feel comfortable, make sure that the slide rail length and inseam length is enough for your height. Stretch your arms to grip the handle.
Pull on the handles and bend your elbows simultaneously. Lean back slightly while pulling your arms, and keep your upper body and neck straight. The right pulling motion is when you pull the handle to the area between your navel and the lower part of your chest, by involving your back and biceps muscles. When finishing the pull, you should keep your elbows tight to the trunk.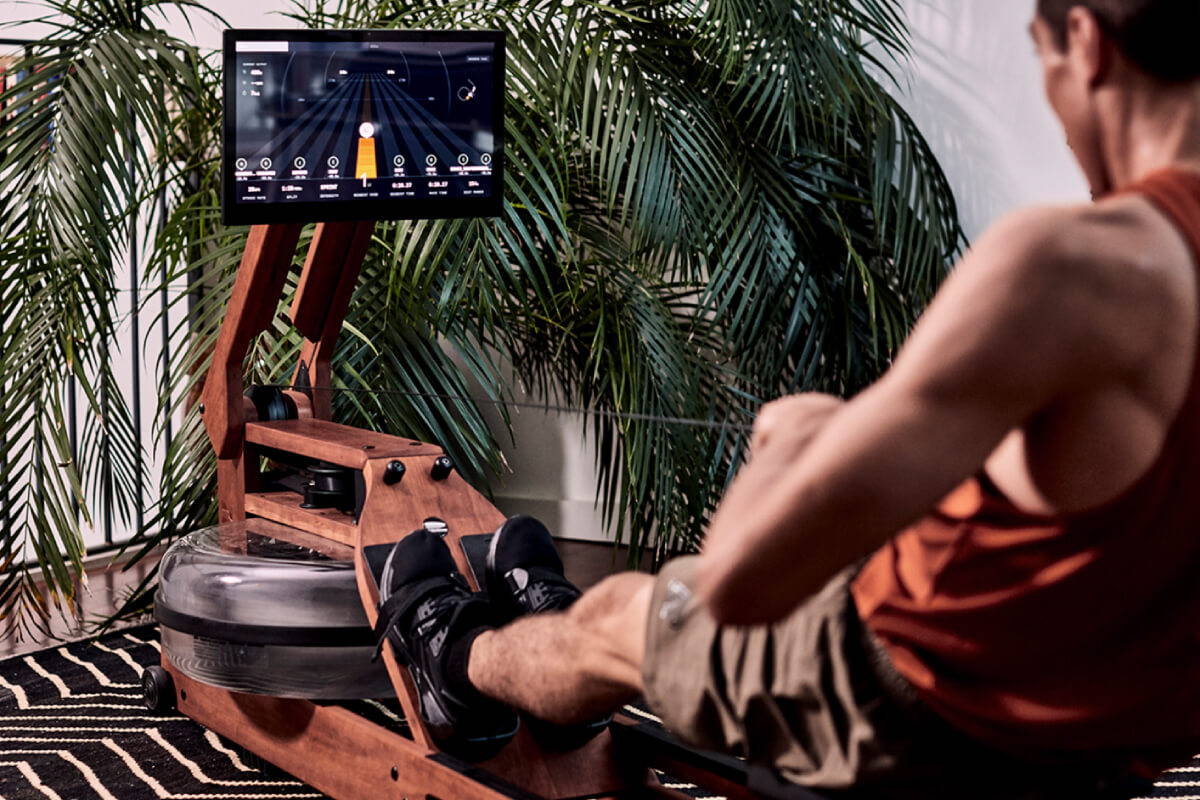 Preserve the Right Technique
The rowing technique itself includes the following stages you should perform in the defined order:
The catch phase: you grip the handle by keeping the wrists flat. Extend your arms, and keep your back straight and slightly forward. Bend the knees with your body bent forward.
The drive phase: extend the arms to reach the foot pedals. Maintain a firm trunk and upright body position. Pull the handle and lean slightly back before stretching the legs.
The finish phase: pull the handle to your navel and chest. Fully extend your legs and lean back.
The recovery: extend the arms and lean forward. Bend your knees and hips to move to the catch position. Then perform the next stroke.
How to Maintain the Water Rower Properly?
To make your water rowing machine serve you for a long time, you should follow simple maintenance rules to keep it clean and operating smoothly. The key point is to maintain the water condition in the tank periodically to avoid bacterial growth inside it. Manufacturers advise using municipal tap water. Also, it needs to be refreshed with the help of a water purification tablet: usually, you should add one tablet every six months. If the water is dirty, it's better to empty a tank in advance, wash it properly with clean water, refill it, and add a purification tablet. Avoid using pool chlorine because it can damage the polycarbonate tank.
Concerning the drive system, rowing belts can wear out after some time, so you need to tighten them. How to do it properly? You need to leave the handle in the full forward position and adjust the belt buckle to provide additional tension. Also, don't forget to look after the appearance of the rower in general: remove the dust from the surface and slide rails with a wet cloth.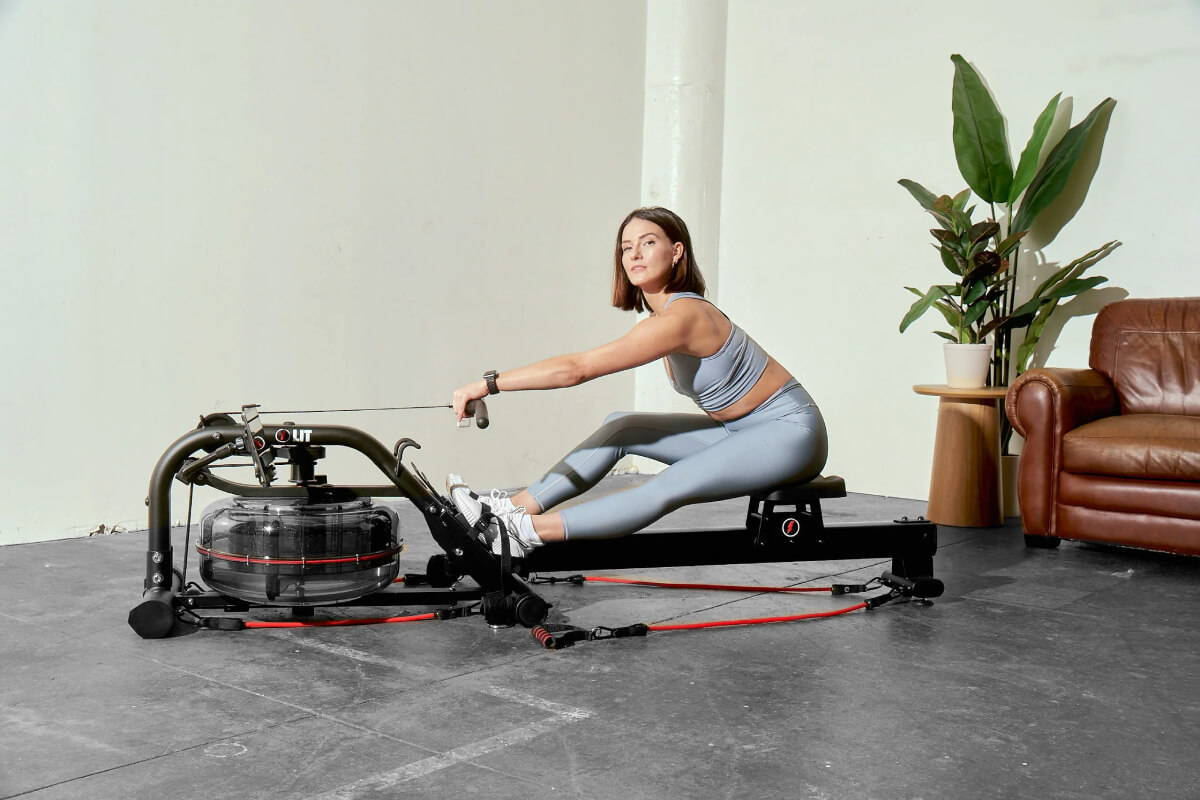 How Does a Water-Resistant Rowing Machine Work?
Water resistance rowing machines are believed to be a novelty, but they gain popularity gradually among avid fitness lovers. Being equipped with a water tank, it uses water and paddles to create resistance. It has a water flywheel (paddles) in a tank that is connected to a chain and handles. When you pull the handle, the paddles start to spin in the water. The moving water creates resistance against the paddles. So, the faster you row, the greater the resistance you'll get. The water rowing machine mimics the real water rowing and feels smooth during the whole stroke.
Are Rowing Machines With Water Effective in Weight Loss?
Being a low-impact full-body training, rowing in general is an excellent workout to lose weight and pump up your heart rate. Although, when rowing for weight loss, the result may depend on several factors: the intensity of the workout, body weight, height, fitness level, basal metabolic rate, age, and so on. Even your nutrition regime can be a contributing factor. For instance, if your weight is 132 lb and you train with a moderate tempo, then, you'll succeed to burn around 400-430 kcal per 1 hour. If you prefer to row intensively, you'll burn more than 600 kcal in one hour.
Is a Water Rower Better Than a Magnetic One?
Despite the pros and cons of each rowing machine, the assessment may occur quite relatable. Unlike the water rower, a magnetic-resistant machine can't provide you with such a real water rowing and natural feel of water pressure. It's electric-powered and provides you with a consistent resistance level you set at the beginning of the workout. A big advantage of a water rowing machine is its ability to provide athletes with the combination of natural resistance and their personal output, so they can control the tension level during the rowing session.
Considering the above-mentioned information on the gear functionality and describing the most prominent models of the best water rowing machines, we advise you to pay attention to our top pick rower - Sunny Water Rowing Machine. Providing low-impact training, this best water rower can become an even better substitution for everyday running or dynamic HIIT. By providing a mild effect on your joints and improving your general body conditioning, this rowing machine will help you to meet your fitness goals and improve your health state.
Hesitate whether you're able to make a good decision in picking up a worthy rower? Want to skip the problem of money wasted on useless home gear, rely on our rating. Select a fitting water rowing machine considering your needs and preferences to get fit and come into shape in several intensive rowing sessions.
Does on-water resisted rowing increase or maintain lower-body strength? // NIH: https://pubmed.ncbi.nlm.nih.gov /22996030/



Ergometer training volume and previous injury predict back pain in rowing; strategies for injury prevention and rehabilitation // Bmj: https://bjsm.bmj.com/ content/48/21/1534
Does extensive on-water rowing increase muscular strength and endurance? // NIH https://pubmed.ncbi.nlm.nih.gov/ 22364374/
Kinematics of Cervical Spine during Rowing Ergometer at Different Stroke Rates in Young Rowers: A Pilot Study // NIH https://www.ncbi.nlm.nih.gov/ pmc/articles/PMC9265975/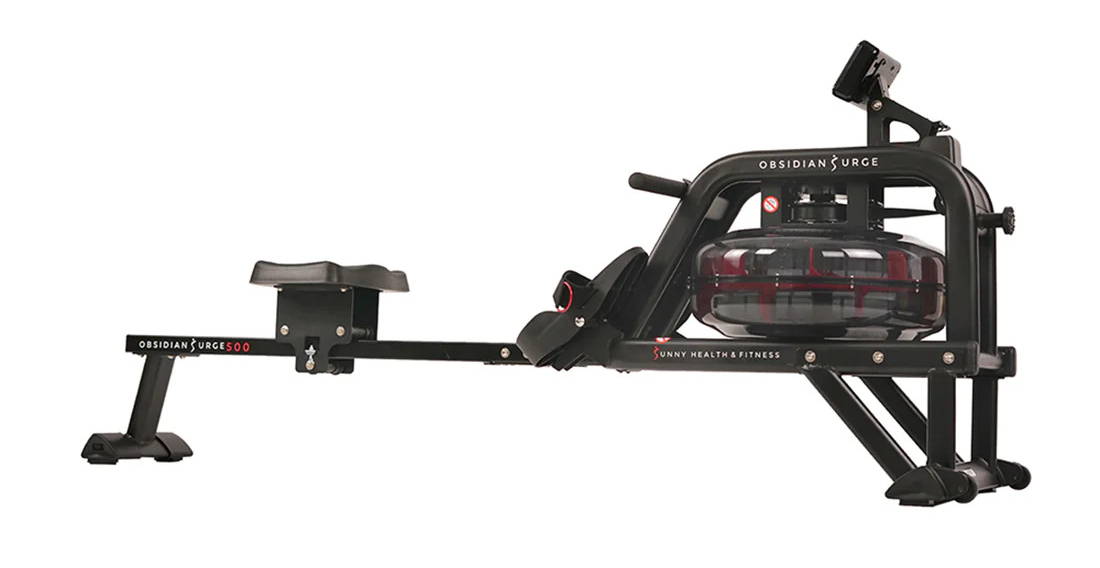 My name is Ihor and I have been a professional weightlifter since 1996. With over 20 years of competition experience, my resume includes European Champion in 2009 and the silver medalist at 2011's Senior World Championships –105kg division.
I competed at the 2008, 2012 and 2016 Summer Olympics.
After hanging up my own competitive lifting shoes, I decided to share my huge background as a coach. I am currently coaching multiple athletes who are competing at national and international competitions.