Exercise plays a key role in all phases of life. It gets more important as we age because the independence to perform activities of daily living (ADLs) is at stake. The US Department of Health and Human Services includes eating, toileting, getting out of bed, and several self-care acts in ADLs.
In a hurry and can't keep reading? How about you check out the NordicTrack EXP 7i.
NordicTrack EXP 7i is ideal for older adults, providing a user-friendly experience with its spacious tread belt, convenient mobility, and impact-reducing Flex cushioning.
Regular cardio, like walking and jogging, is the solution to staying (or getting) fit. We'll help you find the best treadmill for seniors. A compliant machine at home is safer than hitting outdoor tracks or a gym!
Pick your favorite and ensure a healthy, active life ahead.
Top 11 Best Treadmills For Seniors Reviewed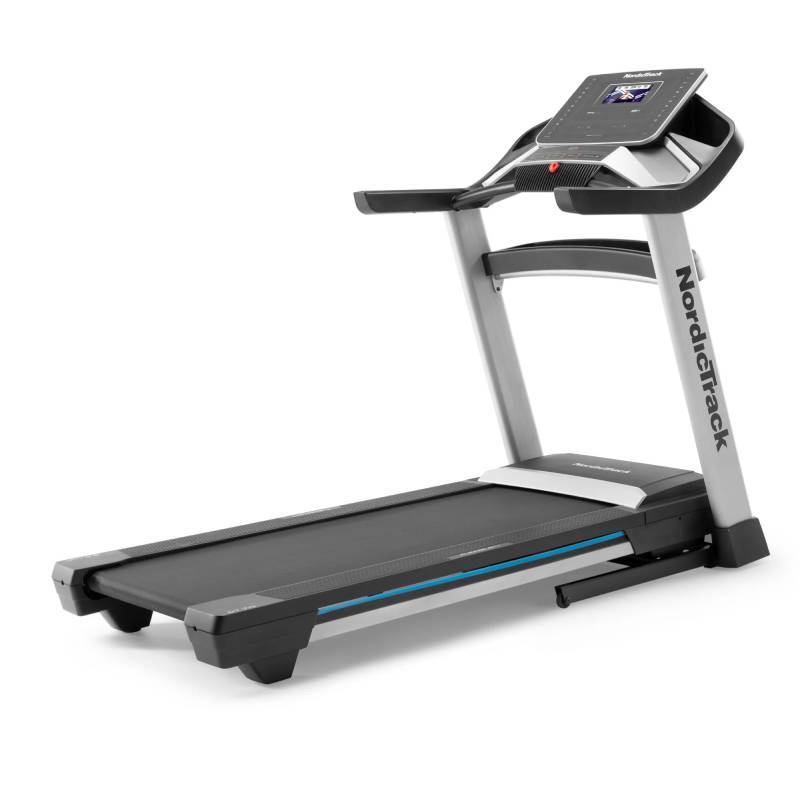 NordicTrack treadmills have established a terrific reputation in the industry. There are three models in the newer home-use EXP series: 7i, 10i, and 14i (the number stands for the screen size).
Speed Range: 0-10 mph
Max Incline: 12%
Foldable: Yes

Weight Limit: 300 lb
Item Weight: 228 lb
Product Dimensions: 70.8" L x 34.9" W x 59.7" H
Display: 7" Tilt HD Touchscreen
Running Surface: 20" x 55"
Warranty: 10 years on frame, 2 years on parts, 1 year on labor
Workout Programs: 30-day iFit Trial
Additional Features: Runner's Flex Cushioning, Bluetooth Headphones, Integrated Device Shelf, SpaceSaver Design with EasyLift Assist
The entry-level EXP is a good treadmill for older adults' requirements. It features a small footprint with a foldable deck. Once done with your heart-pumping routine, lift the auto-lock base and wheel it out of the way.
The commercial-grade tread belt is spacious enough for most users. You won't feel like walking down a tightrope. Hold on to uprights and cross-rails for support. The Flex cushioning is designed to reduce impact compared to asphalt or concrete surfaces.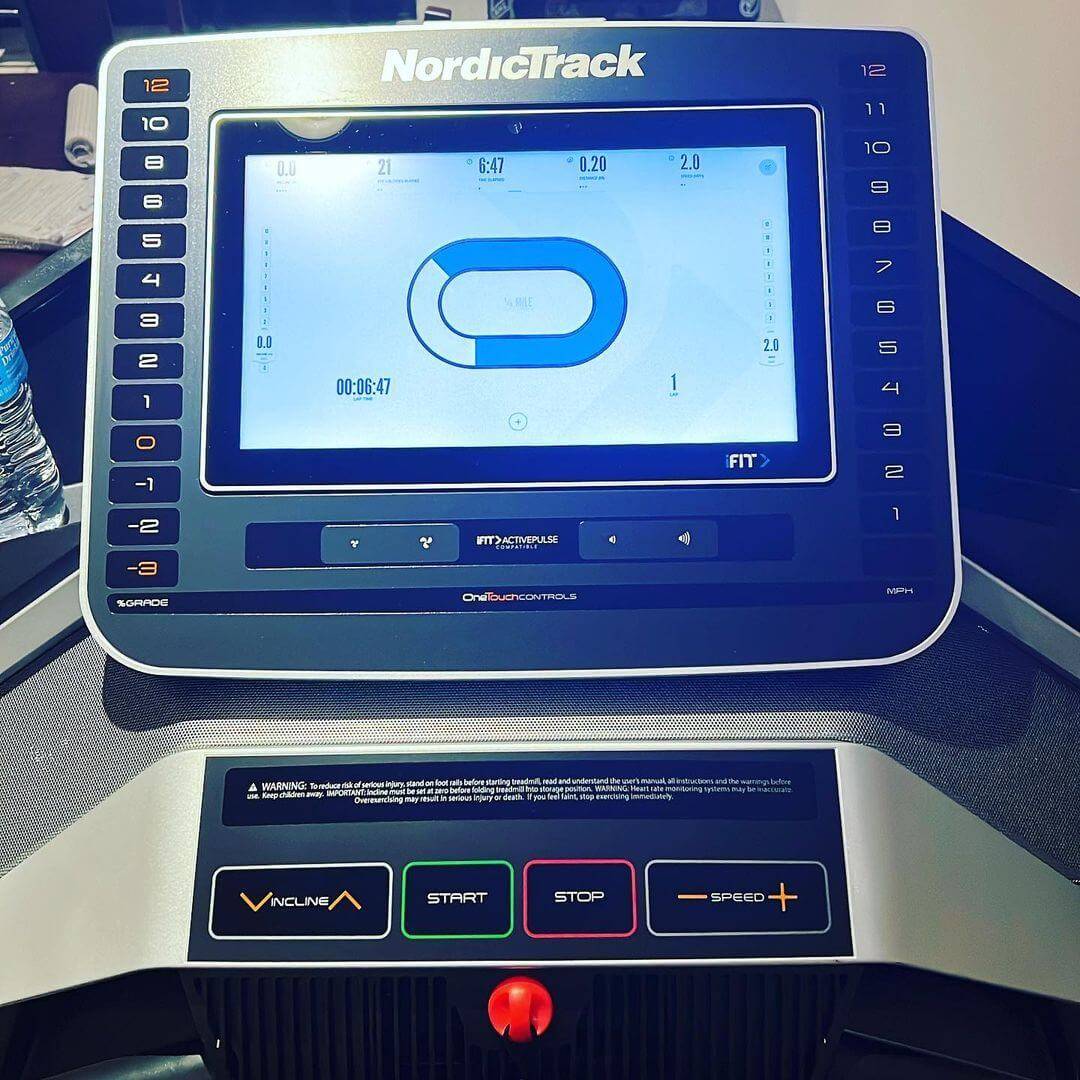 Its sleek console has quick-access buttons for speed, incline, volume, and fans. There are several storage pockets and a media tray. The crisp display isn't giant but compatible with iFit programming. While following a trainer-led plan, the intensity adjusts automatically. The Google Maps integration means you can explore walking tours and hiking trails around the world.

The free trial ends after a month. Afterward, you'll be charged extra for continued support. Should you choose to cancel the subscription, the monitor will resort to basic metrics like calories burned. Don't expect Netflix or Youtube icons. However, wireless speakers may jazz up the day.
The NordicTrack EXP 7i treadmill is a compact and user-friendly option designed specifically for seniors, offering convenient controls, storage pockets, and wireless speakers, making it an ideal choice for their fitness needs.
(Show More)
A rotating, touch-enabled HD display

Over 17000 pre-loaded, on-demand workouts available

Simulated tours and hikes of real-world places

A patented Flex Select cushioning
iFit subscription costs $39/mo after 30 days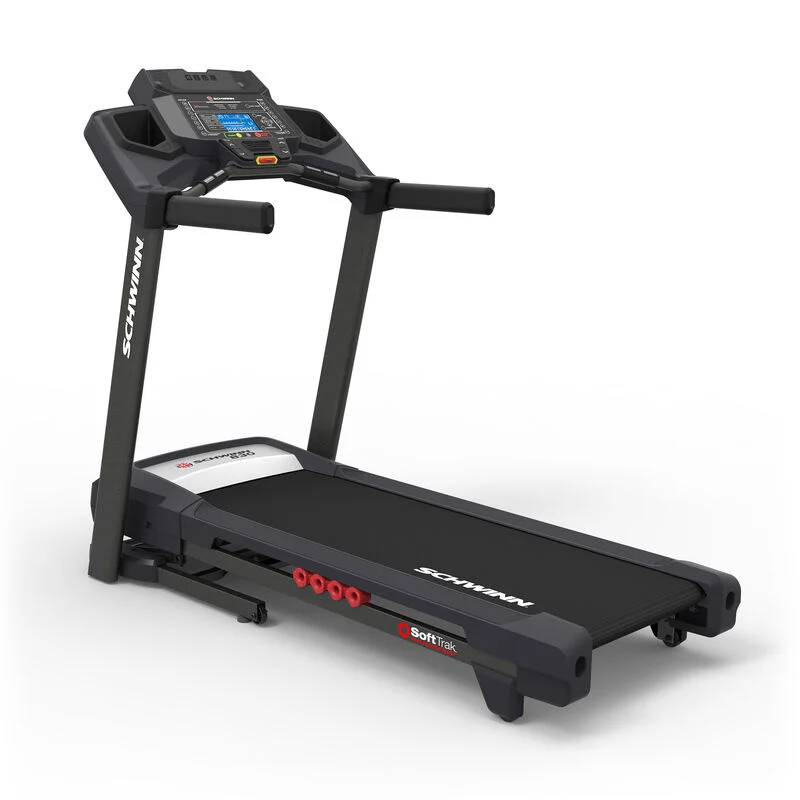 Fitness geeks have long crushed on Schwinn bikes. The company has expanded its cardio lineup with ellipticals, rowers, and treadmills. 830 and 870 are two currently available treadmills on the website.
Speed Range: 0-12 mph
Max Incline: 12%
Foldable: Yes

Weight Limit: 300 lb
Item Weight: 200 lb
Product Dimensions: 72.2" L x 35.2" W x 57.6" H
Display: Single Blue Backlit LCD
Running Surface: 20" x 55"
Warranty: 10 years on frame, 2 years on parts, 1 year on labor
Workout Programs: 22
Additional Features: Softrac Cushioning, Pulse Sensor Grips, Goal Track Capabilities, Soft Drop System
Schwinn 830 isn't much different from NordicTrack. It has a similar 12% motorized incline with an 8" step-up height and limited warranty. Their foldable decks are home gym favorites. However, it packs 2.75 horses under the hood compared to EXP's 2.6, enabling a top speed of 12 mph.
You can walk, jog, or do interval runs. The console is loaded with 22 programs, including weight control and heart health. Scroll up the ramp height and speed or skip to your desired settings through quick-access buttons lining the console's edges. At first glance, the data seems cramped. But you'll get used to it soon. The dual display setup of 870 is more streamlined.
On the comfort and safety side, you get a 3-speed fan cooling and 4-cell Softrac cushioning. Every company covers multi-ply belts, rollers, and wooden decks with a soft coating. The fancy names look chic. In reality, cushioning is significant for suspension, shock absorption, and alleviation of joint strain.
There are speakers, bottle holders, charging ports, and audio jacks. Grip heart rate monitors round out all features.
The Schwinn 830 treadmill offers a motorized incline, foldable deck, multiple workout programs, and convenient amenities like built-in speakers, bottle holders, charging ports, and heart rate monitors.
(Show More)
A huge range of preset workout programs

Top-of-the-class 12 mph speed

Low maintenance 2.5" diameter crowned rollers

You can charge and use your devices simultaneously
No Bluetooth and third-party app connections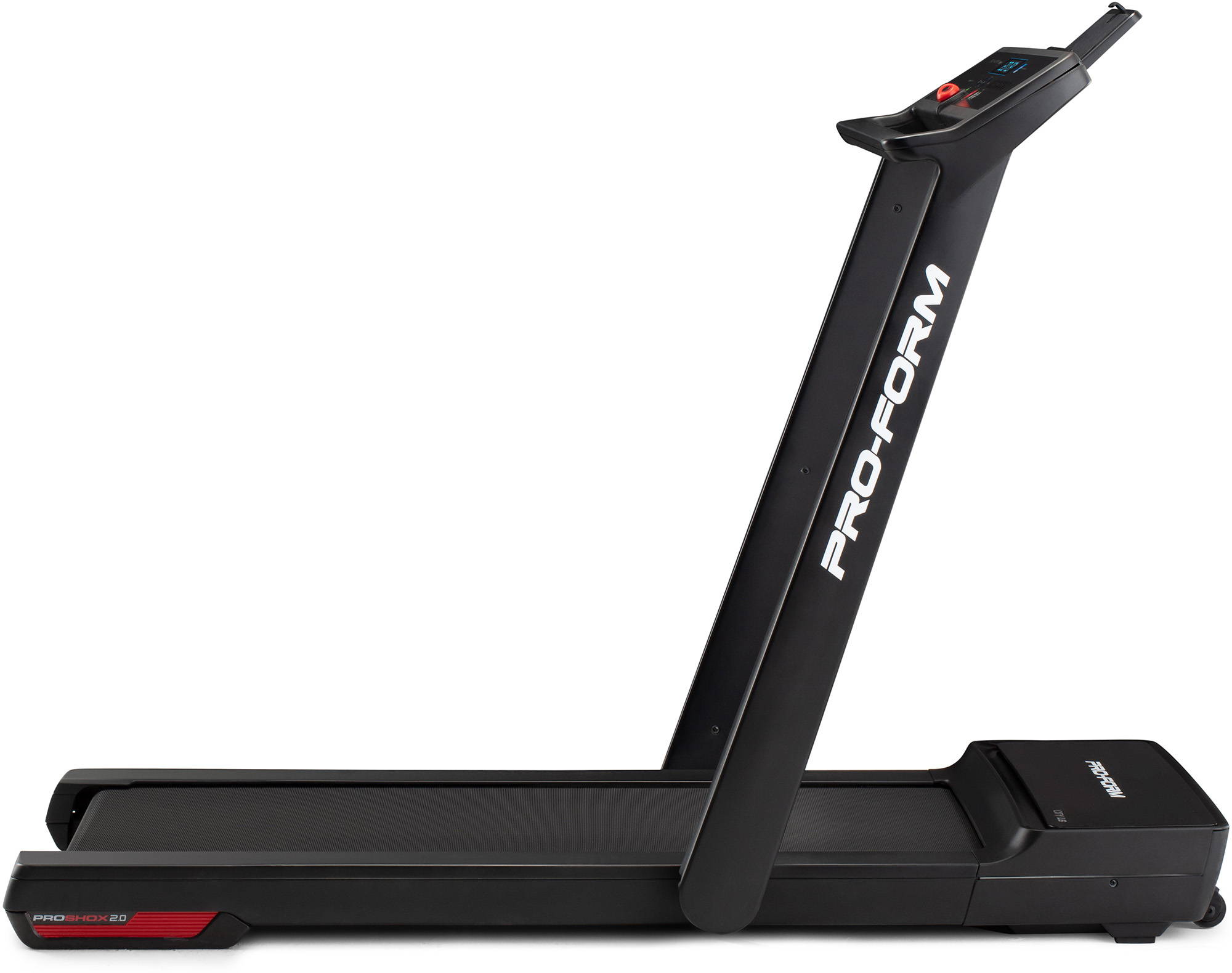 Proform and NordicTrack are Icon Fitness brands. The former is considered a budget-friendly alternative to NordicTrack. It also shares the iFit library. Let's check out the City L6, the lowest-priced Proform treadmill.
Speed Range: 0-8 mph
Max Incline: N/A
Foldable: Yes

Weight Limit: 250 lb
Item Weight: 125 lb
Product Dimensions: 70.25" L x 29" W x 44.5" H
Display: 5" High Contrast Display
Running Surface: 17.5" x 45"
Warranty: 10 years on frame, 1 year on parts and labor
Workout Programs: 30-day iFit Trial
Additional Features: ProShox Deck Cushioning, Direct Touch Speed Buttons, Integrated Device Shelf, Small-Frame Flat Storage
With 8 mph max speed, a 1.6 hp motor, and no incline – the City L6 appeared a false hope initially. Now, it's acknowledged as the best walking treadmill for seniors and light cardio at a tight space and budget.
The usable surface is limited. Folks with over 6' in height or naturally long strides shouldn't even think of rushing the calorie burn. The rollers underneath are no surprise. These 1.6" precision-balanced rollers remain quiet but aren't made for intense sprints. And a small Mach Z motor agrees.
L6 provides a tiny surface to work up your sweat. And if that looks like something you can work with, bring this affordable machine home.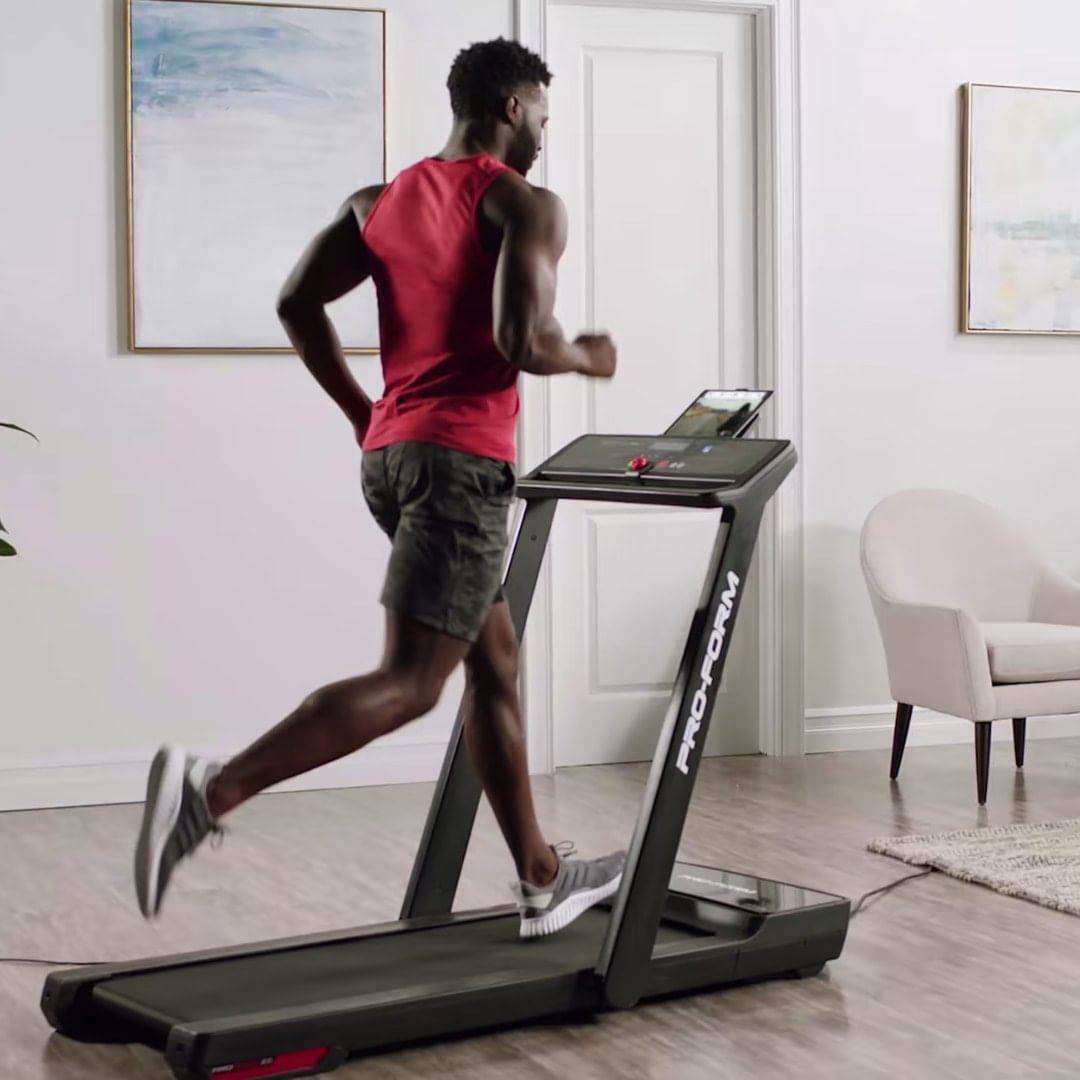 Instead of the deck reaching up toward the monitor, its display panel lays flat. You can slip it under your bed or desk. There are front-mounted wheels. At 125 lb weight, maneuvering it isn't an arduous task. The assembly is the bare minimum. Only the tablet holder needs to be attached.
It gets a 30-day iFit trial to take your training to the next level. Put your credit card info, enjoy free lessons on a Bluetooth device, and purchase the subscription if it makes sense.
The City L6 treadmill is a compact and affordable option, perfect for seniors and light cardio workouts in small spaces, with easy maneuverability, a flat display panel for convenient storage, and a 30-day iFit trial to enhance your training experience.
(Show More)
An economical, interactive walking treadmill

Collapsible uprights sneak under the desk

A lightweight and pre-assembled frame is ideal for seniors

Automatic speed controls by iFit trainers
No incline on this treadmill
What Are Treadmill Benefits for Seniors?
The principal purpose of a treadmill is to get your heart going, bust calorie pile-up, and optimize blood flow. Research has declared that treadmill training improves cardio fitness and gait in seniors with chronic stroke.
Disease Prevention and Counter
Elders are susceptible to heart conditions, diabetes, depression, and osteoporosis. Regular physical activity helps counter and prevent these diseases. Also, a study by Alzheimer's Foundation showed 50% less risk of developing dementia.
Do you know that every second a senior suffers a fall in the US? You can improve postural stability by running on a treadmill. It keeps you on your feet, increasing balance and coordination. As a result, you'll have self-reliance and freedom to check off your post-retirement wishlist.
Controlled and Safe Environment
A practical advantage of opting for a treadmill instead of going out is a controlled environment. All factors are in your hand, from speed and duration to the intensity of your workout. No worries about stumbling on a curb, cursing yourself for forgetting an umbrella, or seeking a bench under shade for rest!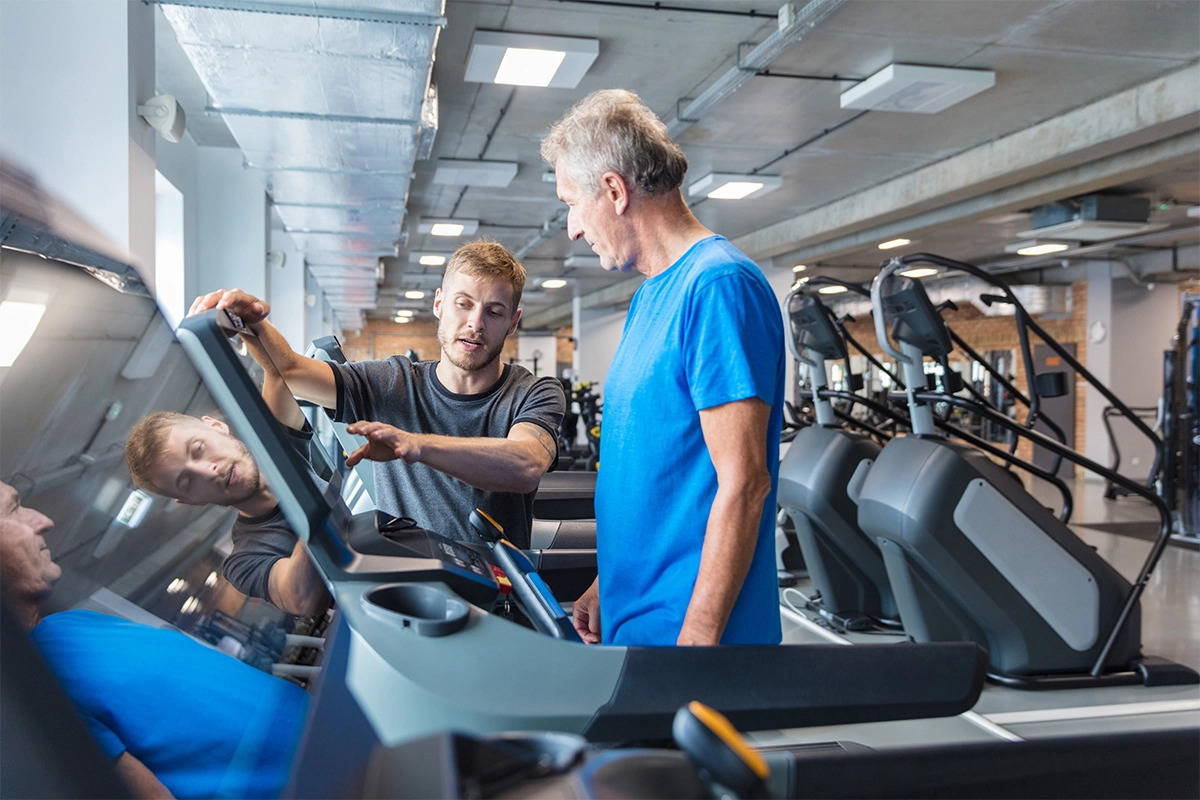 What to Look For in the Best Treadmill for Seniors?
The average walking speed is 2-3 mph. Any decent treadmill will do the job. If you also want to exercise vigorously, look for a powerful motor and about 10 mph top speed.
All but one of our recommended treadmills for older adults are motorized. They're fairly inexpensive and portable. Manual treadmills like Rogue LTG are safer although costlier.
45" and 55" are minimum deck lengths for walking and running, respectively. You don't want to challenge your balance along with your heart and lungs. Whether or not old age has brought joint pains, well-cushioned and wide decks should be the priority.
A magnetic safety key with a clip for your shirt is a must-have for older adults. In any emergency, it acts like a brake for the machine.
About 6" step-up height is ideal for the senior population. The lower this number, the less risky treading gets!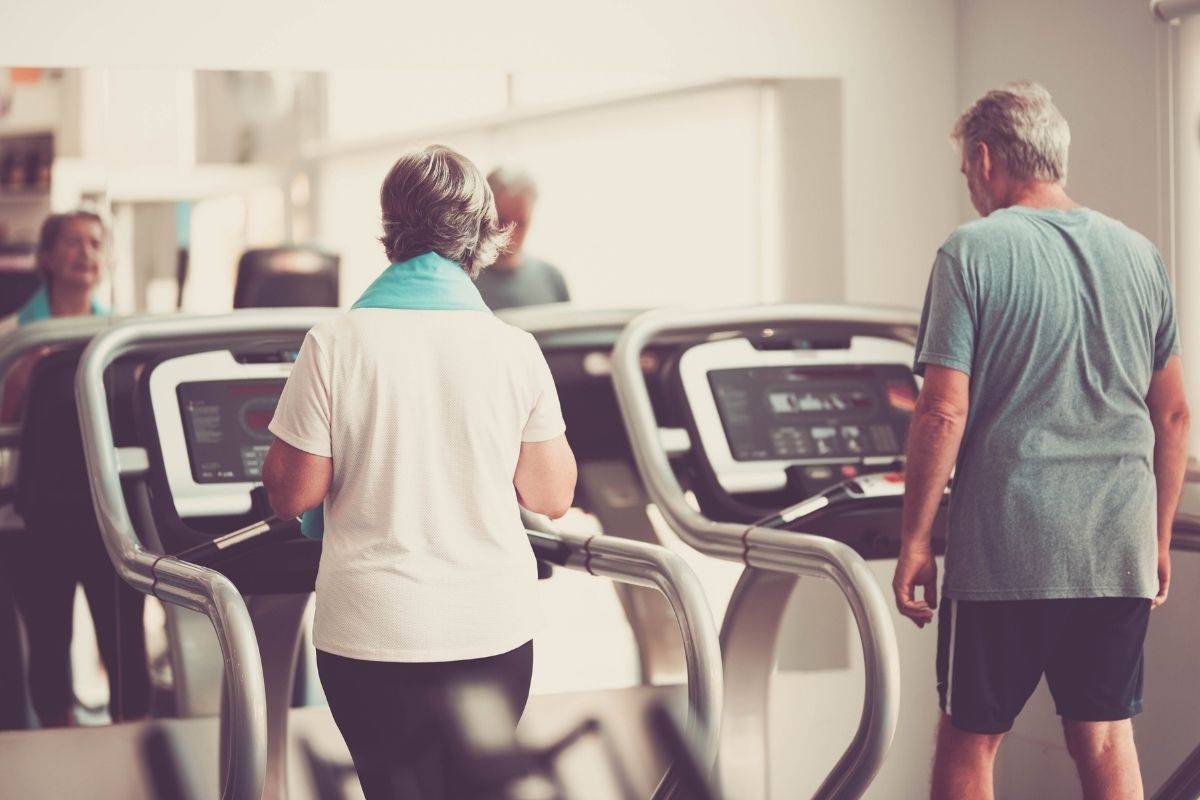 Bluetooth and all tech features are welcomed. Still, having intuitive controls on the console and handrails has no replacement. You want apparent start/stop, direct touch speed, and preset buttons.
The floor area is limited in our home. Thus, a folding mechanism with gas shock lowering of the deck is one feature you shouldn't miss out on.
No matter the age, assembling a hefty device without prior experience can be brain-teasing. Look for minimum assembly or white glove delivery services.
You want to maximize value. Conduct a pro forma price/quality analysis. Not necessarily an expensive treadmill means good value. The price tag is half the story; after-sales support is equally important.
Shopping directly from a brand is recommended. Cross-check prices on Amazon because resellers often have jaw-dropping sales and deals. Rogue hosts high-quality equipment from other manufacturers as well. It delivers products free of cost with several payment options.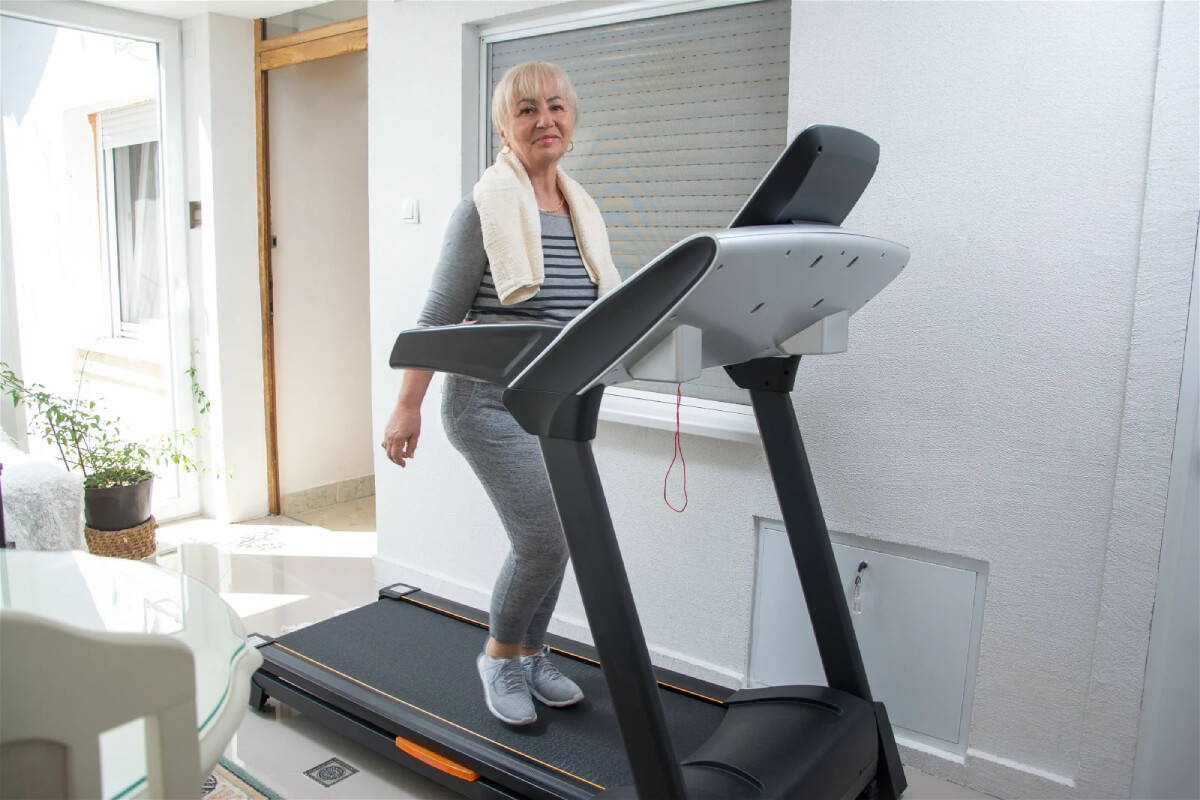 How to Use the Treadmill for Seniors, Right?
Place the treadmill on an even surface – unfolded, plugged in, and ready to use. Attach the safety key to the bottom of your shirt. Warm up for a few minutes at a slow pace. Then gradually, dial up the speed and incline to a degree you're comfortable with.
Don't overexert yourself. You can go for preset programs, customized regimens, or trainer-led plans. Keep distractions to the bare minimum. Also, stay vigilant about running on the front half of the belt. Drifting back to the rear puts you in danger of slipping out.
Keep tabs on your heart rate (beats per minute.) Wear a Fitbit, Apple Watch, or Oura Ring if pulse sensors aren't built in. Cardio is quick to dry out energy stocks. Use a post-workout hydrating agent (water, milk, shake.) Slow down the belt when leaving handles.
Consult a general physician before observing any exercise, especially if you have existing bone or heart disorders.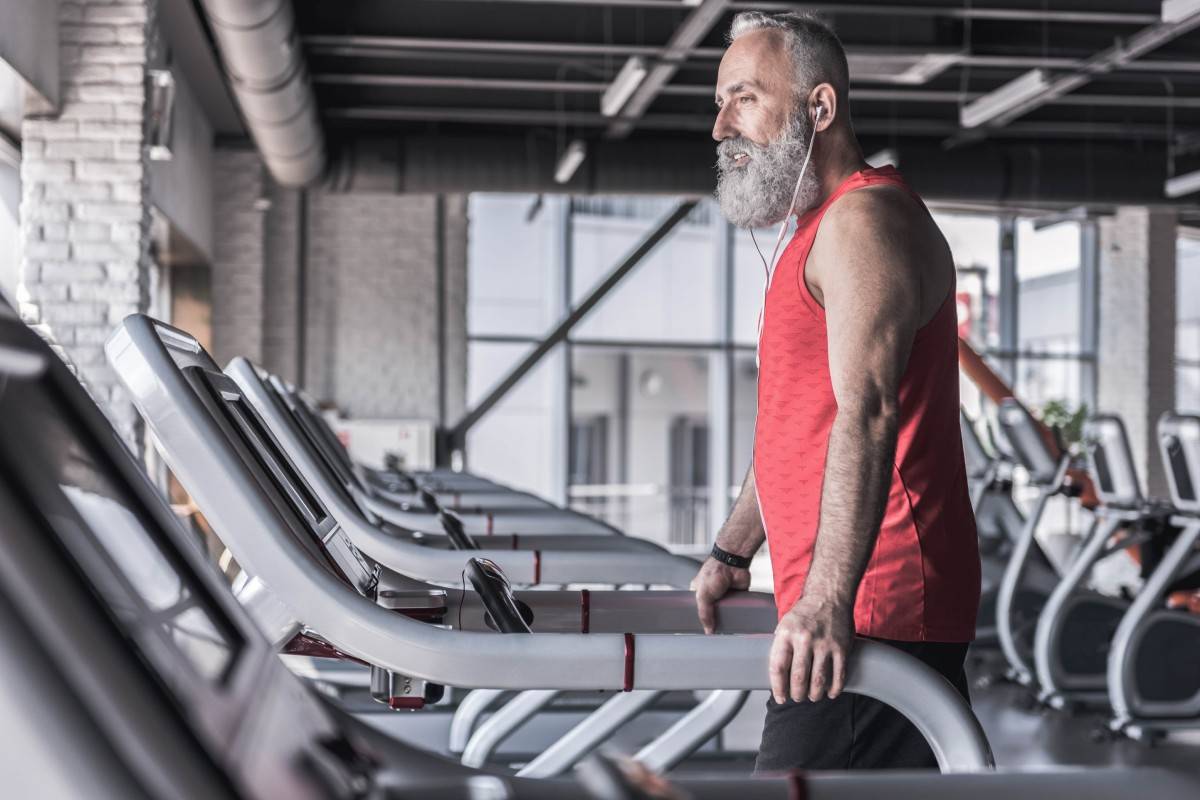 Is the Treadmill Good for 70 Years Old?
Treadmill walking can help seniors (>65 years) burn calories, maintain balance, and reap the benefits of a healthy lifestyle.
How fast should a 70-year-old walk on a treadmill?
You can go as fast as you're comfortable with on a treadmill. A study at the University of Pittsburgh found adults in their 70s who walk at 3 mph live five years longer than those who walk at 2 mph.
This speed also ensures a safe and sound crossing of traffic lights.
Is It Better to Walk Faster or Longer?
Long and low-impact treadmill workouts build stamina and endurance, while short bursts of intense running challenge your aerobic capacity. Interval training lets you enjoy the best of both worlds.
The best treadmill for seniors is a treasure trove for health and happiness in the later stages of life. We recommend NordicTrack EXP 7i due to its meticulous construction, convenient tech, and general ease of use.
Have you decided which model to buy for yourself or your grandparents? Keep us posted in the comment section.
Target heart rate for exercise // UIHC: https://uihc.org/health-topics /target-heart-rate-exercise



Why weight matters when it comes to joint pain // Harvard: https://www.health.harvard.edu/ pain/why-weight-matters-when-it-comes-to-joint-pain
A Paradigm of Uphill Running // NIH: https://www.ncbi.nlm.nih.gov /pmc/articles/PMC3707880/
Reducing prolonged sedentary time using a treadmill desk acutely improves cardiometabolic risk markers in male and female adults // NIH: https://pubmed.ncbi.nlm. nih.gov/29667496/
Meeting USDHHS Physical Activity Guidelines and Health Outcomes // NIH: https://www.ncbi.nlm.nih.gov /pmc/articles/PMC5214219/
Aerobic treadmill training effectively enhances cardiovascular fitness and gait function for older persons with chronic stroke // NIH: https://pubmed.ncbi.nlm.nih.gov /23177232/
Exercise and Heart Disease: 10 Ways Exercise Can Reduce Your Risk // Acefitness: https://www.acefitness.org/ resources/everyone/ blog/3717/ exercise-and-heart-disease-10-ways-exercise-can-reduce-your-risk/
Can Alzheimer's Disease Be Prevented? // ALZ: https://www.alz.org/ alzheimers-dementia/ research_progress/prevention
Keep on Your Feet—Preventing Older Adult Falls // CDC: https://www.cdc.gov/injury /features/older-adult-falls /index.html
Effectiveness of Treadmill Training on Balance Control in Elderly People: A Randomized Controlled Clinical Trial // NIH: https://www.ncbi.nlm.nih.gov/ pmc/articles/PMC4242992/
What is the average walking speed? // Medicalnewstoday: https://www.medicalnewstoday.com/ articles/average-walking-speed
Gait speed and survival in older adults // NIH: https://pubmed.ncbi.nlm.nih.gov /21205966/
Older adults must hurry at pedestrian lights! A cross-sectional analysis of preferred and fast walking speed under single- and dual-task conditions // Plos one: https://journals.plos.org/ plosone/article?id=10.1371/ journal.pone.0182180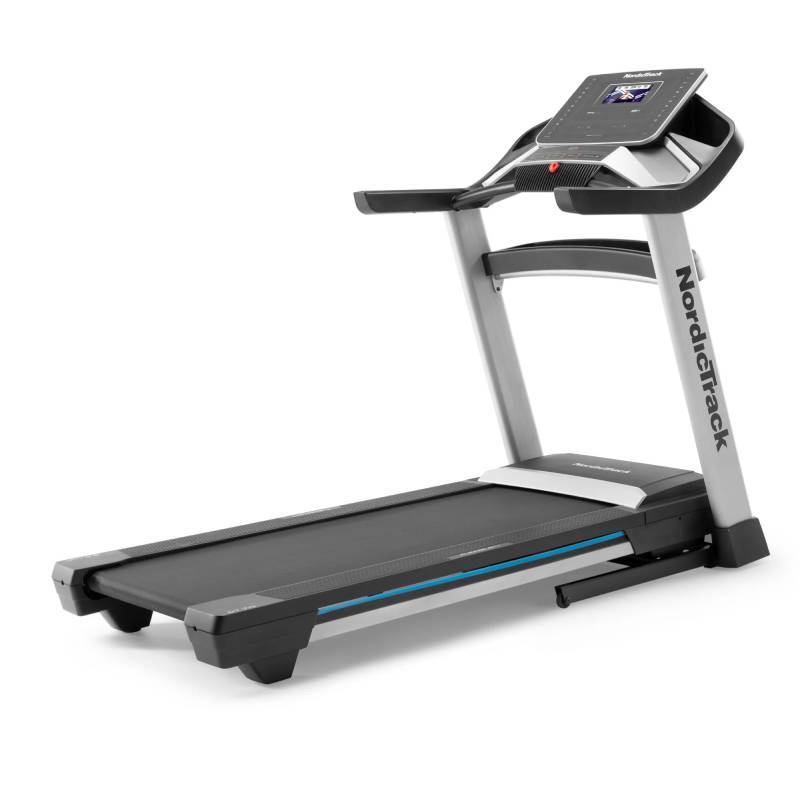 My name is Ihor and I have been a professional weightlifter since 1996. With over 20 years of competition experience, my resume includes European Champion in 2009 and the silver medalist at 2011's Senior World Championships – 105kg division.
I competed at the 2008, 2012 and 2016 Summer Olympics.
After hanging up my own competitive lifting shoes, I decided to share my huge background as a coach. I am currently coaching multiple athletes who are competing at national and international competitions.