The roman chair is a miniature weight bench that allows you to perform multiple lower back, core, and leg exercises.
In a hurry and can't keep reading? How about you check out the Titan Hyper/Roman Chair V2.
Discover the Titan Hyper/Roman Chair V2—a gym-quality implement delivered to your doorstep, featuring a durable 11-gauge steel construction, space-saving Y-shaped design, and comfortable cushioning for stability during workouts.
Truth be told, it's an intimidating piece of equipment, especially to beginners' eyes, but far more invaluable and inexpensive. If you're looking to spruce up your strength training routine, look no further.
The following list rounds up the best roman chairs on the market. Each product has seized a top spot in its respective category. Additionally, we'll delve into the benefits and uses of roman/hyperextension chairs later in the article. So hang tight!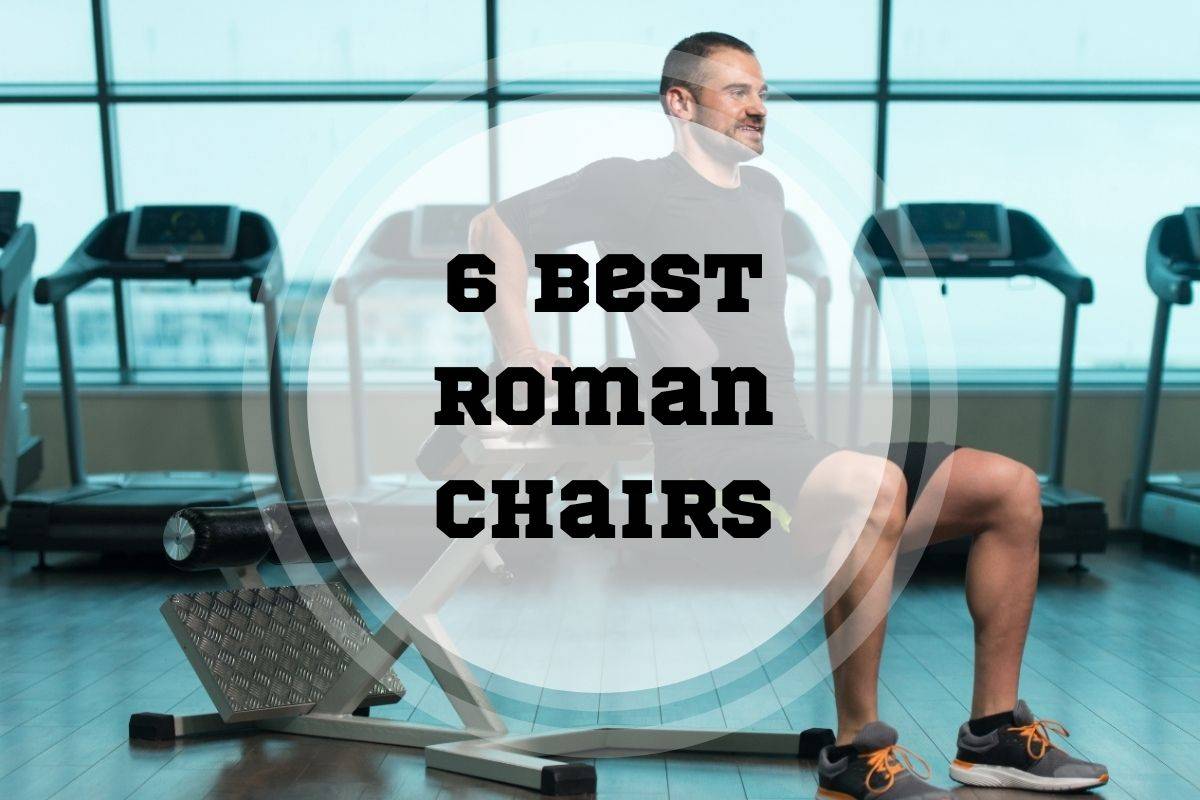 Top 6 Best Roman Chairs Reviewed
Titan Fitness can deliver a wealth of gym-quality implements to your doorstep at lower prices, fast and free shipping, and various financing options. This is the story of Hyper/Roman Chair V2.
Item Dimensions: 46" L x 24" W x 48" H
Item Weight: 36 lb
Weight Capacity: 250 lb
Pad Size: 17.5" x 11"
Roller Size: 6.25" x 3.25"
Inseam Length: 40"-48"
Warranty: 1 year on frame and parts
Additional Features

: Vinyl Leather Padding, Adjustable Height, Rubber Grip Handles, Stability Maximizing Feet, Foldable Frame



Titan successfully hedges on a boxy 11-gauge steel construction and durable matte-black powder coat. The Y-shaped design adds traction to the lightweight frame while reducing the storage footprint. Ample cushioning for hips and ankles makes this Roman workout chair as comfortable as stable.
You'll notice industrial diamond imprints on the base for a secure foothold. The padding is similar to other proven lineups of the company – such as preacher curls, hyper back extensions, and FID benches – embroidered with the red-and-white logo in the center. Also, handle grips are infused into the rubber, where medium-range stations mostly seem to skimp.
There are five height options to accommodate all athletes. Leg rollers also lock in at different positions. One potential concern is the 250 lb of max weight recommendation. If it fits you, you'll be hard-pressed to find a better match than Titan Hyper/Roman Chair.
The Titan Hyper/Roman Chair V2 offers a secure foothold with industrial diamond imprints, comfortable padding with embroidered logo, adjustable height options, leg rollers, and a maximum weight recommendation of 250 lbs.
(Show More)
Soft, supple, and sturdy cushioning

Non-slip rubber grips on the handlebar

Its powder coat finish lasts long in any environment
A chair of this caliber should support over 250 lbs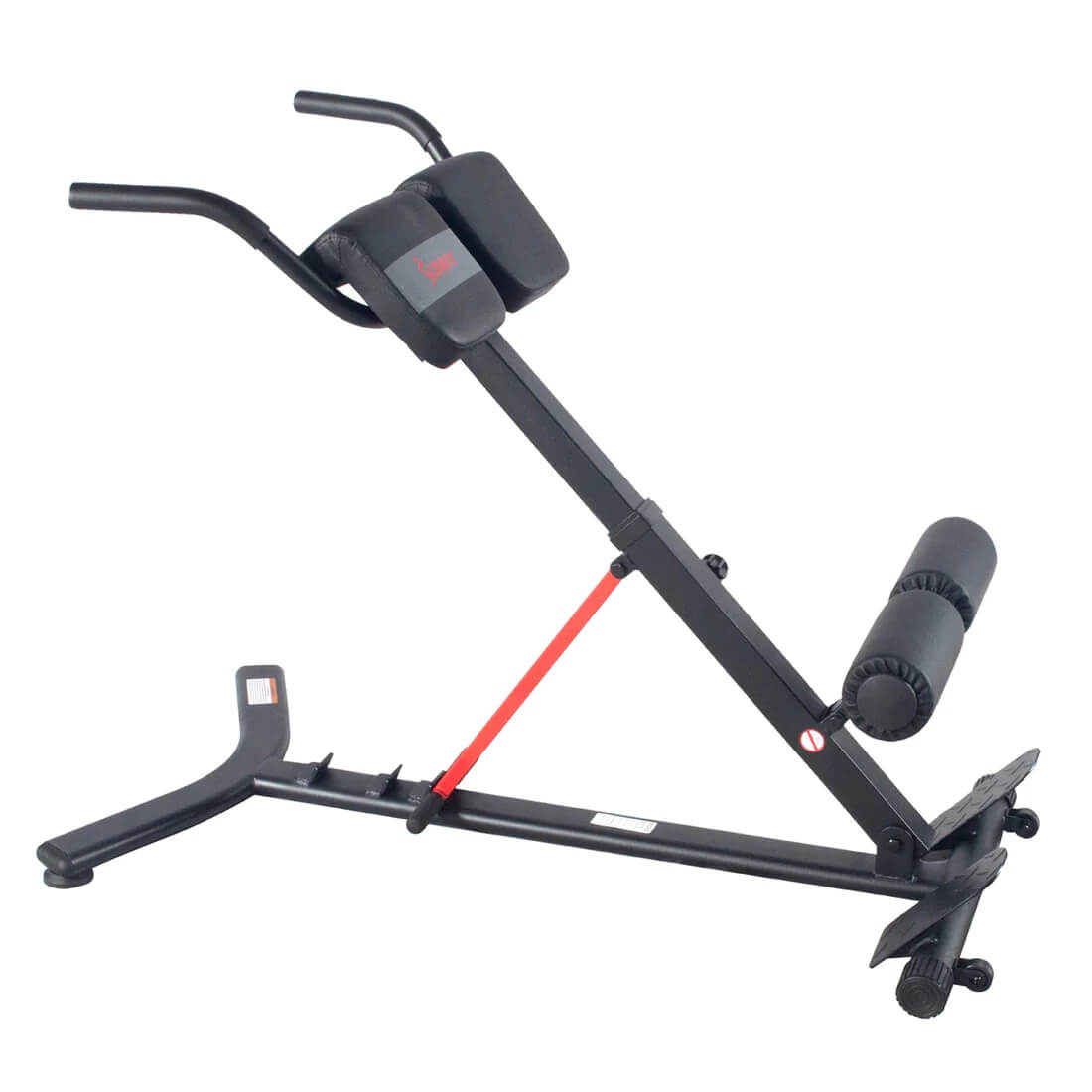 Having less space and savings shouldn't hold back your training goals. The fitness community has, over the years, started to acknowledge Sunny Fitness with home gym owners' unique prerequisites.
Item Dimensions: 46.9" L x 24.4" W x 33.9" H
Item Weight: 35.4 lb
Weight Capacity: 330 lb
Pad Size: 7.5" x 8" (Each)
Inseam Length

: 25.2"-34.1"



Warranty: 1 year on frame, 180 days on parts
Additional Features: Dip Bars, Adjustable Height and Incline, Foldable Frame, Transportation Wheels, Textured Foot Plates
The multifunctional roman chair exercise equipment features a split thigh pad. It's supposed to promote ideal position and alignment that pinching rolled edges don't. It's one of several distinctions you'll catch at first glance.
The inclination ladder mimics adjustable weight benches. Besides ten height options, the central beam also adjusts the angle to three settings. It makes more of a difference in dip exercises than hyperextension moves. For example, you can choose a lower elevation when doing chest presses. The pin-lock adjustment system is rapid and reliable.
The versatility skyrockets thanks to remodeled handles at the back. They're not only a support to get on and off the platform. You can squeeze in an adequate upper-body workout. Similarly, the footplate idea is commendable.
Sunny Fitness offers a compact and versatile Roman chair exercise equipment for home gyms, featuring a split thigh pad, adjustable inclination ladder, rapid pin-lock adjustment system, versatile handles.
(Show More)
Great adjustability with 10 heights + 3 inclines

Dip handles turn it into a total-body workout aid

Wheels for effortless tilt and roll
Foot plates and foam pads are a bit narrow in size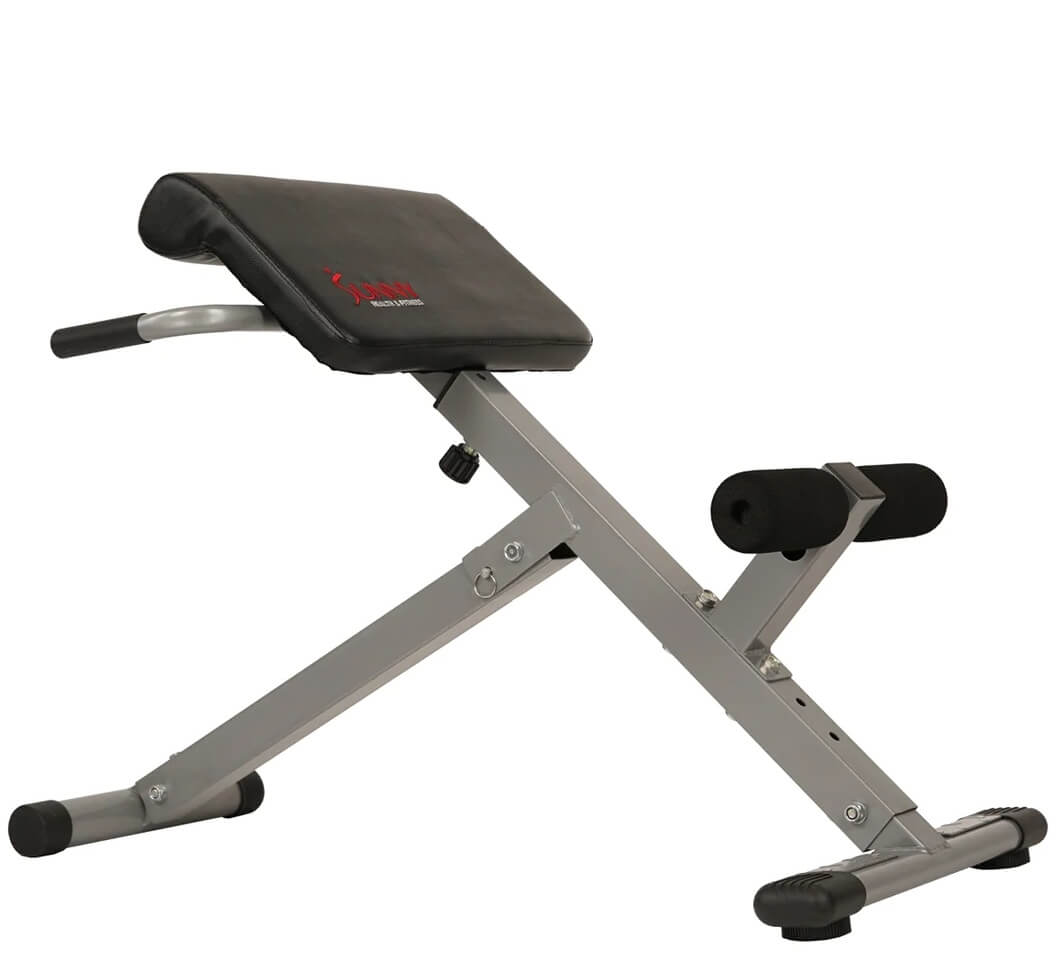 Here comes Sunny's traditional take on hyperextension roman chairs, resulting in an affordable buy. It checks off all three quality parameters: adjustable, foldable, and high-density foam filled.
Item Dimensions: 38" L x 24" W x 33" H
Item Weight

: 23 lb

Weight Capacity: 250 lb
Pad Size: 7.5" x 8" (Each)
Inseam Length

: 27"-34"



Warranty: 1 year on frame, 180 days on parts
Additional Features: Adjustable Height, Padded Upholstery, Foldable Frame, Non-Slip Handles, Floor Stabilizers
It borrows design cues from Titan. A compact Y-shaped frame props up a single support pad with embroidered logo and five-point height adjustment. The 45-degree angle most effectively activates hip and back extensors during roman chair workouts. Handles extend out from the back, rubber-wrapped to prevent calluses and slips. A pair of foam sponges hang below to anchor your feet while doing back extensions or side bends. You can affix the roller tube in given up/down as well as fore/aft slots.
The manual reminds us that the user's weight must not exceed 250 lbs. And plunging with dumbbells in hands is a definite no-no. Another thing that the manual does is break down assembly and maintenance into five-step processes with illustrious diagrams and corresponding labels. Two mediocre wrenches accompany the package. However, use your tools to get the job done sooner.
If you conduct a price/quality analysis, Sunny 45-degree flexor will be the best hyperextension machine. It's the longevity and adjustability that knocks it down a few spots.
Sunny Fitness offers an affordable and adjustable hyperextension Roman chair with high-density foam filling, making it an ideal choice for effective workouts.
(Show More)
Unmatched value, budget-friendly

Adjustable floor levelers to maintain the balance

Easy-to-follow instructions in the user manual
Low load-bearing capacity

No special footplates to rest your feet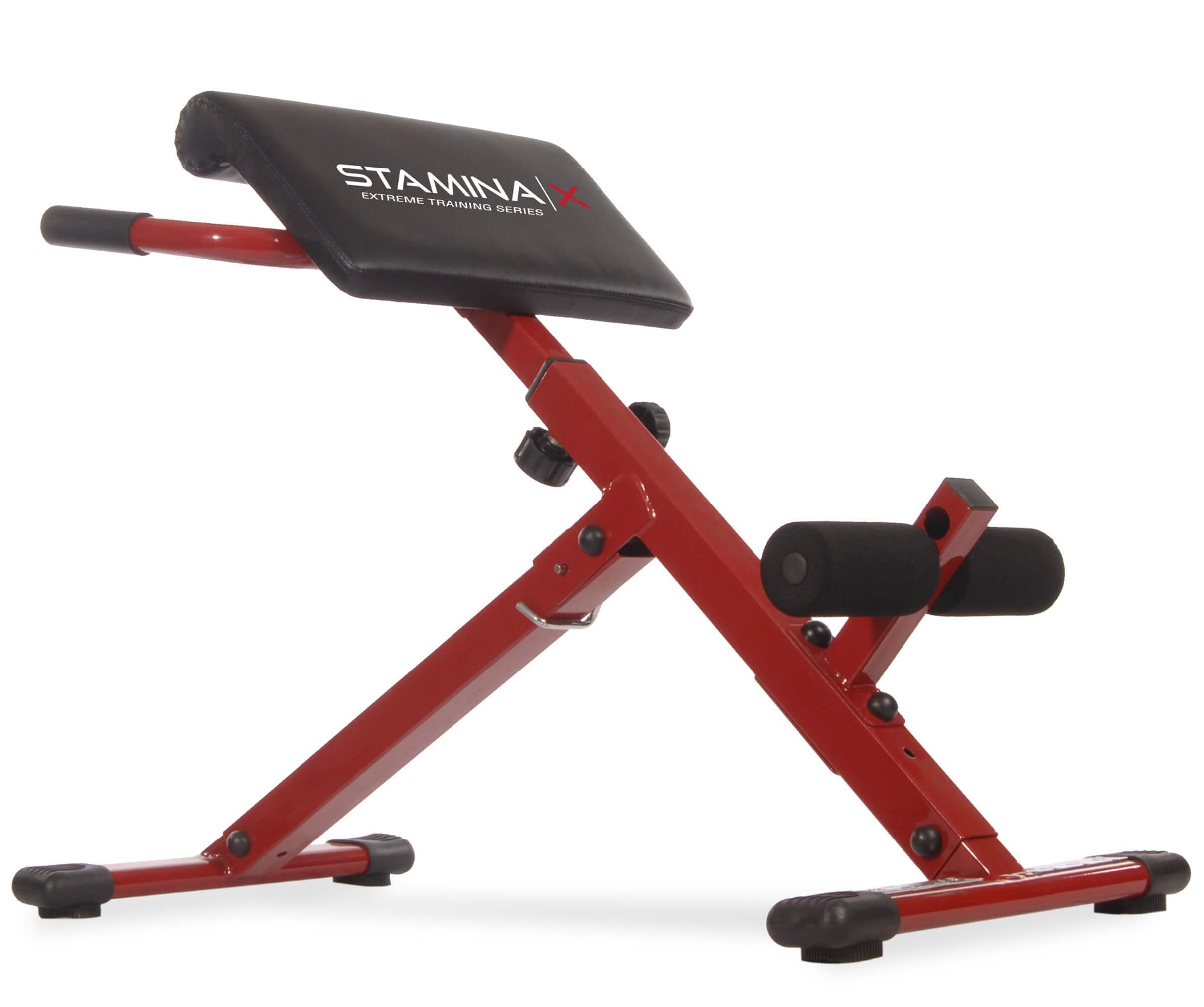 Stamina is a well-known player in the industry, selling Aeropilates, Inmotion stair steppers, and every conditioning equipment you can think of. Brands like Avari, Wirk, and Muuv round out its enviable portfolio.
Item Dimensions: 39.5" L x 22.75" W x 33.5" H
Item Weight

: 25 lb

Weight Capacity: 250 lb
Inseam Length

: 26"-34"



Warranty: 1 year on frame, 90 days on parts
Additional Features: Adjustable Height, Foldable Frame, Space Saving Design, Smart Workout App, Oval End Caps
Don't let the compact size of Stamina X hyperextension roman chairs fool you. They're a beast as far as durability and stability are concerned. Stamina products are credited with holding their ground against commercial-grade competitors.
A great feature is that you can fold and stow this bench away without hassle. Pull out the locking pin that controls six-stage height adjustment as well, and see the frame collapse and ready to slide under the bed. Rounded, rubber-capped tails of base tubes ensure you don't knock it down or trip over yourself. The downside of aggressive size-cutting measures is a thin pad.
Müüv app support is an ace in the hole. This audio coaching platform customizes over 500 minutes of the specialized library for your needs and goals every month. You can access assembly videos, studio classes, or on-demand live lessons from professional trainers.
Stamina X hyperextension Roman chairs from Stamina provide durability and compactness, with features including foldability, adjustable height, and the added benefit of Müüv app support for personalized fitness coaching.
(Show More)
Easy storage and transportation

Stands firm on the ground during heavy-duty usage

Müüv smart app coaching to get started
Thin padding may make exercise uncomfortable

No color variety without red
Body-Solid was established in 1989 as a supplier to commercial gyms. Living areas are now cluttered with its products and accessories, although the original lifelong quality remains intact.
Item Dimensions: 53" L x 29" W x 36" H
Item Weight

: 68 lb

Weight Capacity: 350 lb
Inseam Length

: 35"-44"



Warranty: Lifetime on frame and all parts
Additional Features: Adjustable Height, Commercial Rated, Split Pads, DuraFirm Padding, XL Foot Brace
Body Solid is commercial-rated, carved from 2" x 3" heavy-gauge steel. However, its lifetime warranty only extends to personal in-home usage. Once assembled, it weighs close to 70 lbs, so dedicate a particular floor space. The hearty machine isn't foldable or stackable, either.
GHYP345 is much like Rogue Oblique Flexors. It doesn't boast a flimsy Y-shaped frame but oversized urethane legs. A quick-release pop pin adjusts the height of waist pads on the fly. The older variant had angle adjustments too. But these stay fixed at 45 degrees. The footplate includes a 4" tall diamond-plated heel catch for added safety. Having holes for resistance bands and sturdier dip handles could elevate the versatility of this roman workout chair – lost opportunities!
The telescoping midsection of DuraFirm pads allows male athletes to exercise on their abdomen. Thick padding restricts a proper lumbar curve in petite people. Thus, anyone under 5'6" should continue the search for the best hyperextension bench.
The Body-Solid GHYP345 Hyperextension Bench features a heavy-gauge steel construction, quick height adjustment, and a fixed 45-degree angle, providing a durable and effective option for hyperextension workouts.
(Show More)
Superior build quality, durability, and warranty

Double-stitched 3" thick DuraFirm pads
Ergonomics are not suitable for short people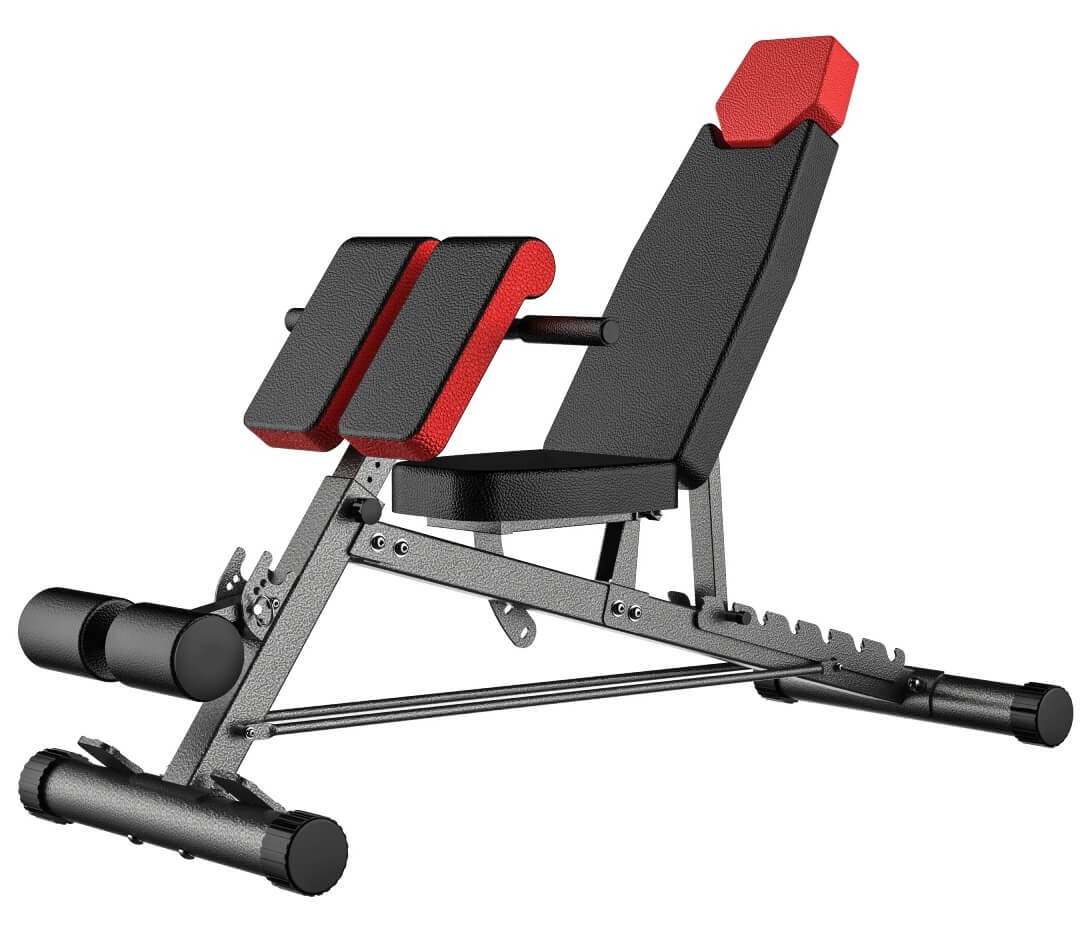 FF is the Amazon special with prime shipping and a 90-day refund promise attached. It stocks numerous products, but none deserves more attention than this adjustable bench/roman chair combo.
Item Dimensions: 60.5" L x 19.75" W x 16.5" H
Weight Capacity

: 660 lb



Pad Size: 42.5" x 12.6"
Inseam Length

: 35"-44"



Warranty: Amazon Return & Replacement Policy
Additional Features: Triangular Structure, Sit-up Bench, Adjustable Height, Removable Support Pad, Free Workout Chart
Finer Form has innovated a unique design – combining a roman chair, flat bench, ab bench, and arm curl into one platform. It has a large composite backpad covered with three shock-absorbing and slip-resistant layers. You can set it flat or in two decline angles for sit-ups. At lower positions, the hyperextension pad ensures you have enough space to bend downward. This hip support pad is made adjustable and detachable. You can use it as a preacher curl pad to isolate your biceps.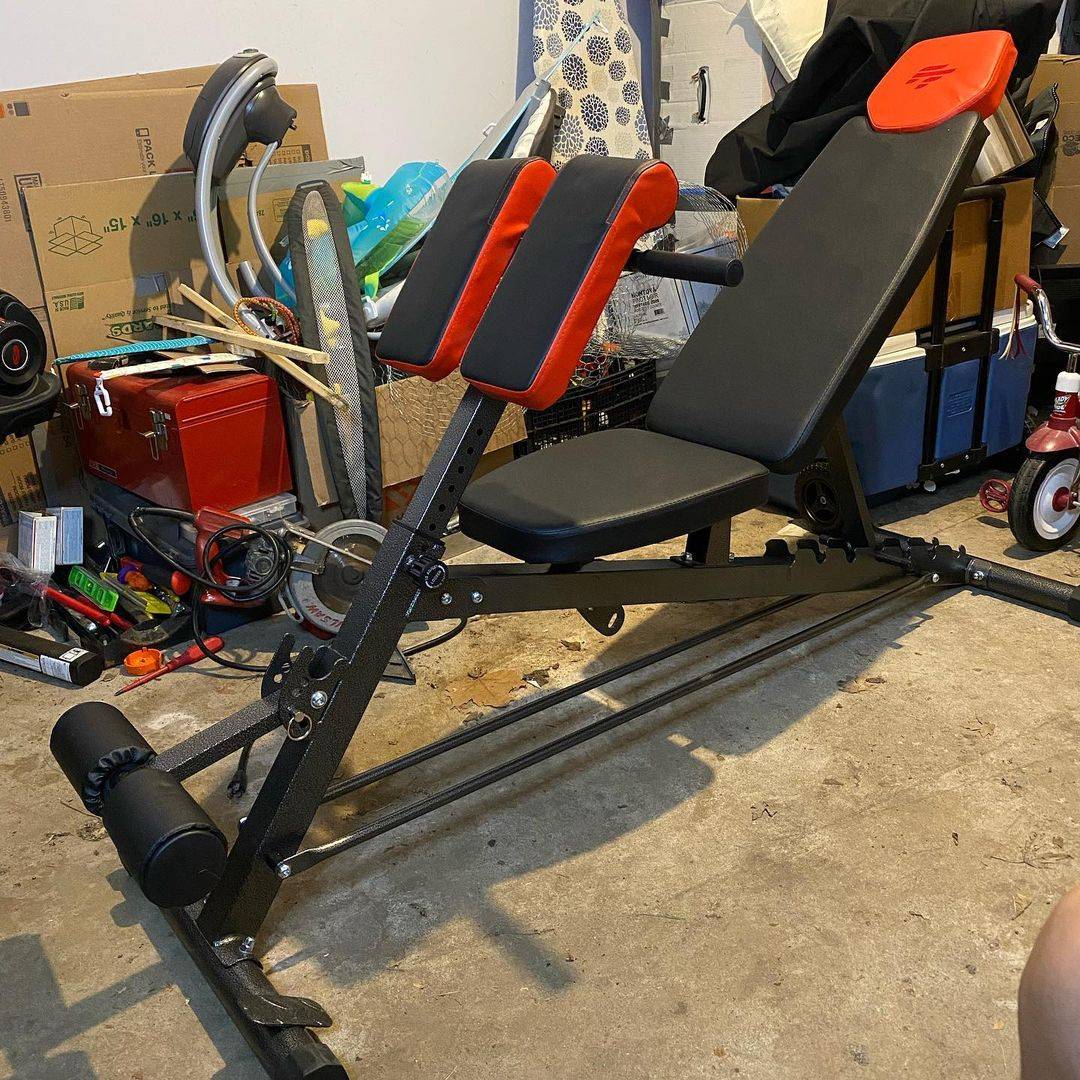 The all-in-one roman workout chair is built strong, rated for 660 lb static and up to 400 lb dynamic load capacity.

You won't get any assuring long-term warranty from the manufacturer but quick replacements in case of any issue. The same instruction manual goes with several models. Many customers have noted missing bolts and misaligned threads exacerbate the assembly process. That said, the one-day brain teaser can become your favorite strength training companion.
The Finer Form adjustable bench/roman chair combo is a versatile and sturdy exercise platform with multiple functionalities, making it an ideal choice for strength training workouts.
(Show More)
3-in-1 arm curl, hyperextension, and an adjustable bench

Extraordinary weight capacity

Removable support pad to make more backrest space
The assembly might be frustrating

No incline setting on the weight bench
A roman chair is a small form of weight bench that employs your own body weight as resistance to work up muscles. However, seeing athletes with weights on a roman chair isn't an uncommon sight. Its invention is credited to Professor Attila, who was inspired by the ways of antiquity.
The following are key characteristics of this device.
A singular vertical post supports a hip pad for you to lie on and extend your back or glutes.
Most contain a foam-covered leg roller to anchor your feet and hold the position while exercising.
Handles under the seat and footplates on the base are other general components of a roman chair.
What Muscles Are Involved When Training With a Roman Chair?
Roman chairs develop your posterior chain. It's a set of important muscles on the backside of your body, stretching from spinal erectors, lats, and traps all the way down to calves. Whether it's a sedentary lifestyle or old age plaguing your health, building the posterior chain can prove miraculous.
The best roman chair movement, back extensions strengthen the erector spinae and latissimus dorsi. These are two of the most significant muscles in your back, helping you fight off posture and back pain problems.
To do back extensions, place your hips on the pad and lock your feet into ankle pads while facing downwards. Keep hands clasped as you extend downward.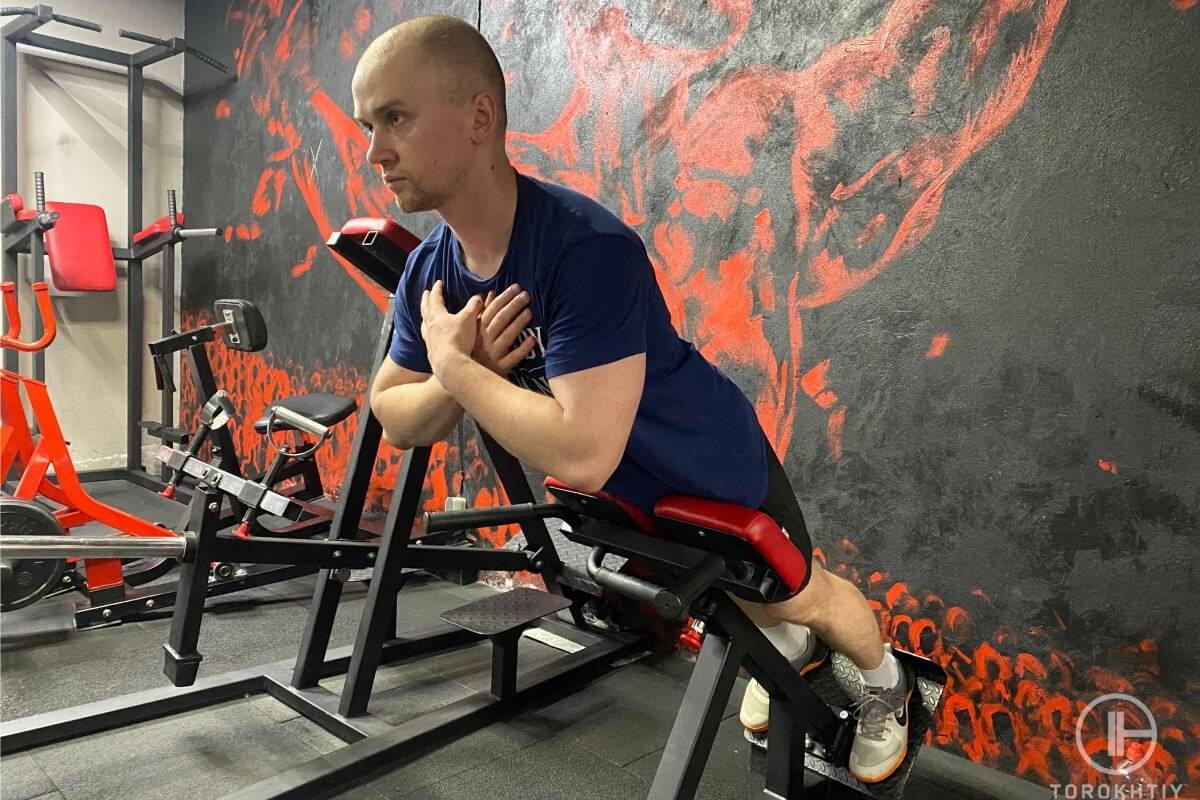 With little modification in your movement, you can target oblique muscles which run on the sides of your abdomen. Side bends can give you a jaw-dropping V-shape torso.
Place your left or right hip on the pad, facing the chair sideways. Then, go up and down a few reps before switching the side. Keep hands on the head.
You can take the game directly to your abs and core muscles. You can stabilize the core by training transverse abdominis, rectus abdominis, and obliques, thus decreasing injury rates.
A 90-degree pad angle is preferred for sit-ups, leg raises, crunches, and twists on the roman chair. In all cases, engage the core and use leg rollers for security.
Glutes are buttock muscles that move your hips and dictate your posture. Hamstrings are located on the back of the thighs, controlling hip and knee movements as well. Roman workout chairs can activate these muscles.
Shift focus on the glutes and hams by pinning the later downward motion of the back extension on your hips. Keep the spine straight and in a neutral position.
What Are the Benefits of the Roman Chair?
Roman chair exercise equipment is highly beneficial in multiple settings – a rehab center, small garage, or strongman studio. Some of the benefits are as follows.
A huge chunk of responsibility for improper posture falls on the weak core and back muscles. Roman chairs can get you rid of a slouched, sleepy pose. This study recorded successful posture correction with similar stretching and strength training programs.
4. Balance and Flexibility
Training on a hyperextension bench increases dynamic load since you work up many muscles together. It improves balance, coordination, and range of motion in targeted body parts. Consequently, you'll see positive impacts on sports performance as well as mundane tasks.
Roman chairs are part of iron pumping, stretching, and injury rehabilitation programs. Finding one isn't mission impossible. On the other hand, they are compact, portable, and relatively affordable, given the vast range of benefits you'll harvest over a long time.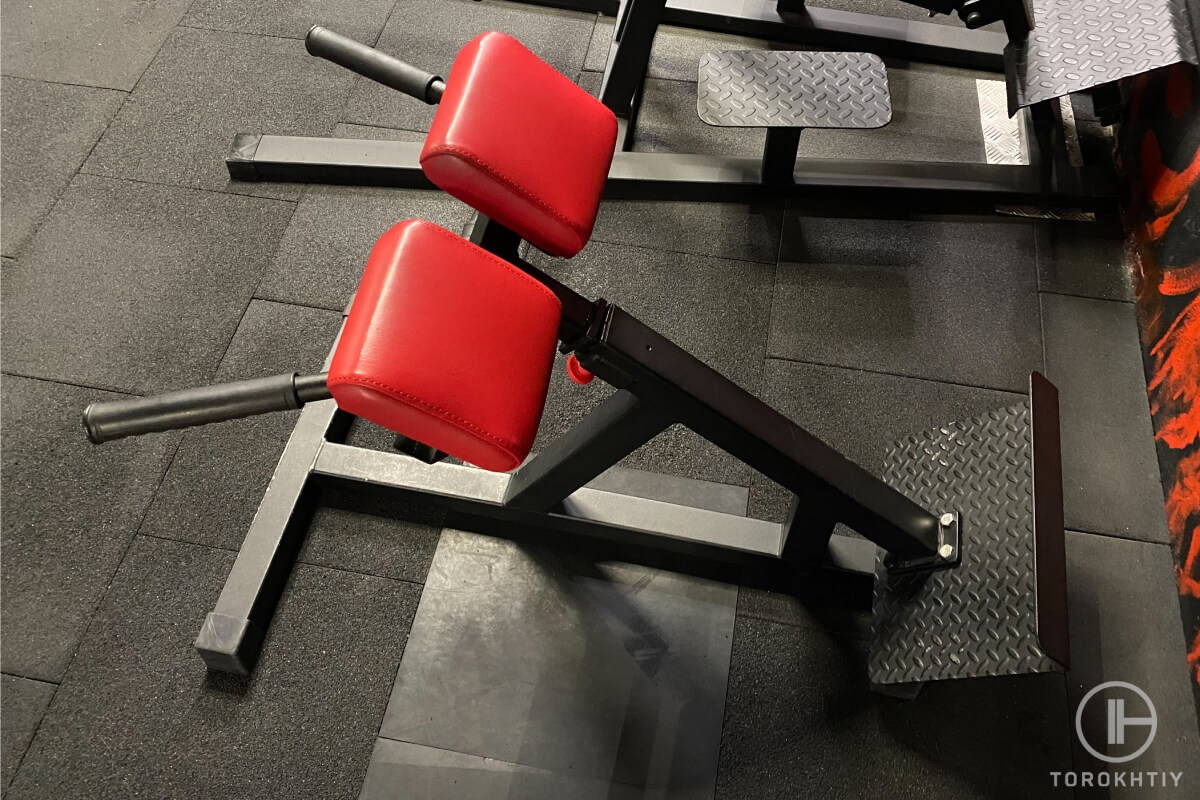 What to Consider When Choosing the Best Roman Chairs?
To select hyperextension roman chairs that hold up to your standards and requirements, pay attention to these features.
Make sure that your shortlisted candidates are well-built. Prioritize stainless or powder-coated steel, 14 gauge or lower. Quality equipment can withstand normal wear and tear, extending its serviceable life.
Not only materials but their craft and construction also have a say in durability. A large base with rubber-tipped caps and levelers keeps the roman chair firmly planted. Look for anti-skid, non-slip, wobble-free words in the description.
The best hyperextension machine is one armed with high-density foam padding. Hips and ankles are two pivotal contact points. Vinyl makes a suitable upholstery that is sweat-resistant and easy to wipe.
Pads must come with vertical adjustability, at least. A proper back extension technique warrants that your hips rest on the support pad while the belly is free to dive down. Also, hooking your feet is critical for security.
You can have the best roman workout chair and still condemn it to collect dust or take a return trip to the seller if it doesn't fit your space. Therefore, finalize the dimensions, ceiling clearance, and storage must-haves.
Your decision boils down to whether you can afford the chosen model. We'd recommend going for maximum value (price/quality). Things like companion apps, workout charts, and long-term warranties escalate the overall worth.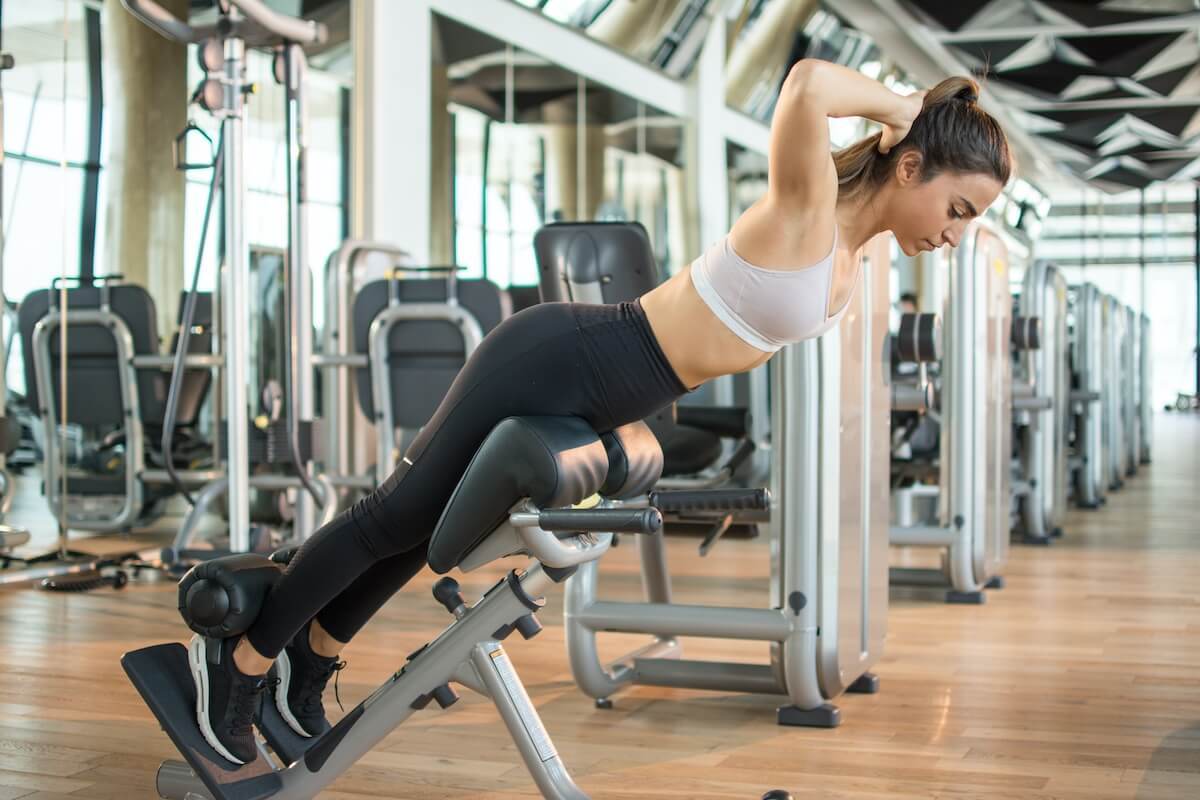 Is a Roman Chair Worth It?
A roman chair is worth it for anyone willing to target and tone their lower back, core, and leg muscles. Considering how little investment they demand, all fitness spaces must admit the best roman chairs.
What's the Difference Between a Roman Chair and Ghd Machine?
Glute ham developers are specialized equipment mostly used by athletes who prefer functional training. The main pad supports knees, not hips. Technically, you can do GHDs and more exercises on a roman chair, so it's more versatile and affordable.
Is Hyperextension Good for Your Back?
Hyperextensions strengthen lower back muscles, thus potentially helping with back pain and body posture. Back extension training has been consistently proven to increase spinal ROM and muscle strength.
Consult your doctor in case of any doubt.
A hyperextension bench, standing up against the wall of your living room, is all you need to wake up motivated and accomplish body goals. We researched extensively to put forth the best roman chairs, and Titan Hyper/Roman V2 climbed to the top.
What is your motivation mantra to go another mile, lift a pound extra, and do a few more reps? Share with us in the comment section.
Comparison of Muscle Activity in Three Single-Joint, Hip Extension Exercises in Resistance-Trained Women // NIH: https://www.ncbi.nlm.nih.gov/ pmc/articles/ PMC8057707/

Who Is Professor Attila? // Physicalculturestudy:

https://physicalculturestudy.com /2021/04/12/ who-is-professor-attila/amp/
Core Stability Training for Injury Prevention // NIH: https://www.ncbi.nlm.nih.gov/ pmc/articles/ PMC3806175/
Effect of an exercise program for posture correction on musculoskeletal pain // NIH: https://www.ncbi.nlm.nih.gov /pmc/articles/ PMC4499985/
Specificity of a back muscle roman chair exercise in healthy and back pain subjects // Europepmc: https://europepmc.org/ article/med/ 20508534
Back extension endurance and strength: the effect of variable-angle roman chair exercise training // NIH: https://pubmed.ncbi.nlm.nih.gov /12195070/
Single-Leg Roman Chair Hold Is More Effective Than the Nordic Hamstring Curl in Improving Hamstring Strength-Endurance in Gaelic Footballers With Previous Hamstring Injury // NIH: https://pubmed.ncbi.nlm.nih.gov /29489726/
Effect of Roman chair exercise training on the development of lumbar extension strength // NIH: https://pubmed.ncbi.nlm.nih.gov /12741878/
The Effects of Back Extension Training on Back Muscle Strength and Spinal Range of Motion in Young Females // NIH: https://www.ncbi.nlm.nih.gov/ pmc/articles/ PMC3944566/
My name is Ihor and I have been a professional weightlifter since 1996. With over 20 years of competition experience, my resume includes European Champion in 2009 and the silver medalist at 2011's Senior World Championships – 105kg division.
I competed at the 2008, 2012 and 2016 Summer Olympics.
After hanging up my own competitive lifting shoes, I decided to share my huge background as a coach. I am currently coaching multiple athletes who are competing at national and international competitions.