Athletes have come up with various ways to make heavy weights accessible for everyone. For example, choosing the best elbow wraps for lifting will step up both your results and confidence and even make your fellows jealous. It also comes in handy if your senior joints bug you every time when you get hungry for a heavy barbell.

I decided to help you a bit, saving your time, nerves, and money. I have recently tested the most popular products and chosen my favorite elbow wraps for weightlifting. Read this article with a detailed description to find out the top pick.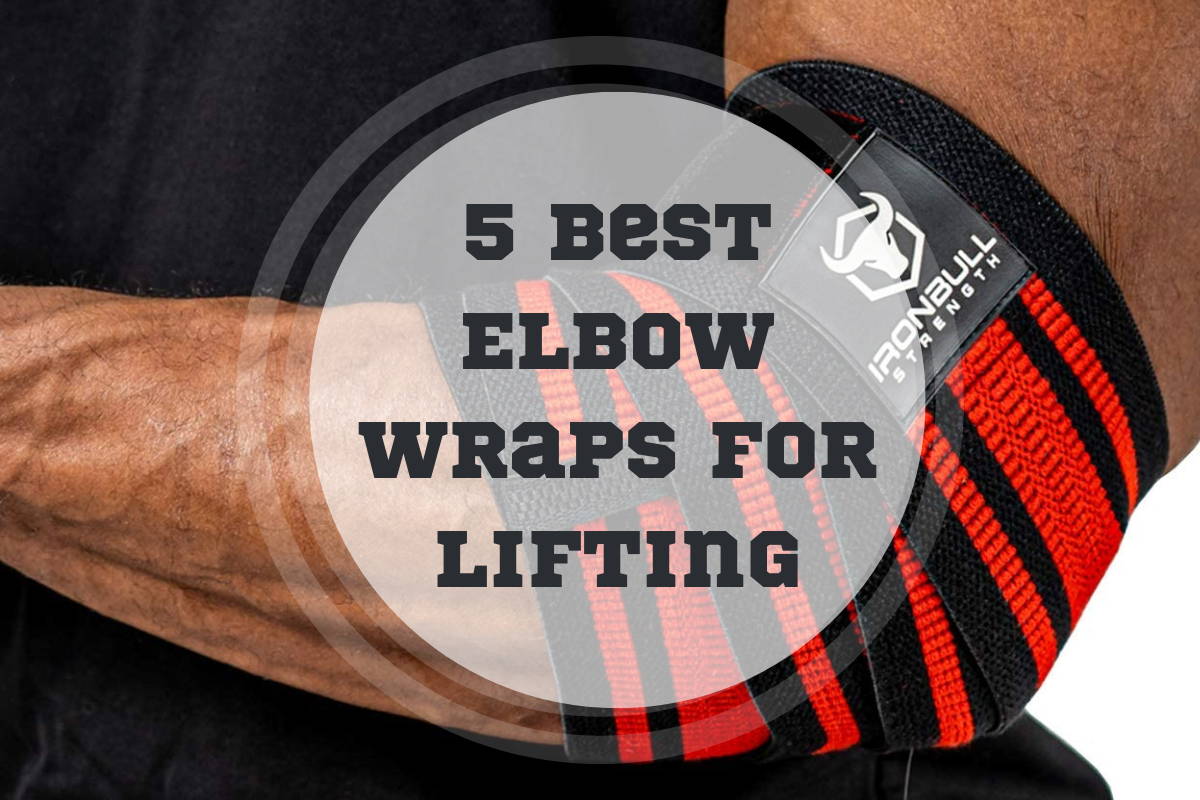 Top 5 Best Elbow Wraps for Lifting Reviewed
I have picked the most popular elbow wraps on the market and tested them all. Now, I want to share my impression of each product with you. Read what I have prepared and find out what the most beneficial elbow wraps for powerlifting are, according to my experience.
I used a whole system to evaluate all products and show you the fullest picture. The main characteristics are package, design, smell, comfort, velcro reliability, stitching quality, and price-quality ratio. I added up all these points and got the top pick. In the following table, you can see a brief summary.
Now, let's go into more details!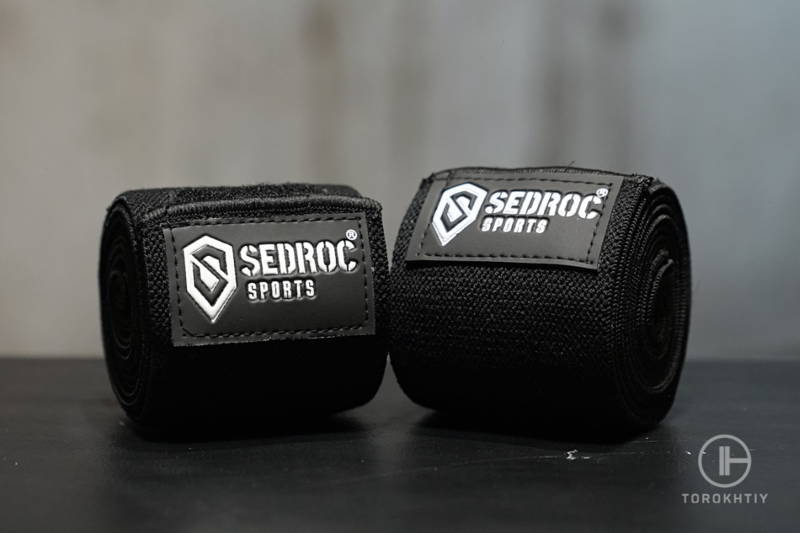 Length: 60 in.
Width: 3 in.
Material: Cotton
Closure type: hook & loop
Sedroc elbow wraps are the best choice if you want a workable product that doesn't put too much stress on your wallet. It is a perfect match if you are an amateur who seeks additional joint support and some strength boost in your training.
These wraps turned out to be the most comfortable on the skin: they are fairly soft and flexible. The material isn't harsh and doesn't irritate, yet it gives you a significant boost of elastic power. All these make Sedroc elbow wraps a leader in terms of user-friendliness.
The package and wrap design are also a sight for sore eyes. It might be a great option if you are looking for a present for your gym mate. The clip is at the back of the package so it looks really neat. On top of that, these elbow wraps appeared to be really stylish (I chose a plain black option).
The only disadvantage that I have noticed is a short velcro. Yet, the length of the other velcro part somehow compensates for this flaw.
Finally, the material has almost no smell which definitely puts some scores to Sedroc in terms of enjoyable usage experience.
A workable product that doesn't put too much stress on your wallet.
(Show More)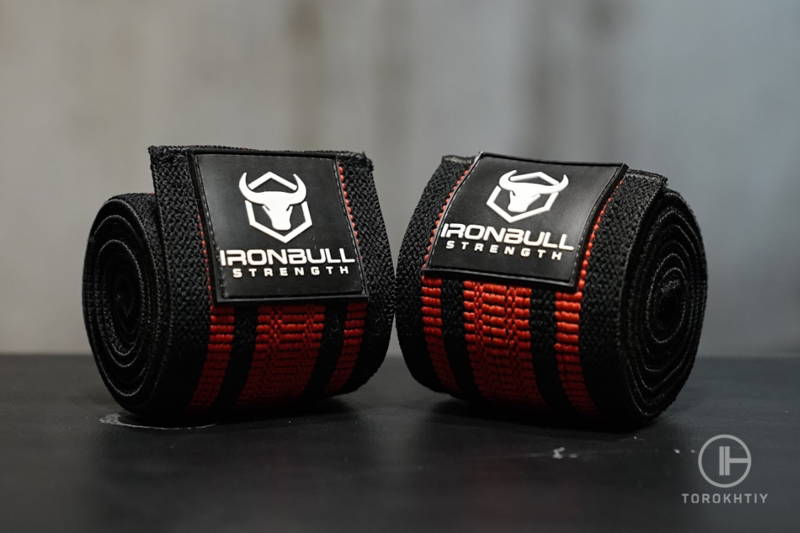 Length: 40 in.
Width: 3 in.
Material: Nylon
Closure type: hook & loop
You can understand from the name that these elbow wraps are a good choice for professional lifters. Everything serves to make them the most durable, resistant, and strength-effective.
The biggest advantage is high compression so many advanced athletes might find it the most helpful elbow wraps for bench press. Nevertheless, they may be rather tight and harsh on your skin which makes them an option more suitable for hardened athletes.
As for the drawbacks, Iron Bull Pro are really costly. But if you need the highest elastic power and strength boost, be ready to splash out on them. You will get a high-quality product that will last for years and successfully endure the most brutal and tough training.
Another flaw that I noticed is a strong chemical smell. It definitely made me put Iron Bull Pro lower on my list. A good absorbent in the package or whatever would be a good decision for these guys.
All in all, consider these elbow wraps if you are a passionate heavy bench press fan who is looking for the highest support to take their result to another level.
A good choice for professional lifters.
(Show More)
Length: 40 in.
Width: 3 in.
Material: Nylon
Closure type: hook & loop
Another popular product on the market is DMY elbow wraps. The first benefit that I noticed is the velcro length which makes it easy to regulate the compression and position.
However, these wraps definitely fall behind the previous options in terms of skin comfort. The material is rather tight and harsh, more like plastic. Not a pleasant experience.
Also, the package is rather plain – just a simple wrap. Still, if you buy DMY for your own training and don't mind the design that much, you can go for them easily.
Nevertheless, the quality of the stitching is good. I'm sure they will last pretty long and give you enough elastic power to step up your results if your elbows are not that tender.
Very long-lasting, but not the most comfortable though.
(Show More)
Not comfortable on the skin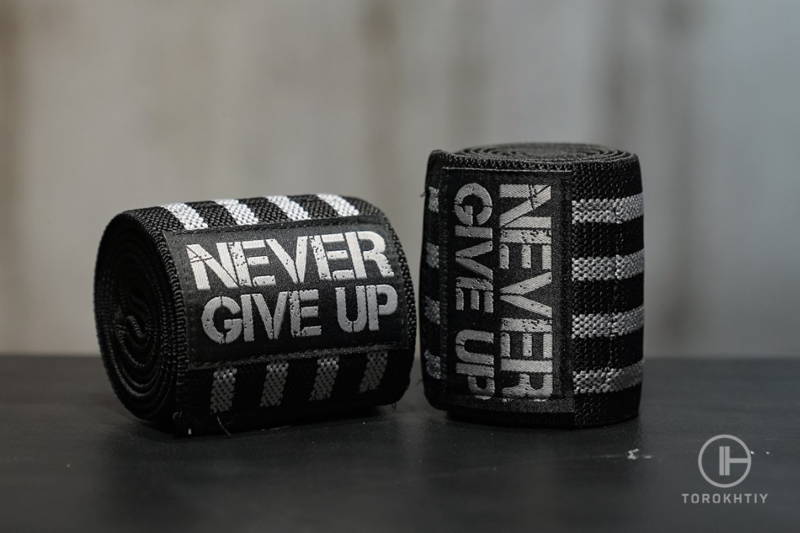 Length: 40 in.
Width: 3 in.
Material: Polyester
Closure type: hook & loop
The first thing that I noticed about HYFAN elbow wraps is their design. They have a quote 'Never give up' on one tail. Looks pretty catchy if you value such details. Moreover, the range of colors (blue, navy, red, orange, grey, etc) combined with black might be quite a benefit for you if you like to stand out.
Yet, these wraps are not the best option if you seek maximum comfort. They are glossy and shiny, but once you put them on, it doesn't matter that much. The material is rather harsh and not gentle to your skin. By the way, the package is not the most outstanding as well, similar to DMY.
As for the stitching, it turned out to be the worst among other products. Plenty of threads sticking out from different parts slightly spoil the picture.
All in all, if you are looking for an interesting design along with good compression, but some discomfort doesn't bother you, try these out.
Interesting design along with good compression.
(Show More)
Length: 40 in.
Width: 3 in.
Material: Nylon
Closure type: hook & loop
The last on my list are Iron Bull elbow wraps. They are also a good, reliable option that won't let you down. However, they are fairly costly. You can find the same qualities for a significantly lower price. So I put them rather low on my list.
Still, they are comfortable enough. The material is pretty soft and gentle to your skin, I didn't feel any irritation.
The velcro is high-quality as well. You can easily regulate the compression and position of the wraps.
If you fancy bright and noticeable accessories, Iron Bull could be an interesting choice. They combine black with red, grey, green, or blue but also have a plain black option and camo pattern.
A good, reliable option, however, they are fairly costly.
(Show More)
How Have I Chosen the Best Elbow Wraps?
I have used a whole evaluation system to give you the fullest picture and help to choose the most suitable option. Here is the explanation of all criteria that I put scores for.
Sedroc and Iron Bull (both PRO and regular) have the best packages. They are stylish and would be a good match for a present. Still, the first product has a clip at the back which makes it even neater. DMY and HYFAN have the worst packages – just plain wraps.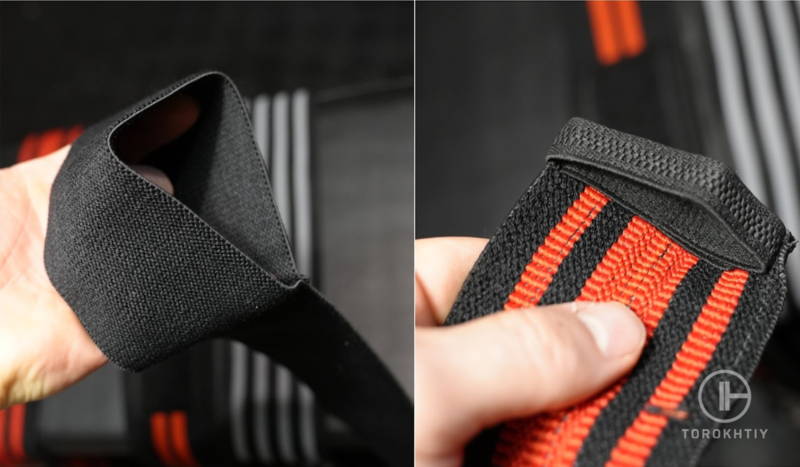 I took into account the loop and overall impression. The leader is Sedroc again due to a fancy look and a comfortable loop. It has a circle of its own material whereas other options have a sewn rubber loop. The first system turned out to be more comfortable. Iron Bull elbow wraps fall behind in terms of the loop and get only 9 points.
Iron Bull PRO have the strongest chemical smell that put me aback at first. Therefore, it gets the lowest mark. The others are pretty much the same and have almost no smell, but Sedroc is the most pleasant here, too.
Sedroc definitely leads here. The material is soft and sits comfortably on your skin. Still, I had the least pleasant experience using DMY and HYFAN. They are rather harsh and might even rub your skin.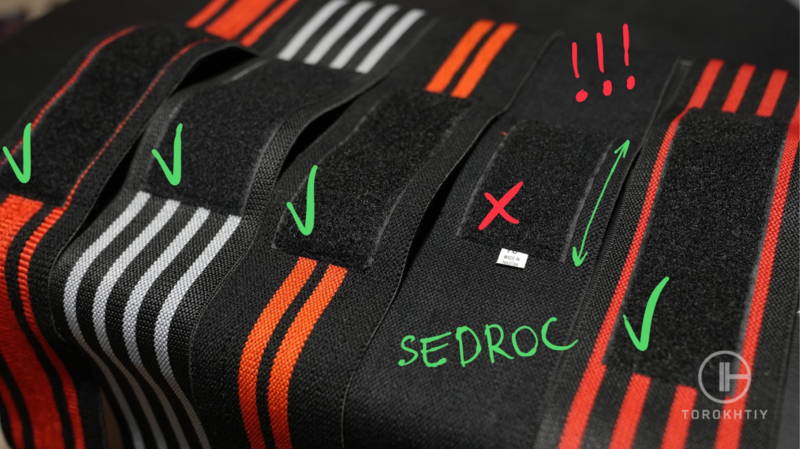 This is the point where Sedroc falls behind a little bit because of a short velcro. However, the length of the other part somehow compensates for this drawback. Meanwhile, Iron Bull PRO have the most reliable closure system to handle the heaviest pressure.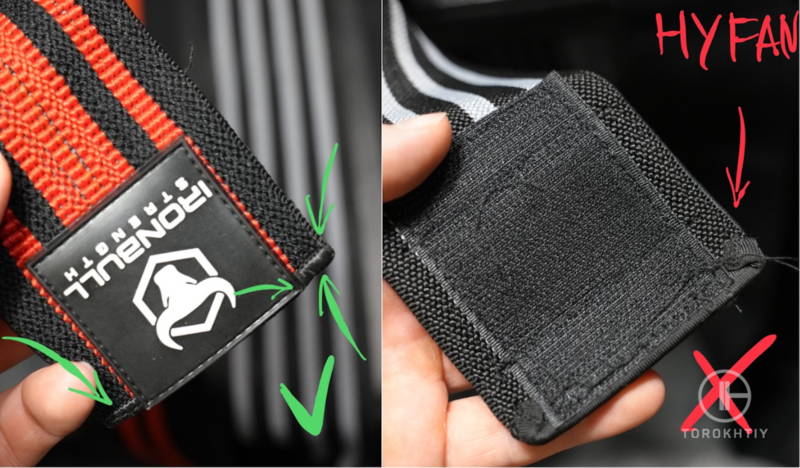 All products are rather good in terms of quality. Still, Iron Bull PRO stand out with their careful and elaborate stitching that is extremely durable. That is actually expectable due to the high price. HYFAN, on the other hand, have the poorest stitching quality.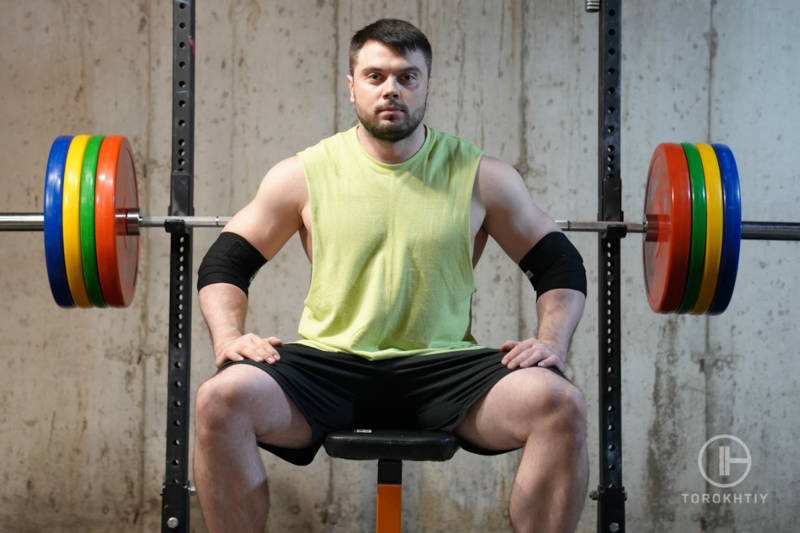 I definitely recommend Sedroc if you want to get the most out of such a price. Yet, if you have a bigger budget and want something premium and exceptional, give Iron Bull PRO a go. But remember that they won't work well for everyone: choose them in case you are a passionate advanced powerlifter.
Why Use Elbow Wraps for Lifting?
Elbow wraps are used by mainly experienced athletes who seek some special properties while doing pushing exercises.
First of all, elbow wraps provide additional compression. They give you elastic power that serves as a significant boost for extremely heavy reps.
If you use elbow wraps properly, they might add more than 10 pounds to your working weights, depending on the brand, exercise, and the level of compression that you prefer.
This benefit is key for powerlifters and strongman athletes who constantly crave to add some weight to the barbell.
Elbow wraps protect and comfort your joints significantly. They take the tension away from tendons and joints ceasing the risk of injury.
Moreover, they make your elbows warm and, thus, create a conducive environment for their effective and safe work. If you take such precautions, you leave almost no chance for tennis or golfer's elbow, tendonitis, and other joint diseases.
If you have recently had any elbow or muscle injuries but want to get back to your training right now, elbow wraps might help you out. They don't only prevent injury but also provide a quick recovery in case it happens. Such a relief lets you stick to your favorite activities without any pain or discomfort.
On top of that, you can regulate the level and place of compression to protect your weak areas more specifically if you use elbow wraps rather than sleeves.
How to Choose Elbow Wraps?
While choosing elbow wraps, pay attention to your kind of sport and personal preferences. To make the choice easier for you, I have prepared a brief guide on the main features.
If you are an amateur athlete, you may not benefit from extremely tight elbow wraps. Basically, you just need additional support for your joints.
If you are an advanced powerlifter or strongman, high tightness might help you handle the heaviest weights. However, if you take part in competitions, remember that elbow wraps are banned there so put them apart at least a few weeks before the day X.
Also, be careful while using tight elbow wraps in order not to cut off circulation too much. Always take them off after a heavy set and pay attention to your feelings.
Elbow wraps are mainly made of nylon, polyester, neoprene, rubber, or cotton. The first materials are more durable but might be slightly harsh on your skin. If you seek the highest comfort, cotton wraps will be the best choice for you – they are soft and absorb sweat faster.
All elbow wraps have a loop that fastens them to the arm. It can be a circle of the same material as if one tail itself creates a loop. Another option is a rubber loop sewn to the end.
I find the first system more convenient. It rests on your skin more gently and comfortably.
If you like to wrap your elbows really tightly and cover the biggest surface, you may want a rather long strap of material. The average length of elbow wraps is 40 in., but you may find other sizes as well. Look for this information in the product description.
Now, I will explain how to put on elbow wraps properly.
First, if your wraps have a rubber loop, put the other tail inside it and tighten it up slightly. Put your hand into the loop that has appeared and place it at the top of your forearm.
Tighten it up so that you feel desirable compression. Wrap the loose tail around your elbow, covering the bottom of the bicep. While doing that, regulate the pressure: you might make it medium for regular sets and tighter for records.
Put two parts of the velcro together to fasten the wrap and get down to business.
Do elbow wraps help you lift more?
Yes, elbow wraps provide additional compression and elastic power. They help you handle more kilograms by giving an extra boost. It works somehow similar to a spring.
Are elbow wraps vs sleeves better?
Elbow sleeves also give you some compression and support, but they are less powerful than wraps. Moreover, you can't regulate the area and level of compression while using sleeves. So if you have some specific needs or want to lift the heaviest weights, choose elbow wraps. If you just seek some support and joint comfort, sleeves will be enough for you.
Are elbow wraps allowed in powerlifting?
Elbow wraps are not allowed at powerlifting competitions, but you can use them while training to hit the heaviest weights. Moreover, they give you psychological confidence for future records.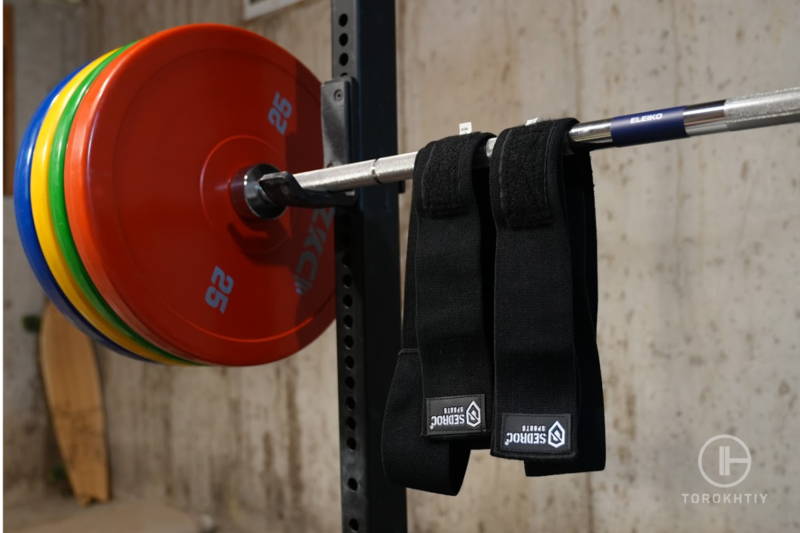 Sedroc elbow wraps turned out to be the leader among other popular products on the market. They are comfortable, effective and offer the best value for such an affordable price.
Still, if you seek premium quality and the highest support for extreme weights, choose Iron Bull PRO and make everyone jealous!
Have you ever used elbow wraps in your training? Share your experience and results in the comment section!
Effects of Compression Tights on Recovery Parameters after Exercise Induced Muscle Damage: A Randomized Controlled Crossover Study // NLM:
https://www.ncbi.nlm.nih.gov/pmc/articles/PMC6341249/
Elbow Wrap Improves Bench Press Performance in Trained Subjects // SciELO:
https://www.scielo.br/j/rbme/a/ft5QcBtLKS8wxznQCSJdSHr/abstract/?lang=en
My name is Oleksiy Torokhtiy. I am a professional athlete with 20 years of experience in Olympic weightlifting. I have won multiple European, and World titles and have taken part in two Olympic Games (Beijing 2008, London 2012).