The best elbow sleeves for lifting are not that easy to find on the market. A huge range of products may become a real hell for an athlete who is just seeking some joint support. Don't let those hurdles punish your painful elbows or stop you from hitting desirable weights.
I have tested the most popular options, read hundreds of elbow sleeve reviews, and asked my fellows about their experience. Finally, I am ready to give you a hand and show your elbows a different world.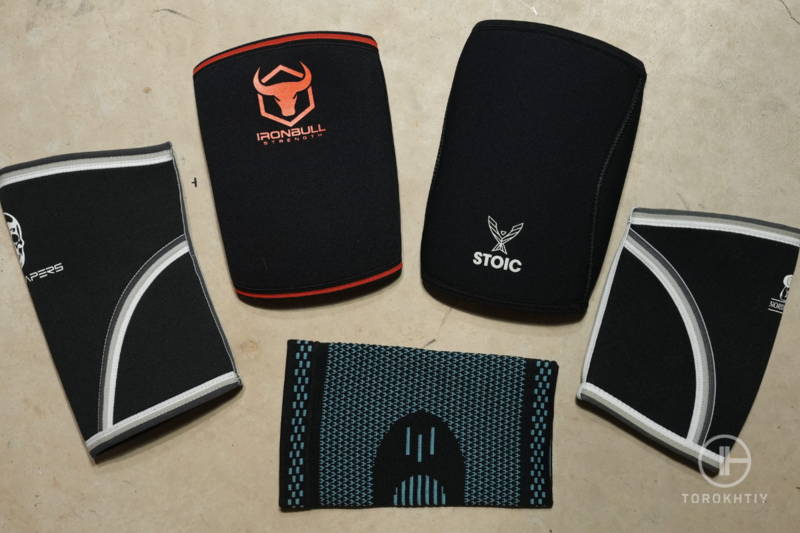 Top 5 Best Elbow Sleeves for Lifting Reviewed
I have chosen five weightlifting elbow sleeves that are the most popular on the market and compared them by the main features: package, design, smell, comfort, stitching quality, support, and price-quality ratio. See a quick result in the table below.
Now, I will walk you through all the details on each elbow support sleeve.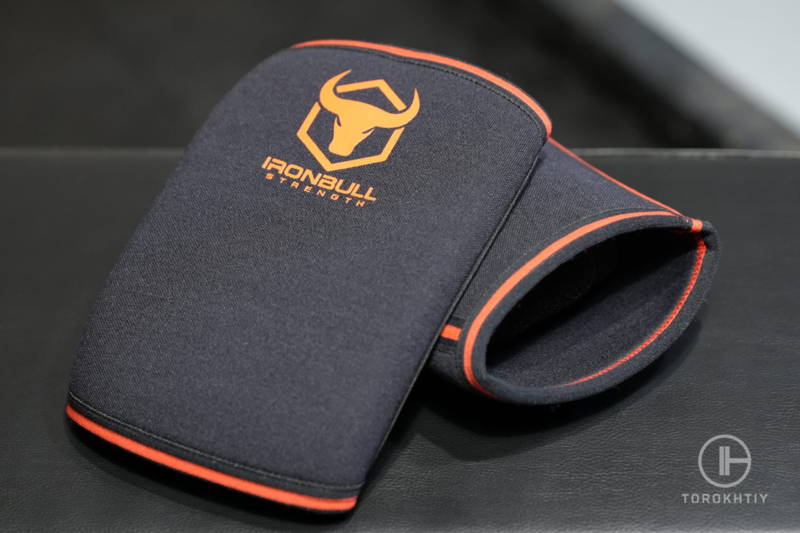 Thickness: 0.2"
Material: Neoprene
Sport: Powerlifting, Weightlifting, Bodybuilding
Sizing: 9"-16"
Iron Bull became the best elbow sleeves for powerlifting. They turned out to be the most workable and comfortable for weight training. Moreover, the price is rather moderate for their quality. Such an investment will definitely serve you well for years.
As for the design, they are made of two neoprene pieces sewn together at the sides. Such a structure makes them fit your elbows perfectly without any wrinkles or rubbing. The stitching is great as well – neat and durable.
I chose a size according to all the measures, but if you want to get the highest support and elastic power for lifting extreme weights, pick one size smaller. These guys will definitely give your new feelings as well as records.
All in all, if you want to make a long-term investment in your training, I recommend trying out Iron Bull elbow sleeves.
The most workable and comfortable for weight training for a good price.
(Show More)
Reasonable price for such a quality
Not the strongest support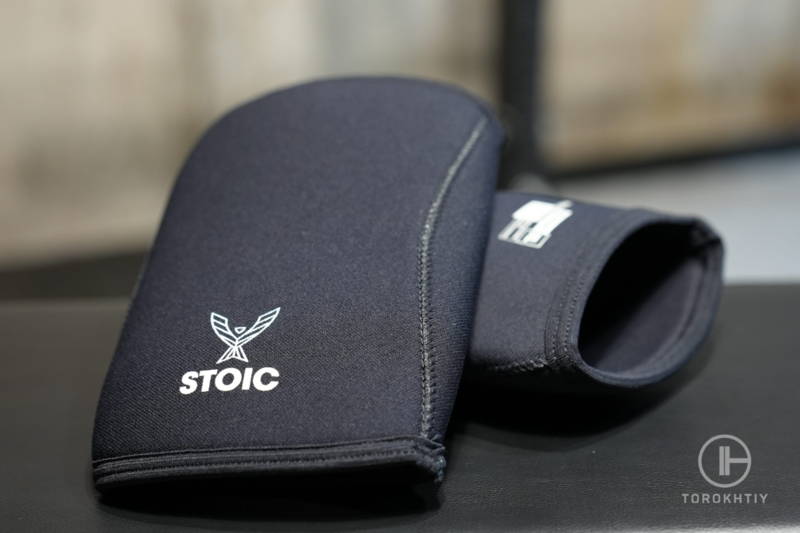 Thickness: 0.3" + 0.2"
Material: Neoprene
Sport: Powerlifting, Bodybuilding, Weightlifting
Sizing: 9"-16"
Stoic elbow sleeves fall behind not that much. Actually, the price puts them in second place. They are fairly costly, but the quality is still undeniable.
The design of these elbow sleeves is very similar to the Iron Bull product – two parts sewn at the sides. However, they are slightly longer which might give your a larger coverage, support, and stability for the most extreme sets. On top of that, the neoprene thickness is higher at the back and lower at the front for the sake of the biggest possible strength boost.
As for the design, minimalists will definitely like it – simple but tasteful. But if you want a noticeable and catchy look, these sleeves might not be the best option.
All in all, if you are an extremely heavy lifter and your budget doesn't tie up your hands that much, try these out for the biggest strength boost.
They are fairly costly, but the quality is still undeniable.
(Show More)
Different thickness at the back and front
May be difficult to put on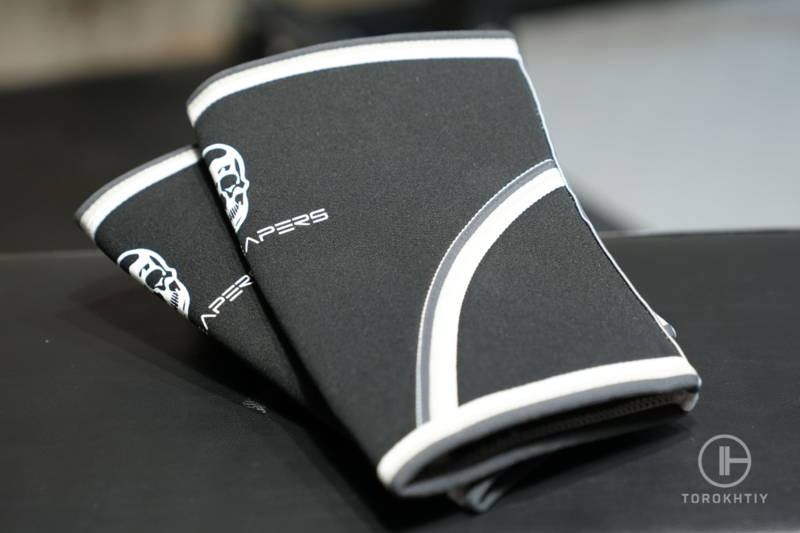 Thickness: 0.2"
Material: Neoprene
Sport: Powerlifting, Weightlifting, Tennis
Sizing: 9.4"-13.4"
Gymreapers finish at the 3rd stage because of their price, too. As for me, the features are quite typical and don't offer anything unique. The price is not 100% reasonable.
The design of these sleeves differs from the previous options. They are not sewn at the sides, but the seam crosses the middle of a sleeve and fits right in the elbow bent. It feels quite natural but I find the first structure more convenient anyway.
As for the package, it also differs. They are sold in a zip bag which is not really breathable and, thus, gives them a chemical smell. It might bother some athletes who are sensitive to such details.
All in all, Gymreapers provide strong support and high quality but, in my opinion, are rather overpriced.
Provide strong support and high quality but, are rather overpriced.
(Show More)
Strong support for heavy lifts

Different colors available
Strong smell from the package
Thickness: 0.2"
Material: Neoprene
Sport: Weightlifting, Powerlifting, Cross-Training, Tennis
Sizing: 9.4"-13.4"
Nordic elbow sleeves are a moderate option for a reasonable price. If you are not ready to fork out a significant sum of money, have a look at this product.
The overall quality is good: neat stitching, strong support, and high resistance. However, these sleeves are shorter than the previous ones on my list. It means that they provide smaller coverage and brace, so pro-athletes may find them not the best option for advanced heavy training. Yet, if you are an amateur, you can go for a pair of these easily.
Another flaw that I have noticed is a seam. It is placed closer to the top of a sleeve and I guess, it causes wrinkles in the middle while you are bending the elbows. Therefore, you may need to fix the sleeves after every set. They also don't fit your arms as naturally and comfortably as more expensive options.
All in all, Nordic elbow sleeves definitely comfort your wallet but leave your elbows with less joy.
Definitely comfort your wallet but leave your elbows with less joy.
(Show More)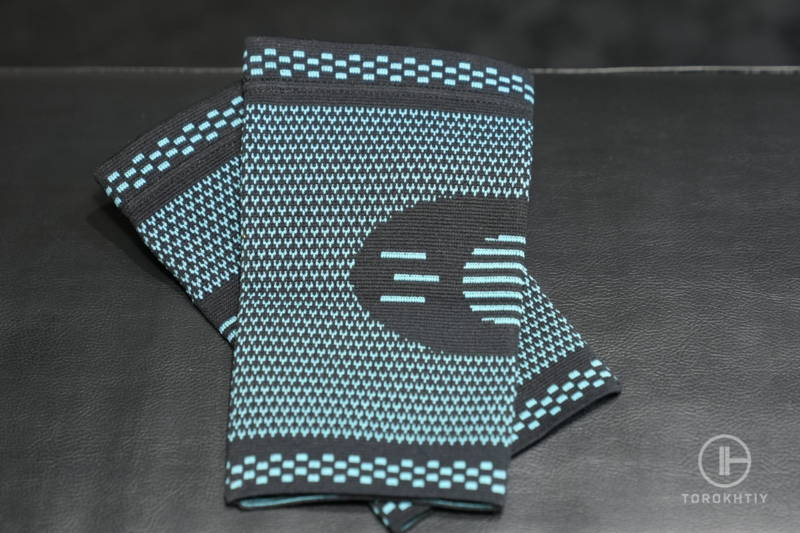 Thickness: 0.08"
Material: Neoprene, Nylon, Spandex
Sport: Tennis, Weightlifting, Golf, Volleyball, Basketball, Baseball
Sizing: 9"-15"
The last option on my list is one of the most popular on Amazon – PowerLix elbow sleeves. I chose them for a review because they are stated to be a good match for weight training. However, this type of elbow sleeves has little value for heavy lifters.
First of all, they are not as thick as other powerlifting elbow sleeves. The material differs: it is more stretchy and flexible. On the one hand, it makes this option more versatile, multi-purpose, and suitable for plenty of sports. On the other hand, it doesn't give enough compression and support for heavy lifts.
As for me, it is a good option to put on before a workout in winter to keep your joints and muscles warm. It will also come in handy if you train in a garage gym in case it is cool there. Moreover, it can be a helpful tool during an after-injury recovery – you can wear them day in and day out without cutting off your blood flow.
A good option to put on before a workout in winter to keep your joints and muscles warm and to wear while recovering after injury.
(Show More)
Suitable for long wearing

Can be used for plenty of sports
Poor support for weight training
How Have I Chosen the Best Elbow Sleeves?
While testing weightlifting elbow compression sleeves and picking the winner, I used particular characteristics and gave scores to all products. Read the detailed explanation of all features to see how I have chosen my fav.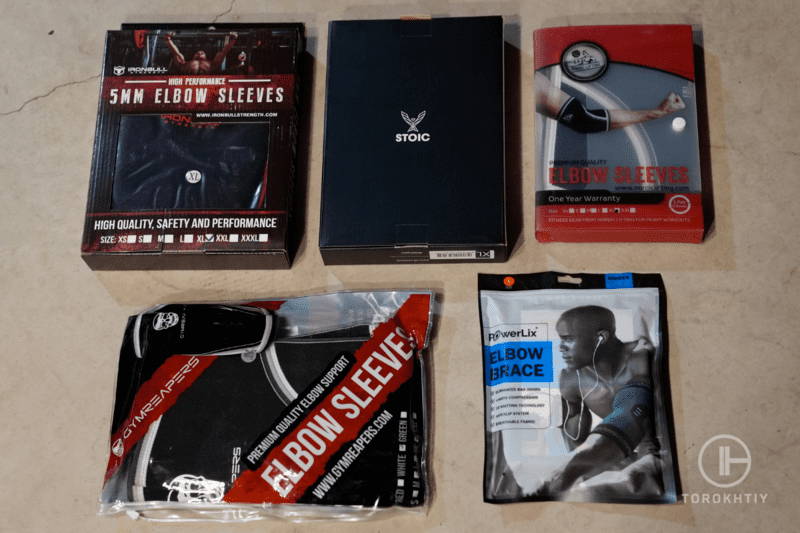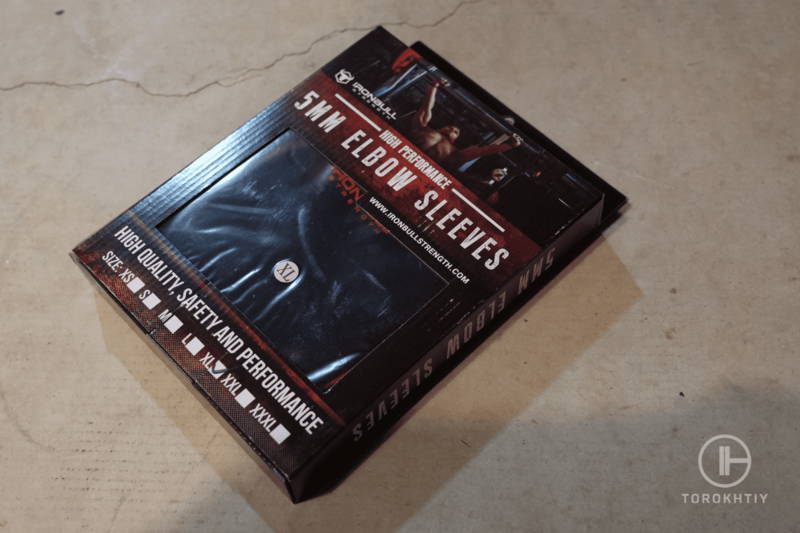 Generally, all products have good packages, but some of them are more elaborate and fancy. There are 2 types of packages: a box (Iron Bull, Stoic, and Nordic) and a zip bag (Gymreapers, PowerLix).
If you like pretty designs or search for a gift, have a look at Iron Bull. Their package looks really serious and expensive and will be a great match for a brutal lifter. So these elbow sleeves get the highest score – 10.
If you are a minimalist, Stoic might catch your attention at once – a simple but tasteful box. As to the most typical package, PowerLix is sold in a rather plain zip bag.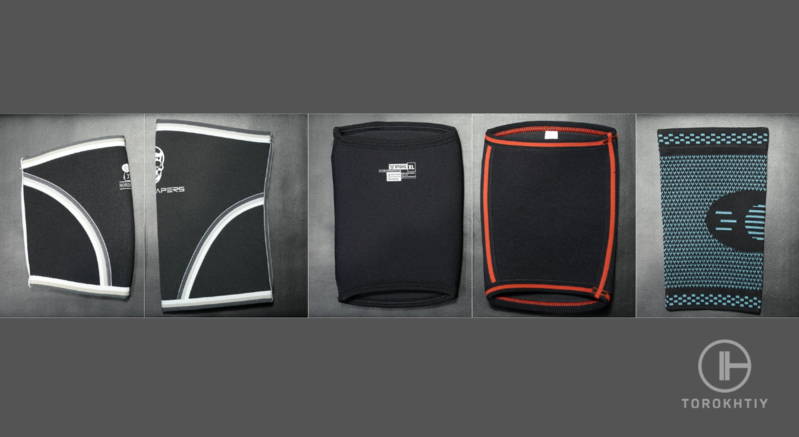 The design of elbow sleeves is critical in terms of their comfort and effectiveness. For example, Iron Bull and Stoic are well-structured so that everything sits on an elbow perfectly. Every seam is set in the proper place and the shape fits your arm naturally.
Gymreapers and Nordic are rather okay but may wrinkle while you are doing an exercise.
PowerLix have the simplest design – just a piece of material that gives some warmth and slight compression but doesn't really help you lift more.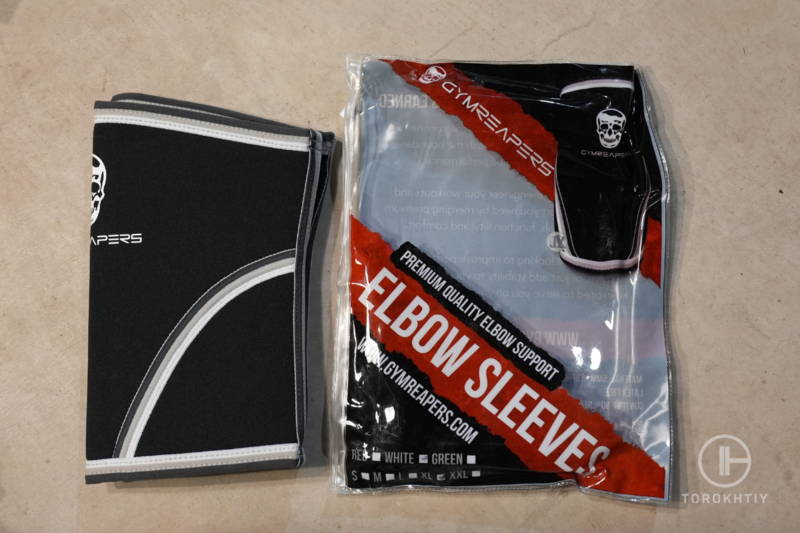 Smell is not a huge problem though some athletes may be sensitive to it. I give 10 points to PowerLix which has no smell at all because of its material.
As for the most 'smelly' elbow sleeves, Gymreapers stand out not in the best sense. Their zip bag lets no air inside. Therefore, once you unpack them, the smell is rather unpleasant.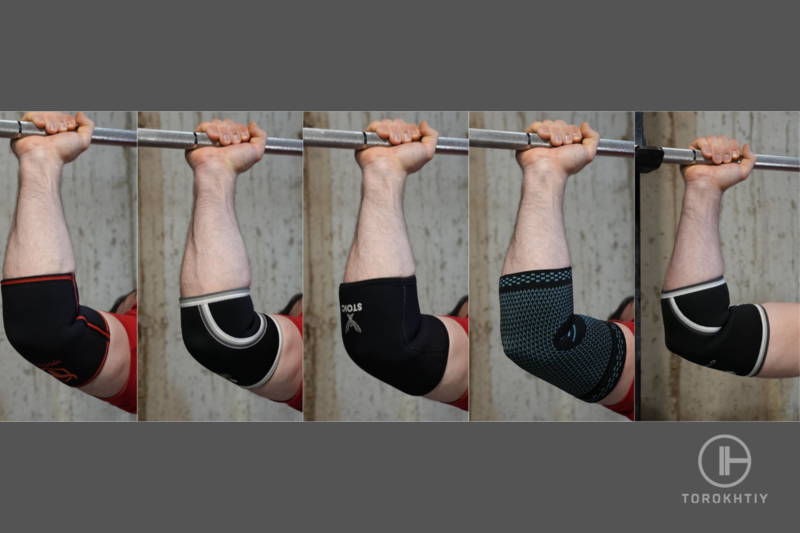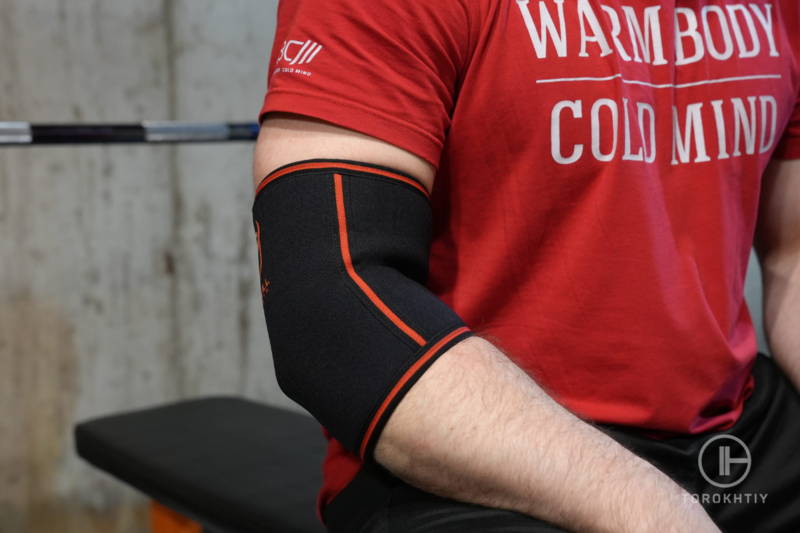 It depends on the design and material of elbow sleeves. It is especially important if you are an amateur athlete and try to comfort your joints, for example, after an injury.
Iron Bull gets all 10 points for bracing the elbows really well. I haven't noticed any annoying elements, everything fits perfectly.
On the other hand, Nordic elbow sleeves have not the most comfortable shape. They can wrinkle during a set, so you might need to fix them pretty often.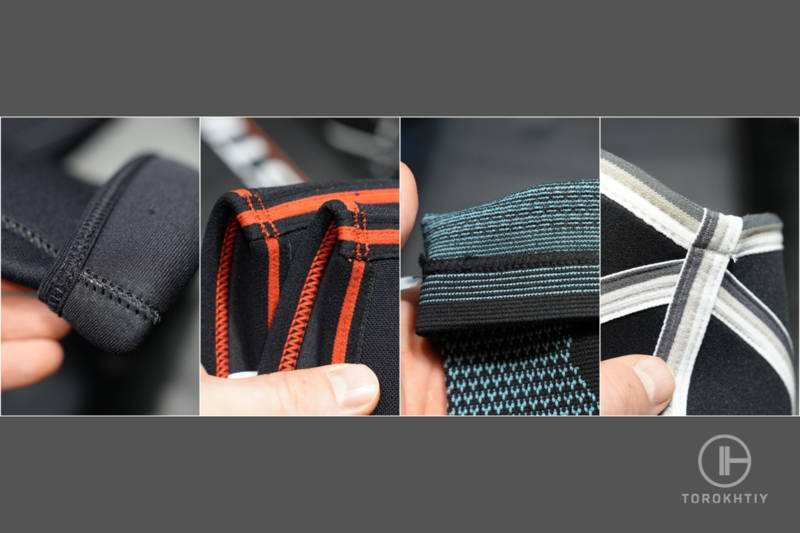 All elbow sleeves are really high-quality in terms of stitching. All seams are reliable and neat. I'm sure any product will last quite a long time and remain a tidy look. Therefore, every option gets a high score for this feature.
Still, Stoic elbow sleeves have the most complicated and strong stitching technology. If you are a professional, be sure that they will easily endure the hardest training.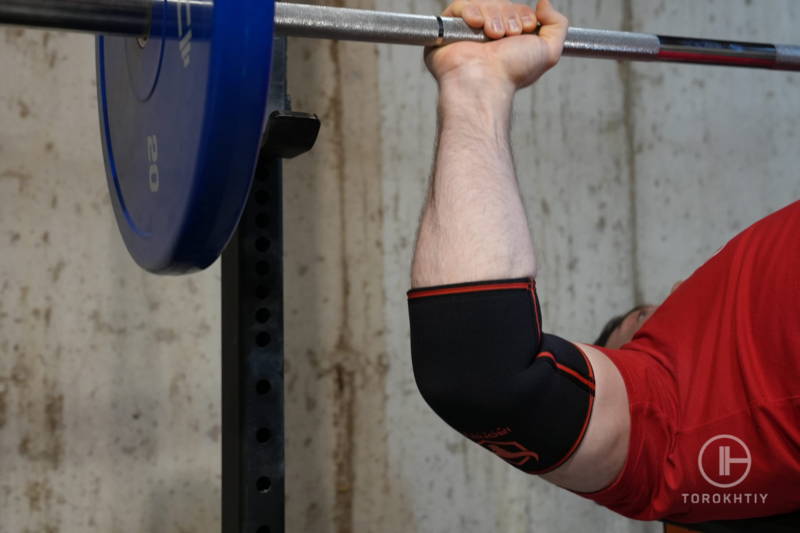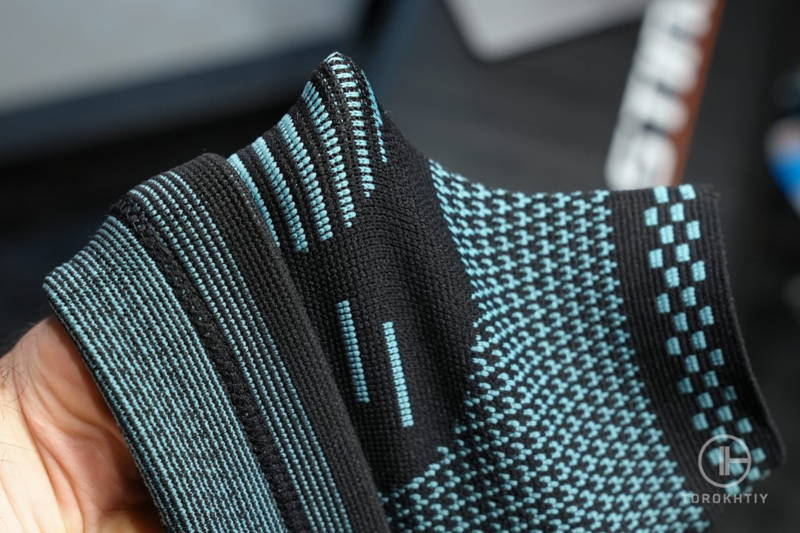 The key feature for most athletes who are looking for elbow sleeves is, of course, elbow support. Usually, advanced lifters are seeking the highest compression and elastic power.
I used the same size for all elbow sleeves and picked the one that is recommended for my girth in order to make the evaluation completely fair. Gymreapers and Stoic provide the highest support and get 10 points each. Your bench press will grow quite a bit with them.
However, don't buy PowerLix if you need elbow wraps to increase your result. They give almost no support and are more suitable for just keeping your joints warm and comfortable during the entire workout or outside the gym.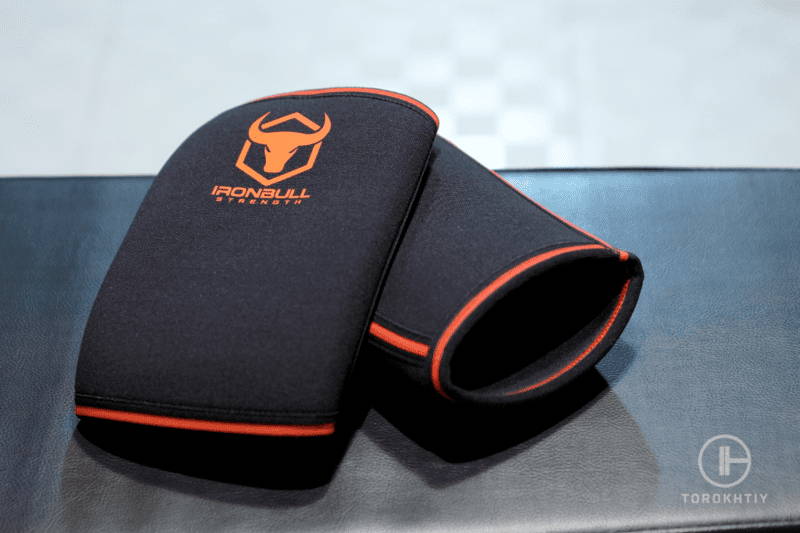 The overall winner is Iron Bull elbow sleeves. If you need maximum quality and effectiveness for a reasonable price, go for this option.
Gymreapers get only 9 points here because of a high price but quite typical characteristics. Nevertheless, Stoic offers a more advanced product for the same price.
Why Use Elbow Sleeves for Lifting?
To start with, there are various types of elbow sleeves, and all of them have different properties and purposes. In a nutshell, athletes use them for different degrees of compression to increase their strength results and protect joints.
Elbow sleeves provide elastic power as the result of compression. It helps to lift more weight by giving an additional boost at the most difficult or even 'sticking' points.
Athletes who are especially passionate about adding more plates to the barbell use elbow sleeves mainly for this purpose. They can add more than 10 pounds to your PR or make working sets easier. Also, they give courage and confidence in case of hitting a new weight.
Our joints tend to work better and more efficiently while being warm and stable. Sleeves provide a conducive environment for elbows to do their best. They also protect tendons and joints from various injuries.
If you care about your elbows but still want to lift weights with no harm, elbow sleeves might help you out. They stabilize the joints and reduce the stress put on them during heavy sets. It comes in really handy if you feel that your elbows can't handle such a load due to age or previous injuries.
Elbow sleeves are a common tool that accompanies athletes during an after-injury recovery. If you feel any pain or discomfort due to previous elbow or arm issues but want to get back on the sport track as soon as possible, try using elbow sleeves during your workouts.
Doctors often prescribe a light elbow support sleeve to wear even on the daily basis. They relieve pain, keep the warmth and help you to feel more secure. If you struggle with tendonitis, arthritis, golfer's or tennis elbow, give them a try.
How to Choose Elbow Sleeves for Lifting?
In order to choose the best elbow compression sleeve for weightlifting, first of all, analyze your needs. Do you want to improve strength results, protect your joints, or help them recover quickly? I will explain how to choose the most efficient option for each goal.
Thickness is the most prominent and critical feature of any weightlifting elbow sleeves. If you are searching for an accessory that will boost your results in pressing exercises, choose thick products (for example, 0.2"). They fit your elbows really tightly to give maximum elastic power. Such sleeves may be even hard to pull on, but the results will put you in a good mood right away.
On the other hand, if you just need some warmth and comfort during a workout, pay attention to light bodybuilding elbow sleeves. You can wear them throughout the entire session, they won't influence the blood flow or limit your moves.
Such an option doesn't give a lot of compression or stability, though. It might be a good choice for light strength training or sports such as baseball, tennis, basketball, etc.
Most weightlifting elbow sleeves are made of neoprene – a tight elastic material. It isn't that stretchy, but it braces your arms well and gives a lot of compression. This is the best option for powerlifters, strongmen, or just heavy weight addicts.
If you are going through a recovery period or need elbow sleeves for other sports, pay attention to lightweight options made of cotton, spandex, latex, etc. They are much more stretchy and flexible. You can wear them outside the gym either.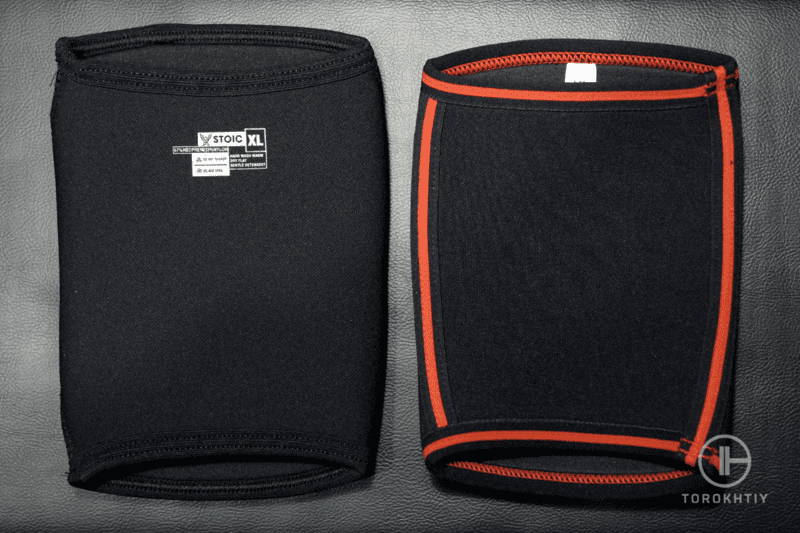 All elbow sleeves have different sizes to fit every arm perfectly well. In order to choose the proper option, bend your elbow at about 30° and measure its girth.
In case you need a really close fit, take one size smaller. It may be helpful if you are really eager to bench press the heaviest barbell in the gym. Yet, be ready to sweat a bit while putting such sleeves on.
And if you don't like strong compression and prefer a loose brace, you better choose a bigger size. It will give warmth and amortization but won't influence your results that much.
How to Use Elbow Sleeves?
If you want to put on a light elbow brace for lifting, it is really easy to do that. You just pull it on your arm to fit your elbow comfortably. The narrower part must be on your forearm and the wider one should cover your bicep.
In case you have a tight pair of elbow sleeves, you might need a little bit more time and effort to put them on. The easiest way is to turn them inside out and pull the narrower end first. Once you reach the point where the bottom of the sleeve should be, fold the wider end up. Start pulling it up till the sleeve fits your arm properly without any folds.
Athletes usually use elbow sleeves for all kinds of presses, dips, etc. Apart from that, you can use light options for any exercise just to keep your joints warm or soothe the pain.
If your elbow sleeves fit your arms rather loosely, you can wear them throughout the entire session, but if they are really tight, you may need to pull them down and then back up after a few sets in order not to interrupt your blood flow.
Do elbow sleeves add to your bench?
If you choose thick elbow sleeves, they will help you lift more weight by providing elastic power. However, thin lightweight elbow sleeves just give you warmth and slight compression without making much difference in your strength results.
What size elbow sleeve should I get?
If you want a moderate fit, pick a size according to the table provided for every product. You may choose a smaller size to get higher compression and stronger support or a bigger one if you prefer a loose fit.
Are elbow sleeves allowed in powerlifting?
Your elbows must be bare at powerlifting competitions in order to control the lockout. However, you can use them during your training and put them aside a few weeks before day X.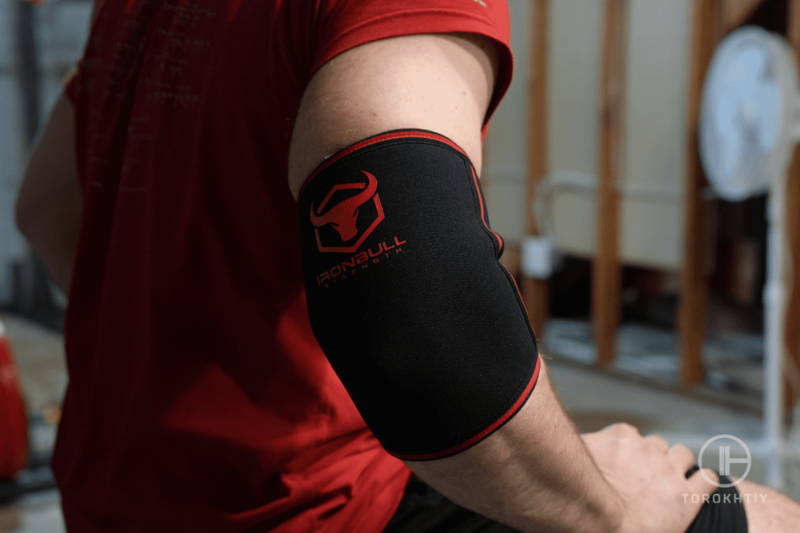 Iron Bull elbow sleeves became my favorite ones. They are comfortable, durable, and don't actually rob your pocket. Still, if you are a passionate fan of first-class expensive equipment, have a look at Stoic elbow sleeves. Beware: both options might make you cry out for more plates on the bar.
Why do you need elbow sleeves and do you already use them? Share your thoughts in the comment section.
Fastest Ways to Heal a Sports Injury: A Medical Perspective // Health plus:
https://www.mountelizabeth.com.sg/healthplus/article/fastest-ways-to-heal-a-sports-injury-a-medical-perspective
How to Treat Elbow Pain from Weightlifting // New York Bone & Joint Specialists:
https://nyboneandjoint.com/blog/how-to-treat-elbow-pain-from-weightlifting/
My name is Oleksiy Torokhtiy. I am a professional athlete with 20 years of experience in Olympic weightlifting. I have won multiple European, and World titles and have taken part in two Olympic Games (Beijing 2008, London 2012).