Almost all personal trainers love incorporating this piece of equipment into their workouts, and with a good reason. It's versatile and effective and tests your athletic abilities in multiple ways. However, if you're not yet convinced, then hopefully, this article will make you appreciate all the battle rope benefits and why it's so important to use it in your workouts.
In this short text, we will be answering the question "what does the ropes workout do" as well as what the main benefits of battle ropes are. Along with that, we will go over some possible setbacks and try to give you the best possible one to use in your training sessions so that you can get the most battle rope exercise benefits.
The main benefits of battle rope include improved athletic performance, increased strength, and enhanced cardiovascular capacity. They're an overall incredible exercise that, when done regularly, can be extremely beneficial to all athletes, regardless of the sport they're practicing.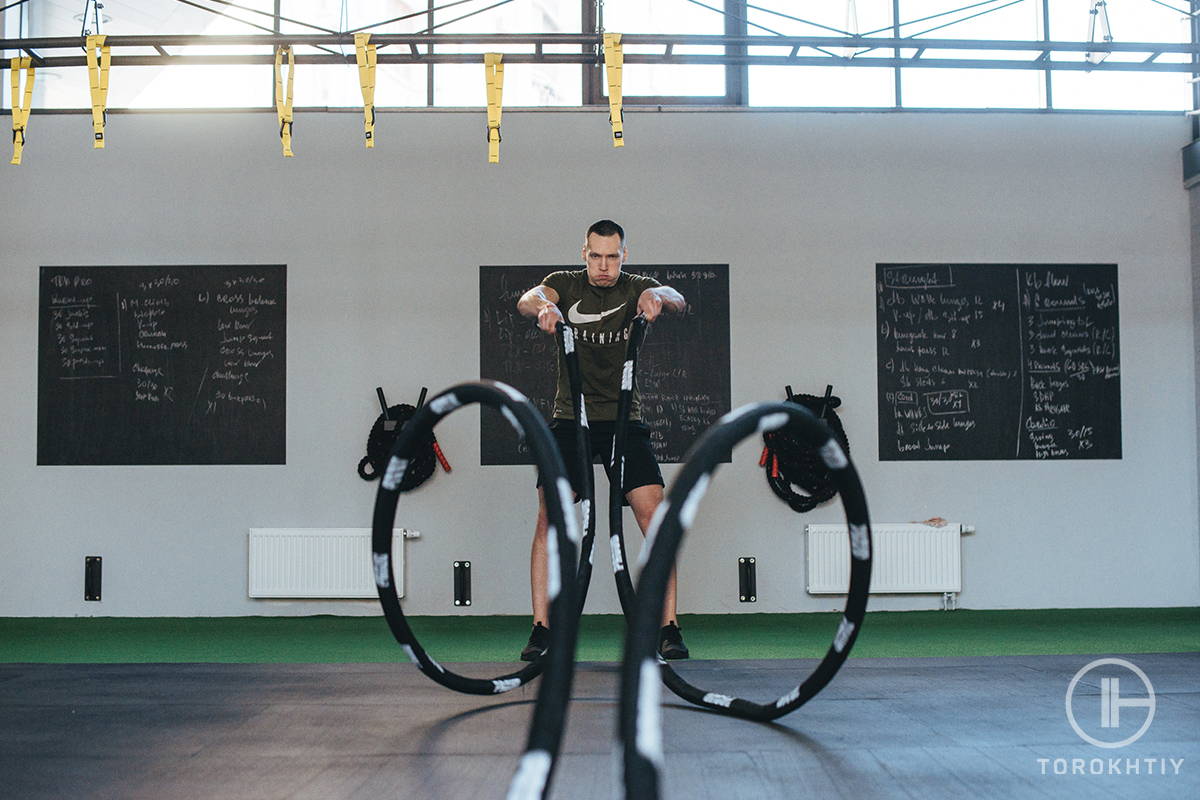 What Muscle Does Battle Rope Work?
Doing battle rope exercises is considered full-body training because it targets most of your body's muscles. More specifically, it requires you to use your core muscles, along with your entire upper body, including shoulders, arms, and back. If you want to target a specific area, you have to change the way you perform the movement.
For example, when doing bilateral waves (which is essentially swinging both of your arms at the same time), you're targeting the muscles in your shoulders and your upper back, while when doing unilateral waves (switching one arm after the other), you're putting more emphasis on your obliques, along with your arms.
A study found that doing battle rope workouts at least three times per week led to major improvements in core and upper body strength. And so one of the biggest battle rope workout benefits is the fact that it enables you to train multiple body parts at the same time.
Battle Rope Benefits You Should Know
The benefits of battle ropes aren't one or two - they are many. And we will look to cover just the most important ones that you should 100% know about, and that will make you feel more excited about incorporating this exercise into your training sessions. Hopefully, by the end of the article, you will realize that battle rope workouts are not only incredibly effective, but also a ton of fun and essential exercise for almost any athlete.
Let's get started.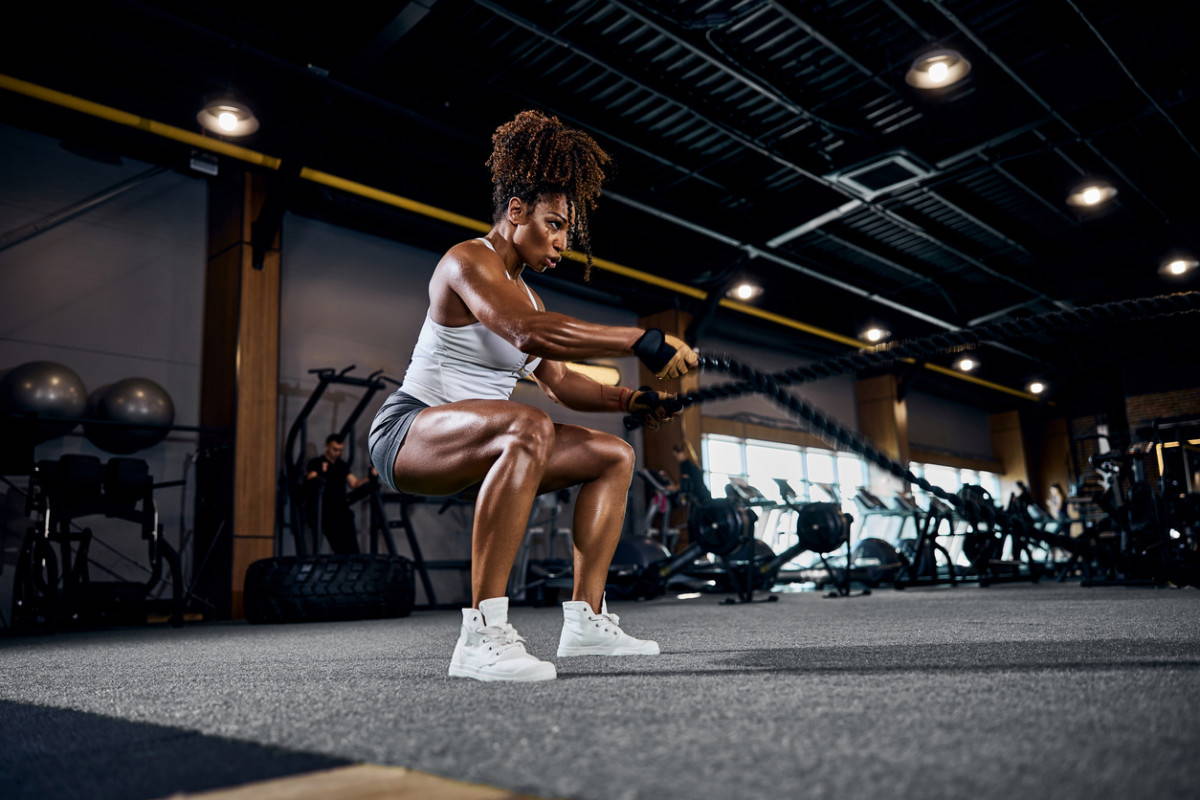 Enhance Your Cardiovascular Abilities
If you've ever tried swinging battle ropes, you already know that it isn't only challenging for your muscles, but it also often leaves you out of breath. That's because the swinging movement requires your heart to quickly pump blood to all the muscles performing the exercise. For that reason, doing a few sets of battle ropes every session can help you improve your cardiorespiratory fitness, as shown by various studies. Along with that, one particular study proved that swinging battle ropes increases your heart rate so much that it can be considered a vigorous activity - meaning you burn more calories in a short time frame while also strengthening your heart.
Improve Your Athletic Performance
Battle rope exercises have both strength and cardio benefits, as we've already discussed. Because of that and as proven by research incorporating them into your workouts can help you massively improve your overall athletic performance. In one study, 30 basketball players participated in a battle ropes training program and, in just eight weeks, managed to make major improvements in their core endurance and jump height.
With that said, battle rope exercises are also incredibly demanding and can lead to fatigue and soreness in the muscles, which is something you have to consider if you're an active athlete that needs to perform week-in and week-out and can't afford to have bad performances due to insufficient recovery.
Have Better Coordination & Balance
As an athlete, coordination, and balance are key components of a good performance. And in order to have them, you need a strong core and the ability to think quickly. So, if you want to improve your posture and balance while also learning to use your arms almost without thinking, then battle ropes are a terrific addition to your workout plan.
By doing them, you will learn to move your arms independently from one another while engaging your glutes and core at the same time. With that, you will not only improve your coordination and balance, but you will also correct any muscle imbalances that you may have either from the sport you practice or from other forms of exercise you do.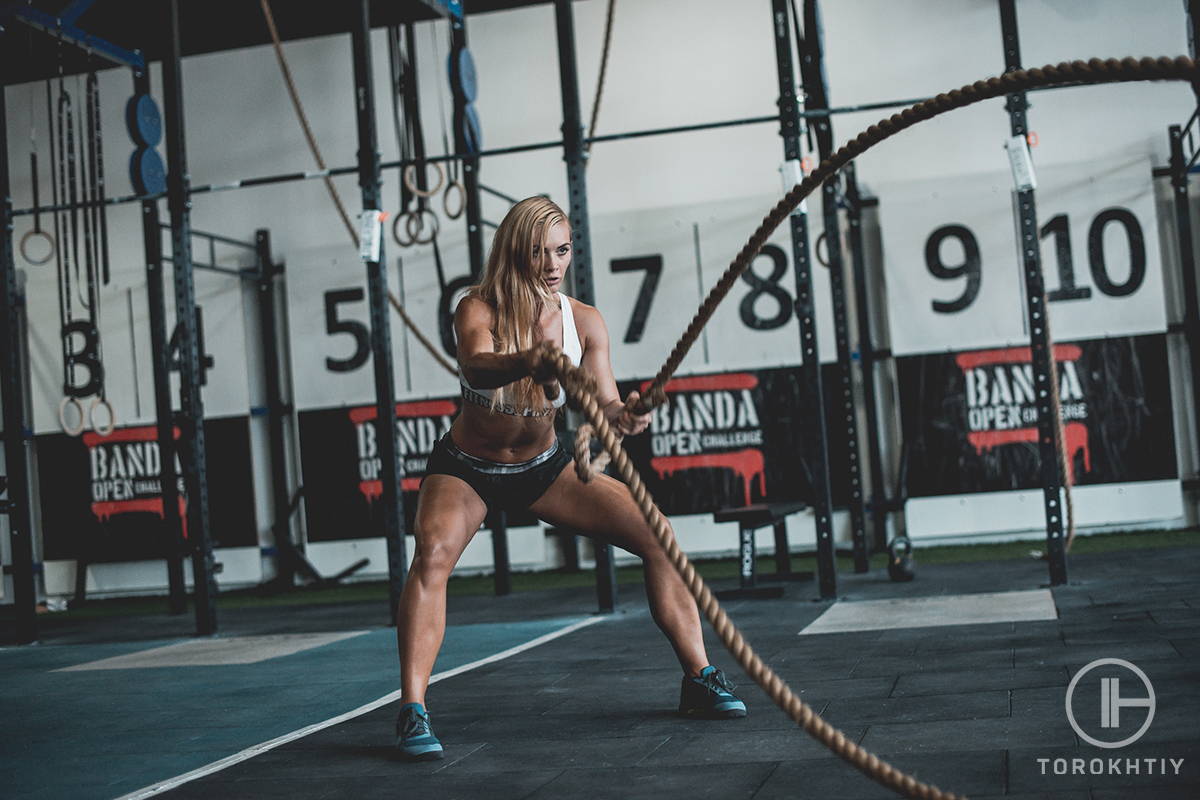 Great for Quick HIIT Training Sessions
Suppose you're looking for a short, but effective workout, then look no further than battle ropes. Just 10 minutes of performing various exercises with the battle ropes will get your heart beating fast and your sweat on and will challenge the muscles of your upper body and your abdominals. And so, if you're short on time, but still want to have an effective training session that gets your heart rate up and activates your muscles, then battle ropes are a fantastic choice. Additionally, as battle rope exercises require you to both burn fat and work your muscles, they're a terrific way to boost your metabolism and give yourself more energy for the day.
Terrific Low Impact Exercise
If you're currently suffering from a lower-body injury or you have chronic issues, but still want to do some cardio workouts, the battle ropes are a great option. You can use them while sitting down, and they will still make for a fantastic training session that improves your aerobic fitness and really makes you sweat it out. In fact, performing the battle rope exercise while sitting down will require you to use the upper body muscles even more (as you're not engaging the core as actively), making that variation a good idea if you want to target those particular muscle groups.
Drawbacks of Using Battle Ropes
As with almost everything else in life, battle ropes come with their cons and all the positives we already discussed. And because we do want to give you the full picture, let's discuss some of the potential drawbacks of battle ropes.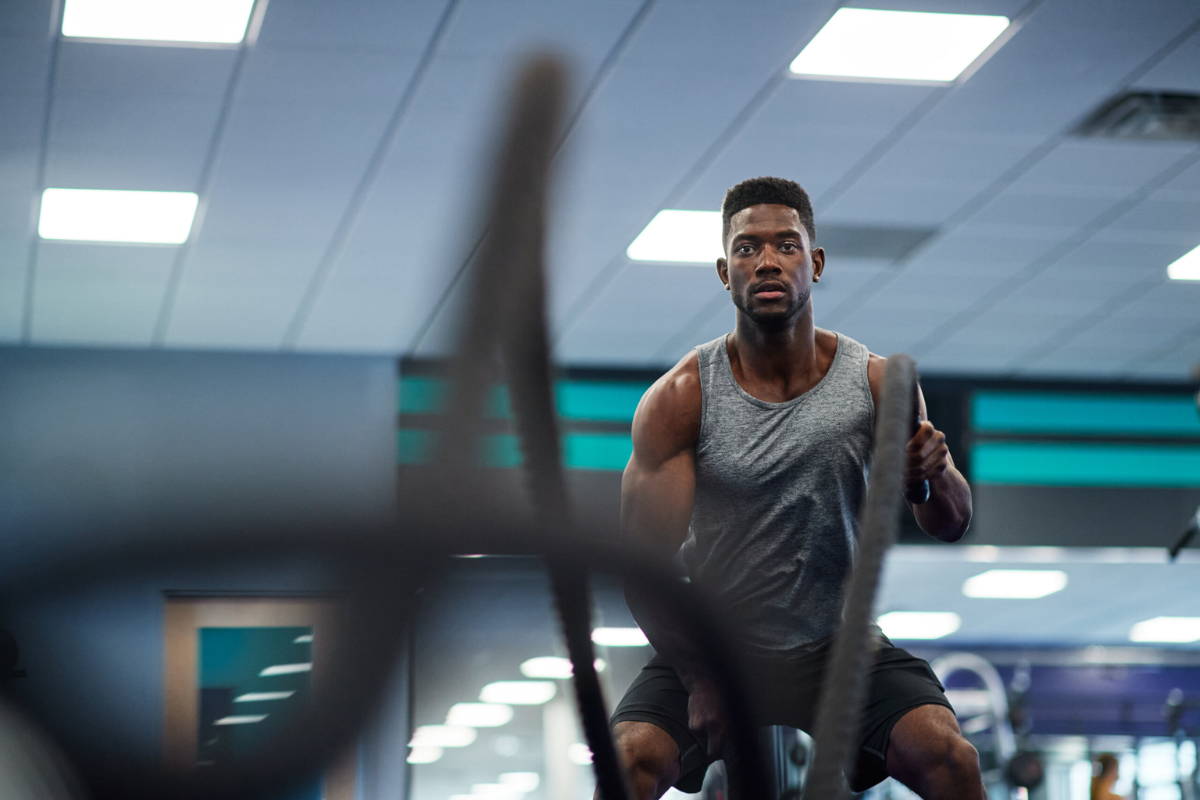 If you want to get battle ropes for your home gym, you need to ensure you have plenty of space available. Unlike a lot of other kinds of gym equipment, battle ropes require quite a bit of free space in order for you to use them effectively, and the minimum requirement is around 10 to 15 feet. And the thing is - the longer the ropes are, the more effective the workout will be. Along with that, the entire exercise requires you to slam the ropes onto the floor - something you will want to avoid doing without proper flooring and if you have someone living in the area below your home gym. It's the kind of equipment suitable for your backyard or garage and will not fit most home gym concepts.
We already mentioned that battle ropes could be effective when training both for upper body strength and for when you want to improve your cardiovascular performance. However, if you're an active athlete in the season that needs to perform regularly, they might be too demanding of an exercise to include in every training session. The reality is that battle ropes are pretty exhausting and can often lead to muscle soreness and fatigue in the following days after you've used them. Athletes have to be very careful about how they include them in their training regime.
Can Aggravate Past Injuries
If you've had any shoulder issues before, you might want to avoid using battle ropes all that often. That's mainly because the entire nature of the movement can "awaken" previous shoulder issues and aggravate current ones. If your shoulders are a weak area for you, then you should do the exercise with some caution and carefully analyze whether it's causing you any pain or discomfort. If you believe it does, then the best idea is to either change the movement or stop using battle ropes in your workouts completely.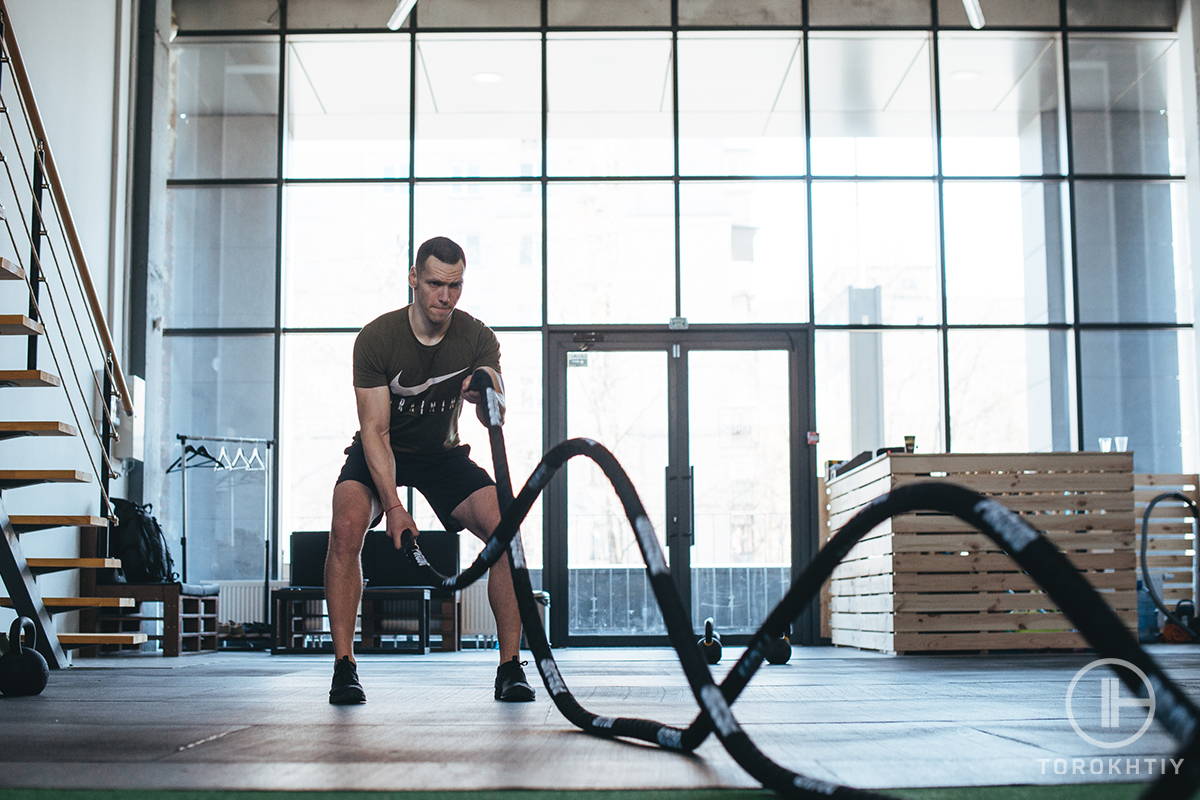 The Importance of Using High-Quality Battle Ropes
As with any exercise using high-quality equipment will only make it more comfortable for you to do the workout and also a lot more fun. When it comes to battle ropes investing in one that's well-made and with good quality is the key to it lasting you a long time and not causing you major issues with your hands (such as nasty blisters). Along with that, if you plan on keeping it in your garage or yard (where it's typically moist), then the high quality will ensure it remains intact for longer and can be used for many years.
If we have to recommend one battle rope on the market, then it will be the one made by Rep Fitness. It's easy to install, incredibly durable, made from polydacron that helps it make the most "wave" action, and finally protected with nylon to reduce wear and tear and last a long time. Along with that, it has comfortable, grippy handles that prevent it from slipping from your hands. The rope comes in two different lengths (30' and 50') and two diameters (1.5" and 2") - the wider option provides more of a grip challenge, while the length adds difficulty. For further customization, you can also choose your rope's color - red, blue, or black.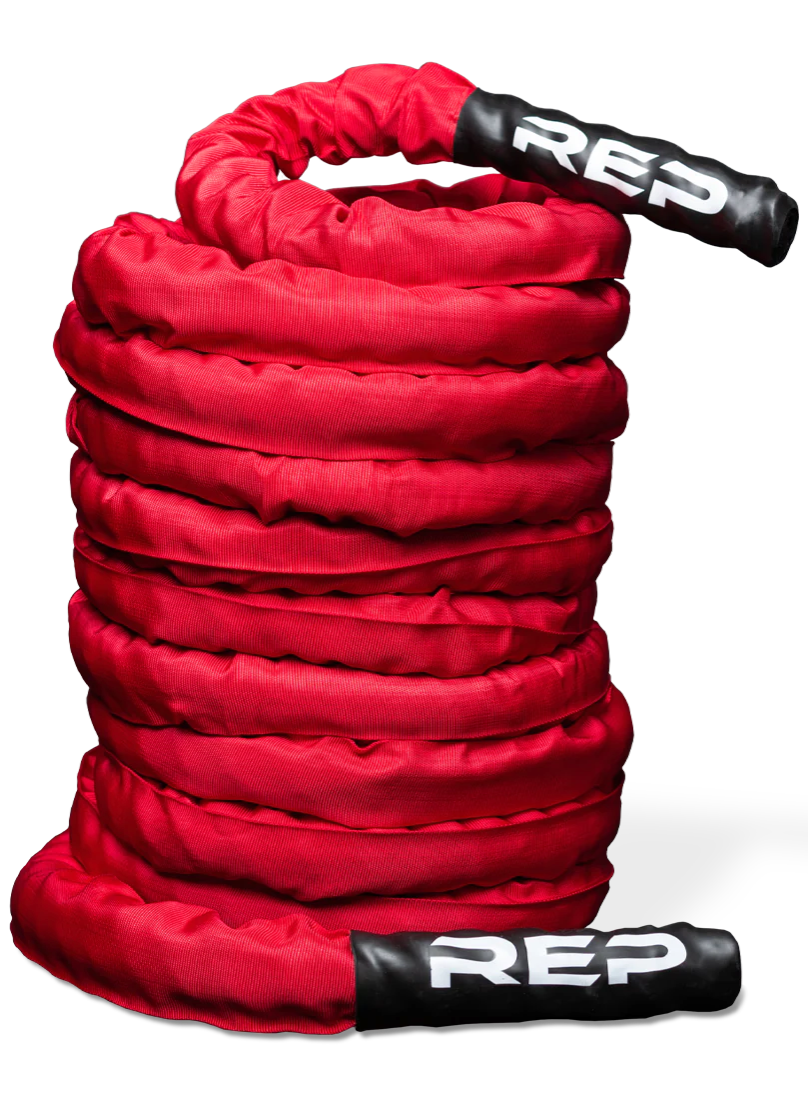 What happens if you do battle ropes every day?
There are many benefits of doing battle ropes every day. First, it will help you strengthen all the muscles in your upper body (back, arms, shoulders), along with the ones in your core, thus helping your stabilization and balance. Furthermore, as battle ropes are a vigorous activity, incorporating them into your daily workouts can enhance your cardiovascular endurance and strengthen your heart. However, you should be careful about doing the battle rope exercise too often as it's quite demanding and can cause muscle soreness and fatigue.
Is battle rope good for belly fat?
Battle rope exercises work out your core and so can help you increase your strength in that area of your body. Along with that, they're a great cardio workout, as they raise your heart rate and can help you create quite a sweaty workout for yourself. All of that combined makes the exercise great for reducing your overall body fat and, thus, your belly fat as well. However, they're not an exercise that particularly targets that area of your body.
How long should you do battle ropes?
The battle ropes exercise is quite an intense one as it requires a lot of strength, and it also raises your heart rate by a lot and is super tiring. That's why ideally, you should aim for doing it around 10 minutes per session for maximum efficiency, and it's best to do it as interval training. For example, performing the exercise for 30 or 20 seconds and then resting for 30 or 40 - repeating that for ten rounds is quite enough for a good workout.
Battle ropes are a terrific piece of equipment, and the exercises you can do with them have many benefits. The main ones are strengthening your core and upper body and also enhancing your cardiovascular performance. That's what makes them a great addition to the training program of any aspiring athlete. And our question to all of you is - have you tried incorporating battle rope exercises into your workouts, and if yes, what benefits did you notice? Let us know in the comments.
Physiological Responses to Increasing Battling Rope Weight During Two 3-Week High-Intensity Interval Training Programs // National Library of Medicine: https://pubmed.ncbi.nlm.nih.gov/32091465/
Eight-Week Battle Rope Training Improves Multiple Physical Fitness Dimensions and Shooting Accuracy in Collegiate Basketball Players // National Library of Medicine:
https://pubmed.ncbi.nlm.nih.gov/29847529/
Metabolic cost of rope training // National Library of Medicine: https://pubmed.ncbi.nlm.nih.gov/23897017/
Can You Use Battle Ropes Every Day? // Fitnessdayone:
https://www.fitnessdayone.com/battle-ropes-every-day/
Are battle ropes good for losing belly fat? // TheFitnessFAQ:
https://www.thefitnessfaq.com/are-battle-ropes-good-for-losing-belly-fat/
A Beginner's Guide to Battle Ropes // TheFitnessFAQ:
https://www.thefitnessfaq.com/how-long-should-a-beginner-do-battle-ropes-3/
My name is Ihor and I have been a professional weightlifter since 1996. With over 20 years of competition experience, my resume includes European Champion in 2009 and the silver medalist at 2011's Senior World Championships –105kg division.
I competed at the 2008, 2012 and 2016 Summer Olympics.
After hanging up my own competitive lifting shoes, I decided to share my huge background as a coach. I am currently coaching multiple athletes who are competing at national and international competitions.