So you want to know what is best, barbell or dumbbell shoulder press, we have the expertise and knowledge to help. Read on to find out which exercise needs to be included in your training program.
When it comes to barbell vs dumbbell shoulder presses then a barbell shoulder press is mainly done for strength while a dumbbell shoulder press is more for aesthetics and training your stabilizer and deltoid muscles.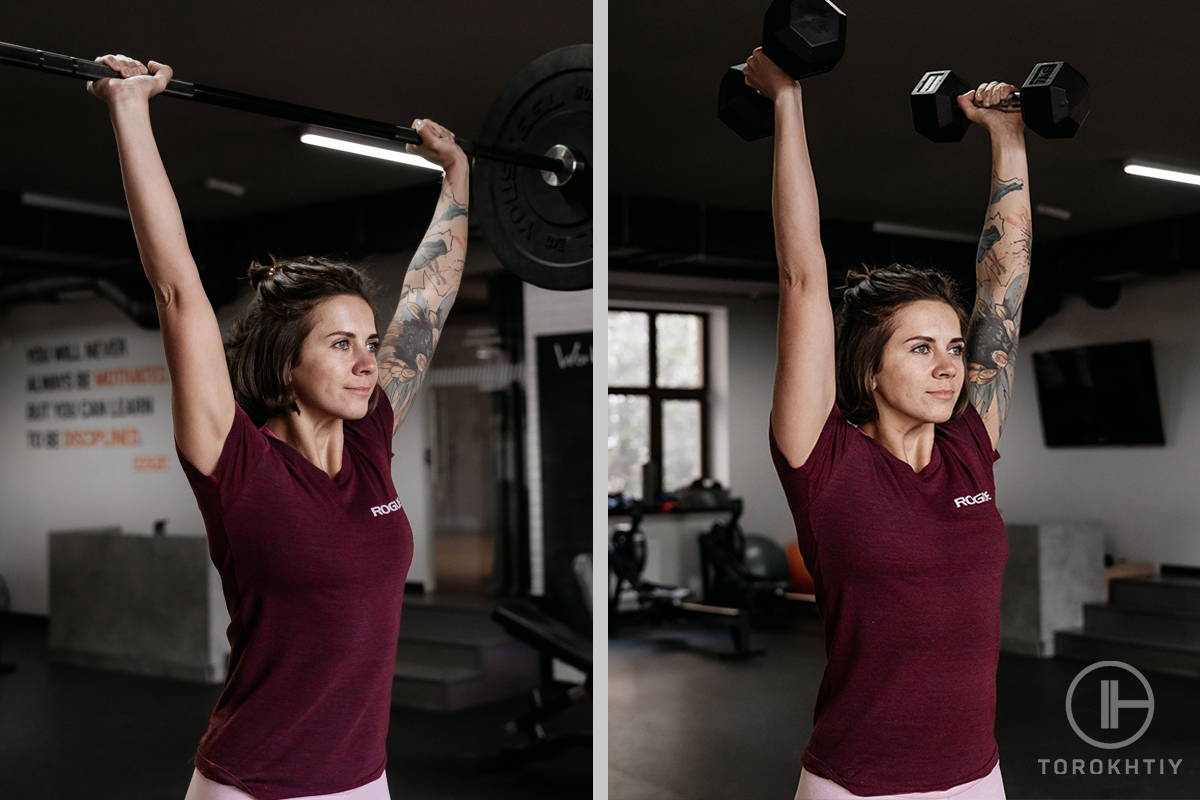 Barbell Vs Dumbbell Shoulder Press: Which Is Better for Building Shoulder Muscles?
If you are interested in building overall upper body strength and mass then a barbell press is better. You can lift more weight and build more strength with the barbell press than you can with dumbbells.
If you want to build more rounded shoulders for aesthetics rather than pure strength then the dumbbells are better. This is because they recruit the posterior deltoids a lot more which leads to big rounded shoulders.
The barbell shoulder press is a very straightforward exercise. It can be done standing or seated and is great for building upper body strength and size. Mainly works the anterior, middle and posterior deltoids. It also works your triceps, biceps and upper chest.
Benefits of Barbell Shoulder Press
So what benefits does the barbell press have?
Great for building overall upper body strength
You can lift heavier weights with the barbell press and it is a better exercise for overall upper body strength.
Will help to improve other lifts
If you want to get stronger on other pressing lifts then when it comes to dumbbell shoulder press vs barbell then there is only one winner, barbell.
Is safer to lift a heavy weight than it is with dumbbells
If you have ever tried to go heavy on the dumbbell shoulder press then you will know that a reliable spotter is essential. You need someone to help you just get the weight up to your shoulders without tiring yourself out.
Then you also have to worry about losing the weight and your shoulders starting to drop outwards while holding the dumbbells, a scary time for anyone.
This isn't the case with barbell shoulder presses as you can do it in a rack with spotter's arms, making it a lot safer. You can also rack the weight up already at shoulder height so you don't have to waste energy just getting it up to your shoulders.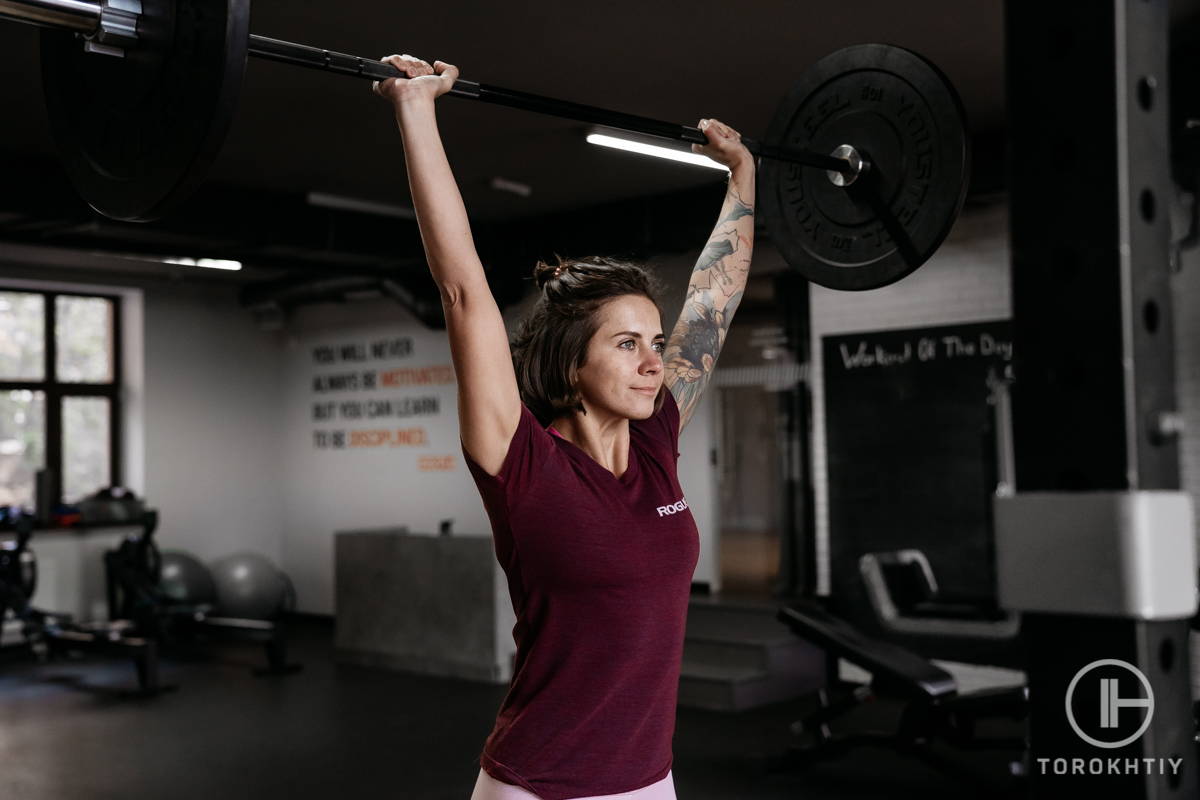 Barbell Shoulder Press Guide
There are two separate ways in which you can do a barbell shoulder press, those are seated or standing, the only difference in the steps is at the beginning. The instructions below are for a seated press, for a standing press you will want to rack the weight in a power or squat rack and start from there.
1. Sit on a bench with your feet firmly on the ground
Keep your feet flat on the ground and your back pushed into the back of the seat. You don't want to start slipping down the bench as you will end up with a really arched back and you start running the risk of injury.
2. Grab the barbell at a slightly wider than shoulder width
We want to grab the bar just a little wider than shoulder width, only an inch or two.
3. Bring the barbell down in front of your face
You want to slightly flare your elbows out to ensure the barbell comes down in front of your face. You can also lift and tilt your head backwards to avoid hitting yourself in the face.
4. Bring the bar all the way down until it touches the top of your chest
This is the full range of motion for this exercise, you want to come all the way down.
5. Push the bar back up until your arms are fully extended
Now push the bar back all the way up until you are fully extended, that is a single rep, repeat for sets.
Pros of barbell shoulder press
Can lift more weight with a barbell than dumbbell shoulder press

Better for building overall strength than a dumbbell press

Can help with other exercises

Train not only deltoids but also other muscle
Cons of barbell shoulder press
Recruits the chest more than a dumbbell press does

Can be hard to perform due to lack of shoulder mobility
Again this exercise can be done standing or seated, you won't be capable of lifting as much weight with dumbbells but that isn't necessarily a bad thing as dumbbells will promote the activation and training of more stabilizer muscles such as your rotator cuffs.
Benefits of Dumbbell Shoulder Press
So what does the dumbbell overhead press vs barbell press entail? Here are some of the benefits of a dumbbell shoulder press.
Works each arm independently
This is important as it means one shoulder cannot dominate the other and work harder which is an issue that can arise with barbell exercises.
Trains stabilizing muscles
As your arms are moving independently and not locked into position like they are with a barbell press you also work your stabilizer muscles more. This is important for overall shoulder health.
Dumbbell Shoulder Press Guide
Again you can do this exercise as a seated or standing exercise as you can with the barbell press. I will again go through the instructions for the seated press.
1. Start with the dumbbells on your knees
Starting with the dumbbells on your knees allows you to push them up off your knees with a little assistance from your legs to get them going.
2. Start with your palms forwards
You want your palms facing forwards and the dumbbells at shoulder height.
3. Push straight up until your arms are fully extended
Now push straight up until your arms are fully extended, and try not to bang the dumbbells together at the top.
4. Bring dumbbells down to shoulder height
Bring the dumbbells all the way back down to complete the exercise, and repeat for however many reps you want to do.
Pros of dumbbell shoulder press
Better for working posterior deltoids than a barbell press is

Helps train stabilizing muscles such as your rotator cuffs

Each arm is working independently
Cons of dumbbell shoulder press
Not as good at building overall upper body strength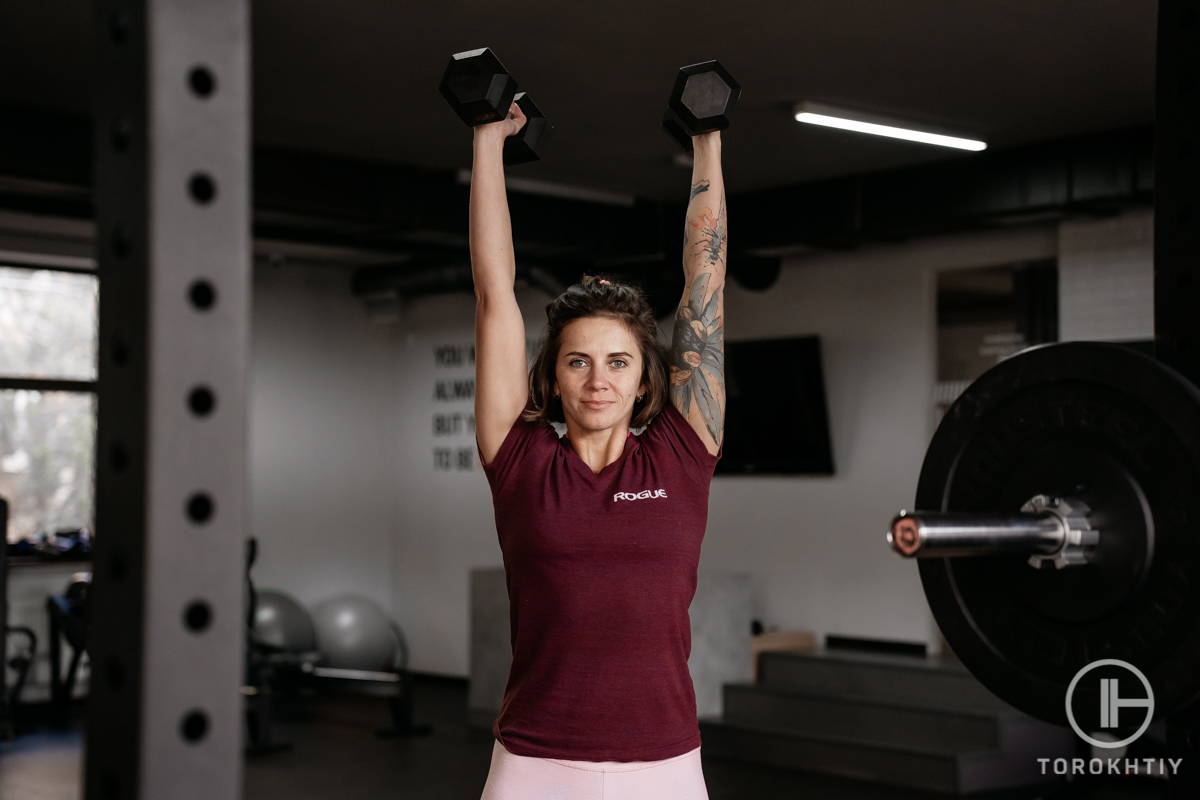 Barbell vs Dumbbell Shoulder Press
You can't do directly above your head with a barbell press. The reason for this is obvious, your head gets in the way. This means you have to bring the bar down slightly in front of your face.
This brings your chest and triceps into the exercise a little more and is also one of the reasons why you can lift more weight with a barbell shoulder press. It is also what makes this a great exercise for building overall upper-body strength.
Dumbbells can move independently
Because the dumbbells are not locked together like a barbell they are free to move independently. This means your body has to put more work into just keeping them stable. This is why dumbbells always work your stabilizing muscles more than a barbell ever could.
You can do the dumbbell press in a straight up-and-down motion
As there is no bar with the dumbbell press you can bring your arms straight up and down when doing a dumbbell shoulder press. This works the shoulders more and particularly works your posterior deltoids more than a barbell press.
Why Do You Need a Weightlifting Belt for Barbell and Dumbbell Shoulder Press?
During overhead lifts, which of course the shoulder press is, a lifting belt can help prevent hyperextension and therefore back injury.
This weightlifting belt from WBCM is the belt we recommend if you are looking at getting one. This belt has been designed by a World and European champion weightlifter, that alone should tell you how good it is going to be.
Made from 4" genuine leather it is incredibly high quality and equally tough and will stand up to even the hardest workouts.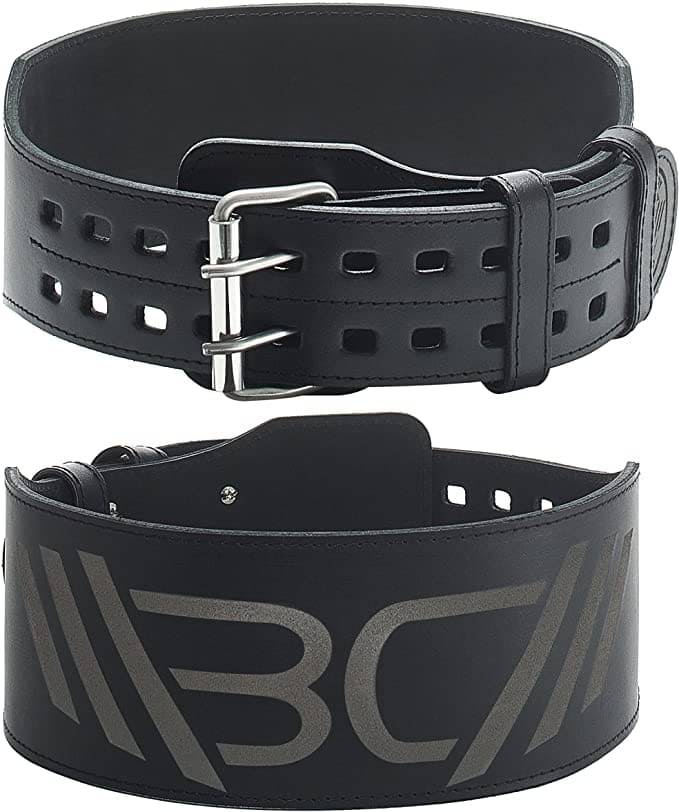 Is barbell overhead press harder than dumbbell?
One exercise is not harder than the other. The difficulty of the lift comes down to the weight lifted, you can lift more with a barbell press but you also don't need as much stabilization with a barbell as you do with a dumbbell.
How much can the average man shoulder press?
According to Strength Level, a novice gym goer should be able to lift 99 lbs, and someone who has been training for around a year should be able to lift 142 lbs.
What is a good weight for dumbbell shoulder press?
Someone who has only been going to the gym for a few months should be able to lift 47lbs after a year or so. You should be around 71lbs, anything above this is a good weight.
If you want to train strength then use the barbell shoulder press whereas if you are training for looks and bodybuilding then go for the dumbbell shoulder press. If you have any questions let us know down below in the comments.
Shoulder Press Standards // Strength Level:
https://strengthlevel.com/strength-standards/shoulder-press/lb
My name is Ihor and I have been a professional weightlifter since 1996. With over 20 years of competition experience, my resume includes European Champion in 2009 and the silver medalist at 2011's Senior World Championships – 105kg division.
I competed at the 2008, 2012 and 2016 Summer Olympics.
After hanging up my own competitive lifting shoes, I decided to share my huge background as a coach. I am currently coaching multiple athletes who are competing at national and international competitions.