It's totally normal to get confused when deciding which wrist wraps to go for because there are so many to pick from. Among all the options, however, Rogue Fitness wrist wraps are the best on the market. In this article, we'll do a Rogue wrist wraps review. We'll also learn how to wear rogue wrist wraps and explore some alternatives just in case this one doesn't catch your fancy.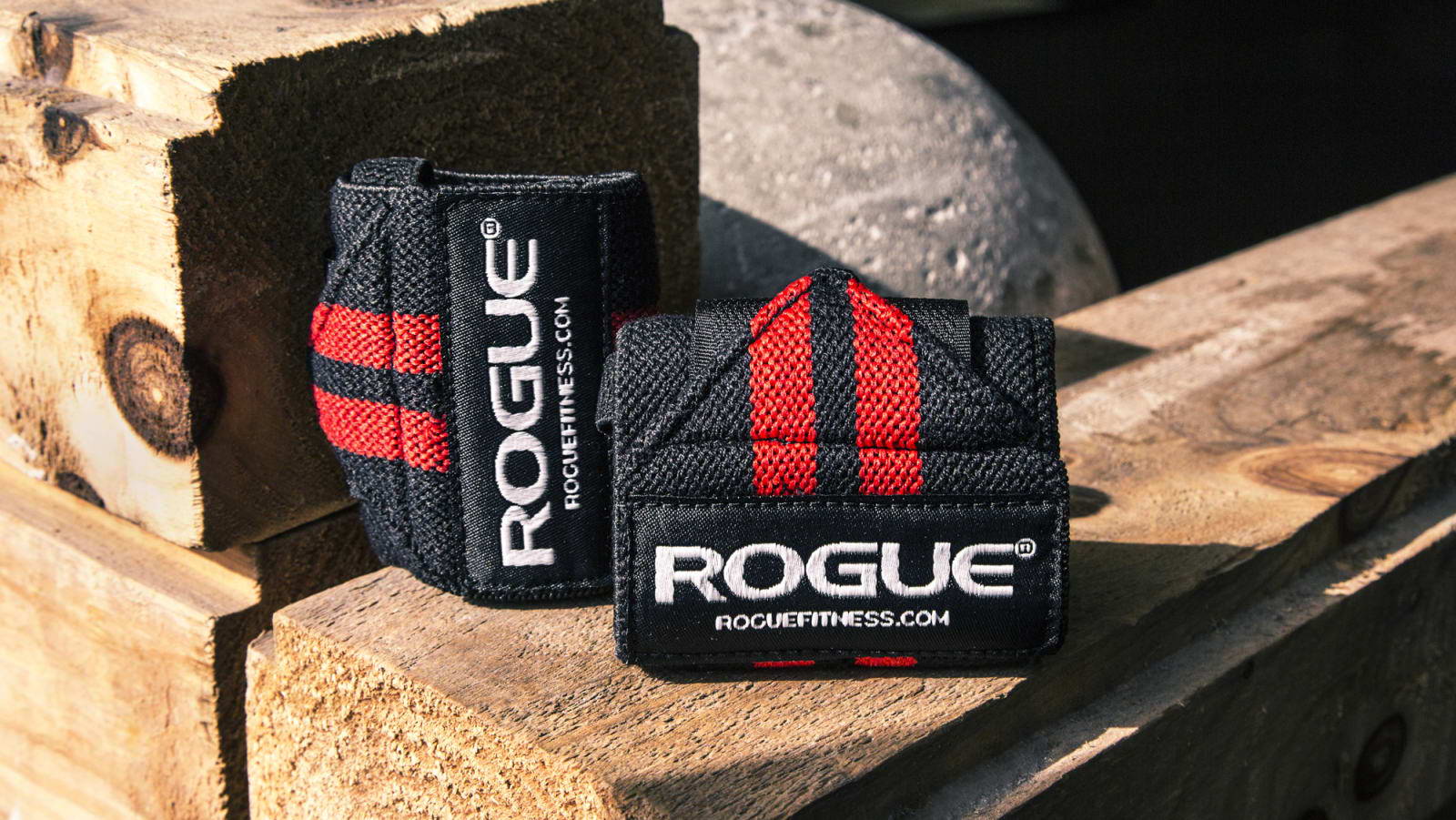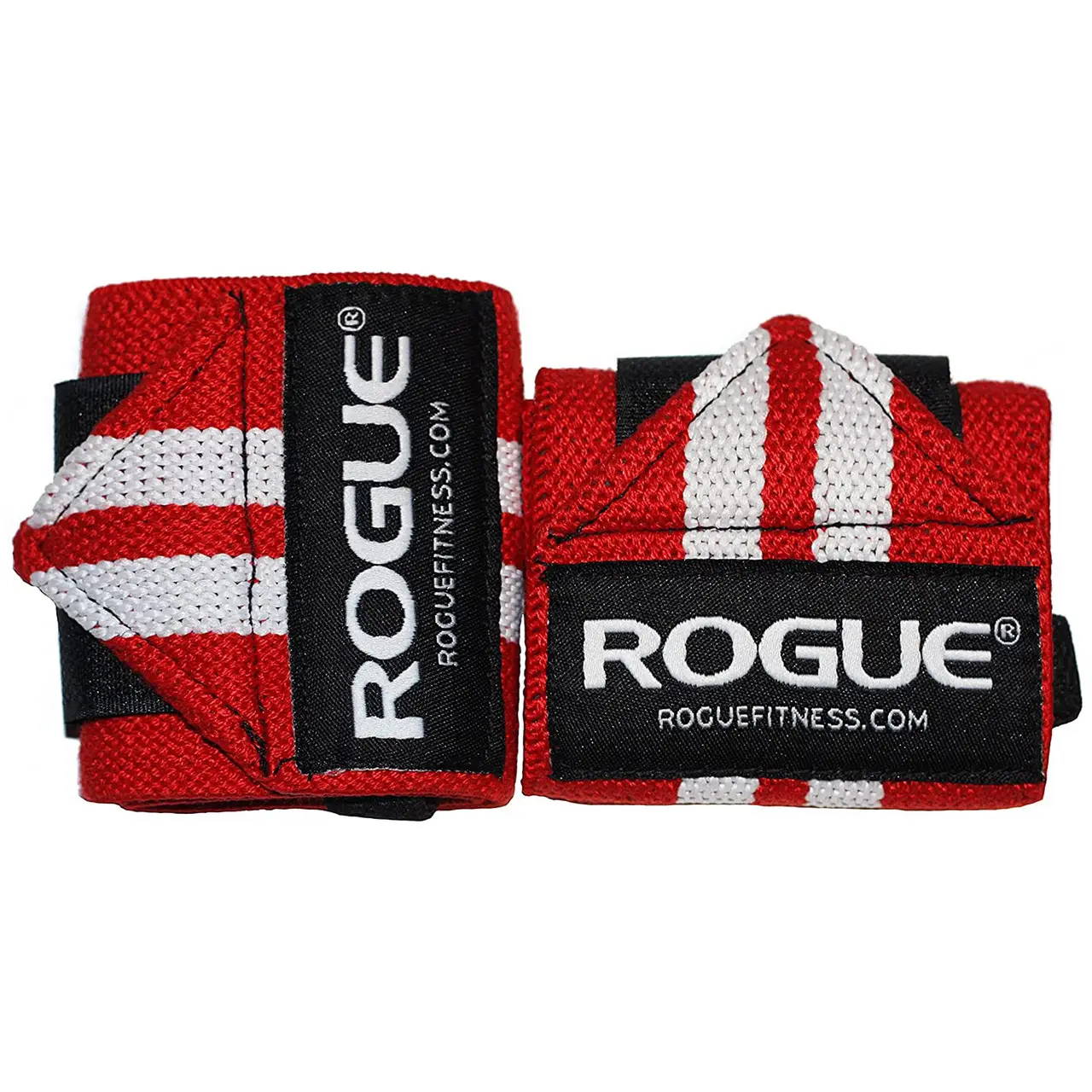 Made from a wonderful blend of material, Rogue wrist wraps provide your hands with amazing support and comfort. They absorb your sweat, go easy on your skin, and keep your hands in perfect form during exercises.
They're designed with a hook-and-loop closure that makes it easy to wear and adjust. The stitching could be better but it's still solid enough to ensure your rogue wrist wraps serve you for a long time.
Rogue offers you quality, comfort, and reliability all in one neat package for a great price.
Rogue Wrist Wraps Review: A Deep Dive
It's time to take a deep dive into this rogue wrist wrap review. We'll focus on price/quality, design, comfort, stitching, reliability, and package. We'll discuss each of these categories so you can get a better idea just how good Rogue Fitness wrist wraps are.
Length:

12, 18, or 24 inches

Width:

3 inches

Material:

40% elastic, 10% polyester, and 50% cotton

Colors:

Black and red; white and red; black and green; black and gray; and white and blue.
Price/Quality
Rogue wrist wraps are a clever mix of elastic, polyester, and cotton. This combination makes them quite solid, but also very comfortable.
With all the quality on offer, rogue wrist wraps still come at a good price. They're easy on your skin, and your wallet.
Design
Rogue wrist wraps are designed with a thumb loop and hook-and-loop closure. This makes them easy to wear and adjust, and provides a secure grip during use. Its bright red stripes and white logo give it a totally cool look too.
Comfort
The elastic, polyester, and cotton material blend of Rogue wrist wraps make them super comfy. They're solid, but soft and elastic enough to keep your hands snug.
Stitching
Some reviews have complained about the quality of stitching in Rogue wrist wraps, but they're generally solid and dependable. You don't have to worry about your wraps falling apart anytime soon.
Reliability
With their unique blend of material, Rogue wrist wraps are as strong and solid as they are great to use. You can depend on their structure and performance to stand the tests of time and your exercise.
Package
Less than 0.4 pounds, Rogue wrist wraps come in a neat little package. You don't have to worry about your order getting lost, though, because Rogue lets you track your package.
Made from a wonderful blend of material, Rogue wrist wraps provide your hands with amazing support and comfort.
(Show More)
Absorbs moisture and is tender on skin

Provides adequate support

Hook-and-loop closure to make wearing and adjusting easier

Different length options depending on your need
The stitching could be better
Who Are Rogue Wrist Wraps For?
From weightlifting and powerlifting to ring dip and handstand, Rogue wrist wraps are effective for a wide array of exercises and sports. Here are some examples:
1. Weightlifters and powerlifters
Barbell movements demand a certain wrist position. Wrist wraps help you slowly learn how to maintain proper wrist position by keeping your wrist in place. They also make exercising through wrist pain much easier.
Exercises like bar and ring dips are at the core of lots of fitness WOD's. Wrist wraps are very effective in providing support for your wrist during these exercises.
Boxing requires athletes to do several exercises that involve your hands. Push-ups, lifting weights, and jump rope are just examples of movements that wrist wraps can be used for.
There are many other athletes who can benefit from wrist wraps. As long as your wrist is involved in the exercise, wrist wraps are helpful. They'll help you maintain a proper wrist form, provide extra support if you're in pain, and help you reach your fitness goals.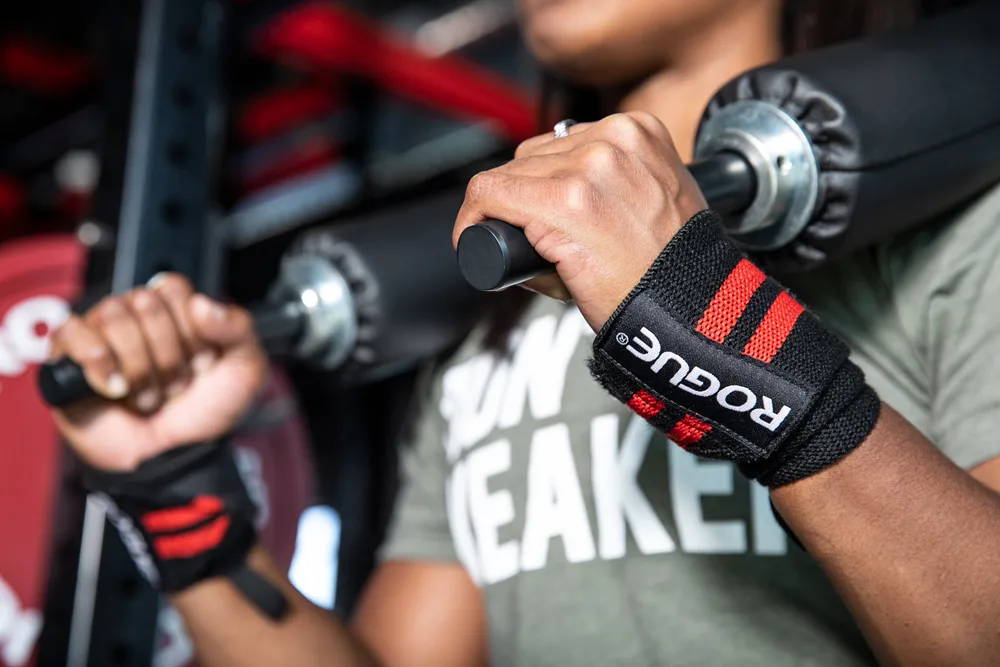 Rogue Wrist Wrap Alternatives
As promised, we'll look at some alternatives to Rogue wrist wraps, just in case you want some more options. Here's one alternative that is also quite impressive.
Designed by one-time world weightlifting champion, Oleksiy Torokhtiy, these wrist wraps are perfect for various exercises, especially weightlifting. They keep your wrist in perfect form for the snatch, clean, and jerks, as well as other lifting and bodyweight exercises
The WBCM weightlifting wrist wraps are made from a wonderful blend of cotton, elastic and polyester. This provides efficient support and comfort for your wrists. It prevents any straining in your wrists, and provides relief if you already have strained wrists. If you're into heavy duty exercises, this is the one for you.
What size of Rogue wrist wraps should I get?
The answer to this depends on your wrist size and what exercises you plan to do. If you just want to jump rope or lift light weights, the 12-18 inch wrist wraps are good enough. If you do heavy weightlifting or powerlifting, the 18-24 inch wrist wraps are best to lock your wrist up in the right form. If you're not sure, the 18 inch wrist wraps give you a bit of both and provide a good balance.
This all depends on your wrist size too. The size 18 will provide all the support a small wrist will need, while a big wrist probably needs the size 24s.
How do Rogue wrist wraps work?
It's very easy to use a Rogue wrist wrap. All you have to do is slip your thumb into the loop, and then wrap it around the lower part of your wrist. It will help keep your wrist in good form and prevent it from snapping back or wobbling from side to side. You can watch the wrist wrap in action to get a better picture of how to use rogue wrist wraps.
Are rogue wrist wraps better than rogue wrist straps?
Wrist strap vs wrist wrap is a debate for some people, but I wonder why because rogue wrist wraps and rogue wrist straps perform different functions. Rogue wrist straps focus on strengthening your grip while rogue wrist wraps help to support your wrist. You'll probably need both eventually.
Wrist wraps are immensely helpful to athletes from different sports. From bench press to ring dips, they provide support and comfort for your wrists while you exercise. Rogue wrist wraps are one of the best options available on the market in my opinion, but there's an alternatives, like Warm Body Cold Mind Wrist Wraps for you to pick from as well.
Now it's your turn. What do you need wrist wraps for? What size do you think suits you best? Did I miss anything? Talk to me in the comments.
Ring Dips Vs Bar Dips: Which Dip Is Best For You? // BarBend:
https://barbend.com/ring-vs-bar-dips/
Wrist Wraps vs Wrist Straps: Comparison, Pros & Cons // Torokhtiy: https://torokhtiy.com/blogs/guides/wrist-wraps-vs-wrist-straps
My name is Ihor and I have been a professional weightlifter since 1996. With over 20 years of competition experience, my resume includes European Champion in 2009 and the silver medalist at 2011's Senior World Championships – 105kg division.
I competed at the 2008, 2012 and 2016 Summer Olympics.
After hanging up my own competitive lifting shoes, I decided to share my huge background as a coach. I am currently coaching multiple athletes who are competing at national and international competitions.