This article has been created in collaboration with our esteemed partners at Gymreapers, combining expertise to bring you valuable insights and useful information about the product.
With a great variety of belts on the market, it's difficult to choose a good option that would meet your training needs. But, the Gymreapers 10mm Lever Belt can be the perfect gear for recreational and serious lifters. Take a look at this detailed Gymreapers lever belt review to know all the key features of this garment.
Consider the main specs and see that this USAPL-approved belt will bring you ultimate support and stability during heavy lifts, and it won't come undone during explosive movements.
Gymreapers Lever Belt Quick Summary
Gymreapers brand has a great repute for manufacturing sports gear and equipment of exceptional quality that can be tough to surpass. It specializes in producing training equipment, gym apparel, garments, and accessories for powerlifters, weightlifters, bodybuilders, and sports fans of all fitness levels.
This time the company keeps its reputation by crafting a superb 10 mm belt due to a lever with an adjustable buckle that guarantees its secure location and optimal support for the core during tough and explosive lifting drills.
Best for: powerlifting, bodybuilding, weight training
Closure type: lever adjustable buckle
Available sizes: XS (24-31") - XXL (39-46")
Waist size range: 32"-50" L x 10mm W (0.0394") x 4" H
Width: 4"
Thickness: 10 mm (0.0394")
Material: leather, interior suede liner
Certification: IPF/USPA and USAPL-approved
Being made by professional athletes for athletes, this lever belt is designed from top-quality materials to provide a lifter with ultimate support, stability, and comfort during vigorous powerlifts, and brings their workouts to a more advanced level. During the manufacturing process, the belt was thoroughly tested to vouch for high-grade longevity and durability.
The belt is IPF, USPA, and USAPL-certified and can be used for powerlifting, weight lifting, and bodybuilding.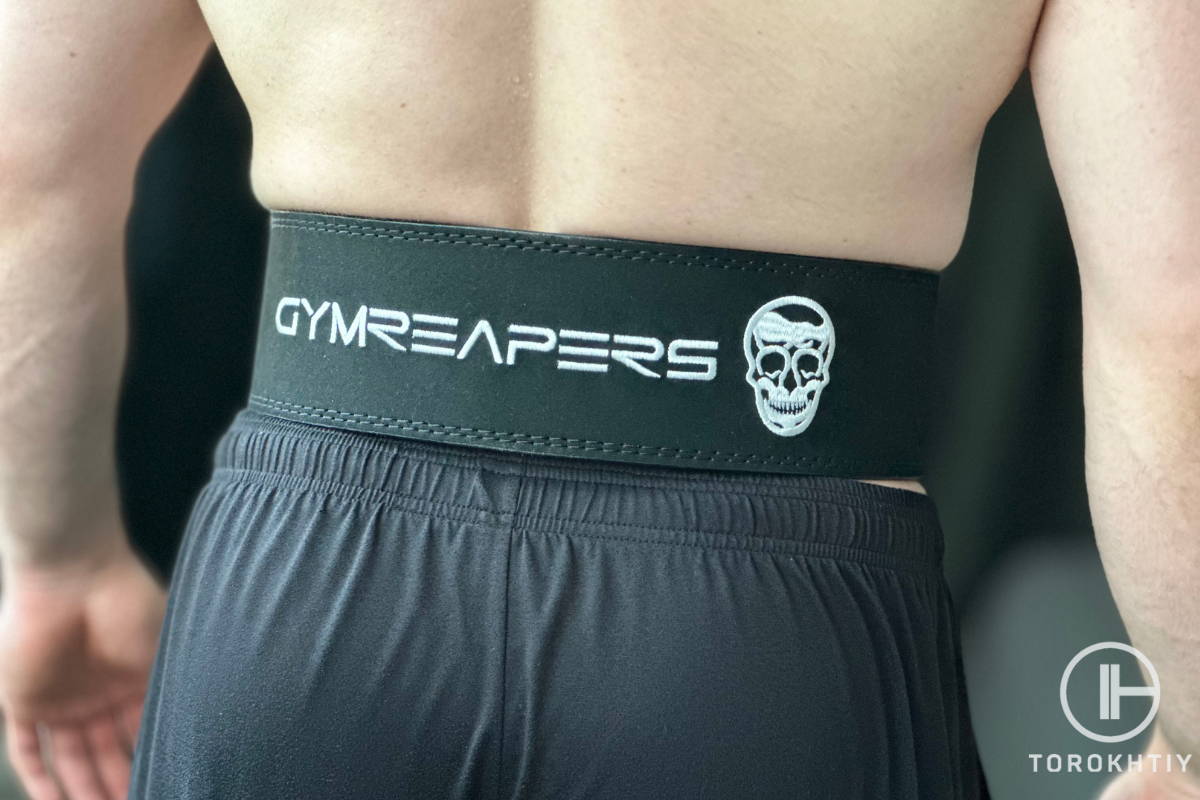 The Gymreapers belt comes with an adjustable matte black lever buckle that can be fitted to a lifter's body composition to provide enough support while lifting heavy weights. It has smooth edges and durable stitching that won't chafe an athlete's waist. Moreover, it has an interior suede liner that feels comfortable to the body.

Before using the lever belt you need to screw in the lever attachment and backplate to the belt with the bolts provided in the package. However, some users claim that these bolts are short to get proper thread engagement. Don't worry, we got connected with the manufacturer concerning this issue and got a positive answer that it was already fixed. So, new belts are out of this malfunction, and when you buy it, you won't bump into such a problem anymore.
The lever belt has a wide size range: from XS to XXL that enables it to accommodate both men and women. The manufacturer recommends choosing a size down if you're between sizes. So, by properly choosing a belt, it'll be well-positioned, providing total support, comfort, and will promote your lifting performance.
Whether you're a starter in lifting weights, or an experienced athlete who competes regularly, the Gymreapers 10 mm lever belt can become a real discovery for your everyday drills.
A combination of comfort and stiffness vouches for long lifting sessions

Fits as specified, as you measure yourself correctly
The bolts provided for the lever attachment are short to get proper thread engagement

It needs some time to break in as the leather feels strong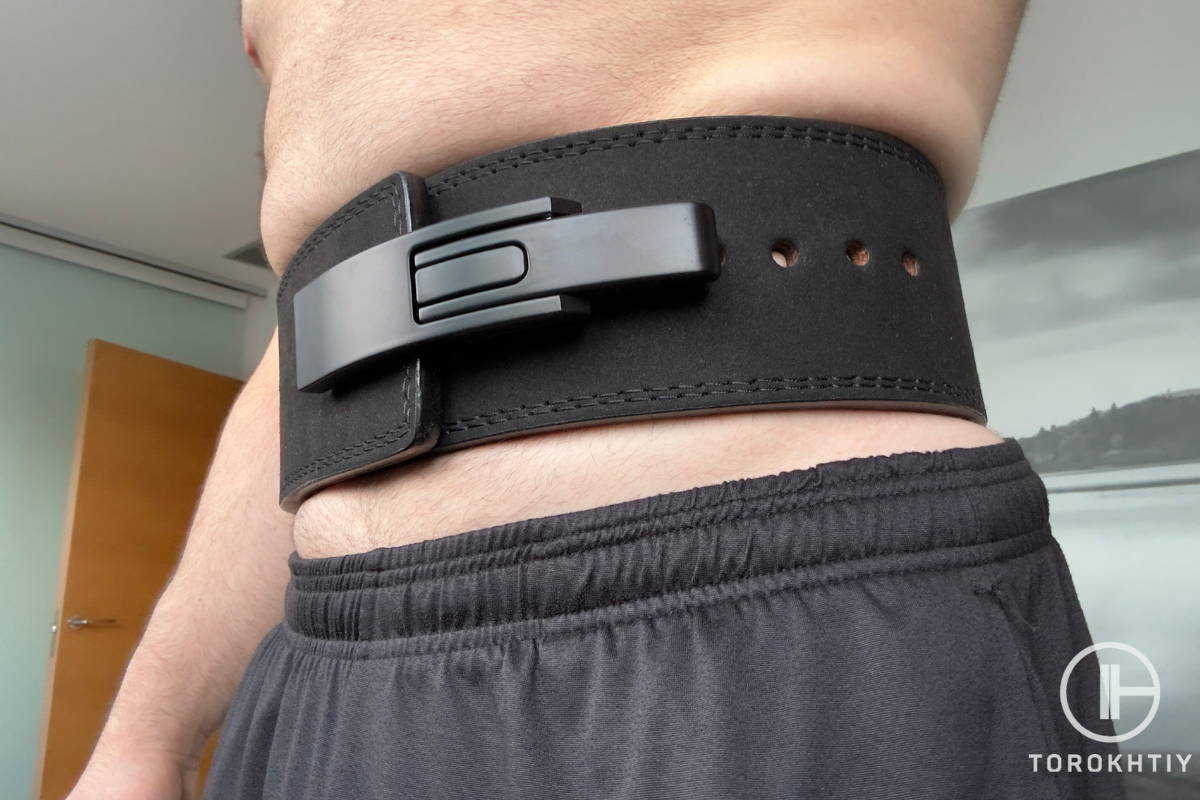 Detailed Gymreapers Lever Belt Review
Let's observe the Gymreapers belt in more detail by outlining its key features and peculiarities that make it stand out from the rest of the lifting belts on the market. We hope this review will help you to determine whether this garment will be the best option for you, will accommodate your lifting style, and assist in achieving your fitness goals.
The Gymreapers 10mm lever belt is a great option for lifters of any levels. The balance between the price and specs is more than enough to be a decent variant for everyday workouts, breaking personal records, and professional competitions.
The lever belt is made of top-quality leather, has durable stitching, and is equipped with a matte black buckle for excellent support. From inside it's reinforced with a suede liner. There may occur a short breaking-in period because of the belt thickness. Overall, the belt feels pretty reliable and strong and can withstand explosive movements and heavy loads.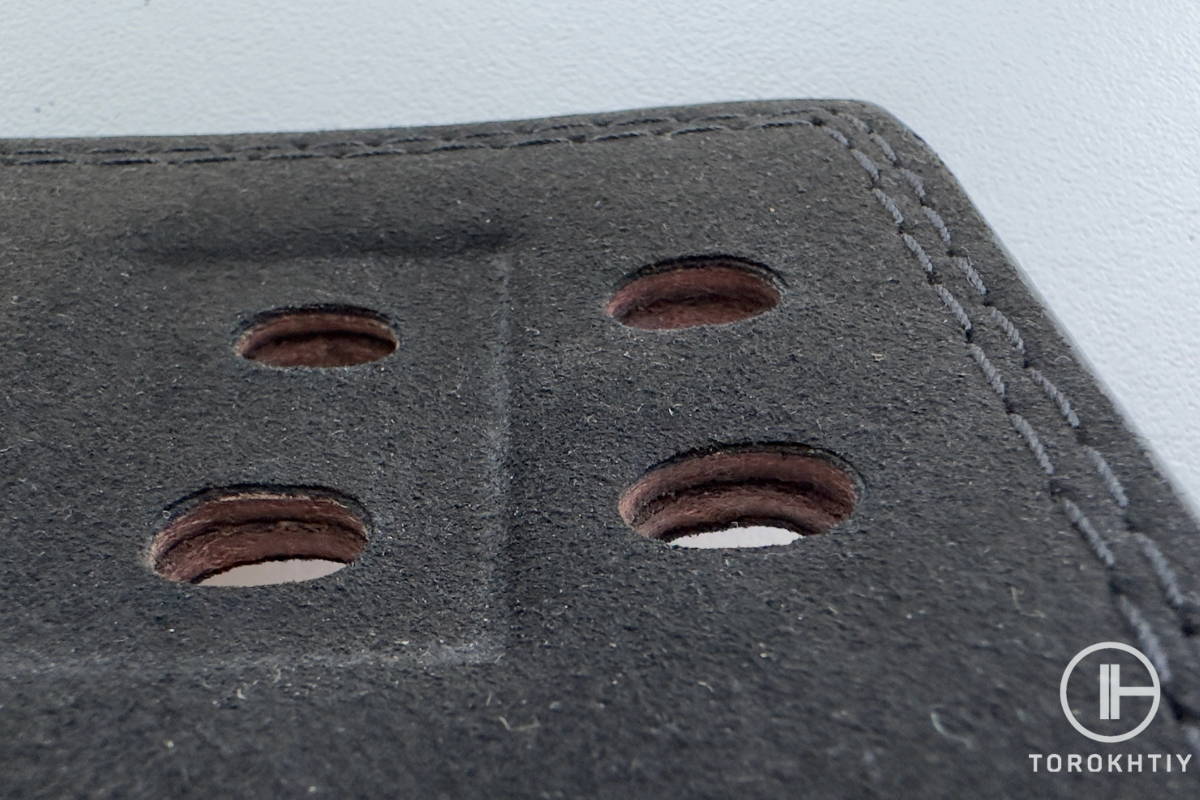 Due to the buckle closure system, you can not only save time between the sets, but also get a maximum customized fit. So, you can concentrate on your workout without being distracted by locating the belt properly on the waist. You'll feel zero discomfort because of too tight or loose fit since you can change the tightness level on your own for better breath control.
With a lever-style belt, you can quickly tighten it for maximum support and perform compound lifts for several intense reps, and quickly loosen it for normal breathing and movement before the next rep. All you need to do is to slide the teeth into the holes and close the buckle.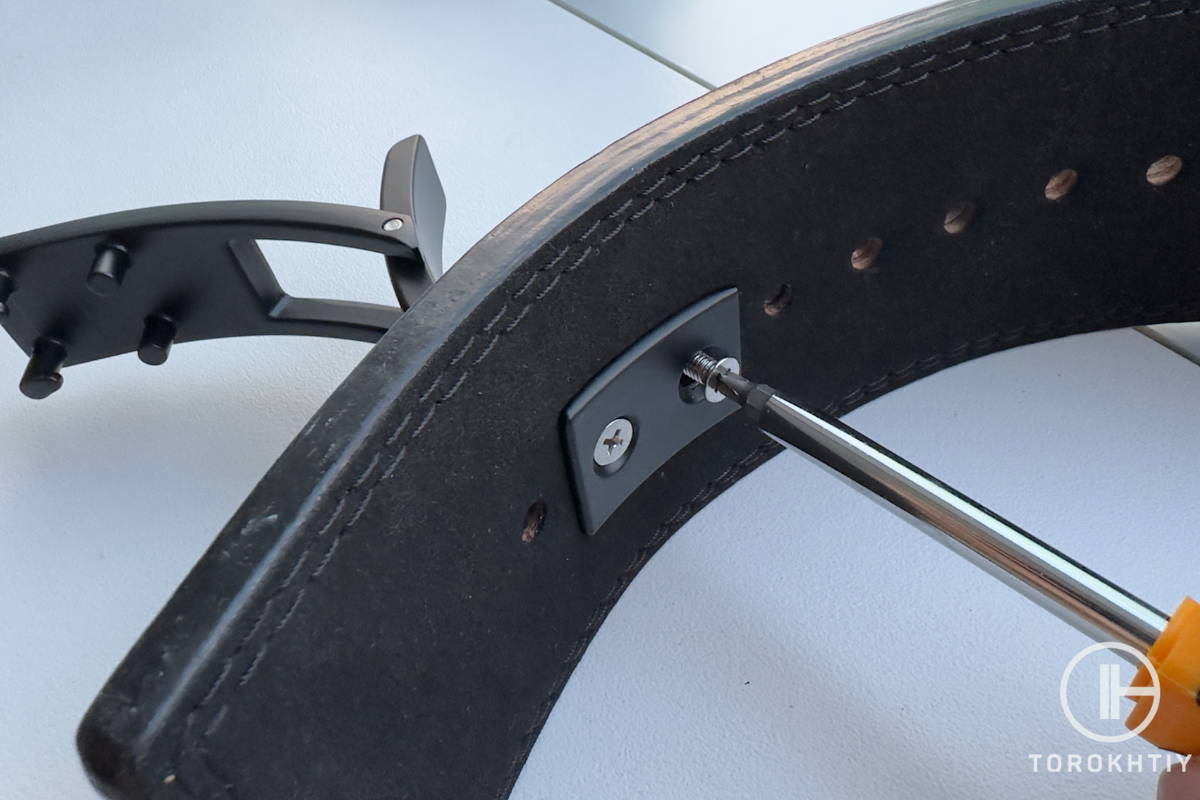 The manufacturer provides users with a great variety of sizes: from XS to XXL. It's recommended to size up if you plan on bulking or gaining weight further, or in case you prefer doing lifts with a hoodie.
For instance, if you measure around the navel and it feels tight while wearing the belt (or you're around 35.5", and whether you plan cutting or bulking), size L is a good option for you. If you want to shred, then a Medium size will be okay.

Generally, the sizing table helps to narrow down the measurements around the waist. You need to measure across your waist below the belly button. When sizing the belt, it has variations, so it'll fit you in case of shrink, or go bulkier. For instance, if your waist is 32", you'd better choose S size, which will fit comfortably in case you gain muscles, or lose weight.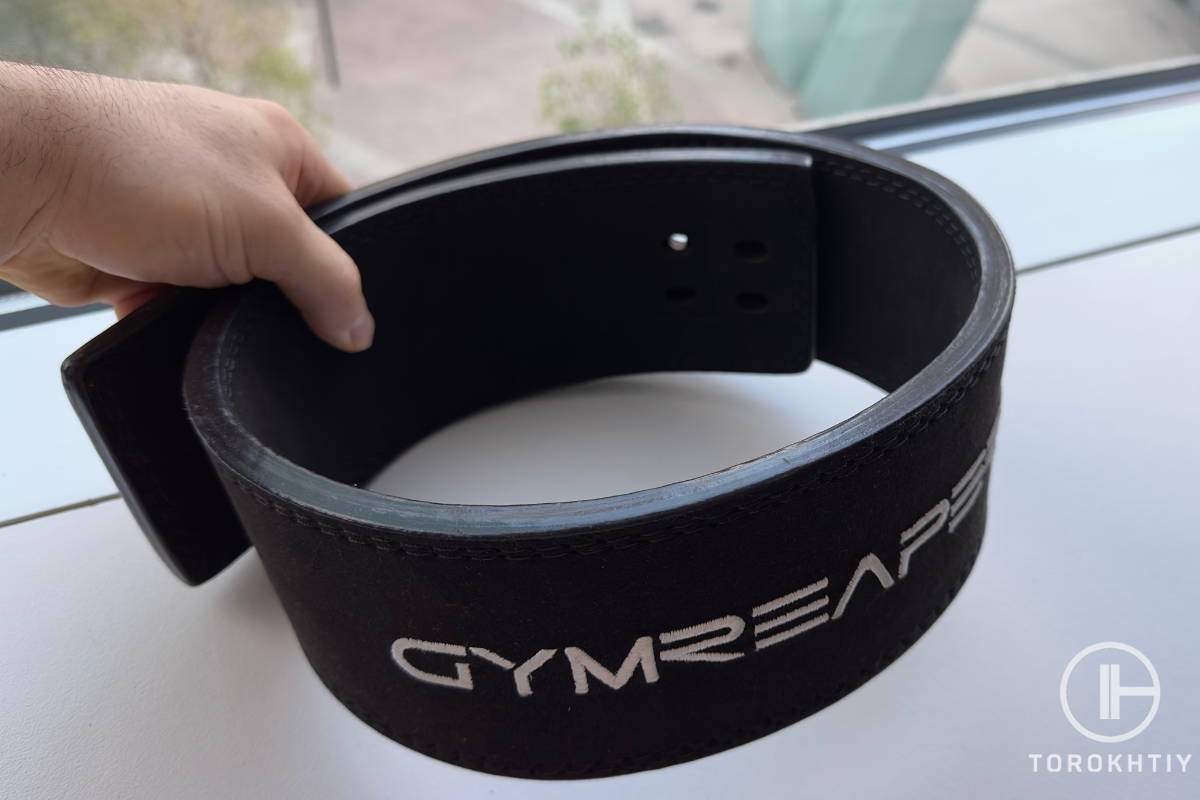 The Gymreapers company provides two thickness options – 10mm and 13mm. The 10mm belt is slightly thinner and brings better mobility and flexibility in movements when you fully tighten it on your body. So, it feels great to perform deadlift starting positions, conventional or sumo deadlifts, deep squats, etc. Additionally, a 4" width guarantees more support and will be ideal for lifters with long trunks.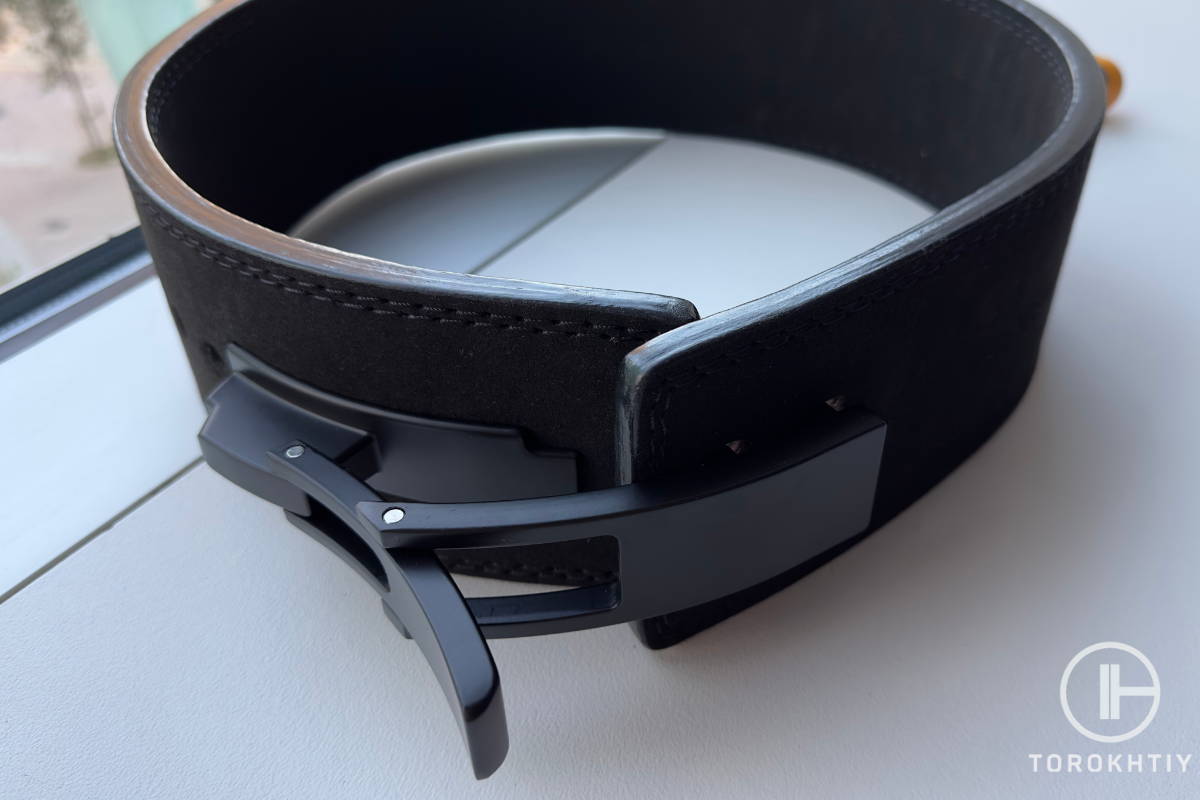 Being made from high-quality leather and having a durable lining, the belt is resistant to scratches and abrasion, ensuring that the belt will be in good condition after tens of tough workouts. The lever belt is comfortable, durable, and reliable for performing squats, bench presses, deadlifts, and other intensive compound motions.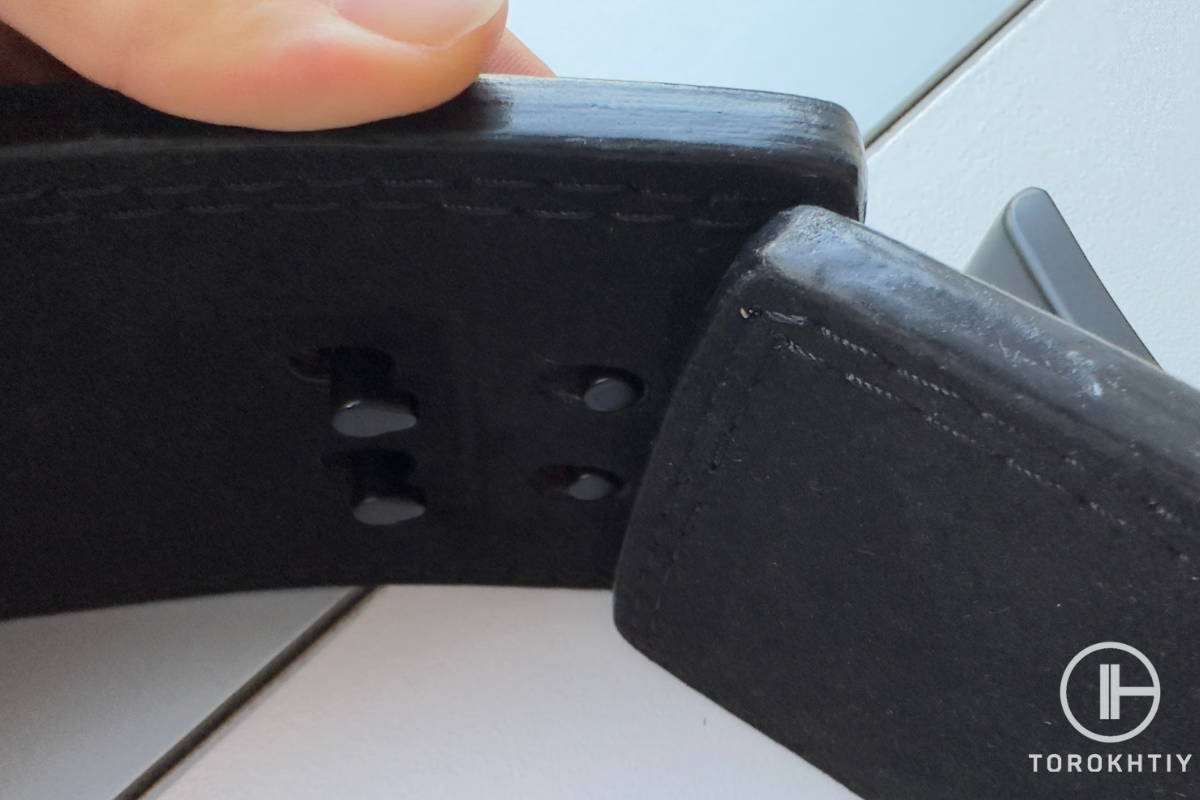 The belt is designed the way to bring extra support and stability for the lower back and core muscles during heavy lifts, and mitigates injury risk. It facilitates the increase of the intra-abdominal pressure, by improving core stability and lifting technique. With better lifting technique and support, you'll manage to lift more weight and perform more vigorous exercises.
The package is mediocre: it's delivered in the mailbox without individual packaging and without damages. However, the packaging quality itself could be better: a lifting belt of premium quality has no individual package and is placed just in a separate carton box. A great plus is that there are no strong odors from the package.
Who Is Gymreapers Lever Belt For?
As the Gymreapers belt is approved by the IPF and USAPL, it can be used by both recreational and seasoned powerlifters as well as regular gym goers weightlifters, and bodybuilders The belt itself feels comfortable and reliable during working out: you can squat, do bench presses, deadlifts, rack pulls, and other strength-oriented exercises and movements.
A vast majority of athletes like this garment for their workouts due to the adjustability and ease of use of the closure. The combination of materials and closure type vouches for better breath control and a secure location on the waist. While 4" height makes the belt applicable to powerlifting and weightlifting competitions.
How Do You Use a Gymreaper Lever Belt?
To fit the belt correctly, you need a measuring tape to measure your core, screwdriver, lever, screws, and lever belt of course. First, wrap a measuring tape around your core to measure your waist. Take into account what fit you prefer more - a tight or loose one.
Then, assemble your lever belt: attach and screw in the lever attachment and backplate to belt. Wrap it again around your waist to see where the holes sit and fit the lever too. Adjust the belt size to the preferred fit by replacing the lever and backplate if needed. Then, press the lever down to close the buckle securely and check whether it's fully closed. Now you can test it by performing several exercises: assess its support and comfort rate.
Does Gymreapers Make Good Belts?
Yes, the company provides premium-quality sports gear and equipment. So, the belts are: they're backed by professional record-holding lifters and renowned trainers. Thus, Gymreapers belts are thoroughly tested to bring ultimate support and durability, while improving athletes' form during heavy lifts.
Whether you're a starter in lifting weights, or an experienced athlete who competes regularly, the Gymreapers 10 mm lever belt can become a real discovery for your everyday drills. Considering your lifting style and training habits, as well as preferences in the belt fit, this garment could become a worthy addition to your training accessories that will improve the quality of exercise performance and bring you enough support while heavy lifts.
We can definitely recommend it for buying to all powerlifting enthusiasts, as you receive a solid piece of equipment with a good price/quality ratio.
Still, have doubts whether the following specs of the belt will be appropriate for you? Hesitate about the closure system mechanism, its effectivity, and what thickness rate would be enough for you? Write your questions below the review and our experts will gladly explain everything in the slightest details.
With over 20 years in Olympic Weightlifting, our team does its best to provide the audience with ultimate support and meet the needs and requirements of advanced athletes and professional lifters, as well as people who strive to open new opportunities and develop their physical capabilities with us.
All products we select are primarily approved and tested by the Olympic Weightlifting Champion Oleksii Torokhtiy. Under his guidance, we provide honest and reasonable assessments of the products we review by checking their characteristics, packaging, design, comfort and durability features, and general product rating. We select products from only high-quality and trusted sports brands, thus vouching for their quality.
The product testing process is described in more detail here
Olympic Weightlifting Champion
Experience: 21 years
Best Results: Snatch – 200 kg,
C&J - 240 kg
My name is Oleksiy Torokhtiy. I am a professional athlete with 20 years of experience in Olympic weightlifting. I have won multiple European, and World titles and have taken part in two Olympic Games (Beijing 2008, London 2012).
After finishing my career, I have committed myself to coach, and as of 2022, I've hosted 200+ weightlifting seminars all over the globe. I'm the founder of an international sportswear and accessories brand, Warm Body Cold Mind (my motto), author, and creator of a series of training programs and eBooks.
If you have any questions/suggestions/any other inquiry, you can reach out to us via email - reviews@torokhtiy.com
This article was written by our qualified author and proofread by an expert with proven experience. When writing the article we've used our expertise and data from authoritative, scientific, and evidence-based sources. The list of references is provided at the end of the article.
Our team of authors and experts includes professional athletes (Olympians, winners of European and World titles), PhDs in Sports Science, certified coaches, sports nutritionists, CSCSs, physiotherapists, and others. Read more about the team here, and more about how we test here.