When determining the best slam balls, several factors need to be considered. The ball type, the material used, size, and weight range change the movement and ball response, making different balls suitable for different uses.
Slam balls are an excellent tool for a wide range of functional training and cardio movements. They can be used anywhere with a flat wall or floor to build strength and conditioning throughout your whole body. Whether you're a sports athlete looking for more explosive power or a powerlifter wanting to improve your 1RM, slam balls can enhance your training.
I've rounded up the best slam ball options available to purchase online and reviewed them according to size, durability, price, and quality.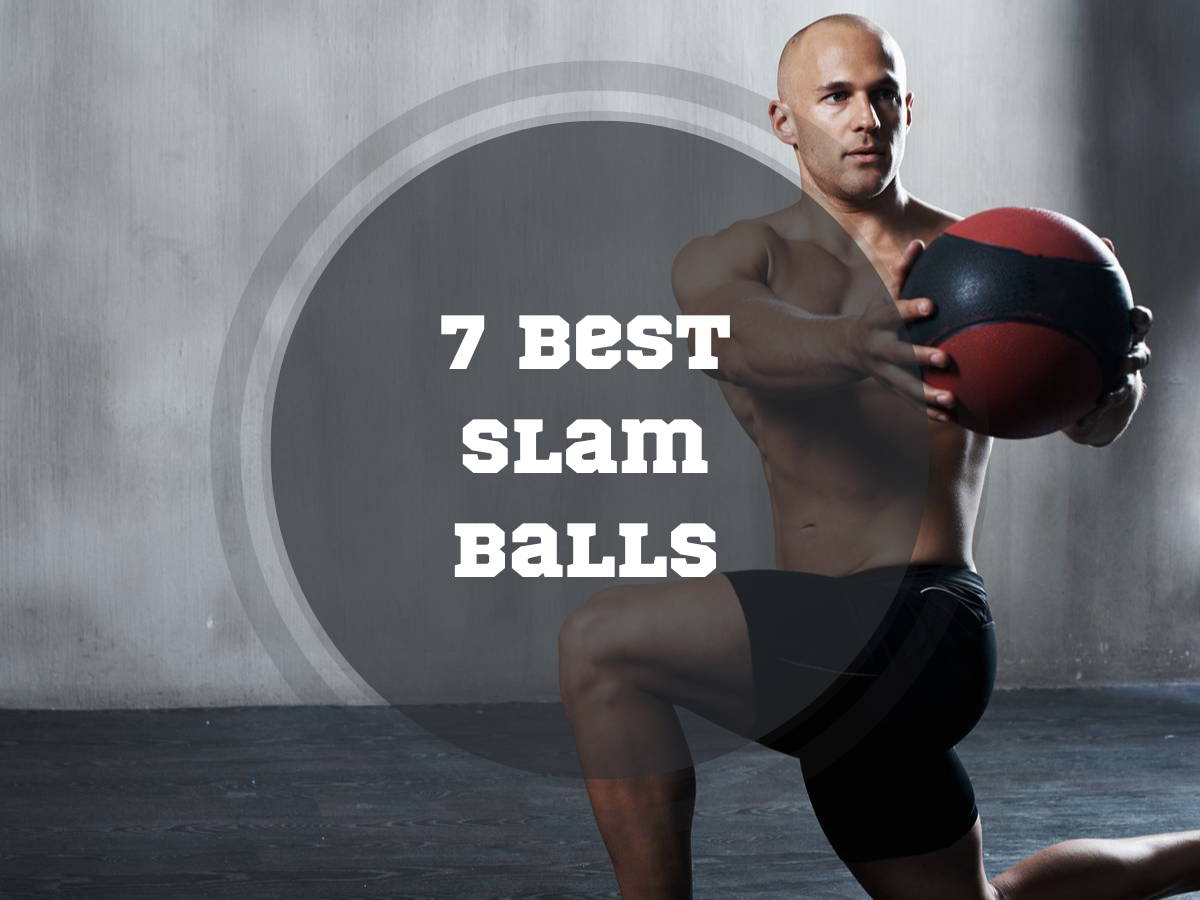 Top 7 Best Slam Balls Reviewed
I've reviewed the top 7 best slam balls available to buy online and ranked them in the table below. Underneath I've done one of the most comprehensive slam ball reviews available online.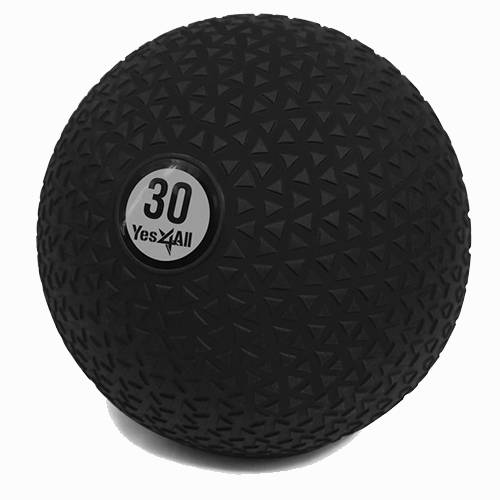 Founded in 2009, Yes4All started by providing innovative solutions to bulky gym equipment packaging problems. Since then, the brand has grown to become a major player in the home sporting goods market.

They aim to continue growing with the shared values of customers, employees, and partners. Their product range includes gym machines, accessories, speed equipment, and balance trainers.
Weight:

10, 12, 15, 20, 25, 30, 40 lbs

Diameter:

9.6" (10 lbs) / 11.5" (40 lbs)

Material:

Polyvinyl Chloride

Color Palette:

Black, Blue, Dynamic Black, Orange Beast, Trendy Teal

Design:

Shifting sand inside /

New tread design
Featuring a Polyvinyl Chloride outer shell that's been designed to be softer and more durable, the Yes4All slam ball is an excellent slam ball option that gets my top pick. The outer shell is also rotationally molded for a seamless construction that won't break easily with repeated impact.
The outer shell surface is grooved and textured, helping you to maintain a firm grip on the ball throughout intense slam ball workouts. The interior of the ball is filled with sand, preventing it from bouncing off the contact point or rolling away, and adding to the overall ball balance.
The Yes4All slam balls have a decent range of weight options from 10-40 lbs and go from 9.6" - 11.5" in diameter depending on the weight chosen. The slam balls come in three different tread designs with five color options available for each weight.
The PVC textured shell, rotational construction, and tread options make the Yes4All slam balls a great overall slam ball option that's durable and well-designed.
High-quality Polyvinyl Chloride shell

Three tread design options in different colors

Filled with iron sand that provides an excellent dead bounce
The weight range stopping at 40 lbs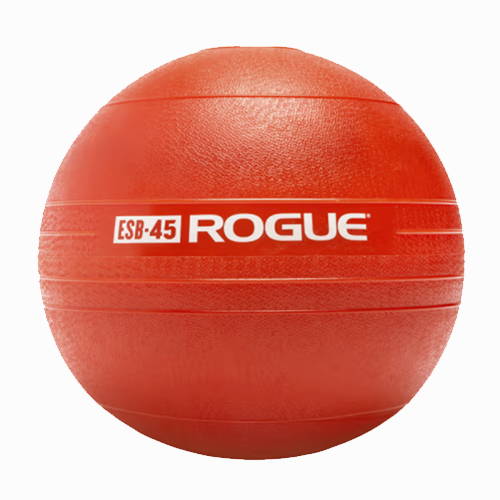 Founded in 2006, Rogue supplies multiple elite-level sporting events with durable strength and conditioning equipment. Their equipment is well-tested and regarded as being high-quality and reasonably priced.
Rogue aims to serve the needs of all levels of athletes whether they are working out in their garages or performing in a big arena. They manufacture racks, weights, lifting accessories, and apparel.
Weight: 10-50 lbs (5 lb increments)
Diameter: 9" (10-30 lbs) / 10" (40 lbs)
Material: Rubberized outer shell
Color Palette: Red
Design: Dead bounce slam ball / Sand and dust interior
The Rogue echo slam ball has been designed to absorb repeated heavy impact without changing at all. With a thick, rubberized outer shell that's been lightly textured, it's a great option for those who want a durable ball that's not too rough against the skin. For these reasons, the Rogue echo slam ball is a close runner-up.
The outer shell features a nicely textured design with raised lines that run along the full length of the ball, giving you enough grip to keep the ball firmly in your hands. The ball interior is filled with a dust and sand mixture which gives the ball a near-dead bounce, making the Rogue echo ball perfect for powerful slam ball exercises such as overhead slams.
The Rogue echo balls have a good range of weight options from 10-50 lbs and have a smaller ball diameter of 9-10" depending on the weight you're using. This makes them great for athletes who have smaller hands or simply just prefer using a smaller ball for their workouts.
The rogue echo balls do only have one design option and color choice, but that shouldn't be much of an issue if you're mainly concerned with the ball's performance and durability.
Overall, the Rogue echo slam ball features a simple yet highly-effective design, with the dust and sand interior giving the ball a great dead bounce and the smaller diameter providing a good smaller slam ball option.
Sand and dust ball interior gives a near dead bounce

Used at top level professional fitness events

Slam ball weight is clearly visible in white on both sides
No color or design options like other comparable slam balls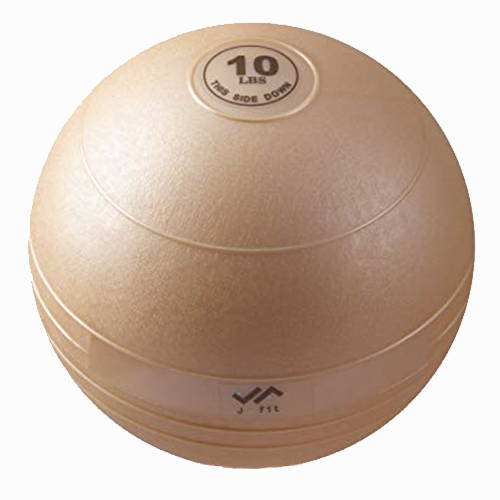 JFIT was founded with the idea that working out shouldn't be limited to four gym walls. Keeping fit and healthy can be done at work, at home, outside, and not just in the gym.
JFIT believes that your fitness journey starts by controlling your own routine with your own quality products. They sell a wide range of health and fitness gear that includes weights, plyometrics and balance gear, exercise balls, and yoga products.
Weight:

10-50 lbs (5 lb increments)

Diameter:

9" (10 lbs) / 11" (50 lbs)

Color Palette: Silver, Black, Champagne, Midnight, Rose gold, Silver

Design:

Textured outer grip / Heavy-duty thread option / Midnight star option
If you're looking for one of the best slam balls for fitness training, JFIT might have the answer. Their slam ball is specifically designed with training in mind, with their new ball 20-25% thicker than their old designs and available in five tread designs that offer slightly different bounces.
With a thicker outer shell skin that's been extra reinforced around the delicate valve area, you can see that design of the JFIT slam balls has been carefully thought about, with the JFIT brand looking for maximum ball durability.
The JFIT slam balls offer the most design options out of my top 7 choices which vary in wall thickness, tread design, and the amount of bounce. The three soft design options offer a slight bounce with light texturing for the more dynamic fitness exercises in a rose gold, champagne, and silver color. The two semi-hard ball options come with classic texturing or a new star pattern in midnight blue. The extra thick ball in black features a patented tread design that allows your fingers to fit perfectly in the grooves and gives a dead bounce.
Each ball design has a 9-11" diameter depending on the weight which ranges from 10-50 lbs in 5 lb increments, enough for most dynamic fitness fmovements.
Overall, the JFIT slam balls offer multiple design options allowing you to choose your ball thickness, tread design, and amount of bounce given, providing you with multiple great slam balls.
Your able to choose the tread thickness based on which design you pick

Smaller ball diameter at the heavier weights compared to other brands makes the balls more suitable for those with smaller hands

Some ball designs offer a slight bounce for certain gym exercises
The weight is only on the top of each ball rather than clearly visible on each side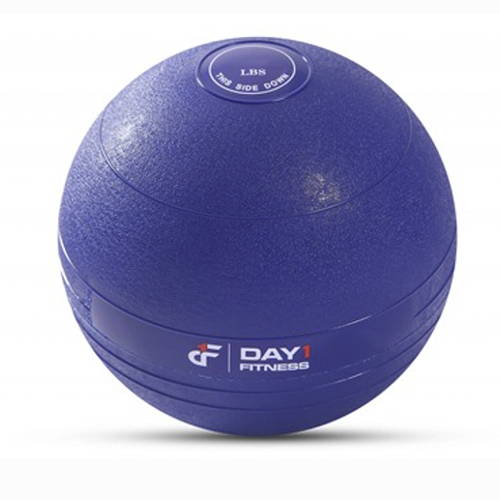 Day 1 Fitness aims to provide premium equipment that's well-suited to your unique health and fitness goals. The brand knows change is good but life transformation is even better.
They manufacture exercise balls, weights, weight plates, and accessories.
Weight:

15, 25, 30, 35, 40, 45, 50 lbs

Diameter:

9" (10-25 lbs) / 11" (30-50 lbs)

Material:

Plastic

Color Palette:

Black, Red, Blue

Design:

Sand-filled core / Textured outer shell
The Day 1 Fitness slam balls feature a simple design, similar to the Rogue echo balls but come at a lower price point in a larger variety of color options. The outer shell is made of thick, durable plastic that's designed to absorb multiple impacts over short periods, with the lighter texturing and raised lines around the ball length making them an ideal choice for all levels of athletes wanting to get into slam ball training.
The interior of the ball is filled with sand giving each weight a dead bounce that protects your surfaces and provides an extra workout challenge. The Day 1 Fitness slam balls range from 10-50 lbs and go up in 5 lb increments, providing a nice range of weight options for a variety of explosive, dynamic full-body movements.
In terms of color options, the slam balls are available in black, blue, and red and feature the brand logo on the side and the weight amount on the top.
The Day 1 Fitness slam balls keep it simple but offer a great budget ball option that comes in a decent range of weight options. They are great for people looking for a simple, effective design that's not too harsh to grip.
Softer thread design better for sensitive skin

Textured pattern strip where your hands should grip the ball

Great budget friendly choice featuring a simple but effective design
Only 1 tread design choice for each color option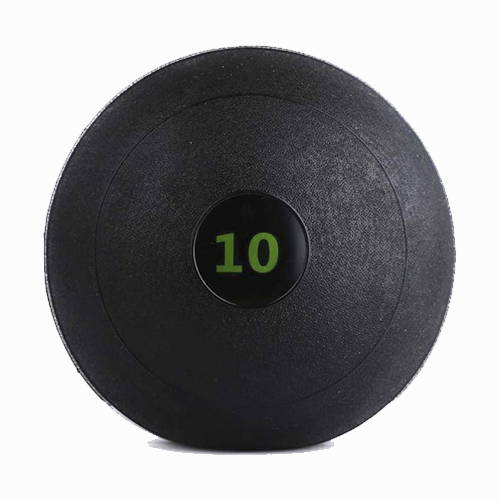 Rage Fitness is all about intensity, force, and a burning desire to train and grow. They aim to fuel the passion of lifters by providing some of the most durable, functional fitness equipment on the planet.
Rage Fitness wants to push you to your limits to help you reach your goals and improve your lifestyle. They manufacture slam balls, plyometrics gear, weights, sleds, and mats.
Weight:

10, 15, 20, 25, 30, 35, 40 lbs

Diameter:

9" (10 lbs) / 10" (30 lbs)

Material:

Rubber shell

Color Palette:

Black

Design:

Textured outer surface / Pressure-releasing air valve
The Rage Fitness slam balls have a unique design feature - a pressure releasing air value allowing you to adjust the air capacity and overall firmness of the slam balls, meaning you can customize them according to your preference and the type of exercise you're performing.
Encased in a thick, heavy-duty rubber shell and textured throughout, the Rage Fitness slam balls are designed for heavy-impact exercises that require a firm grip. Like some of my other slam ball choices, they have a simple yet effective design that comes in black with the weight amount visible in green on both sides.
The Rage Fitness slam balls come in 7 different weight options which range from 10-40 lbs in 5 lb increments which are all sold individually. They feature a dead bounce design that's ideal for throwing and slamming movements.
Overall, the Rage Fitness Slam balls feature a smart design with a unique pressure release air valve that allows you to customize the slam ball's air capacity and firmness according to your needs.
Air value included to help release pressure when needed

Budget friendly ball choice throughout the full range

Smart design with the brand logo around the edge and weight on each side
Smaller weight range than other comparable ball choices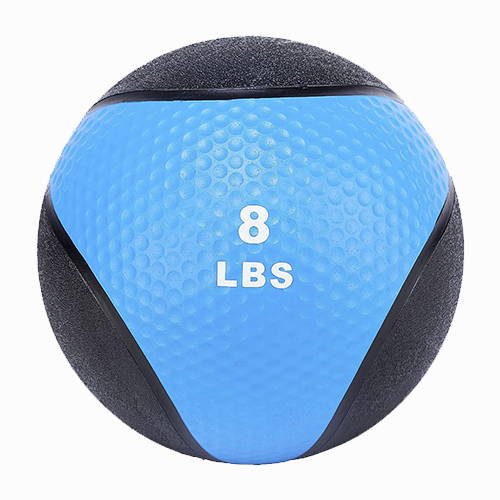 Founded in 2012, BalanceFrom started with the founder becoming frustrated with a lack of quality fitness equipment options. With this, he created BalanceFrom, aiming to produce high-quality fitness gear that's more innovative than existing products.
After achieving early success producing bathroom scales, BalanceFrom expanded into manufacturing weights, slam balls, yoga mats, racks, and treadmills.
Weight:

6, 8, 10, 15, 20, 25, 30, 40, 50, 75, 100 lbs

Diameter:

9" (6-20 lbs) / 11" (25-30 lbs) / 13" (40-74 lbs)

Material:

Rubber

Color Palette:

10 different colors depending on the weight

Design:

Textured outer shell
The BalanceFrom slam balls feature an excellent range of weight options and have the heaviest maximum ball weight out of all of my ball choices, making them great for higher-level athletes looking to perform more compound slam ball exercises. The big weight range going from 6-100 lbs gives you much more room to improve if you choose to purchase the full BalanceFrom set.
The outer shell is made from thick, durable rubber with medium texturing throughout the whole surface. This provides extra grip compared to the lighter textured ball options without becoming too harshly textured for athletes who prefer a ball that's the best of both.
Even with a huge maximum weight of 100 lbs, the BalanceFrom slam balls also have 6,8, and 10 lb options making them suitable for both dynamic, explosive exercises and heavy-duty, compound movements.
In terms of appearance, the BalanceFrom balls are some of my favorite looking slam balls, with bright, colorful centers surrounded by a black exterior.
The BalanceFrom slam balls come in a huge weight range, have a great look, and provide medium texturing making them excellent for a wide range of athlete levels and goals.
Excellent weight range up to 100 lbs

Each ball is nicely color coded in the middle according to the weight

Ball tread provides a good middle option that helps with grip but isn't too harsh
The bigger ball diameter will be too big for some athletes to use correctly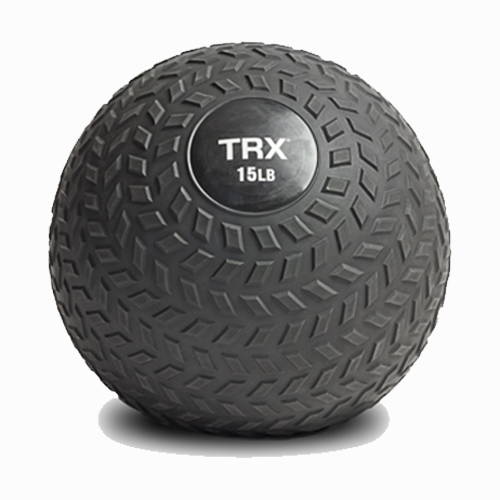 TRX Training believes the smartest gym is your body - the one you already own. The TRX suspension training gear and accessories such as slam balls help to power your body by making working out as easy or hard as you need it to be.
TRX Training manufactures suspension trainers, resistance bands, weights, and conditioning accessories such as slam balls.
Weight:

8, 10, 20, 25, 30 lbs

Material:

Rubber

Color Palette:

Black

Design:

Tire tread outer shell
TRX Training is well-known for producing functional workout gear that gets your body to work against resistance in multiple movement planes. Their slam balls are designed for exactly this, featuring a tire tread pattern that's perfect for outdoor use.
The rubber outer shell's heavy textured surface gives a slam ball option for those who want to keep a firm grip on the slam ball throughout the whole movement, whilst it might not be great for those with sensitive hands.
The slam balls are sold individually and are available in weights ranging from 6-40 lbs. The smaller 6, 8, and 10 lb ball options are great for faster slam ball movements. Each ball comes in black with the TRX branding and weight on either side in white.
Overall, the TRX slam balls are great for outdoor use, with the heavy tire tread an ideal option for those who prefer a more rugged slam ball design.
Tire tread pattern great for outdoor slam ball use

Great range of lower weight options (6, 8, 10, 15, 20 lbs)

Thick, durable rubber shell
Type tread grip might be too harsh for some peoples hands
What Are the Benefits of Slam Balls?
Most slam ball sets involve repeatedly throwing the ball against a flat surface using your explosive power or using your body to work against the slam ball resistance.
To perform these exercises correctly, you need to recruit your core, legs, and full upper body musculature. These muscles work together to move the slam ball through the correct motion for a certain rep amount. With the full body working repeatedly over a small period, gym slam balls built excellent conditioning.
Slam ball exercises are dynamic movements that need the core musculature to work to keep the ball under control. Your core muscles will undergo flexion, extension, and rotation throughout a range of slam ball movements. This provides an excellent workout and leads to a stronger core over time.
Slam ball exercises require skill, coordination, conditioning, and work the full body through a series of dynamic, powerful exercises. The increased coordination and balance gained through repeated, consistent exercise helps you to become more mobile at the gym, at work, and for general everyday tasks.
With most sports requiring you to move through multiple planes of motion in quick succession over a longer period, slam ball exercises are excellent for recreational or competitive athletes looking to improve their performance.
Slam balls can be used to work certain muscle groups or the full body through a wide range of dynamic exercises that utilize different movement patterns. They can be used to improve strength and conditioning, coordination, agility, and as a warm-up tool before lifting.
For these reasons, slam balls are extremely versatile pieces of exercise equipment that are easy to transport and fairly simple to learn.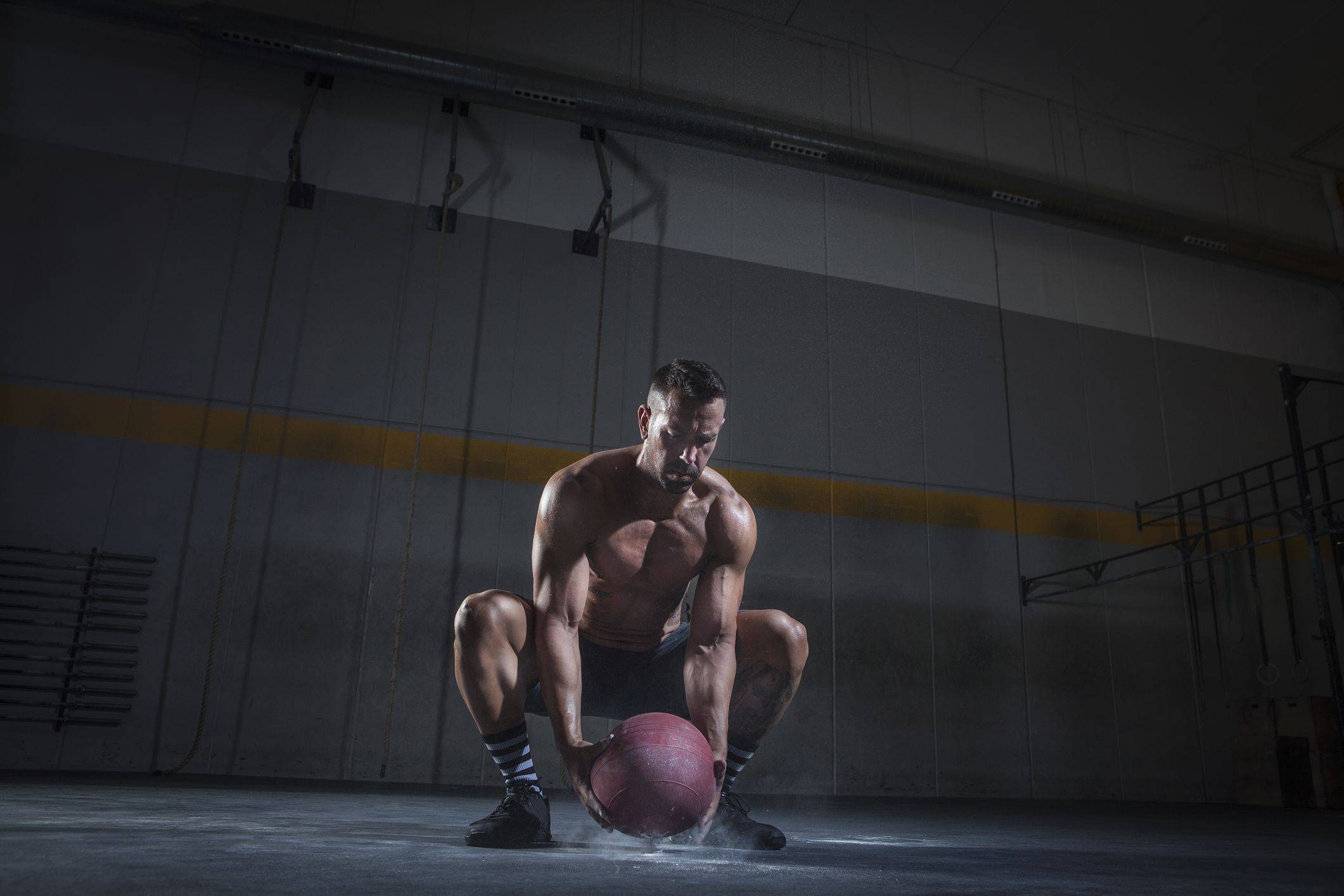 When Do You Need a Slam Ball?
Slam balls are versatile workout tools that are designed for dynamic, powerful full-body movements. With a wide range of weight options and a variety of exercises that are easy to learn, slam balls are suitable for beginner, intermediate, and elite athletes looking to achieve different goals:
Athletes of any level looking to improve their general health and fitness
Athletes of any level looking to build strength and conditioning
Sports athletes looking to improve their sports performance
Functional fitness athletes looking to improve their mobility
Lifters needing to warm up before powerlifting movements
Recreational gym goers wanting to add exercise variety
Athletes of any level wanting to work on general coordination and agility
What to Look For in Slam Balls?
Most athletes often think 'what size slam ball should I get?'. Most slam balls have a 9" diameter, making them ideal for beginners and elite athletes wanting to perform harder exercise variations. A smaller ball gives you a better grip and helps you to retain more control over the ball when performing dynamic movements.
Slam balls are usually made from PVC or synthetic leather. PVC is much stronger and able to last for a longer period compared to some types of leather. Leather is also extremely durable and doesn't break easily with repeated impact, meaning both make excellent ball materials.
Slam balls are made to be slammed as hard as possible against a flat surface. Therefore, they need to be durable and be able to take repeated heavy impacts.
Most brands are making slam balls that contain reinforced walls and impact-absorbing shells that stop the ball from exploding and help them to last much longer. Your slam ball should be durable enough to last for years, not a few gym sessions.
Whilst most slam balls are reasonably priced, it doesn't mean to say you shouldn't take the price into account.
Unlike central pieces of gym equipment such as lifting racks and barbells, slam balls are a lifting accessory and therefore should be reasonably priced and affordable.
Make sure the slam ball quality and price are evenly matched. If you're paying a premium price, make sure you're getting a premium product. Alongside this, if you've got a budget, consider a more budget-friendly slam ball option.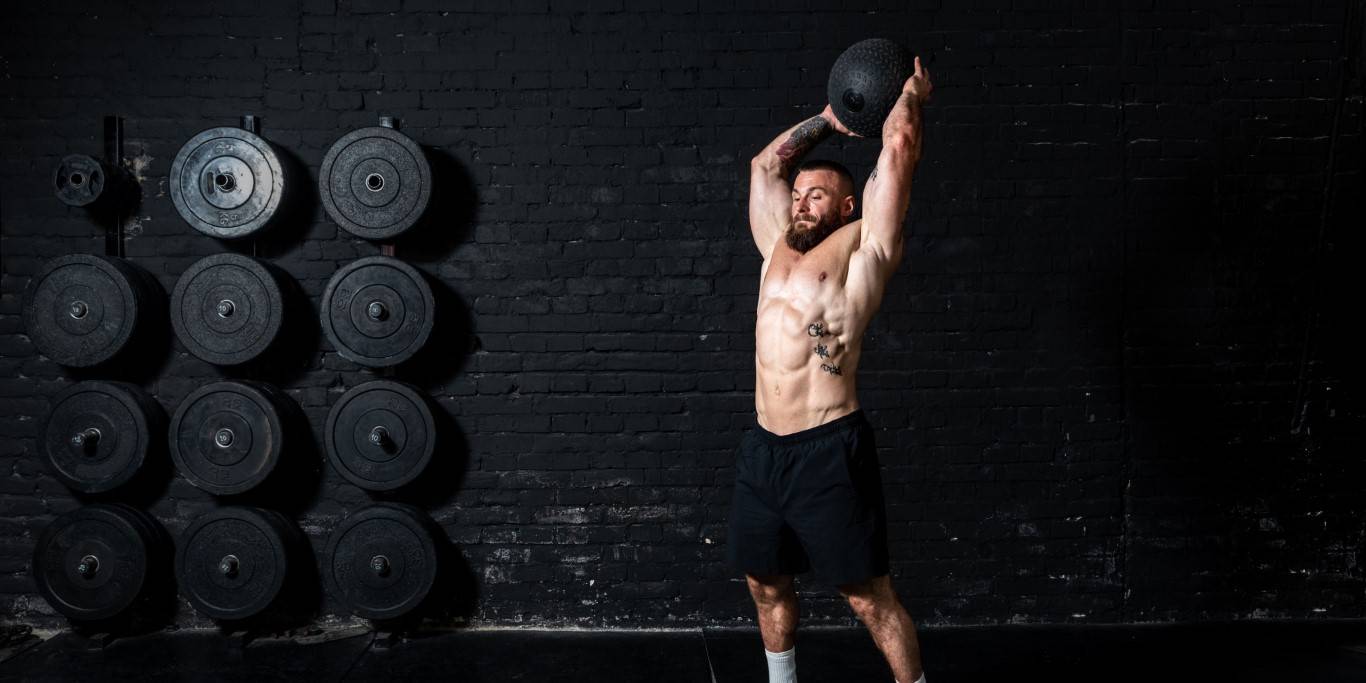 Slam balls are fairly easy to use once you learn the correct technique but skill level should still be considered before purchasing one.
At the beginner level, it may be worth getting a slam ball with a treaded outer shell to help build your grip. If you're an elite athlete then a dead bounce slam ball might be better at dealing with the increased power you'll be generating. A smoother slam ball may provide a harder challenge if you're finding the normal slams too easy.
Built-in slam ball features include the outer shell grip and the way the ball bounces off the contact area.
If you're doing lots of partner-based exercises, slam balls that bounce are the best option. Dead bounce slam balls are better suited for abdominal exercises or smaller spaces. With the outer shell grip, consider your skill level and how difficult you want the exercises to be.
When performing any gym exercise, you want to apply the principle of overload. This means you may need to progressively increase the slam ball weight as your strength and conditioning improve.
Consider the exercises you'll be performing and compare them to the weight you'll need and the amount of room you have for improvement. Lower weighted slam balls are ideal for speed and reaction-based drills whilst heavy slam balls are better suited for carries and throws.
What weight slam ball is the best?
The best slam ball weight depends on your skill level and the exercise you're performing. If you're a beginner athlete, a slam ball at the lower weight range is the better option. If you are an elite athlete or looking for a bigger challenge, opt for the higher weight range.
Compound exercises will require higher slam ball weights whilst dynamic, more functional exercises are better performed with a lower weight.
Are slam balls or medicine balls better?
Slam balls and medicine balls are quite similar but have one key difference that changes their use. Slam balls have thicker surfaces, making them better for high-impact throwing exercises whilst the thinner surface of medicine balls makes them better for lower-impact resistance training.
Can you break a slam ball?
Slam balls are designed for repeated, heavy impacts meaning they are hard to break and should last for years without any issues. The durable outer shell material is designed to absorb the impact and not bounce back.
Summary - Which Slam Ball Is the Best?
Slam balls are excellent versatile workout tools that give the user a range of explosive, dynamic full-body movements at their disposal. They can be used for general conditioning, build strength and power, or as a sports performance aid.
The Yes4All slam ball is my Top pick best medicine ball for slams, receiving the highest total score for size, durability, price, quality, and weight range.
Make sure to consider the function you want the ball to perform before looking at the ball characteristics I've listed above when figuring out which is the best choice.
Do you enjoy using slam balls? Try adding them to your workouts and let me know what you think.
WHAT IS A SLAM BALL AND WHY YOU SHOULD INCLUDE IT IN YOUR WORKOUT // EvoFitness: https://evofitness.ch/what-is-slam-ball
The Best Slam Ball Workout for Maximum Muscle Power // Men's Journal: https://www.mensjournal.com/health-fitness/slam-ball-workout-maximum-muscle-power/




What to Consider When Buying Slam Balls // Living Fit: https://www.living.fit/blog/what-to-consider-when-buying-slam-balls
My name is Ihor and I have been a professional weightlifter since 1996. With over 20 years of competition experience, my resume includes European Champion in 2009 and the silver medalist at 2011's Senior World Championships – 105kg division.
I competed at the 2008, 2012 and 2016 Summer Olympics.
After hanging up my own competitive lifting shoes, I decided to share my huge background as a coach. I am currently coaching multiple athletes who are competing at national and international competitions.