Keeping your feet firmly planted and secure on the machine or vessel is paramount to rowing performance and safety. Not all footwear will work equally as well, so it's important to know what to look for in shoes for indoor rowing. Here are the five best rowing shoes to get in 2023 with detailed guidance on choosing the right pair for you.
In a hurry and can't keep reading? How about you check out the Nike Metcon 8 Shoes.
Nike's Metcon 8 training shoes are the latest iteration of the popular Metcon line, featuring updated design elements, customizable options, and improved durability, traction, and comfort for intense workouts and dynamic movements.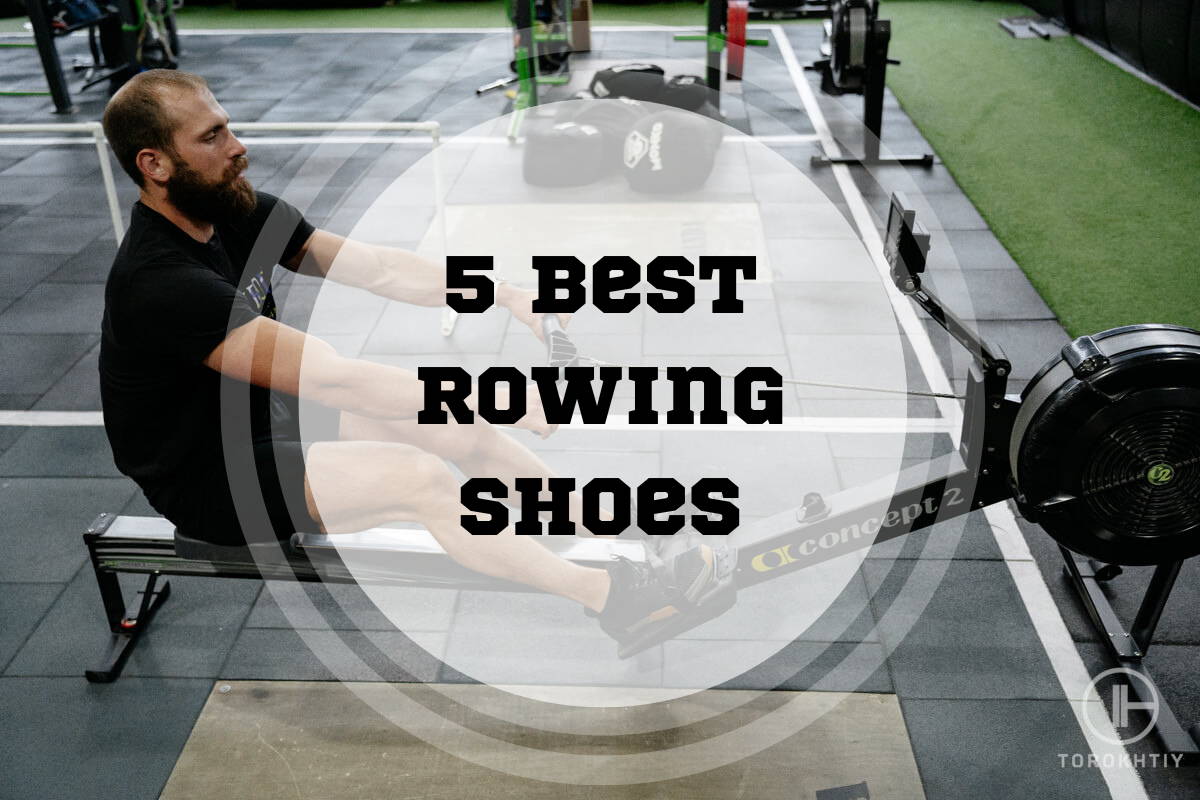 Top 5 Best Rowing Shoes Reviewed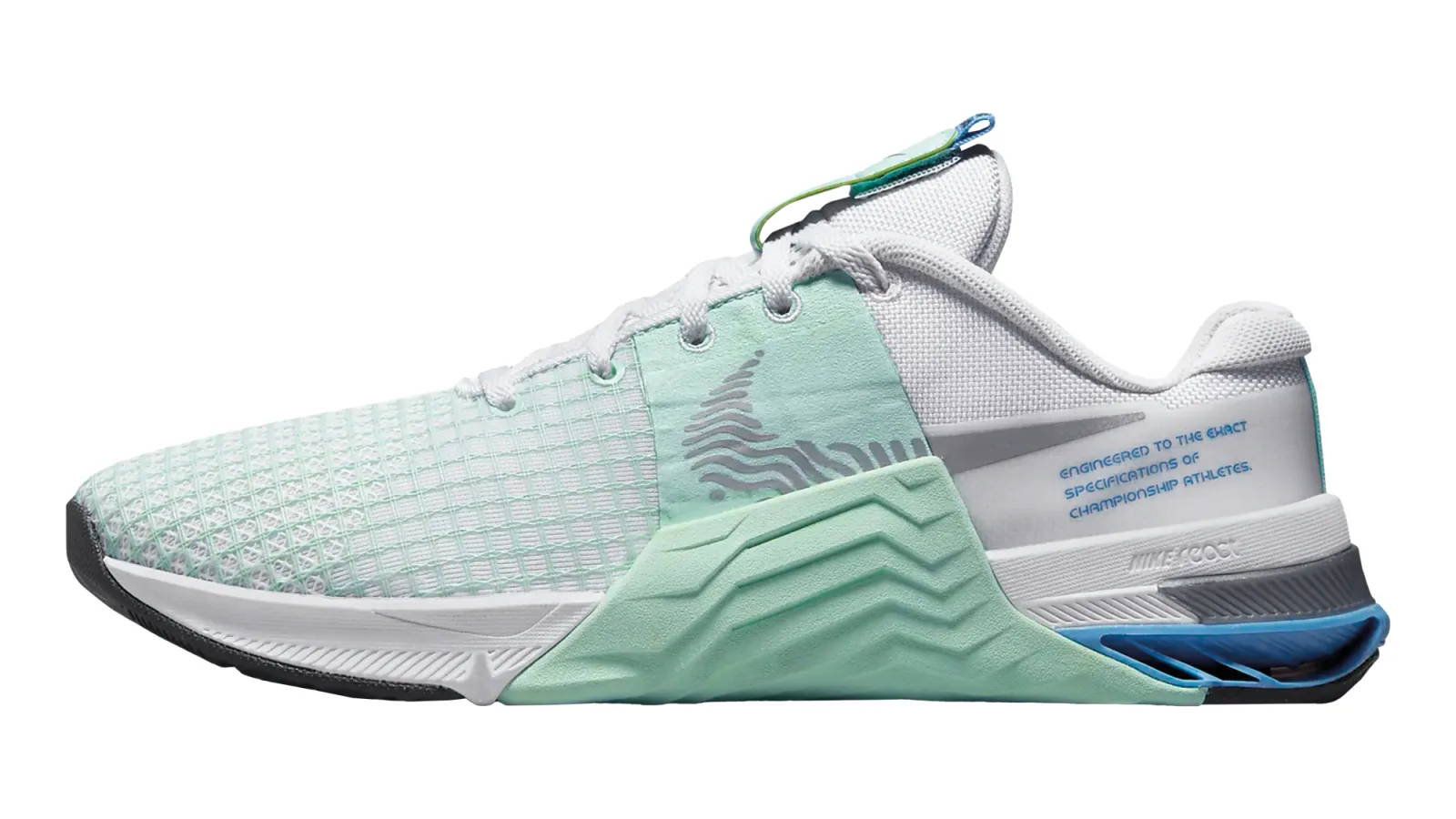 Our top pick for the best rowing shoes goes to the
Nike Metcon 8
. The Metcon series enjoys a high reputation, especially in the cross-training community, both in terms of looks and performance.
Thanks to some science-backed design choices and modern construction materials, the sneakers provide excellent comfort and durability, leading to overall great value-for-money.
Heel Lift Height: 4 mm or 0.15 inches
Sole material: Rubber, Foam (Nike React)
Upper material: Knit mesh
Sizing: Narrow fit
Weight: 0.775 lbs (350 grams)
The upper on the Nike Metcon 8 is made from a lightweight textile mesh that's very flexible and breathable. Using strategically placed textile overlays, both sides of the shoe are additionally reinforced in common places of wear and tear, ensuring their durability. The great fit and flexibility is provided using Nike's original Flywire technology. Moreover, the flat sole features the patented Nike React foam, providing excellent shock absorption and elasticity.
The heels on the Metcon 8 shoes offer a small but effective 4mm elevation and feature an inner plating for better weight distribution. This plate provides a wide and flat surface for your heel to lay on, preventing it from rolling side to side and ensuring excellent force generation when pushing off the footpads during your row.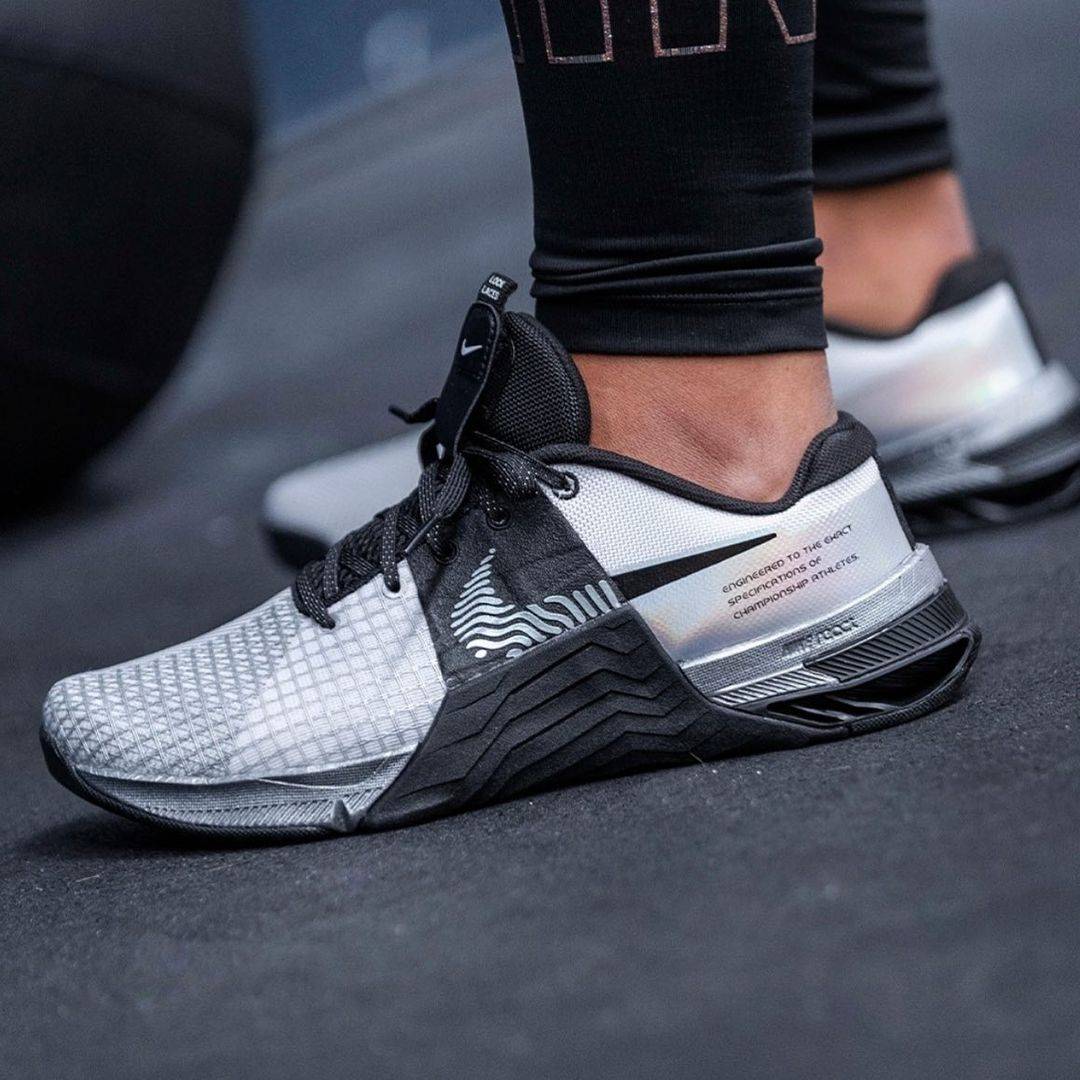 The shoe uses a closed lacing system that doesn't get loose as easily as other open-laced sneakers. Furthermore, the hook & loop velcro closure tabs on the top of the tongue lock the top lacing in place and prevent it from coming undone.
Another point worth mentioning in favor of these sneakers is the cost. Even at full retail, the Metcon 8 series is among the less expensive shoes for indoor rowing on this and similar top lists. The Nike Metcon 8 looks very stylish with many color options and boasts a slim low-top design. Although this certainly helps with the overall aesthetic, it's worth noting that the toe box has a pointed (narrow) fit, especially on the side of the big toe (hallux).
The upper of the Nike Metcon 8 is made from a lightweight textile mesh that's both flexible and breathable, with additional textured overlays on the outer foot side, reinforcing it in common places of wear and tear.
Multidirectional texture overlays prevent common wear and tear

Reinforced using Nike Flywire technology

Plate inserts offering excellent heel support

Sole embedded with patented Nike React foam

Fair price, especially for Nike standards
The narrow and pointy toe box may feel restrictive for people with bigger or wider feet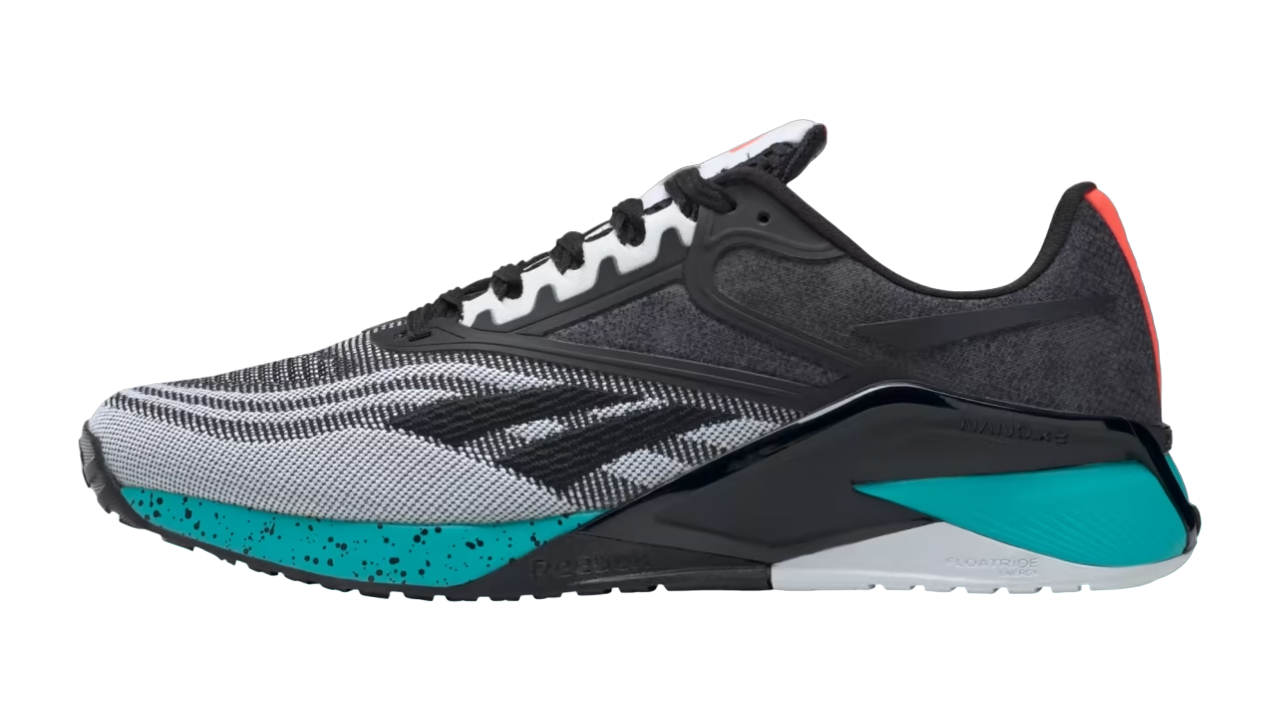 Our runner-up spot for the best indoor rowing shoes goes to the Reebok Nano X2 series. These are Reebok's premier training sneakers fit for weightlifting and cross-training. Between the comfortable fit, performance features, and attractive design, there are many things to like about them.
The Nano X2 could have easily been our top pick as well. In many aspects, the choice between them and the Nike Metcon 8 comes down to personal taste, for example, brand preference.
Heel Lift Height: 7 mm or 0.27 inches
Sole material: Rubber, foam (Reebok Floatride)
Upper material: Woven textile (Reebok Flexweave)
Sizing: True to size
Weight: Around 0.62 pounds (283 grams)
The upper on the Nano X2 is made from Reebok's original Flexwave, a closely knit textile mesh made from chenille yarn. The material is soft, breathable, and highly flexible, providing a snug fit without feeling restrictive in any movement type.
The sole of these shoes is made from Reebok Floatride energy foam. Made from a Thermoplastic Polyurethane (TPU) foam cell structure, it has excellent elasticity and shock absorption. That allows you to perform all types of activities, including lifting heavy amounts of weight or doing plyometric movement, without losing shape. The durable rubber outsole features a lug pattern that grips nicely onto any surface, including the footrest on a rowing machine.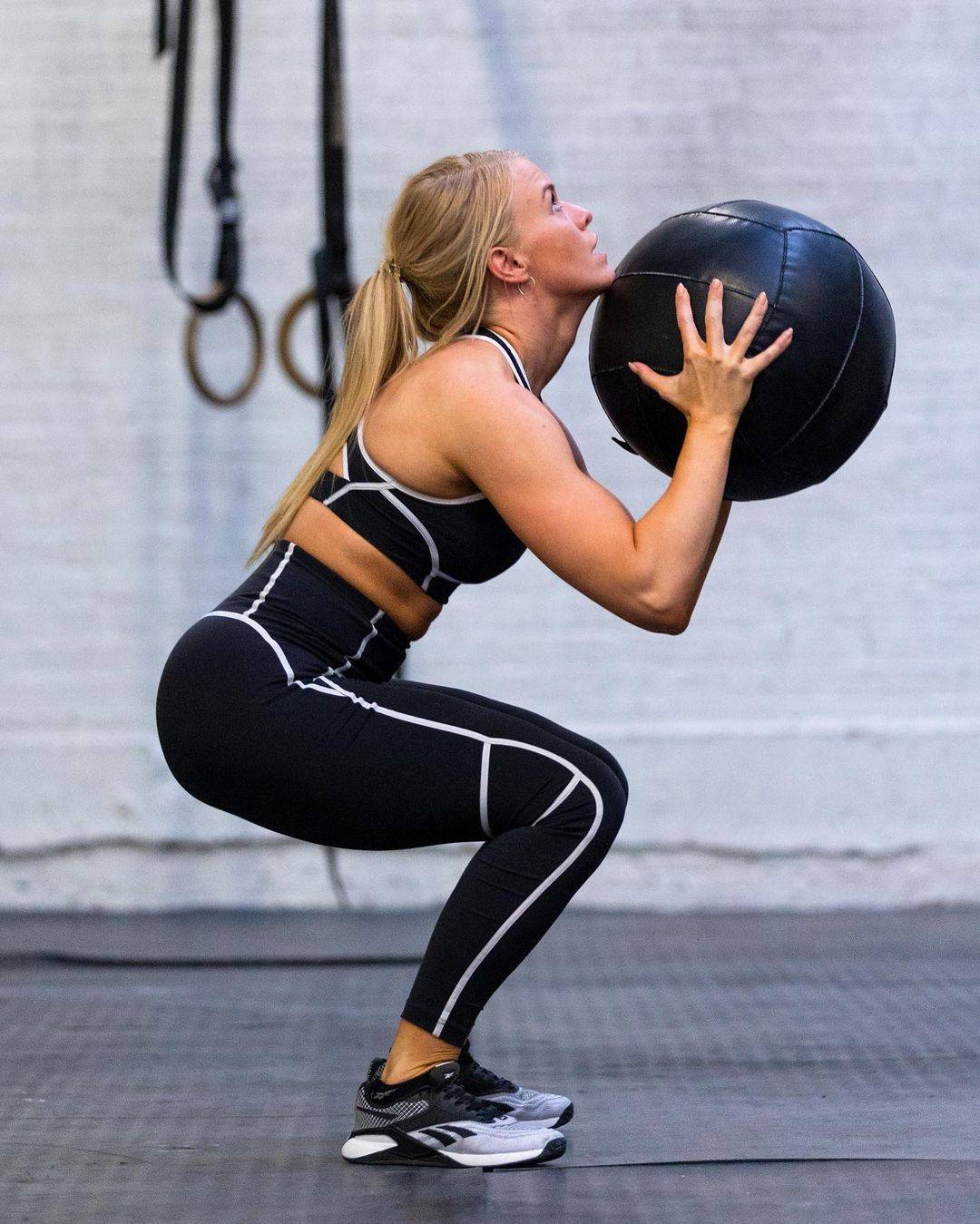 Unlike the Metcon 8, the Nano X2 features a wide and anatomical toe box that takes into account the natural toe spread that occurs when pushing away with your feet. That proves especially useful when pushing off at the start of your row, minimizing energy loss while preventing calluses or blisters from occurring under pressure.
The tongue features a lace locker at the top, which helps keep your laces from coming undone. It is a small but underrated safety feature, as it prevents the laces from loosening at the top and losing the footbridge and ankle support. Additionally, the Nano X2 has a removable insole, letting you put in custom orthotics in case you have foot issues.
The upper on the Nano X2 is made from Reebok's original Flexwave, a closely knit textile mesh made from chenille yarn. The material is soft, breathable, and highly flexible, providing a snug fit without feeling restrictive in any movement type.
Upper made from breathable and flexible Reebok Flexweave

Sole made from highly elastic and durable Reebok Floatride foam

Grippy lug pattern on the outsole

Wide and anatomical toe box

Lace locker tongue that prevents laces from coming undone
High heel-to-toe drop, may take some time to adjust to at first wear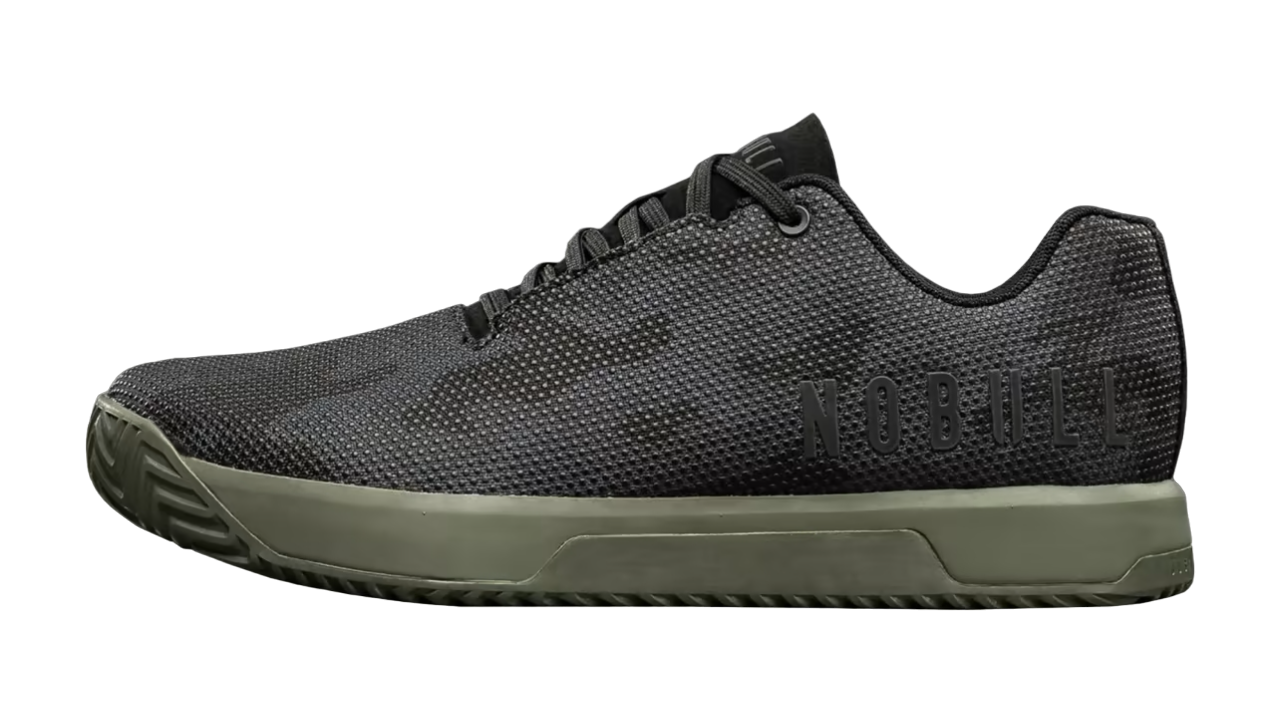 Nobull is a sports apparel company based in Boston, MA. The company was founded in 2015 by two former Reebok execs, Marcus Wilson and Michael Schaeffer. Compared to Nike, Adidas, and other well-established brands, NoBull is a relatively new player in the game of sports shoes.
That said, the company has seen exponential growth due to sticking to what works and quickly adapting to customer feedback, and a strong online presence. Along with the original TRAINER, the TRAINER+ is their premier training shoe, sporting a unique look and innovative materials.
Heel Lift Height: Around 23mm or 0.90 inches
Sole material: Carbonized rubber, Phylon
Upper material: SuperFabric®
Sizing: True to size
Weight: 0.82 lbs (372.23 grams)
The innovative material used in the TRAINER+ upper that gives it the seamless single-piece construction look is known as SuperFabric®. Made by Higher Dimension Materials, SuperFabric® is highly resistant and flexible, and basically immune to exercise wear and tear. Among other things, it's resistant to cuts, punctures, and abrasions, and it's even treated with a water-repellent coating on the surface.
At first glance, the sole on these shoes is noticeably taller than average. The midsole on these shoes is made from a stack of EVA foam fully covered with carbonized rubber. It's highly responsive and provides good cushioning, with a large and stable base to stand on. The wavy herringbone pattern at the bottom grips well onto any surface and prevents the foot from slipping or sliding.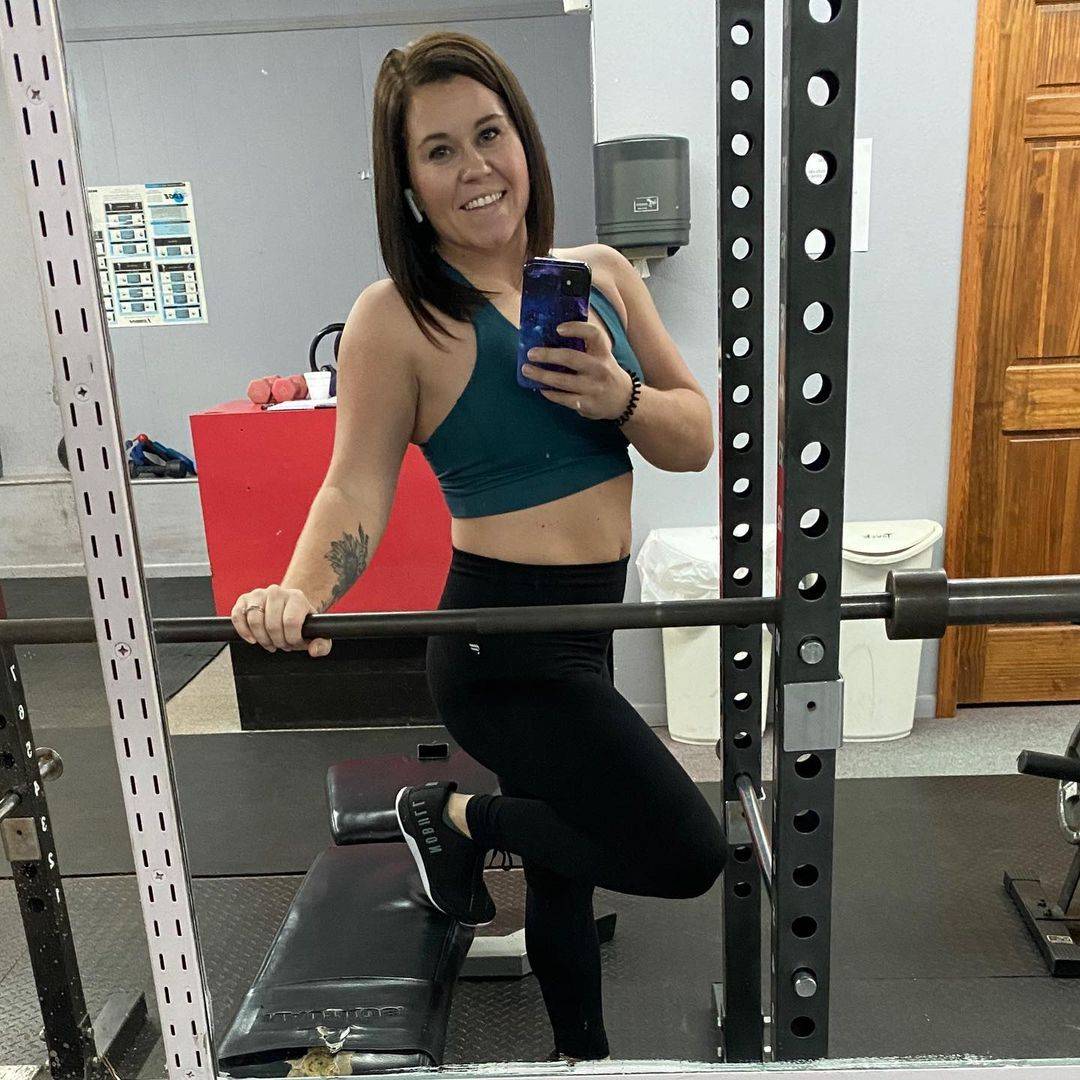 Being almost completely flat with only a 4mm heel-to-toe drop, the outsole helps athletes maintain full contact with the ground. That ensures minimal power loss when pushing off with your feet, for example, against a rowing machine footrest. The outsole also crucially features toe bumpers and lateral and medial guards protecting your foot from accidental bumps on the machine.
Additional specs that set this shoe apart include a molded and anatomical sock liner, reflective NoBull branding on the side for visibility at low-light conditions, a tucked-in layer lacing system that keeps the eyelets protected, a perforated microsuede tongue, and additional heel and collar padding. Overall, an excellent choice for cross-training shoes and an excellent fit for rowing, although it comes at a slightly higher-than-average cost and the highest full-retail cost on this list.
The innovative material used in the TRAINER+ upper that gives it the seamless single-piece construction look is known as SuperFabric®. Made by Higher Dimension Materials, SuperFabric® is highly resistant, flexible, and basically immune to exercise wear and tear.
Made using highly-resistant SuperFabric®

Thick and responsive sole equipped with toe bumpers and lateral and medial guards

Unique and eye-catching design with lots of color options

Padding around the heel and collar for extra comfort
Can feel bit tall at first, takes some time to get used to

Not as breathable as other cross-training shoes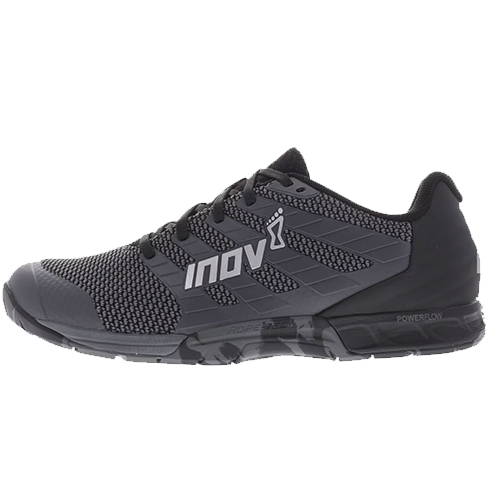 The UK-based brand INOV-8 has offered a wide range of trainers for different physical activities. The F-Lite 260 V2 is the second edition of the 260 model, offering an improved fit and comfort and more optimized performance.
Heel Lift Height: 14mm or 0.55 inches
Sole material: Rubber compound
Upper material: Knit mesh
Sizing: True to size
Weight: Around 0.57 lbs or 260g
The upper on this INOV-8 shoe is made from a breathable and flexible knit mesh. When fully laced up, you can feel it mold around your foot, providing a comfortable and tight fit. The shoe is also incredibly light, measuring only 260g (or around 0.57 lbs) individually. The brand offers a wide range of sizes in men's (size 6 to 14) and women's (size 4 to 8.5) styles.
The F-lite 260 V2 is a low-stack shoe that keeps your feet parallel to the ground. Moreover, the midsole is made from PowerFlow, a highly-responsive foam compound offering excellent support and comfort for any type of exercise, from weightlifting to plyometrics. The outsole is made from INOV-8 Rubber, with as much as 20% of it being made from recycled materials.
The upper on this INOV-8 shoe is made from a breathable and flexible knit mesh. When fully laced up, you can feel it mold around your foot, providing a comfortable and tight fit.
Responsive PowerFlow foam midsole

Outsole built with INOV-8 Rubber compound

Incredibly lightweight for a full workout shoe (only 260g)
The design could be better, not the best looking shoe

On the more expensive side
Lastly, we'd like to mention a good pair of outdoor rowing shoes. Our readers who enjoy this activity know that basic shoes won't cut in this scenario. If you're going on open water, it's good to have footwear that can be used both on the ground or in the water without having to take them on and off.
Heel Lift Height:

None

Sole material:

Rubber

Upper material:

Stretch fabric

Sizing:

True to size

Weight (1 shoe):

0.35 lbs (155 grams)
Rowing vessels such as small boats or kayaks often take on water and get your feet wet, which can soak your pair of regular training sneakers. That can leave them damp for days on end, leave behind odors, and even make them unwearable by breaking up the materials.
This is where rowing shoes come on. They provide mild protection for your foot, which can make a difference when stepping onto unstable surfaces like sand or wet rocks. They're also more hygienic than going barefoot.
Thanks to the stretchable material they're made of, the Body Glove men's water shoes are easy to slip on and off. Once they're on, the shocklace system on the heel can be used to adjust their fit.
They're made from quick-dry materials that can be squeezed to drain the water faster. Moreover, the midfoot is equipped with a drainage system that lets the water accumulating inside exit the shoe with no problem.
Thanks to the stretchable material they're made of, the Body Glove men's water shoes are easy to slip on and off. Once they're on, the shocklace system on the heel can be used to adjust their fit.
Lightweight, unnoticeable, sock fit

Integrated drainage system on the midfoot

Designed for grip on wet surfaces

Easy on/off with stretch material upper
The rubber at the toe area can start tearing if you accidentally hit it

Basically no heel or arch support making it less comfortable to walk in
Rowing shoes, also known as rowing cleats, are specialized and purpose-built footwear. Outdoor rowing shoes are minimalist in design, lightweight, and have a snug fit around the foot. The material they're made of is typically water-repellent and/or quick drying, meant for use on open water where feet often get wet.
The main purpose of rowing shoes is to securely anchor the athlete's foot to the vessel or rowing machine. They achieve this through a fastening or clipping system, locking the foot in position and minimizing the risk of slipping or falling during workouts. By ensuring a stable foot placement, rowing shoes promote proper technique and optimize power transfer, while also reducing the likelihood of injuries.
Although some indoor rowing machines have footplates with fastening systems meant for rowing shoes (or purchasable extensions), most machine rowers are made to be used with standard training sneakers. Professional rowing schools recommend using shoes with a flat base (sole) for indoor rowers.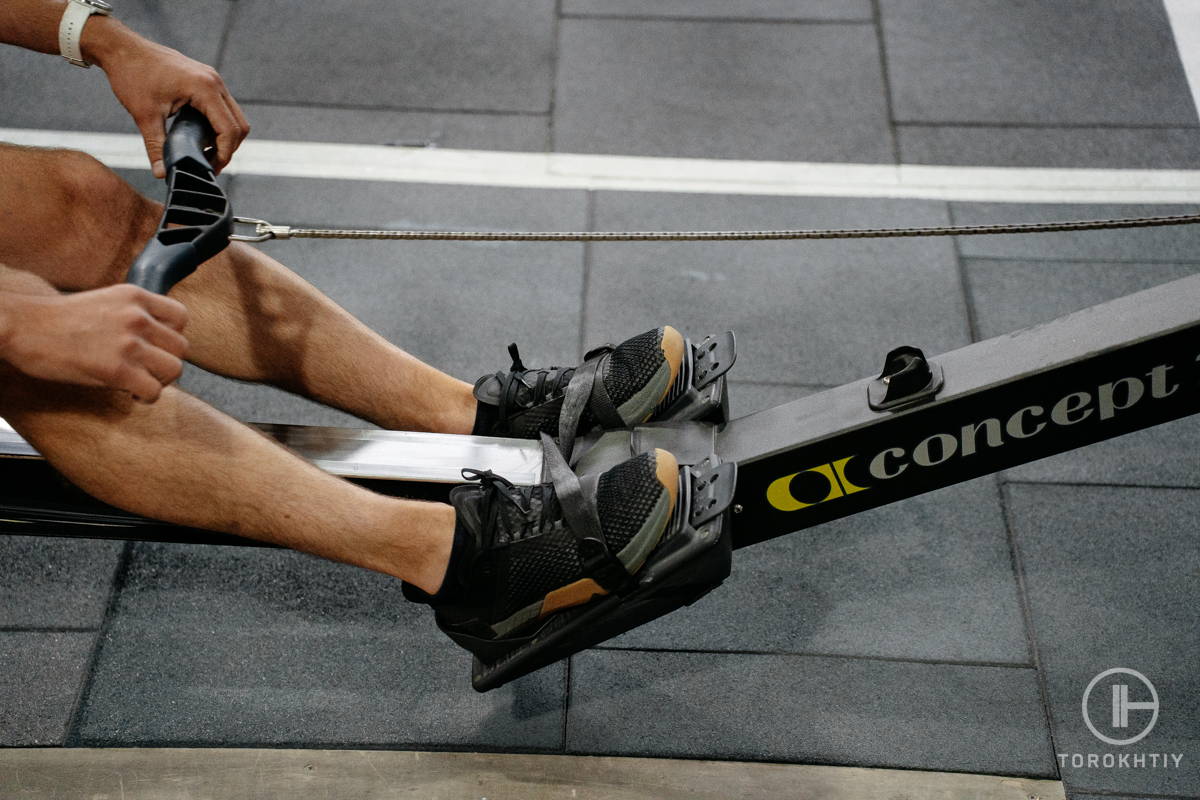 Specialized pairs of footwear such as rowing shoes are specifically engineered to aid in the physical activity they're meant for. Here's what sets rowing shoes apart from any regular pair of trainers.
Rowing shoes have a flat but thick material sole that provides near-direct contact of the foot with the boat/machine. That way, the athlete pushes off with their foot full against the equipment, ensuring maximal power generated from the feet is transferred into the stroke.
Professional rowing footwear is equipped with features like straps, buckles, or clips that secure the foot in place. That prevents unwanted movement, such as slippage during exercise, reducing the risk of injury. Knowing that their foot is safely in place, rowers can then focus all efforts on proper rowing motion and maximal power output, leading to greater results.
A good pair of rowing shoes can have small but difference-making comfort features. Firstly, using them is more hygienic than going completely barefoot. They prevent your feet from accumulating sweat, dirt, sand, water, and other particles that can make your feet feel uncomfortable.
Furthermore, rowing shoes are typically made with materials that are water-resistant and/or quick-drying, which is essential for working out in wet environments. The shoes will help keep your feet dry while protecting them from potential blisters, irritations, cuts, and other injuries.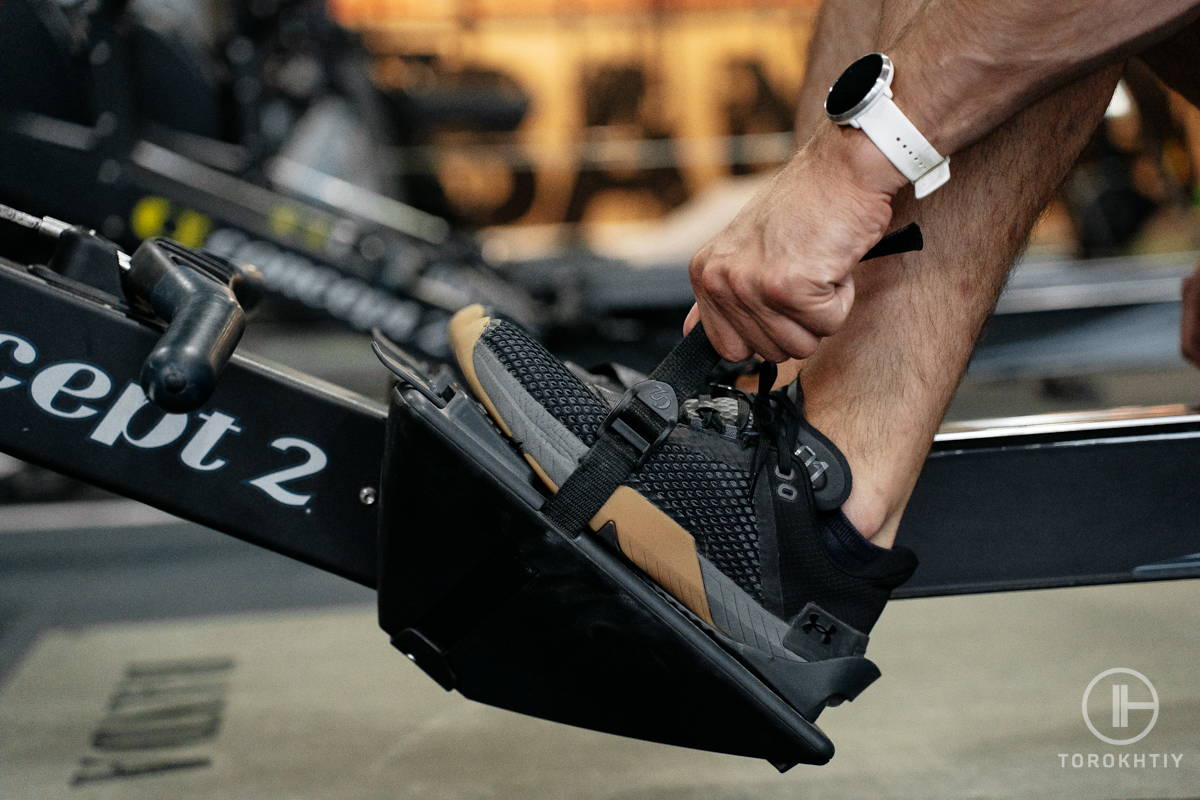 How To Choose The Best Rowing Shoes?
Choosing the wrong type of footwear for your exercise will waste your money and send you back to the store in no time. For rowing, it's important to get shoes that are both sturdy and comfortable. Here's what you should consider:
The rower's feet must remain firmly planted on the exercise machine footplates all the time to ensure proper power transfer, technique, and exercise safety. This is why professional rowing machine shoes have a completely flat sole coupled with a fastening or locking system, allowing the entire foot to feel rested and secure.
For indoor rowing, a cross-training shoe with a wide and flat sole and a minimal heel height is ideal. Shoes with an overly anatomical base and a large heel-to-toe drop, like those designed for running, will cause excessive rolling of the feet, dissipating energy and increasing the risk of slippage and injury.
It's paramount that the shoes you use for rowing are made from materials that can withstand the eccentric force caused by your muscles pushing against the tower. Lighter footwear types, such as running shoes, simply won't cut it for rowing. The lightweight foam, minimal stitching and/or gluing, and thin mesh upper will collapse and tear under pressure. For indoor rowing, cross-training shoes are your safest bet, as they're specifically designed to blend comfort and durability, with thick but responsive construction materials.
While rowing, you repeatedly push your feet against the machine to generate force. Most of these forces are transferred from the foot first to the shoe and then the machine. It's important for your rowing shoes to be made from quality materials and have a sturdy construction, otherwise, you'll be cycling through pairs and wasting money.
Breathability plays an important role in exercise comfort as well as foot hygiene. Feet are put under a lot of stress during rowing, as they're used to generate power for your stroke. This can lead to excess heat and sweat accumulating inside the shoe, which can be managed with a shoe with a breathable and lightweight upper.
The outsole on the best shoes for rowing machine workouts must provide ample traction so as to not lose your footing when pushing against the foot pedals. Higher-quality training shoes achieve this by using anti-slip materials and ingrained patterns that grip well onto most surfaces.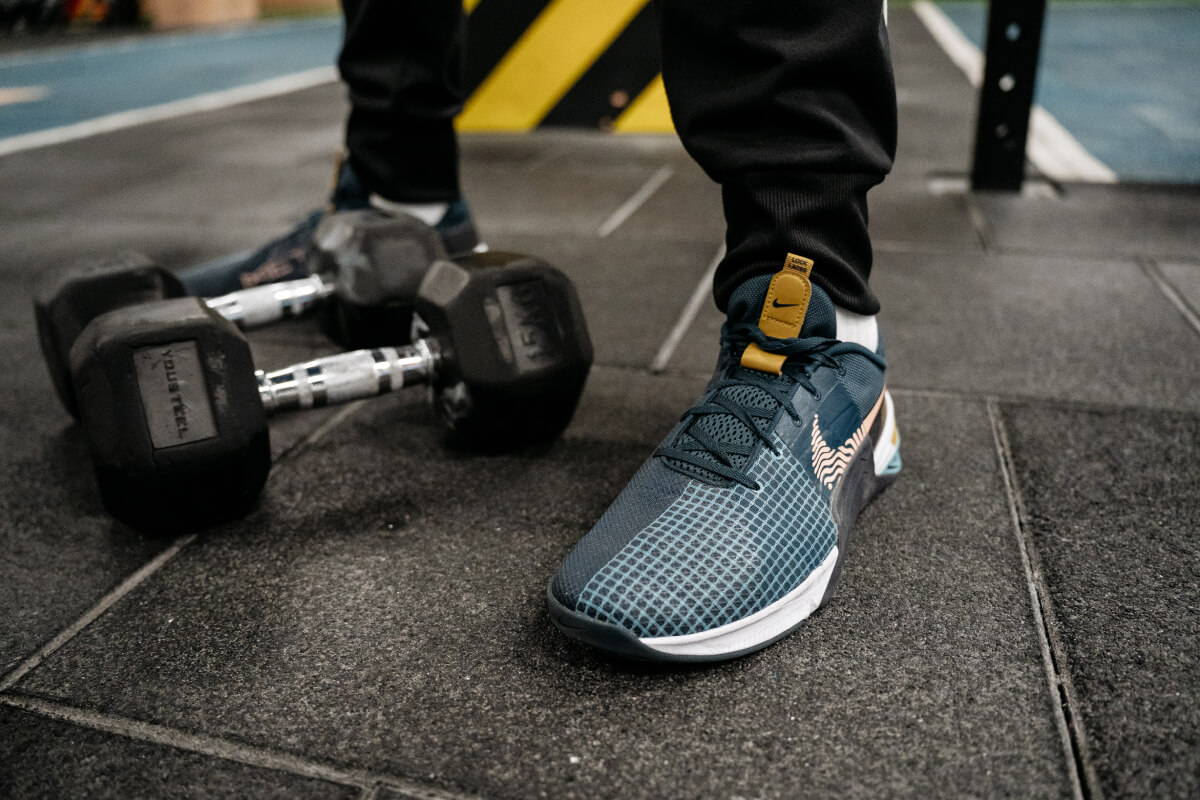 Do I Need Shoes For Rowing Machine Workouts?
For the average person using a rowing machine, it's generally a good idea to wear shoes for indoor rowing to utilize stability, comfort, and grip provided by them and protect your feet.
However, you may see some athletes opt to row barefoot. These are usually people who practice outdoor rowing, where wearing minimalist water shoes or no shoes is more common. Barefoot training has its benefits, but it also carries a higher risk of injury and exposing your feet to harmful bacteria found on the floor.
While it's technically possible to row in sandals, a typical pair may be too fragile to withstand the dynamic forces of a rowing workout. It's better to keep those around for walking and get a pair of actual rowing machine shoes.
If you want to get the most out of your rowing workout, a proper pair of footwear is an important point of consideration, and the same is true for rowing. The best rowing shoes for this popular exercise may provide a stable and wide foot base and keep your feet gripped to the machine at all times. If you're looking for a pair of top-of-the-line cross-training shoes for indoor rowing, we highly suggest the Nike Metcon 8.
We'd love to hear from you as well! Do you usually row indoors on an exercise machine or out in the open water? Have you ever tried rowing barefoot and how was your experience with that?
Leave a comment letting us know, and remember to follow our social media pages for more valuable fitness content.
Resetar, "Nike Flywire," Wikipedia, https://en.wikipedia.org/wiki/Nike_Flywire, November 18, 2017
WHAT IS NIKE REACT?, Nike, https://www.nike.com/help/a/nike-react

The History of SuperFabric®, SuperFabric, https://www.superfabric.com/pages/SuperFabric_History.html

Higher Dimension Materials Inc, Bloomberg, https://www.bloomberg.com/profile/company/0253709D:US
ENVIRONMENT, Inov, https://www.inov-8.com/environment
Sara Lindberg, "Does Walking Barefoot Have Health Benefits?", Healthline, https://www.healthline.com/health/walking-barefoot(accessed Mar 8, 2019)
Coach, PRO Olympic Weightlifter
Experience: 26 years
Best Results: Snatch - 208 kg,
My name is Ihor and I have been a professional weightlifter since 1996. With over 20 years of competition experience, my resume includes European Champion in 2009 and the silver medalist at 2011's Senior World Championships – 105kg division.
I competed at the 2008, 2012 and 2016 Summer Olympics.
After hanging up my own competitive lifting shoes, I decided to share my huge background as a coach. I am currently coaching multiple athletes who are competing at national and international competitions.
Olympic Weightlifting Champion
Experience: 21 years
Best Results: Snatch – 200 kg,
My name is Oleksiy Torokhtiy. I am a professional athlete with 20 years of experience in Olympic weightlifting. I have won multiple European, and World titles and have taken part in two Olympic Games (Beijing 2008, London 2012).
After finishing my career, I have committed myself to coach, and as of 2022, I've hosted 200+ weightlifting seminars all over the globe. I'm the founder of an international sportswear and accessories brand, Warm Body Cold Mind (my motto), author, and creator of a series of training programs and eBooks.
If you have any questions/suggestions/any other inquiry, you can reach out to us via email - reviews@torokhtiy.com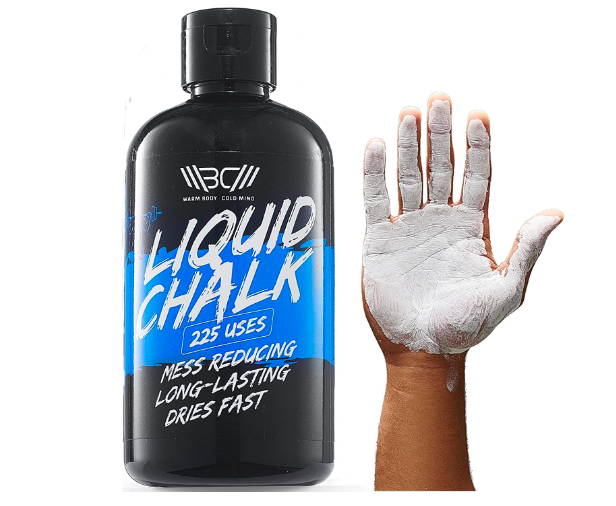 This article was written by our qualified author and proofread by expert with proven experience. When writing the article we use our expertise and data from open sources with strong reputation, scientific or medical based. The list of references is provided at the end of the article.
Our team of authors and experts includes professional athletes (Olympians, winners of European and World titles) PhD in Sport Science, certified coaches, sports nutritionists, CSCP, physiotherapists and other. Read more about the team here, and more about how we test here.