The best powerlifting gym bag is made of nylon material, which enhances its durability. The durability can further be aided with reinforced straps. Plus these powerlifting bags should also have several pockets and unique compartments to make storage easier. And the best gym bag for powerlifters should have lots of space in the primary pocket to allow for accessories and other belongings such as shoes, straps, sleeves, and even supplements.
Top 5 Best Powerlifting Gym Bags Reviewed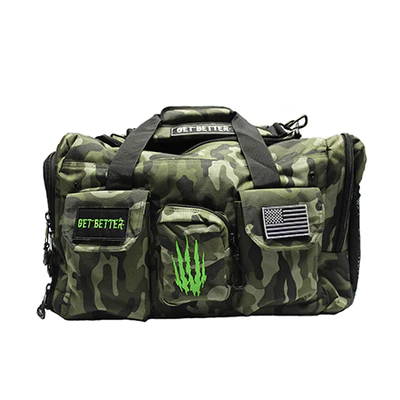 Pockets Galore:

multiple versatile pockets

Size:

20" x 12" x 12"

Material:

nylon

Color Palette:

black and camo
The Bear KompleX gym bag is a very versatile bag that can be used for traveling, hunting, and any kind of fitness activity. That bag has many pockets that will allow you to carry the following: 2 pairs of shoes, weight belt, change of clothes, water bottle, protein shaker, towel, grips, headphones, knee sleeves, and other accessories, too. So, essentially, the Bear KompleX bag has seen to it that all your lifting needs can fit into one bag.
The bag is made of high-quality nylon material, which is very durable. But the handles are further reinforced, making it one of the best options for the price and quality you're getting. You can carry the bag with the handles or use the shoulder strap.
The pockets are water-resistant, so in case your water bottle drips out or if water is spilled onto the bag, you don't need to worry. The coating of the bag is also water-repellent.
The bag also comes with customizable options such as a hook and loop area where you can place your name tag or your country's flag.
The pockets are water-resistant in Bear KompleX bag, so in case your water bottle drips out or if water is spilled onto the bag, you don't need to worry.
Numerous versatile pockets to carry all your belongings

Made of high-quality, water-resistant material

Dedicated shoe compartment for organized packing
Not too many color options
Pockets Galore:

Multiple zip pockets

Size:

11.75"x 20.5"x 11"

Material:

Polyester

Color Palette:

Various options
A unique feather of the Adidas Defender 4 duffle bag is its size. Not only is it quite roomy, but you can even store your accessories and belongings standing up. The extra room inside the bag allows you to pack more items than some of the other gym bags. The Adidas product is also a gym backpack with belt holder, which is much needed if you're serious about lifting weights.
Plus, on either side of the bag, there are 2 zipper pockets to store smaller belongings or they can be used to carry your supplements.
While polyester isn't as durable as nylon, it is still long-lasting, especially when it's combined with the water-resistant base material, as the Adidas product is. Plus, an added benefit of using polyester is that it makes the price of the product go down, so it's a very affordable bag.
On top of that, you get a lifetime warranty. If any part malfunctions like the zipper breaking or the shoulder strap coming undone, you can exchange the bag for a new one.
While polyester isn't as durable as nylon, it is still long-lasting, especially when it's combined with the water-resistant base material, as the Adidas product is.
Extra roomy so you can carry more belongings

Water-resistant base material

Lifetime warranty with the purchase
Thin material that can breakdown quickly

The bag makes a squeaky sound when carrying it around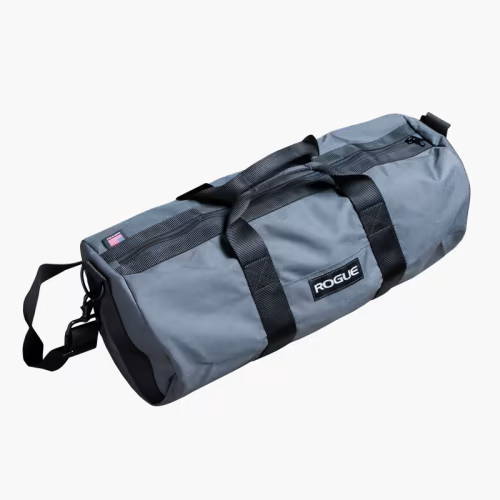 Pockets Galore:

3 unique-sized pockets

Size:

24" x 10" x10"

Material:

Cordura Nylon

Color Palette:

Black and grey
A major reason why the Rogue Gym Bag is a premium product is that they use the highest-quality materials possible for their bags. Not only is this powerlifting duffle bag itself made of cordura nylon, but even the handles and straps are. So, you shouldn't have any durability concerns with his product as it's made to last a long time.
It also has a stylish look to it, so you can use it as your everyday bag, take it with you on trips, or use it for any sports activity. This versatility perk is a big selling point as you can get numerous different uses out of the product.
A small drawback is the lack of pockets. There are 3 main pockets with the full-length primary pocket taking up much of the storage room. This is roomy enough to handle most of your belongings. While there is an external and internal zipper pocket for your smaller things.
It being a premium product, the price tag is on the higher side, but you're getting a high-quality product that is perfectly suitable for your gym needs.
Rogue bag also has a stylish look to it, so you can use it as your everyday bag, take it with you on trips, or use it for any sports activity.
The bag, straps, and handles are all made of highly durable nylon material

Primary pocket is extra large so gives you plenty of storage space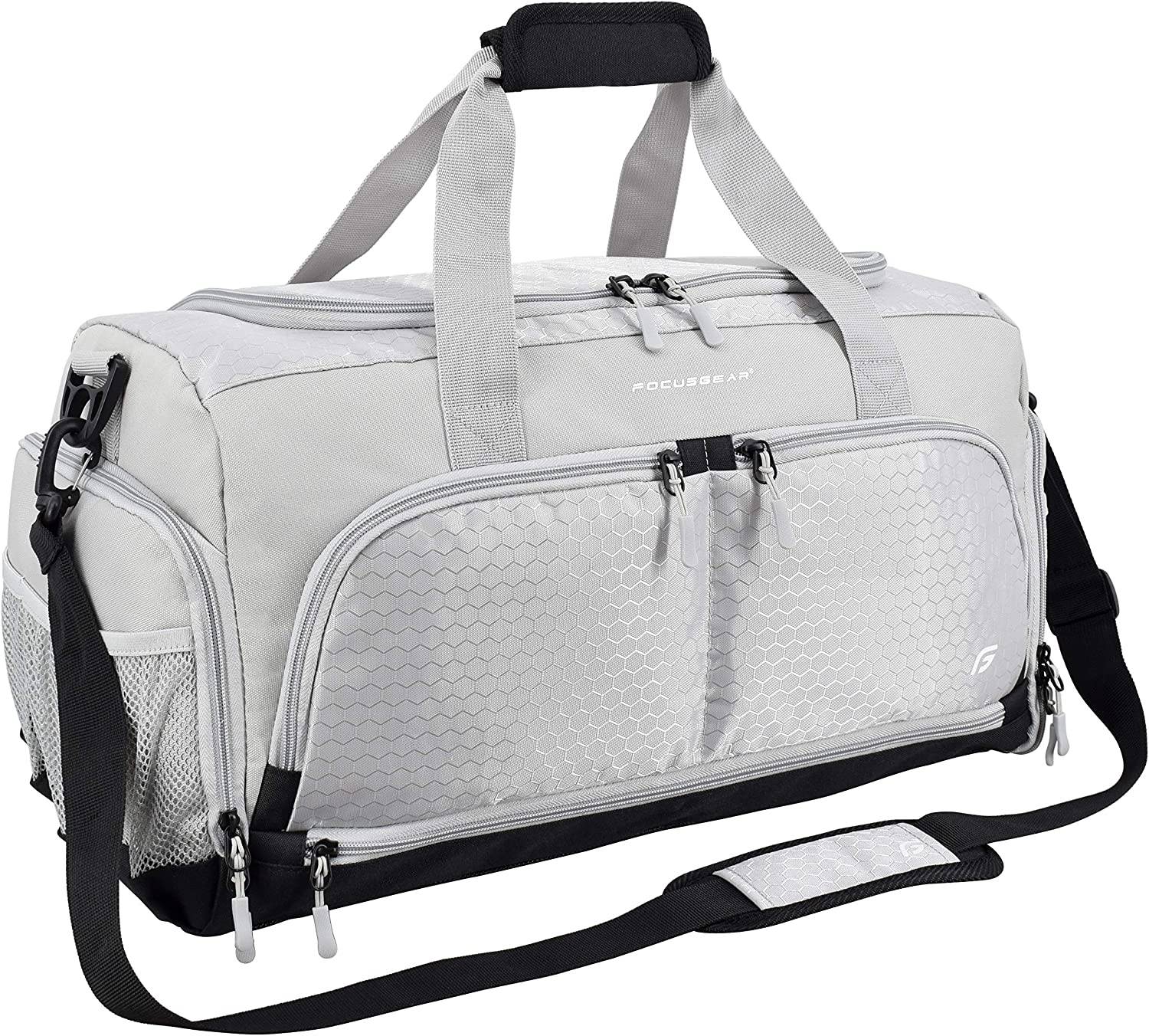 Pockets Galore:

10 optimal compartments

Size:

20" x 11" x 10.5"

Material:

Various materials

Color Palette:

Several color options
Apart from the price tag, a big selling point of the Ultimate Gym Bag 2.0 is the pockets. The bag comes with 10 compartments, which include a full-length shoe compartment that fits a shoe as large as a size 14. The pockets are also water-resistant, so you can keep your dry and wet clothes separated. The back pockets are made of velcro and can carry smaller belongings. While the two external mesh pouches are built-in to carry your water bottles. This is why it's one of the best gym bags for bodybuilders as you can carry belts, sleeves, supplements, and different pairs of lifting shoes without overpacking your bag.
The main pocket also unzips completely making it easier to load with your accessories and belongings. Also easier to organize your things.
However, the material itself is on the lighter side, which can raise some durability concerns. They've done their best to address these concerns by reinforcing their stitching. But, as mentioned, some of the pockets are made of velcro and even the handles have velcro, which can wear out.
But, the bag does have a lot more color options compared to many of its competitors, so you can customize your own unique look.
The pockets are also water-resistant in this Ultimate gym bag, so you can keep your dry and wet clothes separated.
Upward of 10 unique pocket constructions

Main pocket unzips completely for easy access
Durability concerns with the thin material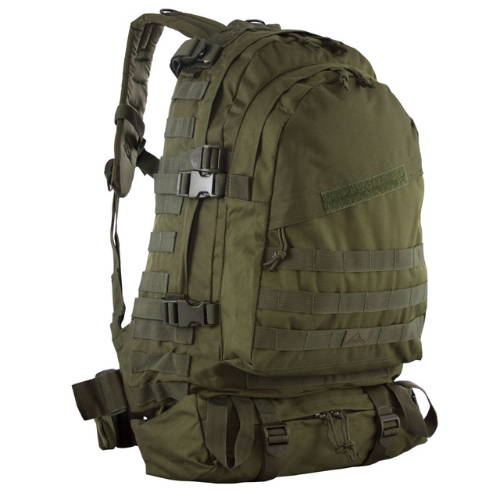 Pockets Galore:

5 zippered compartments

Size:

21" x 12" x 13"

Material:

Polyester

Color Palette:

Various options
The Red Rock Diplomat Pack comes with 5 zippered pockets. The main compartment opens up completely for easier storage and organizational perks. While the two slip pockets are there to carry your smaller belongings. The front pocket has a side entry, which is perfect for sliding in things like your laptop. There is also a secondary compartment for your accessories.
Also, the bag comes with a hydration porthole. The bag can carry upwards of 54 litres in total. This makes it ideal for activities like hiking or camping or long-distance running.
There are two shoulder straps and also a waist strap to make it easier to carry the bag pack. An issue with two shoulder straps can be that they pinch and dig into your shoulders after a while of wearing them. Especially if you have lots of weight in the bag. But the waist strap will help take some of the load off of your shoulders.
However, the straps aren't reinforced, so if you use the bag often at a heavy capacity, there is a risk of damaging the stitching. Also, the polyester material is sparsely used throughout the bag, so there are some durability concerns.
There are two shoulder straps in Red Rock Pack and also a waist strap to make it easier to carry the bag pack.
Comes with a hydration porthole

Unique storage construction like the slide-in pockets in the front

A waist strap to take the load off your shoulders
What are the Benefits of Powerlifting Gym Bags?
Easier to Carry Your Belongings
If you're serious about powerlifting, you know the struggle of carrying all the accessories and equipment needed for a proper workout. A typical workout might require a water bottle, knee sleeves, lifting shoes, wrist wraps, chalk, and a belt. And this is just the bare minimum. You can even have lifting straps, knee wraps, different types of lifting shoes, and so on.
If you don't have a powerlifting bag, you're tasked to carry all of these things with you or show up to your session with most of these accessories already on you. But it's much easier to have a proper gym bag with different compartments to keep your accessories neat and organized.
Almost everyone has had that last-minute panic of forgetting a vital piece of gym equipment as you're on your way to the gym. You would then have to go all the way back home and then make your way back to the gym. This issue often arises because you don't have a proper gym bag that keeps all your gym needs stored, ready for you to simply place in your car or leave in the trunk.
So, by having a powerlifting gym bag, you're likely to save time and the stress of figuring out if you have everything you need.
Hygiene is a very important thing when it comes to your personal care and gym etiquette. With personal care, having a powerlifting bag with smaller compartments can keep your accessories and equipment from getting tangled together. This includes compartments to keep your wrist wraps and sleeves away from other belongings. While at the gym, you have a space where you can keep all your belongings, so it doesn't get in the way of other people.
Can Carry Both Dry and Wet Clothes
Many people come to the gym straight from work and have their work clothes on. So, it's important for them to carry a powerlifting gym bag, so they not only have a change of clothes to workout out, but also have room to keep their work clothes nearly organized, which they will wear again after the workout session is completed.
It's much easier to do all of this if you have a proper gym bag.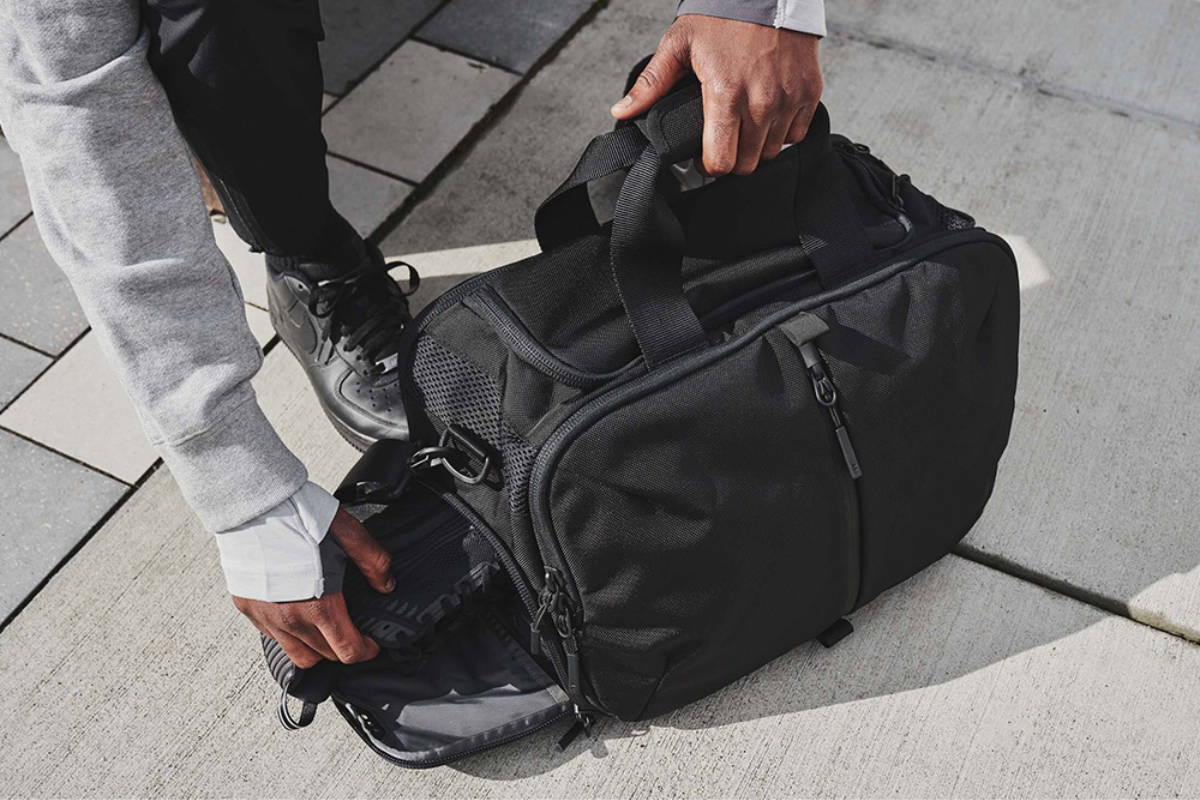 When Do You Need a Powerlifting Gym Bag?
If You're on a Time Crunch
As mentioned earlier, many people work out before or after work. If you're working out before, then you need a change of clothes, which can go in your gym bags. While, if you're working out after work, you may not have time to go all the way home first to grab all your belongings and to change your attire. It's much more time efficient to carry a gym bag that has everything you need.
Multifaceted Approach to Exercising
Many people tend to break up their lifting sessions into two or prefer to do cardio in one part of the day and lift weights in another. So, it's much easier to carry different sets of clothes and possibly different types of shoes in a gym bag. Along with other accessories, supplements, and equipment they might need.
Or if you're into different forms of exercising such as lifting weights, running, hiking, and different sports, it can be easier to have a single versatile bag that meets all your needs.
To Carry Your Accessories and Supplements
Many sports like weight lifting, powerlifting, and bodybuilding, require additional accessories to get a proper workout. This
includes
things like knee sleeves and knee wraps, wrist wraps, a weight lifting belt, chalk, and different types of lifting shoes. In addition, you might also have your pre-workout, creatine, and protein with you. Not to mention your simple water bottle and any additional food that you might need.
If you're someone who uses a lot of these accessories and supplements, it's a necessity to have a powerlifting gym bag.
What to Look for in Powerlifting Gym Bags?
The size of a powerlifting gym bag depends on how many accessories you're planning on using. If you're someone who needs a lot of accessories, then a large gym bag will do. Especially if your accessories include things like running and lifting shoes or a few different weight lifting belts as they take up more space.
For your average lifter, a medium gym bag should be plenty. A medium gym bag is about 21 inches and can carry most of your necessary belongings.
And if you're someone who requires almost nothing additional when lifting, you can do with a small gym bag like those with a drawstring. Here you can keep your basics or an additional set of clothes.
Material and Color Palette
Gym bags come in various materials. Your typical options will be nylon and cotton, with the occasional leather bag. Nylon bags are generally considered very durable and cost-efficient. While a cotton bag tends to have a more unique look and comes in various different colors. Some people can even use their cotton bags as their everyday bags, too.
While leather bags are the most durable, they also happen to be more expensive. Plus, you can't throw leather items into your washer, which is a necessity because your bag will be full of sweat that will need regular washing.
Your average powerlifting bag will simply have one giant open space in the middle with an additional outer pocket and a side pocket for your water bottle. But there are bags that come with a variation of pockets as well. These variations can include a separate space for your shoes or smaller areas to store your chalk or wraps. And even ways to keep your dry clothes from touching your wet clothes.
Of course, the more unique and functional a bag is, the more it will cost. So, you have to decide for yourself what is necessary for your needs and what isn't.
Multifunctionality can be a big selling factor with bodybuilding gym bags. This can be as simple as having both a shoulder strap and a handle to carry the bag. To having enough space for other sports equipment or outdoor activities like hiking. Also, as mentioned above, you can get gym bags that look sleek enough to use in your everyday life as well. Just make sure to clean them properly and consistently.
The price and quality of a bodybuilder gym bag go hand-in-hand. The higher the quality, the higher the price point. There are those bags that are able to blend these two important factors, too. A typical powerlifting gym bag will cost somewhere between 50 to 100 dollars. But you can reliably purchase these bags as long as their material quality is high and offer unique perks and pockets.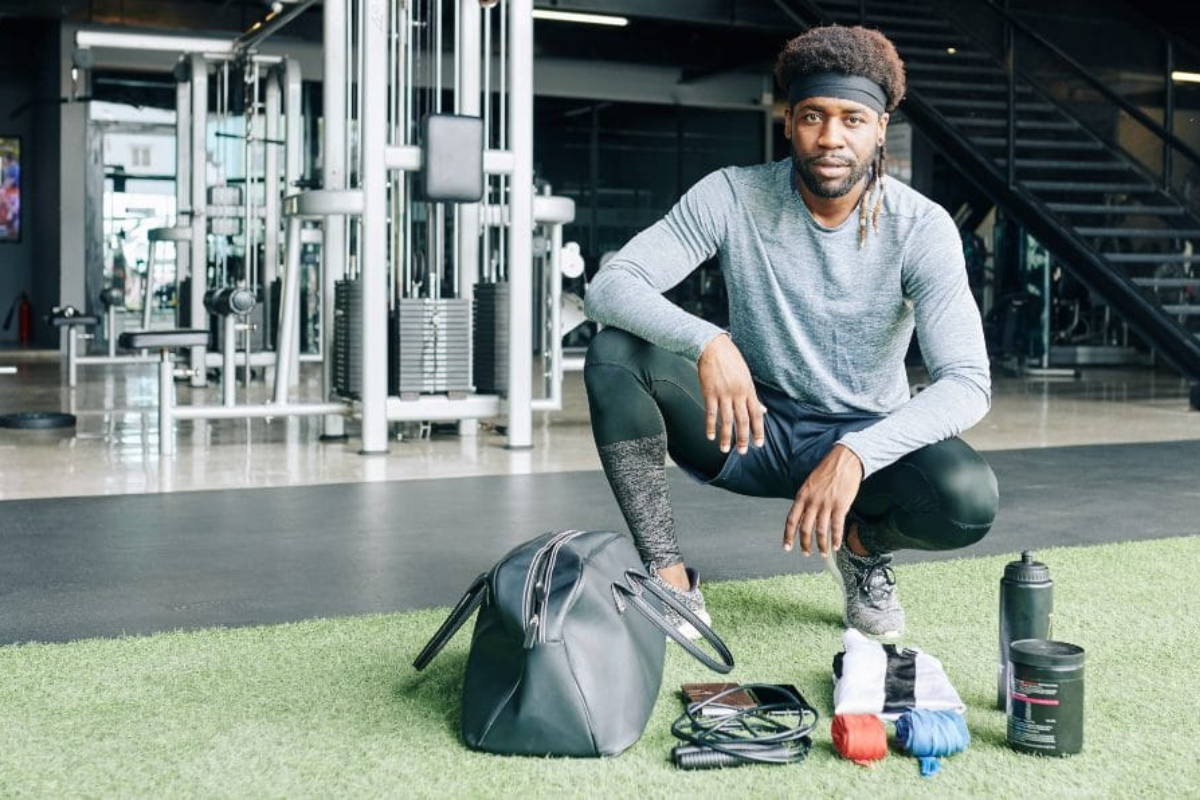 Why do people use gym bags?
There are several reasons why someone might use weightlifting backpacks. First is obvious, it's much easier to carry all your belongings if you have a gym bag. Another reason might be to have fewer things to do before your workout session. If you have all your things ready to go in a bag, you don't have to worry about finding them right before your workout. Lastly, there are hygienic reasons to use your gym bag too.
What is the Difference Between a Gym Bag and a Duffle Bag?
There isn't a great difference between the two. Many people use a duffle bag as their primary gym bag. The main difference is the shoulder straps and handles. A duffle bag comes with a single shoulder strap or two handles. While other gym bags can be worn on both shoulders. Plus, gym bags are likely to have more compartments and pockets compared to a duffle bag.
Can I Use a Backpack as a Gym Bag?
Yes, you can use a backpack as a gym bag. However, this depends mainly on how many things you need for your workout. A traditional backpack might not have the ideal space or storage to carry all of your accessories, especially if you require different shoes and belts for your workout. But if you don't need too many things and just need a bag to carry the basic stuff, a backpack works perfectly fine.
For the best weightlifting gym bags, you want to weigh the material quality of the product against the price point. Additionally, see how many compartments and pockets the product is offering and how many of those are uniquely valuable to your needs. Plus, versatility is always good. So, can you use the bag for other purposes as well?
The Bear KompleX gym bag fits these criteria the best as it's made of high-quality material with plenty of tactical space and can be used for several purposes.
What accessories are a necessity for your workout? What do you specifically look for in a gym bag? How important is versatility in a gym bag to you?
Let's discuss all of this and any other questions you might have in the comment section below!
Gym Etiquette: Why Some People Carry a Small Gym Bag While They Work Out // Live Well 360:
https://www.livewell360.com/blogs/lw360/gym-etiquette-why-some-people-carry-a-small-gym-bag-while-they-work-out
What's In The Bag: 9 Essential Items To Pack In Your Gym Bag // Gunsmith Fitness: https://gunsmithfitness.com/blogs/news/what-s-in-the-bag-9-essential-items-to-pack-in-your-gym-bag
My name is Oleksiy Torokhtiy. I am a professional athlete with 20 years of experience in Olympic weightlifting. I have won multiple European, and World titles and have taken part in two Olympic Games (Beijing 2008, London 2012).
After finishing my career, I have committed myself to coach, and as of 2022, I've hosted 200+ weightlifting seminars all over the globe. I'm the founder of an international sportswear and accessories brand, Warm Body Cold Mind (my motto), author, and creator of a series of training programs and eBooks.