The amazing feats of calisthenics require minimal equipment, unlike other types of strength training. If you still find yourself frequently hitting parallel bars and ladders in the park, save up some time and check out this expert-vetted selection of the best parallettes for calisthenics. These small bars will allow you to do a plethora of exercises from the comfort of your home.
In a hurry and can't keep reading? How about you check out the ROGUE Bolt Together Parallette Set.
Rogue's redesigned calisthenics parallettes feature new rubber feet that provide stability and eliminate the need for a connecting cross-member, allowing for quick and easy width adjustments, while the rubber caps ensure grounded stability during dynamic movements and protect the floor.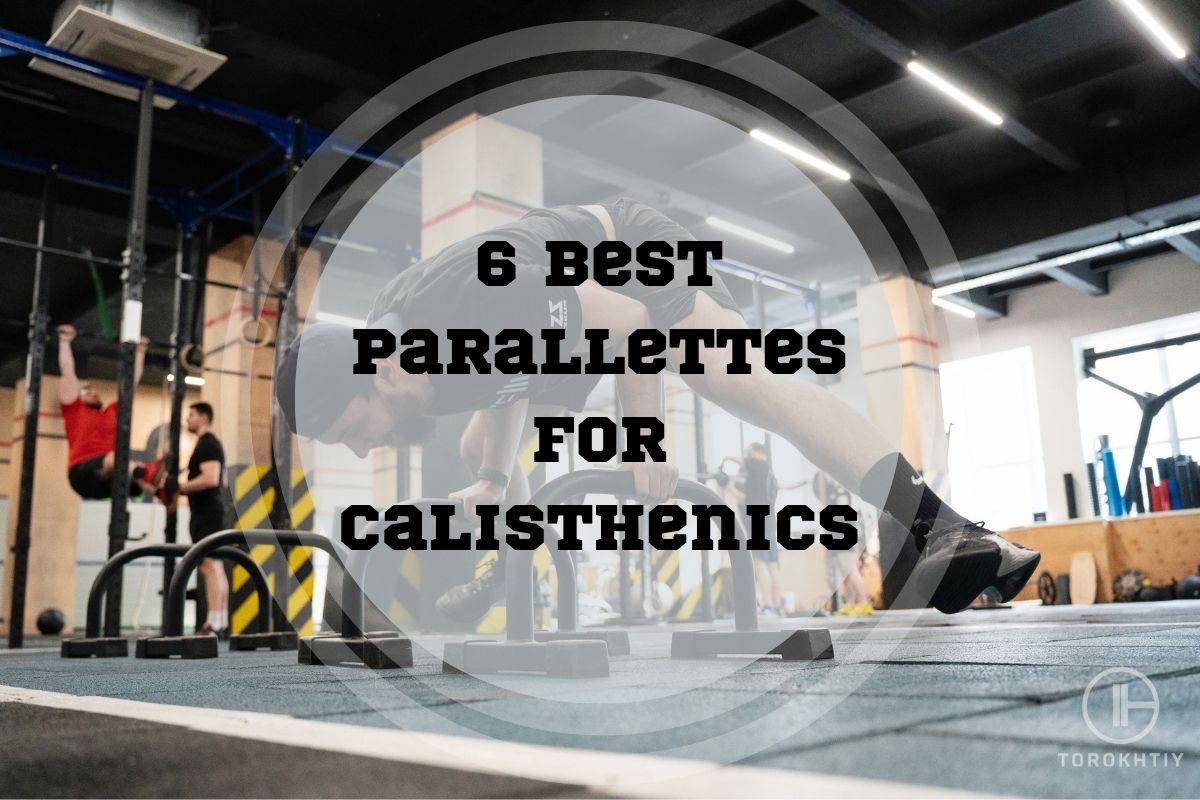 Top 6 Best Parallettes for Calisthenics Reviewed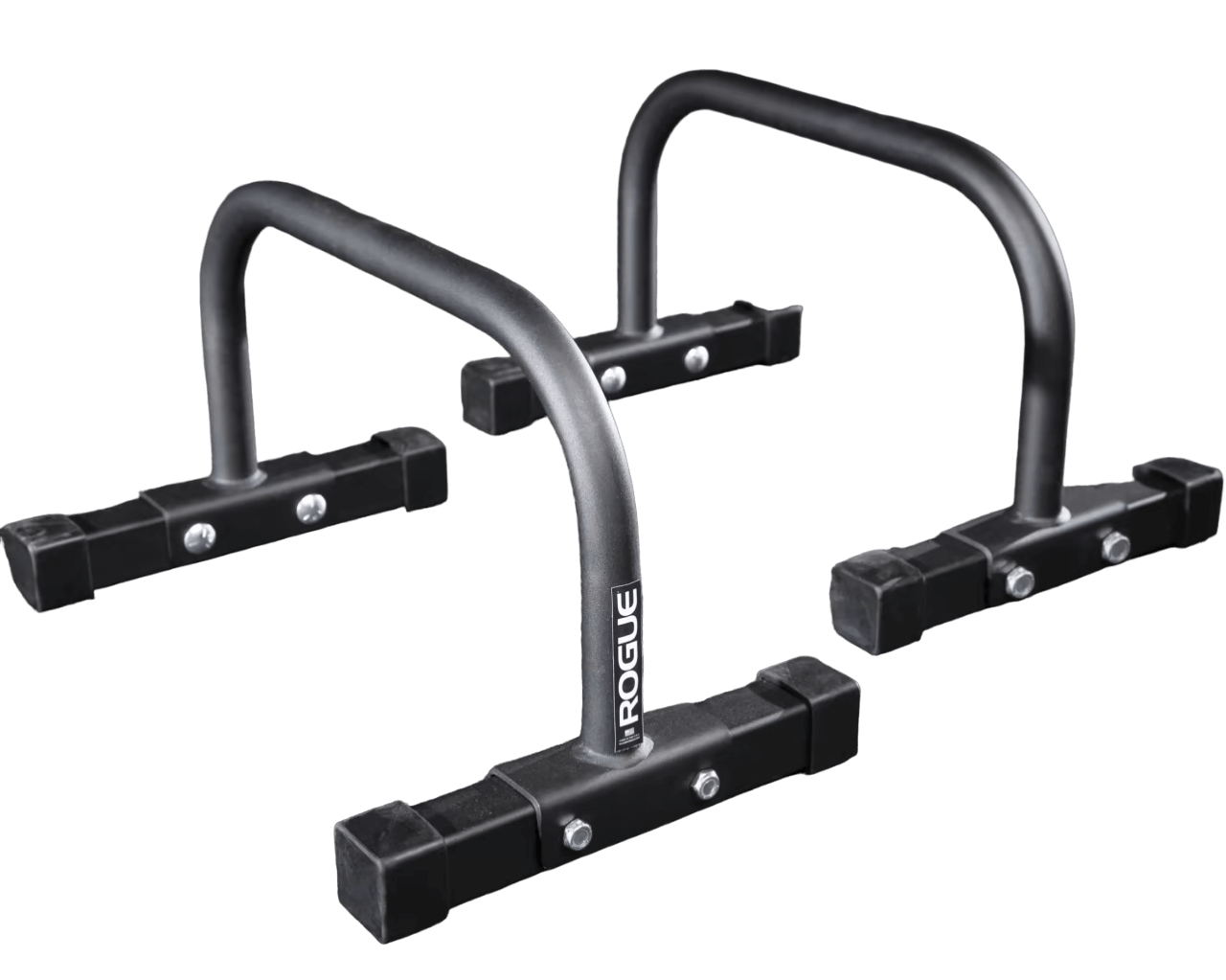 Rogue, the Ohio-headquartered fitness equipment seller, enjoys an unparalleled reputation. Keeping the manufacturing unit in the US, its products have stood the test of time.
Material: 11-gauge steel

Dimensions: 24" L x 15" W x 14" H
Product Weight: 32 lb
Grip: 1.5" diameter, rough-textured U-shape handles
Additional Features: Protective rubber feet, Black powder coat finish, Instant width adjustment
Rogue has redesigned its classic parallettes for calisthenics with new rubber feet. The need for a connecting cross-member has been eliminated. It enables quick adjustments to your preferable width. In older variants, you had to take the constant hassle of removing and reinstalling the bar in order to switch the distance between stands.
Not to say, this simplicity has traded stability. Rubber caps stay grounded under the heaviest of dynamic loads while protecting your floor as well. You can throw in infinite L-sits, dips, planches, and handstands without worrying about toppling over.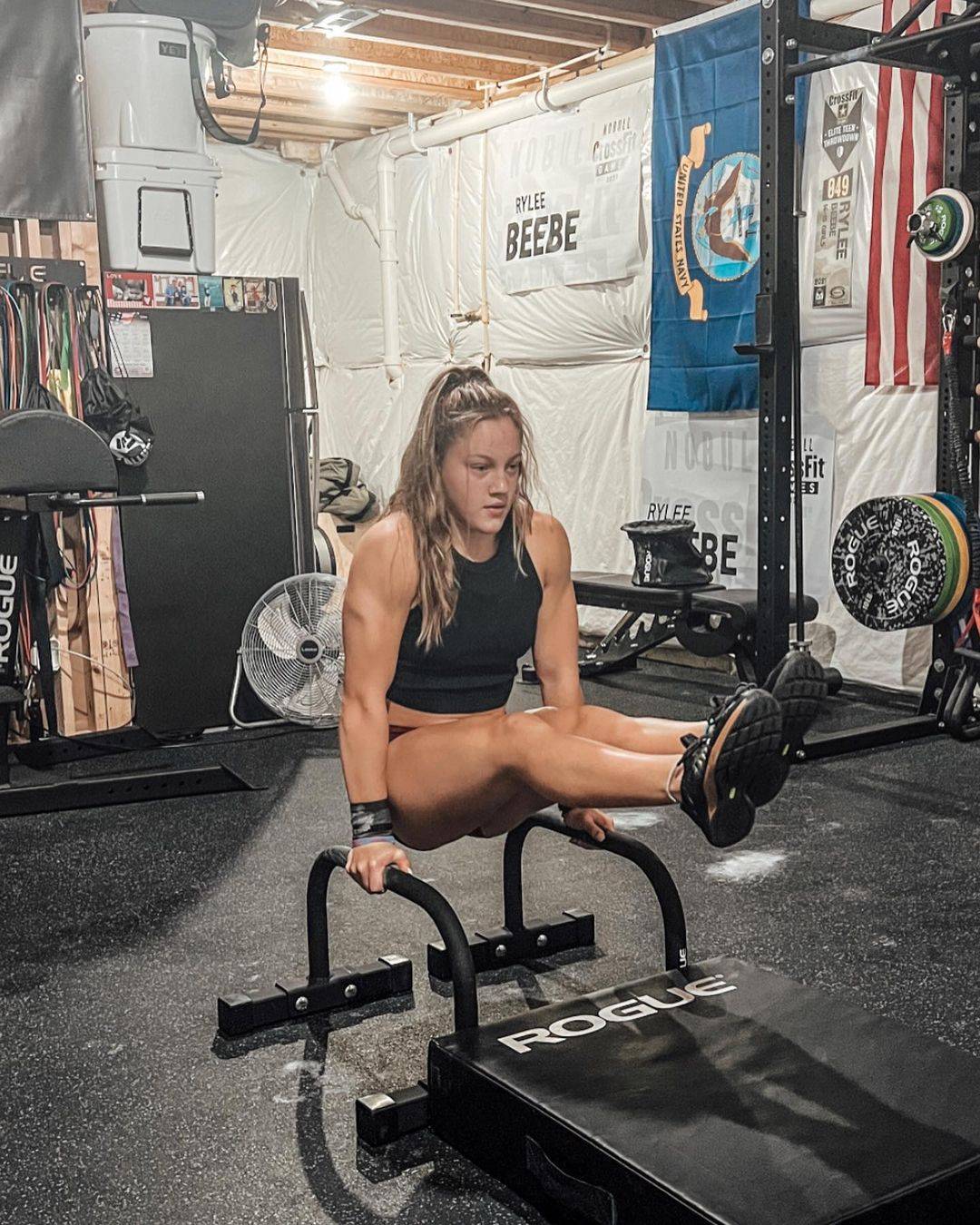 We get to see precision-engineered construction. Bases are 2x2" 11-gauge steel which thickens around laser-cut joints and tapers off handles. The girth hits the bull's eye, where it neither cuts circulation nor demands superfluous grip strength. The remarkable black finish only adds to the traction, from Rogue rings to Ohio barbells. Although versatile, a 24x15" footprint with an above-average height and weight isn't made for repeated relocation.

ROGUE's Parallette Set is meticulously crafted with sturdy steel bases, tapered handles, and a non-slip black finish, providing excellent grip and stability. Its larger size and weight make it less portable for frequent movement.
Feel stable enough for lifting

Secure feet around ankles well

Can be used for different workouts
Not the best choice for climbing the rope

Don't have a removable insole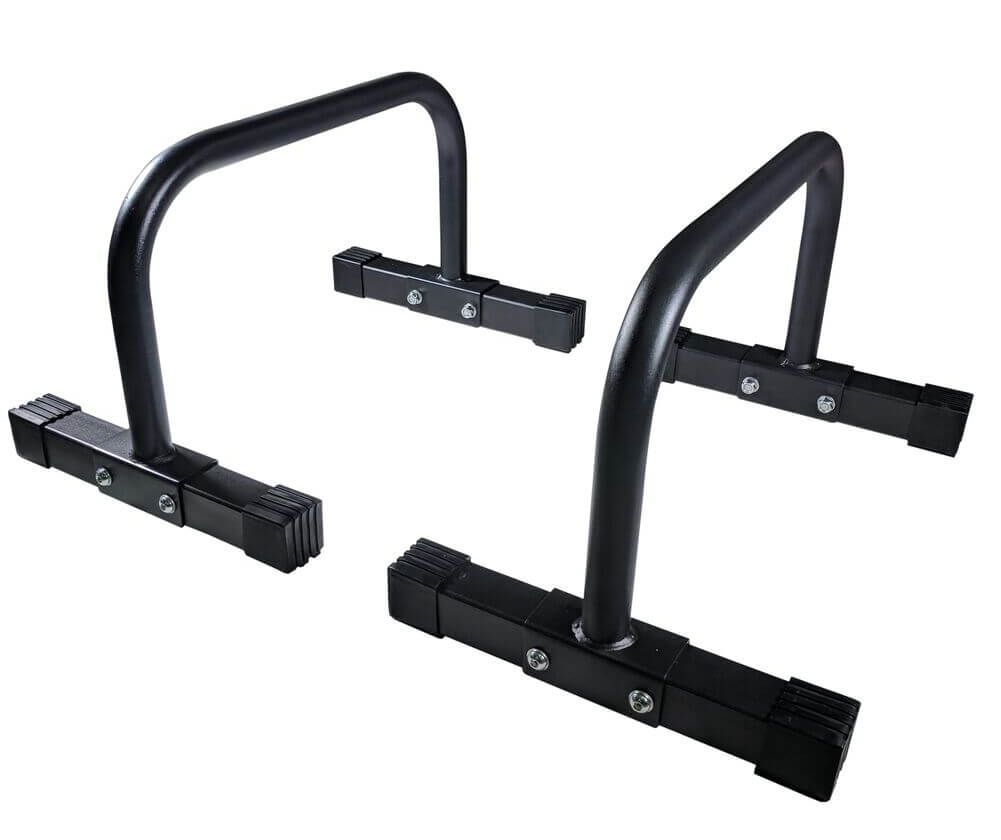 Titan Fitness is an established brand delivering high-value products to your doorsteps. Seeing it just behind Rogue shouldn't be surprising since Titan is often accused of copying designs.
Material: Steel

Dimensions: 24" L x 15.25" W x 14" H
Product Weight: 32 lb
Grip: 1.5" diameter, powder-coated U-shape handles
Additional Features: Protective rubber feet, Black powder coat finish, Instant width adjustment
Déjà vu? Not really! These bolt-together tall parallettes look like an almost replication of peers by Rogue. Among similar characteristics are stability-maximizing rubber feet and matte-black bent pipes. The feel, fit, and finish are all uncanny. The size and weight also shy away from making any major departure. Titan plays at cost, as its items are shipped from overseas. In short, you'll have the quality of Rogue at a significantly low price tag.
So what's the catch? The customer service!
Rogue manages a top-of-the-line support system. The hardware with Titan couldn't match that quality. Screws aren't labeled, and the accompanying manual is of little help. You better get your hands on a few professional wrenches to assemble it fast. If you don't mind a little effort and value long-term performance as well as affordability, you should consider this parallette set. It'll give you a one-year warranty and installment options on the website.
Titan Fitness provides an affordable alternative to Rogue's parallette set, offering similar features and performance, with the main difference being the customer service and assembly instructions.
Unbeatable quality in its price range; sturdy and slip-free

Free shipping and several payment options

Handles are custom-spaced and powder-coated to maximize stability
The manual only depicts the final assembled product instead of the parts and process of putting it together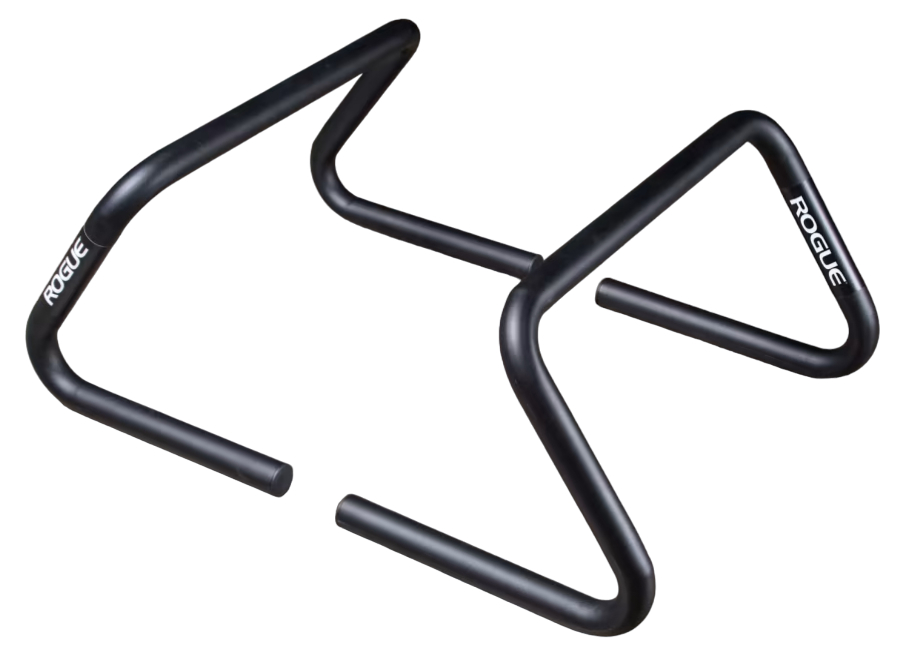 Rogue has taken a diverging yet amusing approach with this formed parallette set compared to the bolt-trough big brother, especially with design cues. Aesthetically, it's a true standout.
Material: 14-gauge steel

Dimensions: 23.5" L x 14.5" W x 13.5" H
Product Weight: 14 lb
Grip: 1.5" diameter, textured concave handles
Additional Features: Pre-assembled setup, Black powder coat finish, Instant width adjustment
The manufacturer promised to launch a less heavy and more portable variant of classic parallette bars. Now when the pair weighs less than half of traditional sets, it has created a viable choice for at-home repertoires of calisthenic enthusiasts. Formed is in a unibody construction with no movable or detachable parts.
As opposed to U-shape, its handles are slightly angled inwards from the top, endowing a unique appearance. Rogue's well-known textured coating on 1.5" steel tubing leaves no room for a wavering grip. Yet, the stability depends on the ground coverage of bases. You may sometimes feel a side-to-side wobble while inverted pressing. Point the feet away from you when the distance is wider. Make sure to correct your form and scale realistically.
A downgraded altitude makes it suitable for beginners who are yet to hone in an undoubted upper-body strength. High enough for chest dips; small enough to sneak under the bed! Also, you can employ them for hurdle training.
Rogue's Formed Parallette Set offers a unique design and portability, making it a versatile choice for calisthenics enthusiasts, especially beginners, with its stable construction and adjustable width.
A solid parallette set, weighing 7 lbs each and staying 13.5" above the floor, is the best portable choice

Versatile use in calisthenics, gymnastics, and agility training drills

An appealing, single-body concave design
Compared to Rogue Bolt-Together's 11-gauge steel, its 14-gauge construction renders some stability concerns while upside down.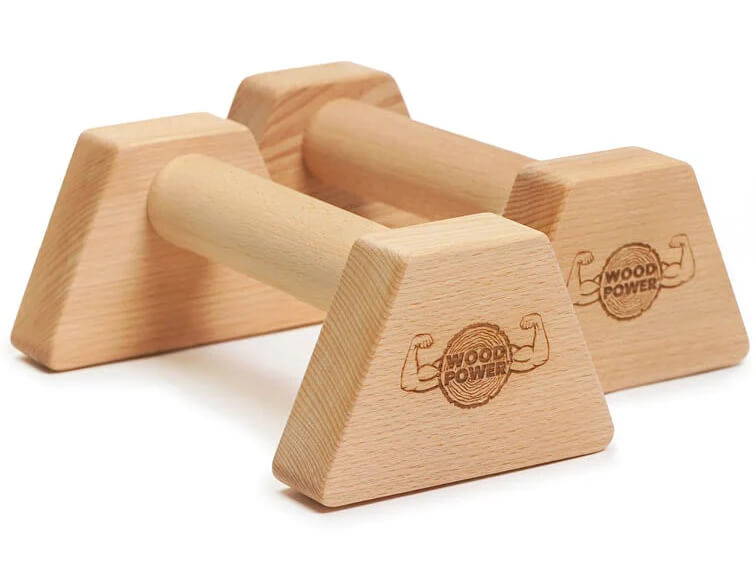 Woodpower brings a 100% natural and eco-friendly alternative to steel parallettes. These mini bars are free of any sharp edges, annoying protrusions, or cumbersome configurations.
Material: Beech Wood

Dimensions: 9.06" L x 5.51" W x 3.95" H
Product Weight: 2.87 lb
Grip: 1.5" diameter, lightly-oiled natural wood finish
Max Weight Capacity: 550 lb
Additional Features: Pre-assembled setup, Protective rubber feet, Instant width adjustment
Power Bars stand at the pinnacle of craftsmanship. They are made of a single-piece European hardwood block, laminated for superior strength and rigidity. No assembly or sanding is required! The pair supports up to 550 lbs, enough for explosive calisthenics. Feet have a thin silicone lining. Combined with a triangular structure, they stay firm whether your floor is tiled or carpeted.
Grips are comfortable to hold with a satin finish and ideal girth. The wood absorbs moisture. However, you'll have to regularly oil the shaft as per instructions.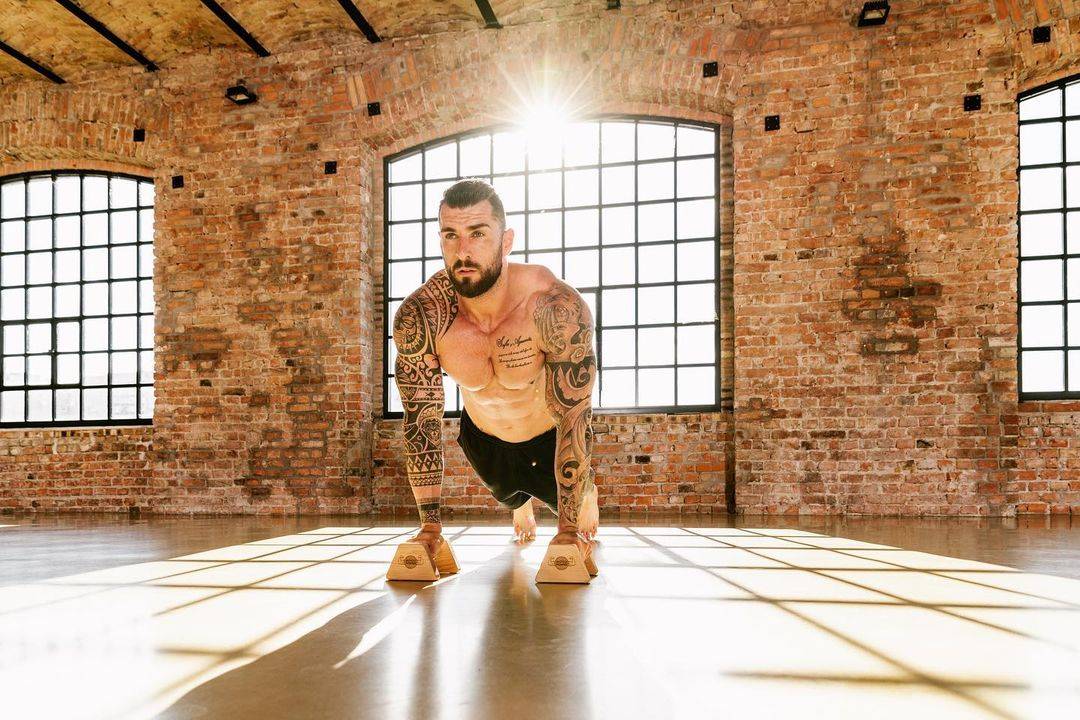 At 4" in height, these are essentially mini parallettes and push-up bars. You can pack them in a duffel bag to take outdoors since the sizing and weight are travel-perfect! Those with a wrist injury can do various exercises in a neutral grip position without overloading flexed hands. Shallow dips are also possible to an extent. If the bulk of your training regimen consists of upside-down, off-the-floor movements like planches – go for the XL variant.

Woodpower's Power Bars offer a natural and eco-friendly alternative to traditional steel parallettes, providing a pre-assembled and durable solution with comfortable grips and a compact design, perfect for various calisthenics exercises.
An all-natural, earth-conscious choice with a 1.5" diameter and 550 lb weight rating

Small, portable, and lightweight; suitable for travel

Great for push-ups, pilates, and several other exercises
Above 10" high parallettes are more effective for planches, handstands, and full-length dips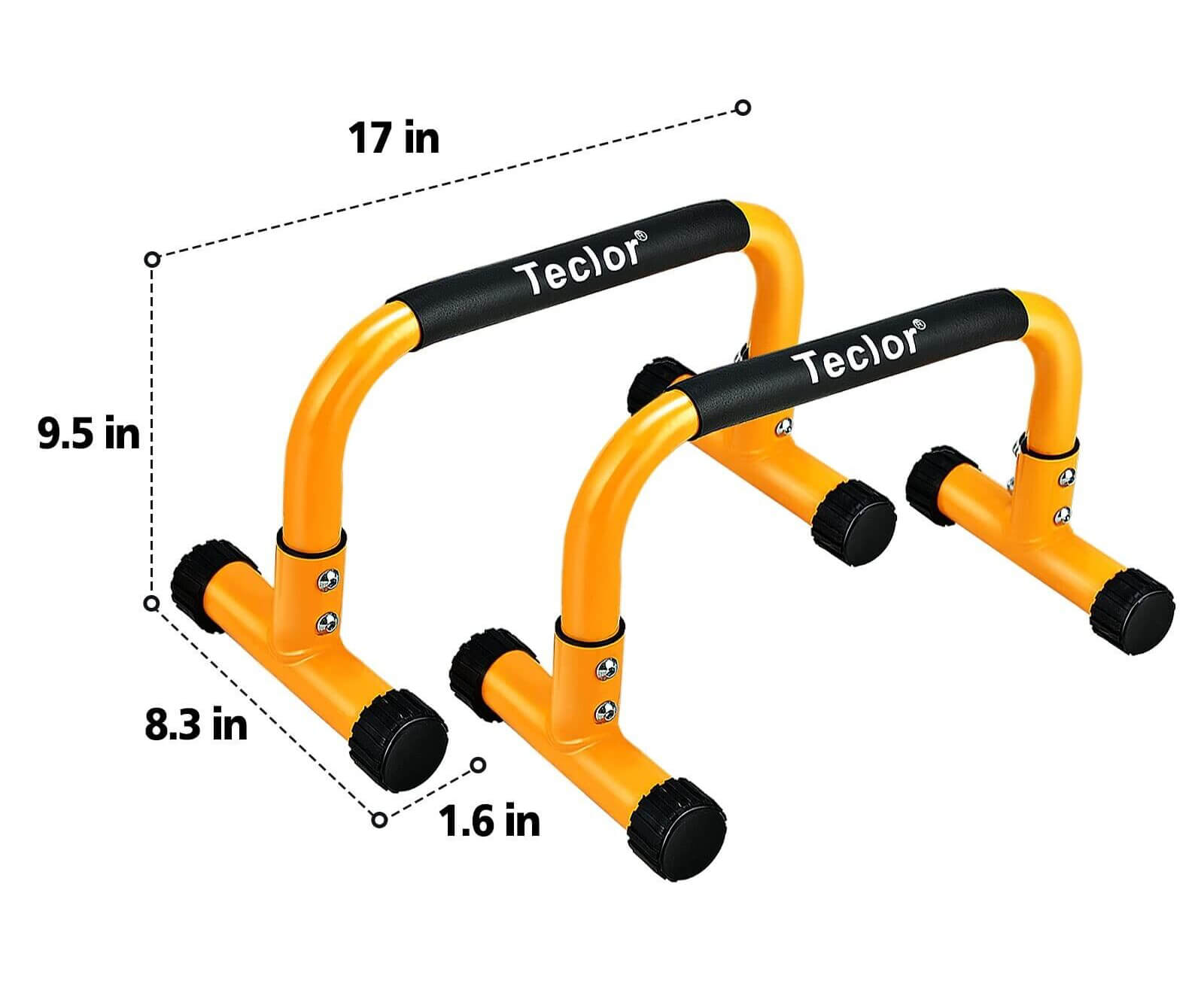 Teclor isn't a new kid on the block, lingering in the fitness industry for over 20 years. Opposed to the common theme of borrowing designs from leading companies, it has perfected its own capabilities.
Material: 2mm Steel

Dimensions: 17" L x 8.3" W x 9.5" H
Product Weight: 7.5 lb
Grip: 1.5" diameter, foam-covered U-shape handles
Max Weight Capacity: 660 lb
Additional Features: Protective rubber feet, Satisfaction guarantee, Instant width adjustment
TC-122 is carved of thin metal tubes, meticulously put together to boast 660 lb of load capacity – the same as Eleiko, at least on paper. It's not a typical bolt-together parallette. The bases look like an inverted T, and the handles are U-shaped! Both have twin holes on each side. You can either fit the original or elongated height (screw in the handle's bottom holes with the base's top grooves). In the case of the latter, stability is a little compromised.
Teclor came up with a genius idea of making soft rubber pads with different edge thicknesses. So theoretically, you can rotate them to adjust the balance on uneven surfaces. But it backfired in reality! All eight caps remain out of sync and unbalanced most of the time.
Top tube foam grips are sweat-resistant and anti-fatigue! The yellow school bus color gives these parallel bars an attractive look.
Teclor's TC-122 parallettes offer a unique design with adjustable height options and a sturdy construction capable of supporting heavy loads, although the rubber pads for balance adjustment may not perform as effectively as intended.
Medium-sized parallettes with adjustable 9.5" height

Budget-friendly, costing about one-third of traditional parallette sets

The cushioned grip is supple, soft, and sturdy, absorbing sweat and preventing slips
Not as solid and stable as our top picks due to the ultra-light construction

Leveling protective rubber feet is time-consuming, even more so on hard floors than on carpets or mats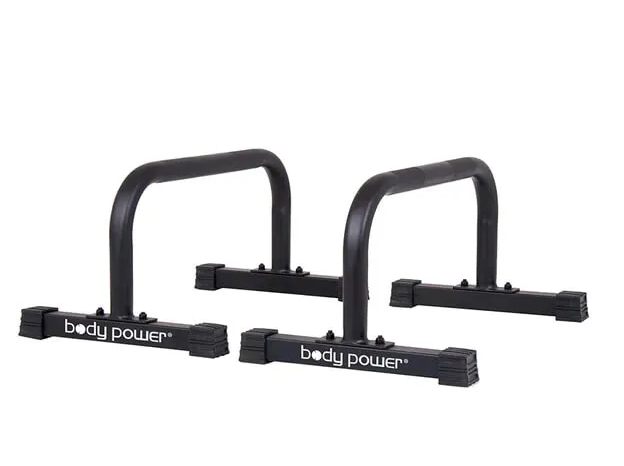 If you've done research on any fitness accessory, you're probably aware of Body Flex Sports. The family consists of top-tier cardio and strength conditioning brands like Body Power, Body Rider, and Body Champ.
Material: Stainless Steel

Dimensions: 24.41" L x 14.76" W x 11.81" H
Product Weight (Pair): 15.3 lb
Grip: 1.5" diameter, mildly-grooved U-shape handles
Max Weight Capacity: 380 lb (170 kg)
Additional Features: Protective rubber feet, Black powder coat finish, Instant width adjustment
Body Power waives its usual premium in this series, which contains elliptical trainers, steppers, and rig solutions. It sources ultra-clean, high-tensile steel from the West Coast and engineers these parallel bars with tight tolerances (up to 1%) at the platform of Hupa Manufacturing.
Both handles can withstand 380 lb of weight, which is not outstanding but sufficient by all measures. The black coating and hi-temp protective feet are also unique, as the manufacturer has otherwise trademarked chrome finishing and virgin rubber for decades. It hints towards a possible repositioning in the sprawling home gym market. However, the signature knurling has been grooved atop the grasp area. You won't miss chalk blocks or liquid grips.
Assembling or dismantling isn't a brain-teasing task, given that you have 15mm wrenches at home. Still, 12" high parallettes with a much wider profile make them difficult to move around and stow away. Bases remain stable and safe at most floorings. The altitude is also perfect to practice varied bodyweight exercises. Body Power translates to confidence; it nonetheless comes with a one-year warranty on indoor use.

Body Flex Sports offers the Body Power series, featuring high-quality parallel bars constructed with ultra-clean steel, a unique black coating, and protective feet, providing stability and a confident grip for a variety of bodyweight exercises.
Decent build quality with minute deviations allowed from given specs

Expansive, rubber-tipped feet hold on their own

The knurled barbell grip doesn't need chalk or liquid
Considerably less weight capacity

Not a small and lightweight piece; potential storage and transportation issues
What Are Parallette Bars?
Calisthenics parallettes are a pair of independent short bars that stand on a bigger footing for reliable and stable performance. They mostly run parallel to each other, saving a few variations. You can grip these bars and carry out a variety of bodyweight functional exercises.
Common materials utilized are steel, wood, and plastic. Due to their relatively flat size, you won't face any trouble storing or transporting them.
Why Do You Need Parallette Bars?
Should you choose to step into lifting, you'll chase a suitable free-weight set or an exorbitant gym membership.
On the other hand, a calisthenic practitioner is crazy for bars. You'll only miss a pull-up spot after investing in one or two good parallettes. That's an unmatched versatility! Plus, these are cost-efficient and expand the horizon of training possibilities. You won't only gather significant strength, but the cardiometabolic response to high-intensity bodyweight training is also stellar and often overlooked.
What Are the Benefits of Training With Parallette Bars?
Besides an immense variety and enjoyment factor in your workouts, using parallette bars impart several long-lasting effects too.
✅ Core and Upper-Body Strength
Your hands become an essential contact point all of a sudden. Training on parallettes polishes your gripping power alongside core stability. In case you don't know, a fragile grip is the earliest biomarker of overall strength. Maintaining control over the functional fitness of the body is the key to a healthy life. And parallettes conveniently drop that in your lap.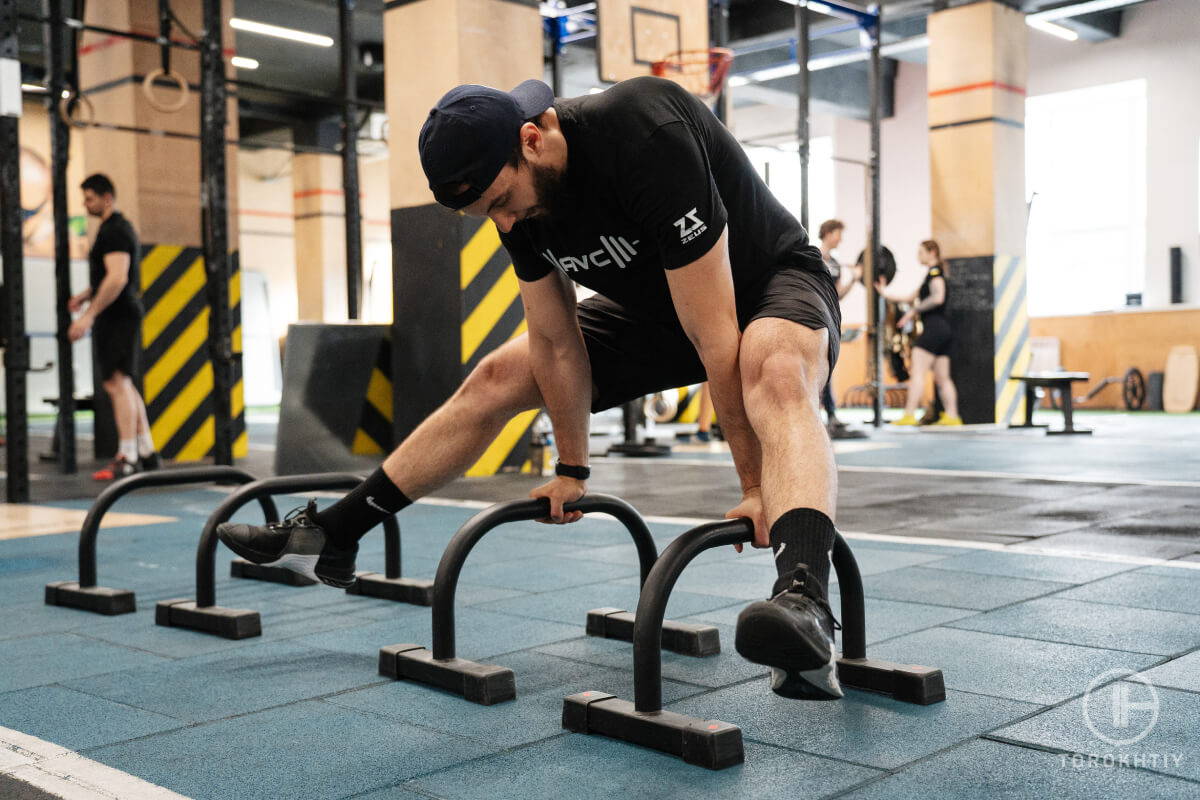 ✅ Reduced Risk of Wrist Strain
What's the upside of parallettes, in particular? After all, you can do push-ups and planks without bars. The thing is, you won't be able to do so with a hammer or neutral grip. Keeping wrists flexed or extended gives way to pain. The evidence suggests a twofold increased risk of carpal tunnel syndrome with a prolonged non-neutral wrist position.
What to Consider When Buying Parallette Bars?
Several factors go into determining the best parallette bars for you. It has to be built sturdy, stable, and safe. In addition, it must cater to your comfort, ensuring your hands don't slip or the platform doesn't shake.
The first consideration is the size. Parallettes are of various lengths and heights. At the outset, we have 3-4" high push-up bars. Handstand and planche bars have a medium size. Then, dip stations with over 12" height round out the list.
Steel and wood are two popular materials. The former is strong, while woods are lightweight, cheap, and naturally tacky. Some manufacturers have fused the two with steel bases and wooden handles. PVC is a new and untested material.
The greatest determiner of lifespan is, indeed, the choice of material. However, the way it is crafted and constructed also has a say. The simple rule is when a thing is too good to be true, it's more likely isn't!
The base-to-handle ratio and ground coverage look after stability. The greater these numbers, the more confidence you can have while hopping and swinging. Another feature is the grip. Steel parallettes are powder-coated to ward off erosion and slips.
One number you must seek is the weight rating. Ideally, it should be over 125% of your body weight. Some companies guarantee that handles can bear your weight without putting out definitive stats. It's reliable in the case of reputable brands like Rogue and Titan.
Portability has to do with the size. Push-up bars are more portable and travel-friendly than dip stations. Some can break down into pieces to ease storage. In essence, they all are flat and quick to lay under a bed or cabinet pretty easily.
Last but not the least, carry out a price/quality analysis so you don't get robbed or handed over a useless product. Brand reputation, customer reviews, financing options, and attached warranties work in favor of value.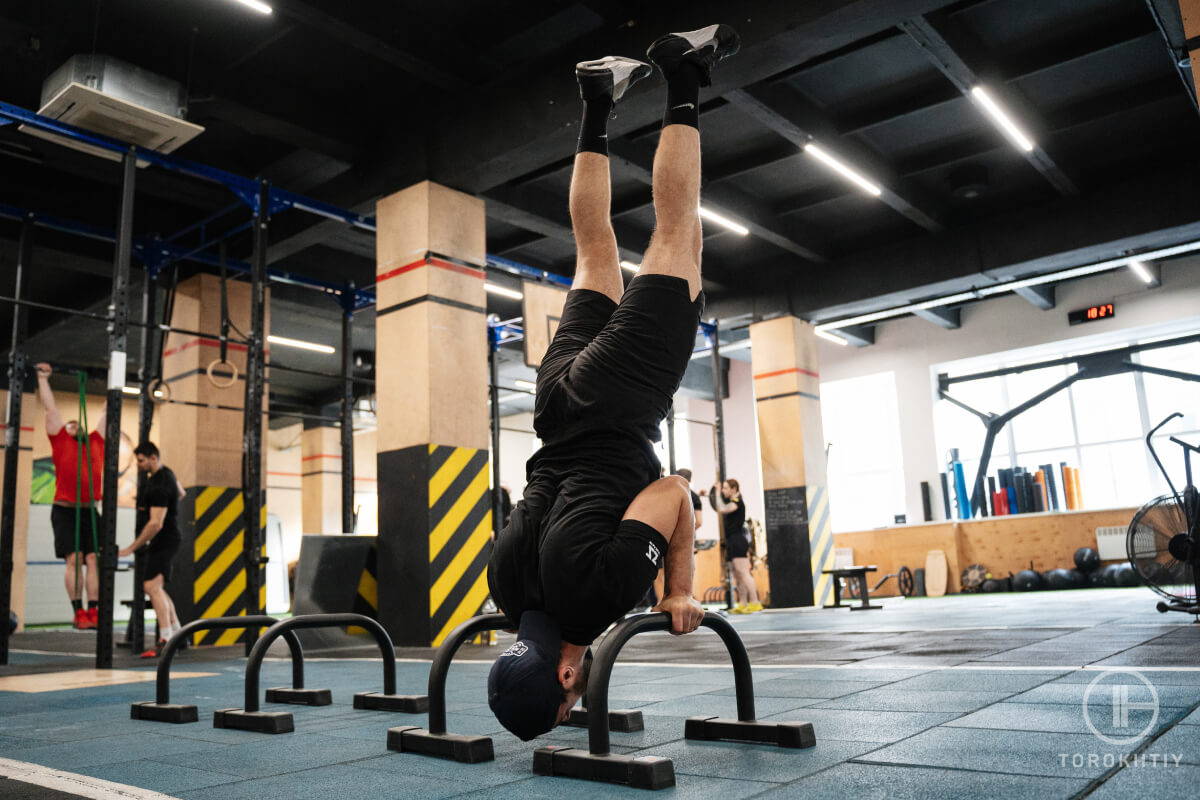 Calisthenics Parallette Exercise Options
Buying parallettes opens up endless possibilities. From amateurs to pros and gymnasts to cross training athletes, a pair is looked upon with respect by all. Here are the major exercises you can do with parallette bars. You'll find a lot of variations of each. Remember, professional supervision and guidance may be warranted.
Incline and Decline Push-ups
Arnold/Tricep Dips
Reverse Bridge
L-Sit and V-Sit
Knee Tucks
Pike Push-ups
Planche
Mountain Climbers
Handstand
Parallette Dips
Are Parallettes Good for Calisthenics?
Parallettes make up the heart of the calisthenic training arsenal – the most critical tool, to sum it up. They suit everyone, from beginners to professionals. The accessibility and versatility of this little piece of equipment are of no equal.
Are Wood Parallettes Better Than Metal?
Wooden parallette bars are better when it comes to grip. They have a natural give and coarseness that we have evolved to hold quite tight. Metal, on the flip side, is stronger and more versatile. You can have multiple sizes and shapes.
Should Parallettes Be High or Low?
There is no predefined height limitation for parallettes. Advanced athletes would appreciate a greater evaluation than ones just starting out. Afterward, your target regime decides. For example, a low rail is suitable for push-ups, not dips and planches. Therefore, many people stock up on two or more pairs for their calisthenic goals. Perhaps, parallettes have stirred a high vs. low debate, reminiscent of Nike Dunk Shoes.
The first (and most probably, the only) equipment you'll need to outfit your calisthenics space is parallette bars. Research shows you need endurance, strength, balance, and flexibility training. Parallettes apply to all exercise types, training modalities, and sports genres.
Our search for the best parallettes for calisthenics introduced us to Rogue Bolt-Together. It has just the right type of size, drive, and price.
The bulky grizzly body fever is gradually fading. People are striving to be more mobile and lean. Have you ever done bodyweight functional training? If so, what's your favorite move that makes you groove?
The Acute Physiological and Perceptual Responses Between Bodyweight and Treadmill Running High-Intensity Interval Exercises // Frontiersin: https://www.frontiersin.org /articles/10.3389/ fphys.2022.824154/full
The effects of a calisthenics training intervention on posture, strength and body composition // Researchgate:

https://www.researchgate.net /publication/317321468_ The_effects_of_a_calisthenics _training_intervention_ on_posture_strength_ and_body_composition

Grip Strength: An Indispensable Biomarker For Older Adults // NCBI: https://www.ncbi.nlm.nih.gov /pmc/articles/PMC6778477/
Meta-Analysis: Association Between Wrist Posture and Carpal Tunnel Syndrome Among Workers // Sciencedirect: https://www.sciencedirect.com /science/article/pii /S2093791114000043
Effect of Progressive Calisthenic Push-up Training on Muscle Strength and Thickness // LWW: https://journals.lww.com/nsca-jscr/Fulltext/2018/ 03000/Effect_of_ Progressive_Calisthenic _Push_up_ Training.9.aspx
Muscle Activation during Push-Ups with Different Suspension Training Systems // NCBI: https://www.ncbi.nlm.nih.gov/ pmc/articles/PMC4126284/
Four Types of Exercise Can Improve Your Health and Physical Ability // NCBI: https://www.nia.nih.gov/ health/four-types-exercise-can-improve-your-health-and-physical-ability
With over 20 years in Olympic Weightlifting, our team does its best to provide the audience with ultimate support and meet the needs and requirements of advanced athletes and professional lifters, as well as people who strive to open new opportunities and develop their physical capabilities with us.
All products we select are primarily approved and tested by the Olympic Weightlifting Champion Oleksii Torokhtiy. Under his guidance, we provide honest and reasonable assessments of the products we review by checking their characteristics, packaging, design, comfort and durability features, and general product rating. We select products from only high-quality and trusted sports brands, thus vouching for their quality.
The product testing process is described in more detail here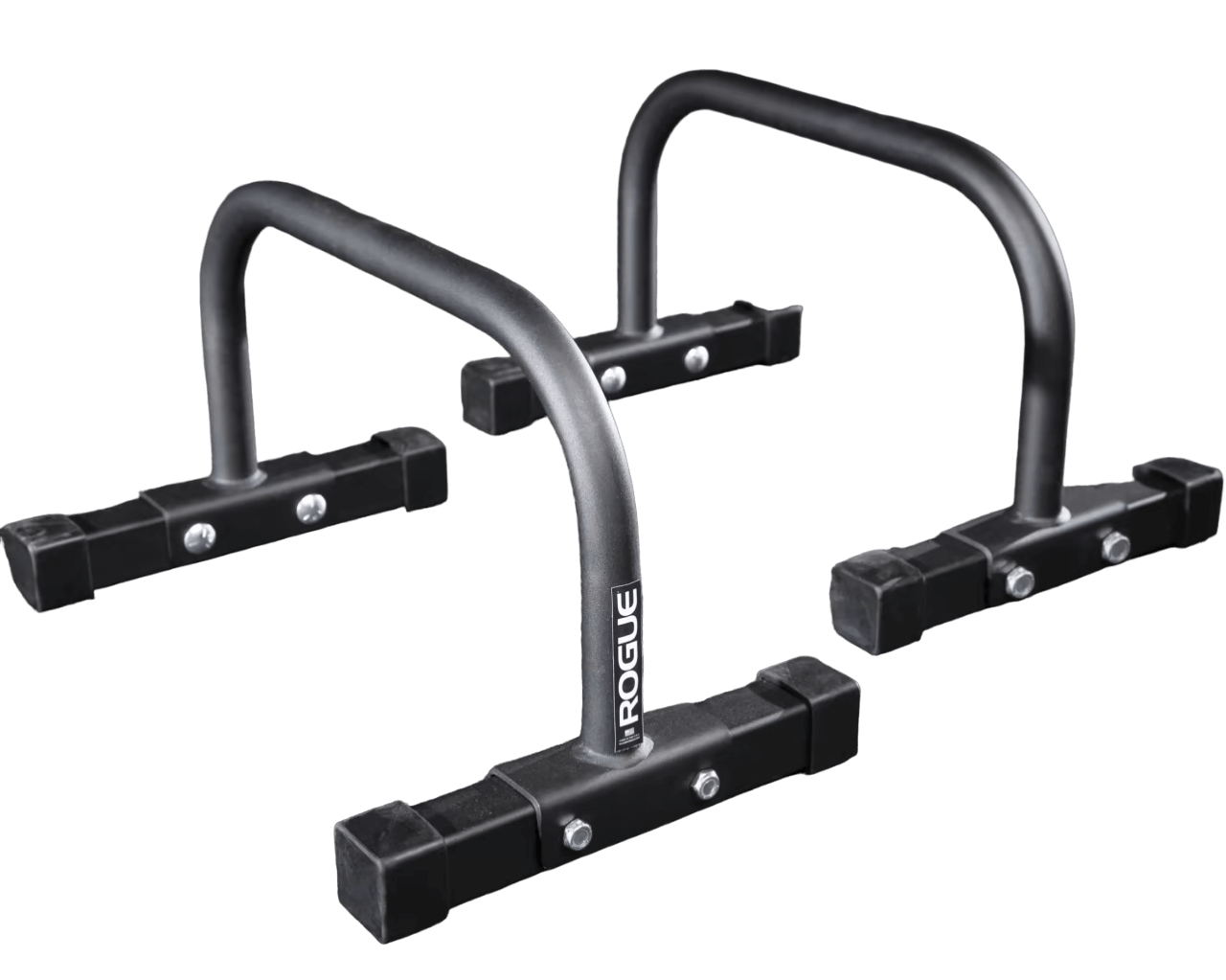 Coach, PRO Olympic Weightlifter
Experience: 26 years
Best Results: Snatch - 208 kg,
My name is Ihor and I have been a professional weightlifter since 1996. With over 20 years of competition experience, my resume includes European Champion in 2009 and the silver medalist at 2011's Senior World Championships – 105kg division.
I competed at the 2008, 2012 and 2016 Summer Olympics.
After hanging up my own competitive lifting shoes, I decided to share my huge background as a coach. I am currently coaching multiple athletes who are competing at national and international competitions.
Olympic Weightlifting Champion
Experience: 21 years
Best Results: Snatch – 200 kg,
My name is Oleksiy Torokhtiy. I am a professional athlete with 20 years of experience in Olympic weightlifting. I have won multiple European, and World titles and have taken part in two Olympic Games (Beijing 2008, London 2012).
After finishing my career, I have committed myself to coach, and as of 2022, I've hosted 200+ weightlifting seminars all over the globe. I'm the founder of an international sportswear and accessories brand, Warm Body Cold Mind (my motto), author, and creator of a series of training programs and eBooks.
If you have any questions/suggestions/any other inquiry, you can reach out to us via email - reviews@torokhtiy.com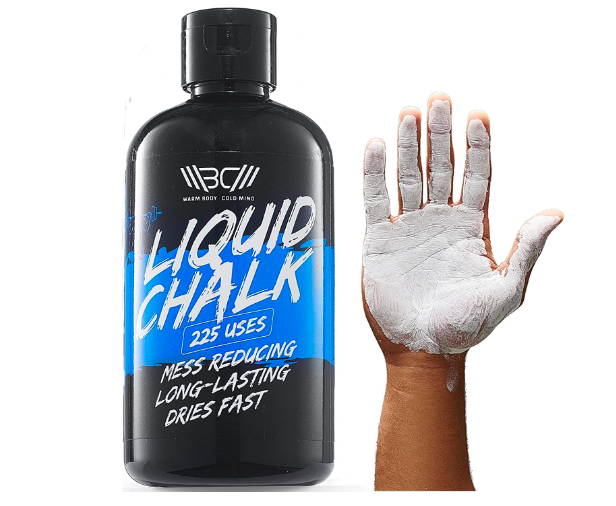 This article was written by our qualified author and proofread by expert with proven experience. When writing the article we use our expertise and data from open sources with strong reputation, scientific or medical based. The list of references is provided at the end of the article.
Our team of authors and experts includes professional athletes (Olympians, winners of European and World titles) PhD in Sport Science, certified coaches, sports nutritionists, CSCP, physiotherapists and other. Read more about the team here, and more about how we test here.