Looking for the best leg extension machine to level up your leg game? Look no further! I've been on an epic quest for the best one, and I'm here to share my findings with you.
In a hurry and can't keep reading? How about you check out the Titan Fitness Leg Extension and Curl Machine V2.
The Titan Fitness Leg Extension and Curl Machine V2 is a convenient and adaptable two-in-one home gym equipment for leg curls and leg extensions, with adjustable features for effortless use and a comfortable fit.
In this article, I'll dive deep into the world of leg extension machines (sometimes it's also called a hamstring extension machine), exploring the top contenders that will leave your quads quivering with delight. So, gear up and get ready to discover the ultimate machine that will take your leg workouts to heroic heights.
From sculpting powerful quads to building bionic strength, I've got you covered. Prepare to unleash the beast within and dominate the leg extension game like never before. Let's find the best leg extension machine that will have you shouting, "Leg day? More like leg slay!"
Let's start those extensions!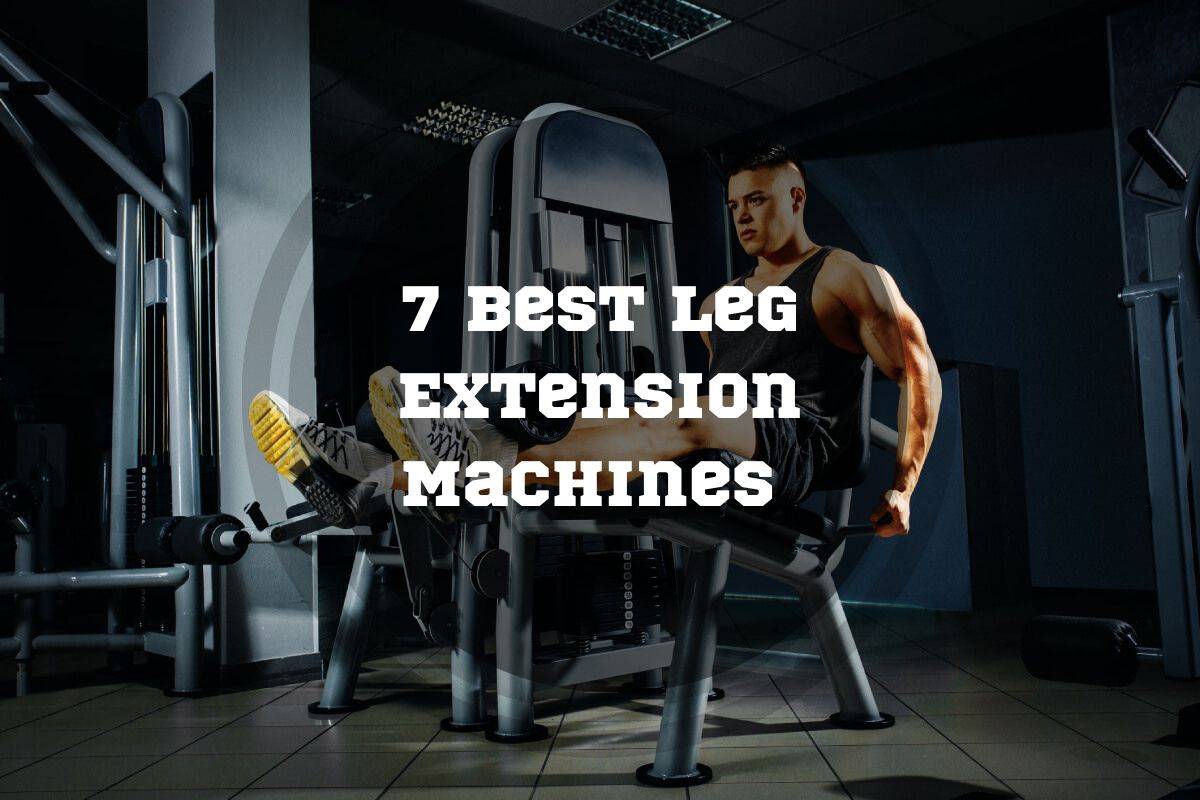 Top 7 Best Leg Extension Machines Reviewed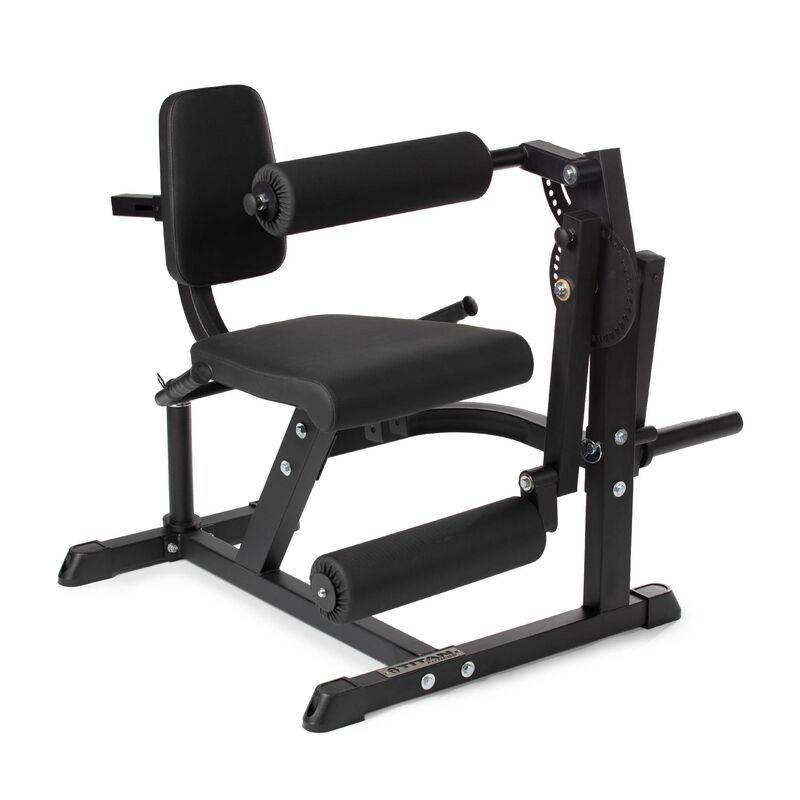 Item weight: 108 lbs
Backrest Adjustability: 7 seat depth positions and 3 seat angle positions
Material: 11-Ga. Steel (frame) and HeftyGrip Vinyl (upholstery)

Weight Limit: 300 lbs
Item Dimensions LxWxH: 36'' x 42'' x 39''
Warranty: 1-Year
The adjustable thigh pad design is a game-changer, making it super easy to get in and out of the machine with efficiency.
One of the things I love about this machine is the adjustable seat depth and angle positions, which cater to athletes of all sizes, so I don't have to worry about awkwardly adjusting and fumbling around to find the right fit.
The rotary leg clamp mechanism and pop pins make adjusting the settings to my desired position a breeze. The full range of motion this machine provides ensures a challenging and effective workout every time.
Switching from leg curls to leg extensions is super easy, thanks to the convenient weight post-flip feature. It's like having two machines in one!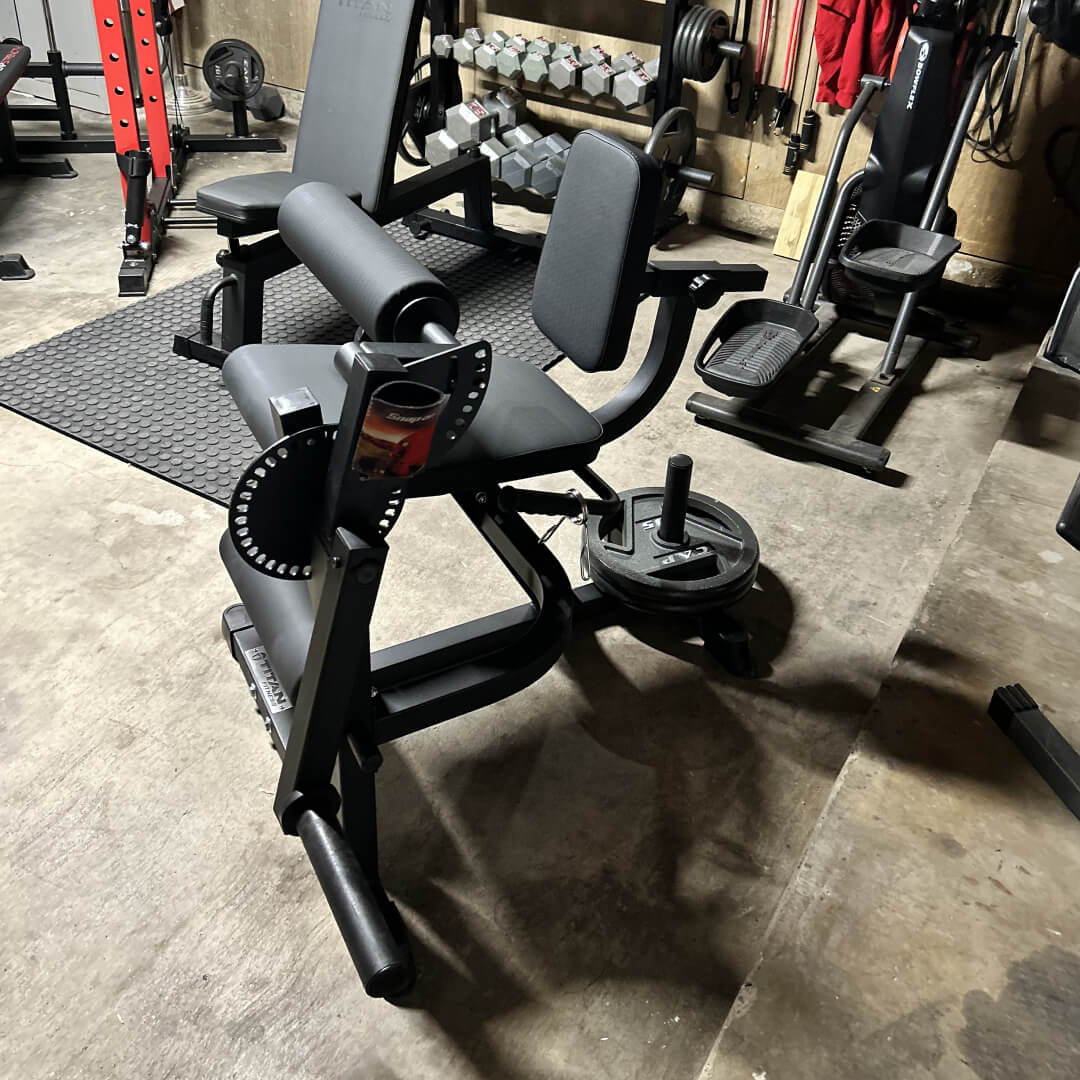 Crafted with a sturdy rotary leg clamp mechanism, this machine locks your thighs in place, allowing for secure and stable reps. And let's not forget the foot roller starting position, which can be easily adjusted to accommodate different leg lengths.
Overall, this plate-loaded leg extension curl machine is a winner in my book, but it does come with some disadvantages. The thing that I found underwhelming is the weight capacity at 300 lbs, it holds much less than some of the cheaper machines on the list. I can also see the price being bothersome, but keep in mind that this is a top-quality machine that will last you very long and give you the best home workout experience.
The Titan Fitness Leg Extension and Curl Machine V2 is a versatile and durable home gym equipment for leg curls and extensions, offering adjustable settings and a sturdy design for a satisfying workout experience.
(Show More)
Super easy to switch from curls to extensions

Accommodates athletes of all sizes

2nd most compact machine on this list; great for small places

The product weight of 108 lbs makes it stand solid regardless of the workout performed
Second most expensive leg extension machine on this list

Only 300 lbs weight capacity is tied for the lowest on this list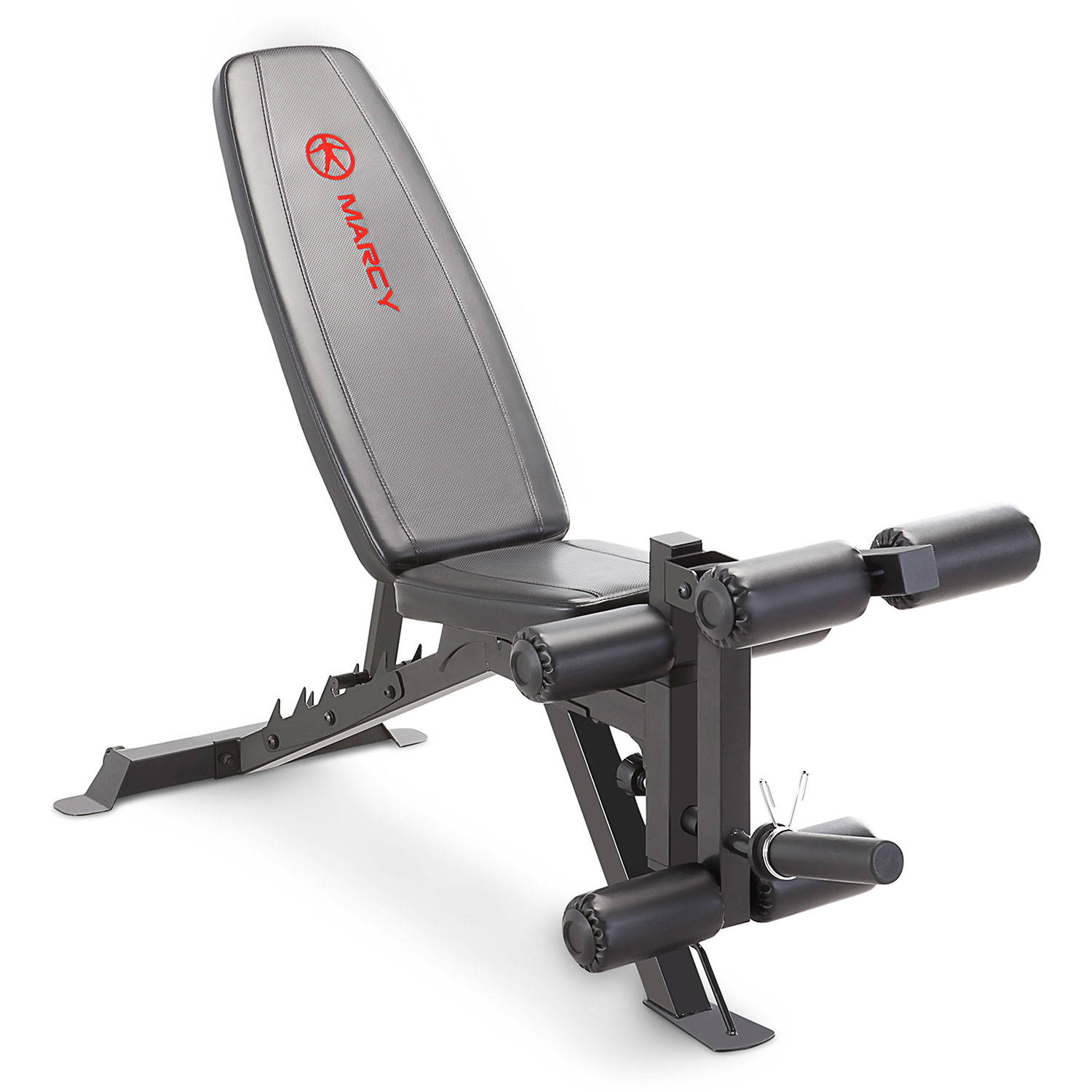 To say that the Marcy Adjustable 6 Position Utility Bench is impressive would be the understatement of the century, it's a real heavyweight in the world of utility benches! Our runner-up offers some impressive features and is great value for your money.
Item weight: 48.4 lbs
Backrest Adjustability: The back adjusts from incline to flat to decline (76 degrees, 54 degrees, 38 degrees, 21 degrees 0 degrees, and -27 degrees)
Material: 600 lbs

Weight Limit: 300 lbs
Item Dimensions LxWxH: 64.5'' x 23'' x 42''
Warranty: 2-Year limited warranty
Despite being incredibly light at just 48.4 lbs, this seated leg extension machine packs a punch with its impressive maximum weight capacity of 600 lbs. I don't have to worry about the weight of my equipment and can easily use whatever weights I want with it.
One thing that really stood out to me immediately upon receiving it is how easy it is to move this bench around. With the built-in wheels, I can effortlessly roll it from one spot to another without breaking a sweat. And when I'm done with my workout, the foldable design makes it simple to store away, saving precious space in my home gym.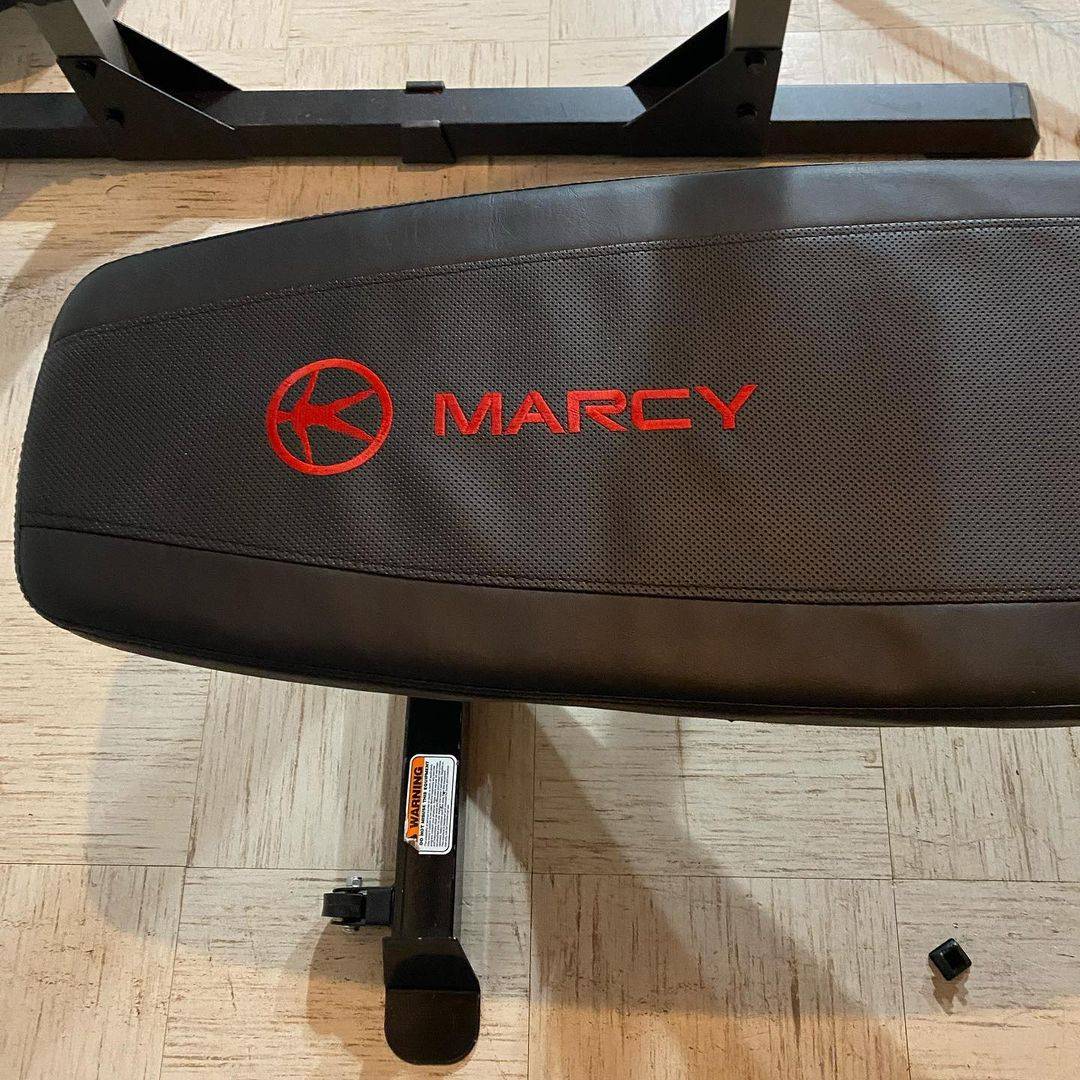 The 6 back bench positions offer a wide range of options for targeting different muscle groups and adjusting the intensity of my exercises and I particularly enjoy the height-adjustable seat. As someone who has tried quite a few machines, I would like to see a tiny bit more versatility with adjusting the bench positions and the seat angle, but for the price, you really can't complain. This leads me to my next point - the price! Wow!
You get fantastic value for your money with this bench. Not only is it light, easily moveable, and can withstand an impressive amount of weight, it's less than half the price of some of the higher-end models. If you're looking for a high-quality machine that won't break the bank, this is the one for you!
The Marcy Adjustable 6 Position Utility Bench is a versatile and affordable home gym equipment with a high weight capacity, making it a top choice for quality workouts on a budget.
(Show More)
Very light at only 48.4 lbs

Easy to move around and store

Most affordable piece of equipment on this list

2 years is the highest warranty provided compared to others on this list
Not as versatile as some of the higher-end models

Rather big and might not fit smaller spaces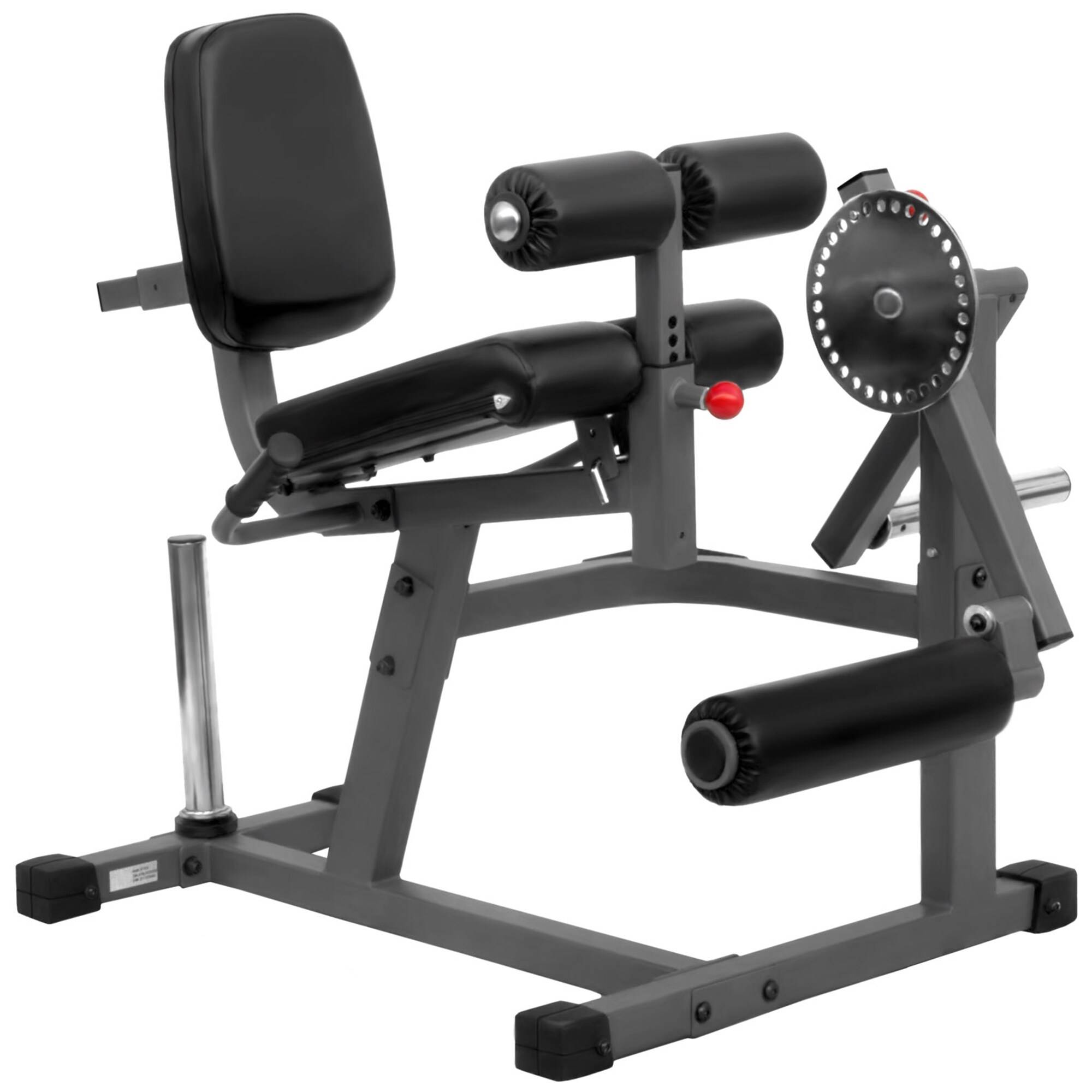 Upon seeing the specs of the XMark Leg Exercise Machine, my expectations were high. The level of versatility immediately caught my attention, and I knew that this was something I just had to try out.
Item weight: 136 lbs
Backrest Adjustability: Fully adjustable 8-position backrest pad
Material: Steel and Vinyl

Weight Limit: 500 lbs
Item Dimensions LxWxH: 55.75'' x 45.5'' x 41'
Warranty: Lifetime for the frame, 1-year parts
First off, the XM-7615 is built like a tank. The 2-gauge heavy-duty mainframe construction gives it a sturdy and durable feel, and the baked scratch-resistant powder coat finish ensures it will stand the test of time.
One of the standout features is the 12-position vertically adjustable thigh pads, allowing for a customizable fit that accommodates users of various sizes. The 20-position adjustable press arm is also a nice touch, ensuring I could find the perfect position for my leg length.
While the machine offers excellent stability with its rear weight post, the comfort level left something to be desired. The extra-thick Duraguard vinyl cushions and pads are tear-resistant, but I found them less comfortable compared to some other machines on the market.
Including standard (1 inch) and Olympic (2 inches) weight plate compatibility is a nice feature, allowing versatility in my workout routine. The oversized thigh pads with chrome end caps provide adequate support, and the rubber grip handlebars with molded finger grips enhance the overall usability.
However, it's worth noting that this machine comes with a higher price tag than other options. While it offers solid construction and functionality, the comfort factor may only meet some people's expectations.
The XM-7615 Leg Exercise Machine with Rotary Leg Extension and Leg Curl is a robust and versatile piece of equipment. While it may not be the most comfortable option, its durability and adjustability make it a viable choice for serious leg workouts.
The XMark Leg Exercise Machine (XM-7615) combines durability, adjustability, and versatility, making it a solid choice for intense leg workouts, although it may not provide the same level of comfort as some other machines in its price range.
(Show More)
The machine is the heaviest on this list thus providing stability and sturdiness during workouts

Molded finger grips are very user-friendly

You get a lifetime guarantee for the frame
Most expensive leg extension machine on this list
Leg Extension Machine - What You Need to Know
Leg extension machines are popular equipment found in many gyms, offering targeted exercises for the lower body. These machines typically have a seat, backrest, and leg extension mechanism.
The leg extension exercise is known as an open kinetic chain exercise or OKC.
Open kinetic chain workouts target particular joints and muscles. These workouts may isolate weak or damaged muscles. They may not represent functional movement patterns and may stress joints. Leg extensions, hamstring curls, and standing hip abductions/adductions are examples of OKCs.
Closed kinetic chain workouts mimic everyday motions by coordinating many muscle groups and joints. Functional exercises help stabilize and strengthen the kinetic chain. Sports-specific training and functional rehabilitation employ them. Squats, lunges, and step-ups are CKCs.
Here are some general characteristics, pros, and cons of leg extension machines and the muscles they primarily engage.
They provide a focused workout for the quadriceps, the muscles at the front of the thigh. They allow for the isolation of the quadriceps, helping to build strength, muscular endurance, and definition in this area. They're relatively easy to use, making them suitable for beginners or those recovering from injuries. They also offer adjustable resistance to accommodate various fitness levels.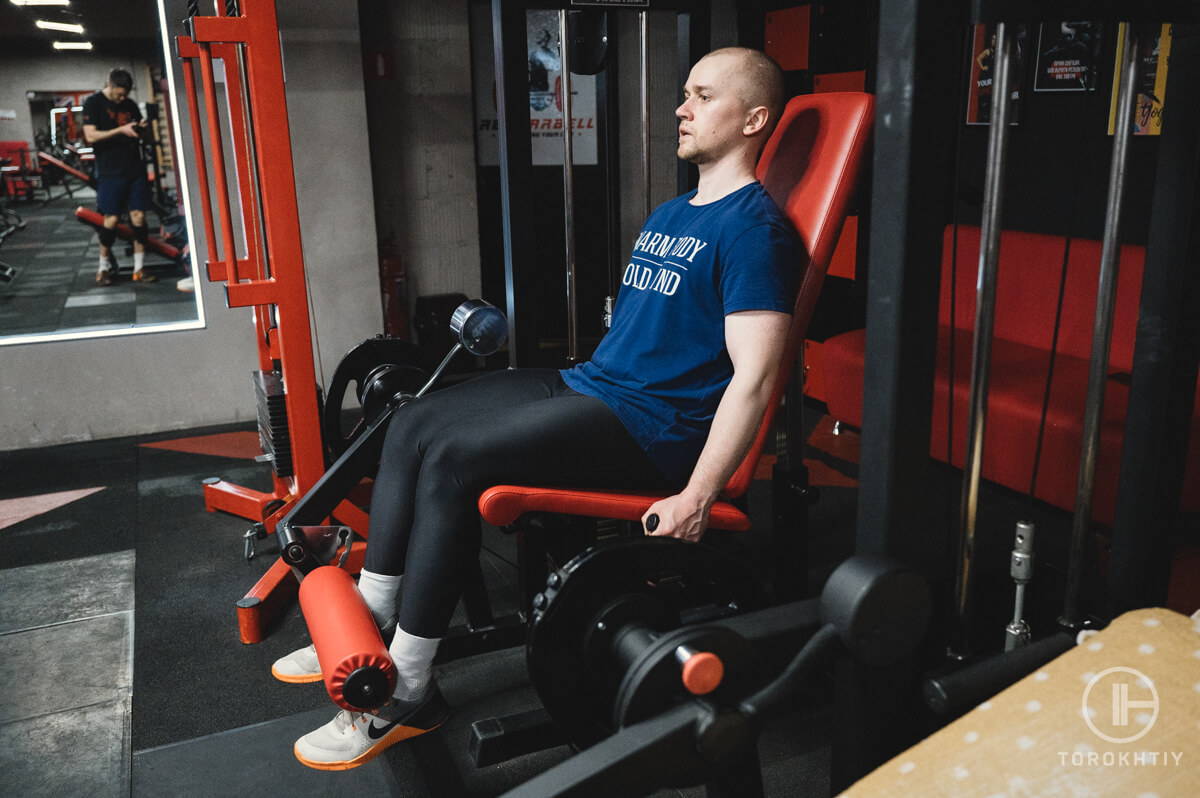 One limitation of leg extension machines is that they primarily target the quadriceps and don't engage other major lower body muscles like the hamstrings and glutes as effectively. Additionally, the seated position in these machines doesn't involve the core muscles that much or require stabilization, which limits the overall functional benefit.
Combining the benefits of leg extension exercises with other lower body exercises targeting different muscle groups is recommended to maximize the benefits. This ensures overall muscular balance and functional strength.
To get the most out of a leg extension exercise, make sure your knees don't lock while they're at full extension and that you come back to the beginning position completely. Maintain a steady, controlled pace.
Remember, as with any exercise, it's essential to use proper form, start with lighter weights, and gradually increase resistance as you gain strength. Consulting with a fitness professional can help tailor a workout program that suits your needs and goals.
Why You Need a Leg Extension Machine
While using a leg extension machine may not be necessary for everyone, there are several compelling reasons why you might consider adding one to your home gym or incorporating it into your fitness routine.
Leg extension machines specifically target the quadriceps muscles, helping to build strength, size, and definition in the front of your thighs. Focusing on this muscle group can enhance your leg power, improve athletic performance, and even improve your overall lower body aesthetics. Based on the results of a research study published in the Journal of Mechanics in Medicine and Biology, controlling the degree of knee flexion during isometric knee extensions done on a leg extension machine is an excellent place to start if you want to improve your vastus medialis oblique (VMO), and vastus lateralis (VL) muscles.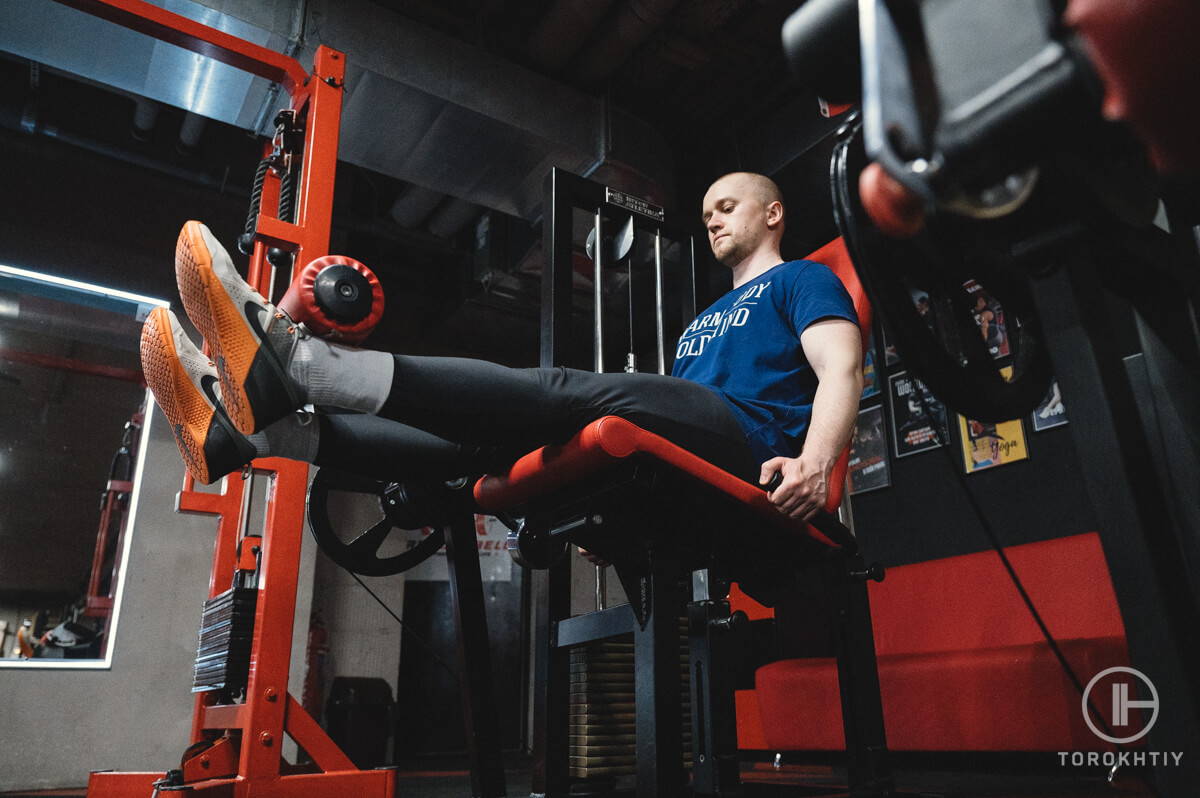 Leg extension machines are often used in physical therapy to aid injury rehabilitation. They provide controlled movements and adjustable resistance, allowing for targeted quadriceps strengthening while minimizing stress on other joints and muscles. Ann-Katrin Stensdotter's research involves open kinetic chain(OKC) and closed kinetic chain(CKC) exercises done by the legs. The results may favor closed kinetic chain exercises if rehabilitation is in mind, but open kinetic chain exercises such as leg extensions are still beneficial.
Convenience and Accessibility
A leg extension machine at home allows you to target your quads whenever you want without relying on gym availability or waiting for a machine. It's a time-efficient option for incorporating lower-body exercises into your fitness routine.
Leg extension machines typically feature adjustable resistance settings, allowing you to increase or decrease the load as needed. This adaptability benefits both beginners and advanced users, as it enables gradual progression and caters to different fitness levels.
While compound exercises like squats and lunges engage multiple muscle groups, the leg extension machine offers a different training stimulus by directly targeting the quadriceps. Incorporating leg extension exercises into your routine can add variety and challenge to your leg workouts.
Improved Memory Retention
The research conducted by the Georgia Institute Of Technology suggests that substantial time investment is unnecessary to get cognitive benefits. Simple activities may improve memory recall. Leg extensions were used in the study to prove how memory retention can be increased by 20% in people who were exercising, compared to people who weren't.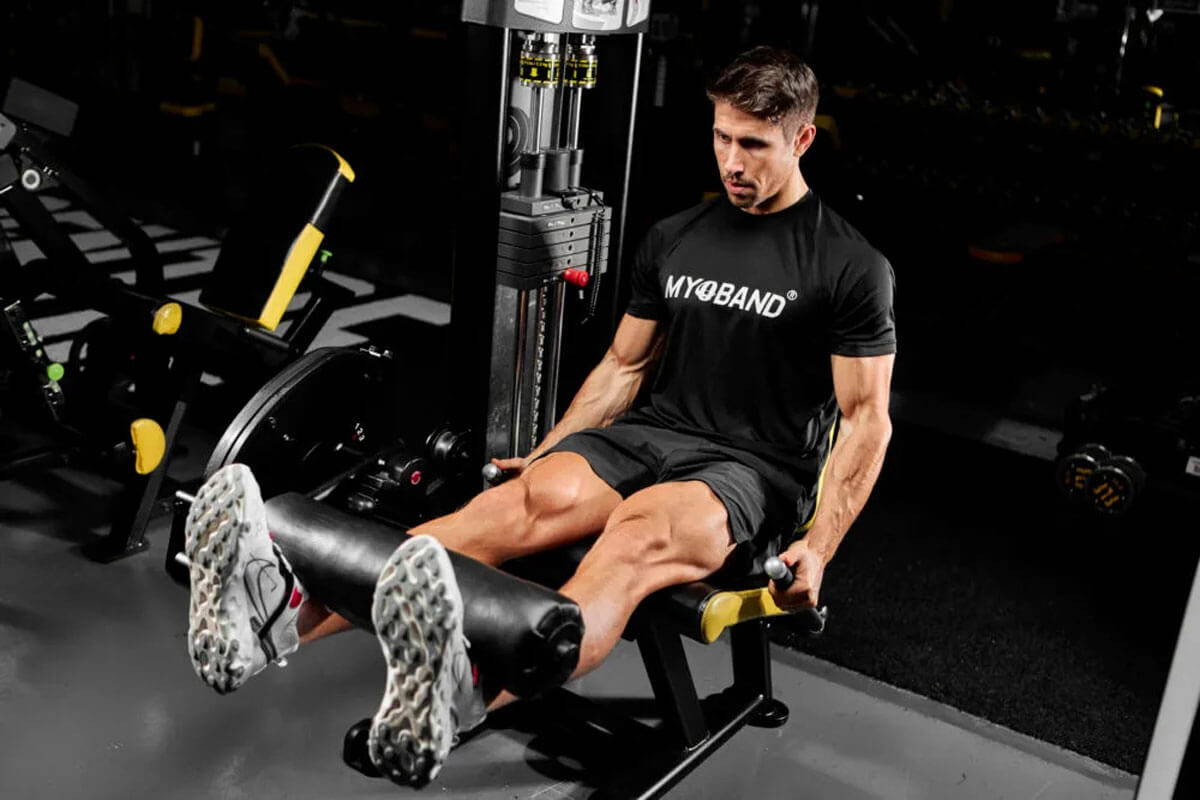 How to Properly Use a Leg Extension Machine
Using a leg extension machine properly is important to ensure safety and maximize the benefits of the exercise.
Adjust the seat height so that your knees align with the pivot point. This will allow for proper alignment and range of motion. Then, position yourself - sit on the machine with your back firmly against the backrest and your feet flat on the foot pad. Make sure your thighs are snug against the leg pads. Now it's time to engage your core by gently bracing your abdominal muscles. This will help stabilize your body throughout the exercise.
Grasp the handles or sidebars for support and maintain an upright posture. Keep your back straight and avoid rounding your shoulders. Slowly straighten your legs by pushing against the foot pad. Focus on contracting your quadriceps (front thigh muscles) as you extend your legs fully.
Pause briefly at the top of the movement, ensuring your legs are fully extended. Avoid locking your knees and maintain tension in your muscles. Slowly lower the weight back to the starting position, maintaining control throughout the descent. Perform the desired number of repetitions while maintaining proper form and control.
Also, regarding what weight you should be working with, it is vital to choose an appropriate load based on your muscle condition and any possible injury. While future intelligent exercise machines will automatically adjust the machine's weight by relying on electromyography sensors, depending on the factors mentioned earlier, it is essential to remember that we, the users, currently have that responsibility. Another finding by T. K. Evetovich shows that the mechanomyographic signal of mean power frequency, assessed from the vastus lateralis, was not responsive to training-induced improvements in leg-extension strength when peak torque was increased, potentially owing to conflicting impacts of hypertrophy on the MMG signal and/or training-induced adaptations in other muscle.
It's essential to listen to your body and avoid any jerking or swinging motions. If you experience pain or discomfort, stop the exercise and consult a fitness professional or healthcare provider.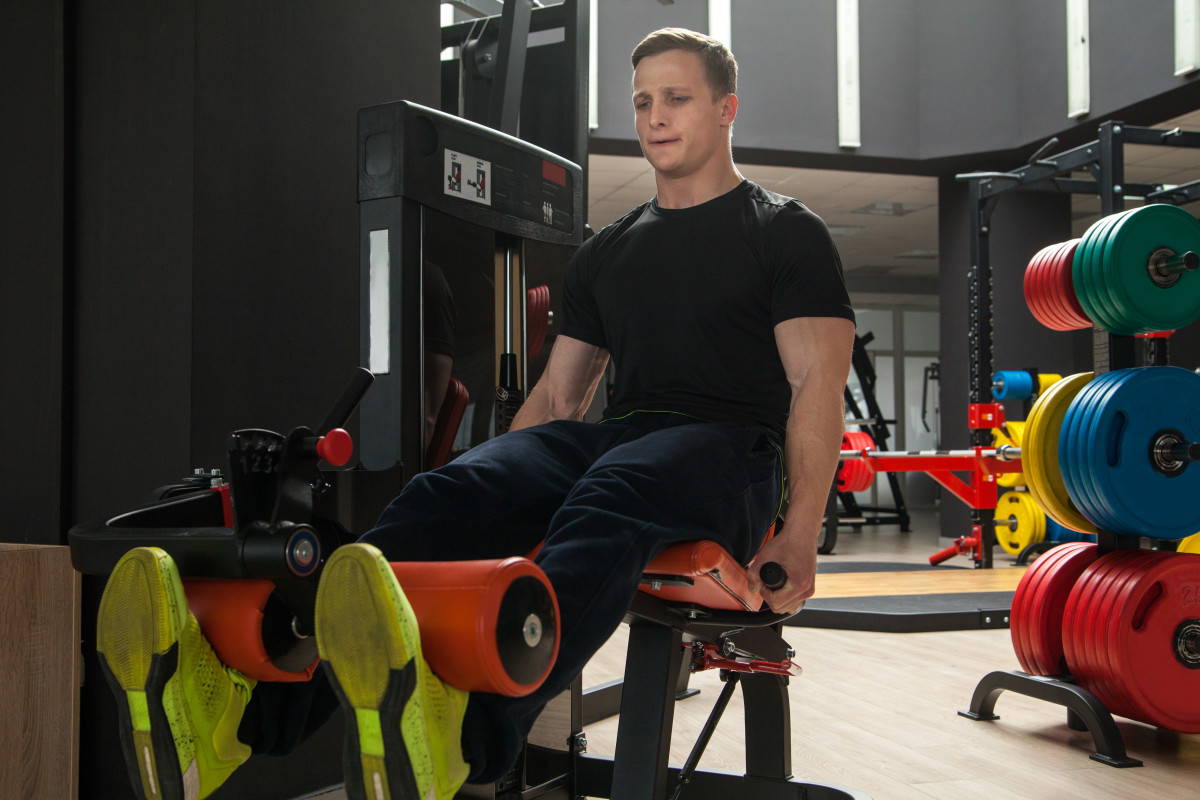 Is It Worth Buying a Leg Extension Machine?
It absolutely is. A leg extension machine is a valuable addition to a home gym and even though it is more expensive, it is superior to simply relying on elastic bands in terms of benefits and results. The leg machine provides targeted quadriceps training, safety, convenience, and the ability to progress in workouts. Leg extension machines that were modified to extract only concentric contractions that have a safety mechanism to prevent the weights from free-drop once released, 1RM measurement for knee extension exhibited good reliability and safety. It provides a controlled and stable environment, precise adjustment of resistance, convenience and versatility, and progressive overload. It also eliminates the need to visit a gym.
Are All Leg Extension Machines the Same?
No, not all leg extension machines are the same. Different leg extension machines can vary in design, features, build quality, adjustability, and overall functionality. Some leg extension machines even offer stimulation in the form of vibrations, but a study done by CEMAFE Sao Paolo shows that the vibrating platform has no beneficial effect on the leg extension exercise. It also shows how the vibrations have negative effects on muscle fatigue. So, I would not recommend investing in these as they would be more expensive without any real-world benefits for your overall fitness.
Is Using Leg Exercise Machines Dangerous?
There isn't any research that supports such claims. Leg extension machines are safe as any other form of exercise. In fact, almost any kind of physical activity is safe and acceptable, but only when prescribed appropriately.
Is Leg Extension Better Than Squats?
There's no yes or no answer to this question because leg extensions and squats are different exercises that target different muscle groups. Squats engage multiple muscles, while leg extensions specifically target the quadriceps. The choice between leg extensions and squats depends on fitness goals, personal preferences, and any existing limitations or injuries. Consultation with a fitness professional can help determine the best exercises for specific needs and goals.
Research done by L. J. Cannell suggests that most individuals with jumper's knee may return to sports after 12 weeks of progressive drop squats and leg extension/curl exercises.
After thoroughly comparing seven different leg extension machines, the Titan Fitness Leg Extension and Curl Machine V2 emerges as the top pick. Its impressive performance and features make it the highest score on our list. Even considering the price, it outshines the competition by a wide margin. From its adjustable thigh pad design and overall quality to its full range of motion, this leg extension and curl machine proves to be a superb choice for leg extension exercises. Whether you're a beginner or an experienced fitness enthusiast, it delivers on its promises.
Have you used any leg extension machines? Do you have a favorite one or any recommendations you want to share with us? Do not hesitate to visit our comment section below!
Leg extension // Wikipedia: https://en.wikipedia.org/ wiki/Leg_extension

Open Kinetic Chain Exercise // Sciencedirect: https://www.sciencedirect.com/ topics/medicine-and-dentistry /open-kinetic-chain-exercise
Closed Kinetic Chain Exercise // Sciencedirect: https://www.sciencedirect.com/ topics/medicine-and-dentistry/ closed-kinetic-chain-exercise
Vindicating the Leg Extension: How To Build Great Quads Safely With This Bodybuilder's Favorite // Burnthefatinnercircle: https://www.burnthefatinnercircle.com /public/Leg-Extension.cfm
Effect of the Combination of Creatine Monohydrate Plus HMB Supplementation on Sports Performance, Body Composition, Markers of Muscle Damage and Hormone Status: A Systematic Review // NIH: https://www.mayoclinic.org/ healthy-lifestyle/fitness/ multimedia/knee-extension /vid-20084686
Healthy Lifestyle Fitness // Mayoclinic: https://www.mayoclinic.org/ healthy-lifestyle/fitness/multimedia /knee-extension/vid-20084686
Drop-Set Training Elicits Differential Increases in Non-Uniform Hypertrophy of the Quadriceps in Leg Extension Exercise // MDPI: https://www.mdpi.com/ 2075-4663/9/9/119
Electromyographic analysis of leg extension exercise during different ankle and knee positions // Researchgate: https://www.researchgate.net/ publication/275227054_ Electromyographic_analysis_of_ leg_extension_exercise_during _different_ankle_and_ knee_positions
Quadriceps activation in closed and in open kinetic chain exercise // NIH: https://pubmed.ncbi.nlm.nih.gov /14652500/
SiOWfa15: Science in Our World: Certainty and Controversy // PSU: https://sites.psu.edu/ siowfa15/2015/09/17/ should-the-leg-extension-machine-be-taken-out-of-the-gym/
Lift weights, improve your memory // Eurekalert: https://www.eurekalert.org/ news-releases/665146
Exercise Condition Sensing in Smart Leg Extension Machine // MDPI: https://www.mdpi.com/ 1424-8220/22/ 17/6336
Exercise Condition Sensing in Smart Leg Extension Machine // NIH: https://pubmed.ncbi.nlm.nih.gov /36080804/
The effect of leg extension training on the mean power frequency of the mechanomyographic signal // NIH: https://pubmed.ncbi.nlm.nih.gov /10842278/
What is hypertrophy? // Livescience: https://www.livescience.com/ what-is-hypertrophy
Muscle Activity During Knee‐Extension Strengthening Exercise Performed With Elastic Tubing and Isotonic Resistance // NIH: https://www.ncbi.nlm.nih.gov/ pmc/articles/ PMC3537465/
Reliability of one repetition maximum measurement for leg extension using an improved leg extension machine // Jstage: https://www.jstage.jst.go.jp/ article/fmj/4/4/ 4_2018002/_html /-char/en
Acute Effect of Extensors Knee Unilateral On Leg Extension Machine With and Without Stimulation on the Vibrating Platform // Scielo: https://www.scielo.br /j/rbme/a/ TcdgsJnYbj9wDyKvMGYT46z /?lang=en&format=pdf
Are the Seated Leg Extension, Leg Curl, and Adduction Machine Exercises Non-Functional or Risky? // NSCA: https://www.nsca.com/ education/articles /ptq/are-the-seated-leg-extension-leg-curl-and-adduction-machine-exercises-non-functional-or-risky/
What Muscles Do Squats Work? // Healthline: https://www.healthline.com/ health/exercise-fitness /what-muscles-do-squats-work
What Muscles Does the Leg Curl/Extension Machine Work? // Livestrong: https://www.livestrong.com/ article/539351-what-muscles-does-the-leg-curl-extension-machine-work/
A randomised clinical trial of the efficacy of drop squats or leg extension/leg curl exercises to treat clinically diagnosed jumper's knee in athletes: pilot study // NIH: https://pubmed.ncbi.nlm.nih.gov/ 11157465/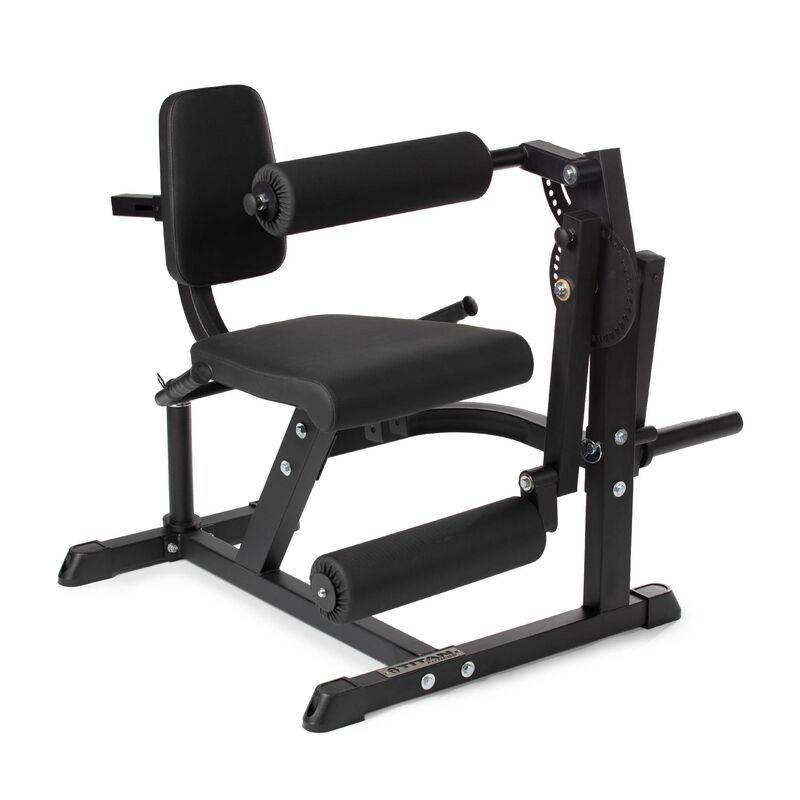 My name is Ihor and I have been a professional weightlifter since 1996. With over 20 years of competition experience, my resume includes European Champion in 2009 and the silver medalist at 2011's Senior World Championships – 105kg division.
I competed at the 2008, 2012 and 2016 Summer Olympics.
After hanging up my own competitive lifting shoes, I decided to share my huge background as a coach. I am currently coaching multiple athletes who are competing at national and international competitions.