Hack squat machines provide an excellent way to develop lower-body strength, with the fixed movement patch taking stress off your lower back muscles compared to the traditional back squats. The carriage loading system allows you to overload the weight to a much larger extent and isolate your quads when used correctly.
In a hurry and can't keep reading? How about you check out the Titan Fitness Linear hack.
The Titan Fitness Linear hack squat machine is a durable and affordable choice that provides a challenging workout for your quad muscles, with a compact frame size and a weight capacity of up to 700 pounds, making it a great option for smaller home gyms.
With different frame designs, functionality, and added features, I've reviewed the best hack squat machines below. I've looked at the most important factors so you can make a great addition to your home gym setup.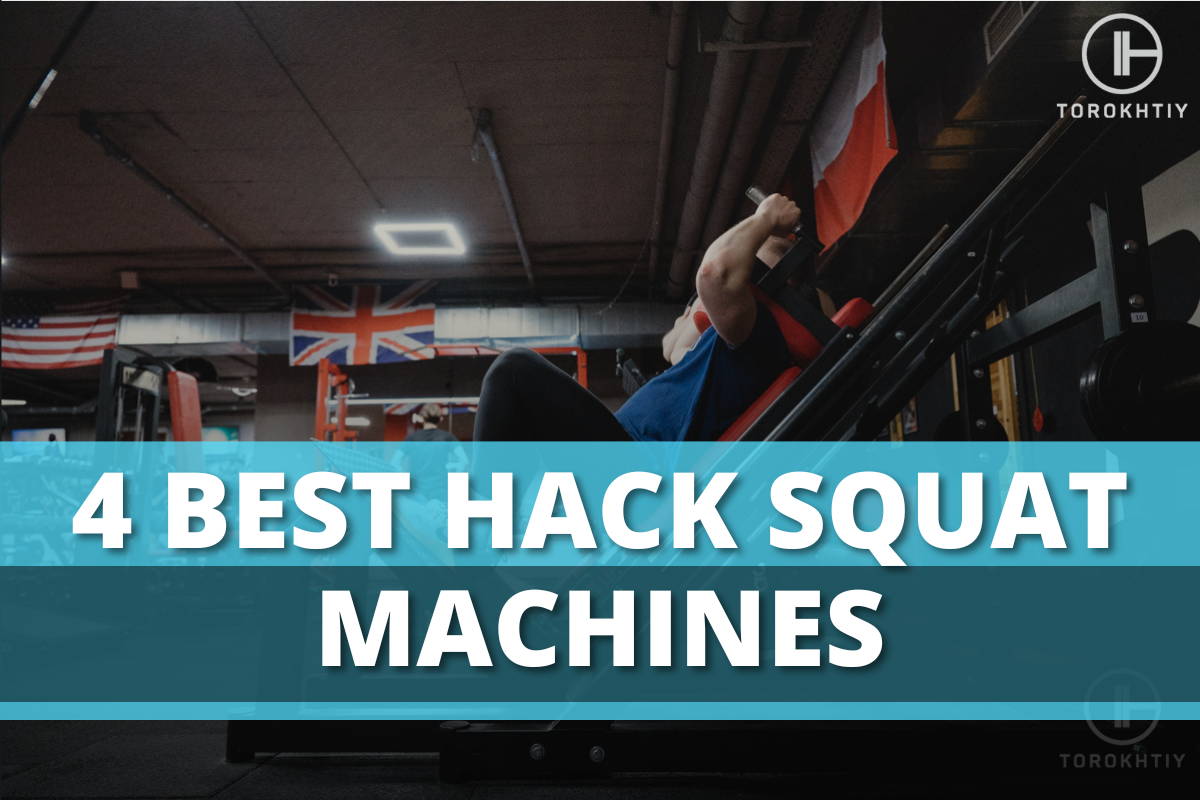 Top 4 Best Hack Squat Machines Reviewed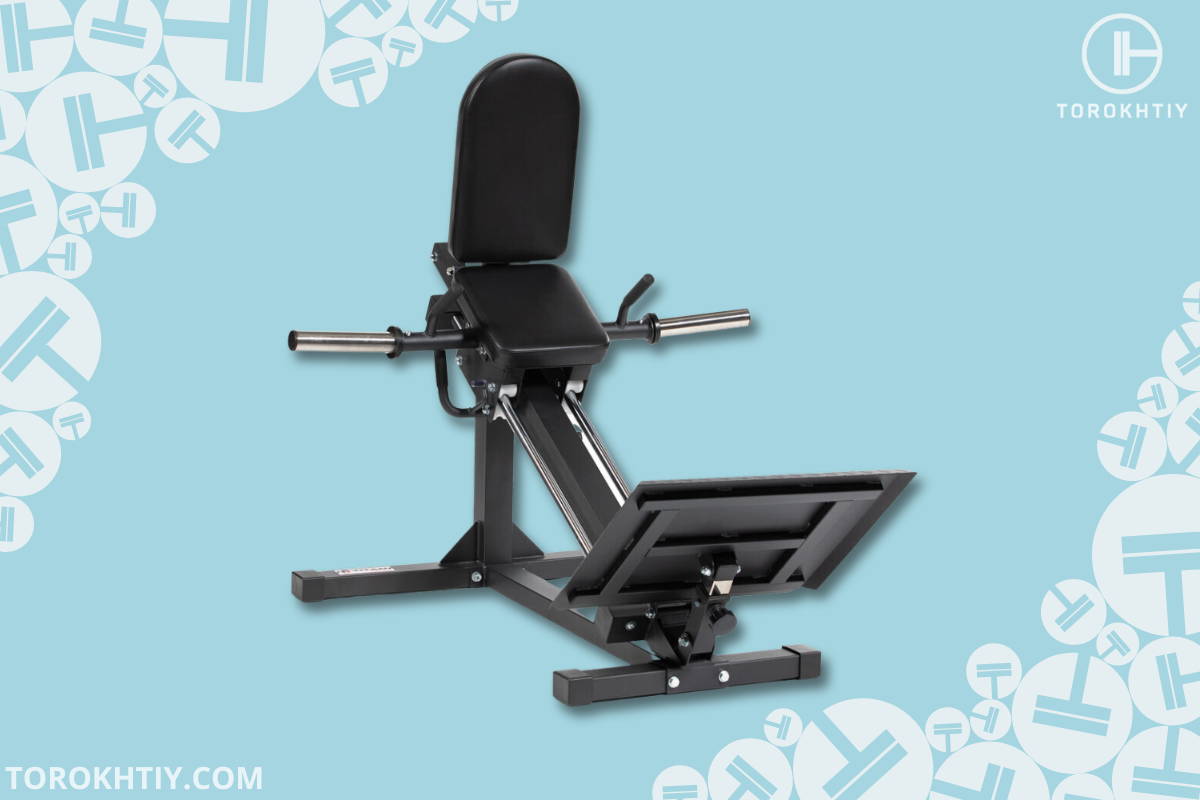 Founded in 2003, Titan Fitness aims to provide high-quality strength and conditioning equipment at affordable price points. They want their full product range to be accessible to recreational gym-goers and elite athletes, with a big focus on exceptional customer service.
Weight Capacity: 700 pounds
Carriage Angle: 35 degrees
Item Weight: 190 lbs

Material: Steel Sled Carriage, Alloy Steel Rails
Item Dimensions: 60.5" L x 46.75" W x 45.4" H
Warranty: 1-Year
The Titan Fitness Linear hack is a dedicated hack squat machine that does the basics extremely well. If you're looking for a durable machine designed for quality training without any added bells and whistles, this is the machine for you. It's also a cheap hack squat machine choice that offers excellent value for money.
The weight carriage is angled at 35 degrees which is slightly higher than most traditional hack squats. This provides a bigger workout challenge and places more stress on the quad muscles when adopting the standard footplate position.
Constructed from alloy steel, the hack squat weighs 190 pounds and can support up to 700 pounds of added weight on the 9.75" loadable carriage sleeves. The overall frame size is fairly compact at 60.5" L x 46.75" W x 45.4" H making it a suitable option if you have a smaller home gym. The weight carriage moves up and down steel alloy guide rods that use commercial linear bearings to keep it firmly secure. The whole unit is finished in a protective black powder coating to increase overall durability if you want to use it outdoors or in your garage at home.
At the bottom of the hack, a large 25.25" L x 23.25" W diamond-textured footplate keeps your feet firmly placed and has enough room for narrow and wide stance positions. It also adjusts vertically to accommodate athletes with longer legs. The carriage has thick, comfortable back and seat pads to improve user comfort as you exercise.
At the start of the loadable sleeves, Titan Fitness has included two handles that give you a place to grip if you need some added security. Just underneath, the racking handles are easy to flip in and out to unload the carriage. At the base, the protective rubber feet stop the frame from moving around and provide some added floor protection.
The Titan Fitness Linear hack squat machine features a spacious footplate, adjustable seat and back pads, and convenient handles for a secure and comfortable workout experience.
The 35-degree carriage angle provides an additional workout challenge compared to traditional hack machines

The black powder coating protects the frame from the environment and repeated impact

The diamond footplate adjusts vertically to accommodate athletes with longer legs
The lack of shoulder support may cause unwanted neck strain as you exercise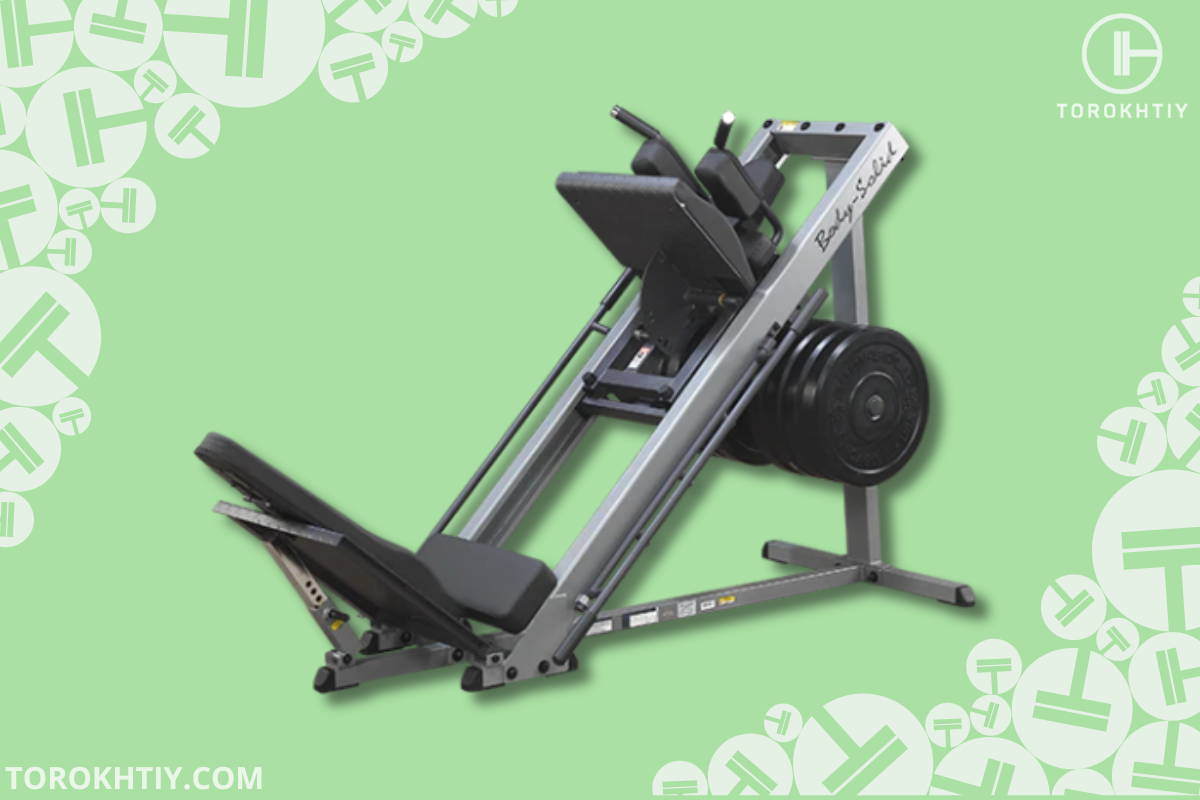 Body-Solid is a leading manufacturer of high-quality strength and conditioning equipment for at-home and commercial use. The brand offers a huge product range including gym machines, weights, and fitness accessories.
Weight Capacity: 1000 lbs
Carriage Angle: Not Provided
Item Weight: 330 lbs

Material: 7-gauge Steel
Item Dimensions: 83" L x 34" W x 56" H
Warranty: Lifetime Frame and Parts
Body-Solid has designed a 2-in-1 multi-functional hack squat that also functions as a leg press. Both back pads use a quick flip and lock mechanism allowing you to change between exercises in seconds. It's the best leg press hack squat combo out of my four choices.
The weight carriage operates quietly using a quad-track roller system that keeps the weight distributed evenly. The three lockout positions offer a convenient way to train using partial reps or rack the carriage if you fatigue mid-squat. To operate the carriage, pull the rail that runs up the full length of the frame.
Constructed from 7-gauge steel, the Body-Solid hack machine can support up to 1000 lbs of extra weight which you add using the under-carriage loading system. The frame is larger than a traditional hack squat at 83" L x 34" W x 56" H which is the price you pay for a multi-functional home gym machine.
Both the hack squat and leg press positions have large diamond-textured foot plates measuring 16.5" L x 20.5" W. On the back of the leg press plate, the double-stitched Durafirm back and shoulder pads provide excellent back and shoulder comfort for hack squats. The leg press back pad that doubles as the hack squat footplate adjusts in five different positions by twisting the black handle underneath. It provides several different back and foot positions for both exercises to accommodate different sizes and movement patterns.
The Body-Solid 2-in-1 hack squat and leg press machine offers versatility, durability, and comfortable workout options with its quick flip and lock mechanism, quiet operation, and adjustable features.
The multifunctional hack squat doubles as a leg press machine via easy-to-use flip and lock mechanisms

The thick shoulder pads provide excellent shoulder and neck support when using the hack squat

The carriage can be locked in three different positions for partial rep training and improved safety
The larger frame dimensions might not be suitable for smaller gym spaces
Weight Capacity: 1000 lbs
Carriage Angle: 45 degrees
Item Weight: 325 lbs

Material: Steel
Item Dimensions: 84" L x 40" W x 53" H
Warranty: 1-Year
The Titan Fitness Leg Press Hack Squat machine features a similar design to a commercial unit, using a large T-shaped base and a square-shaped carriage frame. It has two weight pins at the base of the frame for convenient storage and added frame stability. It's my premium pick hack squat that's perfect if you're looking for a commercial home gym unit.
Titan Fitness has combined four exercises into one unit, with the unit functioning as a hack squat, leg press, forward thrust, and calf raise machine. It is operated using a flip-and-lock hinge mechanism that changes the hack squat padding into the leg press plate.
Another stand-out feature of the hack machine is the large diamond-texture footplate measuring 26" L x 22", giving you multiple wider stance options if you want to place more emphasis on your glutes and hamstrings.
The hack squat carriage is angled at 45 degrees with dual weight sleeves that fit both standard and Olympic-sized plates. It operates on steel guide rods with commercial linear bearings for added durability. The whole unit weighs 325 pounds and supports up to 1000 pounds of added weight which is enough to accommodate world-class athletes.
The side rails have three locking positions which can be changed via the adjustment rails that run up each side of the frame. Both exercise positions have comfortable padding that provides support to your shoulder and back areas. Both the leg and back pads angles are fully adjustable to help you adopt the most comfortable exercise position.
At the bottom of the frame, the rubber non-skid feet stop the frame from slipping around or damaging your home gym floor.
The Titan Fitness Leg Press Hack Squat machine is a versatile and durable home gym unit that combines hack squats, leg press, forward thrust, and calf raises, providing a compact and efficient workout solution.
The dual-weight pins provide convenient weight plate storage options

The larger footplate gives you multiple exercise options to isolate your glutes and hamstrings

The machine offers two loadable sleeve options which are at the head position and under the carriage
The higher price point isn't suitable for those who are on a budget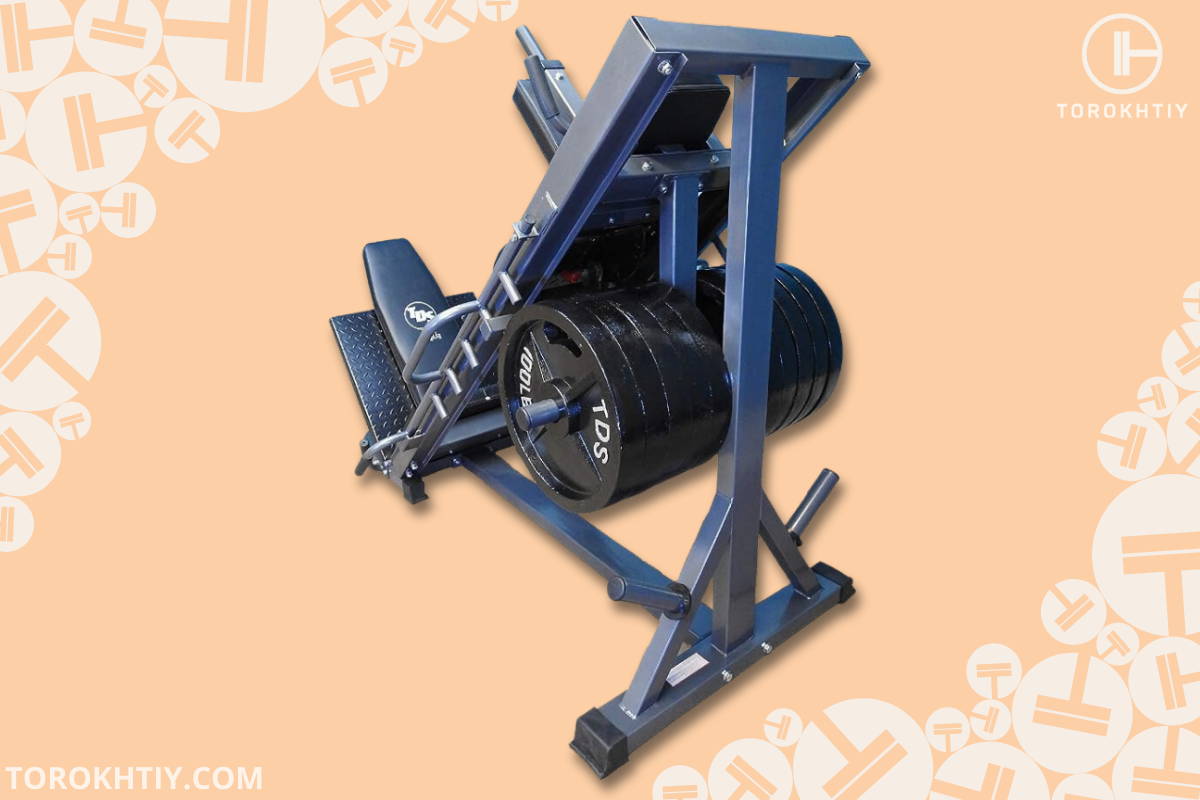 TDS aims to make heavy-duty fitness equipment designed to withstand repeated, heavy use at home or in the gym. The brand focuses on product innovation by continually looking at new designs and features as they bring out new equipment models.
Weight Capacity: 1000 lbs
Item Weight

: 300 lbs



Material: Steel
Item Dimensions: 80" L x 37" W x 52" H
Warranty: 90-day Refund
The TDS 4-way Hack Squat Machine is another multi-functional gym unit that can function as a hack squat, leg press, calf raise, and forward thrust machine. To change between exercise modes, pull the flip-and-lock handles to alternate the footplates with the back and shoulder padding.
It offers a slightly more compact 80" L x 37" W x 52" H frame design than my other 4-in-1 machine choice, making it better suited to a smaller gym if you're stuck for space. Compared to a traditional hack squat, TDS has used a more rounded frame design that's constructed from 2" steel and can support up to 1000 pounds of added weight.
The carriage is mounted onto four 750-pound rated rollers, with the loadable weight sleeves sitting underneath. At the back of the frame, two weight pins extend out diagonally offering convenient weight plate storage options. Each of the contoured machine pads are double-stitched for added comfort and durability.
The carriage can be locked into five different rail positions, covering multiple ranges of motion if you want to train using half reps or maintain tension. The frame has four black non-slip, rubber feet to stop it from moving around as you exercise.
Lastly, the TDS machine looks great, using a gray and black frame color scheme with the TDS logo in orange. TDS hasn't provided any specific company warranty information, with a 90-day refund offered as standard.
The TDS 4-way Hack Squat Machine is a compact and versatile gym unit that can be used for hack squats, leg presses, calf raises, and forward thrusts, with adjustable features and a durable steel construction.
The carriage is mounted onto four wheels to give you a smooth and stable exercise experience

The thinner frame design makes the TDS machine better suited to smaller gym spaces

The contoured back pads provide added user comfort as you exercise
The 90-day standard warranty could be longer to ensure peace of mind when purchasing
The hack squat is known as a compound lower body movement that's been designed to closely replicate a traditional squat using a machine whilst reducing the amount of lower back stress commonly experienced. A hack squat machine consists of a metal frame and padded weight carriage which sits on an angled rail or rails. Loadable sleeves extend out at either side of the carriage. Different types of hack squat machines offer various carriage angles and may double as a leg press or calf raise machine.
A hack squat is performed by doing knee flexion and hinging at the hips so your glutes come down to your knees. Once you reach the bottom range of motion, your quads contract as your knees extend to bring your body back to the starting position. Muscle groups involved include the quads, hamstrings, glutes, calves, erector spinae, and core musculature.
Hack squat machines have a range of benefits including a smaller initial learning curve, reduced lumbar spine stress, and a big range of exercise variations. However, they do involve less core activation compared to standard squats. I'll discuss these points more below.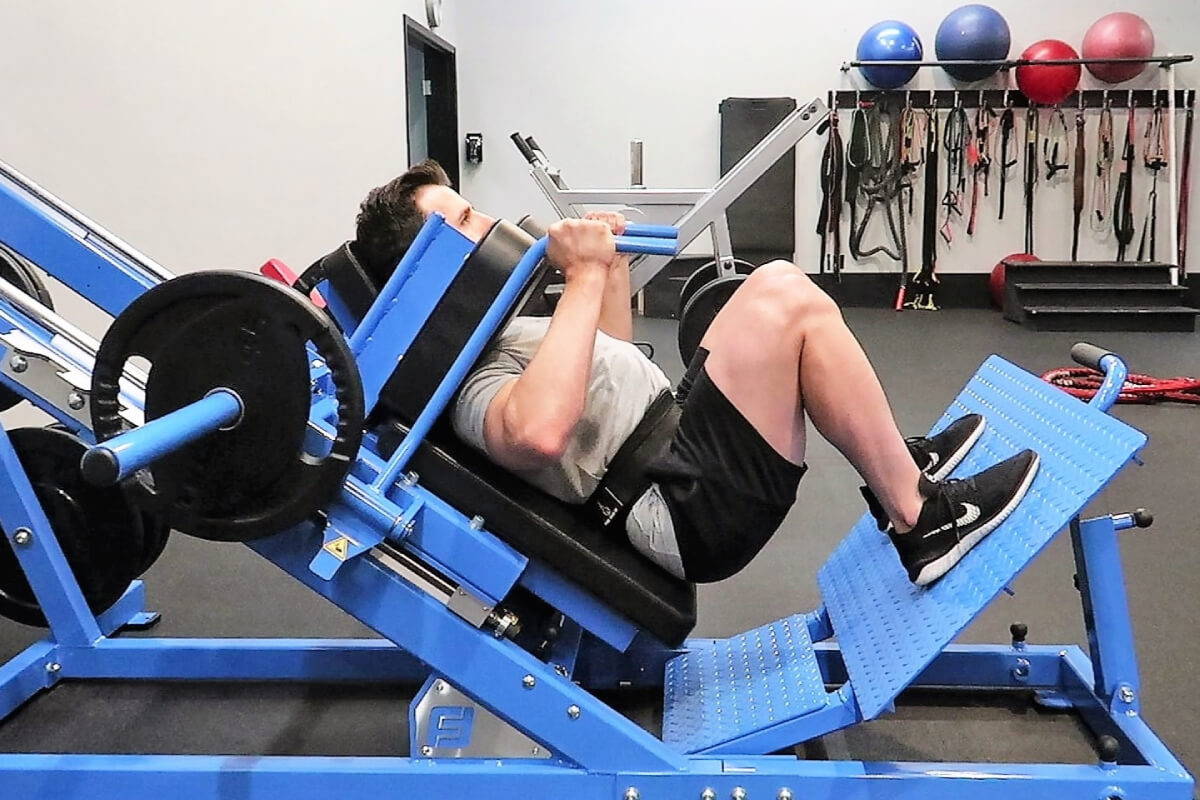 3 Benefits of Buying a Hack Squat Machine
Whether you're using a commercial hack squat machine or a home gym hack, they have a range of mental and physical benefits:
1. Smaller Learning Curve
Compared to normal squats, hack squats are much easier to learn. In a normal squat, your upper and lower body muscles work together to keep the correct bar path throughout the movement. By using a carriage rail to guide the weight up and down, a hack squat machine keeps the weight from moving out of the optimal movement pattern.
This means that hack squats have a much smaller learning curve, allowing you to take away a possible limiting factor as you start as a beginner or someone new to squatting.
When performing a squat, you need to keep your core braced and spine neutral so the bar load is placed on the correct prime movers. This lowers the chance of injury that can be caused by deviating from the optimal lifting position.
Alongside this, most hack squat machines have built-in failure mechanisms which allow you to fail the movement without causing injury. This means you can safely overload the hack squat without worrying about failing.
As the hack squat rail stops the weight from changing position, it's much safer to use, especially if you suffer from lower back issues or have a weak core.
Hack squats allow you to perform several useful exercise variations to isolate a specific muscle group. The unique carriage design and large footplates mean you're able to perform single-leg squats, wide-stance squats, and narrow-stance squats to isolate your glutes, hamstrings, and quad muscles.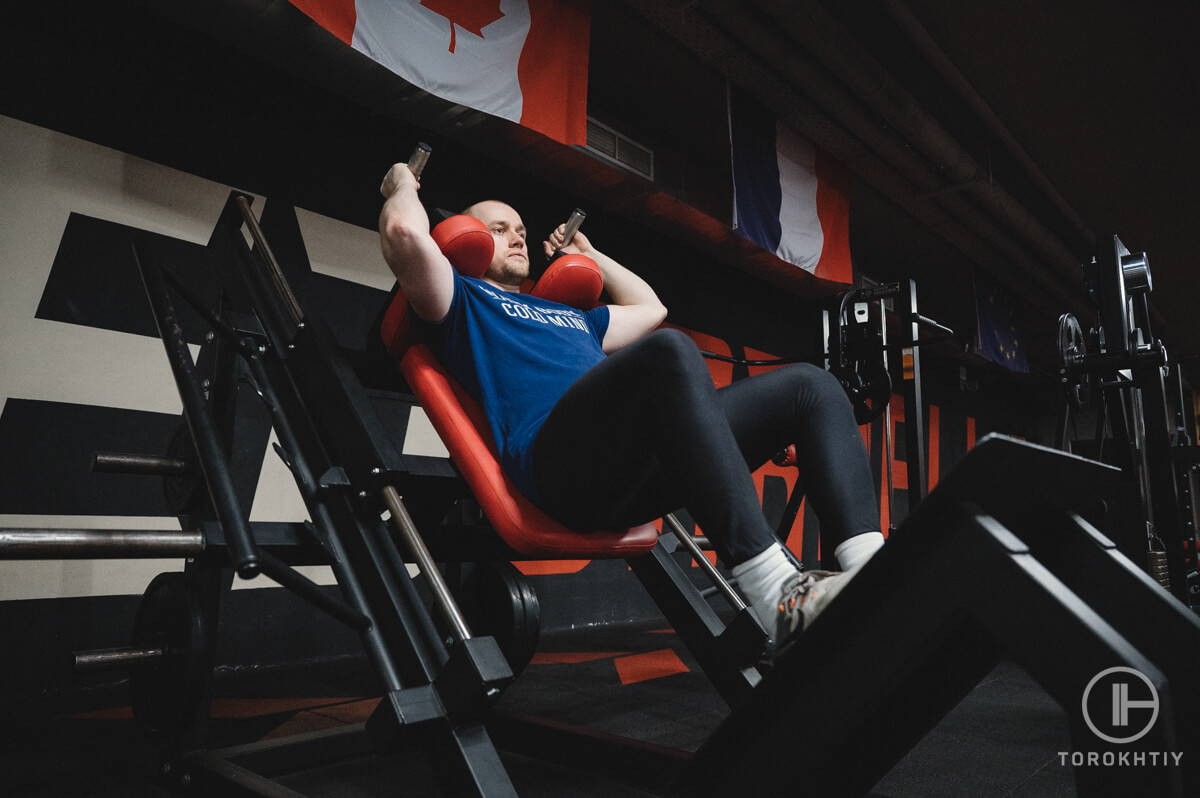 4 Tips How to Pick the Best Hack Squat Machine
When looking for a suitable hack squat for your home gym, consider the factors below:
1. Construction Quality and Dimensions
A hack squat needs to be built from durable materials that are designed to take repeated impacts without breaking. Check that your hack squat is made from a high-quality metal such as steel. If you're wanting to use it outside or in a garage environment, a powder-coated frame will protect it from the elements.
The construction materials used also affect the max weight capacity the hack can handle. Decide the amount of weight you'll need to use and make sure the machine you want to purchase can comfortably handle this. In terms of dimensions, check if the hack can fit into your home gym space whilst offering enough movement space to use it correctly.
Some hack squat machines may offer multi-functional designs, allowing you to use them as a leg press and/ or a calf raise machine. Check to see if the hack you want to buy has these options if you want to perform these movements.
The extra functionality may increase the initial price point considerably which is something to bear in mind if you're on a budget.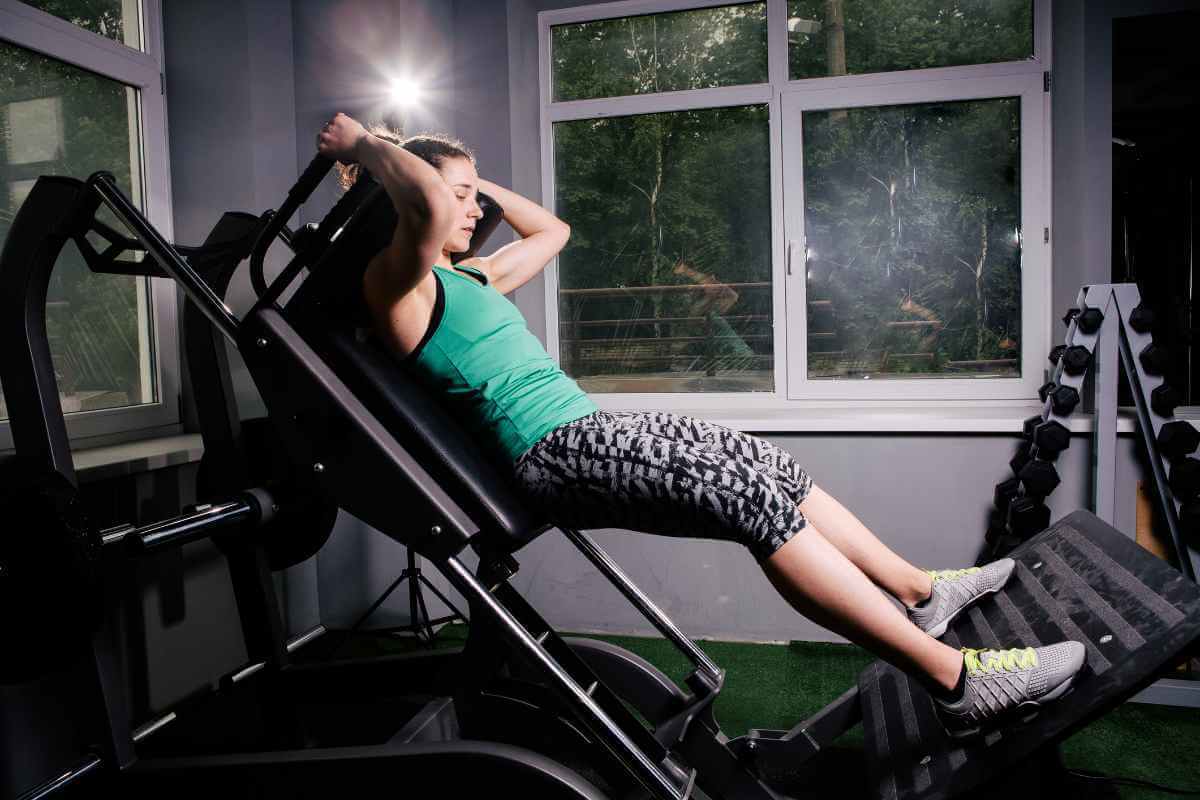 In terms of frame adjustments, some hacks allow you to change the angle of the metal foot plate. The slight change in angle alters the movement pattern and therefore prime movers, providing an additional workout challenge if desired. The footplate may also differ in size, offering different squat stance options which also changes the degree of muscle activation.
At the top of some hack squats, the shoulder pads may be adjustable to accommodate taller athletes or different user preferences. If you're over 6ft, you'll likely need a hack squat that offers adjustable shoulder pads.
Intense exercise can be hard enough without you worrying about comfort. Make sure the pads are thick enough to provide sufficient cushioning so the metal frame won't dig into your shoulder and back.
Check the hack squat has enough footplate width to accommodate a comfortable leg position and that the handles are easy to grip without being too abrasive.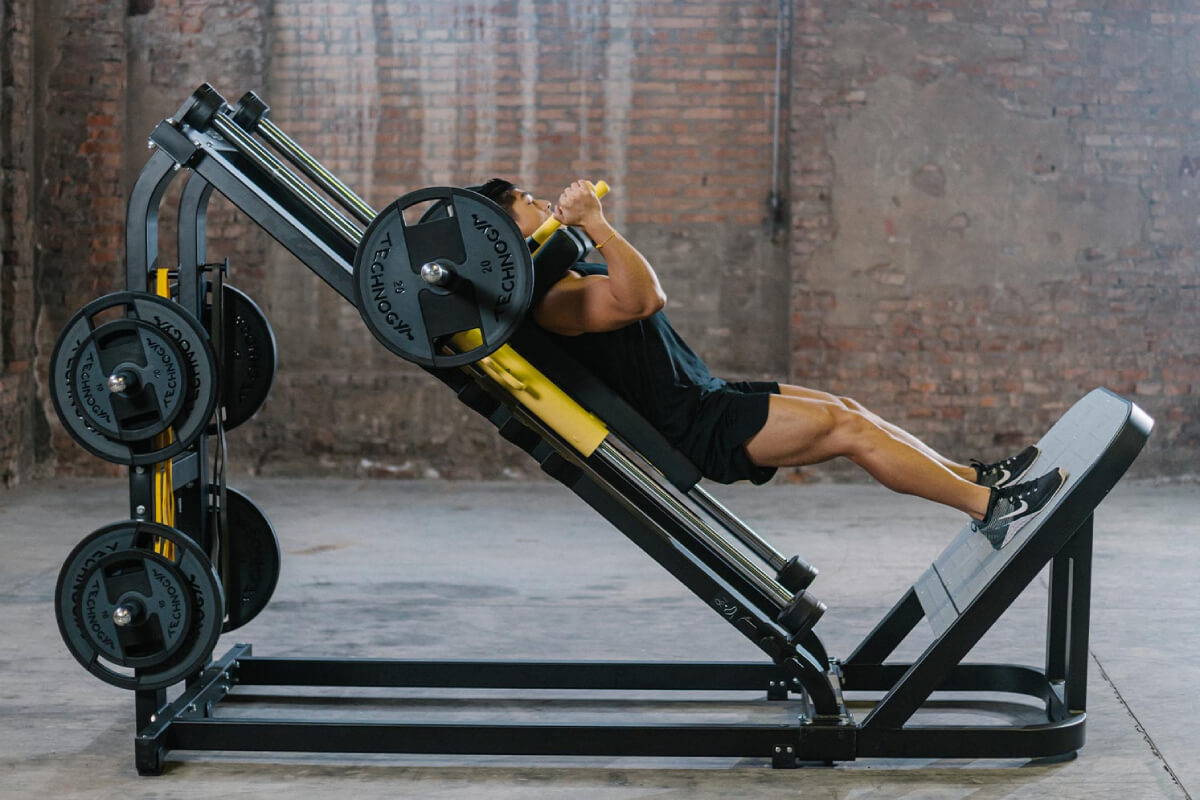 How to Use a Hack Squat Machine
Follow the tips below to use a home gym hack squat machine safely:
Start by choosing a suitable resistance level. With the hack squat carriage set at the top, slide your chosen weight plates onto the loadable sleeves. Warm up using just the frame weight first.
2. Assume the Correct Stance
Step into the hack and place your back against the backrest. Make sure your head fits comfortably between the shoulder pads and grab the handles. Assume a shoulder-width foot placement on the metal pad and unrack the weight by moving the handles. Experiment with your foot placement as you get used to the movement.
Once you've assumed the correct position, start to squat down by flexing your knees and lowering your body. Keep your back firmly against the pad and core braced throughout. Contract your quads as you work to bring the sled back to the start position.
Are Machine Hack Squats Good?
Hack squat machines are an excellent option for building leg strength. They can be used safely to work your glutes, quads, and hamstrings depending on your chosen body position.
Are Hack Squats Harder Than Real Squats?
A hack squat is not as hard as a back squat, mainly due to the machine performing the work that your lower back and core usually would. However, hack squats are much easier to overload and isolate your quads and glutes.
Hack squat machines offer an excellent compound leg workout, with the guided carriage rail lowering the amount of lumbar stress and allowing you to lift more weight compared to a traditional squat. Hack squats are a great way to isolate your quad muscles, with different leg positions allowing you to also target your glutes and hamstrings.
The Titan Fitness Plate Loaded Linear Hack Squat Machine is my top pick hack out of the four choices I've reviewed above. It's a dedicated hack machine that does the basics well and offers great value for money.
Have you used a hack squat machine before? Do you include them with your traditional squats or as a stand-alone exercise? Let's discuss this below!
What Can Cause Lower Back Pain When Squatting? // Healthline: https://www.healthline.com/ health/back-pain/lower-back-pain-when-squatting
Want Monster Quads? Time to Learn the Hack Squat // Menshealth: https://www.menshealth.com/ fitness/a28133625/hack-squat/
Squat (exercise) // Wikipedia: https://en.wikipedia.org/ wiki/Squat_(exercise)
Evaluation of the Lower Limb Muscles' Electromyographic Activity during the Leg Press Exercise and Its Variants: A Systematic Review // NIH: https://www.ncbi.nlm.nih.gov /pmc/articles/PMC7369968/
Evaluation of Muscle Activities During Different Squat Variations Using Electromyography Signals // Researchgate: https://www.researchgate.net/ publication/337400852_ Evaluation_of_ Muscle_Activities_ During_Different_ Squat_Variations_ Using_ Electromyography_Signals
Trunk Muscle Activation in the Back and Hack Squat at the Same Relative Loads // Researchgate: Diagnosis and management: https://www.researchgate.net/ publication/318400369 _Trunk_Muscle_Activation _in_the_Back_and _Hack_Squat_at _the_Same_ Relative_Loads
Optimizing Squat Technique // Researchgate: https://www.researchgate.net/ publication/232238951 _Optimizing_Squat _Technique
How to Squat with Proper Form // Healthline: https://www.healthline.com/ health/fitness-exercise/proper-squat-form
Effects of Stance Width and Barbell Placement on Kinematics, Kinetics, and Myoelectric Activity in Back Squats // NIH: https://www.ncbi.nlm.nih.gov/ pmc/articles/ PMC8440835/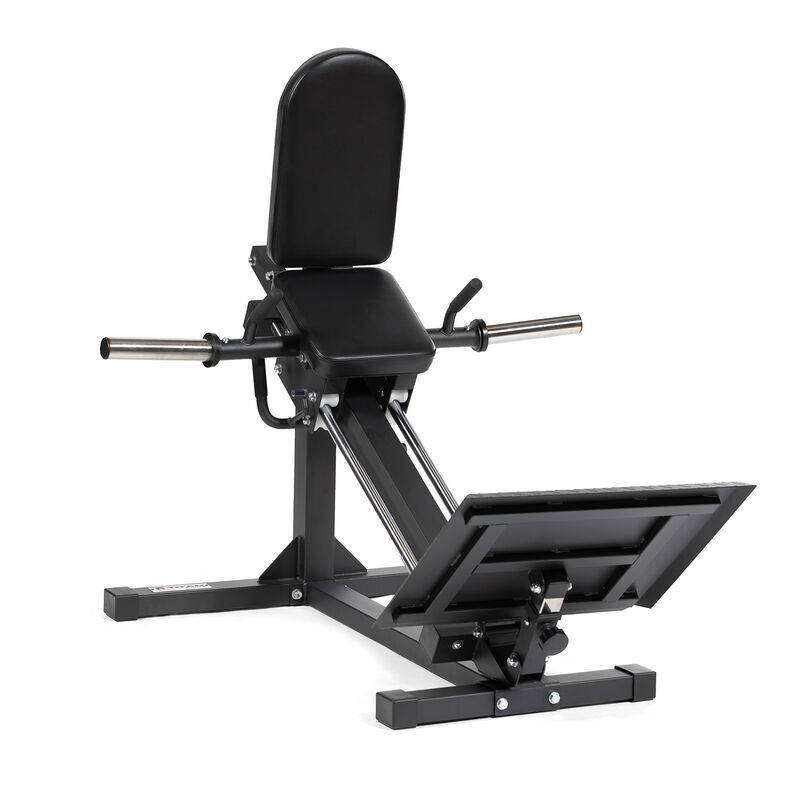 My name is Ihor and I have been a professional weightlifter since 1996. With over 20 years of competition experience, my resume includes European Champion in 2009 and the silver medalist at 2011's Senior World Championships – 105kg division.
I competed at the 2008, 2012 and 2016 Summer Olympics.
After hanging up my own competitive lifting shoes, I decided to share my huge background as a coach. I am currently coaching multiple athletes who are competing at national and international competitions.